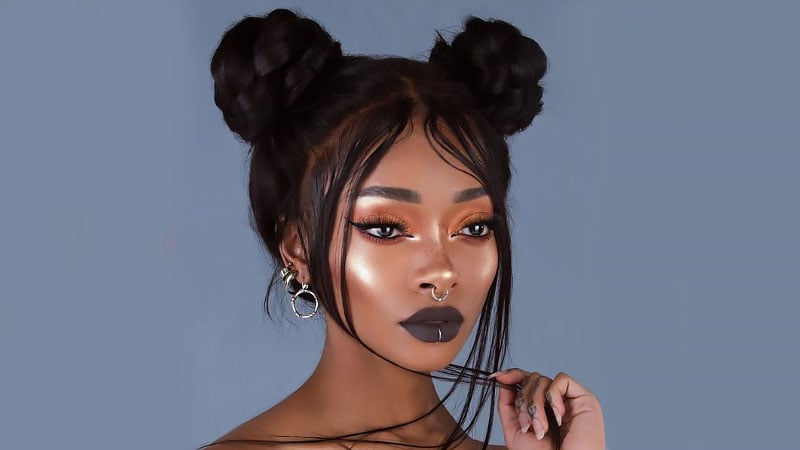 Space buns are the ultimate cute-yet-edgy hairstyle, combining '90s vibes with festival fun and an e-girl edge. Naturally, they became popular in 2020, and the trend is only growing for 2021. Surprisingly versatile, there are many different ways to wear space buns and adapt them to suit you – whether your hair is long, short, fine, thick, curly, or dead straight. Keep reading to discover the hottest space buns hairstyles that will be everywhere this year.
1. Messy Space Buns with Tendrils
For the perfect casual take on the trend, try space buns with tendrils. The loose front pieces frame your face beautifully – helping to make the hairstyle more flattering for round and square face shapes. At the same time, the tendrils make the overall look softer and more feminine. To nail the style, make sure your space buns aren't too tight or smooth – the messier, the better.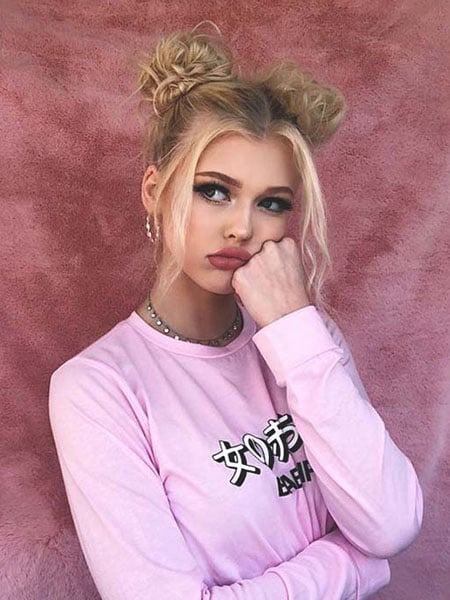 2. Space Buns with a Fringe
Whether you have blunt bangs or a wispy fringe, you can still rock the space buns trend. The fringe helps balance out your face's proportions and makes the space buns hairstyles more flattering – particularly if you have a large forehead. It's also a hairstyle that can make you look younger. Ideal for brunch, shopping, or a day at the beach, space buns with a fringe is a super cute look you'll want to wear again and again.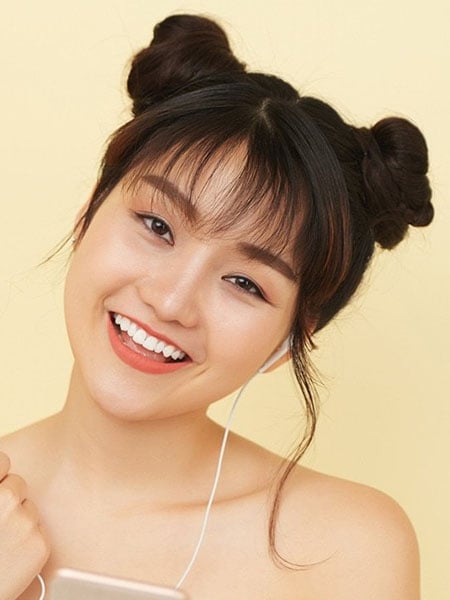 3. Space Buns with Box Braids
The space buns with box braids hairstyle have a cool Afro-punk vibe that's perfect for women who love to stand out from the crowd. Giving you the best of both worlds, you'll get to show off your long, beautiful and sexy box braids while shaking it up with eye-catching space buns. With a bold '90s-early 2000s feel, pair it with throwback accessories like tinted shades and a cheongsam-style top.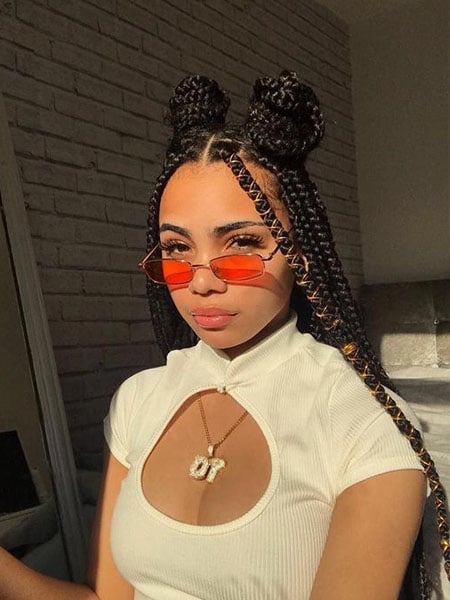 4. Space Buns with Wet Look
Unlike other wet-look hairstyles, these space buns aren't completely slicked back. Instead, the hairstyle is all about grooming your baby hairs – and the buns themselves – to mimic floating in the water. To nail this glamorous yet free-spirited look, leave out some tendrils from your space buns and around your face. Then, use gel to position your baby hairs over your forehead in a waved pattern.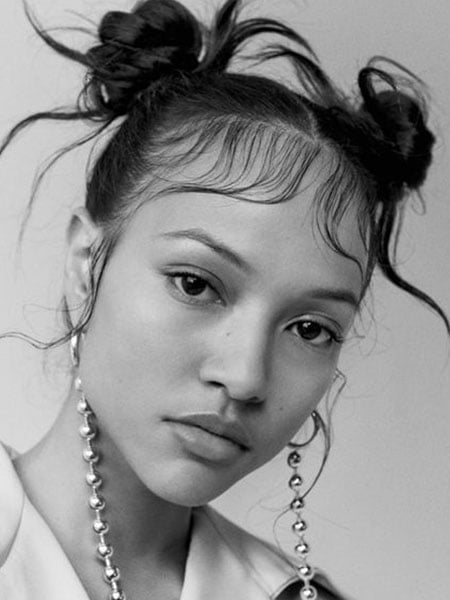 5. Space Buns with Glitter
Amp up your space buns for a festival – or a special occasion – by adding some glitter. The shimmer looks great with all hair colors and makes your style stand out. For a fun and unique touch, you could make the buns themselves glittery or try an on-trend glitter parting.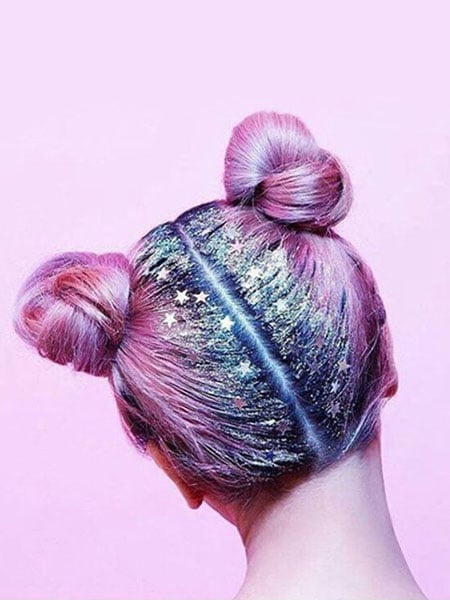 6. Space Buns with Scrunchies
Lean into the casual '90s vibes of space buns by adding scrunchies. These eye-catching hair accessories instantly bring a touch of personality to your hairstyle and make it look more playful and unique. Customize the look by choosing different scrunchie patterns and colors, or match them to your outfit.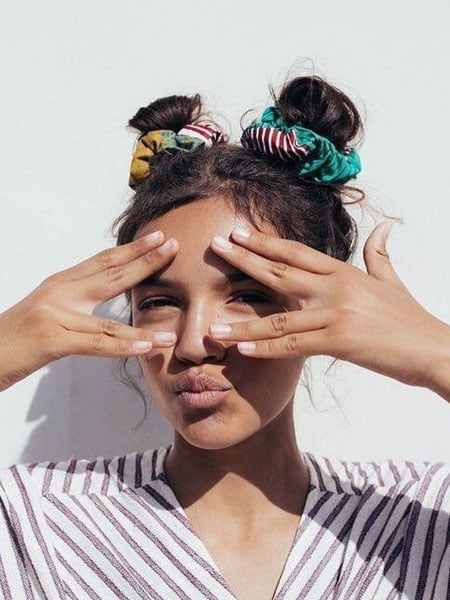 7. Space Buns Half Up Half Down Hairstyle with Blue Hair
Blue hair has been a big trend over the past year, and it's not going anywhere this year. The color is popular because it symbolizes freedom of expression – and it looks good with a wide variety of skin tones. If you've just taken the plunge and tried it for the first time, a half up half down hairstyle allows you to show off your new ocean-hued hair while creating a cute mermaid-meets-fairy look.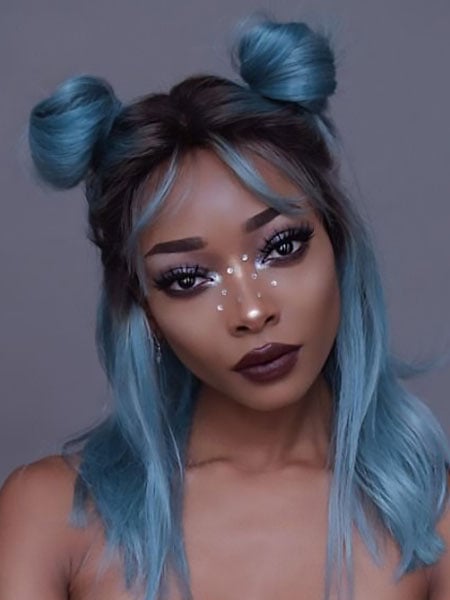 8. Space Buns with Braids
One of the neatest ways to wear space buns is by pairing them with braids. The braids create a beautiful woven effect while ensuring there are no flyaway hairs – perfect for events such as a special family dinner or attending a wedding. And although it looks more complex than the classic version of the hairstyle, braided space buns are not too difficult if you know how to plait your hair with your head upside down using the French or Dutch technique.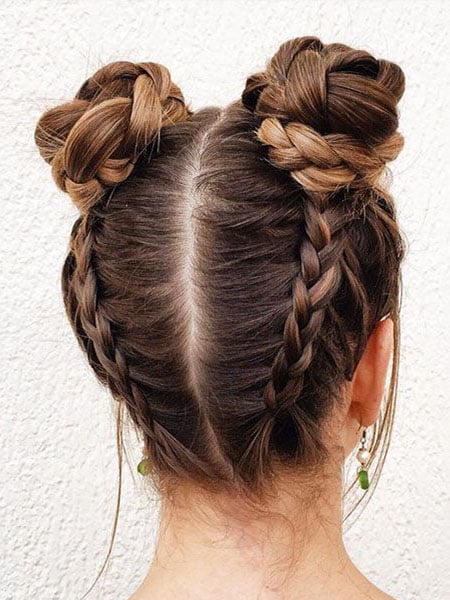 9. Space Buns with Short Hair
Space buns are versatile and suit a variety of different hair lengths, from long to short. If you have a lob, try a half-up, half-down space buns style. Cute and pretty, it's an unexpected and adorable way to shake up your everyday look. To add extra volume to the buns, firstly create two ponytails and use the backcombing technique or mini hair donuts, and wrap the hair around them to achieve a fuller look.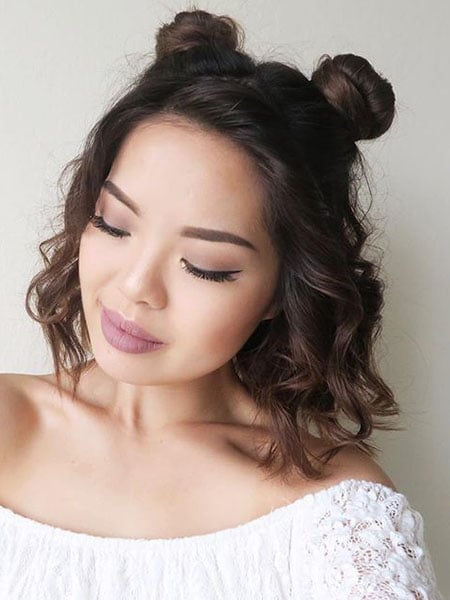 10. Space Buns with Loose Hair
For those with extra-long, very thick hair, pulling all your locks into space buns is impossible. However, you can still get the same look by taking smaller side sections near the crown of your head and twisting them into the buns. Secure them and leave the rest of your hair loose with big, bouncy barrel waves. Sexy and cute, the hairstyle won't weigh you down and will also make the most of your glorious long locks.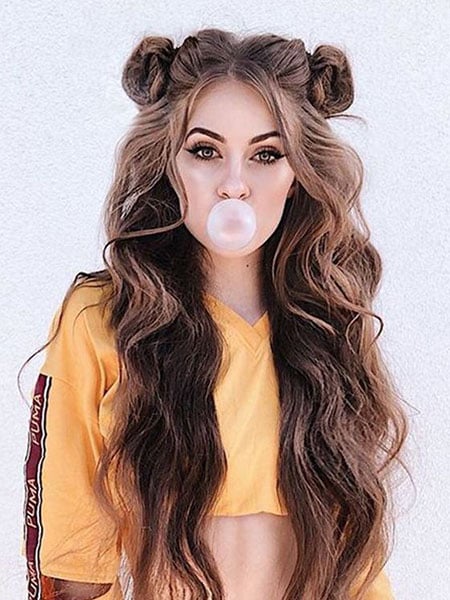 11. Mini Space Buns with Fine Hair
If you're looking for an easy new hairstyle, mini space buns are ideal for fine hair. Fine hair can often be tricky to style because it tends to be very smooth and straight and lacks volume. Yet mini space buns don't require any texturizing products, heat styling, or extensions. They have a cool '90s vibe and can be styled in seconds, so they're perfect if you're short on time too.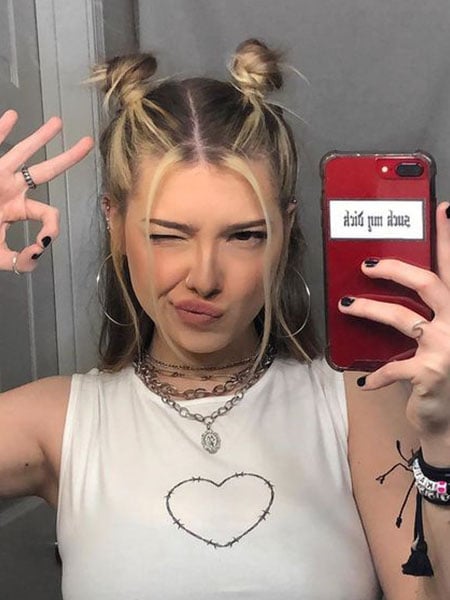 12. Space Buns with Natural Hair
Natural hair space buns are also called puffs, puffballs, or pompoms. Super cute and ideal for medium-length natural hair, the style keeps curls under control while still showing off your gorgeous texture. Plus, it's one of the quickest natural hairstyles to do – simply slick back the edges and secure your curls into the two buns with hair ties. However, like most natural styles, it's important not to leave your puffs up for too long to keep your edges healthy.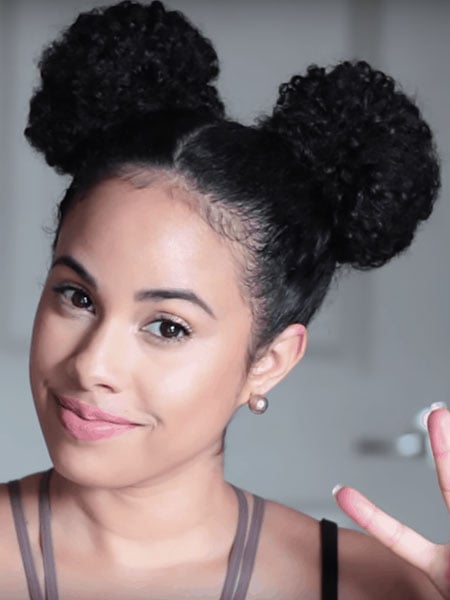 13. Bow Shape Space Buns with Braids
One of the cutest space buns hairstyles is bow shape buns with braids. Like other braided bun styles, it involves double Dutch-braiding your hair from the back to the crown while making bow buns from the front section. It looks equally adorable on kids, making it a perfect choice for a mommy-and-me photoshoot or matching hairstyle for your little one's birthday party.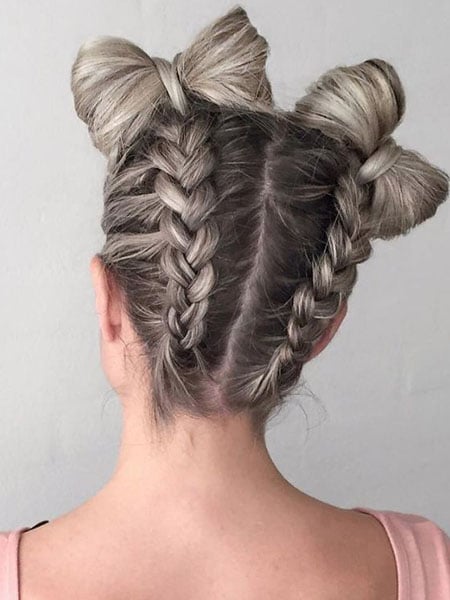 14. Messy Space Buns
Messy space buns top the list as one of the quickest and easiest – yet coolest and cutest – hairstyles. While pretty and feminine, messy space buns are also laid back and perfect for a chill date, brunch, or fun day out. Keep the buns from being too big by twisting them a little tighter and securing them with bobby pins for that perfect sexy-messy finish. As with most messy-look hairstyles, it's important to balance it with fresh yet polished make-up, so you still look put-together.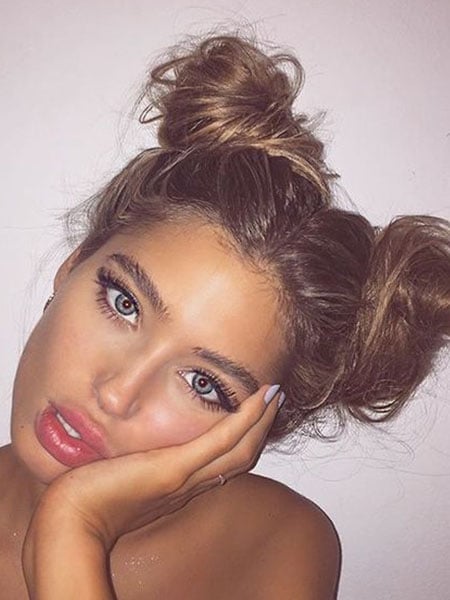 15. Five Space Buns
Give yourself the ultimate '90s makeover with five space buns. Inspired by Bantu knots – a traditional African hairstyle where the hair is coiled into bun-like knots – the five space buns look came back into style in 2020 and is only getting more popular. Great for the summer months, these buns always attract attention and look fantastic when paired with statement shades, make-up, or jewelry.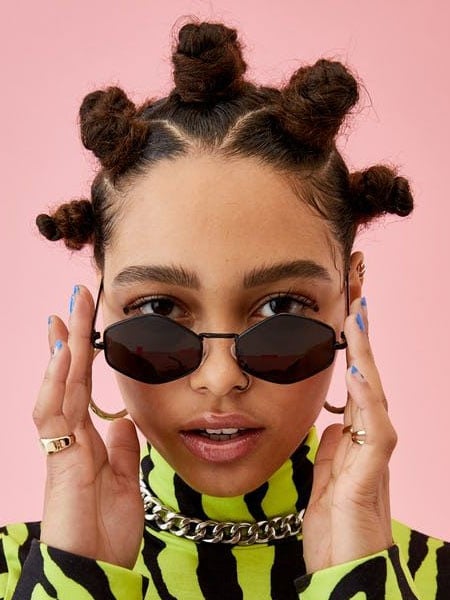 FAQs
Are space buns still in style?
Space buns have come back into style in the past year or so, and they are set to be even more popular in 2021.
When did space buns become popular?
The hairstyle first became popular in the 1990s, worn by stars like Gwen Stefani, Britney Spears, and the Spice Girls.
What are space buns?
Space buns are also called double buns or puff buns. The name comes from Princess Leia's iconic double bun hairstyle in the original Star Wars movie in the 1970s. However, over time the hairstyle has changed to feature much smaller buns that sit near the head's crown, rather than oversized buns on the side.
Are space buns unprofessional?
Because they tend to make you look younger – and are often associated with festivals and raves – space buns aren't usually considered a professional hairstyle. However, the braided space bun hairstyle could be acceptable in a workplace, as it has a more formal appearance. 
How to do space buns with thin hair?
Those with thin hair can still wear the space buns style – try mini space buns and leave most of your hair down. 
How do you make a space bun look bigger?
Make your space buns look bigger with a backcombing technique or with hair donuts. If you have naturally fine or thin hair, you could try using hair extensions, such as a ponytail extension, to make your buns more voluminous.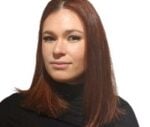 Arabella Roden is a skilled writer and sub-editor with over ten years of experience across print, digital, and B2B. She holds a Bachelor's Degree in Journalism and specializes in beauty, hairstyles, fashion, tattoos, and lifestyle topics. Arabella is currently the Chief Sub Editor at Mecca Brands and has been writing for The Trend Spotter since 2019.
SUBSCRIBE TO OUR NEWSLETTER
Subscribe to our mailing list and get interesting stuff and updates to your email inbox.