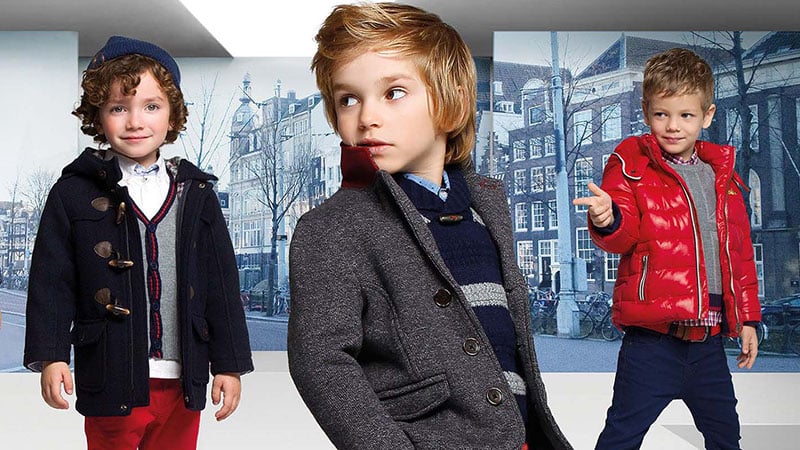 A great haircut can make you look and feel great, and it is never too early to find the right style. There are many boys haircuts that are stylish and cool, with varying maintenance levels. Some are fuss-free and create a relaxed aesthetic, while others appeal to a little gentleman and look polished and neat. Boys do not need to opt for the same standard cut that doesn't allow them to express their personality or highlight the natural texture of their hair. Some looks can be adapted to suit any face shape, hair type, length and texture, and age. If you are looking for cool haircuts for boys, keep reading to find all the inspiration you need.
Cool Boys Haircuts for 2023
1. Faux Hawk
For boys who don't like traditional short haircuts and want something edgier, then a faux hawk is a great choice. Although not quite as dramatic as the conventional mohawk, the faux hawk is kept short on the sides and longer at the top, leaving hair in a strip. There is a slight distinction in length, which makes the cut more wearable and lets you play around with the texture of your hair. If your boy has naturally textured or curly hair, this can help enhance the proportions even more.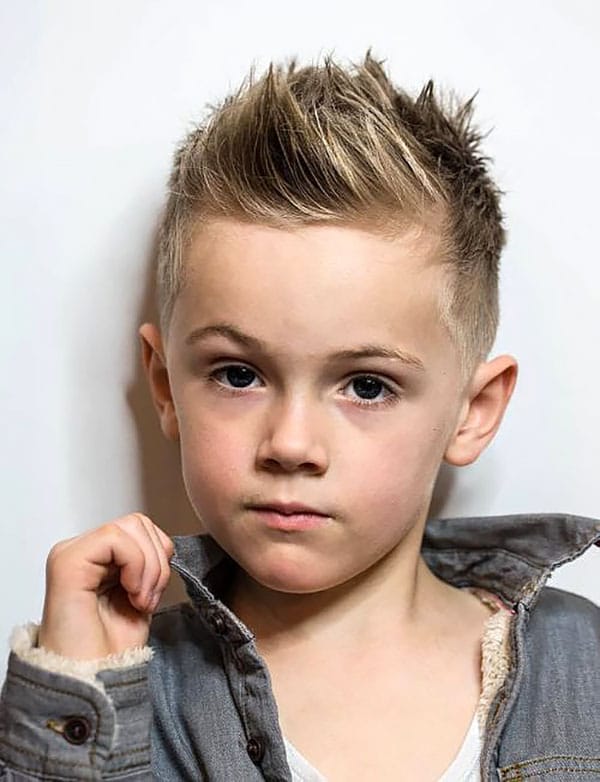 2. Shag
The shag haircut has been a popular hairstyle since the 70s, and it's easy to see why. This unstructured and fuss-free look has choppy layers, a long back and sides, and a fuller crown, creating volume and movement. The great thing about this hairstyle is that it's versatile and can be changed to suit any hair texture, making it an excellent option for boys haircuts. It's also low maintenance, requiring little styling time, which is perfect for busy kids who want to look stylish without spending too much time in front of the mirror. Plus, the shag has a youthful appearance, making it a great choice for young boys who want to stand out from the crowd.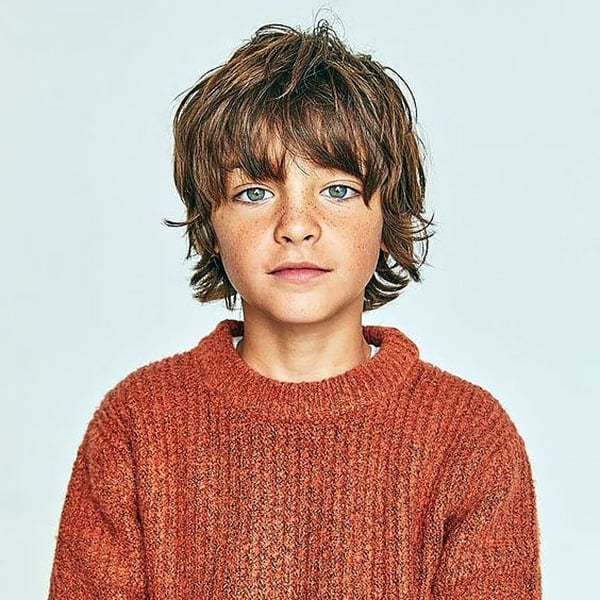 3. Drop Fade with Quiff
For boys looking to make a statement with their haircuts, the drop fade with a quiff is the perfect combination. Regardless of age, hair type, or texture, this stylish boy haircut is sure to turn heads. The quiff adds volume and an old-school vibe to the look, while the drop fade offers a modern twist. Unlike some other fades, the drop fade drops below the ear, giving a more subtle and natural look. Whether rocking this style for everyday wear or a formal occasion, the drop fade with a quiff is one of the best haircuts for boys to try.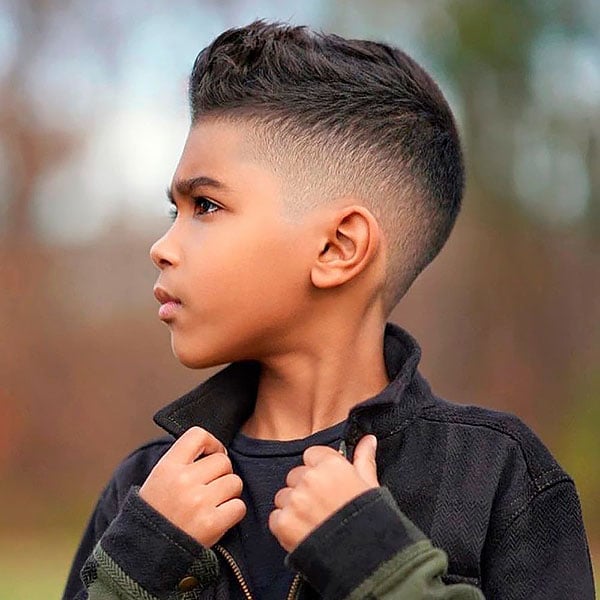 4. Side Swept Fringe
Boys haircuts can range from classic to trendy, and adding a fringe is a great way to switch up the style. The side-swept fringe is particularly noteworthy because of the way it frames the face. This boy hairstyle is very versatile and can be achieved on a variety of hair textures and lengths. You can choose to comb it over for an easy and practical look or let it fall naturally for a fashion-forward vibe. Pairing this fringe with shorter sides will also highlight the proportions of the face. Whether you're going for a timeless or trendy look, adding a side-swept fringe is sure to impress.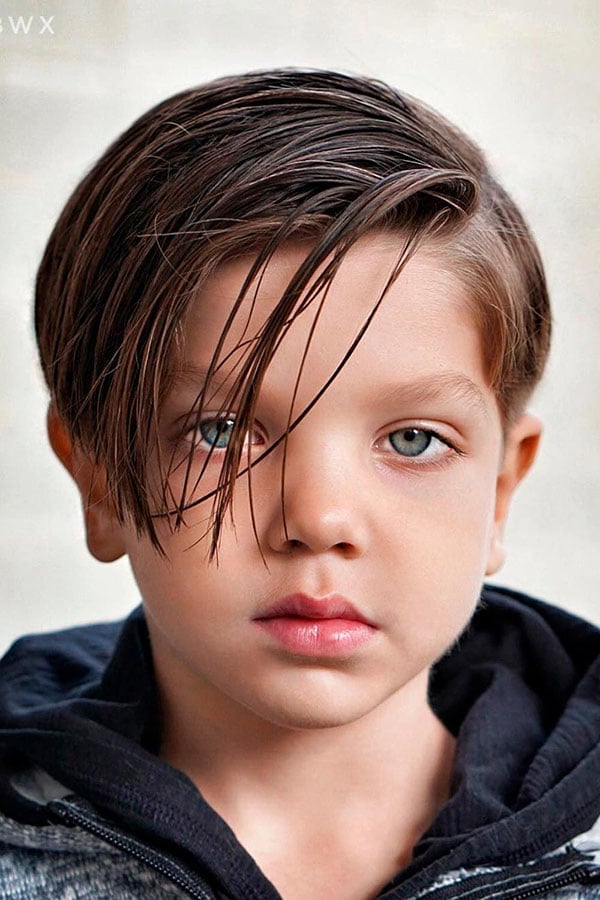 5. Surfer Boy Haircut
Surfer haircuts are unstructured and laid-back boy haircuts. The hairstyle was popular with surfers in the 50s, whose locks were sun-kissed and tousled, creating an effortlessly cool appearance. Regardless of your hair color, length, or texture, this is an attractive option for a boy who doesn't want anything too complicated or high-maintenance. The slightly windswept appearance works best with curly or wavy hair but can also be achieved on haircuts for boys with straight hair. Play around with different options for the parting, and find the hair length that works best for your son.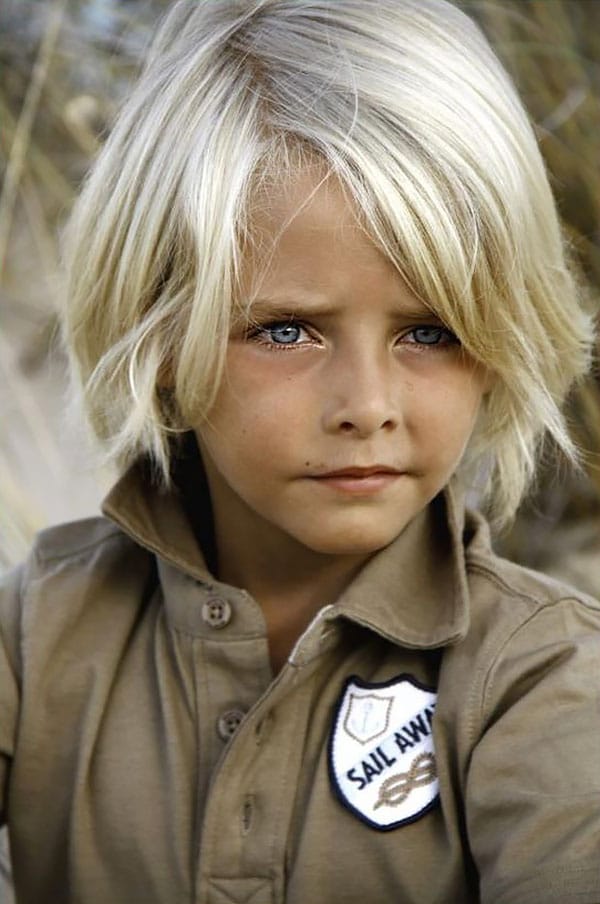 6. Ivy League
The ivy league haircut is one of the most timeless and top boys haircuts. It has been popular for decades and is still relevant today because it creates a polished and cool appearance. It is defined by the neatly tapered sides and a slightly longer top, usually at least half an inch, with the most length at the front. The cut can be adapted to suit a wide variety of styles, for example, paired with a side parting. For most boys, this hairstyle is appropriate for school but still allows them to express themselves.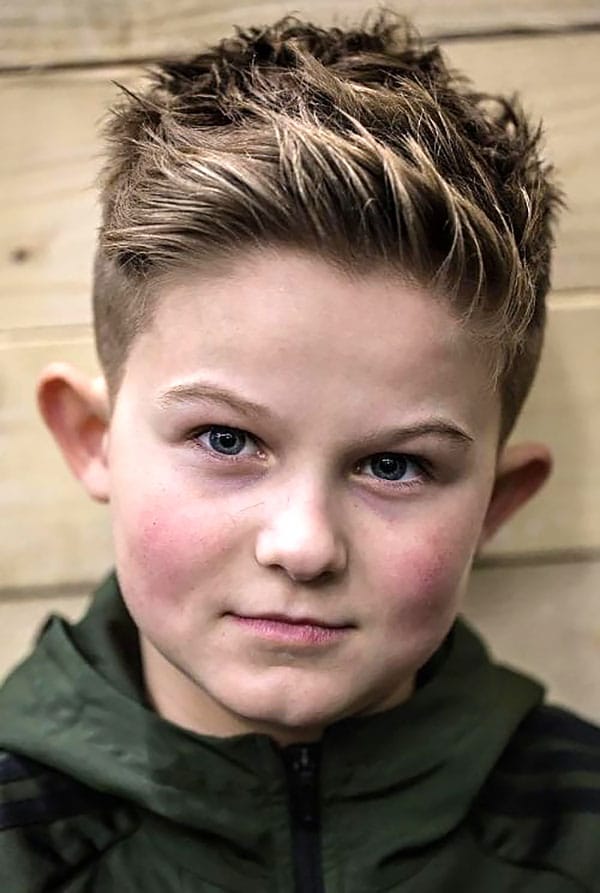 7. Afro with Line Up and Temple Fade
For black boys who want to rock their natural hair, an afro with a line-up and temple fade is one of the most popular boys haircuts. The volume of the afro makes for an interesting contrast when paired with the sharpness of the line-up and the temple fade. A line-up is created by cutting a distinct line with sharp angles into your hair, which can draw attention to your eyes. A temple fade enhances the hairline and makes it even more visible. It is a look that requires some upkeep, but it is also a bold and fun way to express yourself.
8. Crew Cut
One of the most stylish haircuts for boys to pull off is the crew cut. It is a timeless classic, known for being practical and offering minimal fuss. The cut is short, sharp, and exceptionally easy to maintain, requiring no grooming time or products. Boys of various hair textures can wear it, but the point is to keep it short and out of your face. This is an excellent look for sporting activities or school and can be adapted slightly.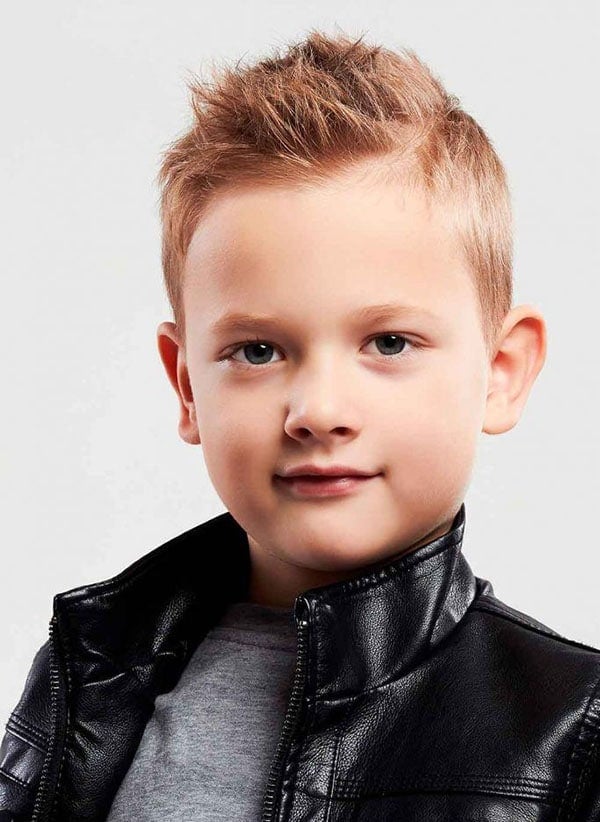 9. Undercut with Hard Part
An undercut with a hard part is considered a good haircut for boys. The combination makes for an edgy style, as the undercut fade features short sides and back, with longer lengths on the top. This makes it a versatile option, which can be paired with several styles, from slicked-back hair to a quiff. The great thing about the hard part, which has a distinct shaved line along the scalp, is that it is bold and draws the eyes to the hair. It also creates a definition and a more polished appearance.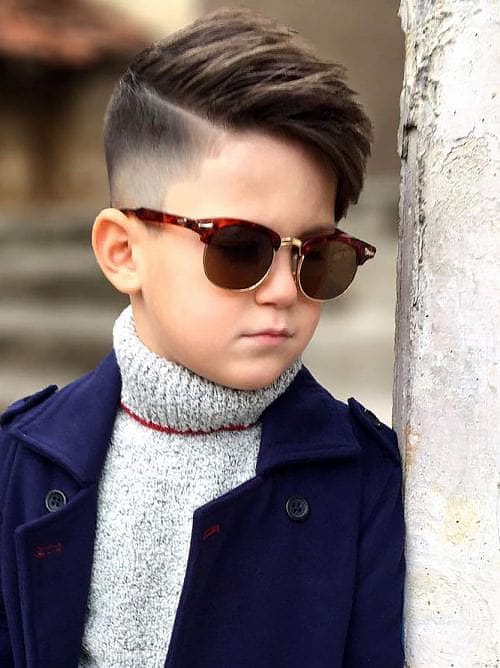 10. Scissor Cut
Many boys haircuts s are created using a razor or clipper, but a scissor cut is more traditional. It also makes a more natural appearance and is a fantastic look for a young boy who wants to keep his hair as fuss-free and straightforward as possible. The scissor cut is cool without trying too hard and looks great when kept short on the back and sides and slightly longer on top. It works best on textured hair but can also be done on straight or curly hair.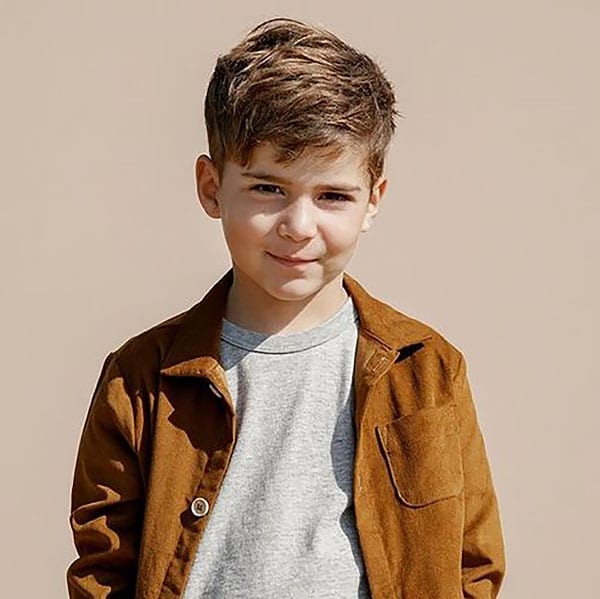 11. Side Part with Quiff and Taper Fade
The side part is versatile and timeless boy haircuts and can be styled in various ways. It can suit most hair textures and lengths and can create a smart and stylish appearance. You can opt for a side part with a quiff for boys who like looks with volume and want to keep some length on the top. A quiff is brushed upwards and backward and can be done on long or short hair, depending on how dramatic you want it to be. When paired with a side part, it creates a more professional appearance but is still trendy. The taper fade haircut gives an edge and makes it appear youthful.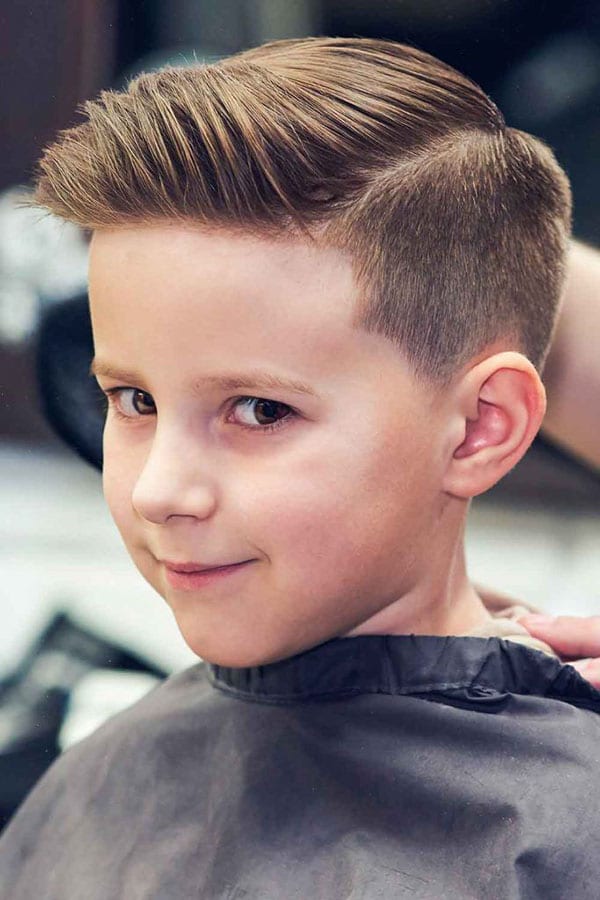 12. Blowout with Taper Fade
Boys haircuts can be a fun way for young men to experiment with different styles and looks. The blowout haircut with a taper fade is a dapper and sophisticated look that exudes both confidence and style. With a blowout, boys can create volume and texture while still keeping things sleek and manageable. Whether they choose to style their hair in a messy, unstructured way or opt for a more polished look, the blowout with a taper fade is a versatile and timeless option. Plus, with the option of a low taper fade, boys can achieve a more subtle look that still maintains the sleek and polished appearance of the traditional taper.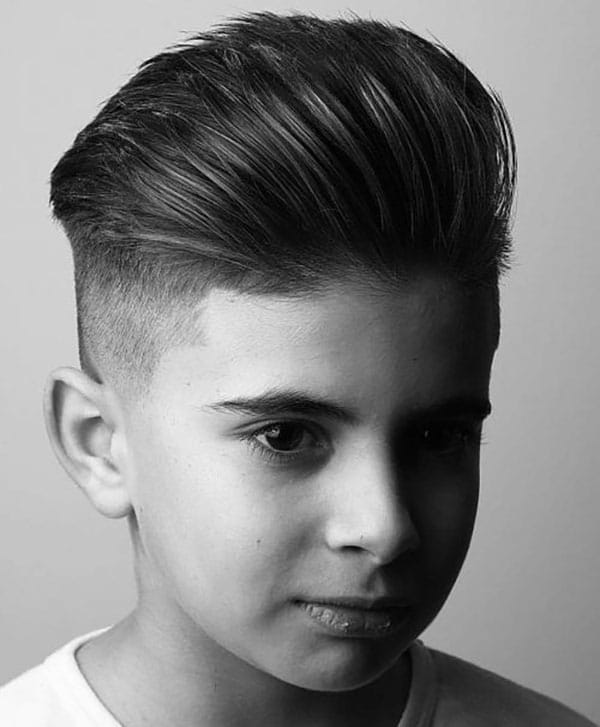 13. Mop
The mop is a hairstyle that The Beatles member Paul McCartney popularized in the 60s. It is now enjoying a resurgence in popularity. Stars like Justin Bieber (in his younger years) have sported a mop, and it looks great when it has a disheveled or messy appearance. To try out this look, you need medium-length hair, around 3 to 5 inches covering the forehead and the ears. There is also a fringe on the forehead, which can be parted. The overall look is laidback and carefree, yet incredibly attractive boys haircuts.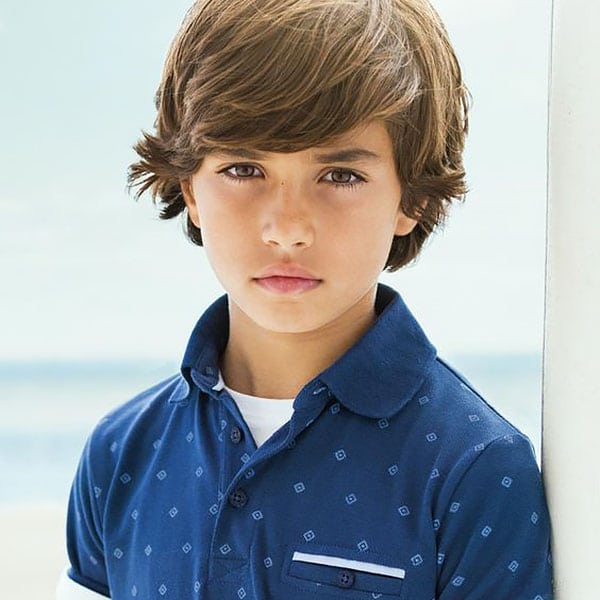 14. Burst Fade
The burst fade is a popular addition to many black boy haircuts because it is incredibly versatile. It can be worn on hair of various lengths, styles, and textures and paired with classic cuts like the Caesar cut or edgy looks like a mohawk or faux hawk. The fade is defined by its semi-circular appearance, as it tapers around the ear and the back of the head. It is left longer at the neck. It is easy to wear and modern.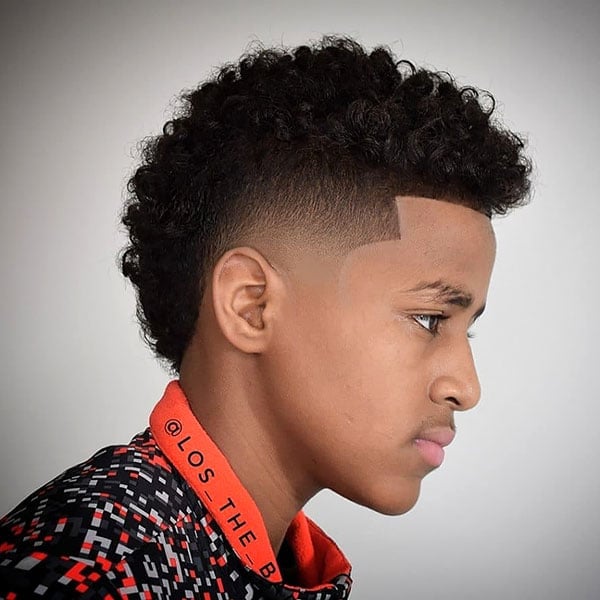 15. Mohawk with Skin Fade
A mohawk is undoubtedly one of the most cool haircuts for boys. It is bold, demands attention, and is probably not school-approved, but does that matter? No. it is the perfect option for the summer holidays or if you want to express yourself. There is a reason this is a look that has been around for decades. Pairing it with a skin fade makes it even more noticeable because the hair is faded on the sides of the head down to the skin, leaving just a long strip of hair in the middle.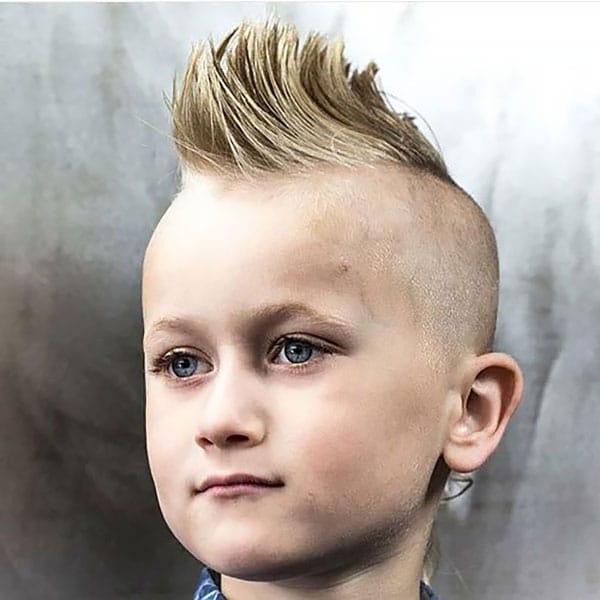 16. Line Up with Skin Fade
Some looks are laid-back, and then the statement makers are like a line-up with a skin fade. Skin fades, and line-ups can be paired with most boys haircuts and face shapes and create an edgy and cool appearance. The line-up is defined by the straight line or sharp angles shaved on the hairline, temples, or parting. The skin fade is a fade that works all the way down to the skin, hence the name. Together, it creates a distinctive appearance and is an excellent addition to any boy haircut.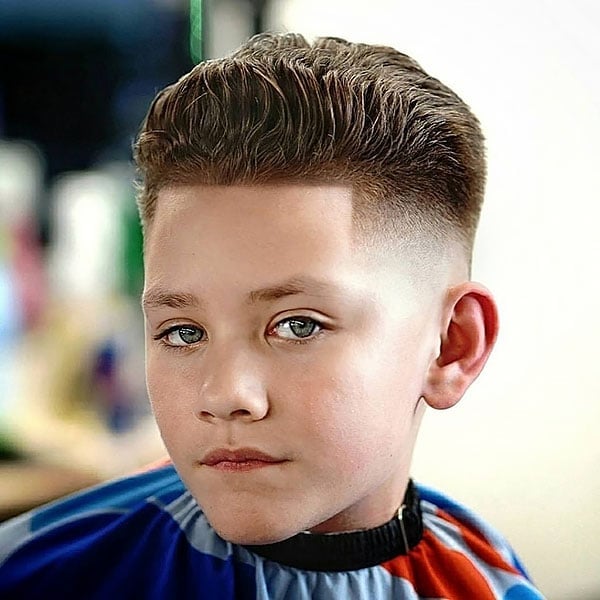 17. Medium Length Textured Hair
Medium-length textured hair can be styled in many ways, or you can keep it long and loose for a carefree approach. The great thing about textured hair is that it makes even the most straightforward boys haircuts interesting, and medium-length hair is versatile and can lend itself well to many different looks. You can opt for fades or undercuts for a sharp, neat appearance and part the hair to keep it from your face. Or style with a fringe for a look that draws attention to the face and softens the features.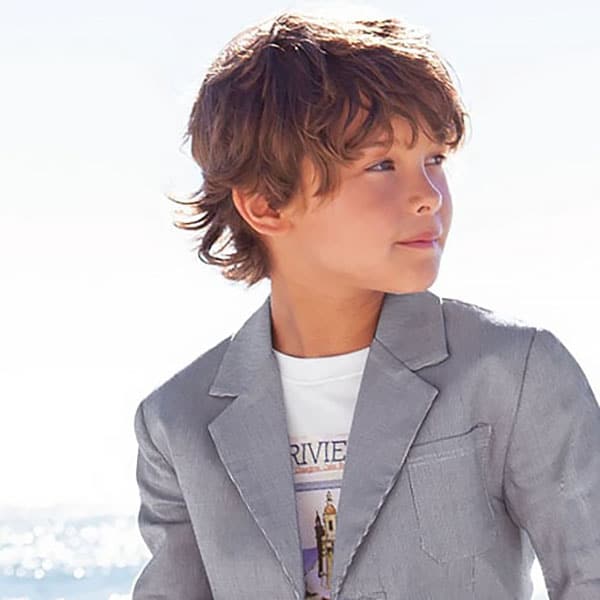 18. Faux Hawk with Skin Fade
The faux hawk is not as dramatic as the standard mohawk, but it still has a rebellious feel, especially when paired with a skin fade. The combination is all about contrast and makes for an edgy and cool boy haircut that keeps hair longer on the top and shorter on the sides, with hair gradually faded down to the skin. The hair is blended more than opting to shave it off but it still takes some serious confidence to pull it off. Keep the hair on top short or medium length to make it easier to style.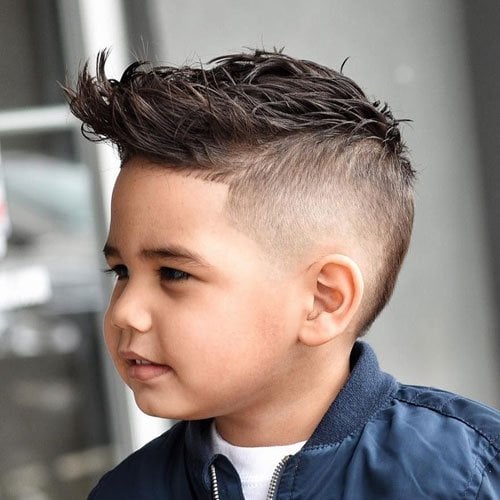 19. Comb Back with Skin Fade
Pairing a comb back with a skin fade creates the perfect balance between a modern and classic look. The comb back has a very sophisticated and traditional appearance and can be combed back in the front or combed back at the sides and parted down the head. It can suit multiple face shapes and boys of all ages. Deciding to add a skin fade creates a slight contrast and makes the look more polished. It can be done on multiple hair textures and lengths, but keeping the hair relatively short will make the overall cut less dramatic and easier to wear, lending itself well to various boys haircuts.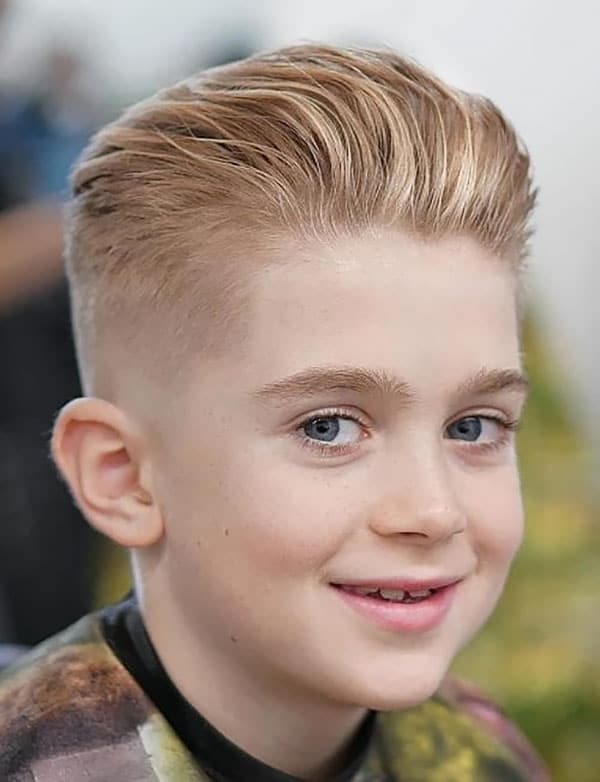 20. Slick Back with Taper Fade
The slick back and taper fade is a pairing that goes well together. It creates an edgy yet sophisticated appearance and is excellent for style-conscious boys. The great thing about the slick back is that it can be done with different hair types and lengths and is surprisingly versatile. That said, deciding to wear it with a taper fade adds a modern twist to a classic hairstyle. The fade keeps the sides and back short, with length on top. The shorter the hair is on the top of the head, the less dramatic the contrast will be. For a more blended look, this is a much better option.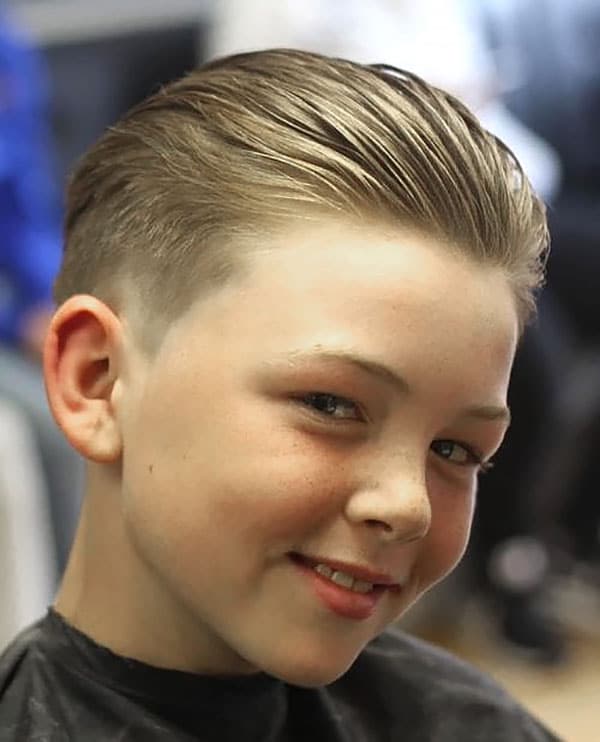 21. Bro Flow
The bro flow is the perfect hair for boys with medium to long hair and is one of the most effortless styles to pull off. It is all about a fuss-free and relaxed aesthetic, as the cut doesn't require much grooming and looks natural. It is achieved by brushing it back, away from the eyes, and leaving the hair to fall naturally. This is an incredibly appealing option, especially for younger boys who do not have the time or grooming knowledge for more complicated styles. The bro flow can be worn on the hair of various textures, including wavy and straight.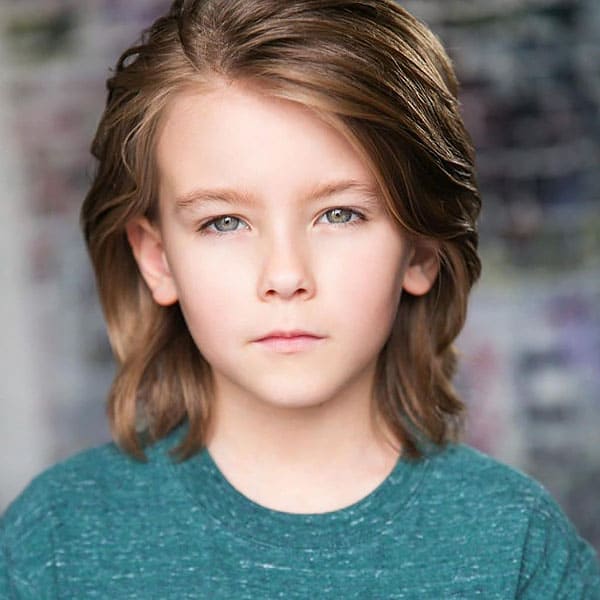 22. Curly Caesar
When it comes to boys haircuts, the Caesar cut is one of the favorite go-to hairstyles. It may seem simple at first glance, but it's actually quite versatile. The cut typically involves having the same length of hair around the head and a straight, blunt fringe. However, you can play around with the length and add a choppy fringe for a more textured look. If you have curly hair, the Caesar can work wonders in taming your curls. Leaving the curls longer can even make them the focal point of your appearance.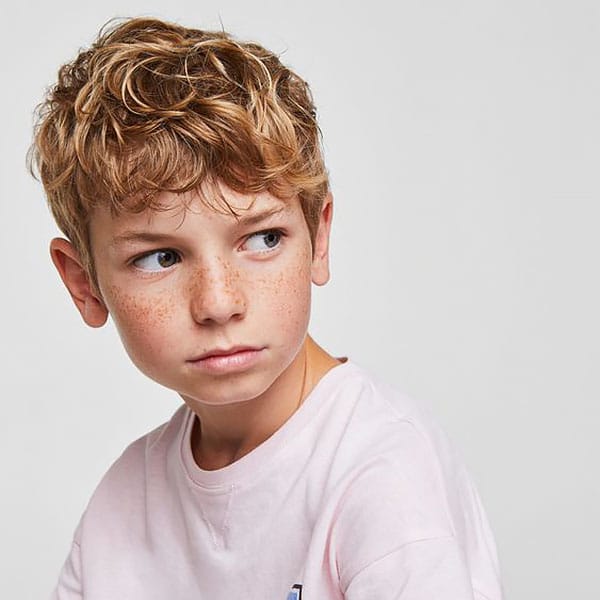 23. Medium Length Parted Hair
The fantastic thing about medium-length hair is its versatility, and there are countless ways to style it. For a more natural approach, choosing a part creates a stylish yet laid-back look that is easy to wear and style. Part it in the direction where the hair naturally grows and let it sweep across the face. This requires no products and only needs to be brushed, making it a perfect haircut for boys.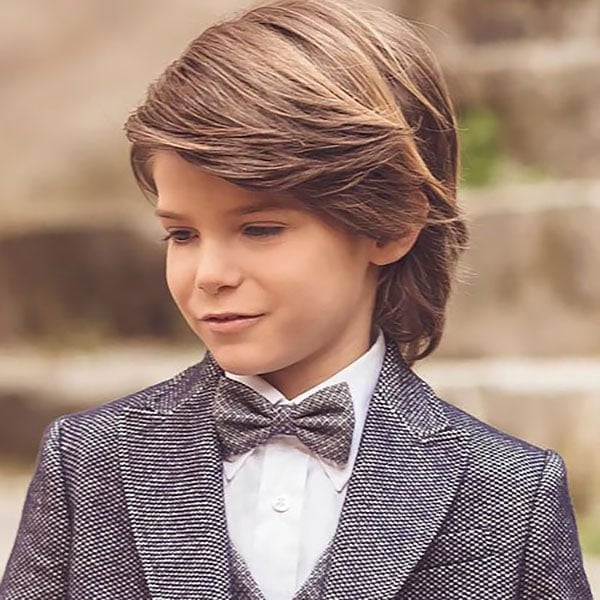 24. Choppy Caesar Cut
The Caesar haircut is a great style for biys of all ages. It is a short haircut that is typically the same length all around the head and has a blunt fringe. That said, the look can be changed slightly to suit your hair type and preference, and opting for a more textured approach is a great decision, especially if your hair has a natural wave pattern. A choppy Caesar can be created in many ways, including choosing a more messy and layered section on the top or choosing a choppy fringe instead of a horizontal one.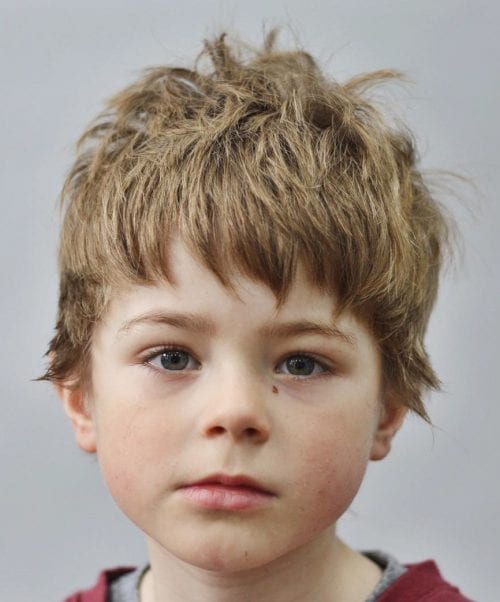 25. Hard Part with High Fade
The hard part features a clean line shaved into the hair, and it is a smart option for boys and men who want an on-trend look. The appeal of it is that it can be paired with a wide variety of hair textures and styles but at the same time has a neat appearance. The hard part, shaved down to the scalp with a trimmer or razor, adds an edginess to the overall look and pairs well with a high fade. The high fade features shaved sides and back that will start around the temples. This helps achieve a boys haircut that is contemporary and polished.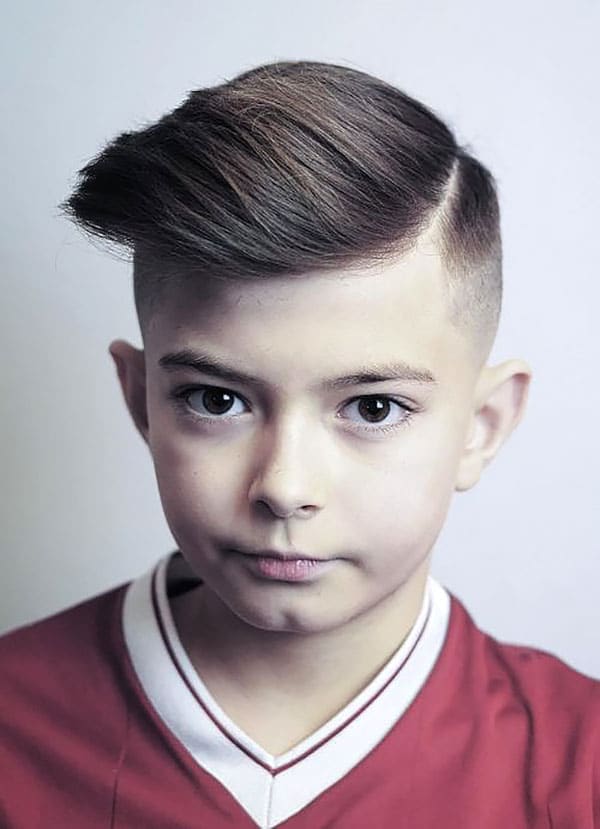 26. Hard Part with Quiff and Skin Fade
The hard part with a quiff and skin fade is one of the most stylish white boy haircuts. A hard part refers to a shaved section in the hair, which creates a clean line down to the scalp. It can be worn to the side and adapted to suit a wide range of hair textures and types and various styles. The quiff is all about volume, while the skin fade creates a more neat and polished appearance. Combining these three elements produces a timeless, manly hairstyle and has an old-school feel to it.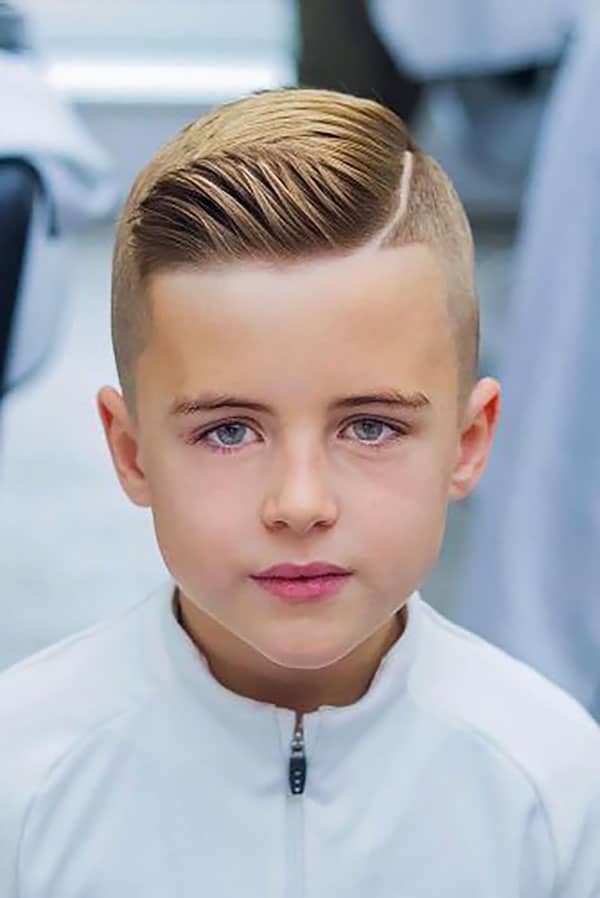 27. Short Textured Bangs
Short textured bangs are a great haircut for boys who want a simple and fuss-free look. Short hair is easy to manage and requires almost no style time, but it can still be interesting. Bangs are an excellent choice for boys because they can be cute and messy and draw attention to the face. The cut has layers and looks more natural than other fringe options, for example, blunt bangs or an asymmetrical style.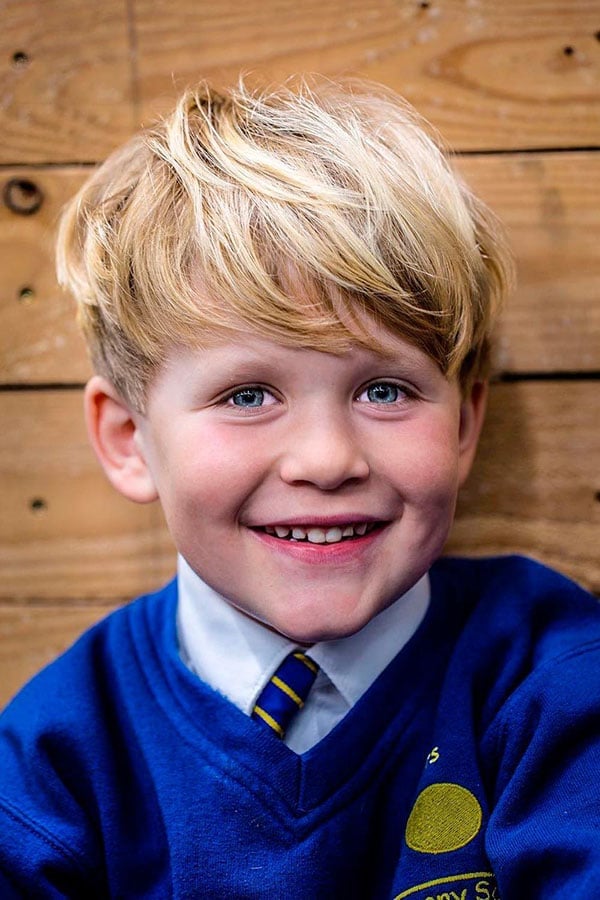 28. Faux Hawk with Drop Fade
The faux hawk has become a trendy style for young men of all ages. It is not as dramatic as the traditional mohawk and much easier to wear, but still has an edgy vibe. There are many variations of this look, allowing you to tailor it to suit your personality, but for a fresh, modern feel, try wearing a faux hawk with a drop fade. A drop fade will create a slight contrast and maximize the proportions of the haircut without being too in-your-face. This makes it easier to wear and will lend itself well to various settings.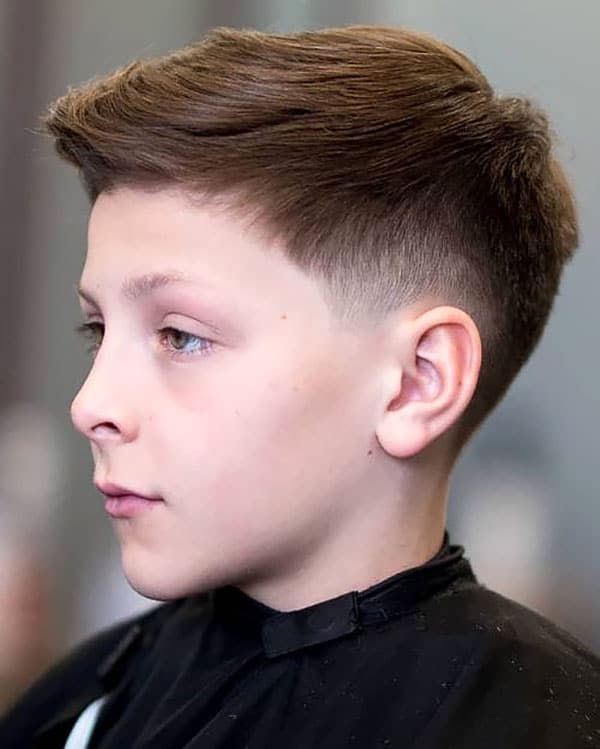 29. Long Wavy Hair with Middle Part
Long boys haircuts have become an increasingly popular for good reason. With longer hair, boys can create a relaxed aesthetic that doesn't require regular trips to the barber for touch-ups. While long hair looks great on all textures, long wavy hair with a middle part has become particularly enticing for many boys. This particular hairstyle adds intrigue as the texture of the hair makes even the most basic cut interesting. Additionally, the middle part keeps the hair out of the eyes and naturally draws attention to the face.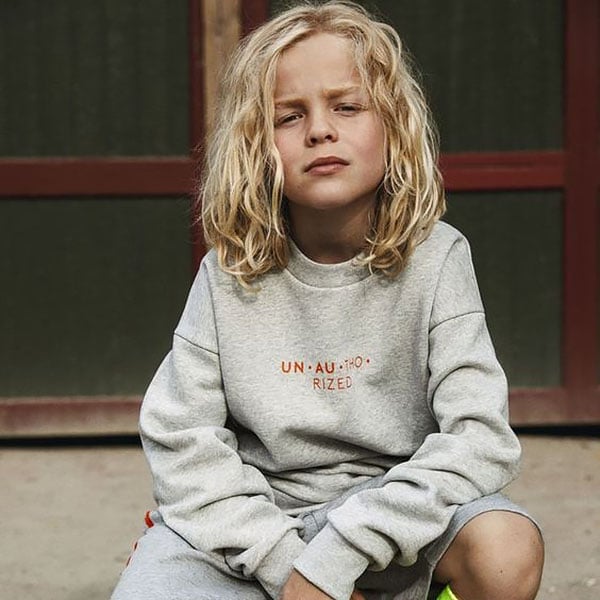 30. High and Tight
A boy's fuss-free hairstyle that requires almost no style time is the high and tight. Inspired by the military haircut, this hairstyle is short and neat, often faded or entirely shaved at the sides, with more length on the top of the head. There are several variations of the look, but the classic approach creates a neat and masculine appearance that is perfect for various occasions and will likely be considered appropriate for school and sporting activities.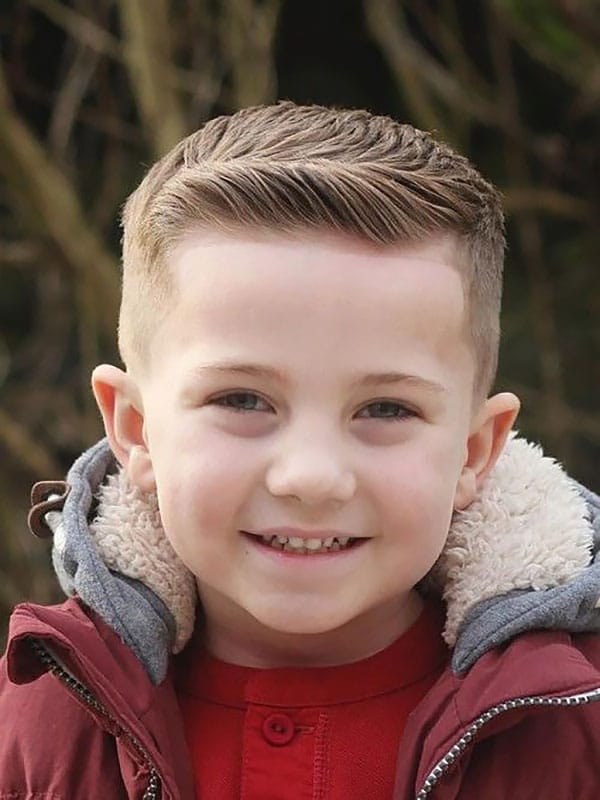 31. High Fade with Quiff
A look that will get attention is the high fade with a quiff hairstyle. You will need to brush the hair upwards and away from the forehead to achieve a quiff, which will help create volume. It can be adapted to suit many lengths and hair textures, but keeping it relatively short makes the style much more wearable. It will also seamlessly blend with the high fade rather than creating a sharp contrast. The high fade shaves along the sides and back of the head will achieve a more polished appearance and give the boys haircuts a fresh update.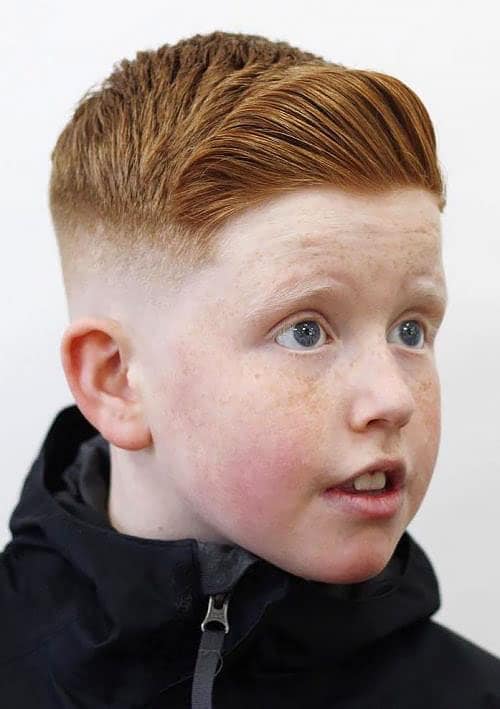 32. Brush Up Hair with Skin Fade
Not one to blend in with the crowd? Well, then, a brush-up hair with skin fade is your choice. The great thing about the brush-up is that it is incredibly versatile and can be paired with a wide range of fades or an undercut, which leaves hair longer at the top and shaved close to the skin on the sides and back. This creates a polished appearance but can also play up the proportions. For example, if you have textured hair and create a messy, spiky look, it will contrast nicely with the skin fade. Contemporary and cool, these haircuts for boys will make a statement.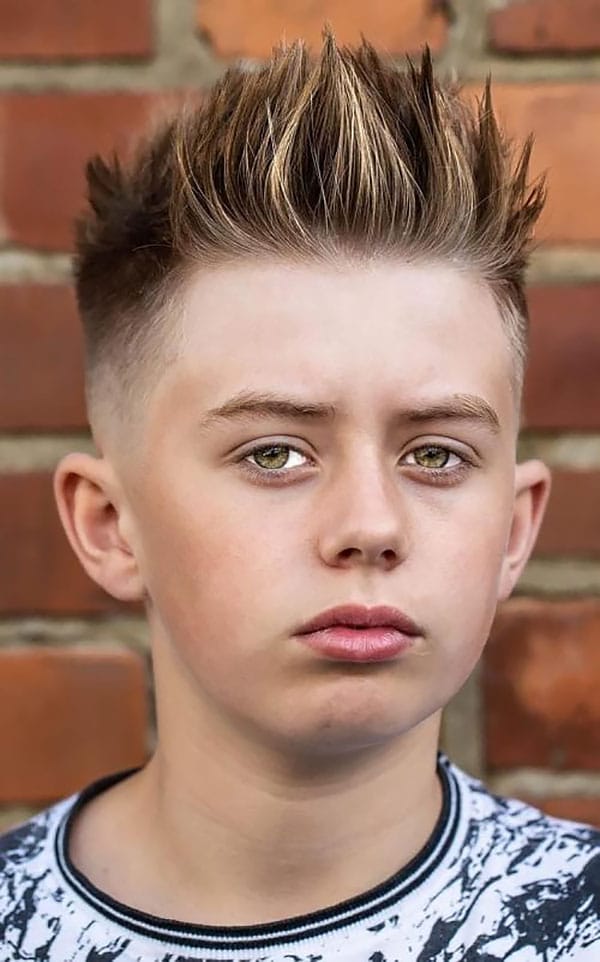 33. Long Hair with Side Part
It has become more common for boys haircuts to have long hair in modern times. It is a great way to show off the natural texture of your locks, it creates a carefree and relaxed aesthetic, and it is incredibly versatile. Opt for long hair with a side part if you want to mix it up. The fantastic thing about the parting is it can help keep the hair away from the eyes while at the same time framing the face. Plus, it will also add volume.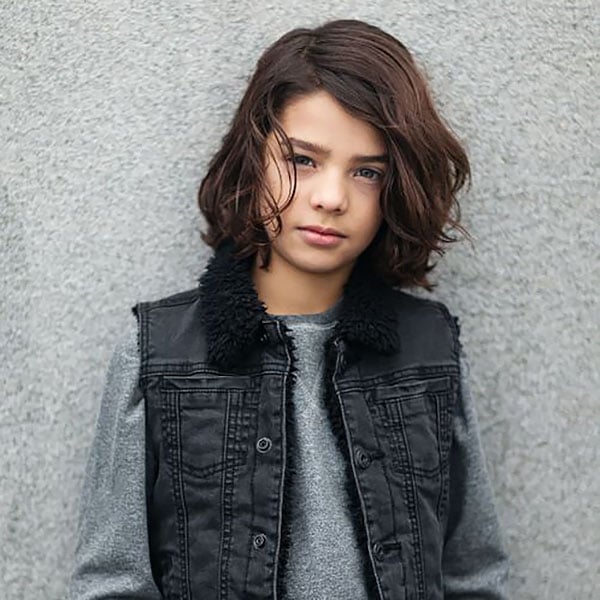 34. Messy Spikes
Spiky hair is a look that has been popular since the 90s, but the great thing about it is that there are so many ways to try it out. Depending on your hair length and texture, it can be changed up, and there is an option to suit every preference. The traditional approach featured noticeable spikes defined, but a messy approach is much more wearable. The way these messy spikes are styled makes them more natural-looking, and they blend into the rest of the hair. It helps if you have naturally textured and thicker hair, but if not, the right grooming products will help create the needed hold.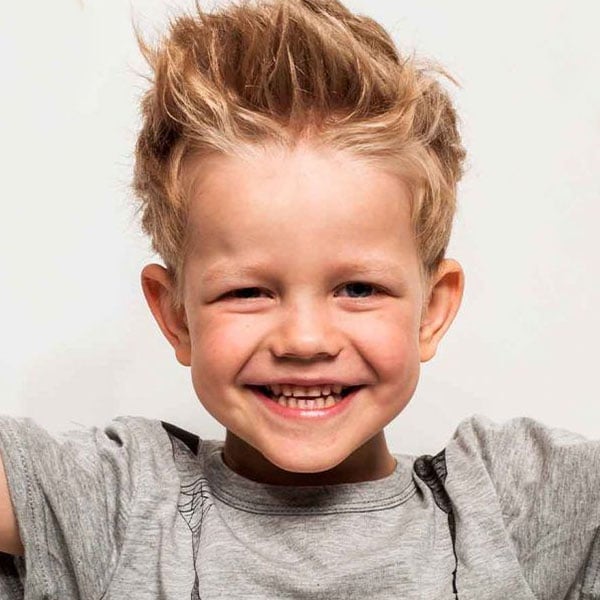 35. Messy Fringe
There is something incredibly appealing about messy haircuts for boys. Many young men do not desire to spend a long time styling their hair, so this is an excellent option because it creates a choppy and unruly appearance, which is still cool. A fringe is a fantastic addition to any cut because it can frame the face, bring out your eyes and add texture. This is the perfect choice for someone who wants a low-maintenance haircut that can work with various hair lengths and types.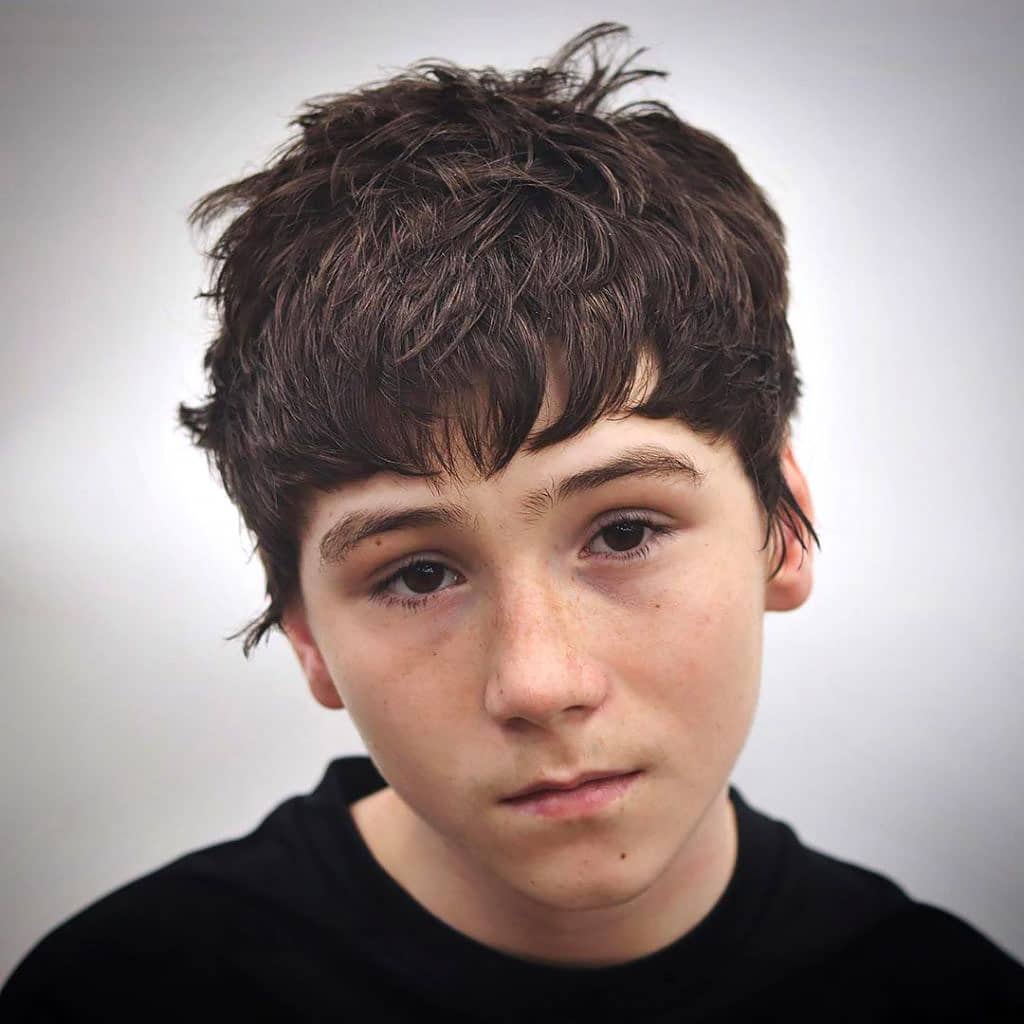 36. Regulation Cut
A regulation cut is clean and simple. Inspired by the army, it is a practical and easy-to-wear style defined by its neat appearance and side parting. It is a little longer than other military haircuts, with the sides and back kept short but enough length on the top to be brushed to the side with a comb. It may require some product to keep the look in place, but the overall effect is incredibly stylish and fabulous boys haircuts.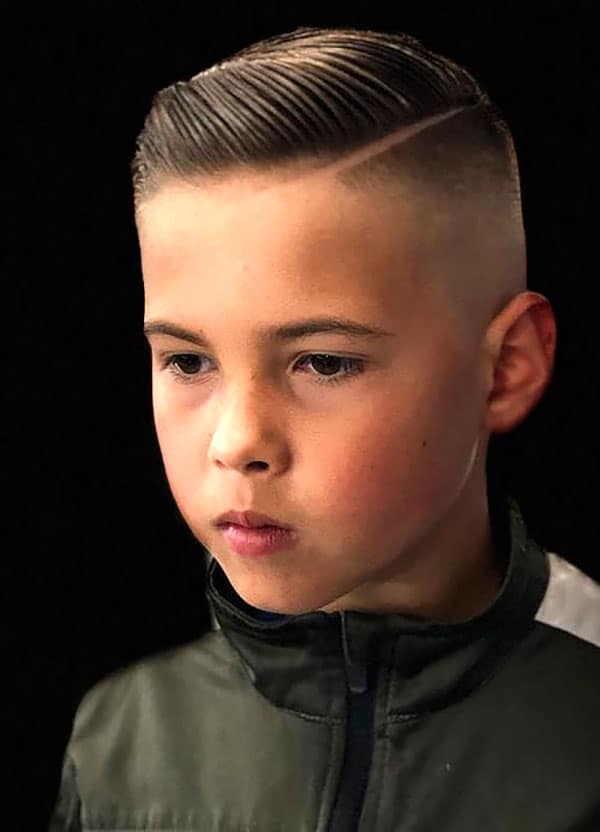 37. Skin Fade with Buzz Cut
The buzz cut is a short haircut clipped close to the head. It creates a formal appearance and is timeless for boys haircuts because it is so low-maintenance and manly. That said, the buzz cut can be adapted to suit your personal preference, and those who want to give it a modern update may be tempted to pair it with a skin fade. The great thing about skin fades is they work with hair of all lengths and are minimalistic and cool. The pairing of a skin fade with a buzz cut is subtle, whereas it would create a more dramatic contrast if there were more length on top.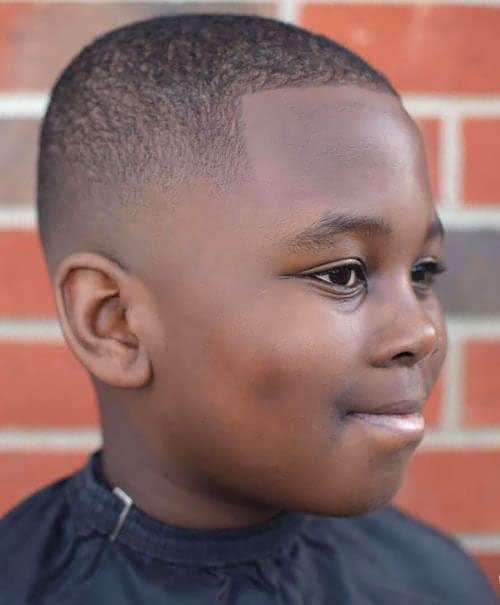 38. Short Straight Hair with Middle Part
If your boy has short hair and is looking for an interesting way to wear it, consider pairing it with a middle parting. The central part is enjoying a moment in the limelight because it looks cool, but it is also practical, keeping the hair out of the face and highlighting your features. It can also complement the symmetry of your face. In addition, this is one of the simplest looks to wear and will suit boys of all ages; it requires little styling, and there are no worries about the hair getting in your eyes or causing irritations.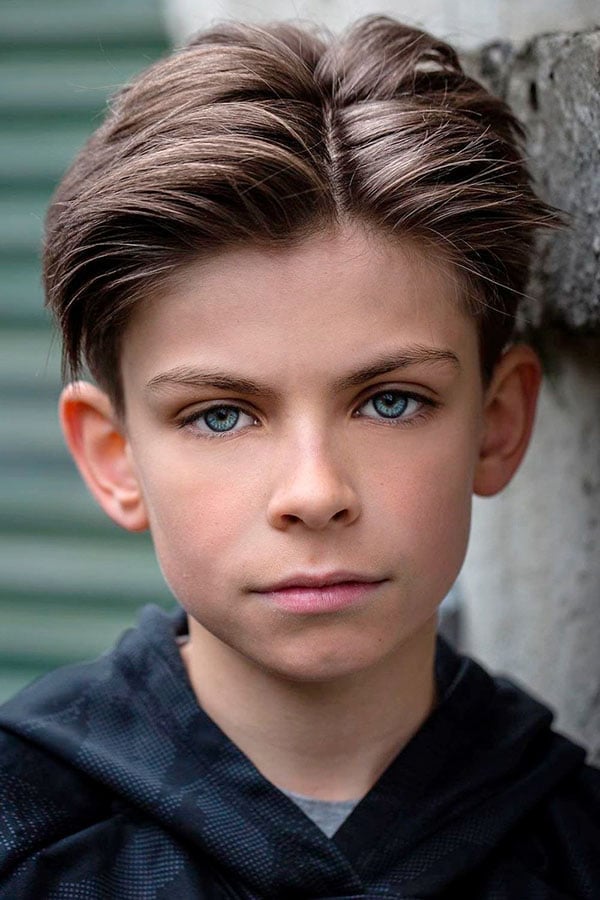 39. Short Back and Sides with Quiff
A lot of good things can be said about the quiff. It was a favorite in the 50s but remains relevant today because of its adaptability. It allows you to play around with proportions and determine how dramatic you want your look to be. There should be a short back and sides with the quiff, leaving length on top. This lets you sweep the front up, creating a voluminous look. Keep your boys hair short for a more modern and neater approach, creating less contrast. It can also be smoothed or left messy for a more laid-back appearance.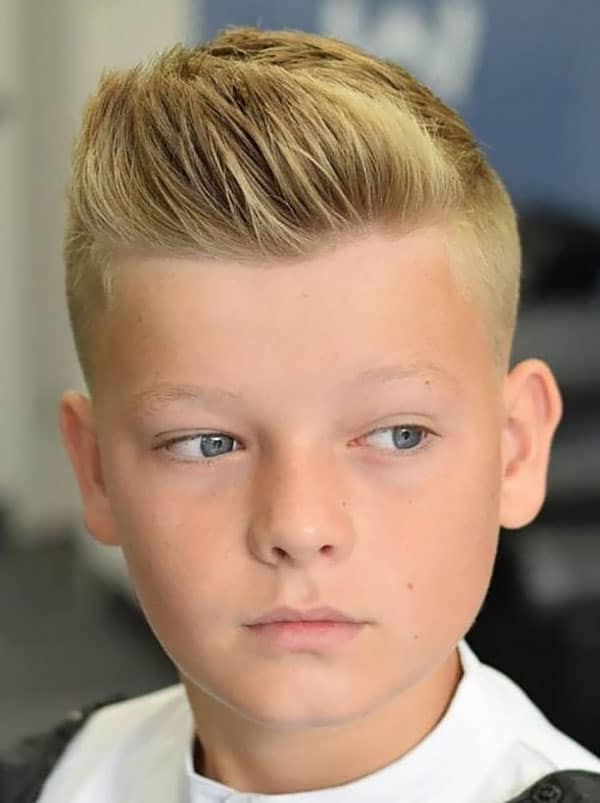 40. Caesar with Taper Fade
The Caesar cut traditionally features the same length all over, but it is versatile that can be tailored to suit your style. A popular boys haircut would be to pair it with a taper fade, which gives a classic look and a modern update. The sides are kept short, gradually shortening from the top of the head downwards. The top has more length, allowing for a textured appearance. The pairing is fresh and cool but also easy to wear.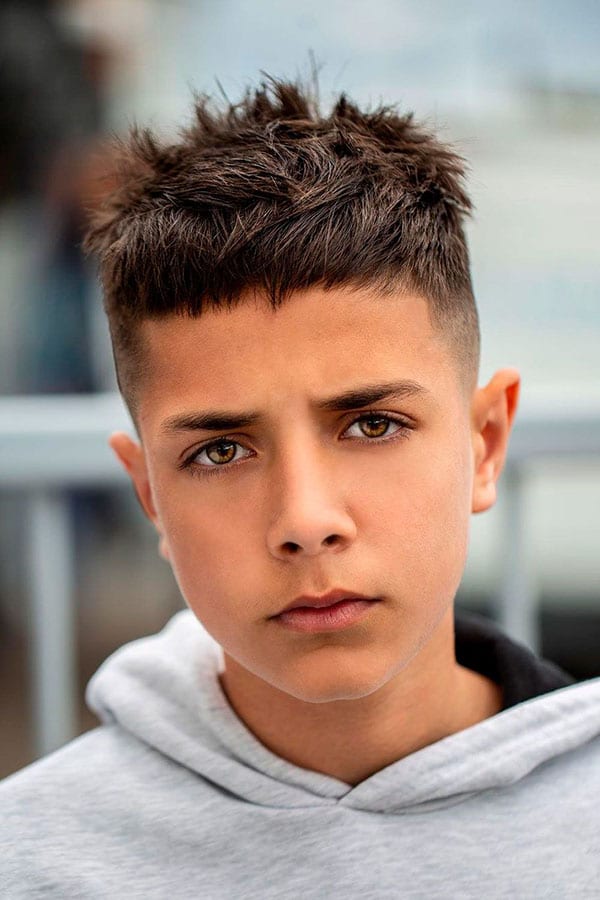 41. Spiky Hair
Spiky hair was a favorite in the 90s. Loved for its grunge aesthetic, it has been adapted to suit various hair lengths and textures in modern times. It is also slightly less dramatic, with boys opting to create the look on shorter hair, making it much more wearable. This is also much easier to achieve because the longer the hair, the more difficult it is to style, and it requires grooming products such as pomade or strong-hold wax. You can opt for defined spikes or keep them more messy and textured.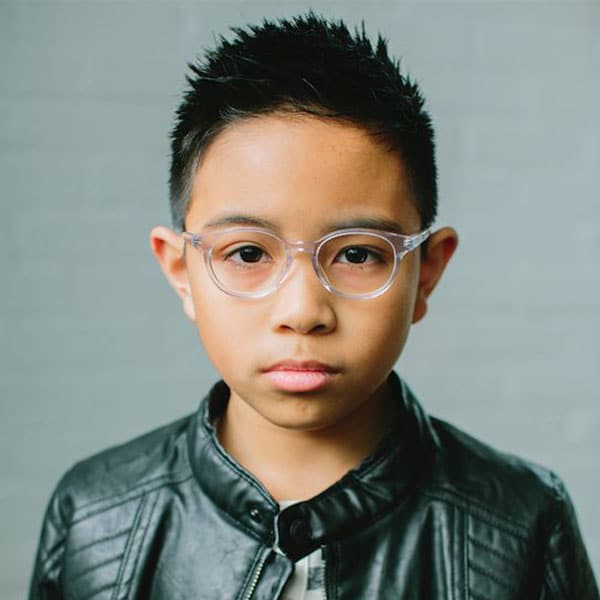 42. Textured Crop with Angular Fringe
There are many ways to wear a crop haircut, and the great thing about it is that you can adjust it to suit your preference. A textured crop with angular fringe is a more daring approach to this cut. Instead of opting for subtle blunt bangs, this fringe will get noticed. It will draw attention to the eyes and forehead. Textured hair has different layers within it, creating more volume and dimension. Combined with a fringe cut at an angle, you have a modern haircut that is perfect for a boy who wants to have some fun with their hair.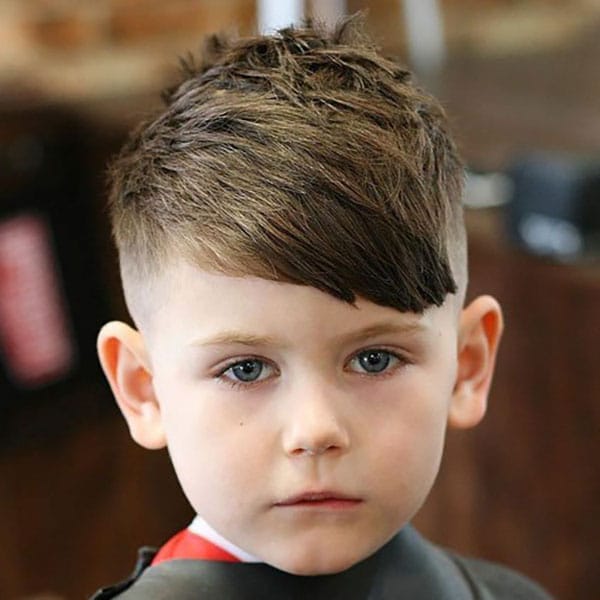 43. Undercut with Brushed Back Hair
The undercut with brushed back hair is a masculine and dapper look for boys. The undercut contrasts the top of the hair with the sides and back; these are kept short. It has a youthful appearance and can be styled in multiple ways, making it a popular addition to any cut. It is also less maintenance than a full head of hair and, therefore, a practical option. As the name would suggest, brushed-back hair requires you to brush the front of your hair backward which creates volume.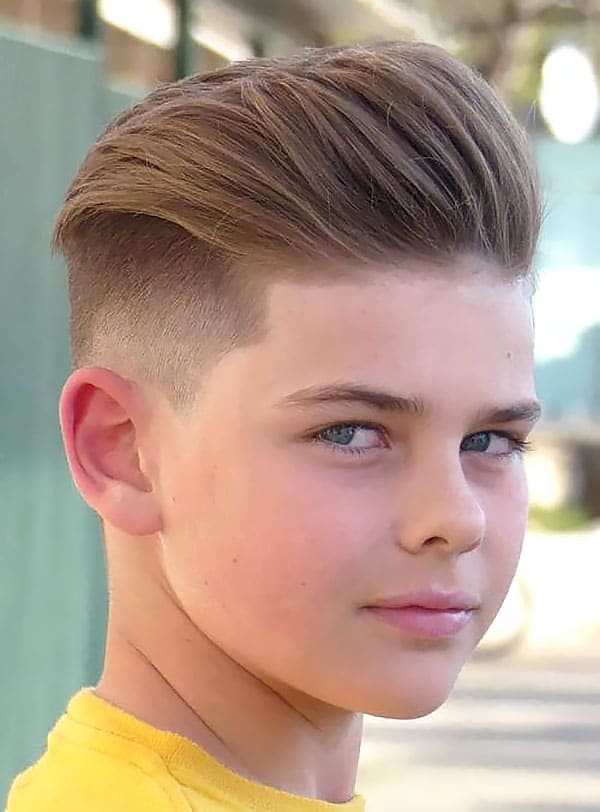 44. Faux Hawk with Hair Design
One of the easiest ways to show your boys personality is with a faux hawk and hair design. This is a bold combination for a boy who likes to stand out from the crowd and has a lot of attitude and confidence. Hair design is an opportunity to have fun with your hair, allowing you to choose something daring or simple. Popular choices include geometric shapes, zig zags, lines, and more complicated options like a bird or diamond. The faux hawk is not as bold as a mohawk but still daring and cool. The proportions are highlighted even more when paired with a hair design.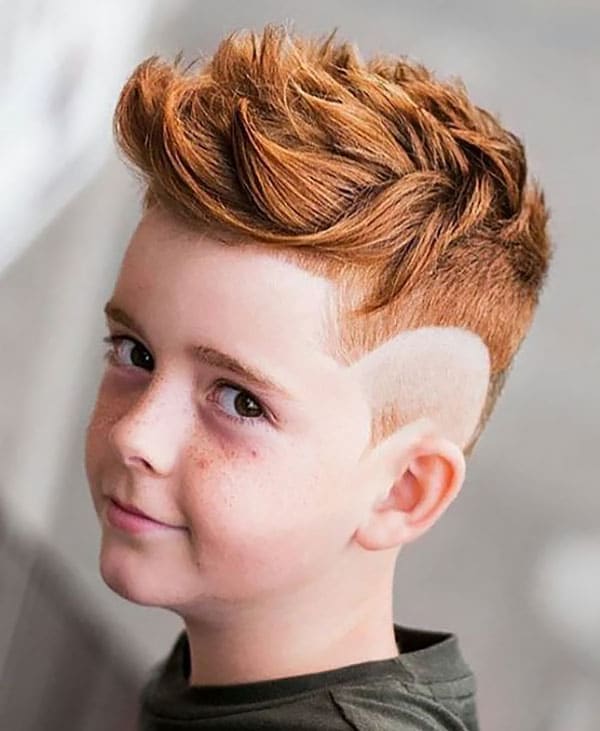 45. French Crop
The French crop is a simple look with a slight fringe and is clipped at the back and sides. It has relatively the same length throughout, making the proportions balanced and creating a subtle contrast between the top of the head and the sides. This is one of the most effortless boys haircuts because it doesn't require much style time and lends itself well to various settings. It looks excellent on textured hair but can be just as cool on straight hair.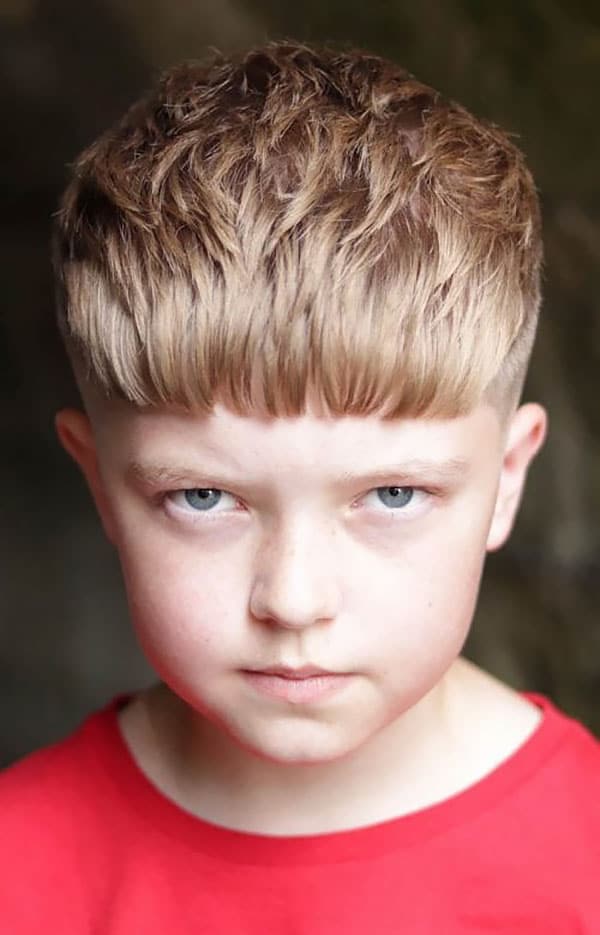 46. Low Fade with Forward Combed Hair
A low fade with forward-combed hair is cool but not too daring. It is the perfect balance between a modern take on a hairstyle that is also dapper and smart. A low fade looks good with short and medium-length hair, and it can be slicked back or combed forward for a sleek and subtle appearance. Combing the hair forward is also better and creates a more natural appearance. The important aspect here is that the boys hair is not too long on the top, or it could get in the eyes and have to be touched up regularly.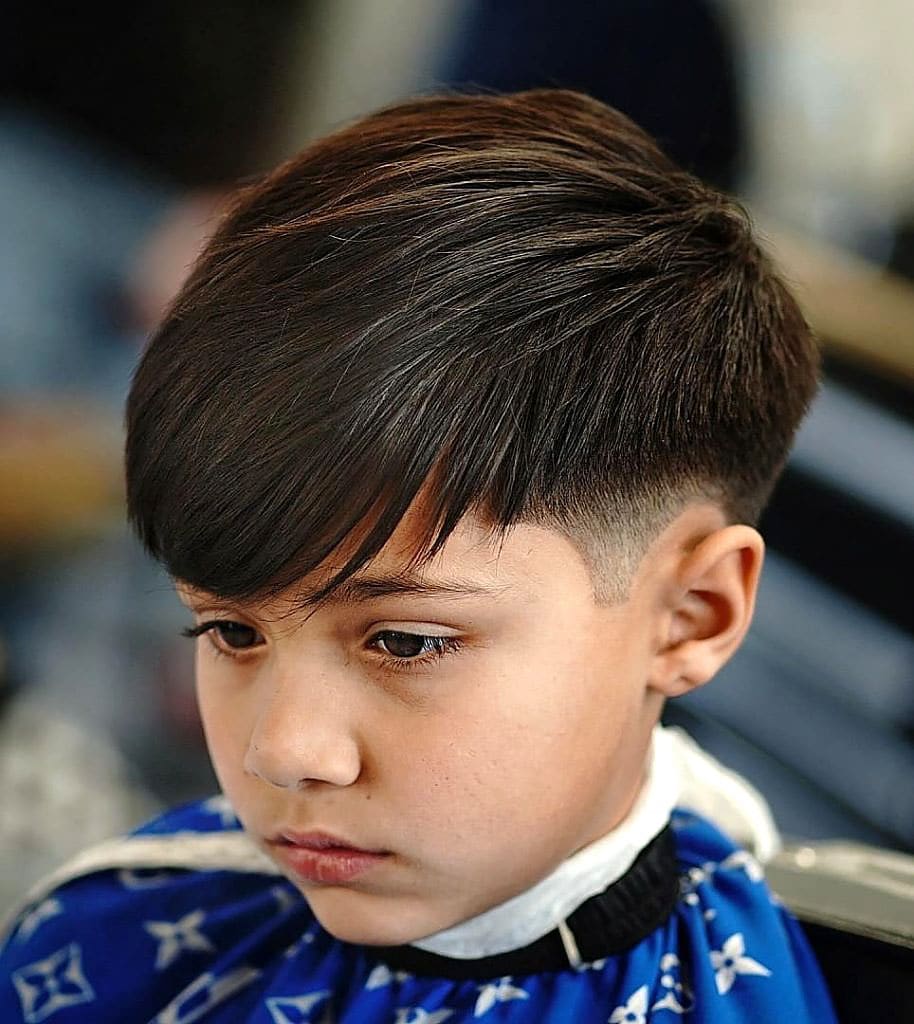 47. Short Natural Curls
What is not to love about haircuts for boys with curly hair? The fantastic thing about having curls is the texture. That said, keeping short natural curls is one of the easier ways to wear them because it tames the locks. Curly hair can be challenging to maintain and can get tangled easily, so this option is a wonderful alternative and reduces style time and fuss.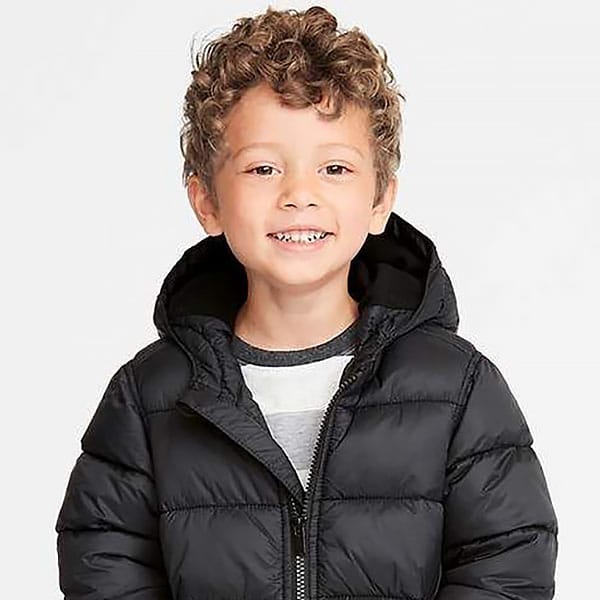 48. Pompadour with High Fade
Few looks can say 'I'm a cool boy' more than a pompadour with a high fade hairstyle. This cut takes confidence to pull off, requires grooming time and maintenance, and makes a statement. The pompadour is all about volume and features longer hair in the front, which is brushed upwards. The cut is excellent when paired with faded sides because it adds structure and neatness to the look. It also makes it appear more modern and plays up the proportion. The high fade is shaved close to the skin across the sides and back of the head, starting around the temples and graduating downwards.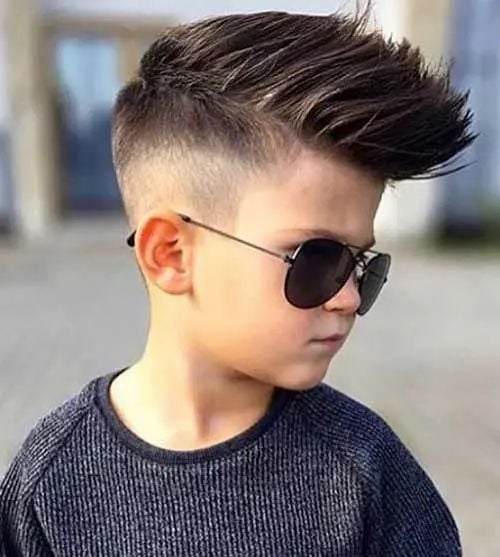 49. Textured Crop
A cropped haircut is a short boys haircut that is textured. It often is paired with a blunt fringe and short sides. It is versatile and straightforward, can be worn with various hair types, and paired with other cuts to create a modern or fresh approach. For example, a fade on the sides and back will highlight the texture on top and make a neater and more edgy appearance. It works best with natural texture hair, but the right grooming products can be adapted to suit straight hair.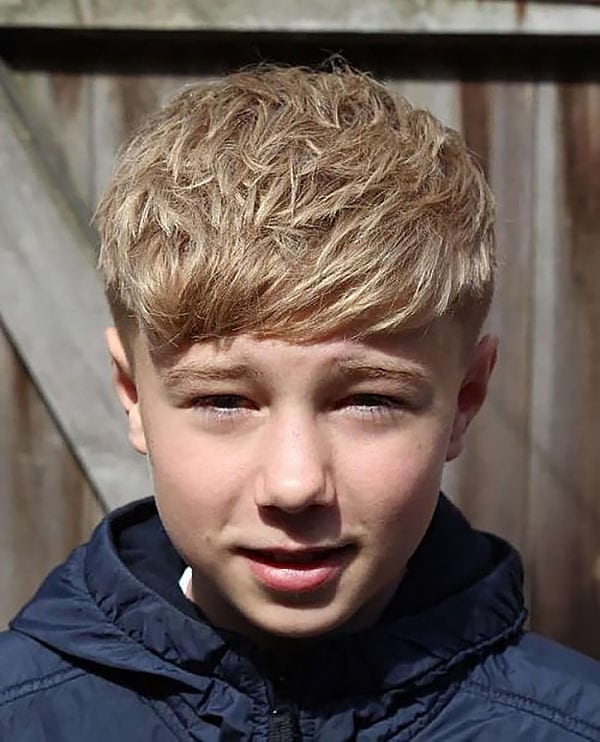 50. Soccer Haircut for Boys
Soccer players aren't just known for their skills on the field and cool hairstyles. The looks of some of the world's top players have inspired hairstyles around the globe. From longer styles requiring headbands or thin elastic bands to shorter types like the slick back, spiky hair, or Christiano Ronaldo's razor cut with faux top. The great thing is there are many boys haircuts to choose from, depending on your personality, hair texture, and length. Bring in a photo of your top player and ask your barber to create the look for you.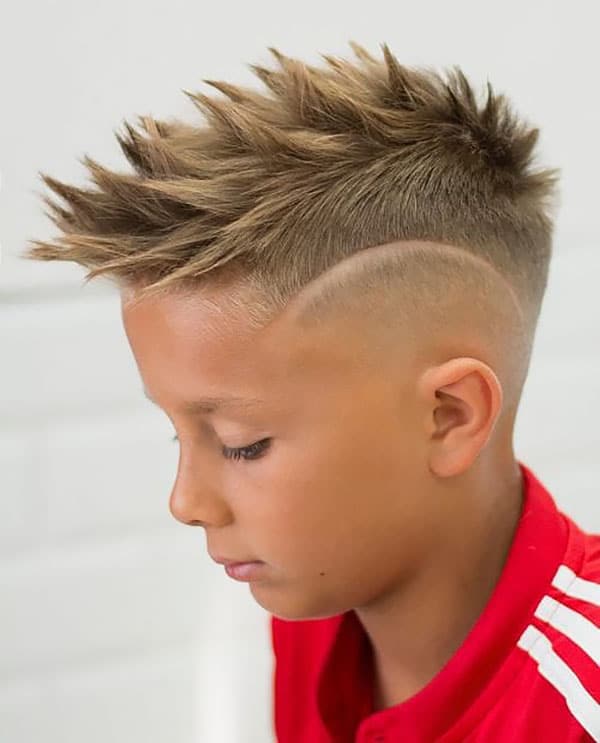 51. Buzz Cut with Line Up
The buzz cut is one of the most appealing haircuts because it requires little maintenance and no styling time. The cut is clipped close to the head and can be easily adapted to suit your preference. You can style it with a hair design or a line up. The line-up is cut along the natural hairline and works well with a buzz cut because it can create sharpness and structure. In addition, the buzz cut can be created on the hair of all textures.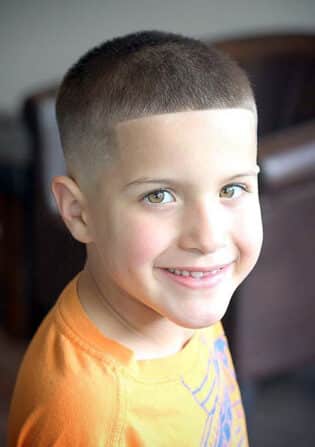 52. Middle Part Haircut
If you're looking for a no-fuss hairstyle for your boy, consider a middle-part haircut. As the name suggests, the hair is cut with a parting in the middle. This can be incredibly flattering because it will frame the face and highlight the features. The middle part is low-maintenance and will not have to be retouched throughout the day. The hair can be easily tucked behind the ears. It can also be added to hair of various lengths and textures, making it an incredibly versatile option.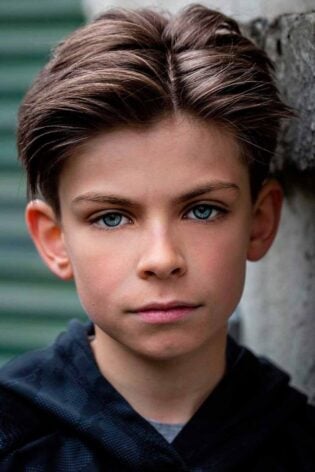 53. Mullet Haircut
The mullet hairstyle is currently the most popular boys haircut around. It has short hair on the top and the sides and a longer piece on the back. It has a bad reputation for being an unprofessional haircut, but if your son is on school vacation or wants to experiment with his hair, this can be a way to do this. You can also create a more modern finish by opting for less distinction in length between the sides and back, which will create less contrast and give your little one a more blended appearance.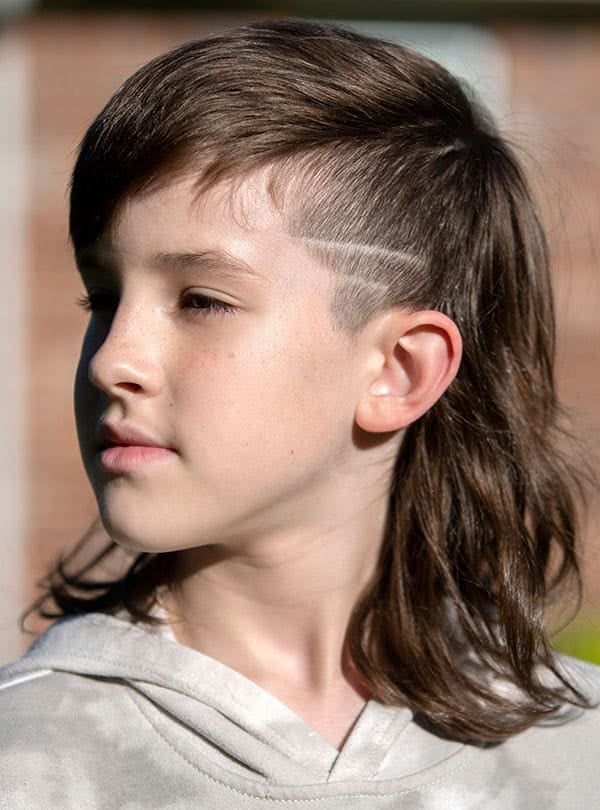 54. Quiff with Bald Fade
There are many ways to personalize the hair to let your boy express themselves, and one of the simplest ways to do this is with a faded hairstyle. The bald fade is one of the most modern haircuts for boys. The length of the hair will transition from longer on the top to shorter on the bottom and taper to expose the skin. This can also make the hair on top appear more voluminous and full, which complements a style like a quiff. The quiff has volume at the forelock and is great for showing off your hair texture.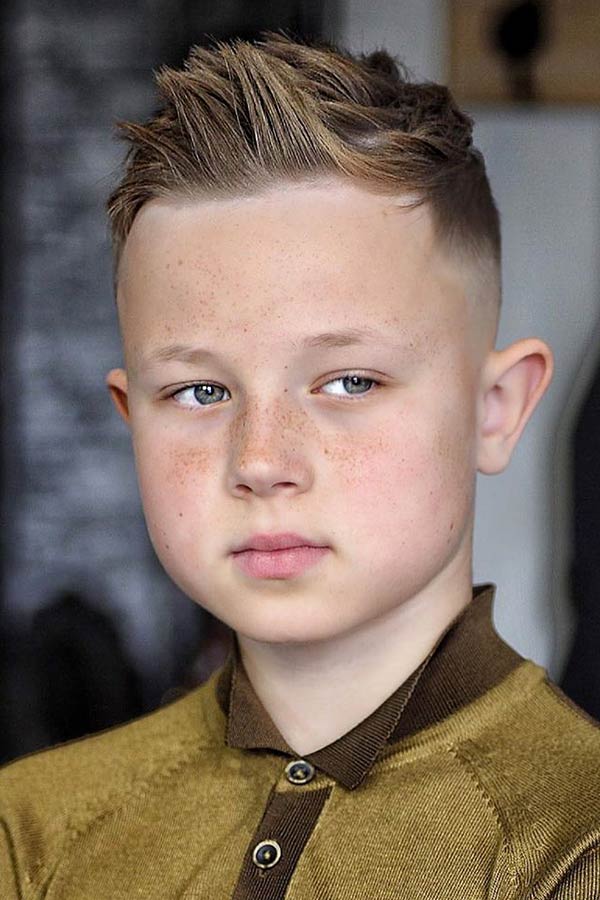 55. Scissor Cut
The scissor cut will give your biys hair texture. It is a classic approach to styling the hair and is done with a pair of scissors instead of a clipper or razor. The result is a natural finish that will require no grooming products and little styling. The cut will work great with all hair textures. Depending on your son's preference, it can be adapted to various lengths.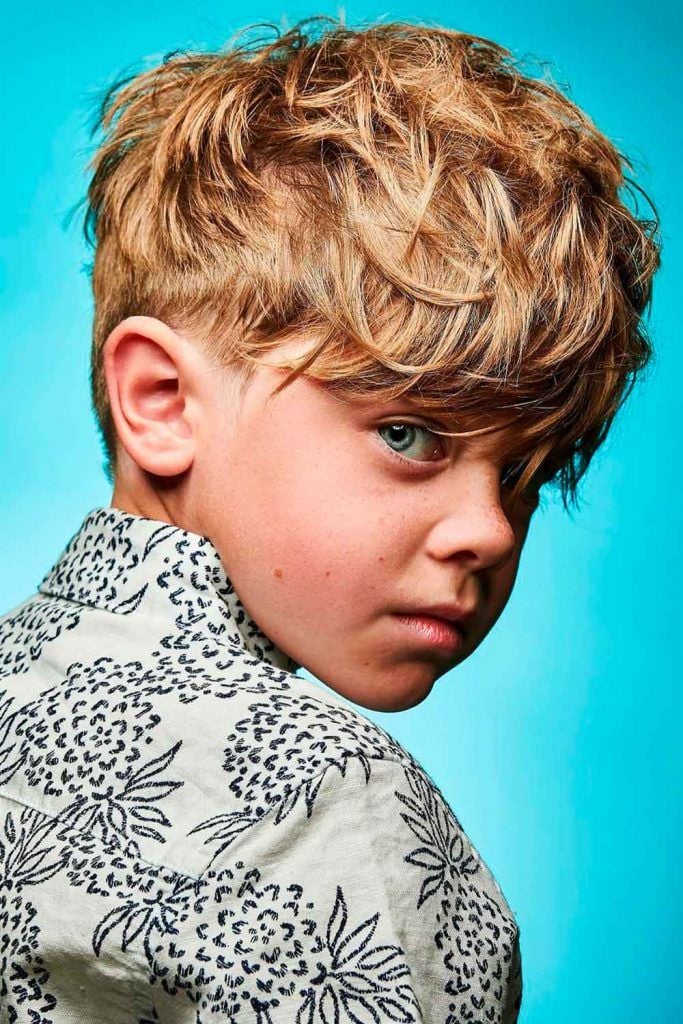 56. Side Bangs
The right boys haircut should make your son feel great and give him confidence. You wear side bangs to the side, and it is a flattering and practical look. The bangs will balance the features and keep the hair out of the eyes. Side bangs will look incredible with multiple hairstyles. They can also be worn at various lengths, depending on how dramatic you want the finish to be. Bangs are perfect for children because they are youthful and can transform their appearance.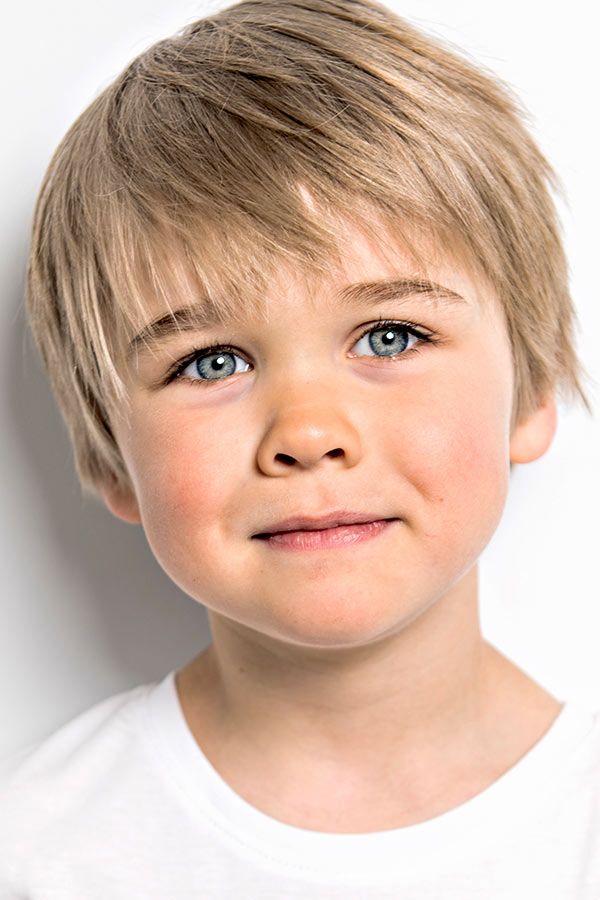 57. Side Parted Ivy League
The Ivy League haircut is one of the preppiest haircuts for boys. It gets its name because of its popularity among students at Ivy League schools and is a neat and structured cut. The hair is longer on top with tapered sides. It is a simple haircut that is fuss-free and ideal for schoolchildren because it looks neat. To make the haircut look unique, you can add a fringe. A great option will include side-parted bangs. This is a flattering option and will balance the features.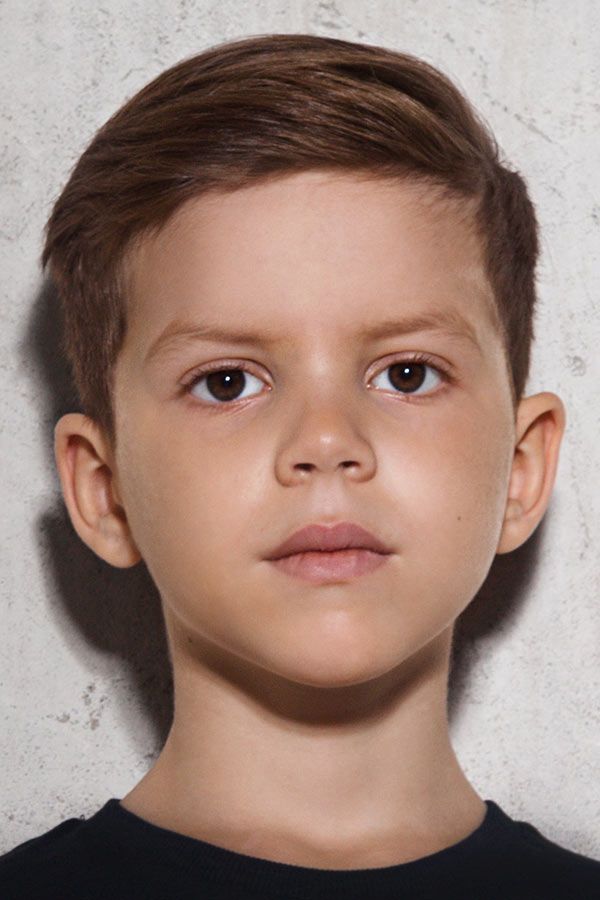 58. Wavy Quiff
Wavy hair is full of volume and texture, making even the simplest boys haircuts look great. The quiff is a style with height at the forelock and a short length on the back and sides. It will complement naturally thick hair and cut on all hair textures. The quiff is a timeless and classic look and is a great style for boys. It can be a relaxed finish, or style it with a side part to look neat. This cool haircut for boys will give you versatility with how you wear and style it.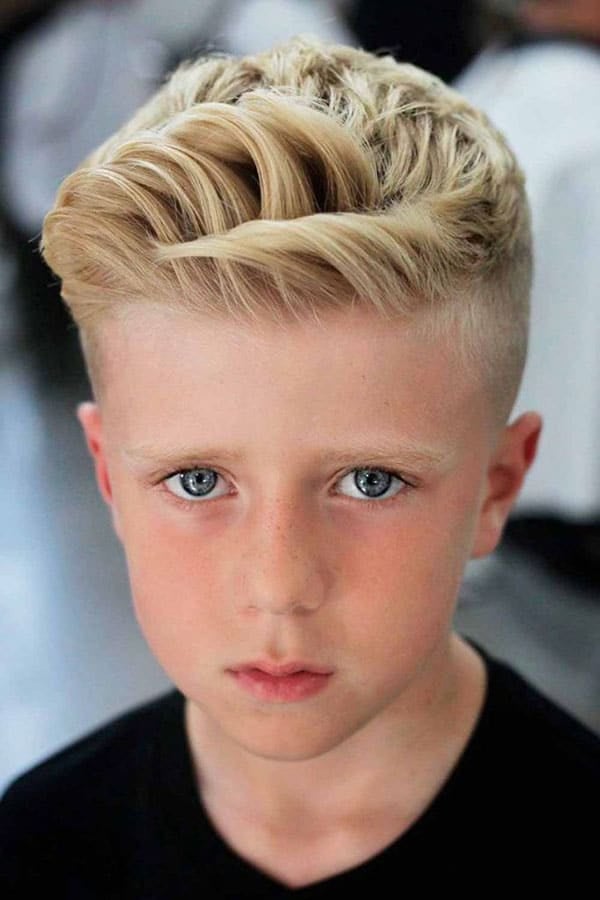 How to Cut a Boy's Hair With Clippers?
Hair clippers can be an excellent choice for cutting hair because they are easy to use. There will also be less pulling on the hair, and clippers can cover a large area of hair much faster. This is an excellent opinion for styles that have structure or require different lengths, for example, long hair on top with short back and sides or faded hairstyles. Clippers come with multiple attachments, making it easy to find the desired length. If you want to learn how to cut your son's hair with clippers and learn all of the tips and tricks you need to make this a success, watch the YouTube tutorial below.
How to Cut a Boy's Hair With Scissors?
Using scissors to cut the hair will create a more natural finish and is a great way to add texture to the hair. It is better for the hair and can result in less damage and a softer finish. If you want to learn more about cutting your son's hair or how to do it yourself with hair clippers, this quick and easy YouTube tutorial below will give you all the answers you need.
Best Haircuts for Boys FAQs
What is the most popular boy haircut?
Many boy haircuts are popular and modern. A few favorites include the comb over and low taper fade, a French crop, and short textured bangs. There are also more daring options for the boys who want to stand out from the crowd. These include hair design, pompadour with high fade, and line up and skin fade.
What is the most common haircut for boys?
Boys' haircuts can be incredibly diverse and suit a wide range of face types and hair textures, and lengths. The decision can be based on whether they want edgy and modern hair or simple and low maintenance. Another factor to consider should be age, as some styles need grooming. A few good haircuts for boys include short crop hair, long hair with a middle parting, a Caesar cut, and textured fringes.
How old should a boy be to get a haircut?
When you decide to cut your child's hair is a very personal decision that can be based on several factors. This experience should not be traumatic for the child, which is why it is advised to wait at least a year before the first haircut. That said, you do not have to cut your son's hair at this time and can wait longer if this decision works best for you and your family.
What is a cool haircut for boys?
There are also a variety of cool boys haircuts that can be achieved with different lengths, textures, and shapes. With the right stylist, parents can find a haircut that works for their child's personality and lifestyle while keeping them looking stylish and put-together.
SUBSCRIBE TO OUR NEWSLETTER
Subscribe to our mailing list and get interesting stuff and updates to your email inbox.