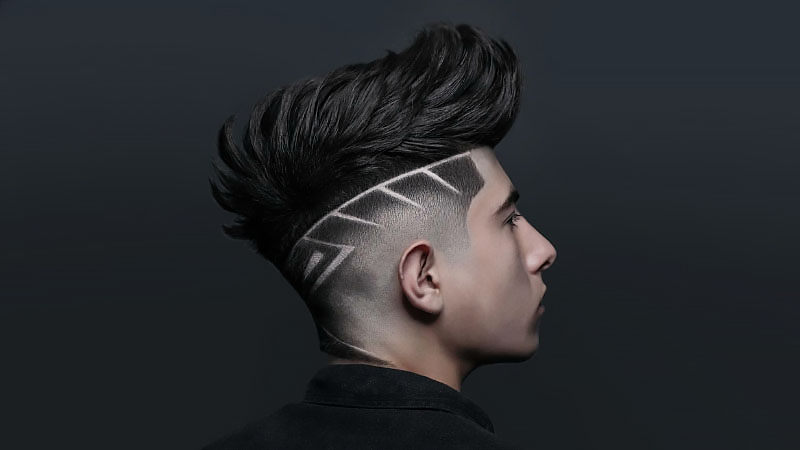 Great hair design is one of the best ways to show off your style, personality, and confidence. There is a massive variety of options for guys when it comes to choosing their cut. From statement fades to unique line-ups, take your pick from these dope styles and head straight to the barbershop.
1. Star and Lightning Hair Design
If you are looking for a cool line-up that stands out, consider a lightning-and-star design. It has attitude and flair, making it an ideal choice for confident guys who like being the center of attention. While the cut looks great on any kind of faded or buzzed cut, it is particularly striking when paired with a faux-hawk.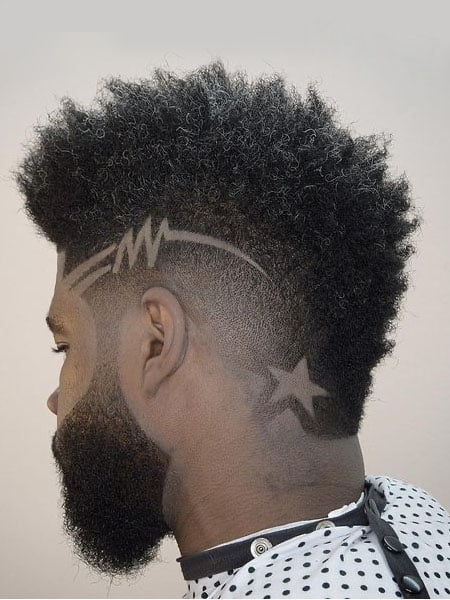 2. Bad Bunny Hair Design
Puerto Rican rapper Bad Bunny doesn't just dominate the charts – he's also a tastemaker when it comes to style. The star gets experimental with his hair and is known for dyeing it in bright colors and shaving in bold patterns. Change it up like Bad Bunny and opt for a skin fade buzz cut with an abstract line-up pattern.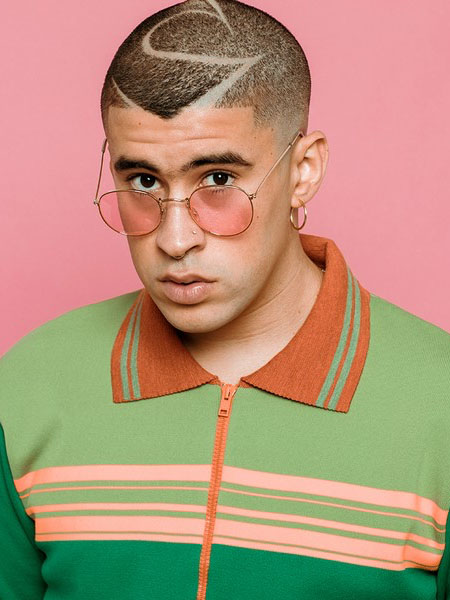 3. Bird Hair Design
For the genuinely bold guys, an unusual and unique haircut is the only choice. A bird design immediately attracts attention and is a great conversation starter – plus, no-one else will have the same look. As with any detailed hair design, choose a barber who specializes in the technique. That way, your haircut will have dimension and depth as well as clarity.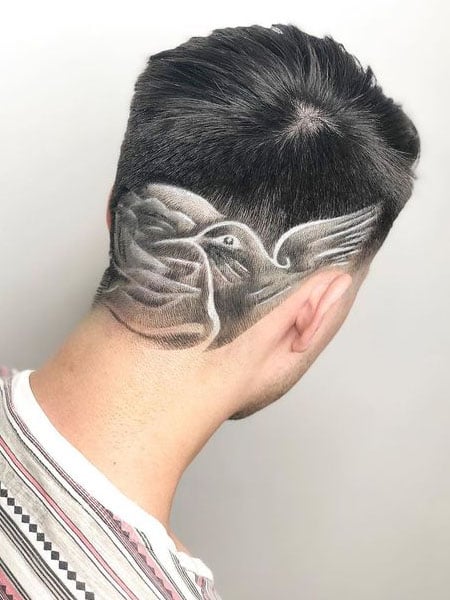 4. Diamond Hair Design
For guys who know their worth, a diamond hair design is a great choice. Diamonds represent success, wealth, and rarity. Plus, their geometric shape makes these gems a simple, recognizable, and effective hair design – especially if you also want a sharp and clean hairline. Have your barber create a diamond shape, then add in facets and rays of light for added impact.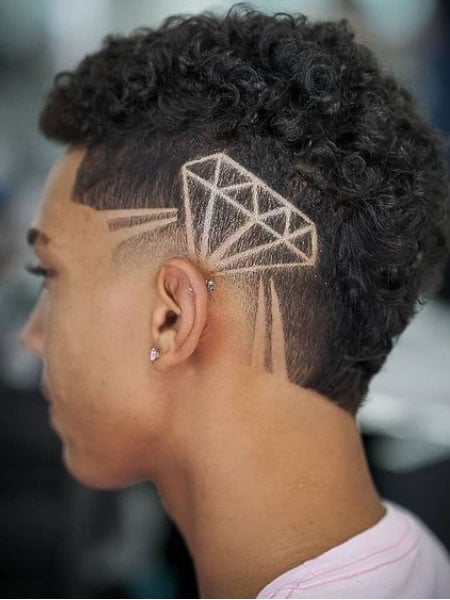 5. Geometric Hair Design
While complex hair designs look great, you can also stand out with a more straightforward cut. Geometric hair designs use straight lines and angled shapes to create bold patterns that command attention. Because of their sharp, masculine look, geometric hair designs look great on guys with short hair and a fade.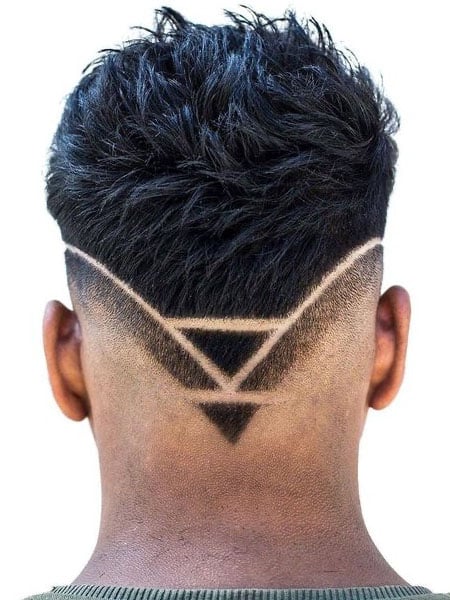 6. Nike Hair Design
Show some love to your favorite brand with a Nike hair design. The athletic company's famous swoosh logo is one of the most recognized symbols worldwide. For that reason, all eyes will be on you if you incorporate it into your haircut. Your barber can freehand the Nike logo or even use a stencil to get it perfect, shaving the surrounding hair while leaving the swoosh longer.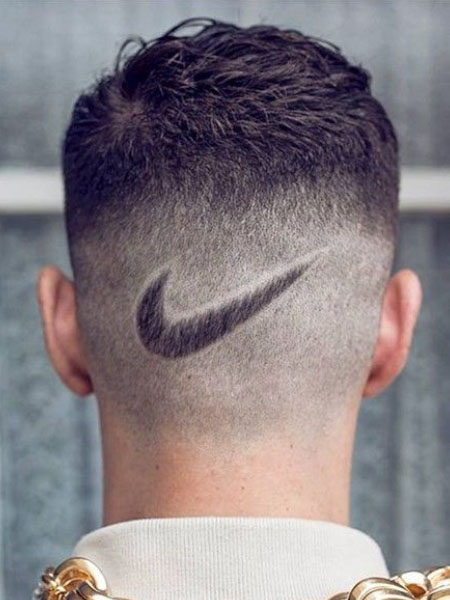 7. Rose Hair Design
Like a bird, a rose hair design is more complicated than other dope haircut options. As it's not a simple shape or pattern, your barber will use different clipper lengths to create the rose design. The result is an amazing 3D effect that will make you stand out from the crowd. It is an excellent choice for guys who want to show off their creative or romantic side.


8. Staircase Hair Design with Green Hair
A staircase hair design creates a geometric 'step' effect using right-angle lines. While you could keep your cut simple, why not up the dope factor and combine your staircase design with shading and a fresh color? Green has become a trend this year as its unnatural look always commands attention. So your staircase and green hair don't compete too much, make sure your barber shaves your design into an undercut and only dyes the top section.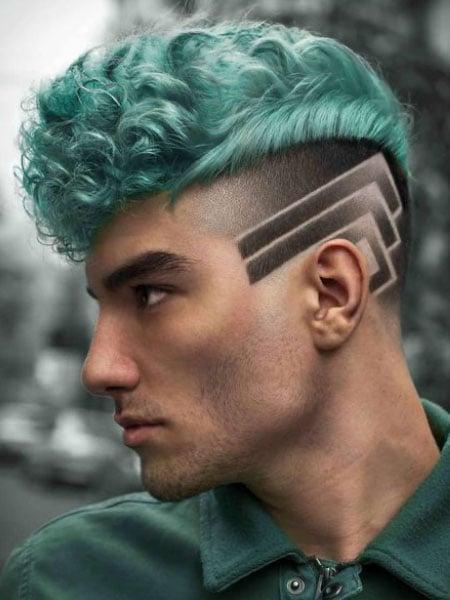 9. Minimal V Hair Design
Guys looking for a simple but cool cut should consider a minimal 'V' hair design. Like other geometric hair options, the minimal 'V' looks sharp and masculine. While it attracts attention, it is still understated enough for school, sports, or work. Have your barber shave the angled design at the back, and combine it with a skin fade for a clean finish.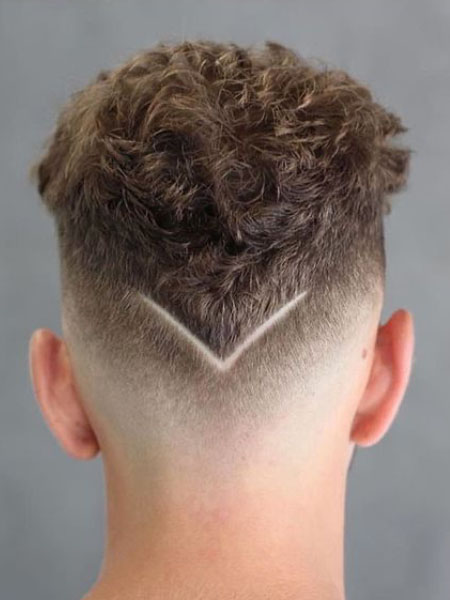 10. Complex Abstract Design Haircut
For the truly adventurous guys out there, a great haircut is a complex abstract design. Give your barber free rein to create a bold, fresh, and unique look for your hair. It is one of the best ways to shake up a buzz cut if you still want to keep your hair short. Plus, a complex abstract design looks even better if you dye your hair a wild color like neon yellow, green, or red.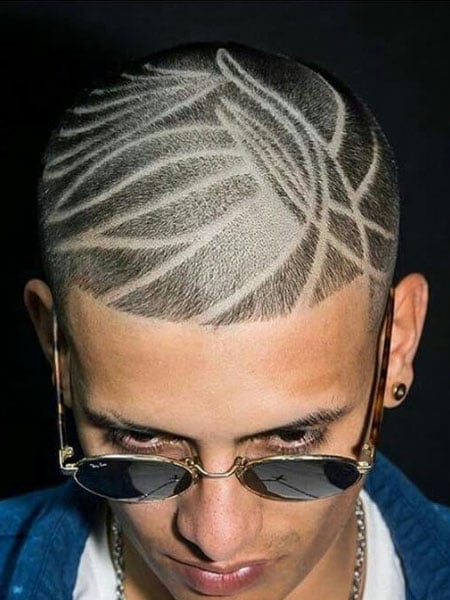 11. Lightning Bolt Hair Design
A lightning bolt hair design uses sharp angles and jagged lines to create a cool effect – and it looks even better when paired with bleached hair. The contrast between the dark and light sections makes the lightning bolt stand out and gives it more impact. W hile a lightning bolt hair design could easily be paired with a fade, it also works with an undercut or short-back-and-sides.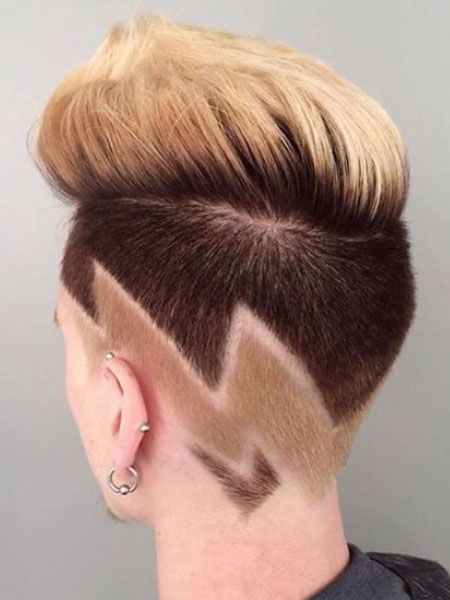 12. Three Stripes Hair Design

Guys who want a haircut design that is also stylish and understated should consider a three stripes hair art. It makes for a great addition to any cut, from a skin fade to a taper, and is simple enough that any barber can create it for you. Plus, it is also a versatile option as you can customize the length, width, shape, and placement of the stripes to suit your hair and head shape.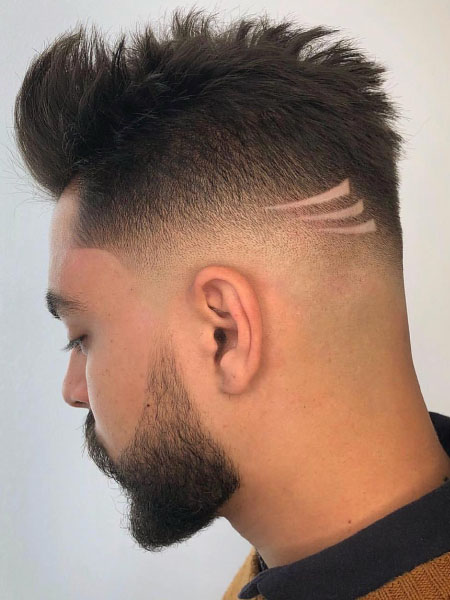 13. 3D Effect Hair Design
There are few cuts cooler than a 3D effect hair design. These elaborate designs take a lot of skill to get right, so make sure your barber is experienced or even specializes in them. When it comes to the exact nature of the design, the choice is yours. For a more sharp and masculine look, try a 3D geometric design. Alternatively, enhance a bird or rose design with a realistic 3D effect. To ensure the 3D design has the most impact, keep the rest of your hair smooth and swept away from it.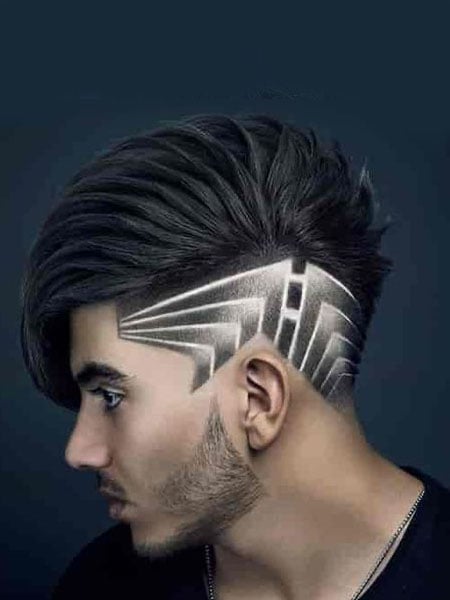 14. Cool Stars Hair Design
Guys who love to stand out should consider a stars-themed hair design – and for the truly bold statement, take it to the next level with unusual details and cool elements like reverse stars. Your barber can use a stencil or freehand the iconic star shape for a unique reversed effect along your hairline. For even more impact, have your barber continue the star pattern into your beard.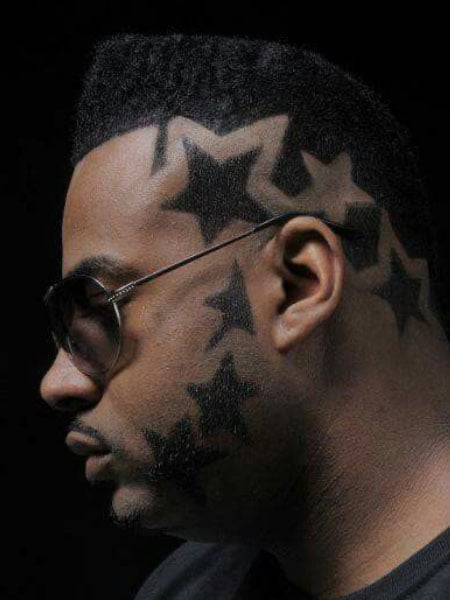 15. Greek Decals Hair Design
Why settle for a simple line-up when you could have a hair design instead? Greek decals are an iconic pattern with a geometric look that can be adapted to follow the lines of your haircut. Whether straight or curved, Greek decals have attitude and personality. Plus, they look similar to the Fendi logo, so they are a strong choice for guys who are into the Italian brand. Pair a Greek decal design with a Caesar cut to create a cool contrast.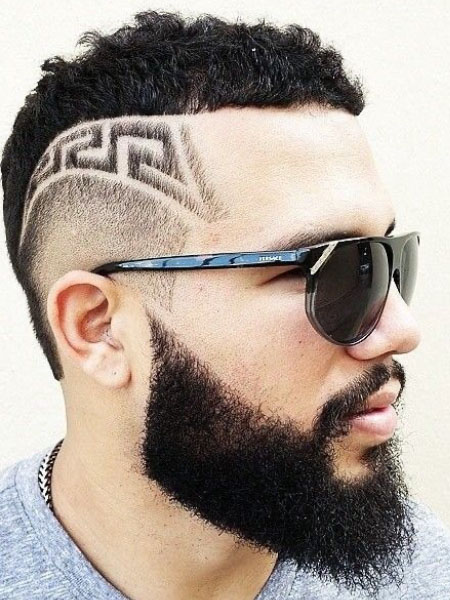 16. Double Stripe Hair and Eyebrow Design
While most guys are familiar with the double stripe hair design, the classic line-up looks even more dope when paired with a double eyebrow stripe or slit. Eyebrow slits were a big '90s hip-hop trend and had been making their way back to the mainstream in the last year due to their edgy and masculine feel. When paired with a double stripe hair design, the result is an attention-grabbing look that women love.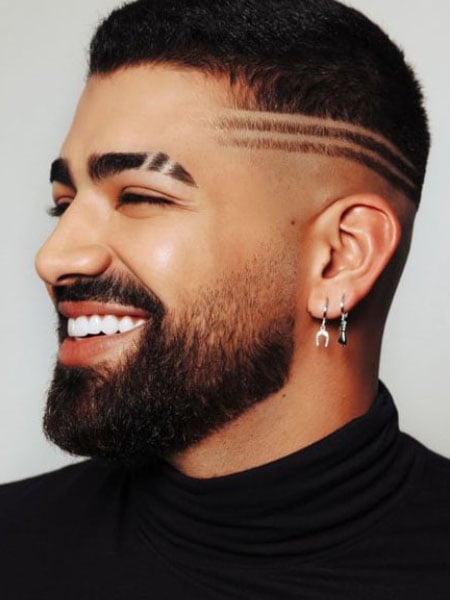 17. Hair and Beard Design
For a perfect combination, join up your hair and beard design. Your barber can create a cool, connected look with curved lines that follow your hairline's natural shape. Alternatively, they could make the whole look more eye-catching by shaving your hairline more unnaturally. A hair-and-beard design is an ideal choice for guys who like a super clean finish with sharp edges and neat lines.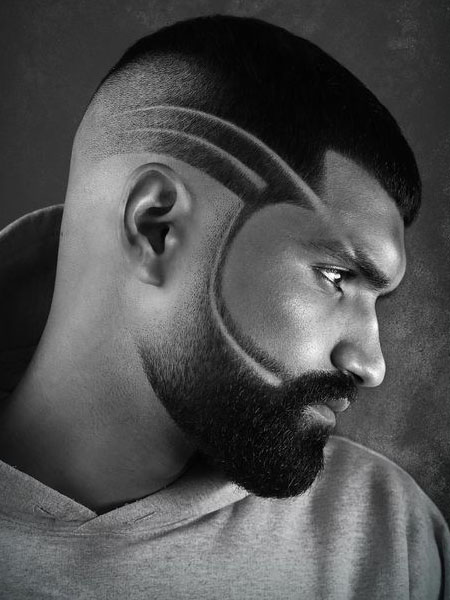 18. Imitation Braids Hair Design
Braids are a consistently popular hair trend for guys. If you want a braid-style look without the commitment, try an imitation braids hair design. To create the look, your barber will shave vine-like patterns into your buzzcut to mimic the 'rope' effect of the braids. While the full effect is only visible from above, it's still a cool look that you can show off.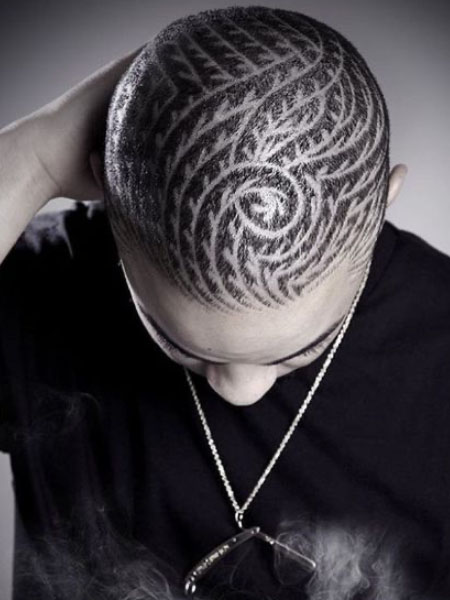 19. Simple Hair Design
While a lot of hair designs are about attracting attention and are ideal for nights out or casual events, some options are professional enough to wear to a business meeting or a formal occasion. The rule of thumb is to keep it simple with a line-up hair design. Your barber will keep your hairline super straight and sharp, before shaving in a smooth, even line that follows your fade. It's a great option if you have a temp fade or drop fade, as it adds some personality and uniqueness into a standard haircut.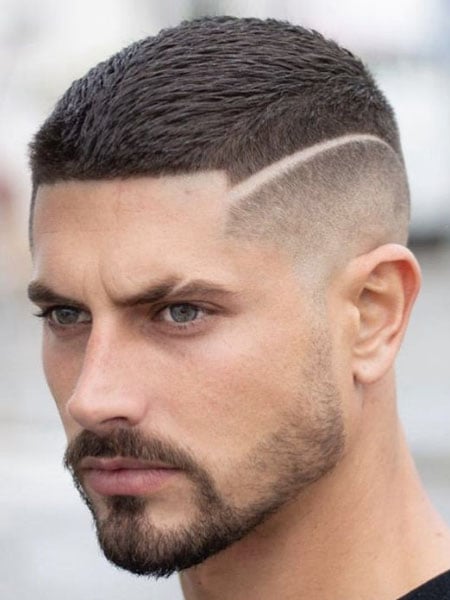 20. Ghost Hair Design
Want a cool cut for Halloween – or just want to stand out from the crowd? Try a ghost hair design inspired by Ghostface Killer from Scream. The iconic screaming ghost mask not only has a cool pop culture backstory, but it also has an edgy and intimidating vibe. Not one for the shy types, a ghost hair design looks great on guys who have a sense of humor and an out-there attitude.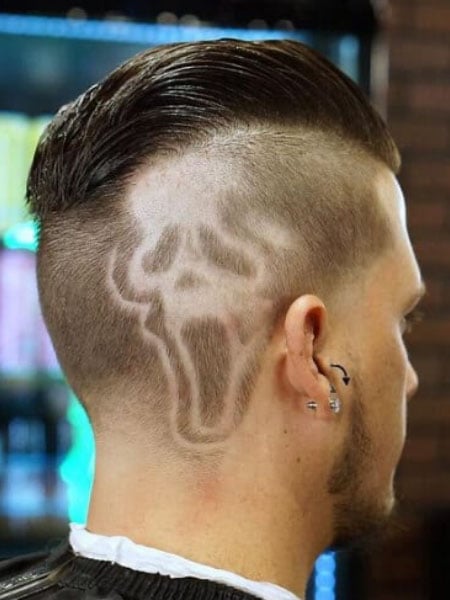 21. Cube Hair Design with Man Bun
Like other 3D effects, a cube hair design will immediately make you stand out from the crowd. It's relatively simple to create, so there is no need to choose a specialized barber. Show off your cube by tying your hair in a man bun. It will draw attention to the back of your head, while the cube injects some personality into a standard undercut. If you want to hide the cube, just wear your hair down.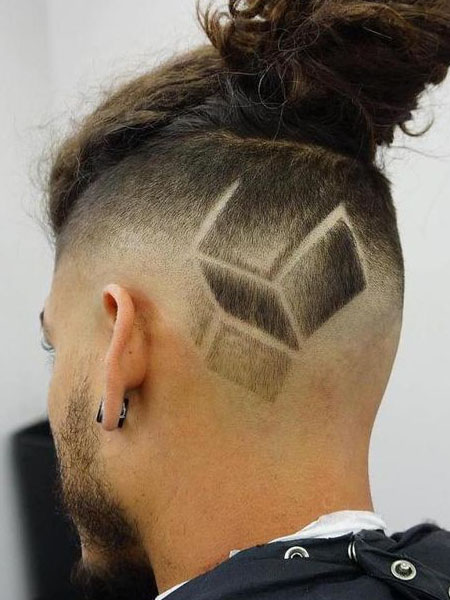 22. Cross Hair Design
For guys who want to show their Christian faith, a hair design with a cross could be a great option. While subtle and simple, the cross still stands out – notably if it is shaved right into a fade. The placement of the cross is up to you. For example, you may choose to have it placed at the back of your head as a reminder that God is always behind you, or at your temple to show that His wisdom guides your thoughts. Either way, the design makes a statement of your commitment to your faith.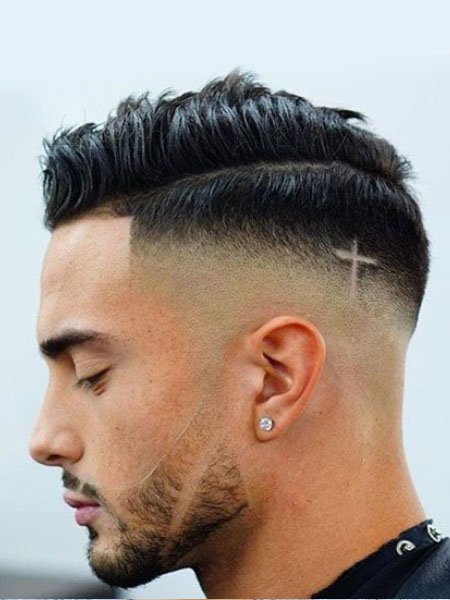 23. Abstract Hair Design
An abstract hair design doesn't follow any rules or patterns. Instead, it combines a lot of different elements – such as 3D shading, straight and curved lines, and shapes – to create a unique result. For that reason, it's a fantastic choice for a haircut. It is an excellent option for guys who want to show the non-conformist and unconventional side of their personality, and aren't afraid to stand out from the crowd.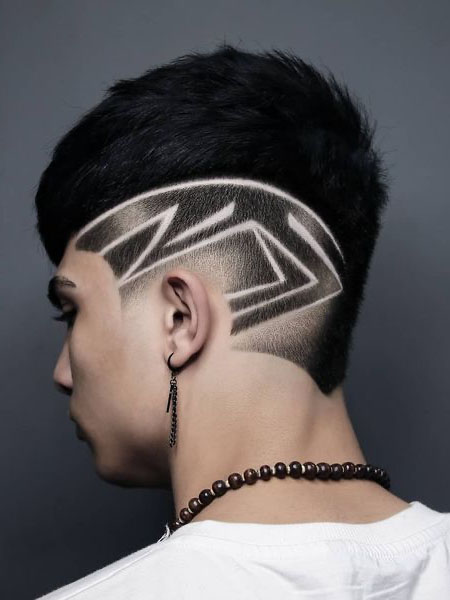 24. Hair Design with Arches
Arches are a bold yet straightforward alternative to the classic line-up. However, they are still an unusual choice and not very common, which means guys who embrace them will attract attention. Instead of a straight line following your temp fade, your barber will create a curved pattern to make the 'arch' effect. To emphasize the arch shape, leave the hair on top of your head longer. That way, the contrast will stand out more.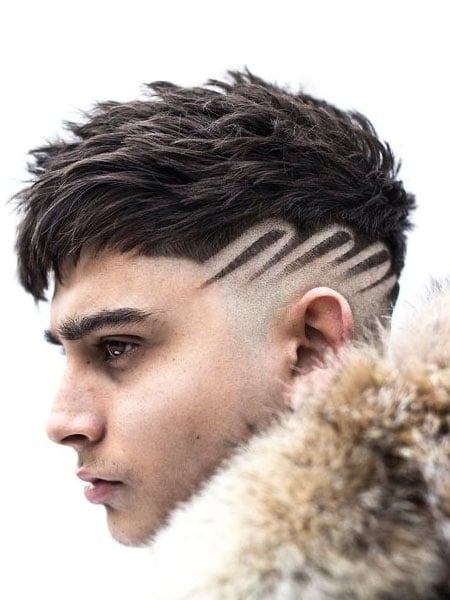 25. Flower Hair Design with Dreadlocks
While dreads are a statement-making hairstyle on their own, adding a shaved design to the side sections takes it to the next level. Because dreadlocks have a grounded and natural look, a plant-inspired design is a great option to pair with them. For a simple and masculine version, opt to have the fan-shaped petals of the lotus flower shaved around your ear. Wear your locs tied up when you want to reveal the design.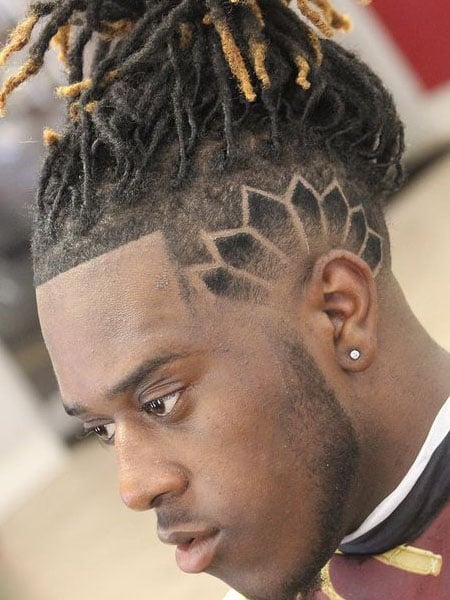 FAQs
What is a hair design for men?
Having short hair doesn't mean that the looks have to be boring, and there are many interesting and cool designs for men. Some of the most popular include star and lightning hair, geometric designs that use straight lines and angled shapes to create a statement, and the minimal V look. Some fades and unique line-ups demand attention, and you can choose what works best for you based on your personality and style.
Are hair designs in style?
If you want a hairstyle that stands out from the crowd, then a design like a statement fade or detailed line-ups is the choice for you. They require a lot of confidence to pull off, and each approach can be tailored to your preference and hair. It is definitely in style if you want something that is not mainstream and a little edgier.
How to ask for a hair design?
Ensuring that you are on the same page as your stylist before getting any work done is important. When you go into the salon or call to book an appointment, be sure to clarify what you want to get done and discuss various options and costs beforehand. This will help you not regret your decision and make sure you get something that you actually want.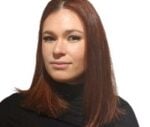 Arabella Roden is a skilled writer and sub-editor with over ten years of experience across print, digital, and B2B. She holds a Bachelor's Degree in Journalism and specializes in beauty, hairstyles, fashion, tattoos, and lifestyle topics. Arabella is currently the Chief Sub Editor at Mecca Brands and has been writing for The Trend Spotter since 2019.
SUBSCRIBE TO OUR NEWSLETTER
Subscribe to our mailing list and get interesting stuff and updates to your email inbox.