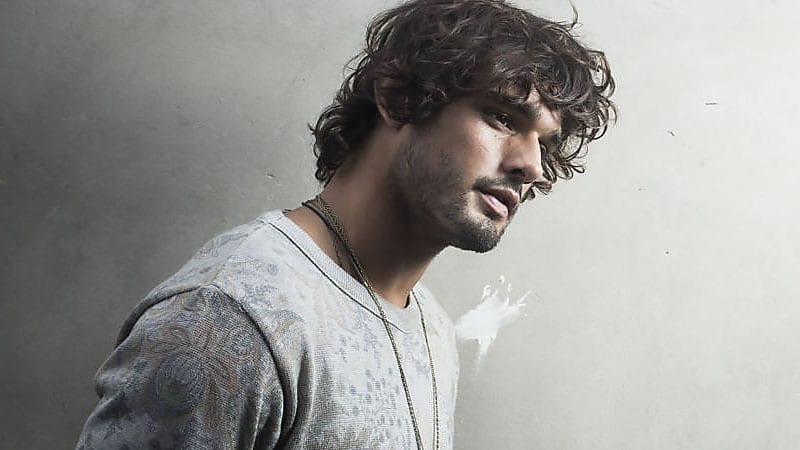 If you are a man with medium length hair, there is a vast range of styling options to transform your look. Whether you're a fan of the charming bro flow, a suave slicked back, or a stylish pompadour, each day presents the opportunity to try something new. Additionally, with a whole world of talented barbers out there, adding a fade or undercut can redefine and update your look. Below, we reveal the best medium length hairstyles for men to inspire your next barber visit.
Medium Length Hairstyles for Men
1. Bro Flow
For men in search of a stylish and easy-to-maintain hairstyle that will sweep admirers off their feet, the bro flow is the perfect solution. Ideal for gents with medium length hair that's growing out, this effortlessly cool hairstyle exudes charm and a windswept appearance. It's the perfect option for those in the awkward in-between stage of wanting long hair but not quite having the length yet.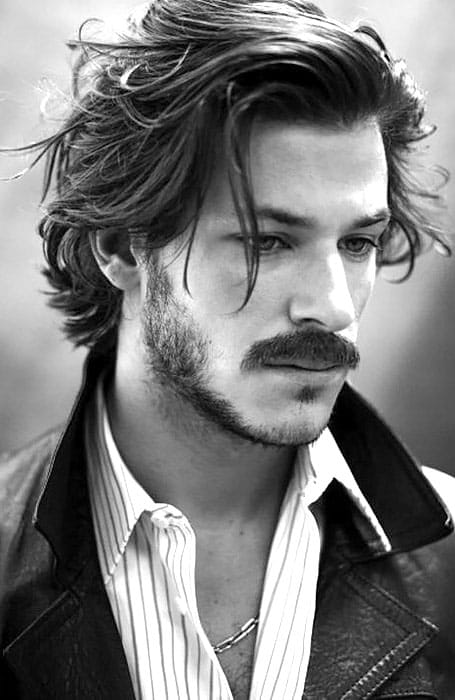 2. Pompadour
If you're on the lookout for coolest medium length hairstyles for men, look no further than the king of rock and roll himself, Elvis Presley. His signature sculpted pompadour has stood the test of time and still remains one of the best haircuts for men. To achieve this iconic look, blow-dry your hair upwards, creating height, volume, and shape. Confidence is key when rocking a pompadour, as this statement hairstyle is sure to turn heads. With its timeless appeal and sculptural shape, the pompadour is a sophisticated hairstyle choice for men.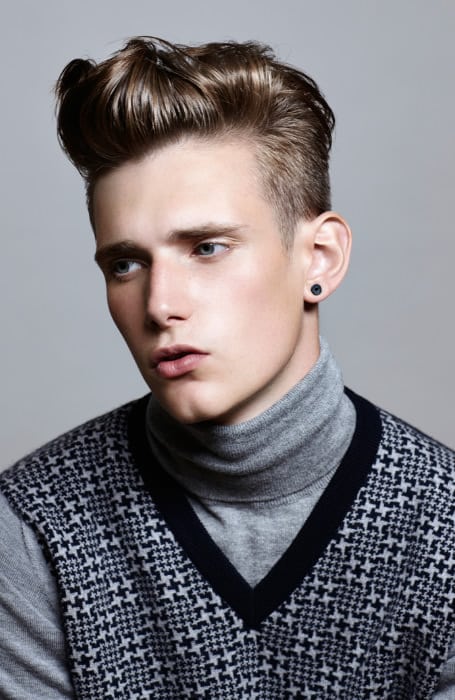 3. Medium Lenght Hair With Quiff
When it comes to medium length hairstyles for men, there's nothing quite as polished and stylish as a quiff. This iconic hairstyle has been around for decades and shows no signs of fading anytime soon. A quiff is incredibly versatile and can be tailored to suit your personal style. For a classic look, brush your hair up to create volume and curve it back in a defined wave. But if you're feeling bold, simply amp up the height of your quiff for some extra drama. With the help of some hair gel, this timeless hairstyle is perfect for any occasion, whether you're headed to a formal event or just want to look confident and put-together.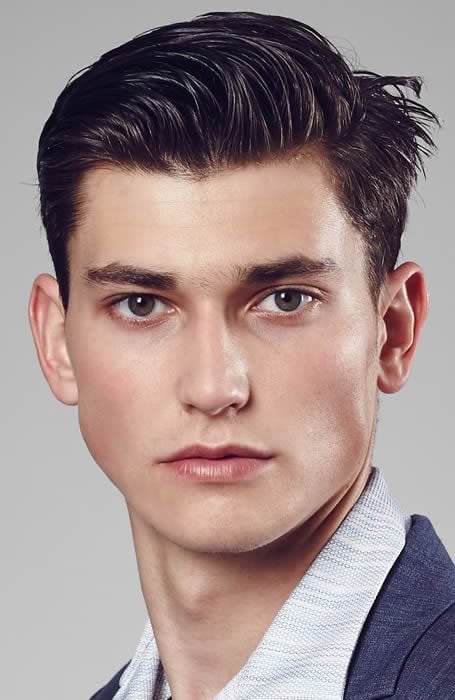 4. Medium Lenght Afro
Afro hairstyles have been a symbol of empowerment and rebellion since the 60s when they gained popularity during the civil rights movement. One great thing about this hairststyle is that it allows you to embrace your natural hair with confidence. For men with medium length hair, an afro is a fantastic choice. The cut is long enough to show off your natural curls and create a bold, voluminous look without being too difficult to manage. A fade haircut is the perfect complement to the afro, giving it a stylish and edgy touch.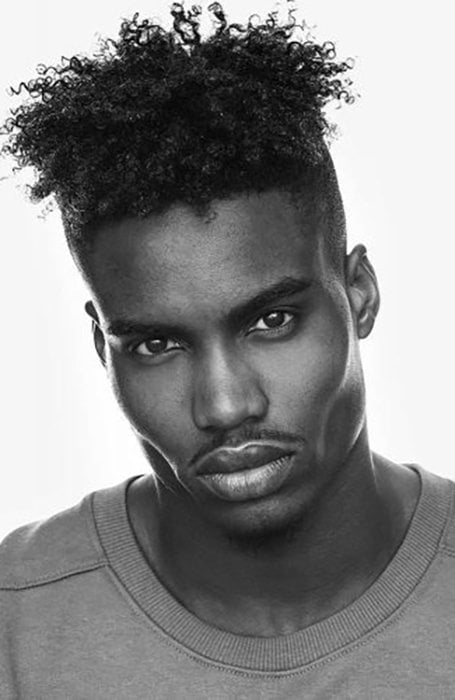 5. Blowout
The blowout haircut may have a casual feel to it, but it's a hairstyle that takes a bit of effort to accomplish. If you're looking for an effortless yet stylish look, blowouts are one of the most stylish medium length hairstyles for men. With the right technique, you can recreate the effect of the wind without leaving the comfort of your home. Blow your hair upwards to create volume and height, work some pomade through your locks to create texture, and seal the deal with a little hairspray. The end result is a windswept style that can withstand even the windiest of days.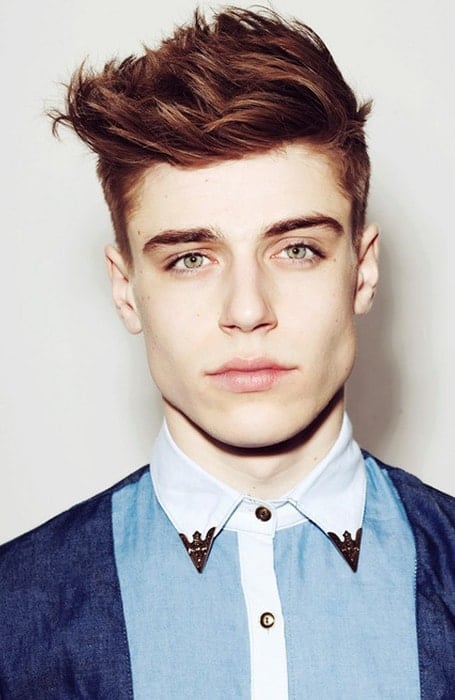 6. Medium Lenght Natural Curly Hair
Curly hair men have an advantage over others because they can rock a variety of different hairstyles. Given the interesting texture of their locks, even the most simple cut can become a head-turner. However, keeping those curls under control can be a challenge that requires different products and routines than other hair types. When it comes to medium length hairstyles for men, curly hair should experiment with different pairings, such as fades or undercuts, to highlight their curls. You can also opt for daring styles like man braids or a pompadour to add personality to their look.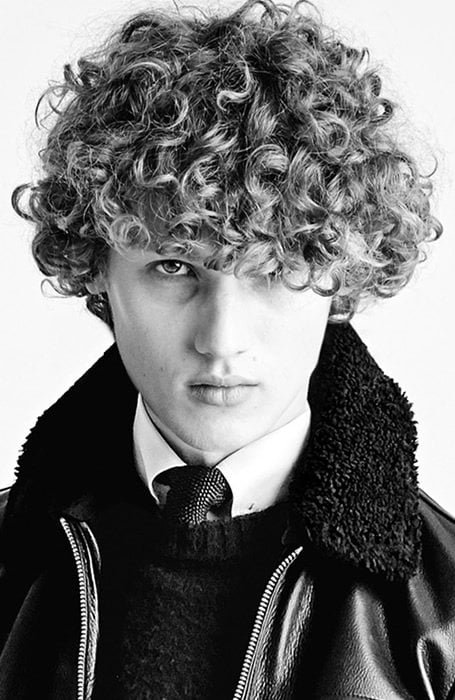 7. Medium Lenght Slick Back
If you're a man with medium length hair looking for a classic and sophisticated hairstyle, you can't go wrong with a slick back. This hairstyle fcan instantly elevate your appearance and give you a suave look. Whether you're dressing up for a formal event or just want to look sharp for a night out, the slick back is a perfect choice. The key to achieving this style is to use the right hair products for men. Apply a generous amount of hair gel or mousse to your hair, and use a fine-toothed comb to pull your hair back until it's smooth and sleek.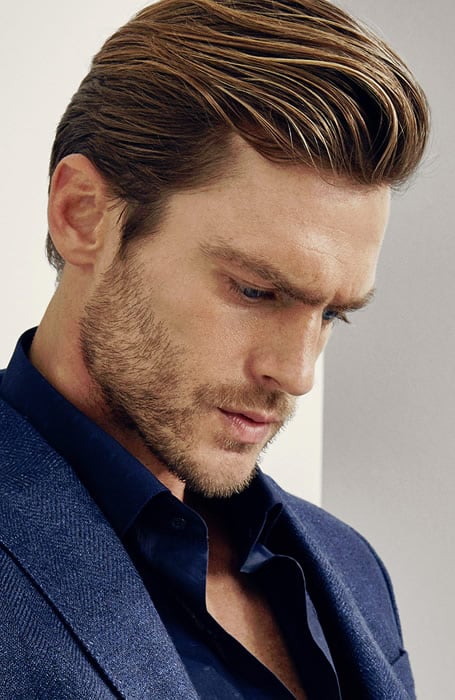 8. Surfer Hairstyle
The unstructured and carefree approach of the surfer hairstyle makes it one of the sexiest medium length hairstyles for men. Surfers first popularized the hairstyle in the 50s, as their hair had a gorgeous, tousled appearance. Even if you are not spending your days at the beach, this style is effortlessly cool and makes you appear relaxed and carefree. It would be best to have some length to replicate this look, but it can be created on wavy, curly, or straight hair. Use sea salt spray or pomade products to help add texture and maximize volume.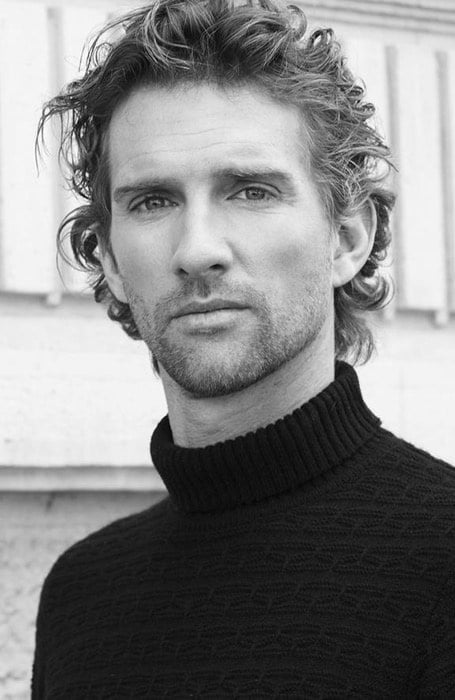 9. Medium Lenght Natural Wavy Hair
What is not to love about naturally wavy hair? The texture can help you achieve tousled looks that make you appear relaxed and carefree. Or it can be styled as modern and masculine when paired with a fade for a more polished approach. The great thing about medium length hair is that it lends itself well to various styles and lengths and is never boring. To keep it in its best condition, use a wide-toothed comb when styling and add sea salt spray to enhance the texture.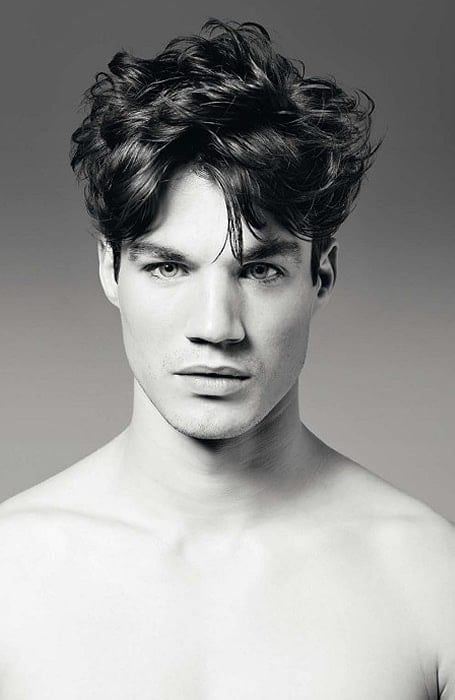 10. Medium Lenght Hair with Hard Part
Despite what the name suggests, there's nothing difficult about a hard part hairstyle. Additionally, although it may be simple to achieve with the help of your trusty barber, this edgy style will instantly update your appearance. Adding definition and detail to your hair, this look allows you to emphasize a variety of styles, such as the pompadour, quiff, or combover. By realigning the hair's natural parting, the hard part requires creating a distinct new part. Generally, this will be positioned above the temple on one side of the head. The hair below this part is then trimmed close to the scalp, leaving the hair on top at medium length and ready for styling.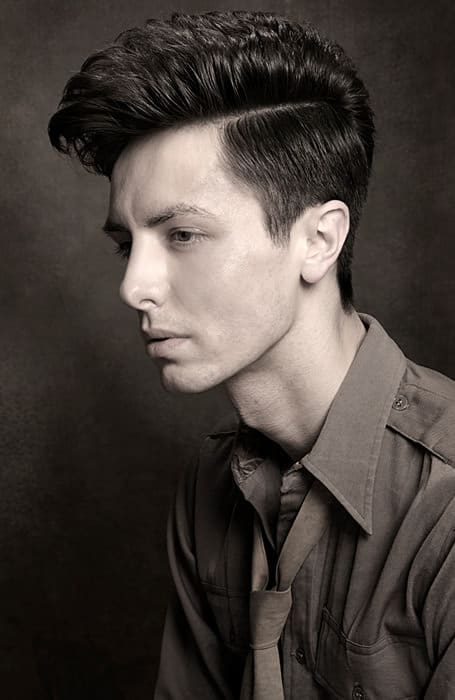 11. Shag
The shag haircut is one of the sexiest messy hairstyles for men that was popular in the 70s. The cut is defined by feathered hair, choppy layers, and a fuller crown. The cool thing about this cut is that it is highly adaptable and can be done on different hair textures and lengths. Today, the shag is on the top list of medium length haircuts for men and can create a laid-back appearance adding texture and volume to medium length hair.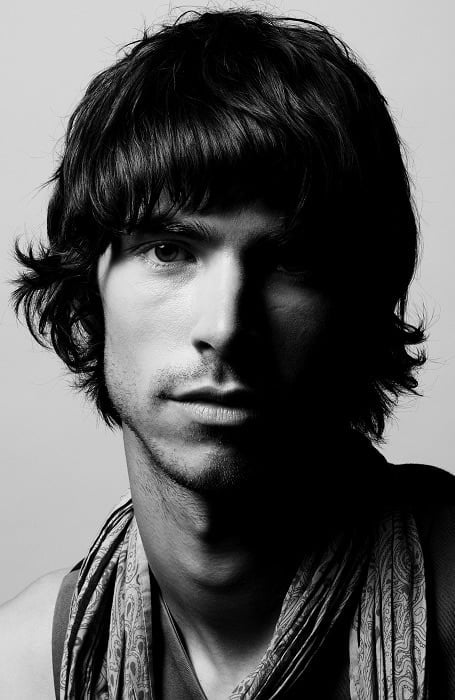 12. Medium Lenght Comb Over
A favorite of men young and old, there are multiple reasons as to why the side-swept comb over is always a winner when it comes to mens medium length hairstyles. Firstly, the name says it all. This cut is charmingly casual and easy to achieve, as a comb is all required. This is used to create a parting on one side of your head and then to comb your hair across and "over" to the other. Sometimes a little styling gel may be added, but really, it's all about the simplicity of this look. If stress or time has left you with thinning hair, the comb over is an instant way to recreate fullness.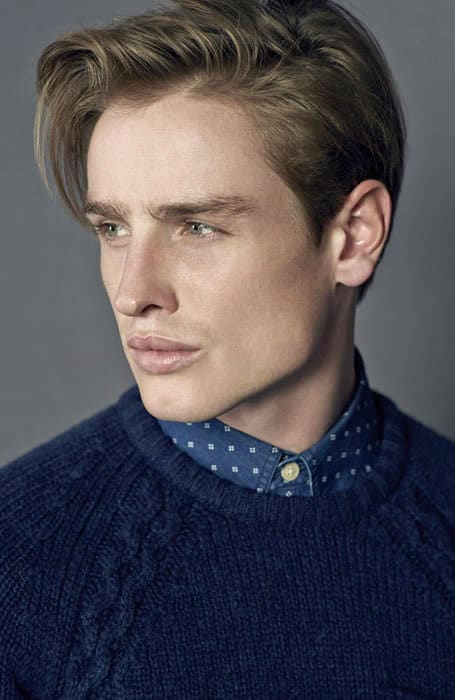 13. Curtains
If you are a man looking to switch up your hairstyle, the curtain haircut might be worth considering. This hip and edgy look features a middle-parted fringe that draws attention to your face and adds a grunge aesthetic to your appearance. While the classic style is defined by a middle parting, there's plenty of room for personalization, with different textures and partings that can make the cut work for you. For men with medium length hair, the curtain cut can be particularly appealing, especially if you have wavy or curly locks.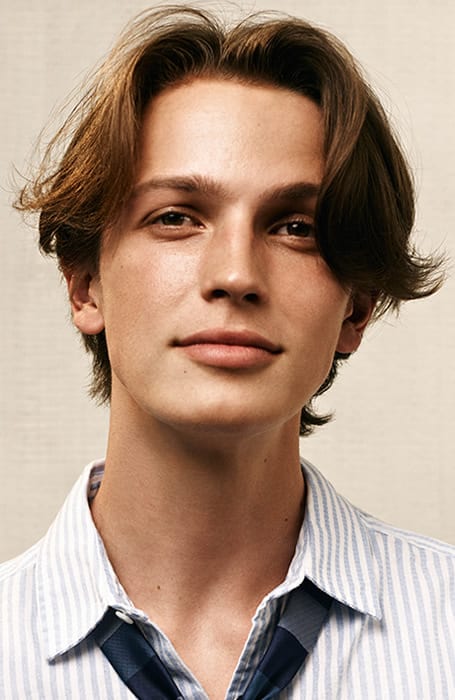 14. Medium Lenght Tousled Hair
There's something undeniably appealing about the 'I woke up like this' look – especially when it comes to men's hairstyles. Loose, tousled medium length hair exudes a fun and youthful vibe that's perfect for both day and night. While some men are lucky enough to have hair that falls into effortless waves naturally, for most of us, it takes a bit of product to achieve the same carefree look. By using just a dab of pomade, you can create the perfect level of messiness and give your hair that tousled, effortlessly cool appearance.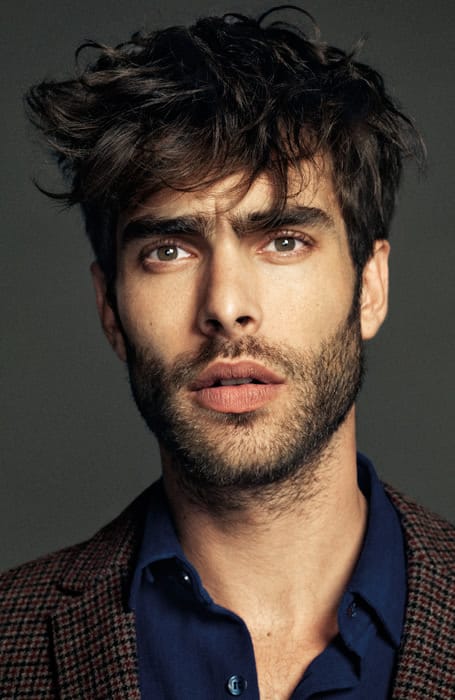 15. Man Braids
If you truly want to test that upper arm strength you've been working on at the gym, it's time to start braiding. Guaranteed to get those muscles going, this hairstyle requires a bit of time and patience as you work to weave your locks into cool, intricate man braids. Once you've mastered this skill, we guarantee you won't look back. Whether you go for a relaxed style with a single braid and a man bun, or for something more detailed, the styling options are endless. Perfect for the summer months, this medium length hair look will have heads turning your way at the beach and keep those pesky locks out of your eyes.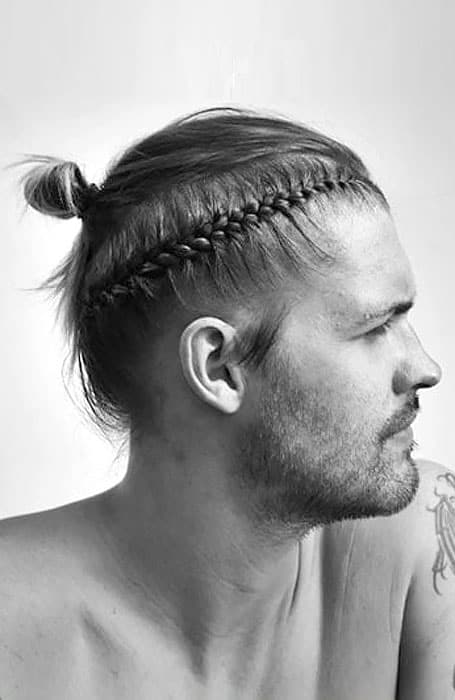 16. Hair Twists
Hair twists are a fantastic protective style for Afro-textured hair. They can work on various lengths but are easy to achieve with medium-length hairstyles for men and can be paired with different types of fades for a fresh and modern appearance. There are several different twists, so you can pick the look that appeals to you the most. The great thing about twists, which are created by dividing the hairs into several sections and then twisting them, is that they can prevent breakage and are low maintenance. They are also easier to create than other, more time-consuming braids.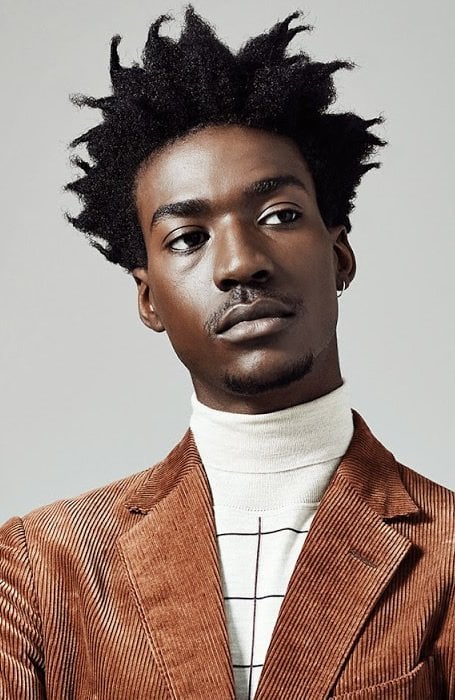 17. Medium Lenght Spiky Hair
Spiky hair was one of the most popular 90s hairstyles for men but has since been adapted to suit a wide range of hair textures and lengths. It is kept longer on the top and short on the back and sides. This is a great option for medium length hair as the appearance is more dramatic and noticeable; the spiky effect will be difficult to achieve if the hair is too long. The hairstyle is ideal for men with naturally textured hair but can be achieved with most hair types with the right grooming brands and products.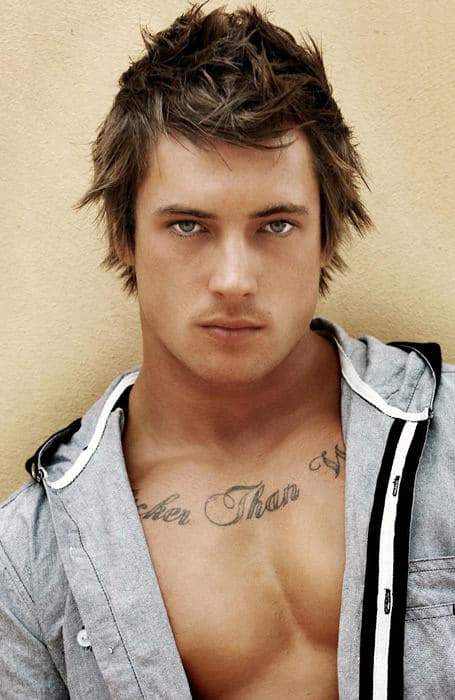 18. Medium Lenght Fringe
Medium length hairstyles for men offer many possibilities for experimentation, and adding a fringe to your hairstyle can transform your look. Not only does a fringe draw attention to your eyes and highlight your facial features, but it can also help balance out the proportions of your face. Whether you prefer a neat and tidy cut or an edgy and cool one, there are many different fringe hairstyles to choose from. While a swooping fringe may require more maintenance and readjustment to prevent it from falling into your eyes, it's a bold statement look that can help disguise problematic skin.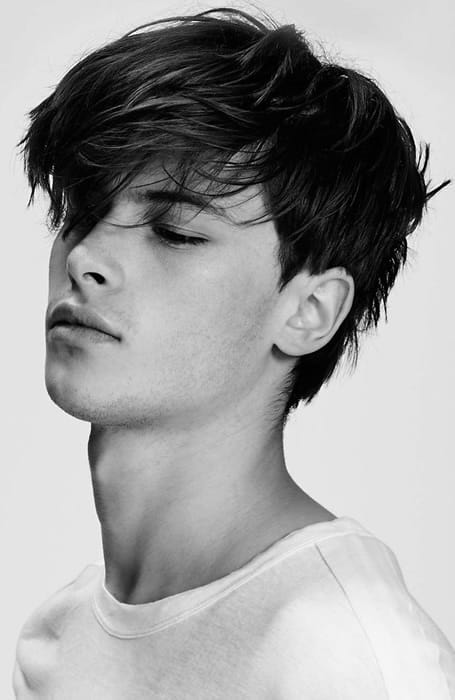 19. Medium Lenght Mullet
The mullet is not a look that every man can pull off, but daring people should try it. The cut is kept short on the sides and the top of the head and left longer in the back, creating an interesting contrast that takes confidence to wear. There are pros to the mullet; it can be done with a variety of hair textures, it suits most face shapes, and it is low maintenance. If you have medium length hair, your look will be more blended and less dramatic than longer styles. This makes it easier to wear and creates a rebellious yet cool vibe.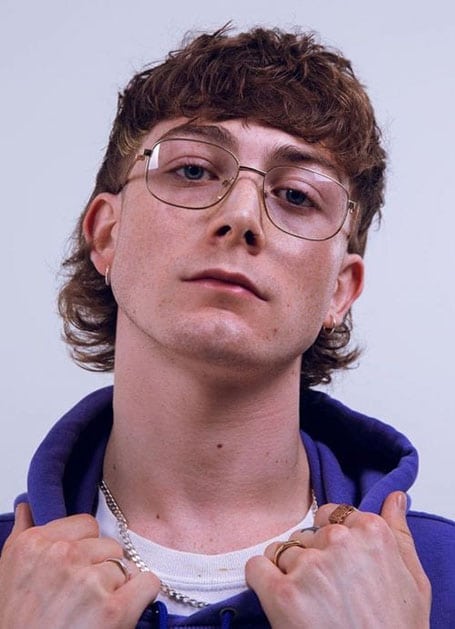 20. Medium Lenght Undercut
In recent years, we have seen a distinct re-emergence of the undercut as one of the most popular haircuts for men. This hairstyle is similar to the mohawk in its basic form, featuring medium lenght to long hair on the top and a closely-shaved head across the sides and back. The great thing about this look is that it may be transformed daily, or hourly if you so choose, into a range of other looks. Upstyle it into a quiff or pompadour for a night on the town or slick it back for a meeting in the boardroom. Essentially, all that's required to make the most out of this confident cut is some styling experimentation.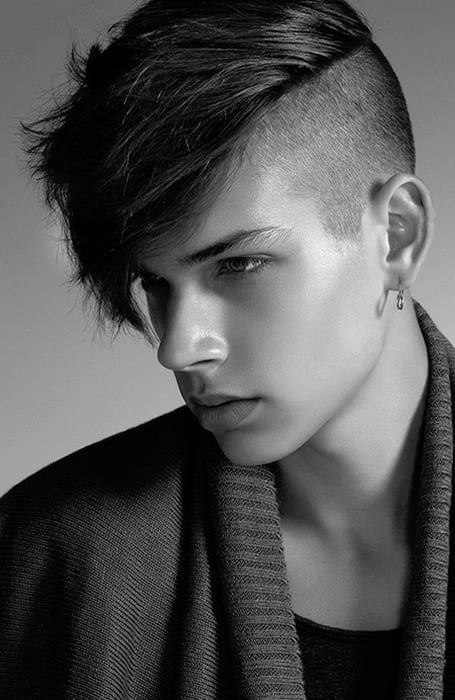 21. Medium Lenght Haircut With Low Fade
The stylish low fade is a haircut that's been making men look suave and sophisticated since it first rose to popularity. What sets this haircut apart is the fact that it works with hair of all lengths. For men with medium length hair, the low fade is a particularly popular choice, as it allows them to keep a fair amount of hair up top to experiment with while still achieving that sleek and polished look that this style is known for.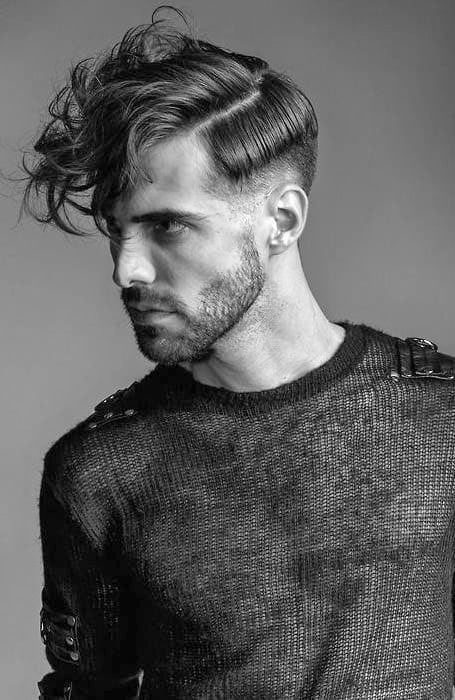 22. Medium Lenght Haircut With Mid Fade
If you're seeking a stylish, unique look for your medium length hair this season, why not consider pairing it with a trendy mid fade or temple fade? This versatile cut offers the perfect balance of edgy and sophisticated, taking your fade to the midway point between the tops of the ears and the temples. Whether you're going for a classic look with a traditional side part, or you're experimenting with a daring quiff or pompadour, this is one of the coolest medium length haircuts for men that will elevate your hair game.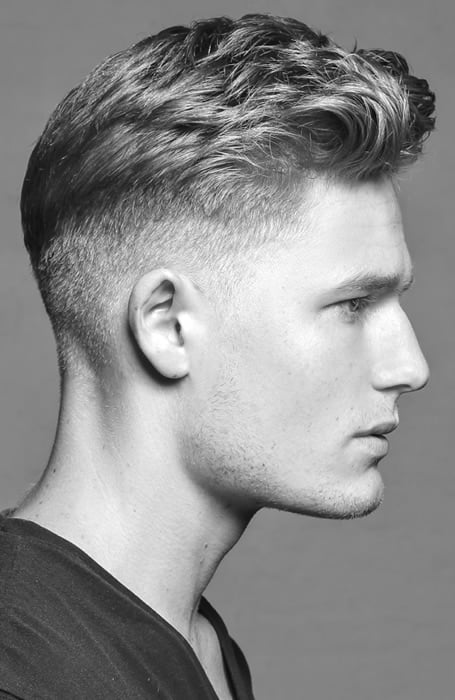 23. Medium Lenght Haircut With High Fade
For a crisp new cut to accompany your hair medium length, we recommend trying out a high fade. Whether you're currently rocking curls or straight locks, adding a high fade will invite a unique, new depth to your favorite hairstyles. Slightly confused by all this talk of high, mid, and low fades? Essentially, the difference between the three is the point on the scalp at which the 'fade' begins. For a high fade, this close shave across the sides and back of the head will reach up above the invisible midway line between your temples and the tops of your ears. There is also the option to shave the hair below this point completely to the skin for a 'high bald fade', or taper the look gradually down towards the ears in a 'high taper fade'.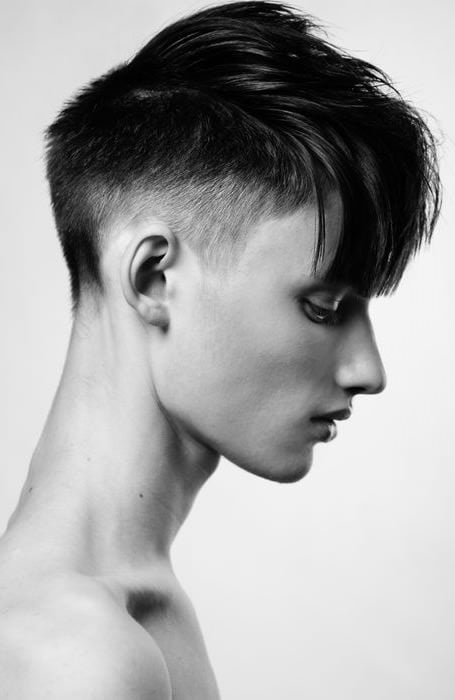 24. Medium Lenght Haircut With Drop Fade
In contrast to other traditional fades, which feature a sharp line across the scalp at the low, mid, or high point, the drop fade presents a distinctly different look. This cut features a smooth, rounded fade that reaches a high point in front of the ears before gradually curving down towards the back of the head. As a result, this unique cut is the perfect partner for medium length hair, as it will add a point of interest and character to your look.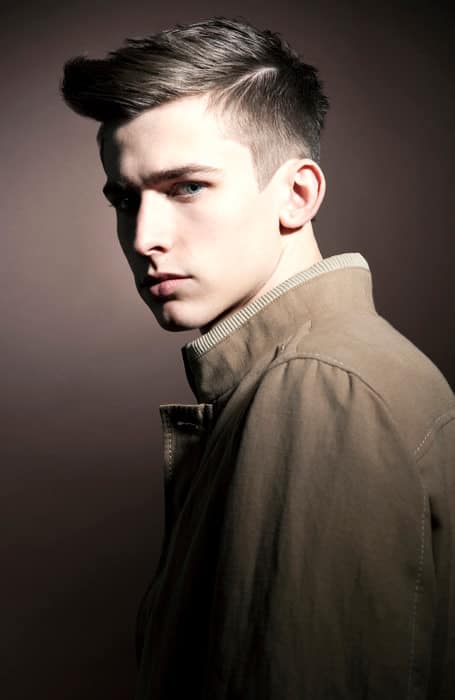 25. Medium Lenght Haircut With Bald Fade
The bald fade is more noticeable than many other fades because it is all about contrast. The hair is kept longer on the top and back, but the sides are shaved down to the skin, hence the name bald. This creates a masculine and sleek look that is great on men of all ages and can be paired with various medium length haircuts for men. Try out a quiff or pompadour for those who want to play up the volume on the top. Or keep it subtle and simple for an understated and cool look.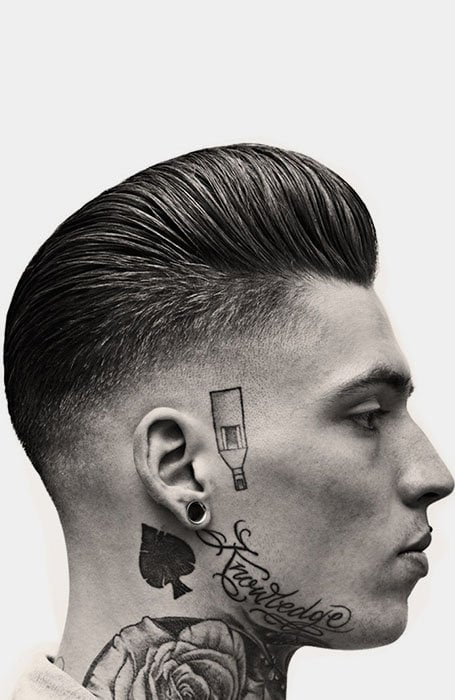 26. Medium Lenght Haircut With Burst Fade
The burst fade is not just for men with short hair. In fact, this cut can be adapted to suit a variety of hair lengths, including medium length haircuts for men. It's versatile and cool, and the semi-circular appearance created by the tapering around the ear and the back of the head will give your hair a modern update and an edge. Consider pairing it with a Caesar cut for a more subtle approach, or go all out with a frohawk or modern mullet for a rebellious style that's sure to get noticed.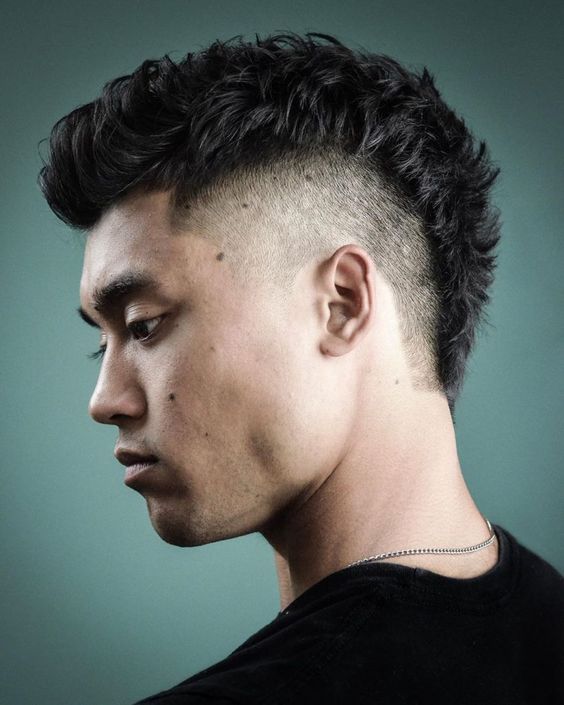 27. Medium Lenght Faux Hawk
If you're a man who loves the punk style but also needs to keep it lowkey during the day, a stylish faux hawk may be the answer to all your problems. With medium-length hair, you can achieve this bold and edgy look easily with some hair styling products. All you need to do is brush it down for work and let loose during the night. The best part? You get to have the best of both worlds – a polished and professional men's hairstyle for work and an edgy one for your punk heart.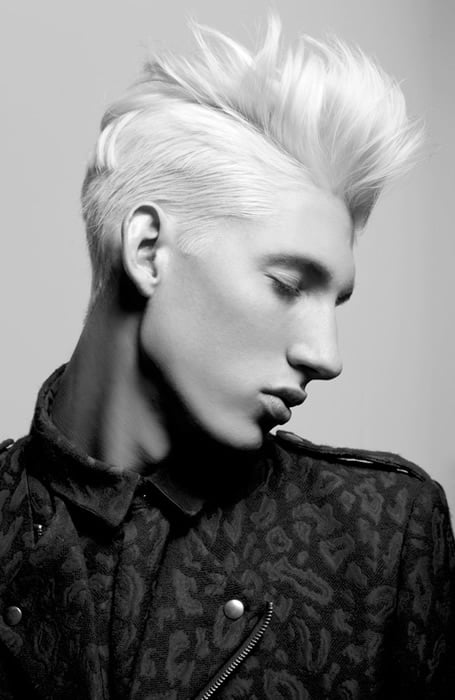 28. French Crop
The French crop is a classic haircut that has stood the test of time. This cut is characterized by hair that is clipped at the back and sides but with a subtle fringe left at the front. One of the benefits of the French crop is its adaptability – it can be customized to suit your personal taste and works well with most face shapes. Additionally, it's one of the best medium length haircuts for men since the top, back, and sides are kept relatively the same length. Whether you opt for a side part or a messy fringe, the French crop is a versatile and stylish option that is sure to enhance your overall look.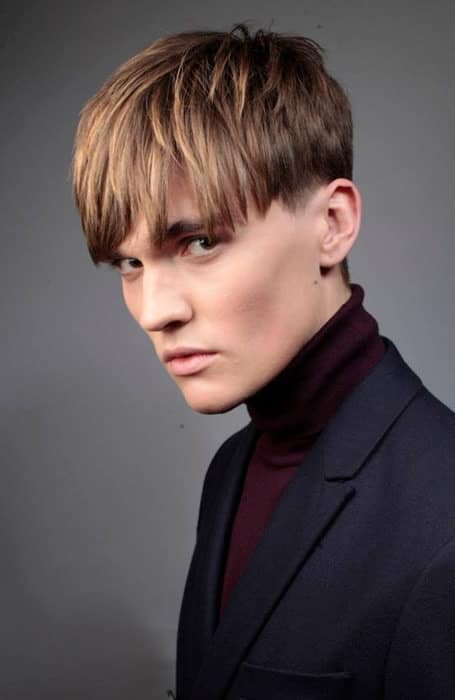 29. Blowout
The blowout is on the list of best medium length haircuts for men looking for a windswept look. This messy hairstyle can be incredibly sexy, so it's no wonder it's climbed in popularity in recent years. However, it's vital to take the necessary steps to protect your hair from damage, dryness, and frizz. from all the blow-drying required. Luckily, many hair products for men can help keep your hair healthy while you enjoy your fabulous new look.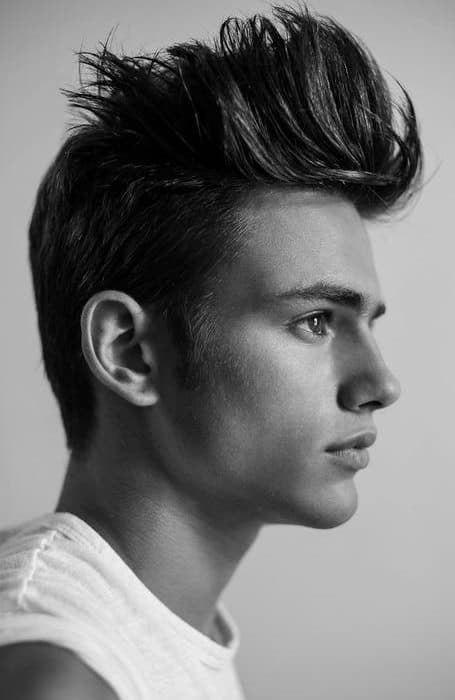 30. Mohawk
If you're feeling the need to channel your inner rebel, then look no further than the iconic mohawk. This is one of the most bold medium length haircuts for men, which was a defining hairstyle feature of the 1970s punk rock scene. Whether you're soaking up the spirit of the era or want to make a bold statement that sets you apart from the crowd, the mohawk is the perfect choice. All you need is medium length hair and a willingness to experiment. By shaving the sides and styling the remaining hair on top, you can create a unique and contemporary take on this classic cut.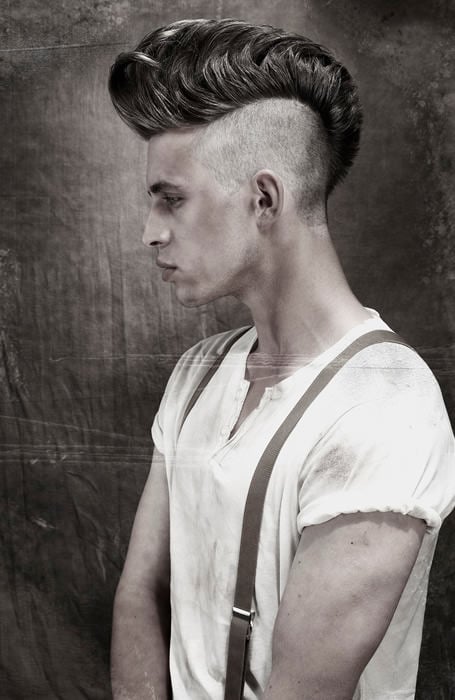 31. Bowl Cut
The bowl cut has a long and complicated history among men's haircuts, but it's making a comeback in a big way. While many men might have nightmarish memories of their childhood bowl cuts, this style has been updated and reinvented for the modern age. If you're looking for cool medium length haircuts for men that are both stylish and unique, the bowl cut might be worth considering. With a variety of options to choose from, including a messy, disheveled look or a more structured and solid fringe, you can put your own twist on this classic style.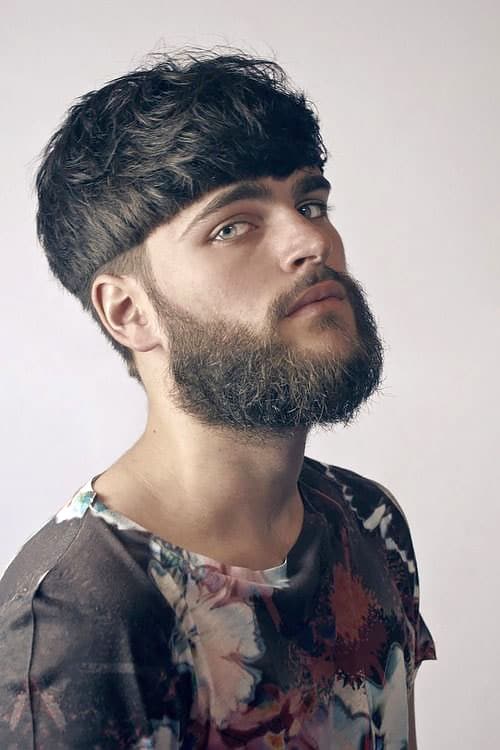 32. High Top
Traveling back in time to the glory days of hip-hop has never been easier than with a stylish high top haircut. Originally popular in the 80's and late 90's, the high top is back and better than ever. With a modern twist on the classic style, this sleek cut is perfect for any man looking to make a statement. Achieving this look is simple; keep your hair shorter on the sides and medium length on top to create the signature 'high top' of hair. As one of the best medium length haircuts for men, the high top is a winning choice for men looking to add a touch of style and nostalgia to their look.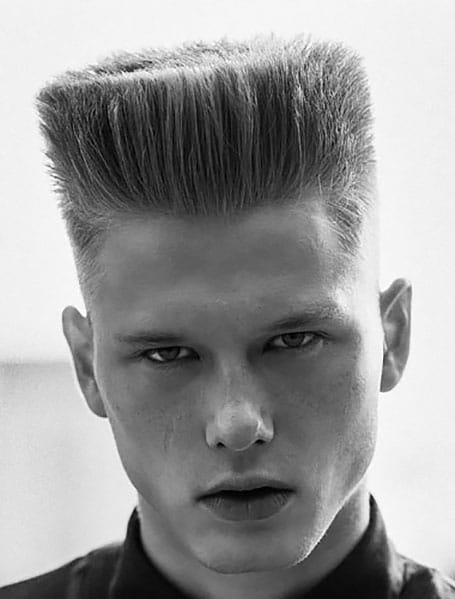 33. Medium Length Haircut With Hair Design
Medium-length haircuts for men are the perfect canvas for a unique hair design. Not only does it offer versatility, but it also allows you to express yourself and make a statement fully. With so many different designs to choose from, you can be as daring or as subtle as you want. But before you dive into a hair design, it's essential to consider the environment in which you work. If it's not appropriate or could cause distractions, you may want to stick with a more subtle design. Regardless of what you choose, wear it confidently, and let your hair do the talking.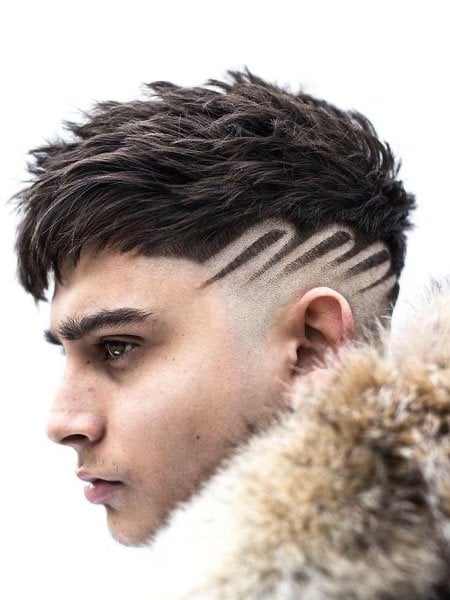 Medium Length Haircuts for Men Maintenance Tips
Consider Your Face Face Shape
The shape of your face determines what type of medium length hairstyle will look good and how you should style and maintain it. For example, guys with round faces should generally opt for medium lenght haircuts that are longer on top and short at the sides, such as the quiff, blowout, or pompadour. Square faces could try a side-parted medium cut or a bro flow hairstyle – shorter at the front and longer at the back – to balance the face's proportions. Many medium lenght haircuts for men are also paired with a fade, so make sure you schedule regular trips to the barber to maintain yours.
Texture and Volume
Your hair's texture and volume are as important as your face shape in determining the type of medium length haircuts you should get. For example, if your hair is thin, you may look better with a shorter, spikier style than a bro flow, which suits thick hair best. In general, medium length hair look best on hair with a little texture and more volume, maximized with the right styling products.
Haircare
Because medium length hairstyles show off more of your hair, you need to take care of your locks, washing and styling more frequently than you would with men's short hairstyles like a buzz cut. As a rule of thumb, wash and condition your hair every two to three days. This should keep your hair in good condition and keep it from looking greasy without stripping it of its natural oils. However, your hair care routine also depends on whether your hair is Afro-textured, curly, straight, or wavy, so consult your barber for recommendations and advice specific to your needs.
Lifestyle
Growing your hair isn't as simple as waiting for it to get longer. Many lifestyle factors – such as diet, exercise, and smoking – can impact how long and thick your hair grows. Keep your weight healthy, avoid smoking, and ensure you get enough hair-building vitamins such as zinc, magnesium, and calcium through food or supplements.
Hair Products
There are a couple of essential products for styling medium hair. In addition to shampoo and conditioner that suits your hair type – Afro-textured, curly, straight, or wavy – you'll also need a hair dryer, electric clippers, and a styling comb. Next, pick wax, gel, clay, or pomade, depending on your desired finish.
Medium Length Haircuts for Men FAQs
What is medium lenght hair?
A medium-length hairstyle can be defined as anything between 2 and 4 inches (5 and 10 cm) long. Your barber will help you decide on the best hairstyle for your face shape once you grow the length out.
How do you style medium length hair?
Ultimately, all that's required to style medium length hair is a mirror, some styling gel, and a bit of practice. However, if you want to nail looks such as the pompadour, and faux hawk, a bit more styling will be involved.
How often should you shampoo medium lengh hair?
Shampoo no more than once or twice a week to keep your hair healthy and retain that natural shine.
How often should you cut medium lengh hair?
Trim your hair monthly to eliminate split ends. This will keep the hair healthy and stimulate hair growth.
How to keep medium lengh hair looking healthy?
Nourish your hair with argan oil to keep it shiny, smooth, and soft. This miracle oil can also prevent dandruff, which can be a common issue for men with medium length hair.
SUBSCRIBE TO OUR NEWSLETTER
Subscribe to our mailing list and get interesting stuff and updates to your email inbox.