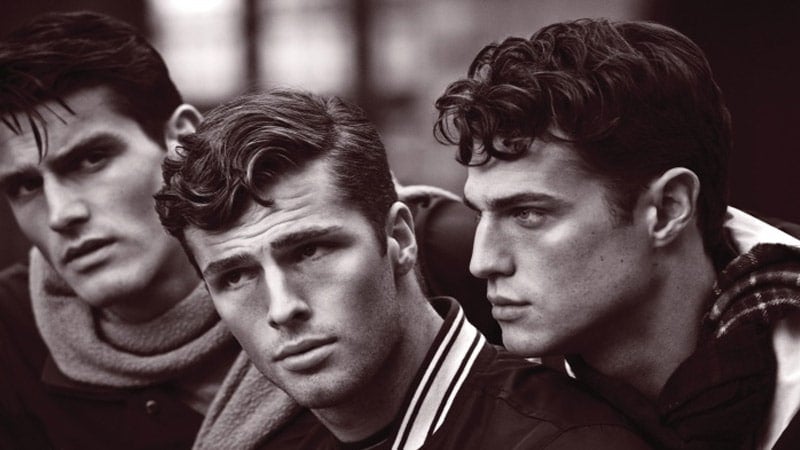 Hair is not just an insignificant part of our appearance; it holds immense power. It has the ability to transform a man's entire look and make a statement without him even uttering a word. Trends come and go, but classic men's hairstyles will never go out of fashion. These timeless looks have stood the test of time and continue to be style staples. Whether it's the sophisticated, slick back or the rugged crew cut, our roundup of the top classic haircuts for men offers something for everyone. So, if you're looking to elevate your style game, take inspiration from these timeless hairstyles.
Classic Haircuts for Men
1. French Crop
The French Crop is a classic haircut for men renowned for its simplicity. Its minimalistic nature, with shorter sides and evenly trimmed locks on top, has made it a beloved haircut for many generations. The French Crop offers versatility, as it maintains a balanced look without much distinction between the hair on top and the sides of the head. When opting for a French Crop, consider your hair texture. Those with fuller, thicker hair can ask their barber to strategically cut the ends for added dimension. As for suitable face shapes, the French Crop works favorably for rectangle faces, helping to minimize the appearance of length. Additionally, oval and diamond face shapes can also handle the shorter proportions of the French Crop.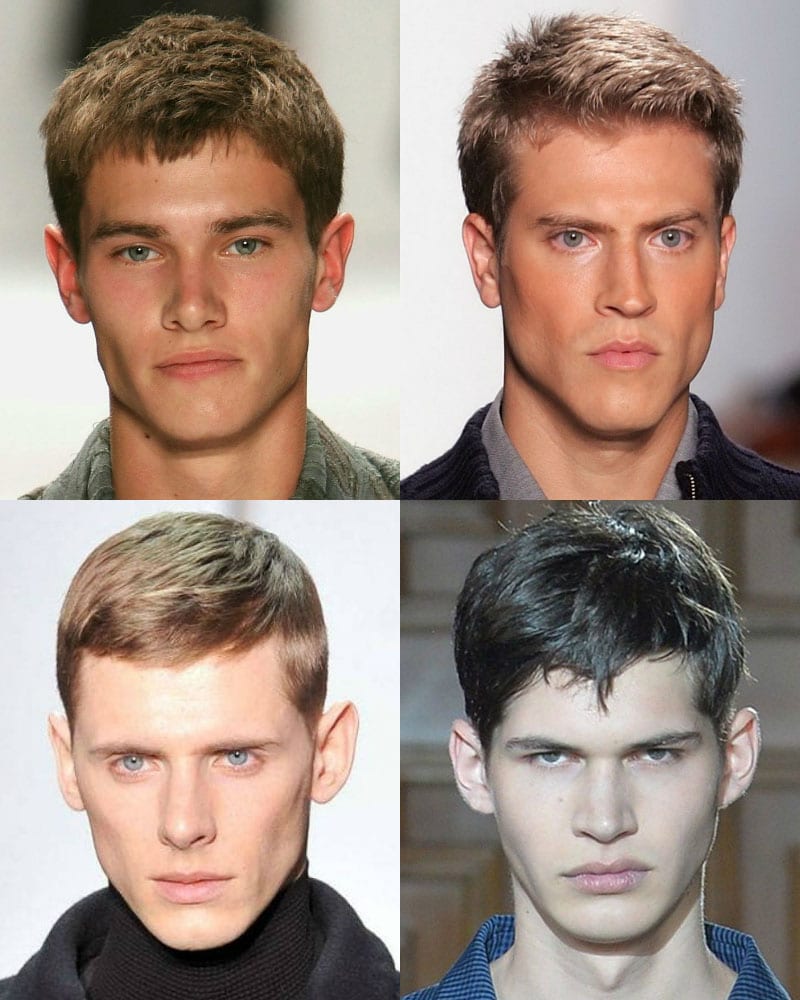 How to Style The French Crop
2. Slick Back
Slicked back hair exudes sleekness and makes a statement while still embracing a timeless appeal. It works effectively both when hair has grown out and when paired with an undercut. A great style inspiration for this look is Johnny Depp's hairstyle in Cry Baby, where his strands were combed back with a polished finish. However, it's important to note that some hair types may not hold the slicked back style as well as others. Those with thick hair may find it more challenging to achieve, whereas individuals with fine hair should ensure they have enough volume to handle glossier products. While the slicked back hairstyle complements those with rectangle and oval faces, it also suits gentlemen with round face shapes as it can add height.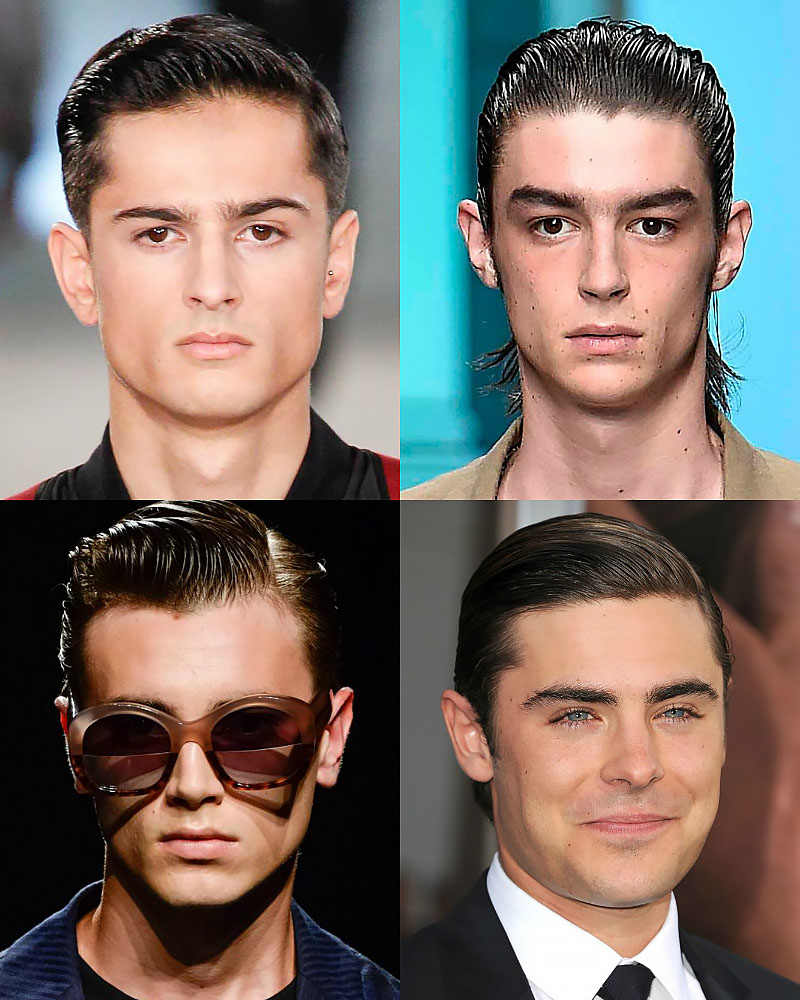 How to Style The Slick Back
3. Side Part
The side part has been one of the most classic haircuts for men throughout the years, from the Twenties, Forties, Sixties, to contemporary versions. It can be adapted in ultra-refined or texturized styles, showcasing its beauty and the ability to make you look mature or youthful. Your approach to the cut is crucial. For a modern look, longer proportions on top and shorter sides work well. If you prefer a more structured style, a side part can be achieved with shorter hair. Glossy finishes provide a touch of nostalgia, while matte finishes offer a modern twist. Regardless of your face shape the side part is a fantastic hairstyle choice for modern men.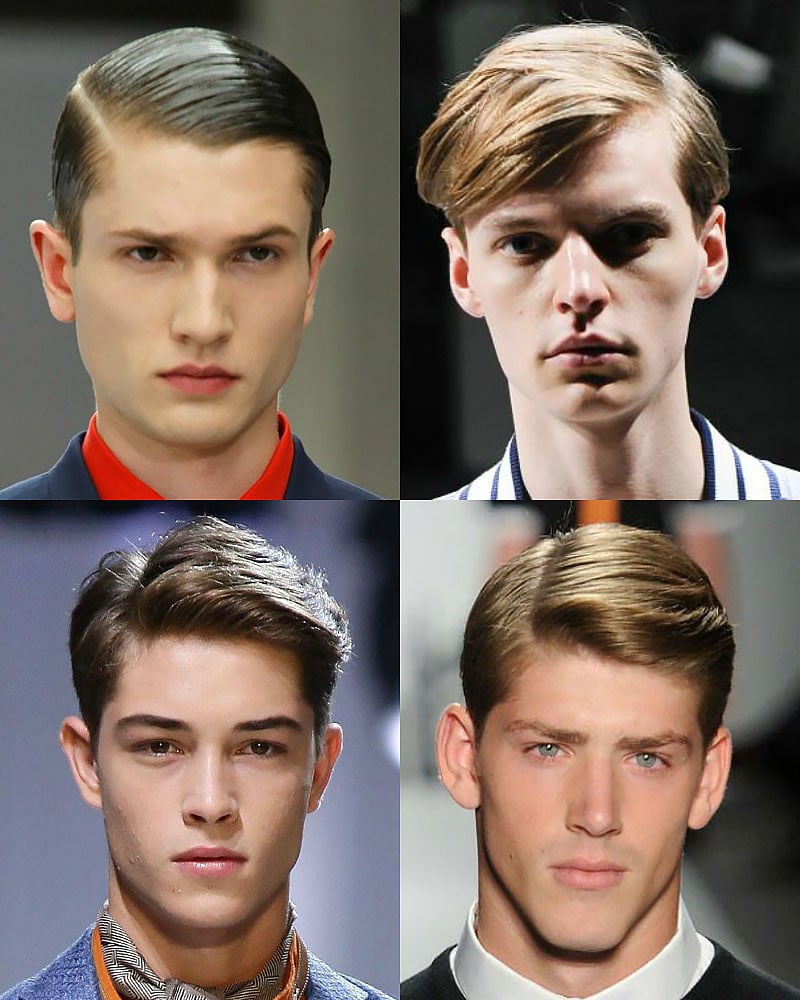 How to Style The Side Part
4. Pompadour
The pompadour has been around since periods as early as the 18th century in France, where the style earned popularity among both men and women. Denoted by the heavy top portions of hair that are combed up and away from the face (contrasting with distinctively shorter sides), the pompadour has enjoyed a contemporary revival. Be it Elvis Presley in his fifties projects or Justin Timberlake practically anywhere today, this style reads trendy no matter the era. Gents with oval, triangle, and round face shapes are encouraged to try out the pompadour, as the style is complementary to the facial proportions they possess.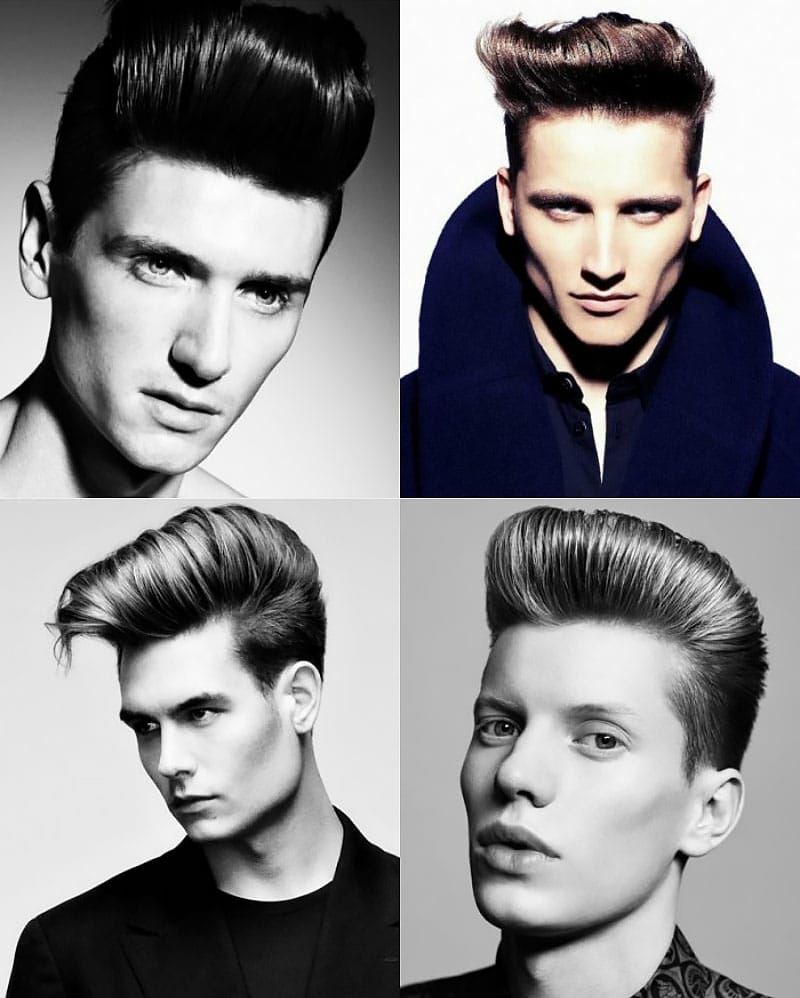 How to Style The Pompadour
5. Quiff
The quiff is a popular classic hairstyle for men, with its influence extending to various domains like sports, politics, and pop culture. It shares similarities with the pompadour, although the quiff typically showcases a more distinct contrast between the sides and the top of the hair. To achieve this style, apply product both before and after blow-drying the hair. Icons such as Don Draper in Mad Men or Bruno Mars on the Grammy red carpet serve as notable references. Another renowned figure who embraced textured and dimensional quiffs is the vintage movie star James Dean. Oval, square, heart, and triangle face shapes can confidently embrace the proportions of a quiff to complement their facial features.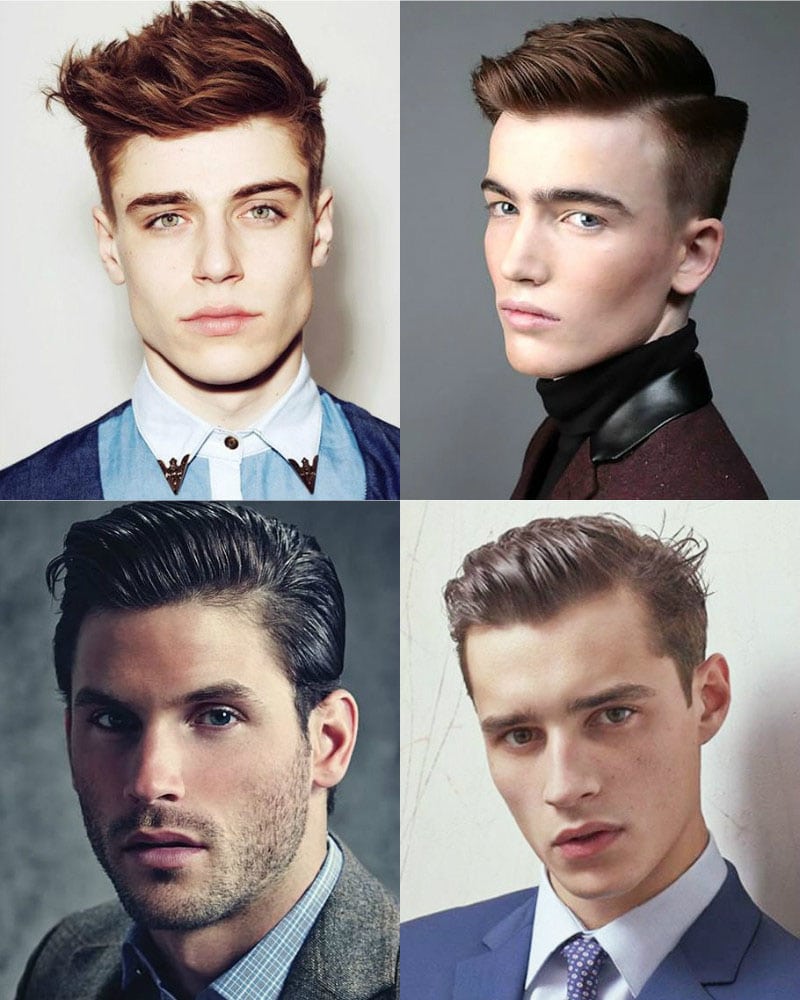 How to Style The Quiff
6. Buzz Cut
The Buzz Cut, even more minimal than the French Crop, has remained fashionable for decades as it is a low maintenance haircut for men. It is widely recognized as a men's haircut with extremely short length, achieved by buzzing the hair very close to the head using clippers. Originally known as the 'Induction Cut,' this military haircut was traditionally worn by new army recruits as a symbol of initiation. In a contemporary context, those opting for a fully shaved head should consider the shape of their face. Buzz cuts typically suit gentlemen with square or oval face shapes, as these facial dimensions can accommodate minimal to no hair length.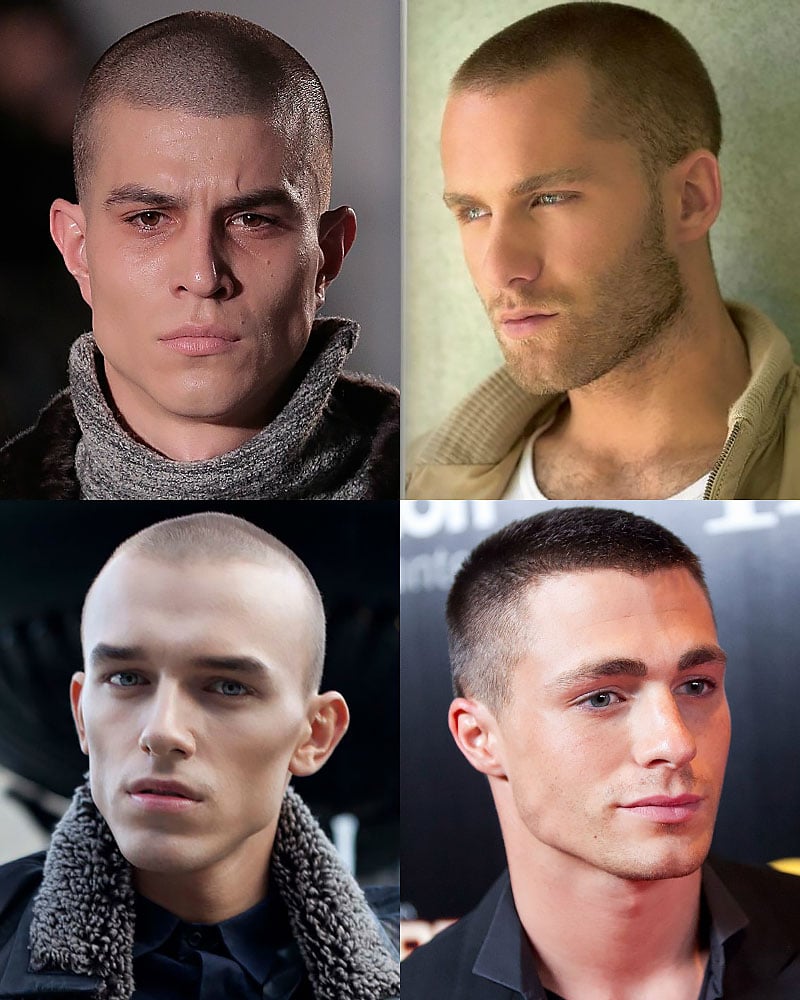 Men's Classic Haircut FAQs
What is a classic men's haircut?
A classic men's cut is one that is stylish, timeless, and looks good on the gent wearing it. Classic styles include the French crop, slick back, side part, pompadour, quiff, and a buzz cut.
How do traditional men cut their hair?
Guys who have a more traditional style are likely to rock a classic haircut, such as a slick back, side part, pompadour, or quiff. These styles are all traditionally sophisticated, stylish, and masculine. They also suit most face shapes, giving flattering definition to every guy.
What is the most popular hairstyle for guys?
Some of the most popular styles at the moment are the undercut, short back and sides, fades, slick back, and pompadour.
SUBSCRIBE TO OUR NEWSLETTER
Subscribe to our mailing list and get interesting stuff and updates to your email inbox.