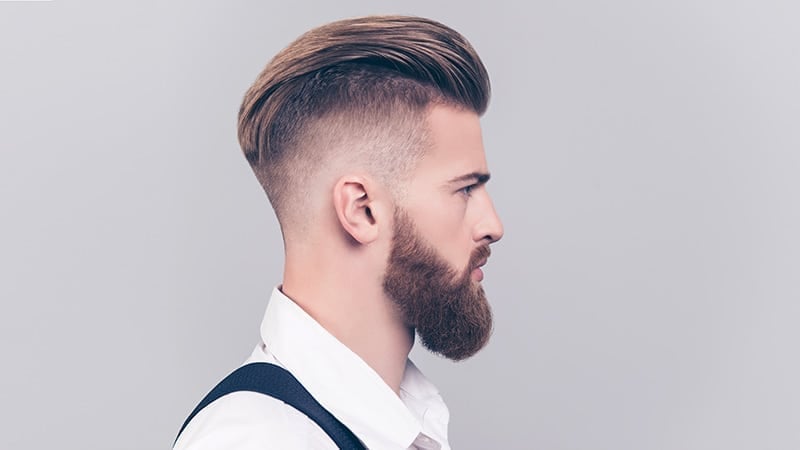 Today, some of the most desirable men's hairstyles are the ones that effortlessly blend sophistication with current trends. These sleek haircuts are perfect for any occasion, be it formal, business, or casual. So, how does one achieve this sought-after combination? The answer lies in a skin fade. This haircut gradually transitions from longer hair on top to no hair on the sides, creating a refined modern look. Below we explain what a skin fade is and take you through the best skin fade haircut ideas that have contemporary and timeless appeal.
What is a Skin fade?
A skin fade is a type of haircut that involves tapering the hair on the sides and back, seamlessly blending it into the skin. Typically, it begins with longer hair on top and gradually transitions to shorter lengths as it reaches the sides and back towards the neck. The style offers different variations, such as the high, mid, and low skin fade, which are detailed below:
Skin Fade Vs Bald Fade Vs Zero Fade: Differences
Skin fades, and bald fades are two terms that are often used interchangeably. While these types of fades are similar in their gradual transition from longer hair on top to shorter hair that blends down to the skin at the back and sides, there is one important distinction between them: a skin fade or bald fade involves shaving the hair down to the skin for a seamless blend, whereas a zero fade leaves very short stubble behind.
Skin Fade Haircut Ideas
1. Low Skin Fade
Unlike other types of fades, low skin fade haircuts gradually transition into the skin just around the ears, creating a subtler look. This low fade haircut is especially great if you have longer hair, as it helps to balance out the intensity of the fade. Not only is the low skin fade trendy and versatile, but it also requires minimal maintenance, making it an ideal choice for both busy professionals and style-conscious individuals alike.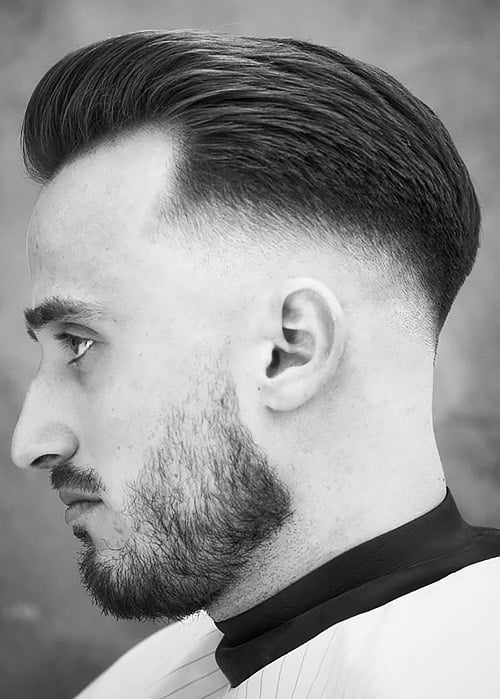 2. Mid Skin Fade
The mid skin fade haircut (medium fade) is one of the most popular men's haircuts. The mid fade is the perfect middle ground between high and low fades and tapers neatly between the temple and the ears. Adding a skin fade to the mix takes your hair game to the next level. Not only does it add a touch of style to your haircut, but it's also perfect for hot summer days when shorter hair is a must.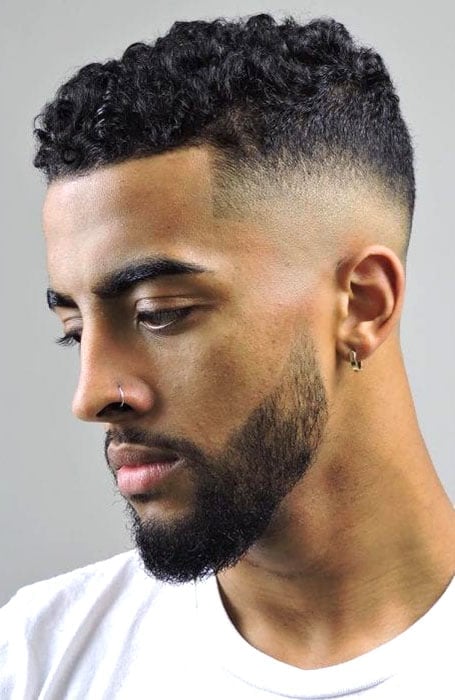 3. High Skin Fade
A high skin fade haircut is the perfect cut for men who are looking to add a little more edge to their hairstyle. This sharp look features longer strands on top that quickly transition to shaved sides below the hairline, leaving you with a bold and daring style. Not only is the high fade stylish, but it's also incredibly practical and is a low-maintenance haircut for men.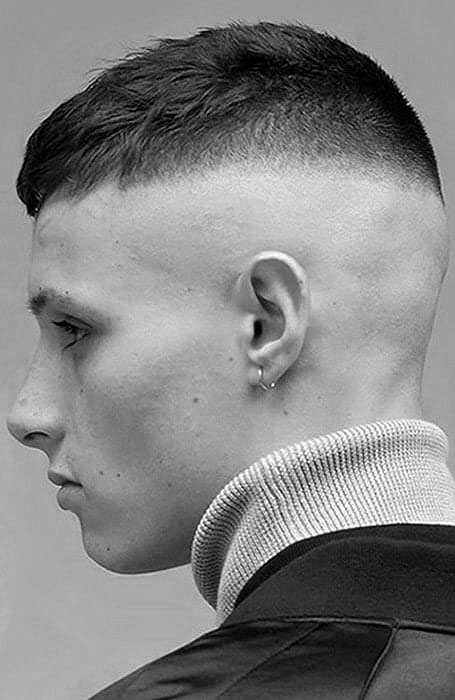 4. Skin Fade Taper
Skin fades combine sophistication and style with a touch of edgy confidence. There are various types of skin fades, including high and low variations. If you're planning to try a skin fade for the first time, it is suggested to go for a skin taper fade. This is because it results in a more subtle gradient between the longer and fully shaved sections of your hair.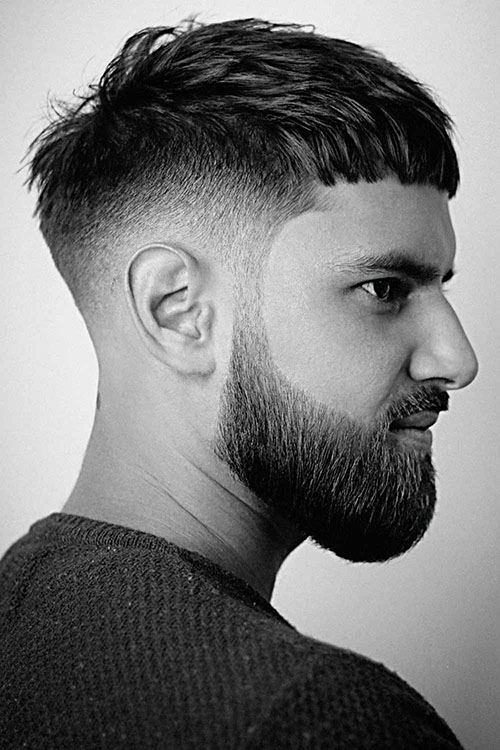 5. Skin Fade with Blowout
Combining a blowout haircut with a skin fade can result in a remarkably trendy look. To achieve this style, ask your barber to give you a skin fade while keeping a good amount of hair on top. Afterward, use a round barrel brush to blow-dry your damp hair, pulling the locks upwards for added volume. The skin fade blowout is a type of skin fade that gives off a disheveled look and is one of the most sexy messy hairstyles for men.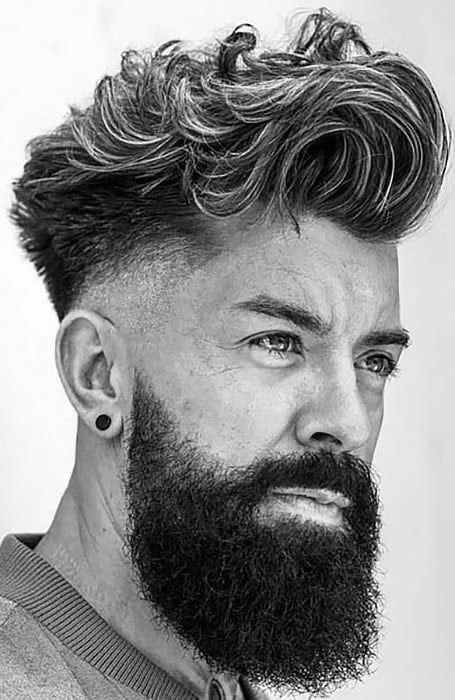 6. Skin Fade with Hair Design
If a standard skin fade isn't bold enough for your personal style, you can try adding a hair design. After having your barber cut your hair into a skin fade on the sides, get him to go back over the area and shave a shape into the hair just before it disappears. The design can be anything from a simple curved line to an edgy lightning bolt, depending on your preference.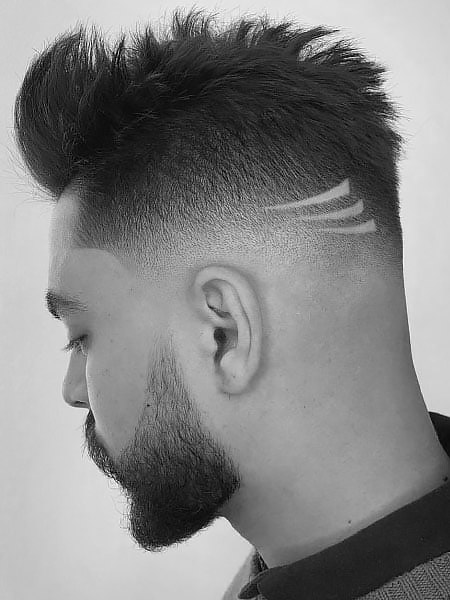 7. Skin Fade with Combed Back Hair
The skin fade with combed-back hair is a versatile cut that is considered a professional hairstyle for men. Inspired by military haircuts, it exudes a super neat and bold look. For optimal results, add some length and ensure the top remains well-groomed. The cut doesn't require excessive use of styling products; a small amount of gel or pomade will suffice.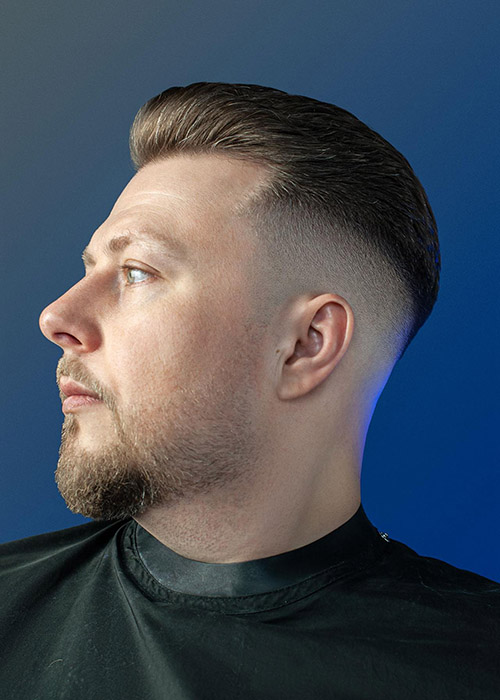 8. Skin Fade Buzz Cut
Skin fades can work with hair of all lengths, even seriously short haircuts for men like the buzz cut. The skin fade buzz cut is a popular army haircut that is super low maintenance. To pair a buzz cut with a skin fade, your barber will use clippers to buzz the hair on top. Then, as he moves down your head, he will gradually reduce the clipper setting until it reaches a zero around your ears.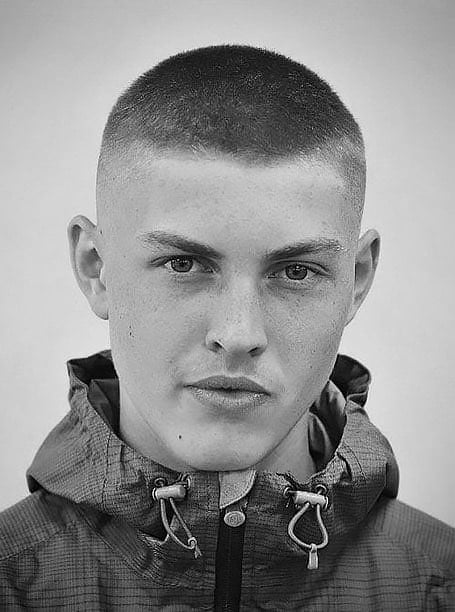 9. Skin Fade with Quiff
The quiff is a classic hairstyle for men characterized by longer hair at the top, particularly in the front, and shorter hair on the back and sides. Resembling a pompadour, the quiff is a haircut that exudes a stylish and confident look. Adding a skin fade to the quiff introduces a modern touch, making it a trendy choice for men.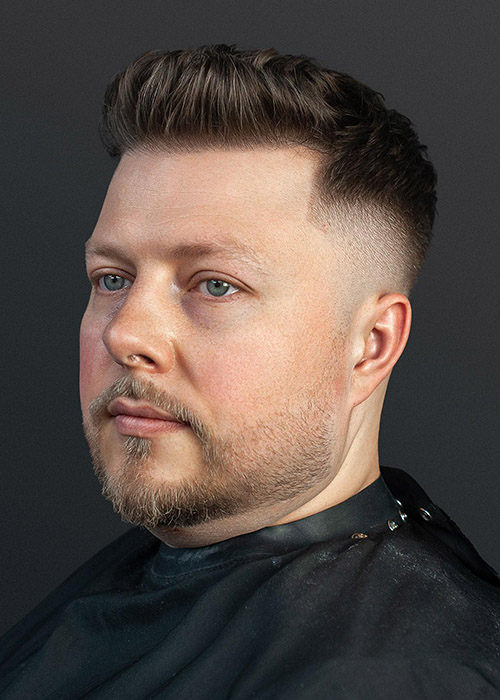 10. Skin Fade with French Crop
To achieve a modern and stylish haircut, consider combining a french crop with a skin fade. This cut is especially flattering for men with naturally wavy hair. Still, it can also look great on straight hair types with the use of texturizing products or sea salt spray.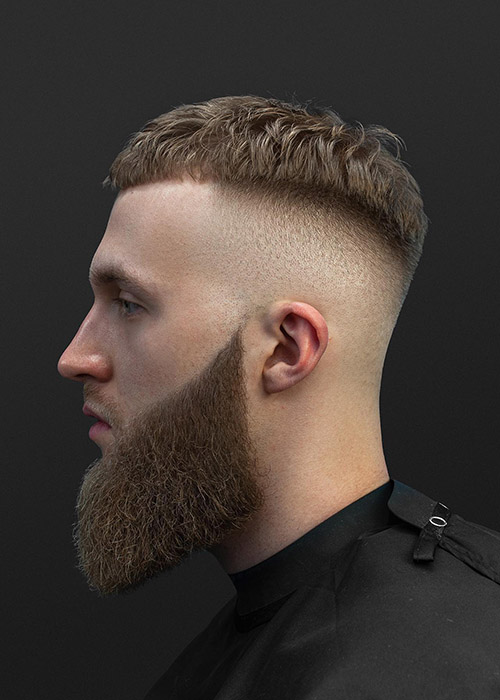 11. Skin Fade with Blonde Hair
Men with naturally blonde hair or those planning to bleach it have a plethora of sexy blonde hairstyles for men to choose from. To add some pizzazz to your locks, consider a skin fade haircut that accentuates your naturally beautiful blond hair. Not only will it make you look stunning, but it will also help you stand out at any gathering.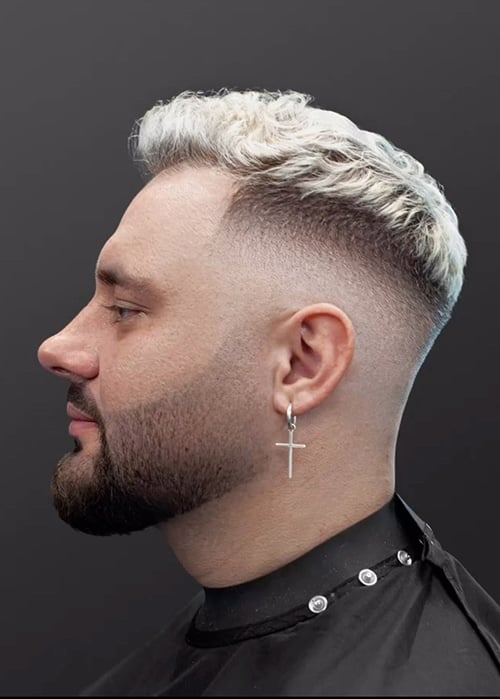 12. Skin Fade with Grey Hair
Grey hairstyles for men are often associated with aging, but a skin fade is the perfect way to turn this notion around. Not only is it a stylish update for your locks, but it also gives a sense of neatness and maturity. It's a great choice if you're a silver fox looking to stay on-trend. You can even personalize your look further by choosing how you want to wear your longer strands on top.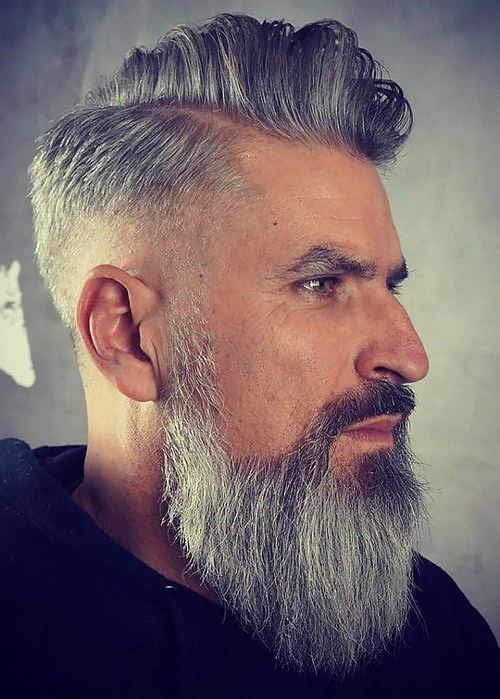 13. Skin Fade with Side Part
A simple side part hairstyle with a skin fade is a great look for men. By simply combing your hair to one side and fading the sides shorter, you can create a classic appearance with a modern twist. This style is suitable for various occasions, whether it's a formal event or a casual day out. Plus, the ease of maintenance makes it a practical option for those who don't want to spend too much time styling their hair.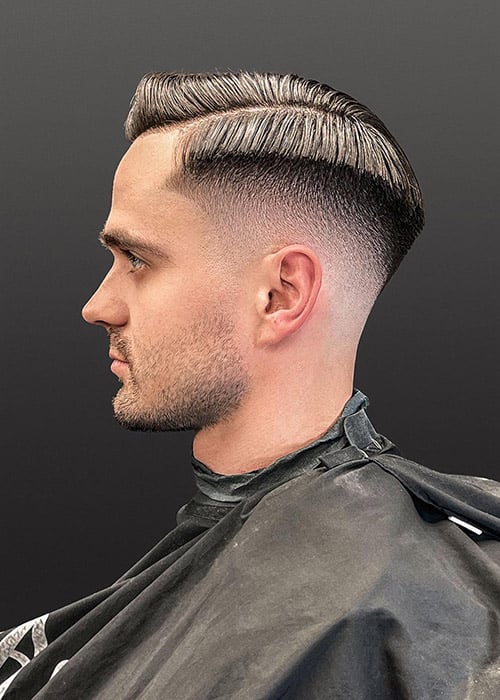 14. Skin Fade with Curly Hair
For men with curly hair, the struggle to tame unruly locks can be a daily battle. However, there is a solution that can provide both shape and an added touch of flair to your hairstyle – the skin fade. Not only is this one of the best curly hairstyles for men, but it is also low maintenance. You can opt for a high, mid, or low skin fade depending on your preferences and even personalize the cut further by adding a part or choosing the length of the top.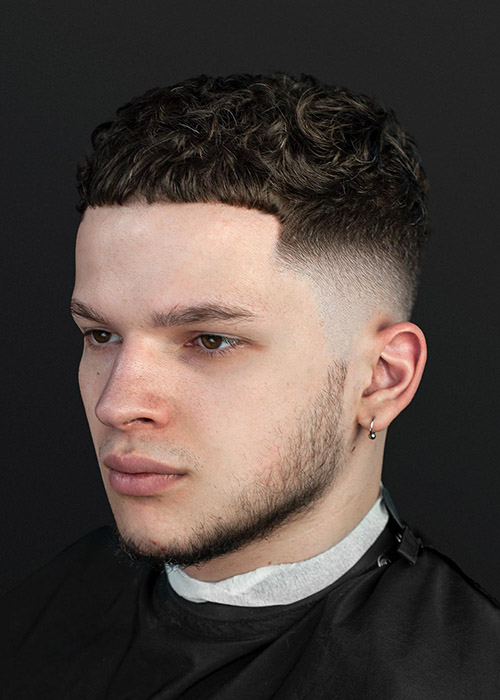 15. Skin Fade with Slick Back
The skin fade with a slicked back hairstyle is a bold and classic haircut that features stylishly long locks on top that are slicked back, coupled with razor-thin and super-short sides that fade to the skin for a touch of edginess. The beauty of this cut is that it appears almost like a disconnected undercut, making it a popular hairstyle choice for modern men.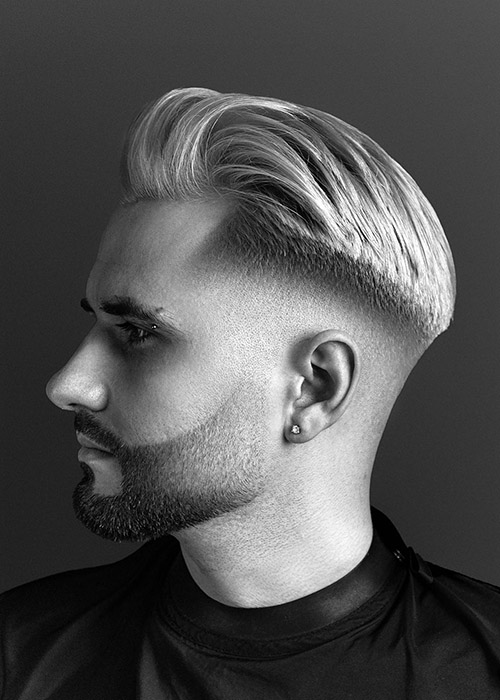 16. Skin Fade with Hard Part
Adding a hard part with a skin fade turns a classic hairstyle for men into something modern and bold. The hard part involves shaving a part in your hair instead of using a comb to create a separation. Regular maintenance is necessary to keep hard parts looking neat and polished, as they are beneficial for achieving sharp definition in the hair.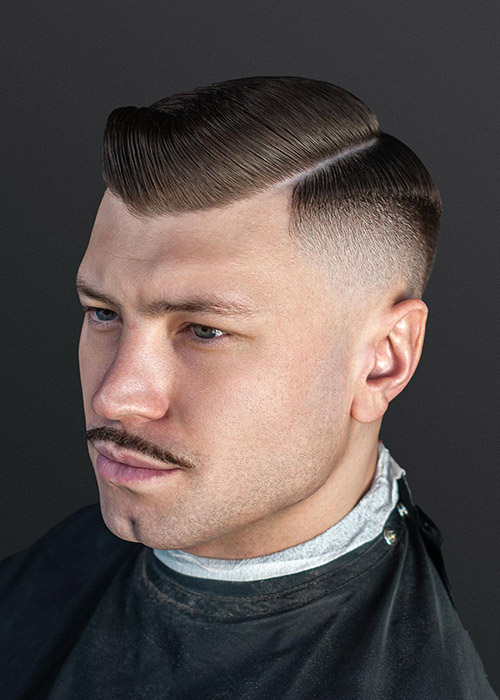 17. Skin Fade Faux Hawk
If you are looking for an alternative to the traditional mohawk, a faux hawk with a skin fade may be the answer. This cut gives you the edgy look without the punk attitude. Depending on the level of impact you desire, you can try different lengths on top. Longer hair will make a bold statement and appear voluminous, while shorter hair creates a more blended look suitable for everyday occasions.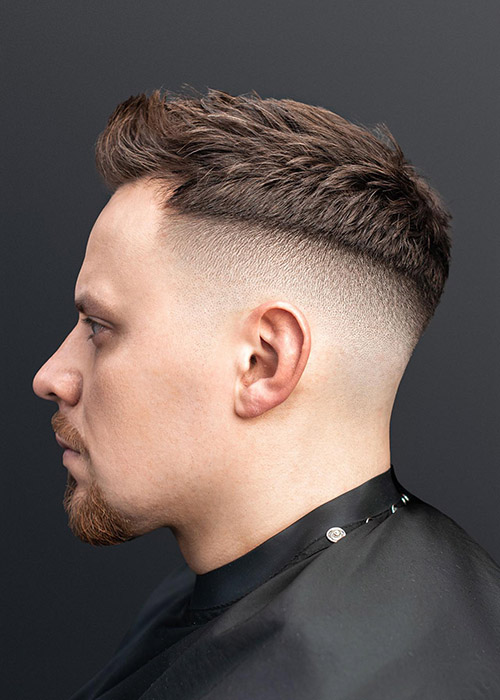 18. Skin Fade Pompadour
For a hairstyle that's stylish and polished, consider partnering a pompadour with a skin fade. The combination will appear clean and neat thanks to skin fade, and pompadour will add a rockabilly hairstyle vibe that is also great for elongating round face shapes.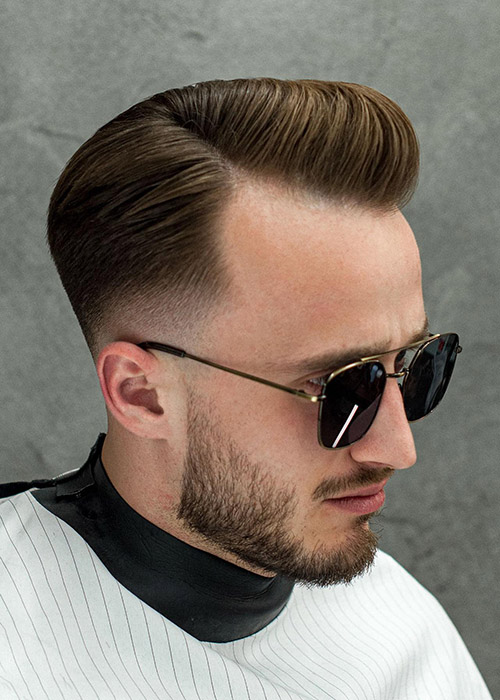 19. Skin Fade with Messy Hair
For those who prefer extra sleep in the mornings rather than spending time on hairstyling, a short and messy hairstyle for men combined with a skin fade haircut is a great choice. Despite requiring minimal styling, this haircut still looks fantastic due to its short sides and textured top.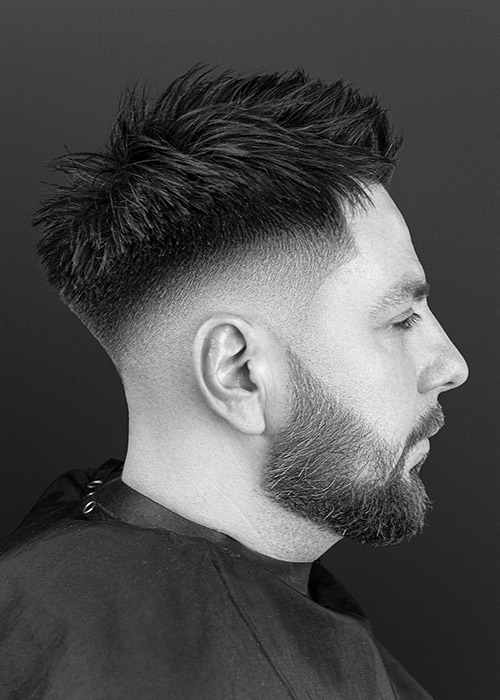 20. Skin Fade with Man Bun
Creating a look that combines two popular men's haircut trends is a fantastic way to achieve a fashionable and stylish appearance. While not all combinations may work well together, a man bun paired with a skin fade is a truly perfect match. For an even more attention-grabbing look, you could consider adding a hair design.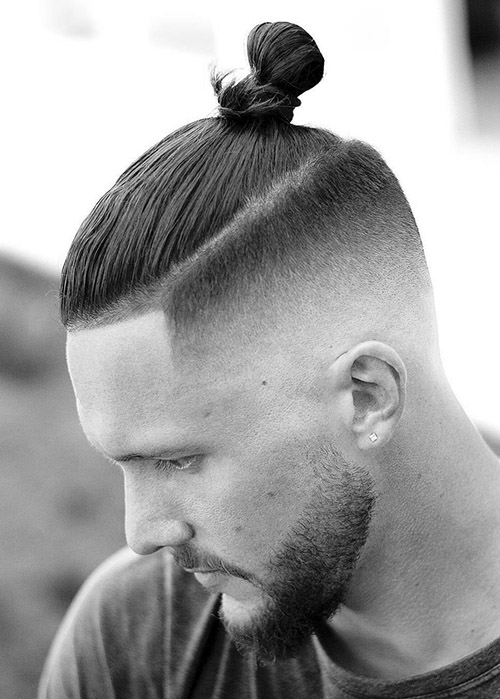 Skin Fade FAQs
How long does a skin fade last?
A skin fade will last for two to three weeks before needing a touch-up. The key to the look is incredibly short hair, so it's essential to maintain it with regular trips to the barber.
How do you ask for a skin fade?
When asking your barber for a skin fade, you'll want to know some extra details such as height and what you want on top. Skin fades can be high, mid, and low, or you can get a temple, drop or burst fade as well. Then, because it's referring to just the length on the sides and back, you'll need to know what style and length you want on top. Try to take long some reference pictures of styles you like, which will help articulate exactly what look you want.
Are skin fades attractive?
Skin fades are a bold and sleek cut, which looks great with most hairstyles and face shapes. It gives you a polished and fashionable that works in both casual and professional settings.
Is a skin fade a 0?
A zero haircut trims the length of the hairs to less than 1.5mm, which is standard when asking for a skin fade. This leaves the area looking hairless but with a bit of shadow, and it will still feel slightly stubbly. If you want to take it further, you can use a razor or cutthroat, so there's no stubble at all.
SUBSCRIBE TO OUR NEWSLETTER
Subscribe to our mailing list and get interesting stuff and updates to your email inbox.