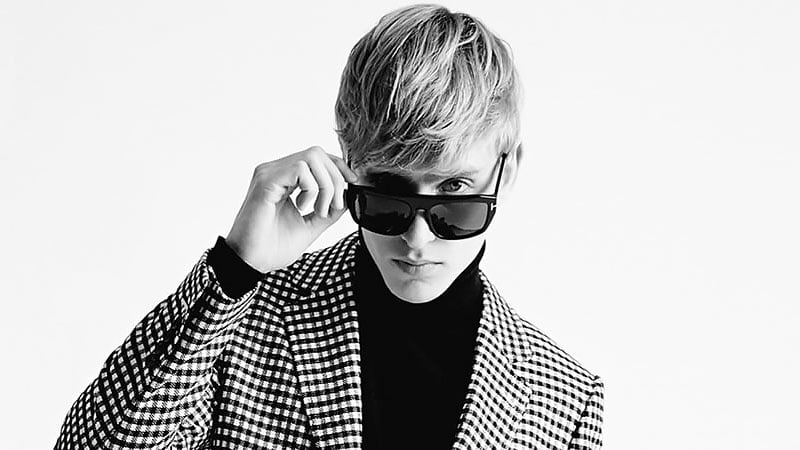 Fringe is one of the most popular hairstyles for modern men. Transitioning into different styles over the years there are endless choices for every type of man, hair texture and length. From French crops to long bangs, there is a fringe style that perfectly matches you and your needs. Upgrade your hairstyle or just spice up your daily hair routine with some of these most stylish fringe haircuts for men.
1. Angular Fringe
Frame your face and watch heads turn with an angular fringe. This style covers one half of your forehead and it's usually shorter on the sides. Choppy and stylish, an angular fringe is a great way to add life to your hair. This cut is best suited to those with a sharp jawline; you can have any texture or hair length to achieve this style.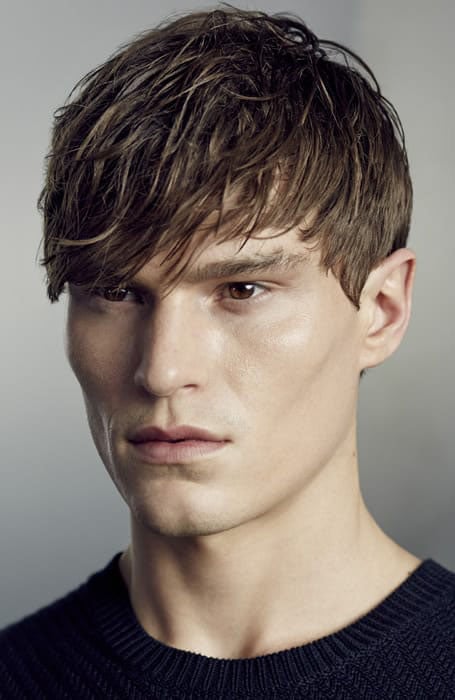 2. Textured Fringe
Don't be afraid to get a little messy with a textured fringe. You can choose to style it any way you prefer, whether it be swept to one side or a French crop; they all look great with a bit of added texture. For a casual and messy look, apply pomade or matte clay to the tips of your hair; dry shampoo is a great way to add some volume to the top.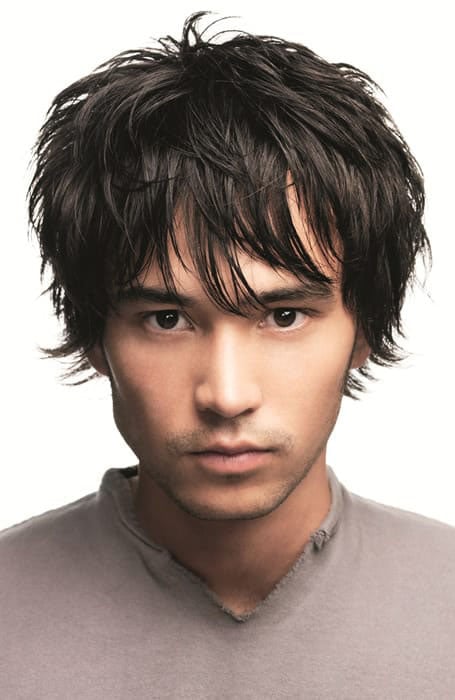 3. French Crop
A classic style for men of all ages, the French crop is a favorite for a reason. Characterized with short hair on the side, such as a taper or undercut and a long fringe, this hairstyle is easy to maintain and looks great on anyone at any age. It is also a great hairstyle for men with big foreheads.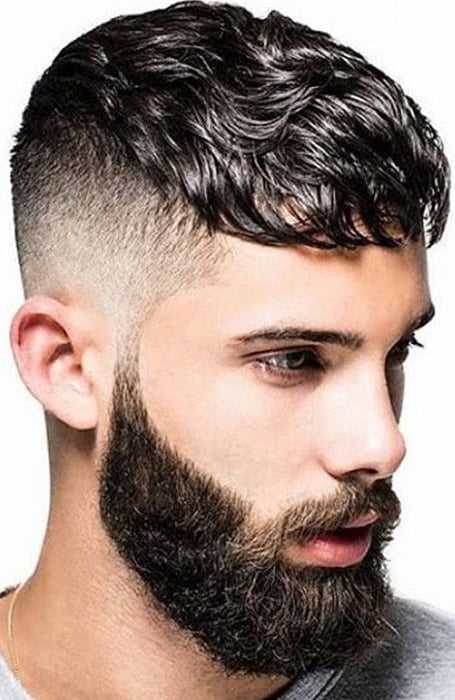 4. High Volume Fringe
Not all fringes have to sit low on your head; a high volume fringe is an excellent option for those who wish to add a little height. Using wax or pomade, you can mattify and texturize the ends of your hair, combing it to the front. To add height, opt for a dry shampoo or volumizing mousse; fluff your hair up a few centimeters to allude to a taller silhouette. You can style any fringe type with volume as well as any texture type. Don't be afraid to mix things up and shape your fringe to different sides of your head, or create a pompadour for a vintage feel.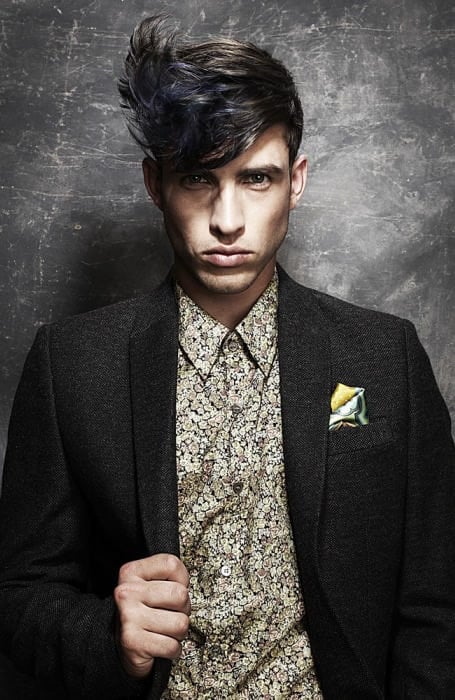 5. Side-Swept Fringe
Made for those with longer hair, the side-swept fringe is a hairstyle that has stayed popular for the past few decades. Choosing to cover one side of your face is optional, you can also whisk your fringe to a cool comb over style. Typically seen with shorter sides, you can keep the flank of your hair a bit longer for a mid-2000s feel, or an undercut for an edgy '80s approach. Use wax or pomade to comb your hair forward, keeping it textured and glossy but not looking like an oil slick.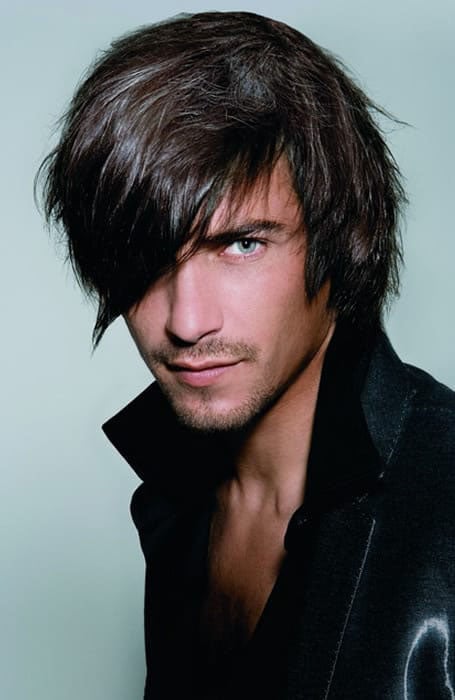 6. Faux Hawk Fringe
A faux hawk fringe is a cool adaptation to a fringe haircut. Consisting of a taper fade, fringe, and hair on top spiked forward, this hairstyle will definitely stand out from the crowd. Use wax to create the effect, pulling the ends of your hair upwards to add volume to the top of your head. This look is ideal for a night out and best suits those with medium length, straight hair.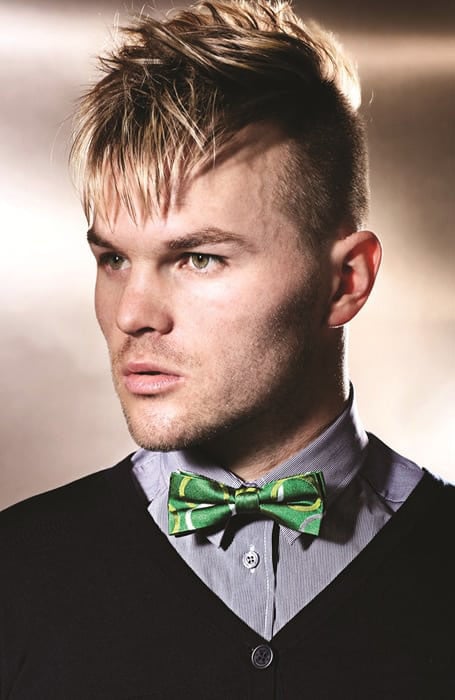 7. Short Fringe
Unlike a military cut, the short fringe keeps a bit of length on top with a short fringe to frame the face. For an alternative approach, taper the sides or make it edgy with an undercut. Ideal for those who play a sport or need to keep the hair out of their eyes, this hairstyle is stylish and low maintenance. It's perfect for any season and any hair, so why not give it a shot?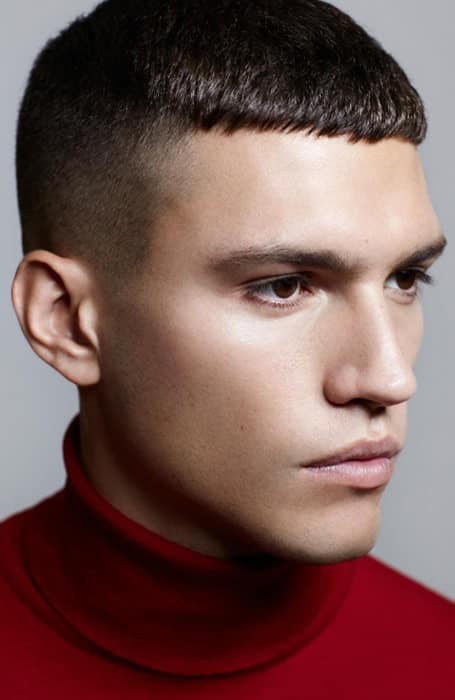 8. Curly Long Fringe
Those who have natural curls don't need to do much when it comes to styling a fringe. Maintaining a neat and tidy taper or fade on the sides of your head, let your curls fall naturally in front of your forehead. The textured curls contrast perfectly with the short sides; you can style this look with medium to long hair, depending on how you'd prefer to maintain the length. If you have shoulder-length locks you can skip the step of tapering the sides and just let your hair fall naturally. It's a cut that stays effortlessly suave, sophisticated and oh-so-cool.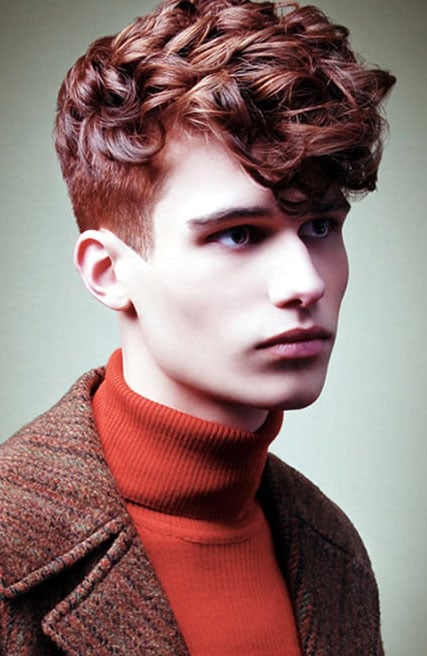 9. Elegant Fringe
The elegant fringe is a go-to if this is your first try at bangs. Uncomplicated and straightforward the elegant bangs are a classic style that frames one side of your face without losing any professionalism. Ideal for the office or school, this style is an excellent alternative to the swept fringe or angular bangs. Put a twist on the traditional cut by shaping it with a taper fade and hard part. If you have curly or wavy hair, you can leave the fringe as it naturally falls, but for those with straight hair, it's best to shape and texturize the ends with wax or matte pomade.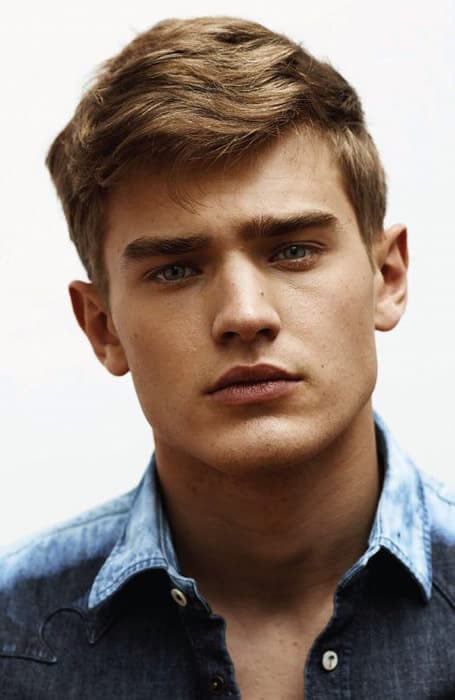 10. Front Fringe with Mid Fade
Go all the way with a full-frontal fringe. Edgy and ideal for a night out with your mates, this haircut is sure to turn heads for all the right reasons. Paired with a mid fade and volume on the crown and top of your head, you'll have a unique and alternative cut to everyone around you. This fringe style suits those with straight hair; add some texture and height to the crown of your head with matte pomade and dry shampoo.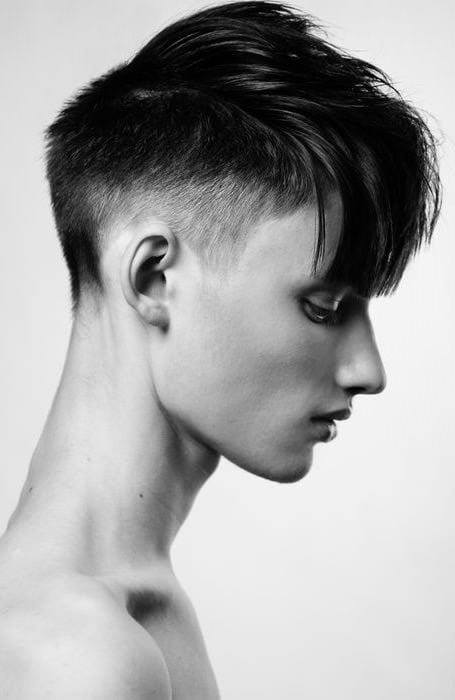 11. Fringe with Undercut
A fringe with an undercut is a great way to emphasize your angular jaw and shape your head. Contrasting with long bangs this haircut is ideal for a night out at a bar or in the city. Flat iron your hair in sections to create the glass effect, and finish with hair oil. Glass hair is a huge trend that is making the rounds, and when combined with an undercut, you'll have the hottest haircut on the street.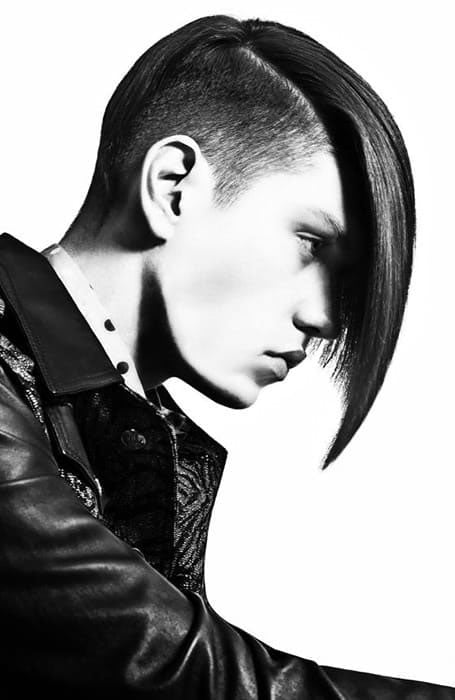 12. Long Curls with Fringe
Take it back to the 60s when Jim Morrisson made the organ cool, falling in love with his hair simultaneously. The long curls and fringe were a staple in the British rock scene and remain stylish to this day. Curly hair is the name of the game for this style, leaving it long to your shoulders. The curls offer full volume, and the front fringe keeps the retro vibe in full force. Pair it with designer stubble to give it a modern edge, and add matte wax to the crown of your head for extra height. There's a reason why this hairstyle is one of the most influential in history, and it'll look great on you!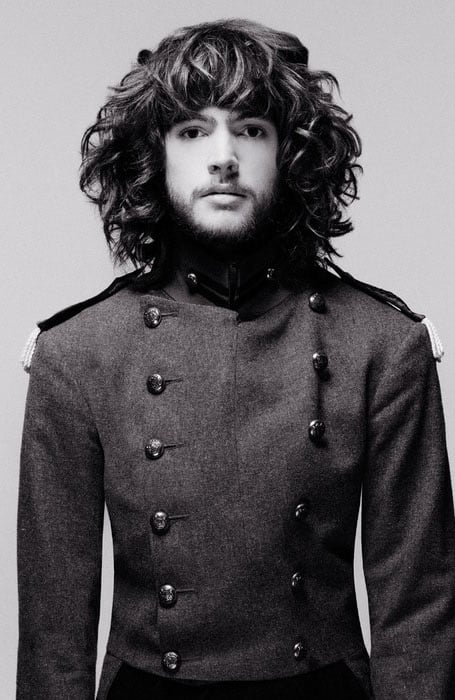 13. Short Textured Fringe
You don't have to have super long hair to rock a front fringe haircut. Short, textured bangs are a trend that is here to stay, and with sound reasoning. Opting for a French crop or angular bangs, put a twist on the texture by messing up your locks using a soft hold matte pomade. Don't be afraid to create a wind-swept look; it's all part of the plan. This style best suits those with straight or wavy hair and is perfect for the office or even a night out.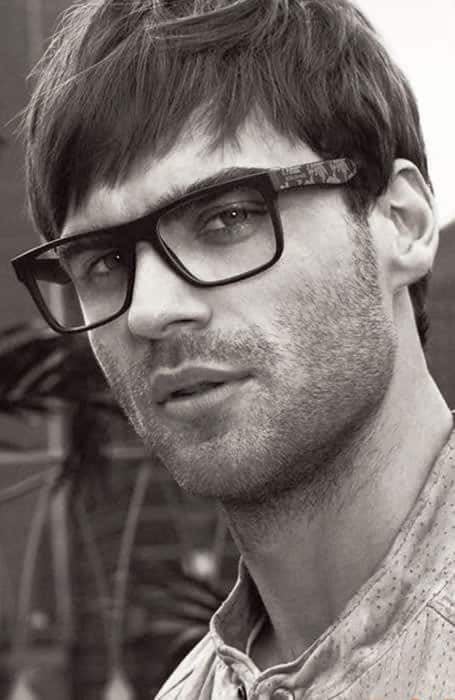 14. Flowy Fringe with Short Sides
Voluminous but not over the top, this flowy fringe and short sides is a go-to for anyone. Whether you're transitioning into longer hair or mixing up your style, you'll be sure to grab people's attention with this cut. With short sides and a long mop on top, you can approach this fringe style any way you like. For a mid-2000s look, grab some hair gel and shape the hair into an angular style. Keep it office-ready by smoothing the sweeping fringe into a side part and comb over. There are so many options with flowy fringes that you can try something new every single day.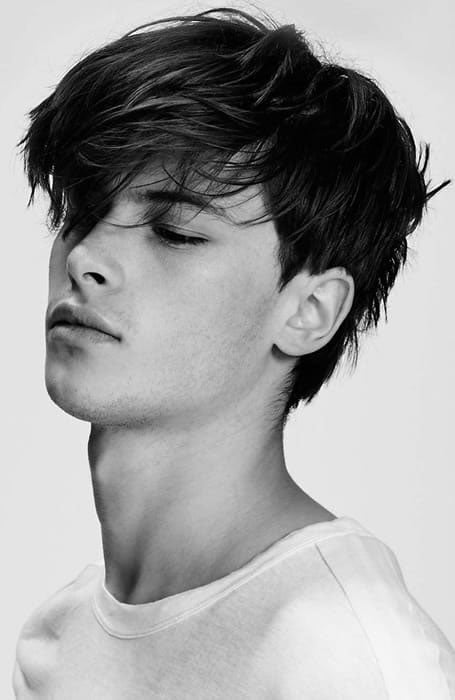 15. Short Choppy Fringe
Simple, clean and slightly edgy, a short and choppy fringe is the best style for the low maintenance man. Reminiscent of punk rock from the 70s, the choppy fringe looks best on those with straight hair. Whether you choose to cut your hair into a Caesar or with an undercut, it doesn't matter. Keep the front of your fringe slightly messy and undone; it's perfect for someone with a cowlick, as the style camouflages it and adds zest to a classic hairstyle.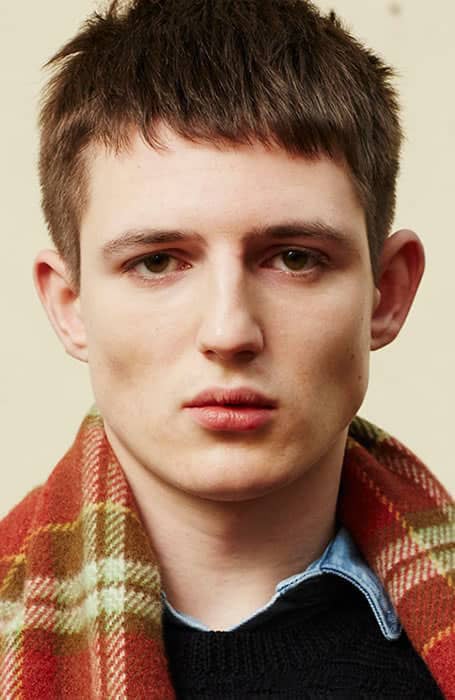 16. Short Afro with Fringe
Dapper and dashing a short afro, when paired with a fringe, is a match made in heaven. Shaping the fro with a set of bangs is a great way to frame your face and add height to your overall look. You can choose to grow out your natural curls or keep it short and tidy; every style looks great when paired with a fringe.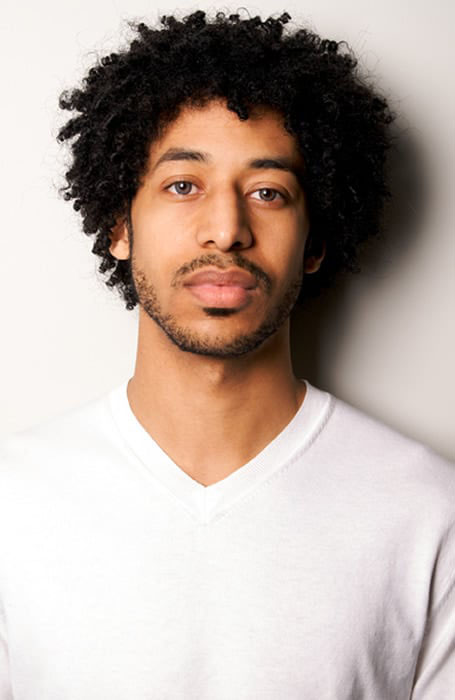 17. Wavy Fringe with Fade
Take on the world with your curls. Not only is this hairstyle super sporty, but it's also sophisticated and stylish. However you wish to taper the fade and no matter the length you leave the curls on top, this style is sure to draw in attention. The waves on top add height and drama to your hair, whereas the undercut, fade or taper puts a sporty and low maintenance twist to it. It's an outstanding option for those who are in the music or alternative scene.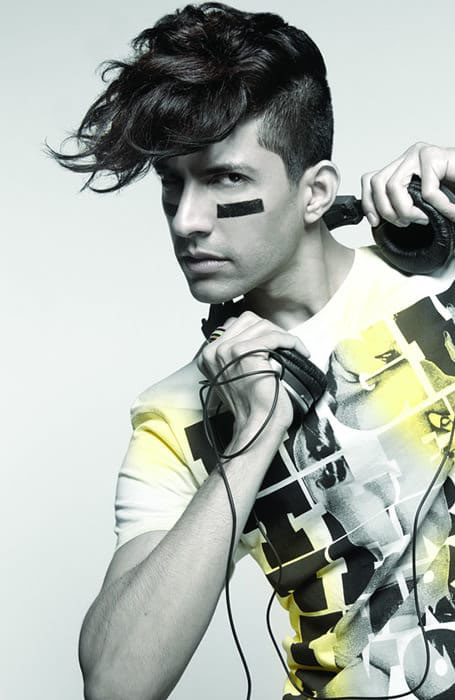 18. Long Fringe
Made for those who don't mind a bit of maintenance and work, the long fringe puts a fresh spin on a traditional haircut. Opting for a full fringe with extra length may cause a bit of visual impairment, so it's best to sweep the hair to one side or fan it out into an angular bang. This cut is diverse in its stying, and suits any hair texture and type.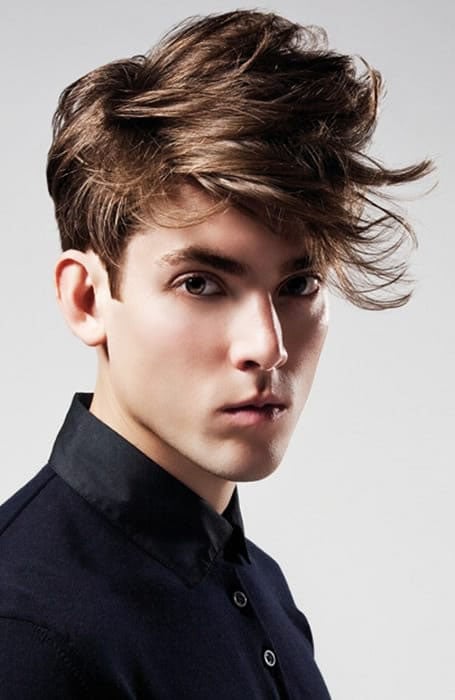 19. Combed French Crop
A polished take on the traditional French crop, take out your comb and get glossy. This alternative to the traditional style is a first-rate option for those who like to think outside the box while staying stylish. Combine the crop with a taper fade to master the overall look and flat iron your hair if its texture isn't naturally straight. If you wish to add more shine to your locks, you can smooth it over with an oil product and lock it in place with gel to keep it from straying all day.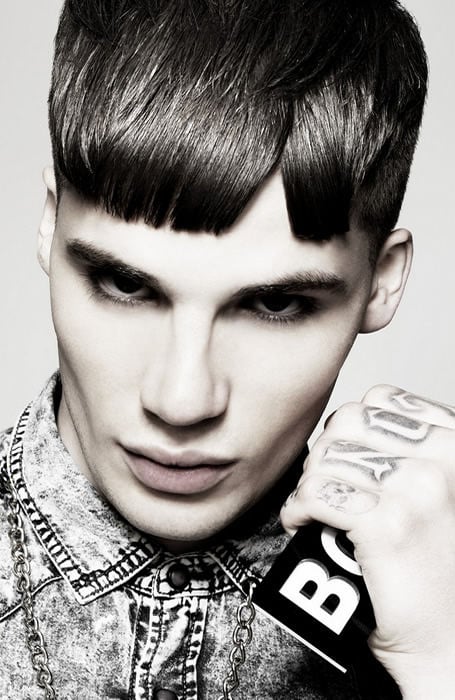 20. Neat Fringe
One of the most popular and easy bang trends to try is the neat fringe. Just as the name implies, this style is neat and tidy but doesn't incorporate the entire head. The bulk of the hair remains at the top of your hair, resulting in short sides and a longer mop. You can smooth the fringe down with pomade or keep it with your natural texture. Keep the brunt of the fringe heavy at the front, and you'll be rocking the neat fringe in no time.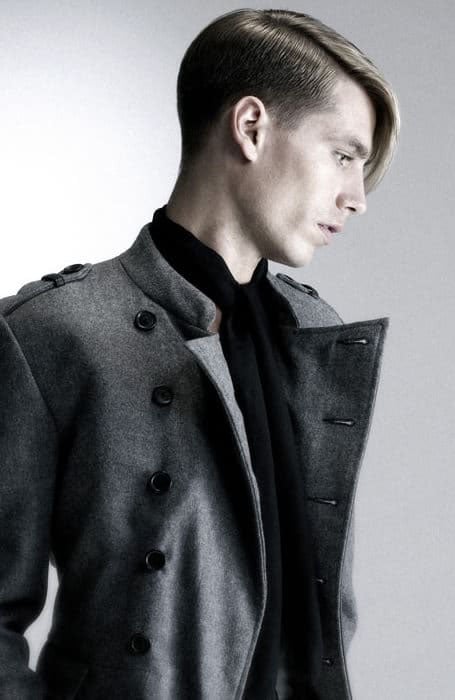 21. Long Side Swept Fringe
Pairing a classic angular fringe with longer locks is all you need to master the long side-swept fringe haircut. Made famous by the likes of pop stars in the early 2000s, this style is characterized by the wind-swept effect of the hair. It is a universally flattering hairstyle that is timeless in its design. Comb the length of your hair to the front and sweep it across one side of your head. If you have textured hair, keep it in place with a medium-hold wax; straight hair can be locked in using gel or pomade. Just make sure you don't grow your hair out too long.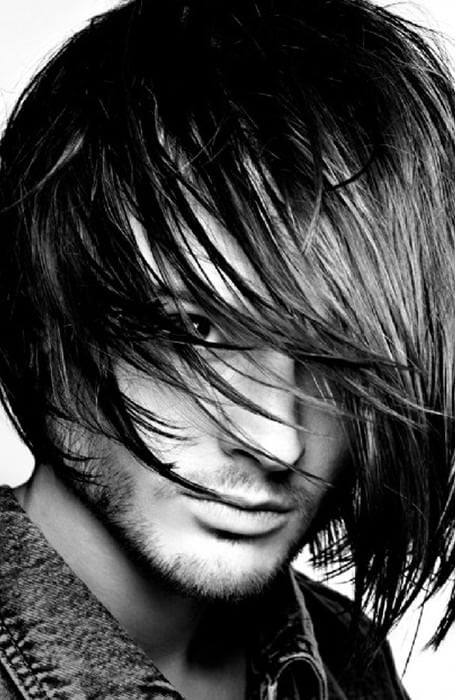 22. Messy Bowl Cut
The messy bowl cut has been revamped and is ready to go. Traditionally, bowl cuts have the same medium length shaped across the entire head, as if someone has used a bowl as a stencil for cutting the hair. With a messy bowl cut, the same concept is used but the texture adds a fresh and unique twist to the hairdo. Looking best on those with straight or slightly textured hair, you'll look suave and sophisticated with a 60s edge. Hey, if the Beatles could rock it, why not you?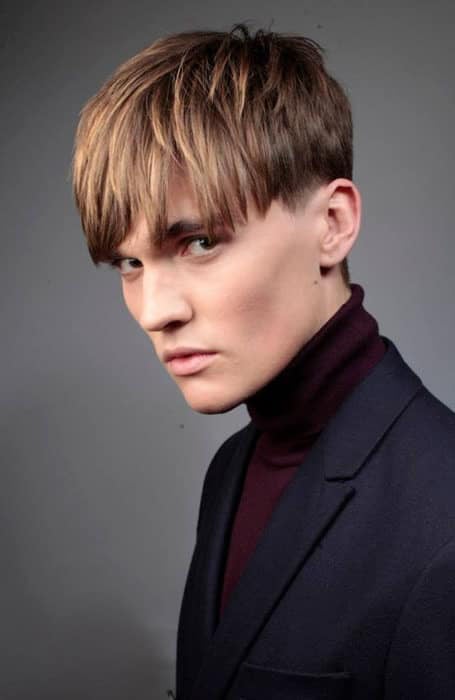 23. Straight Fringe
Not all fringes have to be textured to look great; try the straight fringe haircut. Based on traditional and conventional bangs, this style sits on your forehead and doesn't take a lot of work to look great. If you're lucky enough to have naturally straight hair, you can leave the locks as they usually fall. However, for those with a bit of texture or curls, you can sweep through your hair with a flat iron and oil to keep it locked in place all day. An ideal length for this fringe is falling above your eyebrows, preventing you from sweeping the hair to the side.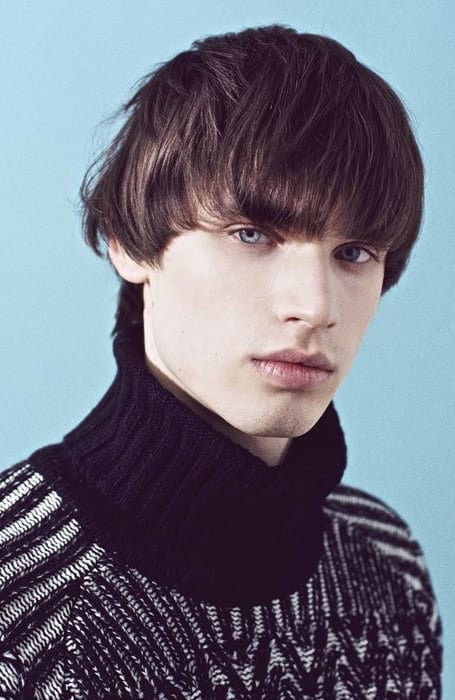 24. Side Part with Side Fringe
Similar to a combover, this side part and fringe combo is a professional take on the side-swept bangs. Spice things up with a hard part and taper fade, or keep it traditional with a part and short sides. This haircut flatters all hair types, so you don't have to try too hard to make it look great. Comb your hair over to one side and set it in place with light hold pomade or wax for extra texture. With this ageless and timeless hairstyle, jaws will drop when you walk by.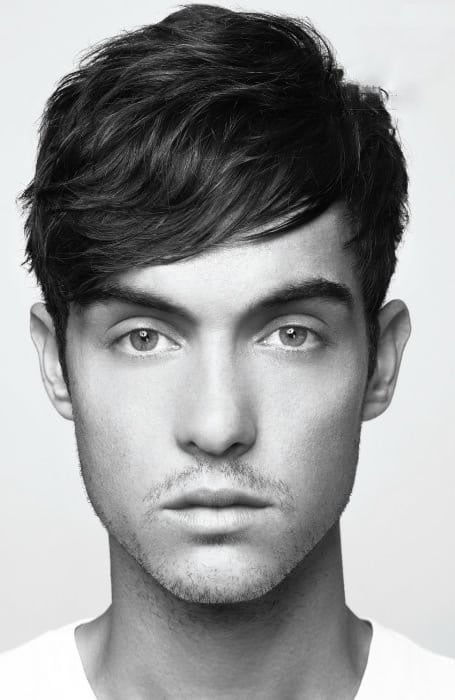 25. Brushed Up Fringe
Keep the mop off your face and add volume all at once with a brushed up fringe. Similar to a pompadour, this style relies on the height at the front of the head to attract the drama. Using gel or wax, you can spike your hair into place or brush it upwards using a pomade for a textured, lived-in approach.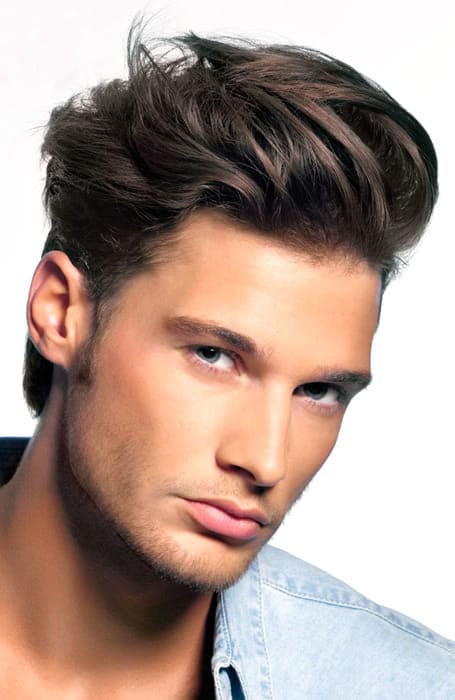 FAQs
What is a fringe haircut?
A fringe cut has a section of hair that's cut and styled over the front hairline, covering part or all of the forehead. There are various fringe styles available for men, including angular, textured, French crop, Ceasar, side-swept, long and flowy, short and choppy, or curtain bangs. What style you choose will depend on the length and texture of your hair, as well as existing cut and style.
How long does it take to grow a fringe?
Unless you have a very short haircut, such as a buzz cut, getting a fringe is generally more about a style change rather than growing extra length. It will involve brushing a section of your existing hair forward and trimming it. However, if you do have a buzz cut, it can take four to five months to grow sufficient length to create a fringe.
Are fringes in for 2020?
Fringes on guys are in for 2020. It's one of those great hair features that never really go out of fashion; it's just the style that changes. The most popular looks are curtain bangs, lots of texture, and short lengths for an edgy vibe.
SUBSCRIBE TO OUR NEWSLETTER
Subscribe to our mailing list and get interesting stuff and updates to your email inbox.