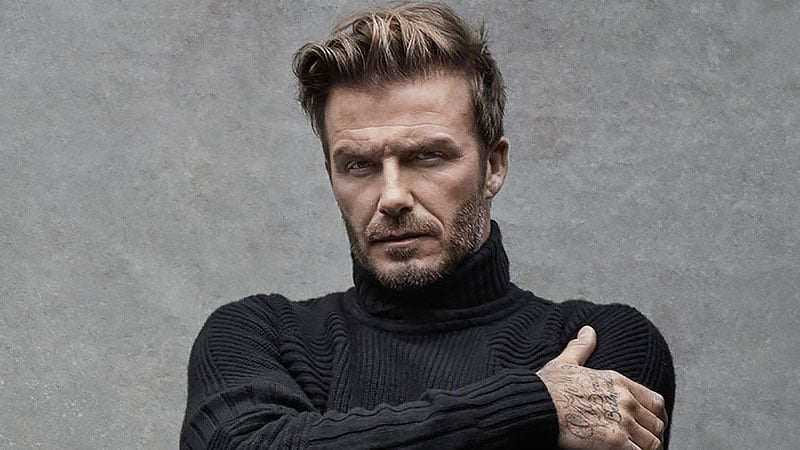 The quiff hairstyle has remained one of the most influential and enduring hair trends for many decades. It is one of the most classic, timeless styles that can be harnessed by different age groups and is appropriate for various events. The quiff has also been the hairstyle of choice in cinema, music, and even politics. From its earliest versions to its current adaptations today, we take you through the best quiff hairstyles for men.
1. Classic Quiff
Supremely popular in the '50s, the classic quiff hinges on more balanced proportions. While you will still want longer dimensions on top of your head, you must keep some length around the back and sides while also maintaining a clean, sharp hairline. A high shine product will also give you the desired gloss that the classic quiff calls for. For reference, think Don Draper in Mad Men.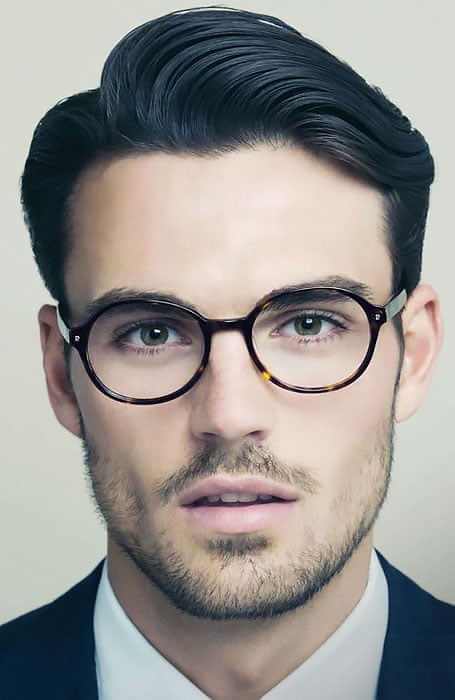 2. Modern Quiff
The modern quiff requires more length at the top of your head, with pompadour-esque proportions. Keep in mind that contemporary interpretations also rely on a distinction between the hair on the sides, at the back of your head, and your hair on top – you should aim for imbalanced proportions to accentuate the quiff's length toward the front of your head. The modern quiff can also be styled efficiently with more matte hair products. Glossier products will also work well, but a matte finish can update it for a more modern take. For inspiration, think Bruno Mars.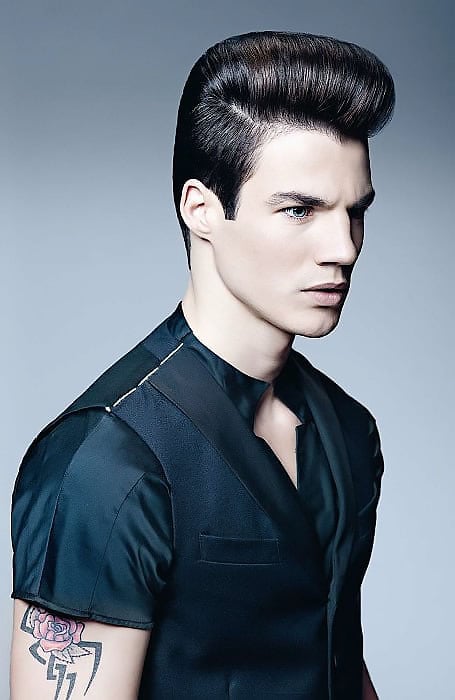 3. Slick Back Quiff
The slick back quiff is a sexy and polished take on the hairstyle. It's usually combined with a side part, which gives it a retro '60s vibe. It is a great look for men who have naturally thick hair. To get the slicked style, apply a generous amount of pomade with your hands. Then use a comb to position your hair, creating the parting and the quiff itself. Finally, use a hair dryer on low heat to quickly set the style, so it doesn't lose volume and stays in place all day.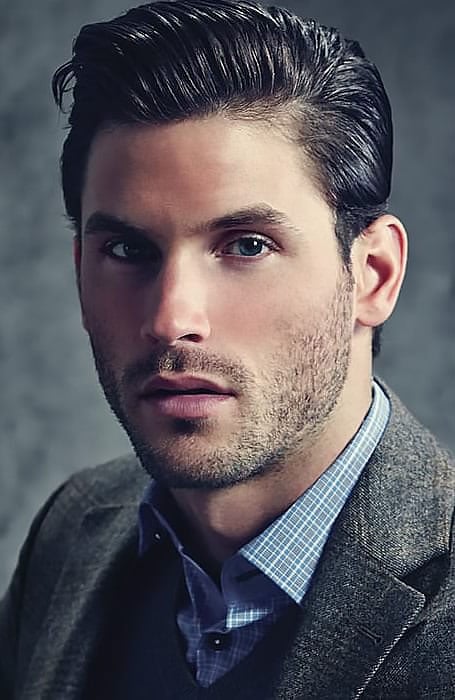 4. Taper Fade Quiff
A chic, modern version of the quiff is to combine it with an on-trend taper fade. The combination creates a cool contrast between the short hair on the sides and the longer hair on top. The style has the same cool, edgy feel as an undercut quiff, but isn't as extreme. A taper fade quiff is still a clean-cut, professional look and will suit you if your style is more preppy. You can put your spin on the cut by either razoring the parting, so it's more defined and striking, or by styling your quiff in different ways. A neat and tidy quiff is perfect for work, while the relaxed, tousled look is great for the weekend. The taper fade quiff is also a great hairstyle if you have thinner hair.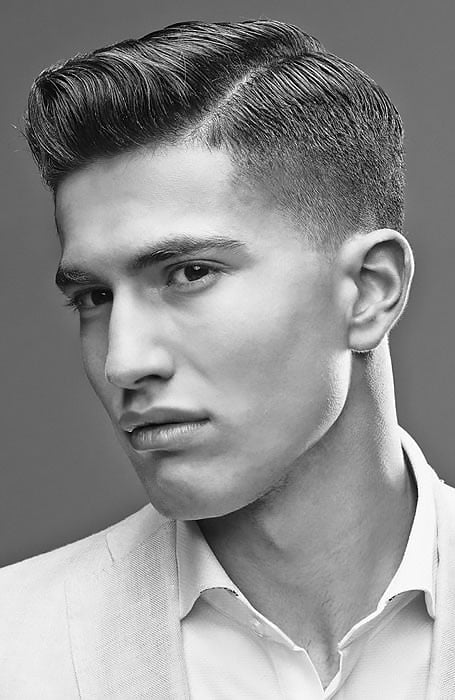 2. Thick Hair Quiff
Make the most of your thick hair's natural volume by embracing the quiff. To nail this look, keep the hair short on the sides. Then add plenty of height at the crown of your head. Make sure there's lots of movement and direction when you style your hair into the thick hair quiff. Subtle waves and lots of texture help break up the mass of hair and ensure you don't get the 'helmet' look. When done correctly, this style adds length to the face and will help balance out and flatter strong features, like a square jawline and high cheekbones.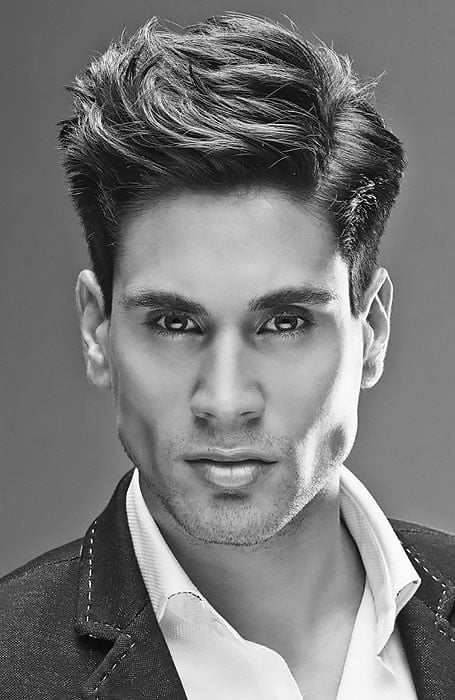 3. Comb Over Quiff
The comb over quiff is another retro-inspired take on the style, but with a modern update. It has a touch of Elvis Presley cool but doesn't feel old-fashioned. While the sides aren't as short as in a taper fade, there should still be a contrast with the longer hair on top. However, there's no defined parting – instead, the hair is blended to make it look thicker. A comb and pomade are essential to get this look. Build volume into the roots and work some product through the hair before using the comb to position it in a forward falling curl. It is an excellent choice for you if your hair is naturally wavy.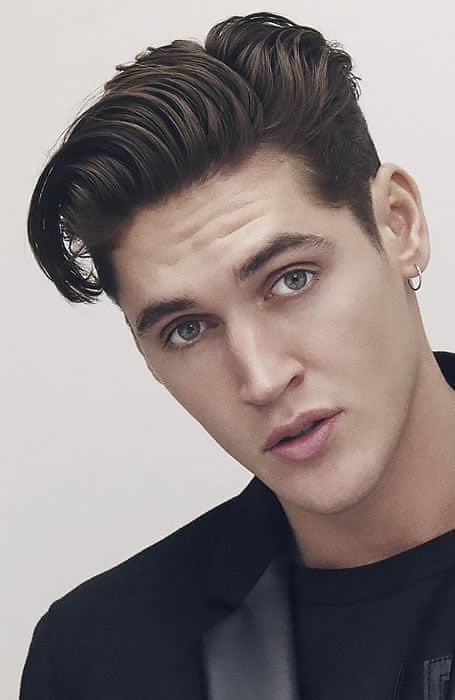 4. Long Hair With Quiff
It can be a little more tricky to create a quiff with longer locks because your hair can be weighed down. As a result, a product with a stronger hold, like wax, is needed. Using it will keep the volume built up at the front. To make this style look balanced, try a side-swept quiff. The front section of your hair is then able to sit on top of your mid-lengths, which gives it more height and volume. To create the illusion of shorter sides, tuck your hair behind your ears. Doing so will draw more attention to the quiff, with the bonus of making your face stand out more too.


5. Short Hair Quiff
A classic short hair quiff is both easy to maintain and has a Mad Men vintage appeal. It is similar to the Ivy League cut, with the same graduated length and side parting. However, your hair is a little longer on top, with some even longer pieces at the front which you can style however you like. One popular choice is a soft comb over or side-swept quiff. The sides are still short, but because this is an old-school look, they won't be buzzed or faded by your barber. Just like the Ivy League, the short hair quiff is a youthful style with a polished feel.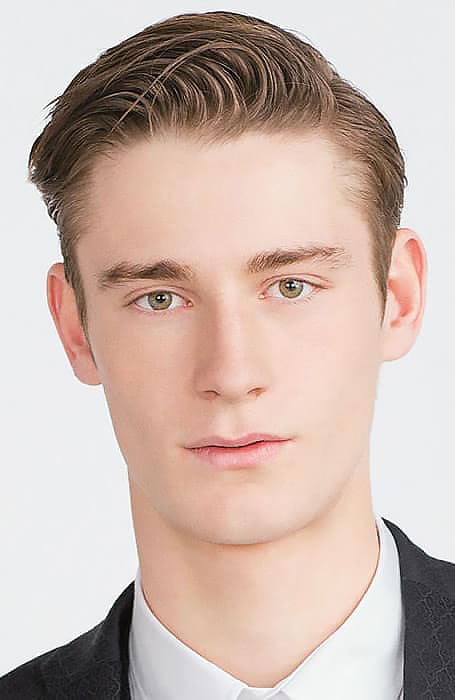 6. David Beckham's Quiff
David Beckham is a great example of showing how a quiff can work for men of all ages. While it is not as extreme, it pivots on its shorter length and neatness. Beckham's quiff is also a lot easier to attain if your hair is naturally straighter. If a shorter interpretation is what you are after, ensure you are getting consistent haircuts to ensure everything looks sharp and neat. Style with a medium-hold hairspray to finish off the look.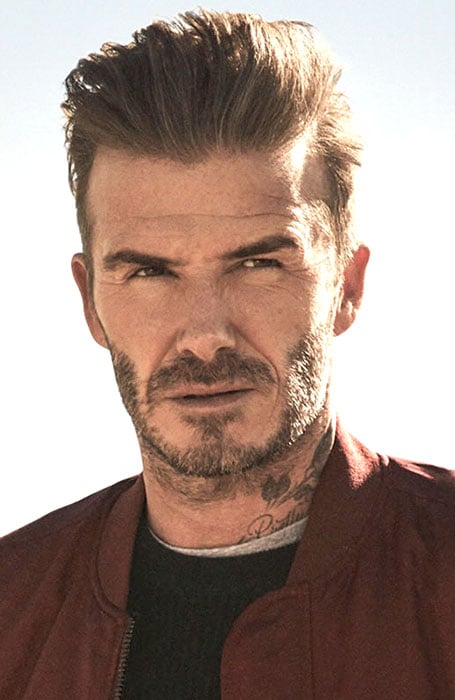 7. David Gandy's Quiff
Much like his personal style, British model David Gandy's quiff is classic with a modern edge. His hair possesses some length but is not overly long or distinguished from the top and sides. His styling is also not too precise – it relies on a bit of messiness to add a relaxed edge to the hairstyle. If your hair type is wavy, this version of the quiff is for you – the styling will be a lot easier to perfect for this versatile hair type.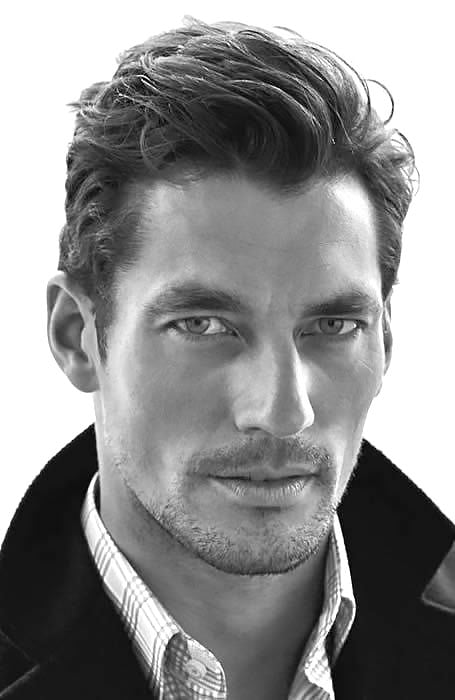 8. George Clooney's Quiff
George Clooney's style has been envied by men everywhere for decades, so it's no wonder he pulls off the quiff with his signature classy, dignified look. The actor proves silver hair pairs perfectly with this cut because the contrast of black and grey creates the illusion of thicker locks. His style of quiff is also an excellent look for older men because it concentrates the volume at the front, which disguises any thinning while making the hairline seem more even and full. George also combines the quiff with a full yet neat beard, which is a great way to balance out facial features and draw attention to your eyes.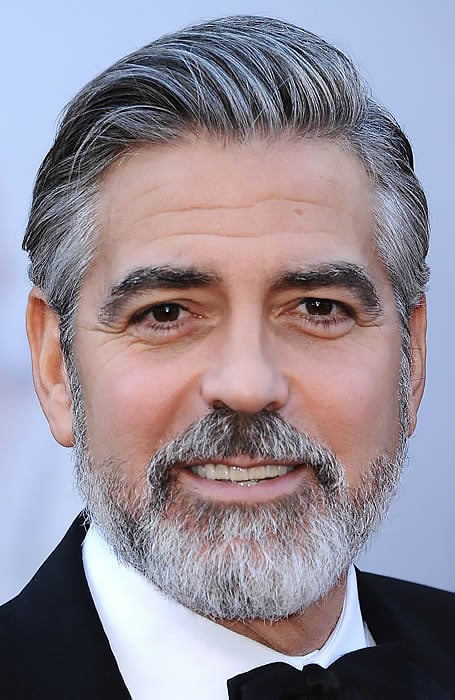 9. Leonardo DiCaprio's Quiff
One of Hollywood's most popular leading men, Leonardo DiCaprio has been wearing the quiff hairstyle for decades. It's no wonder he's a fan – the quiff is a flattering choice for his round face shape and hairline. The extra volume of the quiff helps balance fuller cheeks and his face's width while bringing more attention to his eyes. At the same time, the longer front sections of his hair help soften his widow's peak.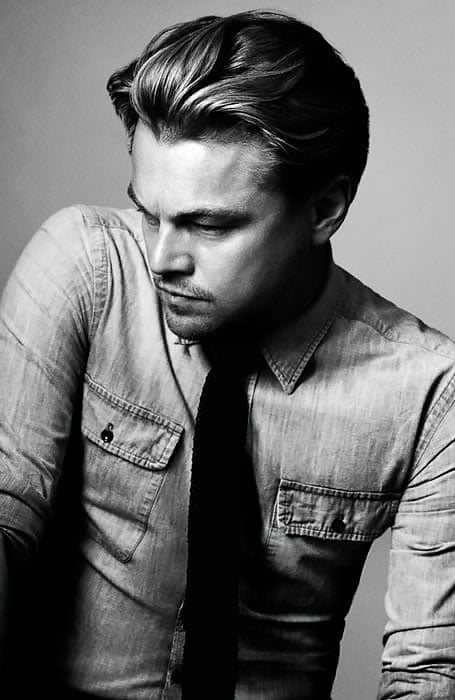 10. Chris Pine's Quiff
Leading man Chris Pine has tried out many different hairstyles, from the buzz cut to bangs and a taper fade. However, one of his best looks is the medium length quiff. It's an easy cut to maintain as there's no fading, shaving or tapering required. All it needs is semi-regular trims to ensure the hair doesn't get too long and out of control. A great look if you have naturally straight and thick hair, the style only requires a small amount of wax or sea salt spray to form the subtle quiff – it's that simple. The finished look is an 'all-rounder' – it suits men of all ages and is versatile enough to work for casual looks, business meetings or a night out.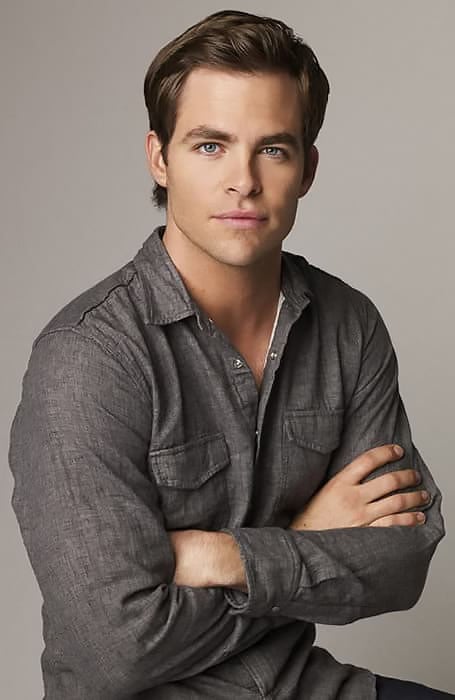 11. Robert Pattinson's Quiff
The Robert Pattinson quiff is all about messy texture and an undone, windswept feel. Tousled and romantic, it is an excellent style if you have thick hair that doesn't like to be tamed. You will work with your hair's natural volume and movement, instead of fighting it. Start with medium length hair and use product to build the volume at the front of your head. Then build up some height at the crown, keeping the sides back and away from your face. Doing this means that you will get the classic quiff effect of drawing eyes up to your hair, without distracting from your face.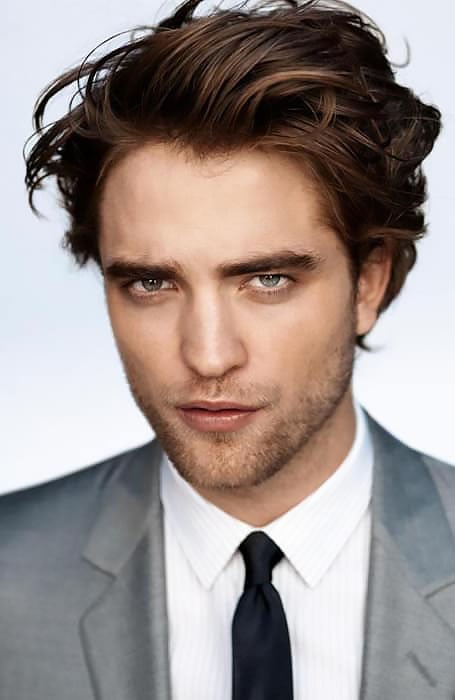 12. Ryan Reynold's Quiff
Ryan Reynolds' quiff is all about texture. The actor keeps his look fresh and casual with a straight-up, spiky hairstyle that has a sporty feel. This type of look can turn messy over time, so use some product to stop flyaways and keep the structure intact. While Ryan is often seen with a taper fade – which would look great with this type of quiff too – growing the sides a little longer helps to flatter a long or triangle-shaped face. It adds some width at the temples, which balances a pointed chin. Even better, it draws the eye up rather than down the face.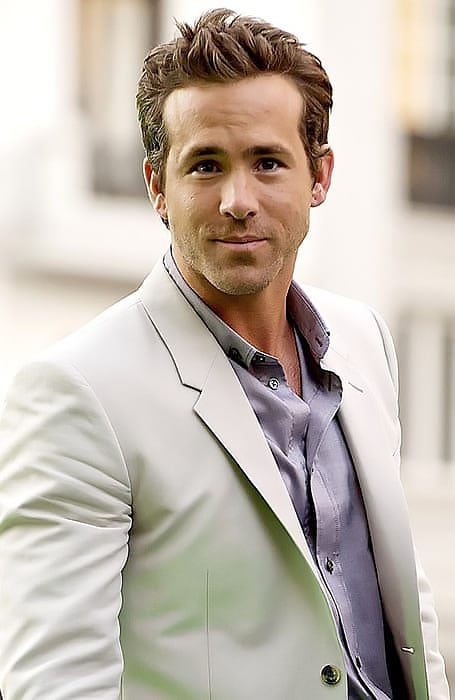 13. Robert Downey Junior's Quiff
The quiff is such a popular hairstyle that it's worthy of Tony Stark himself – Robert Downey Jr. His take on the style is all about embracing the classic shape of the quiff and adding slightly piece-y, tousled tips. Use a spritz of sea salt spray and just your hands to recreate the effect. Doing so adds a playful vibe to what is otherwise a clean-cut, business-friendly style. The extra texture also helps to create thicker-looking hair and makes you look more youthful.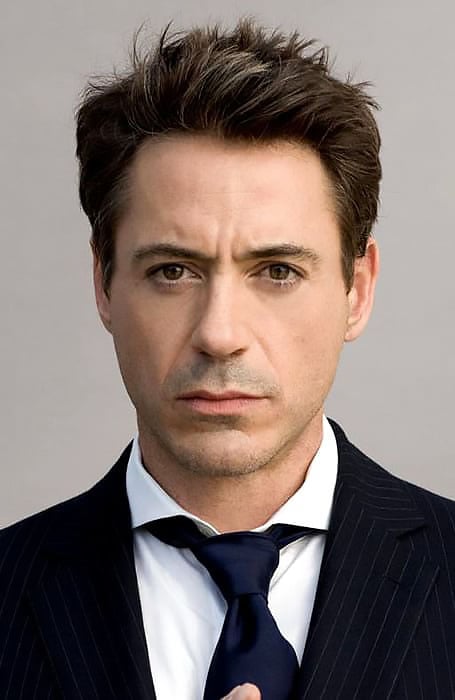 14. Zac Efron's Quiff
The extra-long, extra textured quiff was a trendy look in the mid-2000s, and Zac Efron was the Hollywood star who worked it best. The actor's square face shape benefits from the extra length that a tall quiff creates. The pointy pieces form a subtle triangle at the front of the head, drawing the eye up to the tip and adding even more height. Unlike more subtle hairstyles, all the focus is on the quiff with this look, so make sure you style it to perfection.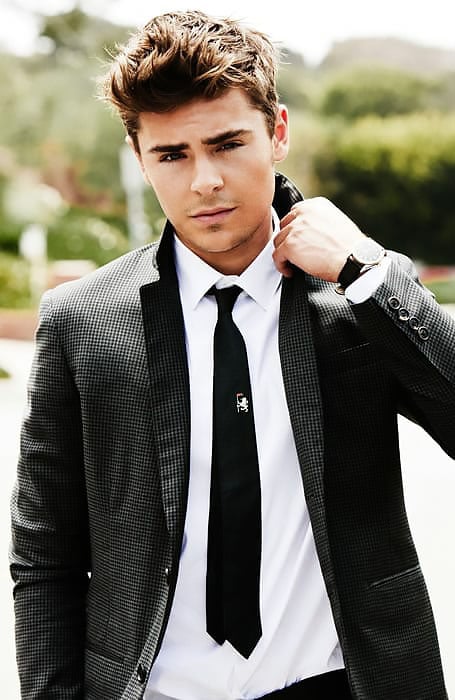 15. James Dean's Quiff
When it comes to iconic quiffs, James Dean leads the pack with his no-fuss interpretation of the hairstyle. His personal style corresponded well with his version of the quiff, as his style was typically layered, classic yet still relaxed. The actor's trademark quiff also boasted longer proportions at the top, with a relaxed styling of the hair so that the product's hold wasn't too strong. Not overly shiny, his quiff wasn't too precise- so don't be afraid to sport a textured quiff that isn't too perfect or over-styled.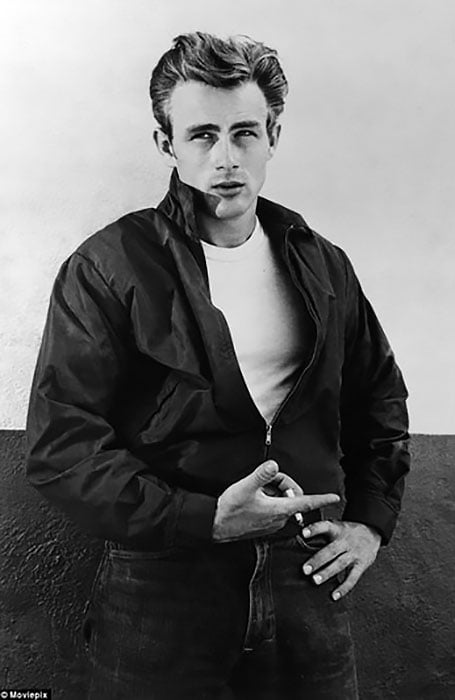 16. Elvis Presley's Quiff
Forget the music; Elvis Presley will always be remembered for his distinctive personal style – which predominantly centered on his well-thought-out and incredibly unique mane. Elvis' signature hairstyle sustained a well-balanced length; meaning that the sides and the back of his hair were longer and more proportionate to the longer front of his quiff. Men with wavy and curly hair types will be able to adapt this version more efficiently – given volume is ideal for its styling. Elvis' hair was also all about high-shine, so apply a glossier product to finish off the look. Alternatively, update your interpretation of Elvis' quiff and experiment with products with different finishes to switch up his fifties look.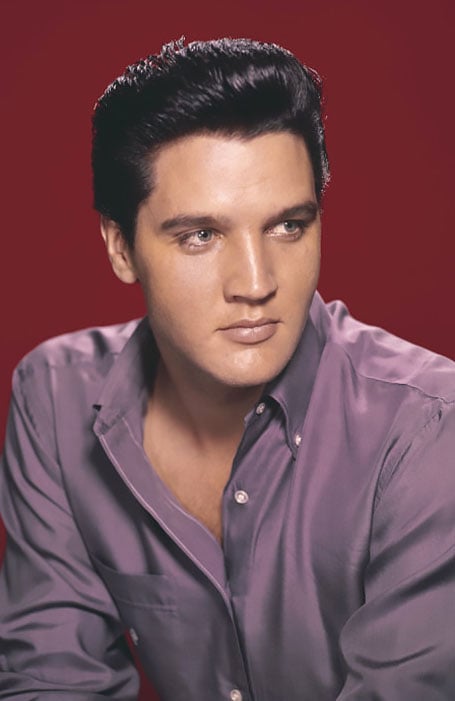 17. John Travolta's Quiff
John Travolta's iconic portrayal of Danny Zucco in the film Grease showcased the movie's powerful influence regarding style. The iconic 'comb through' gestures in the film highlighted the high-shine quiffs that the male actors sported. Remember that Travolta's 'do did not have a distinction between the top of his hair and the sides or back of his hair, so letting your hair grow out for this interpretation is a good idea. Travolta's quiff also relied on a stronghold product which ensured that the whole head of hair was styled in the same direction and coated with a glossy shine.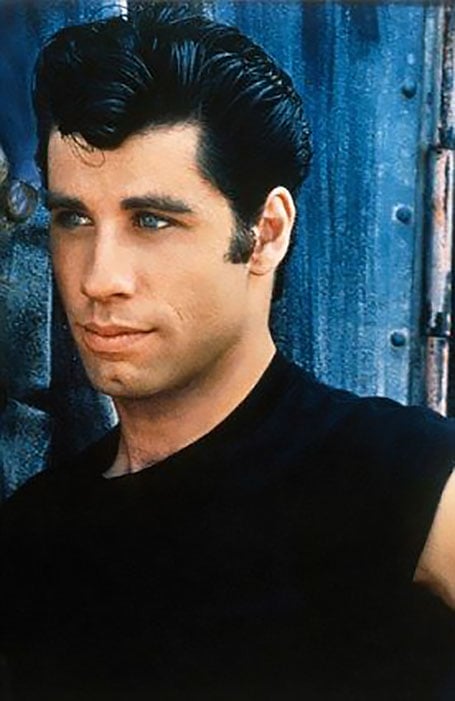 FAQs
What is a quiff haircut?
A quiff haircut generally has a shorter back and sides and length on top with more bulk towards the front. It's styled so the front section sweeps up and back to create volume and shape. It can be worn sleek and smooth, or you can add messier texture and movement. It's a more casual, toned-down version of the pompadour and works well with various face shapes.
What do I tell my barber for a quiff?
Ask for short back and sides, but length left on the top. You can opt for a fade for a more modern look or just a taper cut for something more traditional. However, the best way to communicate the exact look you want is to take along reference images. That way, there can be no confusion about what you are asking for, and nothing gets lost in translation between layman's terms and barber lingo. Pinterest is the perfect way to create a board of styles you like, and you can quickly scroll through before the clippers touch your head.
How do you do a quiff hairstyle for men?
Start with clean but damp hair and apply your chosen styling product throughout. A water-based pomade or mousse works best. Then dry your hair with a blowdryer on high heat, brushing the hair around your forelock back, using a round brush to create volume. Next, rub some more styling product, such as a paste or wax, between your palms. Then run it through your hair, into the roots, and then in a sweeping motion from front to back. Finish with a coat of hairspray.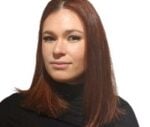 Arabella Roden is a skilled writer and sub-editor with over ten years of experience across print, digital, and B2B. She holds a Bachelor's Degree in Journalism and specializes in beauty, hairstyles, fashion, tattoos, and lifestyle topics. Arabella is currently the Chief Sub Editor at Mecca Brands and has been writing for The Trend Spotter since 2019.
SUBSCRIBE TO OUR NEWSLETTER
Subscribe to our mailing list and get interesting stuff and updates to your email inbox.