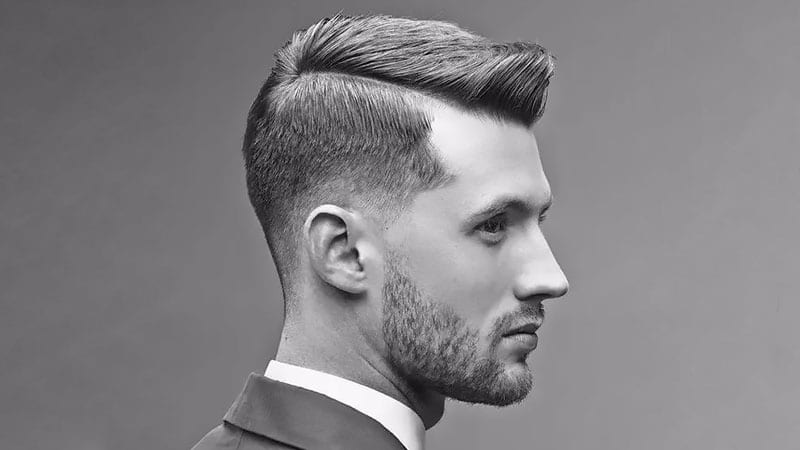 What's not to love about a fade haircut? Between its stylishly tapered appearance and its ability to inject your look with a sleek sophistication, the fade is undoubtedly one of the best cuts around today. It's also a versatile look to rock and can be tailored to suit your style. As the fade focuses on the sides of your head, you're free to choose any look you want up top. You can also select from a range of different fade cuts, including those that are low. Perfect for gents who like their hair to have a slight edge, these hairstyles are understated but utterly sleek. So, if you want a minimal look with maximum style, look no further than these top low fade haircuts for men.
1. Low Fade + Blowout
If you're not afraid to try something a little out of the ordinary, a low fade blowout can make an incredibly cool hairstyle option. The unique look works brilliantly thanks to its short sides, which quickly graduate from barely-there to a big burst of hair on top. If you have a broad or round face, this elongating hairstyle may also be just what you need to slim the appearance of your face in style.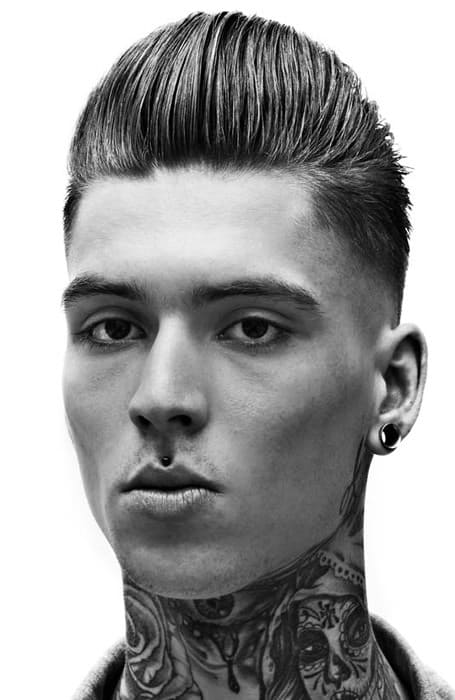 2. Low Fade + Crew Cut
Like the buzz cut, a classic crew cut can also benefit greatly from the addition of a low fade. The tapered shave will quickly add a more contemporary and on-trend look to the traditional cut. It'll also help to add shape and style to the look, giving it a fashionable boost. Thanks to its subtlety, the fade won't alter the sharp and professional appearance of your crew cut, meaning that the look is still perfect for the office as well as after hours.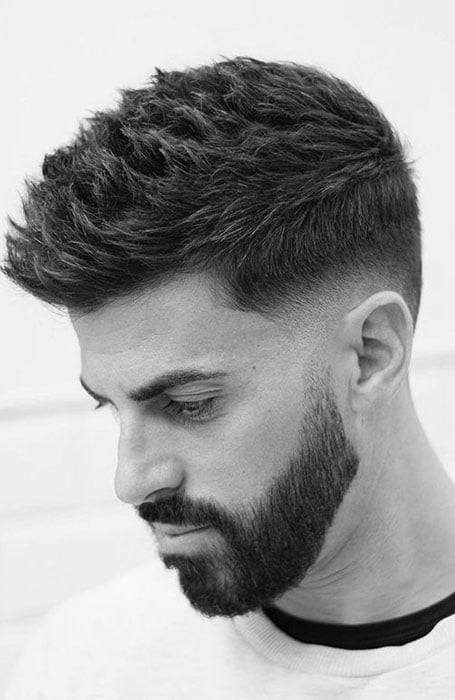 3. Low Fade + Quiff
Want a look that's modern, stylish, and sure to get you noticed? A low fade quiff is just what you need. Thanks to its balance between the short sides and high top, the hairstyle looks awesome. Opting for a low fade over a regular or high fade is also an excellent choice for gents with oval-shaped or long faces. As a high quiff can elongate the face, it's ideal to keep the sides a little longer to avoid over-slimming the appearance of your head.
4. Low Fade + Comb Over
The classic comb over is cool once again thanks to a wave of new and updated designs. So, while the super slick comb over that was once used to disguise bald spots may be gone, there are plenty more modern and stylish versions to try. In particular, a low fade comb over makes for a seriously smart choice, especially when partnered with a full top. The combination creates a look that's rooted in tradition but appears contemporary.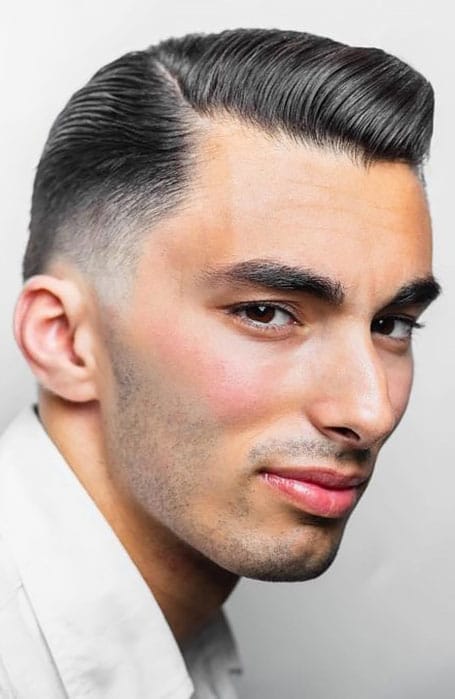 5. Low Fade + Faux Hawk
One of the best ways to wear a low fade is to partner it with a faux hawk. A faux hawk, which is short for "faux mohawk", is a less dramatic take on the classic hairstyle. Although the style still features hair worn spiked up in a strip from the front to the back of the head, it doesn't have disconnected, shaved sides. Instead, tapered cuts, such as a fade are used to create the shape of a mohawk without its bold appearance.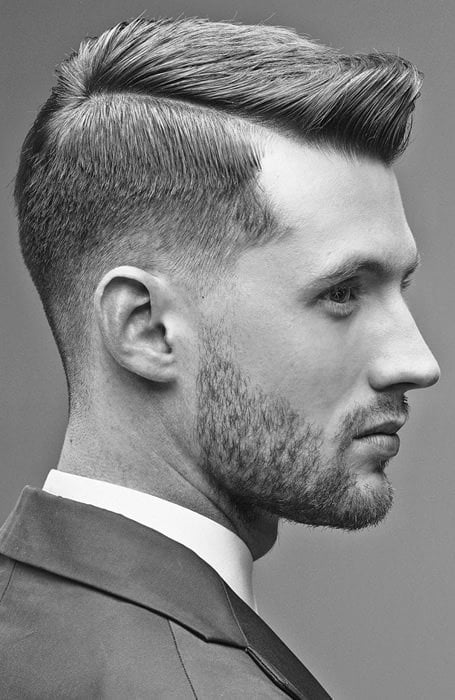 6. Low Fade + Buzz Cut
While the buzz cut is a highly practical haircut, it's not the most exciting of styles. So, if you are interested in rocking the super short cut but want to spice it up, why not add a low fade? A small taper is a great way to add style and a point of difference to a buzz cut without taking away its signature aesthetic. Opting for a short fade also means that you'll reveal just the right amount of skin to appear purposely sleek instead of bald.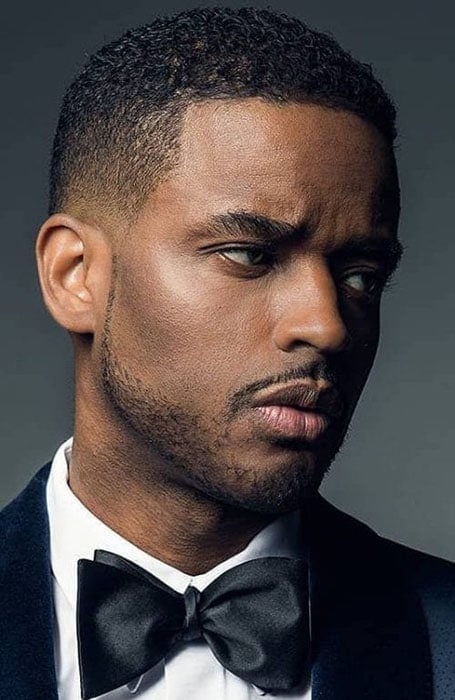 7. Low Fade + Messy Hair
If you like the look of disheveled hair but haven't quite mastered its perfect appearance, don't worry. A messy hair look can look just as stylish as a structured one when worn in the right way. All you need to do to keep your disheveled style from appearing like an unkempt bedhead is to add a low fade. This easy addition will add a sense of tidiness to your hairstyle by keeping its sides short and sharp.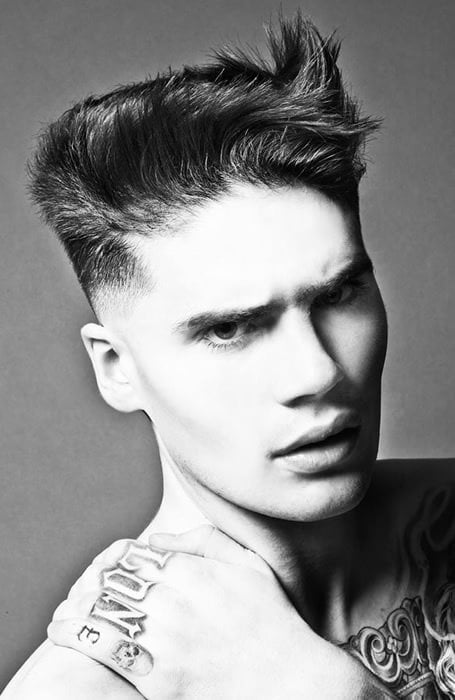 8. Low Fade + Slicked Back
The low fade looks great with both short and medium lengths of hair on top. If you do opt for a medium length, you should consider a slicked back hairstyle to complete your look. The style, which is sophisticated without appearing overly serious, partners perfectly with a subtle yet sleek small fade. You can also consider adding a beard style to your look to help balance out the longer length on top.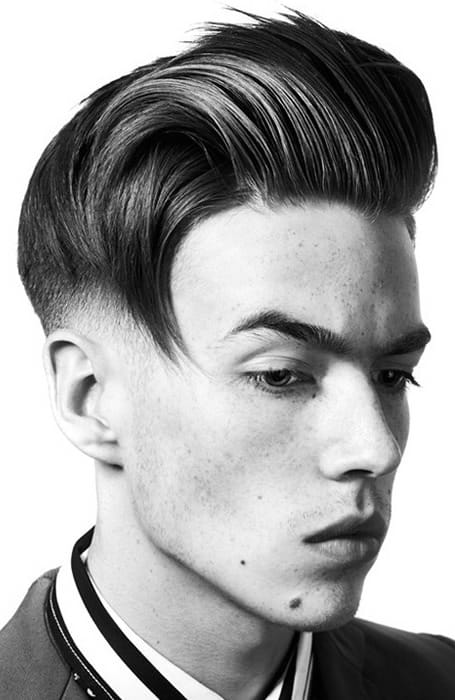 9. Low Fade + Short Textured Hair
A low fade is a great option for injecting a stylish touch into a short haircut. The fade, which gradually reduces the length of the hair from around the temples to the ears, naturally draws the eyes up, adding shape and focus to your look. As such, adding texture to the top of your hair is an ideal way to further enhance your style and utilize its benefits.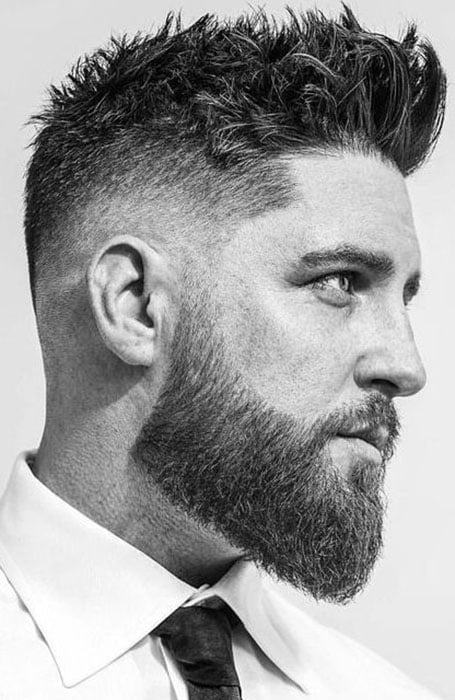 10. Low Fade + Pompadour + Hard Part
Although the pompadour is already stylish and sophisticated, the addition of a low fade and hard part can make it even more so. So, if you're looking for a hairstyle that'll stand out and appear suave, this combination is the perfect option. Whether you're heading to the office, the bar, or out on a date, this hairstyle will work to enhance your appearance for an impressive result.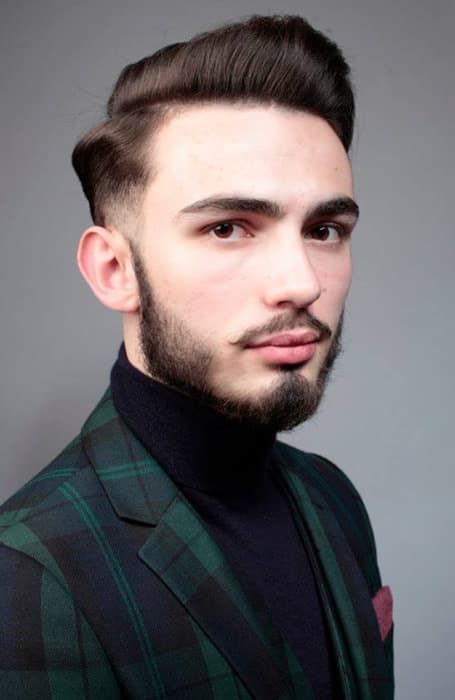 11. Low Fade + Long Textured Waves
Not all low fade haircuts look best when worn neat and polished. Many appear their best when rocked with an attitude and a youthful feel. As such, pairing a short taper with wild and textured waves can create a great appearance. Edgy without being out of control, this stylish combination is completely on-trend and a perfect hairstyle.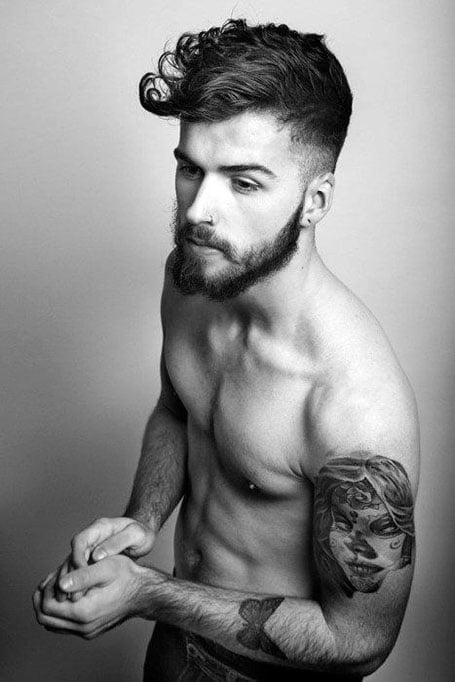 12. Low Fade + Short Curls
Want to show off your natural curls while keeping them under control? A short haircut with a low fade is the ideal option for doing so. Not only will the cut allow you to make the most of the texture on top of your head, but it'll also help keep your appearance in check with a short length and smart shape. It may be a simple hairstyle, but your curls will make it successful.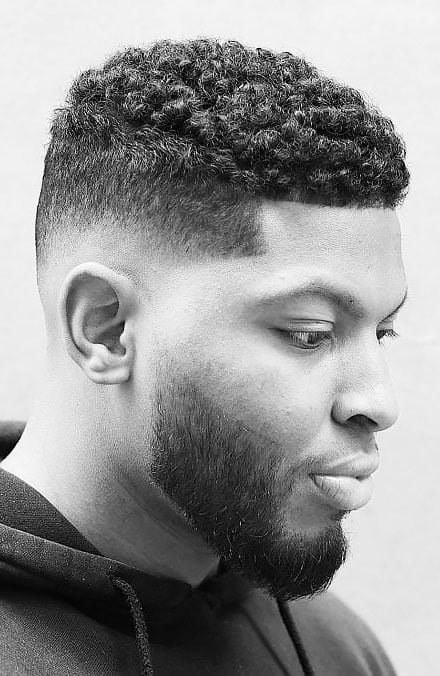 13. Low Fade + French Crop
The French crop is a versatile hairstyle that can be worn by different hair types and textures. It is defined by the short hair at the back and sides and a slight fringe. If you like the idea of the classic French crop hairstyle but want it to feel more modern, then pairing it with a low fade is a great choice. The low fade is not dramatic and gradually tapers, focusing on the bottom inch of the hair. This can help to frame your face. If you have naturally textured hair, it can create interesting proportions and contrast. Your fade will also make the hair easier to style.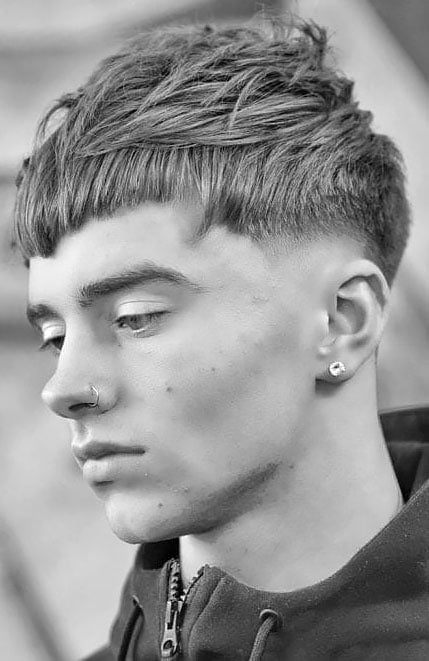 14. Low Fade + Afro
Embracing your natural hair and wearing it with an afro is a great choice. There are many ways to style your Afro hairstyle, including keeping it at varying lengths and pairing it with a fade for an edgy and cool appearance. A low fade, which tapers down the sides and lower on the head, can create interesting proportions and highlight your curls. The combination makes for a masculine look that is neat and stylish. It can also add structure and will draw attention to your features. This fade is versatile, and you can experiment with long or short hair on top. Try pairing your low fade and afro with facial hair for a look that feels balanced.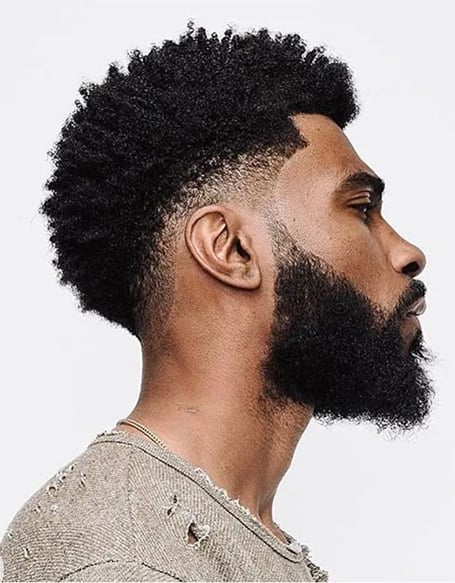 15. Low Fade + Medium-Length Natural Curls
The appeal of a low fade, when paired with naturally curly hair, is that it helps to create an interesting contrast between the sides of your head and the hair on top. This can also add to the fullness and volume of your hair. A low fade is subtle and understated and can give your haircut an edge. It can also make it appear neater and more polished. In addition, it can be a way to tame your curls, making them more manageable and reducing style time.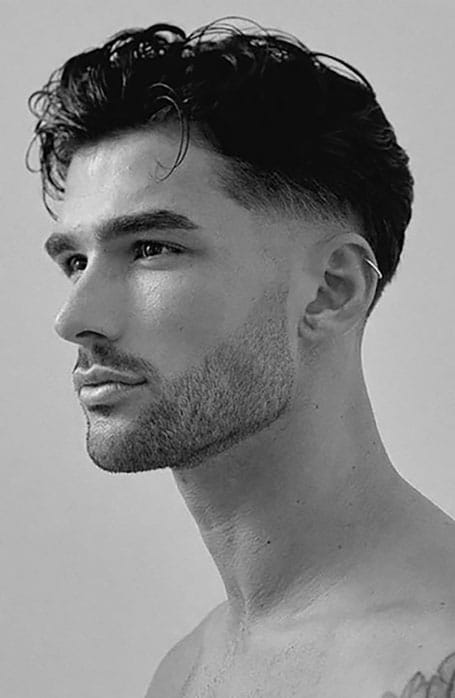 FAQs
What is a low fade?
A low fade is a technique for cutting a short back and sides, where the length of the hair gets shorter lower down the sides. The fade runs through roughly the bottom inch of the hair before evening out to the one length. The top of the style can be anything you like, from an undercut or Edgar to a crew cut or pompadour.
What do I tell my barber for a low fade?
You'll need to ask your barber for whatever kind of style you like, whether it's a crew cut, Ivy League, crop, or something else. Then ask for a low fade on the sides, rather than a scissor cut or taper. If you can, take along some reference pictures of styles you like, so you can show your stylist exactly what you have in mind. Pinterest is the perfect way to create a board of styles you like, and you can quickly scroll through before the clippers touch your head.
How long does a low fade haircut last?
A low fade will need touching up every three to four weeks. Keep in mind that the shorter you go, for example, a bald fade, you'll need to maintain the style more regularly.
SUBSCRIBE TO OUR NEWSLETTER
Subscribe to our mailing list and get interesting stuff and updates to your email inbox.