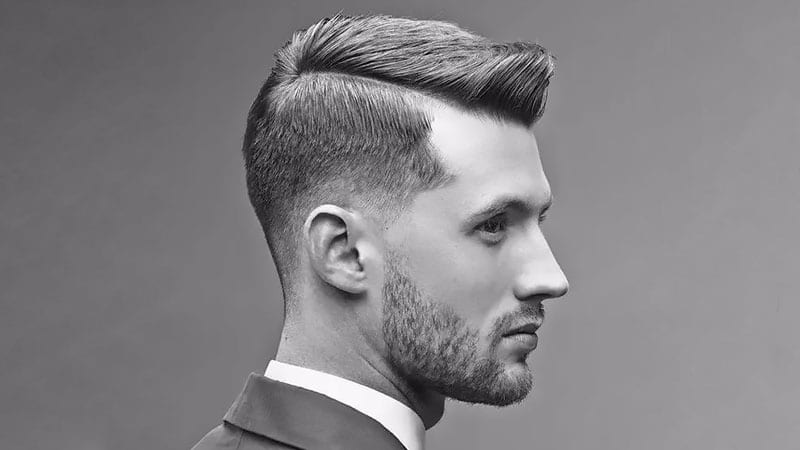 What's not to love about a fade haircut? Between its stylishly tapered appearance and its ability to inject your look with sleek sophistication, the fade is undoubtedly one of the best cuts around today. It's also a versatile look to rock and can be tailored to suit your style. As the fade focuses on the sides of your head, you're free to choose any look you want up top. You can also select from a range of different fade cuts, including those that are low. Perfect for gents who like their hair to have a slight edge, these hairstyles are understated but utterly sleek. So, if you want a minimal look with maximum style, look no further than these best low fade haircuts for men.
Mid Fade vs Low Fade: Difference
The mid fade and the low fade are awesome choices to enhance your haircut and create a stylish contrast. However, there are noticeable distinctions between the two. The low fade tapers lower on the head, emphasizing the bottom inch of the hair. On the contrary, the mid fade starts higher on the head, gradually tapering and ending between the temple and the ears.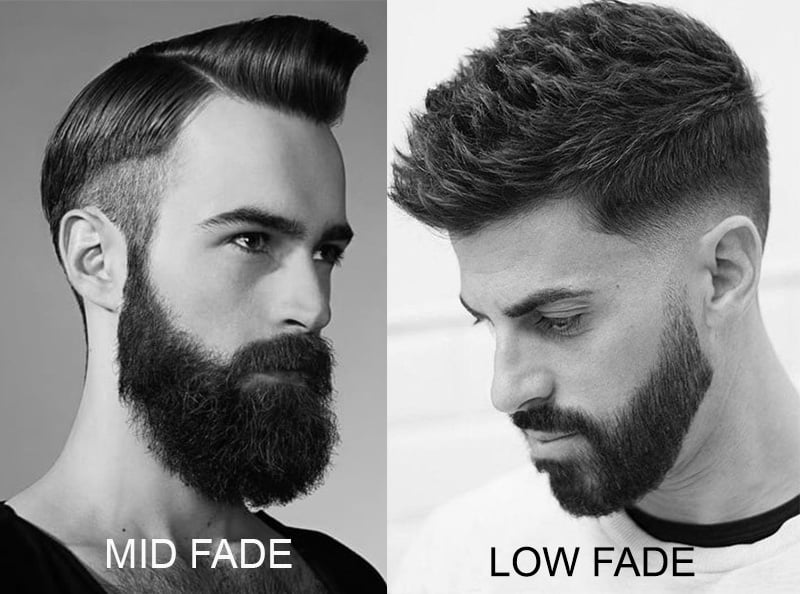 High Fade vs Low Fade: Difference
The difference between the low fade and the high fade is more noticeable. The low fade starts lower on the head, creating a subtle contrast with the hair on top of the head. On the other hand, high fades have shorter lengths along the back and sides of the head. The distinctive feature of the high fade is that it usually begins around the temples or forehead and gradually tapers off, resulting in a more striking appearance.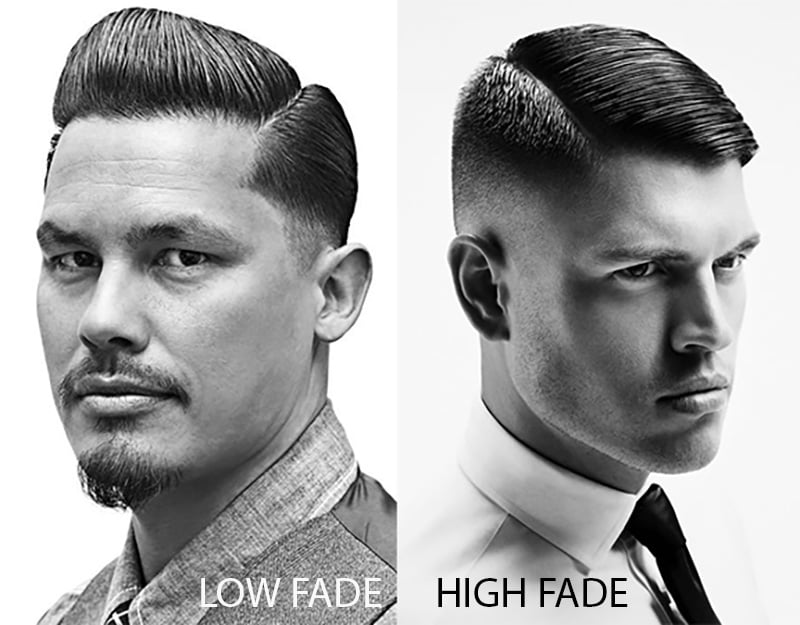 Best Low Fade Haircuts for Men
1. Low Drop Fade
The low drop fade involves a noticeable fade that drops low and behind the ear to create an arc-shaped appearance. Not only does it draw attention to the hair on top of your head, but it can also create the illusion of fuller, thicker hair at the crown. You can choose to combine the drop fade with a low fade for a subtler approach that results in less sharpness, while still giving you a look that's edgy and modern.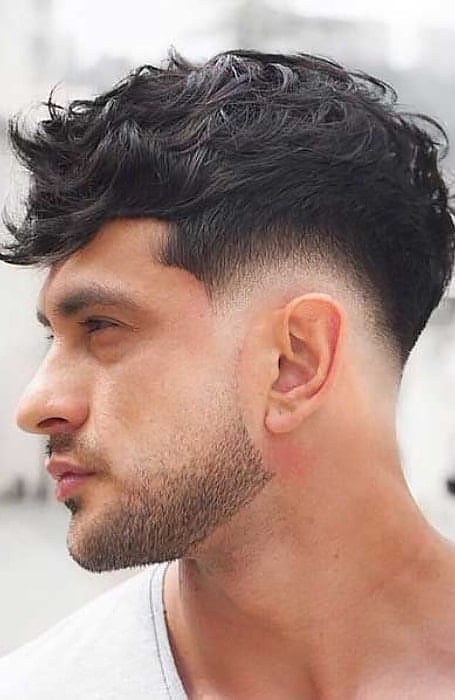 2. Low Taper Fade
The low taper fade is a more subtle variation compared to other types of fades. Starting at the ears and following the hairline back to the nape of the neck, it offers a neater and more structured appearance for your hair. Eliminating any messy or flyaway hairs around the ears and neck helps to accentuate your cheekbones effectively. Pairing a lower taper fade with a beard style also helps balance out your facial features.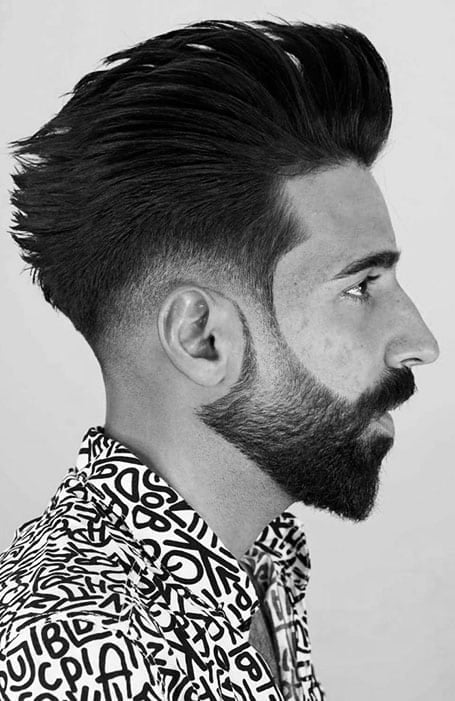 3. Low Burst Fade
The low burst fade is a highly versatile and cool hairstyle option for men. A burst fade is when the hair is tapered around the ear and the back of the head, giving it a rounded, semi-circular look. Regardless of hair length or texture, the burst fade is a great way to add contrast and balance to your locks. The textured and voluminous nature of afro hair makes it the perfect candidate for this type of fade.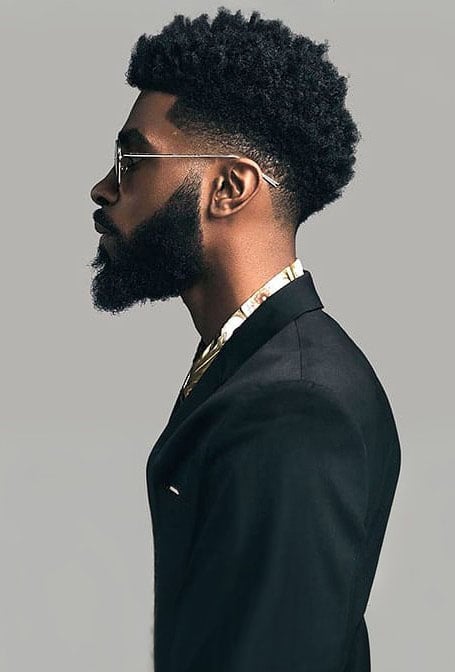 4. Low Skin Fade
The low skin fade, similar to the low bald fade, stands out due to the length of hair at the base of the cut. In contrast to the bald fade, where the scalp is completely exposed, the skin fade begins with thicker hair on top and gradually transitions into a shorter cut towards the bottom. With its stylish and contemporary appearance, the low skin fade can be paired with other hairstyles like a Caeser or French crop for a sophisticated finish.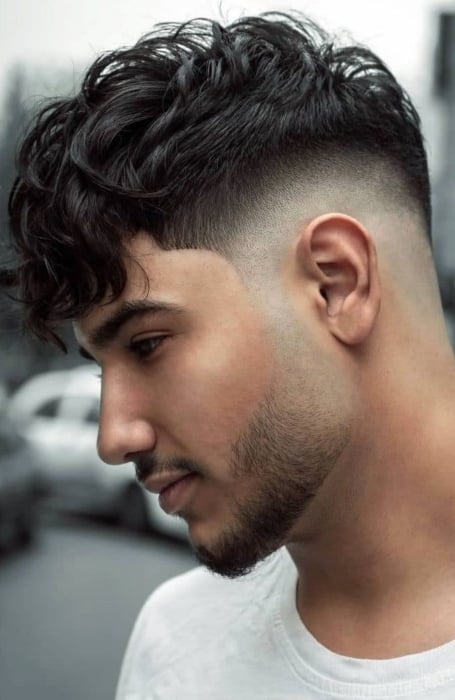 5. Low Taper Fade Curly Hair
The low fade with curly hair has become on of the most popular haircuts for men. The cut gradually shortens the hair on the sides of the head while keeping the top longer, creating a subtle contrast that gives the hair structure. For men with curly hair, a fade can remove some of the weight and bulk from the hair, making it easier to style. Additionally, the softness of the curls can be complemented by the sharpness of the fade to achieve a cool, masculine finish.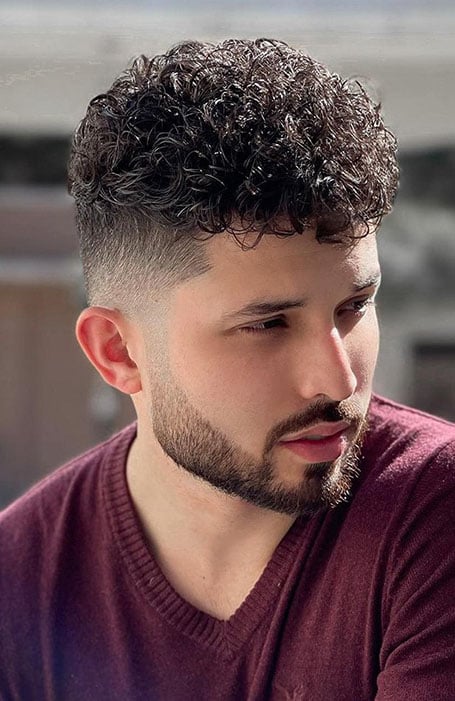 6. Low Fade Blowout
If you're not afraid to try something a little out of the ordinary, a low fade blowout can make an incredible men's hairstyle option. The unique look works brilliantly thanks to its short sides, which quickly graduate from barely there to a big burst of hair on top. If you have a broad or round face, this elongating hairstyle may also be just what you need to slim the appearance of your face in style.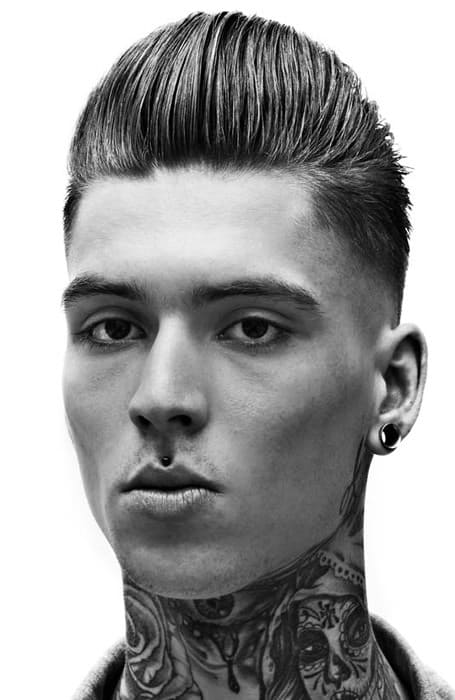 7. Low Temp Fade
The temp fade or temple fade tapers around the temples and is great for drawing attention to the hairline. You can pair this with a low fade, which is lower than most fades and will focus on the last inch of the hair. The combination of these two looks will give your hair structure. It will also let you express yourself and highlight your facial features. The temp fade does require some maintenance, with regular visits to the barber for touch-ups. However, the result is a cool and masculine haircut that looks great with all hair textures.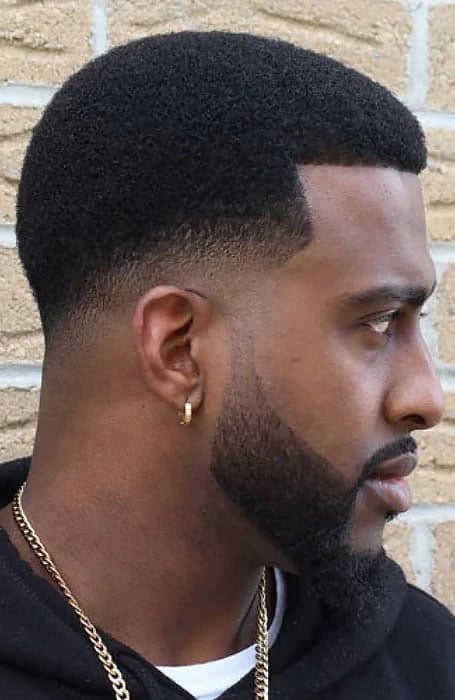 8. Crew Cut Low Fade
Like the buzz cut, a classic crew cut can also benefit greatly from the addition of a low fade. The tapered shave will quickly add a more contemporary and on-trend look to the traditional cut. It'll also help to add shape and style to the look, giving it a fashionable boost. Thanks to its subtlety, the fade won't alter the sharp and professional appearance of your crew cut, meaning that the look is still perfect for the office as well as after hours.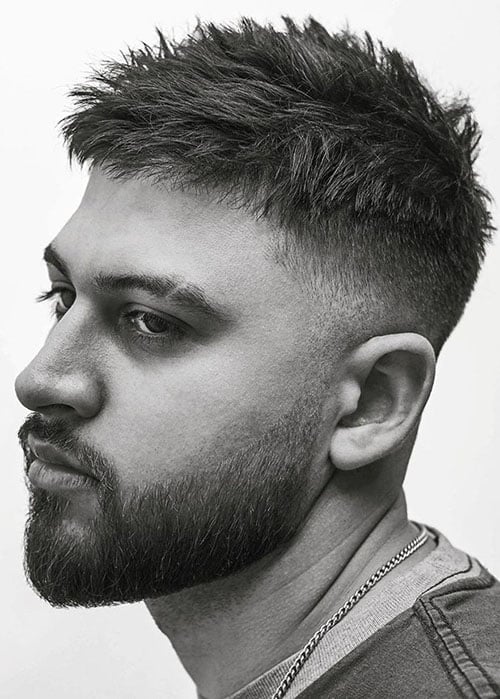 9. Low Fade Long Hair
If you're looking to spice up your long locks, consider a low fade long hair haircut. Not only will it give your long hair some distortion, but it also creates a visually intriguing contrast. This cut looks particularly great when paired with some texture on the top of your head, especially if you have wavy or curly hair. But don't think that straight-haired men can't pull this look off too! Just be sure to add a styling product to give your hair a more natural, windswept feel.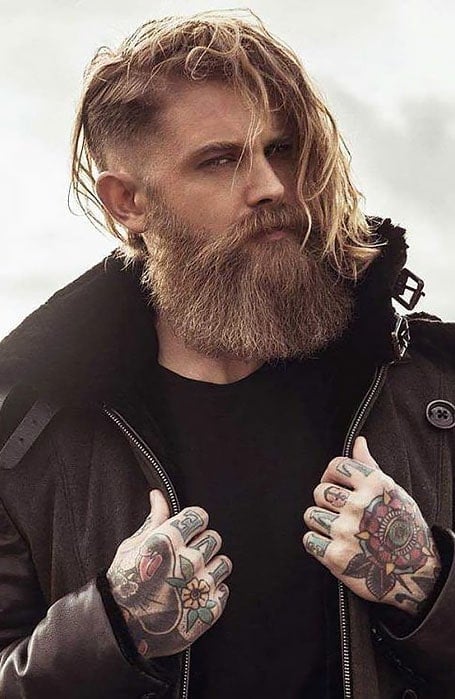 10. Low Fade Quiff
Want a look that's modern, stylish, and sure to get you noticed? A low fade quiff is just what you need. Thanks to its balance between the short sides and high top, the men's hairstyle looks awesome. Opting for a low fade cut over a regular or high fade is also an excellent choice for gents with oval-shaped or long faces. As a high quiff can elongate the face, it's ideal to keep the sides a little longer to avoid over-slimming the appearance of your head.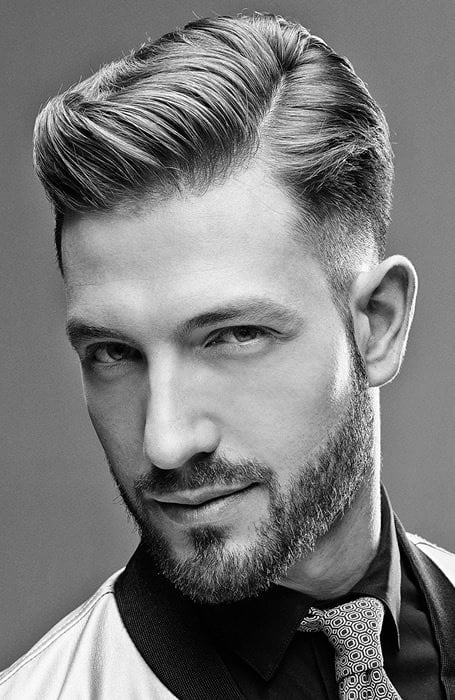 11. Low Fade Comb Over
The classic comb over is cool once again thanks to a wave of new and updated designs. So, while the super slick comb over that was once used to disguise bald spots may be gone, there are plenty more modern and stylish versions to try. In particular, a low shadow fade comb over makes for a seriously smart choice, especially when partnered with a full top. The combination creates a look that's rooted in tradition but appears contemporary.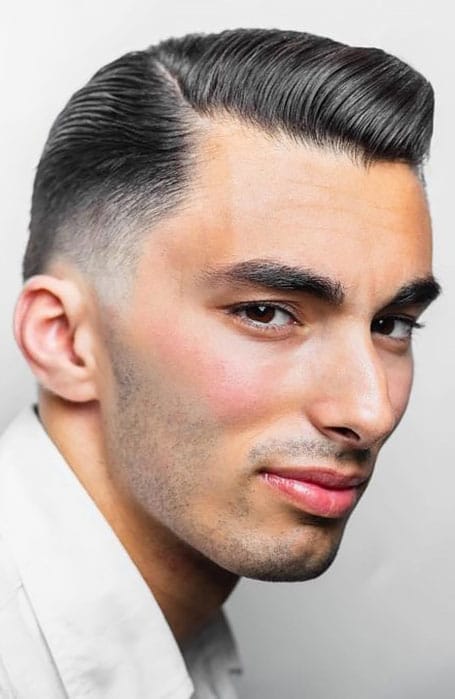 12. Low Fade Edgar
For men with short hair who want to elevate their hairstyle game, the low fade Edgar haircut is definitely worth considering. This cut is all about blending a low fade into a shorter Caesar cut, thereby creating a sharper and cleaner appearance. The secret to the classic Edgar is in the front, where the hair is trimmed to create a straight line across the forehead, giving it a polished finish that is both edgy and stylish.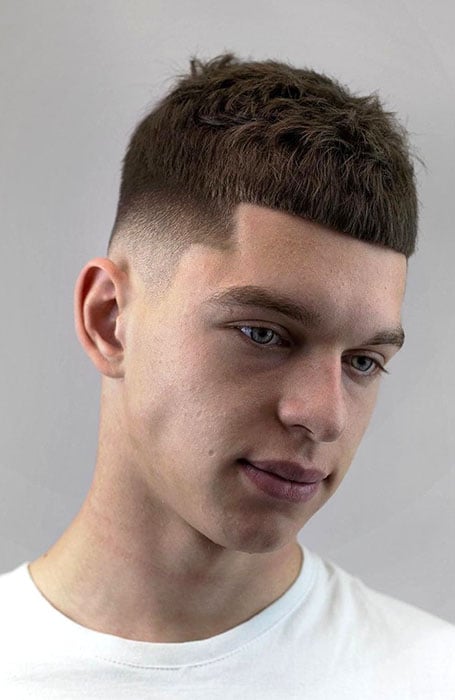 13. Low Fade Faux Hawk
One of the best ways to wear a low fade is to partner it with a faux hawk. A faux hawk, which is short for "faux mohawk," is a less dramatic take on the classic hairstyle for men. Although the style still features hair worn spiked up in a strip from the front to the back of the head, it doesn't have disconnected, shaved sides. Instead, tapered cuts, such as a fade are used to create the shape of a mohawk without its bold appearance.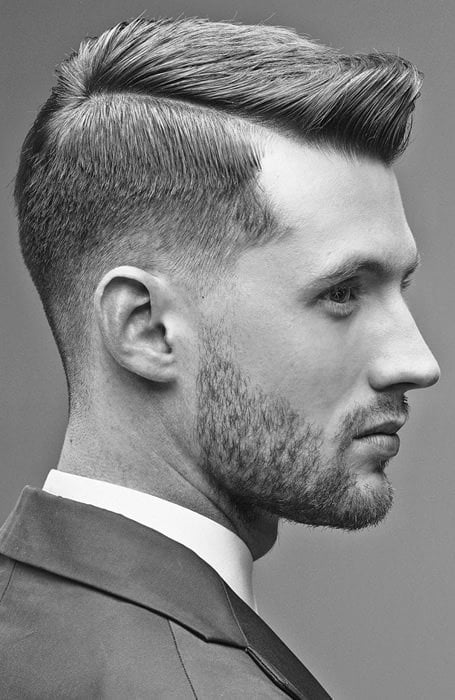 14. Low Fade Buzz Cut
Looking for a way to take your buzz cut to the next level without losing its practicality? A low fade might be just what you need. This small taper can take your haircut from ordinary to stylish in no time. Not only does it add a unique touch to a buzz cut, but it also allows for just the right amount of skin to show, keeping you looking sleek and intentional rather than completely bald. So if you're looking to freshen up your haircut while keeping it low maintenance, consider adding a low fade to your next buzz cut.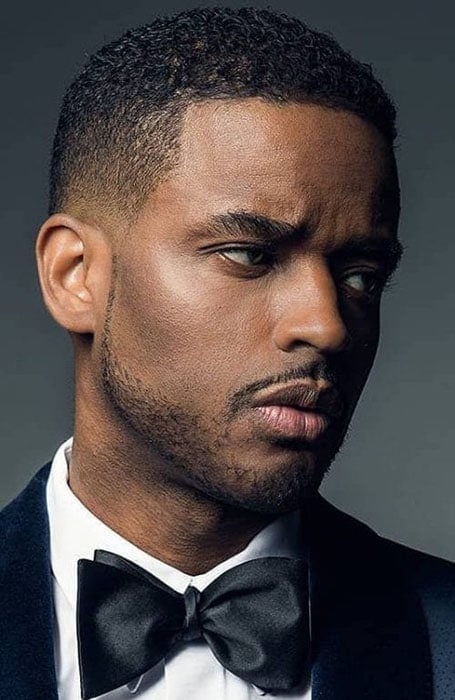 15. Low Fade Messy Hair
For men who love the disheveled look but can't quite seem to master it, there's a solution. Contrary to popular belief, messy hairstyles for men can look just as fashionable as structured ones with some simple adjustments. One such adjustment is adding a low fade. By keeping the sides of the hair short and sharp, the overall appearance of the hairstyle will give off a sense of tidiness, perfect for those who want a polished yet edgy look.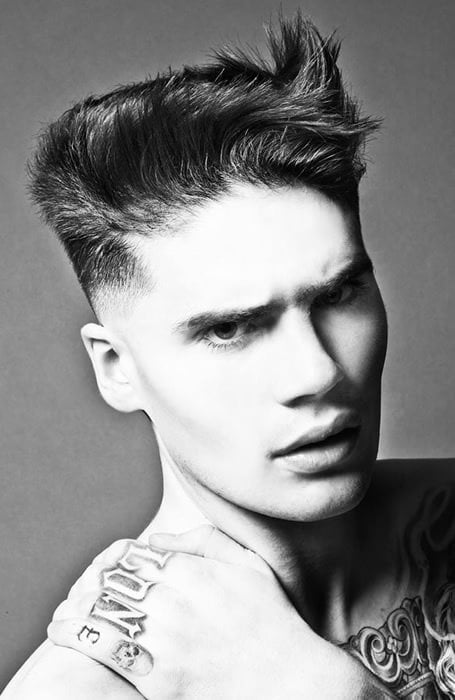 16. Low Fade Slicked Back
The low fade looks great with both short and medium lengths of hair on top. If you do opt for a medium low fade, you should consider a slicked back to complete your look. The hairstyle looks sophisticated without appearing overly serious and partners perfectly with a subtle yet sleek small fade. You can also consider adding a beard style to your look to help balance out the longer length on top.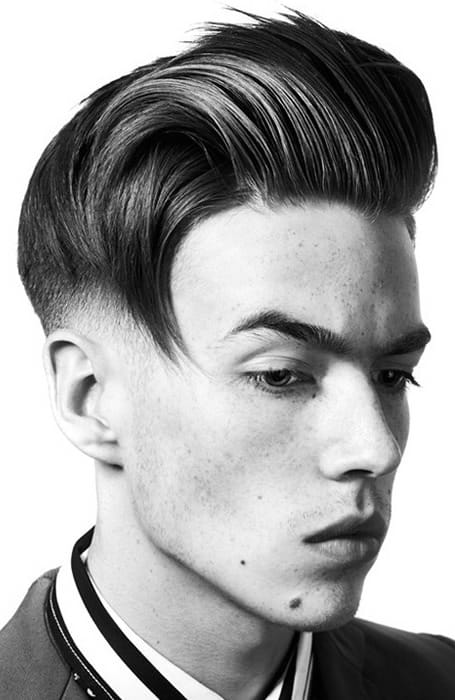 17. Low Fade with Short Textured Hair
A low fade haircut short hair is a great option for injecting a stylish touch into many short haircuts for men. The fade, which gradually reduces the length of the hair from around the temples to the ears, naturally draws the eyes up, adding shape and focus to your look. As such, adding texture to the top of your hair is an ideal way to enhance your hairstyle further and utilize its benefits.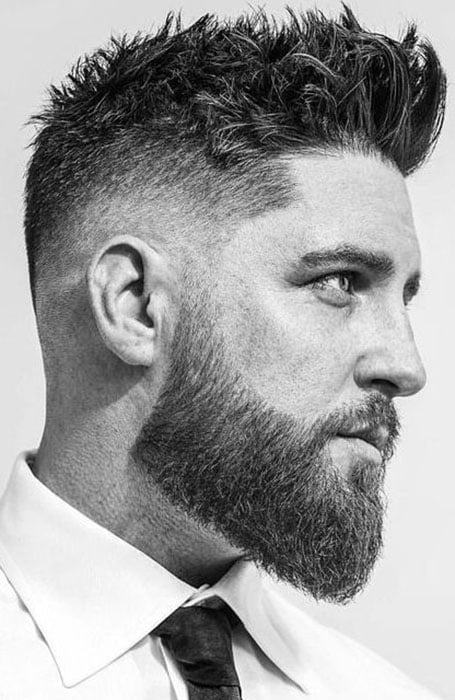 18. Low Fade Pompadour
If you're someone who prefers a timeless and sophisticated hairstyle, a pompadour might be up your alley. Adding a low fade to your pompadour can do wonders for balancing out the larger volume on top while keeping the overall look cohesive. The fade, which transitions gradually from a longer length to almost no hair, creates a natural gradient effect that softens the sharp contrast between your hair lengths.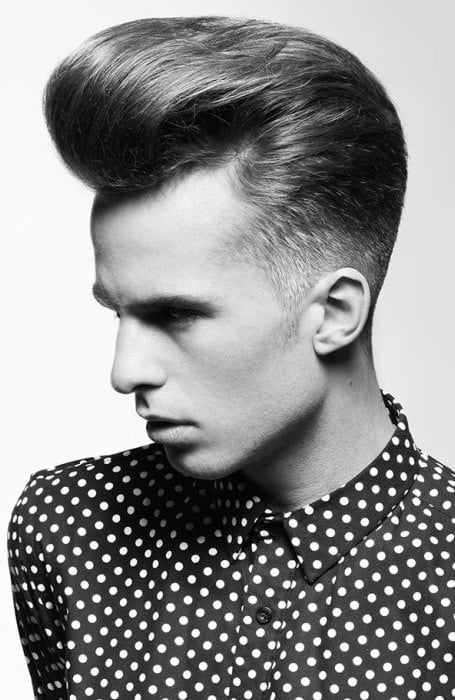 19. Low Fade With Textured Waves
While many men's haircuts are neat and polished, there's a growing trend toward hairstyles that are less controlled. By adding some textured waves to your hair, you can create a look that's both youthful and modern without being too over-the-top. The low fade will also add volume to the top of your head, which is great for adding height to round face shapes.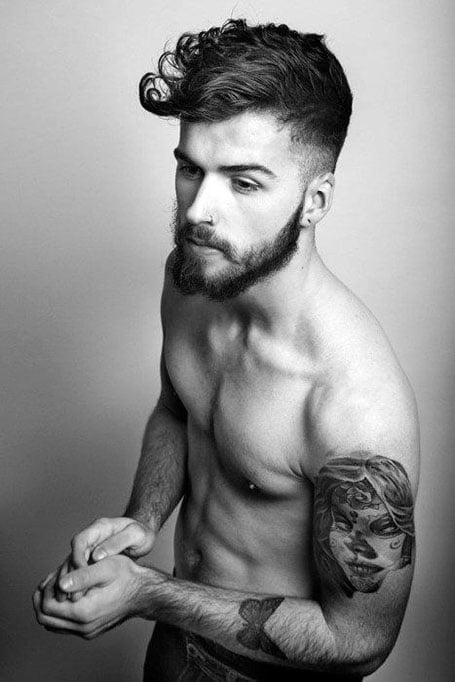 20. Low Fade With Short Curls
Want to show off your natural curls while keeping them under control? A short haircut with a low fade is the ideal option for doing so. Not only will the cut allow you to make the most of the texture on top of your head, but it'll also help keep your appearance in check with a short length and smart shape. It may be a simple hairstyle, but your curls will make it successful.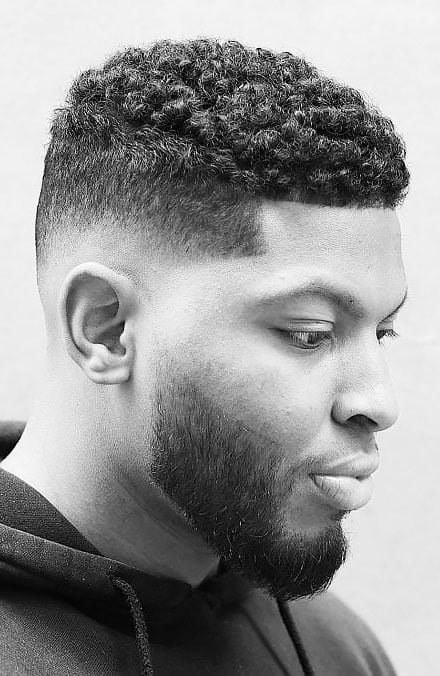 21. Low Fade French Crop
The French crop is a versatile hairstyle that is defined by the short hair at the back and sides and a slight fringe. If you like the idea of the classic French crop hairstyle but want it to feel more modern, then pairing it with a low fade is a great choice. The low fade is not dramatic and gradually tapers, focusing on the bottom inch of the hair. This can help to frame your face. If you have naturally textured hair, it can create interesting proportions and contrast. Your fade will also make the hair easier to style.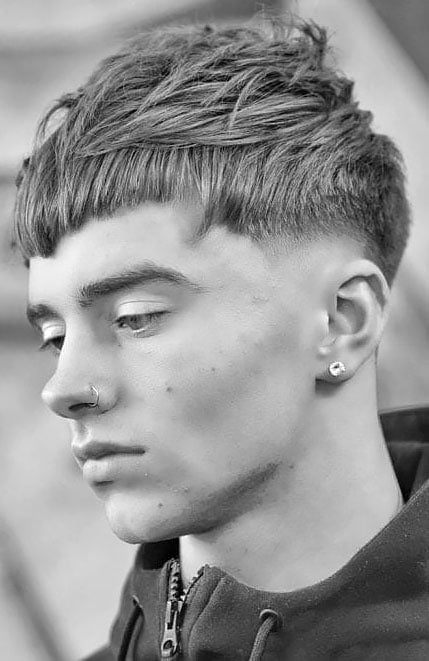 22. Low Fade Afro
You have multiple options to style an Afro hairstyle, such as adjusting its length and complementing it with a fade for a trendy and cool look. Opting for a low fade, which gradually tapers down the sides and lower part of your head, can create interesting proportions and accentuate your curls. This combination offers a neat and stylish appearance, adding structure to your hair and drawing attention to your facial features. For a well-balanced look, consider pairing your low fade and Afro with facial hair.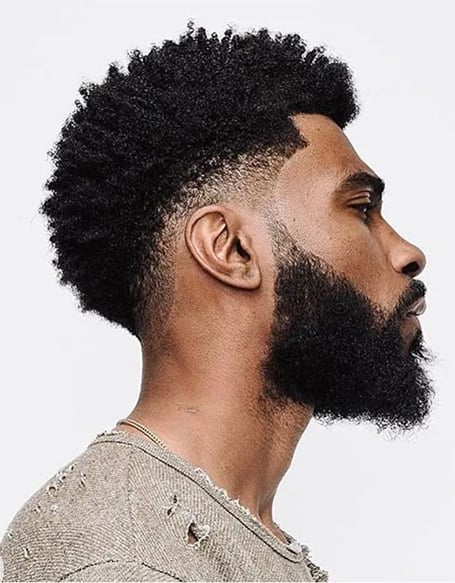 23. Low Fade With Wavy Hair
The appeal of a low fade, when paired with naturally wavy hair, is that it helps to create an interesting contrast between the sides of your head and the hair on top. This can also add to the fullness and volume of your hair. A low fade is subtle and understated and can give your haircut an edge. It can also make it appear neater and more polished. In addition, it can be a way to tame your curls, making them more manageable and reducing style time.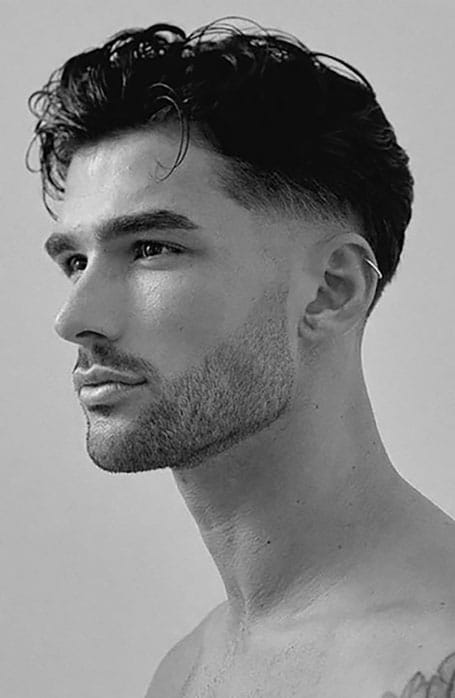 24. Low Bald Fade
The bald fade is one of the most noticeable fades and is ideal for the man who wants to stand out from the crowd. The hair is kept longer on the top of the head, with the back and sides shaved off, creating contrast and letting you play with proportions. You can opt for a subtler approach to the bald fade by starting lower on the head. This results in less contrast while still giving your haircut structure. You can style it in various ways, including a sleek brushed-back hairstyle for a retro and classic finish.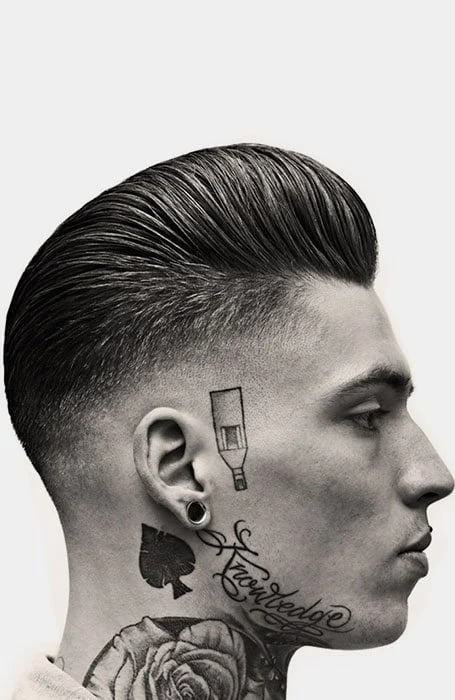 25. Low Fade With Curly Fringe
If you have curly hair, a low fade with fringe might be the perfect solution for you. The fade starts lower on the head and gradually fades from around the bottom inch, creating a contrast with your curls and giving them a neat and structured look. A low fade can even highlight your curl pattern and make it the focus of your style. With the fringe included, this haircut can make your hair look fuller and thicker on top, which can be incredibly flattering. Plus, a fade can remove weight and bulk from your hair, making it easier to style and care for your curls.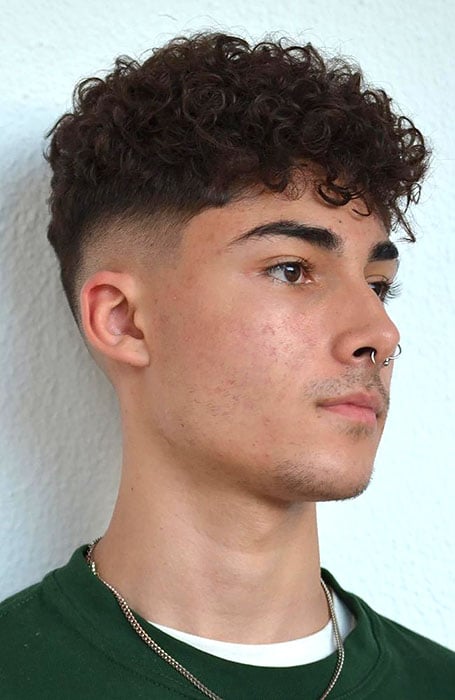 26. Low Top Fade
The low fade is a fantastic choice for any hairstyle, even for something edgy like the flat top. The flat top comes in various styles, ranging from the classic 80s version with a clearly defined flat cut on the top of the head to more contemporary and wearable adaptations. No matter which version of the flat top you choose, combining the volume and fullness on the top of the head with a low fade creates a winning look.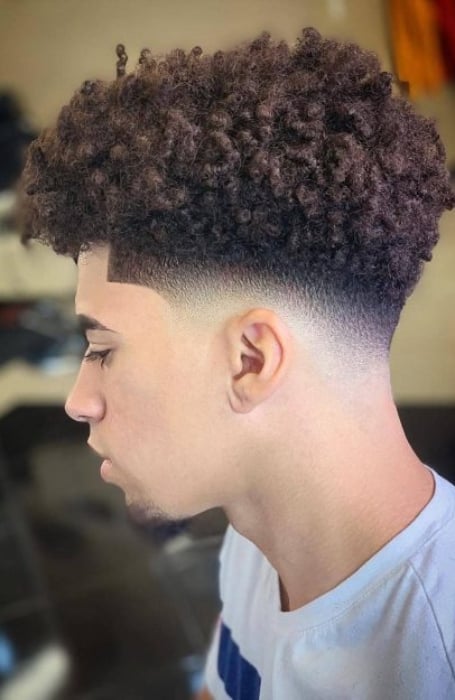 27. Low Fade With Beard
The low fade haircut is a versatile cut that pairs well with various beard styles. By combining a low fade with facial hair, you can achieve a more subdued and balanced look. Unlike other fades, the low fade begins lower on the head, approximately an inch above the bottom, resulting in less contrast with the hair on top. This makes it a suitable choice for any occasion and requires minimal upkeep while still exuding an effortlessly cool vibe.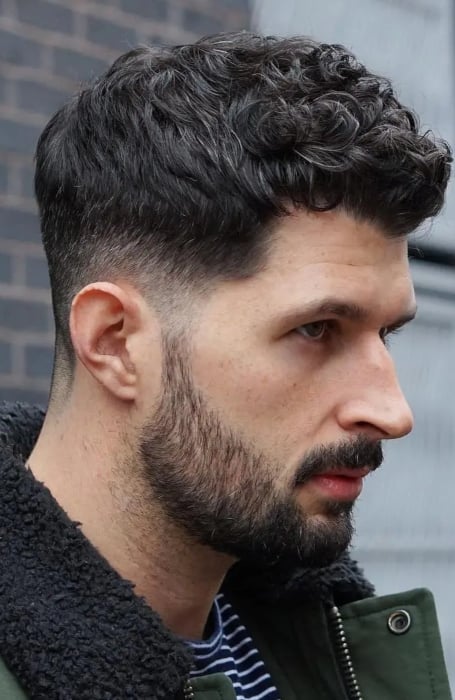 28. Low Fade Black Men
There are many pros to the low fade haircut for black men, including giving structure to your hair. The hair is kept longer on the top, with the backs and sides gradually tapering. This is ideal for removing some of the bulk from afro-textured hair and can make it easier to style. It is also good for creating volume, making the hair on the top of the head appear fuller and thicker. There are several ways to rock this look, from a short afro to dreads. The low fade will give your hairstyle a modern update and a slight edge, making it look fresh and modern.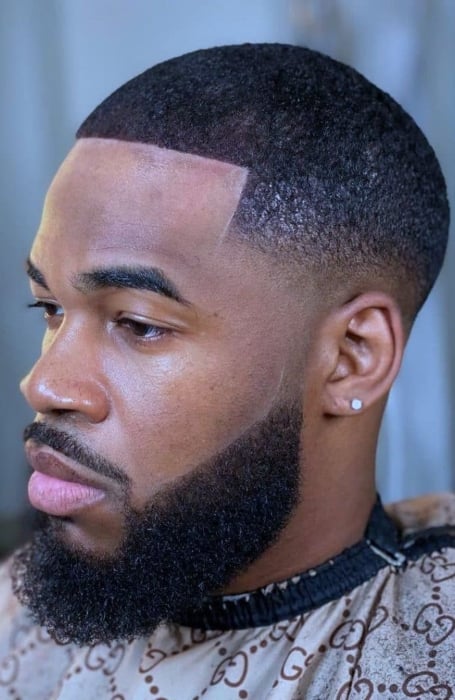 29. Low Fade with Design
If you're seeking a unique and attention-grabbing haircut, consider the low fade with a hair design. This haircut combination allows for creative expression by shaving shapes, patterns, or even images into the lower half of the hair.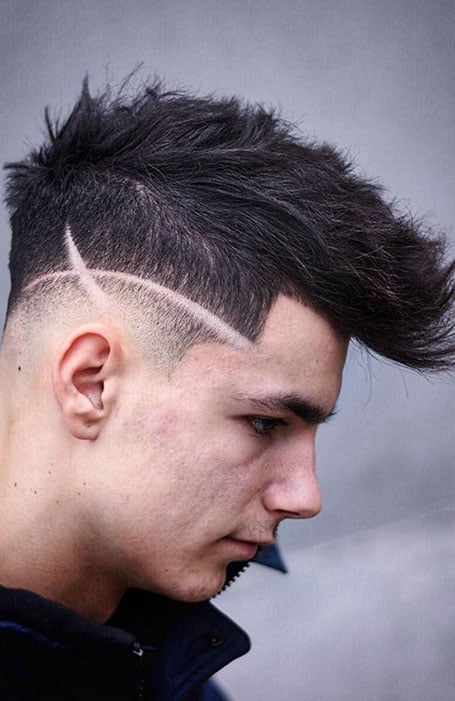 30. Low Fade with Brushed Back Hair
What better way to create a contrast and play with proportions than by opting for a low fade with brushed back hair? The appeal of the low fade is how it gradually shortens the strands on the back and the side of the head, starting above the ears. It creates a much more subtle finish than other faded styles while letting you benefit from hair that looks fuller and thicker at the crown.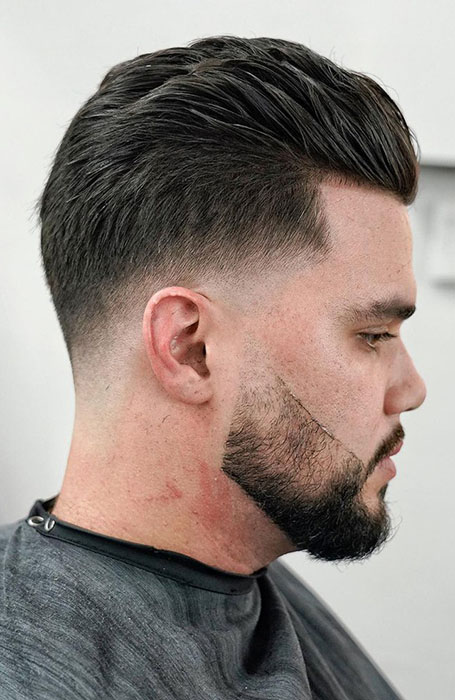 31. Low Fade with Spiky Hair
If you're up for a new look and want to add some texture to your hair, consider a low fade with spiky hair. It's a trendy and cool hairstyle that adds a touch of volume while giving your hair a polished finish by keeping it shorter on the back and sides. Just make sure to use the right styling mousse or pomade, and aim for a more natural appearance rather than stiff spikes.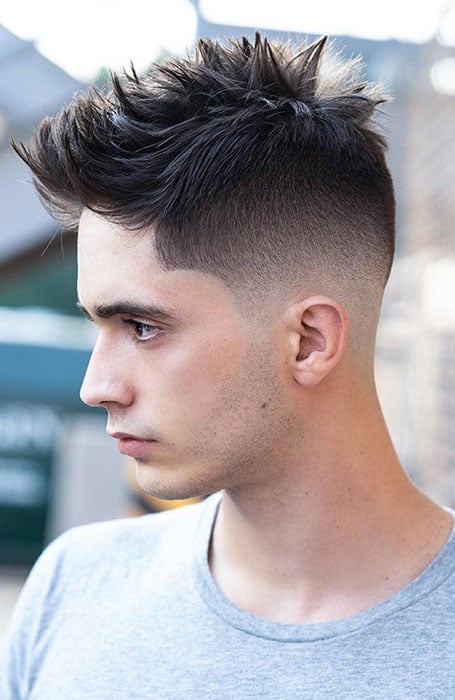 32. Low Fade with Line Up
If you want to elevate your hairline, consider the low fade and line up haircut. Adding unique shapes or angles to the hairline adds a stylish touch to even the simplest cut, giving it a modern look. The low fade complements the line up, creating a subtle difference in length around the ears. Don't forget to complete your look with well-groomed facial hair.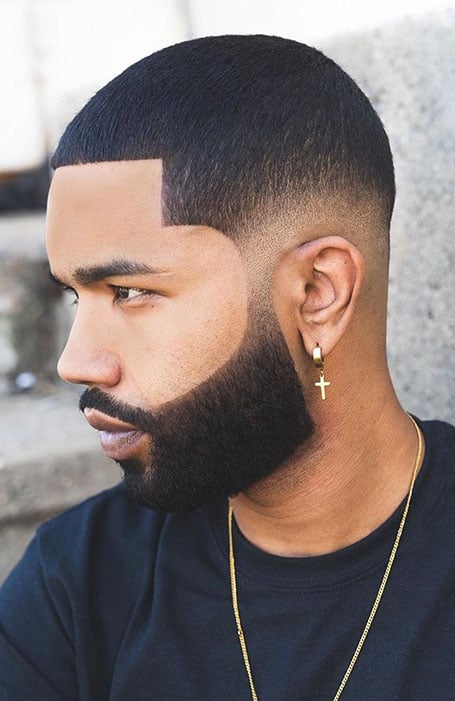 33. Low Fade with Blowout
The blowout haircut is popular among men who desire to add significant volume to their hair. It involves brushing the hair backward and often upward, using heat tools like a blow dryer, and applying men's hair products (preferably something strong-hold) to maintain the desired look. Pairing the blowout with a low fade creates a sleek and polished look, making it even more noticeable.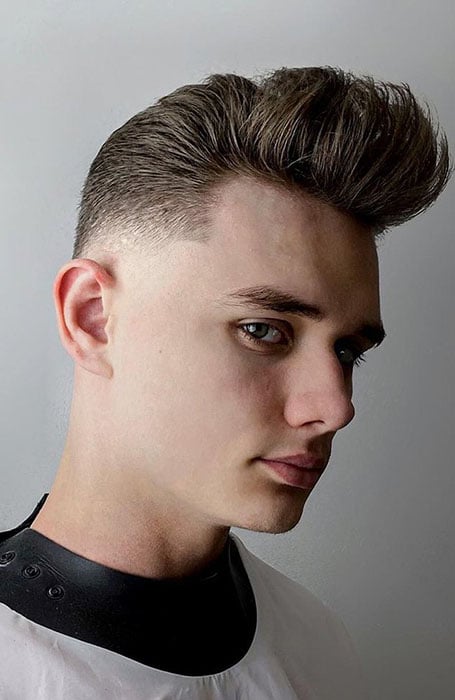 34. Low Fade Side Part
The low fade with a side part is a popular hairstyle choice for several reasons. It helps to balance facial features while accentuating the jawline. Additionally, it creates a classic and gentlemanly appearance, especially when paired with short hair. Combining these factors makes it a fantastic option to complement the low fade and draw attention upward.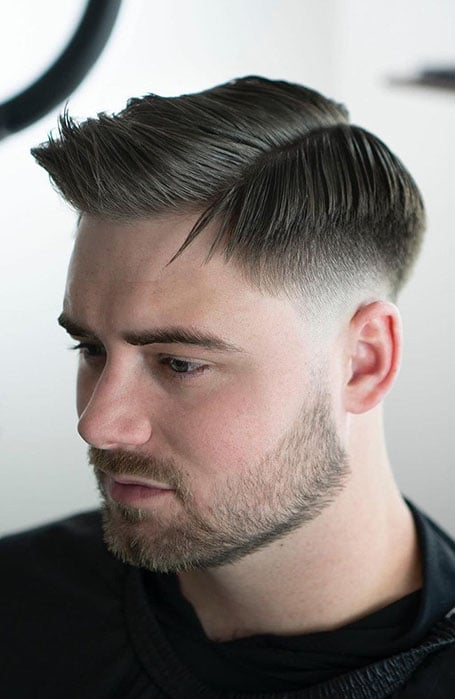 35. Low Fade with Ginger Hair
The low fade with long hair on top works with all hair textures, but with ginger hair, it can be especially noticeable. This is because the bold blend of red and orange hues is eye-catching and makes even the simplest hairstyles more noticeable. Give your fiery strands a little structure by shortening them from the ears downward. At the same time, leave the top strands longer and style them as you wish, including with a slight fringe.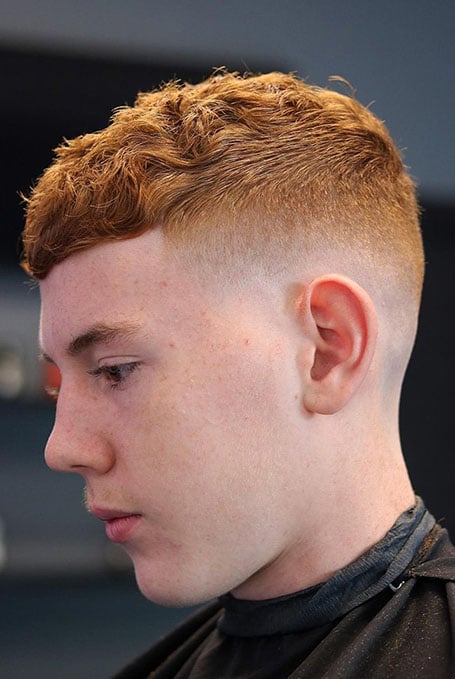 36. Low Fade Taper with Dreads
If you're a man who has patiently grown out your dreads, you might be interested in switching up your hairstyle. One option to consider is a low taper fade with dreads. This combination not only looks stylish but also offers practical benefits by reducing the weight and bulk of your hair. As a result, you'll achieve a cooler finish both in terms of style and temperature.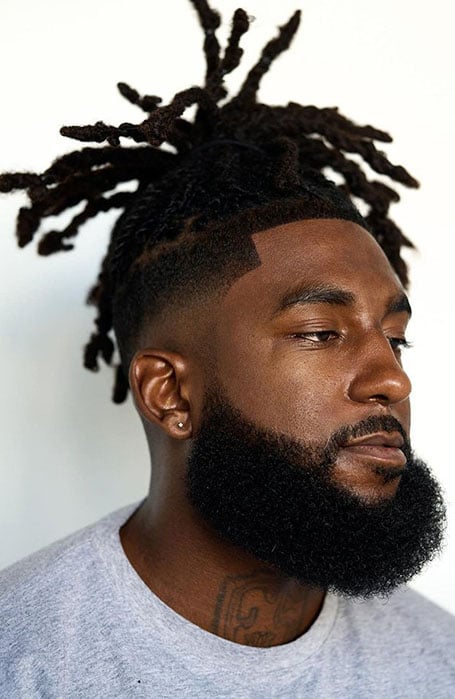 37. Low Fade Two Block Haircut
The two block haircut has gained popularity in recent years due to its effortlessly cool and youthful appeal. This Korean hairstyle for men is characterized by two distinct block shapes of hair, one on the top and another on the bottom. However, to add a unique touch to this look, you can easily achieve it with a low fade.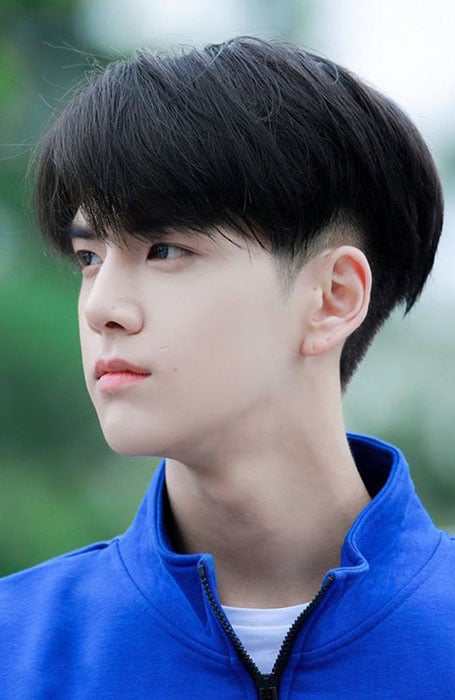 38. Undercut Low Fade
The undercut low fade is a popular and contemporary hairstyle for men. This distinct style is achieved by combining two different haircuts, resulting in a fresh and fashionable appearance. The key to achieving the perfect undercut low fade lies in the way the hair is divided. The top section should have the longest length, while the undercut section is positioned just below the crown and gradually fades around the temples and ears. The outcome is a seamlessly blended haircut that exudes cleanliness and effortless coolness.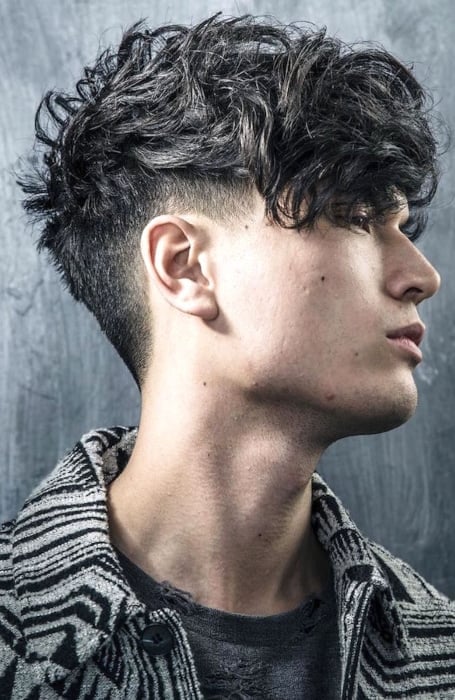 How to do a Low Fade Haircut
The low fade is one of the coolest additions to any haircut. It is loved because it is so versatile. It is one of the more subtle and natural-looking fades, gradually shortening the hair on the back and sides, starting from around the ears. If you want to create your own low fade haircut instead of recruiting the help of a barber, you can watch this YouTube video by Faded Culture.
To start, you want to work out where to use the clipper. Make a mark around the ear as a guideline, and let it drop toward the back.
Then focus on the hair around the hairline, marking it too.
You then want to neaten up the lines and remove the hair above your guideline mark. Do this by taking off around half an inch (see the video for an example of how to change the clipper).
You will continue to shorten the hair again, changing the clipper setting. This helps you create a more gradual shortening and a blended finish.
Tidy the hair below your original guideline mark to look neat and precise. You will also decide how you want to style the rest of the hair on top, which will determine your next step.
Low Fade Haircuts for Men FAQs
What is a low fade?
A low fade is a technique for cutting a short back and sides, where the length of the hair gets shorter lower down the sides. The fade runs through roughly the bottom inch of the hair before evening out to the one length. The top of the style can be anything you like, from a low fade undercut or Edgar to a crew cut or pompadour.
What do I tell my barber for a low fade?
You'll need to ask your barber for whatever kind of style you like, whether it's a crew cut, Ivy League, crop, or something else. Then ask for a low fade on the sides, rather than a scissor cut or taper. If you can, take along some reference pictures of styles you like, so you can show your stylist exactly what you have in mind. Pinterest is the perfect way to create a board of styles you like, and you can quickly scroll through before the clippers touch your head.
How long does a low fade haircut last?
A low fade will need touching up every three to four weeks. Keep in mind that the shorter you go, for example, a bald fade, you'll need to maintain the style more regularly.
SUBSCRIBE TO OUR NEWSLETTER
Subscribe to our mailing list and get interesting stuff and updates to your email inbox.