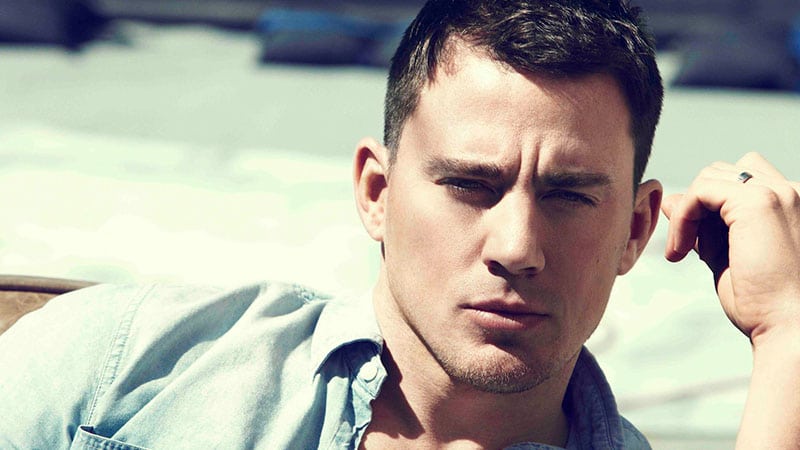 Finding a hairstyle that's both stylish and practical can be a challenging task. Luckily, there's one classic haircut that all gents can turn to for a sophisticated look with minimal fuss. The crew cut is a timeless men's hairstyle that is both minimal and elegant. Not only does it exude confidence and appear sharp, but this short haircut is also simple to maintain and easy to style. As such, it's perfect for any gent who values looking good without expending a lot of effort. So, if you need a look that'll see you through from nine to five and beyond without costing you valuable time every morning, these cuts are for you.
1. Classic Crew Cut
The classic crew cut is a short and sharp style. The minimalistic look is an ideal choice for a business hairstyle as it is neat and tidy and goes great with a suit. So, if you're looking for a new cut that is office-appropriate and stylish, you can't go past this timeless crop. Not only will it keep your hair out of your face and off of your mind all day, but it'll look sleek and polished while doing so. On top of that, this low-maintenance look will also save you plenty of time during your morning routine, meaning that you skip a step and sleep in.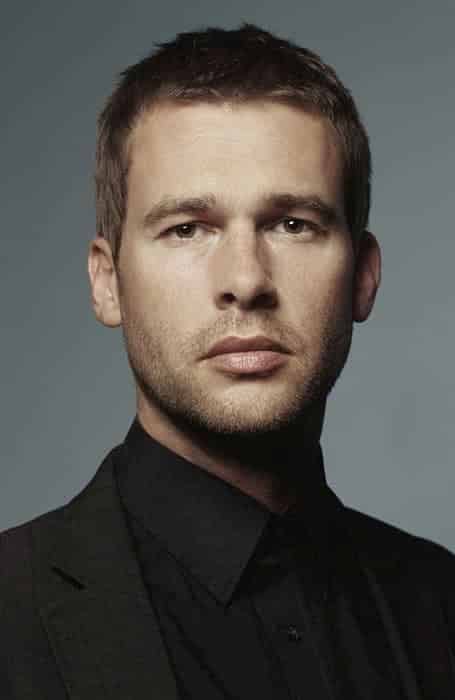 2. Short Crew Cut
Although a classic haircut is already quite short, you can take the style even shorter. A short crew cut offers the same practicality and stylish look as the traditional version with a little more edge. The look is very similar to a buzz cut and also features a top, back, and sides that have been cut short with clippers. There is one difference, however. While a buzz cut is one length all over, a short crew cut features tapered sides. Therefore, the cut stays true to the classic style and just shortens the length.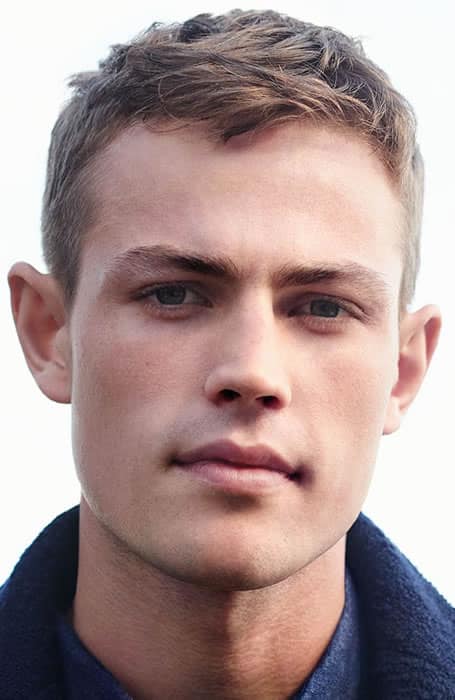 3. Long Crew Cut
While a traditional is usually no longer than an inch on top, a long crew cut can surpass this and reach up to two inches or more. Of course, the longer your hair grows on top, the more it'll fall flat. As such, anything too long cannot be considered a true crew cut, which features the hairs on top of the head in an upright position. If your long crew cut just needs a little help to stay up, try using your hands to apply some gel to your strands.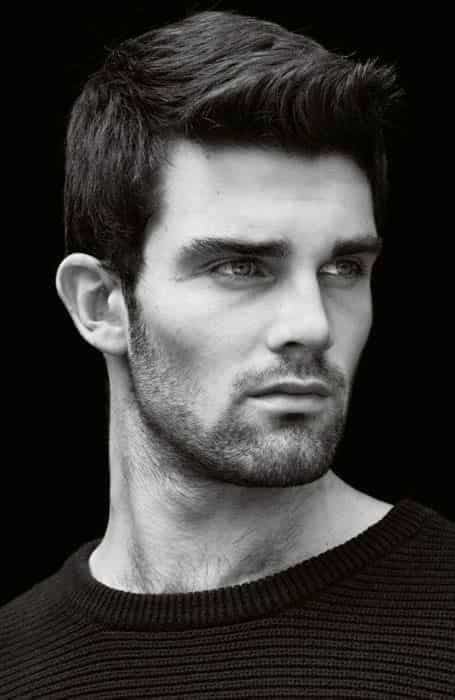 4. Taper Fade Crew Cut
Traditional crew cuts feature tapered sides that graduate from a longer length near the top of the head to a shorter length near the ears. While this is typically done quite subtly, a fade can be added to up the intensity and infuse a contemporary touch. Unlike a classic crew cut, a taper fade crew cut features sides that quickly graduate to reveal the skin around the ears with an ultra-short shave. When cut correctly, the hair on the sides of the head appears to fade away for a sharp and stylish aesthetic.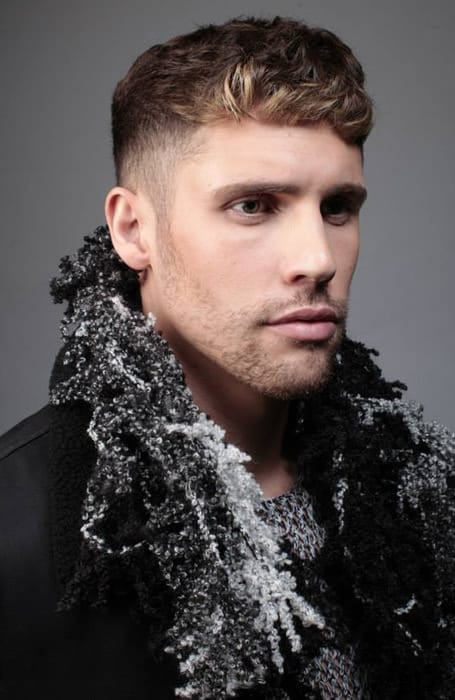 5. Textured Crew Cut
Today, most hairstyles favor a textured appearance for a more relaxed and less rigid look. The crew cut is no exception to this and can appear more contemporary and cool with the aid of texture. If your hair boasts a natural wave, you will already have texture, but if your strands are straight, you may want to add some with a texturizing product. Doing so is especially ideal for gents who find that their cut appears fluffy following a wash.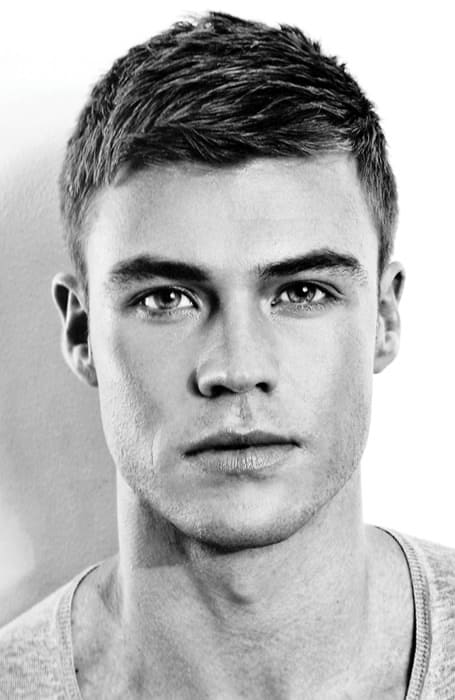 6. Side-Parted Crew Cut
If a classic crew cut feels a little too standard for your tastes, you should consider a side-parted style. By just adding a part to your cut, you can give it a focal point and make it significantly more interesting. While creating a side part in such short strands can be a challenge, combing it into place while strands are wet, and using some product can help to define the split. If that doesn't work, you can consider asking your barber for a hard part upon your next visit.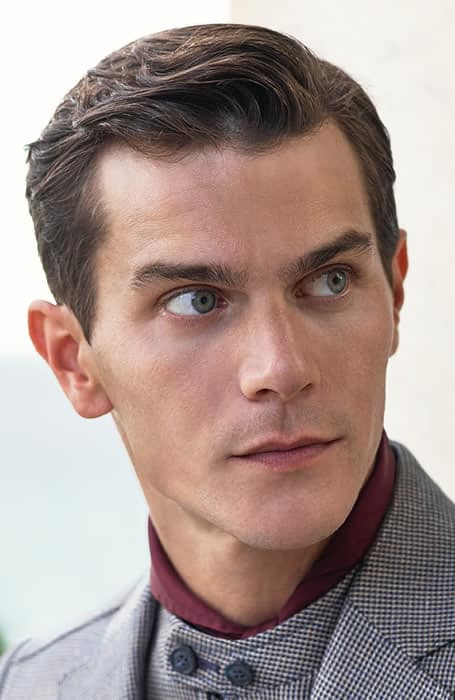 7. Curly Crew Cut
A great thing about the crew cut is that it suits all hair types, including curly hair. So, if you have curly locks, consider the look for your next hairstyle. By opting for this style, you'll be selecting a stylishly short haircut that will keep any wild waves and curls under control. While the length on top will be just enough to show off your natural texture and style, the shaved sides will keep everything neat and elegant. As such, the look is perfect for both in the office and after hours.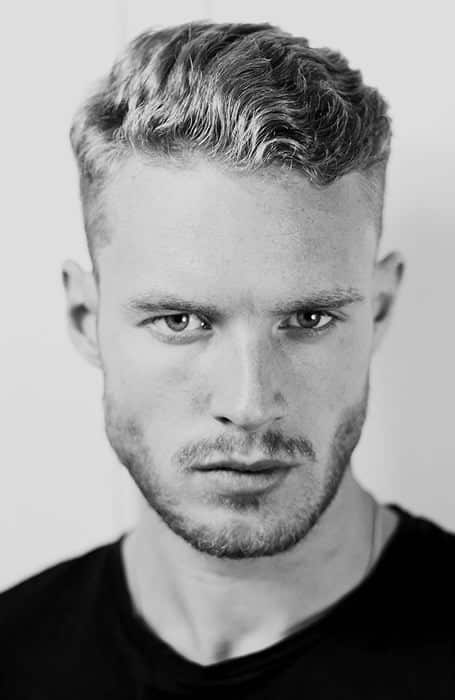 8. Grey Hair Crew Cut
This great cut can suit men of all ages and makes a particularly dapper grey hairstyle. So, if you have silver strands, why not give a crew cut a try? Thanks to its short length, this stylish cut can provide the type of sophistication and polish that's ideal for mature men. Just don't forget to add a little bit of texture. While a relaxed silver crew cut will appear fresh and contemporary, an overly neat version may come across as stuffy and outdated.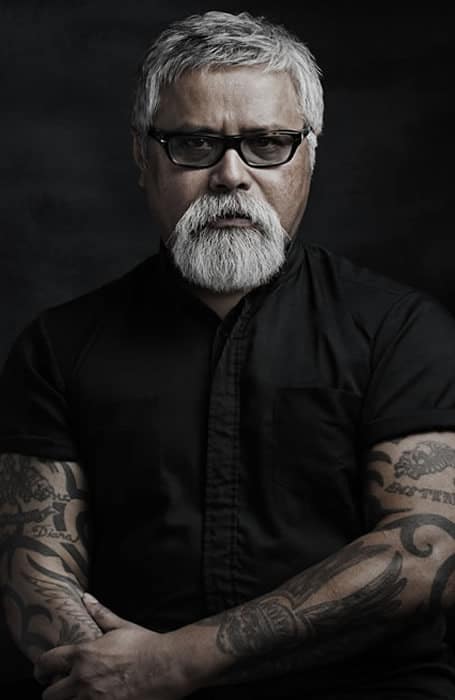 9. Ivy League Crew Cut
An Ivy League crew cut, which is sometimes just known as an Ivy League, is a longer version of the classic crew cut. The style, which also originates from American Ivy League schools like Harvard and Princeton, features hair on top of the head that is long enough to wear with a side part. Overall, the appearance of this cut is dapper and seriously stylish. The look also makes a fantastic option for anyone who is thinking of growing out a current crew cut into a longer style. Just remember to keep the sides neatly tapered, and the top combed to perfection.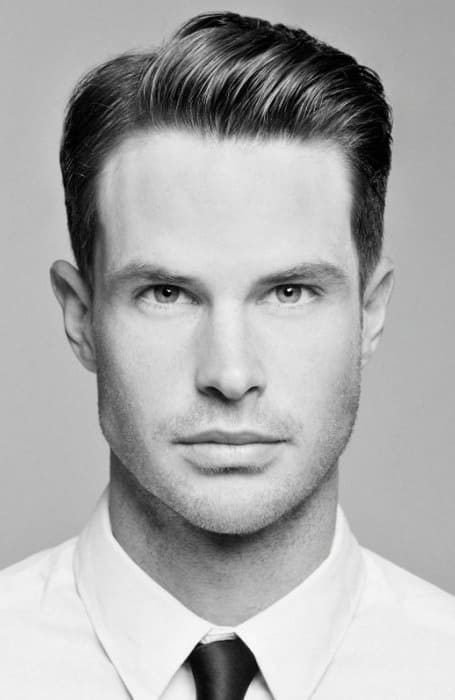 10. Crew Cut Blowout
Combining a crew cut with a blowout can create a seriously cool look. The style, which is perfect for gents who prefer their cut with a little attitude, can be achieved by receiving a classic crew cut with an inch or two of length on top. Then, after washing, blow-dry hair while using the air to push strands up at the roots. Once hair is standing up and dry, use some pomade to complete to style before sealing it with hairspray.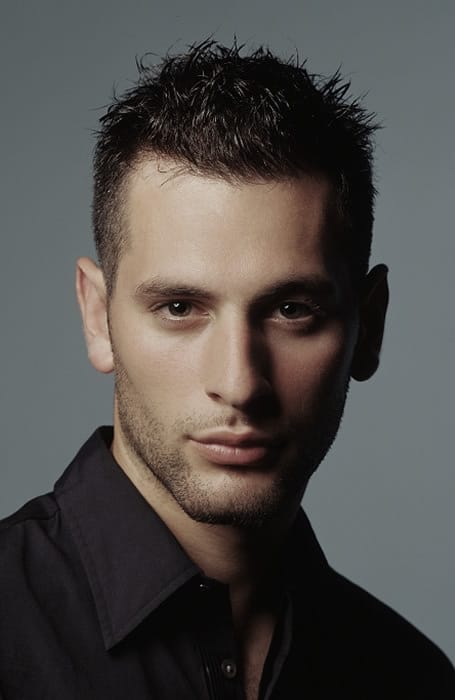 11. Afro Crew Cut
Are you looking for a simple and effortlessly cool way to style your Afro-textured hair? The crew cut could be it. This is a classic short hairstyle for men defined by the hair on top being slightly longer than the hair on the back and sides. It is often styled in a slightly upward finish to give the hair the illusion of volume and to create texture. However, your hair will already have these things naturally, making this a hairstyle that will complement your Afro-textured hair.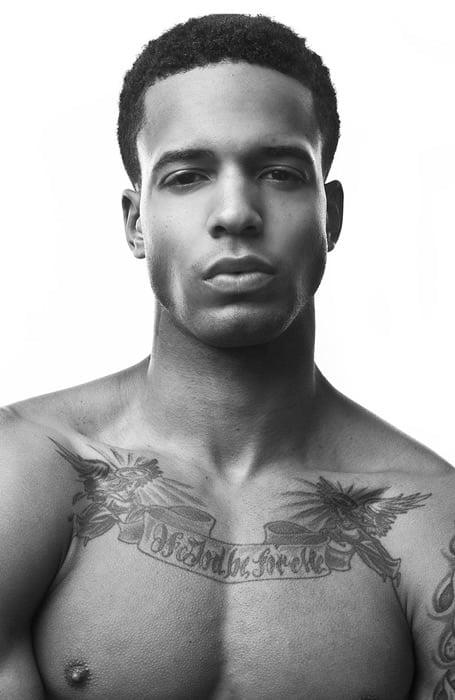 12. Crew Cut Frosted Tips
There is a lot to like about the crew cut, mostly its versatility. The hairstyle is short all over but there is slightly more length kept on top. To draw attention to the crown and create the illusion of fuller, thicker strands, you can try frosted tips. Frosted tips are achieved by bleaching the hair a the ends, which will create a contrast with your base color. This is an excellent way to express yourself and get your hair noticed.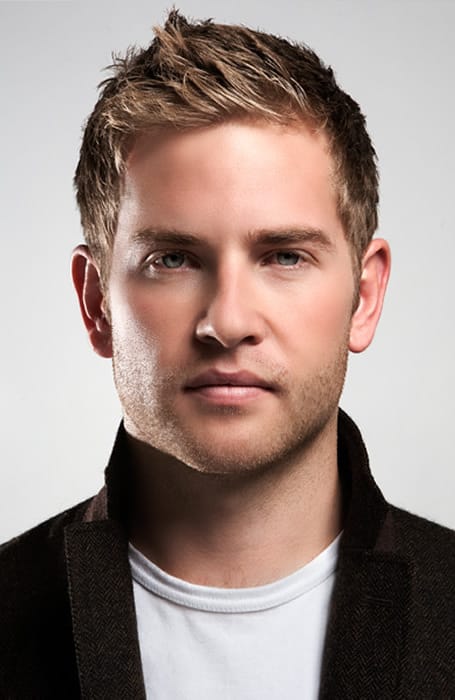 13. Crew Cut with Beard
Facial hair can transform a man's face and help to define his features better. The right facial hair can make your jawline look more pronounced or, depending on your chosen hairstyle, could make your look more balanced. The crew cut pairs well with facial hair, including a full beard. The hair is trimmed close to the head, giving you a neat and polished appearance. This is an ideal look for young or older men and can be incredibly flattering.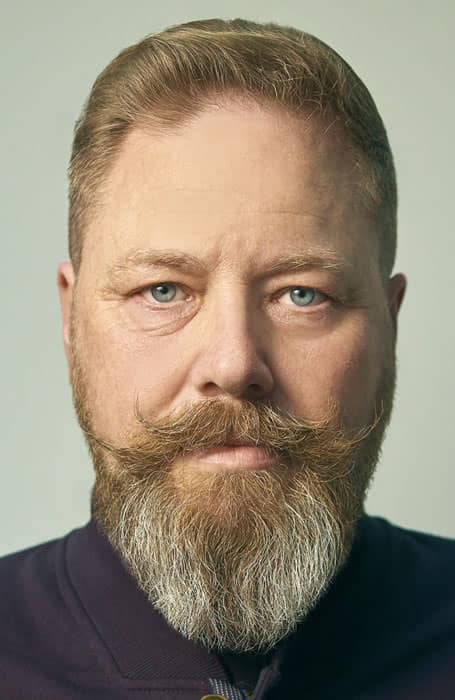 14. Crew Cut with Fade
The crew cut works well with a fade hairstyle and you can decide on several options depending on how much contrast you want to achieve between the hair on top and the back and sides. A taper fade is one of the most flattering and versatile options and can be easily adapted to complement your hair texture and type. However, you can also opt for something more daring, like a skin fade. The appeal of a fade is it lets you personalize your haircut while also creating structure.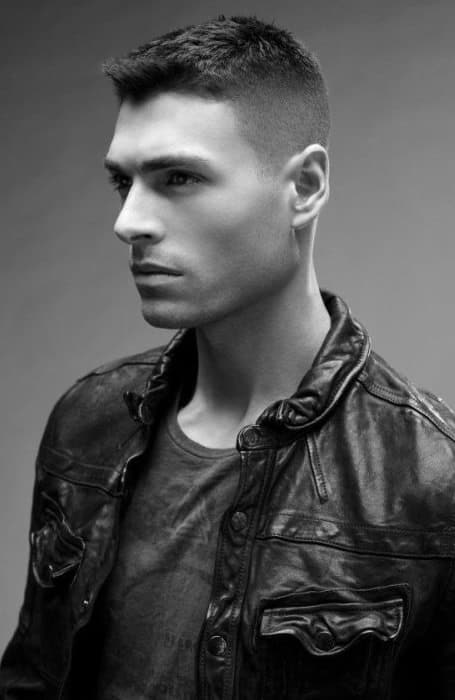 15. Crew Cut with Quiff
The classic crew cut is worn short with the hair on the back and sides short and with slightly more length on the top and toward the front. Because this hairstyle has more length at the front of the head, it can be paired with a short quiff for a modern version of the classic cut. A quiff is styled so that the hair on the front is brushed up and backward. This helps to create fullness and volume while also you a professional and masculine finish.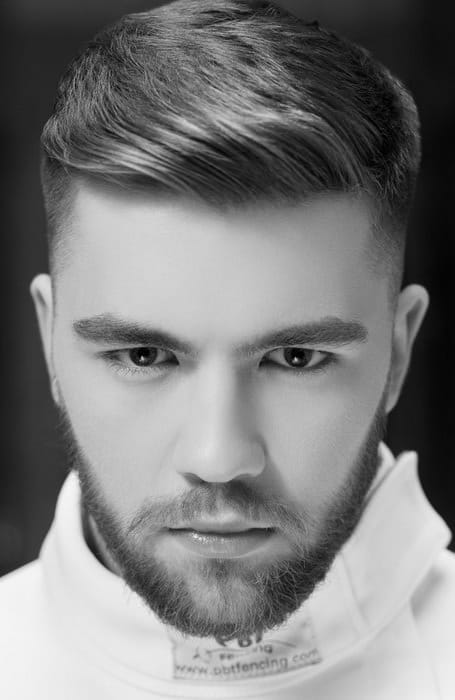 16. Messy Crew Cut
The crew cut is a low-maintenance hairstyle that men of all ages love because of its simplicity. It can also be easily adapted to complement your hair texture and styled to suit your preference. If you prefer a more laidback and unstructured look, then you can grow the hair slightly longer than the standard cut and style it to look messy. This messy hair look will work best for those with naturally textured hair.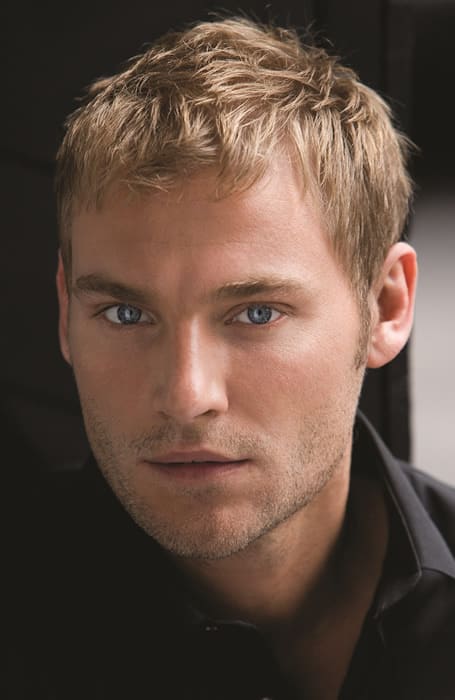 17. Military Crew Cut
Military hairstyles are cut short and created to look neat and polished. There is a wide range of cuts that will fall under this category, including a crew cut. The simplicity of the cut makes it easy to style and maintain, with the hair being only slightly longer on top than the back and sides. This cut can also be flattering and help to define your face shape better.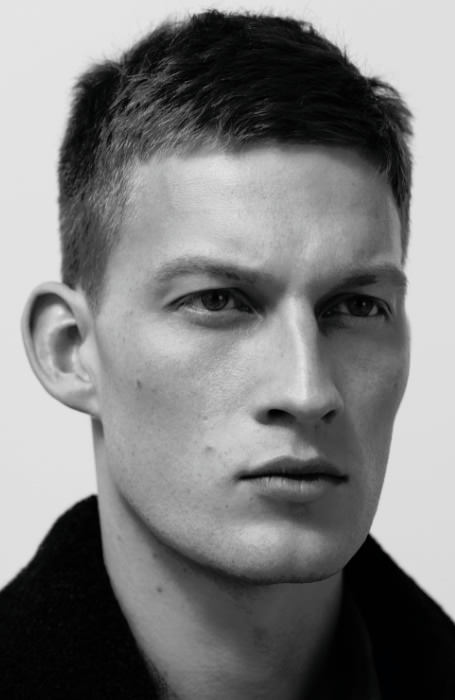 18. Receding Hairline Crew Cut
For men who are balding or have a receding hairline you want to find a haircut that can detract from this, and the crew cut is one of the best looks. It will naturally complement your hairline and create less contrast between the temples and forehead. Keeping the hair shorter on the back and sides and longer at the front and on top will create even more contrast, giving the illusion of more hair. Flattering and easy to maintain, it is no wonder the crew cut is one of the most popular short haircuts for men.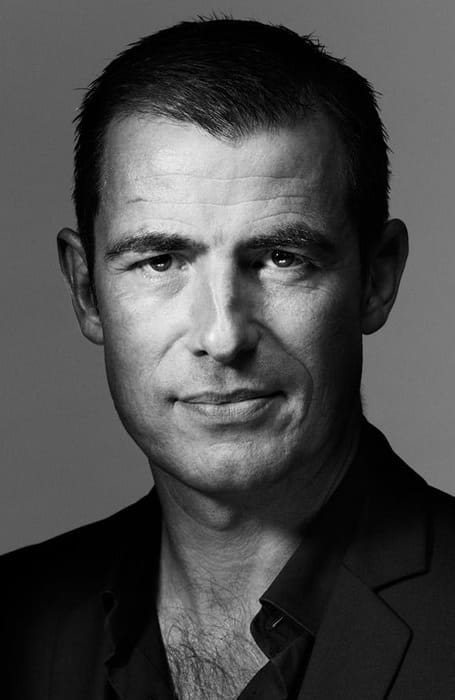 19. Slick Back Crew Cut
The slick back will create a polished and masculine appearance, but this look is undeniably cool. The slick back is created by brushing the hair backward, away from the hairline, and using a gel or pomade to secure it. This look often works best on slightly longer hair than the standard crew cut. So, you may wish to grow the hair on top. It will create contrast when paired with the short back and sides and make the hair appear fuller and more voluminous.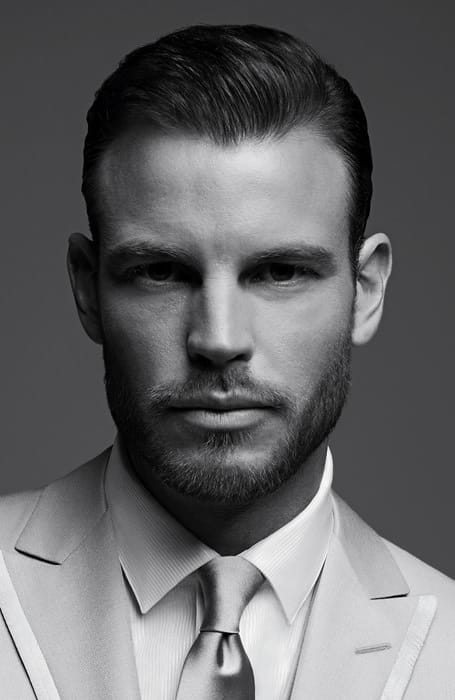 20. Spiky Crew Cut
The crew cut is a men's hairstyle that is popular because of its versatility and low maintenance. It can be easily adapted to suit your preference and be paired with a fade, or a beard style. It complements a wide range of different textures and various lengths. To create an edgy and cool finish, you can style the hair to create a slightly unstructured appearance with spikes. Spiky hair is great for giving the hair texture but can also feel youthful and fun.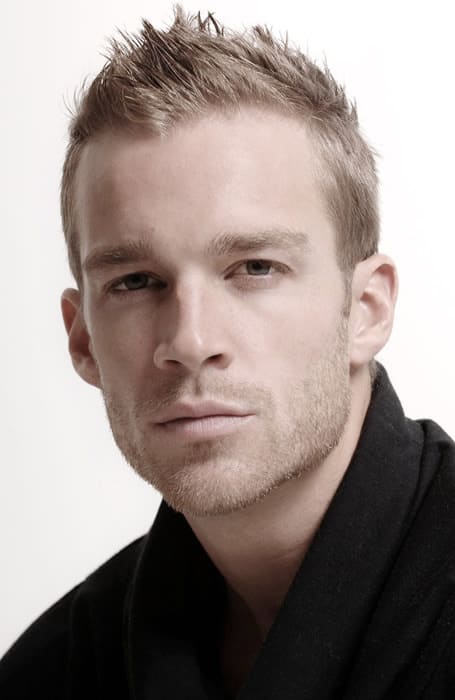 Crew Cut FAQs
What is a Crew Cut?
A crew cut is a popular type of men's haircut. The style features short strands on top that sit in an upright position. These strands are typically graduated in length with the longest hairs at the hairline and the shortest strands at the crown to create a mostly flat, horizontal appearance for the side. The hair on the sides tends to be shorter than the top and usually features a tapered cut. Although the style has been around since the 18th century, it became most popular in the 1920s and 1930s. During this time, the cut received its current name thanks to its popularity amongst Ivy League students and university crew teams.
How to Style a Crew Cut?
One of the great things about a crew cut is that it's low-maintenance. As such, styling can be optional and is often unnecessary for gents with thick locks that stand neatly upright on their own. If your crew cut appears a little messy or flat in the morning, try using a small amount of pomade to add texture and height. While styling your hair may not always be required, maintaining the length is essential to keeping this cut looking its best. Due to its short length, even the smallest amount of hair growth can completely change the appearance of your cut. As such, it's important to visit your barber twice a month to get a quick trim and clean up the shape of your crew cut.
What number is a crew cut?
Generally speaking, the back and sides of a crew cut are no longer than a quarter-inch, or number four, often fading down to a one or two. When it comes to the length on top, a traditional crew cut should be no longer than an inch, equating to the number eight attachment on your clippers.
Should I get a crew cut?
Crew cuts are a great, low maintenance style that can easily be varied to look great on all guys. The length on top and the sides can be tailored to suit your face shape, hair texture, frontal hairline, and skull shape. Variations include the Ivy League or a side-parted cut. It is somewhat limited in styling options; however, for guys who like to keep their look simple, this is a great choice.
What do I tell my barber for a crew cut?
To get the perfect crew cut, communicate specific details with the barber such as length, top/side ratios, and if any particular styling techniques (low, mid, or high fade) should be used – all of which will help ensure a flawless finish to suit your individual taste.
SUBSCRIBE TO OUR NEWSLETTER
Subscribe to our mailing list and get interesting stuff and updates to your email inbox.