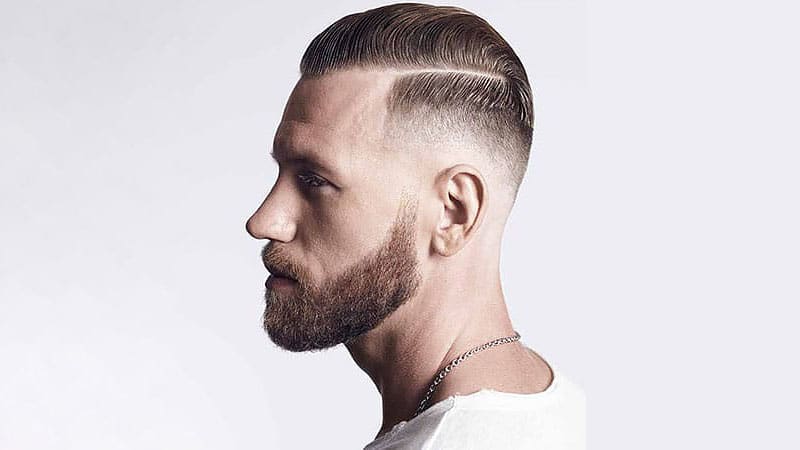 This season, bid your long hair goodbye with a sleek high fade hairstyle. For men seeking to look and feel cool, this short, sharp cut provides the answer. Essentially, the high fade involves a close shave along the sides and back of the head. The defining factor of the 'high' fade, is that it reaches up above the midway line between the temples and the tops of the ears. The result is a crisp new look that has a vast range of styling options. So, if you've been rocking an undercut, pompadour, or classic curly locks, give your hair a fresh update by adding a high fade. Not sure where to begin? Put that razor down and take a seat, because we're here to reveal the best high fade haircuts to try this year.
1. High Fade + Slick Back
Take your office look from day to night with a haircut that will make you stand out in both the boardroom and the bar. The slick back style remains a timeless hairstyle for men seeking sophistication. The incorporation of a high fade elevates this look to provide that extra stylish edge.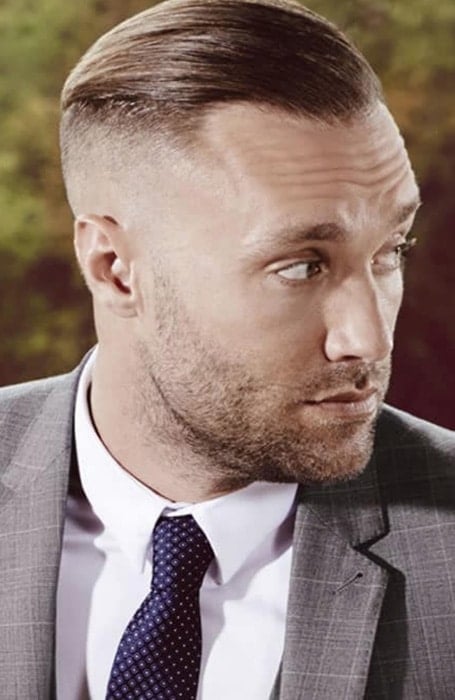 2. High Fade + Taper
When it comes to a high fade, your first decision will offer you the choice of three paths. Would you like a taper fade, a skin fade, or a bald fade? In simple terms, a 'skin fade' buzzes the hair below the high fade line off completely, providing a clean shave to the scalp. A bald fade similarly requires a very close shave below a sleek high fade line. The third option, a taper fade, is a little different. This versatile, professional look generally incorporates a longer length above the high fade line that gradually 'tapers' or becomes shorter as it moves down towards the ears. This look can then be combined with your favorite style, whether that be a classy comb-over, quiff, or a statement high-top.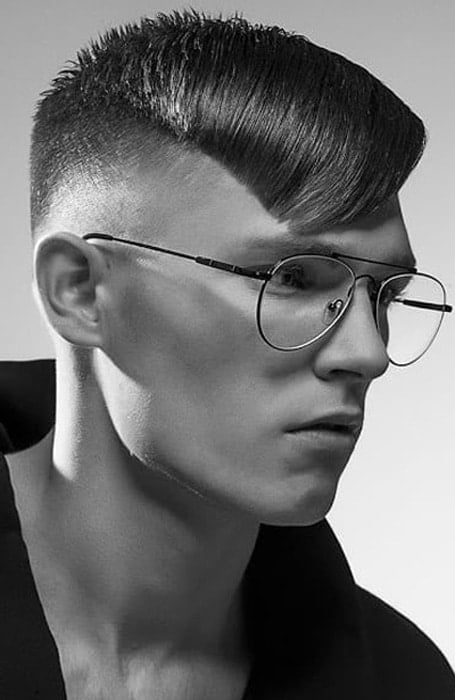 3. High Fade + Quiff
If the pompadour had a brother, it would be the quiff. The similarities lie in the fact that both hairstyles involve brushing the hair up and back away from the forehead. However, unlike the pompadour, a quiff's volume comes from brushing the hair back like a wave. This results in a look that is not dissimilar from that which David Beckham modeled on the soccer field. With the addition of a sharp high fade, therefore, this style is destined to draw admirers.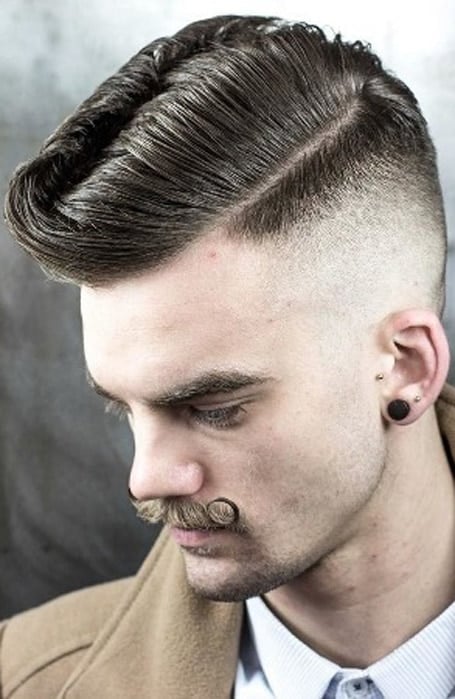 4. High Fade + Skin Shave
Clean and crisp, a high fade with a skin shave involves shaving the hair underneath the high fade line completely to the scalp. This modern, low-maintenance look allows you to experiment with your hair on top while eliminating any fuss from the sides and back of your head.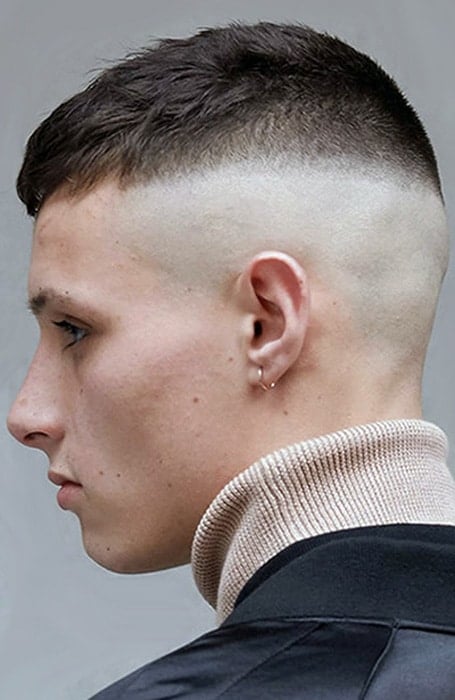 5. High Fade + Undercut
Re-emerging as a popular hair trend for men across the world, the undercut features long hair on the top of the head which may be styled into a quiff, pompadour, or a slick back. Alternatively, those long locks can be transformed into what has become famously known as 'the man-bun'. Finally, the key to this look is to keep the sides and back of the head clipped nice and short. Rather than buzzing that hair straight off, however, add a little shape and character to your look with a high fade.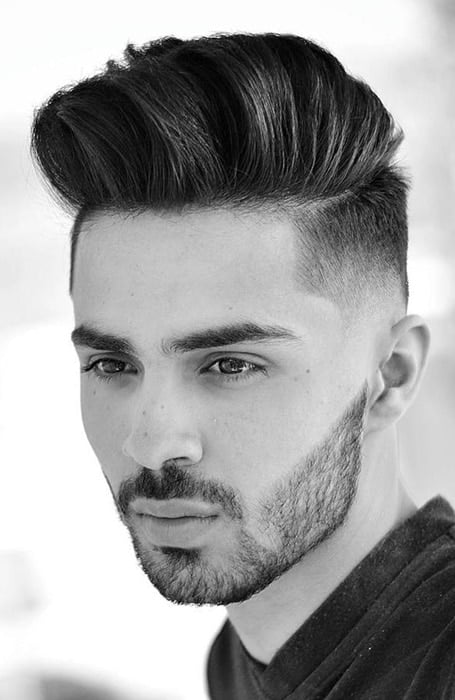 6. High Fade + Skin Shave + Comb-Over
The high skin fade comb-over provides the perfect look for men with thinning hair, seeking to maintain a stylish appearance. The high skin fade allows the head to be shaved clean up to a high point, while the comb-over brushes the hair across to create fullness and depth. It's a yes from us.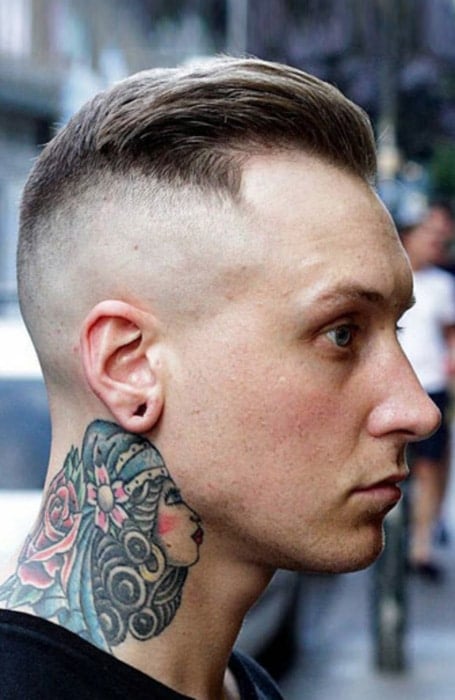 7. High Fade + High and Tight
This classic military haircut is the ultimate in minimalist hairstyles for men. Well suited to gents with dark hair, the high and tight fade is both neat and polished. The 'tight' aspect stems from the closely cropped longer hair on top, while the high fade ensures smooth lines and no-nonsense.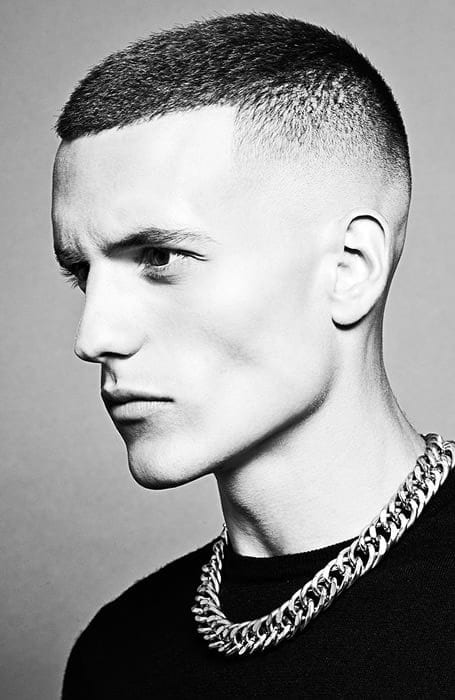 8. High Fade + Faux Hawk
If you're loving the idea of a mohawk but your partner (or boss!) are not, then a high fade with a faux hawk may be your answer. Taking inspiration from the classic punk mohawk, this style features a close-cropped high fade along the sides and longer hair on top that is sculpted upwards. For a dramatic look, pair your faux hawk with a high skin fade. Alternatively, opt for a high taper fade for a daring, yet still office appropriate, fresh style.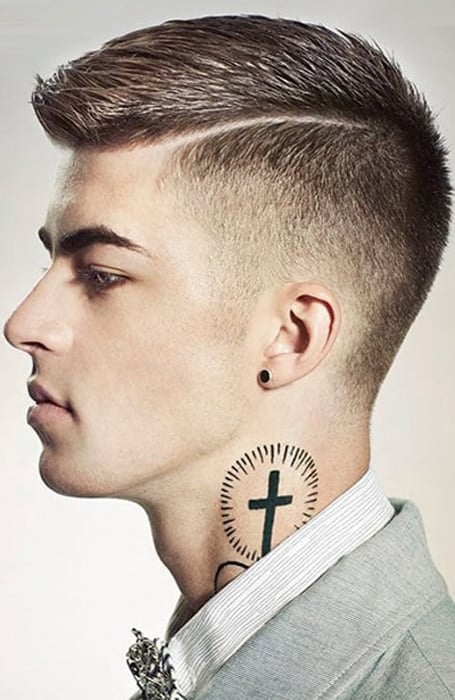 9. High Fade + High Top
A gem of the 80's and early 90's, the high top is a renowned symbol of the golden hip-hop era. Now, the statement look is back, with a fresh new twist for the modern man. To bring your high-top into the 21st century, simply incorporate a sleek high fade along the sides and back of your head. Finally, style the remaining hair up as high as you can – that is the key part of this look after all.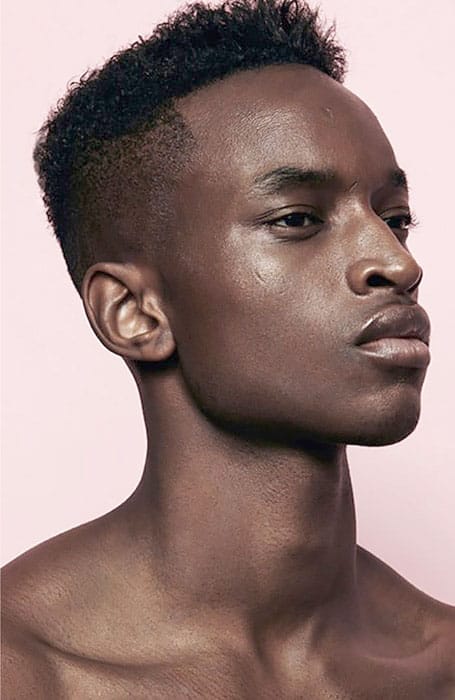 10. High Fade + Hard Part
For the businessman seeking an extra edge when it comes to style, combining a modern high fade with a hard part is the way to the top. This simple, understated style is professional while remaining on-trend.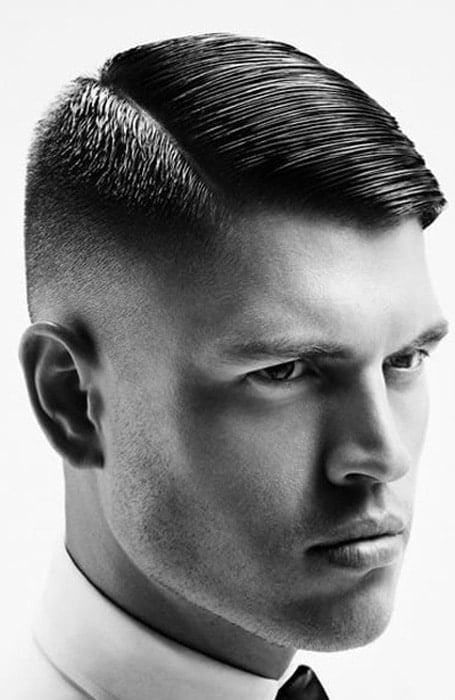 11. High Fade + Curly Hair
Breathe new life into your curls by incorporating an effortlessly cool high fade into your next barber-shop visit. By repositioning and reshaping the hair, the curly high fade provides an instant update to your appearance.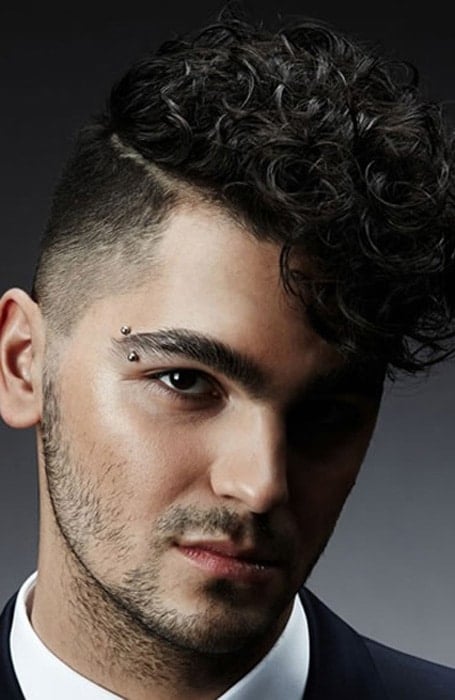 12. High Fade + Dreads
If you've been looking for a new way to style those beloved dreads of yours, this is it. Adding a high fade will take those dreads off the shoulders and transform them into a sculptural, modern hairstyle.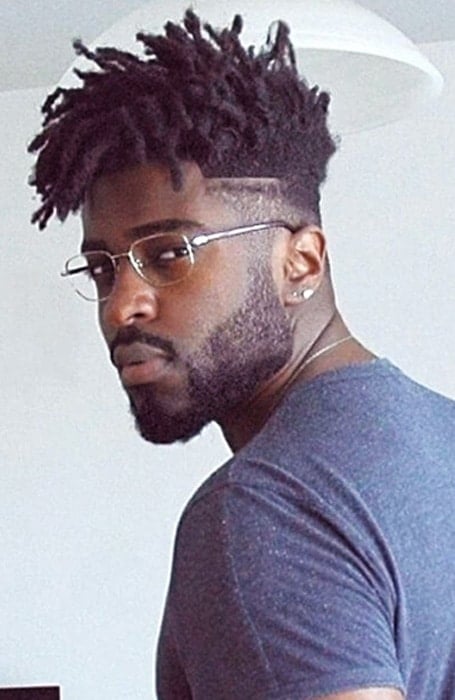 13. High Fade + Pompadour
If the king of rock and roll, Elvis, was a fan of the pompadour, then we are too. This classic look, which gained popularity amongst men in the 1950s and '60s, has seen a staggering resurgence in recent years. To achieve this look, the hair is sculpturally styled up off the forehead with the secret help of some good old hair gel. The simple reason for the pompadour's newfound popularity lies in its modern reinterpretations, such as the addition of a sharp, high fade.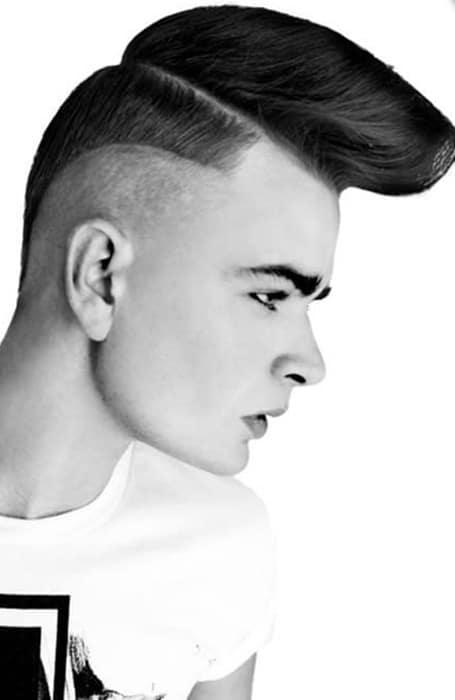 14. High Fade + Fringe
Maintain the best of both worlds by keeping your locks long on top and closely shaved on the sides. For men seeking a bold, statement-making haircut, the juxtaposition of a high fade and fringe will showcase your personal style.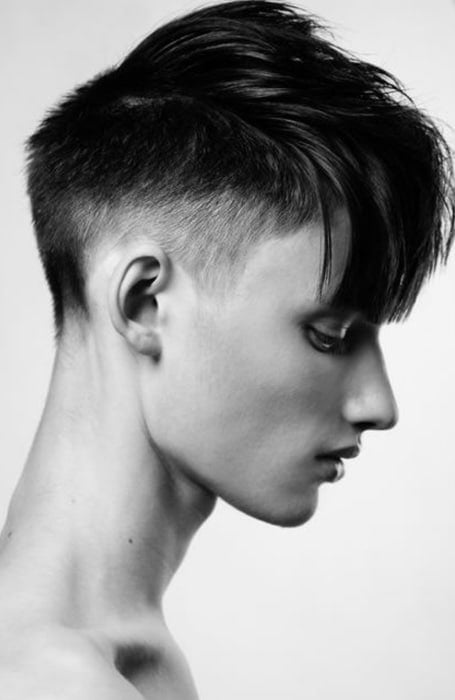 15. High Fade + Afro
Add some shape and definition to your afro with a high fade. By gradually fading the hair, this option creates a balance between the volume up top and the polished smoothness down below.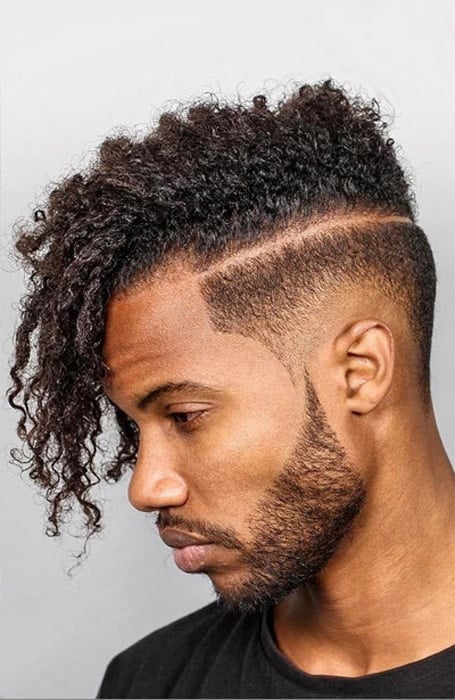 High Fade FAQs
What is a high fade haircut?
A high fade hair cut features a short back and sides, with a fade that starts at or just above your temples. The length of the hair gets gradually shorter the lower down you go. The top of the style can be anything you like, whether it's a crew cut, Ivy League, disconnected, pompadour, or something else.
What is the difference between a high and low fade? 
A high fade begins at or above your temples, whereas a low fade starts about an inch above the bottom of your hairline. There's also a mid fade, which starts between the top of your ear and temple. Each option looks great and suits different face shapes.
How do you fix a high fade haircut?
The best way to fix a bad haircut is to visit a trusted barber. If your fade is patchy, uneven, or poorly blended, you may need to bear with it a couple of weeks to grow some length. Then, go back over it with better technique, using a scooping method and graduating through the comb lengths from longest to shortest. Alternatively, if you don't want to wait, you can go shorter with a skin fade. If your fade is too high, again, you'll need to grow it out a bit and then take the fade lower next haircut.
How do you ask for a high fade haircut?
You'll need to ask your barber for whatever kind of style you like, whether it's a crew cut, Ivy League, crop, or something else. Then ask for a high fade on the sides, rather than a scissor cut or taper. If you can, take along some reference pictures of styles you like, so you can show your stylist exactly what you have in mind. Pinterest is the perfect way to create a board of cuts you like, and you can quickly scroll through before the clippers touch your head.
SUBSCRIBE TO OUR NEWSLETTER
Subscribe to our mailing list and get interesting stuff and updates to your email inbox.