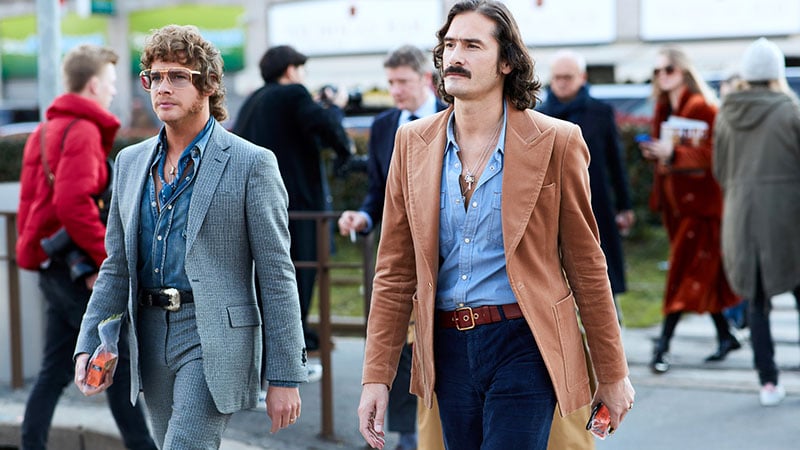 The mullet is considered one of the most iconic 80s hairstyles for men. While this short-at-the-front, long-at-the-back haircut has had its fair share of jokes, it's returning to fashion. Football players, musicians, and many young boys and teenagers have all begun to embrace the mullet for its eye-catching shape and laidback vibe. The mullet is business at the front, party at the back! It's one of the most popular men's haircuts for those who aren't afraid to stray from the crowd and don't take themselves too seriously. Keep reading to find all he hairstyle inspiration you need for your next mullet haircut.
RELATED: 10 Cool Permed Mullet Haircuts for Men
1. Curly Mullet
If you have curly hair, the mullet is a great choice for you. This is because the natural volume and bounce of curls help to create a smooth transition in length from the front to the back. By keeping the back section of your hair long, you can showcase your curls while still highlighting your face. The hairstyle is particularly suited for those who love the '70s or '80s-inspired look. It brings to mind iconic rock stars and leading men of that era.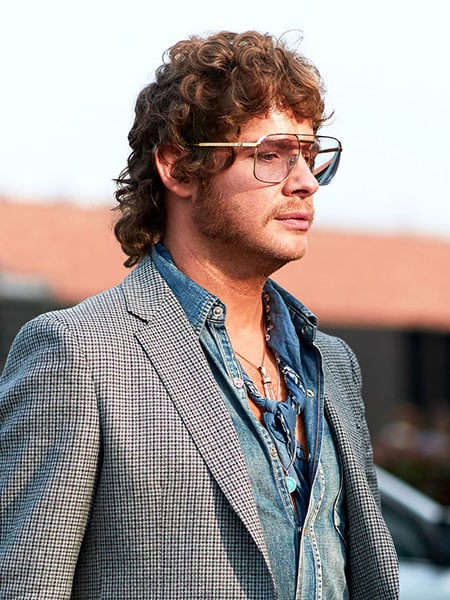 2. Burst Fade Mullet
A burst fade is a cool haircut that involves gradually tapering the hair around the ears and back of the head, creating a semi-circular look. It's a hairstyle that has gained popularity in recent times thanks to its modern and stylish appearance. The beauty of the cut lies in the fact that it blends seamlessly with other hairstyles, including the mullet. The burst fade mullet is a cool look that incorporates the best of both worlds.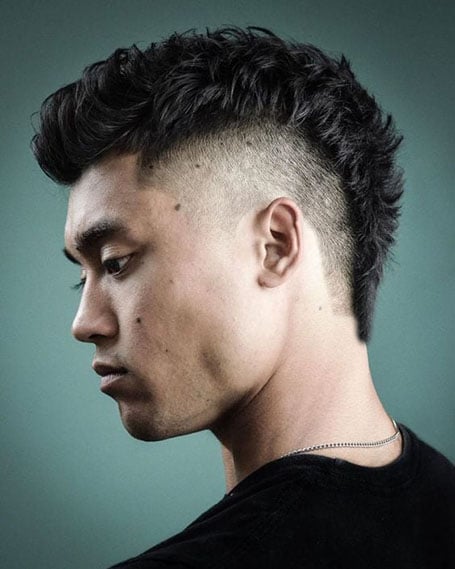 3. Mohawk Mullet
Have you ever dreamed of having a few haircuts at once? Now you can, thanks to the mohawk mullet. A hairstyle that defies gravity, you can keep your locks at any length. However, for a more authentic mullet feel, keep the top of your head a bit shorter than the bottom – this makes it easier to style. For those with straight or shorter hair, use some hair gel to add volume to the roots. Alternatively, you can spray some sea salt spray into it for a more shaggy feel or leave it natural.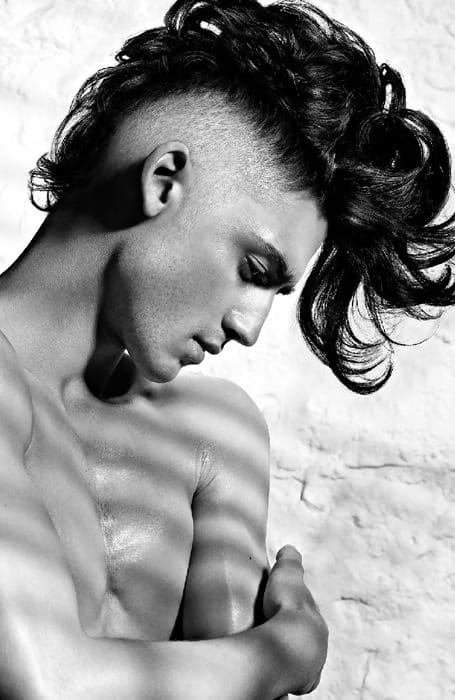 4. Mullet Shag
Unlike a traditional mullet with hair that's somewhat disconnected between the top and bottom, this shaggy mullet haircut alternative relies on multiple layers to frame the face. This shag hairstyle for men is dramatic and a great way to honor the '70s era while maintaining a modern touch. The beauty behind this hairdo is the myriad ways you can shape the layers – stick to a straight fringe for a fashion-forward aesthetic or a traditional cut at the front and maintain the choppy trend in the back.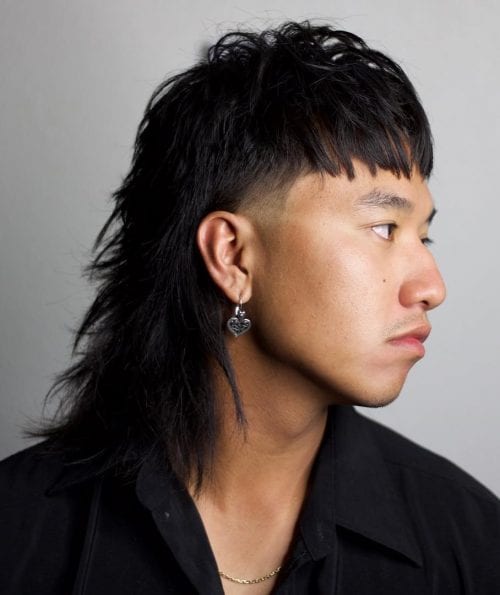 5. Punk Mullet
Punk is not dated, and neither are mullets. This hard-as-nails hairstyle is perfect for the guy who isn't afraid to go all out. Like a skinhead style, keep the hair on the top of your head close to the skin. However, leave the tips a little longer towards the crown of your head so that you can spike them up with hair gel or clay. This look works well with long or short locks; ensure it's as short as possible above the ears. Now you're ready for the next gig or a trip to the pub.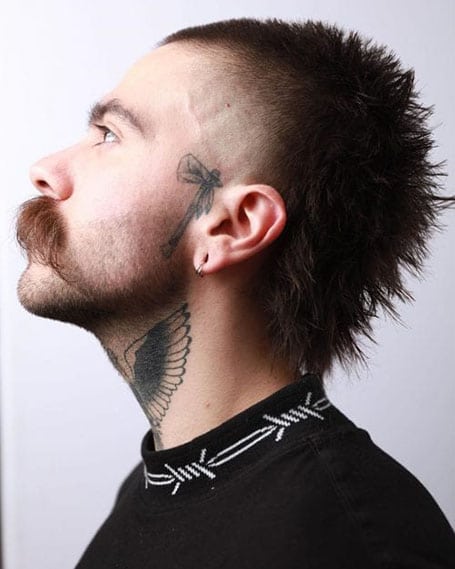 6. Permed Mullet
For the bold and daring fashion-forward person, a permed mullet is optimal. The bold and unique style takes some serious moxie to pull off, but it can be fabulous and expressive when done correctly. This particular look is definitely not for an office setting and requires a good perm to give your style that extra touch. The perm gives you plenty of options to change up your hairstyle depending on the shape and style you're looking for each day. If you're feeling adventurous and daring, this could be just the look you've been searching for!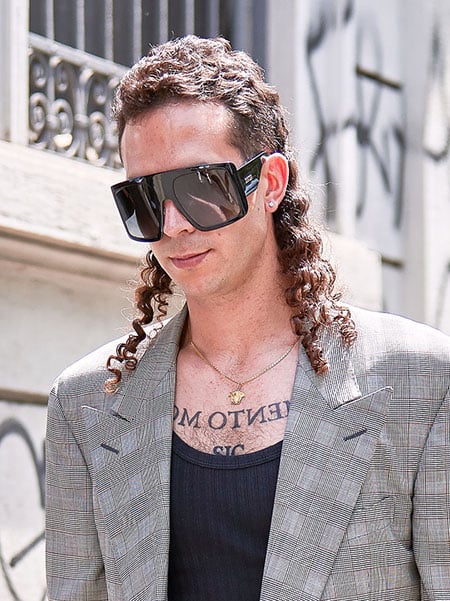 7. Mullet with Line Up
Add your personal touch by integrating art into your mullet haircut. A classic go-to is a neat lineup, which creates an intriguing contrast between long and short locks, particularly if you get a fade underneath. For the adventurous ones, consult your barber for more complex artwork on your temples, like geometric shapes, minimalist lines, or even three-dimensional designs.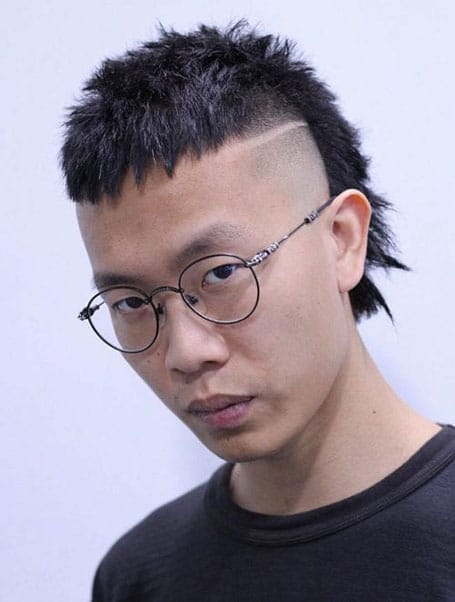 8. Mullet with Fringe
To achieve a high-fashion, editorial-inspired mullet haircut, you can opt for statement bangs. A thick, straight-across blunt fringe adds a futuristic touch and highlights the disconnected front and back sections. This look works great on oval face shapes. While you should blow-dry the bangs smooth, you can keep the long back section loose and unstyled, creating a stylish contrast.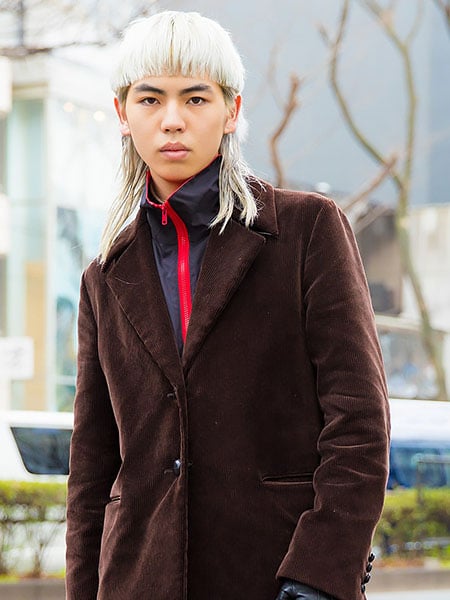 9. Undercut Mullet
If you're a little skeptical about going all out for your mullet haircut, adding an undercut is a great way to test it out. Shaving the sides and the underneath will give an instant illusion that you can slick your hair all the way down your neck. Ensure that you have shorter locks at the top of your head and longer at the crown to give the impression of a mullet. When you're ready for a new look, collect the hair and pull it into a ponytail or bun.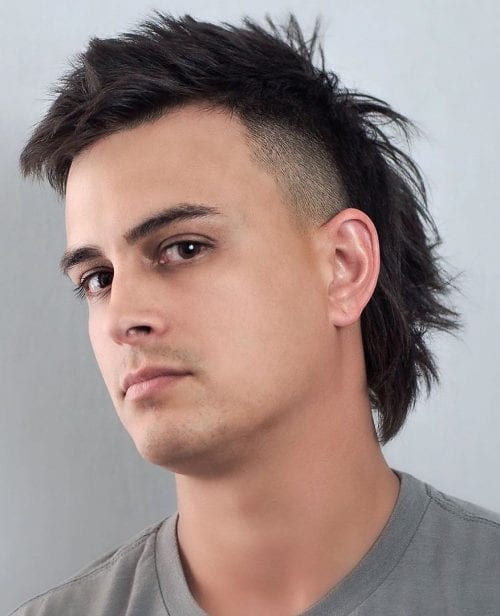 10. Drop Fade Mullet
The drop fade mullet is a combination of two of the trendiest hairstyles for men right now. With a drop fade, the faded part of your haircut "drops" behind your ear, creating a stylish arc effect. You can keep the rest of your hair as long as you like, but adding a mullet adds an extra touch of attitude to the look. The cut offers the best of both worlds: the length of one style and the edgy, tapered appearance of the other. It's definitely not for the faint-hearted, but if you're bold enough, it's one of the most cutting-edge haircuts available.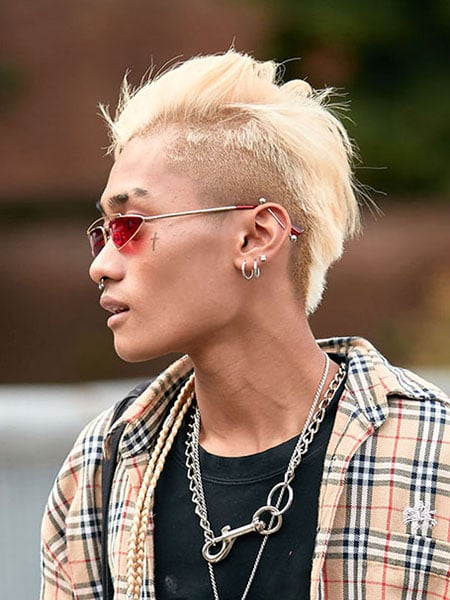 11. Short Mullet
The modern version of the mullet hairstyle, popularized by eshays in the '90s, British chavs, and the Australian rap and drill scene, is known as the short mullet. For this style, the hair on the top half should be noticeably shorter than the back. You can choose to keep it neat or messy until it reaches your ears. Then, the longer locks should hit the middle of the neck. To complement the look, you can add a French crop or a faux hawk.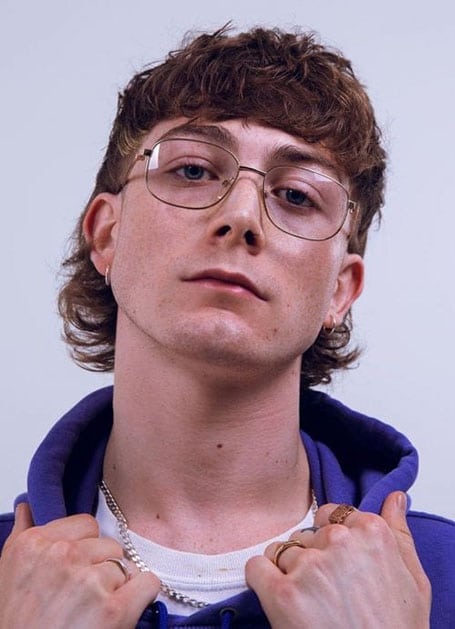 12. Modern Mullet Haircut
The modern mullet is a more low-key and understated way to try out the hairstyle. If you're unsure if a mullet is for you – or you're looking for a less noticeable and more office-friendly version – this is the cut for you. The cut doesn't have as abrupt a transition from a short front section to a long back section. Instead, the style is more graduated and soft. It's a flattering look if you have naturally thick and wavy hair; your locks will be on show without getting out of control.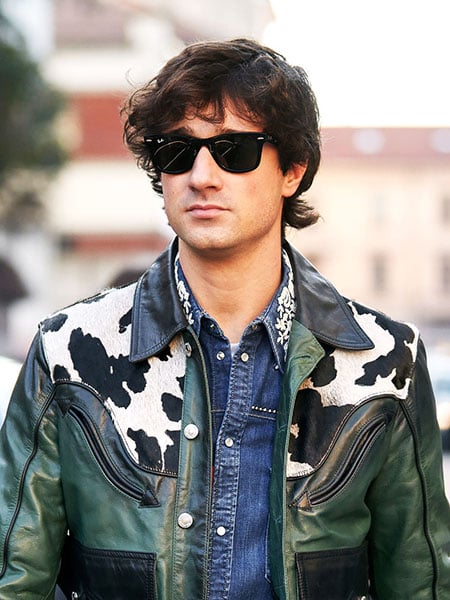 13. 80s Mullet
The '80s are back in a big way, and it isn't ending with fashion. Today, the vintage mullet hairstyle is all the rage. Back in the day, it was all about keeping the hair fluffy and full of volume – extra points if you had shoulder-length hair behind the ears. Some of the most famous adaptions include the likes of Billy Ray Cyrus and Rob Lowe. These days, you can emulate the hairdo by staying true to the extreme opposites in hair length, paired with a modern twist. Add gel to the tips and create an updated version of the volume with a quiff or spiky hair.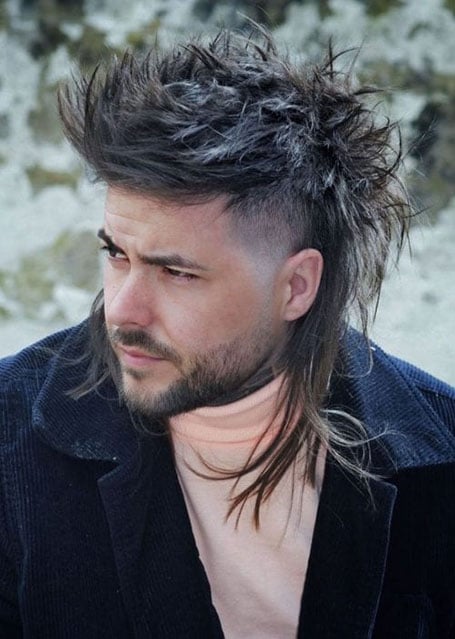 14. Skin Fade Mullet
While the skin fade is usually known for being a polished style perfect for business and formal events, it gets a brand new identity when combined with a mullet. Edgy and rebellious, the cut is all about sharp angles and endless attitude. Thick hair is required to create the almost geometric features of this look, as you'll need natural volume to make the hair stand up. Combined with a streetwear aesthetic, the cut is lean, mean, and super stylish.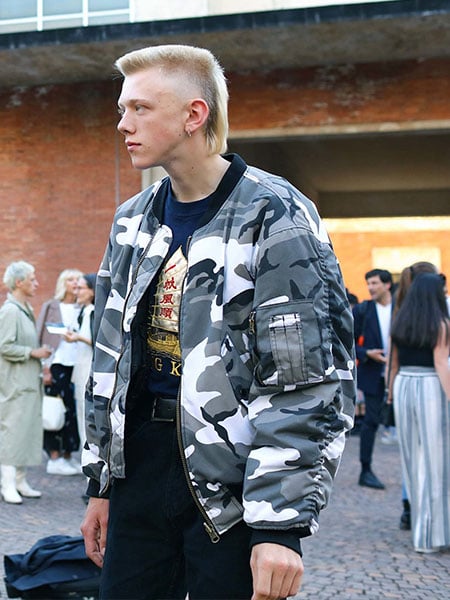 15. Slick Back Mullet
Nothing says 'smooth' quite like a slicked-back hairstyle, but try it with a mullet if you really mean business. This is preferred by those with long hair over the entirety of the head but shorter sides and cascading hair towards the neck. As the name suggests, this hairdo is characterized by its sleek silhouette and is easy to replicate. Using volume-boosting products like pomade or mousse, use a brush from the top of your forehead, working backward and down the nape of your neck. Once you've covered the entire space, use some hairspray to keep a hold on the 'do.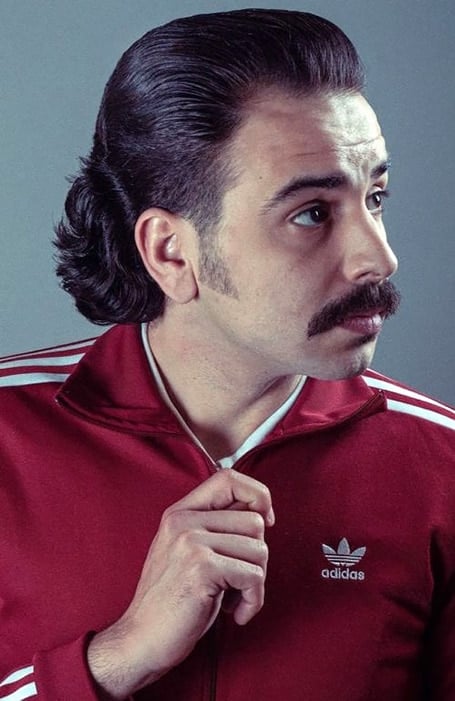 16. Long Straight Mullet
Perhaps the most recognizable version of the mullet is the long and straight kind. This is the one for those who want to recreate Australia's favorite 80s hairstyles. While it can be polarising, the cut is flattering and low-maintenance. You only need to style the short front section – try wax to create texture, lift, and movement – then let the extended back section hang loose and unstyled.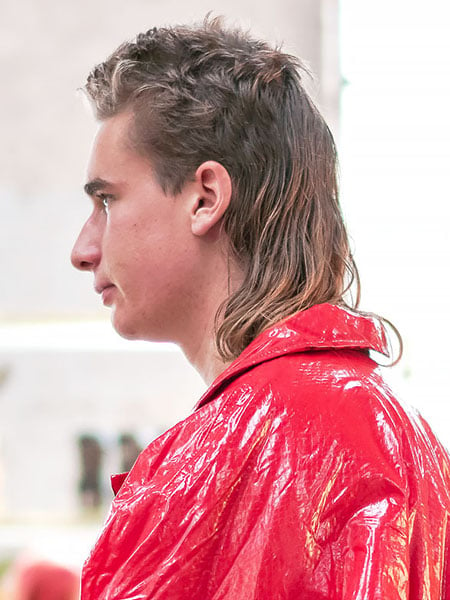 17. Mullet Fade
Are you a fan of the mid-fade, drop fade, or somewhere in between? This stylish hairdo blends sophistication with an edgy twist and isn't for the faint of heart. Just like a traditional mullet, you'll want to keep the hair significantly longer at the back and shorter from the ears and upwards. However, the buzzed temples make this hairstyle different from the rest. There are plenty of lengths to choose from, including temp, taper, or a high fade – we recommend a low fade for a trendy feel.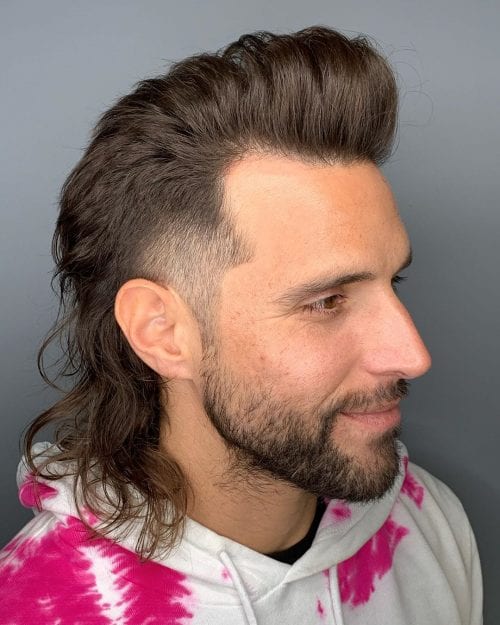 18. Half Up Half Down Mullet
Perfect for the guy on the go, the half-up-half-down mullet perfectly combines work and play. This is an ideal hairstyle for those with longer locks, even if it's shorter on the front or top. Gather the tendrils from the crown of your head and tie them as high or low as desired. This is an excellent option if you're heading up a boardroom meeting or spending time with your friends – it works well in all situations and keeps you trim and tidy.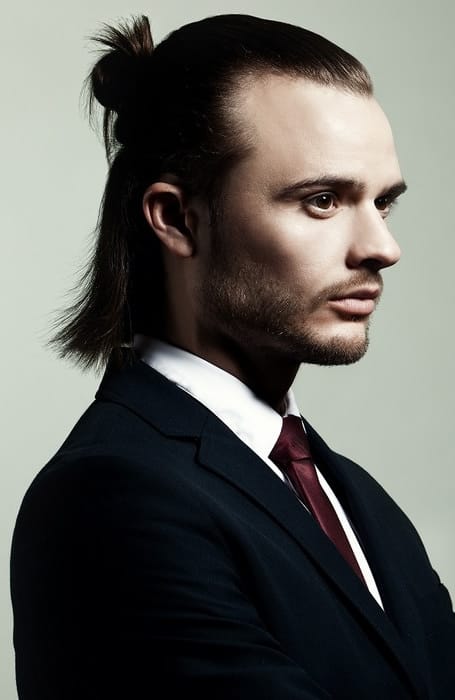 19. Asymmetrical Fringe with Fade Mullet
The mullet is a men's hairstyle that often sparks debate, but it's surprisingly versatile. You can modify it to match your personal taste, such as adding an asymmetrical fringe. This type of fringe is created by cutting it at an angle, with one side noticeably longer than the other. Not only does this allow for different proportions and accentuate hair texture, but it also draws attention to the eyes. Wearing a mullet with a fringe can create a balanced look, with length both in the front and back. It's a great choice for men who want to make a statement, especially when paired with a fade to provide structure and subtle contrast.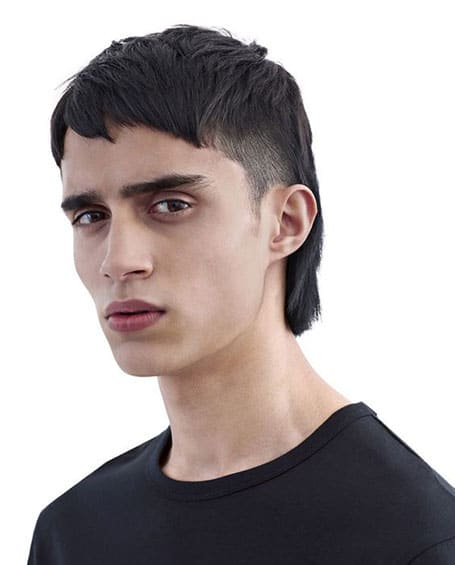 20. Blow Out Mullet
The classic mullet haircut is characterized by short hair on the sides and top, with length kept in the back, resulting in a dramatic look. You can amp up the style factor by adding a blowout haircut, which involves using heat styling to create volume at the front and brushing the hair backward, leaving you with voluminous, healthy-looking hair. Brushing the hair away from the forehead can help accentuate the cheekbones and create a more open-faced look.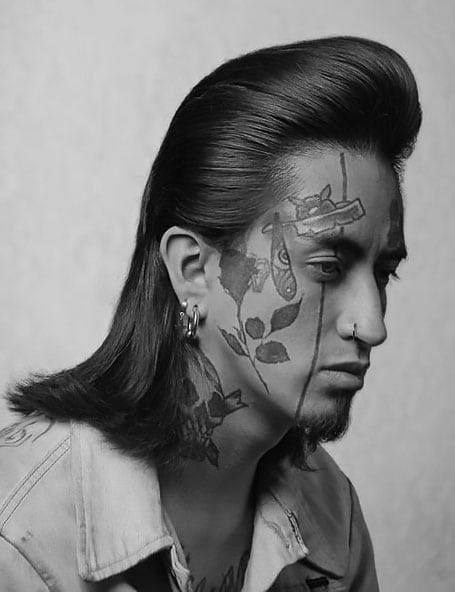 21. Caesar with Skin Fade and Mullet
The Caesar cut is one of the most stylish and versatile short hairstyles for men. The cut is short, with relatively the same length around the head and with horizontal bangs. For those who want a more daring take on this classic, you can choose to leave slightly more length in the back, creating a mullet. You should add a skin fade for more structure and to make the hairstyle sleeker. This fade is a cut that graduates from a longer length on the top down to the skin. The result is a hairstyle that is a fresh and modern approach to the traditional mullet and is much more wearable.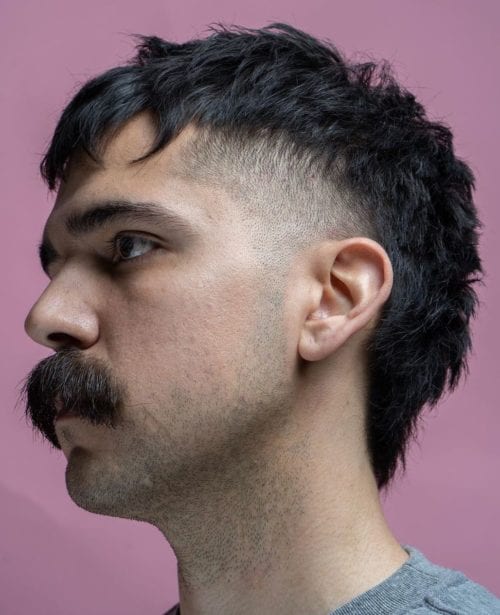 22. Faux Hawk Mullet
The faux hawk is a modified version of the mohawk that offers a more practical and versatile look. Instead of completely shaving the sides, it incorporates a fade, resulting in a shorter length and less contrast between the middle and sides of the hair. This allows you to customize it according to your preference. The faux hawk emphasizes the hair texture on the top of the head while pairing it with a mullet adds a bold touch and creates an intriguing balance between the back and top of the head.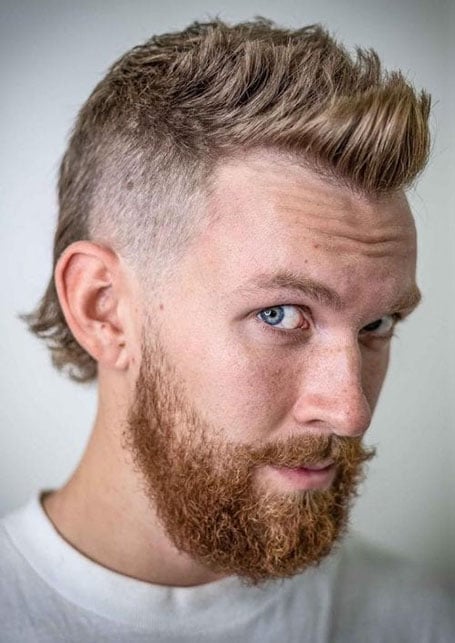 23. Flat Top Mullet
The flat top hairstyle is characterized by its height and volume. It gained popularity in the 1950s and has since undergone multiple adaptations, notably during the 1980s and 1990s. It features a flat top across the head, has a structured appearance on the sides and back, and is best suited for textured hair. For those seeking something unconventional, a daring option is a flat top with a mullet, which incorporates longer length at the back. While this style may not be the most practical choice and requires a considerable amount of confidence to pull off, it certainly guarantees attention for men looking to make a statement.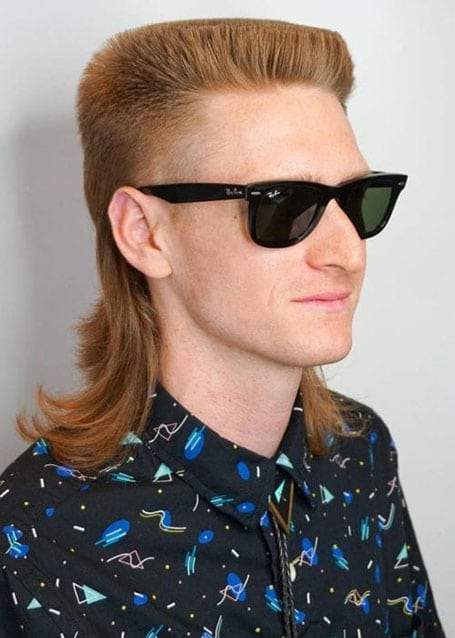 24. Long Mullet with Hair Design
The mullet can be created in various lengths, from long to short; the longer your hair, the more distinct the mullet will be. The hairstyle is not the easiest to pull off but is surprisingly versatile and lends itself well to personalization. This includes adding a hair design to your hair. Hair designs can be anything from simple lines and shapes to intricate drawings and symbols. They are a way to show your creativity, stand out from the crowd, and express yourself. This hairstyle is for those who want something edgy and cool.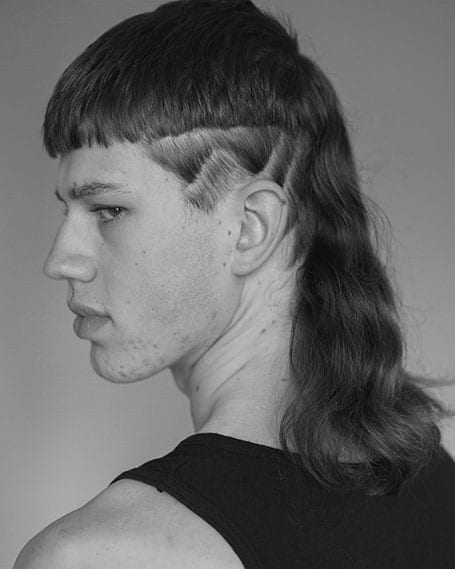 25. Mullet with Bowl Cut
The bowl cut is defined by its mushroom-like appearance, and hair is kept the same length all around the head. The style has been modernized since the 80s with many ways to wear it, including an undercut, which gives it more structure. Pairing the bowl cut with a mullet is a combination that not everyone can pull off, although it is surprisingly flattering on most face shapes. This is also not the most professional cut and may be better suited to someone who does not work in a conservative corporate environment.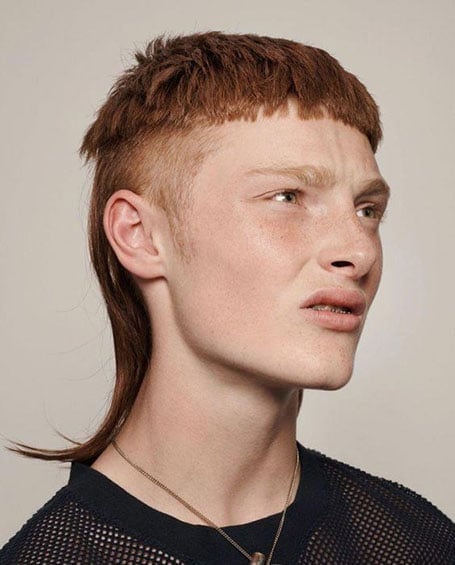 26. Mullet with Short Fringe and Skin Fade
The mullet haircut has many interpretations, with several updates for a modern and personalized touch. If you want to add structure to your hair and create a contrast between the top and back, you might consider adding a skin fade. This type of fade starts longer on top and gradually tapers down to the skin. Another alternative is to experiment with a short fringe, which can flatter your features and draw attention to them. It can also create a balanced appearance by adding hair on the forehead and at the nape.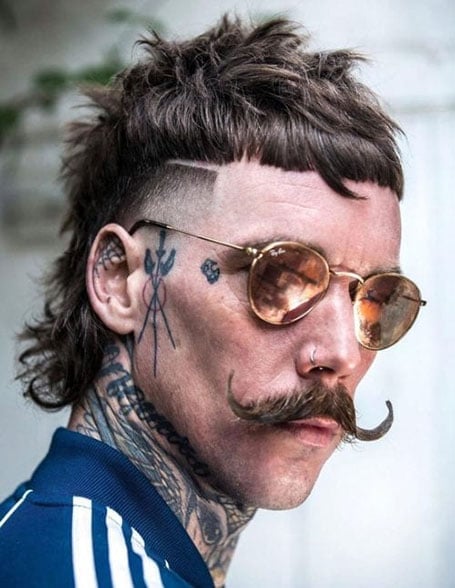 27. Mullet with Taper Fade and Fringe
Adding a fringe to any hairstyle is a great choice because it can draw attention to the face and complement the cut. A mullet with a fringe can create a balanced look by incorporating a taper fade for structure and an interesting shape. Tapering involves gradually shortening the sides and back while leaving more length on top. Achieving this can be done with different types of fades offering numerous styling options for all hair textures.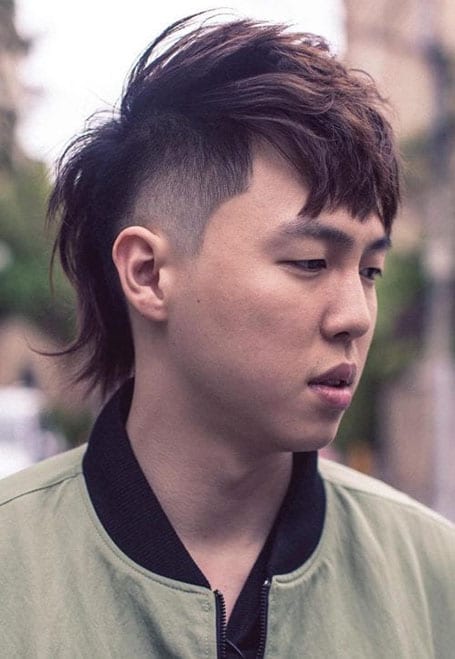 28. Mullet with Textured Hair
Textured hair is perfect for a mullet because it adds a less precise, blended look. This makes the cut easier to wear, as there are no harsh contrasts between the top and sides and the back of the head. Textured hair gives a slightly messy and voluminous appearance, adding fullness and a healthy look to your hair. Feel free to play around with the length in the back; the shorter it is, the less dramatic your overall look will be.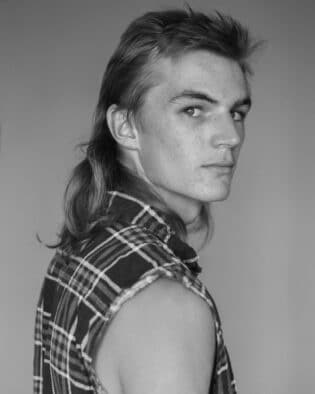 29. Natural Wavy Mullet
A mullet on naturally wavy hair is undeniably one of the most flattering ways to try out this cut. The texture makes the cut look more blended, and you can experiment with different lengths; the hair in the back does not need to be as extreme. This is also a way to embrace your waves and show them off. There are many ways to style your hair, allowing you to achieve your desired finish. This could be done by creating even more volume and brushing the hair backward. Or, for a more structured look, you can add a fade, accentuating the texture on the top of the head.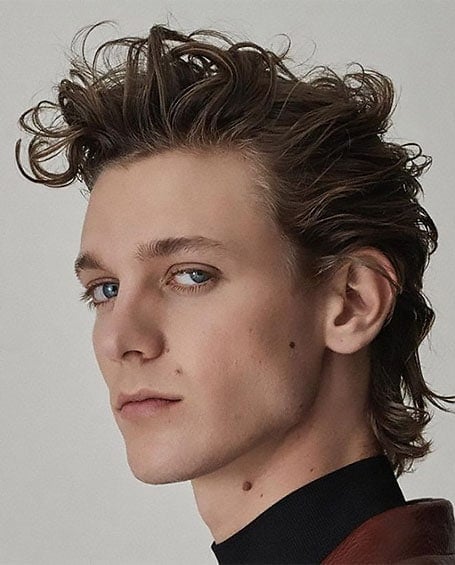 30. Slick Back with Temple Fade Mullet
The slick back hairstyle is known for its sophisticated and classic style, achieved by brushing the hair backward for added volume. This look is often achieved with pomade or hair gel for a glossy or slightly wet appearance, ensuring the hair stays in place throughout the day. It's a perfect choice for men seeking a stylish finish while also offering the option to pair it with a mullet and temple fade for a more edgy and unique look. The key is to keep the back of the hair relatively short, avoiding the extreme length found in traditional mullets.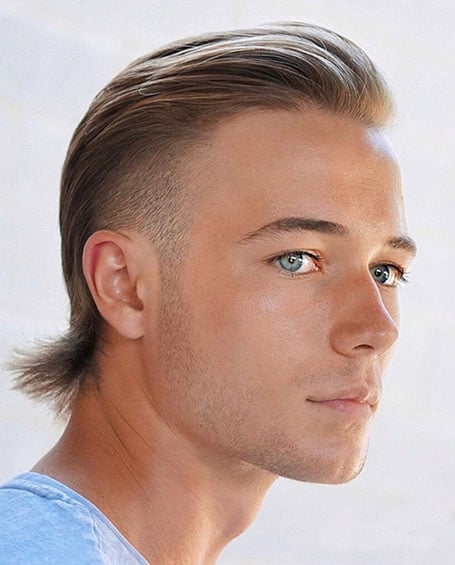 31. Sophisticated Mullet
The mullet is an edgy and cool hairstyle for most people, albeit a little hard to pull off and with some undesirable associations. However, the modern approach to this hairstyle can be incredibly flattering on men of all ages and look far more sophisticated. The key is to balance the proportions; do not opt for too much length at the back of the head so that the cut appears more blended with the top and sides. It can work with all hair textures, but you may want to consider adding a fade to structure the hairstyle.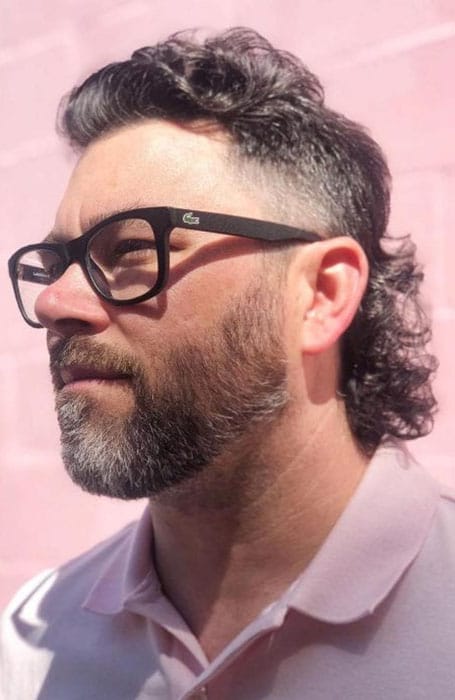 32. Spiky Mullet
Spiking your hair adds texture and creates the illusion of fuller, thicker hair. Spiky hair can work for all hair types, although it's easier to achieve on curly or wavy hair for a more natural look. To create spikes, apply pomade or wax to towel-dried hair, shaping soft peaks of your desired size and height. When combined with a mullet, the focus is on the back and top of the head. Feel free to experiment with different lengths in the back, as well as on the top and sides.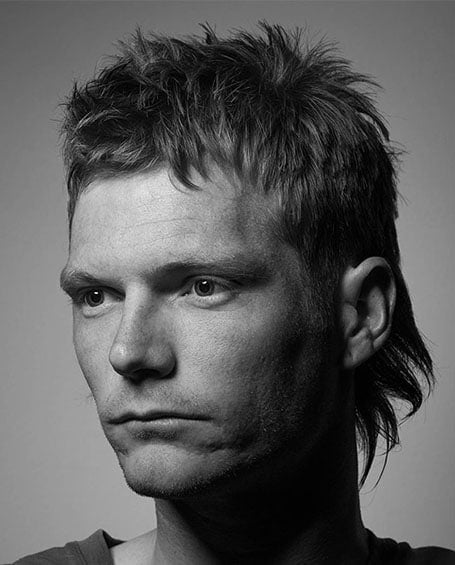 33. Two-Toned Tossed Mullet
Certain mullet haircut styles aim for a more subdued and blended look, while others, like the two-toned mullet, go for a bolder style. By incorporating two different colors, you can draw attention to your hair and emphasize its texture. The color choices are up to you; for example, if you have dark hair, adding some blonde can create a brighter and lighter effect. Alternatively, you can experiment with unconventional colors as a fun and expressive option. If your hair lacks natural layers, consider adding choppy layers to create movement and dimension.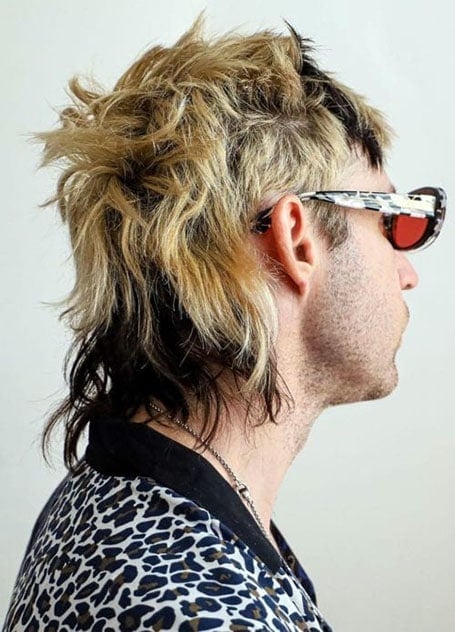 34. Dyed Hair Mullet
The futuristic mullet is one in a pop color like acid green, pink or turquoise. The cut is best styled spiky, giving it a punk edge. Sharp, fresh, and bordering on cartoony, the pop color is ideal for fashion fans that aren't afraid to be bold. You'll be the center of attention if you rock this look. Spiky hair stands out when combined with an all-black outfit, or go for head-to-toe color for a daring take.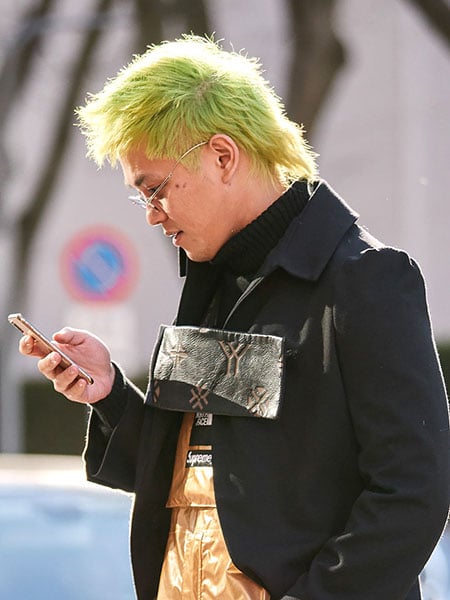 35. Rose Gold Hair Mullet
Pairing the mullet hairstyle with rose gold takes it up a notch and is considered one of the trendiest hair color ideas for men. This particular shade has a hint of strawberry, making it suitable for those with fair skin and pink undertones. It's a daring color that perfectly complements the boldness of a mullet cut. For a truly stylish appearance, combine the rose gold mullet with a high skin fade and prepare to catch everyone's attention.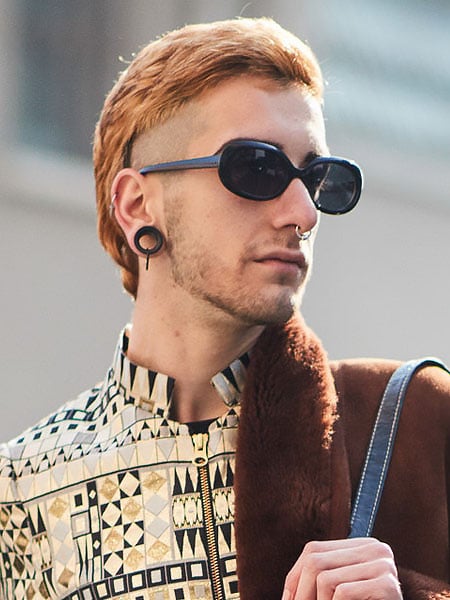 36. Blonde Mullet
Blonde hairstyles have been a huge trend among A-list men in recent years, and it shows no signs of fading away. If you're thinking about going for the bleached hair look, a mullet is an equally attention-grabbing option. Combining the two gives off a stylish Mod revival vibe, especially when paired with a suit. Since bleaching your hair can potentially dry it out and make it brittle, it's important to use hydrating products to keep your mullet looking its best.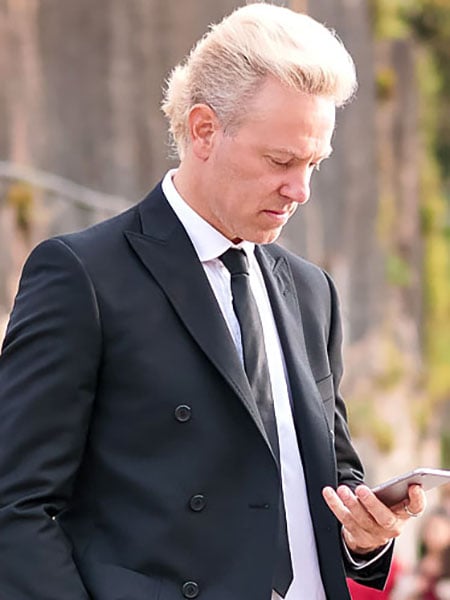 How to Cut a Modern Mullet
If you want to know how to cut a mullet, the Youtube video below by The Mailroom Barber Co explains the steps to get the perfect cut.
Mullet Haircuts FAQs
Why is the haircut called a mullet?
The origin and etymology of the mullet are still somewhat up for debate. However, the Oxford English Dictionary credits the first use of the phrase to the Beastie Boys, with their 1994 song Mullet Head.
Is the mullet back in 2023?
The mullet continues to be a trend in 2023, but with a contemporary touch. This time, it's all about embracing natural textures, experimenting with vibrant colors, and embracing more structured yet unique shapes. Unlike the 80s, where the back length was extreme, the modern mullet keeps more hair on top and has a less dramatic length at the back.
What's a mullet haircut look like?
A mullet haircut features shorter sides and top, while the hair at the back of the head or nape of the neck is kept longer.
How much does a mullet haircut cost?
Prices will varty depending on which barber you see and their experiece, however you can expect to pay around $40 for a mullet.
What's the difference between a Shullet and mullet?
A shullet is an exaggerated shag haircut. It's combination of a mullet and a shag. The shullet keeps the volume, texture, and fringe of a regular shag, but it takes it a step further by being shorter around the face and adding some choppy elements. This haircut is all about embracing a bold and edgy look. With a shullet, you can have the best of both worlds – the fun, textured layers of a shag and the daring, spunky vibes of a mullet.
SUBSCRIBE TO OUR NEWSLETTER
Subscribe to our mailing list and get interesting stuff and updates to your email inbox.