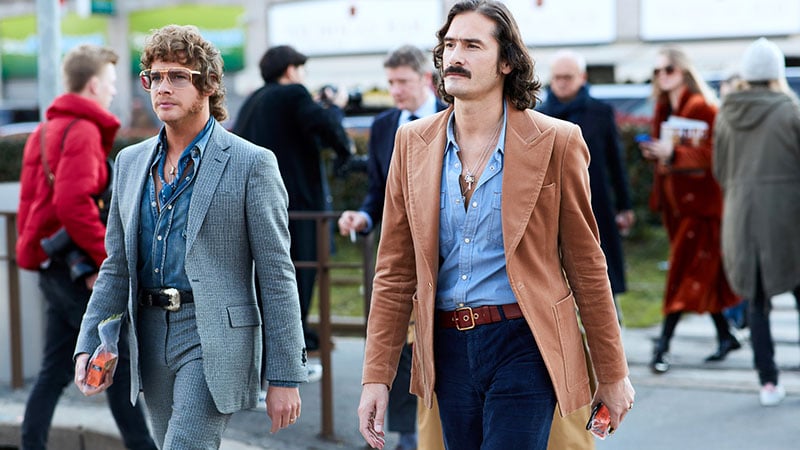 The mullet is one of the most iconic men's hairstyles of the '80s. While this short at the front, long at the back haircut has had its fair share of jokes, it's making its way back into fashion. Football players, musicians, and fashion tastemakers have all begun to embrace the mullet for its eye-catching shape and laidback vibe. The mullet is business at the front, party at the back! It is a haircut for men who aren't afraid to stray from the crowd and don't take themselves too seriously. It's also a surprisingly flattering look, suiting a wide variety of face shapes.
RELATED: 13 Badass Skullet Haircuts for Men
1. Mullet + Curly Hair
Curly hair is a perfect match for the mullet cut. That's because the natural volume and bounce of curls soften the change in length from front to back. Keeping the hair long in the back section gives you a chance to show off and let your curls shine, without distracting from your face. This look works well if you rock the '70s or '80s-inspired style, as it brings to mind retro rock stars and Hollywood's leading men of that era.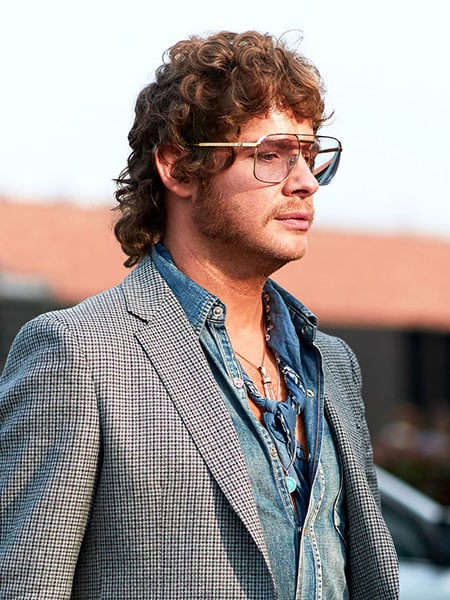 2. Mullet + Drop Fade
The drop fade mullet combines two of the hottest hair trends for men right now. A drop fade means the faded part of your cut 'drops' down behind your ear, forming a cool arc effect. The rest of the hair can stay as long as you want, but adding a mullet will give the cut an extra layer of attitude. The drop fade mullet is the best of both worlds: the length of one style with the ultra-short, tapered look of the other. It's not for the faint-hearted, but if you're brave enough, it's one of the most cutting edge cuts out there.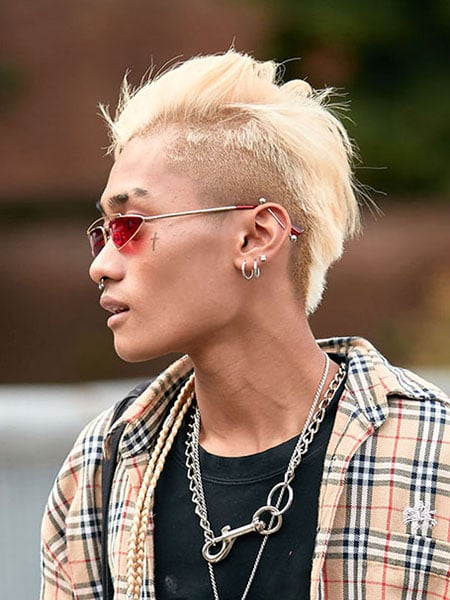 3. Modern Mullet
A more low-key and understated way to try out the hairstyle is the modern mullet. If you're not quite sure if a mullet is for you – or you're looking for a less noticeable and more office-friendly version – this is the cut for you. The modern mullet doesn't have as abrupt a transition from short front section to long back section. Instead, the style is more graduated and soft. It's a flattering look if you have naturally thick and wavy hair; your locks will be on show without getting out of control.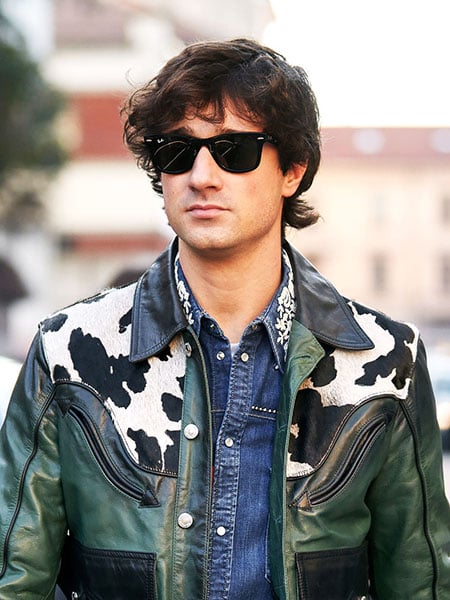 4. Mullet + Fringe
For a high-fashion, editorial-inspired take on the mullet, add statement bangs. A thick, straight across blunt fringe gives it a futuristic feel. These bangs emphasize the disconnection between the front and back sections and look great on oval face shapes. While the bangs themselves should be blow-dried smooth, the long back section can be kept loose and unstyled as this look is all about contrast.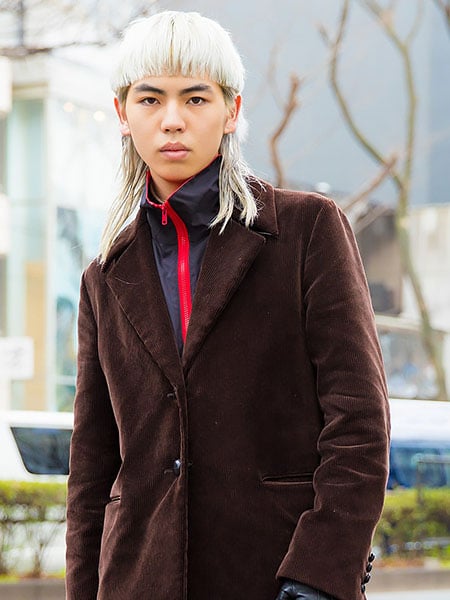 6. Mullet + Skin Fade
While the skin fade is usually known for being a polished style perfect for business and formal events, it gets a brand new identity when combined with a mullet. Edgy and rebellious, the skin fade mullet as all about sharp angles and endless attitude. Thick hair is required to create the almost geometric features of this look, as you'll need natural volume to make the hair stand up. Combined with a streetwear aesthetic, the cut is lean and mean – and super stylish.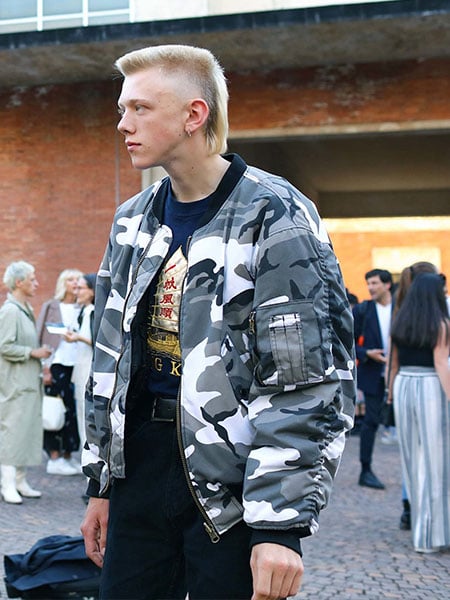 7. Long Curly Hair + Mullet
For the truly brave, you can't go past the long curly mullet. To make this look work, you'll need to make sure your curls are intact and not fluffy. Try a special curl-defining styling cream or pomade. The rest of your hair should also be kept cropped quite short to emphasize the contrast in this mullet. If you have very thick hair, the long curly mullet means you can show off your curls without growing them out everywhere – which can look messy and be hard to maintain, especially in the summer heat. Keep the style from looking too retro by teaming it with a chic suit and statement shades.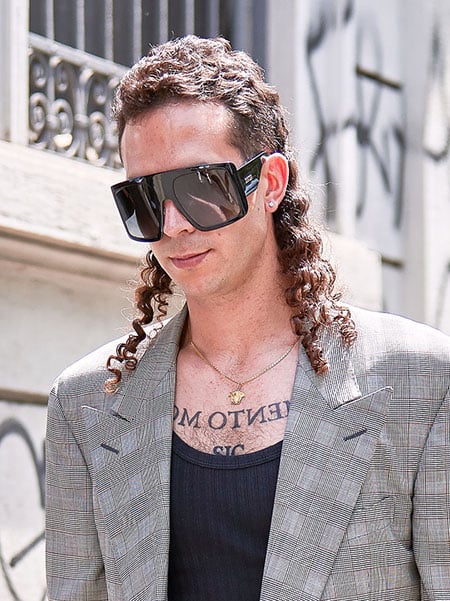 8. Mullet + Long Straight Hair
Perhaps the most recognizable version of the mullet is the long and straight kind. For those who want to recreate Australia's favorite '80s style faithfully, this is the one. While it can be a polarising look, the long straight mullet is flattering and low-maintenance. You only need to style the short front section – try wax to create texture, lift, and movement – then let the extended back section hang loose and unstyled. Fine and thick hair types both suit this style.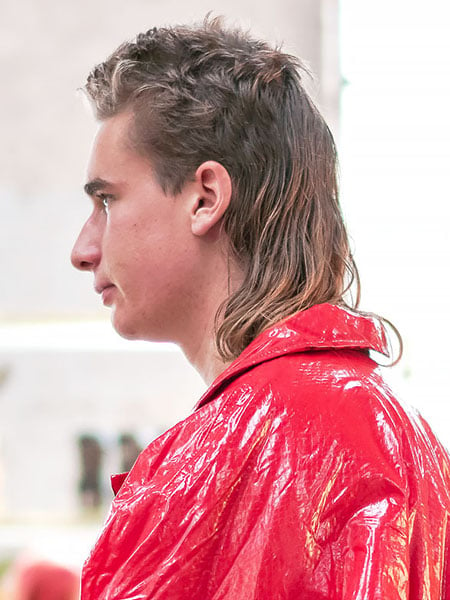 8. Mullet + Platinum Blond Hair
Blindingly blond hair has been a massive trend for A-list men over the past few years, and it doesn't seem to be going anywhere. If you're considering the bleached look, a mullet is an equally attention-grabbing choice. Bringing the two together creates a cool Mod revival vibe, especially when paired with a suit. Because going platinum blond can leave your hair dry and brittle, make sure you use hydrating products to keep your mullet at its best.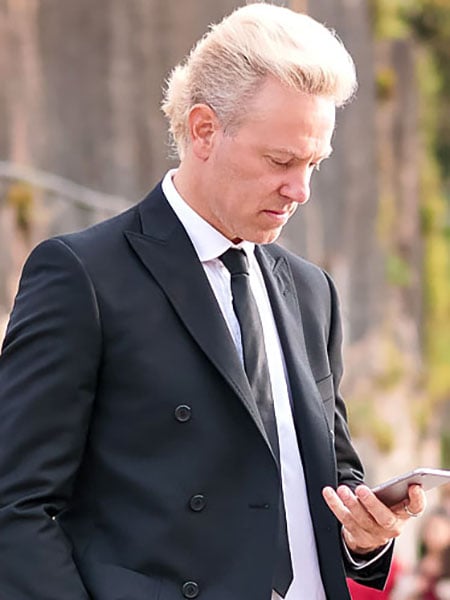 9. Mullet + Dyed Hair
The futuristic mullet is one in a pop color like acid green, pink or turquoise. The cut is best styled spiky, giving it a punk edge. Sharp, fresh, and bordering on cartoony, the pop color mullet is ideal for fashion fans that aren't afraid to be bold. You'll be the center of attention if you rock this look. It stands out when combined with an all-black outfit, or go for head-to-toe color for a daring take.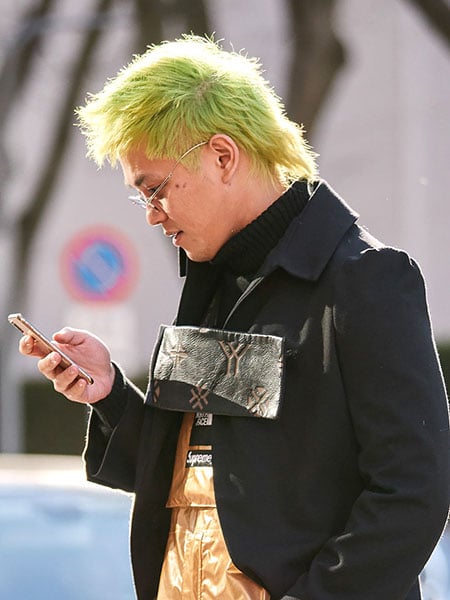 10. Mullet + Rose Gold Hair
The mullet goes to the next level when paired with rose gold, which is one of the hottest color trends for hair. A little more strawberry than copper, this hue suits those with a fair complexion and pink undertones. It's a bold color that deserves a bold cut – like a mullet. For a truly on-trend look, team the rose gold color mullet with a high skin fade and watch heads turn.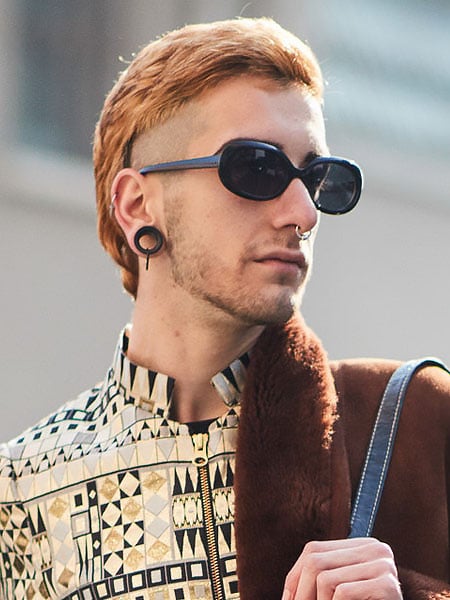 FAQs
Why is a mullet hairstyle called a mullet?
The origin and etymology of the mullet are still somewhat up for debate. However, the Oxford English Dictionary credits the first use of the phrase to the Beastie Boys, with their 1994 song Mullet Head.
Is the mullet coming back in 2020?
The mullet is indeed coming back in 2020, however, with a modern twist. This time around, it's all about embracing natural texture, adding fun colors, and rocking more structured yet alternative shapes. More hair is being kept on top than in the 80s, and the length at the back is not as extreme. This gives the modern mullet a more rounded yet still distinctive style.
What's a mullet haircut look like?
A mullet haircut features shorter sides and top, while the hair at the back of the head or nape of the neck is kept longer.
How do you give a mullet haircut?
It's best to head to your preferred barber for a mullet cut, as it can be a bit trickier than other styles to get correct. Your barber will section out your hair and create a short crop on top. The sides from the ear forward are generally kept shorter and can even feature a fade. Then, from behind the ear, the hair is layered, getting progressively longer the further back you move.
SUBSCRIBE TO OUR NEWSLETTER
Subscribe to our mailing list and get interesting stuff and updates to your email inbox.