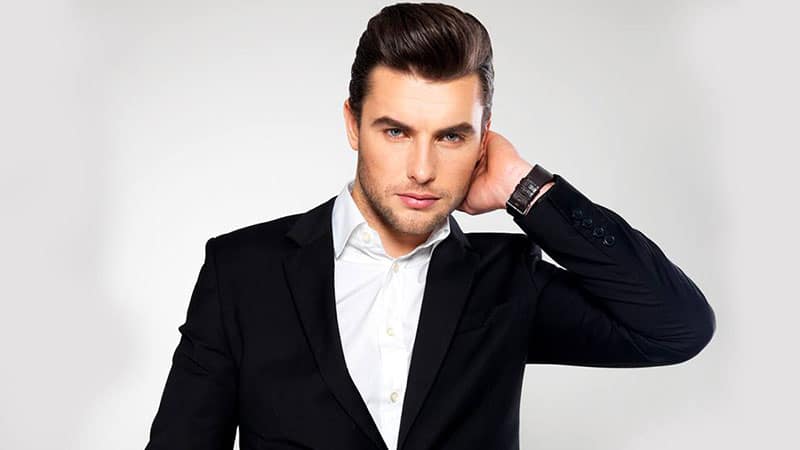 The slicked back hairstyle is a popular look that has enjoyed resurgence in recent years. Transcending generations and cultures, this classic hairstyle oozes sophistication and style that never fails to draw attention. Whether you have thick or thin hair, long or short locks – the key is to get it looking slick enough for a more edgy finish. In this article, we'll outline some of our favorite men's slick back hairstyles, along with tips on how to achieve them. With the right techniques and products at your disposal, you will be able to master this look in no time.
History of The Slick Back
The undercut hairstyle originated during the Edwardian era (1901-1910) and gained popularity in the early 1900s, particularly with gangs like the Peaky Blinders. Short hairstyles were preferred for street fights to avoid the disadvantages caused by long hair. The undercut with slicked-back hair remained in fashion until the 60s, influenced by bands like the Rolling Stones. Around the same time, the Pompadour hairstyle became popular, named after Madame de Pompadour, mistress of King Louis XV of France. Elvis Presley also played a significant role in popularizing the Pompadour. Combining the undercut and Pompadour resulted in the modern slicked-back hairstyle worn by celebrities such as Channing Tatum and Brad Pitt.
Best Men's Slick Back Hairstyles
1. Classic Slick Back
Slicked back haircuts are a popular trend that has been around for decades. To achieve this classic and timeless look, use gel or pomade to give your hair a decent hold while also adding a glossy touch. Repetitively combing your hair back is key to achieving this look. However, it's important to choose the right men's hair products, as some can make your hair look flat. The classic styling is all about simplicity and using products that enhance your natural features rather than overpowering them.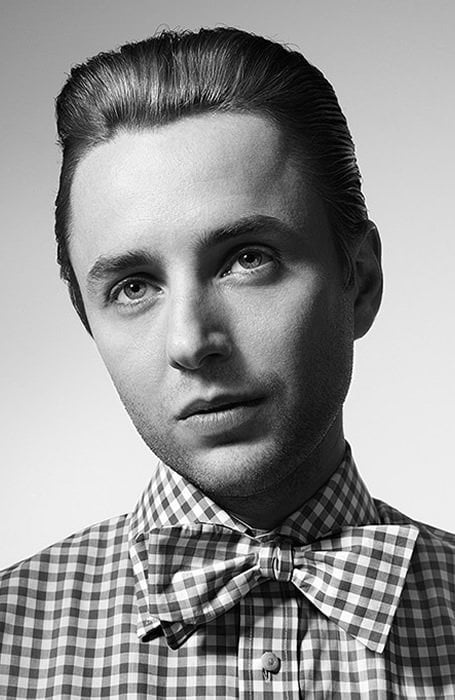 2. Slick Back Side Part
In recent years, there has been a notable revival of the side part with a slick back haircut – a look favored by the fictional muses of the 1950s, such as Don Draper. To pull off this sharp and sophisticated hairstyle, it's important to invest in a high-quality men's hair product that will provide the necessary sleekness. Opt for a silky product that will help you achieve a smooth and polished finish, perfect for achieving a Mad Men-inspired look. Additionally, determining which side your part appears most flattering on is crucial for achieving the perfect look,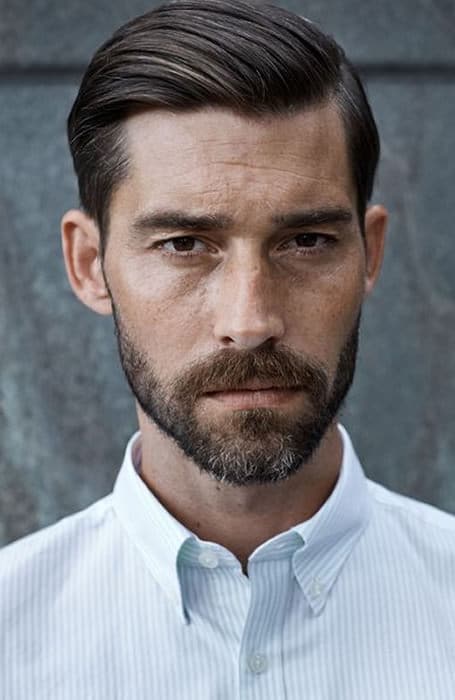 3. Slick Back Man Bun
The man bun is a men's hairstyle that has seen a recent resurgence in popularity. However, like all trends, it can either work incredibly well or be unflattering and misappropriated. What is key to getting this style right is the styling itself. To achieve the perfect man bun, it's important to slick back your hair properly. Additionally, adding a beard can complement the look and make it more natural and balanced. Lastly, it's important to determine whether the man bun would look flattering on you based on your face shape. Overall, the man bun and slick back haircut can look great if done right, but make sure to do your research and execute it properly.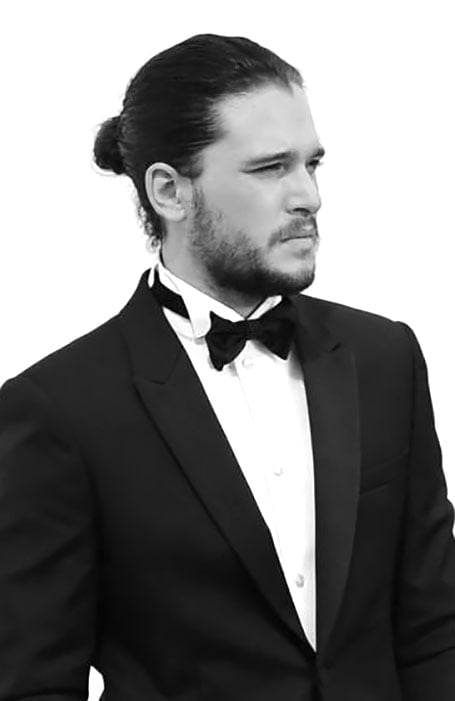 4. Slick Back Pompadour
The pompadour is a classic hairstyle that has made a comeback in recent years. This hairstyle is not only traditional but also on-trend, making it a perfect choice for those who want to sport a sophisticated and modern slicked-back look. To get the perfect pompadour, you need to slick back your hair in a neat and smooth way while adding some volume for a full-bodied effect. Using volume-boosting products and blow-drying your hair upside down can help to direct your roots upward, giving your hair the necessary lift for the perfect pompadour.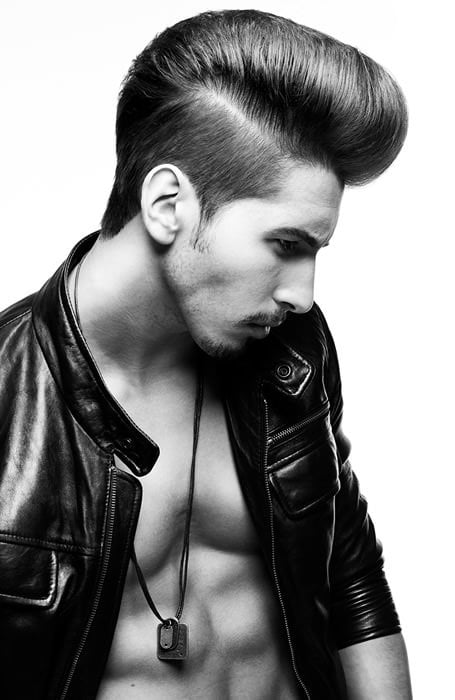 5. Long Slick Back
For men with long hair, a slicked back style can be a game-changer. Whether you're attending a formal event or just want to give your daily look a touch of sophistication, the slick back haircut is the perfect way to elevate your long locks. Achieving the perfect look is simple; all you need to do is comb your hair back and tuck it behind your ears. From there, you have a few options – a flexible hairspray will give you a soft, natural look, while a firm-hold mousse or wet-look pomade can help you achieve a bolder aesthetic. Just remember, a little product goes a long way when it comes to long hair! Thanks to the weight of your locks, you won't need to use a lot to keep your style in place. Give it a try and see how this classic look can transform your appearance.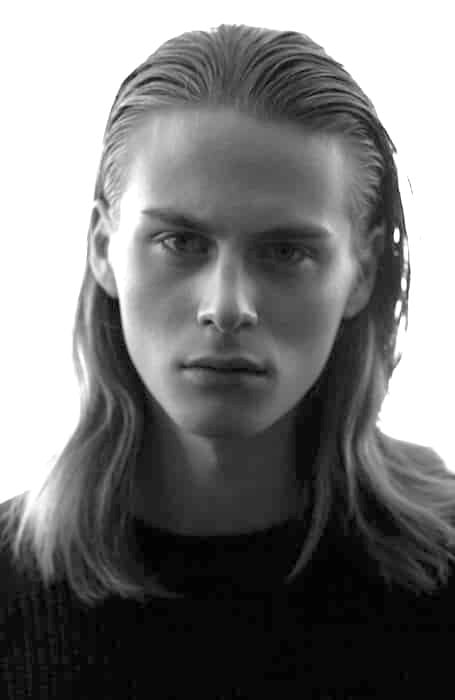 6. Slick Back Undercut
The slick back undercut may have had its roots in the 1920s, but this classic hairstyle has certainly not gone out of style. Over the past few years, this look has seen a resurgence in popularity, and for good reason. The short back and sides, which taper upwards, paired with longer hair on the top, create a sleek and sophisticated look that works equally well for formal occasions and casual hangouts. The great thing about this hairstyle is that it's really easy to style. Simply apply some product to the top of your hair, comb it back, and you're good to go.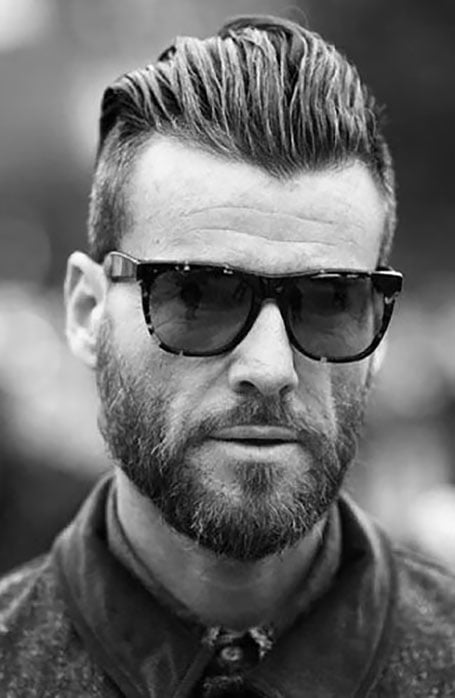 7. Slick Back With Volume
The slick back hairstyle has experienced a resurgence in popularity in recent years, and for good reason. It exudes confidence and sophistication, making it a go-to for formal occasions, date nights, and making a statement. Achieving the perfect slick back haircut, however, requires the use of a good quality volumizing hair product. Whether you prefer a pomade or a mousse, the key is to add depth to the hair and avoid the typical shiny, wet look. Volume is the name of the game with this style, so choose a product that will boost hair thickness without adding frizz to your sleek and stylish look.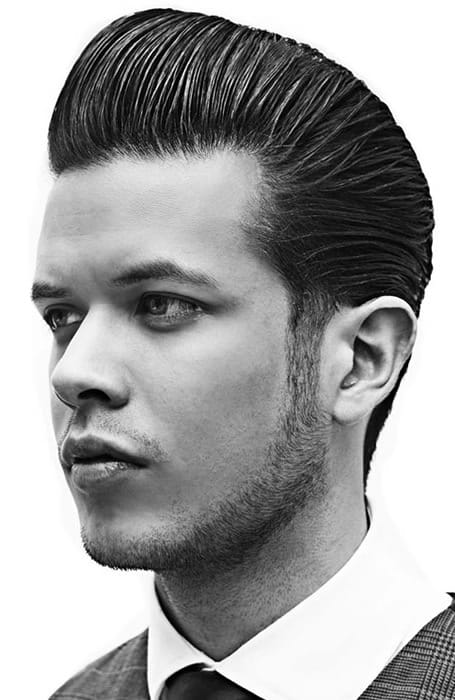 8. Curly Slick Back
Curly hair can be notoriously difficult to style, but that doesn't mean you can't rock a killer slick back haircut look. When your hair is damp, just use a hair dryer and wide-tooth comb to help direct your locks away from your face. Then, if you wish to maintain your natural waves, add sea salt spray and choose a flexible hold product, such as a light mousse. Finally, comb your hair back using your hands and allow your locks to dry naturally for a great slicked back hairstyle with texture.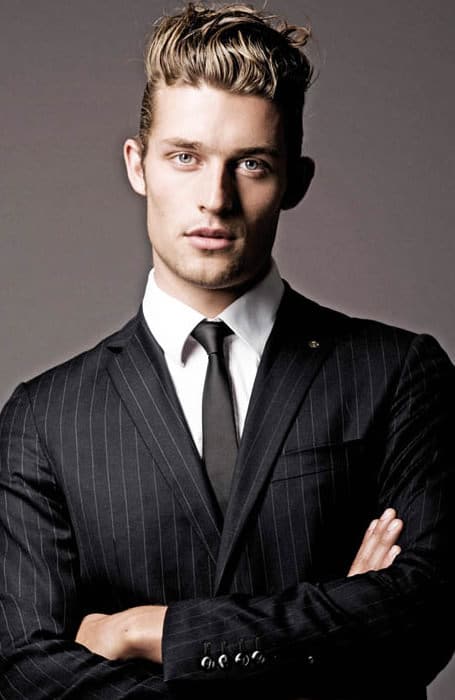 9. Wavy Slick Back
For men with wavy hair, rocking the slick back haircut is a great way to show off your natural hair type. Rather than fighting against your waves, embrace them by utilizing a flexible hold product like a lighter mousse. This will allow you to easily harness the natural movement of your hair while still maintaining control. To add even more dimension to your slicked-back hairstyle, opt for a messier look rather than a perfectly polished one. This will enhance the natural volume of your hair and give it a more effortless vibe.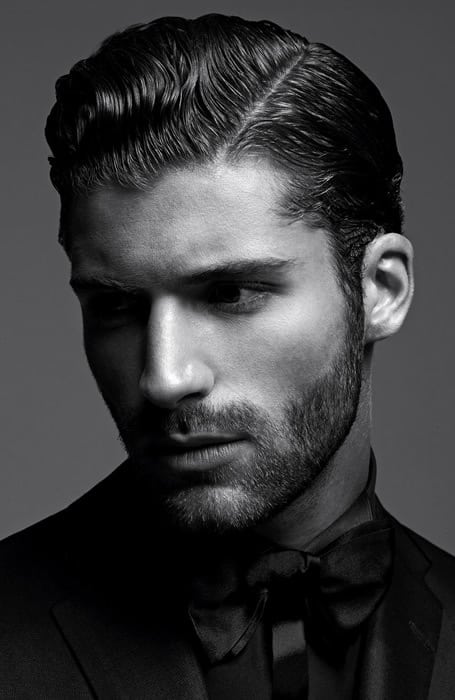 10. Slick Back Fade
A timeless hairstyle like the slick back haircut can always use a modern update, and a fade haircut is a perfect way to achieve just that. The signature tapered sides and back of a fade create a fresh, contemporary look that balances nicely with the length on top. It's a perfect choice for those who want to keep their long hair polished and yet add some edge to their appearance. However, choosing the correct fade level is crucial to achieving the optimal look that complements your style. So, whether you prefer a low fade or a high fade, the key is to find the right balance that suits your needs.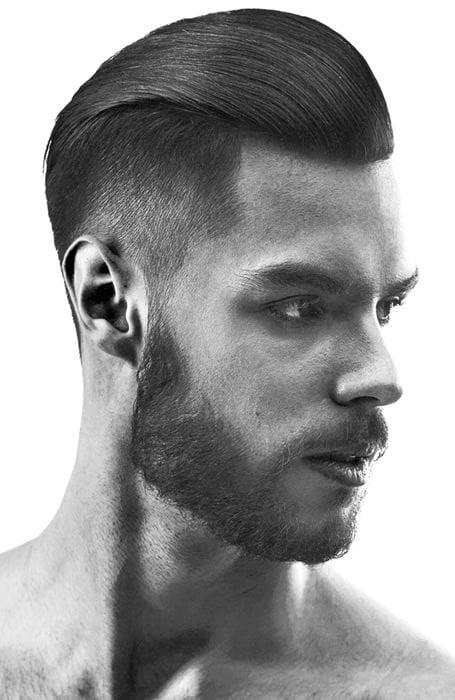 11. Modern Slick Back
For a modern take on the slicked back hairstyle, be sure to loosen things up a little. By adding volume on top and plenty of texture, you can create a stylishly contemporary version of this traditional look. Also, remember to use a minimal amount of product to maintain a natural appearance and your fingers instead of a comb for a perfectly imperfect finish.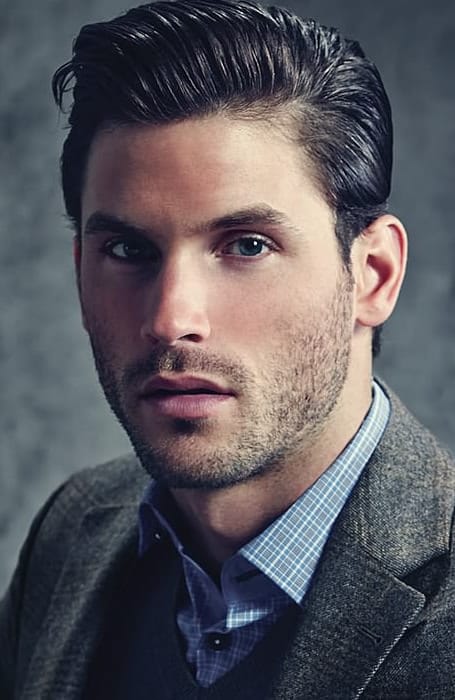 12. Combed Back
If you're a man who likes the slicked back look but prefers a more minimal and classic approach, then the combed-back style may be perfect for you. This slicked-back hairstyle is easy to achieve with a simple technique that requires little product. All you need to do is comb your hair back to create a smooth and polished finish. To enhance the look, you can add a small amount of pomade to give your hair a natural shine and volume. The combed-back style is perfect for busy men who want to look stylish without spending too much time on their hair.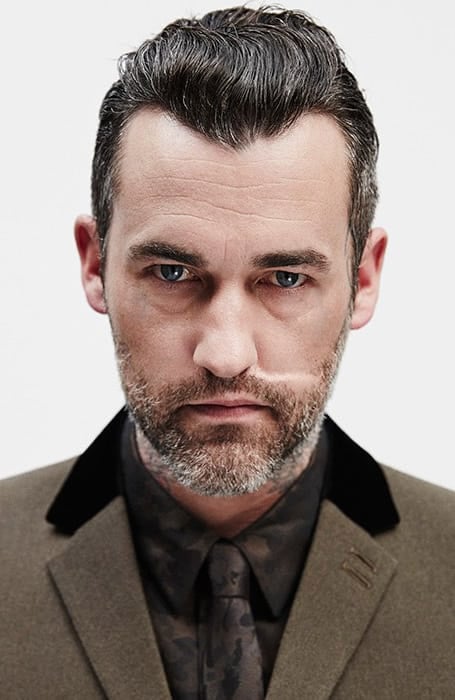 13. Slick Back With Beard
Slicked-back hairstyles look great when complemented by a beard style. A thick and well-trimmed facial hair can add a touch of ruggedness to your slicked-back haircut, making it more visually appealing. While deciding on the shape and style of your facial hair, remember to keep your face shape and features in mind. Your beard should enhance your slicked-back hairstyle, not overshadow it. With the right beard, you can add depth and dimension to your hair, creating a look that is both stylish and complementary.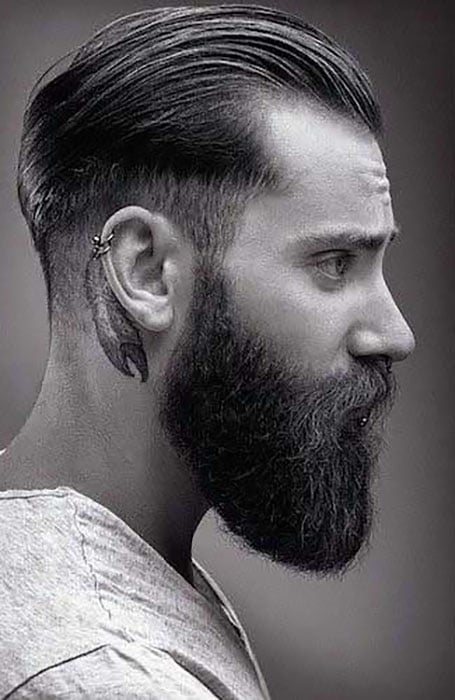 14. Slick Back Mid Fade
If you're looking for a new and interesting way to rock the slicked-back hairstyle, consider pairing it with a mid fade. This haircut features a fade just above the ears that adds a touch of subtlety and uniqueness to your look. It's the perfect choice for guys who want to stand out from the crowd without going too crazy. By removing some weight from the sides of your head, the mid fade helps to balance out your sleek style on top, resulting in a harmonious overall look.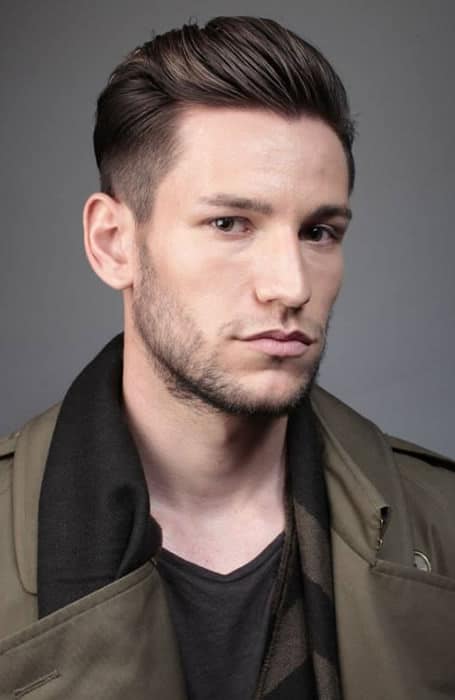 15. Short Slick Back Haircut
If you think that only medium or long hair can pull off a slick back hairstyle, think again! You can sport this trend even with short strands and still look as sharp as ever. The slick back haircut can give your cropped cut a polished appearance that exudes a sense of sophistication. The key is to be careful with how much hair product you use to secure your style. With short hair, you only need a minimal amount of product to keep your hair in place.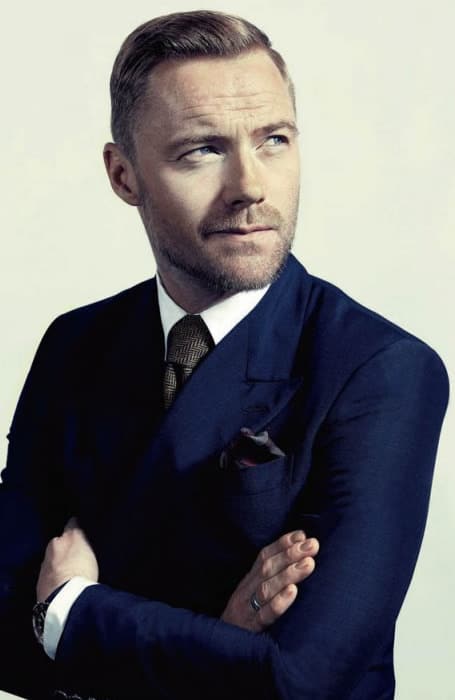 16. Grey Slick Backed Haircut
If you're a silver fox looking for a stylish and sophisticated hairstyle, the slick back hairstyle might just be for you. Not only does it have a sleek and polished appearance, but it can also add a touch of youthfulness to your look. To keep your slick back style fresh and modern, consider adding some texture to it. Whether it's a slight wave or a subtle spike, a little texture can go a long way in keeping your slick back haircut up-to-date.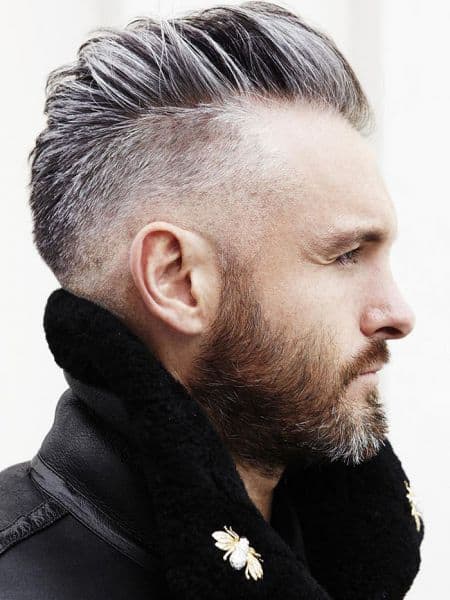 17. Slick Back for Receding Hairline
If you have a receding hairline, don't be discouraged. You don't have to resort to hiding under hats or growing your hair out. Instead, try styling your hair with a slick back. This classic look can actually help to make your hairline less noticeable. By slicking your hair back, you create a smoother and more cohesive appearance, reducing the contrast between your scalp and the remaining hair. The slick back hairstyle is also low-maintenance and versatile, making it perfect for both casual and formal occasions.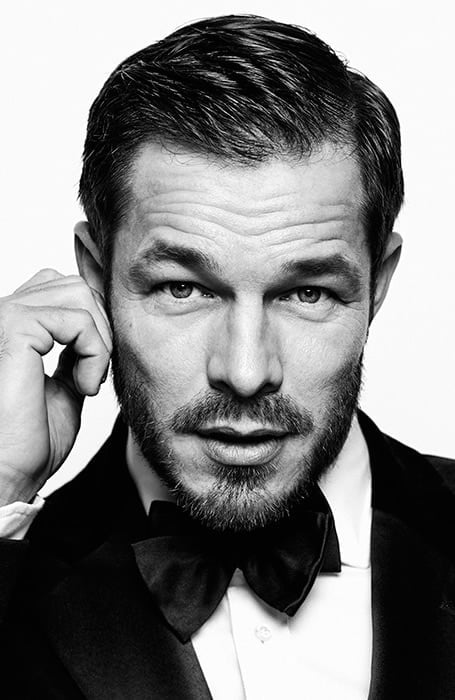 18. Slick Back Disconnected Undercut
For men looking for an ultra-modern and daring hairstyle, the slicked-back disconnected undercut is an excellent choice. This look features slicked-back hair on top, creating a sleek and polished appearance, while the contrasting shaved sides add an edgy touch. The result is a bold and eye-catching style that is perfect for fashion-forward men who like to stand out in a crowd. Not only does the slick back bring an air of sophistication, but the undercut adds a rebellious edge to the overall look.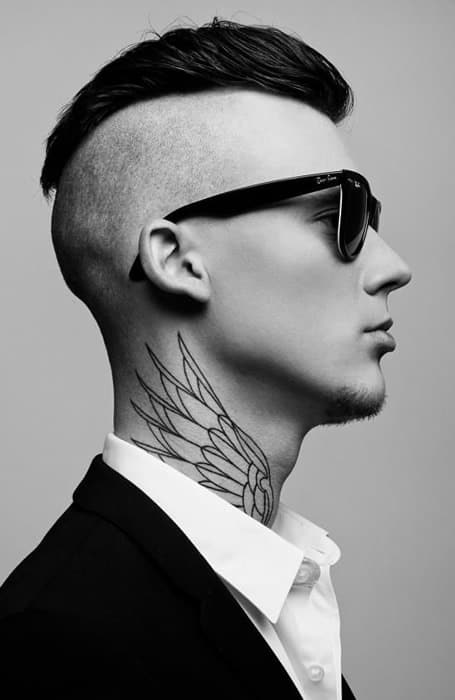 19. Slick Back Drop Fade
A fade haircut cut pairs exceptionally well with a slick back style. But choosing what kind of fade to go for can be challenging. While low fade, mid fade, and high fade styles all make good options, you should also consider a drop fade that curves around the ear; it is a subtle and modern take on the traditional fade and partners excellently with a smart slicked back hairstyle.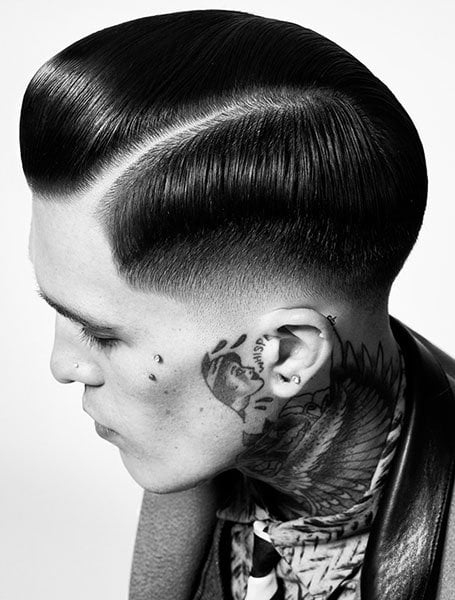 20. Slick Back Half-Pony
If you have long hair, a slick back half-pony is a hairstyle well worth trying. Simple and stylish, this look is perfect for modern-day gents. For a subtle take on the look, just leave the lower half of your hair loose. For a bolder version, cut it off for an undercut. No matter which you choose, always remember to brush your hair back when creating the half-pony to ensure a smooth, slick back.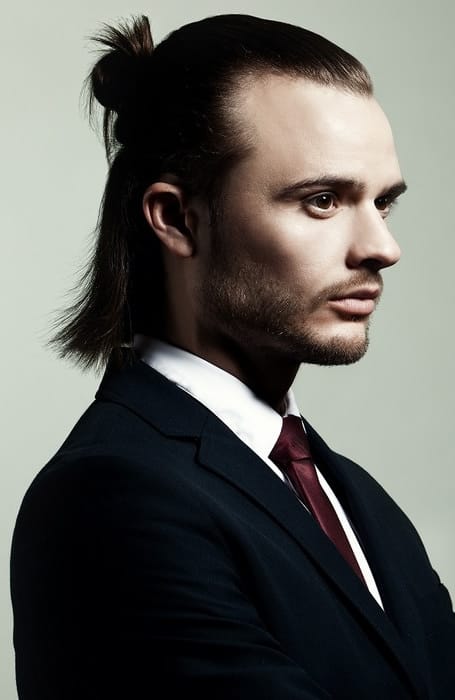 21. Bleach Hair Slick Back Haircut
The slicked-back hairstyle emanates a sense of ease and style, and incorporating color into your hair amplifies its allure. Bleached hair, in particular, captures attention with its daring and vivid characteristics, enhancing both your hairstyle and texture. Nevertheless, it is crucial to acknowledge that the bleaching process may result in hair damage, requiring additional care to prevent dryness.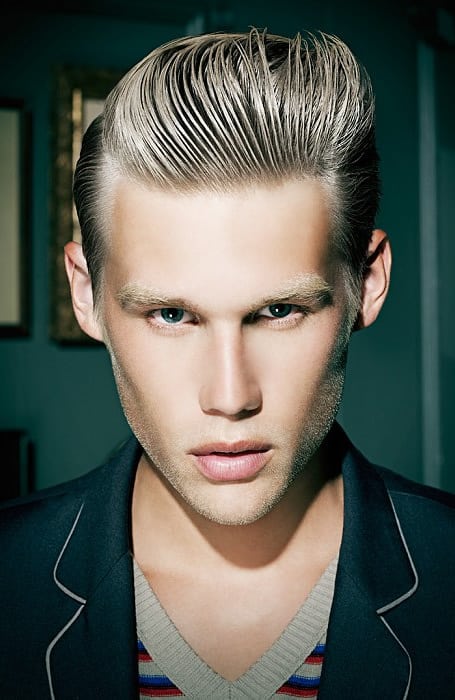 22. Braided Slick Back
For a distinctive variation of the slick back hairstyle, consider opting for braids. The slick back style involves brushing the hair away from the hairline and securing it with a firm hold product, typically gel, resulting in a sleek and polished look suitable for any occasion. Braids, on the other hand, serve as a protective hairstyle that can minimize daily grooming and help prevent friction-induced breakage. To combine these two looks, you can style your braids in a straight back manner, away from the face.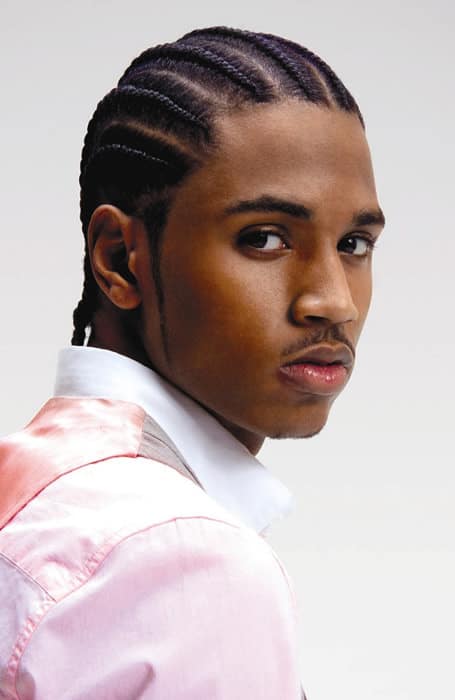 23. Rockabilly Slick Back Haircut
The slick back haircut can be styled in various ways, and for an edgy and cool look, you can channel one of the traditional greaser styles; the rockabilly haircut. The rockabilly slick back is about volume, brushing the hair backward, away from the hairline and the face, and creating height at the crown. You want to secure it with a wet-look product to keep everything in place but also give it a sleek finish that is masculine but a little rebellious. It can be adapted to suit your preference and is a look that will complement most face shapes.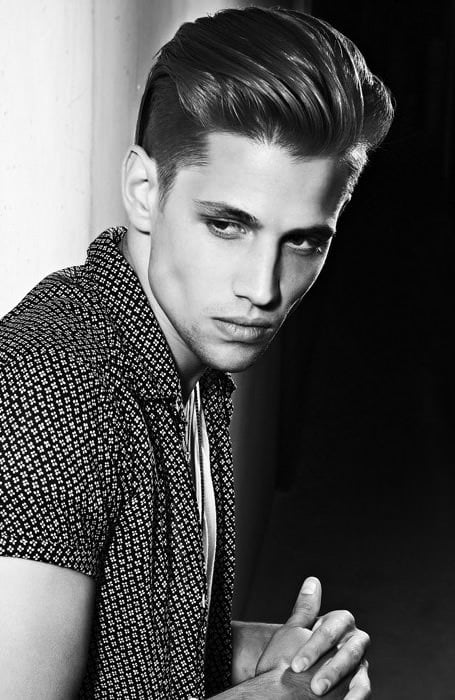 24. Slick Back Military Haircut
The traditional military haircut is short on the back and sides with slightly more length on top. It is a practical and neat look that lends itself to all settings and can be adapted to suit all hair textures. To achieve the slick back version of the military cut, you want to keep some length at the top of the head. This will let you create a slight volume while brushing the hair back and styling it away from the eyes. It is a fuss-free style that can be achieved with little effort and adapted to suit all hair textures and types.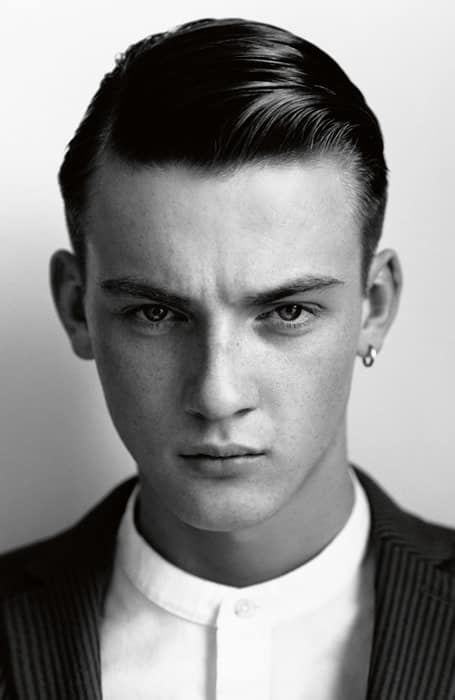 25. Slick Back Taper Fade
The taper fade will give a modern edge to the classic feel of the slick back hairstyle. The combination of these two styles goes well together, giving you a masculine and polished hairstyle. The slick back haircut is achieved by brushing the hair backward, away from the hairline, and securing it with a styling product, often a gel. The top of the hair will be kept slightly longer while the taper fade gradually shortens the backs and sides, creating a slight contrast. You can experiment with the length at the top, depending on how much of a contrast you wish to achieve.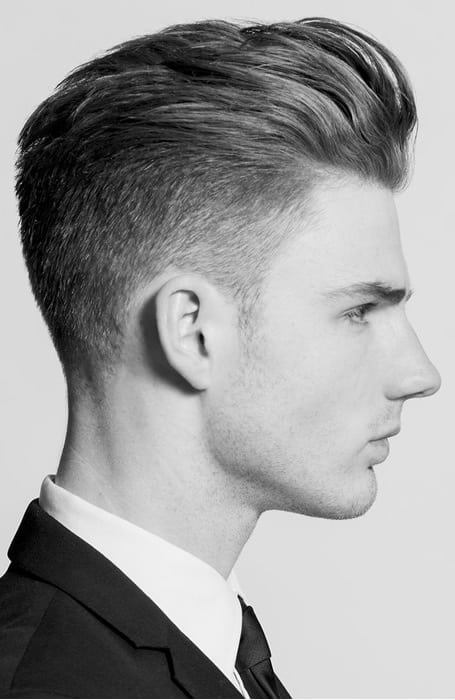 26. Slick Back Bald Fade
The bald fade is a more daring fade than some of the classic versions because it reduces skin level. The back and sides are kept short, while the top of the hair is left slightly longer. This is an excellent approach to the slick back hairstyle, creating contrast with the fullness of hair on top of the head and drawing attention to it. The slick back will keep your hair in place, creating a dapper and ultra-cool finish.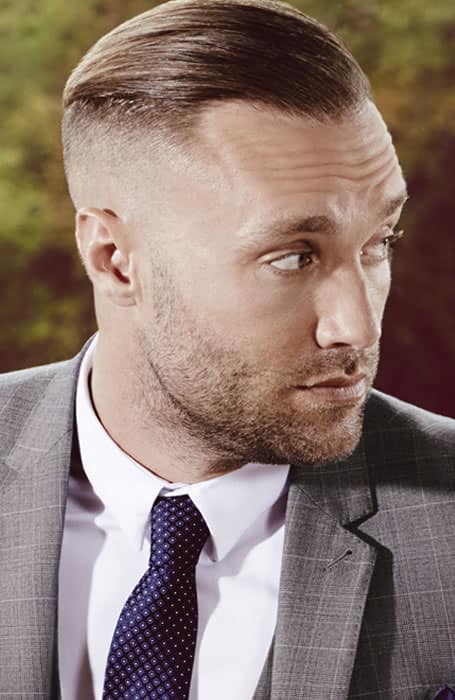 27. Slick Back Hard Part
The slick back hairstyle exudes style when paired with a hard part. Achieving the hard part involves cleanly shaving a defined line down to the scalp using a trimmer or razor. You have the freedom to choose the side of the head where you want the hard part to be. This technique enhances the structure of the slick back and lends it a classic, gentlemanly appeal. Suitable for all hair textures, the slick back ensures a neat and polished look.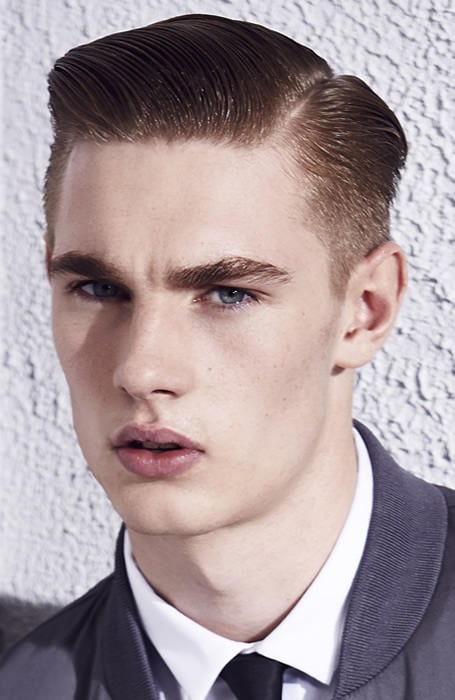 28. Slick Back High Fade
A high fade keeps the hair on the back and sides shorter, with longer hair on top. As the name suggests, it fades high, starting around the temples. This is great for giving your slicked-back haircut structure and will pair well with the slick back, contrasting the hair on top and making it look fuller and thicker. The slick back haircut is a timeless look ideal for all occasions because it looks neat and stylish. When worn with a high fade, it also has a modern element.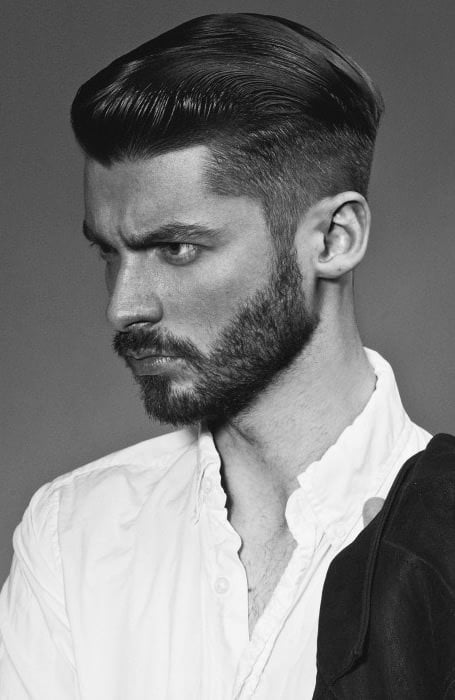 29. Slick Back Quiff
The slick back hairstyle is achieved by brushing the hair away from the hairline. It pairs well with the voluminous quiff, which is also brushed in an upward and backward direction, creating height on the top of the head. This versatile combination can be customized to suit different hair textures and lengths. Shorter quiffs can enhance a professional look, while longer hair on top adds contrast and provides an elegant Old Hollywood finish.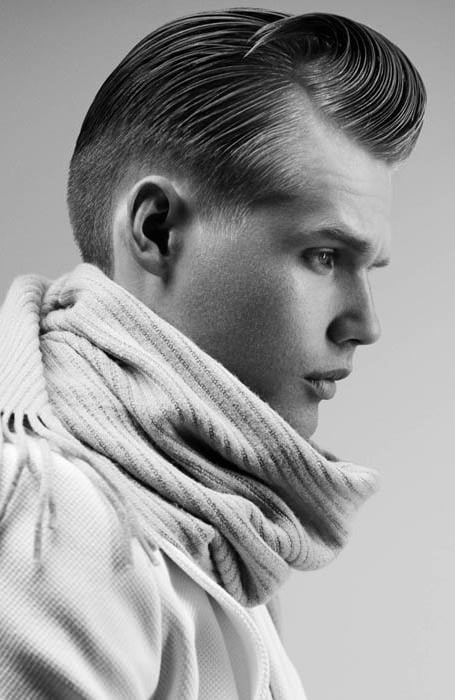 ​​30. Slick Back Temple Fade
The slick back goes hand in hand with fades, which plays with proportions and creates a contrast. The temple fade is a fantastic addition to the slick back and will give the hair structure. It will also create a contrast between the hair on top of the head with the back and sides. The defining feature of this fade is how it focuses around the temples, thus enhancing the hairline. The slick back brushes the hair away from the hairline, which can make the temple fade even more noticeable. It is a versatile look that can be adapted to suit your preference and hair texture and type.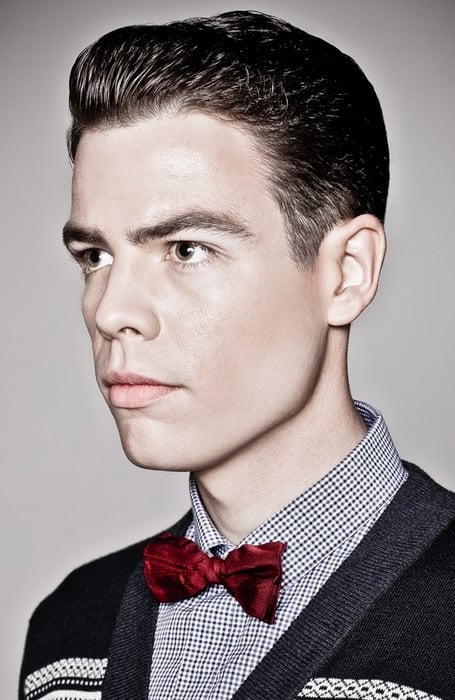 31. Slick Back Middle Part
The slick back middle part involves brushing the hair in the front backward, which adds volume to the hair and helps you achieve a smart and sophisticated finish. Regardless of the type and length of your hair, you can complete this look, but it is easier to do so if your hair has some texture. One way to update the classic style is by adding a middle part, which complements your facial features and adds balance. While it may not suit asymmetrical faces, wearing your hair with a subtle middle part can make you look youthful and draw attention to your eyes and cheekbones.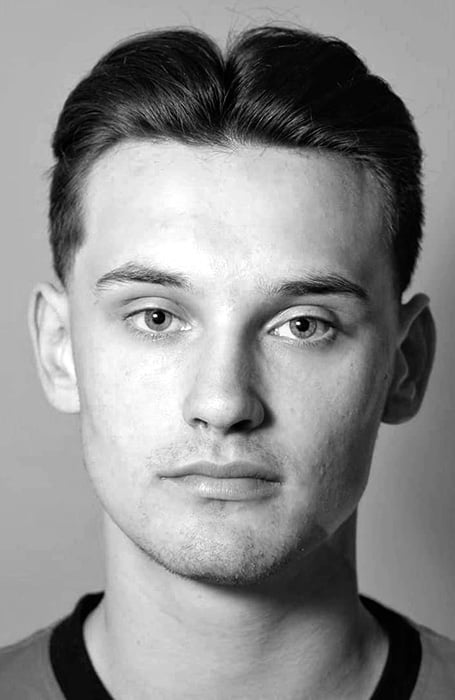 32. Graduated Slick Back
The graduated slick back hairstyle is a perfect cut for the modern businessman. The style features a uniform layer on top, which slowly tapers down in length around the ears and neck. A pomade is typically used to create the shine and hold that make this cut truly stand out. The gradual fade of the hair also pairs well with a light stubble, providing a modern and stylish edge. To further elevate the look, you can add earrings to create a casually laid-back vibe. The beauty of this graduated slick back is that it allows for variation, making it possible to go from trendy to conservative with ease.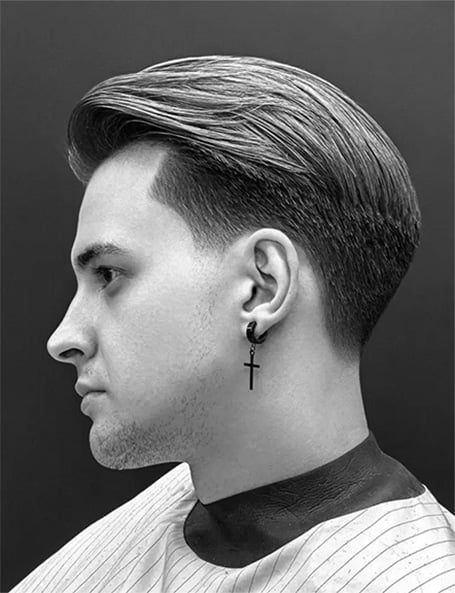 How to Style Slick Back Hair
To achieve a slicked-back hairstyle, it is important to follow these steps:
Find a skilled barber who can bring your desired slick back hairstyle to life.
Seek advice from professionals on which slick back hairstyle suits your face shape and hair type.
After getting a slick back haircut, take proper care of your hair to maintain its health and enhance styling results.
When styling your slick back, start by washing and conditioning your hair to remove oils, products, and dirt, preparing it for styling.
Apply a serum or protective product to shield your hair from heat damage, especially if using hairdryers or straightening irons.
Use a rounded brush while blow-drying your hair, brushing it from the base upwards to create volume, height, and definition.
Once you have achieved the desired shape, apply a small amount of styling product evenly throughout your hair.
Comb vs Fingers
When styling a slicked back look, you can either use a comb or your fingers to smooth strands backward. If you want a classic style that appears smooth and neat, be sure to choose a comb. The comb's teeth will offer more control when styling and can help achieve a more defined style. For a more modern or textural slicked back style, your fingers are the ideal tool for the job. They will direct your strands back away from your face but leave you with a more natural appearance.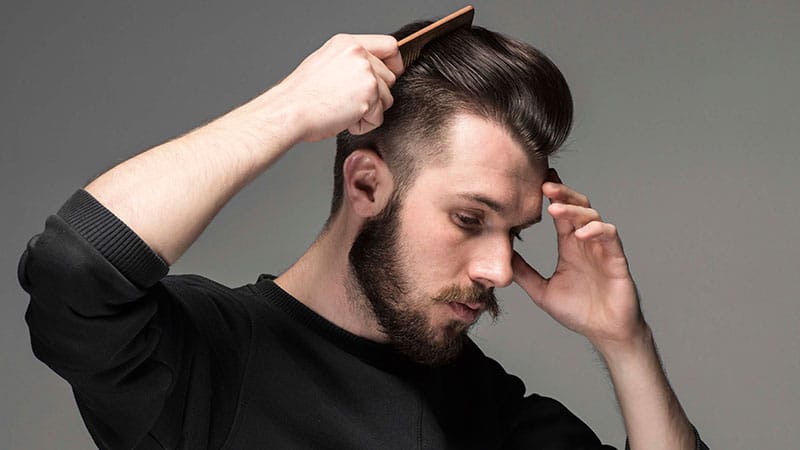 How to Keep Your Hair Looking Wet
To maintain a sleek and wet hairstyle throughout the day, it is important to use suitable men's hair products. Opt for a high-quality pomade or mousse that provides ample shine. If you prefer a pomade, apply it to dry hair; for a mousse, use it on damp hair.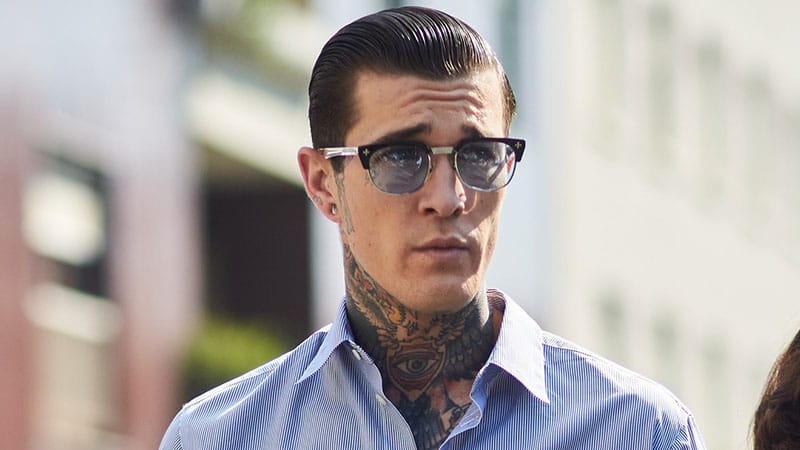 How to Train Hair to Slick Back
For a perfect slicked back look, you may need to teach your strands to sit flat when styled back away from your face. To do so, all you need to do is regularly style your hair backward, so that your strands start to grow in that direction. You can do this by brushing your towel-dried hair back. Then, use your hands to apply a small amount of hair clay from the front of your hair to the back. Now, comb your hair through and add more clay if needed. Apply an oil-based pomade to add shine and maneuverability before using your comb once more. The below Youtube video by Teachingmensfashion will show you how to achieve this with ease.
Slick Back Hair Products
Pomade
Most barbers would advise you to use pomade when creating a classic slicked-back hairstyle. All you need to do is select the right type based on your needs and desired look. It is available in natural, oil-based, and water-based varieties. Natural is best for a matte finish with a subtle sheen while oil- and water-based versions offer more shine and are ideal for sleek styles.
Wax
Wax is a seriously versatile hair product and can easily be used to slick back hair. Although it won't usually provide as much shine or maneuverability as pomade, it will offer extra hold. As such, it's a good option for keeping unruly hair in place or achieving a textured style that won't lose its shape throughout the day.
Clay
For a natural slick back style, clay is the best choice. As the product is drier than wax or pomade, it provides a more texturized finish and is perfect for messy and modern versions.

Slick Back Hair FAQs
What is the slicked back hairstyle called?
Another common name for the classic slicked back hairstyle is ducktail, which was popular among rebels and rockers in the 1950s. Both Danny Zuko and Kenickie wore this style in the movie Grease.
How do I get my hair to slick back?
Start with clean hair that's been towel-dried, so it's just damp. Apply a styling product such as mousse or pomade throughout and comb or brush your hair back. You can either let it air dry or use a blow-dryer. Once it's dry, finish off with a bit more product and final comb back to make sure everything's in its place.
How do you slick back thick hair?
Thick hair may need extra help in holding a slicked-back style because it can be heavier. Start with damp hair, and apply a firmer hold product such as a pomade or clay throughout your hair. Then use a blow dryer to dry your hair, combing it backward in the direction you want it styled. Once the hair is dry, add some extra styling product, and comb everything into place. Finish with a coat of hairspray, and try to avoid touching your 'do during the day.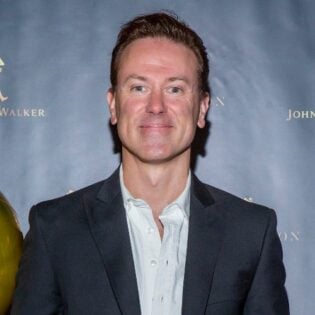 Roger Grinstead is a senior apparel designer for X2U with over 25 years of expertise in the fashion industry. He has expertise in menswear and womenswear trends and product development. When Roger is not designing the latest fashion garments, he enjoys writing about men's fashion, hairstyles, and grooming.
SUBSCRIBE TO OUR NEWSLETTER
Subscribe to our mailing list and get interesting stuff and updates to your email inbox.