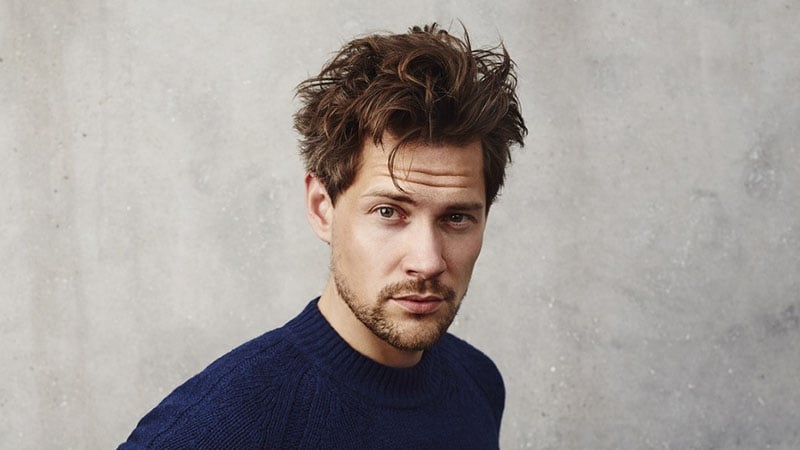 Causal, charming and oh-so-cool, there's nothing quite like messy hairstyles for men. Whether you're heading out for drinks with the lads or you're going for a romantic date, this style is the perfect option if you're keeping things relaxed. Whether you're looking for an effortless look or just want to switch up your routine haircare regimen, there are plenty of messy hair options available that are sure to turn heads without sacrificing grooming habits.
RELATED: 25 Sexy Curly & Wavy Hairstyles & Haircuts for Men
1. Short Messy Hair
Short and messy hair is the perfect option for a night out, or a casual get-together. No matter what texture your locks are, you can create a faultless disheveled look easily. To achieve this messy hairstyle, opt for wax or matte pomade and sparingly work it into your scalp with your fingers, adding volume. Complete this hairstyle by adding the product to the ends, giving it a textured and wild finish. This is an excellent option for a day at the office or a wild night out at the bar!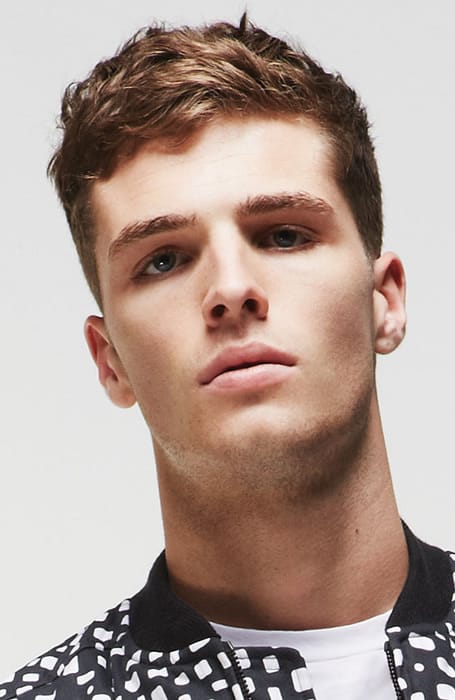 2. Medium-Length Messy Hair
Keep it looking chilled and relaxed with a medium length messy hairstyle. This is an excellent option for the day where you're feeling a little casual, but a little bit wild. Depending on your mood, you can opt for a disheveled swept-back style or let it run free and loose. To achieve the latter grab medium-hold gel or pomade and run it through your hair and allow the locks to fall in their natural place.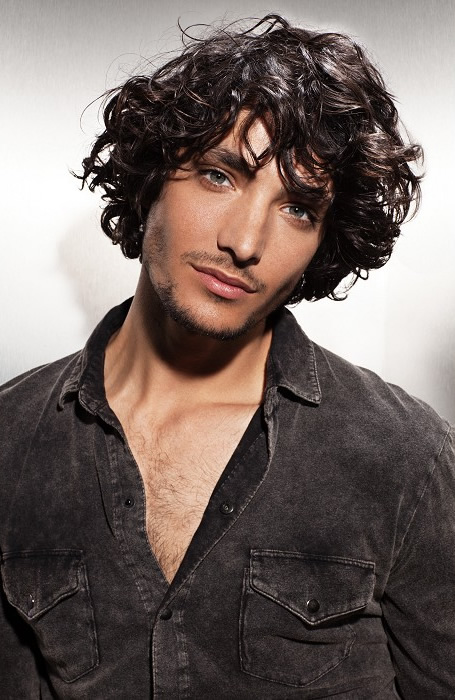 3. Long Messy Hair
For those with long and luscious locks, nothing says "rockstar" better than a messy mop. Whether your hair reaches your jawline or shoulders, this hairstyle is perfect for you. To get the look, apply some sea salt spray on wet and let it dry naturally. Your hair will look beachy and have a lived-in feel.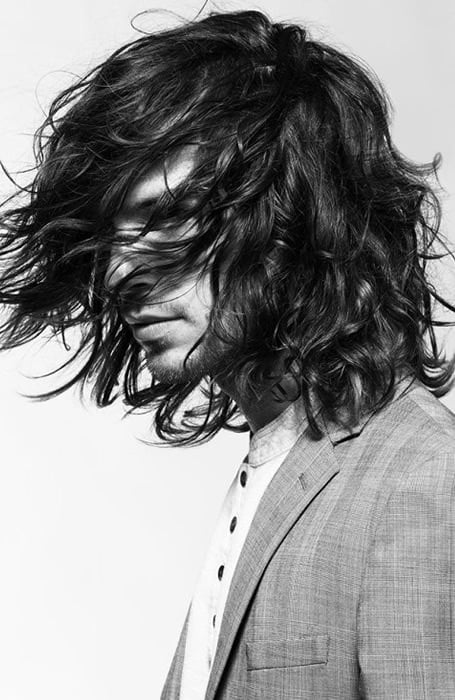 4. Bed Head Hairstyle
Look as though you've stumbled out of bed with this sexy and low-maintenance 'do. The bedhead hairstyle is an easy one to accomplish and looks great for a night out with mates or if you're on a date. It's best suited to those who have straight or wavy locks. Start by applying small amounts of volumizing powder to the roots of your hair. Using your fingers, run some low-hold pomade through the ends of your hair; don't overdo it, as it ruins the effortless appeal.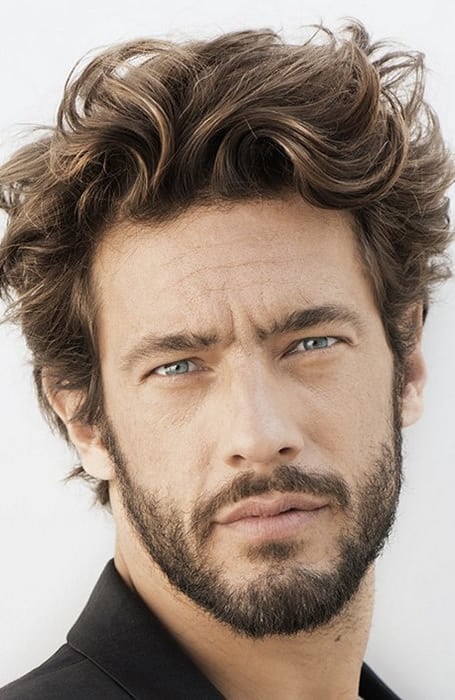 5. Messy Hairstyle for Thick Hair
Create a tousled and textured 'do with your thick hair easily. Ideal for the days or nights when a slicked back hairstyle just won't cut it, this messy cut is the answer you've been searching for. Make sure your tendrils are almost dry, and work some matte pomade through the roots and mid-sections, adding volume to your locks. Ideal for men who have dense tresses, you won't want to go overboard in the product department. Whether you have a short or medium-length mane, this can up the ante for any event you're heading to.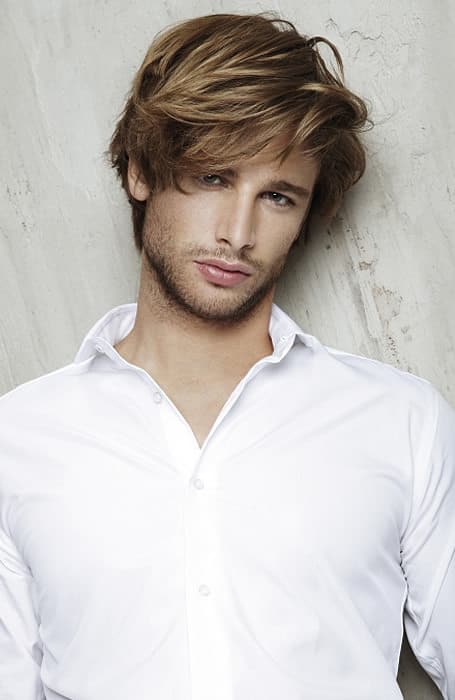 6. Messy Faux Hawk
Change things up and turn some heads with the help of a messy faux-hawk. You don't have to commit to fully shaved sides to create a hard-edge and rock-star appeal hairstyle, but this works just as well. A tapered or low fade cut works perfectly for this hairstyle, with a longer mop on top. Using a texturizing product, work your fingers through your curls. This is a youthful and fresh look for anyone that's ready to mix up their style or try something new.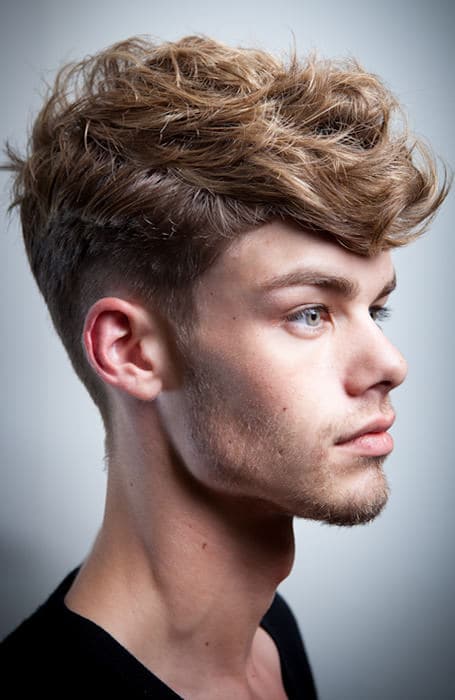 7. Messy Pompadour
Pull out your leather jacket and put on your sunnies, this is a hairstyle that's as classic as it is cool. Perfect for guys who are into a vintage aesthetic, the pompadour is a hairdo that dates back centuries but remains as modern and relevant as ever. Unlike the traditional styling, you can create a fresh and laidback approach to this cut by keeping it a bit messy. Using a gel or wax, sweep the front of your locks upwards and over the back of the head with your fingers. Don't be scared if it looks a little disheveled; this coiffure is an outstanding option for a casual night out or to a concert.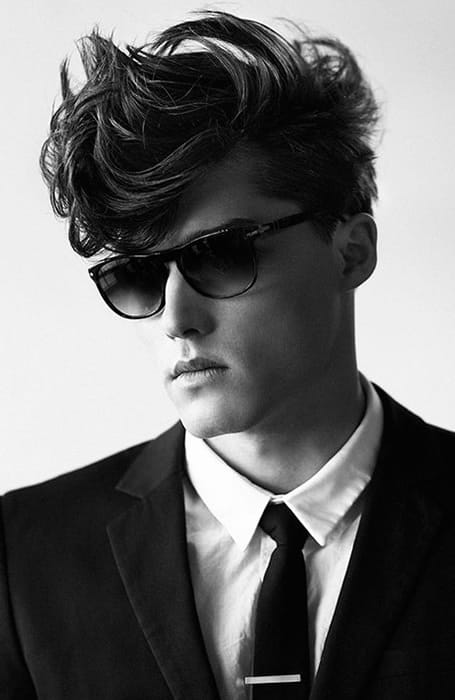 8. Messy Fringe
Keep it choppy and unruly, and watch as you turn heads. A messy fringe is a solution for a day at the office, a football match, or drinks with friends. This style is easy to achieve; all you need is some mattifying product to give your bangs some extra texture. Sweep your hair to the side for an angular-looking approach, or keep it front and center if you're feeling a little traditional. This cut is a great way to reduce a large forehead and looks great if you're presenting a low-maintenance and sexy look.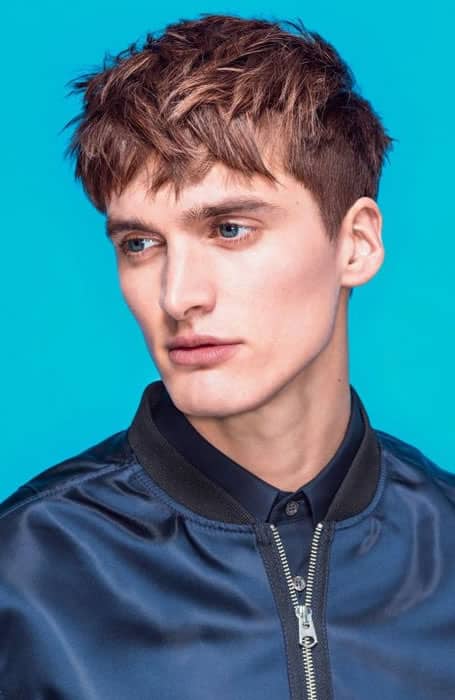 9. Messy Spike Hairstyle
Perfect for all texture types, a spiky cut is an awesome option for those who wish to freshen up their aesthetic. This universal style looks great on those with thin or thick hair, as the rugged finish creates an edgy but cool feel to any event or occasion. For those with coarse locks, work a matte pomade through the ends when it's dry, pinching, and separating the tresses outwards. These products also work well for those with a fine mane, as it doesn't weigh down the 'do, or look greasy.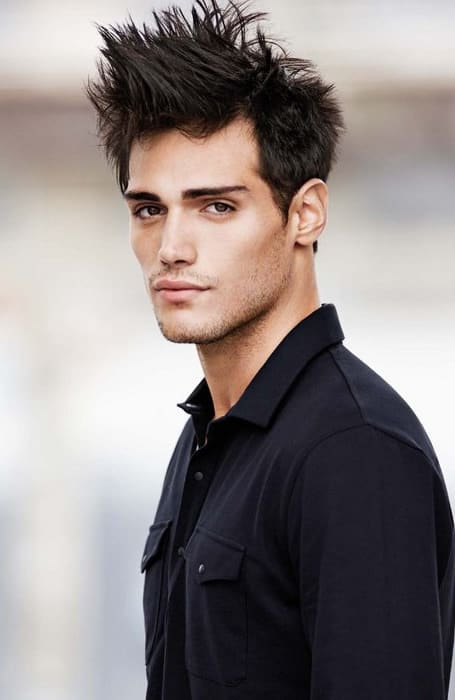 10. Messy Blowout
The blowout is a fashion-forward and contemporary take on the pompadour, looking as though a large gust of wind has swept your hair perfectly into place. Of course, you don't have to keep this style perfectly quaffed to look slick and sophisticated, the messier your mane is, the better. To achieve this look, scrunch your locks using your hands, matte pomade, and hair dryer. This is the perfect hairstyle for the polished and modern man who isn't afraid to take a few risks.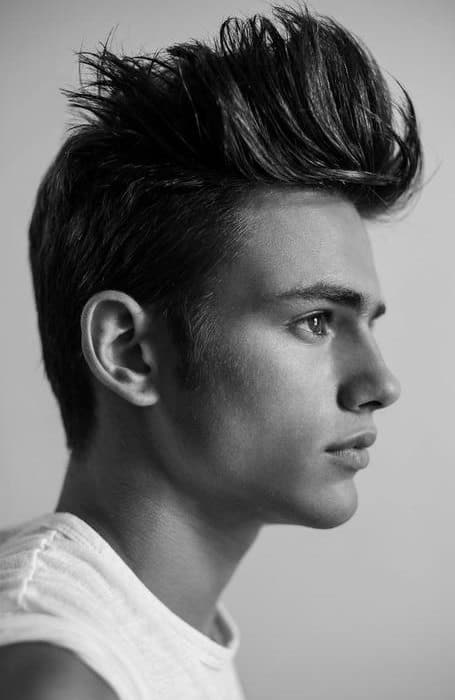 11. Messy Bro Flow
You can easily grow your tresses out and still keep it off your face, thanks to the bro flow. This ultra-cool and disheveled look is perfect for men with medium to long hair, no matter its texture. This hairstyle is so low-maintenance and easy to achieve, you can practically do it in your sleep. With wet locks, merely comb it backward, away from your eyes, and let it dry naturally. There's no need to add any products, just let your mane do its thing. This technique looks great for all types of textures, from curls to poker straight, this cut was made for you.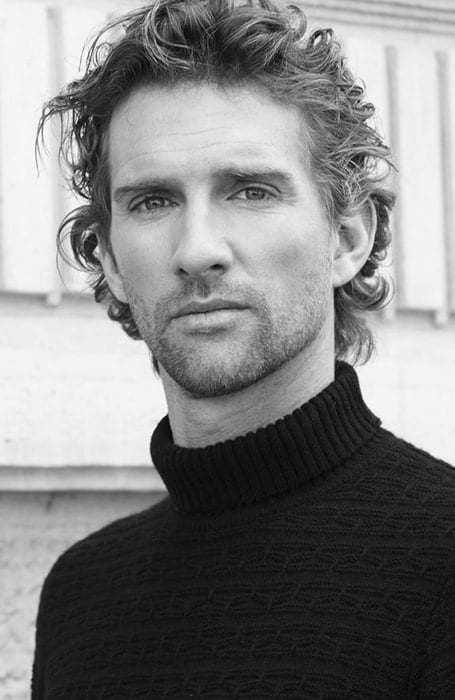 12. Messy Afro
Let your natural hair come to life by setting it free. A messy afro looks amazing from every angle and can be styled for a myriad of events and occasions. Let your locks grow, and keep them healthy by maintaining a solid care routine. This is a bold and daring look to achieve, but once you do, there's no stopping you. Whether you wish to add a side part, brush out the waves into something beachy, or just let the tresses to their thing, you're sure to attract attention and be the coolest guy in the room.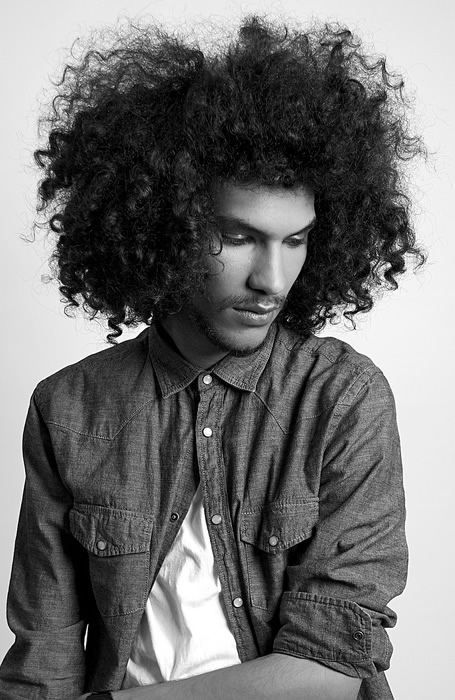 13. Messy Crew Cut
This is a simple cut that still manages to stay stylish and sexy. The crew cut tends to offer short sides and a slightly longer top, creating a relaxed and traditional appeal. If your hair has a natural wave or kink, you can easily let it do its thing, creating a disheveled yet polished feel. However, for those with straight locks, opt for a texturizing light-hold pomade and work through the ends with your hands. You can go straight from the office to a bar without having to touch up your appearance; you're sure to turn a few heads!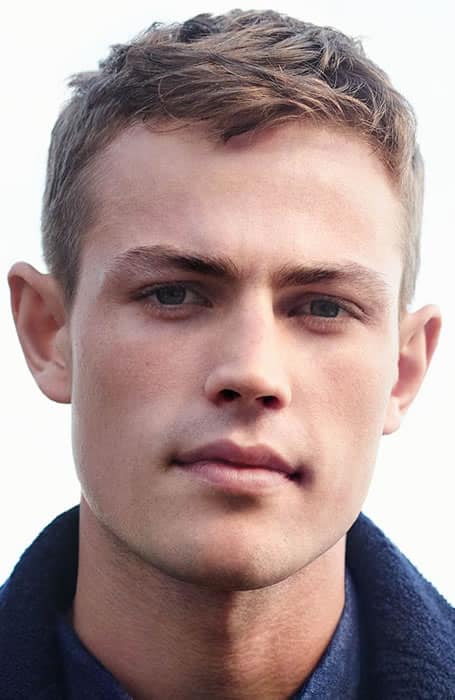 14. Messy Soft Side Part
A relaxed and effortless hairstyle just got sexier with the soft part. This 'do is easy to achieve and suits a huge range of events. Whether you're headed down the aisle or you're playing beach cricket, you can rock this style with confidence. Start by creating a part in your hairline; don't feel the need to make it too pronounced, as the messiness adds to its charm. This men's cut looks great when paired with a light-hold gel or pomade, depending on your desired texture. Don't be afraid to let your fringe hang forward; this laidback look is the perfect finishing touch to any outfit.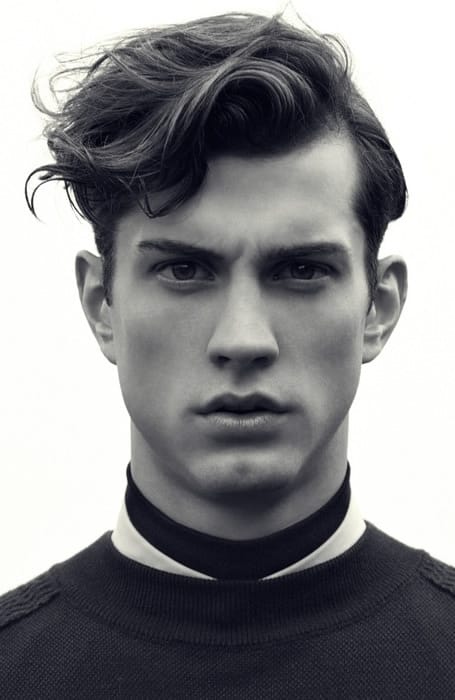 15. Messy Side Part
Look sharp and casual all at once with a messy side part. Keep it trim and precise by tapering the sides and opting for a longer mop on top, or put an edgy twist on the classic cut with a hard part. You don't have to create a sleek or slicked back hairstyle for a polished appearance; a messy mane is a sexy and suave finishing touch to this wicked hairdo. For those with longer locks, use a matte pomade to add texture and volume to the roots and ends. This is ageless for a reason, it looks good on anyone and won't ever go out of fashion.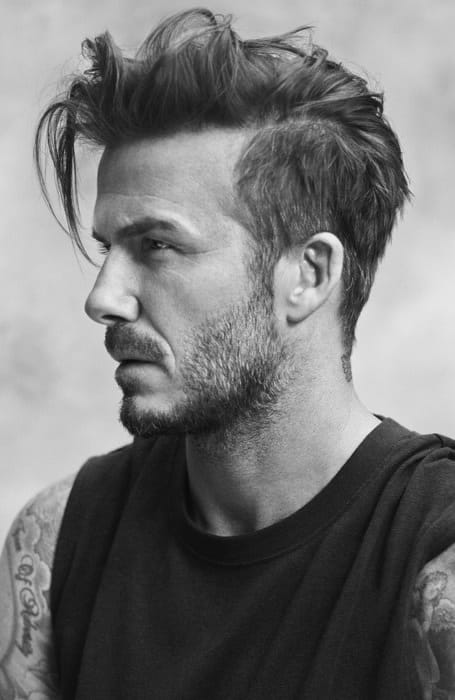 16. Afro Twists
Messy hair is the ultimate way to create a laidback appearance and it can often require less styling time. There is a wide range of styles to try, depending on your texture, length, and preference. One of these is afro twists, the effortlessly cool way to wear Afro-textured hair. It is a protective look that can prevent breakage and aid growth. They are easy to create and exceptionally versatile, allowing you to add your style and personality!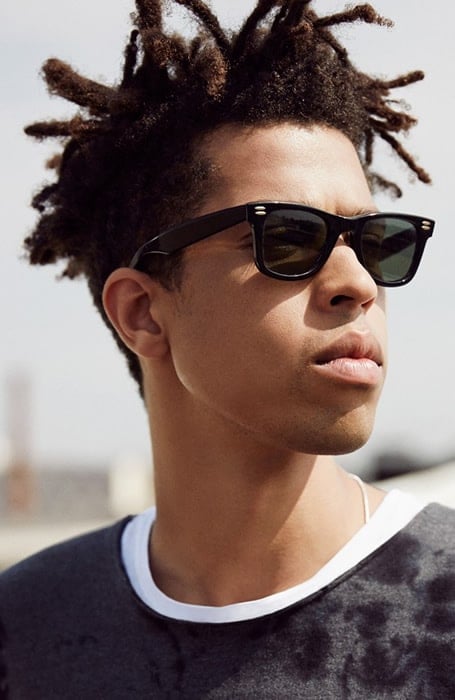 17. Messy Comb Back
When you think of the comb back the thought of a classic men's hairstyle probably comes to mind, right? Neat and sophisticated, it has that old-timey gentleman vibe and is ideal for the workplace. But that is not the only version of this look that exists, and for those who want a more free finish, you can achieve this by creating messy strands. The hair will still be brushed back in the front to create volume, but instead of securing it with a stronghold product, let it fall naturally.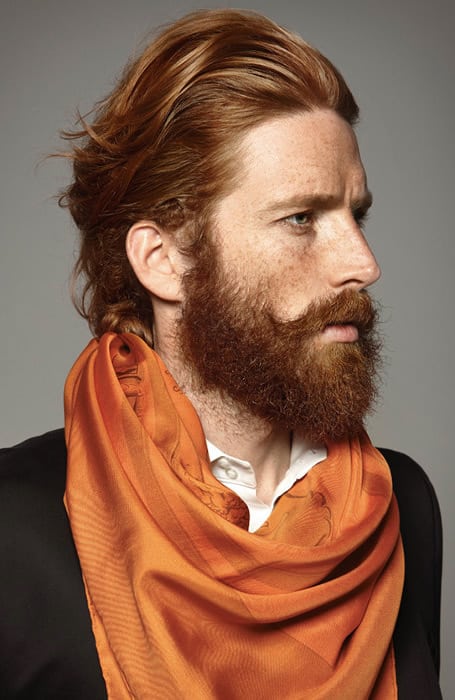 18. Messy Hair for Older Men
What better way to create a more youthful hairstyle than with messy hair? On older men, this voluminous and textured finish can be incredibly flattering and can soften your features. There is also something fun about this approach to styling because you will require less grooming and products and can instead get creative with how you want your strands to look. Sweep it in front of the face to highlight your features, or try wearing it to the side to give you a more balanced appearance.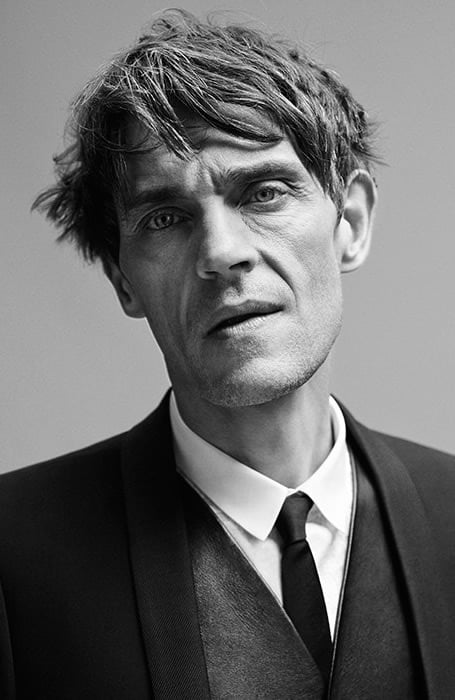 19. Messy Hair for Receding Hairline
It can be disheartening to see your hair thinning at the hairline, but before you decide to shave it all off, remember that receding hairlines are common and affect men and women of all ages. There are also several ways to counteract them, including the right cut and how you style it. The appeal of the messy approach is that it will distract from the temples because of how your strands fall and the brilliant, textured finish.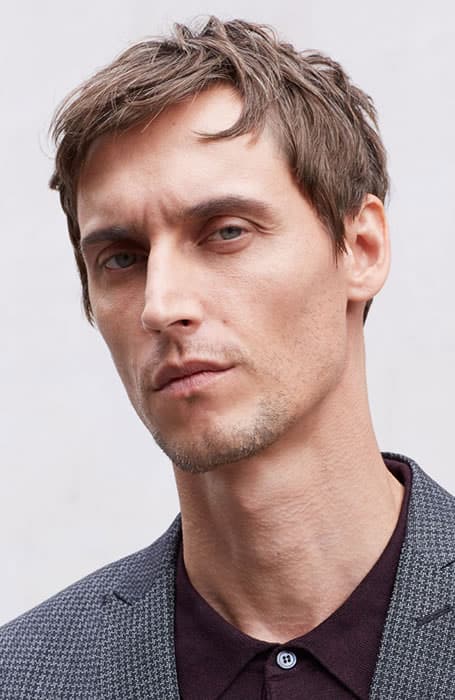 20. Messy Layered Hair
Have you been looking for a sexy and carefree way to style your new haircut? Then look no further than messy layered hair. Layers can be added to the hair in various ways, including opting for a choppy finish to create texture and give you that shaggy finish that will make everyone want to run their fingers through your fringe. This is a look that can be easily worn with all textures and is an excellent option for creating volume.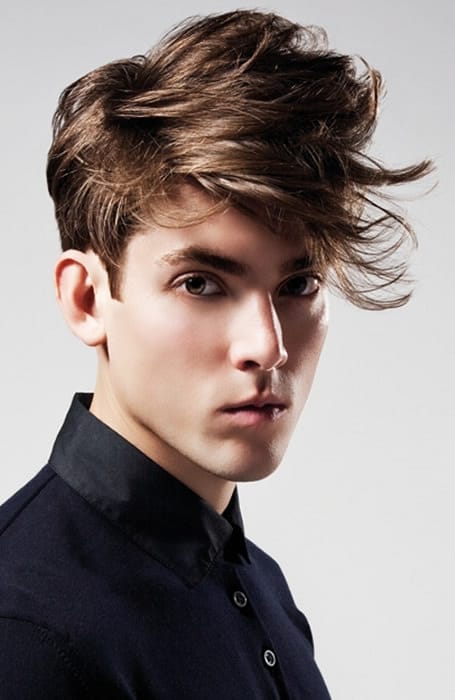 21. Messy Mohawk
There are not many hairstyles as expressive and fun as the mohawk. The punk-inspired look is created with a long strip of hair down the middle of the head and paired with shaved sides. Although it can be easily adapted to suit your preference and worn in varying lengths, depending on how daring and rebellious you want the finished result to be. For those who love the thought of this cut but would prefer to ditch the spiky styling, create something unstructured and messy instead.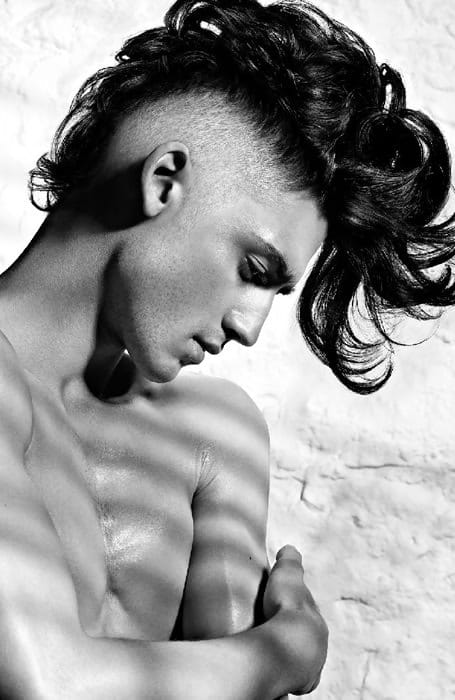 22. Messy Mop
The mop hairstyle has been around since the 60s and remains a fantastic option for your next trip to the salon because it works great with all textures. It also has a youthful appearance and is often favored by younger men. This is because it is typically created with a fringe that covers the forehead and eyes. The mop is one of the easiest cuts to create a messy finish and is especially suited to curly strands which will give your features a softness.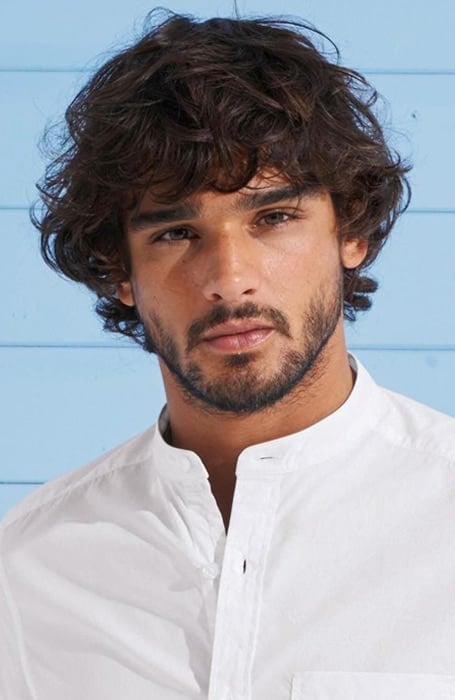 23. Messy Quiff
The quiff is achieved by brushing the hair upward and backward. It will create a voluminous appearance and is often used to create a polished finish that will lend itself well to the workplace. There is no denying this is one of the most popular hairstyles for good reason. However, the traditional approach can also feel dated and uninspired. This is why experimenting with your styling is a great idea. The messy texture makes the look feel fresh and modern.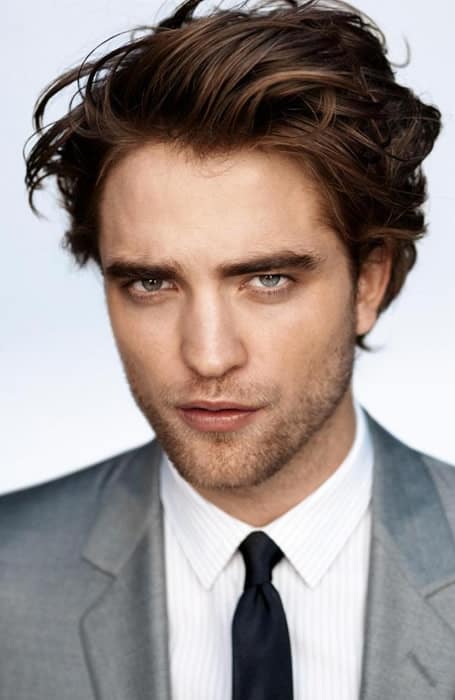 24. Messy Shag
What is not to love about the shag hairstyle? The brilliant combination of windswept hair and choppy layers gives you a decidedly messy finish that is every bit as edgy and cool as it was in the 70s when it was favored by rock gods and fashion icons! This cut is incredibly versatile and can be created on various textures and lengths. It is also ideal for creating the illusion of thicker strands by adding fullness to the crown.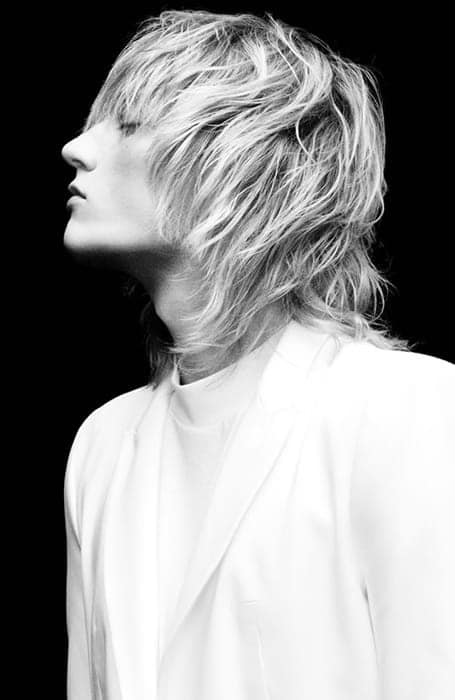 25. Messy Wet Hairstyle
The wet hairstyle is achieved with a product like gel or mousse to create a glossy finish. It can look sleek and sophisticated and is a great way for keeping your untamed strands out of your face. It can be styled to look messy and unstructured, giving you an undeniably cool and seductive finish. The way the hair falls against your face can soften your features while highlighting your eyes, making it the perfect choice for the man who wants to show off his face!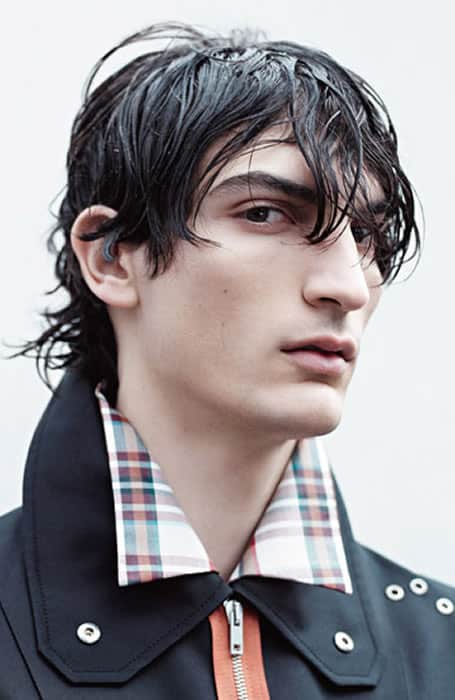 Messy Men's Hair FAQs
How do guys get the messy hair look?
The best way to get a messy hair look is to use the right product. Invest in an excellent texturizing product such as a sea salt spray, matte pomade, or wax, and work it through with your hands, giving your hair a good tousle as you go. You can rub additional product into the ends of smaller sections to create a more piece-y style. You'll also want to get familiar with your hair-dryer as this is a great way to add extra volume, which is also essential for the messy look.
How do you style messy medium hair?
The best way to style messy medium hair is to use a medium hold pomade or wax. Run it through dry hair, focussing on adding volume at the roots and scrunching it through the ends. Then, you can either let it fall naturally over your forehead or sweep it back for a relaxed quiff.
What is the most popular men's haircut?
Some of the most popular men's haircuts at the moment are the undercut, short back and sides, fades, slick back, and pompadour.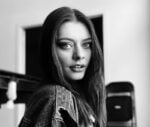 Alexandra Feiam is an experienced fashion writer who holds a degree in journalism. She has an impressive portfolio and expertise working as the Editor at Power Retail and Commercial Content Editor at Newscorp. Ally has been writing for The TrendSpotter since 2018, and her work has been featured in notable publications such as The Herald Sun, Arirang TV South Korea, Kidspot, The House of Wellness, and The Daily Telegraph.
SUBSCRIBE TO OUR NEWSLETTER
Subscribe to our mailing list and get interesting stuff and updates to your email inbox.