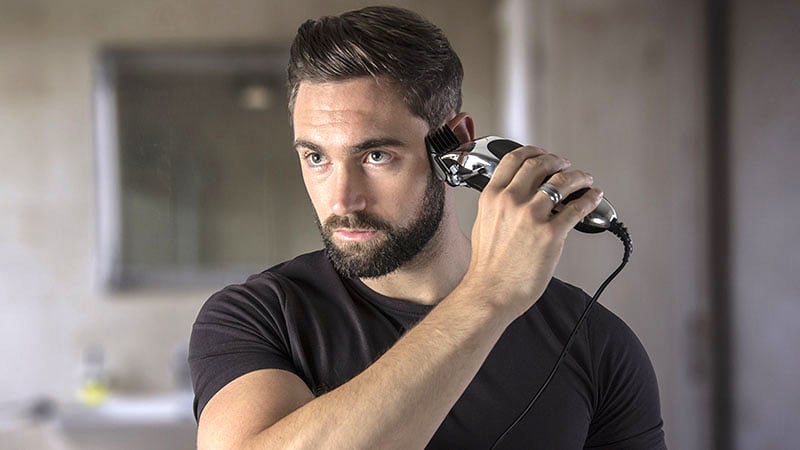 Give yourself the ultimate at-home haircut with one of these best hair clippers of 2020. If you can't make it to the barber or are keen on saving some cash, then a DIY cut is the way to go. However, like any DIY job, the key to success is having the right tools for the job. These hair clippers are a perfect choice. Select from a range of cordless or corded options, with most including with a variety of guide combs to making trimming straightforward and simple. Plus, some even come in a combo set with a trimmer to take care of your face and body hair. If you're ready to jump in, check out our guide below.
1. Wahl Color Pro Cordless Hair Clipper
Make your haircuts simple and easy with the Wahl Color Pro Cordless Hair Clipper. The clipper comes with eight color-coded guide combs and a key on the handle, so you'll always know which is which. It's a great way to remember every family member's favorite haircut length. Enjoy a full hour of cordless run-time, but you can also operate the trimmer with the cord attached. Keep everything hygienic with removable stainless steel blades for straightforward rinsing. Lastly, this hair clipper is also great for traveling. It's compact, comes in a seven-inch soft case, and features worldwide voltage so you can safely use it in any destination.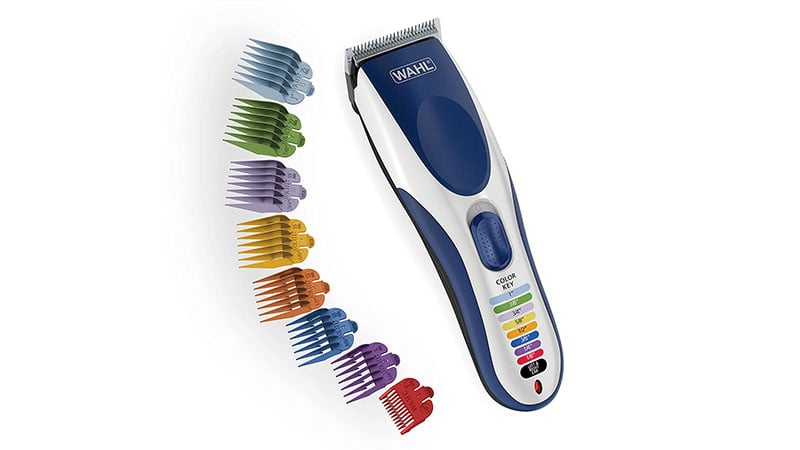 2. Panasonic ER-GP82 Professional Cord/Cordless Hair Clipper
The Panasonic ER-GP82 Professional Cord/Cordless Hair Clipper is a new and improved version of Panasonic's bestselling ER-GP80. It provides a precision-cut for both wet and dry hair. The X-taper blades, with a 45-degree cutting angle, are coated with a combination of carbon-fiber and titanium, meaning reduced friction and longer life. Plus, the shape of the blade holds the hairs in place for an accurate and sharp cut. Choose five lengths from 0.8-2mm using the adjustable control, or cut longer hair using the three comb attachments that range from 3-15mm. Finally, you can use the device plugged in or wirelessly for the ultimate in mobility and maneuverability.
3. Andis Master Cordless Clipper
Enjoy peak haircutting performance with the Andis Master Cordless Clipper. It features a lithium-ion battery to power the robust motor for over 90-minutes of cordless run time, and there's an LED battery indicator for easy reference. Meanwhile, the engine itself can deliver speeds of 7200SPM, meaning a cleaner, sharper cut with constant speed technology. The carbon steel blade is adjustable to work with most hair types and can be zero-gapped to create clean lines and sharp edges. Plus, the housing is made from lightweight yet durable aluminum, which is ergonomic and looks stylish. It's an investment pair of hair clippers but will last you a lifetime.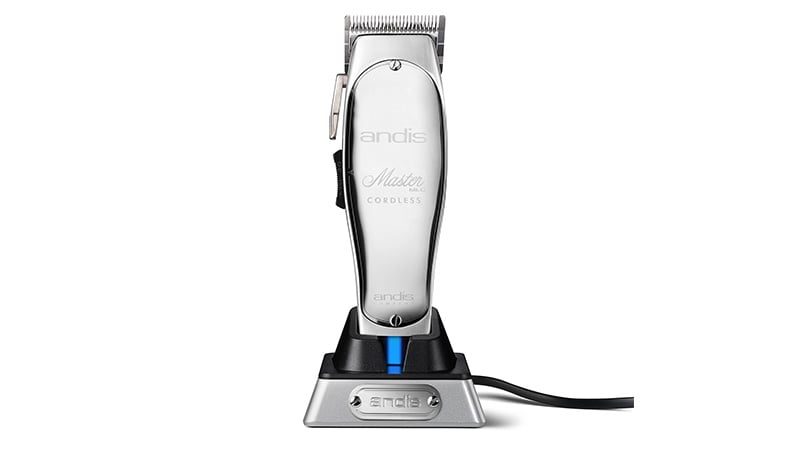 4. Remington HKVAC2000A Vacuum Haircut Kit
Get all the tools you need for a clean and tidy at-home haircut. This kit from Remington will fully set you up for any style, coming complete with various combs for both length and tapers, sharp barber scissors, sectioning clips, cleaning supplies, and a handy carry case. Best of all, the clippers themselves have an inbuilt vacuum to catch up to 90% of your trimmed hair for easy cleanup. The hair is sucked into the extra-large, removable chamber, which can be emptied into the trash. Dual motors power the precision ground blades for fast and efficient cutting. Plus, the blades come off to allow for simple cleaning.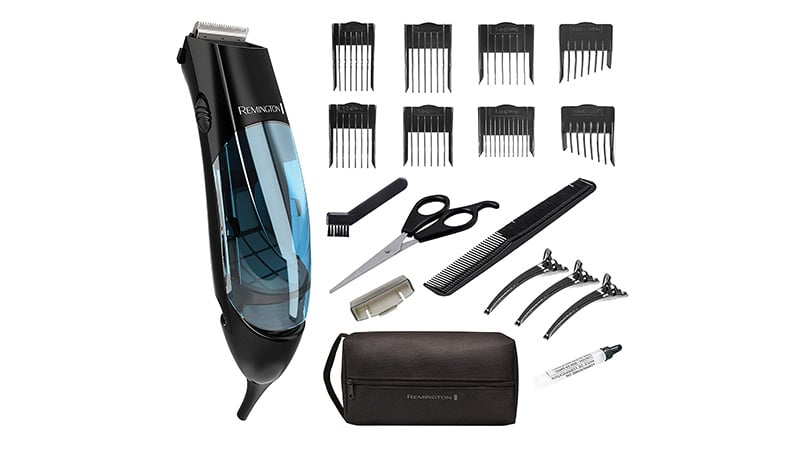 5. Mangroomer Ultimate Pro Self-Haircut Kit
The unique design of the Mangroomer Ultimate Pro makes cutting your hair simple. It's ergonomically designed for a good hold and features a rubberized finish for extra grip and ultimate control. Choose from nine guide combs for the perfect length. The hypoallergenic stainless steel blades are also self-sharpening and extra-wide to improve the efficiency of your cut. Plus, they're easy to clean because the entire device is waterproof. While you can use the hair clippers with a cord attached, the lithium max battery charges fast if you want to opt for cordless cutting.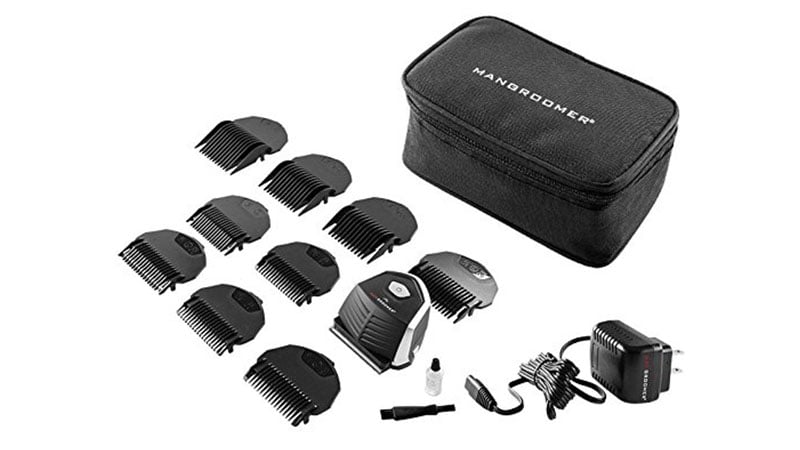 6. Wahl Clipper Combo Pro
Take care of all your hair cutting needs with this combo set from industry professionals, Wahl. It comes with a full-sized clipper, as well as a smaller trimmer to take care of your body and facial hair. Create the perfect length and fade with eight guide combs, as well as two ear taper combs. If you choose to keep the top longer, the set also has both a barber and styling comb, as well as sharp scissors for trimming lengthier hair. The self-sharpening t-blades are powered by a long-lasting motor for snag-free trimming. Lastly, the soft-grip handle ensures a comfortable and secure hold, so there's no risk of accidents.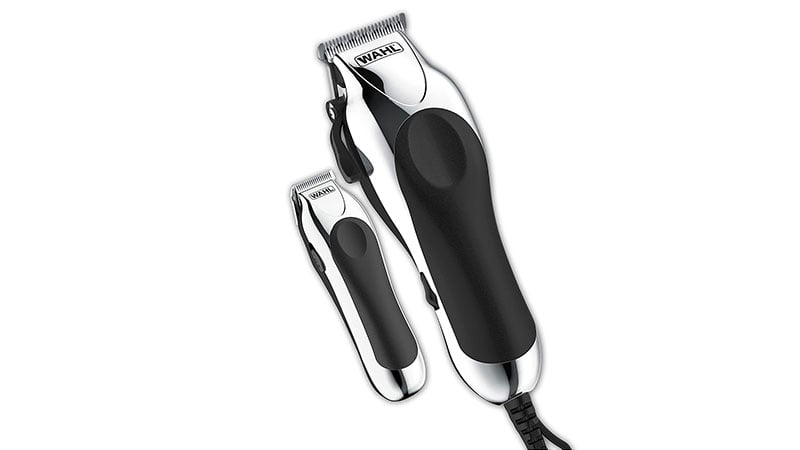 7. Conair Custom Cut 18-piece Haircut Kit
The Conair Custom Cut kit comes with 18 pieces to give you the best haircut possible. Not only does it have a taper fade lever, but it also comes with eight combs, including six lengths and tapers for each ear. Additionally, you'll get barber scissors, two sectioning clips, a cleaning brush, and blade oil, plus storage to keep everything tidy and together. The blades are self-sharpening and made from stainless steel, while the powerful magnetic motor packs a punch. Finally, the metallic silver case features an inset blue non-slip grip for stylish but safe use.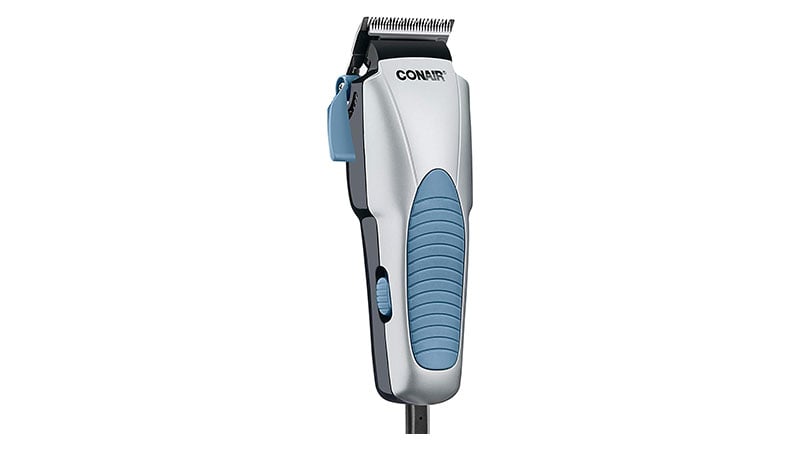 8. Philips Norelco Multigroom Series 7000
Clip and groom all your hair from head to toe with the Philips Norelco Multigroom Series 7000. It comes with 19 different attachments, including five shaving heads, as well as guards for your hair, body, beard, and fades. Switching between them is simple, plus they're all reinforced with fiberglass to preventing bending and warping. DualCut technology in the blades ensures a precision trim, while they self-sharpen for an always-on cut. The cordless run time is five hours, so you've got plenty of time for all your manscaping, plus the unit and all components can be washed under the tap.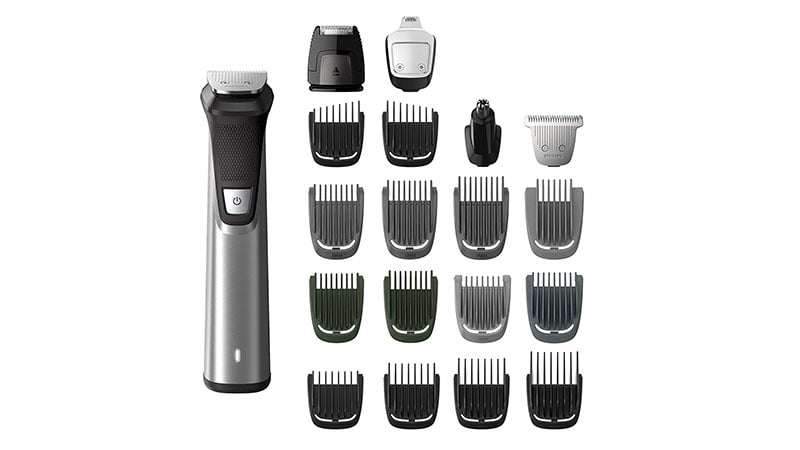 9. Remington Virtually Indestructible Barbershop Clipper
If you're a bit hard on your appliances, then Remington's Virtually Indestructible Barbershop Clippers will be the best choice for you. The unit shell is made from heavy-duty polycarbonate, which is durable and will survive drops and bumps. The super-magnetic motor operates four times faster for clean, precision cutting. Meanwhile, the ground blades are steel-coated and self-sharpening for snag-free grooming and can be removed for simple cleaning. Choose from eight different guide combs, and trim up long hair with the included barber scissors.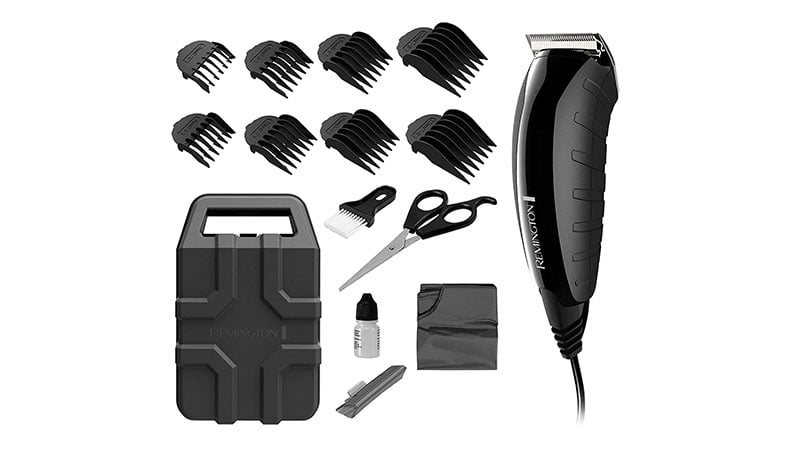 10. Wahl Combo Pro Styling Kit
The Wahl Combo Pro Styling Kit comes with both a hair clipper and a trimmer, so you're covered for all your haircutting needs from head to toe. The high-carbon steel blades self-sharpen for long life and smooth cutting. When it comes to the hair on your head, select from a range of guide combs for the perfect length. Then with the trimmer, you can create neat edges, trim your beard, and easily remove any unwanted body hair. Finally, the hair clippers are corded for effective operation, while the trimmer simply requires two AA batteries.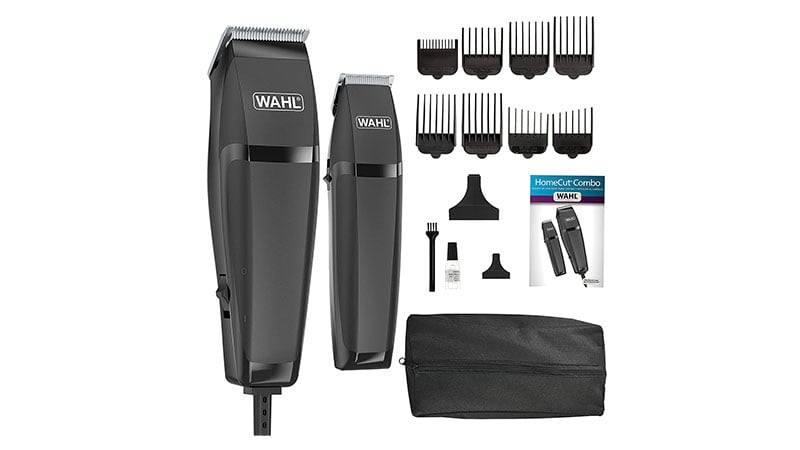 11. Limural Hair Clippers
The stainless steel design of the Limural Hair clippers is both stylish and functional. It's a great alternative to heading to the barber, allowing you to give yourself a professional at-home haircut. The device is conveniently charged with a USB, and the battery lasts up to five hours on a full charge. Plus, the LED display shows the remaining battery life. Select from one of six guide combs for the perfect length on your hair, or use it without a comb to trim sharp edges around your ears, neck, and beard. Even kids won't mind a haircut with these clippers, thanks to the quiet motor and low irritation.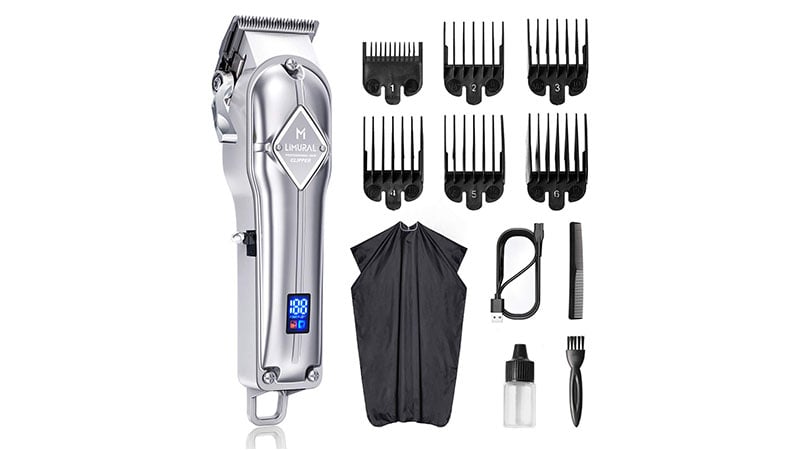 12. Braun Hair Clippers MGK3080
Style every hair on your body with this set from Braun. Not only does it come with hair clippers, but it also includes an electric razor attachment, precision trimmer, nose hair head, and a Gillette Pro-Glide razor for gents who prefer a clean-shaven look. There are also four different comb attachments for any length hairstyle or beard. You'll enjoy up to an hour of operating time, plus the unit is fully waterproof, so you can even use it in the shower.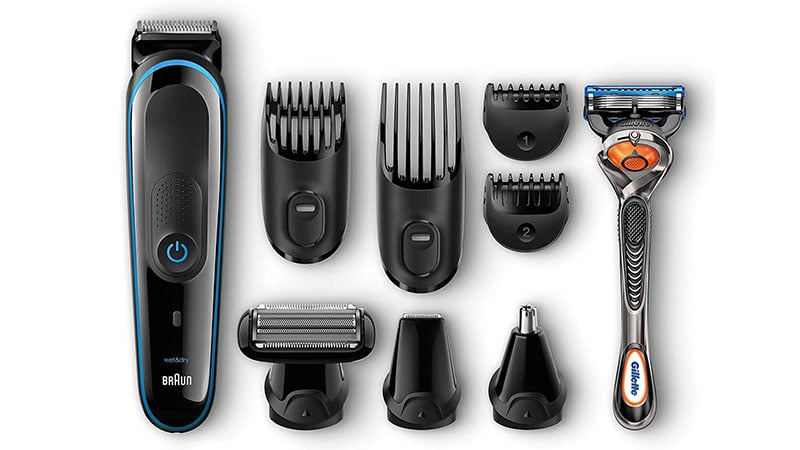 13. Wahl Clipper Elite Pro
Give the professionals a run for their money using the Wahl Clipper Elite Pro. The self-sharpening precision blades stay sharper for longer, giving you a more comfortable, easy shave. Choose one or many of the nine comb options for the perfect length or fade, plus you can adjust the taper level for ideal blending. Additional premium accessories include a cape, scissors, comb, an attachment bag, and a stylish storage case. Lastly, the strong yet quiet motor is run using an eight-foot industrial power cord, giving you flexibility like cordless clippers, without any power loss.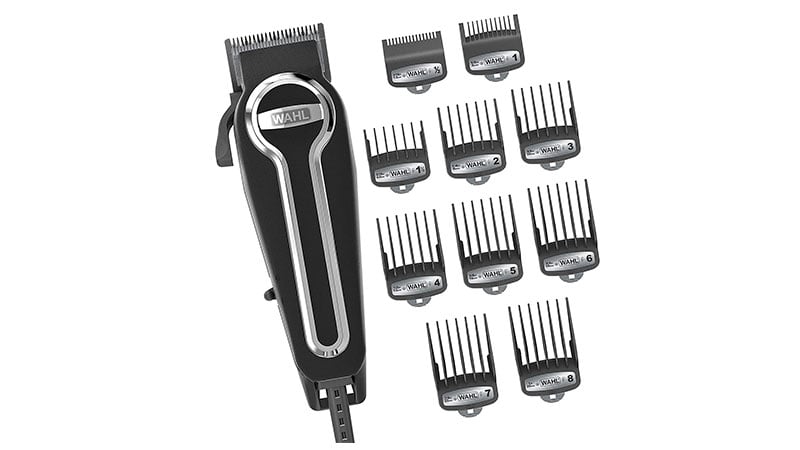 14. BaBylissPRO Barberology MetalFX Series
Despite the compact size, the cordless BaBylissPRO Barberology MetalFX Series delivers a powerful cut thanks to the brushless Ferrari designed engine. It's a brilliant at-home clipper choice. Get perfect edges and smooth fades with the adjustable taper control and eight comb attachments that range from 1.5mm through to 19mm. The lithium battery runs for up to two hours, while the all-metal housing is sophisticated and stylish. It also as a knurled barbel-style grip for easy handling. Plus, you can select from three colors — silver, gold, and rose gold.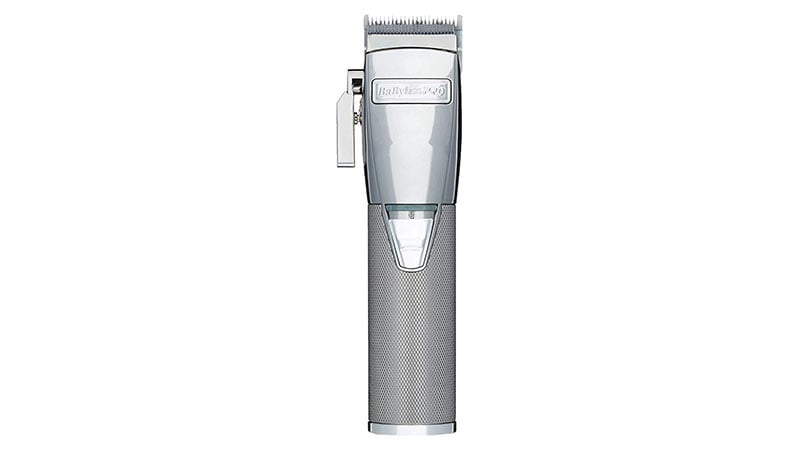 15. Andis Professional Master Adjustable Blade Hair Clipper
The Andis Professional Master is a great all-round hair clipper for at-home styling. It's lightweight and durable and easy to use with a thumb-controlled switch on the side. The blades run at 14,000 strokes per minute, with a powerful magnetic motor. While it doesn't come with guide combs, you can adjust the blade from 000 to 1, and it can be zero-gapped for the ultimate close shave. However, you can buy attachments separately for extra guidance and cutting assistance.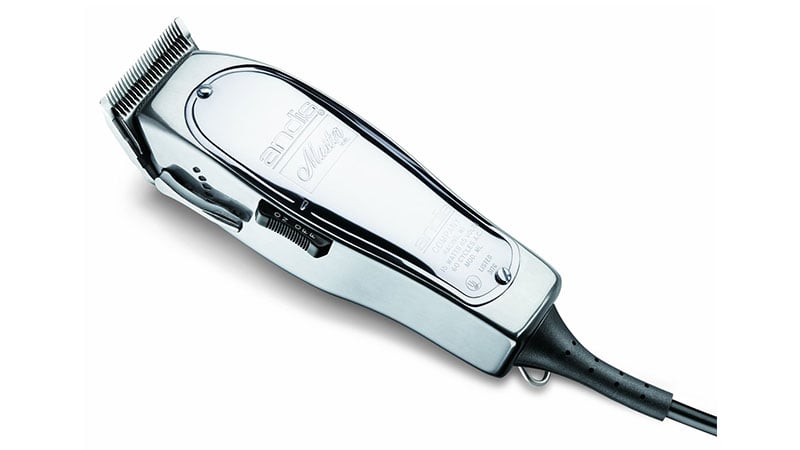 FAQs
What is the best brand of hair clippers?
Wahl, Remington, and Andis are all industry leaders in hair grooming and styling technology. Professionals often use them, and each brand invests research and development to stay ahead of the game. 
What hair clippers do barbers use?
Wahl, Andis, and Philips are all popular professional choices for hair clippers. 
Is Andis or Wahl better?
Both brands are excellent options, and it mostly comes down to personal preference. While both have professional and at-home models, Andis tends to be better for experienced men and precision trimming, while Wahl has better beginner options and general use choices. 
How do men use hair clippers at home?
The key to using clippers at home is patience. Start with a longer attachment to trim all over, or create a fade depending on the look you want—work from the bottom to top around the side, and front to back on the top. Gradually move through shorter guides until you have the desired look. Then, remove all the attachments and use just the blades to neaten up around the edges of your neck, ears, and sideburns.
SUBSCRIBE TO OUR NEWSLETTER
Subscribe to our mailing list and get interesting stuff and updates to your email inbox.