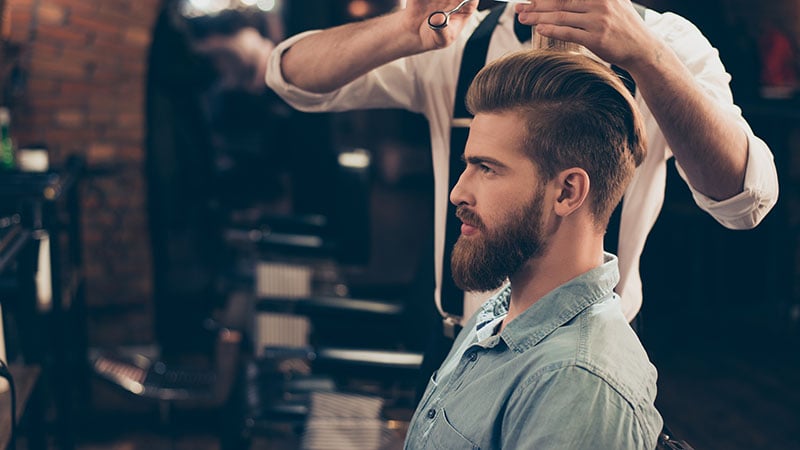 When it comes to modern and fashionable haircuts, men's undercut hairstyles rank high on the list. This classic haircut offers excellent flexibility and can be tailored to suit different men's hair types. Regardless of whether you have curly or straight hair, you can discover an undercut haircut that complements your personal style. Furthermore, with a variety of variations, such as the disconnected undercut, there are plenty of options available to match your desired vibe. So, if you're looking to switch up your hairstyle game and make a daring fashion statement, these trendy men's undercut hairstyles are certainly worth considering for your next trip to the barber.
What is Undercut Haircut?
The "undercut" hairstyle has historical origins that can be traced back to the days of Vikings. This style involved shaving the back of the head with long bangs, as opposed to shaving the sides. The purpose was to cool the neck, keep the sun out of the eyes, and maintain a pointy beard on top. Some Native Americans also donned a similar hairstyle. During the 1920s and 1930s, the undercut became a mainstream fashion trend, especially popularized during the jazz age. The short back and sides haircut, which facilitated personal hygiene in trench warfare, became the norm in the UK after World War I. It also gained popularity in North America and France. The undercut remained common in the UK and America until the 1960s when longer haircuts were popularized by subcultures like the mods and bands such as The Beatles and The Rolling Stones.
Best Undercut Hairstyles for Men
1. Fade Undercut
For men who value meticulous attention to personal style, the undercut with fade is a visually gratifying choice. Skilled barbers can seamlessly transition between clipper guards, ensuring you make a statement in professional and social settings. You have various types of fades options, including skin fade, low fade, mid fade, or high fade.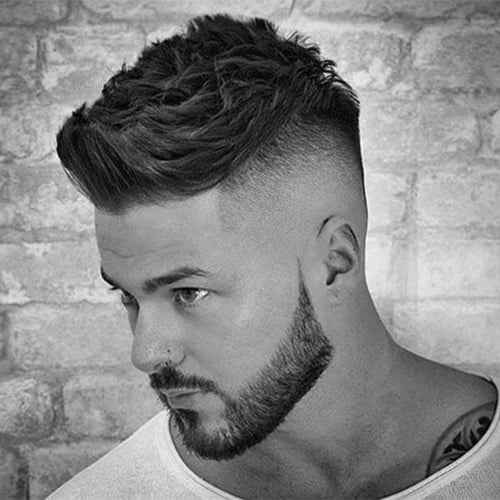 2. Disconnected Undercut
The disconnected undercut hairstyle is characterized by a noticeable contrast between the hair on top and the shaved sides. This creates a bold and eye-catching look that is perfect for fashion-forward men. If you're looking for a bold new style that will grab attention, give this haircut a try.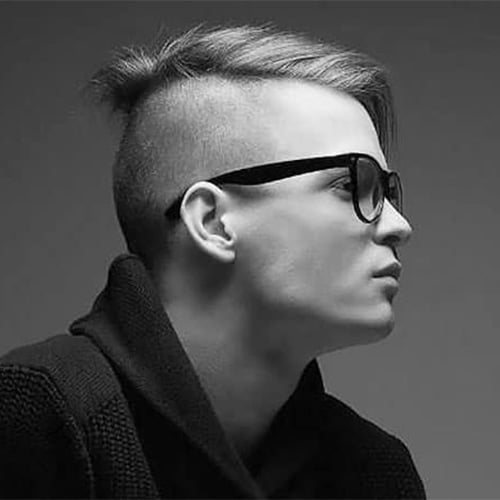 3. Layered Undercut Haircut
For something a bit different, a layered undercut is what you'll want. This version of the cut is perfect for those who want to add fullness and depth to their hair from a visual perspective. By adding layers, you'll visually amplify your locks, working to make the hair look voluminous. You should also determine to what degree you wish to layer your hair. To do so, you should start by asking your barber to cut shorter segments off your hair and then proceed to take off longer portions if you like the way it suits your face.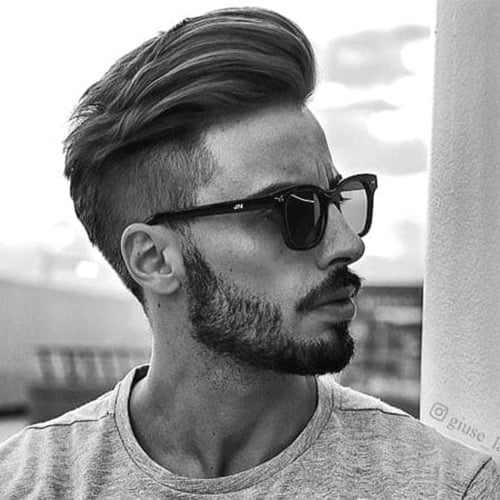 4. Hard Part Undercut
Gents with an edgy attitude will love the combination of a hard part undercut. While from far away, this style may just look like another side-parted undercut, it is, in reality, much bolder up close. Featuring a shaved part, this undercut style is modern and statement-making. All you need to do is adjust the thickness of your part and the length of your undercut to suit how strong you want the look to appear.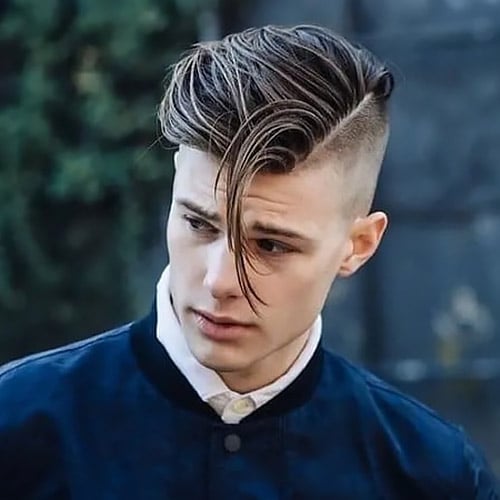 5. Curly Undercut Haircut
If you have naturally curly hair, an undercut hair cut can make an excellent option. Not only will this style show off your curls on top, but it will also work to tame them. By shaving the sides and back of your hair for the undercut, all your natural volume and texture will be concentrated on top, creating a neat and smart appearance.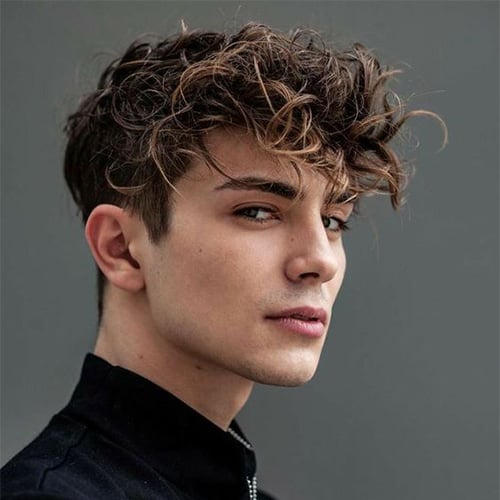 6. Undercut Mullet
The mullet, once historically associated with a lack of fashion sense, has now evolved into a modern haircut trend. The undercut mullet is for men with an adventurous spirit and a preference for living life on their own terms. It offers a unique way to express individuality and showcase a distinct sense of eshay style.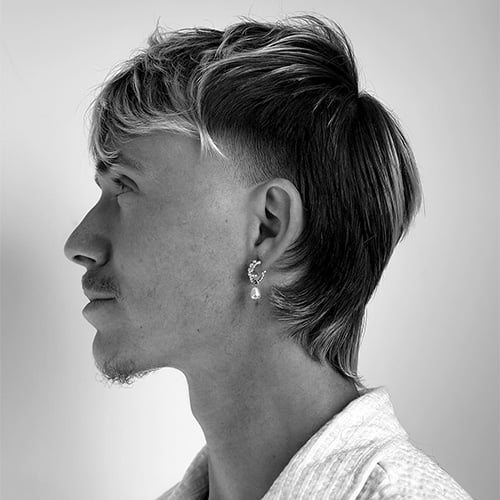 7. Blowout Undercut Haircut
An undercut hairstyle for men provides the freedom to style the hair on top in various ways. One captivating style to consider is the blowout undercut. To achieve a perfect blowout, start by washing your hair and lightly drying it with a towel. Next, utilize a round brush to blow-dry your hair, directing the strands upwards and backward. Finally, add shape to your hair using pomade or gel, and finish the look with a spritz of hairspray.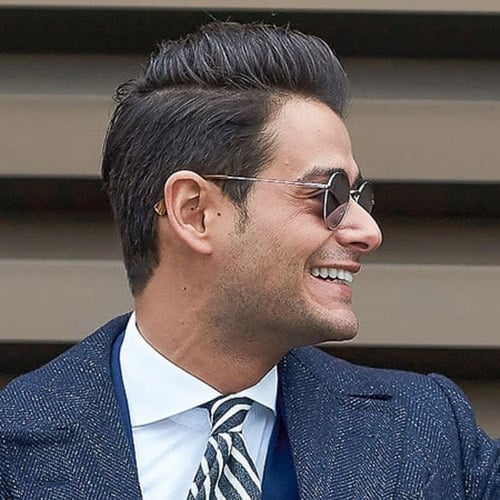 8. Short Undercut Haircut
An undercut men's haircut can be achieved with both long and short hair. While a longer top may provide a more noticeable appearance, a short undercut can also create a subtle style. However, it's important to note that short hair lacks the weight of longer hair, making it more challenging to style neatly back. As a result, a short undercut is often best complemented by a full style such as a pompadour or a forward-swept look.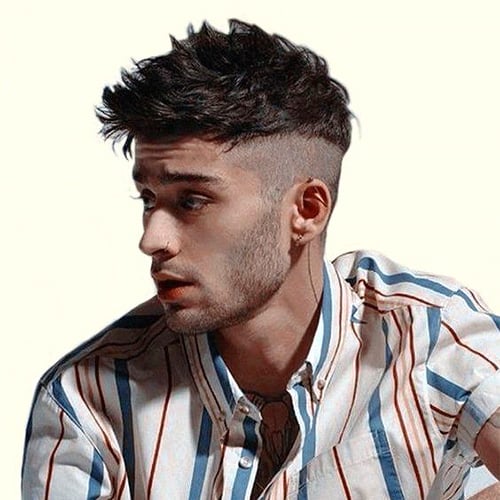 9. Pompadour Undercut
To achieve a 1950s-inspired undercut haircut, consider styling it with a voluminous, rockabilly pompadour. This look works best with longer hair and adds a stylish and slick appearance to your overall length. Aim for a slicked-back version of this cut but with a larger and more daring finish. To achieve the most accurate interpretation of the '50s look, use a wet look, a strong-hold gel product, and a comb.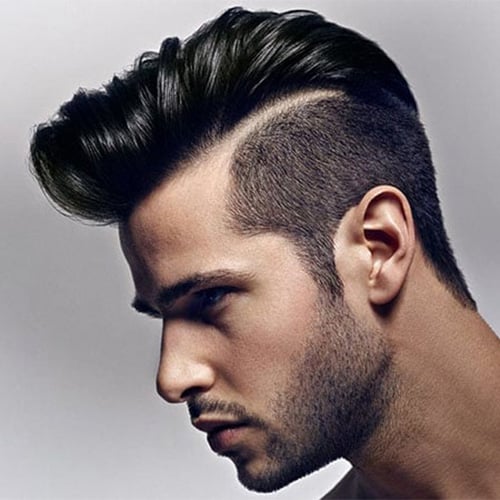 10. Viking Undercut Haircut
The undercut Viking haircut is a popular hairstyle for men who want a fierce look. It works well for those who enjoy outdoor activities like hunting or who exude a warrior spirit. This extreme hairstyle is a bold statement that lets the world know you play by your own rules.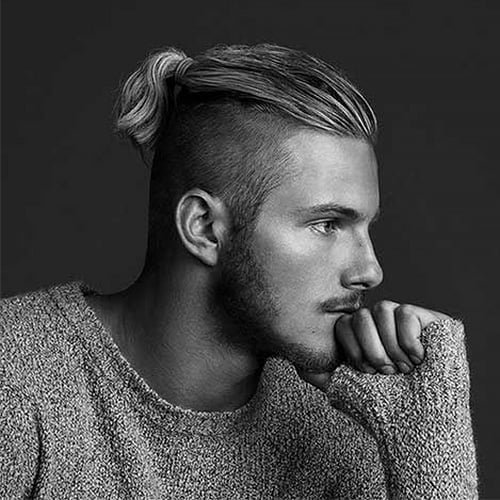 11. Side Parted Undercut
To achieve a sophisticated yet edgy appearance, one option to consider is the side part undercut. By combining the sharp contrast of an undercut with the smart style of a side part, this men's haircut is well-suited for the modern gentleman. For a bolder approach, one can opt for a disconnected undercut. Alternatively, men who prefer a more subtle look can go for a classic undercut hairstyle with some length left on the sides.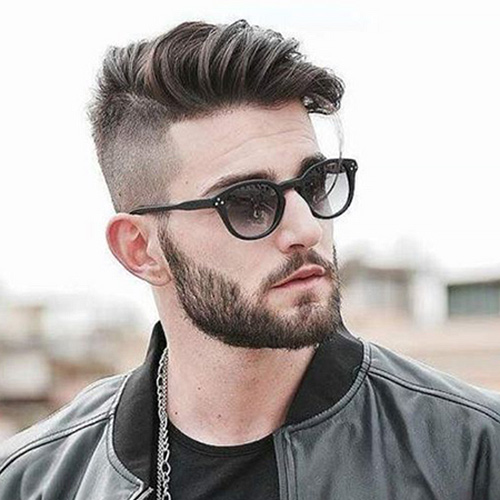 12. Grey Hair Undercut
An undercut mens haircut is a versatile look that can look great on both young and older gentlemen. If you have grey hair and you're seeking a fashionable new haircut, consider asking your barber for an undercut. This trendy look is sure to boost your appearance and turn heads. For a polished and appropriate overall look, pair the undercut with a sophisticated, slick back hairstyle.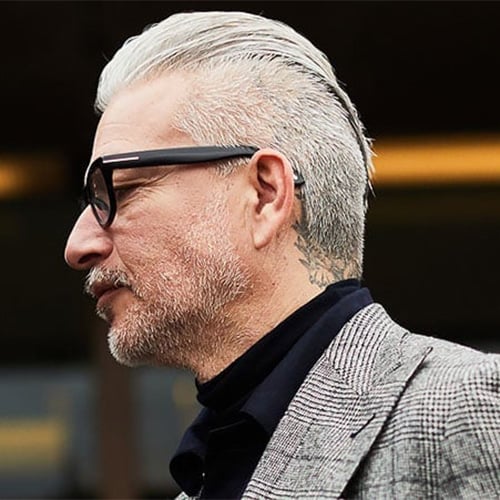 13. Slick Back Undercut
An undercut haircut can work with many men's hair types, but it appears particularly sleek with straight locks. So, if your hair is straight, consider having it cut into an undercut and slicking your hair back with pomade or gel. Not only will the slickback undercut appear sharp and dapper, but it will also add interest to your look without the need for any texture.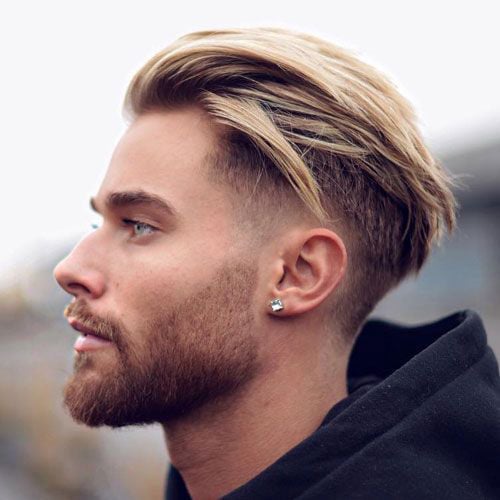 14. Side Swept Hair Undercut
To achieve a side-swept undercut, it is important to have longer hair on the top portion to complement the shorter sides of the undercut. The key to successfully pulling off this style is to ensure the hair is parted correctly, as it may vary for each individual. Choosing the most suitable parting is crucial, and it will naturally work with the direction in which your hair falls.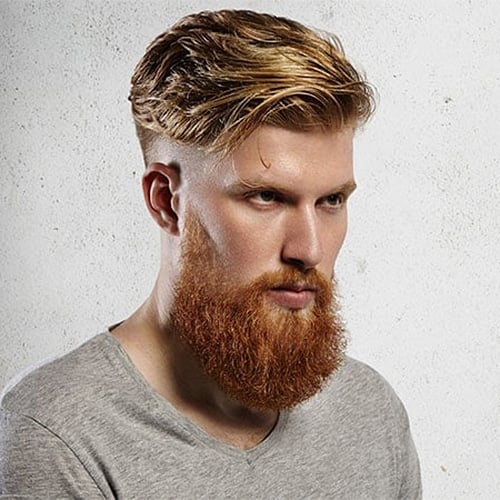 15. Caesar Undercut Haircut
The combination of a Caesar cut and an undercut can create a stylish and timeless men's hairstyle. The Caesar cut, popularized in the days of Julius Caesar, features a short length and small fringe. When paired with an on-trend undercut, this look seamlessly merges past and present hair trends, resulting in an impressive appearance.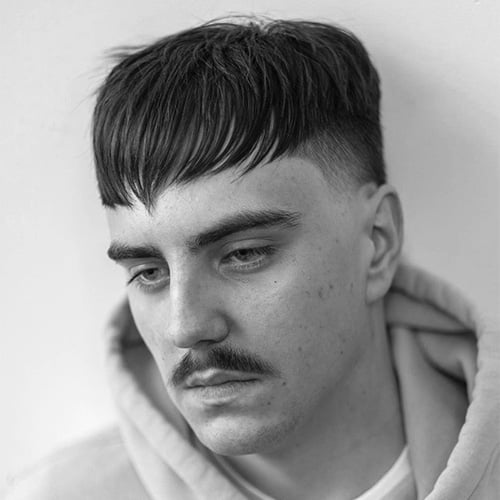 16. Undercut Textured Fringe
If you're aiming to make a distinct impression, consider pairing a fringe with an undercut. Fringes can prove to be an excellent choice for adding a fashion-forward touch to your hairstyle. Whether your undercut extends all over your head or is limited to your temples, a fringe can be a great addition. However, it's important to ensure that the fringe complements your face shape before committing to it.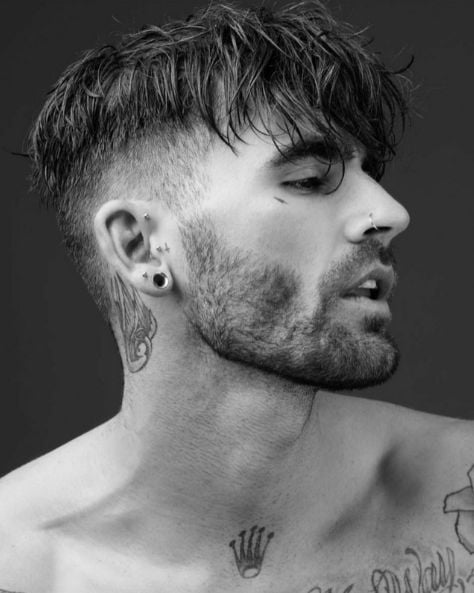 17. Undercut for Long Hair
Consider an undercut to switch up your long hair look. The contrast between the shaved and longer sections adds edge to your look, and it can be styled in various ways. Whether it's a side-swept look or a formal man bun or topknot, an undercut is a low-maintenance hairstyle for men and will allow your hair to breath during the hot summer months.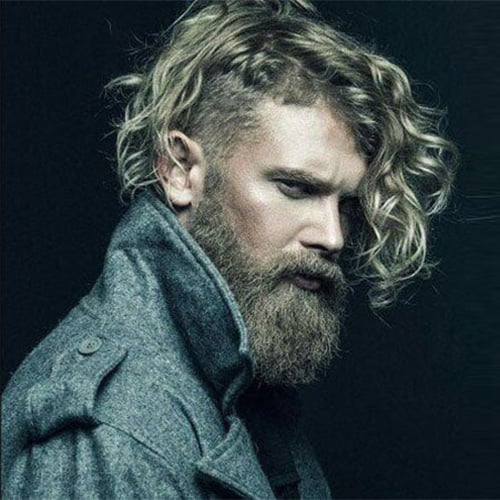 18. Temple Fade Undercut
If you're not ready for a complete undercut, consider a temple fade undercut. Unlike a regular undercut, a temple undercut features shorter hair around the temples while leaving the hair behind the ears and at the back of the head long. This creates a stylish and subtle look that's truly eye-catching.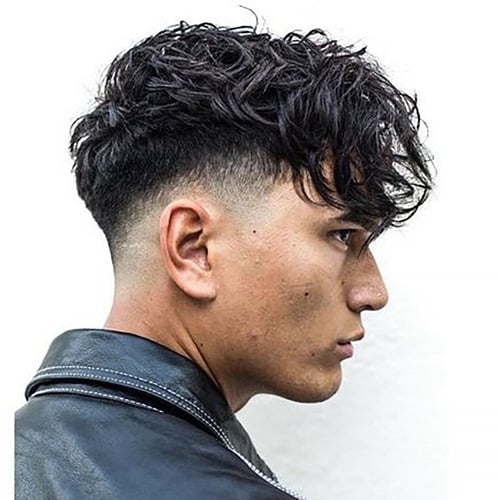 19. Dred Undercut Haircut
The versatility of an undercut makes it compatible with various men's hairstyles, including dreadlocks. If you prefer to maintain control over your unruly hair while sporting dreads, consider incorporating an undercut into your overall look. Not only will it make your hair more manageable, but it will also enhance your style. From there, you can decide how you want to wear your dreads on top – whether hanging loosely to one side for an edgy appearance or tying them up into a man bun or ponytail for a more youthful vibe.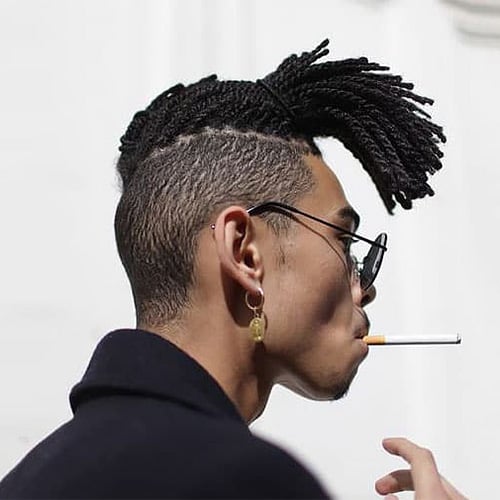 20. Man Bun Undercut
To achieve a modern and stylish version of the undercut, you can pair it with a man bun. The man bun, once associated with hipster haircuts, has now become a popular hairstyle choice for men. By combining a man bun with an undercut hairstyle, you can create a sleek and fashionable look that is sure to turn heads.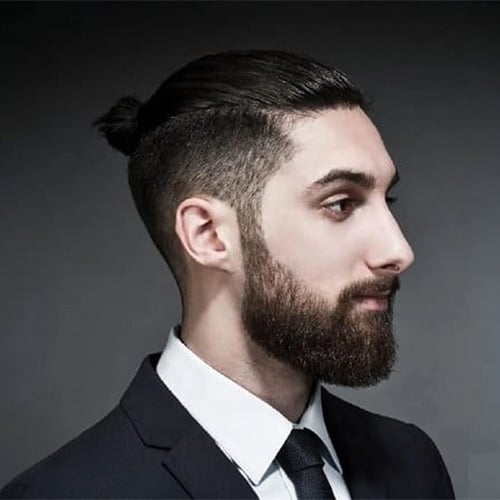 Undercut Haircut Considerations
Face Shape
When deciding on an undercut hairstyle, it's important to take into account your face shape. Men with long faces should steer clear of hairstyles that add excessive height and instead opt for a slicked-back look or a short textured haircut. On the other hand, men with round face shapes can create the illusion of added height by going for an undercut pompadour or quiff. Men blessed with oval-shaped faces can effortlessly pull off most men's haircuts.
Hair Maintenance
When preparing for the day, deciding between extra sleep or putting in more effort can be challenging. If you prioritize sleep, a low-maintenance haircut or messy hairstyle can provide a casual and laid-back look. However, if you're willing to spend more time on your hair, a sculpted undercut may be ideal. Don't overlook the need for regular visits to the barber to maintain the sharpness of trendy undercut hairstyles.
How to Give Yourself an Undercut Haircut
Cutting your own undercut at home is possible but not recommended due to the difficulty of trimming hard-to-reach areas evenly. However, if you're determined to do so, it's easier with someone's help and a quality hair trimmer. Start by tying up the hair on top with pins, clasps, or bands. Trim it upwards, keeping in mind that achieving a fade may be challenging. Adjust the length incrementally with most beard trimmers. Once satisfied with the back and sides, style the hair naturally. Scissors may be necessary for additional touch-ups, but this can be challenging to do alone.
Undercut Men's Tips
Choose an undercut with a short length on top for a classic appearance.
If you have thin hair, select a layered undercut to add volume and texture.
Use matte hair mousse to style a modern slicked-back undercut or gel for a classic greaser look.
Consider wearing your undercut hairstyle forward or to one side for a sophisticated appearance.
Try styling an undercut with a pompadour or top knot for an on-trend look.
To make a statement with your strands, opt for a disconnected undercut with a long length on top.
Undercut Men's Hairstyles FAQs
Who made the undercut popular?
Undercuts have been in and out of fashion since Edwardian times. Over the years, it has been common among UK gangs, alt-right groups, and the military. However, in recent years it's become incredibly trendy thanks to shows like Peaky Blinders and Fury.
Can I pull off an undercut?
Undercuts are great because they're incredibly versatile and can be tailored to different face shapes. Oval, round, and square faces look best with an undercut, as it complements their angular features and balances out the jawline.
Is an undercut high-maintenance?
Undercuts do require more maintenance, as the key to the look is short sides. As such, you'll want to schedule a trip to the barber to neaten up your sides every three to four weeks. Alternatively, because undercuts are generally one length, unlike a fade, they're easy to touch up at home with a steady hand and electric clippers.
SUBSCRIBE TO OUR NEWSLETTER
Subscribe to our mailing list and get interesting stuff and updates to your email inbox.