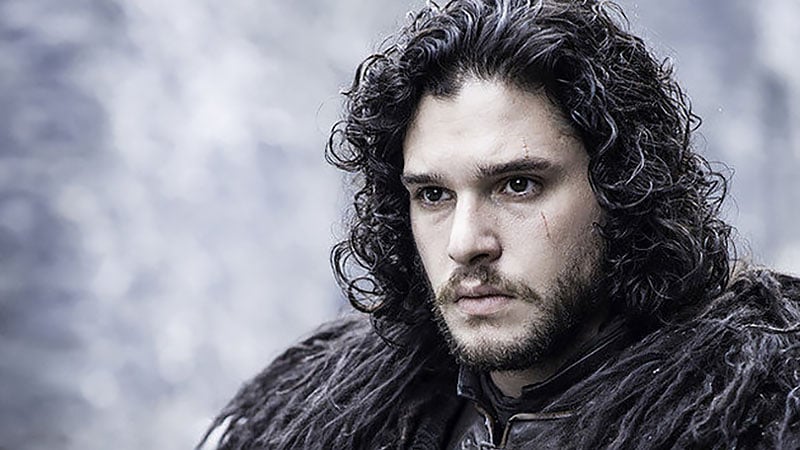 Every man with curly hair knows the struggle is real. This hair type can be unruly and hard to tame most often. While some may think that curls should be shaved off or may not work for their face shape, we're here to tell you otherwise. To show you how to work with your natural texture instead of against it, we've rounded up a selection of the most sex and stylish curly hairstyles for men.
RELATED: 15 Best Hair Products for Curly Hair
Short Curly Hairstyles For Men
Curly Caesar
When choosing a classic and timeless look to suit your hair type, look no further than a curly Caesar. The cut is defined by the short horizontal bangs and an even length throughout; the side, back, and top are kept roughly the same length. The Caesar looks excellent with texture, and a curly Caesar is a fantastic way to make your curls look stylish yet low maintenance. There are many ways to style it, from messy and uneven, to a more uniform appearance. But with curls, you want to be able to show them off. Be sure to work with a hairdresser specializing in curly hair for the best possible result.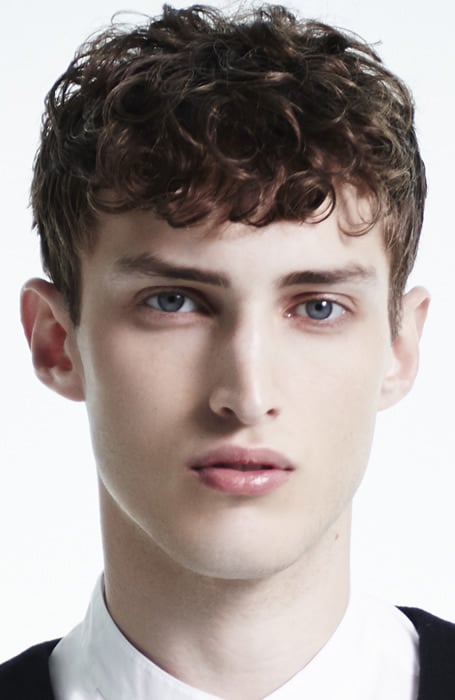 Tight Curls
Many men naturally have smaller, tighter curls. You can enhance your natural curls with a pomade or styling mousse, working product with your fingertips. Also, start with a smaller portion of hair product, then build your way up to using more should you feel the need for it.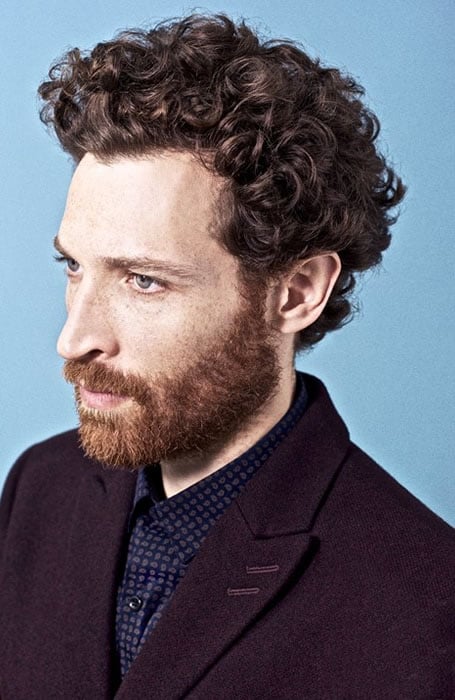 Curly Taper Fade
A taper fade gradually cuts the side and back of the hair short while the top is left longer. This creates a stylish contrast, helping to achieve a masculine and polished appearance. There are many ways to try out this fade, but a curly taper fade hair is one of the best because it is a way to make them look neater and is easier to style. The taper fade adds structure to your curls while highlighting them and making them the focus of your look.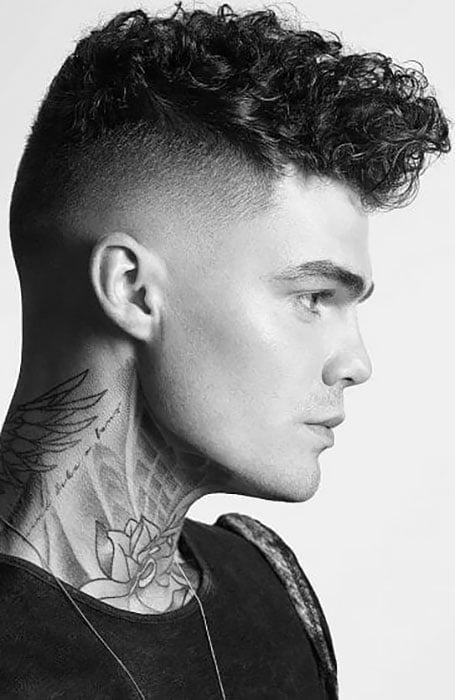 Curly Short Afro
Curly hair can often be unruly and challenging to manage. Therefore, a cut that helps keep your curls under control can be highly useful, especially if you work in an office or have minimal time each morning to style your strands. As such, a fade haircut makes an excellent option for gents with Afros. To nail the look, just ask for a cropped length on top that gradually shortens down the sides to reveal a clean shave around your ears.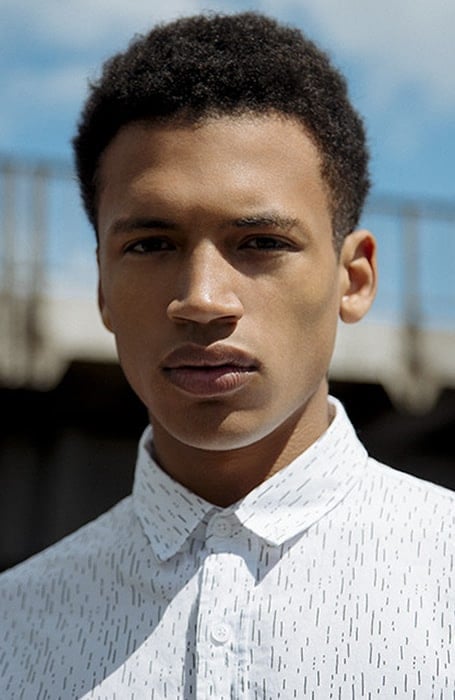 Side-Swept Curly Hair
If you are looking for hair that makes you appear effortlessly cool and laid-back, then side-swept curly hair is your option. The appeal of brushing your hair to the side is that it makes a big statement; your curls are front and center of your appearance. This is a great way to draw attention to your face and is all about volume. It requires some maintenance, and you may have to readjust your locks several times daily to avoid them falling into your eyes. But that is what hair products are for: use them to help tame your locks and have fun.
Curly Mid Fade
What is not to love about a short curly mid fade? This is the perfect way to show off your curls, as the mid fade complements them and allows for more length on the top. A mid fade falls between a low fade and a high fade and is defined by tapering between the temple and ears. It can cut down on grooming time and make your hair more manageable; Regarding how to style it, slick back your curls for a sophisticated appearance that will lend itself well to more formal settings. Or keep it loose and natural for a laid-back approach.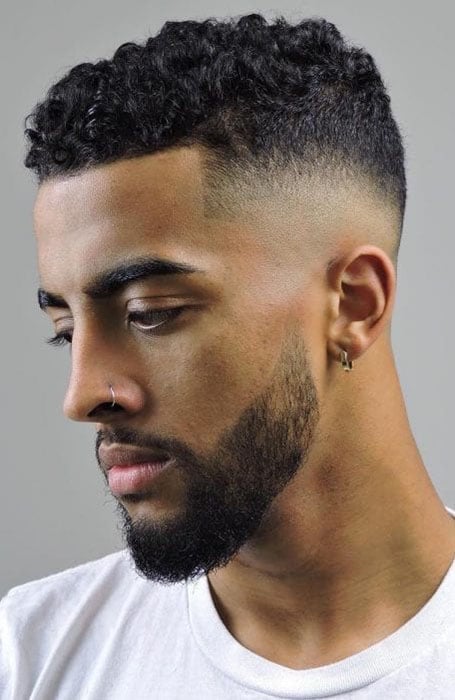 Curly Slicked Back
We are talking about statement hairstyles for men with curly hair, and slicked-back curls are undoubtedly attention-grabbing. Matte or glossy, utilize a product that will complement your hair's natural texture and will be long-lasting. Also, be conscious of your hair length and ensure that slicked back styling will suit your face shape. Men with longer curls will be afforded more versatility when slicking back their hair, as they can switch up how they part it and how the curls will sit.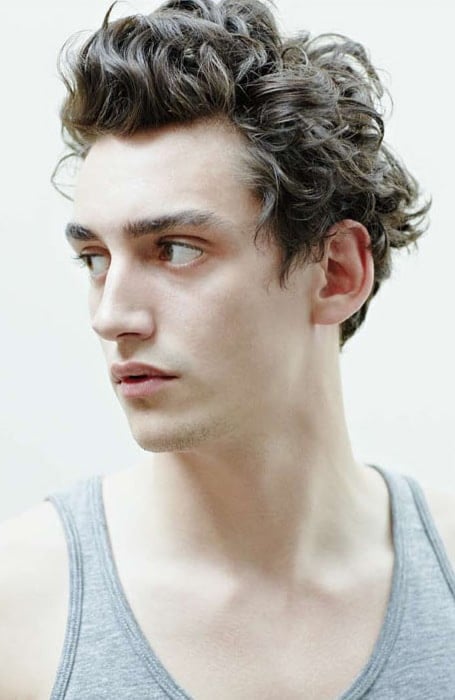 Curly Low Fade
A low fade shortens the back and sides, with the hair tapering down lower on the head. The top is left longer, and if you have curls, this is fantastic because you can make them as dramatic and voluminous as you want. The curly low fade allows you to create a slightly edgy and sleek look but is not such a sharp contrast that it makes a statement. This is the perfect option for the man who wants a great look for every day and can lend itself well to various settings. It also requires little styling, although you may need to visit your barber for regular touch-ups.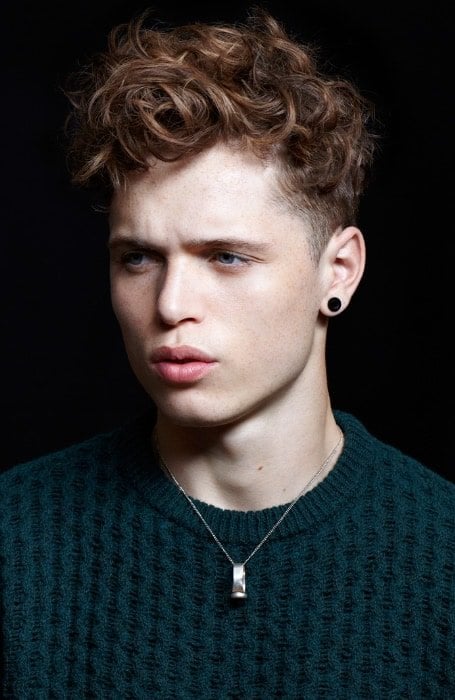 Curly High Fade
Curly hair is incredibly versatile and can be styled in several ways, but if you want an effortlessly cool and modern look, then opt for a curly high fade. A high fade starts at or above your temples and features short sides and back. The hair on top is left longer; this allows you to draw even more attention to your curls and give your appearance a masculine update. Grow out your facial hair for a more balanced look. Or opt for a clean face for a more polished finish.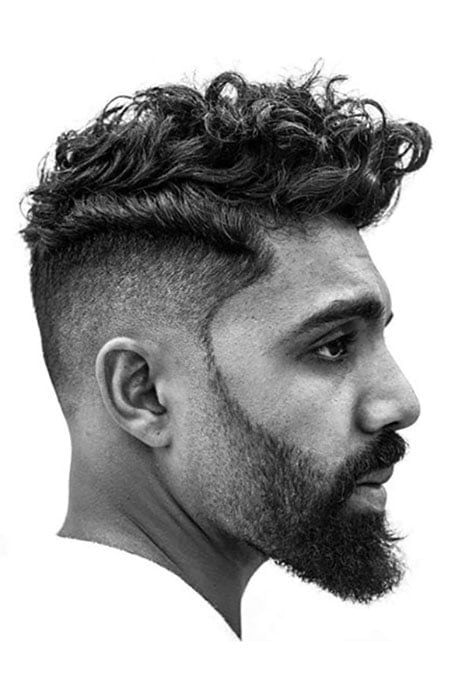 Curly Hair Quiff
The quiff is one of the best hairstyles for men of different age groups. It's classic and very well suited to gentlemen with curly hair. Quiffs are styled by brushing the hair upwards and away from the face, but things may not be that simple for men with curly hair. The key to perfecting a curly quiff is to experiment with how your hair falls, rearranging sections so that your curls are enhanced and not overly scrunched. Try refraining from blow-drying your natural curls for a quiff, as you want to capitalize on your natural hair type.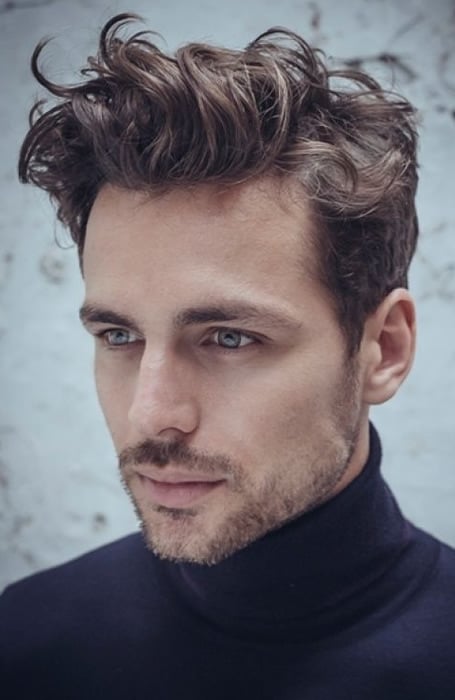 Medium Length Curly Hairstyles For Men
Curly Man Braids
Man braids are edgy and versatile and can be created in several ways to suit your personality, as well as your hair length and texture. The appeal for men with curly hair is that their hair is so textured, and combining it with a braid creates an interesting contrast. Man braids can also help reduce your style time; they can prevent hair breakage, lock in moisture and keep the frizzy hair at bay.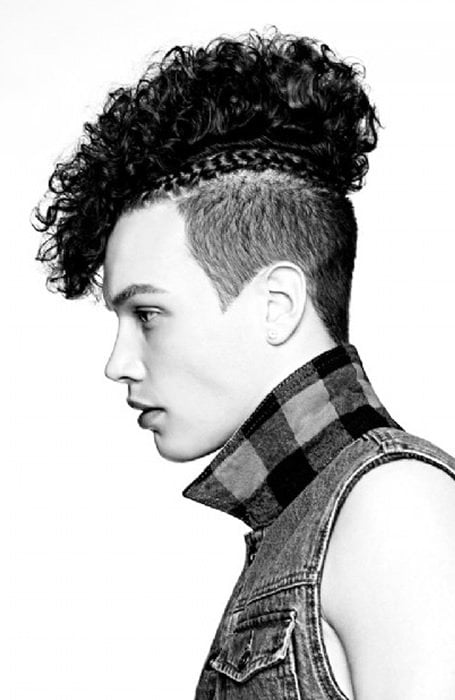 Curly Fringe
The curly fringe relies on a thick mane of hair. You want to be able to have a lot of thickness when you are styling this take on curls. After styling your hair with a shiny pomade, apply a bit of hairspray to ensure everything sits right.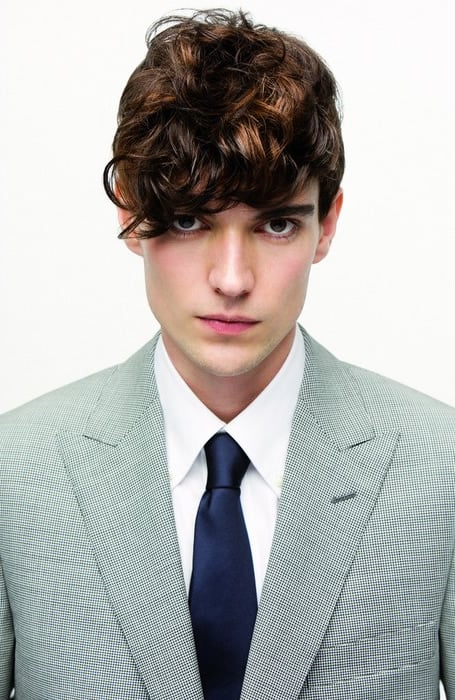 Curly Faux Hawk
A curly faux hawk is a perfect look for a man who is blessed with curly locks. The faux hawk is less dramatic than a traditional mohawk. Instead of clean-shaven sides and a lengthy middle section of hair, it is defined by having short sides, and hair is kept longer on the top. This gives it an edgy and youthful appearance. It is a fantastic way off your curls and can also make them more manageable. You can experiment with proportions, creating more volume in the front for contrast.
Curly Curtains
The curtain haircut is defined by a long fringe parted in the middle or on the side. It is a look that has been enjoying a resurgence of popularity of late and can be adapted to suit your hair length and texture. Curtains with curly hair are a fantastic option because they can enhance your natural texture and pair with a fade for a more polished and masculine appearance. Little styling is needed, and you can only wash your hair and apply a curly hair product or texturizing spray.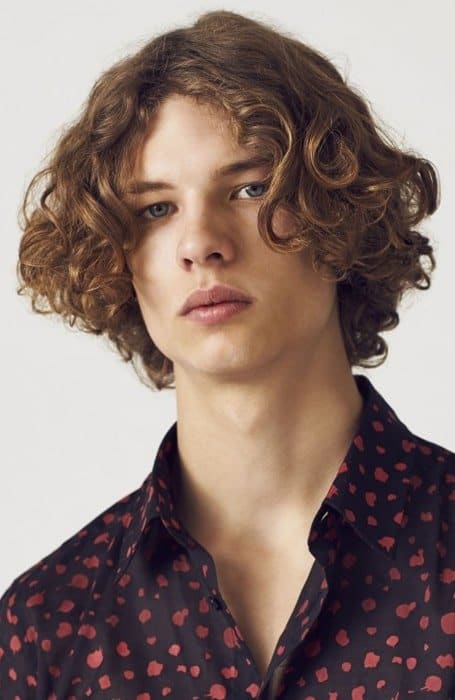 Curly Undercut
The undercut may be military-inspired, but done with curls, and it is an entirely different look. Curls add a bit more dimension and fullness to this favorite hairstyle. Channeling your curls in an undercut is an excellent approach to tame your locks for a few reasons. Particularly for gentlemen with unruly curls, an undercut boasts shorter sides, meaning the only coils you'll need to manage are the ones up top. Further, an undercut looks fantastic with different lengths, so you can go for any length that suits your face shape.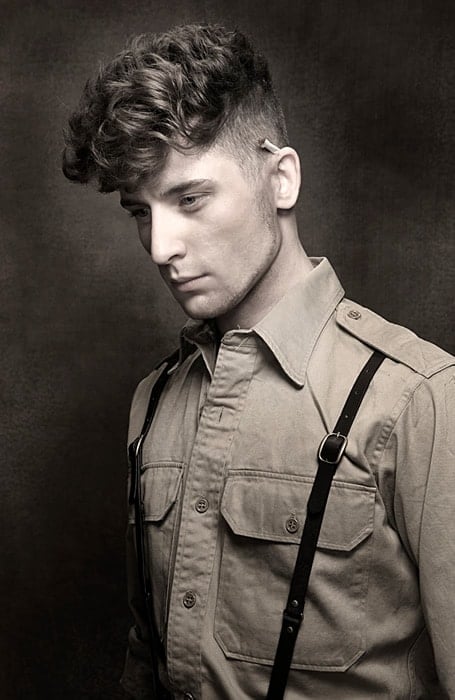 Curly Pompadour
The pompadour is a statement in itself, and curls take this hairstyle popularised in the fifties to a new level. Curls will boost the thickness and fullness that a pompadour already possesses. The trick to ensuring that a pompadour works best for your curls is to manage your natural waves, keeping your hair neat and in place. Work with your natural hair type for a redefined pompadour.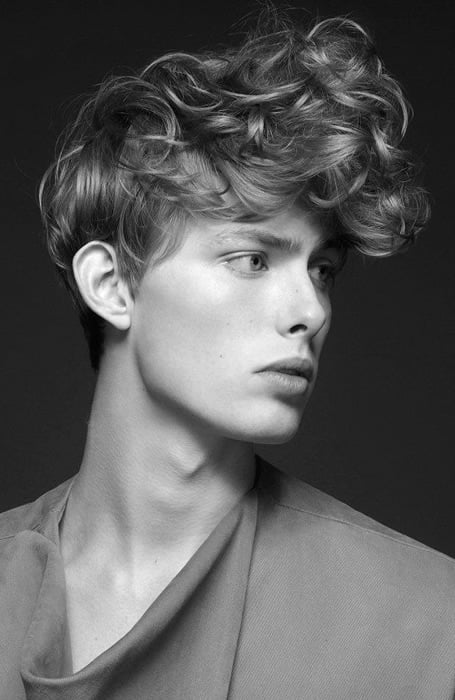 Curly Hair Design
Hair design is a fantastic way to show off your personality and style. It is an excellent opportunity to express yourself and shows that you like to take risks. There are many ways to try it out; You can opt for a straight line or angled shape that creates a minimalist yet cool look for a more subtle approach. You can experiment with different patterns and artwork for those who prefer looks that demand attention. Popular choices include star and lightning hair, geometric designs, and zigzags. When paired with curly hair, it produces an interesting contrast.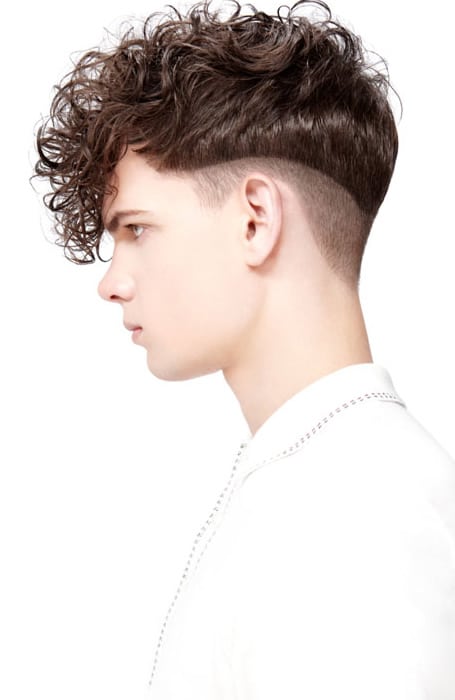 Curly Bowl Cut
The bowl cut is back and looking better than ever. While smooth, perfect bowl cuts may have been on-trend in the '90s, today's modern bowl cut is full of texture and a little bit messy. As such, gents with curly hair are the perfect candidates for rocking this style. To nail the look, just ask your barber for a low undercut with a long length on top that sits evenly in line with your bangs. Then, just play up your natural texture to ensure a cool, carefree, throwback appearance.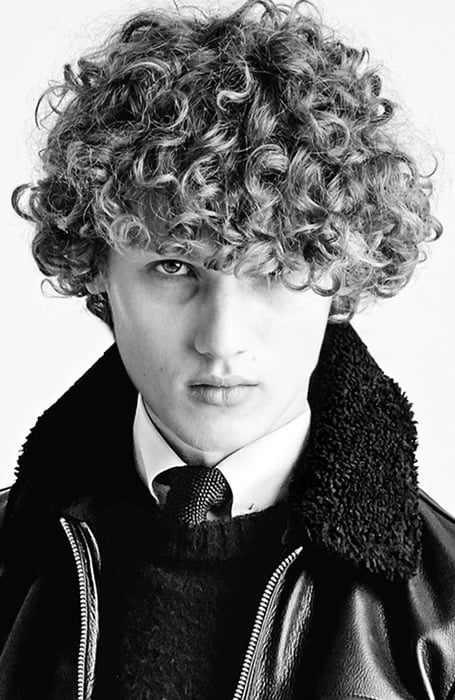 Curly Hard Part
If you want to add some definition and edge to your curly haircut, consider opting for a hard part. A hard part, which is a part created by shaving a line into the hair, can achieve a clear distinction between different sections of hair. As such, it creates a sharp appearance, perfectly balancing the textured curls' relaxed aesthetic. Try one with your next cut if you want to part your hair to one side and want to shake things up.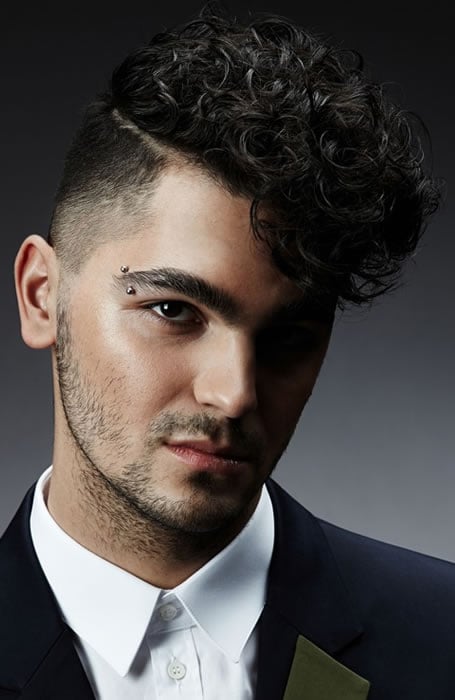 Curly Burst Fade
The burst fade haircut is defined by hair tapering around the ear and the back of the head, which creates a rounded, semi-circular appearance. It is a style that is incredibly versatile and lends itself well to various textures, including curly hair. The beauty of opting for this fade when you have curly hair is that it can provide a bit of contrast. It can also help highlight your natural locks while at the same time allowing for a more polished and masculine look.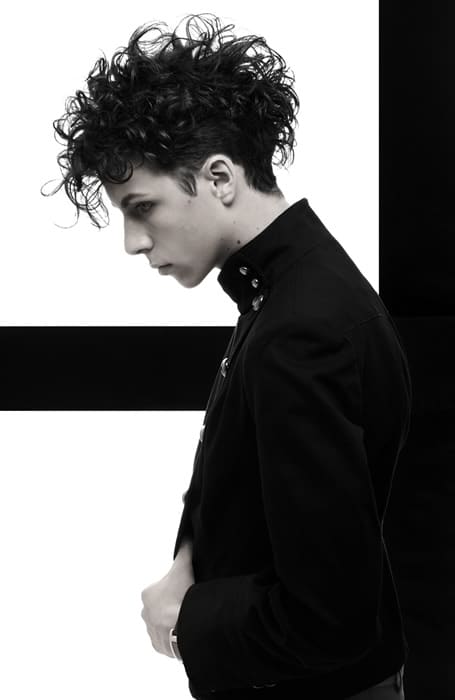 Curly Side Part
The staple hair trend of the twenties and forties, the side part is one of the most iconic and timeless hairstyles ever. Men with curls should rejoice for this 'do because curls maximize the volume of a side part and lend well to the vintage aesthetic this hairstyle brings with it. Ensure that you part your hair on the side that suits the way your hair naturally grows, and opt for a sleek, glossy finish for an authentic retro revival.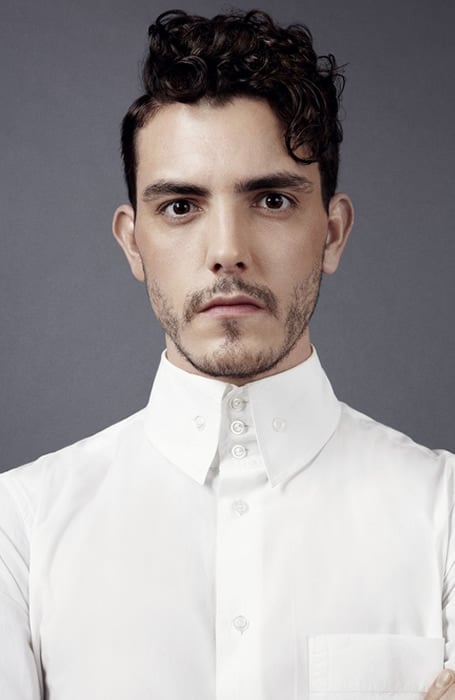 Curly Mullet
The mullet is one of the most popular 80s hairstyles and is still favored among daring men today. The cut is short at the top and sides and longer in the back, creating an eye-catching shape and an effortless appearance. The mullet is one of the most controversial cuts and takes some serious confidence to pull off, but it is also incredibly versatile. It can be paired with hair of different textures, including curly. The volume of the curls makes it look less dramatic, as it softens the change in length between the front and back.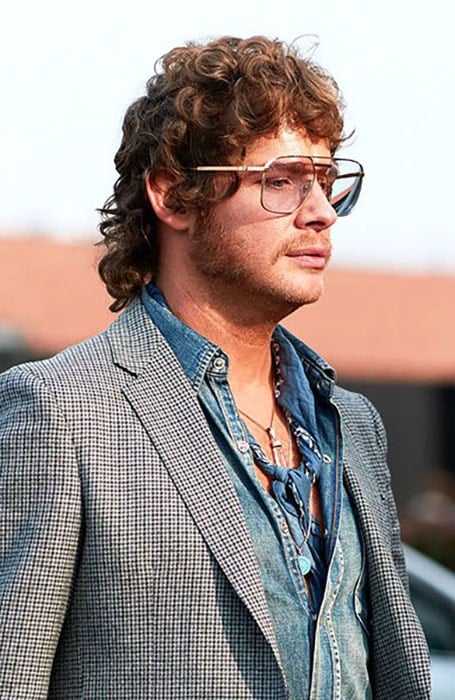 Curly Blowout
A blowout haircut can make it look like you have been caught in the wind. The style is achieved by using heat to dry your hair after washing it, creating volume and a somewhat messy and unstructured appearance. This is a fantastic option for someone who doesn't want a look that is difficult to style and is sexy and carefree; however, if you regularly opt for this style technique, it can leave your curls looking dry and frizzy.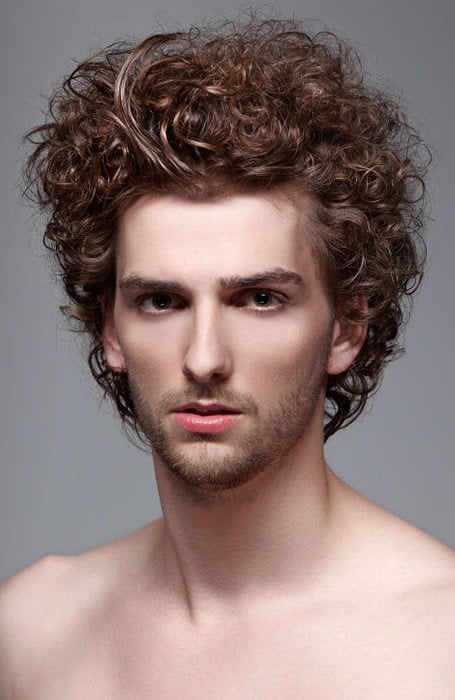 Long Curly Hairstyles For Men
Curly Lob
The male version of the popularised women's haircut called 'the lob' is a rockstar-inspired take on curly hair. You want to add some texture, so don't be too fussy with styling; it should look a little messy. Think grunge, but with a twist; you also want the hair to look thicker, so be careful with what product you use, opt for one that maximizes your natural volume.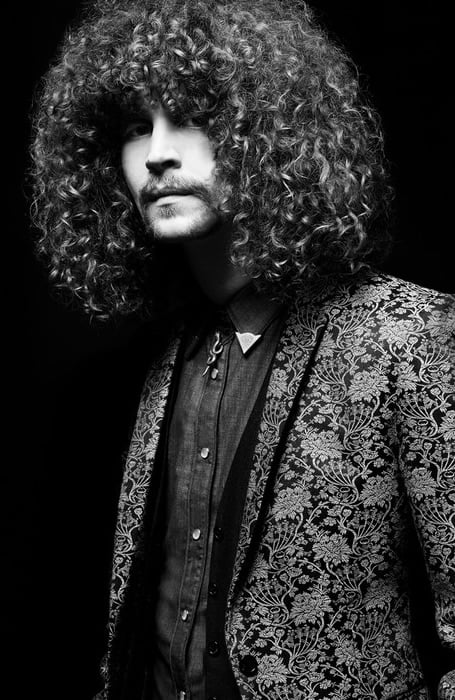 24. Curly Glossy Curls
A different way to channel longer curls is to style them with a product that has a subtle gloss. Ensure your curls have a bit more shine and are well-styled instead of flaunting drier or more textured finishes. A low slicked back ponytail is also another way to channel longer curls for dressier occasions, adding a bit of sleekness to your longer curls and still making a statement.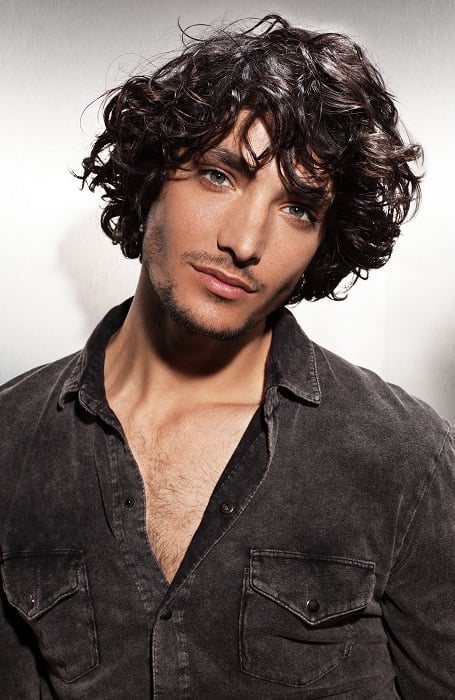 Curly Man Bun
Another popular hair trend that looks even better with natural curls is the man bun, which works tremendously with coifed locks. Growing out curls can be a little frustrating for the first few months, but they usually have an excellent wave when your strands reach your chin or shoulders. To maximize your curly man bun, use a textured, slightly messy approach. Utilize a matte product and work it in with your fingers until you reach desired waves.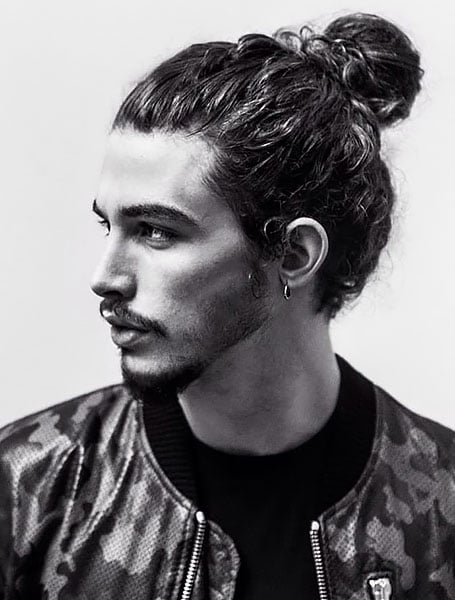 Messy Curls
Ironically, the art of perfecting messy curls is a bit trickier than just rolling out of bed. While you want to give the impression that you have done nothing at all to your hair, know that great messy curls can take time. As it can be a little harder to manage longer curls, apply a styling foam or mousse to your damp hair and scrunch and curl using your fingers to get the desired body you want. For control over longer and thicker hair, consider the angle of your cut to add dimension.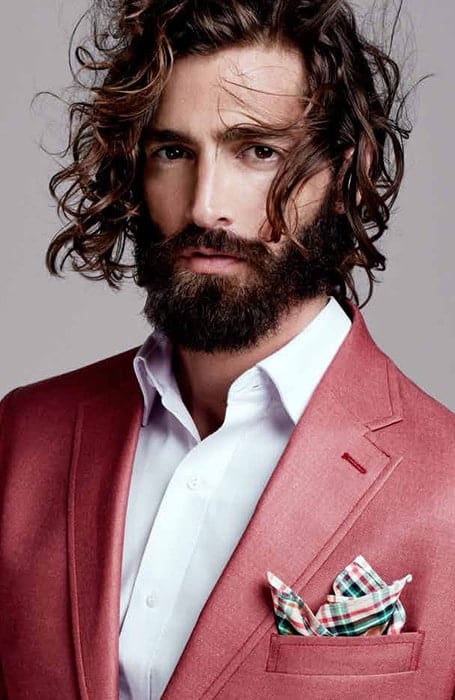 Curly Middle Part
Long hair looks great on men. It challenges gender norms, makes a statement, and can create volume and movement. Undeniably, one of the best textures for long hair is curly locks because it has a more relaxed style. Deciding on a middle part can help create symmetry around the face and highlight your features. So, together, a long curly middle part is a sexy and stylish look. Just remember to keep your locks in excellent condition to avoid frizz.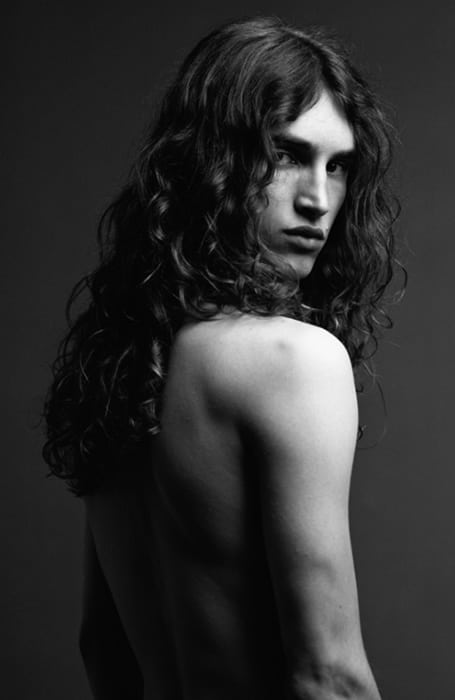 Curly Dreadlocks
Taming long Afro-textured hair can be tricky. But specific hairstyles can make it simpler. For example, dreadlocks are a classic and cool way to keep tight, thick curls from falling in your face and looking wild. Although it will take some effort to create and maintain the style, once you have embraced dreads, you'll wonder how you ever got by without them. Best of all, once you have styled your long locks into dreads, you can then try other looks with them, such as a ponytail or bun.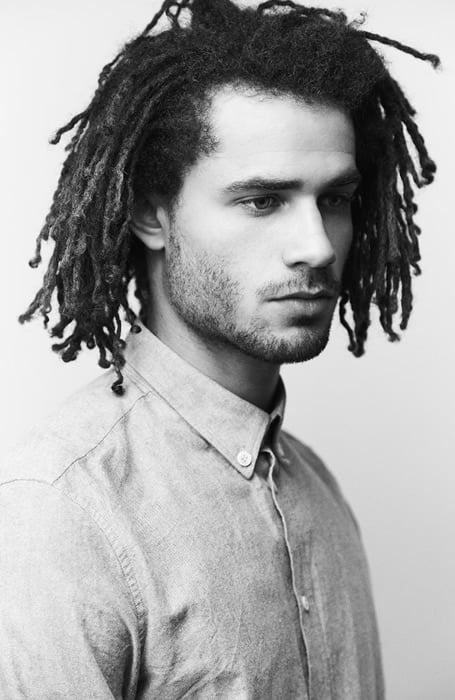 Curly Shag
The shag haircut was a style loved in the 70s, with a deliberately messy appearance and the look of the rock gods and style icons. It has come back into style again, this time with a more modern update. The great thing about this cut is that it is highly adaptable and can be created on various hair types and lengths, including curly. The curly shag has a very laid-back appearance and will get you the attention you deserve because it plays up the volume of your looks. The layers are also not as noticeable as they would be on other textures.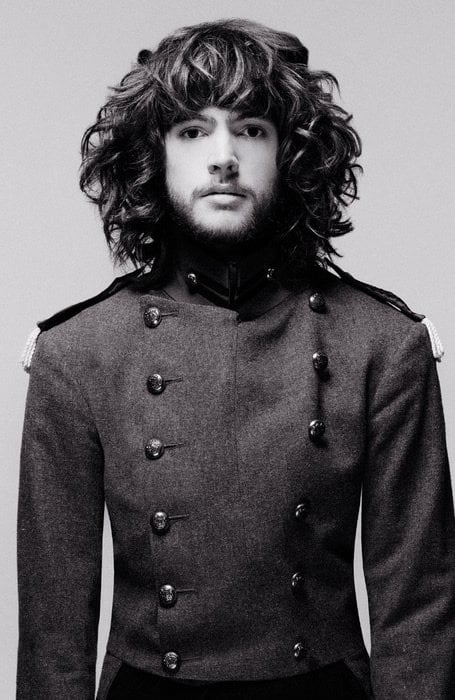 Curly Disheveled Hair
If you're the kind of gent who suits a rugged and unrefined appearance, then long, messy curls are made for you. This laid-back hairstyle projects a stylishly carefree look that is ideal for casual occasions. To ensure your hair doesn't appear too out-of-control, however, be sure to do some subtle styling, such as sweeping it back or adding a simple side part. After all, while this look requires minimal styling, it's still essential to ensure you appear stylishly disheveled instead of completely unkempt.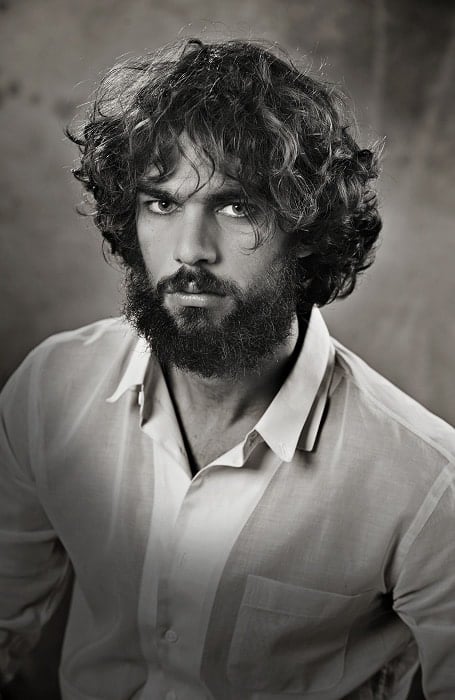 Curly Beach Hair
Well suited for casual days, beachy curls rely on much more texture than typical glossy ones. Beach curls are also a great statement hairstyle for relaxed gents, as they offer more freedom when it comes to drying your hair and applying the product. Yep, that's right; beachy curls are best done messily. That said, achieving messier hairstyles can sometimes be more difficult to perfect. Our tip is to find a great sea salt hairspray for carefree styling when your curls get unmanageable.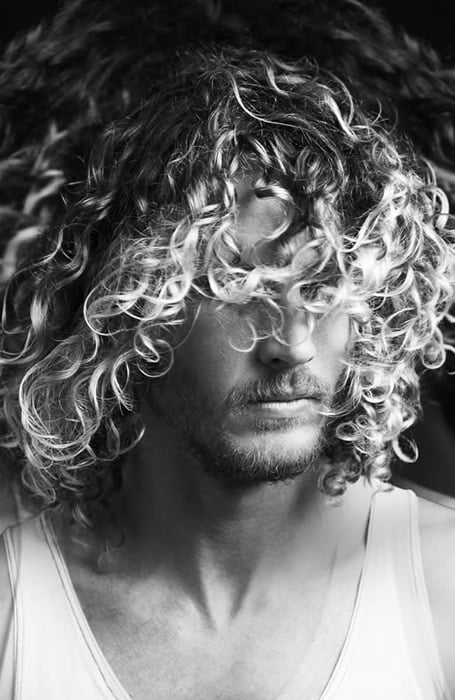 Curly Long Afro
For those with thicker curls that are more stubborn to work with, embrace your natural hair type and opt for a well-thought-out afro. We are not talking about an extra-large mop of hair but a strategically cut version that will allow you to control your hair. Be sure to find a great barber who will know how to cut your hair to emphasize your curls without making them look too overwhelming.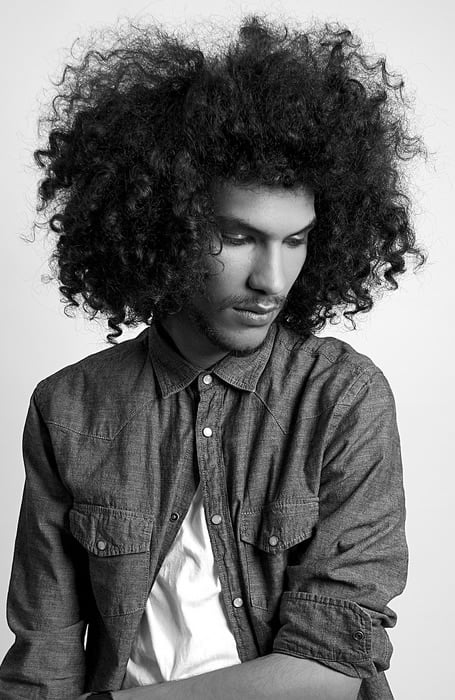 Curly Bob
For reference, in this article, a curly bob refers to longer curls that have grown out but are not long enough to hit below the chin or shoulders. When curly hair grows out, there are specific lengths where its styling works most favorably. Curls with a medium length hair frame most gentlemen's faces more efficiently, lending a bit more distinction to your natural jawline and cheekbones.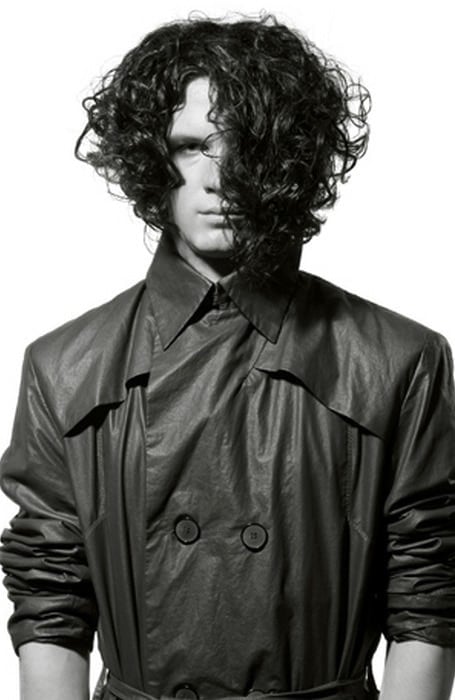 Curly Shoulder-Length Hair
Whether your hair falls naturally in tight spirals or cascades in waves, a shoulder-length cut can make an excellent style choice. The length is long enough to show off your epic natural texture but also short enough that it still appears in presentable informal situations. Additionally, a shoulder-length cut can provide you with various styling options. So, whether you want to rock a man bun, ponytail, half-up, or leave your locks loose and swept-back, you can do so with this haircut.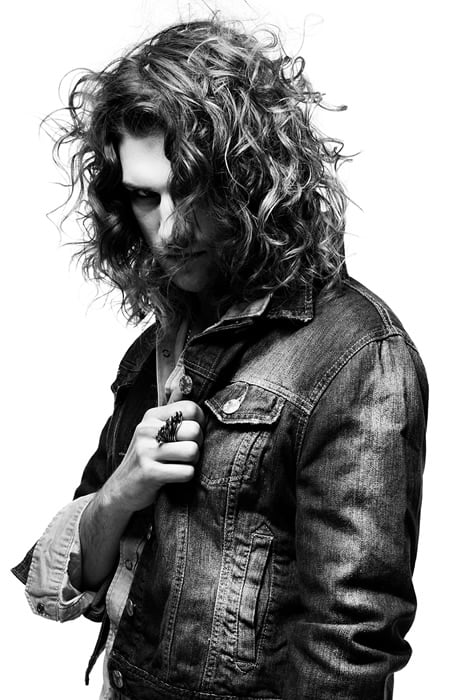 How to Care for Curly Hair
Caring for curly hair differs from other textures because of its unique challenges. These can include tangling, dryness, and frizziness. You need to follow a care routine to ensure that your curls are kept in the best possible condition and make them easy to manage. This can include something as simple as using the right shampoo and conditioner to find the perfect brush or comb.
Shampoo Once or Twice a Week: Overwashing your hair can strip it of its natural oils. Limiting the washing to once or twice a week can expose it to fewer chemicals and create better texture and volume.
Use Leave-in Conditioner 3 Times a Week to Moisturize Your Hair: A leave-in conditioner is a wonderful way to promote healthy hair growth and provide extra protection for your locks. This can also help to moisturize them. But do not use a leave-in conditioner daily; the buildup is not good for your hair and can counteract any good it could be doing.
Use Wide Tooth Comb: It would be best to use a wide-tooth comb to detangle your curly hair without causing damage.
Don't Be Too Aggressive with Your Towel: Thick and heavy towels can cause damage to wet, curly hair. It can also create knots and tangles. It is thus best to be careful with how you dry your hair and not put too much weight on the curls.
Dry Hair with a Diffuser: There are many benefits to drying hair with a diffuser, including reducing frizz and helping to maintain the natural texture of your curls.
Apply Anti-Frizz Serum on Your Hair: An anti-frizz serum can be applied to your hair to create a more sleek and soft appearance. That said, it is best to avoid applying it to your roots and not use too much product, as this can make your hair look greasy. It can also cause a build-up of products.
How to Style Curly Hair
Styling curly hair can be achieved with the right tools and products and make you look and feel great; while also maintaining and enhancing your hair's natural texture. To learn all the tips and tricks you need to achieve this, watch the video below.
Curly Hair Men FAQs
What is the best haircut for curly hair?
The best curly haircuts include the undercut, pompadour, fringe, and natural short, medium, and long cuts.
How to style curly hair?
Invest in a high-quality, nourishing shampoo without sulfate to keep your curls hydrated and healthy. After washing, remove knots with a wide-tooth comb and avoid brushing, which can create frizz. Deep condition your curls every two weeks to repair damage and boost hydration.
Is curly hair attractive?
According to several studies, curly-haired men are considered more attractive than people with straight hair.
What are guys with curly hair called?
Curly hair looks great on men and can be very sexy. You can give many nicknames to a man with curly hair, but be sure they are not derogatory.
SUBSCRIBE TO OUR NEWSLETTER
Subscribe to our mailing list and get interesting stuff and updates to your email inbox.