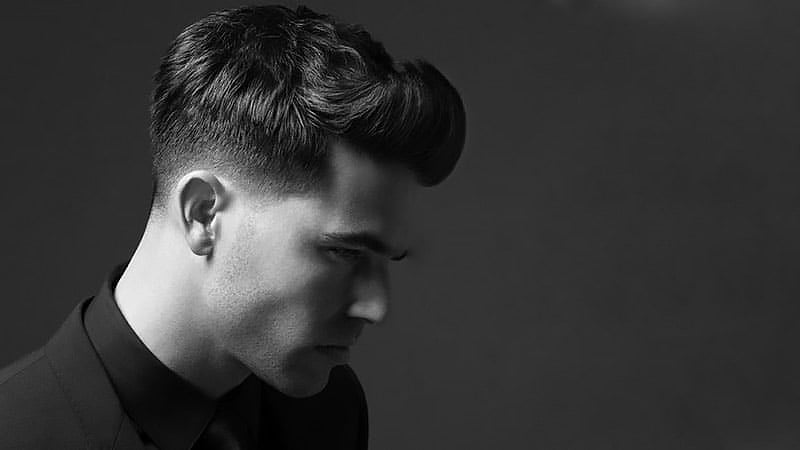 One of the most popular hairstyles for men is the fade haircut which has been around for decades and continues to be a top pick for men looking to switch up their look. Whether you're to update your existing fade hairstyle or ready to give it a try for the first time, we have you covered. We are going to dive into all the different types of fades that exist – explaining each type, how they'll work with various textures and lengths of hair, and offering advice on which one might suit you best! Read on if you're curious about what kind of men's fade haircut will work best for your unique look.
Fade Haircuts for Men: Different Types of Fades
1. Low Fade
A low fade haircut is perfect for a man who wants a versatile and masculine cut. It is a subtle and understated fade, focusing on the bottom inch of the hair, tapering down the sides, and lower on the head. The top is kept longer, and you can style it any way you want, allowing you to experiment with proportions. The appeal of the low taper fade haircut is that it pairs well with many different looks, from the crew cut to the pompadour.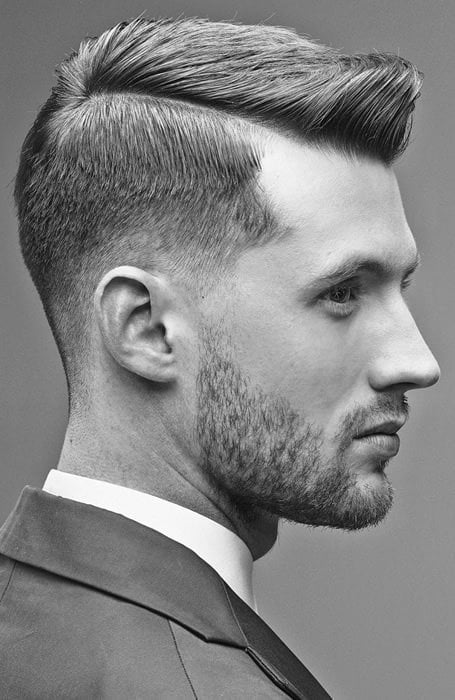 2. Mid Fade
The mid fade haircut is, as the name suggests, between the low and high fade. It is tapered and ends between the temple and the ears, creating a sleek and professional appearance. It is the perfect option for men of all ages, and because of its versatility, it can be styled in various ways. These include a side part or slicked back, with the haircut mid fade adding a modern twist to the classic, masculine looks. The choice is yours, so you can work with your barber to find the option that suits you best.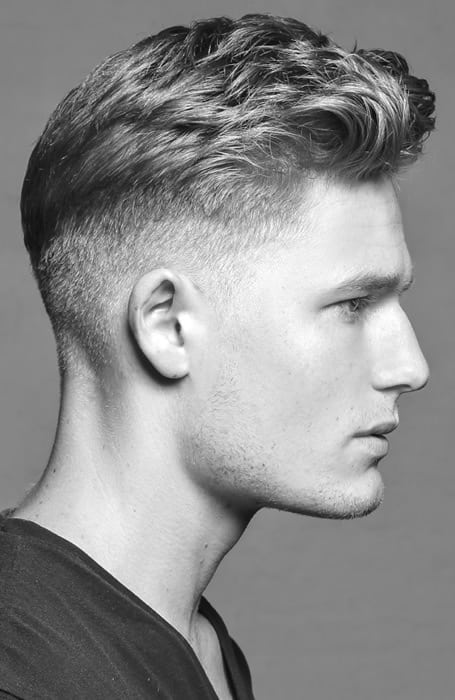 3. High Fade
The high fade haircut provides a close shave on the sides and back of the head. It is referred to as a high fade because it starts above or around the temples. The cut gradually goes from longer to shorter the lower down you go. The hair on the top of the head is kept longer, but you can determine how long you would like it to be. The high fade can be styled in several ways; you can rock a pompadour, crew cut, or a comb over. This is a stylish and sophisticated addition to any haircut, which is why it is one of the most popular men's haircuts.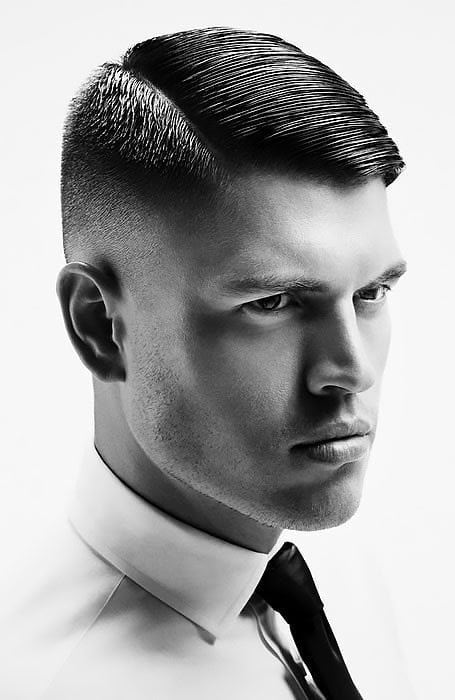 4. Taper Fade Haircut
One of the most popular fades is the taper fade, which involves cutting the hair from long to short on the sides and back while keeping the length on top of the head. The gradual fade begins from the middle section of the head. There are many different ways to style this look, and its adaptability to various hair textures and styles makes it an excellent option for any man who wants to add structure to his appearance. It can be sharp and neat but also stylish and cool.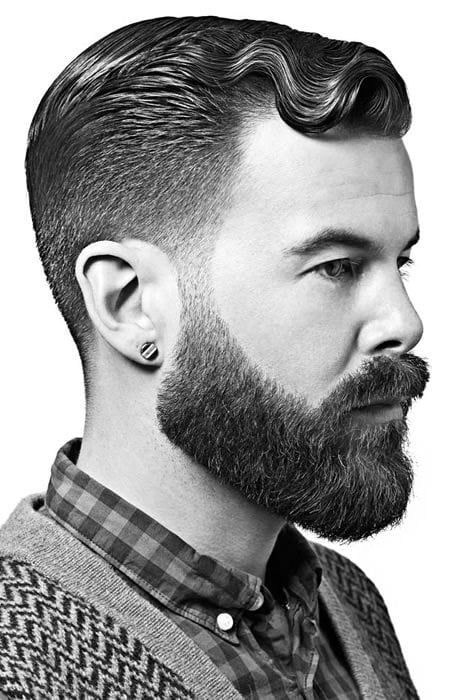 5. Skin Fade
A skin fade refers to hair that is faded on the sides down to the skin, leaving longer hair at the top of the head. The combination makes for a stylish and structured appearance. It can also be more dramatic than other fades, resulting in more contrast. This is especially true if you have naturally textured hair and choose to keep it long. You can opt for a low, mid, or high skin fade and experiment with different styles on top. This is the perfect look for various occasions and can be masculine, cool, and polished.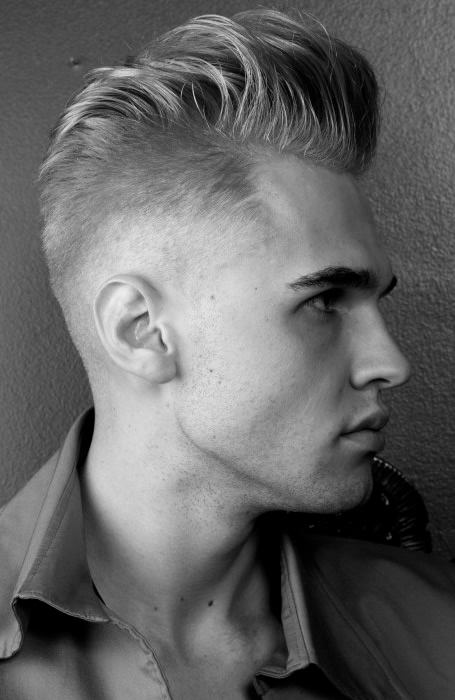 6. Bald Fade
The bald fade haircut keeps hair longer at the top of the head, with the back and sides shaved off. It is a versatile and masculine look paired with many different styles, some simple and subtle, others bold and adventurous. You can play around with various lengths at the top of the head, choosing to keep the hair short or leaving it longer, which will create more of a contrast. The fade haircut bald is a popular option for men because it can add structure to your haircut and looks sleek and stylish.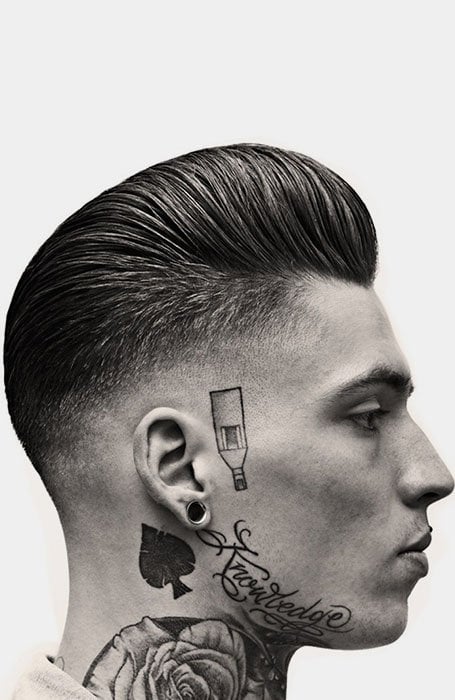 7. Comb Over Fade
The comb over fade is a hairstyle that first rose to prominence in the 20s but has continued to be a popular option for men because it helps achieve a gentlemanly appearance. This classic hairstyle is also adaptable, and many men have given it a more modern feel with how they choose to style their hair. You can experiment with different types of fades, selecting the right one to complement your face shape and reflect your style.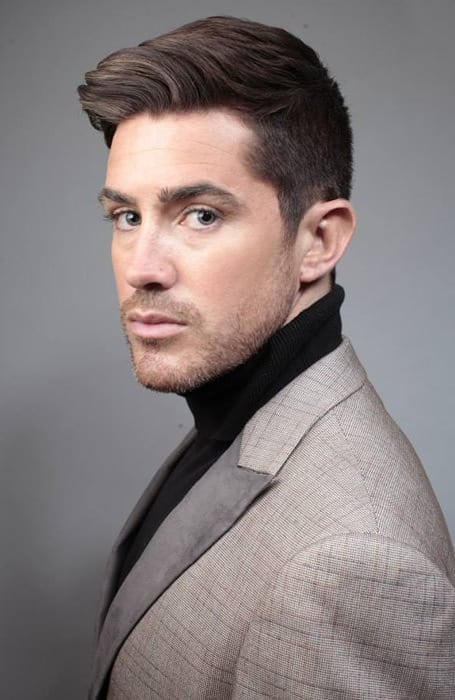 8. Drop fade
The drop fade is a hairstyle that can bring a distinctive touch to your look. This cut begins below and behind the ear, creating a curved shape. It can highlight the hair at the crown and create the illusion of volume. You have the option to style it in different ways, whether you prefer a shorter or longer length. Keep in mind that the shorter the hair on top, the less contrast it will have with your chosen fade. Overall, the drop fade offers a modern and cool finish, making it an ideal choice for men who want a unique yet subtle change.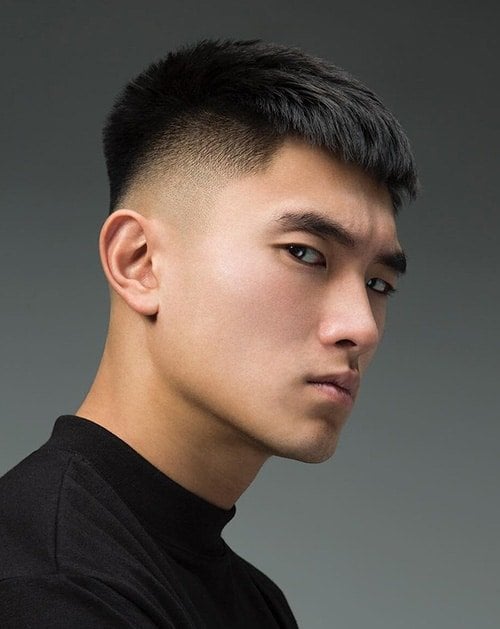 9. Temp Fade
The temp fade or else known as the temple fade haircut features a taper around the temples and is an excellent look for a man who wants something stylish. The great thing about this option is that it enhances the hairline and makes it more visible. Although the look requires some upkeep, you must visit the barber for touch-ups. You will also find that it adds structure and helps achieve a masculine and cool appearance.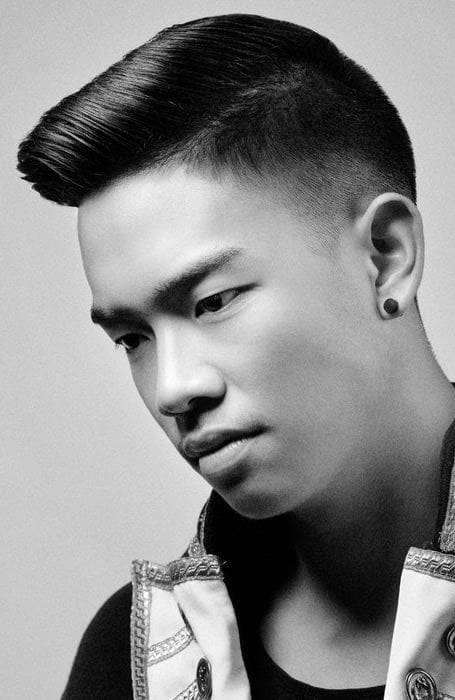 10. Burst Fade
The burst fade is defined by its semi-circular appearance as it tapers around the ear and the back of the head. It is versatile and cool and can be worn on hair of various lengths and textures. It can also be paired with your chosen hairstyle. The longer the hair is at the top, the more contrast you will achieve and create interesting proportions. The burst fade haircut is a stylish and modern men's hairstyle that will allow you to express yourself.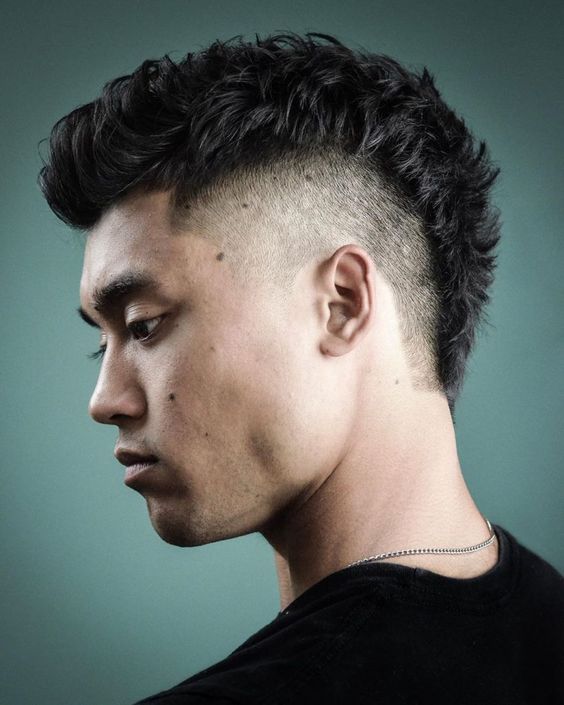 11. Skin Fade
Consider a skin fade if you want a formal and sophisticated haircut. The skin fade haircut has a very masculine appearance and is defined by a cut that graduates from a longer length on the top of the head to completely shaved on the sides. It can combine with something classic or opt for a more contemporary and cool approach. The only downside is that the skin fade requires some maintenance; you will need to visit your barber regularly every two to three weeks.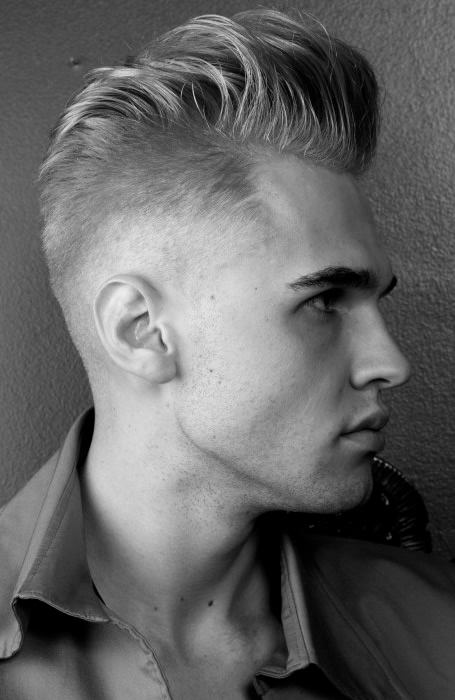 12. Buzz Cut Fade
Do you want a minimalistic and cool haircut? Then look no further. The buzz cut is a popular military haircut who want a no-fuss option that is easy to wear and requires very little grooming time. This short haircut for men is clipped short to the head, and the fade will be kept even shorter on the sides and back. The hair on top will gradually shorten downwards until it is completely shaved.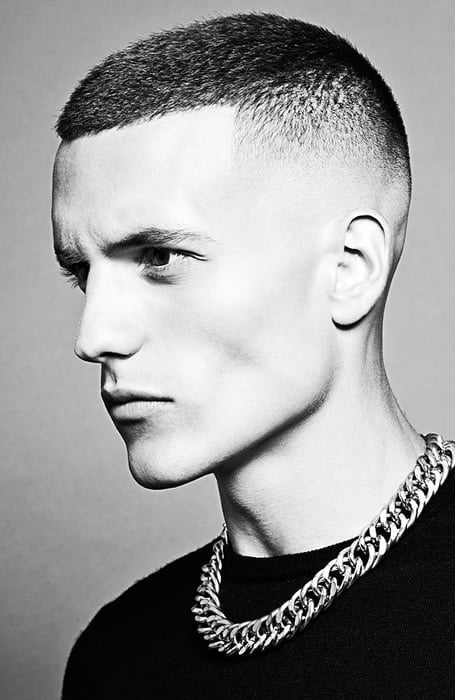 13. Mohawk Fade
The mohawk fade haircut is known for its edginess and rebelliousness, making it exceptionally cool. Originally rooted in punk and alternative scenes, this haircut traditionally featured a long strip of hair in the middle of the head with completely shaved sides. However, a more modern approach has emerged, incorporating a fade. By pairing a mohawk with a fade, you can still make a bold statement while finding it easier to style.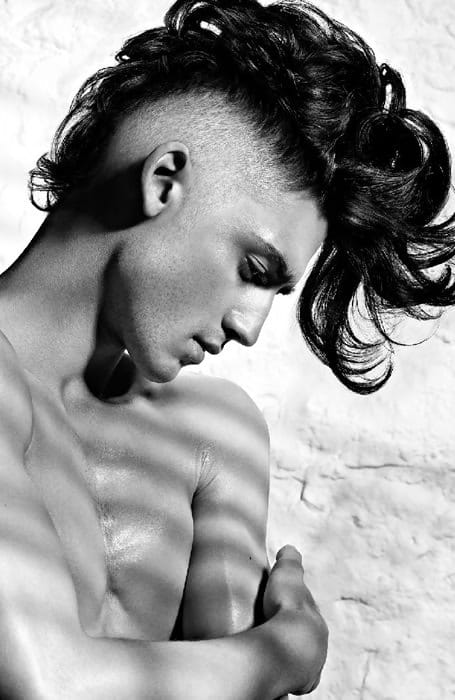 14. South Side Fade
The Southside Fade might be worth considering if you're looking for a new look! It originated in Houston, Texas, and is an updated take on the classic fade haircut. The back and sides are cut short, leaving more volume at the top to create texture. Plus, it's great for gents with thick or curly hair – plus those trying to cover up thinning locks – as they can enjoy this modern hairstyle that flatters all face shapes.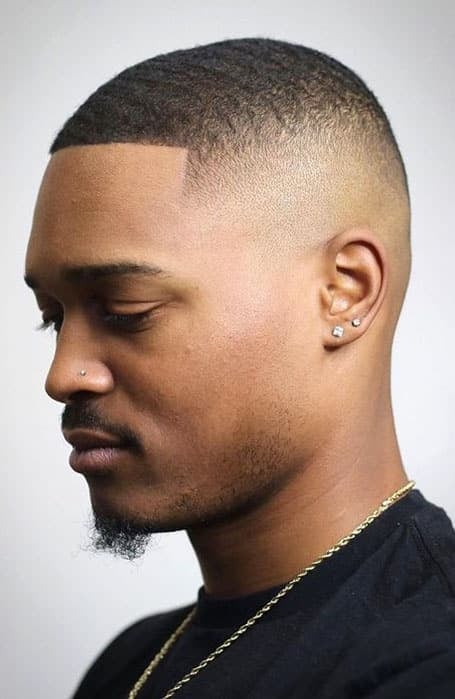 15. Long Hair Fade
If you want an edgy addition to your long locks, a great way to achieve this is with a fade haircut. The fade adds structure to your hair, creating an interesting contrast and making it more manageable. It looks especially good with texture on the top of the head, so that it will work well with wavy or curly hair. That is not to say men with straight hair cannot rock this look too, but it would be best to add a styling product to your hair to give it a more windswept feel.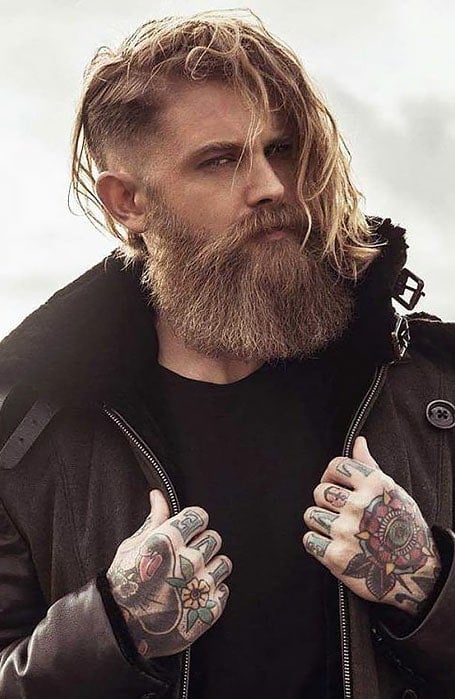 16. Short Hair Fade
Short haircuts for men combined with fade is an excellent option for a man who wants a simple yet stylish haircut. A fade on the sides and back of the head can make your overall look neater but also interesting. In addition to how it looks, fades are practical, making your hair much easier to style, and can be adapted to suit various hair types and lengths. Keeping the hair short on the top creates a seamless blend between it and the fade. This makes for a subtle and fashion-forward appearance.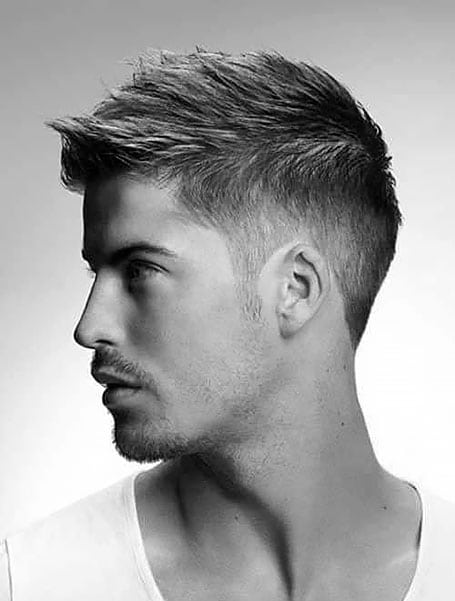 17. Undercut fade
The undercut is a versatile hairstyle that works well on different hair types and textures. Unlike fades, undercuts feature a consistent length on the sides and back. You have the option to keep the top longer and style it as a pompadour or fringe to achieve a fuller look. Apart from its aesthetic appeal, this haircut is also practical as it reduces hair weight and minimizes grooming time. However, to maintain its appearance, undercuts require regular visits to the barber.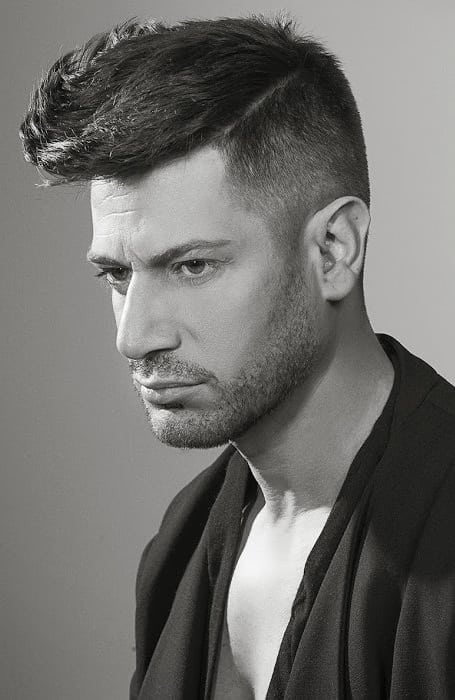 18. Military Fade
Military haircuts are renowned for their short and practical nature, but they can also exhibit remarkable style. The military fade haircut presents a tidy and refined look, characterized by the shorter shaved sides and longer hair atop the head. It is a convenient and versatile choice suitable for different environments, ideal for men seeking low-maintenance hair that requires no styling products. This versatile look can be customized to different lengths, accommodating those who prefer slightly more hair on top while maintaining its stylish appeal.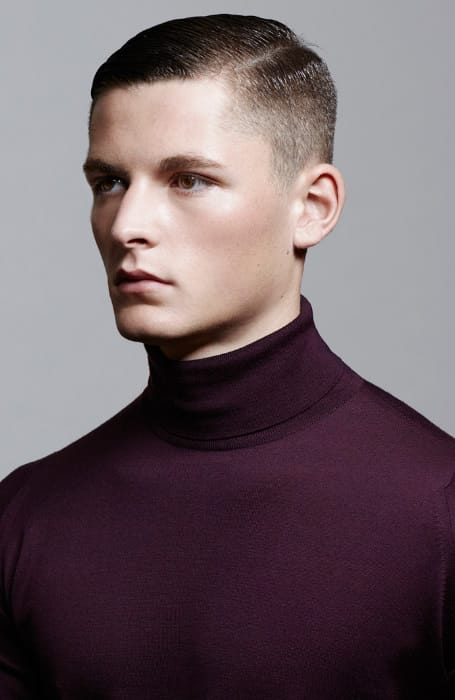 19. Faux Hawk Fade
The mohawk is renowned for its rebellious and edgy nature. On the other hand, there's the faux hawk, an alternative style that exudes the same level of coolness but with greater ease in both execution and styling. Typically, the faux hawk features shorter length, resulting in a less voluminous look on the top. Instead of opting for a complete shave on the sides and back, incorporating a men's fade haircut can achieve a more seamless and blended appearance.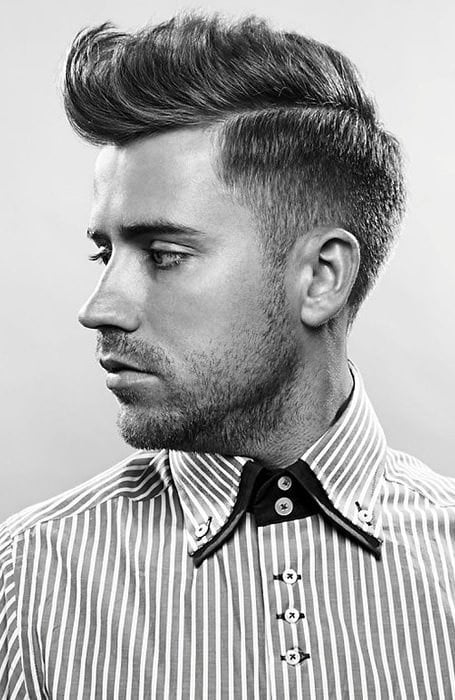 20. Long Afro Fade
A long afro fade is perfect for men who want to embrace their natural hair. It gives you all the benefits of an afro, allowing you to wear your hair with pride and show off the volume, but it also adds structure. The men's fade haircut keeps the sides and back of the hair short. This modern update to the afro hairstyle will help you achieve a slight contrast, which is interesting and balances out your look. This is the perfect combination of smart and cool.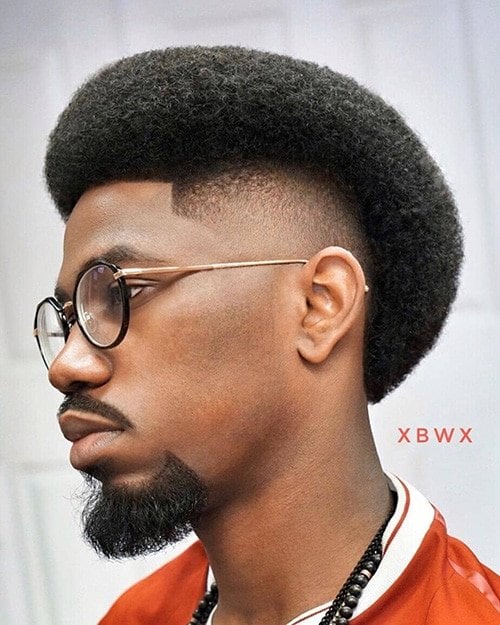 21. Short Afro Fade
If you are a man who wants to reduce his style time but still wants a look that shows off his hair texture, then look no further than a short afro haircut. Keeping the afro hairstyle short makes styling much easier, and this is a practical option that is still voluminous and textured. If you want to add structure or give your haircut a slight edge, pair it with a subtle fade haircut. Keeping the sides and back shorter allows you to draw attention to the hair at the top of the head.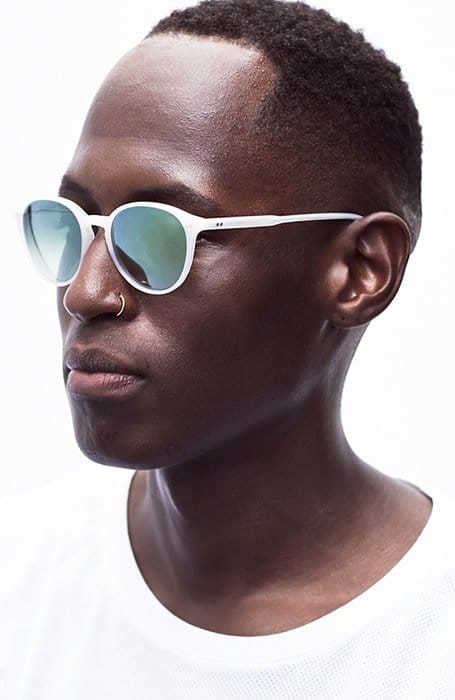 22. Pompadour Fade
What is not to love about the pompadour? It is a hairstyle that is all about volume but still looks structured. It was first popularized in the 50s and remains relevant today because it is highly adaptable. The cut can suit various hair textures and be changed to make it more modern, such as a fade haircut. Faded sides and back give the pompadour structure, graduating to a shorter length above the ears. This also makes the top of the head appear fuller and thicker, giving it even more height.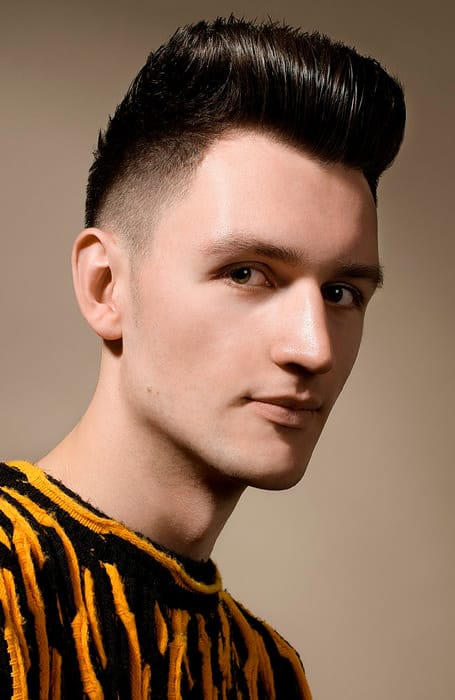 23. Quiff Fade
The quiff was a hairstyle popular in the 50s, traditionally featuring some length on the back and sides of the head, with volume at the top. The great thing about this look is that it plays up the dimensions and is a timeless classic that can easily be adapted. One such way would be to opt for a men's fade haircut. It will gradually shorten the sides and back of the head. This will draw the eye to the forelock, making it appear even fuller and creating a subtle contrast. Some men may also wish to add other details, like a razor parting, to suit their style.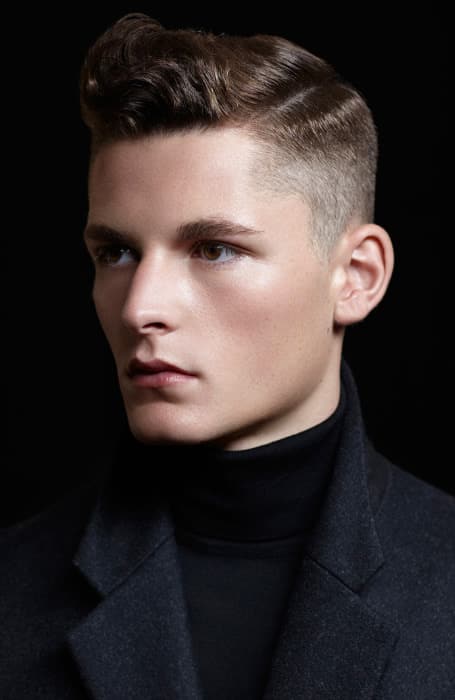 24. Wavy Hair Fade
The appeal of wavy hair is that the texture makes even the most simple cuts interesting. This is especially true if you pair it with a fade haircut, highlighting your texture on the top. There are many different fades to choose from, but the general concept is that the hair on the sides and back will gradually shorten, leaving more length on the top. When paired with wavy hair, it creates a contrast. It can also help make your cut look neat. Plus, it will reduce style time because of the practicality of the fade.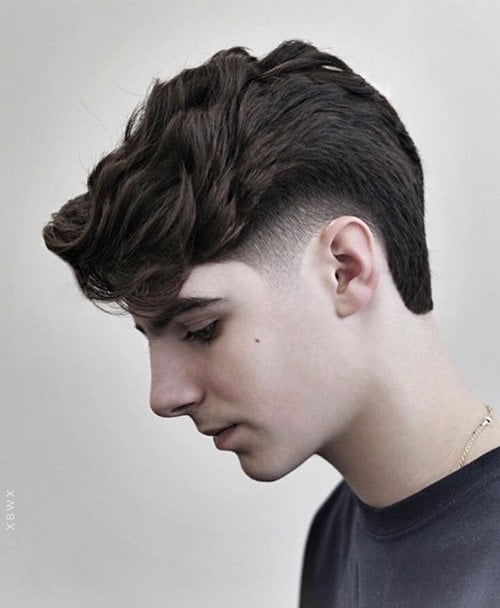 25. Curly Taper Fade
Curly hair is versatile and sexy and can be styled in so many different ways. The texture can add a softness to your appearance, and there is something incredibly charming about men with curls. Opt for a curly taper fade if you want a stylish and practical way to style them – the combination will make you look polished! Or it could highlight your hair curl pattern and make it the focus of your look. Depending on how dramatic you want your appearance to be, a lot of volume with a fade haircut taper will create a striking look that will make a statement.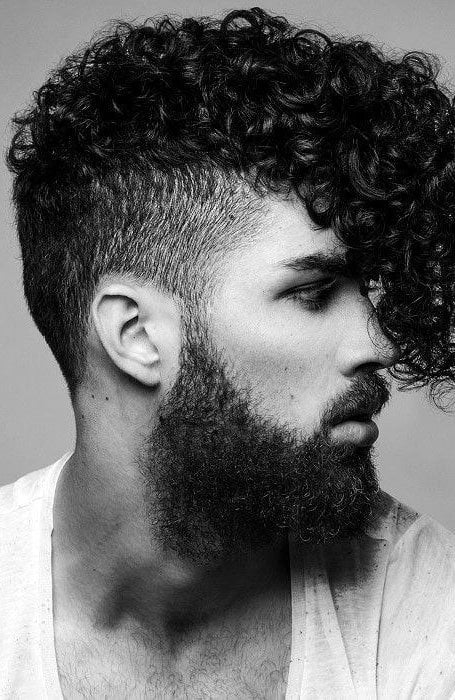 26. Blowout Fade
Blowout hairstyles with a fade haircut are the perfect match. It is a combination that adds a modern touch to the blowout and can draw attention to the fullness of the hair on top. The blowout is defined by the hair being brushed back on the top. The sides and back are kept short and taper off. It is less structured than a pompadour and often easier to wear.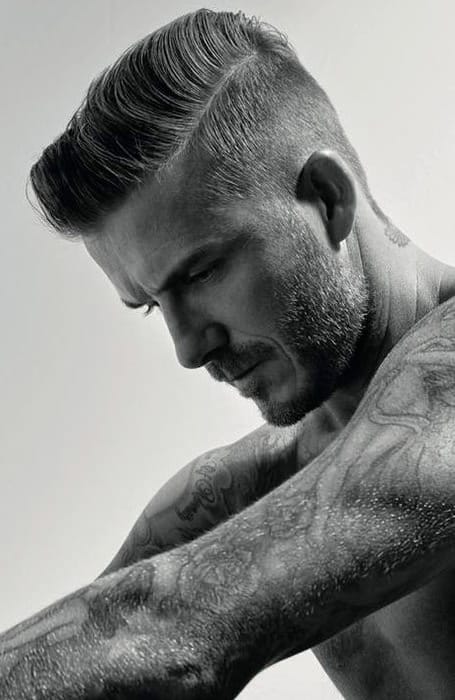 27. Flat Top Fade
There are many different versions of the flat top, an angular hairstyle, and shorter hair on the sides and back, with the volume on top. It is a haircut that was popular in the 50s, then again in the 80s and 90s, but it has made a comeback because it can be adapted to suit your style. The military flattop is the way to go for those who want a straightforward and masculine option. It is worn with a high fade, creating an interesting contrast between the sides and back of the head and the hair on top.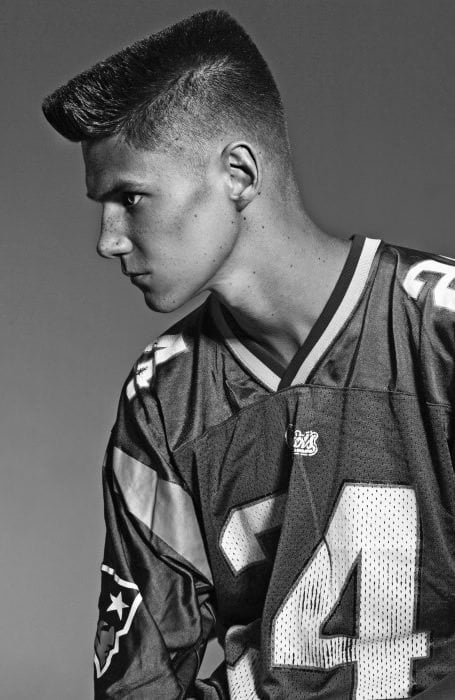 28. Man Bun Fade
The man bun is one of the most popular looks for men with longer hair. It is stylish and cool and can be created with shoulder-length hair or longer. It is also one of the easiest updos to create, with little skill, and perfect for all hair textures. You can pair the man bun with a fade haircut to give the man bun a fresh update. Shortening the sides and back is a great way to achieve a fashion-forward and cool look. It will also remove weight from your hair and is practical. Now you can keep the hair out of your face and create a unique appearance.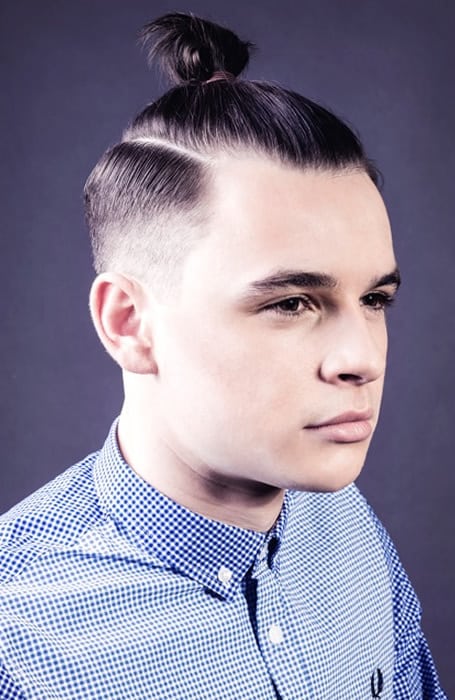 29. Crew Cut Fade
One of the most simple and masculine looks is the crew cut fade, which traditionally features tapered sides. It is typically short, sleek, and perfect for various occasions, including more formal ones. The best fade haircut is usually quite subtle, with a slight length variation between the hair on the top and the back and sides. This makes for a wearable look that is practical and stylish without being too dramatic. It is one of those get-up-and-go styles, which is another reason it is so appealing.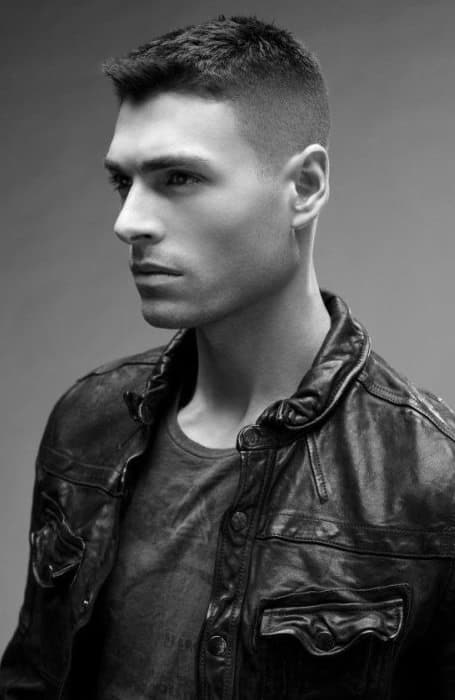 30. Dread Fade
Dreadlocks are braided hairstyles that can be worn with pride. They allow you to express yourself, highlight your hair texture, and be worn in various lengths and styled in various ways. This can be achieved with a fade haircut for those men who want to add structure to their dreads. The fade keeps the hair on the sides and back shorter, giving you more freedom to style your dreads on top. It can also be faded to any length, depending on your preference and how much contrast you wish to create.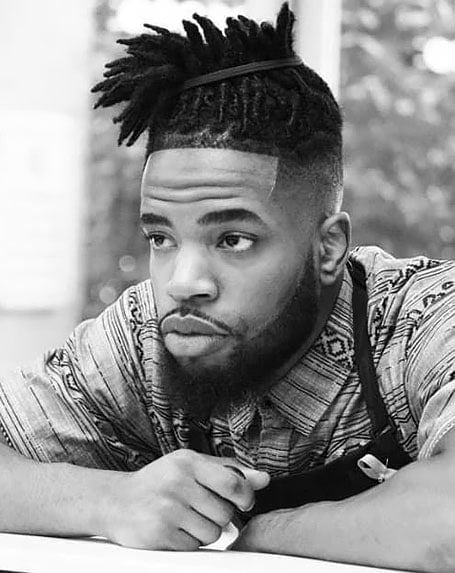 31. Caesar Fade
The Caesar fade is a contemporary and highly versatile hairstyle that combines elements from two different looks. Typically, the Caesar cut maintains the same length throughout the entire head, featuring short, straight bangs. By pairing this style with a fade haircut, such as a taper fade, the side and back hair gradually becomes shorter. This contrast in length emphasizes the textured top, making it particularly appealing for men with textured hair. This effortless option adds a modern twist to a timeless classic.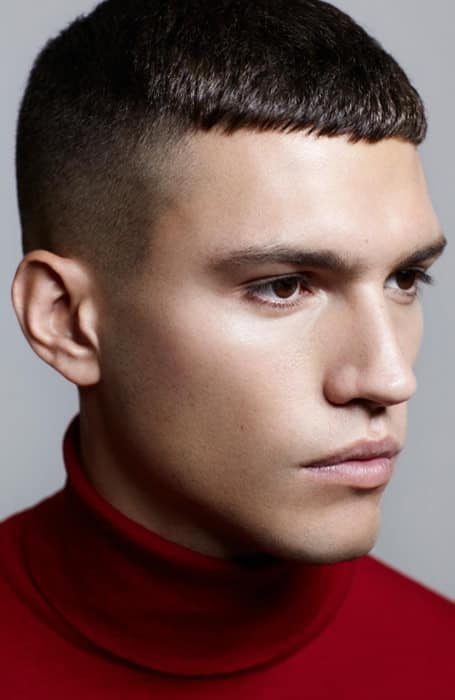 32. Lineup Fade
Pairing a line up haircut with a fade creates more volume at the crown and will highlight the shape it makes even more. The fade haircut will gradually shorten the sides and back of your hair, while the line-up draws attention to the temples. The pairing is great and will focus on the details around the hairline. Work with your barber to achieve the look that best suits your hair texture and length and reflects your personality. If you need to wear this cut confidently, it will get you some serious cool points.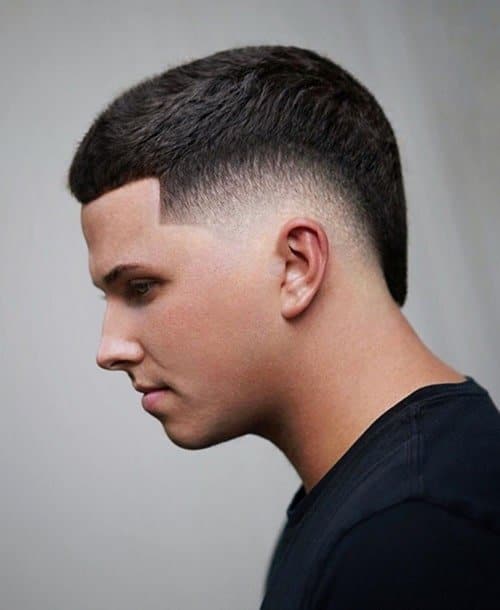 33. Slick Back Fade
The slick back is a classic men's haircut that has long been a favorite because of its versatility and handsome, manly appearance. If you want to breathe new life into this timeless hairstyle, then do it with a fade. It can be about creating contrast depending on the fade haircut you choose, as the hair gradually transitions from longer on the top to shorter on the sides and back. Pick a drop fade, a bald fade, or a taper fade for a combination that works well and is modern and easy to wear.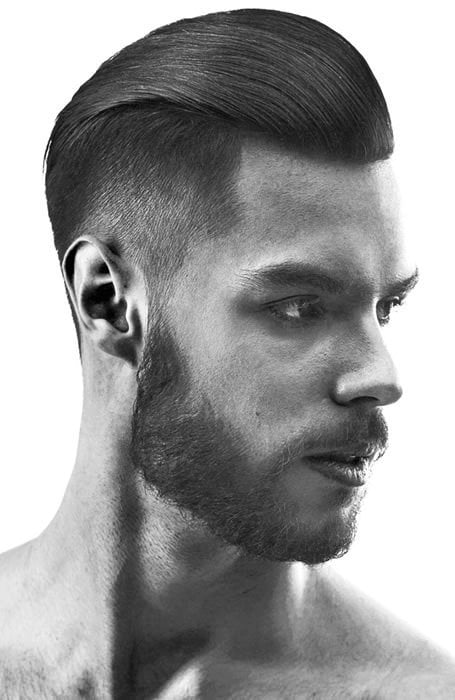 34. Hard Part Fade
The hard part refers to the clean line that is shaved into the hair. It is created by shaving down to the scalp, resulting in a smart and trendy appearance. The hard part can also create a neat and polished appearance and pair well with different types of fades. This haircut starts around the temples and has shaved sides and back, with more length on top.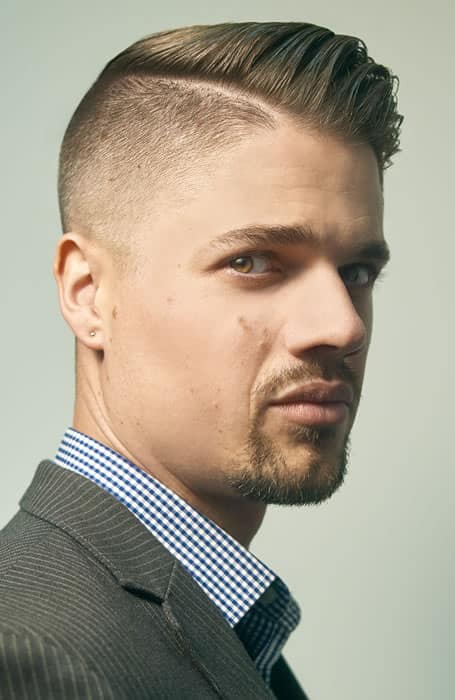 35. Bowl Cut Fade
The bowl cut was an 80s favorite, but some men are put off by the traditional, very rounded appearance. The good news is that this cut has been adapted, featuring more texture on top and paired with interesting details like disconnected sides or a fade. The great thing about a fade haircut is that it can soften the lines of the cut, leaving you with a fashion-forward and cool look. it is perfect for a younger man. Experiment with the fade that best suits your style because the beauty of the bowl cut is that it works well with fades.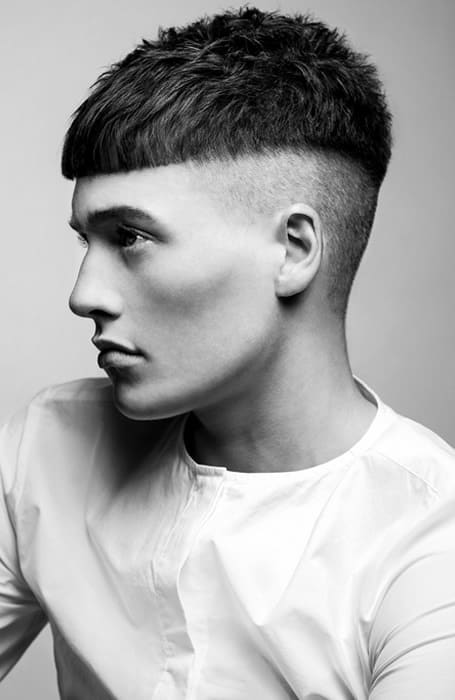 36. Hair Design Fade
What is not to love about hair design? This is a wonderful way to have fun with your hair and show the world your playful side. The hair design and a fade haircut are a combination that goes hand-in-hand and will help you find an edgy and cool look. There are many different options to choose from; simple details like shapes or interesting angles to more detailed artworks like a diamond or geometric design. A hair design makes a statement and will instantly draw the eye to your head.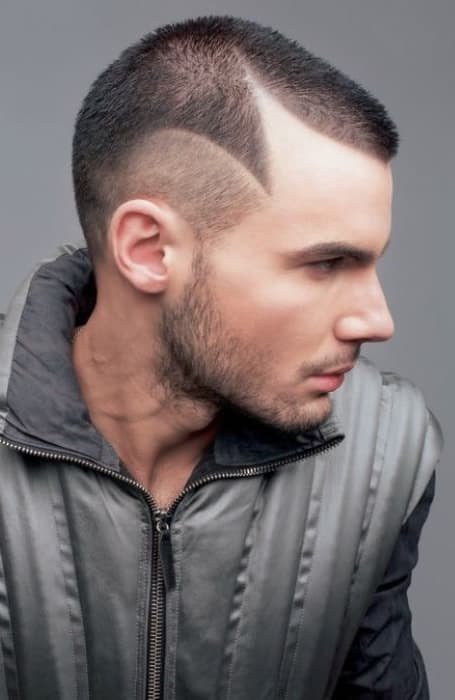 37. Fringe Fade
A fade haircut combined with a fringe creates an intriguing contrast. The fade can enhance and volumize the fringe, especially when considering the length and thickness. It's essential to consider your hair type when deciding on a fringe style, as some complement straight hair better, while others work wonders with curly locks. Fringes have the potential to frame your face, accentuate your features, and give a youthful or trendy look.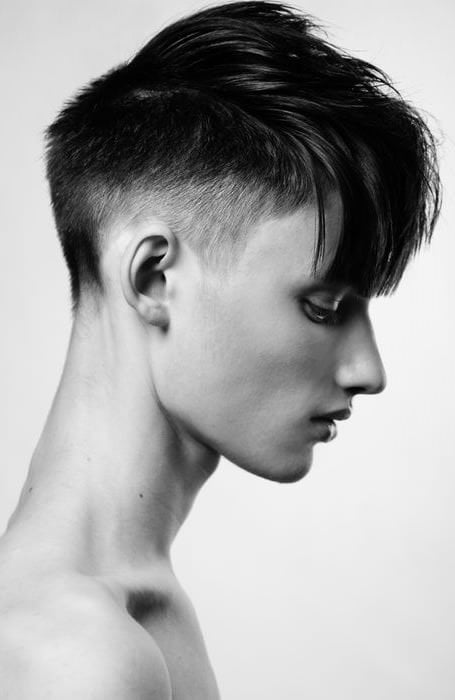 38. French Crop Fade
The French crop is a low-maintenance haircut for men that has withstood the test of time. This classic haircut is defined by short hair on the back and sides, slightly longer on top, and a subtle fringe. When paired with a fade haircut, this will create more contrast between the top and the sides, which will gradually shorten. Depending on how much of a statement you wish to make, you can also opt for more daring approaches like the burst fade or high fade. Pairing a fade with the French crop gives it a modern update that is easy to wear, simple to style, and masculine.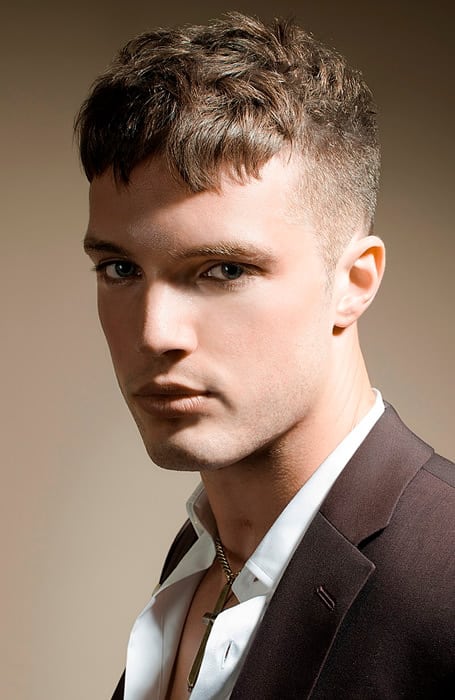 39. Ivy League Fade
The Ivy League haircut has a preppy aesthetic. It earns its name because its roots are traced back to American Ivy League students. It is a simple and polished look defined by the volume at the top, and the sides are kept short and neat. Pairing it with a fade haircut makes the look a little more interesting and adds a slight contrast. The great thing about the Ivy League is that it can be adapted to your personal preference. Gentlemanly but also cool, this is a fantastic option for men of all ages.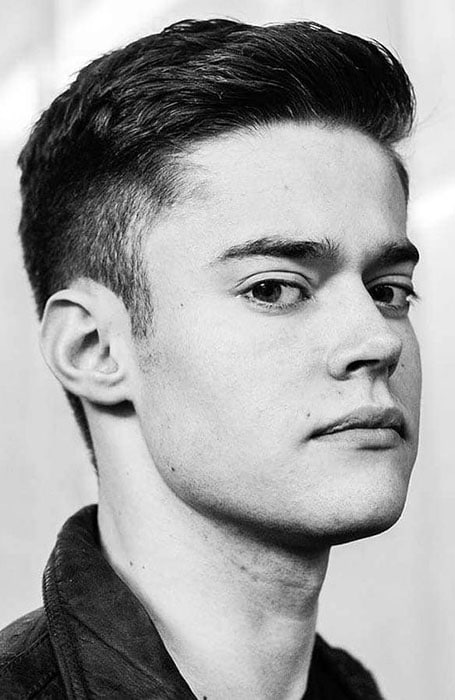 40. Spiky Hair Fade
Spiky hair has a very 90s feel, but the modern approach is more subtle, producing a textured look that is not as defined and easier to wear. The goal of spiky hair with a fade haircut is to keep the length on the top of the head, with the back and sides shorter. This draws attention to the spikes, making them the focus of your look. The style can be achieved with different hair types but is best suited to naturally textured hair; this option will require far less product and produce a more natural and effortlessly cool appearance.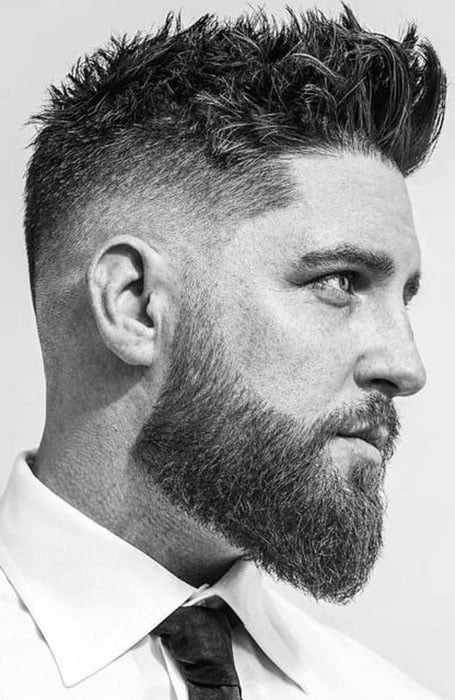 What is a Taper vs Fade
A fade haircut is a cut that is short on the sides and back, defined by the smooth gradient from longer to shorter. There are several different types of fades to choose from. In this Youtube video below by Andy's Cuts, he explains the difference between a taper and a fade in layman's terms.
Fade Haircut Men FAQs
What is a fade haircut?
A fade is a short haircut with clipped and buzzed sides to create a smooth gradient effect from longer to shorter. There are several different types of fades, which are named for the point at which the transition starts – high up on the head, at the temples or middle section, or low down near the ears. Drop fades curve into an arc rather than a straight line, and skin fades – also known as bald fades – where the hair is transitioned to a clean shave.
What does a fade haircut look like?
A fade is most visible from the side. From this angle, the haircut looks like a gradient of longer to shorter hair, usually with some skin visible. A fade from the front may give you a look similar to a high-and-tight or short-back-and-sides. However, fades have a cooler, more edgy, modern look than these traditional cuts.
What is the best fade haircut?
The best fade haircut for you depends on your hair's thickness and face shape. Generally, men's most popular fade haircuts are the low, mid, and high fades.
How do you cut a fade haircut?
Plan your style before starting to achieve a fade haircut, which features short hair near the neck that gradually becomes longer toward the top of the head. Once you've decided where your fade will start, use clippers to trim your hair. Change the guard as you go to create a gradual fade that alters in length between the top, sides, and neck. Afterward, check your cut and ensure that it is even and well-blended. Alternatively, use a combination of clippers and scissors for a longer fade.
How to Maintain Your Fade Haircut Men
The fade you choose will determine how much maintenance it will be; less subtle ones will require more regular trips to the barber. Fade haircuts can be incredibly flattering and can add a stylish and structured element to whichever hairstyle you choose. However, they do take some maintenance. If you do not feel confident touching it up with your razor in the comfort of your own home, visit your barber every three to four weeks. Or depending on the rate of your hair growth. Some cuts can last up to six weeks.
SUBSCRIBE TO OUR NEWSLETTER
Subscribe to our mailing list and get interesting stuff and updates to your email inbox.