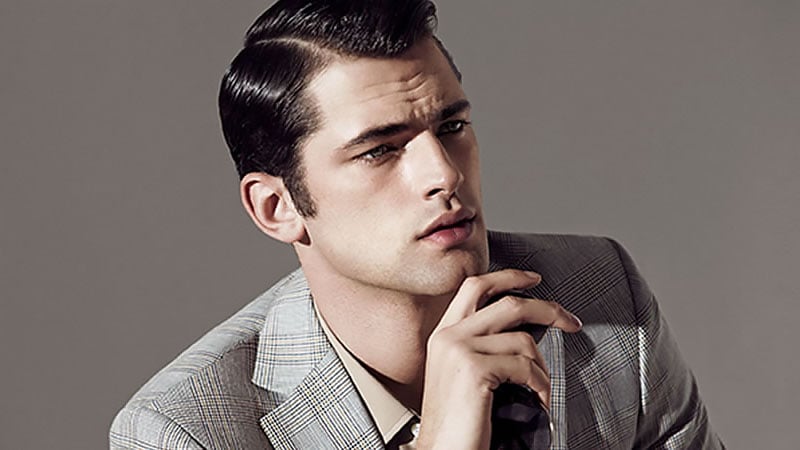 You can't go wrong with a side part. The classic and low-maintenance hairstyle is versatile and timeless; it suits anyone and is a great way to style your hair. The side part takes many forms and flatters all textures and lengths. Whether your style is smart, trendy, or ready for rock, there is a cut that will look great on you. If you're unsure about how you can incorporate this sophisticated and sleek 'do in your daily routine, we've got you covered.
1. Classic Side Part
Nothing says "gentleman" quite like a classic side part. Sported by icons such as Cary Grant, David Beckham, and Mad Men's Don Draper, this hairstyle remains one of the most stylish out there. To achieve this look, make a side part and comb one side over, leaving the remaining to fall naturally. Secure it in place using gel for a wet-look finish or pomade if you'd prefer a matte texture. A look this classic won't be going out of fashion any time soon.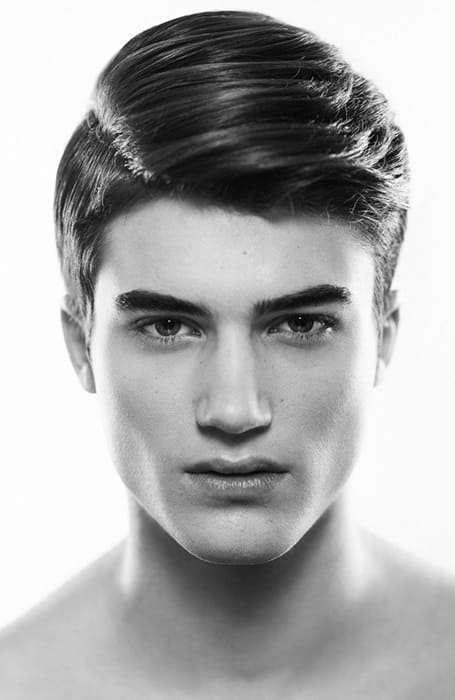 2. Side Part Wavy Hair + Low Fade
Hair inspired by the ocean just got easier thanks to these effortless waves. Carefree and low-maintenance, this side part looks best when paired with a low fade. The fresh and edgy take on a classic hairstyle is ideal for the modern man and is suited for any occasion. Keep your hair textured with the help of matte pomade and styling gel. The fade contrasts against the soft waves, establishing an edginess to the subtle mop on top.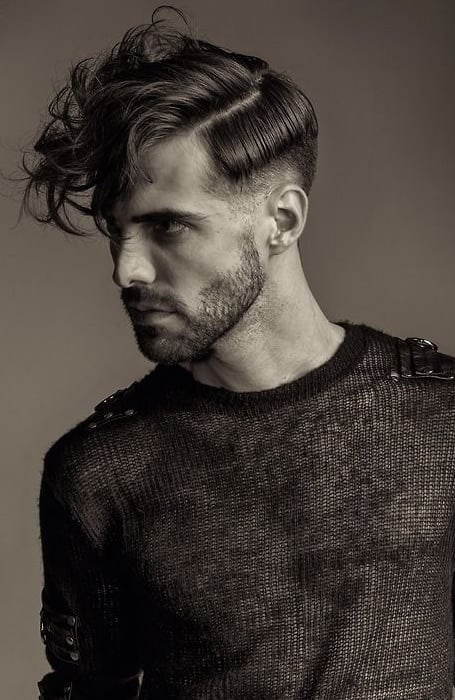 3. Side Part + Volume
A combination of a classic side part with a high volume finish looks great on anyone. Start by creating a section and flipping your hair over to one side. To add extra volume to your locks, opt for some dry shampoo; this will create depth and height to your hair. Lock the height in place using a strong hold gel. This stylish and handsome hairstyle is so sleek, it will turn a few heads.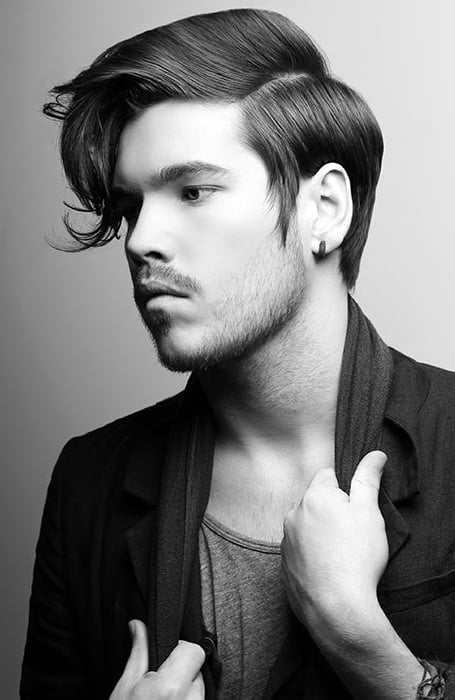 4. Side Part + Pompadour
Keep the hair out of your face and styled into a trendy pompadour. Unlike the traditional side part, the pompadour sweeps your locks out of your eyesight and subtly to the side. This hairstyle is an excellent option for those who work in an office or for a night out. Ideal for those with medium to long hair, grab a firm hold gel, and lock the side-swept style in place.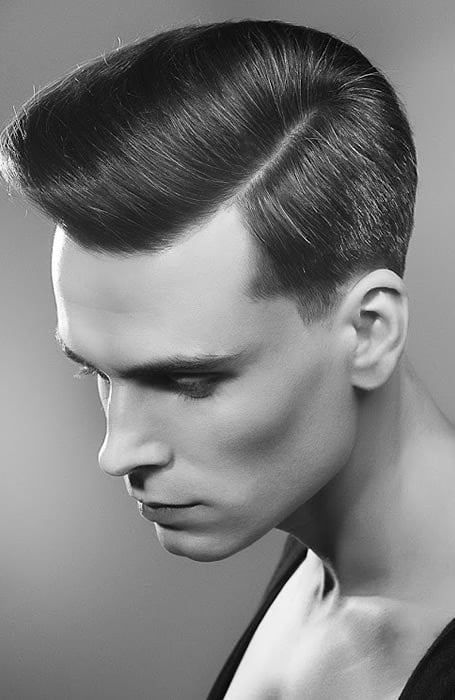 5. Side Part + Disconnected Undercut
Switch things up with a side part and disconnected undercut. Ideal for the man who likes to take a risk, this hairstyle pays off. The traditional side part paired with a rebellious undercut is the perfect match for a modern guy. Whether you're in a desk job or on a construction site, this style is timeless and contemporary all at once. Using a regular or hard part, make an undercut beneath the hair on top, leaving the length on your crown significantly longer. Despite this style being quite edgy, its neat and tidy appearance offers a sense of sophistication.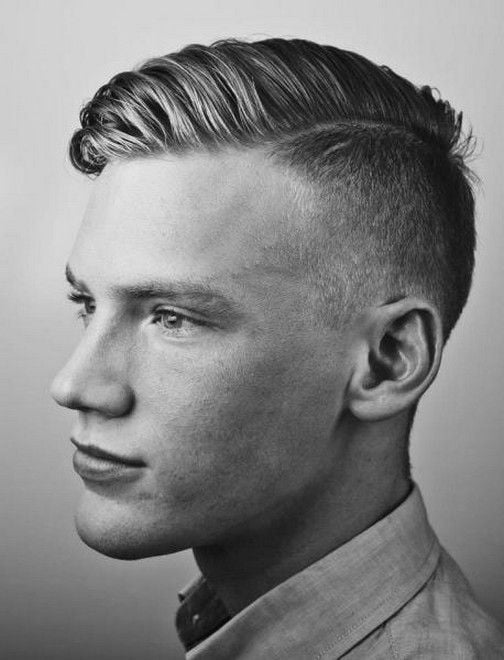 6. Side Part + Afro
Men with natural hair look fantastic with a clean side part, so don't be afraid to ask for one when you see your barber next. Suited best for men with shorter hair, the side part is a great way to add dimension and flair to your natural afro without looking like Bobby Farrell from Boney M. Keep your hair healthy by applying nourishing oil frequently and keep the side part in effect by combing your hair when needed. Cool and sophisticated, this hairstyle will keep everyone's eyes locked on you.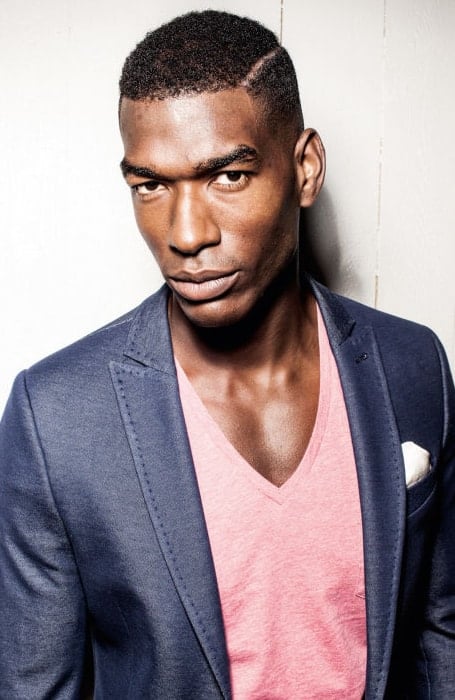 7. Side Part + Quiff
The side part with a quiff is the perfect style for men who wish to keep their hair refined, with height. Unlike the pompadour, the quiff is excellent for men with any hair length and looks great for any occasion. Using a gel or matte pomade, sweep the hair off your forehead and upwards. When paired with a side part you'll fit any setting, whether it be a professional atmosphere, black tie event, or if you're heading down to the pub. This is a versatile and everlasting hairstyle, so don't be afraid to rock it!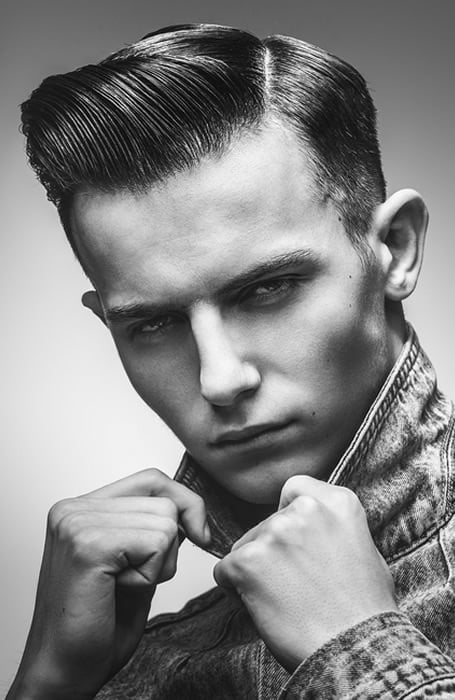 8. Hard Part and Burst Fade
Rebellious and edgy, the hard part and burst fade is for the man who makes his own rules. The burst fade typically begins behind the ear and breaks outwards into a soft fade upwards. A hard part is a thick and sometimes shaved part, significantly sharper than a regular or soft part. When these two styles combine, you've got yourself an appealing rockstar hairstyle, perfect for anyone who's feeling a little defiant.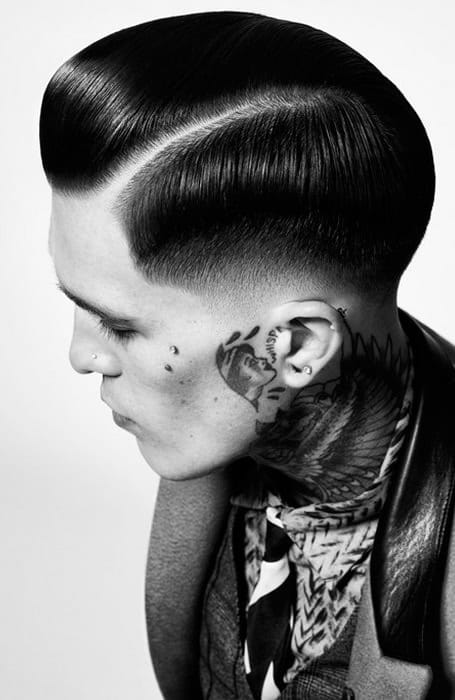 9. Side Part and Fauxhawk
Akin to the rebellious nature of the hard part and burst fade, this hairstyle isn't for the faint-hearted. Although you don't have to go full mohawk to get some heads turning, a fauxhawk does the trick just as well. With shorter sides and a longer top, create some drama by parting your hair on the side and sculpting the remaining mop upwards. Secure the spikey 'do with heavy-duty gel, ensuring it stays in place all day. This is a great hairstyle if you're down for experimenting with different looks without committing.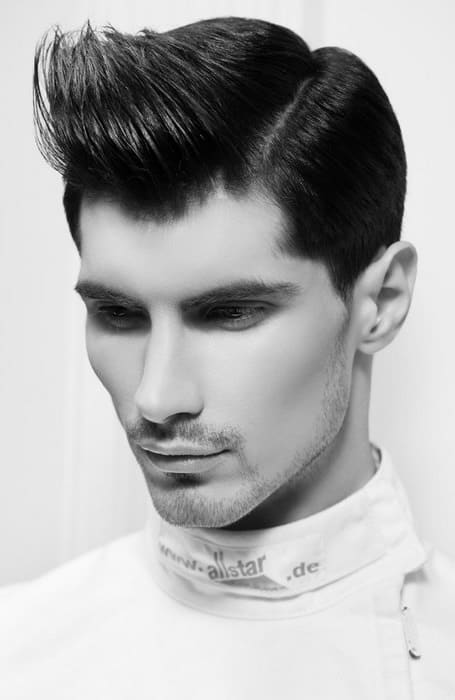 10. Side Part with Curly Hair
Those with wavy tops, rejoice. There's nothing that looks better than someone rocking a side part with their curly hair. Wild and effortless, messy tendrils and a classic side part are a match made in heaven. Whether you have naturally kinky hair or you need a bit of help with a curling iron, you can achieve this look effortlessly. Amplify your corkscrews with an enhancing mousse; locking it in all day and creating the perfect bounce with every step.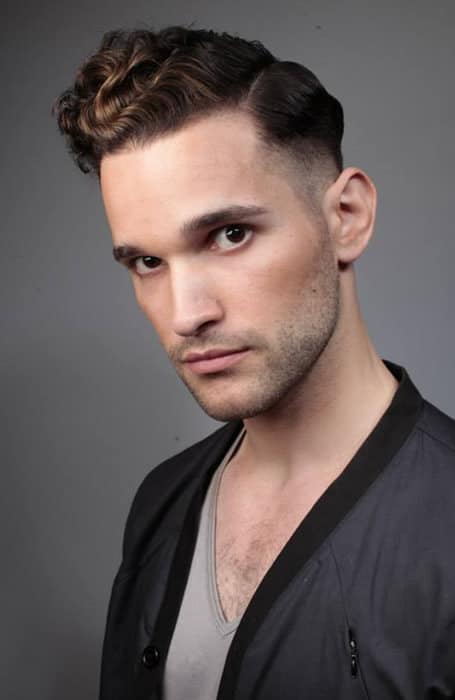 11. Hard Part + Slicked Back
This hairstyle will bring out the '50s rockabilly star in you. An edgy hard part and a preppy slicked back finish is the perfect combination to make you a rebel without a cause. The section doesn't have to be too thick to make a statement; sometimes a subtle part is all it takes to create drama. Using a comb and strong-hold gel, slick your hair backward, creating a smooth and sleek finish to an otherwise rockstar-esque hairdo.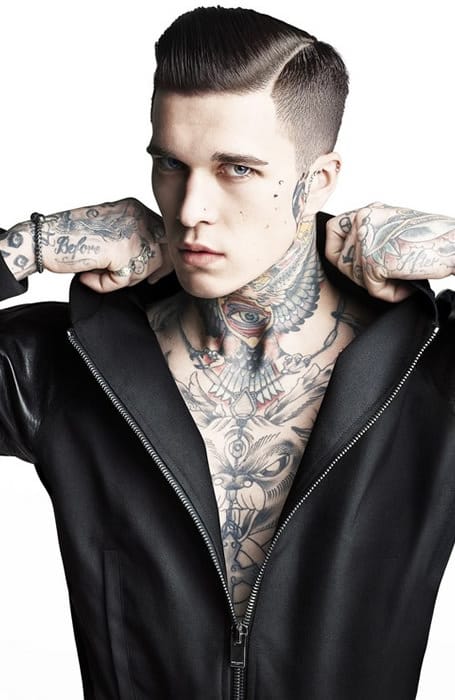 12. Side Part + Long Hair
Get ready to whip your hair and feel an eye of envy from everyone around you. For those with long, luscious locks, don't be afraid to mix things up in the way of parting your hair. Whether you have a shoulder-length or waist-long mane, you can add instant volume by merely creating a deep side part. This simple change can also add a beachy feel to your overall look. For textured waves, apply some sea salt spray and scrunch the ends of your hair; this will add an extra dimension.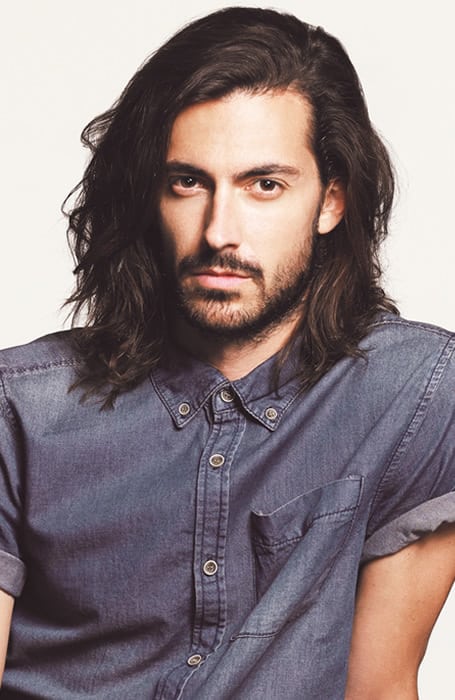 13. Side Part + Asymmetrical Fringe
Who says you have to keep things symmetrical? A lopsided fringe is a great way to disguise a broad forehead, add a rocker edge to a traditional haircut, and keep things looking cool every day. When worn with a side part, you'll be the freshest guy in the room. This hairstyle is best suited to those who have a sharp jawline and suits all textures and lengths.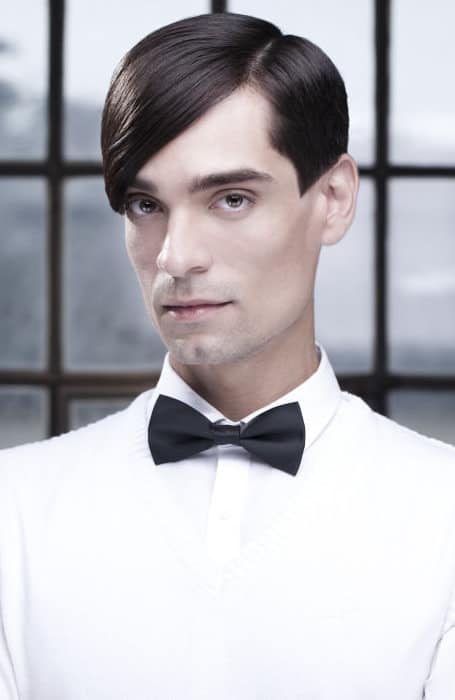 14. Side Part + High Fade
Similar to a skin fade, this hairstyle offers a close shave, creating a sleek and sophisticated look. A high fade with a side part is a fresh and perfect style to choose if you're heading out for some drinks with friends or heading into the office. Choose from a regular or hard part; when coordinated with a high fade, is sure to get people talking.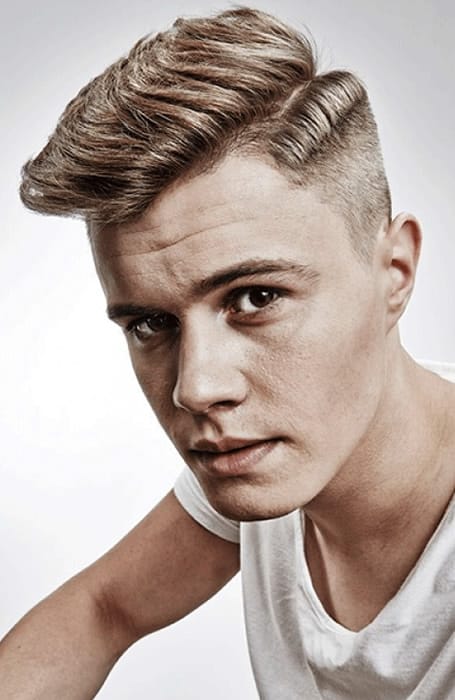 15. Side Part + Slick Back
Sleek and polished, a side part with a slick back finish is the best way to tie an outfit together. This retro style is a great go-to for a night out and is easy to maintain. For a wet look, use a strong-hold gel and a comb to sweep the hair backward. It is the perfect classic hairstyle with an edgy twist.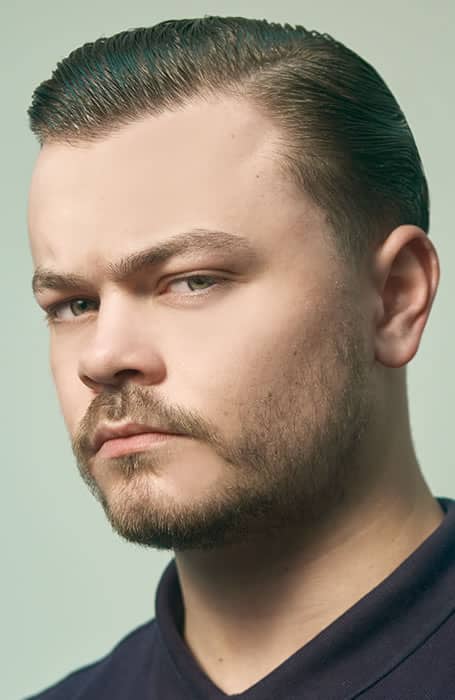 16. Side Part + Straight Hair
A side part with straight hair is a killer combo. Despite having curls or waves, you can still achieve a textured mop in a traditional style. For a non-glossy texture, opt for a matte pomade; this will keep your hair locked in place. It is an essential haircut for those who wish to present a professional front, for the office or date night.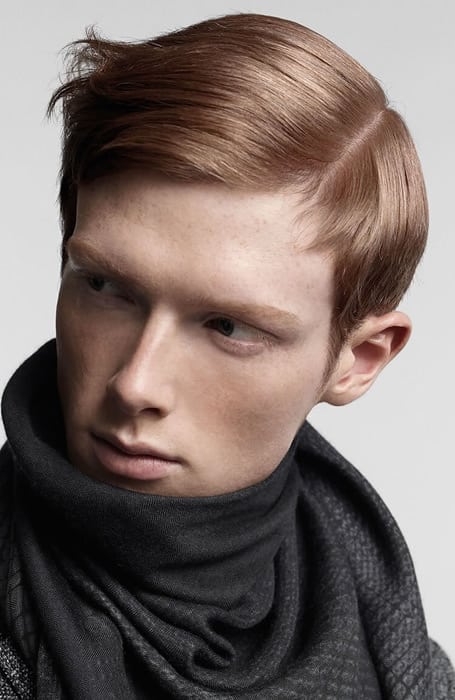 17. Side Part + Slick Over
The combover just got cooler. This side part and slicked over combo is the answer to anyone's retro dreams. Ideal for men with medium length hair, this hairdo looks best when slicked back with gel and a comb. If you're not after a wet look finish, grab a clay or pomade and create texture using your fingers. Be prepared to get some looks when rocking this hairstyle; you'll stop traffic.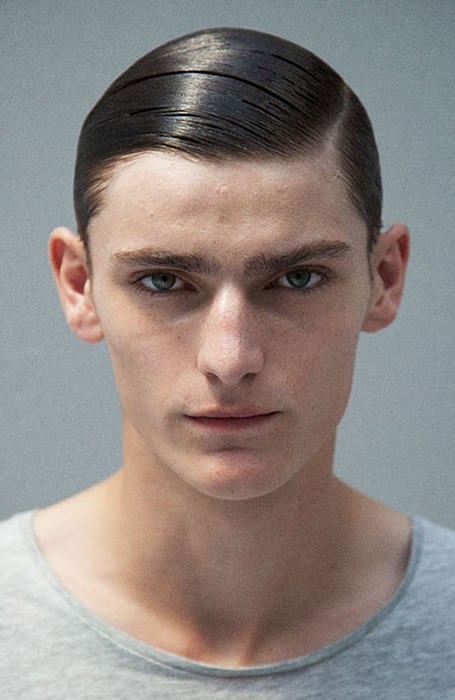 18. Soft Part
A soft part is a handsome addition to anyone's hair, as it's subtle but still worthy of attention. To get this look, use your fingers to determine where you'd like the part, and casually move the hair into its designated spots. Don't feel the need to create a well-defined section; the beauty behind this style is in its ultra-fine detail.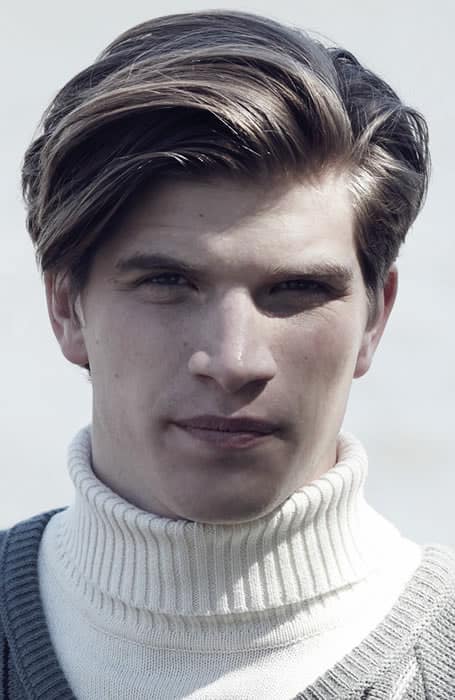 19. Side Part + Thick Hair
Creating a part looks excellent when seen with thick hair. Using freshly washed hair, comb your locks into one place, developing a longer-lasting part. For a polished look, apply gel to secure the sections; this is ideal for those in an office setting or who wish to pull off an instant professional aesthetic. For a casual and laidback feel, use wax or pomade to texturize the ends, creating some extra volume and height.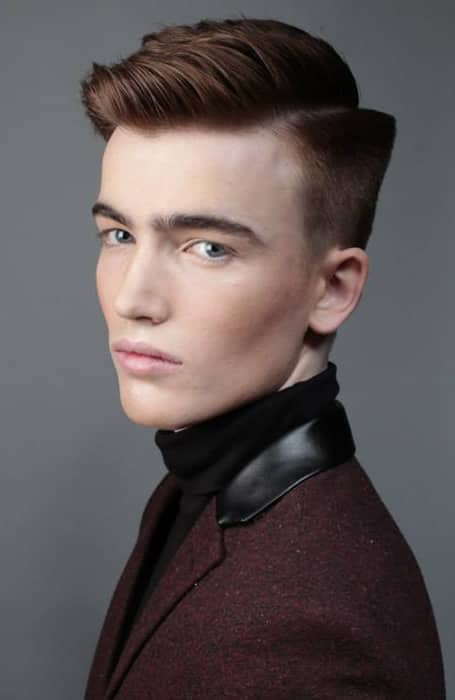 20. Side Part + Skin Fade
The ultimate "bad-boy" hairdo, the skin fade, and side part combo is an easy way to grab attention. Starting at the very near top of the head the fade contrasts to the longer mop on top. This tight and pristine hairdo looks fantastic with all textures and its best with short or medium length hair.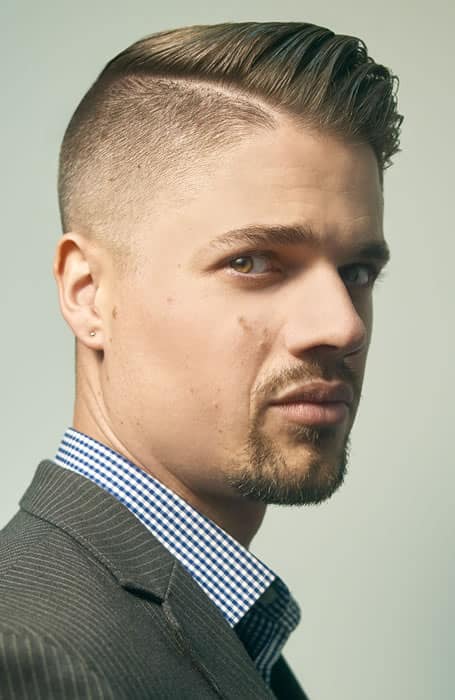 FAQs
What side should men's hair be parted?
The best side to part your hair on will depend on the direction your hair grows. You can determine this by locating the cowlick on the crown of your head and looking at which way the hair grows — clockwise or counterclockwise. If it's clockwise, your natural part should fall on the left and then on the right for counter-clockwise growth. Of course, you can still change this up by training your hair using products and heat, but you'll have an easier time going with the flow.  
How do you do a side part haircut for men?
A classic side part hair cut has a short back and sides or taper cut, with extra length on top, generally at least a couple of inches. To style, it, wash and towel dry your hair. Run a use mousse or pomade through your hair, then part your hair along the chosen side. Next, use a blow dryer to dry your hair, brushing in the direction you want it to fall, and finish off by running some extra product through your hair to help keep the shape.
What is a side part haircut called?
Other names for a side part haircut include the regular cut, professional cut, businessman cut, and standard cut. With all these different names, it's best to take along reference images when you're heading into the barber.
SUBSCRIBE TO OUR NEWSLETTER
Subscribe to our mailing list and get interesting stuff and updates to your email inbox.