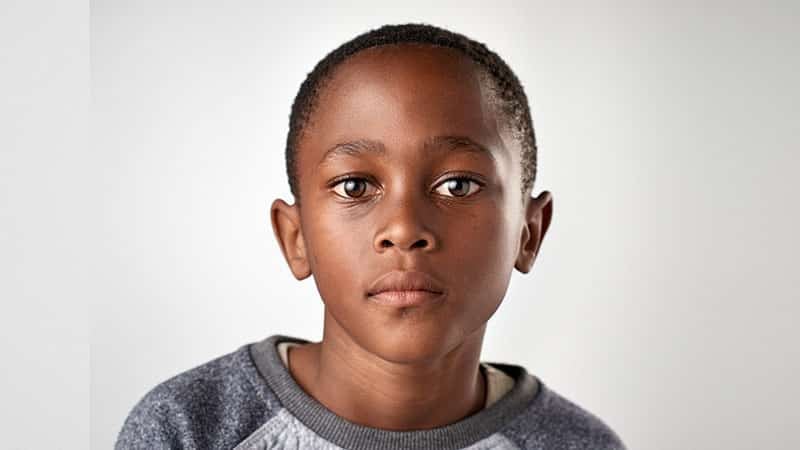 Who doesn't want a haircut that makes them look and feel great? If your little one is ready for a change and wants to express himself, then it is time to let him do just that. Involve your son in the process before his next trip to the salon by letting him pick out different styles that you think will complement his texture and lifestyle. Your chosen style could celebrate his curls and focus on creating volume and fullness, or you could opt for a protective style to aid natural hair growth and take a break from styling. Or perhaps a no-nonsense buzz cut is exactly what you need to say goodbye to tangles and reduce grooming time? If you have been looking for inspiration, look no further because these are some of the best haircuts for black boys.
Haircuts for Black Boys
1. Hair Twist
The hair twist is an excellent look for a cute, easy-to-maintain black boys haircut. The hairstyle is designed for Afro hair and will aid growth and prevent breakage. The appeal of this style is that it is quicker to create than many braided looks and can be achieved with various lengths, including shorter strands, making it a super versatile choice. Experiment with the thickness of each twist, depending on your preference.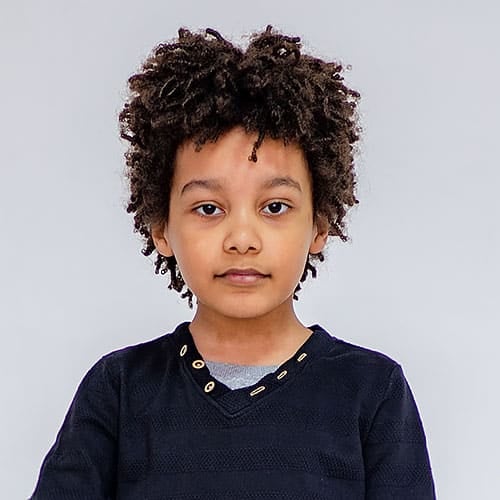 2. Frohawk
A rebellious haircut for black boys is the frohawk, which is loved because it's edgy. The hair on the sides is shaved or paired with a fade so that the top appears fuller and thicker. This is a great way to achieve volume and highlight the texture. Unlike the traditional mohawk, this option is suited to those with curly locks and produces a softer, more flattering finish.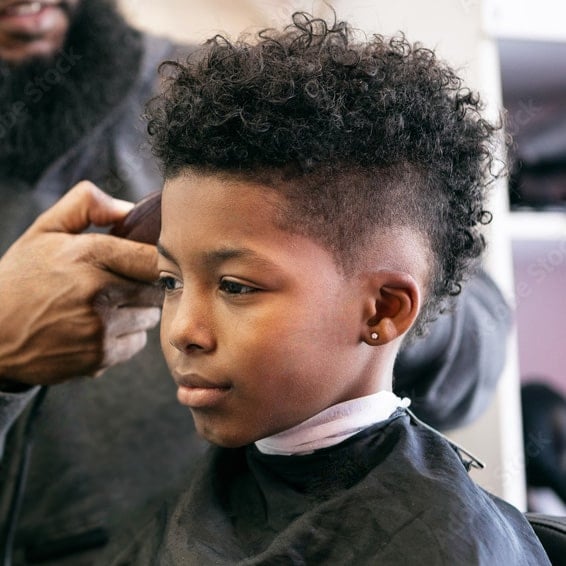 4. Short Afro with Line Up and Low Fade
The appeal of the line up is the unusual shapes it makes at the hairline, and this is an excellent addition to any haircut for those who want to stand out from the crowd. If it is the summer holidays and your little boy wants to experiment with his hair, let him try this look. Combining the textured afro and low fade will let him embrace his locks, giving them structure.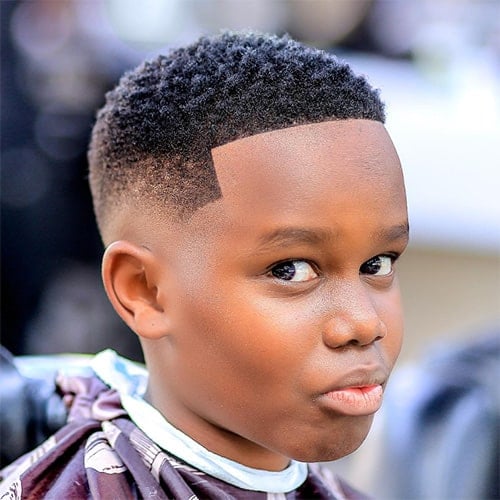 4. Long Afro
Let your little one grow their locks long and wear them in a style that really shows off the texture and volume. A long afro may be challenging to maintain and will take some styling, but it is a fantastic way to demand attention and can be worn thanks to the height and volume. Instead of pairing it with a fade, keep it as natural as possible.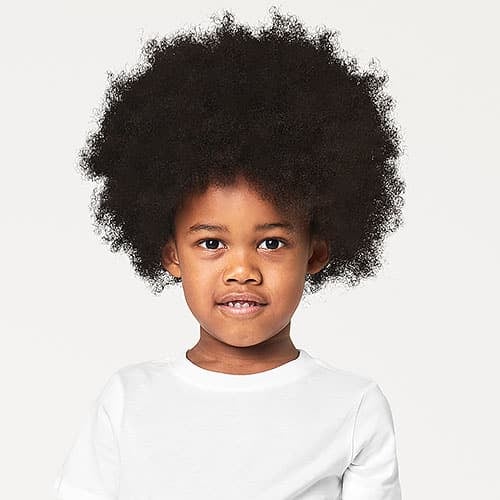 5. Half Moon with Skin Fade
For little boys who want a haircut that reflects their personality and lets them show off their hair, the half-moon with skin fade is the ultimate look. It is edgy, fun, and easily created by a skilled barber. The unique shape created at the hairline makes this a standout look, while the skin fade reduces the strands to skin level.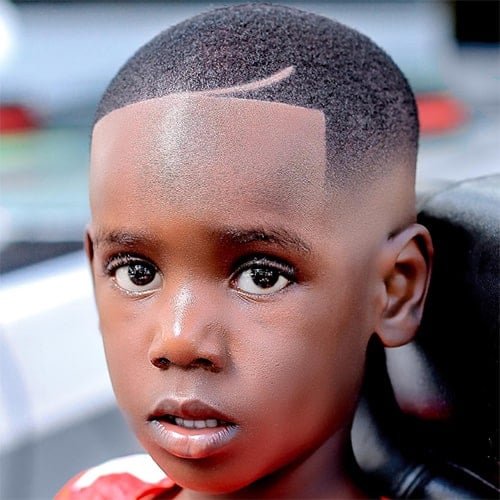 6. Dreadlocks
For a super cute hairstyle that is all about texture, opt for dreadlocks. These rope-like strands can be styled in varying thicknesses and lengths. Keeping them shorter will make them easier to care for (which is your job as a parent because dreadlocks are high maintenance and will be time-consuming to create). This look is also symbolic and has great cultural significance.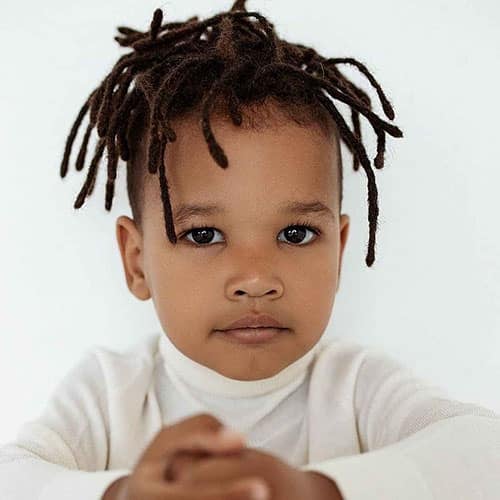 7. Short Afro with Line Up and High Fade
What better way to let your child experiment with their hair than by letting them try different ways to style it? This is why elements like the line up and fade are so popular they can transform a classic afro. The appeal of the high fade is how it adds sharpness to the look, while the line up makes the hairline noticeable thanks to the unnatural finish it creates.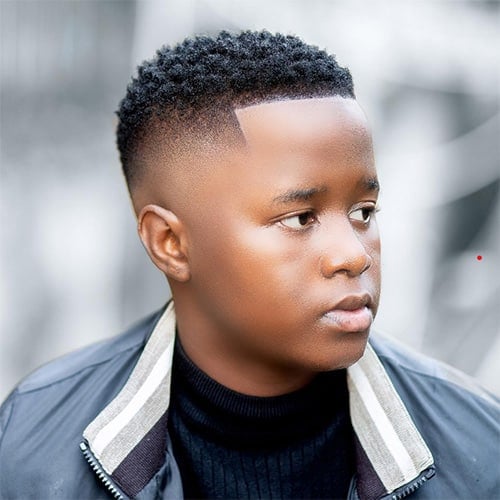 8. Ringlets for Black Boys
Ringlets are an excellent haircut for black boys with tight curls, and the bulk and volume of this style make it an eye-catching look. They can be worn at various lengths, depending on how much maintenance you want (the shorter the hair, the easier it is to maintain and style). But buy your son a good-quality moisturizer to keep the frizz at bay because ringlets can become very dry.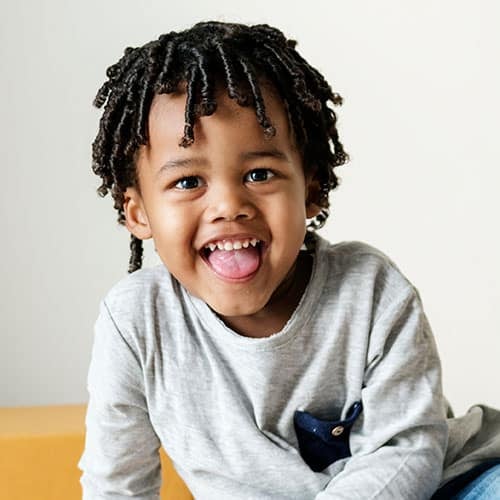 9. Short Afro with Hair Design
What could be cuter than a short afro with hair design? Afros are a brilliant way to embrace natural hair and are worn proudly. Adding the hair design gives the classic 'fro a more modern finish and adds personality. This is because you can choose whichever patterns and shapes you want, really letting your child express themselves.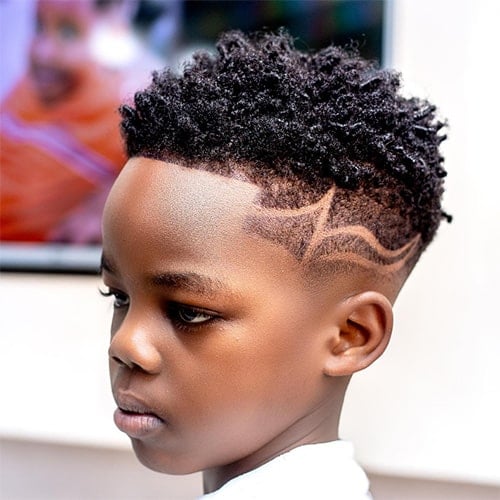 10. Short Afro with Taper Fade
The afro can be styled in many ways. Trying wearing it long and loose or giving it contrast and structure by pairing it with a fade. The taper fade is undeniably one of the most versatile fade options. Instead of creating a sharp difference in length between the top, back, and sides, it will give a more gradual shortening.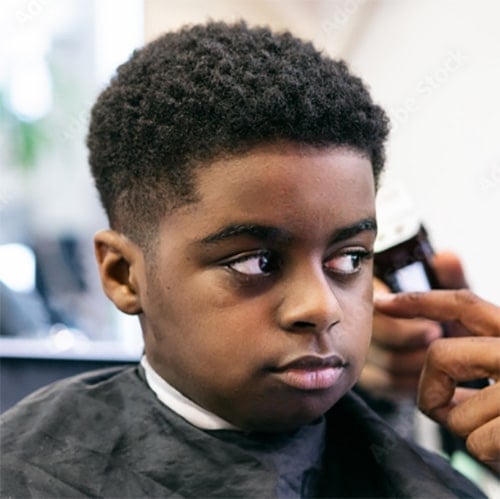 11. Short Afro with Temp Fade
The short afro hairstyle is more subtle than the longer versions because it has less length and, therefore, less height and volume, but its appeal is how easy it is to style. This makes it an excellent choice for black boys who have a busy lifestyle but want their hair to be as natural as possible. Pair it with a temp fade to highlight the hairline for a modern finish.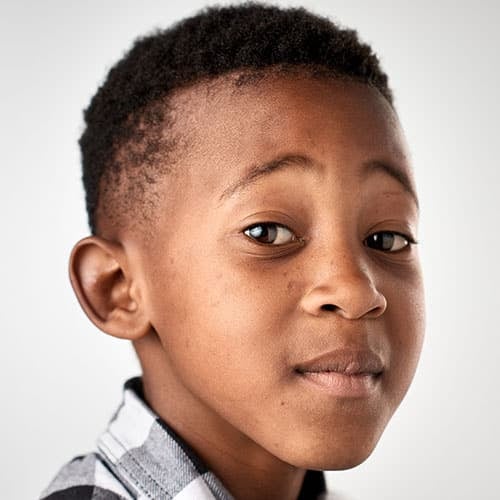 12. Short Curly Taper Fade
The great thing about faded hairstyles is there are multiple choices, something to pair with every style and to experiment with all textures. If your little one wants a cool look, use a taper fade to highlight the short curly hair. It will gradually shorten the hair on the back and sides to create a visual contrast.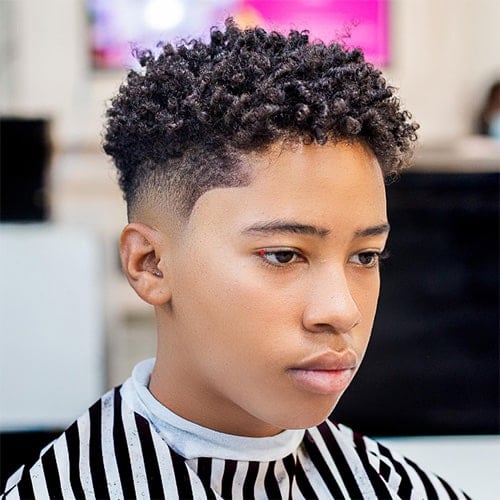 13. Burst Fade
Sometimes simple additions to the haircut make all the difference, and if your son is looking for a unique finish, a fade could be an excellent choice. The burst fade is an undeniably cool option because it's creative and eye-catching — this is because the hair tapers around the ear and the back of the head, giving it an arc-shaped appearance.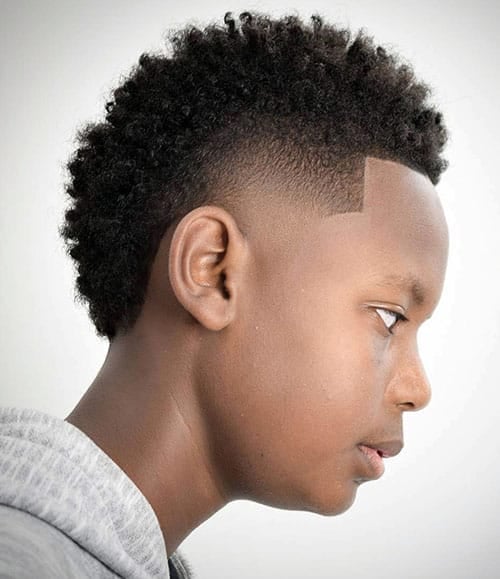 14. Box Braids
You can't go wrong with box braids. This is one of the most popular protective styles and a great hairstyle for black boys because of its effortlessly cool finish and incredible versatility. The strands are sectioned into square-shaped divisions, which ultimately lends to their boxy appearance. You can wear them big, small, long, or short, and there are many ways to have fun with this look!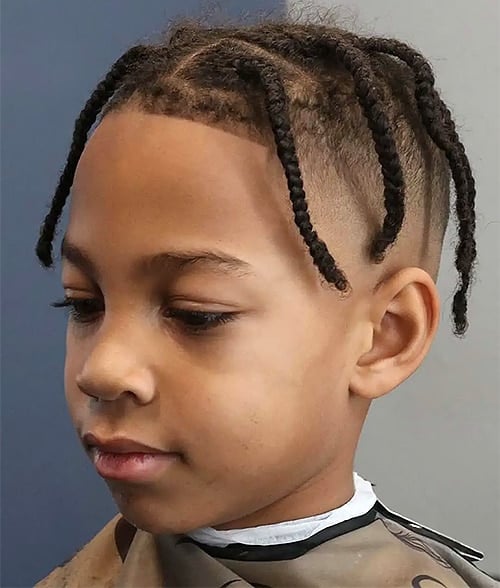 15. Buzz Cut
Haircuts that require little to no maintenance and grooming time are great for little boys. It can be incredibly difficult to style your child's hair every day. If your son wants something he can manage himself, a buzz cut is an excellent choice. It is a popular short hairstyle clipped close to the head. It's also a great way to highlight your child's facial features.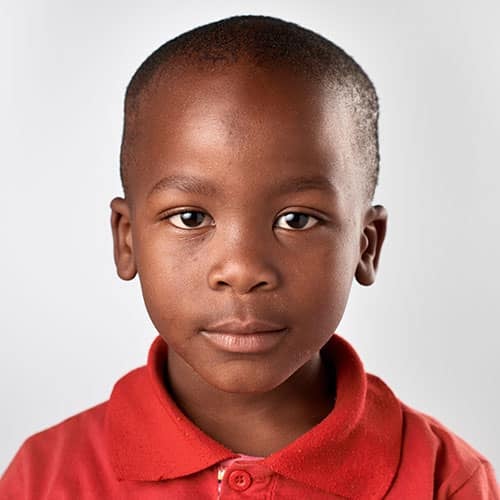 16. Classic Short Afro
The classic afro hairstyle celebrates Afro-textures and symbolizes pride and Blackness. The look is about volume but can be worn at varying lengths. This includes cutting it closer to the head for a more versatile finish requiring much less maintenance. Plus, it's a practical style for little ones! You don't need us to convince you why a short afro is a top pick; try them yourself!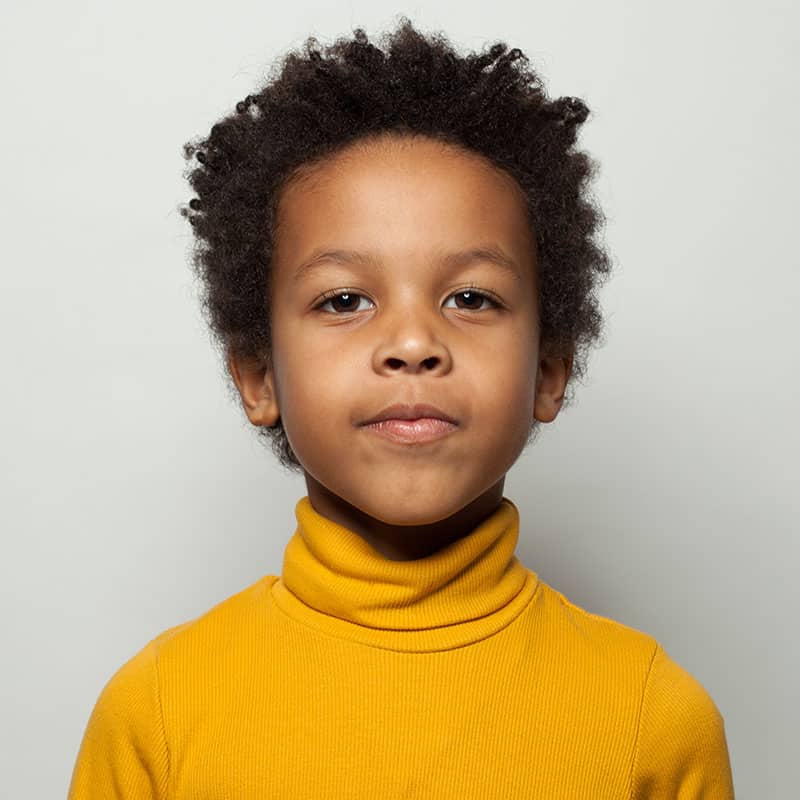 17. Very Short Afro with Line Up and Skin Fade
Embracing natural hair is a great way to celebrate the texture, but the longer the strands are, it can be more challenging to maintain. So let your son find a great alternative by clipping the locks closer to the head with a short afro. Pair it with a line up to enhance the hairline and skin fade for added cool points.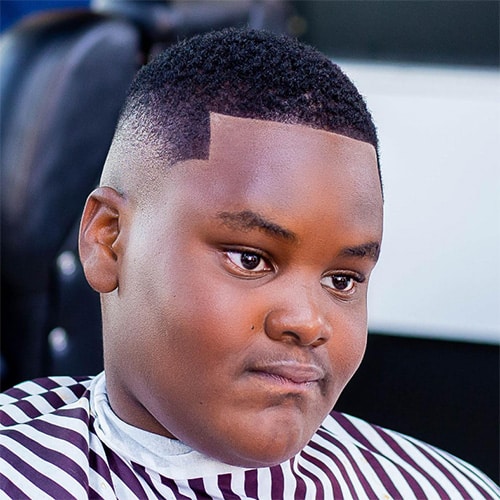 18. Cornrows
If your son loves cool hairstyles and wants to experiment with his locks, cornrows could be just the thing! This braided hairstyle is created close to the scalp using the underhand braiding technique. You will love it because of its versatility, and it can be paired with other styles and worn at various lengths. Plus, your little one can wear them as thick or thin as they want.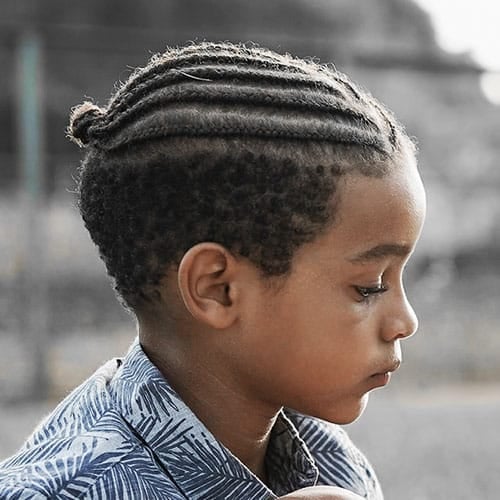 19. Buzz Cut with Skin Fade
The buzz cut is a no-nonsense short hairstyle, but that doesn't mean it's boring and can be personalized in several ways. This includes wearing it with a skin fade. One of the more noticeable faded styles because it gradually shortens the hair to skin level. Great for achieving contrast and structure, but also super cool!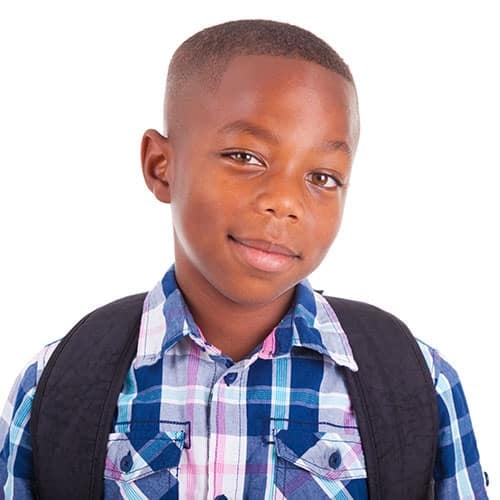 20. Flat Top with High Fade
The flat top with high fade is an excellent haircut for black boys who want a voluminous look. The boxy shape of the flat top makes it a statement hairstyle because it is instantly noticeable, made even more so by how the strands on the back and sides are shorter. This can be achieved with a high fade.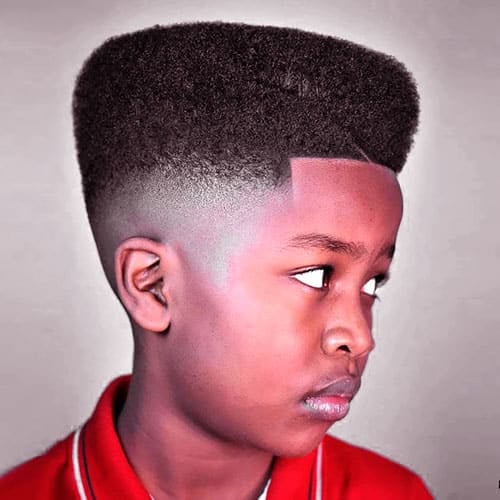 SUBSCRIBE TO OUR NEWSLETTER
Subscribe to our mailing list and get interesting stuff and updates to your email inbox.