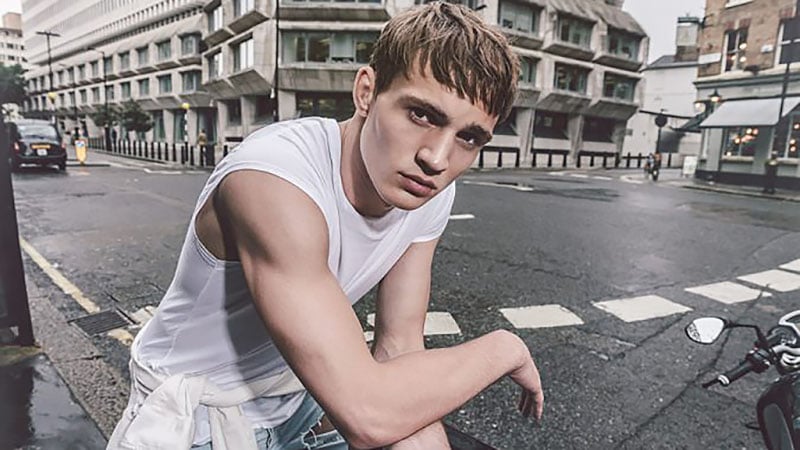 While the terrible, mushroom-looking bowl cuts of the past are best left behind, the new breed of modern ones taking their place should definitely be embraced. Edgier, messier, and undoubtedly cooler than their predecessors, this updated range of bowl cuts is just what you've been looking for in a new hairstyle. The re-born cut has a fresh punk feel that's perfect for your modern, masculine style. Find all the inspiration you need to face your fears, and once again, take on the bowl cut right here.
1. Classic Bowl Cut
The classic bowl cut hits mid-forehead – similar to a short fringe – and stays the same length all the way around your head. Unlike the bowl cuts of the 1980s, today's classic bowl cut features more texture on top and an edgy undercut effect from the buzzed, disconnected sides.
2. Bowl Cut + Low Fade
Add a low fade if you want to combine your bowl cut with your beard. A fade's graduated look smoothly connects your facial hair and your bowl cut, softening the line at the sides. However, you'll still retain the signature blunt fringe look of the classic bowl cut.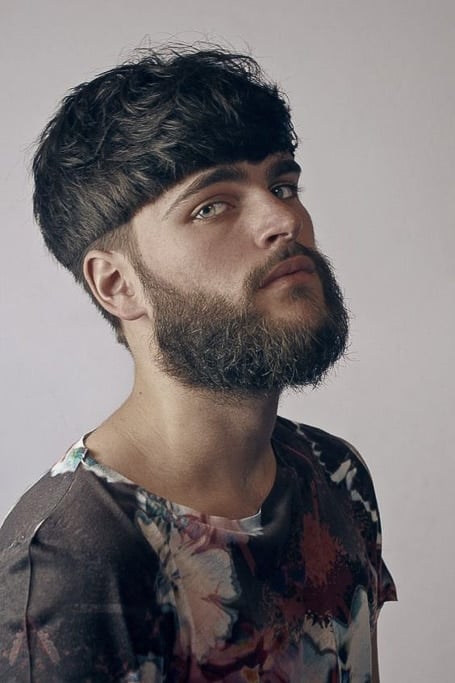 3. Bowl Cut + Mid Fade
Pair it with a mid fade for an edgier take on the bowl cut. The higher line of a mid fade means more of your scalp is visible, creating a cool contrast with the thick, full top section. This haircut will ensure you stand out from the crowd and is a solid choice for guys who want to make a statement.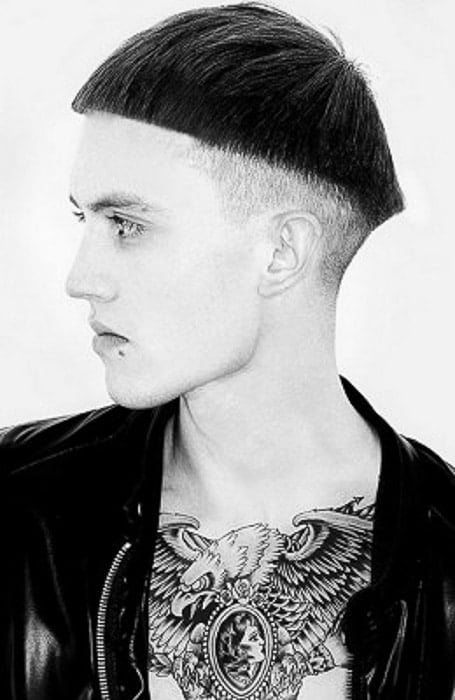 4. Bowl Cut + Taper Fade
A bowl cut and taper fade haircut – also known as a mini or micro bowl cut – is ideal for guys who want a shorter, more subtle option. While the top section still has the signature blunt line of a bowl cut, it's higher up the hairline – rather than falling on your forehead like a fringe. Instead of curving around your head, the line is blended back into a taper fade to create a modern and clean take on the bowl cut.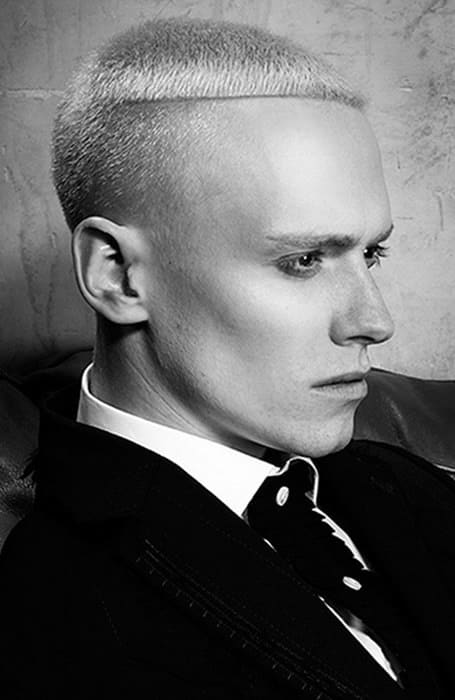 5. Bowl Cut + Undercut
An undercut is a cool addition to any hairstyle, and the bowl cut is no different. The undercut updates the bowl cut, making it look more modern and wearable. Plus, it's a flattering haircut for many different face shapes. That is because a bowl cut disguises a large forehead, while an undercut makes your face look slimmer and more angular.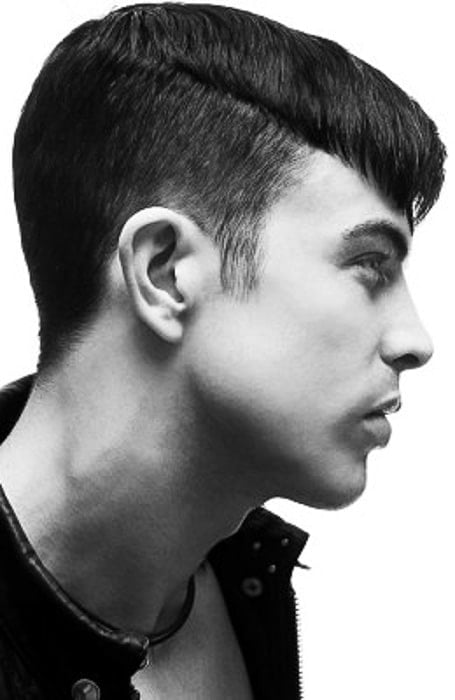 6. Bowl Cut + Straight Hair
If you have naturally thick, straight hair, consider a bowl cut. The best option is a medium-length bowl cut, which you can style with a pomade and a comb. Instead of combing your hair straight down, brush it forward to create a long fringe effect. An ideal cut for long, angular faces will balance your features and draw attention to your cheekbones.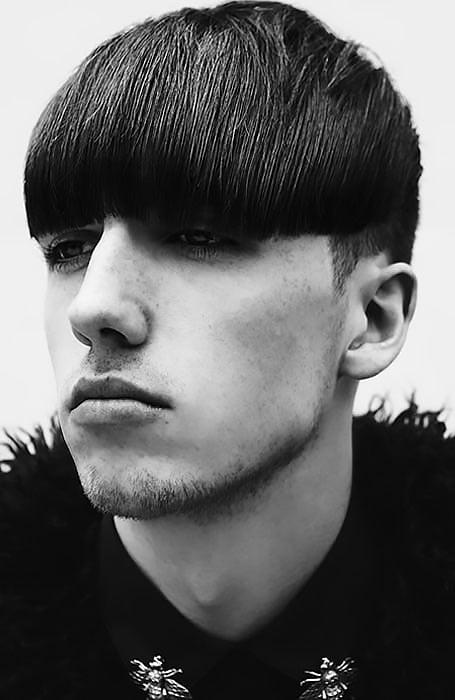 7. Bowl Cut + Wavy Hair
A bowl cut is best suited to those with thicker hair – however, if your hair is naturally wavy, you're in luck. The natural volume of wavy hair makes it appear fuller. Simultaneously, the bowl cut creates more body, structure, and shape for your wavy hair, so it looks neater and less unruly.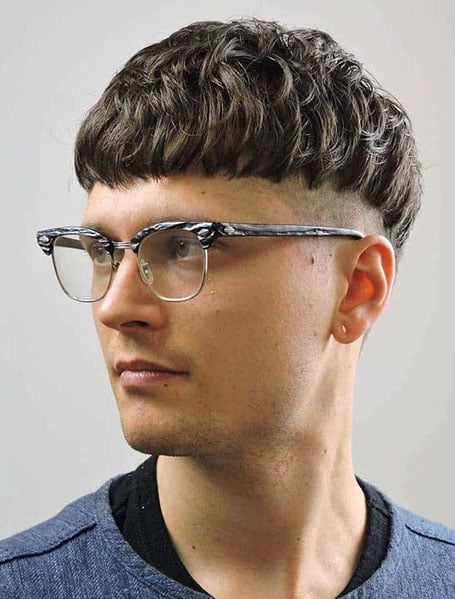 8. Bowl Cut + Thick Hair
One of the best haircuts for thick hair is the bowl cut. It adds structure and shape, ensuring your hair doesn't look like one solid mass. Simultaneously, a thick bowl cut has a cool vintage appeal, calling to mind the '60s Mod trend. If your style leans toward retro, you should consider this cut.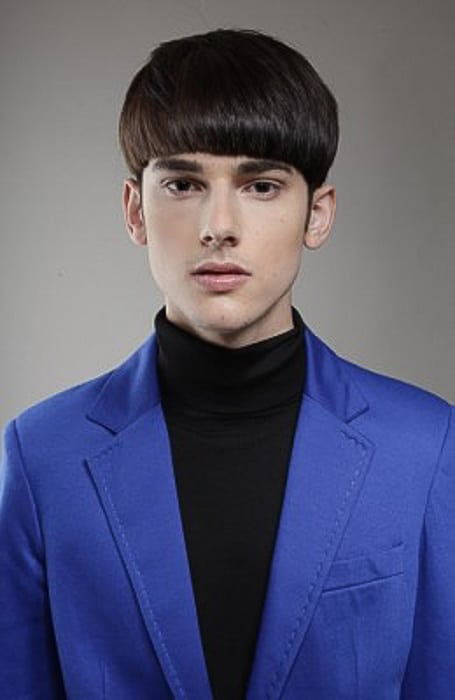 9. Bowl Cut + Long Thick Hair
Bowl cuts are surprisingly versatile and suit a variety of hair lengths. A bowl cut is a standout choice for guys with long, thick hair. Off-beat and retro, the cut is softer than other modern bowl cuts, which often include an undercut or fade element. Like other long haircuts for men, it will draw attention to and frame your face.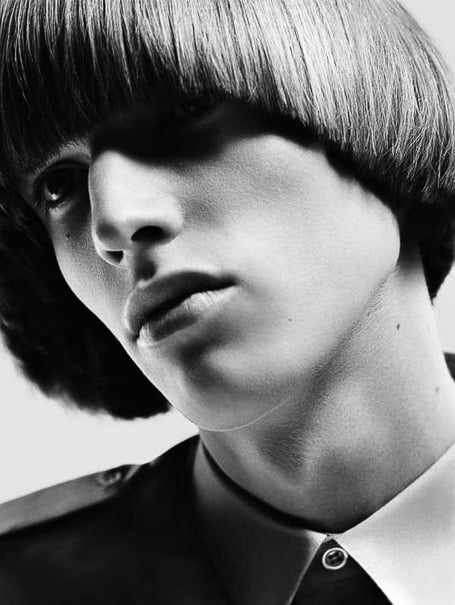 10. Bowl Cut + Bald fade
The most striking bowl cut is the bowl cut and bald fade – also called a skin fade – combination. The bald fade adds a modern twist to the classic bold cut. At the same time, the haircut has a bold, editorial look that is sure to command attention. While all hair types suit this combination, it looks particularly good with thick, straight hair.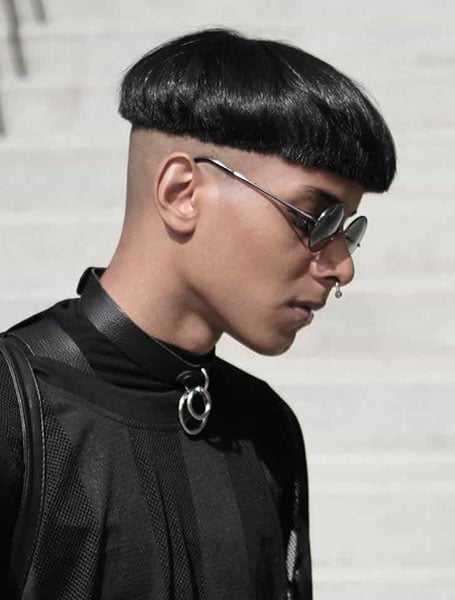 11. Bowl Cut + Skin Fade + Spiky Hair
Give your bowl cut an unusual and masculine take by combining it with a skin fade and spiky hair. Spiky hair is an enduringly popular men's style favored by many soccer players, while the skin fade adds an edgy touch to the bowl cut. The bowl cut's blunt fringe fits with the style's structured, angular look.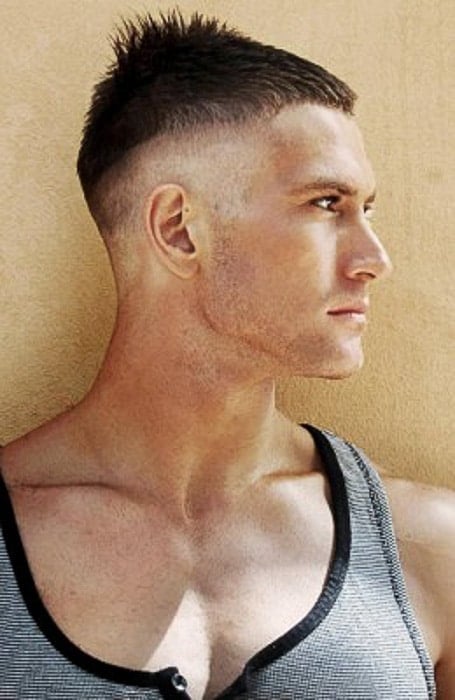 12. Bowl Cut + Drop Fade + Wet Hair
Slick or wet hair is a staple of men's hairstyles. Wet hair has a modern, intentional feel when combined with a bowl cut and drop fade. Ideal for guys who want to express their more artistic, avant-garde style, a wet bowl cut and drop fade looks unusual, eye-catching, and bold.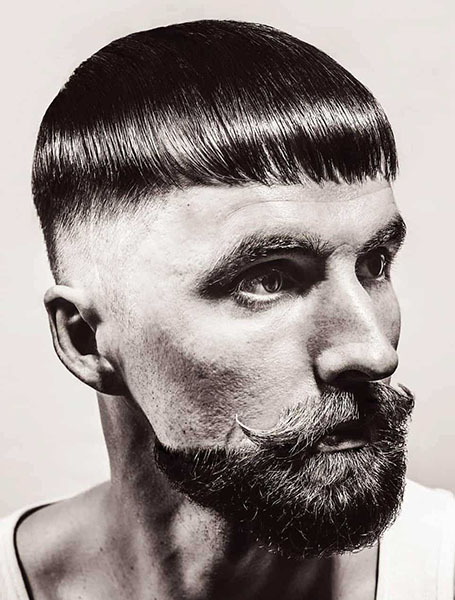 13. Bowl Cut + Choppy Fringe
A bowl cut-and-choppy fringe haircut is similar to a Caesar or French crop. These haircuts all feature a textured front section contrasted with buzzed sides, a universally flattering look. Young and cool yet masculine, the bowl cut-and-choppy fringe has a subtle edginess and attitude.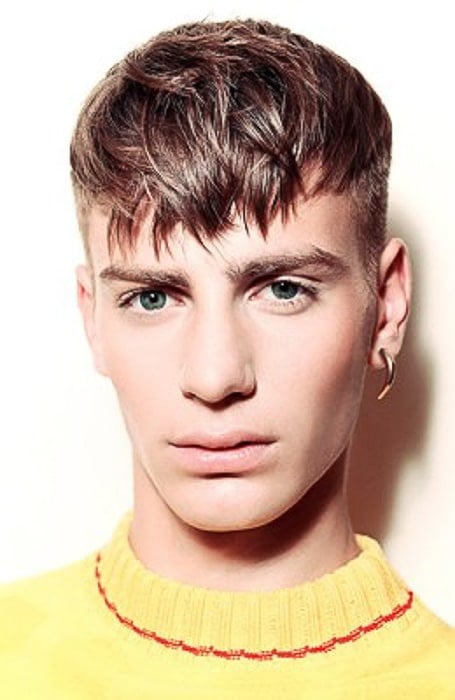 14. Bowl Cut + Afro
While the bowl cut is best known as a style for straighter hair types, it also works for Afro-textured hair, as a bowl cut is ideal for thicker types of hair. However, while the shape of the cut is the same, the overall effect is slightly different. Afro bowl cuts tend to focus the volume in the top and front sections, with less of a 'mushroom' effect.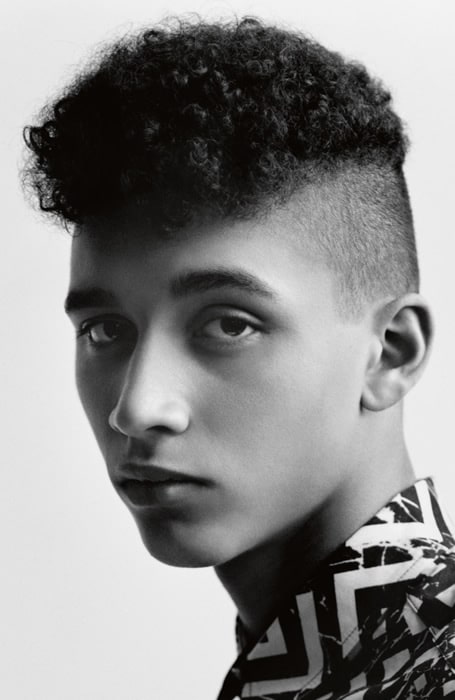 15. Bowl Cut + Waves
Waves are one of the most popular hairstyles for guys with Afro-textured hair. Waves have a ripple-like pattern that always stands out. To combine them with a bowl cut, have your barber buzz the sides short. Then, create 180 waves in the bowl-cut top section. The result is a fresh, modern hairstyle with a cool '90s appeal.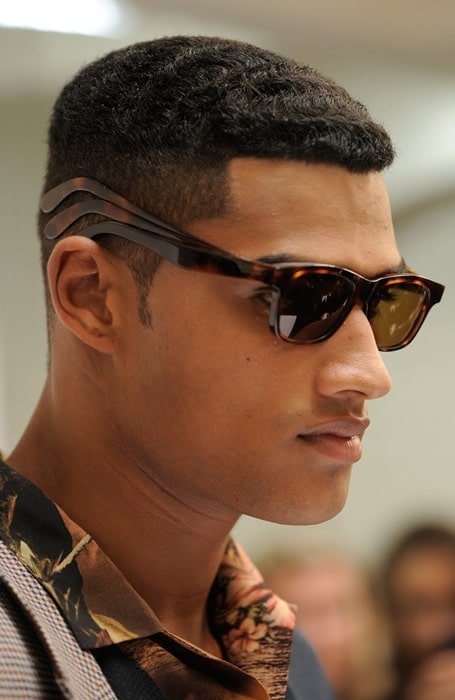 16. Bowl Cut + Hair Design
A straight hair bowl cut is a great canvas for different hair designs. The top section of the hair is relatively smooth, curving around the head. As a result, different patterns and linear designs look great when combined with this cut. Add contrasting colors for a truly individual and unique look.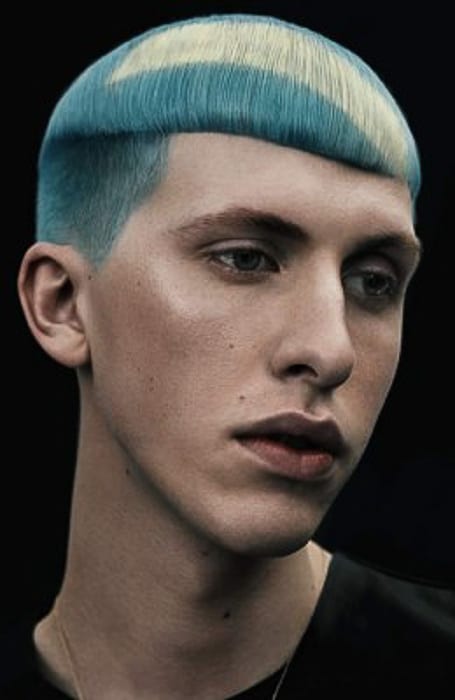 17. Bowl Cut + Bald Fade
A bald fade – also known as a skin fade – is the simplest way to add an edgy and modern feel to any haircut, and the bowl cut is no exception. Ideal for those who want to make their face look longer, the cut is a bold look that suits confident men. Remember that this haircut will emphasize a big forehead and the angular planes of the face.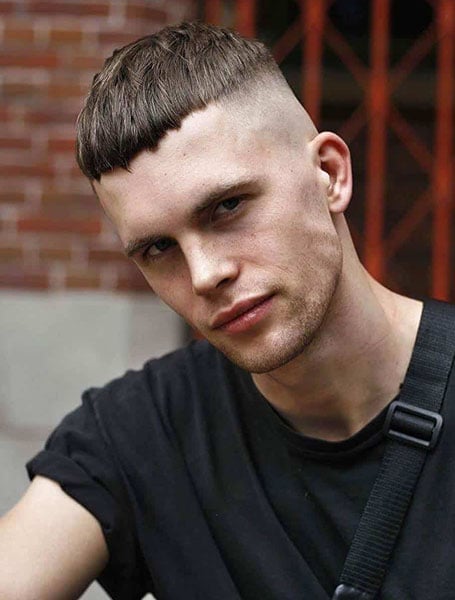 18. Bowl Cut + High and Tight
The high-and-tight haircut is ideal for guys who want a low-maintenance cut. But if you're growing your hair out or want a fresh twist on the classic, adding a bowl cut is a great option. The bowl cut has the same structured look as a high-and-tight and looks particularly good if your hair is thick.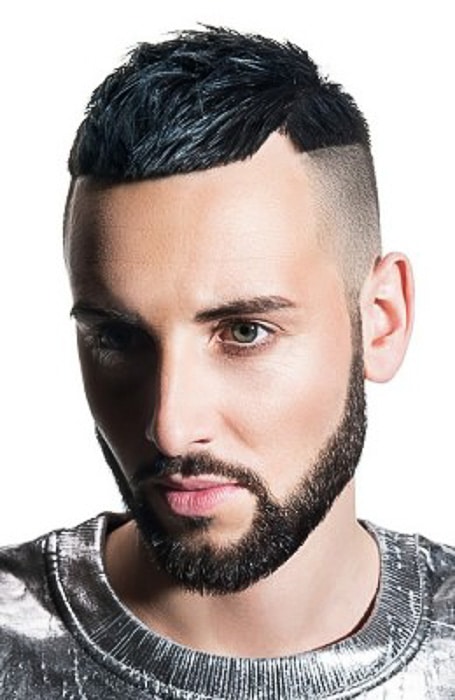 19. Bowl Cut + Hair Color
Shake up your bowl cut with a bold color. The cut's shape makes it ideal for showing off either a bold and graphic or multi-dimensional hair color. While there are many different options to choose from, some of the most on-trend for men include grey, platinum blond, and green.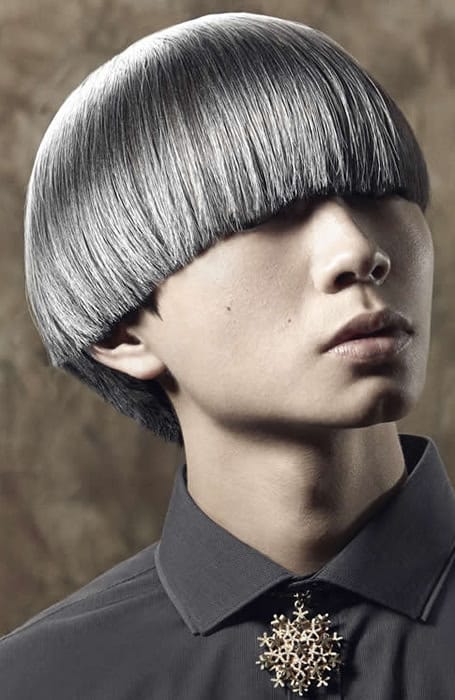 20. Bowl Cut + Drop Fade
Give your bowl cut an unexpected twist by adding a drop fade. The drop fade fits with the bowl cut's curves and angles to create a bold final result. The haircut definitely makes a statement and is ideal for guys who want a more graphic cut that is dramatic yet masculine.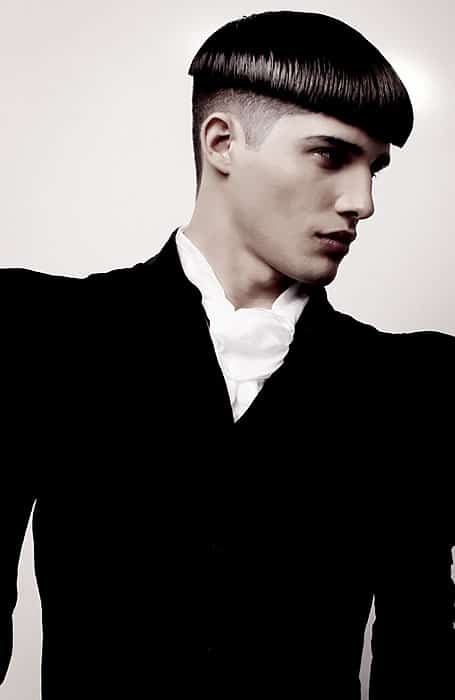 Bowl Cut FAQs
What is bowl cut?
A bowl cut is a short hairstyle that features a thick blunt fringe, with the hair on the top of the head cut to the same length as the fringe the whole way around. The hair below that level is often cut shorter or graduated down to the bottom hairline. It's also known as a mushroom cut due to the similarities in appearance to the popular fungi.
How to do a bowl cut?
Start by choosing how long you want the top and section it off. Then, depending on how short you want to sides and back, use a trimmer or scissors to cut it to the desired length. Release the hair on top, combing it down to where it would usually sit. Take a sharp pair of scissors and carefully cut in a straight line around the head, including the fringe, making sure to keep it all the same length. If you want, you can add texture or take out excess bulk with thinning scissors.
When was the bowl cut popular?
The bowl cut has been in and out of popularity over the past 100 years. Some of the peak decades for the bowl cut were the 1920s, 1960s, 1990s, and again in the 2020s.  
SUBSCRIBE TO OUR NEWSLETTER
Subscribe to our mailing list and get interesting stuff and updates to your email inbox.