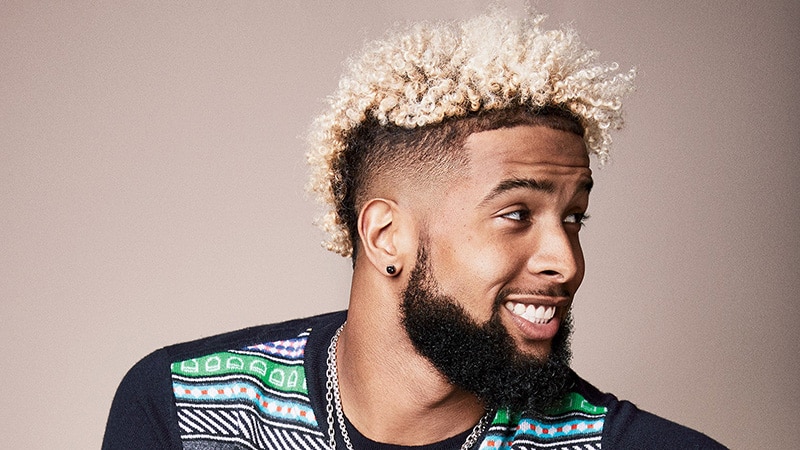 Have you been looking for a way to update your appearance and give structure to your locks? If you have afro-textured or naturally curly hair, there is no cooler style than the frohawk. Like the traditional mohawk, this hairstyle is also edgy and rebellious, with volume and fullness on the top and shorter sides. Whether you shave them completely or opt for a stylish fade, there are multiple combinations to try out, letting you find the perfect finish. Pair it with a hair design if you are daring and adventurous, or choose a fade for a more subtle approach; whatever your preference, this is a look worth trying.
1. Frohawk Taper Fade
You have heard of the mohawk before, but a version is designed for Afro-textured and naturally curly hair. Let us introduce you to the frohawk. You need longer strands on top with shorter sides to create this look. Instead of shaving them, which would create a sharp contrast, you can also opt for a taper fade. This will gradually shorten the hair.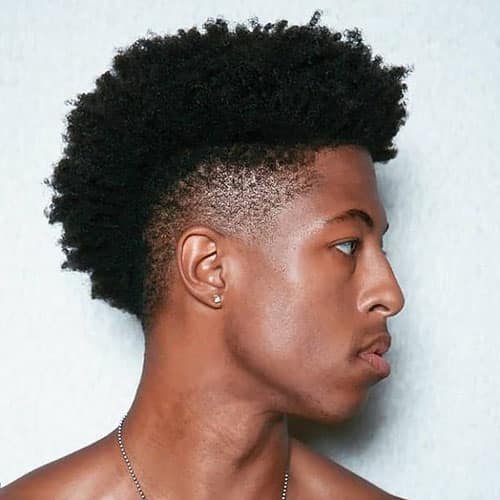 2. Frohawk with Beard Lineup
The frohawk gets a lot of sophistication and structure when paired with a beard lineup. The combination between neat and polished facial hair and the fluffy and voluminous strands on the top of the head will give you the perfect balance. This is also an excellent way to complement your face shape and highlight your jawline.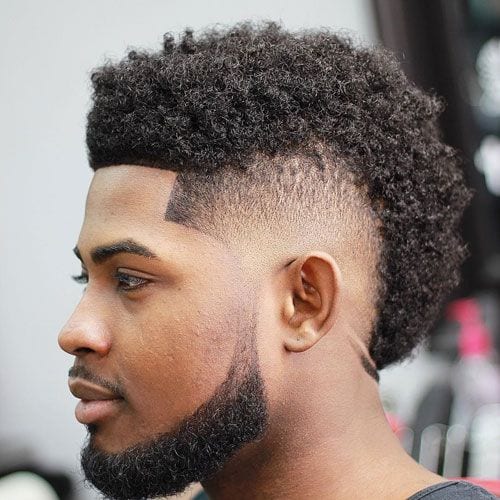 3. Frohawk with Bleached Hair and High Fade
There is something undeniably cool about bleached hair; it is one of the easiest ways to draw attention to your haircut and texture. What is so amazing about the frohawk is the many ways to style it, including with a high fade. The distinct feature of this faded style is how it will start around the temples and adds neatness to the look.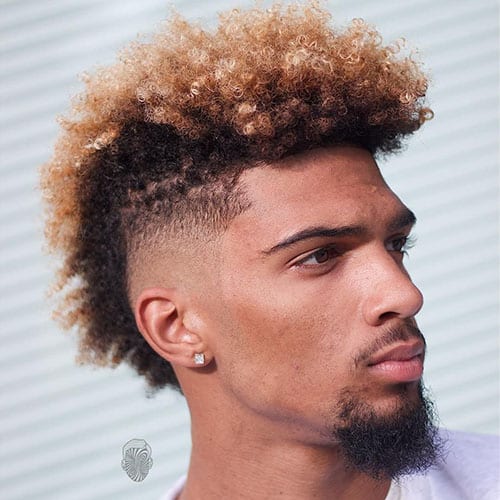 4. Frohawk with Frosted Tips
Frosted tips were a big trend in the 90s because they were expressive and fun. The sharp contrast in colors between your natural shade and the tips will draw the eye in, and a cool style like the frohawk makes it feel even fuller and thicker. Lighter strands will make for an eye-catching finish, letting you show the world that you're not afraid to take chances.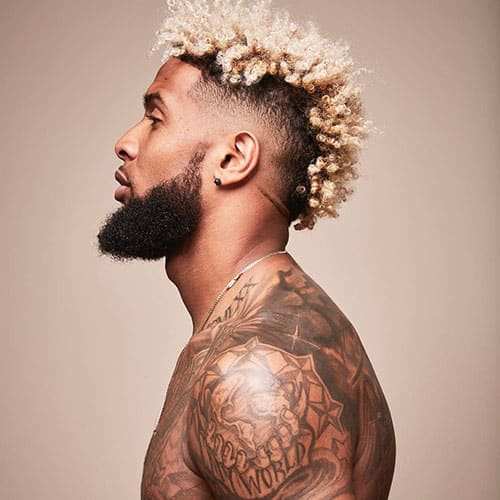 5. Frohawk with Hair Design and Bleached Hair
For men who want to stand out from the crowd, there are a few combinations as daring and badass as a frohawk with hair design and bleached hair. The appeal of the haircut is how it enhances the texture and natural volume of your strands while the pattern adds a unique finish. What you choose is entirely up to you, and it can be as simple or detailed as you wish.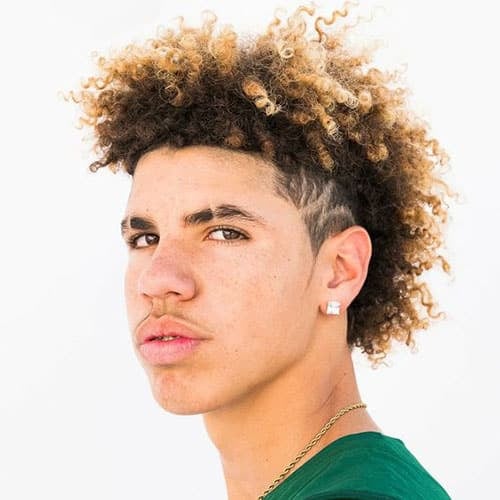 6. Frohawk with Hair Twist
The frohawk can be styled differently, including with a hair twist. Instead of leaving your locks soft and fluffy, this is the alternative you want for giving your strands more texture and adding new height. Yes, this combination has a lot to like from an aesthetic point of view, but it is also practical. Twists are a protective style that can help prevent breakage and aid natural growth.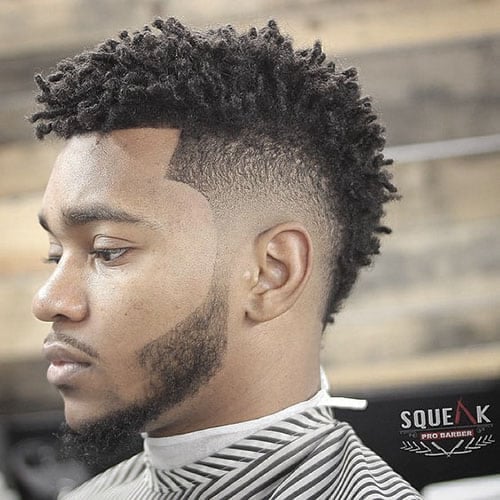 7. Frohawk with Natural Curly Hair
The frohawk is the alternative to the mohawk that you have been waiting for. This haircut is perfect for curly textures and will add to the fullness of the look to help you achieve even greater heights, and who doesn't want that, right? Shortening the sides will create a brilliant contrast in length, giving your hair structure and a badass finish.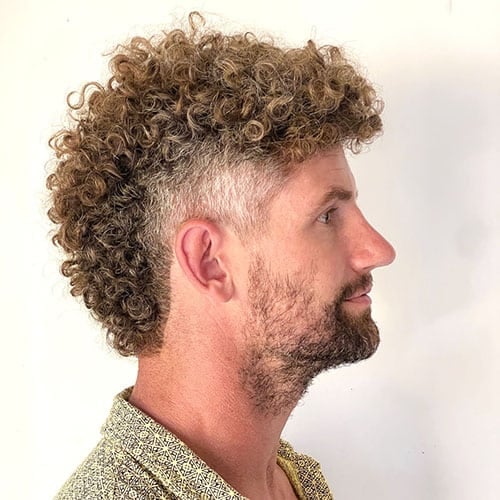 8. Frohawk with Skin Fade
The frohawk can be worn in different lengths depending on your bold and daring you are. This includes how short you want the hair on the sides to be, which can be shaved or faded. One of the most noticeable options is the skin fade, an undeniably cool and easy-to-wear option that will make for an eye-catching finish. The defining feature is how it graduates from longer length to skin level.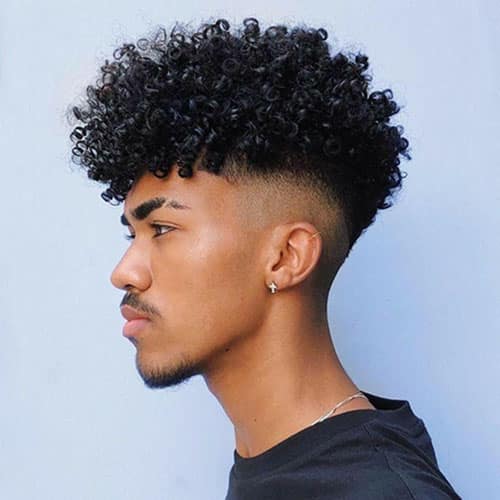 ​​
9. Frowhawk Blowout
Look no further than the frohawk blowout for a fashionable and expressive hairstyle. This is a mix of two of our favorite looks, the frohawk, a curly-haired dude's ultimate way to give his strands volume and enhance the fullness. And the blowout is styled upward to help you achieve new heights. It is often held in place with a stronghold product to simplify styling.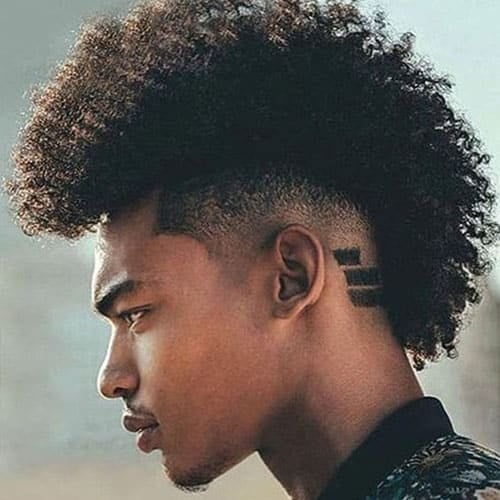 10. Messy Frohawk with Lineup
You can benefit from styling your curls into a frohawk because the look has a lot of structure, but this is not the only option. Fluffy and messy hair is an excellent option for those who want a more casual aesthetic. To let your attitude shine, why not pair it with a lineup? This look is distinct, created by adding straight lines or sharp angles around the temples. The result is the coolest finish.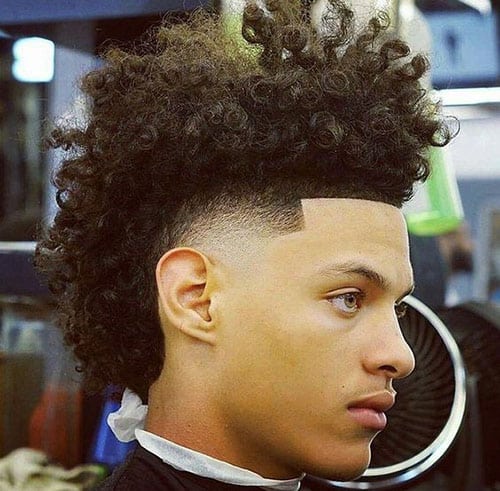 What is a Frohawk?
The frohawk shares many similarities to the classic mohawk in that it features height and volume on the top of the head and shorter sides. The big difference is that this is a look used for those with afro-textured and naturally curly hair and is an excellent way to give your hairstyle structure and create a neat and polished finish. Or, you can go bold by adding hair designs or lineups to your cut, creating something expressive and fun. Do you want super short sides? Then shave them or opt for a skin fade. Alternatively, create a more gradual result with a taper fade.
How to Cut a Frohawk
The frohawk takes some skill to shape and style, but the effort is worth it because this is an undeniably cool look. It is great for men with naturally curly and afro-textured hair, and you can find out about it and the steps that go into cutting it by watching the YouTube video by The Rich Barber below. It will show you how to remove the bulk, get the desired shape, and transition into the fade.
Frohawk Hairstyle FAQs
What does Frohawk mean?
Frohawk is the term used for a style similar to a mohawk but created with afro-textured hair. The result is a full and voluminous top with shorter sides. This creates a brilliant contrast and is a great way to show off your texture and embrace its natural volume.
Is the Frohawk still in style?
A frohawk is still in style and an excellent look for curly textures. There are also different ways to wear it, which lets you personalize your hairstyle and create a modern and fresh finish. This can be done with hair design, fades, and lineups.
Can a faux hawk be professional?
A faux hawk is not considered a professional style because of the contrast in length between the top and the sides. However, if you style the hair to be shorter and opt for a faded side that gradually transitions in length, it can feel more polished and lend itself better to more formal occasions. These looks are generally accepted for the office.
SUBSCRIBE TO OUR NEWSLETTER
Subscribe to our mailing list and get interesting stuff and updates to your email inbox.