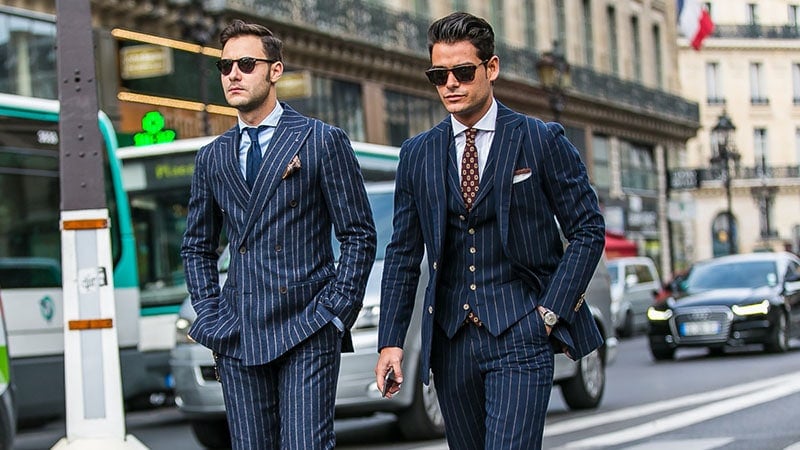 Whether it's boardroom presentations, million-dollar deals, or that all-important first interview, every man wants to look polished and put together when it comes to business. And just like the perfect suit, the right hairstyle makes all the difference. While the rules of office grooming were once rigid, today's workplaces are a little more flexible. Here are some of the best professional styles for all hair types and lengths that are sure to impress when you suit up on a Monday morning.

1. Side Part
A classic side part is one of the most stylish and low-maintenance hairstyles for men – which is why it's ideal for professionals. It looks great whether your hair is straight, wavy, or curly and gives you a debonair Mad Men vibe. To create a smooth and polished side part that Don Draper would be proud of, comb your hair, leaving it to fall naturally. Finish with pomade or matte clay to hold the style in place.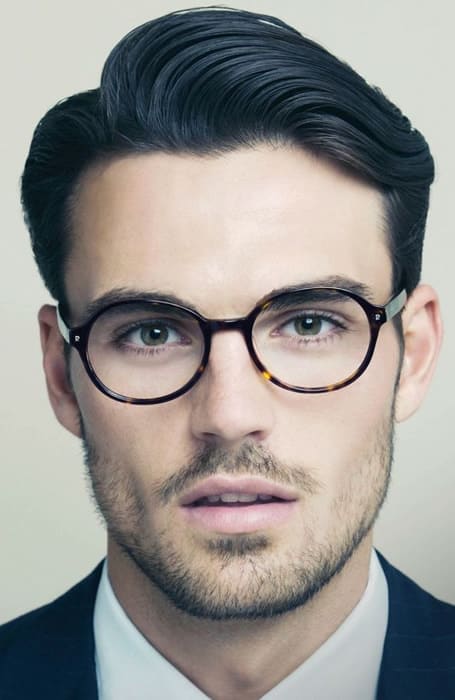 2. Slick Back
The slick back was one of the go-to professional hairstyles in the 1980s when it became the stockbrokers' signature look on Wall Street. Before that, it was popular in the 1940s. Today, the hairstyle still has a bold vintage appeal – making it a strong contender for confident men with an affinity for Old School cool. To create the slick back, keep your hair in place by combing it back while it's still damp, then adding a strong-hold gel and blowdrying.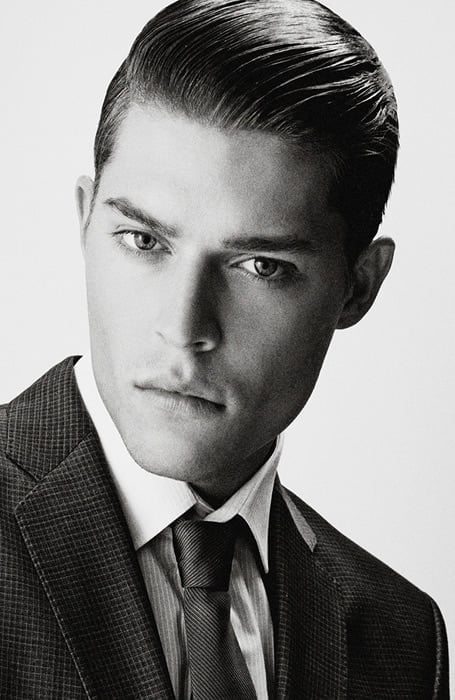 3. Quiff
The classic quiff has been popular since the 1950s – and it's no wonder. Polished and professional without looking stuffy, the quiff still looks as stylish today as it did then. For best results, make sure your hairline is clean and even, and the sides of your hair are short and neat. Then use a high-shine product to create the glossy effect that is the signature of the classic quiff.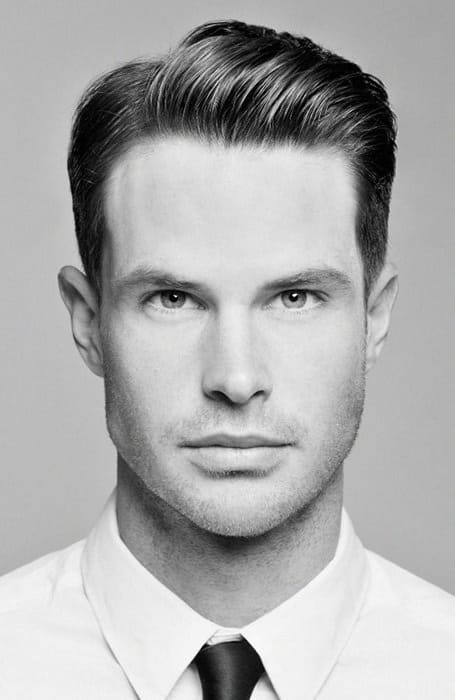 4. Buzz Cut
The buzz cut is a simple and masculine haircut for the man who means business. Short and sharp, its military-inspired origins give it a serious and mature feel – perfect for tough negotiations or a board room presentation. Your barber can subtly vary the length of your buzz cut to suit your face shape and features, and it also looks great if you have stubble or a goatee.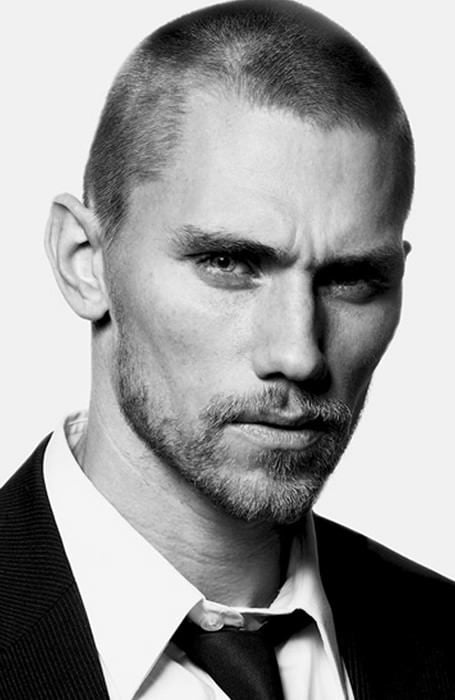 5. Crew Cut
Short and sharp, the crew cut is an ideal business hairstyle. It's low-maintenance, neat, and tidy, and requires minimal styling to look great, saving you more time in the morning. Plus, this masculine and minimalist haircut has a classic appeal and looks great with a suit. For a modern and mature look, pair it with stubble.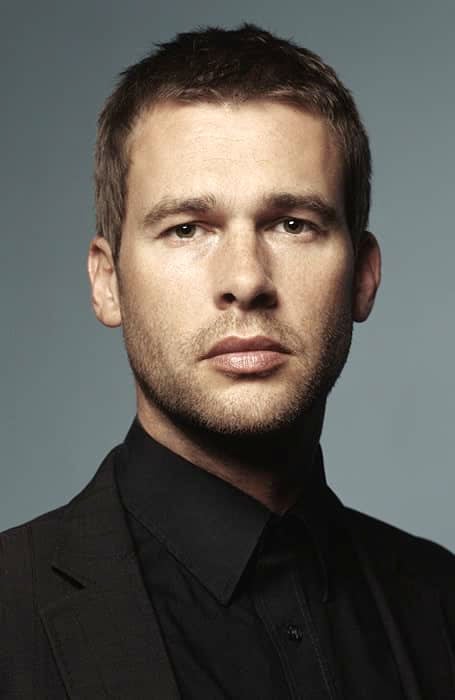 6. Hard Part
One of the quickest and simplest professional men's hairstyles is the traditional hard part. It's a clean and distinctive look that adds a touch of character to any haircut. If you have a naturally defined side part, you can create a hard part with gel and a fine-tooth comb. When it comes to placing the part, make sure you follow the direction in which your hair naturally falls. If yours is less obvious, have your barber find your natural side part and razor or shave it to be more noticeable.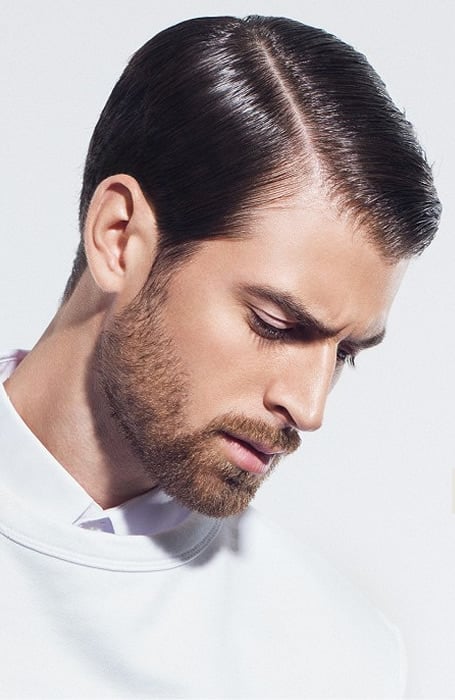 7. Comb Over
One of the most iconic and traditional professional haircuts, the comb over adds a touch of class and a classic feel to your look. Polished and sophisticated, a comb over is flattering on nearly all face shapes and is appropriate for most workplaces. Plus, it works well with a beard or a clean-shaven face. Simple, neat, and dignified, a comb over is the failsafe choice for every guy.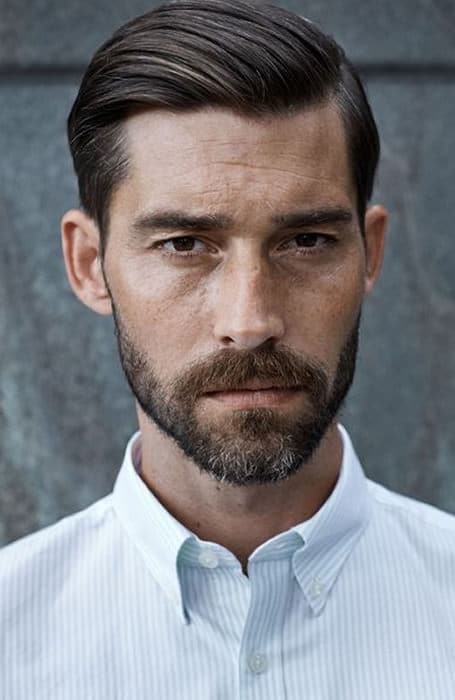 8. Hard Part + Taper Fade
Tradition meets modern cool in the hard part and taper fade haircut. The sleek and sophisticated hard part is a classic look for professional men, worn by the iconic 1960s businessmen of the Mad Men era. To update it for the 2020s, add a stylish taper fade. Neat and structured, it draws attention to your face and makes it look slimmer.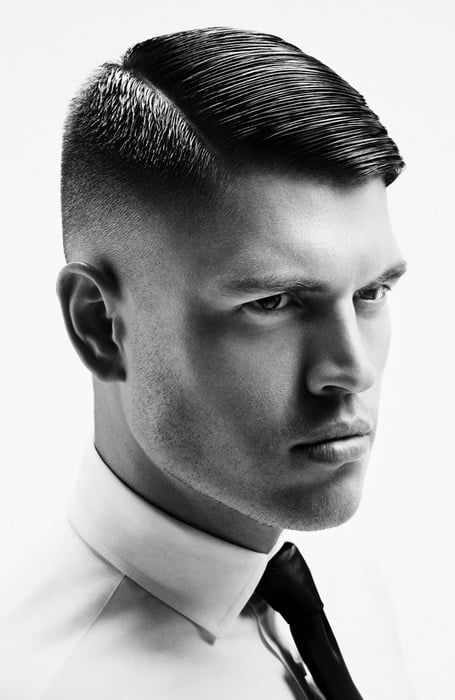 9. Ivy League
The classic Ivy League haircut is a favorite professional haircut for men of all ages. Combining the best parts of a side part and a crew cut, it's a dapper look with vintage appeal. As the name suggests, it also has an upper-crust feel called the 'Princeton cut' or 'Harvard clip.' Because it tapers at the side and is a little longer on top, the Ivy League suits most face shapes, and it looks great with a suit.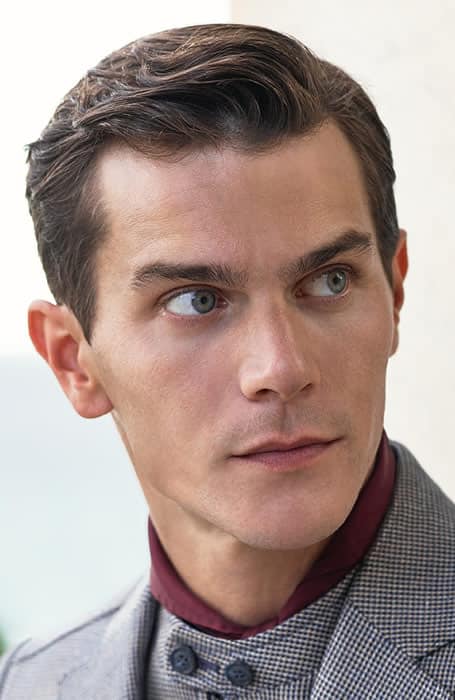 10. Clean Shave
A clean shave sends a bold message. Cool and fresh, it's made for guys who have nothing to hide. One of the best looks for guys with a receding hairline or wear glasses, the clean shave screams 'confidence' and maturity. For best results, visit a barber to get that ultra-clean look, as there's nothing worse than a patchy at-home shave. Grow out your facial hair to add some balance, angles, and definition to your face, making sure all lines and edges are precise.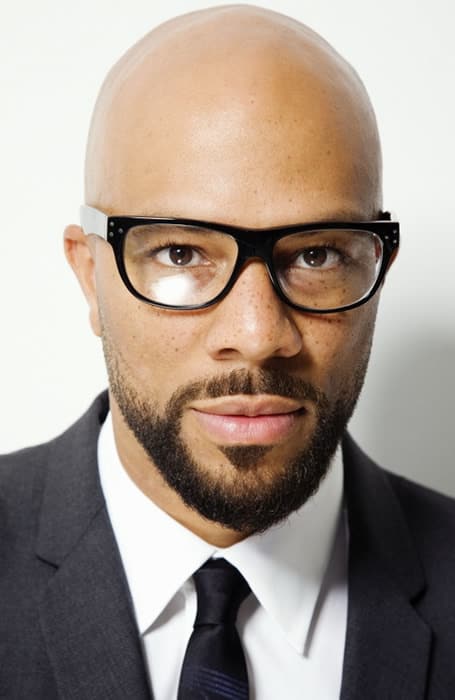 11. Hard Part + Slick Back
A hard part and slick back is a great option if your hair is naturally wavy. Wavy hair can risk looking too casual or unkempt – particularly if it's on the curlier side of the spectrum. The strong-hold gel used to create the slick back helps keep any stray hair in place. Meanwhile, a hard, defined part adds structure to your hair, creating a more serious and controlled look.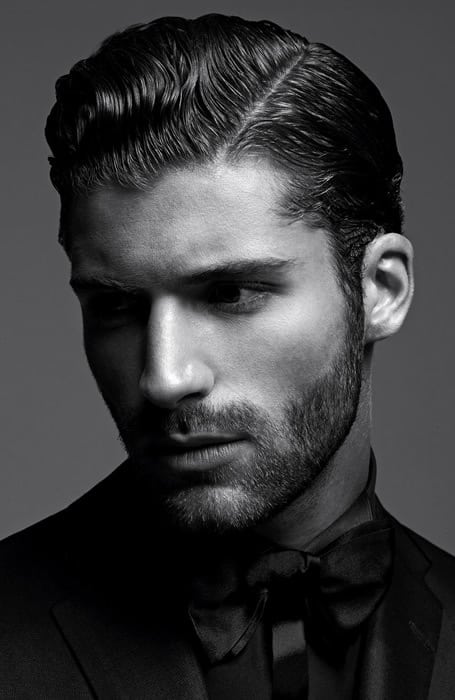 12. Low Fade + Hard Part + Quiff
For professional men who are a little more daring, a low fade, hard part, and quiff combination is a great option. While the quiff is one of the most universally-flattering hairstyles for men, the low fade and hard part add some individual flair. To keep the style looking office appropriate, use a gel or pomade to ensure no hairs are out of place. This has the bonus of giving your look a touch of retro cool.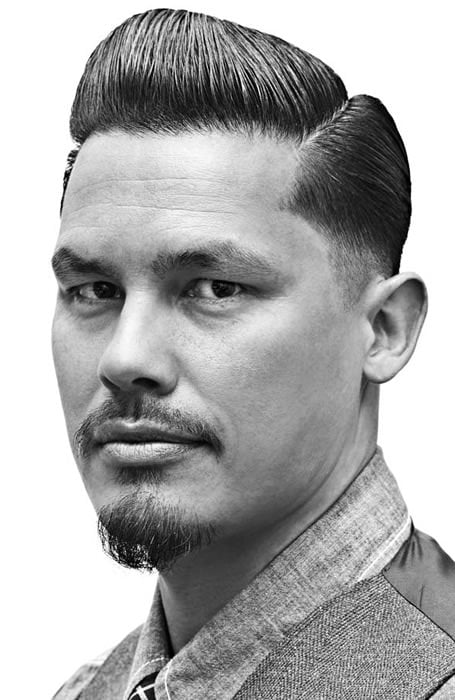 13. Man Bun
The secret to looking professional with long or medium hair is making sure you look groomed, neat, and serious. One of the best options is a sleek man bun, which will ensure your hair doesn't flop in your face or clash with your suit during that all-important meeting. Don't leave it up to chance – instead of a brush, use a little pomade or gel to set your strands in place as you comb it back. Then, secure your man bun at the back of your head or base of your neck using a clear elastic or one that matches your hair color.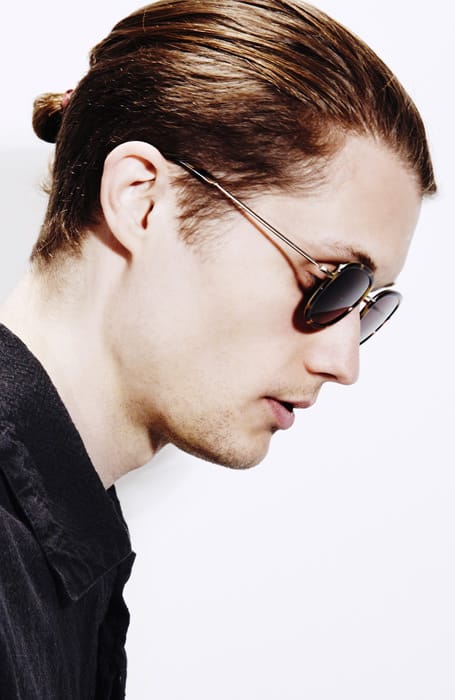 14. Medium Length Comb Back
A great professional hairstyle for medium-length hair is the comb back. Neither as flat nor wet-looking as a slick back, the comb back still has a polished feel. Instead of combing your hair straight back, use an upward motion instead. This causes your hair to fall back on itself, creating a flattering volumized effect that makes your face seem longer and more balanced.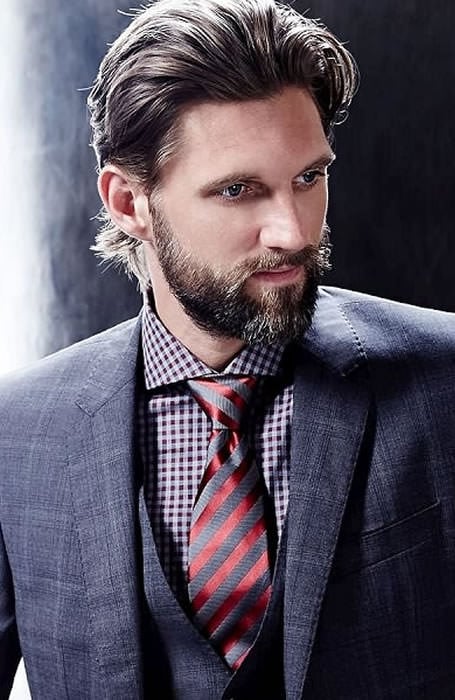 15. Pompadour
One of the most distinctive and popular men's hairstyles, the pompadour, may not seem like the most professional hairstyle at first. But this bold and edgy look can be adapted for the office with a few simple tweaks. Opt for a less exaggerated quiff, use products with a matte finish instead of the traditional oily wet look, and pair your pompadour with a modern taper at the sides to keep it looking clean, modern, and proportional.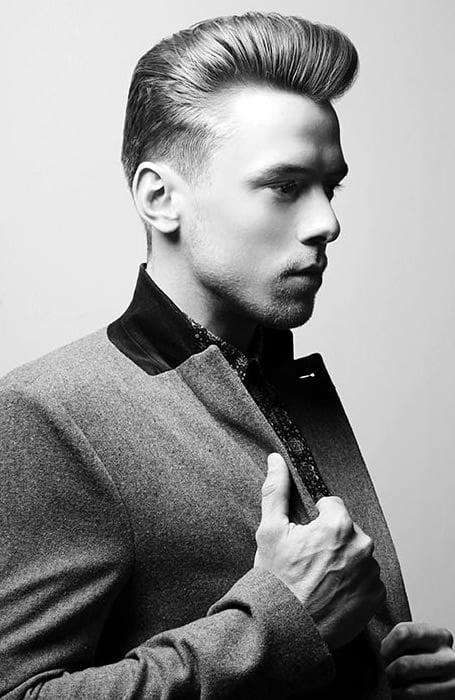 16. Quiff + Hard Part
The quiff never goes out of style. Not only does it suit almost every face shape, but it is also appropriate for men of all ages and can be worn everywhere from date night to the gym and the office. For the ultimate modern gentleman look, pair your quiff with a hard part. The part's defined line adds structure and definition, while the quiff makes your face look more balanced and adds a timelessly classy quality to the overall style.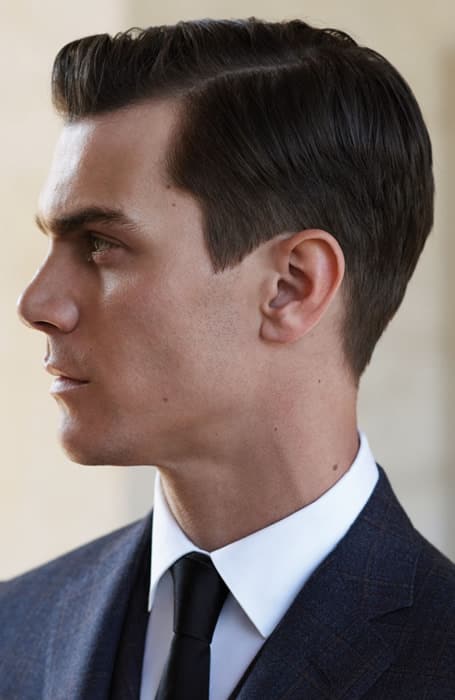 17. Short Afro
For men with Afro-textured hair, a short afro is a great low-maintenance option for the office. Your barber can shape the cut to suit your face shape while removing any stray hairs or flyaways, as well as keep your hairline looking neat and sharp. To add a little extra personality to your short afro and give it a modern update, add a subtle mid fade or low fade.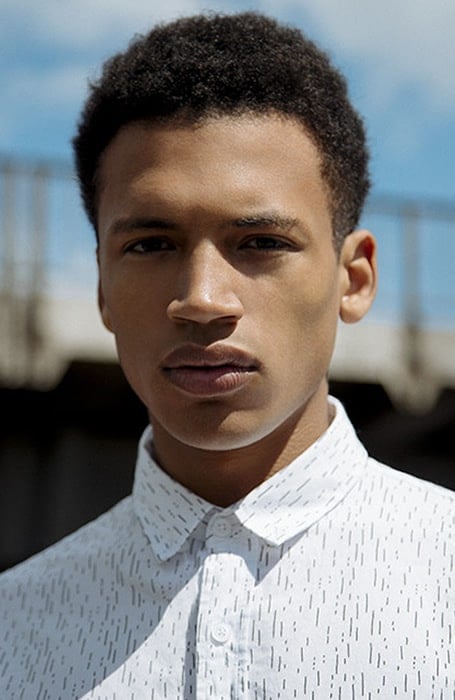 18. Bro Flow
The bro flow is best known as a relaxed and rugged hairstyle. In recent years, it's also become accepted as a professional business look. Ideal for guys in creative, entrepreneurial industries like fashion or technology, the bro flow is for confident men who like to lead the way and tread their own path. Because it has a slightly more cool and casual appearance, it's best to make sure the rest of your look is polished and put together – think a collared shirt, tailored blazer, and neatly groomed facial hair.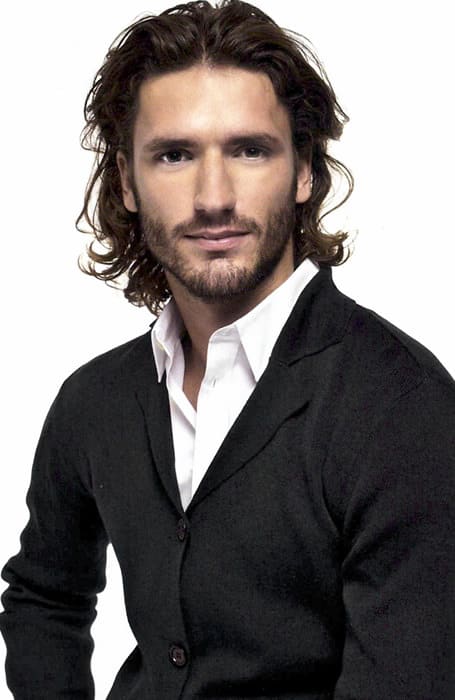 19. Half Up Half Down
For guys with long hair, looking professional doesn't have to mean chopping off your signature locks. In modern offices, longer hairstyles are embraced – so long as they have a clean, polished, and intentional look. A half-up the half-down style will keep your hair out of your face while maintaining your individuality during business hours. Apply a little pomade and comb your hair back, securing the top section in a small, neat bun. Use a little more product to keep the loose lower section in check, and ensure you get regular trims to avoid split ends.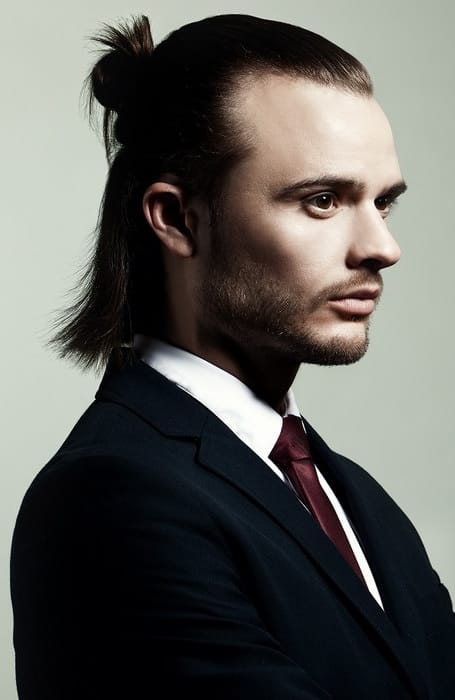 20. Undercut
Now a far cry from its gangland roots in the early 20th Century, the undercut is a popular and respectable haircut for men. However, it's best to go for a more subtle take in the professional realm – skin-shaved undercuts are a little too bold for the office! A short undercut with a longer, side-swept top section looks modern and cool while still maintaining a mature and stylish image.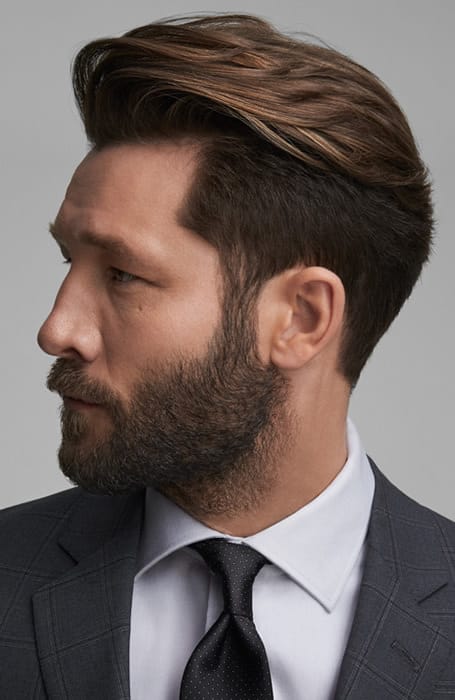 FAQs
What is the most professional haircut?
The haircut that suits most professional settings is one that keeps it short and tidy. A buzz cut, side part, slick back, quiff, hard part, taper, and comb over are all great options that combine business-appropriate length with on-trend styling elements.
Is a fade haircut professional?
A fade haircut is an excellent way to incorporate short sides into your hairstyle while still having fun and adding a trendy element to your cut. As such, it's perfect for work, keeping you stylish and professional.
Are skin fades professional?
A skin fade is a much bolder take on the fade, making it a bigger statement. As such, it may not be the best choice for ultra-conservative workplaces. However, for environments that don't mind individual expression, it's still a short, neat style that looks exceptionally suave. Just remember to make regular appointments at the barber to keep it from growing out too long.
Can a buzz cut be professional?
A buzz cut is a professional haircut. It is neat, low maintenance, and looks great on most face shapes.
SUBSCRIBE TO OUR NEWSLETTER
Subscribe to our mailing list and get interesting stuff and updates to your email inbox.