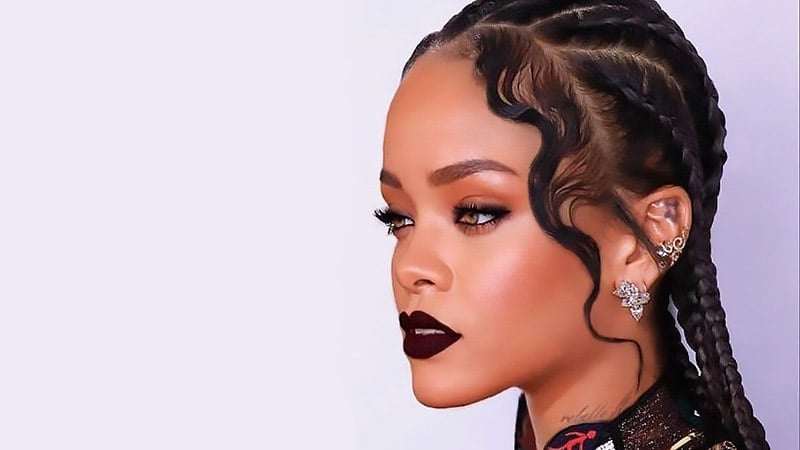 One of the most well-known styles for Afro hair is cornrows – known as canerows in the Caribbean. These raised braids are formed using the underhand technique. Because they're braided so close to the scalp, your skin is often exposed. Considered a protective style, you can leave cornrows in for weeks at a time if you care for them properly and keep your scalp moisturised. Even better, there's no limit to the kinds of looks you can create with them. From sleek, sexy and simple to colourful and crazy, it's time to embrace cornrows and let your hair shine!
RELATED: 30 Best Braided Hairstyles for Women
1. Big Cornrow Braids
Big cornrow braids are a bold and eye-catching way to embrace this trend. Braiding in bigger plaits saves lots of time, as more hair is used in each row. The less time in the salon chair, the better! This type of cornrow braid is also easier to maintain, care for and style. Add accessories like ribbons and delicate chains to make the most of this look and give it a unique twist.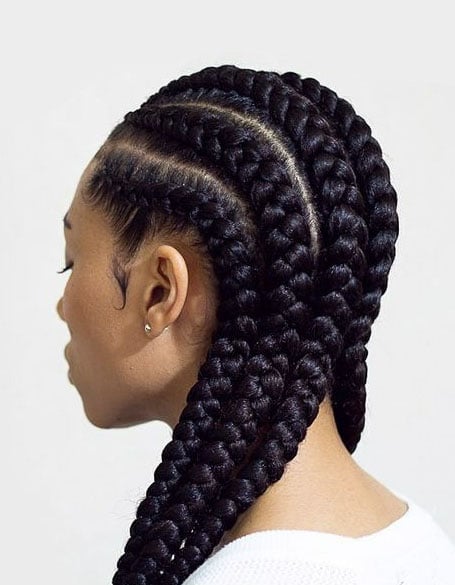 2. Side Cornrow Braids
Why not add a unique touch to your braids with side cornrows? This style can be used to create the 'faux-undercut' look. However, if you want to take it to the next level, try pairing side cornrows with other braids. A standout combination is Dutch braids with side cornrows. You can even add some contrasting cornrows at the crown of your head. Whatever you decide, this is a fun and versatile style to try. It's excellent for emphasising the bone structure of your face, too, as it brings out cheekbones and frames the temples.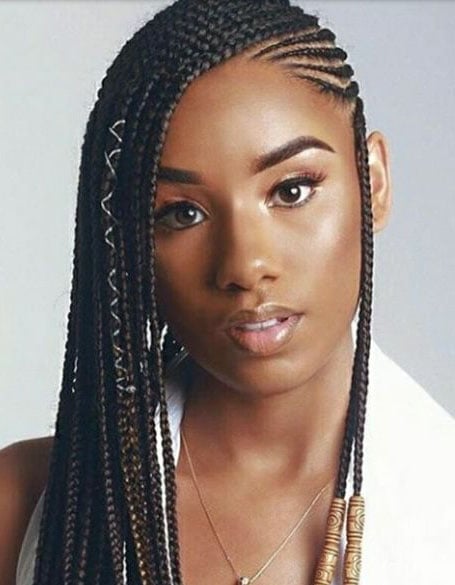 3. Two Cornrow Braids
One of the most iconic cornrow looks is two statement braids. This style is created by braiding underhand, close to the scalp and at an angle, sweeping the hair back from the face into two plaits. A fresh update on the classic style is to have your hair braided asymmetrically to wrap around your head. This off-centre look feels young and playful and takes your hairstyle up a notch. It's subtle enough to wear to work or school but is unusual enough to still attract attention – and compliments.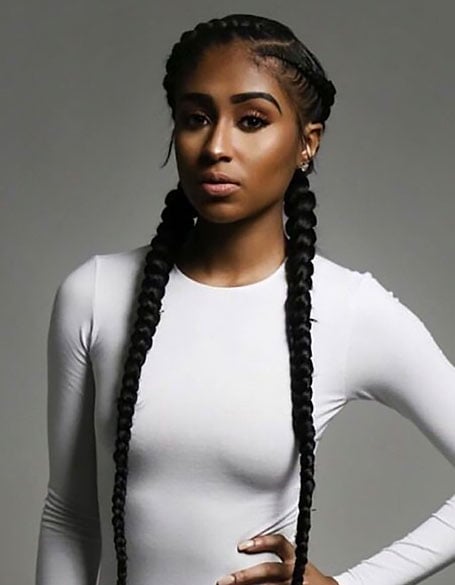 4. Cornrow Braids with Natural Hair
Natural hair is the perfect match for cornrows. After all, this braiding technique was initially developed for totally untreated and un-straightened Afro hair textures. A great style for natural hair is side cornrows. You can create a mini Afro-mohawk effect or faux-undercut style with this technique. Because your hair is braided up, this style is perfect for showing off a pair of statement earrings. It's also a good braid idea for the hot summer months.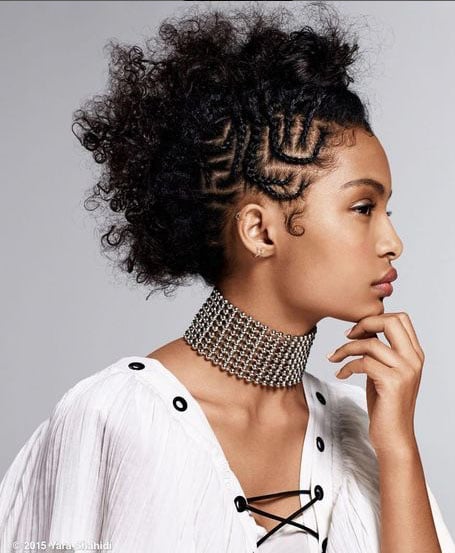 5. Two Cornrow Braids with Extensions
Sometimes called 'boxer braids', this style involves braiding two cornrows back at a straight angle. It gives a similar effect to a crown braid at the front, subtly framing your features. The central part draws attention to your forehead – so if you have great brows, it's their time to shine! While the two cornrows style looks great with any hair length, try it with extensions for a sexy and glamorous finish.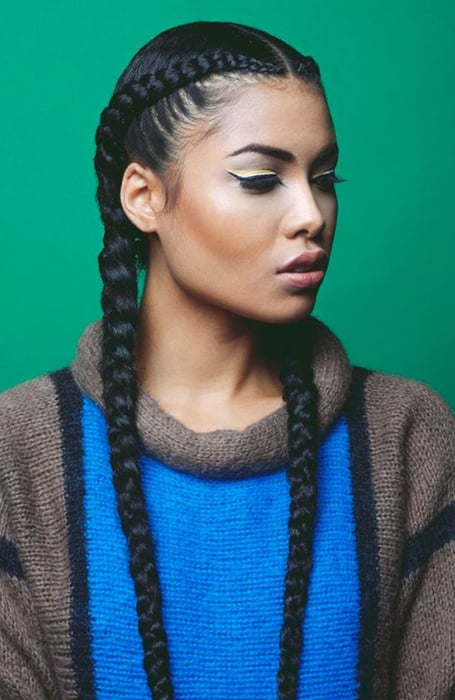 6. Four Cornrow Braids
Four cornrows are the traditional African take on this braided look. While you can braid your hair straight back at the same angle, a fresh take is only to braid the sides straight. The cornrows at the top of your head should be put in at an acute angle, so they meet up with the other braids. This cornrow style adds plenty of visual interest with its geometric elements. It has a futuristic, Afro-punk vibe while giving the nod to traditional cornrows.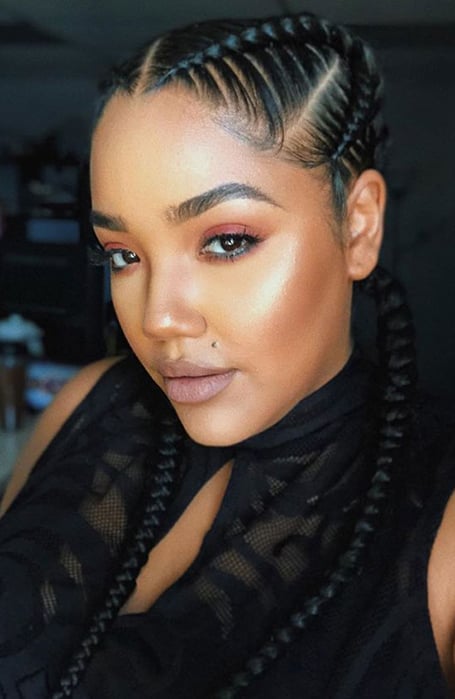 7. Five Cornrow Braids
One way to style your hair is to separate it into five sections and braid parallel cornrows toward the back of your head. To give this look a feminine contrast, finish the braids at the nape of your neck and let the rest of your curls fall free. This not only shows off your hair's bounce and texture, but it also softens the overall style. For an extra romantic touch, leave your baby hairs free. Doing so will add a playful, youthful feel.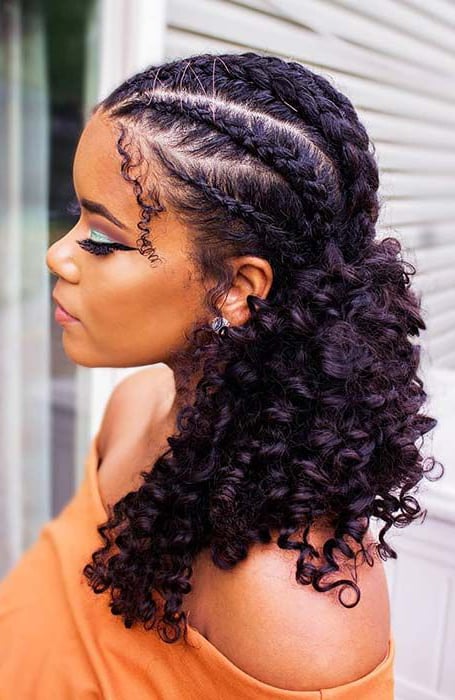 8. Cornrows Braided Into a Bun
There's nothing chicer than braids wrapped into a bun, and cornrows make this look extra striking. While you can braid your cornrows straight back before twisting them into this sexy and sophisticated updo, why not try a new twist on the look? Have your cornrows braided asymmetrically from left to right. This draws the eye across your face and focuses the attention on the crown of your hair and your forehead. As with any bun hairstyle, balance this look with a bold lipstick and winged eyeliner.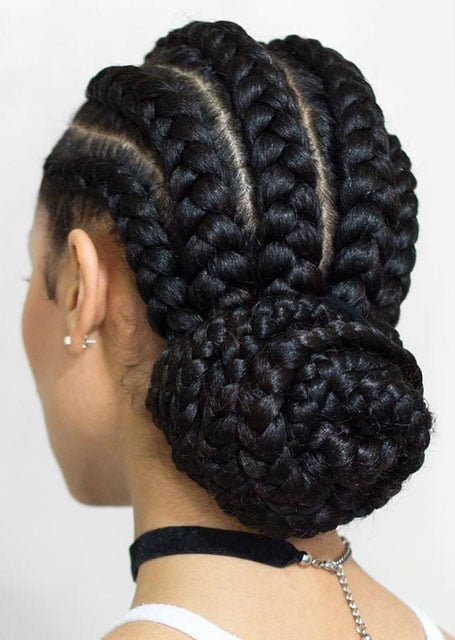 9. Cornrows in Front Box Braids in the Back
What's better than this iconic braid type? While box braids have been around for thousands of years, originating in Namibia, they became trendy in the '90s and are still going strong today. The style is low-maintenance and protective, as the braids don't put too much stress on your scalp. They have a lot of definition and are versatile. You can also braid in synthetic hair for more length and volume in the braids. For an on-trend look with a subtle old-school vibe, combine your box braids with side cornrows.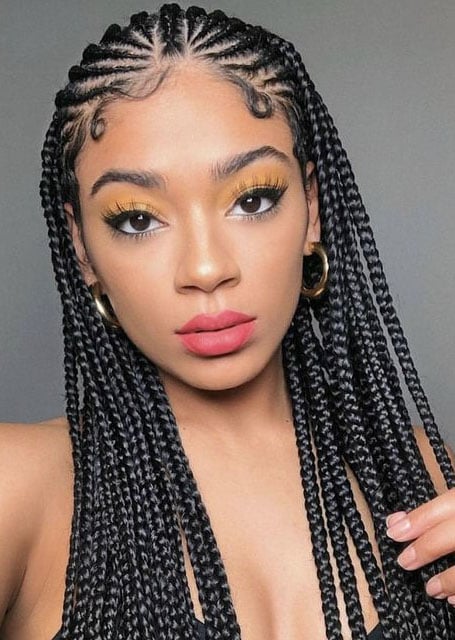 10. Tree Braids Cornrows
Tree braids are one of the most subtle hairstyles, but they look great when created in the cornrow style. This braid type involves creating mini cornrows along with your natural parting but leaving the majority of the hair free and loose. You might recognise tree braids from the early 2000s when the style was popular. It's not hard to see why – this look is a simple way to add some attitude to otherwise unbraided hair. It provides a refreshing contrast and a nod to your natural roots if your tresses are straightened or relaxed.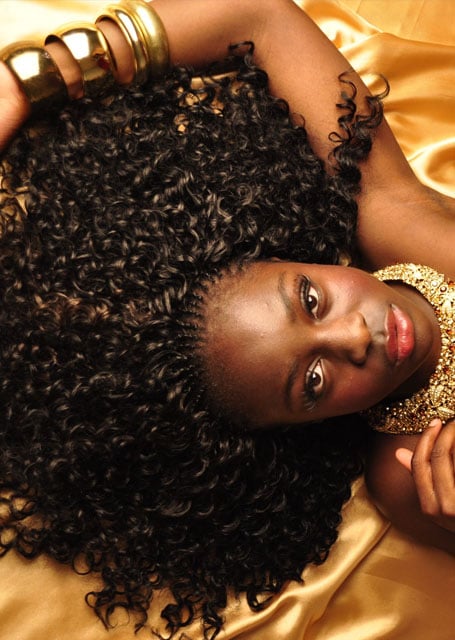 11. Cornrow Braids with Weave
Weaves are a simple way to make your hair longer, thicker and smoother. Once you have your weave sewn in, you can braid the hair into cornrows. One standout style to try is two French braid cornrows with the ends left loose. This look is particularly striking if you've chosen a weave that's a different colour to your natural hair. Not only does this style look beautiful and grab attention, but it's also protective for your natural hair and works well in every season of the year.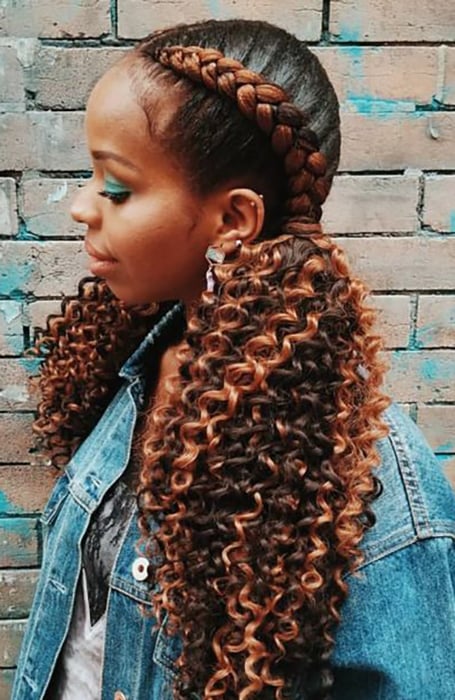 12. Feed-in Braids and Cornrows
Feed-in braids are a huge trend at the moment. This braid type involves plaiting in hair extensions to give the illusion of naturally ultra-long cornrows. Try experimenting with different thicknesses to create a unique look. Gold cuffs and other hair accessories look fantastic when added to this style. You can go for something bold or a more subtle finish; it's all about showing off your personality and jewellery taste.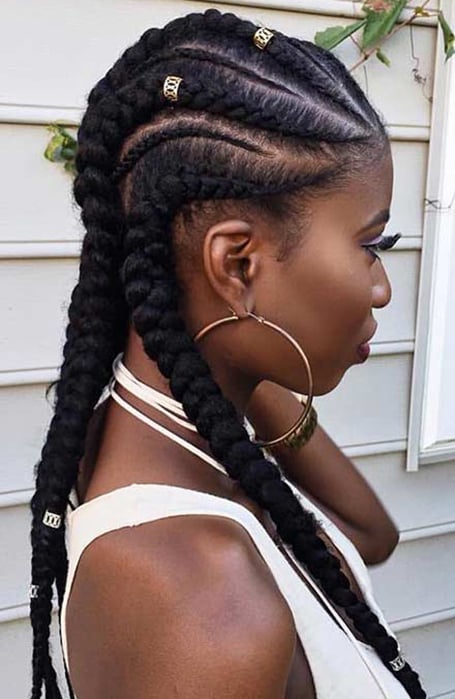 13. French Braid Cornrows
Traditionally, French braids lie flat against the head and seamlessly incorporate all the hair into the plait. When braided cornrow-style, the plait is lifted – but it has the same sophistication and clean-cut finish. Adding side cornrows gives a little more edge and interest to this hairstyle, but it follows the same principles of the classic French braid. All your hair is neatly tucked into the plaits, and the result is pretty and polished.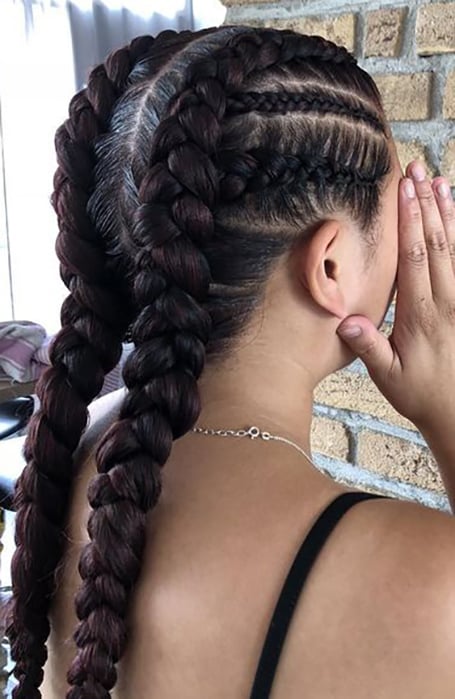 14. Jumbo Cornrow Braids
Even bigger than large cornrows are jumbo cornrows. These braids are perfect if you have long, thick hair, a weave or extensions. To keep the look neat and not overwhelming, make sure your hair is braided tightly and precisely. The rows themselves should also be kept straight, front to back. When done right, this hairstyle combines attitude with a sleek finish. Wrap the braids into a polished bun for a chic, ballet-inspired result.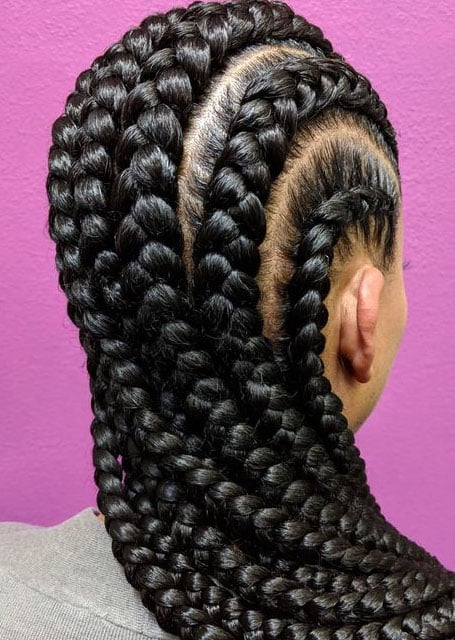 15. Updo Cornrow Hairstyle
The cornrow ponytail is one of the most on-trend hairstyles right now. It's a super cool look that's ideal for festival season. That's because you won't have to worry about maintaining it; the braids will stay in place and keep the hair out of your face in the summer heat. Dress up both your cornrows and plaits with adornments like gold cuffs or rings to put your spin on this standout style.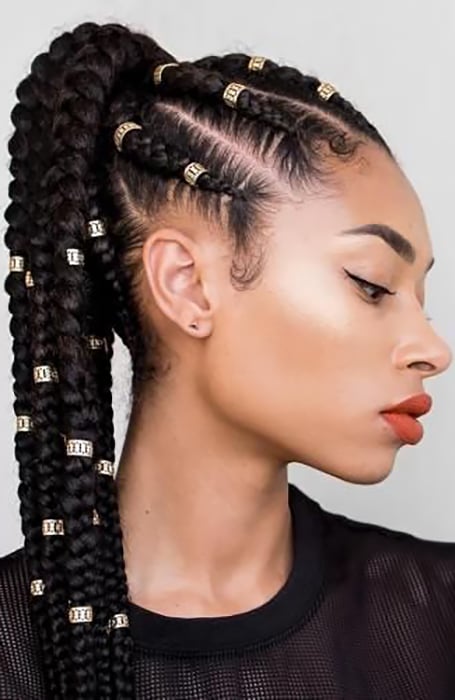 16. Small Cornrow Braids
Small cornrows – sometimes known as 'lemonade braids' – take longer to put in, but they're worth the extra time. These braids are extremely low-maintenance and durable once complete. They are stronger than other plaits and twists, and you can even leave them in for as long as four to six weeks. So if you still want a hairstyle that makes a statement, but are short on time most days, this is a great option. They're also a good choice if you have thin hair but still want the cornrow look.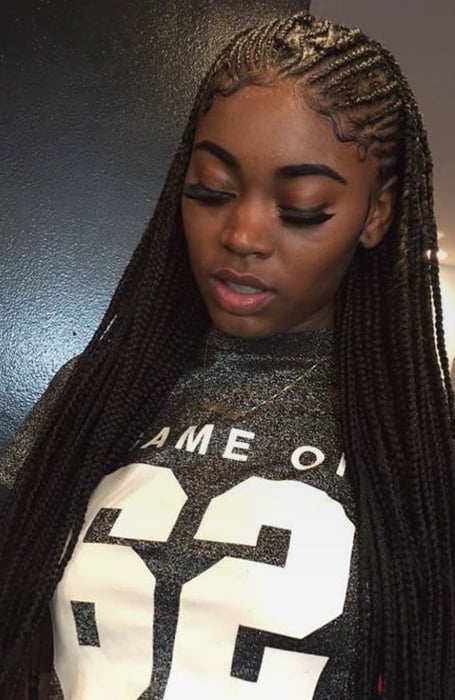 17. Cornrows with Extensions
Make your cornrows pop with colourful extensions. Bright hues like pink, blue and green give this otherwise straightforward style a fresh twist. Even better, opting for extensions means you can get a striking look without damaging your hair with bleach or dye. The colour change where the extensions are braided into your natural hair creates a bold, graphic effect. So this is a look for the brave and fashion-forward types out there.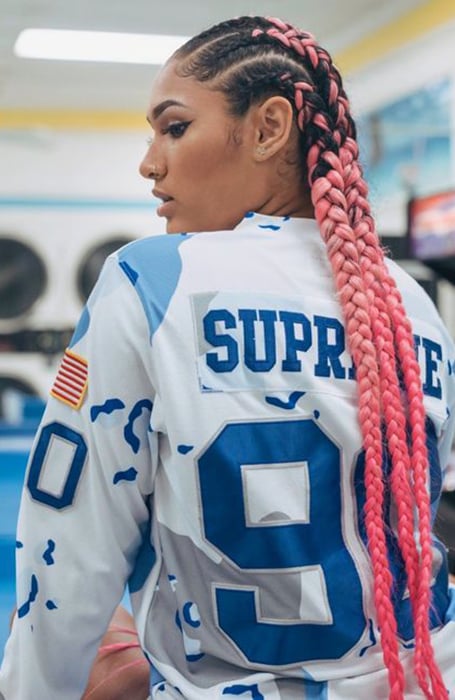 18. Goddess Cornrow Braids
Goddess braids are the thicker version of cornrows and are also a protective style that can be left in for a few weeks. A gel is used to keep the raised plaits looking ultra-sleek. Sometimes these cornrows take inspiration from Ghana braids, which start small and thin at the front before thickening up in the centre of the plait, and tapering again at the end. The traditional way to put in these cornrows is following straight lines from front to back. The finished effect is both feminine and powerful, which is why they're called goddess braids!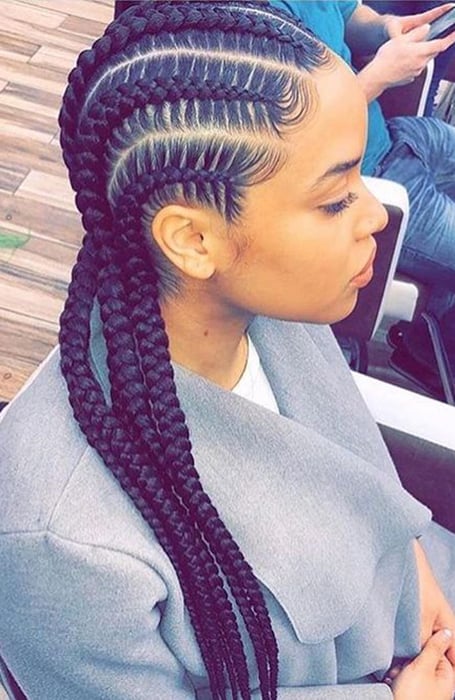 19. Mohawk Cornrow Braids
This style proves there's genuinely no limit to the kinds of looks you can create with cornrows. This intricately braided mohawk involves putting in verticle cornrows on the sides, before twisting up the plaits to the center. These bunches form the classic mohawk silhouette. This hairstyle is guaranteed to put you in the spotlight, and pairs best with bold fashion and jewellery choices.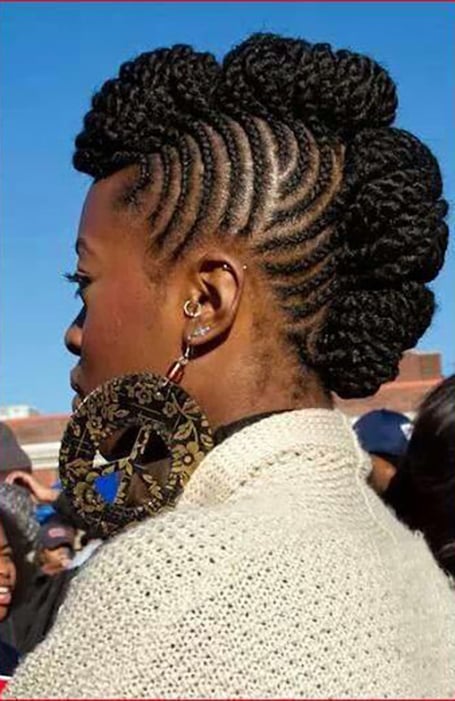 20. Cornrow Braid Design
Show off your individuality by combining your cornrows with other types of braids. Because cornrows are braided so close to the scalp, you can use them to create eye-catching and intricate patterns. Smaller braids and twists contrast beautifully with thicker goddess braids – especially if they're worked in at an angle. Cornrow braid designs can genuinely turn your hairstyle into a work of art.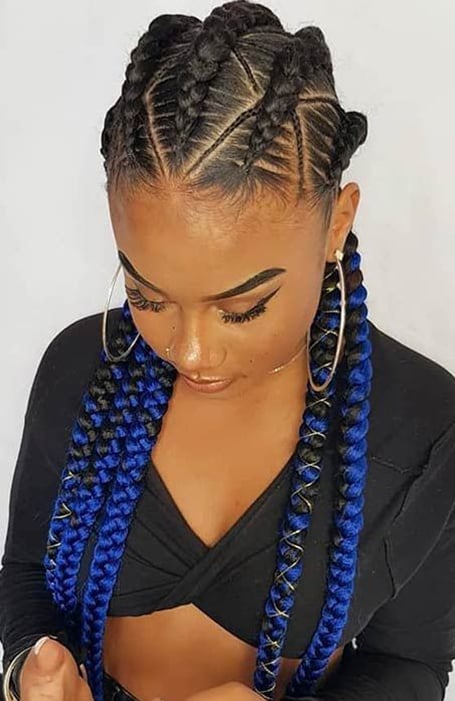 21. Cornrow in Front Single Braid in the Back
This hairstyle ties together all the classic cornrow techniques. It combines multi-directional side cornrows with the classic double 'boxer braid' style, bringing them together to form one long single plait. This look also includes a nod to Fulani braids, with a thin central braid woven in down the centre parting. The final result is complex, cool, and has lots of attitude, while still looking elegant.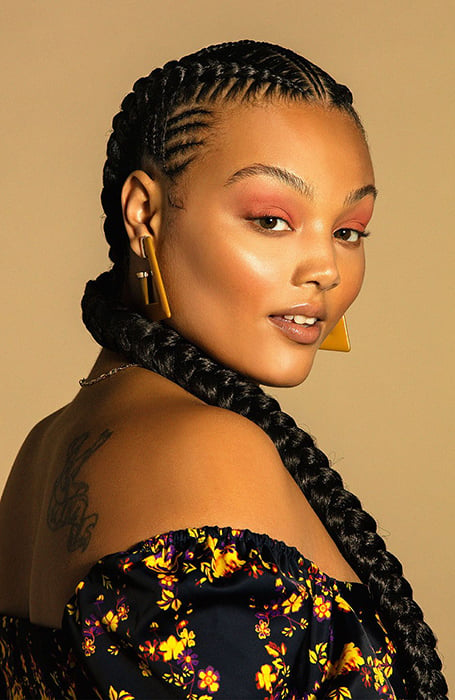 How to Braid Cornrows
It can be tricky learning how to cornrow braid your hair, but this video will talk you through every part. Marie Antoinette's beginner-friendly method gives you step-by-step instructions to create beautiful braids of your own. From sectioning your hair to finger placement, tension, and the braiding pattern itself, you can't go wrong following her advice. You'll be cornrowing like a pro in no time!
FAQs
Are cornrow braids bad for your hair?
Cornrow braids are not bad for your hair. It is considered a protective hairstyle for black people and people of color to help fix damaged tresses and promote healthy growth. However, you do need to care for your cornrows properly, or it can cause harm. Wearing them too tightly can pull the hair from the follicle and lead to breakage. You'll need to condition and moisturize regularly, which will also help when you take them out. Use a rinse off or leave-in conditioner, and a natural moisturizer. Sleeping with a satin bonnet or pillowcase will help prevent breakage and moisture stripping. Finally, don't leave them in too long; it's good to give your scalp and hair a break.
How much does it cost to braid cornrows?
You should expect to pay between $50-$150 for basic cornrows, but you could pay up to $300. This will depend on your chosen stylist, design intricacy, how many rows, and how long your hair is. This price generally doesn't include extensions or box braids, so budget more if that's the look you want.
How long do cornrow braids last?
Cornrow braids last for six to eight weeks if they're properly looked after. For the health of both your hair and scalp, you should avoid leaving them in for longer than eight weeks. Doing so can damage both, and doesn't allow dead skin cells, natural oils, and shed hair to escape from beneath the braids, which can then become a breeding ground for bacteria. By this point as well, your hair will have started to grow out, and the braids will also be losing their integrity.
Are Dutch braids cornrows?
The technique for Dutch braids and cornrows are similar, in that hair is pulled under and into the braid. However, they are different because of the look it creates. Cornrows sit tighter and flatter against the scalp, pulling all of each section into the braid. Meanwhile, Dutch braids are looser and more voluminous for a chunkier statement.
SUBSCRIBE TO OUR NEWSLETTER
Subscribe to our mailing list and get interesting stuff and updates to your email inbox.