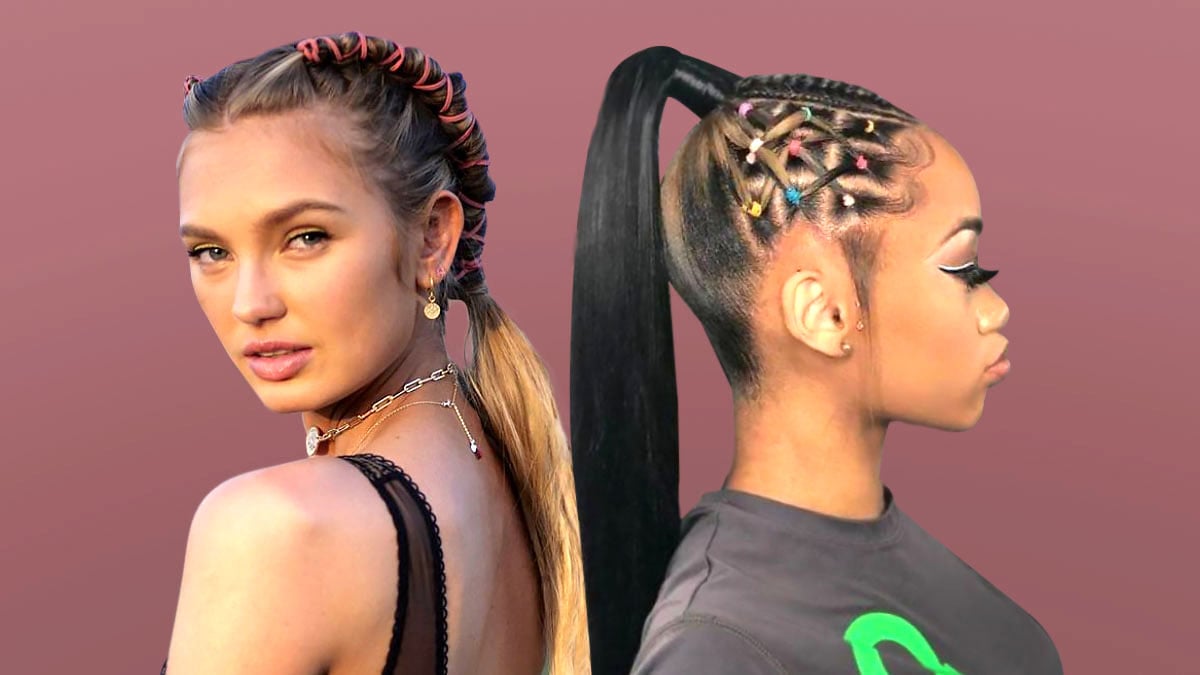 Rubber band hairstyles are the perfect choice when you're looking for a playful and pretty summer hairstyle that's full of fun. The 'rubber band' really refers to small, thin, strong-hold hair elastics – usually colorful – that you can use to create amazing patterns and sections in your hair. They can also be used to elevate and accessorize simple hairstyles like puffs or ponytails.
1. Rubber Band Hairstyle for Short Natural Hair
If you have just had the big chop and are wondering how to style your short natural hair, rubber bands are a great option. They make a statement and add a fun, eye-catching quality to your hair. At the same time, rubber band hairstyles are simple to create, meaning you won't need to spend too much time doing your hair. One standout style is creating a box pattern 'hairband' effect. Section the front of your hair as you would when putting in box braids, but leave the rest of your hair loose. The result is cute, pretty, and feminine.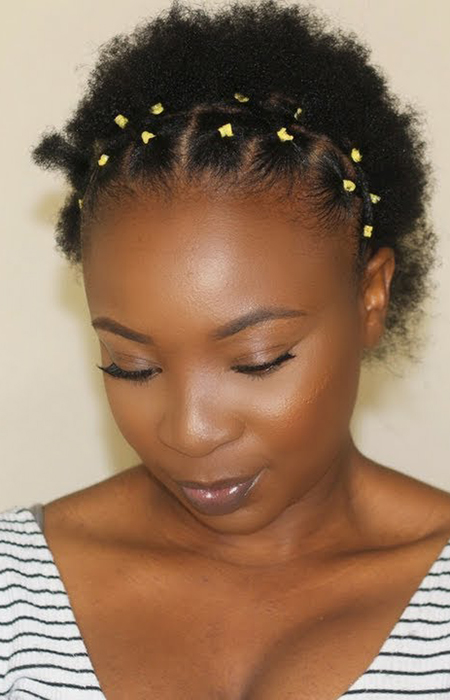 2. Rubber Band Hairstyle for Long Natural Hair
Rubber bands are a great way to inject vibrant color into your hairstyle. If you have long natural hair that's been braided – or you've had long braids put in – try adding rubber bands to give your style serious '90s vibes. Place the elastics at different intervals on your braids, not just at the ends. Finally, add hair clips in equally bright colors to tie the whole look together. As you can easily remove the rubber bands, it's also a versatile styling option to shake up your braids for a day.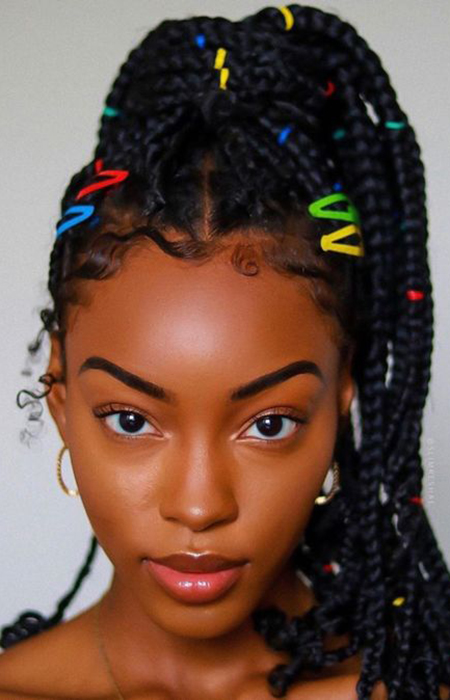 3. Rubber Band Hairstyle for Medium Natural Hair
Ideal for medium natural hair, try a sleek rubber band hairstyle. The key is to show off your hair's natural curl with a high-shine finish, while also creating a polished and defined pattern with rubber bands in the front. Section your hair into boxes – or even triangles – then braid or twist the pieces of hair together with the elastics. Add beads or rings for an extra glamorous touch, then spritz through an oil mist on the rest of your hair to create shiny, bouncy curls. It's the perfect look when you're attending a special occasion, such as a homecoming, wedding, or prom.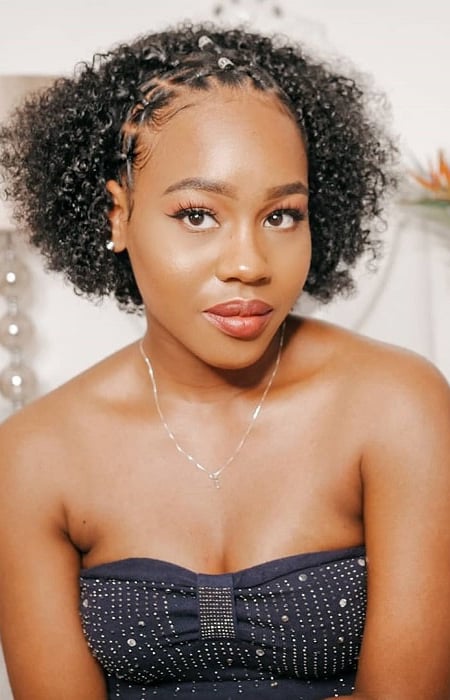 4. Criss Cross Rubber Band Hairstyle
One of the best-known rubber band hairstyles is the criss-cross. The pattern is eye-catching and is an excellent addition to other hairstyles, like a ponytail. Plus, it has a more playful feel than the classic box pattern of standard rubber band hairstyles. To get the look, you can section either the front and crown or side of your hair into triangles or diamonds. Then, secure the hair in each section with a band. Finally, working from front to back, connect the sectioned hair diagonally in an overlapping criss-cross pattern. Once you've worked your way back, secure the hair in a bun, ponytail, or puff.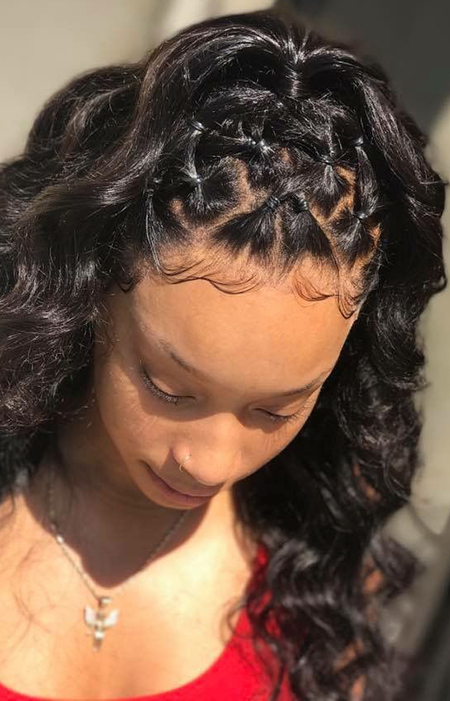 5. Easy Rubber Band Hairstyle
Keep it super simple with a hairband-effect rubber band hairstyle. Not only is it feminine and beautiful, but it also frames your face and takes less time than other more complex rubber band hairstyles. Plus, it suits a variety of textures and curls patterns – as long as your hair is long enough. To create the hairband effect, work from left to right. Secure a small section of hair with a rubber band, then twist it into the next section, adding a rubber band each time. In a few minutes, you'll have a pretty hairstyle that's ready to be shown off.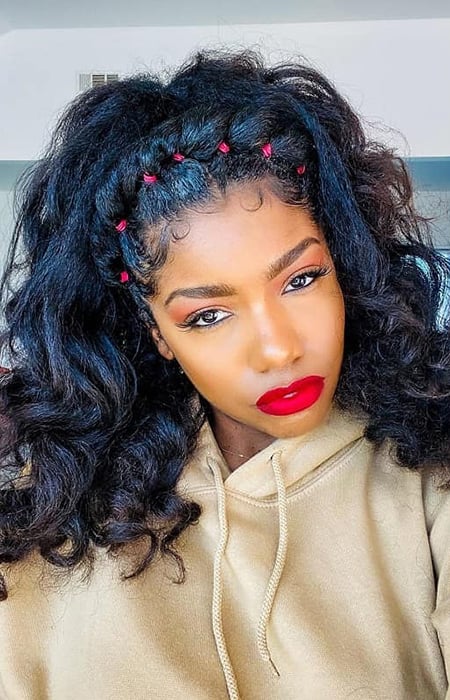 6. Rubber Band Straight Ponytail Hairstyle
Rubber bands add a touch of personality and playfulness to any hairstyle. Why not contrast a super sleek and straight ponytail with a rubber band pattern? You'll get the best of both worlds! Your stylist can create the fun rubber band pattern – such as a classic box or criss-cross design – at the front and crown of your head, before braiding in extra-long extensions to form the ponytail. Alternatively, you can add a clip-in ponytail extension to keep the styling process short.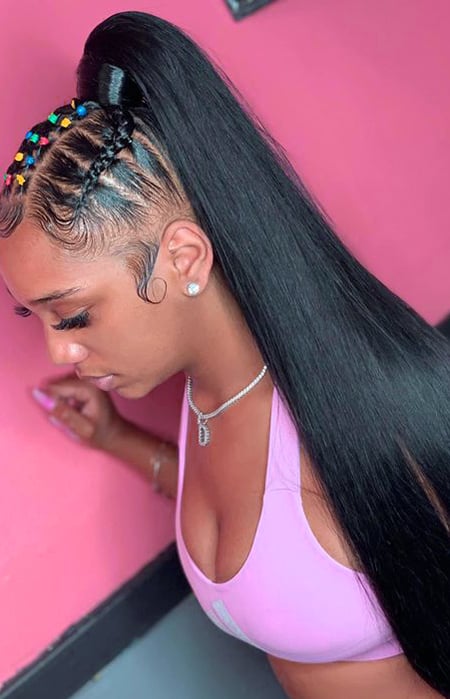 7. Rubber Band Natural Ponytail Hairstyle
The rubber band hairstyle looks as good when paired with a curly natural ponytail as it does with a sleek, straight one. Lean into the fun and playful look of this hairstyle – and dress it up for a night-time event – by metal beads or rings to cover the rubber bands. For an extra touch of style, you can also incorporate tribal braids – both as part of the ponytail and as face-framing pieces.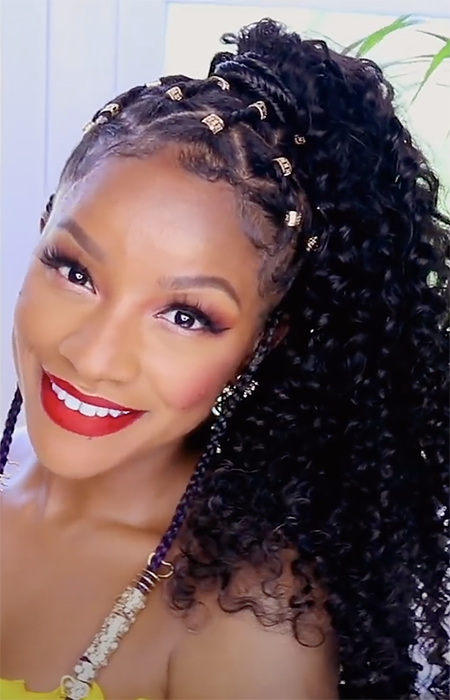 8. Rubber Band Hairstyle for Curly Hair
You can embrace rubber band hairstyles while still showing off your big, bouncy curls. The contrast between the flat rubber bands and the volume in the rest of your hair will turn heads and make you the center of attention. A cute and festival-ready option is to combine a criss-cross rubber-band pattern with curly hair. Not only is the hairstyle fun and fresh, with a throwback '90s vibe, it also frames your face beautifully so your features won't get lost behind your hair.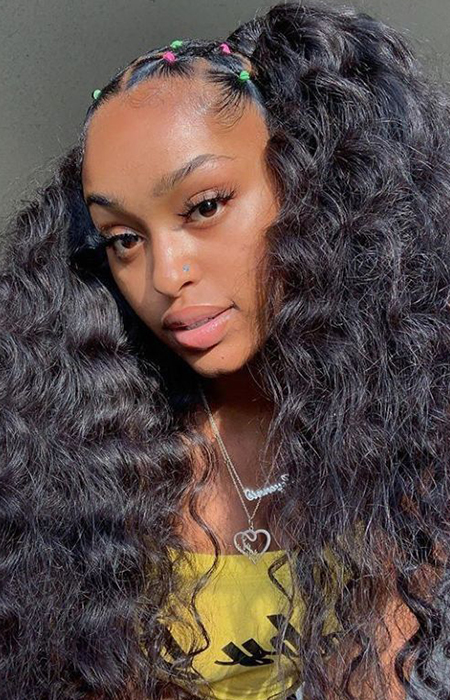 9. Rubber Band Hairstyle with Straight Hair
A classic rubber band style is a bubble ponytail for those with naturally straight hair. It's also an option if you have a weave or your hair has been chemically relaxed. Super simple and very cute, you can adapt a bubble ponytail for a daytime festival or a glam night out. Start with a high ponytail, then place the bands – a similar color to your hair is ideal – at different intervals down the ponytail's length. Gently pull each section horizontally to create the 'bubble' effect.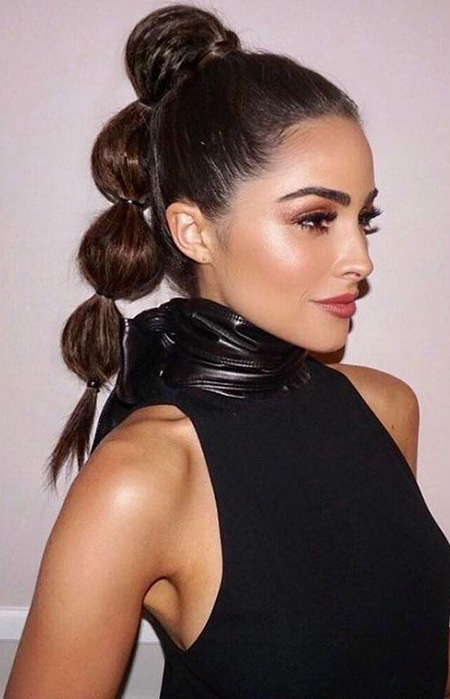 10. Rubber Band Updo Hairstyle
Rubber bands can add an extra touch of style and glamour to a simple updo hairstyle. Use the sectioning technique to create patterns at the front, side, and back of your head, then twist the rest of your hair – or your extensions – up into a bun. The key is contrast – don't make the bun itself too complicated, as you want the rubber band sections to provide contrast and interest. Even better, the rubber bands will draw the eye to your face and jewelry, such as a statement pair of earrings.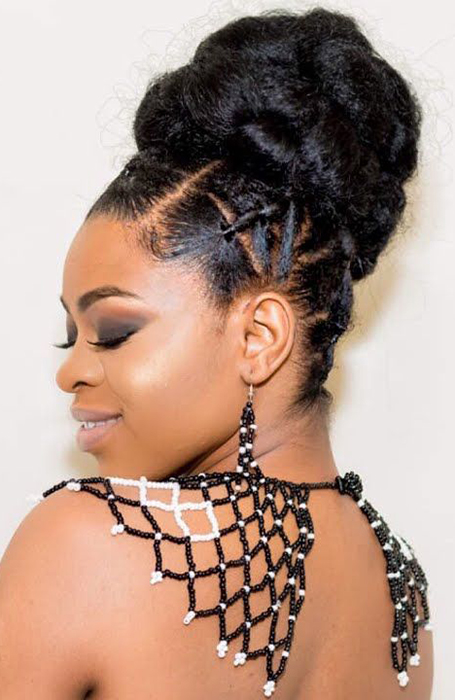 11. Colorful Rubber Band Hairstyle
Rubber band hairstyles often have a playful and youthful feel – so why not lean into it by choosing colorful rubber bands? Pastels, neons, and brights all attract the eye and pop against dark hair, meaning you will stand out from the crowd. However, to avoid the '90s costume or kid-in-the-playground effect, it's important not to overdo the rubber bands and keep the rest of your look glamorous. Opt for sophisticated make-up – think a matte lipstick, sun-kissed highlighter, and flawless brows.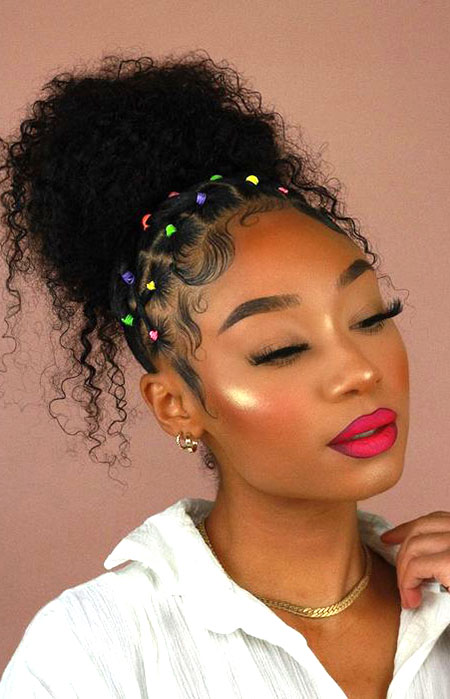 12. Half Up Half Down Rubber Band Hairstyle
Half up half down hairstyles have been trending as they provide the sophistication of a bun with the low-maintenance vibes of a loose hairstyle. Rubber bands can give your classic half-up half-down style a cute, unique, and individual twist, without taking too much extra time. Plus, if you use white or colorful bands, you can draw attention to your face. It is a fun and flattering look that is perfect for school, brunch, or a picnic date.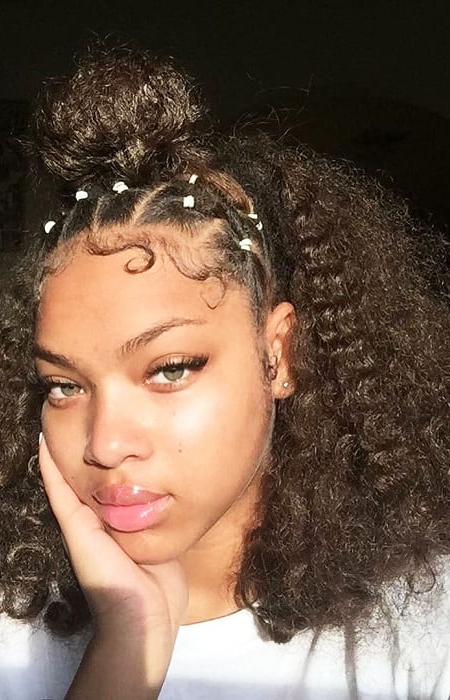 13. Rubber Band and Bun Hairstyle
Adding a rubber-band pattern is a simple way to give your bun a unique flair and show off your personality. Whether you choose to create the design in one section – such as on the side – or all over, it will provide an eye-catching and stylish contrast. Keep it super sleek and sophisticated for a formal event by using bands that blend in with your hair. Alternatively, elastics that are a pretty and feminine color, like pink, are an excellent option for a date night.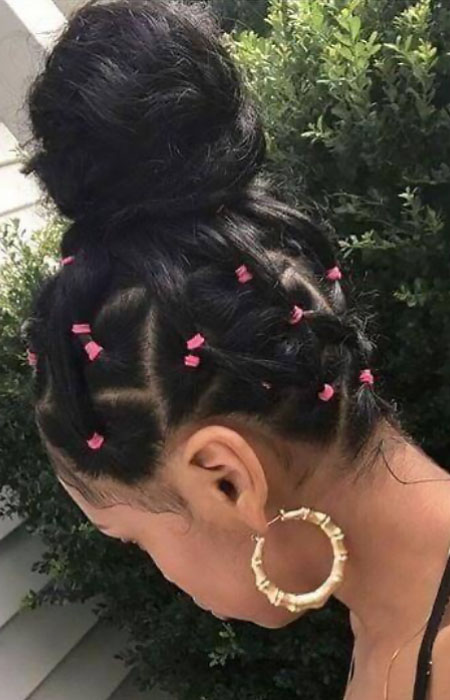 14. Rubber Band and Two Buns Hairstyle
What's better than one bun? Two! Make your double buns or puffs stand out by pairing them with rubber bands. The hairstyle is an excellent choice for a festival or day party as it has a cute and playful feel. Plus, the rubber-band sections ensure your hair lies flat, meaning the buns will 'pop' more. Add to the joyful vibes of the hairstyle by choosing colorful rubber bands instead of basic black or white.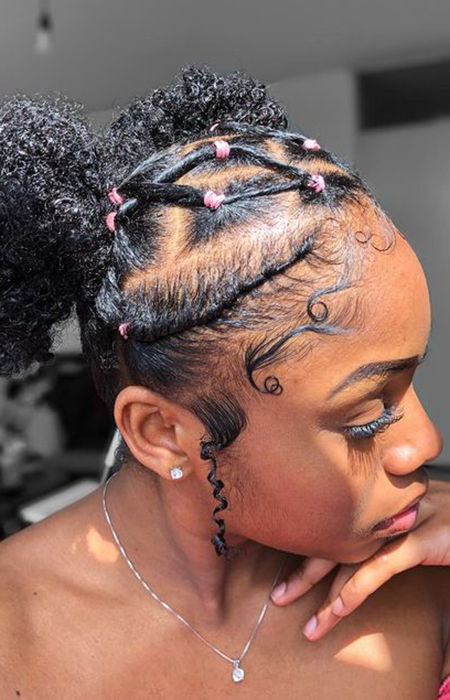 15. Rubber Band Pigtails Hairstyle
Make your basic pigtails stand out by combining them with rubber bands. One of the most versatile looks, you can take the hairstyle from school to gym to a weekend date. The key is to secure the bands in diagonal sections that draw the eye back to where your pigtails start. The final result is a subtle Dutch braid effect without the braids that add polish and personality to your hair. Keep the rest of your make-up fresh and flawless to nail the look.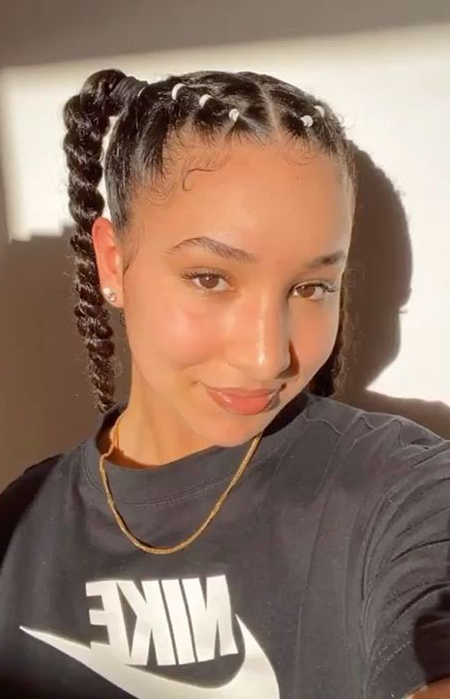 Rubber Band Hairstyles FAQ's
Is it bad to put a rubber band in your hair?
The small, thin, strong hair elastics you use to create rubber band hairstyles – also known as braiding elastics – won't damage your hair as much as using a rubber band from the hardware store! However, they can weaken the hair shaft if used incorrectly, particularly if your hair is Afro-textured or curly. To avoid fraying and breakage, give your hair a break. Make sure you don't leave your rubber band hairstyle in overnight, tie your elastics too tight, or put the elastic in the same place every time you style your hair. 
How do you put rubber bands in your hair?
Your hair type and the specific hairstyle you want to will determine how you put 'rubber band' hair elastics in your hair. If you have Afro-textured hair, apply gel or an edge control product and smooth out each section with an edge brush before putting in the elastic. For ladies with Caucasian or Asian hair, use a standard comb and put your elastics in while your hair is still slightly damp to get a super smooth result. In all cases, the key is to avoid snagging your hair on the 'rubber band' by stretching it out and looping it over each section of hair without touching the strands. 
Which rubber band is best for hair?
The best rubber bands for hair are made specifically for styling and braiding. These bands are strong, reusable, and have a snag-free coating, meaning they will glide off your hair more easily when you take them out. Depending on your hair's length and thickness, you can choose from several sizes of elastics to ensure they don't break, slip off, or damage your hair. Ideally, the 'rubber bands' you use should be stretchy enough to create any style but still hold each section of hair securely with being too tight.
How do you loosen tight rubber bands in your hair?
If your rubber bands are too tight, you can loosen them without sacrificing your hairstyle or damaging your hair. Gently slide the pointy end of a tail comb into the elastic and stretch it out. Then, pull the hair back through in the reverse of how you secured the elastic. While snag-free elastics are designed to minimize damage to your hair, if they are too tight, trying to slip them off completely could still be painful and cause your hair to fray. 
SUBSCRIBE TO OUR NEWSLETTER
Subscribe to our mailing list and get interesting stuff and updates to your email inbox.