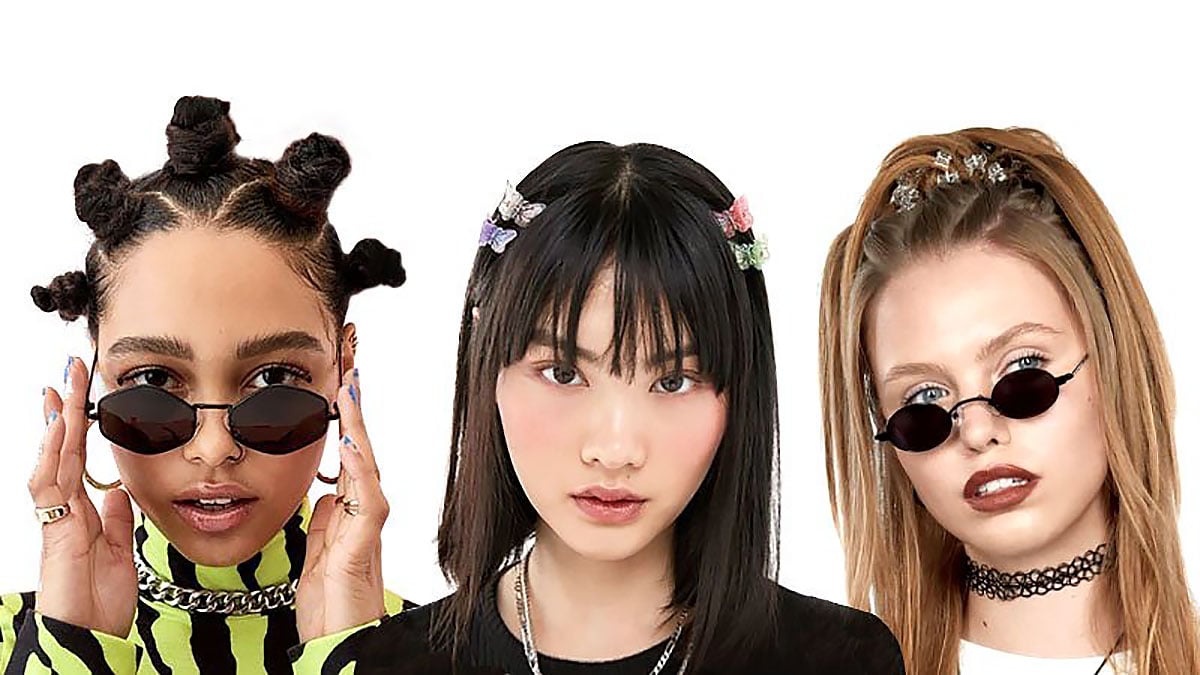 We've all witnessed the return of '90s fashion and make-up to the catwalk and the street. Now, it's time for '90s hair to take the spotlight! From cute to cool, simple to sexy, '90s hairstyles are super versatile. Best of all, they're easy to create and work best with your natural hair texture. Keep reading to find out how to get the best styles from this iconic fashion decade.
1. Natural Hair with Butterfly Clips
Hair accessories like scrunchies, barrettes, and slides were huge in the '90s. However, one of the most iconic of these accessories was butterfly clips, which were so popular people kept wearing them into the 2000s. Cute, girly, and flirty butterfly clips instantly add a youthful and pretty element to any hairstyle – so it's no wonder they're back in fashion. A gorgeous way to wear them is in the natural hair, as your textured curls are the ideal surface for the clips to grip on and stay in place.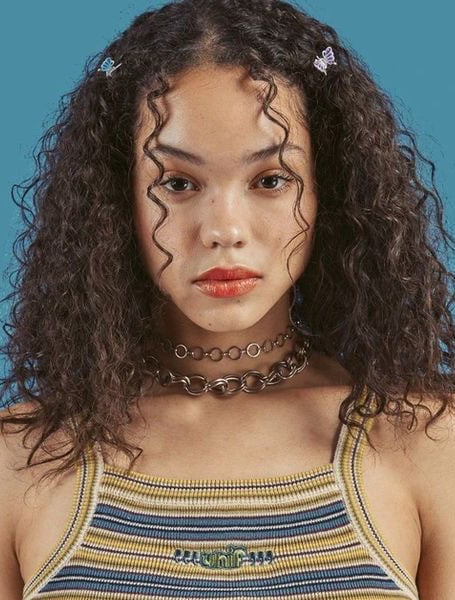 2. Two Side Buns with Scrunchies
Side buns – also known as 'space buns' – were one of the biggest festival hair trends in the '90s. Today, they've gone mainstream. Instead of wild colors, glitter, and braids, give your side buns a softer and more everyday feel with your favorite scrunchies – another super cute '90s accessory. Whether you opt for animal print or sleek velvet scrunchies, your side buns will stand out in the best way. It's the perfect cute look for a weekend brunch, a summer day out, or a casual date.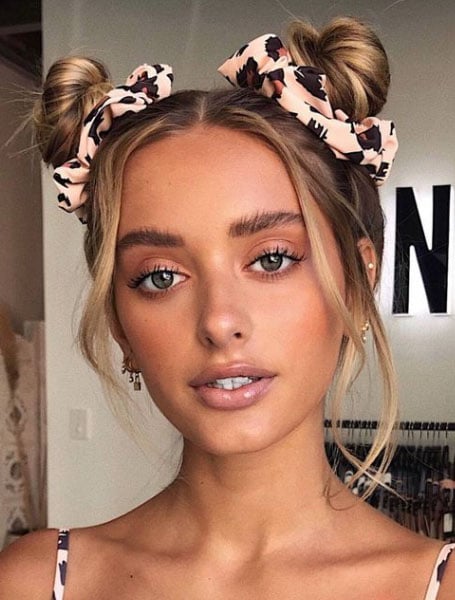 3. 90s Bob with Fringe and Butterfly Clips
Another amazing way to wear the butterfly clips trend is to pair it with a '90s bob. Depending on your face shape, you can pair it with the classic blunt, wispy '90s fringe or side 'tendril' bangs. The result is the ultimate throwback hairstyle that looks great paired with streetwear or a slinky slip dress.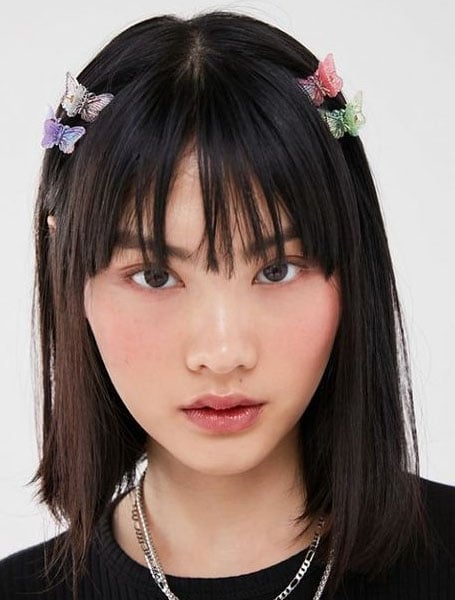 4. Straight Hair With Butterfly Clips
There are so many different ways to wear butterfly clips, whether your hair is curly or straight. While you can easily keep it simple and just place them at the front of your hair, why not shake it up? Style them for an authentic '90s style into a half up half down look. Twist sections of your hair back at the crown and secure them with the clips to create some height and volume. If you want to go for the stick-straight '90s look, spritz some texturizing spray or sea salt spray where you want to place the butterfly clips and tease the hair. Doing so will ensure your hair has enough 'grip' to keep the clips in place.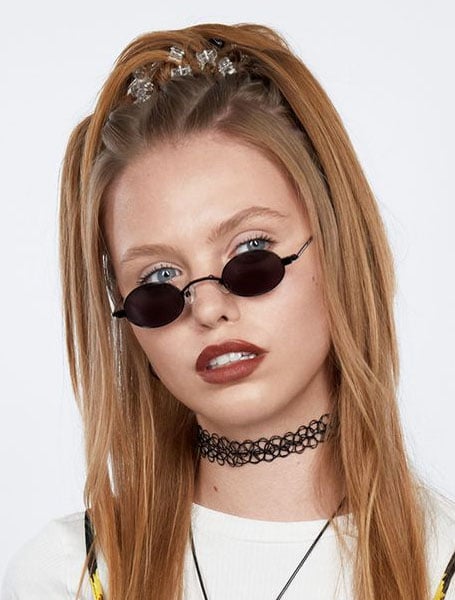 5. '90s Inspired Bantu Knots
Bantu knots create coiled buns by twisting a section of hair around itself. While they were popular in the '90s as a fun look for a rave or festival, Bantu knots have a long history. They originate from the Zulu people in southern Africa and are a protective style for Afro-textured hair. Bantu knots are a great summer look and, as an eye-catching up 'do, are ideal for showing off statement make-up, jewelry, and shades.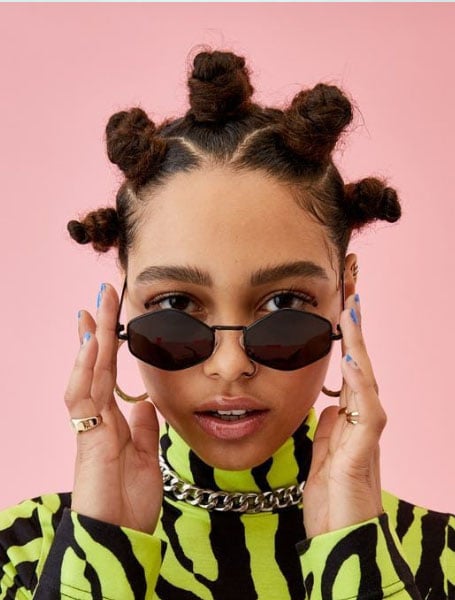 6. Banded Pigtails
Pigtails can be challenging to wear because they are mostly associated with kids. However, if you take your cues from the '90s, you can pull them off with style! One option is to try banded pigtails, which are also known as bubble pigtails. You only need clear hair elastics, which you secure around your pigtails before pulling the hair out to create the cute 'bubble' effect. You can leave the bubbles looking smooth for a fun party look or tousle the hair to create a more undone, modern look.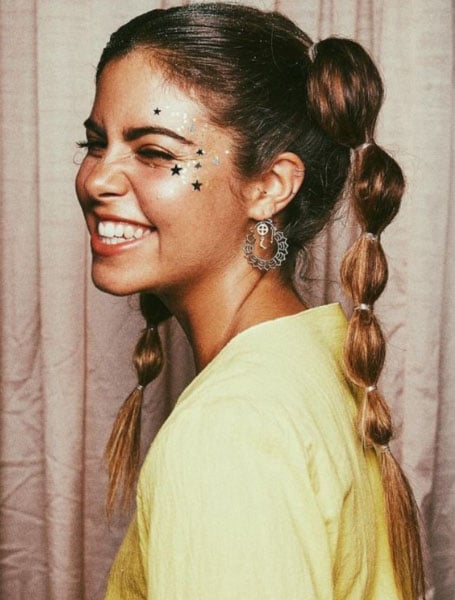 7. Messy Braids and Colored Hair Pins
The '90s was a great decade for braids, with many different types and styling options becoming popular. One of them was messy braids, made famous by stars like Brandy. Messy braids have the signature playful-yet-cool '90s vibe. To get the look start with standard box braids, then twist and secure them into a messy half-up, half-down style. Add colored hairpins for extra interest and a personalized touch.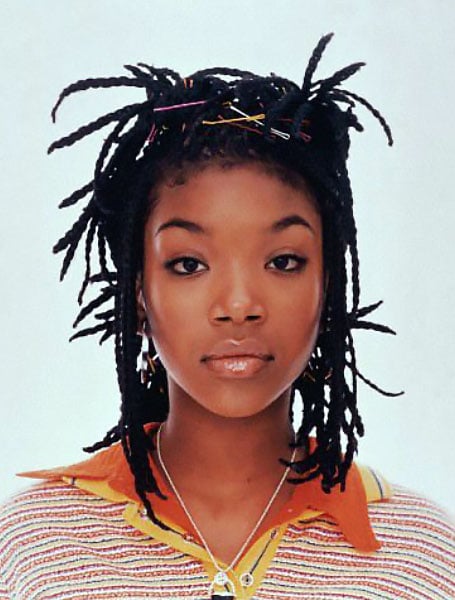 8. Side Pigtails with Colored Hairclips
Take your inspiration from Baby Spice with side pigtails and colored hair clips! Ideal for fine, straight hair, the style is flattering on all face shapes and has a sassy edge that makes it stand out. The key to ensuring your hair looks cool rather than childish or costume-y, is styling. Contrast your pigtails' playful, girly vibe with edgy streetwear and simple make-up – such as a sharp, sophisticated cat's-eye wing or pastel eyeshadows. You also need plenty of attitude to pull this look off, so don't be shy!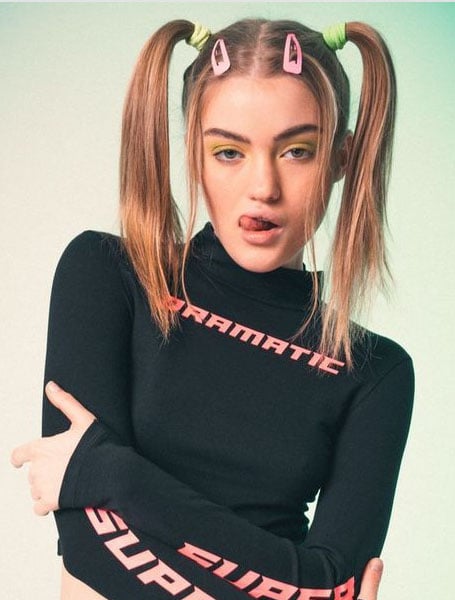 9. Box Braids with Butterfly Clips
Are you looking for a gorgeous '90s hairstyle for a special occasion? Try box braids with butterfly clips. Extra-long, smooth, and sleek box braids are a standout look on their own, but adding butterfly accessories gives them extra '90s flair while adding a beautiful feminine touch. Choose butterflies with colorful wings that will compliment your outfit. You can opt for smaller butterflies for a more subtle look or go all out with oversized butterflies. Be sure to choose smooth, lightweight clips that will gently grip your braids rather than catch and pull on the hair.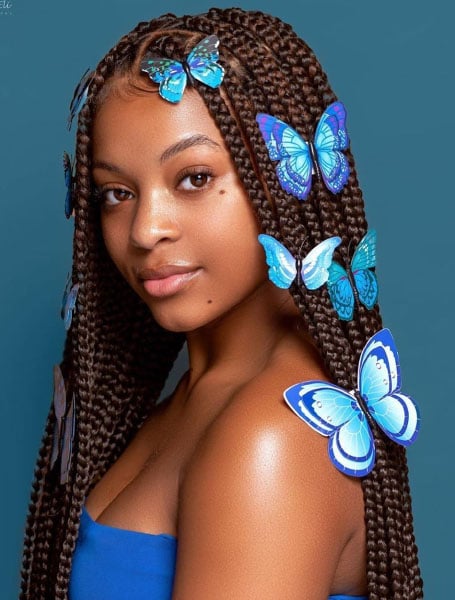 10. Half Up Half Down with Hair Beads
Half up half down hairstyles were all the rage in the '90s, as were hair beads. Give the style a modern update by adding some wavy texture to your hair rather than blowdrying it sleek and straight. You'll end up with a whimsical and feminine boho look that's perfect for a summer picnic, festival, or romantic date. You could even wear the versatile hairstyle to a wedding, either as a bridesmaid or guest – just be sure to use high-quality beads, such as silver or gold.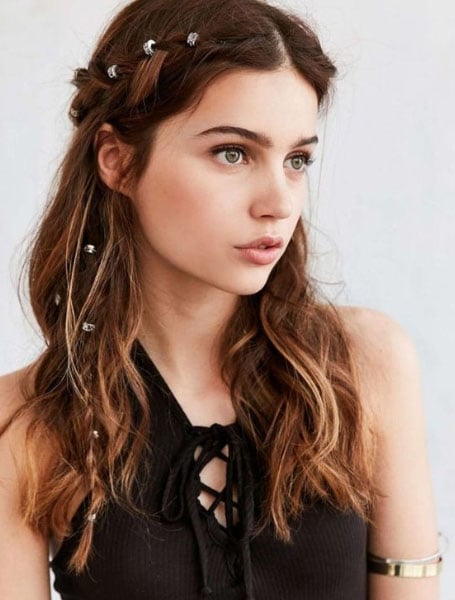 11. Top Bun with a Fringe
A classic early-'90s look is a top bun with fringe, also known as a topknot or high bun. Cute and relaxed, the style looks laidback and approachable while still being stylish enough to wear out of the house. Oval, round, and diamond face shapes suit the top bun as it adds length to the face. You can adapt your fringe to suit your features; while the classic '90s bangs are wispy and blunt, you could also go for face-framing 'tendril' bangs or a modern take on the 'curtains' look. Add a printed scrunchie for a real '90s-inspired finishing touch, or go for a ribbon or plain bun for a fresh look.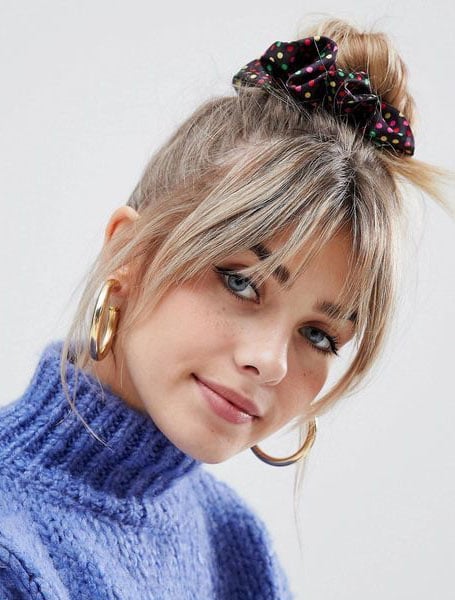 12. Side Buns with Hair Down
A gorgeous, feminine take on side buns is to wear them with your hair down. The style is flattering on all face shapes as it adds length to your face and frames it too. After securing the buns in place, create sexy bombshell waves by loosely curling the rest of your hair. Use clip-in hair extensions to add length and volume if your locks are naturally fine or short. Finally, pair it with bold, defined brows and eye makeup so your features don't get 'lost' in all the hair. The finished style is perfect for your next beach party or a fun day out.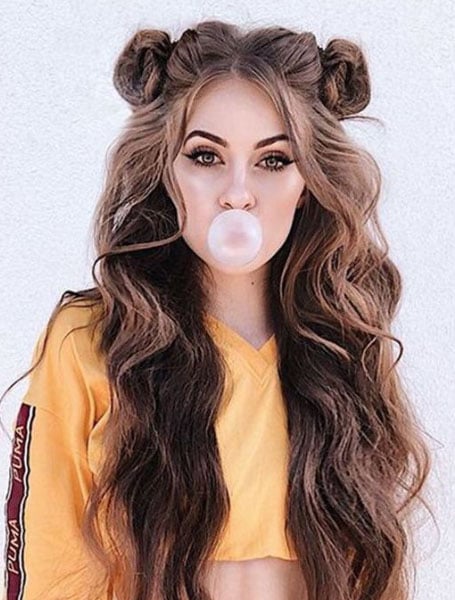 13. Mini Side Braids with Hair Down
Give your locks a subtle '90s twist with mini side braids. Not only do they look cool, but they also have a face-framing effect and add some extra personality to a lob or mid-length hairstyle. Plus, they are a quick and easy styling option that you can do yourself. However, if your hair is very smooth, ensure the plaits hold their shape by spritzing some texturizing spray through before you start braiding. For even more '90s vibes, weave a thin ribbon through the plaits in a color contrasting with your hair.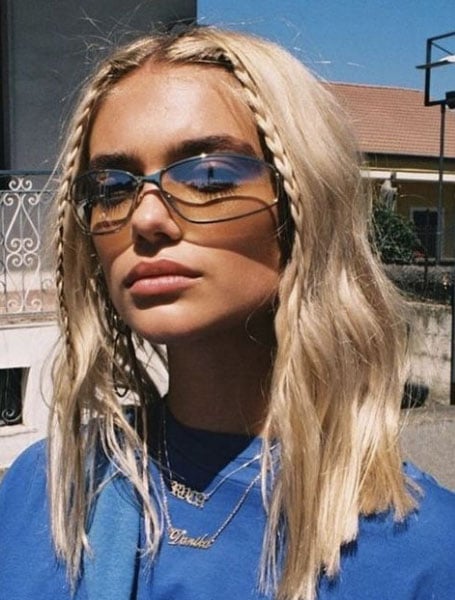 14. Middle Part with Colorful Hair Clips
One of the easiest ways to shake up a simple middle part is with colorful hair clips – something ladies in the '90s knew! Best of all, the style works with straight or curly hair. After parting your locks with a tail comb, position the clips at your temples. You can use two or three for a fresh mismatched look or opt for one larger, multi-colored clip. Repeat on the other side to ensure the look is balanced. Switch out basic barrettes for bold gemstone-encrusted or statement color clips for a night-time twist.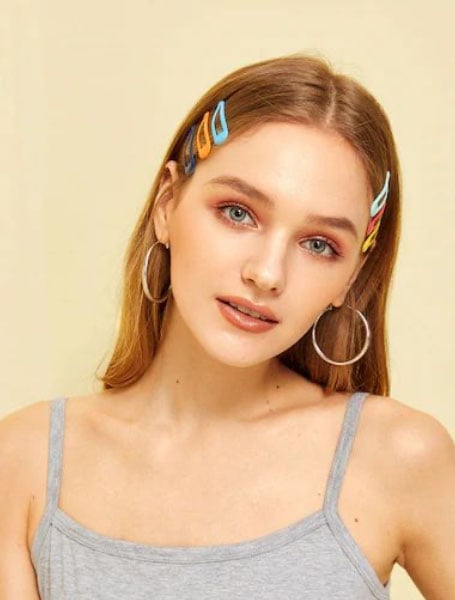 15. High Ponytail with Scrunchie
The high ponytail was one of the signature looks of the '90s, worn by everyone from Sporty Spice to Topanga on Boy Meets World and Cher in Clueless. For a sexy take on the trend that you can wear day or night, brush your hair back so that the front section is sleek and smooth. Then secure the rest of your hair into a high ponytail just behind the crown of your head. Add extra volume and length with a clip-in ponytail extension, then use a pretty scrunchie to hide the clip. Finally, loosely curl the ends for a soft and romantic finish, or add extra sass by flicking out the ends to create the classic '90s 'bumped' look.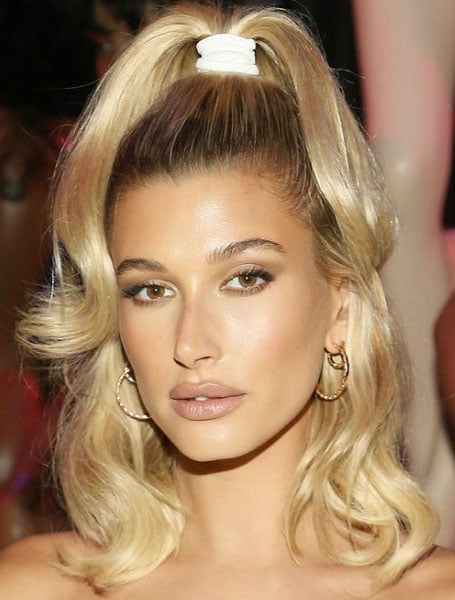 90s Hairstyles For Women FAQs
Is 90s hair coming back?
Every few years, the most stylish aspects of a decade comes back into fashion. This time, the hair from the 90s is making the rounds, and it's easy to see why. This decade offers simple and relaxed hairstyles that have elements of chic and high fashion touches. With every 90s trend, you can add a 2020 spin, such as using cute clips with phrases or adding a funky scrunchie to your topknot for the night out. 
How do I get voluminous hair 90s?
One of the biggest hair inspirations in the 90s was Cindy Crawford, famous for her voluminous locks and stunning highlights. To achieve this, you will need to apply styling and root-boosting mousse into damp hair. Then dry the waves with a hairdryer, and turn your head upside down. For more lift, add rollers overnight or sleep in a bun for ultra bouncy and stylish hair in the morning.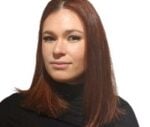 Arabella Roden is a skilled writer and sub-editor with over ten years of experience across print, digital, and B2B. She holds a Bachelor's Degree in Journalism and specializes in beauty, hairstyles, fashion, tattoos, and lifestyle topics. Arabella is currently the Chief Sub Editor at Mecca Brands and has been writing for The Trend Spotter since 2019.
SUBSCRIBE TO OUR NEWSLETTER
Subscribe to our mailing list and get interesting stuff and updates to your email inbox.