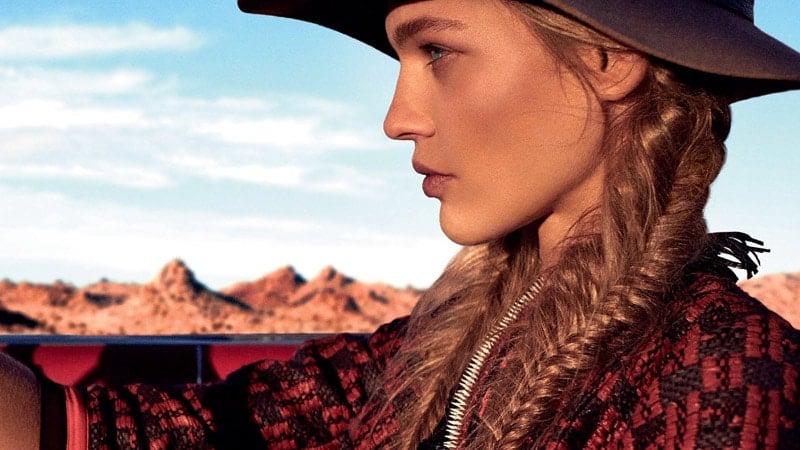 If you're still unsure how to create a fishtail braid, it's time to learn. Although we all love the look of this chic braid, many of us can't create one, so we're here to show you how to master the skill. Braids are incredibly popular at the moment, and a fishtail braid is one of the most stylish options. It can be worn to many places and suit many outfits, such as summer festivals with a crop top and denim cut-offs or winter brunch with a felt hat and oversized coat. As such, once you know how to nail this fashionable hairstyle, you'll wonder how you ever lived without it. Oh, and don't worry too much. Although a fishtail braid may look intricate and intimidating, it's actually a lot easier to create than you might think.
RELATED: 30 Best Braided Hairstyles for Women
Fishtail French Braid
A fishtail braid is a type of hairstyle that involves weaving strands of hair together to create an intricate appearance. Although it is possible just to fishtail braid a ponytail, one of the most common types of fishtail braid is a French style, which begins at the crown of the head. The French fishtail braid is a seriously chic hairstyle and ideal for many occasions. As such, once you know how to create the look, you'll always find it useful. Although fishtail braids aren't as complicated as they seem, creating your first one can be a little confusing, which is why we've selected some top video tutorials to help. With these videos, you'll be able to see step by step how to create a killer fishtail on your hair. Then, with just your hands, a hair tie, and a little practice, you'll be able to master a fashionable fishtail in no time at all.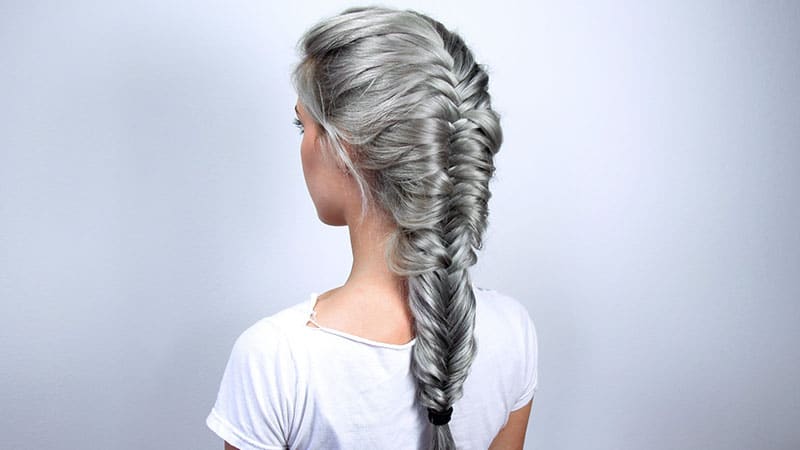 How to do a Fishtail Braid
While the idea of creating a fishtail braid may seem daunting, there's nothing to be worried about. A fishtail braid is one of the easiest types of braids to create. The only problem you may face is your arms becoming tired. As fishtail braids involve separating your hair into small pieces, you should be aware that braiding long locks can be quite a lengthy procedure. Don't let that put you off though. The results are certainly worth the effort.
To create a fishtail braid, you will need to first separate your hair into two even sections. Then, take a half-inch piece from the outside of one of the sections and pull it over and across, joining it to the inside of the other section. Repeat this process on the other side. Then, just continue this process along the length of your hair and tie it off at the end. If you want to create a French fishtail braid, you will need to start with a section of hair at the crown of your head and add pieces to the braid as you move down the back.
How to do a Side Fishtail Braid
A side fishtail braid is seriously easy to create. In fact, if you are new to braiding, you may want to try this style first. What makes this hairstyle so simple is the fact that you are only braiding the ponytail, not the back of the head, and that you can see what you're doing in a mirror. To create the look, start by pulling all of your hair into a low ponytail on one side of your head. To make the process even easier, you can secure the ponytail with a disposable hair elastic. Then, separate your ponytail into two even sections and fishtail braid your ponytail while pulling it toward your face. Once you have reached the bottom, you can secure the end with an elastic and carefully cut off the first elastic at the top. If you want, you can also conceal the bottom elastic by wrapping a small piece of hair around it.
How to do a Dutch Fishtail Side Braid
If you've nailed the simple, side fishtail braid and are looking for something a little more intricate, a Dutch fishtail side braid can make a fantastic option. The look involves creating a Dutch braid around the hairline before finishing with a fishtail braided ponytail. To create the Dutch braid, begin with a section of hair on the larger side of your side part. Then, braid the hair as you would a regular fishtail braid except the pieces should be passed underneath instead of over the top and you should collect more hair as you go. Once you have braided the top of your hair, you can then easily finish with a regular fishtail braid ponytail.
Easy Fishtail Braids for Short Hair
Don't think that just because you have short hair you have to miss out on the chic style of a fishtail braid. There are plenty of options and variations of the regular fishtail braid that can work for short strands. If you have a short bob haircut, consider trying a small fishtail braid extending from your hairline back. Alternatively, a half-up hairstyle with fishtail braids can look just as fantastic on short strands as it does on long locks. If you're after something a little fancier, however, you can always try a fishtail updo. While a fishtail crown style may seem difficult to create, it's relatively easy in reality. The style also makes for an incredible updo on cropped locks.
How to Fishtail Braid Your Hair
When fishtail braiding, be sure to keep pulling the braid tight. If it becomes too loose, it may appear messy or fall out.
Ensure that you keep your sections even to achieve a neat braid. Approximately half an inch of hair is ideal when creating a regular fishtail braid.
Fishtail braids tend to work best on second-day hair. If your hair is clean, use some texturizing powder to achieve the same grip.
You can also dust strands with dry shampoo for extra grip and staying power.
After creating your fishtail braid, leave it as is for a neat and polished look or gently pull the pieces apart for a softer, more ethereal appearance.
If you prefer a significantly wide and loose fishtail braid, you should lightly pull braided sections looser as you go.
SUBSCRIBE TO OUR NEWSLETTER
Subscribe to our mailing list and get interesting stuff and updates to your email inbox.