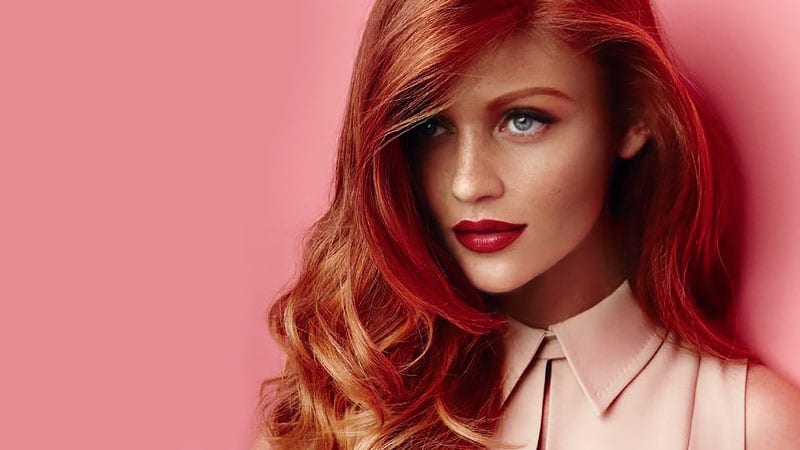 For centuries, red has been the colour of passion, lust and heat. As a result, adding a splash of red to your locks or just letting your natural fiery hair shine is an instant way to turn heads in any crowd. This season, however, red hair gets even better. The dazzling hair colour has been taken up a notch with the addition of ombre effects. Bold and alluring, these on-trend looks are well worth the try. So, if you're ready to channel your inner screen siren or Disney princess with a bold new hue, just give these looks a go. Here are the most stunning red ombre hair ideas for fiery ladies.
Red Ombre Hair
Straight Red Ombre Hair
For a sleek and sultry look that will turn heads, opt for a straight red ombre hairstyle. Dark red fading into light blonde is particularly striking with this style but be aware that extreme contrasts can appear harsh on straight locks. For a seriously alluring look, pair your straight red ombre hair with black winged eyeliner and luscious red lips.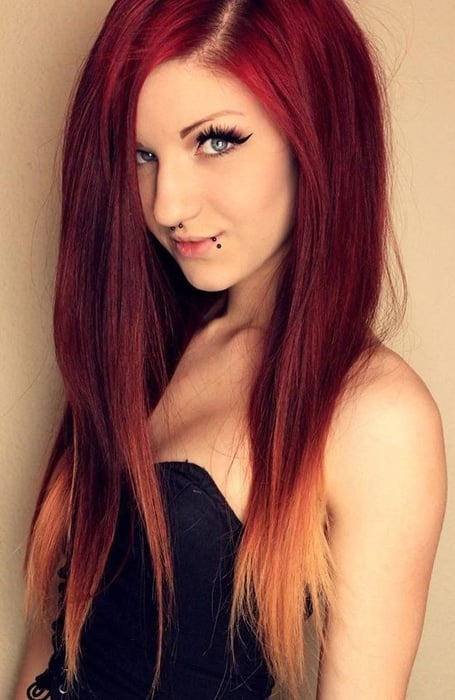 Long Red Ombre Hair
If you're going to make a statement with a beautiful red ombre style, you may as well make it a big one. Growing your hair long is one way to enhance your fiery locks. With long hair comes not only hordes of admirers, but also endless styling possibilities. Experiment with tumbling red carpet waves, Rapunzel braids, and low, textured ponytails to find the best way to showcase your hair.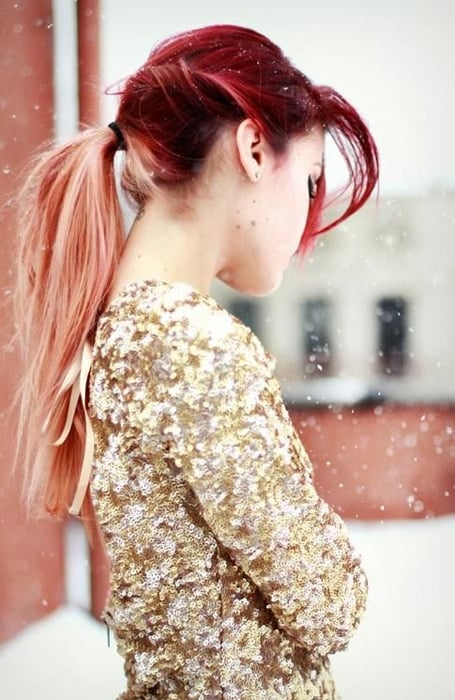 Fire Red Ombre Hair
Steal the hearts of all who cross your path with this stunning siren's hairstyle. Sizzling, fire red ombre hair features shining red roots that gradually transition to blazing orange before turning to a glowing yellow on the ends. Like moths to the flame, onlookers will be drawn to the light of this striking hair colouring.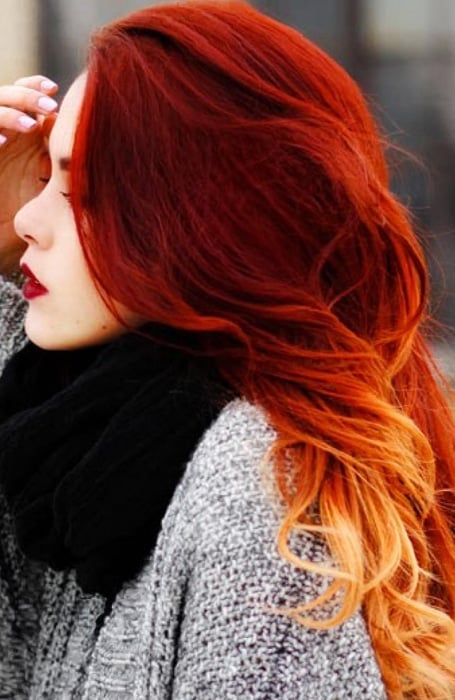 Red Purple Ombre Hair
If you're a woman who loves to be unique, a red and purple ombre hairstyle is the look for you. This seriously cool colour pairing oozes confidence and shows that you're not afraid to stand out from the crowd. As such, this modern, artistic look is a beautiful way to express your individuality.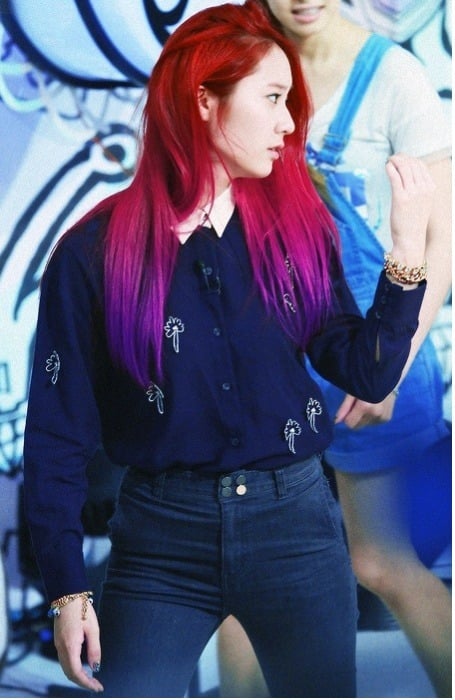 Red to Blonde Ombre Hair
While red is the colour of passion and rebellion, the saying goes that blondes have more fun. Although these days the colour of a woman's hair is hardly a judge of her character, why not play to the stories and combine the best of both worlds. For a look that will instantly turn heads, statement-making red to blonde ombre hair is the way to go.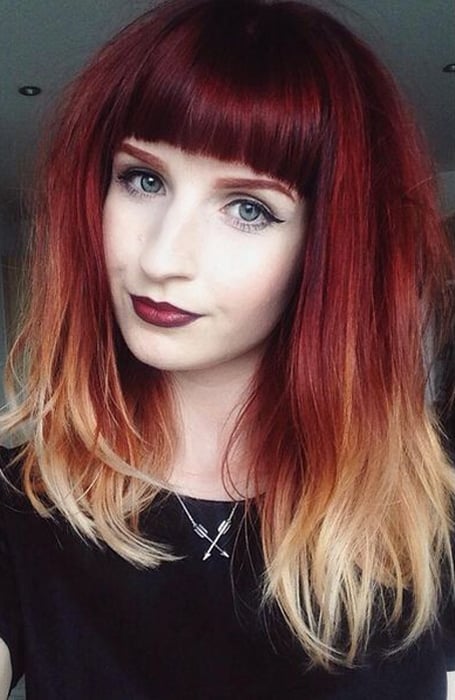 Natural Red Hair with Ombre
For a stunning way to enhance your natural red locks, incorporate some warm honey golden tones on your ends. This colour combination will allow your beauty to radiate while still appearing effortless and natural. If you weren't born with copper hair, however, you can create the illusion of a natural red ombre by opting for a deep or ginger orange tone on top before fading into a lighter shade of red or brown down below.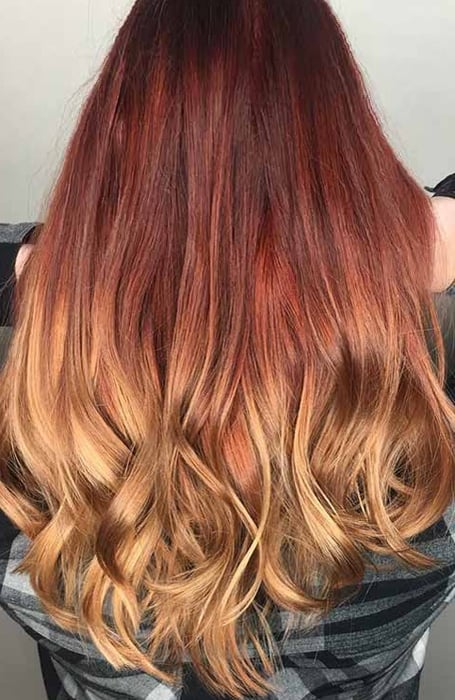 Red to Pink Ombre Hair
Let your bold, flirty personality shine by asking your hairdresser for a red to pink ombre hair colouring. Taking one of this season's top colour blocking combinations, the pairing of a fiery red and hot pink is both seductive and playful. Therefore, you can enhance the charming nature of this colour combo by styling your hair into soft waves or bouncing ringlets.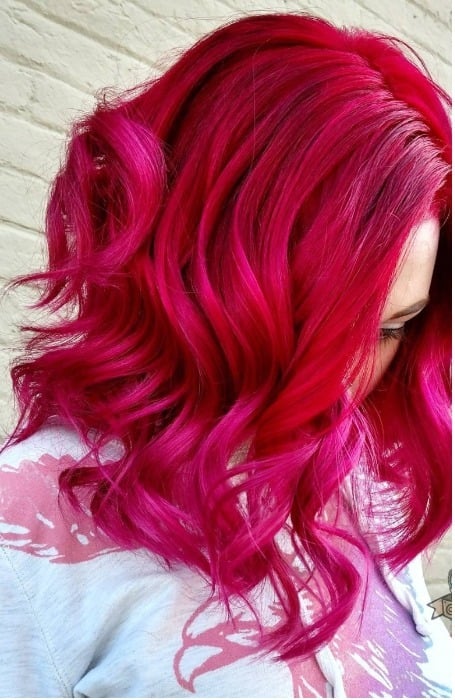 Ombre Dark Red Hair
While dark red will forever be a seductive, beautiful hair colour for women, adding ombre will take things up a notch. When selecting a colour, there are no limits. Transitioning into a dark blonde or golden colour will create a gorgeous, natural looking ombre while dark blue or purple ends will evoke an aura of mysticism and intrigue.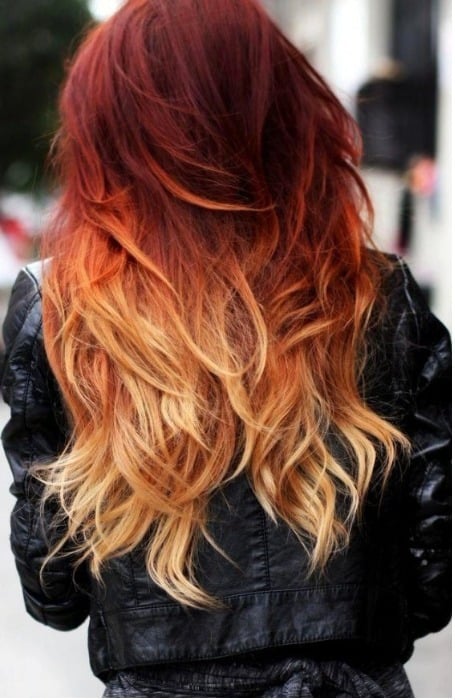 Bright Red Hair Ombre
Stop traffic with a flaming bright red ombre hairstyle this season. To add depth to this look, keep the roots dark and dye the mid-lengths of your hair a bold, dramatic red. Finally, fade the ends into a slightly lighter red for extra emphasis and allure.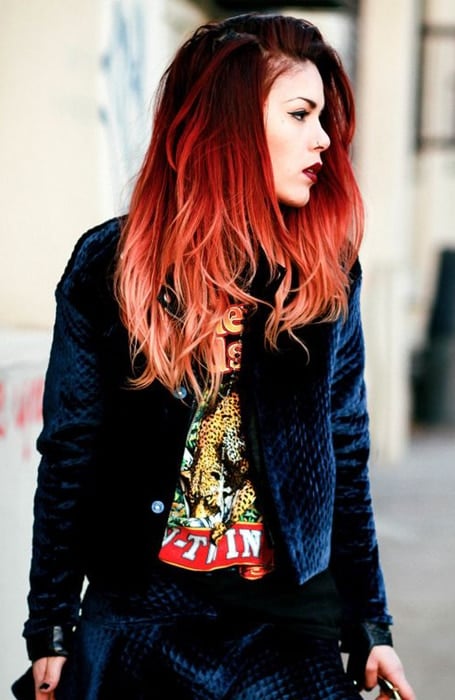 Reverse Ombre Red Hair
Typically, ombre hair is darkest at the roots and becomes lighter towards the ends. This gradual transition from dark to light is what makes the ombre style instantly recognisable. If, however, the hair goes from light roots to dark ends, then you have created a reverse ombre. This fresh take on the trend is a great way to add drama and individuality to your appearance. There are a few ways to create a reverse red ombre. The most typical is to leave the hair on top a shining red then fade to a sultry black. Another option is to dye the roots white, blonde or light orange with the tips an intense red hue.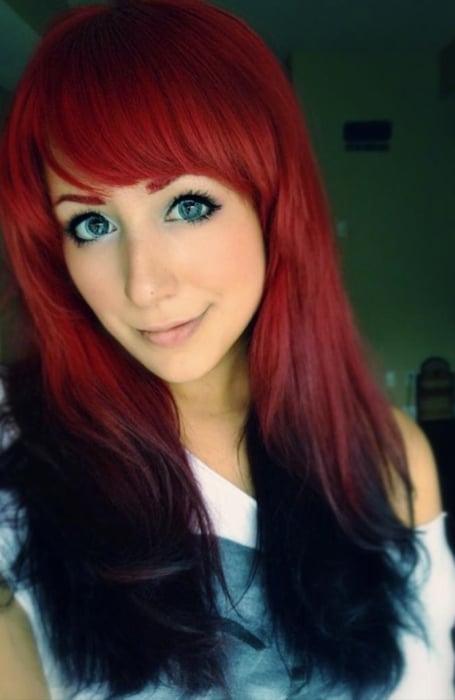 Fire Red and Black Ombre Hair
Like a mystical phoenix reborn from the ashes, this style is bold and beautiful. It creates the illusion of flickering flames licking their way down your hair. 'Scorched' black roots transition into dark brown before blending into bright red. Then, bright red turns into burnt orange before finishing with a yellow glow. Undoubtedly, this fiery style will light up any room, all while hiding dark regrowth.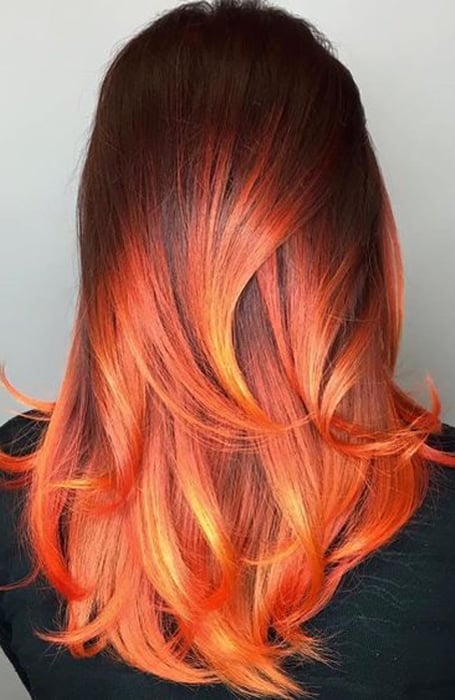 Red and Orange Ombre Hair
Unlease your inner femme fatale this season with a red and orange ombre hair update. Designed to dazzle, this red-hot combo displays confidence and a sense of adventure. To strike the perfect balance between wild sophisticated, keep the red tones on the darker side while opting for a bright orange below.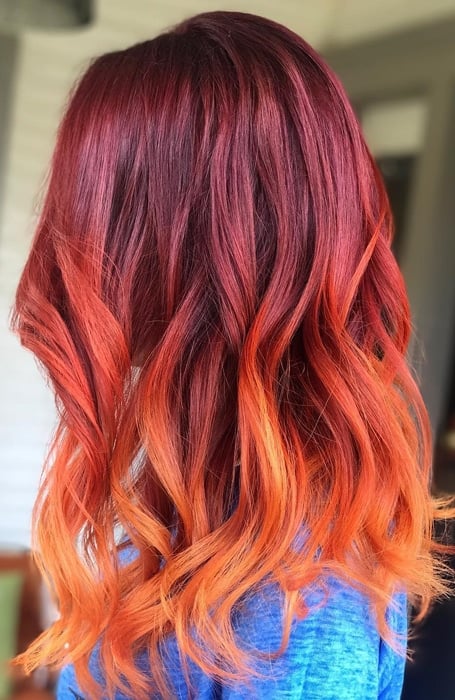 Red to White Ombre Hair
Channel George R.R. Martin's famous 'A Song of Ice and Fire' series (better known as Game of Thrones) with red to white ombre hair. This stunning juxtaposition incorporates blazing red hair on top that fades down into a frosty white ombre. Fortunately, whether your hair is short or long, curly or straight, this colouring looks incredible.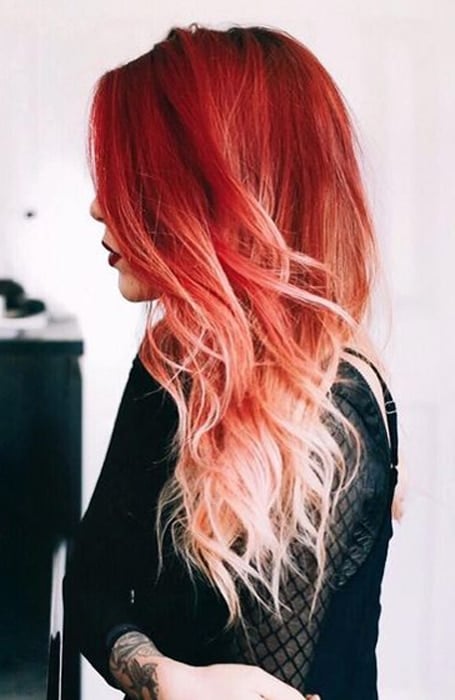 Curly Red Ombre Hair
Add emphasis to your red ombre hair by letting your curls run wild. The added texture will allow the light to showcase the depth of colour in the ombre. If your hair is naturally sleek and straight, a curling iron and some texturising spray will have your fiery hair looking fiercely coiled in no time.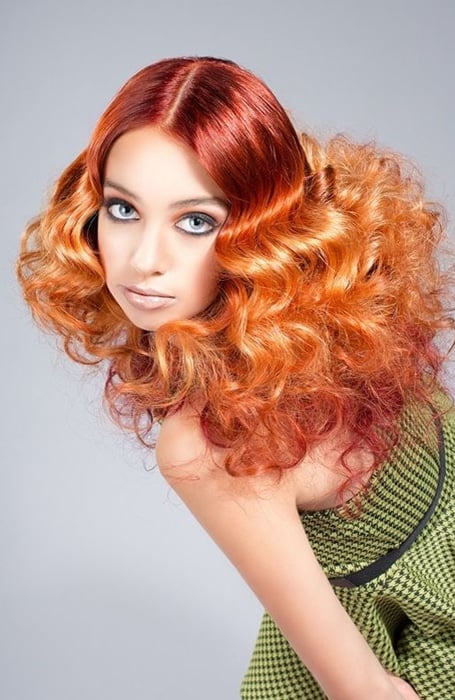 Red to Blue Ombre Hair
For a mystical, darker adaption of the red to white ombre look, a red to blue ombre similarly combines opposing elements. Bringing together fire and water, this ethereal style works best with darker toned dyes and bouncing curls. The result is a gorgeous mermaid-esque style that is perfect for the colder months.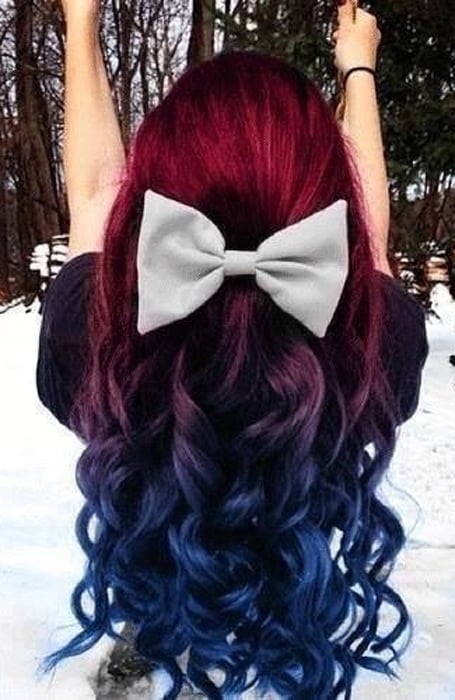 SUBSCRIBE TO OUR NEWSLETTER
Subscribe to our mailing list and get interesting stuff and updates to your email inbox.