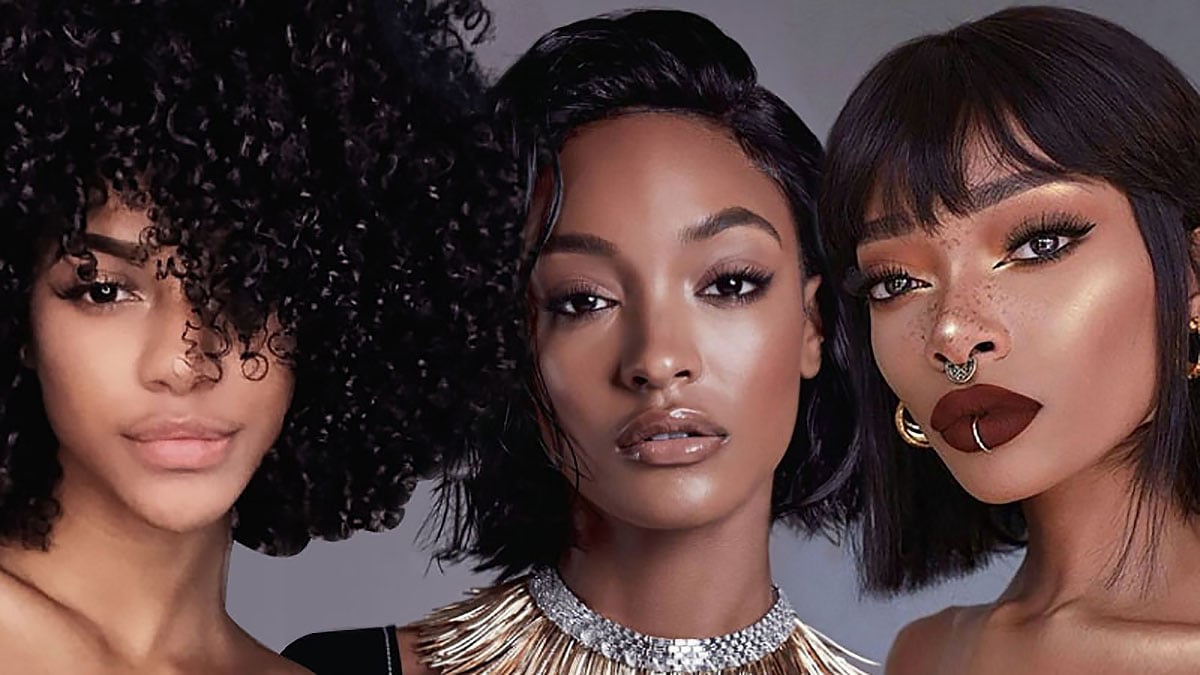 Black women have it made when it comes to the game of hair. While time and patience are sometimes required, black women can enjoy incredible versatility with their hairstyles and colors. When it comes to bobs, in particular, there are endless options. Black women can wear their bobs naturally, temporarily straightened, permanently straightened, dyed, with a weave, or a full wig for the ultimate in versatile hair. In you need some hair inspiration, then check out these best black women's bob haircuts to try.
RELATED: 70 Stylish Short Hairstyles for Black Women
RELATED: 35 Best Natural Hairstyles for Black Women
Bob Haircuts for Black Women
1. Middle Part Straight Hair Bob
Look ever-so-sleek with this stylish look. A middle part is perfect for long, oval, and heart faces and can create a beautiful, balanced look. There are a couple of options for getting your hair this straight, including getting a weave or using flat irons, keratin treatments, or relaxants. Each method has pros and cons, and a lot will depend on your hair's health, long-term goals, and budget. However, the most important thing to remember when you're altering the state of your natural hair is that it will need some extra love and care. This applies regardless of whether you have type two A hair or type four C. You'll need to use plenty of deep conditioning treatments if you've used a heat or chemical straightening method. Doing so will reduce the damage to your hair and keep it smooth and shiny.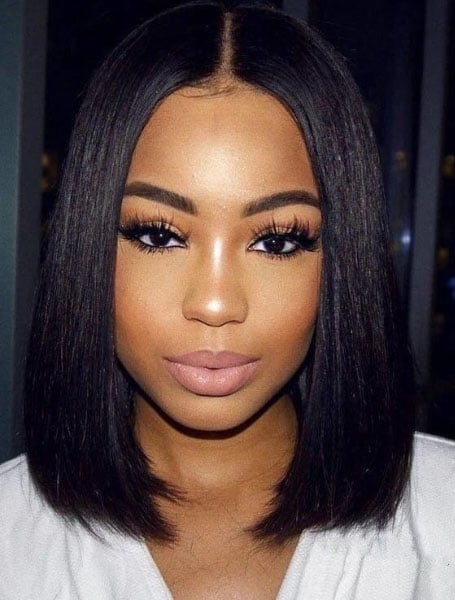 2. Black and Brown Asymmetric Bob
Add another dimension to your look with this two-toned asymmetric look. An asymmetric bob adds an element of fun to the classic bob cut and pairs perfectly with a side part. Then, by keeping the color on just the midsections and ends, you better protect your roots and scalp from damage and don't need to worry about noticeable regrowth. Talk to your hairdresser about the best placement of the color to suit your face. Additionally, make sure you follow up on any coloring and straightening with nourishing treatments such as reparative masks, hair oils, or deep conditioners. This will help repair the damage. Again, there are a few methods for straightening your hair. By opting for a temporary option like flat irons, you'll still be able to wear your hair naturally, which will also look stunning with the black and brown color combination.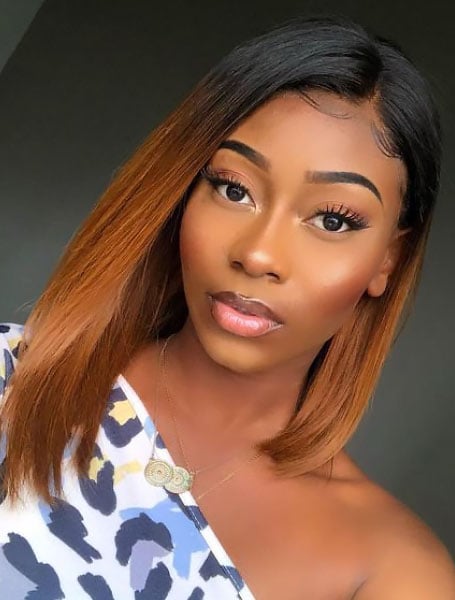 3. Side Part Natural Hair Bob
Black women can embrace their beautiful natural curls, wearing them in a side-parted bob. To achieve defined curls for this look, start by sectioning off your hair while wet and work through one section at a time. First, run hair oil through your fingers, then comb through your preferred styling gel. Once you've done that, run tiny sections between two fingers to define each piece. At the front, section off where you want your part and clip each side to ensure it stays. Once you've done all your curls, you can either let it air dry or use a diffuser on low heat and an upward angle to dry your hair. If you sleep with your hair in a scarf, your curls can last like this for a week. Each morning, just dampen your hair and shake your curls out to refresh the look.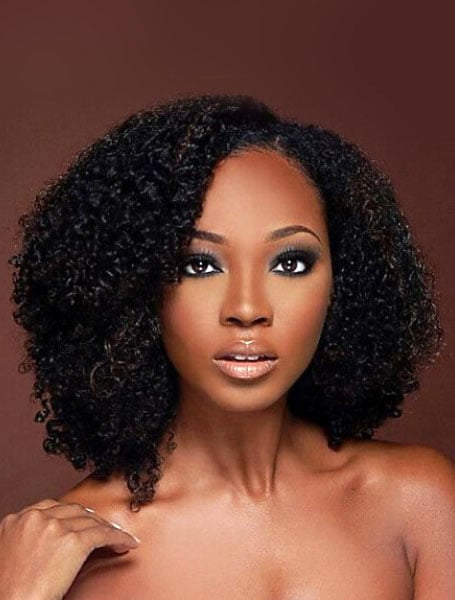 4. Blonde Bob
Going blonde with dark hair can be tricky; however, with patience and care, the results are stunning on black women. The first step is to find a good colorist who you trust. Ideally, you'll also want to hold off on any chemical processing, so you're starting with healthy hair. Bleach works by opening the hair shafts and allowing the peroxide to oxidize the melanin, stripping the color. This can damage the hair and cause breakages, so it's best to start with the healthiest hair possible. Patience and maintenance are essential. It may take a few sessions to get the perfect color while toning and nourishing products will be your best friend as a blonde. The biggest benefit of styling blonde hair as a bob is that it means regular trims to remove damaged ends, tidy your style up, and leave you looking polished.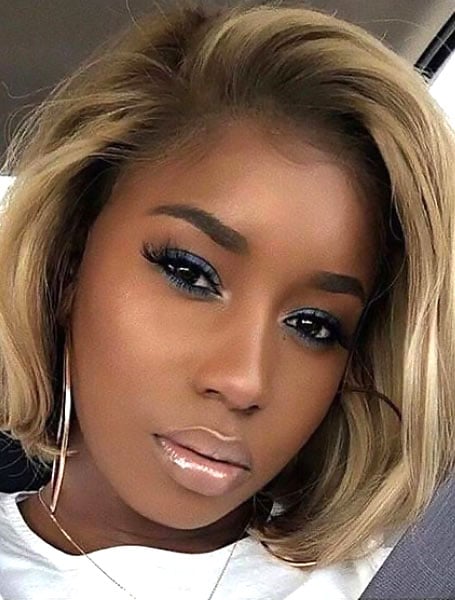 5. Medium Bob With Side Part
A medium bob is an excellent length for black women. If you choose to wear your hair straight, it looks sleek and glamorous with a side part and is versatile for styling up-dos. Alternatively, the medium length still allows for plenty of beautiful volume and curls if you want to wear it naturally. You can easily use flat irons to style it straight. Simply remove your clean hair and apply a leave-in conditioner and heat protection serum. Next, blow dry it out with a comb and directional attachment to stretch the hair. Follow on with your flat irons, using the chase method and working through small sections, one at a time. Try to do only one pass to minimize the heat damage. Then, finish off with a smoothing oil to prevent flyways and frizz. Finally, sleep with your hair wrapped in silk or satin to make the style last.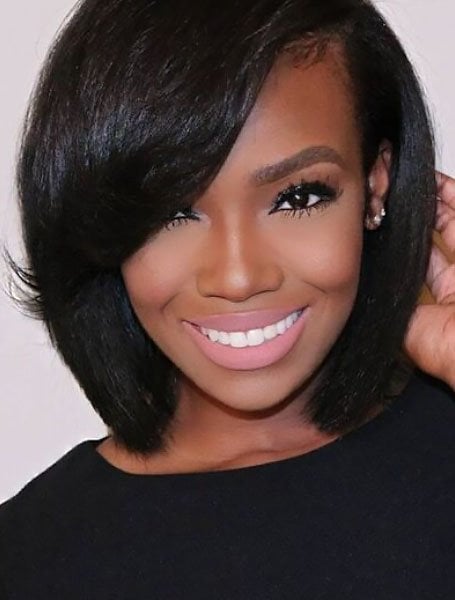 6. Purple Bob
Pretty purple for the win! Fun pastel colors can look amazing on black women. However, these colors require a lot of bleaching and dying to perfect the shade. As such, choosing a wig is best, so your hair is not damaged and is protected from the elements. Plus, you can change the color and style much more regularly! When it comes to choosing a wig, there are a lot of factors to consider. There's full-lace or lace front, human or synthetic hair, DIY or pre-made. What you choose will depend on your budget, how you're laying it down, how long you're wearing it, and your coloring and styling plans. Human hair can be costly, but dyes are better and can be styled like usual. Alternatively, synthetic can be more affordable and comes in various colors, but can't be heat styled.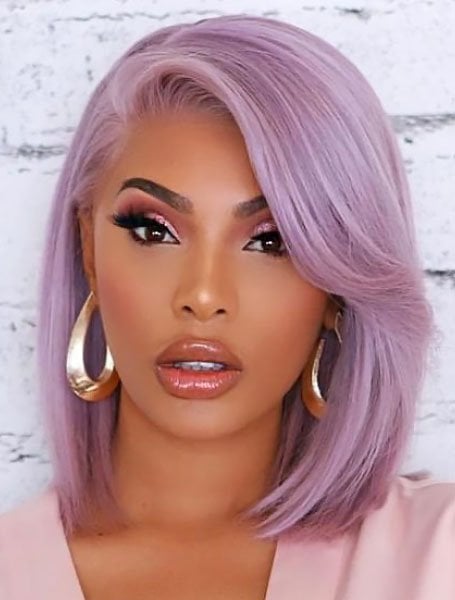 7. Black Wavy Short Hair
A short wavy bob is sexy and cute, with big, bouncy curls. Cutting it into a short bob gives it a playful edge and makes it easier to maintain. This look is most easily achieved for black women with type two or three hair because the curl pattern is already larger and looser. Like all curly hair, keeping your locks cared for and moisturized is essential for a healthy, lasting look. To get this look, use a sulfate-free shampoo and a deep conditioner. Then, apply a curl-defining serum or mousse to wet hair and comb with a wide-tooth comb. Scrunch your wet hair upward to create volume, and twirl small sections around a finger to define the curls better. You can also apply a light oil for extra moisture and shine. Then, simply let your hair air-dry or blow upwards with a diffuser on low heat.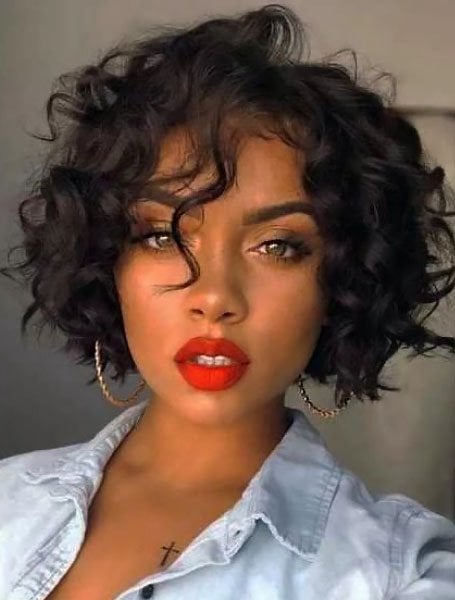 8. E-Girl Side Highlights Bob
Embrace your inner E-Girl with this highlighted long bob. The E-Girl hairstyle originated online and is nowadays synonymous with TikTok, Twitch, and Instagram. The look often involves vintage clothes, colored hair, and winged eyeliner — it's a mix of punk, gothic, and Harajuku styles. Tone it down for real life with some blonde highlights through the front of a long dark bob. Again, the choices on how to do this are endless. You could head to your trusted hairdresser and dye it. It's a small area; if your hair is healthy, it won't cause too much damage. As with any alterations to your natural hair, care for it, and keep it moisturized. Alternatively, you could opt for a wig, which is more in line with the E-Girl styling process; plus, it allows you to change your look more often.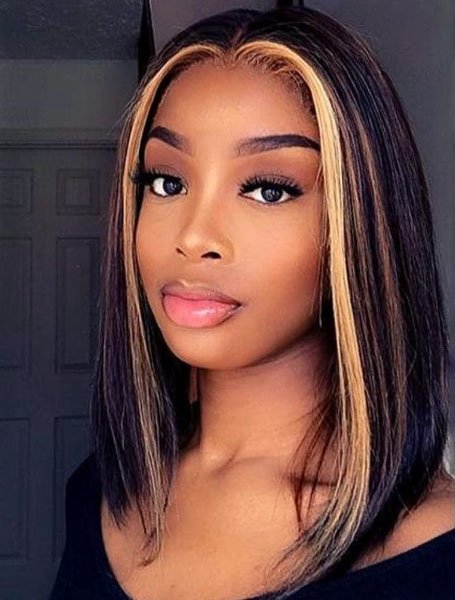 9. Platinum Blonde Long Straight Bob
I scream, you scream; we all scream for the Ice Queen. This icy platinum blonde long bob is simply dazzling. If you're a black woman who wants to rock this style, then a wig will be the way to go. It takes a lot of bleach and toner to get hair this white, which is not favorable for anyone's hair, least of all naturally dark hair. Instead, avoid the damage, discomfort, and hours in the salon by choosing a wig that's already platinum or one that you can lighten. To look after your wig, wash it, and condition it before use. Ideally, allow it to air-dry after washing, and only use heat styling if it's made with natural hair. Lastly, make sure, when you're not wearing it, to store it on a wig mannequin to keep its shape.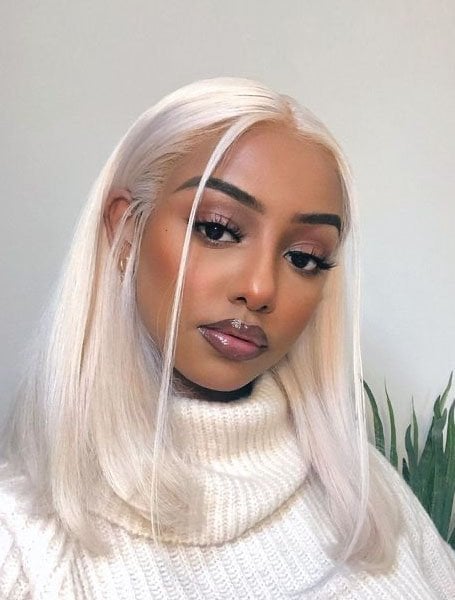 10. Natural Hair Long Bob
This long bob is another look that embraces black women's naturally curly and coily hair. If your natural hair is healthy, you can wear this long bob as a full afro or define your curls. There are many curl-defining methods around. You could try the finger coil method, the proper Curly Girl Method, or the smoothing method. Go with whatever process works best for you and fits in with your hair goals. However, a weave with curls is a great alternative if your hair is less healthy, has some damage, or struggles with length. That way, you get the length and volume you desire, but it gives your natural hair a break and protects it from further damage. Plus, it allows your natural hair to heal and grow.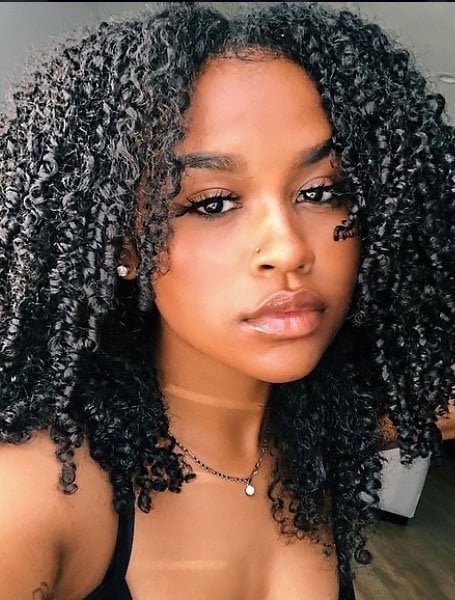 11. Dark Green Asymmetric Bob
Make a bold color change and rock some gorgeous jewel tones with this dark green hairstyle. Going a dark green like this brings some good news if you choose to dye your hair — you may not need to bleach your hair at all. Darker colors like this can sometimes deposit enough color while skipping the lightning step. However, greens and blues can be a bit temperamental, so head to your colorist for the best results. Flat irons or relaxers are an excellent option for super straight locks like this. However, be wary of relaxing and dying your hair, as both can cause damage, so use plenty of moisturizing products. On the other hand, a wig or weave is an excellent substitute if you want to leave your natural hair alone.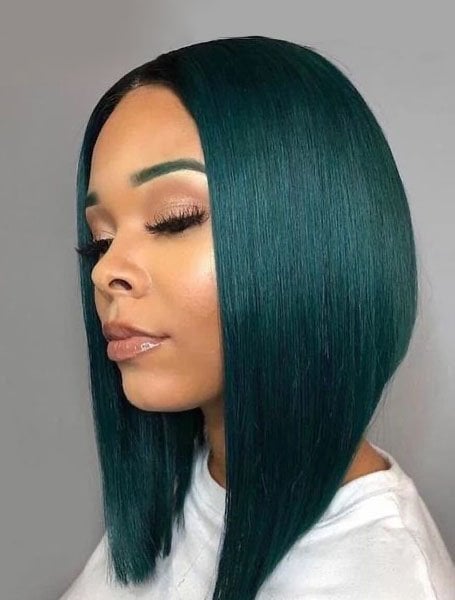 12. Middle Part Wavy Bob
Take a trip to Motown with this middle part wavy bob that's reminiscent of the 60s' musical legends, The Supremes. All glamour, this look features soft, loose curls with a high shine finish. This should be easy to achieve if your hair has a naturally looser curl pattern. Just wash and condition your hair, then apply a curl enhancer and heat protector serum to the damp hair. Part your hair in the center, and use some high-shine oil for a smooth, shiny finish. Then, either air-dry your hair or gently blowdry with a diffuser. Depending on your curl pattern, you can even the curls out with a flat iron or curling wand. If you have type 4 hair with tight coils, you can still rock this look with a weave or a wig and feel just as glamourous.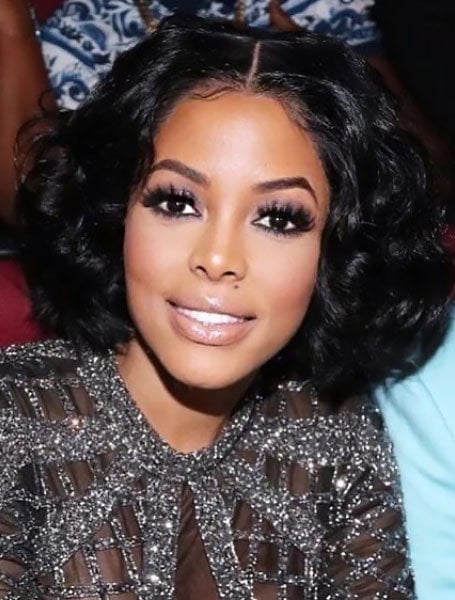 13. Pastel Blue Bob
This pastel blue bob is youthful and gorgeous. The soft blues mixed with the darker roots is a lovely contrast and creates a more natural look. Like any color requiring a lot of bleach, the best option is a wig. That way, you protect your hair and don't cause any damage, breakage, or hair loss. A full lace wig will be the best option for a short style like this. While expensive, a full lace wig will give you the most natural look around the whole hairline, which is vital for short hairstyles. Plus, it's really light and exceptionally breathable. You'll need to give it a deep clean and care routine every four to six weeks. This includes washing and conditioning your natural hair and the wig.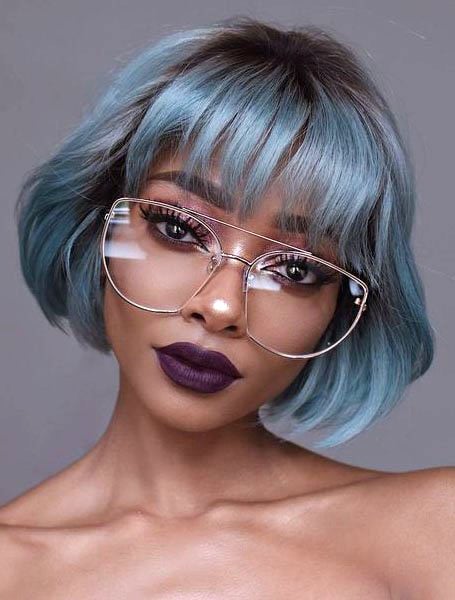 14. Rose Gold and Black Wavy Bob
Straight from the runway, rose gold hair is one of the latest hair trends. The warm hues suit black women's skin excellently and can be a great stepping stone for anyone considering going full blonde. While you can achieve beautiful rose gold coloring on natural hair, it can be damaging to straighten then and curl the hair like in the example below. As such, a wig or weave may be the better option if you want to wear your hair with more relaxed curls. The quality of wigs available is very high and can look natural with proper application and care. The short length of this style is great for summer and looks both cute and alluring.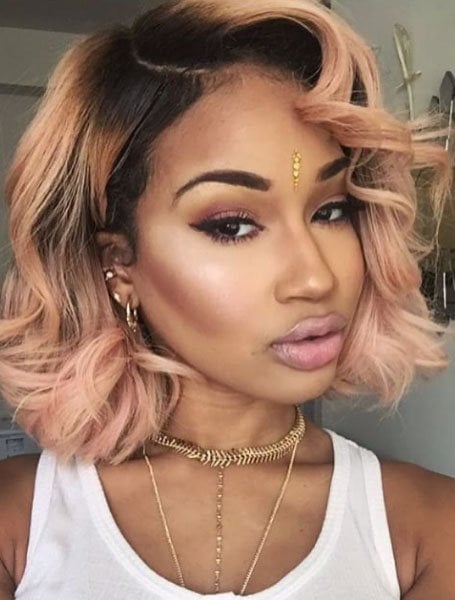 15. Elegant Short Bob
An elegant short bob is a great way to show off your neck and highlight the bone structure in your face. Because this look features straight hair but with a natural color, you can consider permanent straightening options such as keratin or relaxing treatments. Unless you have a trusted hairdresser who can do this for you, always book a consultation to evaluate any new stylist before letting them at your hair. Maintenance of short bobs is easy but does require regular trims to keep the hairstyle structure. Regular trims' benefit is that they get rid of damaged ends regularly. If your hair is permanently straightened, your maintenance should also focus on restoring moisture to the follicles and keeping your hair as healthy as possible.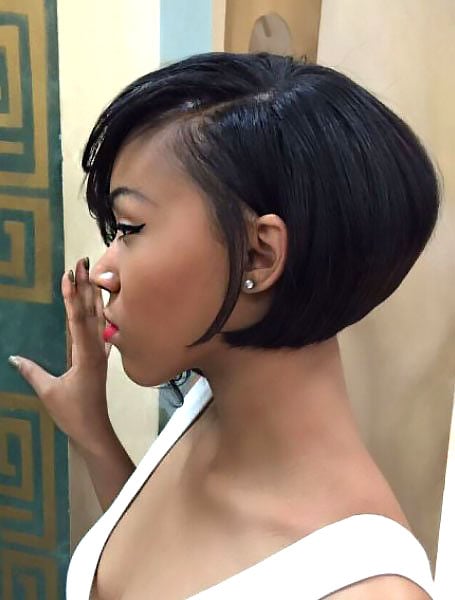 16. Burgundy Asymmetric Bob
Spice up your look with some warm burgundy tones through an asymmetric bob. Similar to the jewel tones of the greens, this look can be dyed with minimal lightener. Alternatively, a wig is a protective and versatile option. However, another option, which is perfect if you've had your hair permanently straightened, is a color wax. It's affordable, easy, non-damaging, and washes out. Generally, it comes in a tub, and you just apply it to clean, conditioned hair using your fingers or a comb and let it dry. It deposits pigment on the surface of the hair strands and can cover dark hair. Plus, this is an easy way to switch your colors and styles without having to commit to anything long-term.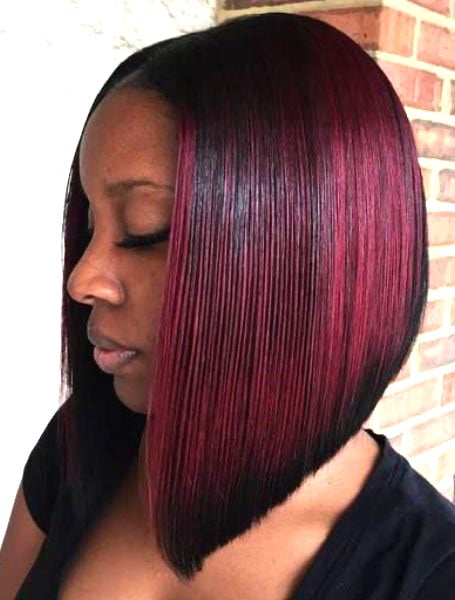 17. Ombre Hair Bob
A wig is the best way to go for this sexy style. Ombre hair, from black to pinky-blonde, is both edgy and sexy. However, the amount of bleach and toner needed to get such a light color will undoubtedly damage even the healthiest hair. Plus, opting for a wig gives you versatility and protection for your natural hair. When you're wearing a wig, taking it off each night is recommended. When you remove it, start at the ends and brush through it to eliminate tangles. Then, depending on the condition of the wig and what it's made of, you might like to run a moisturizing serum through it. Finally, store it overnight on a mannequin head. Also, take this opportunity to give your scalp a good massage and add some conditioner or oil to your natural hair.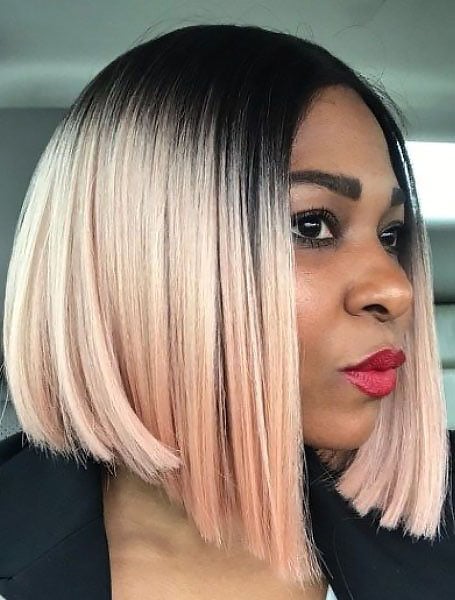 18. Straight Bob with Bangs
Keep it simple and cute with a short straight bob accentuating your eyes with some bangs. This style lends itself well to black women with their naturally dark hair. For the straight hair look, a permanent straightening option will simplify styling if you're keeping your natural color. Try a keratin treatment to smooth out the hair and eliminate frizz. You just need to ensure not to touch your hair for three days after the treatment. Another option is relaxing, which uses chemicals to break the bonds in your hair and reconfigure the strands. Both have risks and benefits, so do your research before you decide. As always, maintaining your hair's moisture levels is critical to keeping your hair looking healthy, so ensure you're using regular nourishing treatments.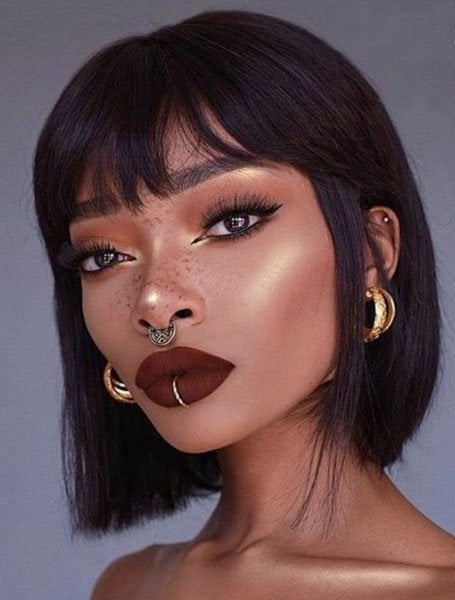 19. Dark Purple Straight Hair Bob
Black women look both mysterious and beautiful with dark purple hair. Like dark greens and reds, purple may be able to be dyed over dark hair with minimal lightening. However, if you've chosen a permanent straightening process, dying has its risks. The dark purple color wax is a great, low-risk option that can look incredible but only lasts until your next wash. Alternatively, a fabulous wig is also an excellent choice. To look after your wig, you'll need to wash it every few weeks. To do this, fill a large plastic bowl with warm water, and mix your sulfate-free shampoo into the water — don't apply the shampoo straight to the hair. Ensure the wig is saturated before gently finger-combing the suds out and rinsing. Repeat the process with a conditioner. Allow the wig to air dry on a mannequin.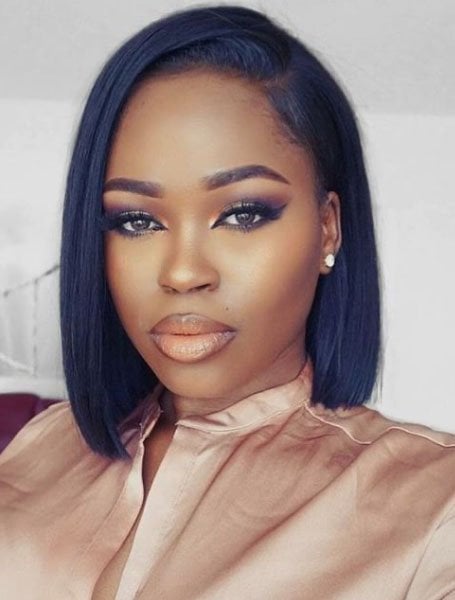 20. Straight Pink Bob
This pretty pink bob is straight out of Candyland. The warm tones look fantastic on black women and make a bright, bold statement. Like platinum blonde and pastel purples, wearing a wig is the easiest, safest way to get this look. You won't damage your natural hair or have to spend endless hours and dollars at the hair salon to lighten your hair and get the shade just right. Additionally, pink hair is notorious for fading, so wearing a wig means you can worry less about fading and having to re-dye regularly. This bob frames the face nicely with the length just below the jawline. Plus, the length can be styled into curls or an updo if it takes your fancy.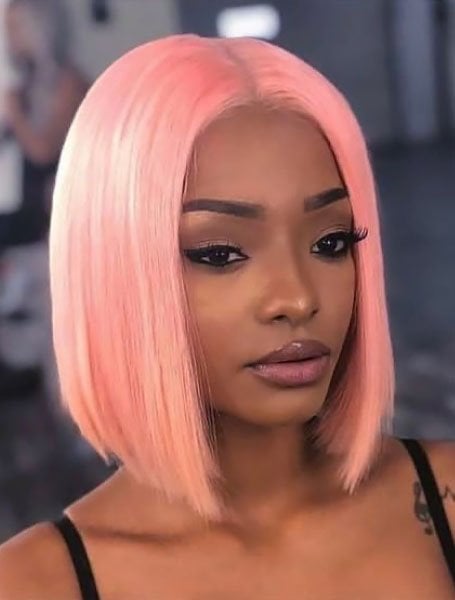 Bob Hairstyles for Black Women FAQs
Are bobs in style?
The bob is a timeless haircut that never goes out of style. There are many flattering and on-trend ways to wear your bob, from a sleek side part to e-girl highlights, baby bangs, and natural hair. The key is choosing the bob that suits your hair type and personal sense of style.
Do bob haircuts look good on everyone?
While shorter haircuts suit some face shapes more than others, the bob is a versatile cut and can be adapted to suit anyone. It's a particularly good option for those with fine hair. Your ideal bob will flatter your face shape and features, as well as expressing your personality. Whether it's changing up the colour, adding a fringe, cutting in layers, adding more volume and texture, or making the cut asymmetric, your stylist can create the perfect bob for you. 
What are the different types of bobs?
There are almost too many bob variations to name, but the most well-known and popular versions of the haircut are the classic blunt, straight bob – with either a center or side part – the lob (short for 'long bob '), the asymmetric bob, the A-line or 'stacked' bob, and the fringe bob. Other types include the natural hair bob and wavy bob. 
What face shape suits a Bob?
Those with oval face shapes can wear any type of bob, however there is a bob out there to suit every face shape. The length of the bob is the key factor in choosing a bob to flatter your face shape. For example, a chinlength, blunt bobs will make a round or square face look even wider and shorter. Instead, those with these face shapes should consider a lob – a wavy version looks great on a round face, while an asymmetric cut suits a square.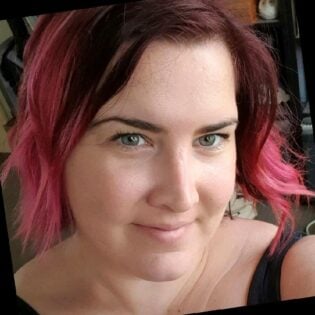 Alexandra Linde is an experienced writer holding a bachelor's degree in Journalism. She is the owner of Alexandra McKiterick Creative and has expertise in travel, fashion, fitness and lifestyle. Alex has previously written for Flightcenter, Travello, and Backpacker Deals.
SUBSCRIBE TO OUR NEWSLETTER
Subscribe to our mailing list and get interesting stuff and updates to your email inbox.