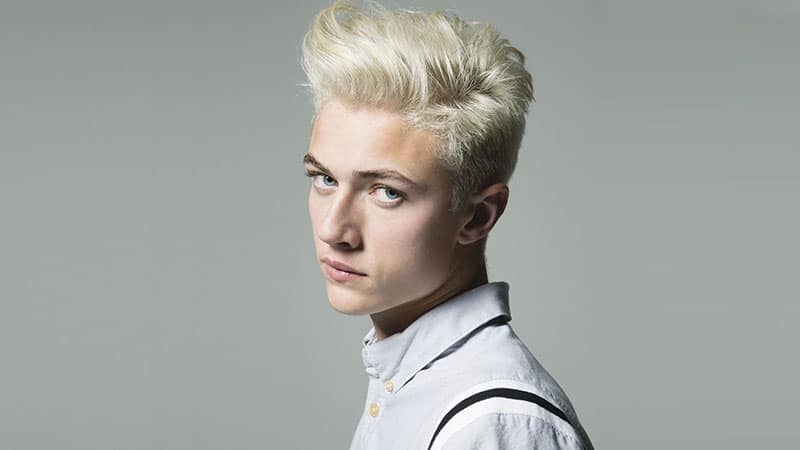 Are you looking for a simple way to change up your look? Then there is no better option to alter your appearance than with a cool hair color. Unlike more permanent modifications like tattoos or piercings, which are also expressive, a great shade of dye is a fun and temporary way to experiment with your look. There are many ways to get creative, from multi-colored hairdos to interesting coloring techniques like frosted tips or skunk stripes. You do not have to go bold to embrace the new either, and something as simple as a great shade of blonde or brown can breathe new life into your locks. These are some of the best hair colors for men to try right now, letting you update your hair game and have fun while doing it!
Hair Colors for Men
1. Frosted Tips
Frosted tips are a coloring technique that highlights the ends of the hair. This is a brilliant way to make your strands look longer, but it also gives them an edge. It is typically added to short hair and then styled into spikes, but the modern version lets you create the style with just about any look, including afro-textured twists. If you are a man with attitude, this is the option for you!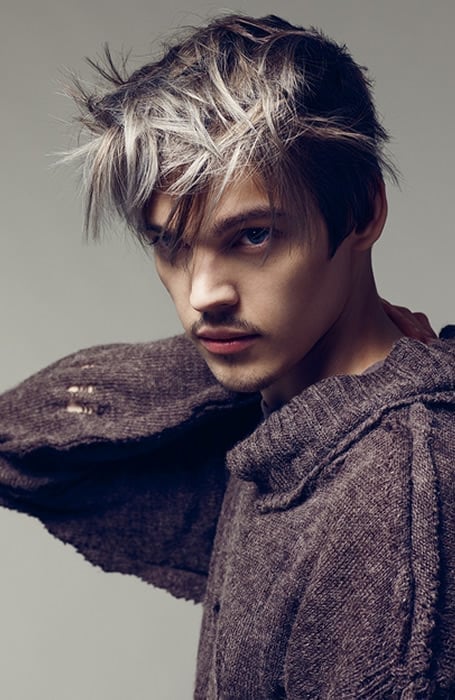 2. Blonde Highlights with Dark Roots
Most people worry about root regrowth and having to touch them up regularly. However, trying out a modern technique that deliberately creates dark roots and is paired with much lighter strands can be a great way to embrace something different. The lower blonde highlights will give you an edgy and cool appearance while reducing the maintenance and cost you must spend on your hair.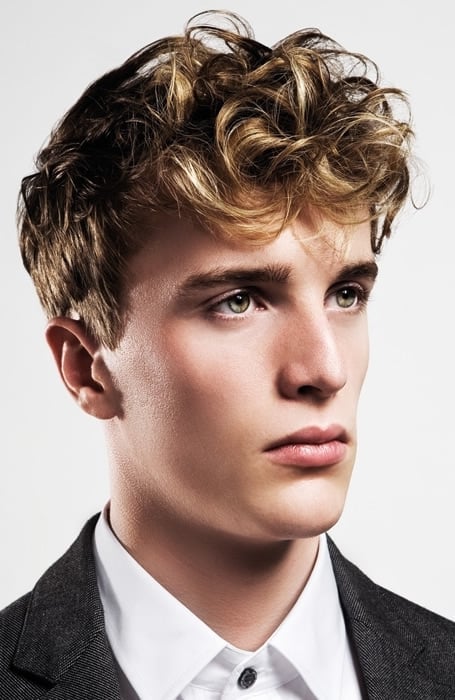 3. Platinum Blonde
Platinum blonde is the lightest shade of blonde and is a cool hue. It is not the easiest color to rock and will take some serious maintenance. It can also be incredibly costly if you have naturally dark strands, which must be bleached and dyed first. However, if you are willing to put in the time and effort it takes to create this look, you will be thankful you did.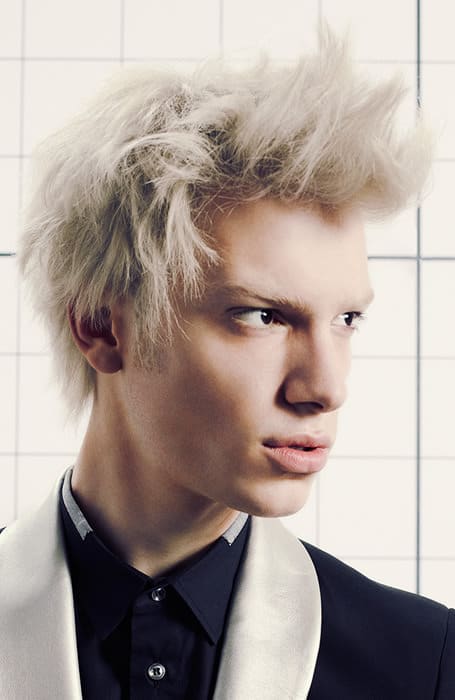 4. Caramel
Some hair colors for men are designed to help you blend in and are appealing because of how natural they are, and caramel is one of them. That does not mean it is boring, no, far from it. Instead, the combination of warm brown and golden tones can lighten the hair effortlessly, brightening your appearance and giving you a new look that is every bit as stylish as you would imagine it to be.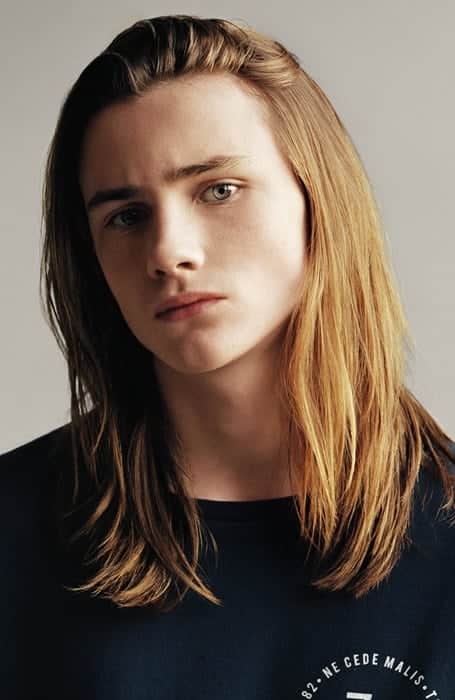 5. Skunk Stipe
If edgy and cool ways to add color appeal to you most, look no further than the skunk stripe. This modern approach is created by quite literally adding a stripe to the hair, which is parted in the middle and runs down one side. This is the traditional way to add it, but that is not to say you cannot experiment with the placement. After all, your creativity is your only limit.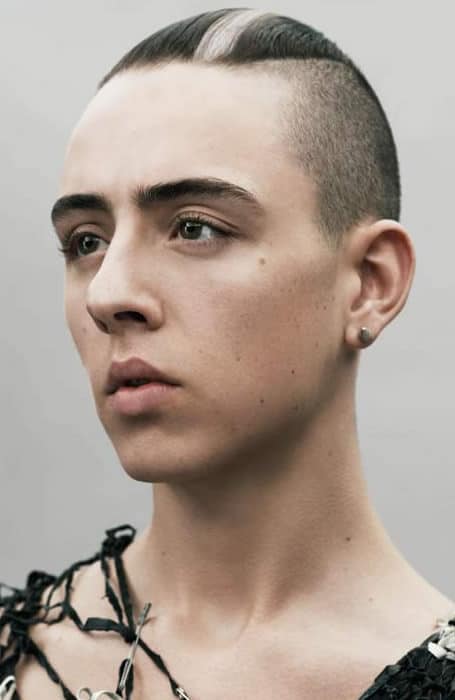 6. Ginger
Ginger hair is a reddish-orange hue that will turn heads. This is because of how bright and bold it is. This shade had an unflattering association a few years ago, but thankfully, modern society is much more practical and understands just how brilliant this shade is. Seriously, there is no better way to draw attention to your strands.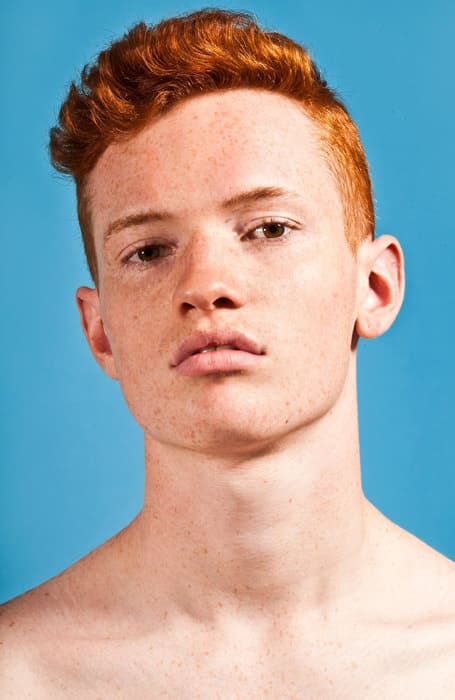 7. Balayage
There are few coloring techniques as flattering and versatile as balayage. What makes this approach so appealing is how natural the results are, letting you lighten your strands without the effort and maintenance required of traditional foils. The color is hand-painted onto the hair to create a sweeping effect and usually is not more than a few shades lighter than your base color.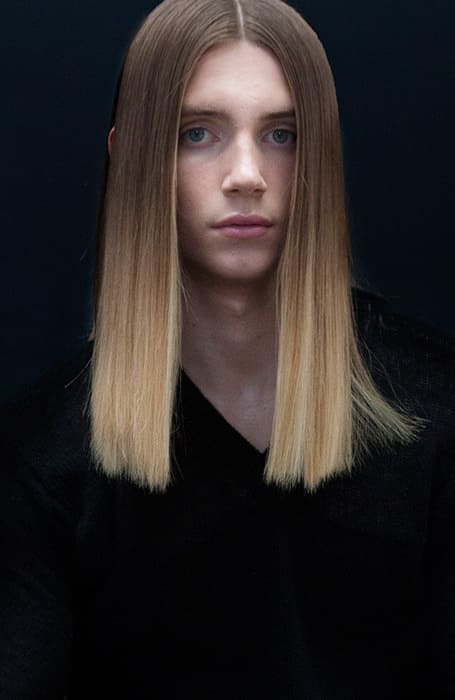 8. Burgundy
In recent years, burgundy hair colors for men have proven to be a trendy option. It is one of the leading color trends, and this could be because it is a brilliant, rich hue that is created from a blend of reddish-brown tones. It is not a natural color, which makes it even more noticeable, and it is a great way to make a statement and draw attention to your hair. Show off your style or highlight your texture with this shade.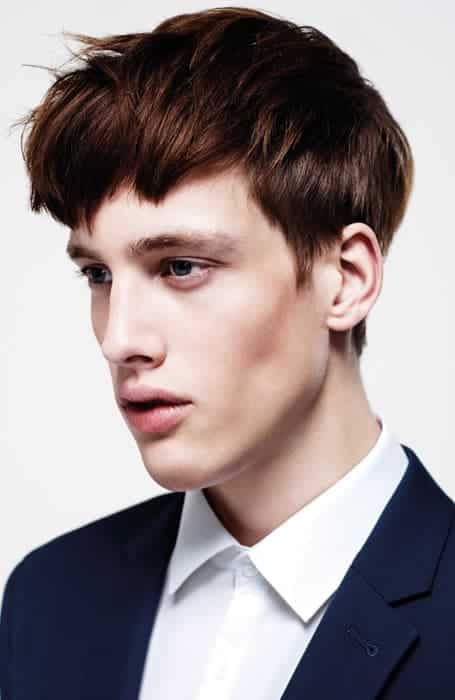 9. Sandy Blonde
If you have spent time at the seaside, you will likely be familiar with sandy blonde because this brilliant, rich beige-toned shade makes you think of summertime! The mixture of warm and cool tones makes it an incredibly flattering hue that is easy to pull off and will give your strands natural depth. And who doesn't want that, right?!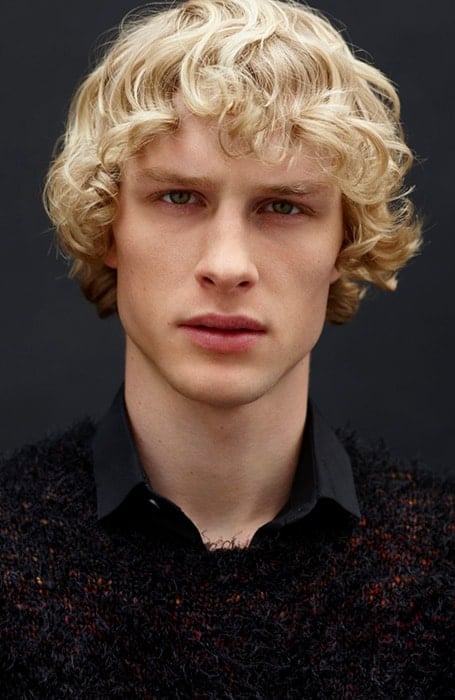 10. Chocolate
If you have a sweet tooth, be inspired by the creamy confectionery by opting for chocolate brown hair. This color is a brilliant blend of medium and dark shades of brunette. It is rich and will look great on most skin tones and all textures. You can add it in different ways, including a subtle finish like balayage, or experiment with a two-tone effect to create a fun contrast.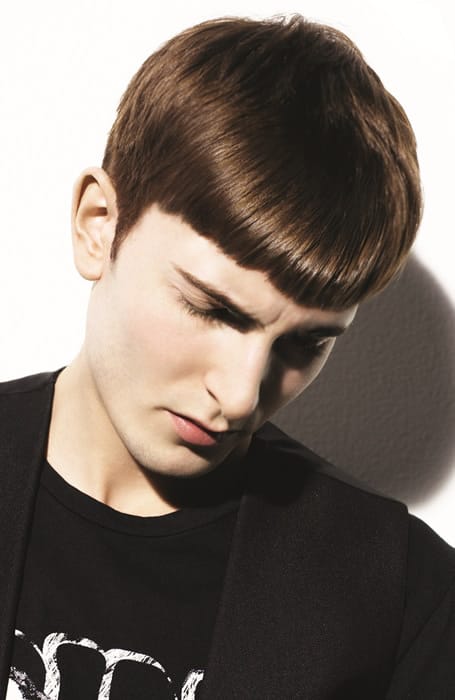 11. Blue Hair
Blue hair, don't hair? One of the best things about opting for bright-colored dyes is how expressive and undeniably fun they are. Blue hair colors for men are associated with calmness and tranquility, but a vibrant shade will let you show off your playful side and feel more energetic and youthful. If you do not mind commanding attention, this is the hue for you!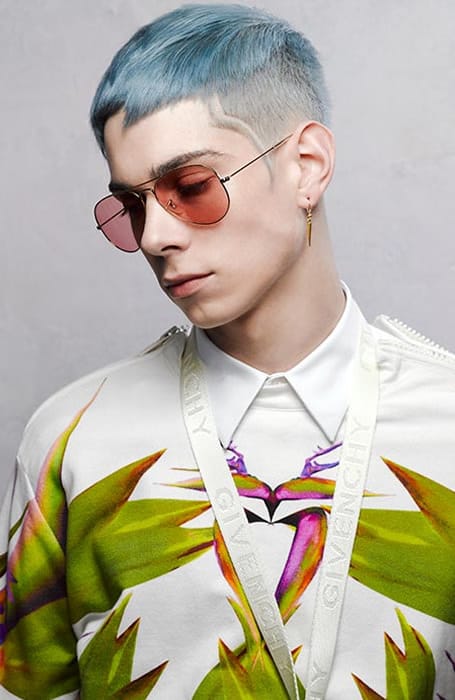 12. Chestnut Brown
Chesnut brown is a blend of dark brown with reddish undertones, and the combination is the ultimate way to update your hair game without it being overly obvious. This shade is natural, which means it is super flattering and will look great on most skin tones. It is also different from standard brunettes, allowing you to experiment with color in a subtle way that will give warmth to your strands.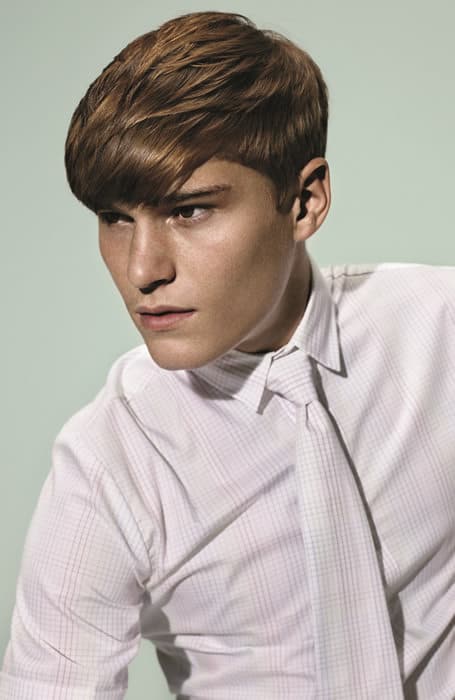 13. Fiery Red
Natural red hair colors for men are the rarest color, so choosing a variation of this hue will automatically get your strands noticed. It is an excellent way to highlight your desired men's hairstyles and will look particularly great on men with light skin and light eyes. The shade will complement all textures and lengths, but to show off the color's deepness, we recommend at least medium hair to show it off fully. You'll enjoy flipping your locks and mesmerizing everyone!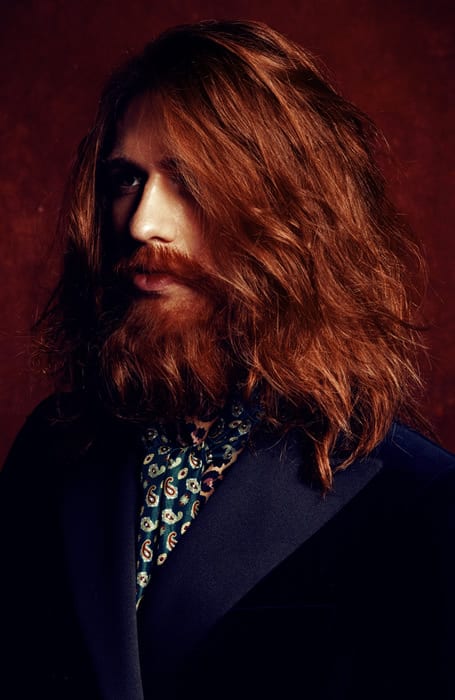 14. Honey Brown
Few colors will leave you with such a brilliant result than honey blonde. A warm, golden-yellow color that is versatile and can be added to the hair in many ways. On naturally darker hair, this is a great way to lift it and brighten your appearance, while on lighter strands, it will create a soft and natural finish.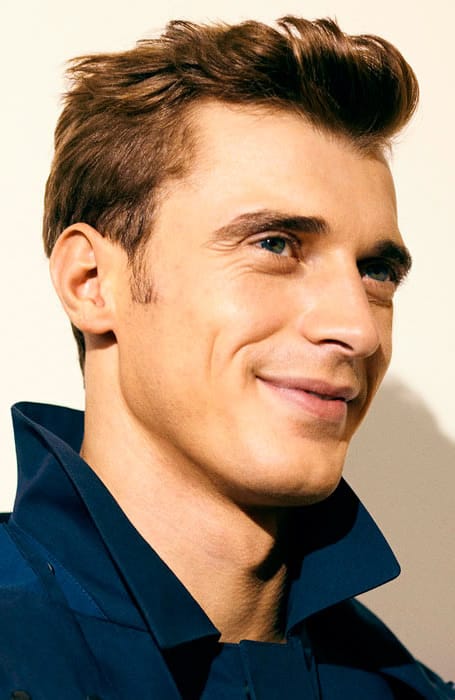 15. Multi-Colored
Why commit to one color when you can have several? For the man who doesn't like to feel restricted by his hairstyle and is searching for a way to express himself, multi-colored hair is a perfect choice. You can mix and match as many colors as you wish or stick to just two for a more subtle take. There is no right or wrong approach, so have fun!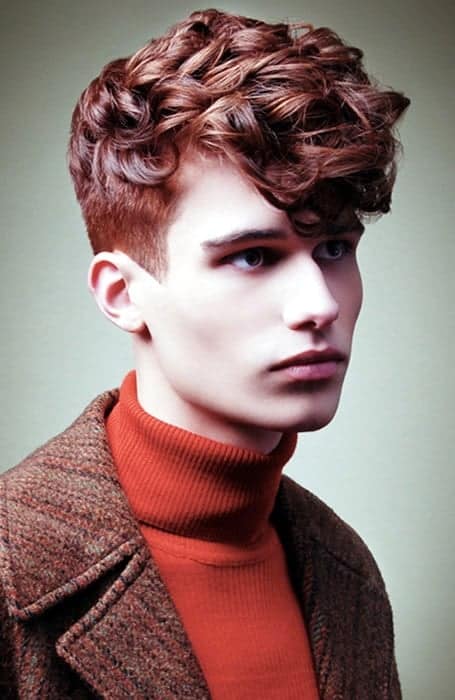 16. Dark Brown
Dark brown hair colors for men are the darkest shade of brunette. This can be a flattering hue because it is forgiving for those who have dry strands, but it is also less harsh than black and, therefore, much easier to wear. If you want to give your mane depth and dimension, combine your chosen brown with a lighter shade, like honey or caramel, for a natural and super-flattering finish.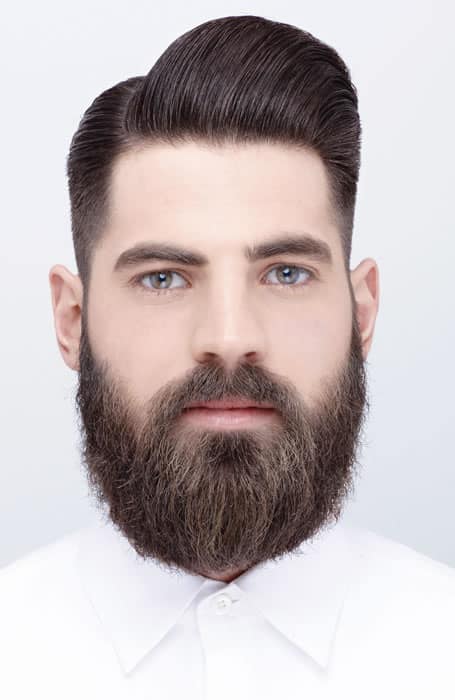 17. Grey Hair
Grey hair colors for men have become a hot look. Either you will stop dyeing your strands and embrace their changing color or start doing it. Still, whether you are letting your natural greys show or experimenting with different shades, there is something incredibly appealing about this cool hue. It is also exceptionally flattering and will complement men of all ages. It is also thought to be incredibly attractive and masculine, which are just bonuses.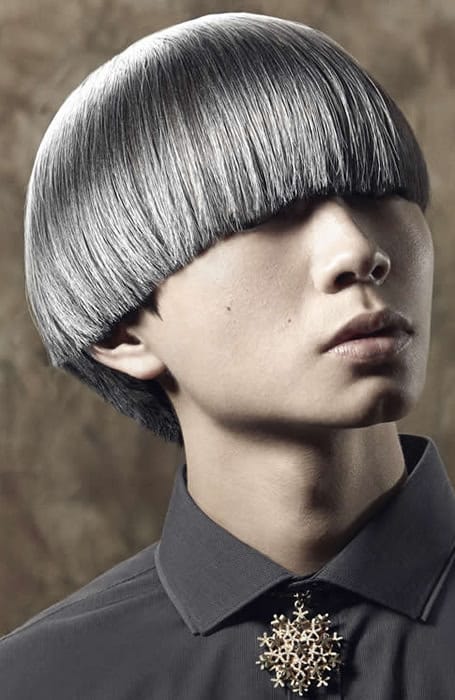 18. Deepest Black
Deepest black hair is a dark pigment that is ideal for men who prefer a simpler approach to color. It will be relatively low maintenance and can be added over any hue because it is so dark. While some may find the shade too dark, it has a definite appeal, which is how versatile it is.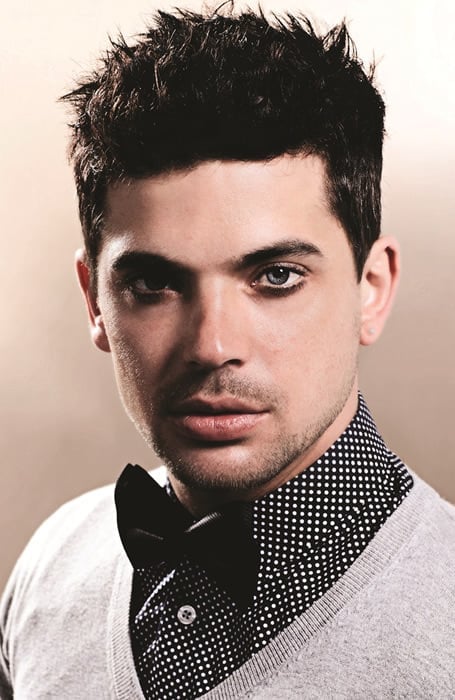 19. Dark Blonde
Dark brown is the darkest shade of brown, and while it may not seem like anything new or exciting, this could not be further from the truth. The appeal of a natural hue like this is that it looks good on just about anyone and every texture. Plus, it can easily be adapted to suit your preference, either with highlights or lowlights to add depth.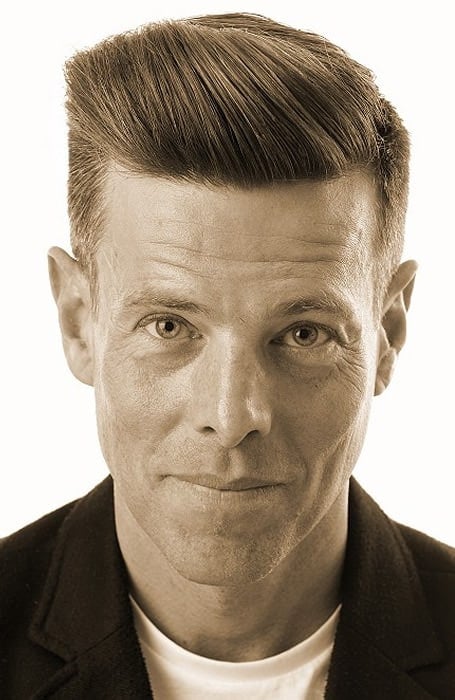 20. Jet Black
There is black hair, then jet black, the darkest shade. There are many ways to style this color fo men, and it will look great on all textures. It is also exceptionally flattering and will complement most skin tones, including light complexions. Another reason men love this hue is because of how effortlessly it is to wear, making your strands look super glossy and healthy without even trying.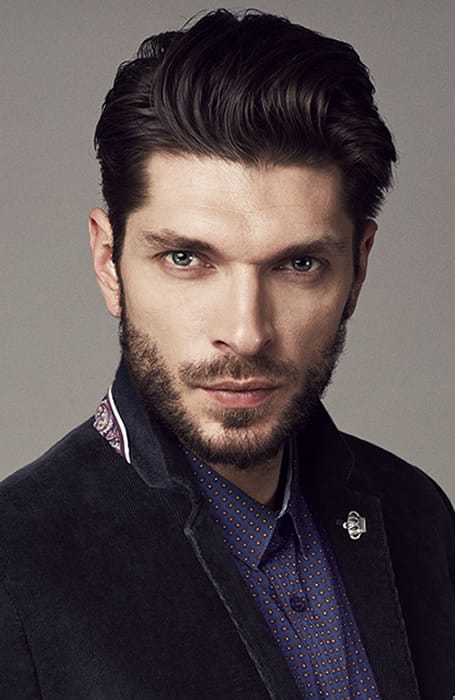 21. Orange Hair
What better way to show you are a man with attitude than by rocking a bright shade of orange hair? This warm color is surprisingly flattering on most complexions, and the boldness of this hue is an excellent way to highlight your texture. This hair color will get you noticed no matter what style you choose, whether long or super short!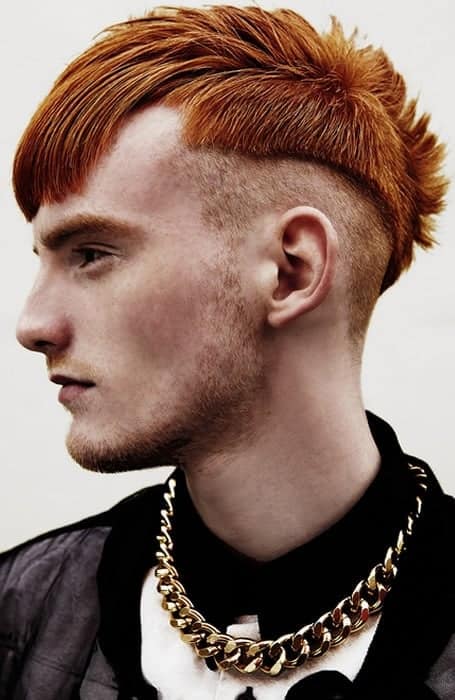 22. Light Brown
Hair colors for men do not have to be bright or adventurous; the simpler approach is sometimes the best. Consider light brown hair for those wanting a hue that will work well for every day without feeling dull or dated. It is the lightest shade of brunette and can be added in various ways. You can use blonde highlights to lift it or add it to darker hair to create a softer finish.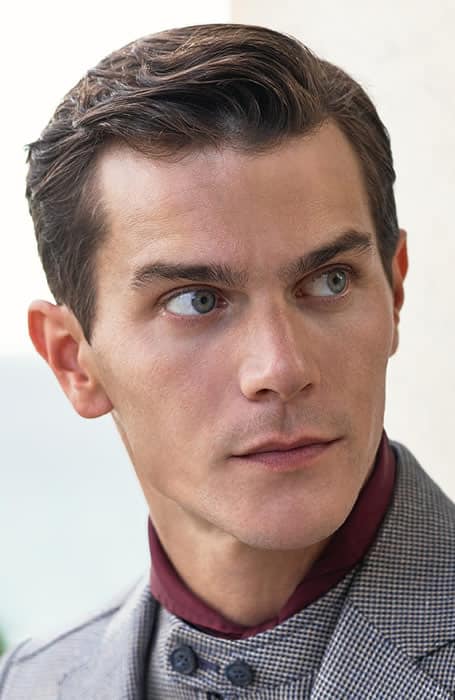 23. White
Whether natural or artificial, white hair is unmissable. The brightness of this hue makes it noticeable, which will be a great way to highlight your chosen men's haircuts. The downside to any light shade is that it can be unforgiving with dryness and damage, and instead of disguising it, it will be all the more noticeable. Don't let this stop you, though. It's nothing an excellent overnight conditioner cannot fix!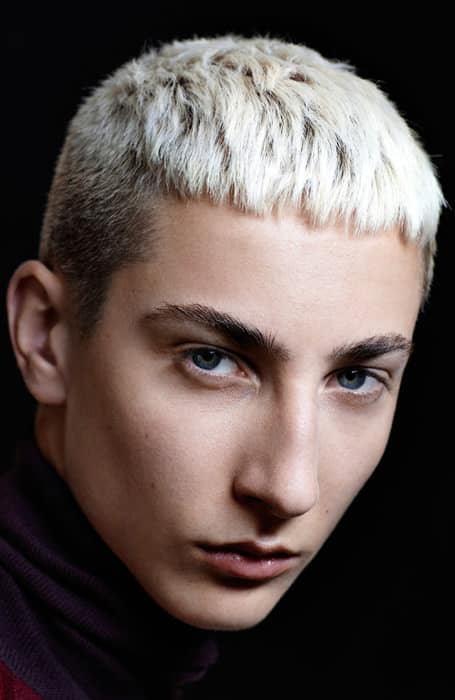 24. Light Medium Brown
Light brown hair colors for men are the lightest shade of brunette, while the medium is an in-between hue, so mixing them is the perfect way to achieve contrast and create a tone that has depth. This is still a very natural result, making it incredibly easy to try out, and it will be suited to all environments (including those who work in the corporate world and need to look a certain way). It is your way of experimenting without going too bold.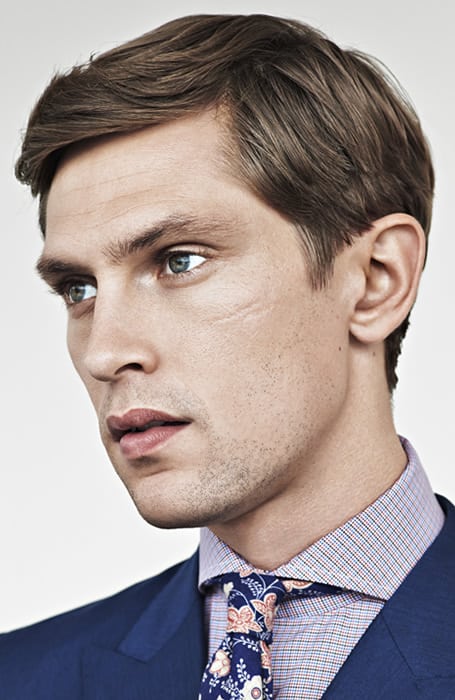 25. Purple
Does it get bolder and brighter than purple hair? This color is associated with luxury and wealth; you can unleash your inner king with a vivid shade of purple. The appeal is that there are multiple hues, some light and others dark, making it easy to find a shade to complement your complexion and suit your preference.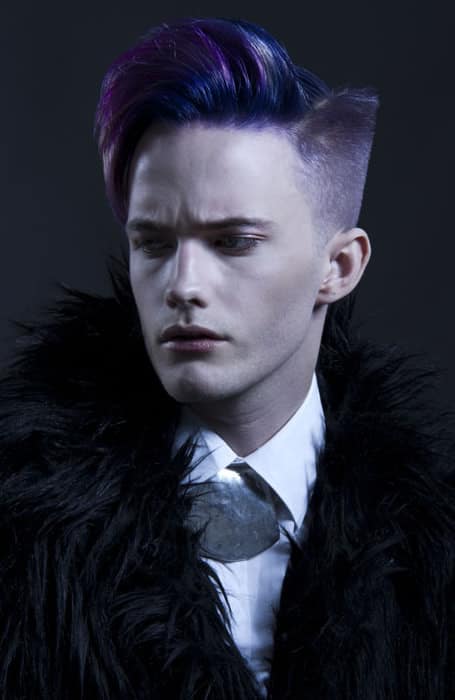 26. Medium Brown
Medium brown hair gives you the best of both worlds, a perfect combination of light and dark shades of brunette. It is incredibly easy to try and can be worn on its own or blended with lighter hues to brighten your appearance. All the while giving your strands depth and dimension. Next time you look for color inspiration, consider this option because it looks good on everyone!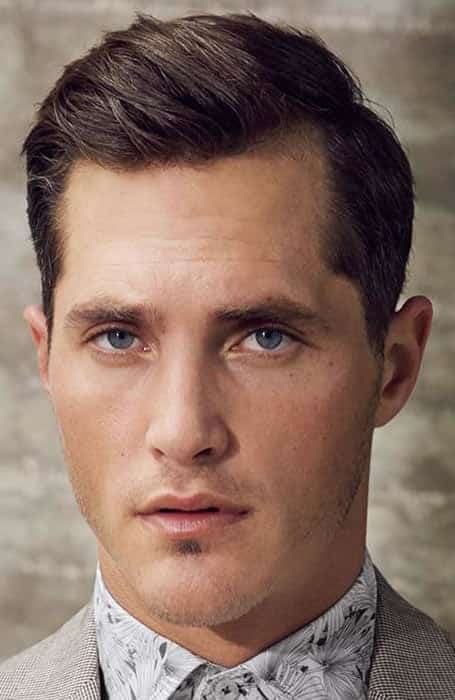 27. Two Tone
Two-tone hair is one of the more expressive color options that is defined by a mixture of colors. Depending on how vibrant you want the finish, these can be shades of your choosing, either natural or artificial. You can also experiment with how you combine the hues, for example, focusing one on the fringe only. A combination that blends well is black and grey, giving your strands the perfect depth.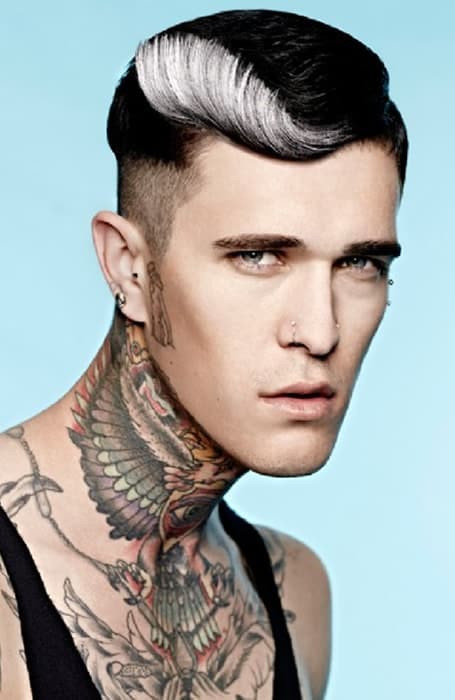 28. Real Black
Black hair is incredibly sexy, but it is also a versatile shade that men of all ages can wear. Another appeal of the dark hue is that it can disguise signs of damage and dryness, which can, in turn, make your strands appear healthier. Not only this, but it has a brilliant shine, which can be incredibly flattering.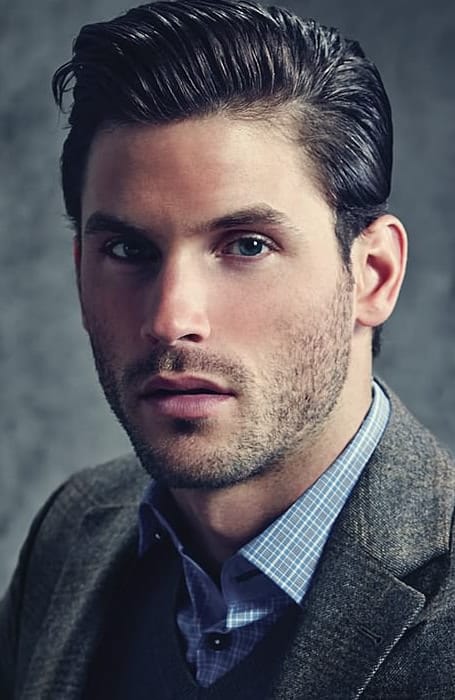 29. Yellow
Yellow hair colors for men are not your typical choice, which makes it so special. It feels unique and expressive and is ideal for those wanting to achieve a youthful finish. The warm color is also associated with joy and optimism, letting you channel these qualities. Make a statement and spread happiness with yellow locks!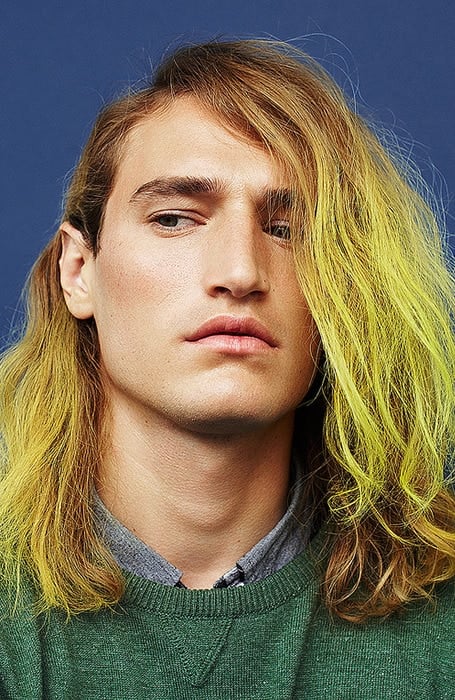 30. Chestnut
For those looking for something different from the standard brown hues, a blend of medium reds and browns could be just what you need. This hue is chestnut, and it is a very distinct shade that will look especially good when the light catches your strands in the right way. It is not as bold or bright as ginger or fiery red but equally interesting.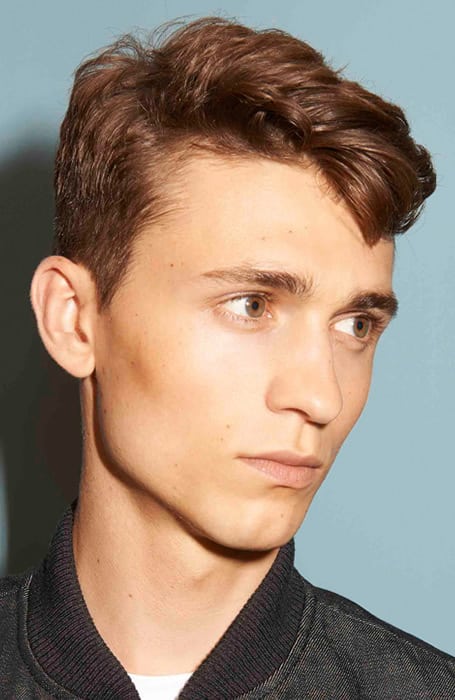 Hair Colors for Men FAQs
What color should a guy dye his hair?
When it comes to dyeing your hair, there are many options, some like to go lighter, and others go darker. One thing to remember is that the colors that are opposite to your natural skin tone are the best. For example, warm skin tones look great with cool hair colors. Alternatively, you can choose something creative by combining several of your favorite hues for a multi-colored finish or go bold and bright with your favorite artificial hue.
Should guys color their hair?
There is absolutely no reason guys should not color their hair. Some prefer the more natural approach, which can be achieved by choosing shades that are very close to your base color. This will let you create depth and dimension without much contrast. You can also opt for a more daring finish: fiery reds or cool platinum. When it comes to hair color, the choice is yours!
Which hair color is attractive in males?
Natural colors look great on men and are considered attractive. Some studies show that black and brown hair is considered the most appealing, which makes sense because it will complement most skin tones. You can also embrace aging with grey hair, which is considered masculine and sexy.
What percentage of men color their hair?
There was a time when men did not color their hair, but the percentages are changing to reflect that this is now a thing of the past. According to Los Angeles Times, research has shown that "American men coloring their hair increased from 2% to 7% between 1999 and 2010." It does not only have to be older men trying to disguise their grey hairs, younger men can embrace a change in their appearance by opting for a different hue. Choosing a different color is a great way to express yourself and have fun. Plus, the change is temporary, so it does not have to be a long-term commitment.
What hair colors look best on brown skin?
Many great colors complement brown skin; however, the most popular choices are deep brown shades like chocolate and chestnut or dark blondes with honey tones.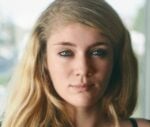 Cailyn Cox holds a degree in journalism and has been working with The Trend Spotter as a writer for over ten years. She has worked with some of the most prestigious women's and men's lifestyle publications. For her, writing is not just a job; it's a passion, which is why each article she writes is approached with such enthusiasm and dedication. She has extensive knowledge of hairstyles, tattoos, and beauty and has made a career out of creating informative articles that appeal to women and men of all ages.
SUBSCRIBE TO OUR NEWSLETTER
Subscribe to our mailing list and get interesting stuff and updates to your email inbox.