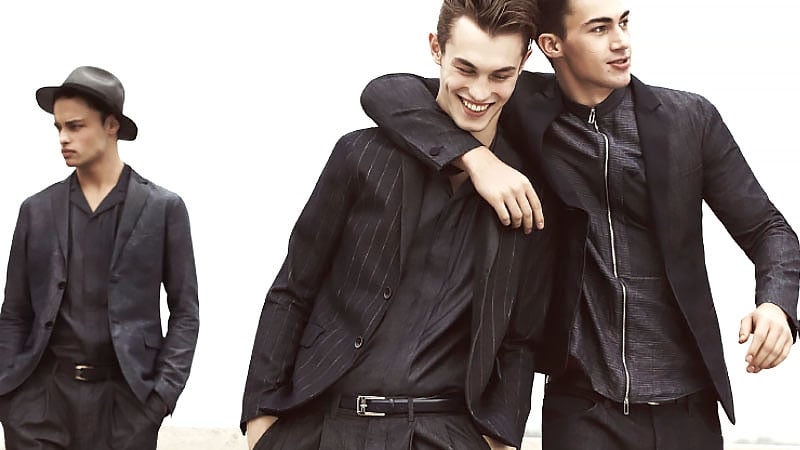 No matter where you're going, there is an all black outfit to suit any occasion. Dark shades will have you looking sharp, even if you're in a casual setting. This is a versatile color combination that works for every guy's personality, no matter the season. Whether you love luxury goods or you prefer streetwear, here's how to wear all black outfits with style.
All Black Outfits
Black Coat
Elevate your winter outfits by pairing black with black. Wear a rollneck with a coat, jeans, and a beanie, and you'll be ready to tackle the cold weather. You could also replace a rollneck with a T-shirt or button-down if you're on your way to a smart casual event. Opt for outerwear that hits below the knee so you can stay warm and look like you've stepped off the runway.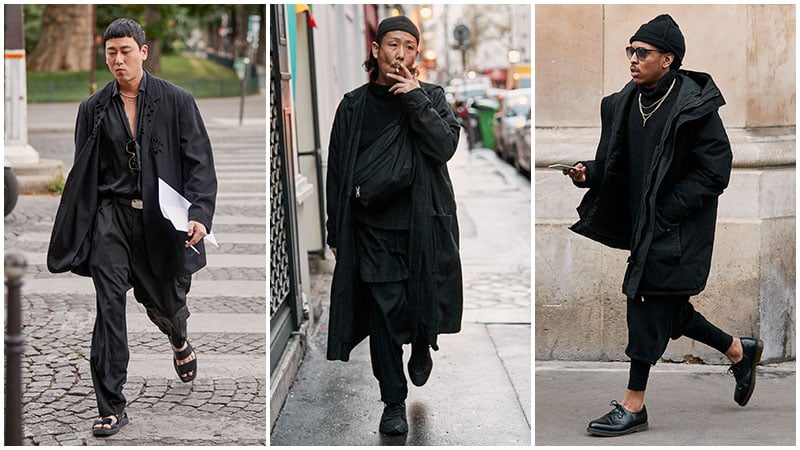 Black Suit
Go to a work event or a wedding in style with an all black suit. Sleek and sexy, these items of clothing are perfect for almost any occasion and can be dressed up or down. Pair the ensemble with a T-shirt and black sneakers for smart casual events or rock a roll neck for business-related functions. This is an excellent option for the colder months, and you can mix and match your getup the whole year-round.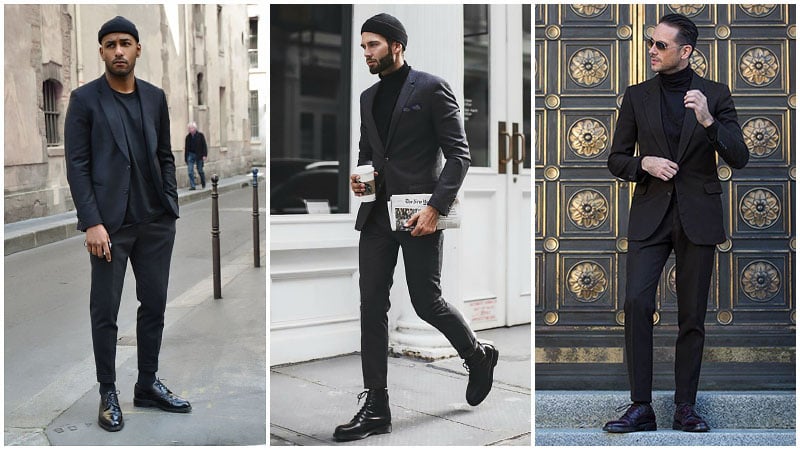 Black Shorts
If you're transitioning between seasons, adjust your body temperature with a leather jacket and dress shoes or stay chilled with a basic T-shirt and sneakers. Choose to wear an all black printed shirt with your shorts, or stick to a solid color. When the sun is beaming, you can look fresh as a cucumber in these getups.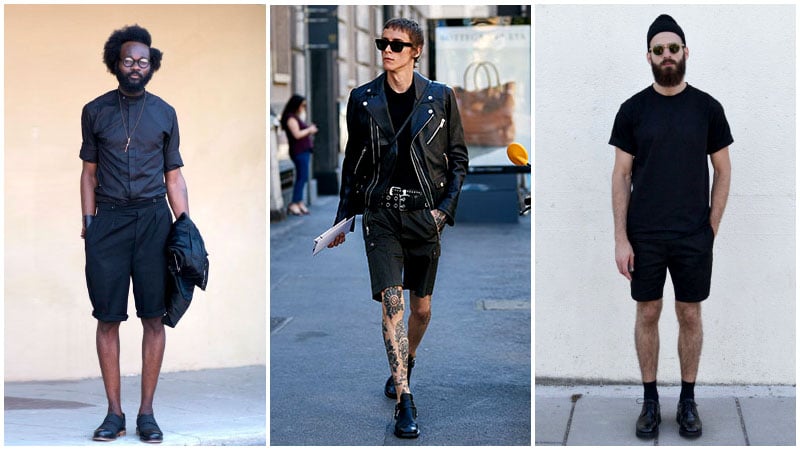 Black Ripped Jeans
Put an edgy spin on your everyday outfit with a pair of ripped jeans. From a small tear to a gaping hole, the punk-inspired denim looks great with almost anything. Complete your look with a T-shirt and Chelsea boots, or a roll neck and combat boots. You can also find ripped jeans with some embellishment on the pockets for the ultimate badass feel.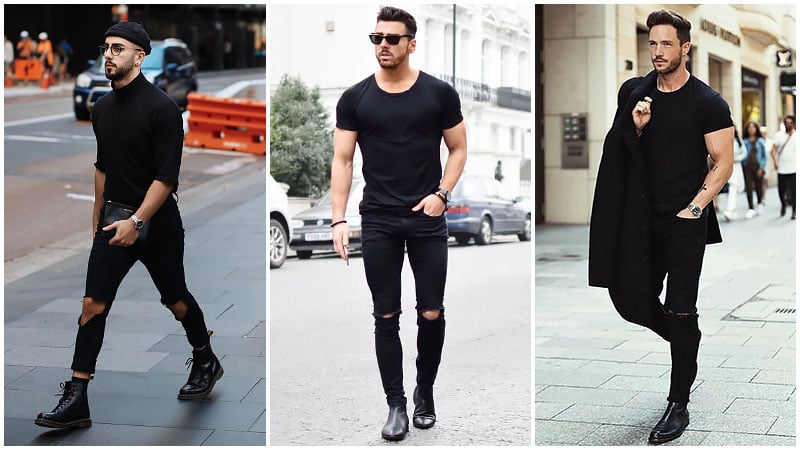 White Sneakers
Add a touch of contrast to your all black outfit by rocking a pair of white sneakers. Choose from the classic black jeans and a T-shirt or take it to the next level in the tailored trousers and an oversized coat. There are so many ways you can wear it; you can try something new every day.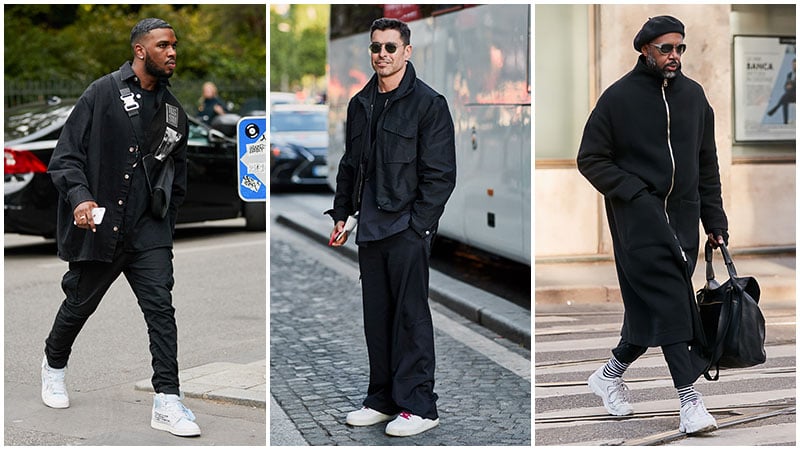 When to Wear All Black
Casual
From black jeans and a T-shirt to a button-down and tailored pants, you can rock these ensembles on the weekends and to casual events. Finish the look with a pair of black sneakers, loafers, or boots for the ultimate laidback aesthetic.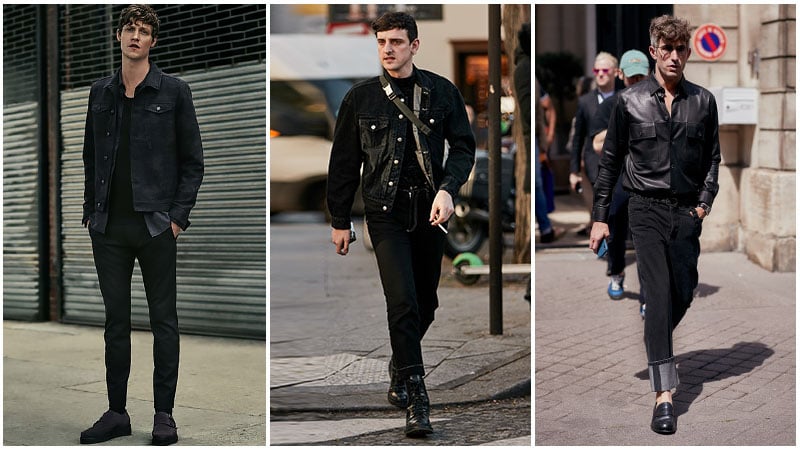 Get the Look
Smart Casual
Dress in style for a smart casual event in an all-black outfit. Stylish and sophisticated, you can wear this getup during any time of the year and look cool everywhere you go. For an evening event, opt for a black T-shirt and fitted pants with a leather jacket. Wearing a monochromatic theme is an easy way to streamline your attire, so don't be afraid to experiment a bit!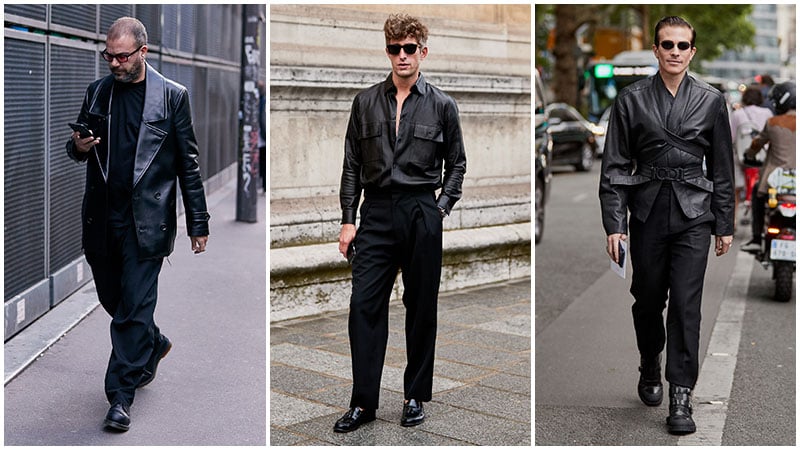 Get the Look
Business Casual
Whether you're heading to a meeting or a work Christmas party, you can't go wrong in an all black business casual ensemble. From suit pants with a roll neck jumper and coat in winter to a button-down shirt and chinos in summer, there's a myriad of ways to wear these looks.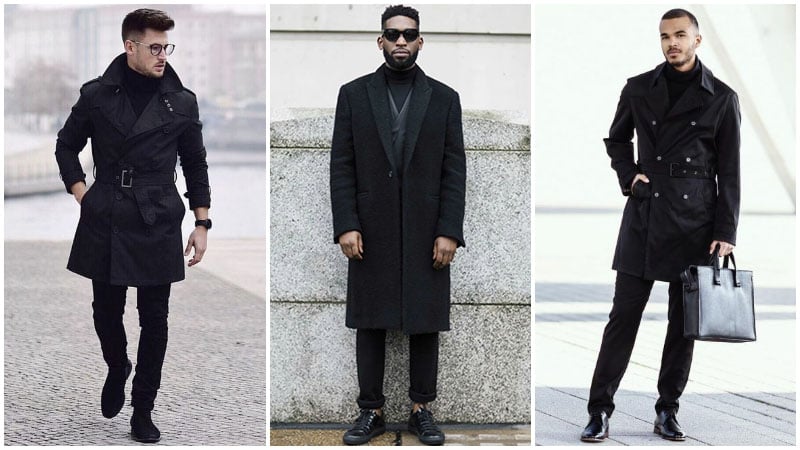 Get the Look
Formal
Be your classiest self in a sleek and sexy all black formal outfit. A monochromatic suit, tie, and shirt is an easy way to streamline your entire ensemble. As a timeless piece of clothing, wear a simple blazer and trousers – complete the look with a pair of dress shoes and subtle accessories for the most refined aesthetic. Whether you're on your way to the races or a cocktail event, you'll look extra sharp in this getup.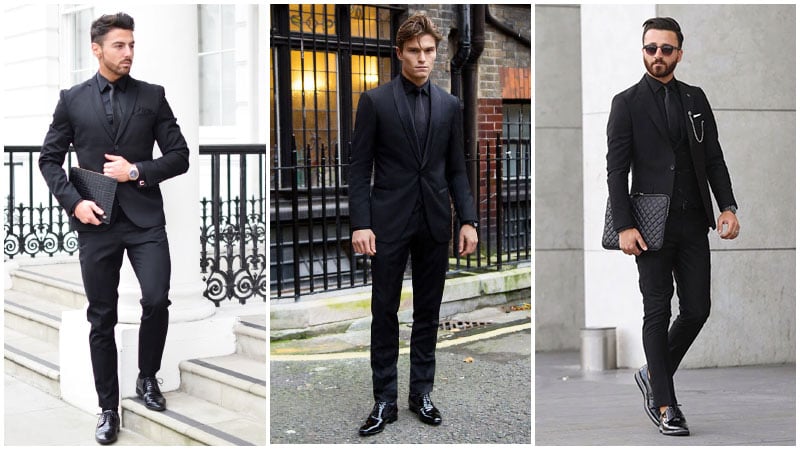 Get the Look
How to Wear All Black
Dress an outfit up or down by swapping out sneakers for dress shoes.
A black suit and tie is a timeless option for a formal event.
Put an edgy spin on your outfit by wearing ripped jeans.
A T-shirt and a blazer is an easy way to go from casual to smart-casual events.
You can wear an all-black in every season. Swap out jeans for shorts for an instant summer upgrade.
FAQs
Do all-black outfits look good?
All-black outfits make a bold style statement and they can look fantastic when styled correctly. Because there's no variation in the color palette, the cut of the clothes, the textures, and the proportions need to be precisely calibrated to create a sense of shape. 
Is it acceptable to wear all black?
It is acceptable to wear all black in almost every situation, from casual to business and even weddings. 
How do you wear an all-black outfit?
When putting together an all-black outfit, vary the materials and textures in the clothes to differentiate each piece. For example, pair a smooth, tailored black suit with a wool turtleneck. When it comes to casual all-black outfits, take your cues from streetwear and layer pieces of different lengths and silhouettes. These styling techniques create a sense of visual contrast, proportion, and movement, which will stop your outfit from appearing like one solid mass or giving you the 'catsuit' effect. 
What black clothes mean?
A staple neutral in every wardrobe, black is slimming, eternally stylish, and suits everyone. Wearing all-black clothes says that you are ambitious and take fashion seriously, as it is one of the trickiest looks to get right. An All-black outfit can also have an edgy feel, as black is often associated with the Goth subculture and streetwear.
SUBSCRIBE TO OUR NEWSLETTER
Subscribe to our mailing list and get interesting stuff and updates to your email inbox.