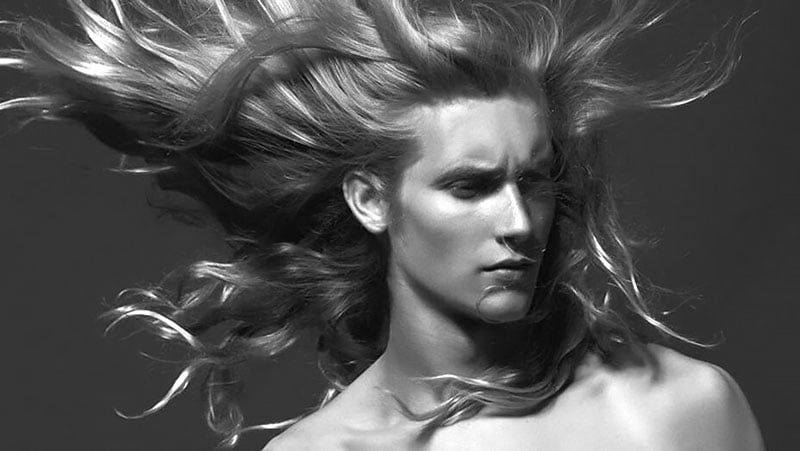 Once considered only popular among rock gods, surfers and skateboarders, the community of long-haired men continues to rapidly gain members thanks to its inclusion of businessman, actors and models. From shoulder scraping styles to manes that fall past the shoulder blades, the true virtue of long hair is its adaptability. Whether it's pulled back, worn with texture, or dramatically parted, long hair can be styled for the most formal of occasions, or be windswept and perfectly dishevelled for the day to day. Long-haired gents looking for inspiration, look no further.
Related: 100 Long Hairstyles Ideas For Men With Luscious Locks
1. The Slicked Back
Seen most recently at NYFW for John Elliott, the slicked back hair is having a serious moment. For guys with medium-long locks, the slicked back look is as easy to achieve as it is suave. A more undone alternative to a bun or pony, the slick back works as well with a tailored suit as it does with street wear. For fine hair, a high-shine look is optimal and can be achieved by raking fingers through clean hair using a medium hold wet-look gel. Guys with curly or textured hair can also rock this look by sweeping the front section of hair back with a pomade or mousse for greater hold. Curls can be left largely intact, or broken up slightly for a more worn-in feel.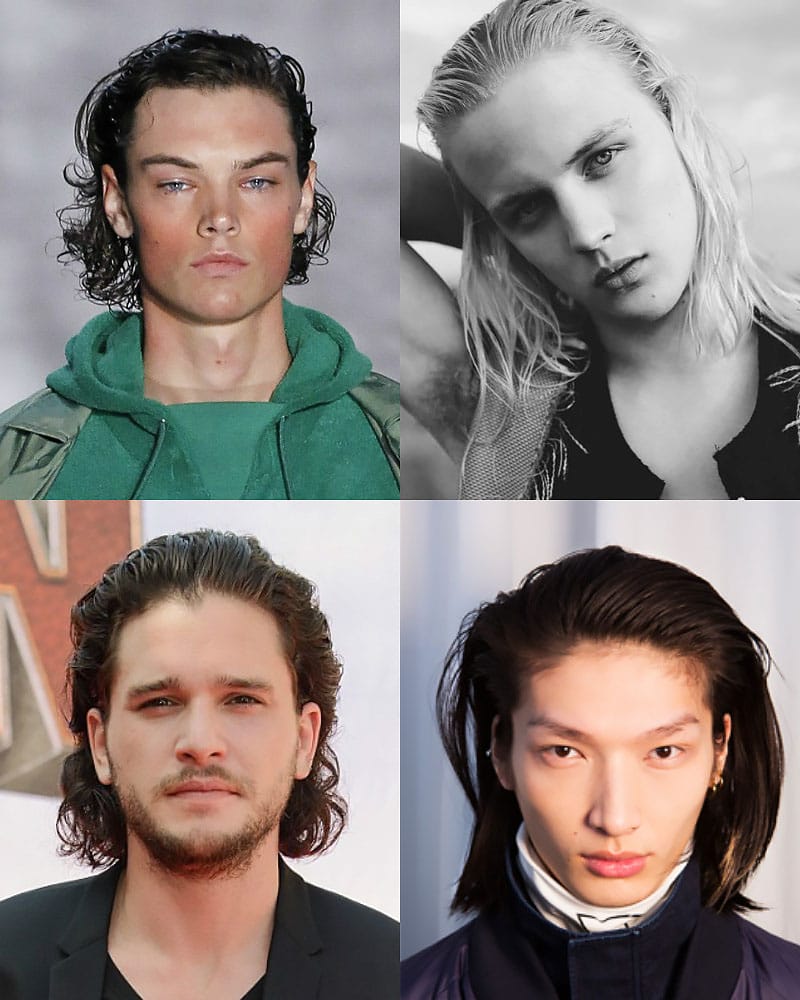 2. The Ponytail
For those in-between days or for the man at work, a pony is an easy and quick way to style longer hair. Pulling hair back with a  drop of serum to ensure maximum shine, one can either conserve the natural part or pull hair directly back for a slightly more dishevelled appeal. Tying the tie over twice or three times for hold and comfort, the world is really your oyster in terms of slickness for this look. To stop the look from feeling too restrictive or severe, leave a few strands near the front to fall by the face or be tucked behind ears.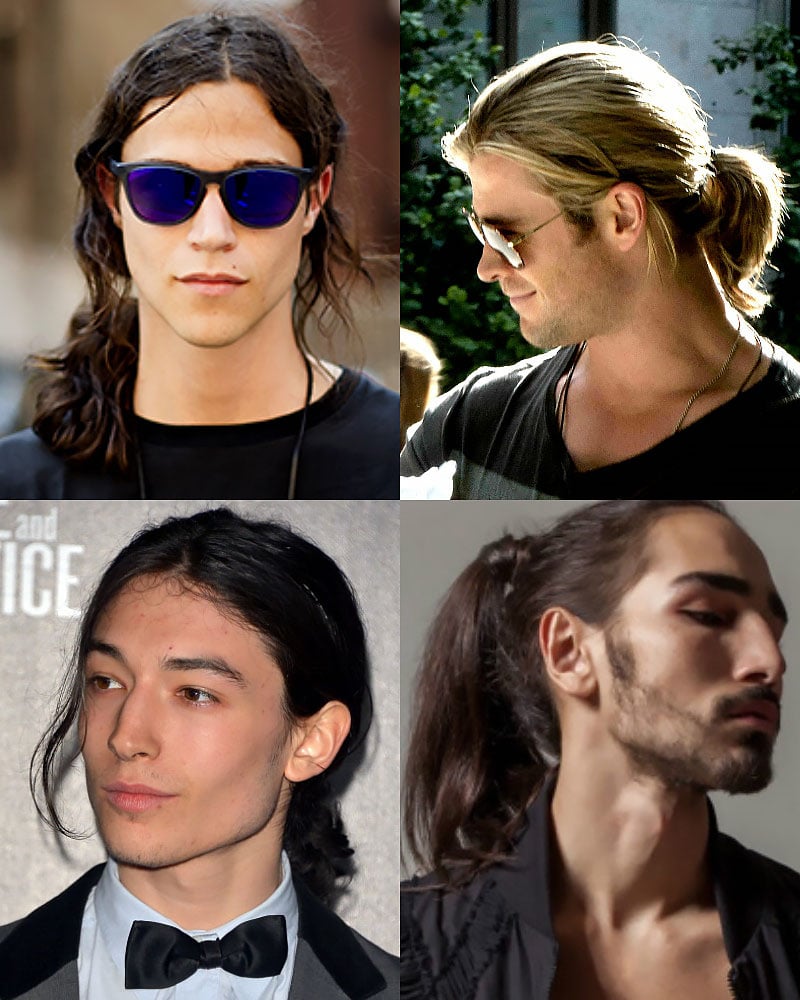 3. The Textured Waves
This down-and-out style is all about texture and dimension. Popularised by Harry Styles, the look features a deconstructed pompadour and waves of a medium texture and density. This look is wearable for almost any face shape but is best suited to those with some natural movement and a layered cut. To replicate, apply a styling mousse to clean damp hair, scrunch liberally and either leave to air dry or dry with a diffuser directing the front section of hair backwards. Then once hair is almost completely dry, take the front section and lightly back comb before setting with a flexible hairspray. With a playboy appeal and youthful vitality, this is the hair of heartthrobs.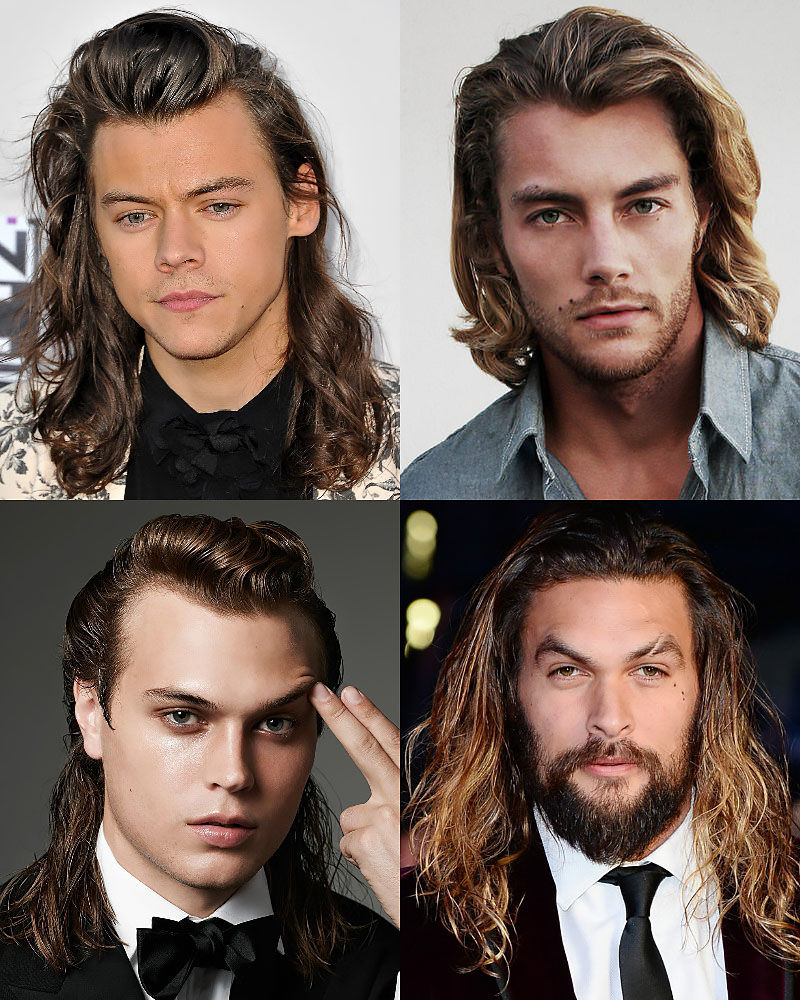 4. The Man Bun
A modern classic, the man bun isn't going anywhere. As versatile as it is current, buns are universally flattering and can be altered and customised according to face shape. Comb hair back with fingers and secure with a tie, allowing some tips to stick out for a relaxed appeal. The length of your hair will determine how high or low you can wear your bun, but for best practice aim for just below the crown of the head, with some hair at the nape of your neck curling free.
While guys with defined bone structures are able to wear the look as slick as they like, for the most part, a looser bun is most flattering. For an artfully messy man bun, slide the end of a comb underneath the top to loosen sections of hair around the face slightly. A wax or a holding spray can be used to control fly-aways and excessive fallout, and for added texture near the crown use a texturizing spray liberally on the roots. Best deployed around day two or three after washing your hair, the man bun is weekend-casual, tidy and chic.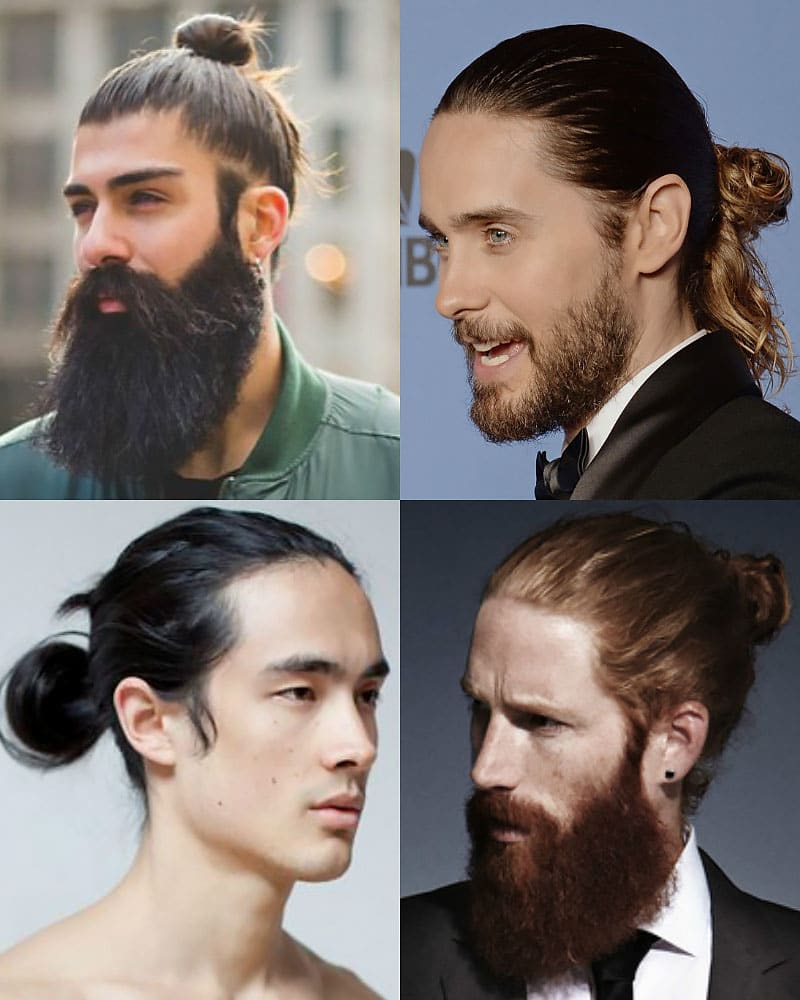 5. The Parted
Often a look associated with short hair on men, a crisp part can be incredibly striking on a longer mane. Centre parting is best left to the very symmetrical and those with straighter hair. To get an arrow straight part, take a fine toothed comb to freshly washed hair and draw a sharp line from the centre of the hairline directly back before running fingers through ends with a drop of serum. An option for guys with softer features and more textured hair is an indistinct side part. Guided either by natural cowlick or preference, sweep the larger section of hair to one side and train it to stay in place by tucking it behind your ear. To create extra hold use a dry texturing spray on the roots, and define the part near the face with a loose hold wax — ultimately, however, this is a style that is best worn with a little movement, so tread carefully. Bringing a touch of maturity to longer strands, the parted look is one of masculine distinction.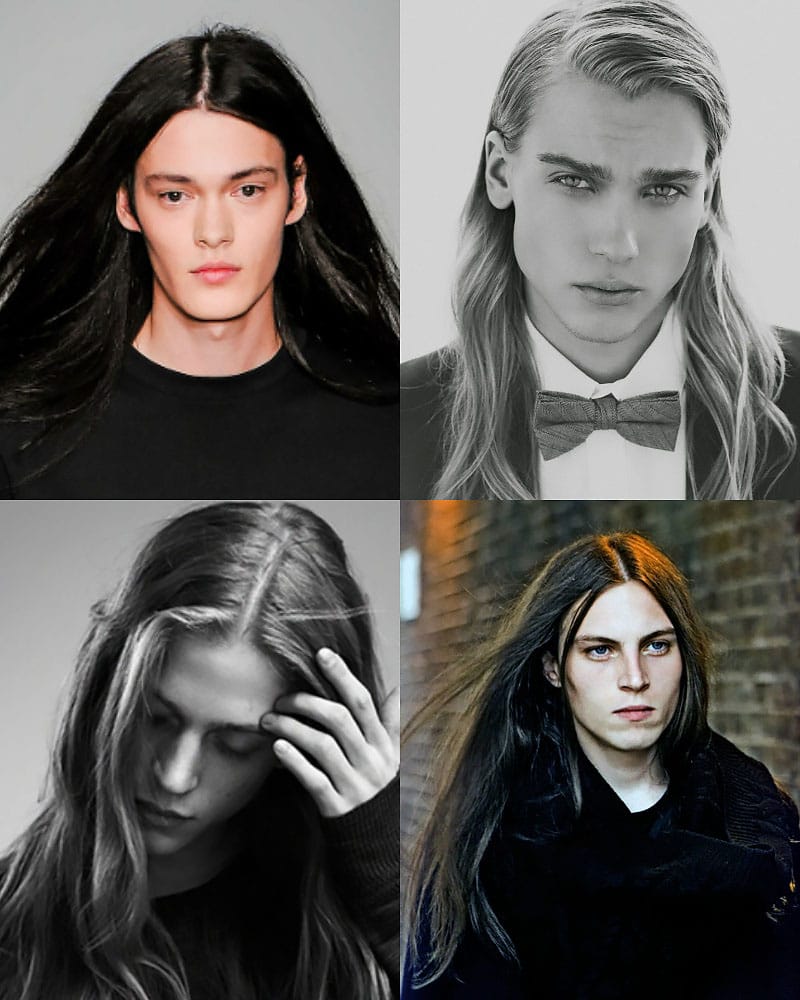 6. The Half-Up
The drama of loose hair meets the sleekness of a man bun. With jawline and neck completely visible you're scoring serious points with the ladies and keeping hair off your face – a win/win. A mainstay of the long-haired man and recently put back on the map by Chris Hemsworth in his turn as Thor, when worn with longer strands this look is most striking. For the half-up, pull the top third of hair back into a tie and loop over into a knot, allowing some movement by not securing too tightly. Most androgynous with day old hair, keep the look devil-may-care by working some dry shampoo into the roots and spritzing ends with water or sea salt spray.