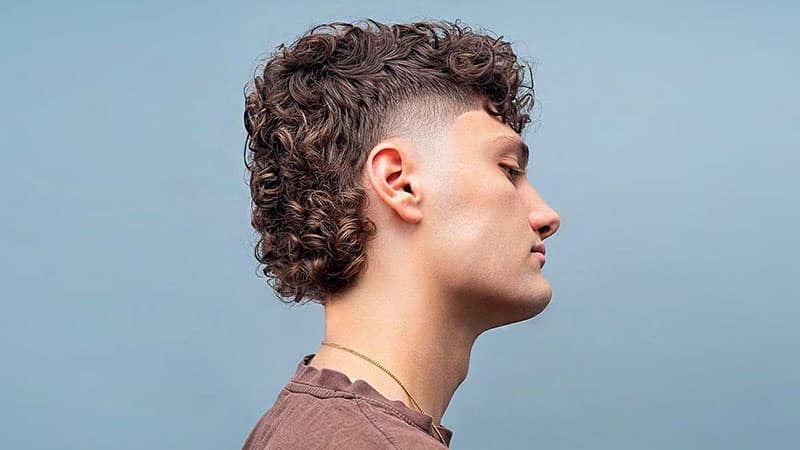 For the daring among us, a permed mullet is the ultimate choice. There is no denying this hairstyle takes some serious confidence to pull off, and the mullet is not generally considered an office-approved look. What it is, though, is expressive and fun, letting you play up proportions and experiment with finishes. It works with all textures, but you need a perm to enhance your style. This will create brilliant curls, softening the transition in length (making it more wearable) and giving you that volume and fullness you have dreamed of. Keep reading to find the perfect permed mullet haircut for inspiration for your next barber visit.
RELATED: 35 Modern Mullet Haircuts for Men in 2023
1. Permed Mullet With Undercut
Do you love the idea of rocking a mullet (keeping the hair shorter on the top and sides but longer in the back) but want to give it a modern twist? Well, the good news is this somewhat controversial hairstyle is nothing if not adaptable. Pairing it with an undercut will add to that rebellious and edgy look that you're after. The difference in length between the sides and the hair on the top and back give you a more structured finish.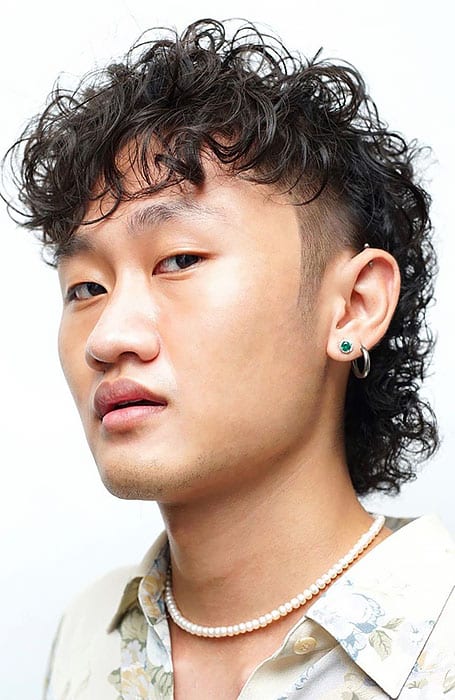 2. Permed Mullet With Taper Fade
Enhance your curls even more with the permed mullet and taper fade combination. The best thing about this look is that you can embrace the movement and volume of the perm while also finding an expressive and fun hairstyle. The mullet is surprisingly flattering on most men, and the taper fade will gradually shorten your strands on the sides. This will give you the perfect balance.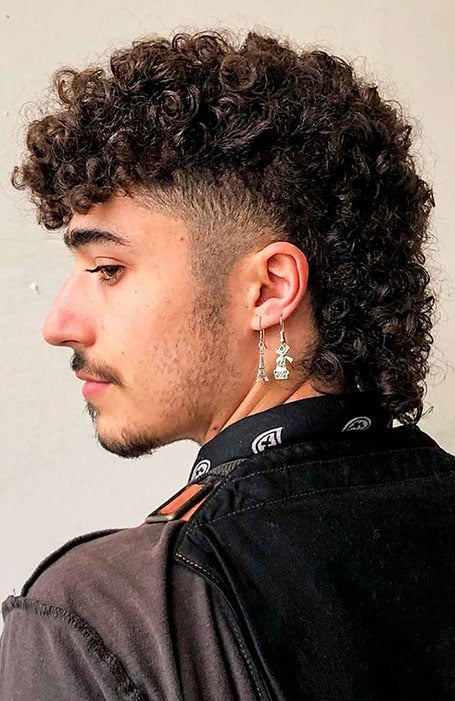 3. Permed Mullet With Skin Fade
The skin fade is one of the more noticeable faded hairstyles because, as the name suggests, it shortens your strands all the way to skin level. This is a great option for men who want an edgy and daring finish and can be paired with many looks. Wearing it with a permed mullet will let your curls shine and become the center of attention!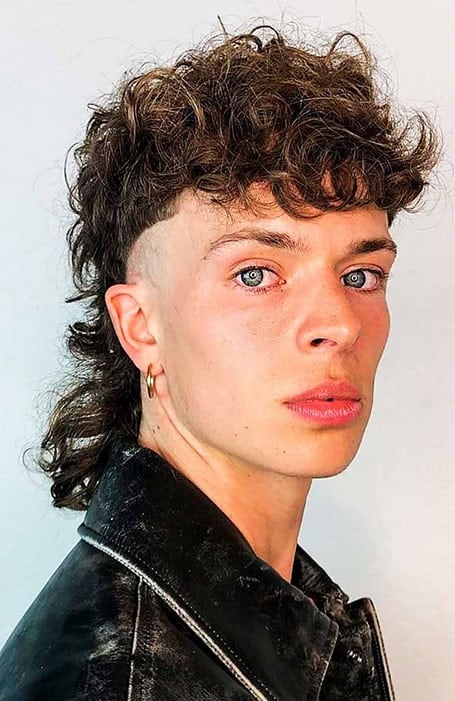 4. Permed Mullet With Bleached Hair
Bleached hair is the ultimate way to ensure you stand out from the crowd. For men who want to experiment with their strands and try out a bright new color, this is a guaranteed way to get you and your strands noticed. Combining your voluminous permed mullet with a daring hue will give you ultimate cool points. Just be sure to stock up on styling products to keep it looking its best and prevent dryness.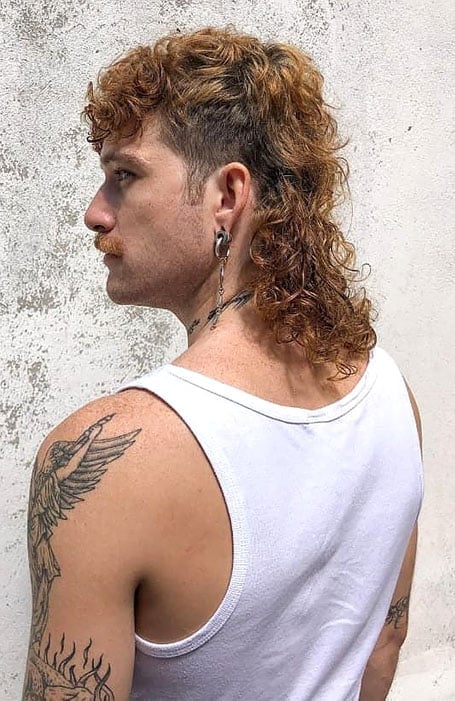 5. Permed Mullet Tail
There are some versions of the mullet that are modern and easier to pull off, and then there is the old-school option that features a very visible tail. It is pretty darn cool and, yes, a bit limiting in where you can wear it (this is definitely not an office-approved look)! What it is, is the ultimate hairstyle for men with bucketloads of confidence! The longer length in the back makes for a pronounced the mullet!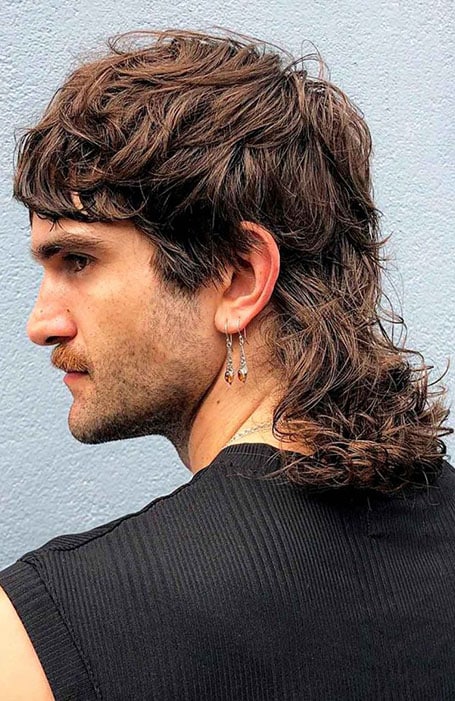 6. Permed Mullet Wet Look
For the daring among us, the permed mullet is all the rage! It is a hairstyle that lets you show off your personality, play up proportions, and will be super eye-catching. You don't need to make it more eye-catching. But you can do this by opting for a wet look, which can be achieved using pomade or gel. Will you look like you've just emerged from the sea? Possibly. But this approach to styling also makes for a more sleek finish.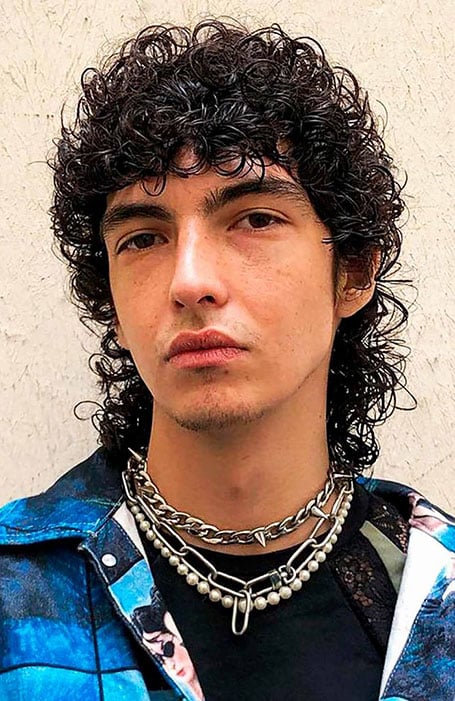 7. Short Permed Mullet
There is no better way to get your mullet noticed than by perming it. The appeal is the voluminous curls that it creates, which will make your strands look fuller, thicker, and totally luscious. A short hair mullet is a great way to try out the hairstyle, but without having too much contrast in length; this makes it easier to pull off and will have an effortlessly cool and slightly rebellious finish.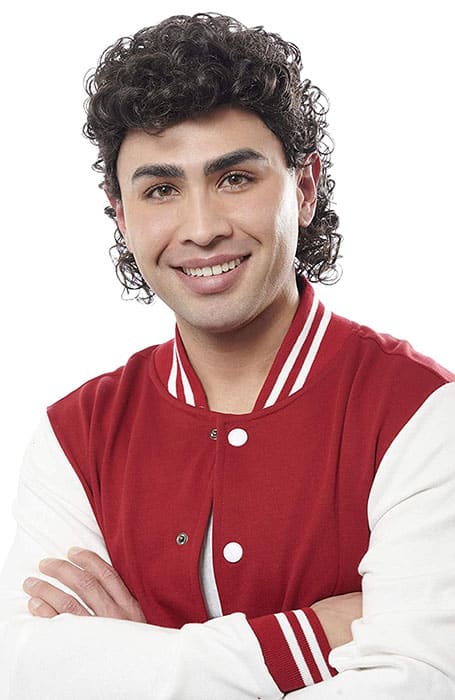 8. Long Permed Mullet
The mullet has never been a mainstream haircut, but that could change. The reason? It is effortlessly cool to wear, and although it is not exactly professional, it is expressive and fun. It can be worn with multiple textures, and there are various ways to adapt it to make it feel modern and unique. For those who want a noticeable tail, keep your strands longer, making the difference in length from the top to the back more visible.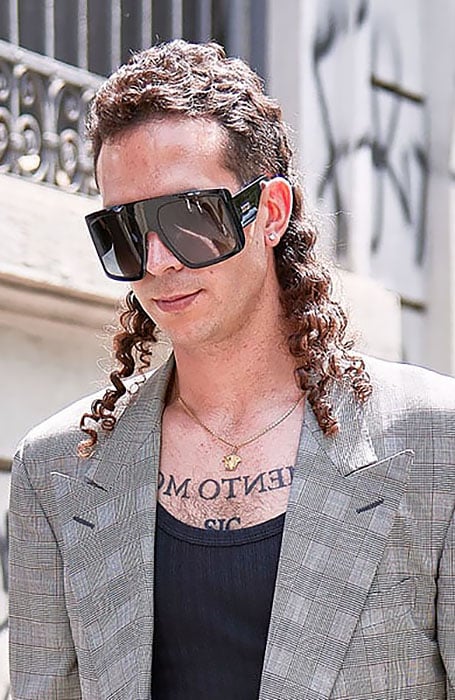 9. Korean Permed Mullet
The mullet hairstyle has been making a bit of a comeback lately, and men worldwide have embraced it. For a good reason, the Korean hairstyle has influenced many hair and beauty trends. So you can also try out this stylish approach to the mullet. It feels far more polished than some of the other options, which makes it easier to wear and will be more flattering. Remember, the shorter the hair, the less pronounced the tail will be.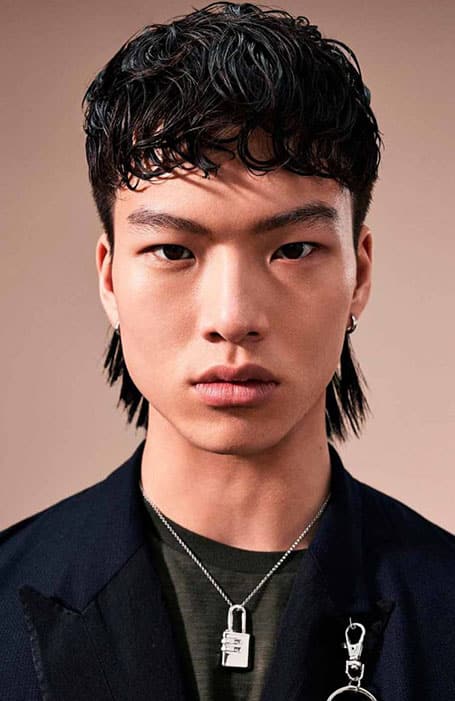 10. Permed Mullet With Volume
Say goodbye to flat hair and help to volume with a permed mullet. The traditional perm is not for everyone, but something good can be said about it: how it gives your strands movement and makes it look full and healthy. The mullet is all party in the back and professional in the front, and the length will let you show off your texture.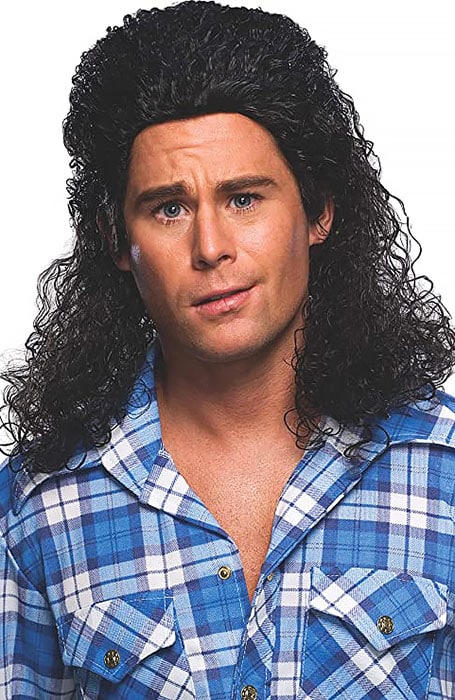 How to get a Permed Mullet Haircut
The permed mullet combines edge and volume and is the ultimate look for men wanting to try something different. The best part about this men's hairstyle, which is defined by the tail in the back and the shorter strands on the top and sides, is that it is super expressive and daring. It is not for everyone and is not a mainstream-approved look. But this makes it even more appealing for those who want something different. If you are looking to stand out from the crowd, then it's time to learn everything there is to know about how to get a permed mullet haircut. Watch the YouTube video below to be inspired!
Permed Mullet FAQs
How long does a permed mullet last?
How long a permed mullet will last depends on several factors, but the general answer to this question is for around three to six months, depending on your hair texture. This is good news because the process of achieving a perm is laborious and can even be damaging to your strands. You will also want to touch up the haircut to keep it looking fresh.
How much is a mullet perm?
How much your mullet perm will be will depend on your hair length and texture. It could increase the cost if you want something added to your look, like a fade. You are looking to pay as little as $50 and as much as $200.
Should I perm mullet?
If you are wanting to add volume and fullness to your mullet, then definitely consider a perm. The curly texture can also be incredibly flattering as it softens the transition in length between the top and sides with the back of the hair. While this look is not for everyone, it can be very expressive.
How long does your hair have to be to get a permed mullet?
You will need at least two inches of hair for a perm to work properly. The mullet hairstyle will also look more pronounced with the longer length, as there will be a more visible contrast in length from the top and sides to the back of the hair.
How do you perm a short mullet?
If you have a short mullet and are wanting to perm it, never fear. There are options for perming short hair. The right hairstylist will talk you through the process and tell you how long your hair should be for the best results. In general, a mullet will require more than two inches to pull off the style and show off the proportions anyway!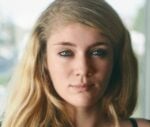 Cailyn Cox holds a degree in journalism and has been working with The Trend Spotter as a writer for over ten years. She has worked with some of the most prestigious women's and men's lifestyle publications. For her, writing is not just a job; it's a passion, which is why each article she writes is approached with such enthusiasm and dedication. She has extensive knowledge of hairstyles, tattoos, and beauty and has made a career out of creating informative articles that appeal to women and men of all ages.
SUBSCRIBE TO OUR NEWSLETTER
Subscribe to our mailing list and get interesting stuff and updates to your email inbox.