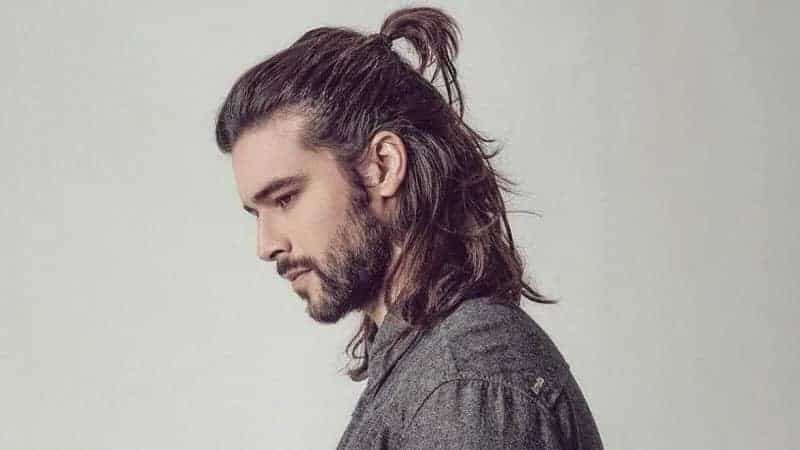 A ponytail has long been a favorite hairstyle and is more versatile than you may think. The classic ponytail is a simple look that is practical and stylish and can be created within seconds, but it is not the only option. Some styles are fresh and modern and require more time and detail to complete. Whether you want a messy and unstructured finish or an edgy and rebellious look that includes braids and an undercut, there is something to suit every preference. In addition, the ponytail looks great on men and is incredibly flattering and youthful. It will also work well on all hair textures and can be created on various lengths. Are you looking for inspiration for your next style? These ponytail hairstyles for men are some of the best looks there are!
1. Classic Ponytail
There are many approaches to the ponytail hairstyle, and its versatility is what makes it appealing. The classic ponytail will be low or mid-length and requires medium length hair to create (although it can be adapted to suit shorter or longer hair). It is a simple look that you within seconds and needs no special equipment, making it easy to replicate even for beginners. Pull the hair back at the front and let it fall naturally. It could appear messy and unstructured, or neat and polished.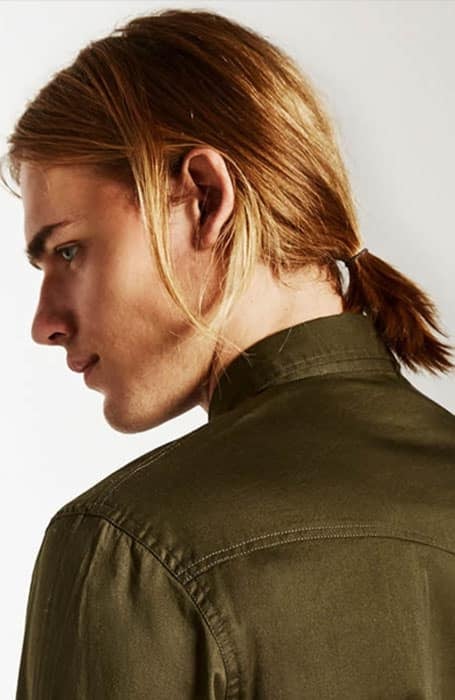 2. Ponytail with Loose Strands
Styling your ponytail with loose strands that fall against the face will give you a youthful appearance. It is also ideal for softening the face and is extremely flattering. Choosing this deliberately unstructured and messy approach to styling will show off your hair texture better. This ponytail can be created with hair of all lengths but medium-length hair will have the best results and be the easiest to style. You can also pair the ponytail with facial hair, like a full beard, to create a brilliant contrast.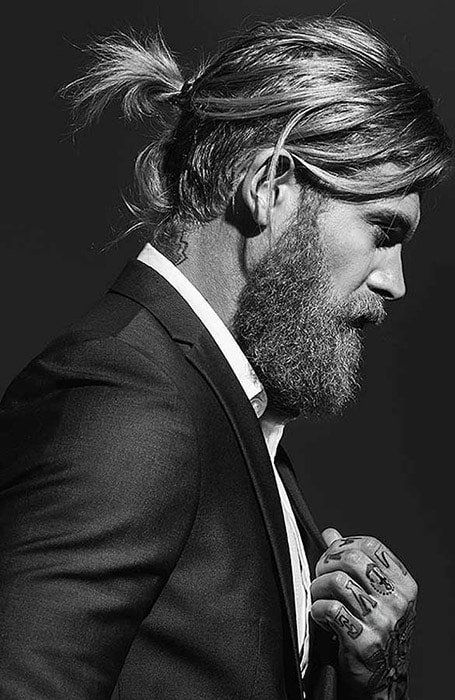 3. Ponytail with Box Braids
Box braids are a protective style that has square-shaped divisions that give the hair its boxy appearance. This is a great look for men who want to take a break from heat and chemical styling and reduce their daily grooming time. At the same time, box braids can aid natural hair growth. You can style them with various thicknesses and lengths and wear box braids loose or in an updo, including a ponytail. The ponytail will keep the hair out of your face and highlight it.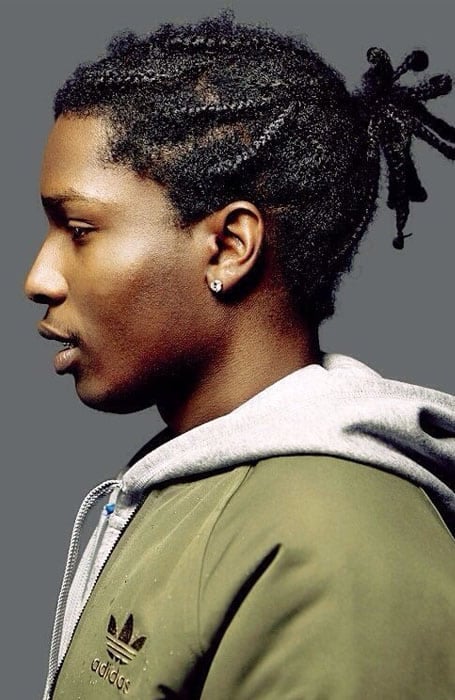 4. Ponytail with Wavy Hair and Undercut
Wavy hair is one of the most sought-after textures because it looks full and healthy. The waves can also be incredibly flattering because they can soften sharp features and make even the simplest style appear more interesting. If you are looking for a modern and slightly rebellious way to style your wavy hair, pair it with an undercut. The undercut will remove weight and volume from the hair and create a brilliant contrast with the hair on top and at the sides.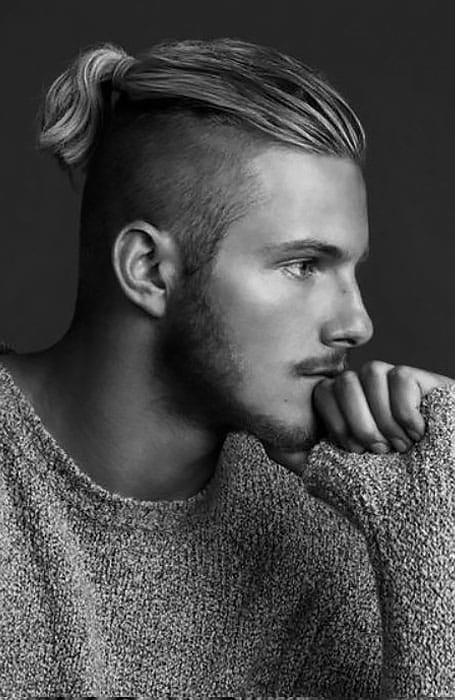 5. Braided Ponytail for Men
Man braids have become popular in recent years and will create a rebellious and modern look. There are many braided styles to choose from, including simple three-strand plaits. The appeal of braids is that they can be worn with all hair textures. You will need medium to long hair to be able to pull off this look as the braiding pattern is intricate and will require length. To create contrast and give the hair structure, pair it with a fade or undercut.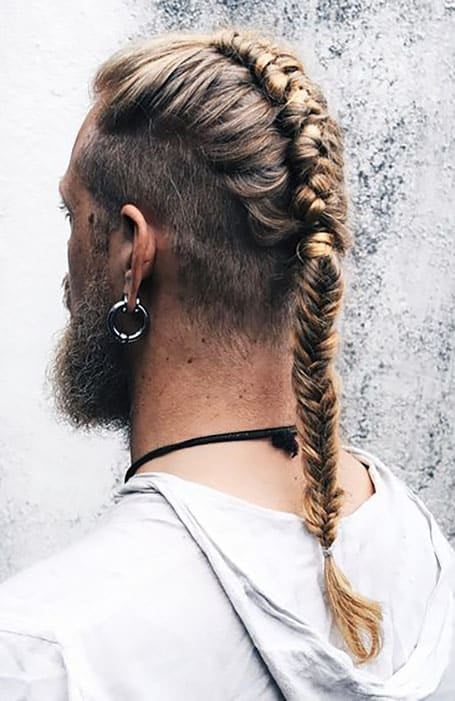 6. Ponytail for Asian Men
The ponytail is a simple but cool hairstyle that can be worn by men of all ages and will complement all hair types. Asian hair can differ in texture and appearance, but in general, it has a straight texture and is thick. If you are looking for a fresh way to style your hair, the ponytail provides many choices. This includes the classic approach which is done by brushing the hair backward and securing it in a low ponytail.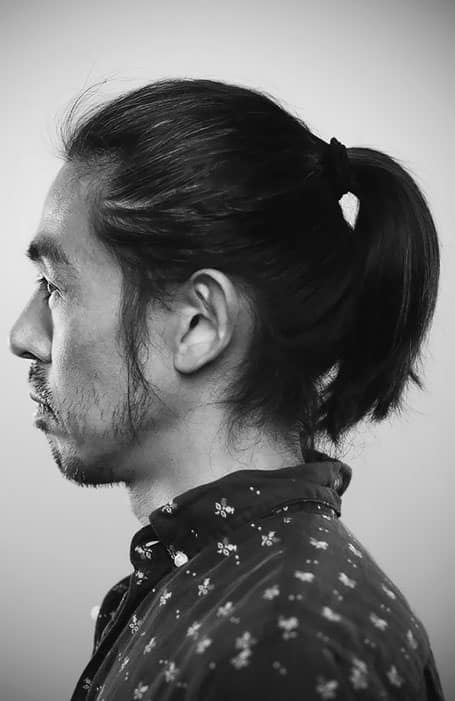 7. Ponytail with Dutch Side Braids
The Dutch braid is a popular three-strand plait that is created using the underhand braiding technique. This gives it a raised appearance. It is stylish and incredibly versatile as you can wear it in many ways, including to the sides, or you can incorporate it into a ponytail hairstyle for a more detailed and intricate finish. This is an undeniably cool look that will feel edgy and modern. It is also an excellent way to express yourself and show that you are a man who stands out from the crowd.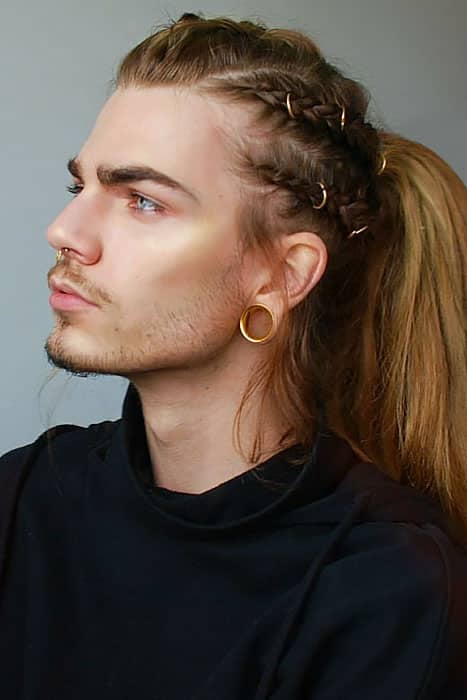 8. Messy Ponytail
There is something incredibly sexy about styling the hair to look deliberately unstructured and messy. This is especially easy to do on hair that is naturally textured, but with the right products and heat tools, it can also be achieved with straight hair texture. A messy ponytail will create a relaxed and carefree aesthetic. It will complement sharp and angular features because the way the hair falls on the face will soften it.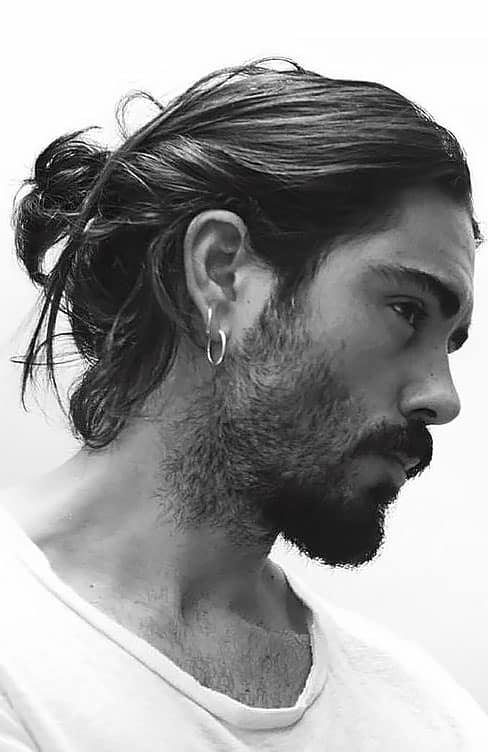 9. Half Up Half Down for Men
The half up half down hairstyle is one of the most versatile ways to wear your hair up. As the name suggests, the hair is worn half up, which is done by pulling the hair away from the face and tying up the top part of the hair. This can be in a simple bun or a ponytail. Or you can get more creative with the styling depending on your preference and skill level. The rest of the hair is left down and will let you show off your hair texture.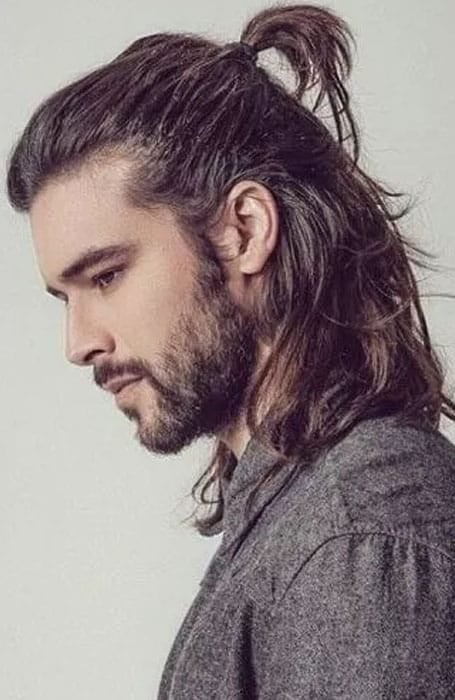 10. Dreaded Ponytail
Dreadlocks are rope-like strands of hair that are expressive and symbolic. Your dreadlocks will require patience to grow and need care and maintenance, but if you are willing to commit, this is an excellent hairstyle. It can also be styled in various ways, including pulling the hair into a ponytail. A dreaded ponytail is a practical option and will open up the face and show off your neck. It can also make you feel cooler and used to style your hair for professional or formal events.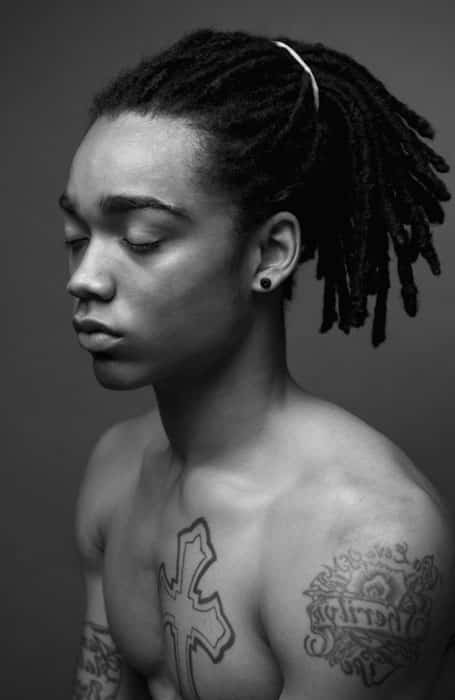 11. Ponytail with Curly Hair
The ponytail is great for all hair textures and is a simple and easy way to keep the hair out of your face. Pulling the hair away from the face can open it up and highlight your features. Curly hair is a brilliant texture and will make your hair look fuller and thicker. To create a contrast, you can sleek back the front of the hair while adding a curl-defining cream to the back to enhance your hair texture.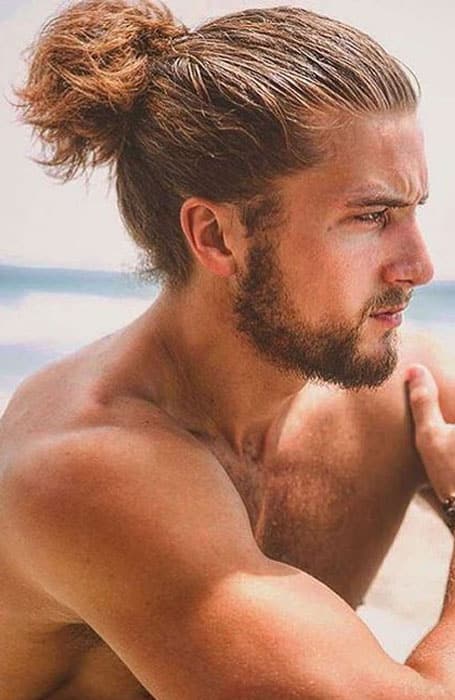 12. Long Ponytail with Taper
There are many ways to style your long ponytail to make it best reflect your style. One such option is to pair it with a taper, which gradually reduces the length of the hair from the top to the bottom. This is an undeniably cool and expressive look and is a great way to give your hairstyle a fresh and modern update. The taper will also create structure and will contrast nicely with the length of your ponytail.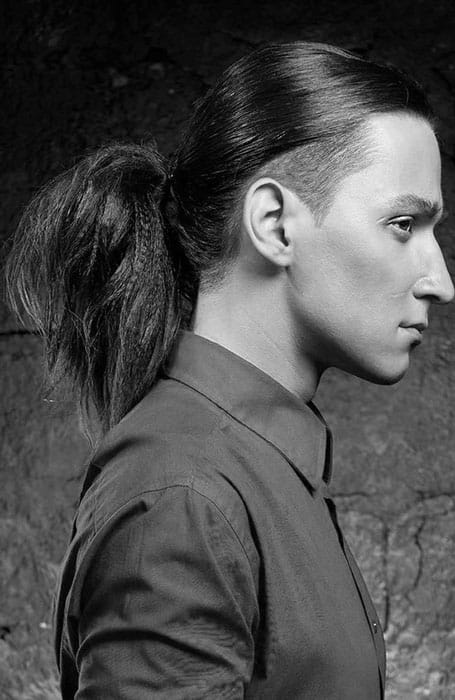 13. Afro Ponytail with Undercut
The ponytail hairstyle is one of the most effortlessly cool looks for men. It is practical and stylish and will work great with all hair textures and most hair lengths. For shorter hair, you can opt for a low ponytail, while longer hair gives you versatility and can be worn high on the head. Afro hair looks great when paired with an undercut which removes some of the weight and bulk and can make styling easier. The undercut will also give the hair structure and make your hair look modern and fresh.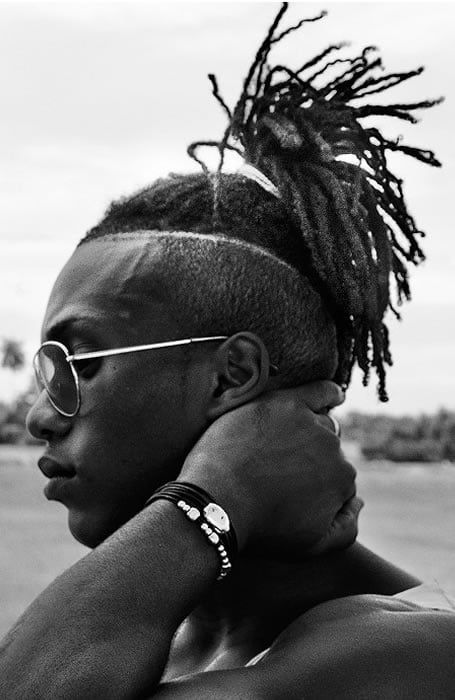 14. Viking Ponytail
The Vikings are celebrated for their skills on the battlefield but their hairstyles have also inspired modern hair trends. A Viking ponytail is edgy and rebellious and will look great when paired with an undercut, fade, or shaved back and sides. These options create a brilliant contrast and make the hair on the top appear fuller and thicker. You can add small braids throughout the hair to create texture and a more interesting finish. This option will also let you experiment with accessories like beads and cuffs.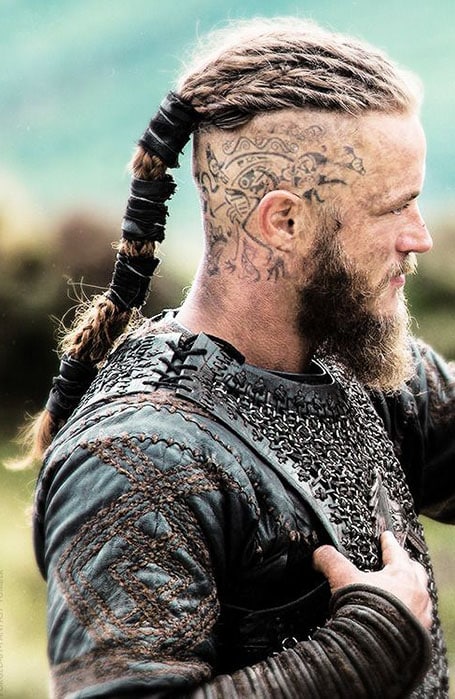 15. Korean Hairstyle with Ponytail
Korean beauty trends have made a huge impact on the hairstyling industry, and one of the hottest looks at the moment is Korean haircuts. One particular hairstyle is a ponytail with a middle part cut short at the top and longer toward the ends. Curtain bangs look great on all hair textures and are flattering for men of all ages because they frame the face and will make you look younger.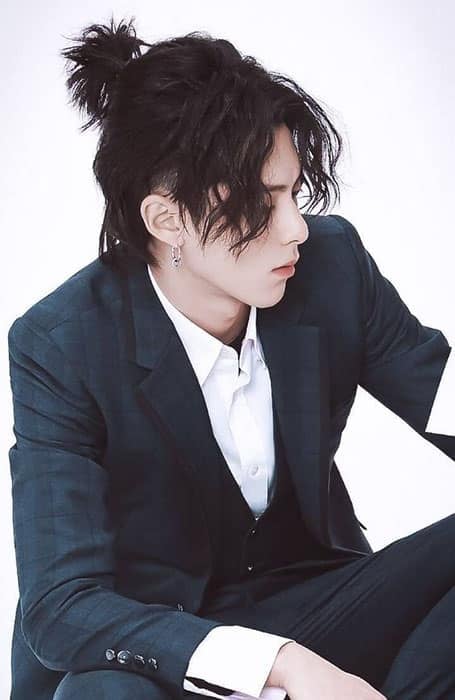 16. High Ponytail
For men who want to draw attention to their facial features and get their hair noticed, the high ponytail is the perfect option. It is incredibly flattering and will make the skin look tighter and smoother to give you a youthful glow. The high ponytail will look great with all hair textures but is especially flattering with straight hair. The texture will give you a sleek, sophisticated finish. On long hair, the style will be more noticeable. It can also be created on short hair for a more subtle look.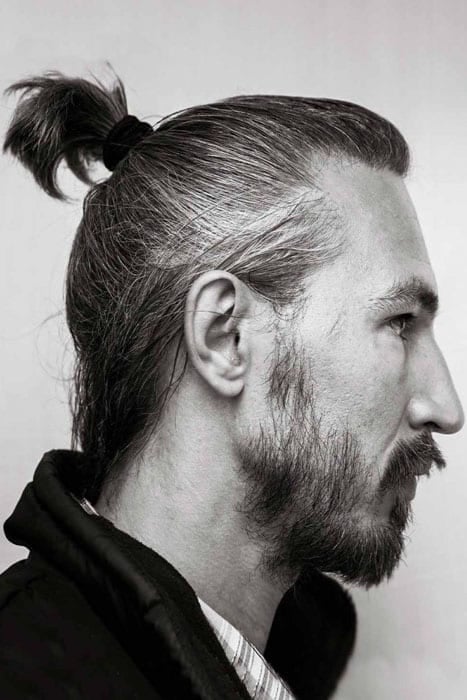 17. High Ponytail with Afro Hair
There are many pros to the high ponytail, and it is a great look for formal events and special occasions. It feels cooler and more dramatic than low ponytails and is great for achieving a sleek and polished finish. The high ponytail can be created on hair of all types, including afro-textured hair. Wearing the hair high on the head with this texture can make the hair appear full and thick, which is very flattering. If you sleek down the front of the hair, it will produce a nice contrast and can highlight your face.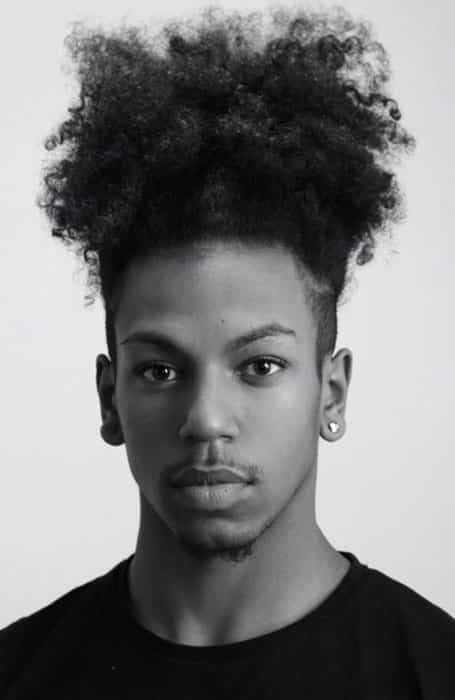 18. Long Ponytail with Side Part
Long hair is great for men and can be freeing and expressive. It also gives you versatility with how you style the hair and will let you experiment with more intricate looks. This is a great way to create something stylish and fresh. You can also style it with different partings or bangs, including a side part. The side part is one of the most flattering options because it balances the features and will complement most face shapes.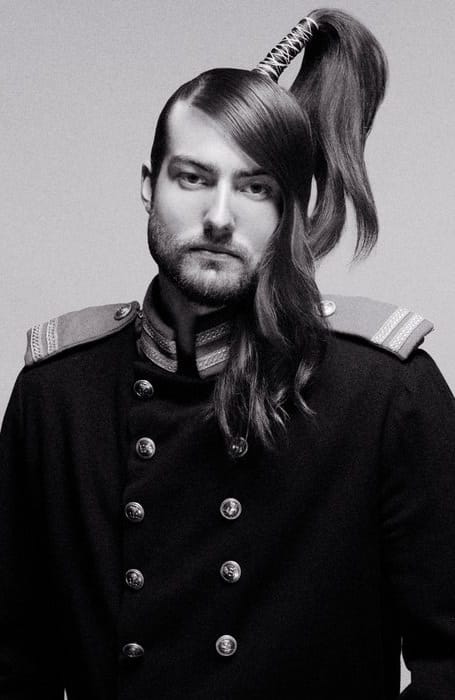 19. Ponytail with High Fade
When you think of the ponytail the classic approach may come to mind, but this is a style that is far more exciting than people realize. There are multiple ways to style the hair depending on your texture, length, and preference, and this includes trying out a high fade with a small, high ponytail. The high fade is a great look for creating structure and contrast. It fades higher on the head, between the temples, and the top of the ears, and is often more noticeable because of the height.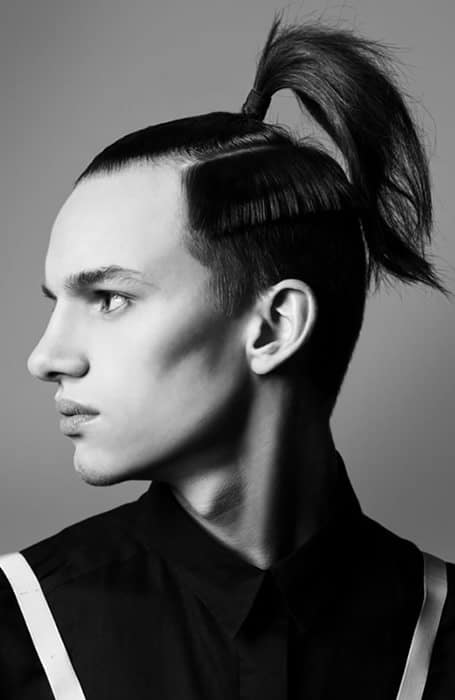 20. Sleek Ponytail with Long Hair
For long, straight hair, one of the simplest ways to style it to have it look sleek and sophisticated is with a half up half down ponytail. This look is incredibly versatile and you can create it with hair of varying lengths. It will show off your hair texture. Ensure the hair is smoothed back at the front to create a neat finish. Your ponytail can be braided, wrapped, or curled to create a contrast in texture, if you so wish.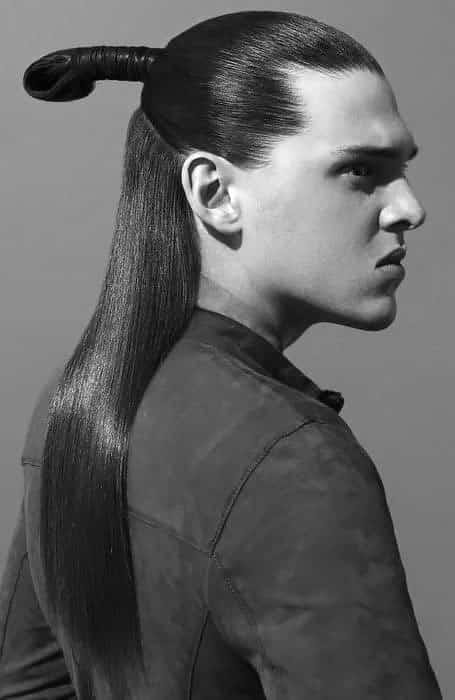 How to Make a Ponytail Hairstyle for Men
There are many ways to style a ponytail hairstyle, including the classic approach to a look that is intricate and detailed. The great thing about this style is its versatility and it can be created on hair of various lengths and all textures. For those who want something simple and practical, a low ponytail or messy look is ideal. Others may want a sleek look that demands attention or choose to pair their ponytail with an undercut for a rebellious and edgy finish. If you have been looking for inspiration on how to create this look, look no further! This YouTube video will give you all the information you need and a step-by-step guide to follow for a basic look.
Ponytail Hairstyles for Men FAQs
What is a male ponytail called?
The male ponytail is referred to as a ponytail. There can be different versions depending on your chosen style, including a box braid ponytail or a ponytail with an undercut, but in general, the term used is simply "ponytail."
Does a ponytail look good on a guy?
A ponytail looks good on men and can be practical and flattering. This is a more versatile style than you may originally think and you do not have to opt for the classic low to mid-length looks but can also get creative with the styling. It can be achieved with all hair textures and most hair lengths, and can be worn with dreads and braids, and paired with undercuts and fades to help you personalize your finish.
How should a man wear a ponytail?
How men wear their ponytails is entirely up to them. The way you style your hair will depend on several factors including the length of your hair, the texture, and your desired finish. Another consideration is your skill level because while the classic ponytail can be completed within seconds, other looks require more time to complete.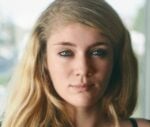 Cailyn Cox holds a degree in journalism and has been working with The Trend Spotter as a writer for over ten years. She has worked with some of the most prestigious women's and men's lifestyle publications. For her, writing is not just a job; it's a passion, which is why each article she writes is approached with such enthusiasm and dedication. She has extensive knowledge of hairstyles, tattoos, and beauty and has made a career out of creating informative articles that appeal to women and men of all ages.
SUBSCRIBE TO OUR NEWSLETTER
Subscribe to our mailing list and get interesting stuff and updates to your email inbox.