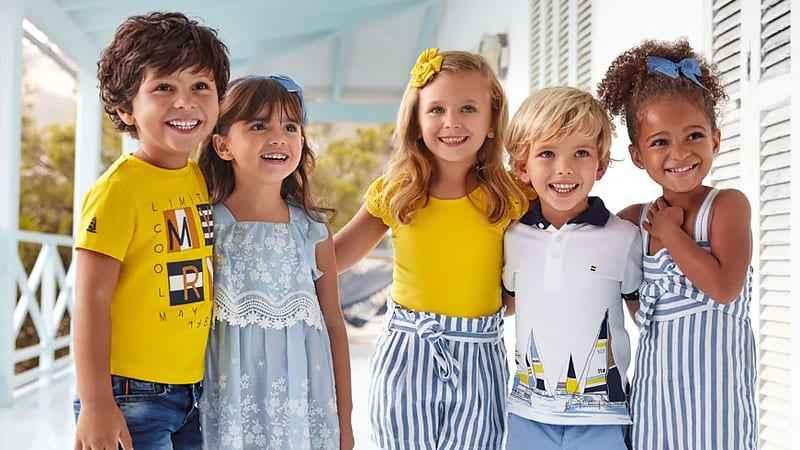 As adults, we understand the power of a good haircut and how it can make us feel, so why should it be any different for children? The right style can give your child confidence and help them express themselves. It can be simple and require little to no styling, making it ideal for busy boys or girls, or it could be a more unique approach with interesting angles, hair designs, and even colors. From looks that are perfect for school and neat and polished to fun and even a bit daring styles that let your little one show off their playful side. We have gathered some of the best haircuts for kids that can be adapted to suit all hair textures and worn at various lengths.
Haircuts for Kids
1. Scissor Cut
You can opt for a scissor cut for a classic approach to getting the hair cut. As the name suggests, this hairstyle is cut using scissors instead of a razor or clipper and will create a more traditional finish. The cut can create texture but will appear natural, making this a no-fuss option for boys who do not want to concern themselves with styling products and grooming time. The cut can be adapted to different lengths but is often worn short and will complement naturally textured hair.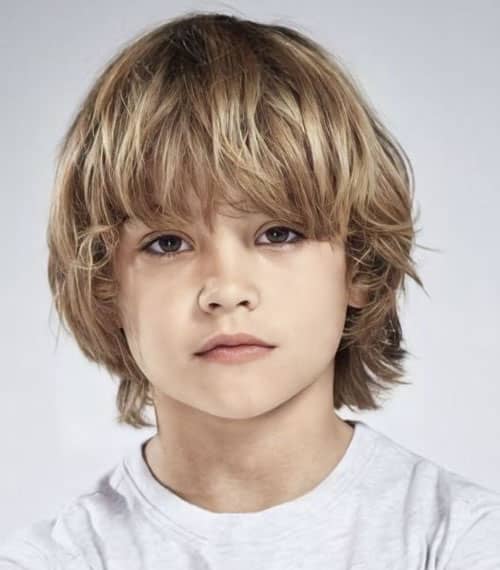 2. Curly Hair with Blunt Bangs
Curly hair is one of the most desirable textures because it has natural movement and volume. It can be more challenging to style and care for than straight hair but looks great when worn long or short. Curly hair is often cut with layers to remove thickness and bulk; however, you should pair your chosen style with blunt bangs for contrast.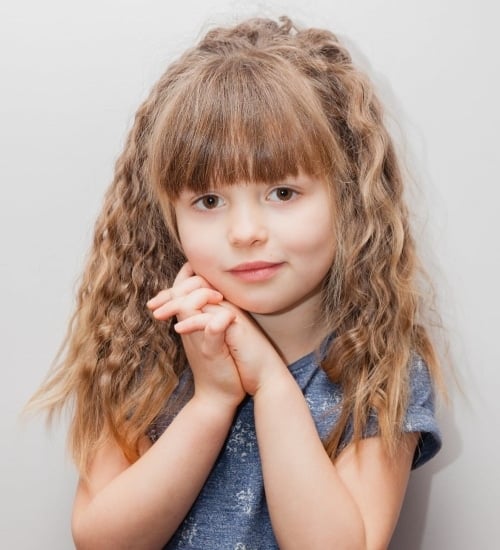 3. Crew Cut
If timeless and classic cuts are what you are after, then the crew cut is an excellent choice. It is one of the most popular short hairstyles for men and boys, with the hair cut shorter on the back and sides and only slightly longer on top. This makes it effortless to style and a practical cut for school children or those involved in sporting activities.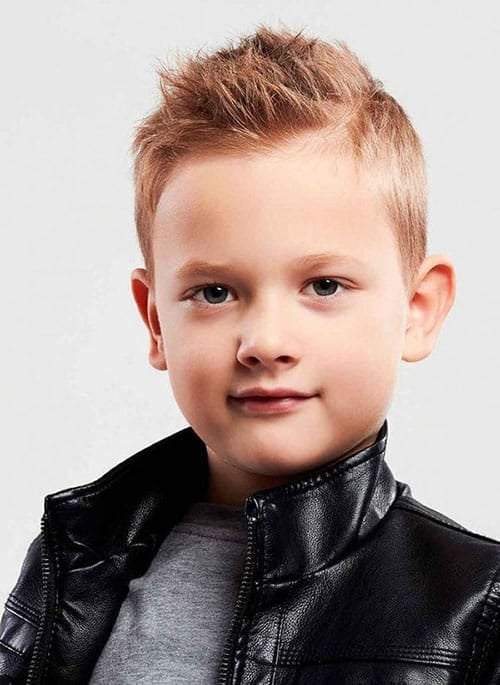 4. Baby Bangs
Baby bangs are a hairstyle that is created by cutting the bangs very short on the face. They should not be over an inch or two long and are a bold and fun choice for your little one. It is also an excellent way to draw attention to the face and create a youthful finish. Add the bangs to the haircut of your choice because they look great with all hair textures and types.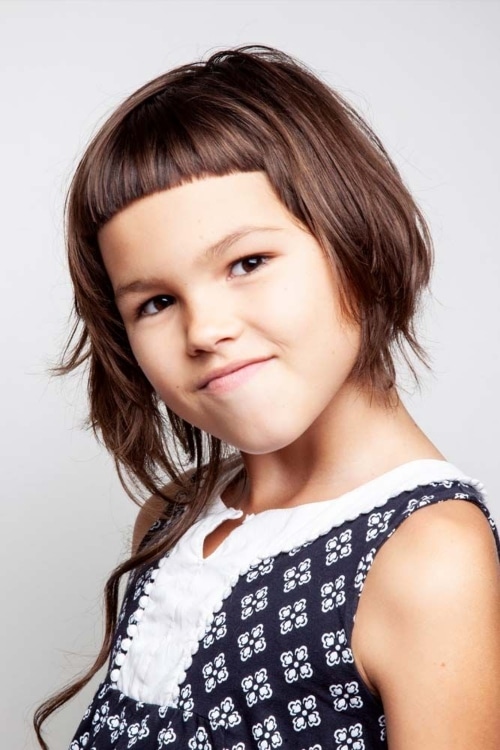 5. Shag Haircut
The shag haircut is a favorite look for boys and girls and can be easily adapted to different lengths and to complement the hair texture. The appeal of this cut is that it is unstructured, making it effortless to style and undeniably cool. Choppy layers define the shag with volume, the crown, and the hair thinning out toward the ends.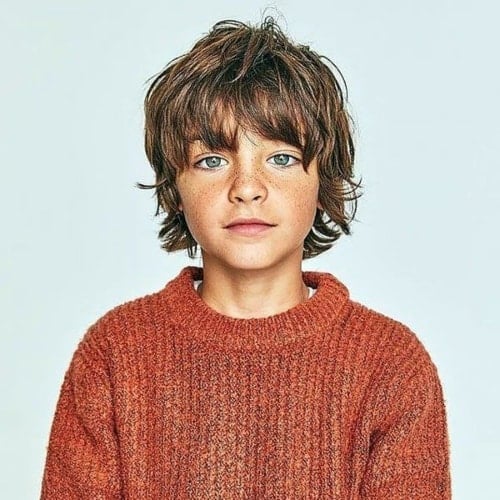 6. Faux Hawk
The mohawk is edgy and demands attention, but it is not for everyone. An excellent alternative then is the faux hawk, which is still cool and rebellious, but much easier to wear and requires less styling time. The hair on the top of the head is kept longer, while the sides are faded to create a contrast. The cut will complement naturally textured hair because it is easy to style. It will also look natural with this texture.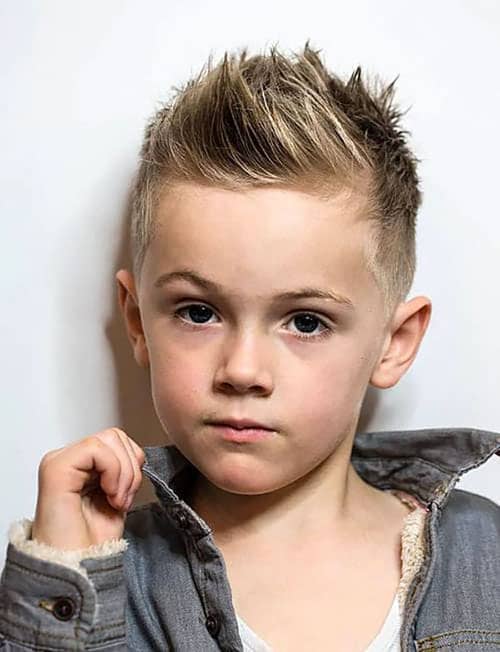 7. Lob Haircut
The lob haircut is essentially a longer version of the classic bob. This style is cut somewhere below the jaw and clavicle and is great for creating the illusion of length while still being low-maintenance. A lob haircut will complement all hair textures and thicknesses and is a favorite because it is universally flattering and exceptionally easy to style.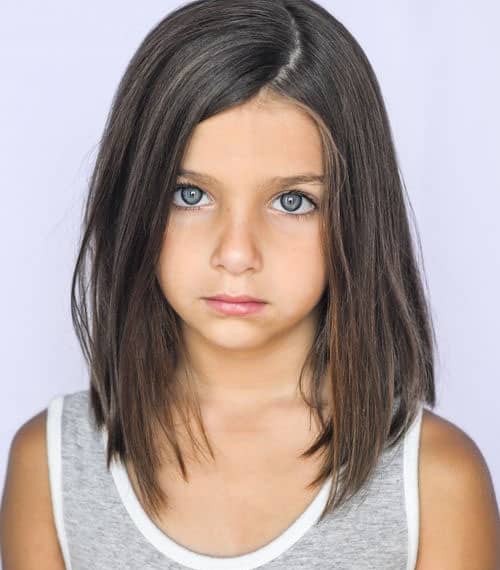 8. Modern Mullet
The classic mullet hairstyle features shorter hair on the top and sides and has a length in the back. It is a controversial look and can be challenging to pull off. However, the modern approach has less contrast in the length and creates a more blended appearance. The hair on the top and sides will still be shorter than the back, but only slightly. This is a hairstyle that is effortless to style and expressive.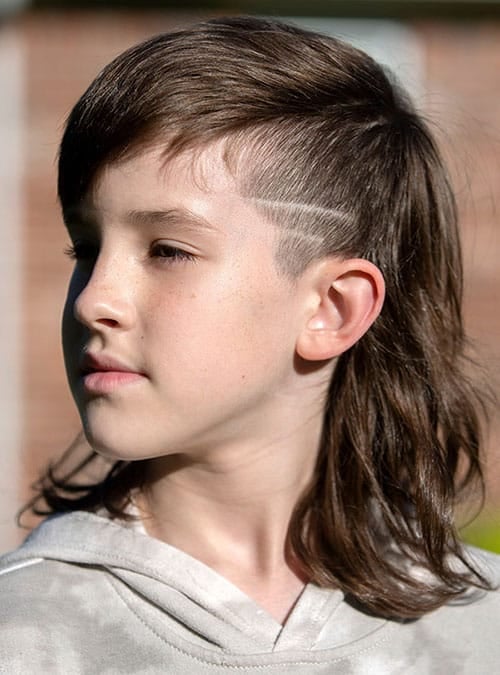 9. Long Layers
Layering the hair is an excellent choice because it helps to create movement and texture. Layers can be added to hair of all lengths and textures and can be incredibly flattering, used to frame the face or shape the hair. Long layers can also benefit thick hair, helping remove the weight and bulk and making it easier to style and care for.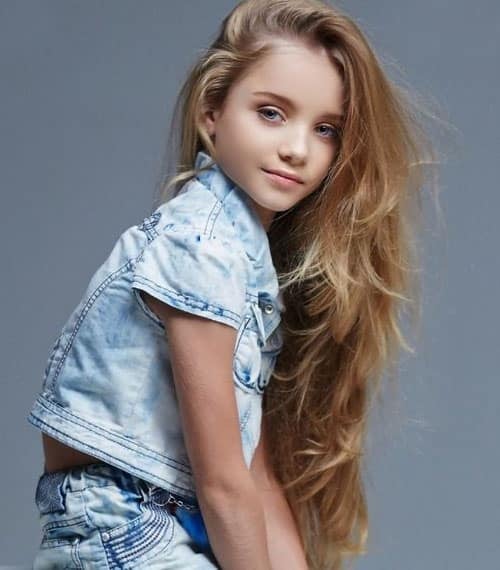 10. Afro Cut
Embracing your natural hair texture is beautiful, and an afro cut is a great choice for boys or girls. This look will let your child show off their curls, and the hair will appear voluminous and healthy. It can be cut to various lengths and shaped as desired. You can also pair the afro with a fade or undercut to give it more structure and create a contrast with the hair on the top, compared with the back and sides.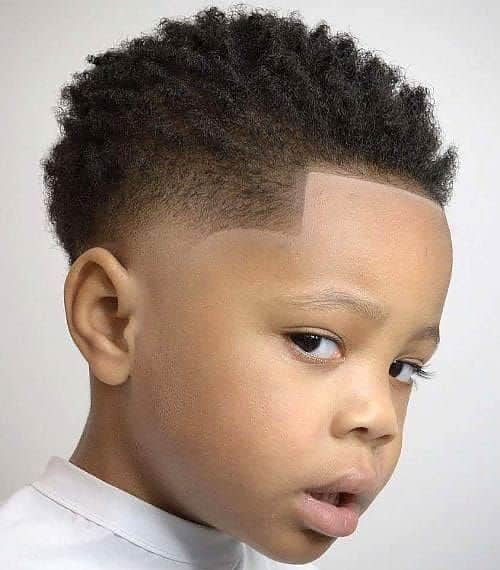 11. Messy Space Buns
Space buns are a fun and youthful hairstyle that is simple to create. The hair is pulled into two buns, one on either side of the head, and can be created in various thicknesses depending on the hair type. These buns also look gorgeous when styled to be deliberately messy and unstructured, creating a carefree aesthetic and showing off your hair's natural texture.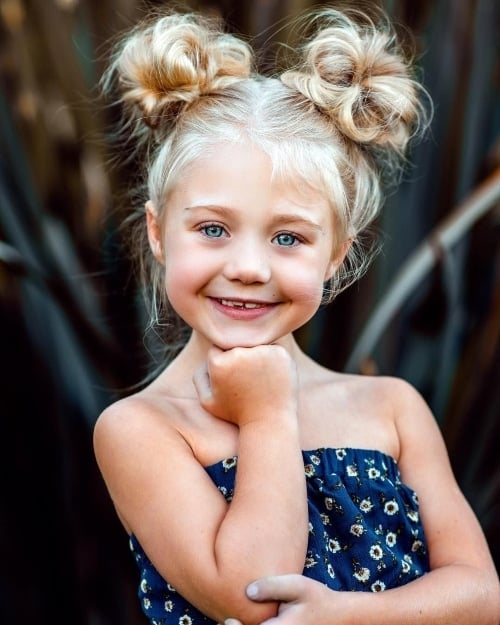 12. Gender Neutral Haircut
Gender Neutral haircuts look good on everyone and are not considered to have any specific feminine or masculine elements them. The hair can be cut short, medium or long and will work with all hair textures and types. The key is to opt for a simple cut that will complement the face shape and require minimal styling. A few options include a long bob, shag haircut, wolf cut, or buzz cut.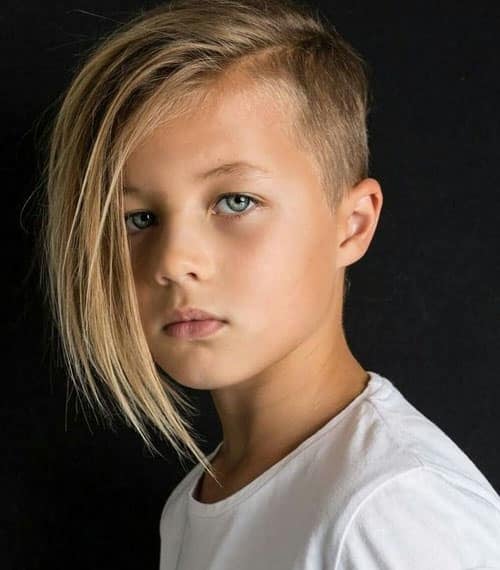 13. Short Bangs
Short bangs are effortlessly cool looks your child will love. They are cut high on the forehead and are a great option for a child who wants to try out bangs but does not want the hassle of styling them. Bangs look great with most haircuts because they are flattering and youthful, but they can be annoying, especially when worn longer. Short bangs will eliminate this problem while still letting your little one experiment with their hairstyle.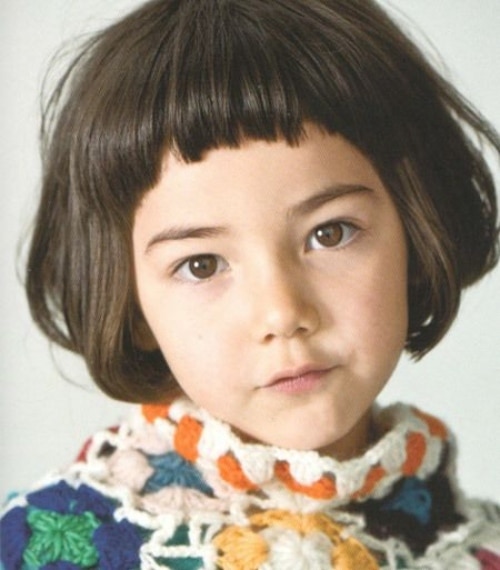 14. Mop Haircut
If you are looking for a cute hairstyle for your little boy that is easy to style and has a laidback, relaxed aesthetic, look no further than the mop haircut. This cut is for medium-length hair, with the hair kept slightly longer on the top than the back and sides. It also features a fringe which creates a youthful finish. The mop complements naturally textured hair, creating a messy and unstructured finish.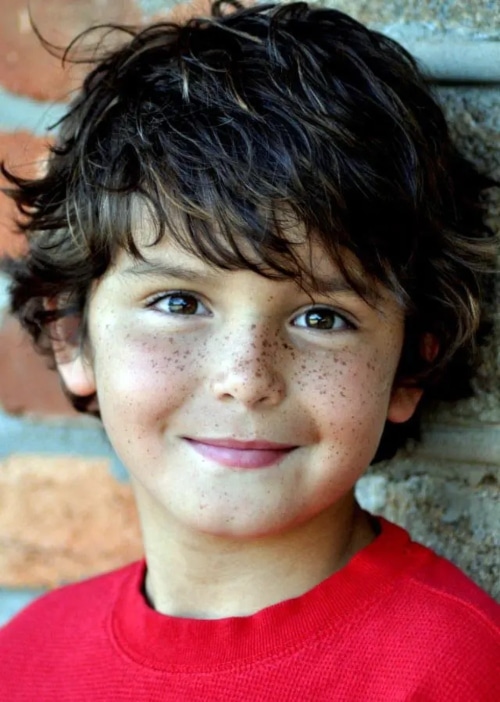 15. Natural Hair Puffs
Afro-textured hair is gorgeous, and the right style will embrace the fullness and volume of the texture. Hair puffs are a cute and youthful way to style your child's hair. To achieve the look, you will add a puff to either side of the head and smooth the hair in the front. The difference between the sleek front and the voluminous puffs creates a brilliant contrast. This style is easy to create and can be adapted to various lengths and thicknesses, making it an ideal choice for little girls.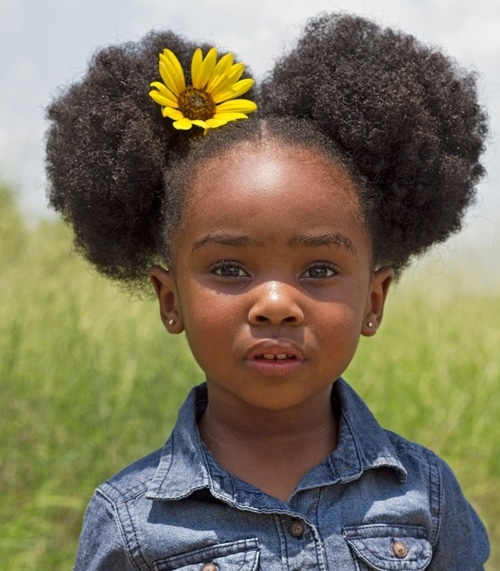 16. Surfer Boy Hairstyle
The surfer hairstyle is undeniably one of the cutest and most youthful cuts. This medium to a long haircut is simple, unstructured, and defined by its tousled appearance. For this reason, the cut complements naturally textured hair and will give your son an effortlessly cool, unstructured finish. You can part the hair in the middle or on the side to draw attention to the face and complement the features.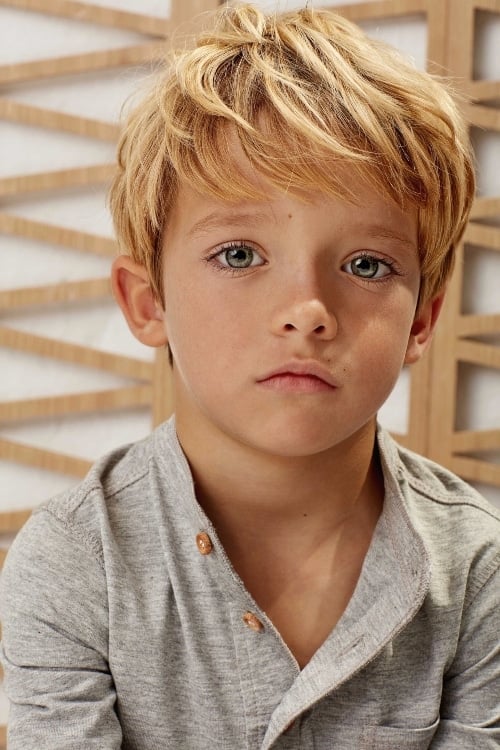 17. Choppy Haircut with Bangs
Bangs are an excellent addition to any haircut and are a great way to highlight the features. They are also youthful and a great way to transform even the simplest haircut. A choppy cut refers to the layers that are added to the hair. These layers will give the hair movement and volume. Layering is ideal for thin or thick hair. On thin hair, it can give the illusion of fuller, thicker hair, whereas on thick hair, it can remove the weight and bulk.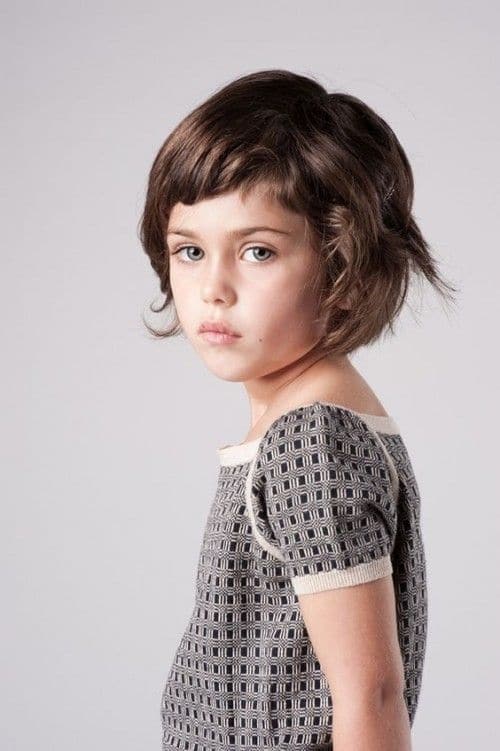 18. Soft Messy Spikes
Spiky hair can be created on various hair textures and, depending on how bold the wearer wants them to be, can be styled to be long or short. Rigid spikes that are created with stronghold products can be appealing because they look rebellious. However, soft, messy spikes are flattering and easy to wear. The result is a natural, textured finish that is fun and youthful.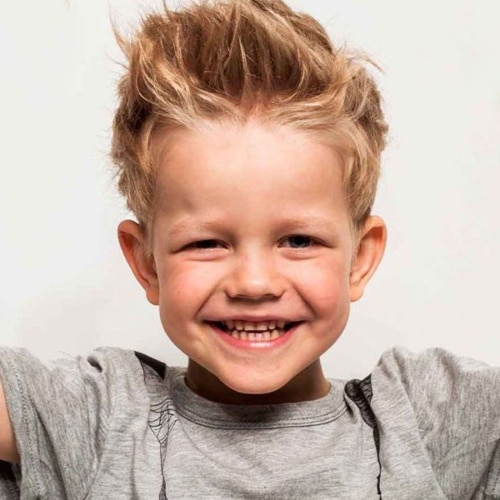 19. Bubble Ponytail
The bubble ponytail is one of the simplest updos and is beloved because of its versatility. To make a bubble braid, you will add hair elastics down the length of a ponytail, stopping at intervals to create a bubble-like shape with the hair. It is ideal for all hair textures and lengths, and you can experiment with how big or small you want the bubbles to be. This is also great for adding colored or patterned elastics to personalize the look.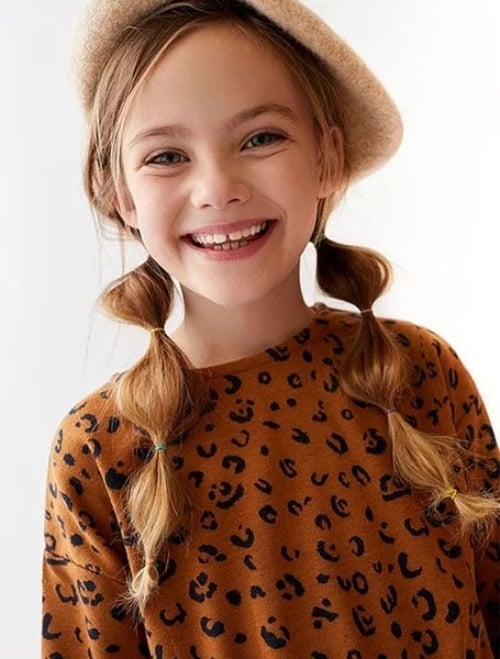 20. Drop Fade with Quiff
For boys who want to express themselves with their hair, a drop fade is a way to do it. The drop fade "drops" below the ear and is often more subtle and easier to wear than other, more adventurous faded styles. At the same time, it gives the hair a modern finish and creates structure. The drop fade is great to style with various hairstyles, including a quiff. This is an excellent option to contrast the hair on the back and sides and at the top.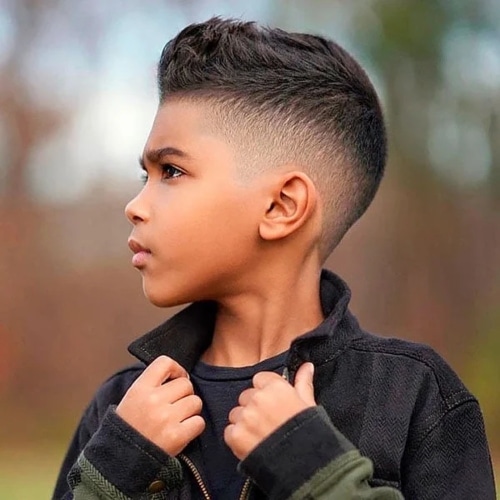 21. Side Braids
Side braids are a plait that you will style to the side. You can pull the entire length of the hair into the braid. Or you can focus on adding braids to just one side and leaving the rest of the hair loose to create a brilliant contrast. Side braids look soft and romantic, and are great for long hair. They are also an excellent way to keep the hair out of the face. The intricacy of the braid you choose will depend on your skill level.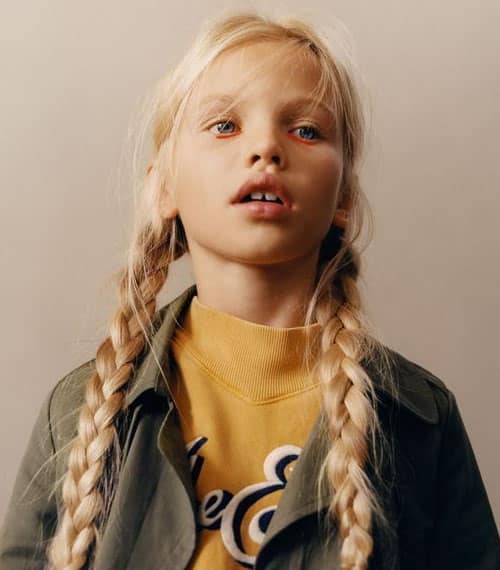 22. Brushed Back Hair with Fade
Brushed-back hair is great for creating volume and will draw attention to the face. As the name suggests, the hair will be brushed back and away from the face. This can be an incredibly flattering look and is best when created with hair that is slightly longer on top to create more volume. To create a contrast and make the hairstyle feel more polished, your child can pair it with a fade of his choice.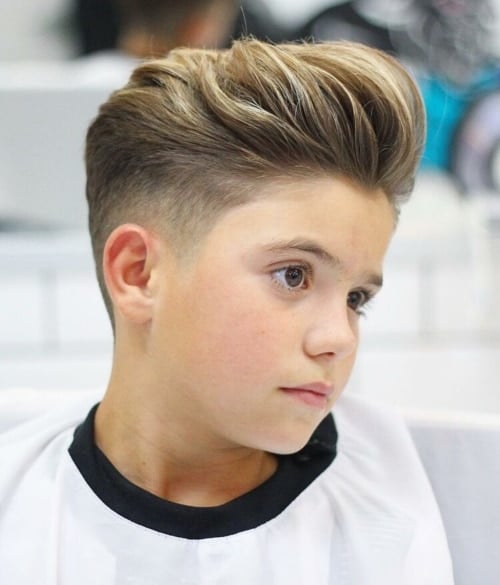 23. Box Braids
Box braids are one of the coolest braided options for little girls. To do box braids you will section the hair into small squares to make a boxy appearance. These braids look gorgeous with all lengths and thicknesses and will be easy to adapt so your child can choose the perfect combination to suit their preference. This will make them feel great. Box braids are a protective style and will reduce styling time while also aiding natural hair growth and preventing breakage.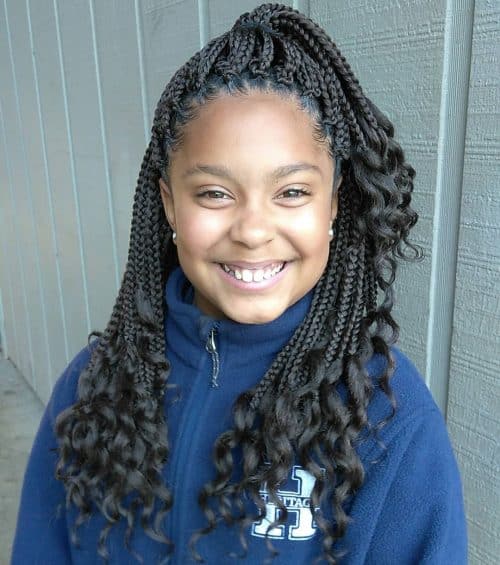 24. Long Spiky Hair
Spiky hair can be cut short or kept longer, but the more height they have, the bigger the impact. Your child's hair is a way for them to express themselves and have fun. Styling it to have long spikes can make a bold statement. Spiky hair looks great on all hair textures but is best when styled to look natural instead of hard, greasy spikes. The result should be fluffy and not rigid.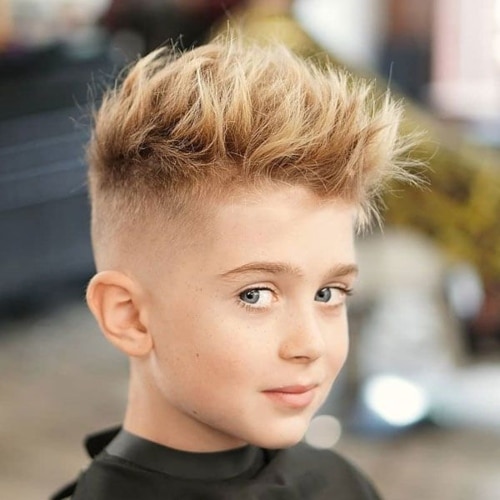 25. Bob Haircut
The bob haircut is a classic female style that is cut around jaw level and can be styled in various ways, including opting for a blunt cut or adding layers to the hair to create volume and movement. The bob is short to medium length cut, which makes it easy to style and ideal for your little girl. Pairing the bob with bangs will create a youthful finish and draw attention to the face.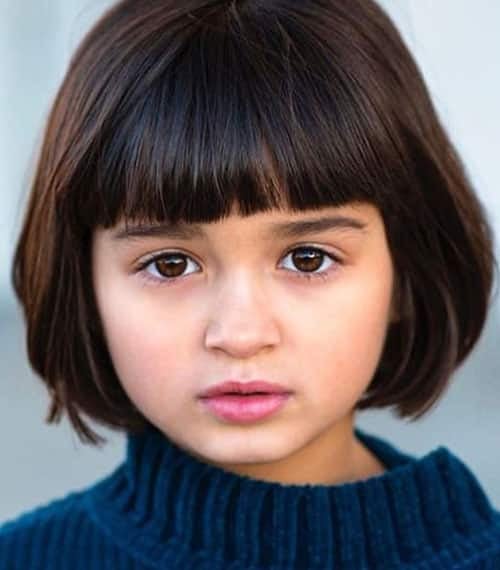 26. Face Framing Layers
Face framing layers are cut to frame the face. This is an incredibly flattering look and will highlight the features. The shorter strands of hair are strategically placed and can draw the eye in. For the simplest approach and to simplify styling, you can focus the layers around the face only, cutting the rest of the hair at one length.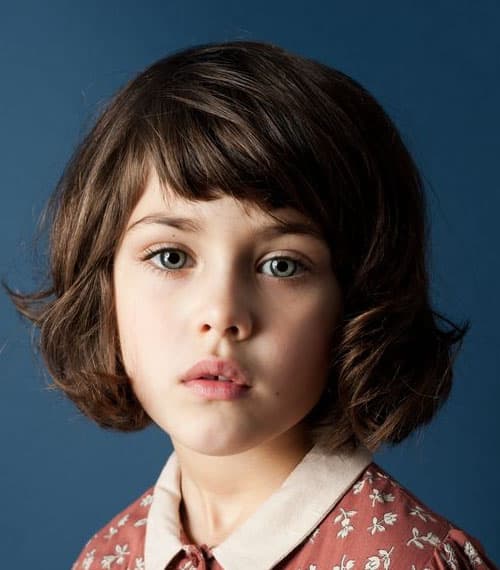 27. Pinned Back Curls
Curly hair is one of the most beautiful hair textures and it makes even the simplest hairstyle look interesting. Curls can be challenging to style but they are appealing because of the natural movement and volume that they have. Leaving the hair loose is an excellent way to show this off. Pin back the hair at the front to keep it out of your child's eyes and make it easier to wear.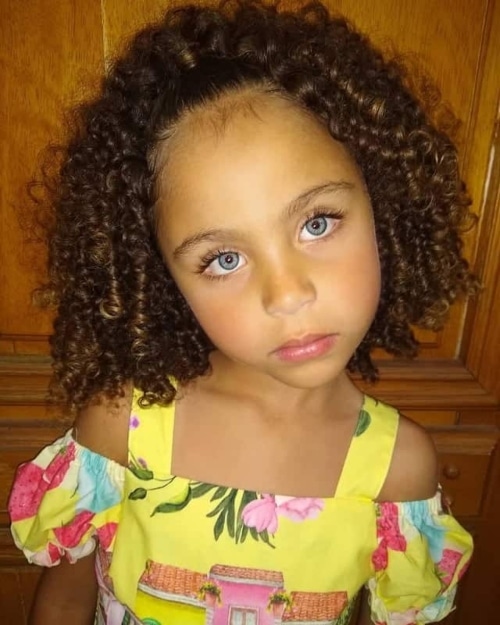 28. Updo with Bangs
An updo is a stylish way to style your little one's hair for special occasions. You want to create something simple and comfortable so they will not be pulling at their hair, and a bun a half bun is an excellent option. This look is also pretty when worn with bangs hanging loosely around the face, framing it and highlighting the features. Most updos look gorgeous with all hair textures and complement medium to long hair lengths.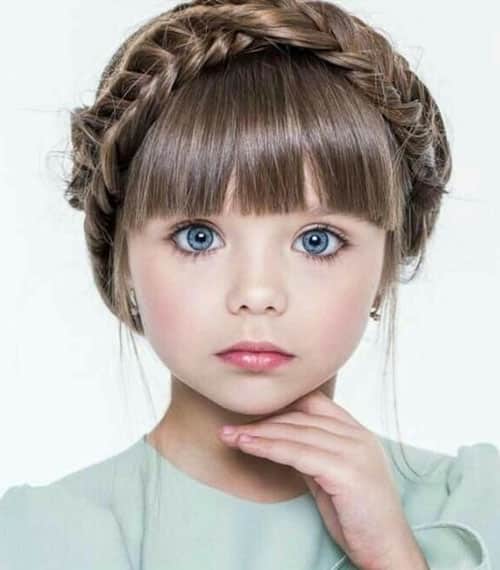 29. Long Hair with Side Part
Long hair for boys can be expressive and create an effortlessly cool and laidback appearance. The best approach is to opt for a simple cut that does not require much styling, for example, wearing the hair with a side part. Side partings are incredibly flattering, framing the face, balancing the features, and also keeping the hair out of the eyes. Long hair is great with all hair textures.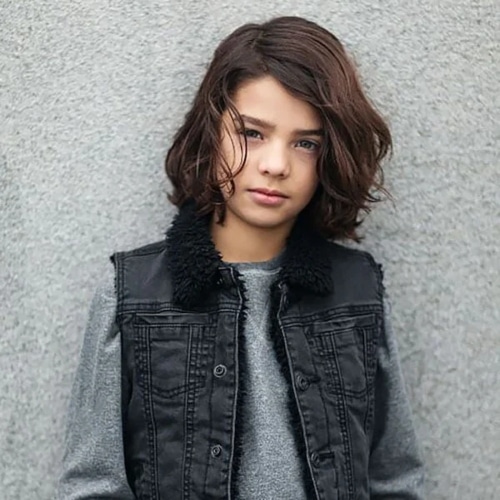 30. Braided Top Bun
A popular hairstyle for girls is the top bun. The sweet and simple hairstyle features a bun high on the head. It is great for all hair textures, and you can style it to be small or large, depending on the thickness of your child's hair. There is also the possibility of personalizing the style. Add beads or cuffs to let your child have fun with their look.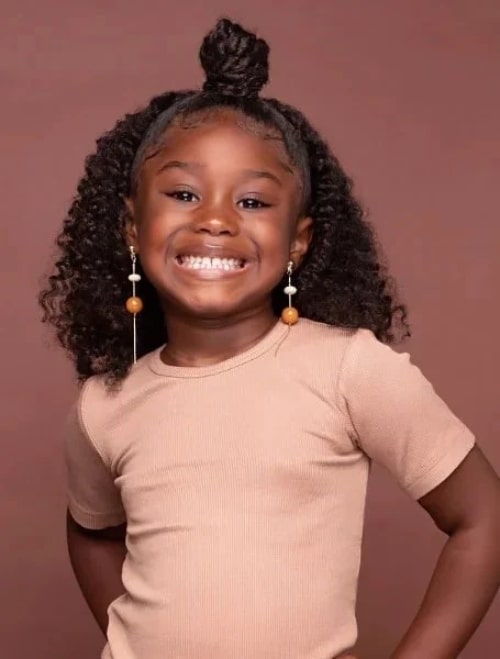 31. Bro Flow
For boys with medium or long hair, the bro flow is laidback and effortless. It is created by brushing the hair back from the hairline and letting it fall naturally. This is an excellent option for anyone who does not want to fuss with styling or for younger boys who have little grooming knowledge. The haircut looks incredible with textured hair.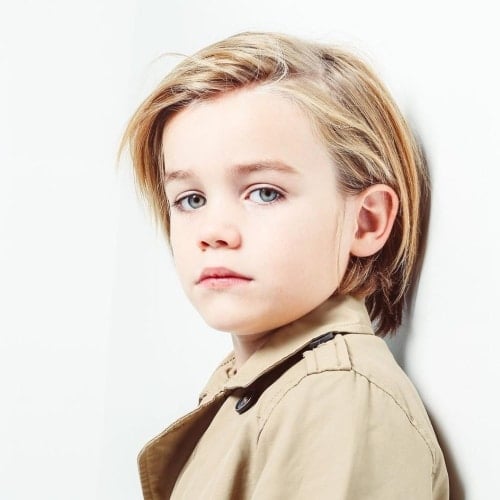 32. Bantu Knots
Bantu knots are a protective style that is created by sectioning the hair and twisting pieces to create a knot-like appearance. Protective styles are a great way to give the hair a break from heat and chemical styling and Bantu knots will last for around two weeks. This lets you reduce the daily style time, while also aiding natural hair growth. In addition, Bantu knots are much faster to create than many other protective styles and will only require an hour or two to complete.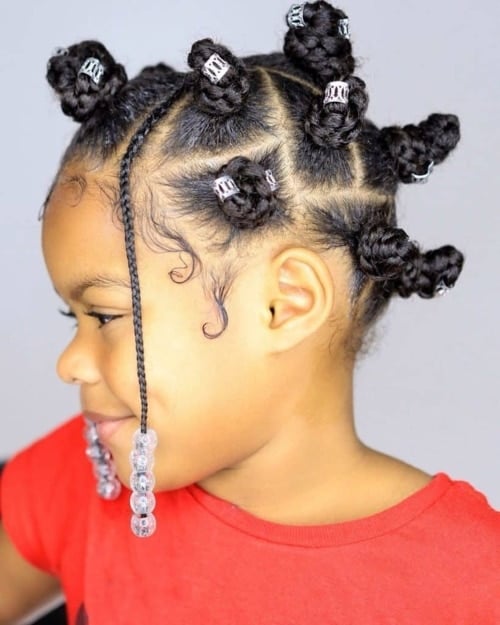 33. Side Swept Bangs
Side swept bangs are a great addition to most haircuts and will give the haircut a youthful finish. Bangs are a great way to highlight the face, and the side-swept style is one of the most universally flattering options. Side swept bangs look good on all hair types. The fringe is easily adapted to the wearer's face shape and desired hair length.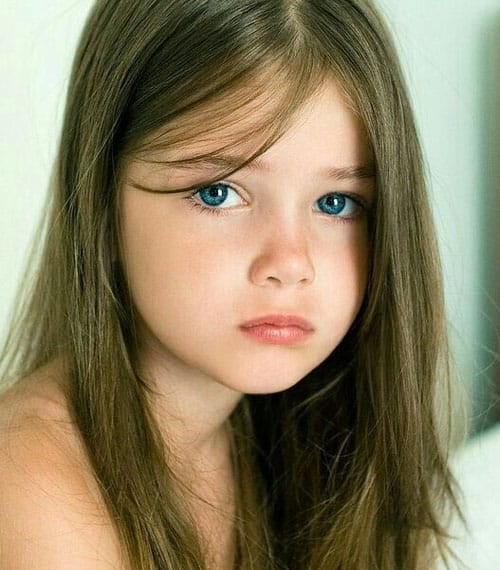 34. Ivy League
A popular short hairstyle for boys is the Ivy League. This haircut gets its name because of its popularity among students at Ivy League schools. The cut has neatly tapered sides and longer hair on the top. An Ivy League is simple to style and looks neat and polished, making it the ideal choice for school children and those who do not want to spend time styling their hair. The cut complements all hair textures.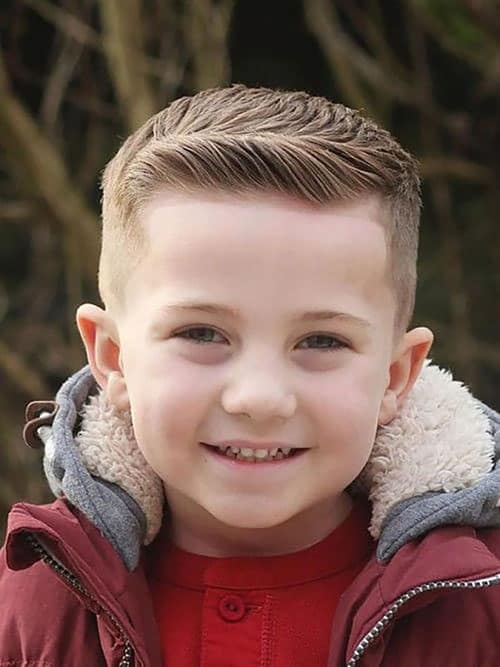 35. Middle Part Style
The middle part hairstyle is not universally flattering and can be unforgiving on those with unbalanced features. However, it is a practical and simple addition to any haircut. The middle part is a great way to keep the hair out of the eyes, letting your child tuck it behind each year. It can also draw attention to the face and create a framing effect. The middle part will work on all hair textures and lengths.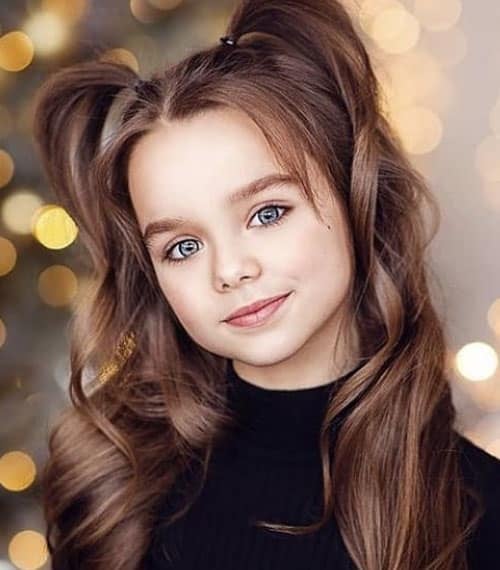 36. Hair Design
Your chosen hairstyle can say a lot about you. Letting your child experiment with their look is a great way for them to express who they are. Hair design is the term used to describe different patterns or images that are added to the hair. This is an excellent opportunity to get creative, letting your child choose from a wide range of looks, including star and diamond designs to simple angles and line art.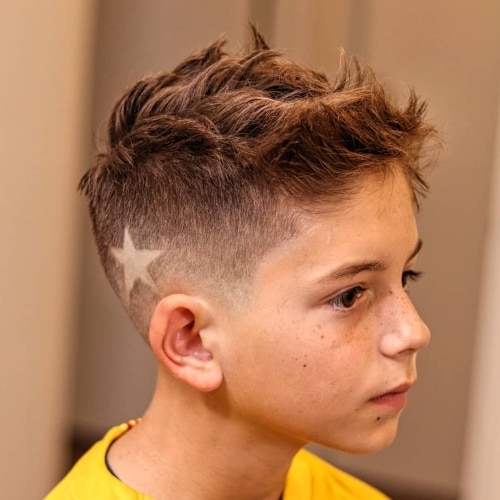 37. Loose Waves
Wavy hair is one of the most beautiful textures because it is full of movement and looks great when worn long or short. Your child can embrace their hair texture by wearing it down in loose waves, creating a relaxed and carefree aesthetic. The hair is pinned away from the face, making it a practical style. Pinning the hair back will give you the opportunity to use a cute accessory.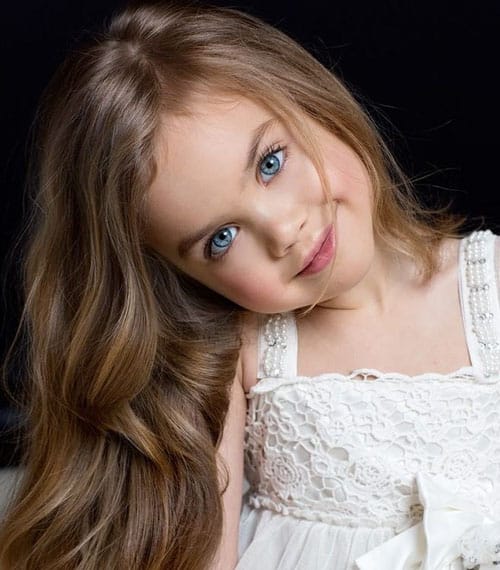 38. Caesar Cut
Simple yet versatile, the Caesar cut looks great on all hair textures. The Caesar cut is fuss-free and requires minimal styling. No products are needed to style the haircut as it is cut at the same length around the head. The defining feature of this cut is the fringe. You can adapt the fringe to complement your child's preference and hair texture. It can be cut to be textured or blunt. The appeal of this haircut is its simplicity.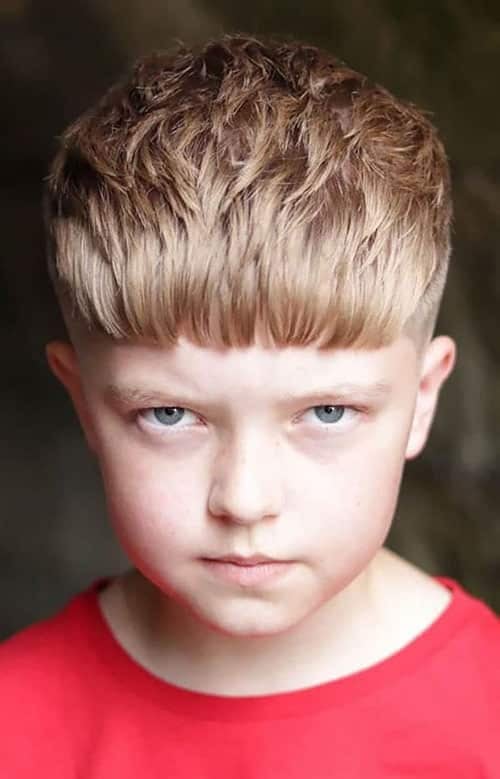 39. Dutch Braids
The Dutch braid is a braided hairstyle created with three strands and done using the underhand braiding technique. This gives the braid its raised appearance. The braid can be added to the hair in different ways. This includes styling it as two braids on either side of the head. Depending on your child's hair texture and thickness, the braid can also be big or small. The simple plait takes no time to do and is great for keeping the hair out of the face and looking neat.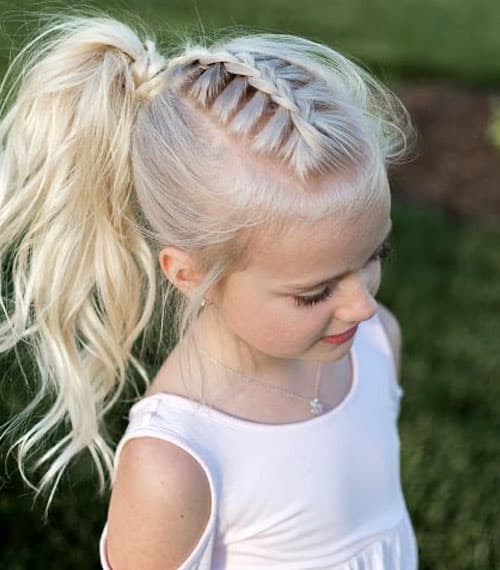 40. Curtain Bangs
Curtain bangs are a gorgeous addition to any haircut and can be worn by boys or girls. The style of bangs is youthful and low-maintenance. Curtain bangs are perfect for younger children and require no daily styling. The way they are cut, with the fringe shorter on the inside and longer toward the ends, is excellent for framing the face. It will highlight your features.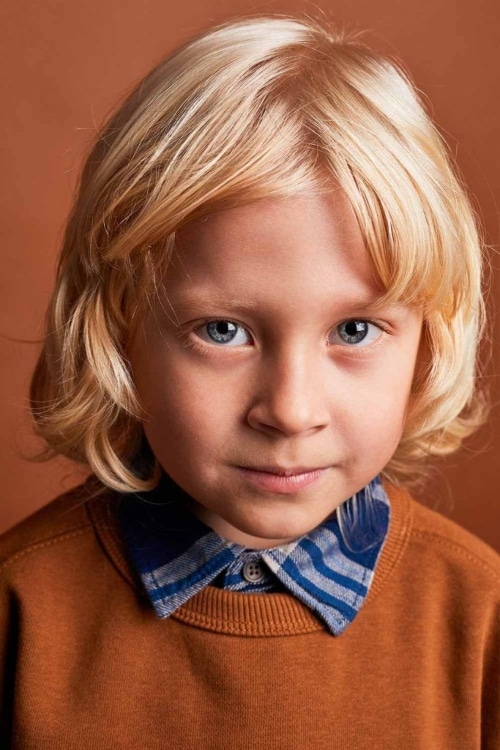 41. Blunt Bob Haircut
A blunt cut is a haircut that is created without any layers. Instead, it is cut straight across and looks sleek and effortlessly cool. The blunt cut is best with straight hair but will complement different hair lengths and styles, including short hair, for a cute and stylish bob haircut. This look is gorgeous, low-maintenance, and will show off your little one's features.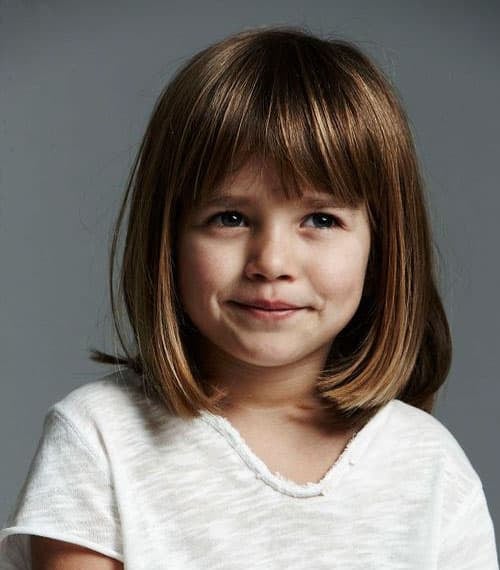 42. Classic Pixie Cut
The pixie cut is a classic short hairstyle for women or girls and is defined as the hair being cut longer on the top and with shorter hair on the back and sides. It is also often worn with a fringe, which can be short or long, depending on the desired result. The pixie is effortlessly chic and simple to style, making it a popular look for any little girl. It is also a great way to reduce styling time and cut down on the tangles.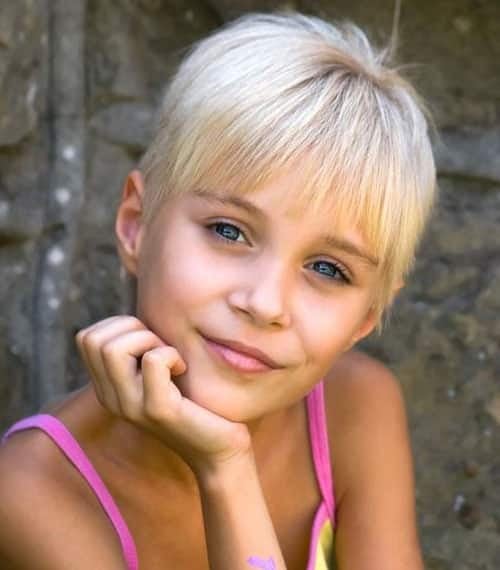 43. Pixie Bob Hairstyle
The pixie bob hairstyle is longer than the classic pixie and incorporates elements of the bob haircut. The hair is longer at the front and graduated at the back. This is a great look for a little one who wants short hair, but also gives the illusion of length. It is ideal for all hair textures and incredibly cute.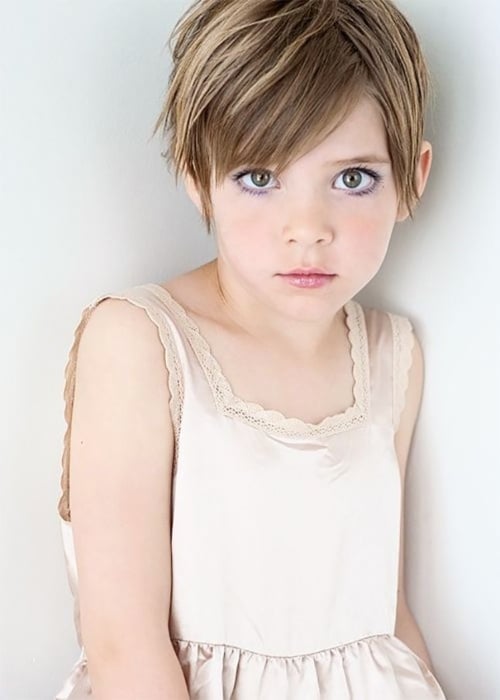 44. Straight Hair with Blunt Cut
If your daughter has straight hair, one of the cutest ways to style it would be with a blunt cut. A blunt hairstyle is cut straight across and has no layers. The cut complements naturally straight hair and the precision of the cut becomes more noticeable. You can pair the chosen style with blunt bangs for a stylish and sleek finish. Or opt for more textured bangs if you want them to be easier to style.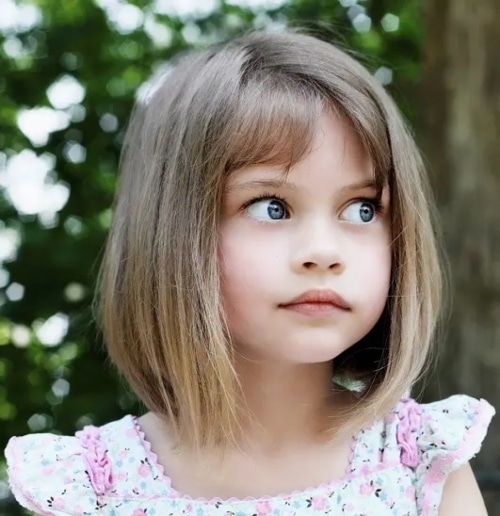 45. Quiff Hairstyle with Short Sides
The quiff hairstyle has an old-school gentleman vibe and can be a great look for your little boy. To do this, you will brush the hair at the front of the head upward and backward to give the hair volume. The longer the hair on the top of the head is, the greater the impact. You can style the quiff with short sides to give a contrast between the length of hair on top. It will also create a structured finish.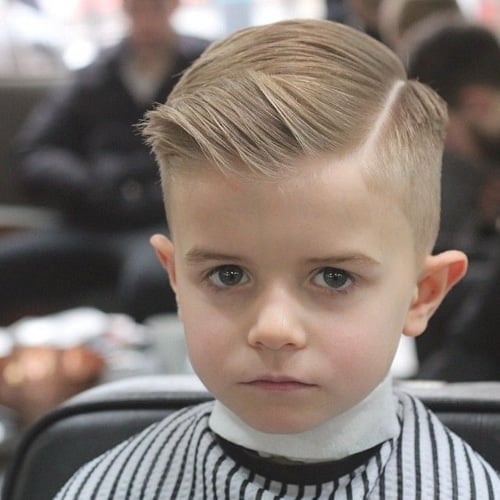 46. Asymmetrical Cut
The asymmetrical cut is created, with one side appearing longer than the other. This is a stylish and fun way to wear your hair, and it can also be incredibly flattering, drawing attention to the face and framing it. This hairstyle looks best when created between the jaw and clavicle, as it will be more noticeable. The asymmetrical haircut is ideal for a little girl who wants a modern and expressive look.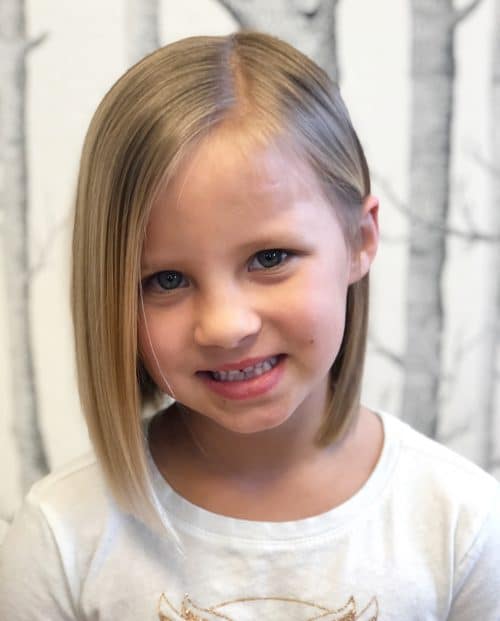 47. Curly Hair Updo
Updos are ideal for special occasions and can keep the hair out of your daughter's face. The simplest updos are the best for children because they do not want to sit for an intricate look that takes hours to complete. A cute bun or puffs will look great with curly hair, and the simplicity of these styles means you need less length to create them. Style the updo with loose bangs for a flattering and youthful finish.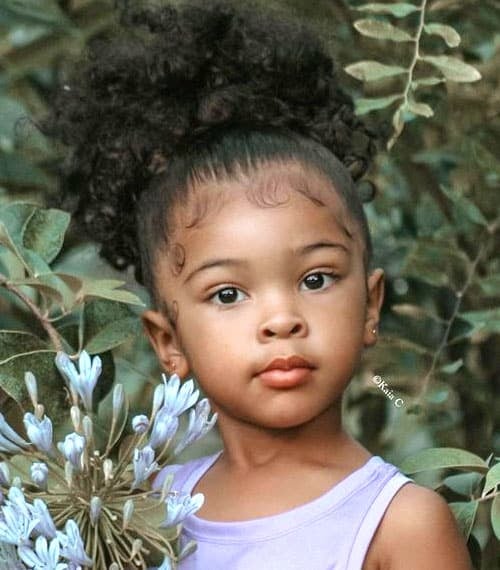 48. Waterfall Braid with a Bow
The waterfall braid is a half French braid that is added to the front of the head while the rest of the hair is left down. It is a soft and romantic look and is perfect for showing off the hair texture while also pulling the hair away from the eyes. There are several ways to style the braid, including with accessories. Adding a bow to the hair is super cute and a great way to give the look a pop of color.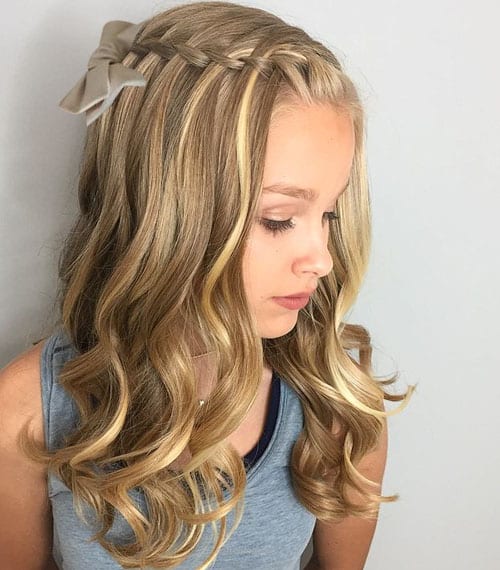 49. Buzz Cut
The buzz cut is a classic short hairstyle for men and boys and is clipped close to the head. This very short hairstyle makes it incredibly low maintenance. It is a fuss-free look that is ideal for children who hate brushing their hair or do not have the time to style it. The modern approach to the buzz cut also allows for personalization, including adding a fade.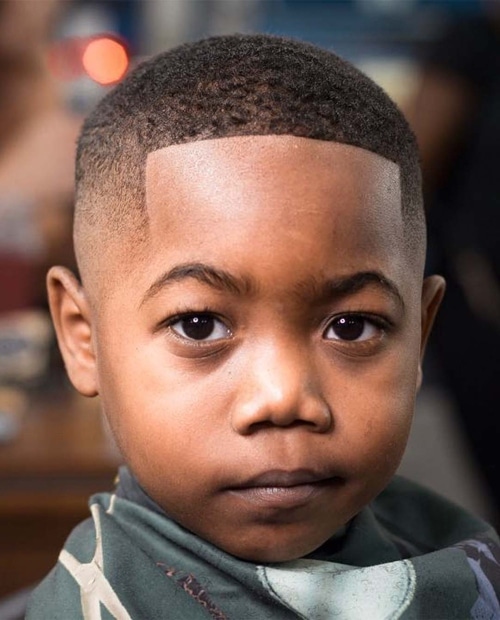 Haircut for Kids FAQs
What are good hairstyles for kids?
Some of the most popular hairstyles for kids are fishtail braids, crew cut, bangs, shag, faux hawk,
How often should a little boy get a haircut?
If your kid has a short haircut, then you should visit a barber for upkeep once in 4-6 weeks. For longer haircuts, this period can be extended to 8-10 weeks.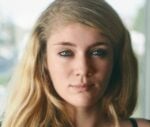 Cailyn Cox holds a degree in journalism and has been working with The Trend Spotter as a writer for over ten years. She has worked with some of the most prestigious women's and men's lifestyle publications. For her, writing is not just a job; it's a passion, which is why each article she writes is approached with such enthusiasm and dedication. She has extensive knowledge of hairstyles, tattoos, and beauty and has made a career out of creating informative articles that appeal to women and men of all ages.
SUBSCRIBE TO OUR NEWSLETTER
Subscribe to our mailing list and get interesting stuff and updates to your email inbox.