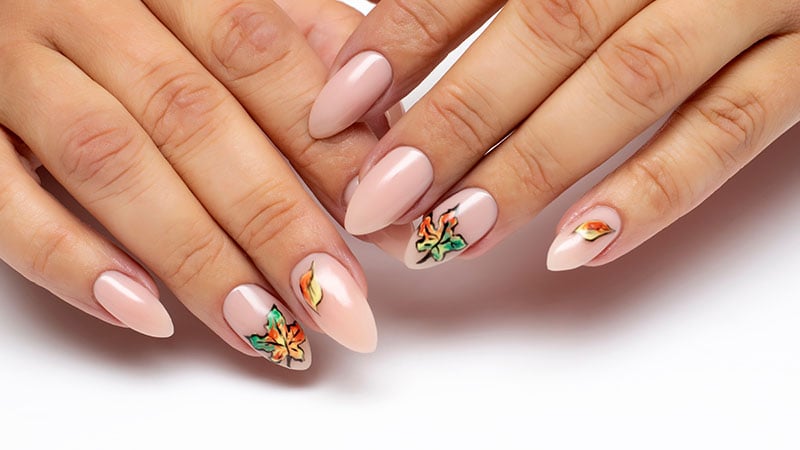 The almond is one of the most popular nail shapes of the moment, and it's easy to see why. The shape, which resembles the nut of the same name, is elegant, sophisticated, and utterly stylish. As such, it's no wonder why more and more women are choosing the silhouette for their fingers. So, if you've selected an almond shape for your nails, it's time to show it off, and we've got the designs for the job. From bright and bold patterns to chic and minimalistic shades, these almond shape nail designs will bring fashion to your fingertips.

1. Almond Acrylic Nails
Acrylic nails are appealing because they are strong, durable, long-lasting, and versatile, letting you create the shape of your choosing. Acrylics are also ideal for achieving a longer length that you may not be able to do with your natural nails.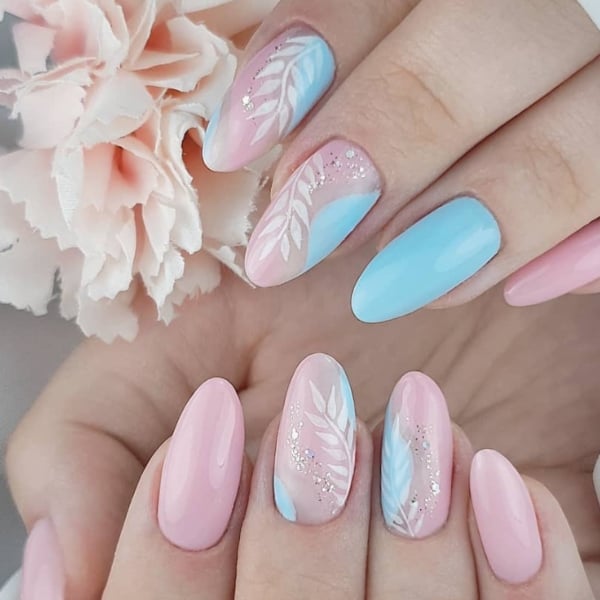 2. Almond French Nails
What is not to love about the almond shape? It is versatile, feminine, and flattering and can be created with simple nail art or detailed and adventurous options. Try out French nails for those who prefer a more minimalistic and classic approach. They can be made in the colors of your choosing, but opting for white tips on a nude or light pink base is timeless.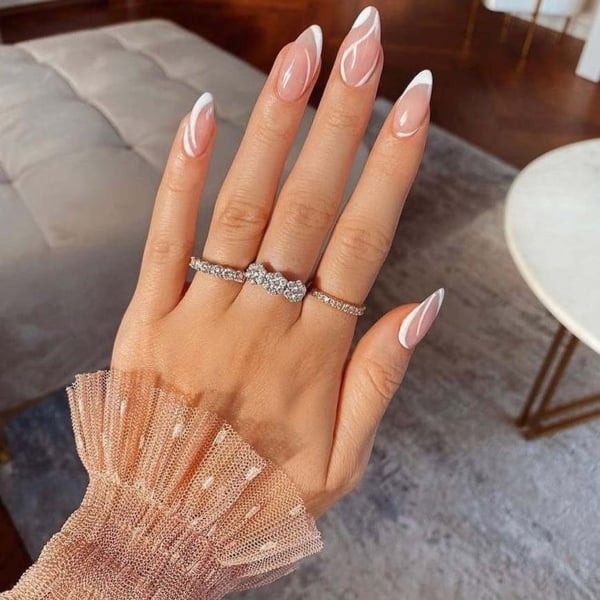 3. Short Almond Nails with Feature Nail
Short nails are practical and are often stronger and less prone to breakage. Almond nails are often created long to show the shape but can also be done with a shorter length. The shape will elongate shorter or wider fingers. Keep the nail art minimal with short almond nails, focusing on a feature nail instead.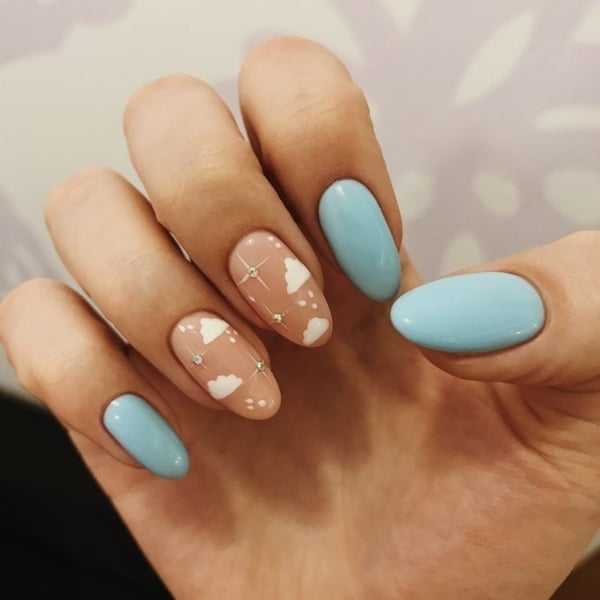 4. Round Almond Nails
The almond nail shape is similar to the oval nail shape, with nails filed on the sides and tapered to form a round peak. You can experiment with slightly different versions of the almond nail shape, including opting for more rounded tips. They can be worn long or short and are incredibly flattering and feminine.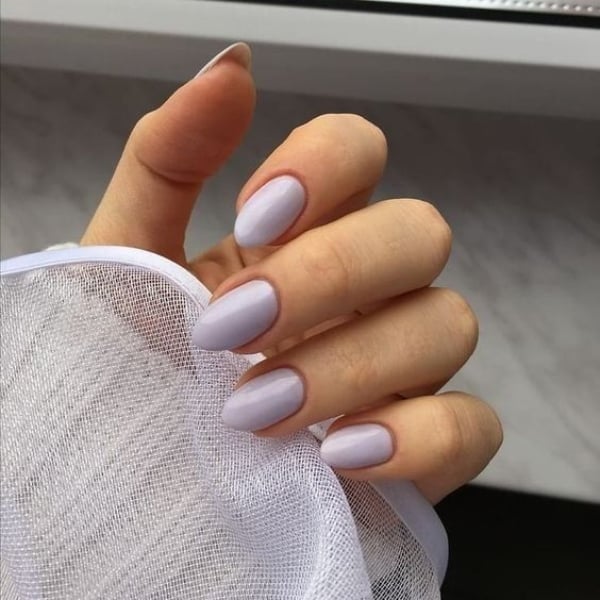 5. French Tip Almond Nails
French tip nails are defined by a white strip of paint on the tip of the nail. It is a timeless and classic manicure that is perfect for all occasions. The beauty is in the simplicity, and the result is a sophisticated look that can elongate the finger and draw attention to the almond shape.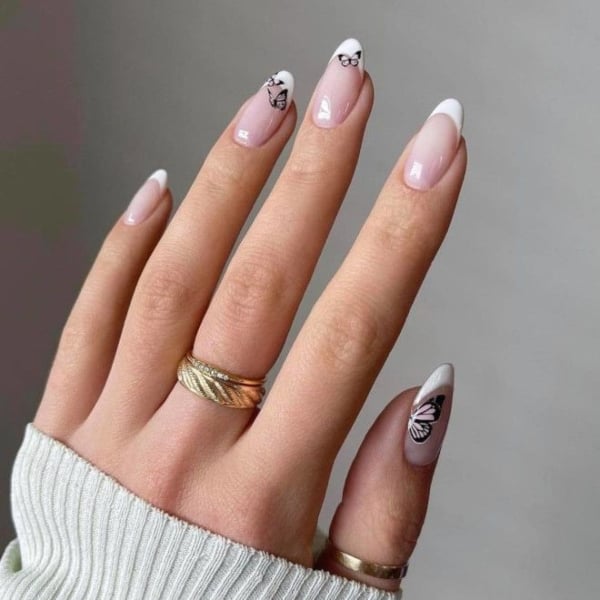 6. Short Almond Nails
The beauty of almond nails is that they can be created long or short, and although some shapes benefit from the length, the almond shape is one of the most versatile. It is incredibly flattering with a soft tapered finish. For a classic look, opt for nude polish or a French tip manicure to highlight the shape.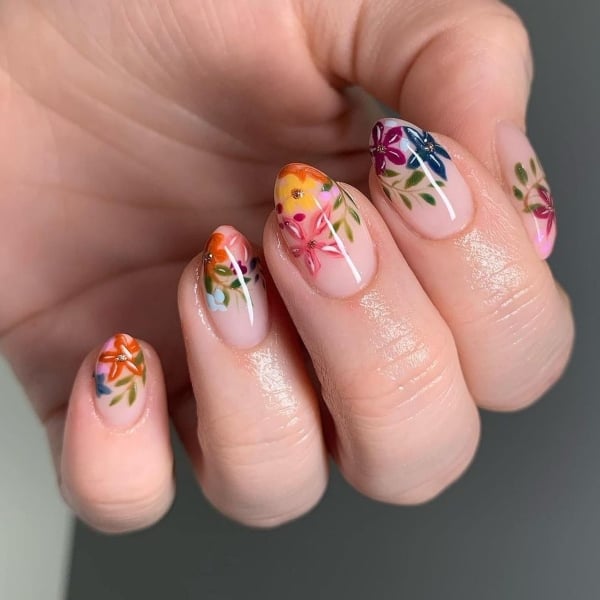 7. Long Almond Nails
Long nails are feminine and fun. They make a statement and instantly draw attention to your hands. Long nails are also incredibly flattering and can slenderize the fingers. Almond nails look gorgeous when long and offer variety with nail art designs while also showing off the shape.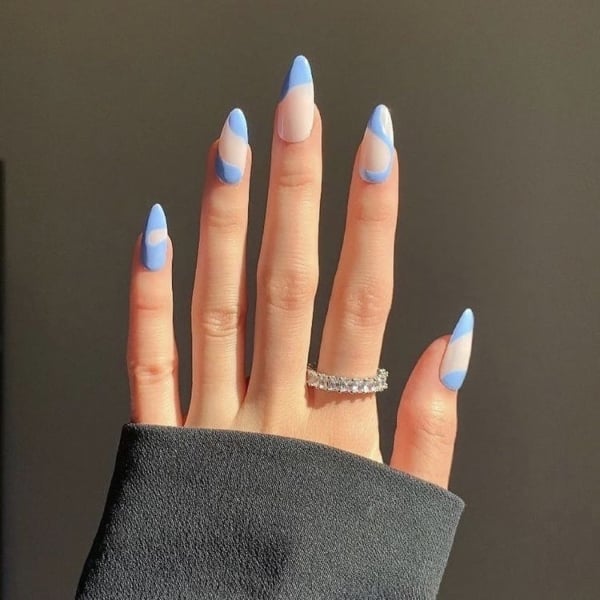 8. Nude Almond Nails
Nude nails are one of the most versatile and chic options for your next manicure. There is a color to suit every skin tone, and it is the perfect choice for every day, lending itself well to all occasions, including formal events and the workplace. The simplicity of the nude polish will complement the almond shape and will look incredibly stunning on longer nails.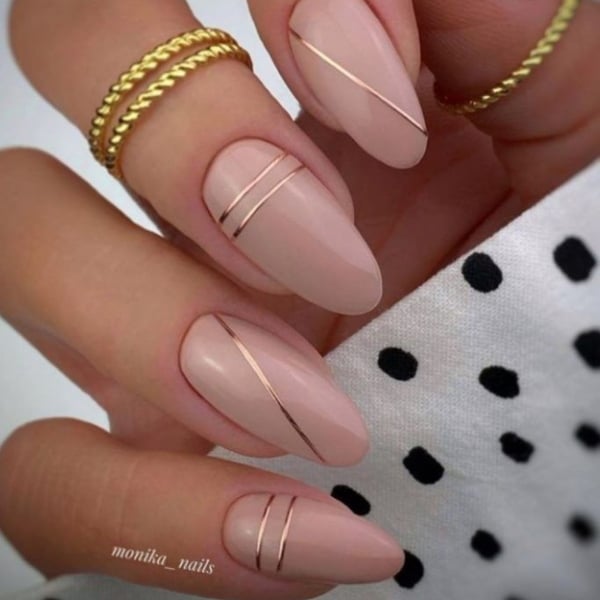 9. White Almond Nails
White nails look crisp, clean, and modern. It is the perfect option for those who want an understated manicure that still demands attention. The white polish looks great with long or short almond nails and complements all skin tones. It is also a hue associated with new beginnings and hope, letting you make a subtle statement with your manicure.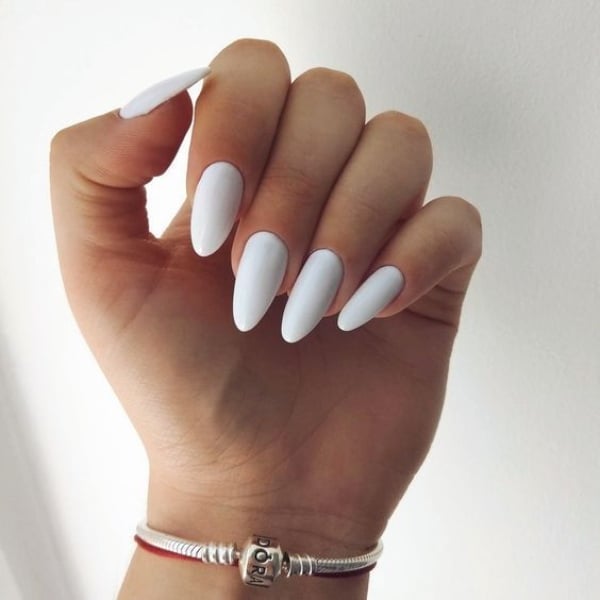 10. Pink Almond Nails
Pink almond nails are perfect for a girly and super cute manicure. There are various shades of pink, from soft, muted tones that have a romantic finish to saturated hues like neon that demand attention. Find the shade you love the most and have fun experimenting with different nail art designs.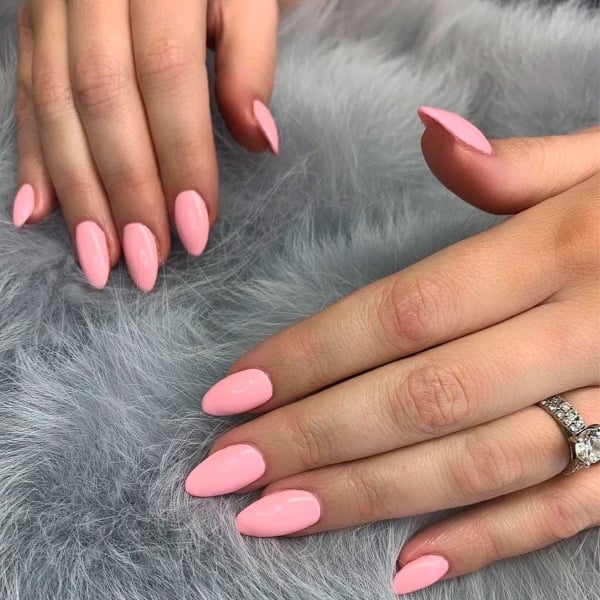 11. Almond Short Acrylic Nails
Most acrylic nails are kept long, as the benefit of acrylics is that you can achieve the length and shape that you may not be able to get with your natural nails. That said, some women also prefer short acrylic nails as they are durable and practical, making them ideal for every day.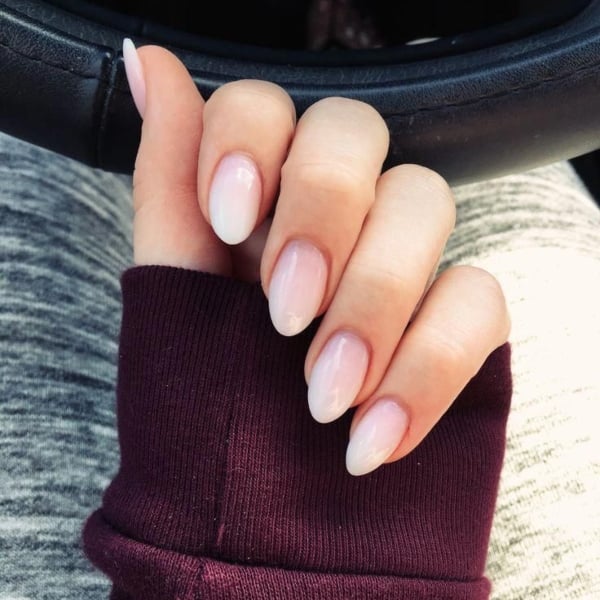 12. Black French Tip Almond Nails
The classic French tip manicure is created with a strip of white polish on the tip of the nail. It is a timeless and classic look that is sophisticated and suits women of all ages. However, if you want something more edgy and modern, you can swap out the white lacquer for black. The dark hue will draw attention to the tips and complement the almond shape.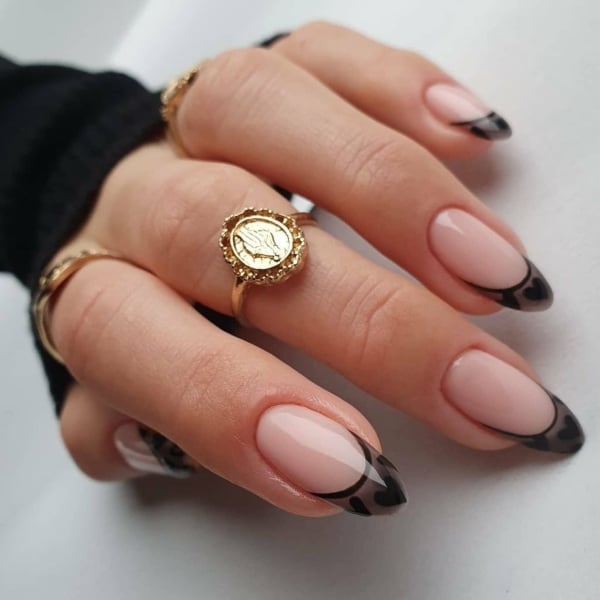 13. Edgy Almond Nails
Nail art is all about expressing yourself and having fun, and the almond nail is the perfect canvas to get creative. It looks best when worn long but can also be shaped on short nails. For those who want a look that is edgy and effortlessly cool, why not try black ombre nails? You could also opt for a feature nail design, painting the rest of the nails black or dark red.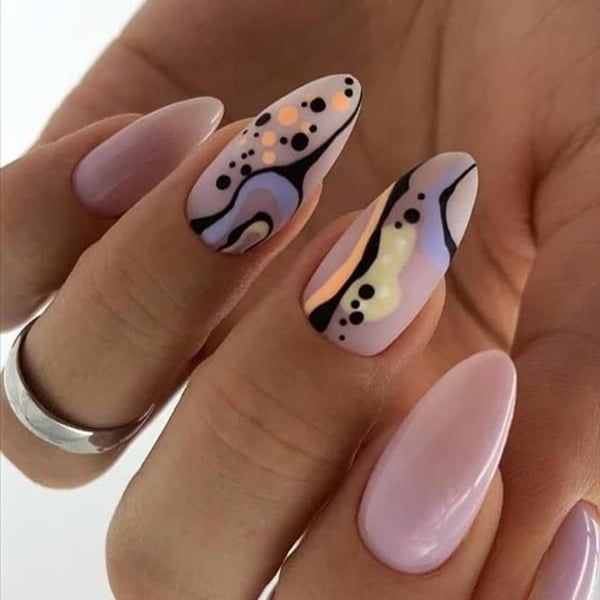 14. Red Almond Nails
Red is a color that demands attention and should be worn with confidence. If you want to draw attention to your hands, red nails are perfect. The color is also associated with passion, seduction, and love, and you can let your manicure reflect this with heart designs. Or opt for modern French tips or a vampy look that is edgy.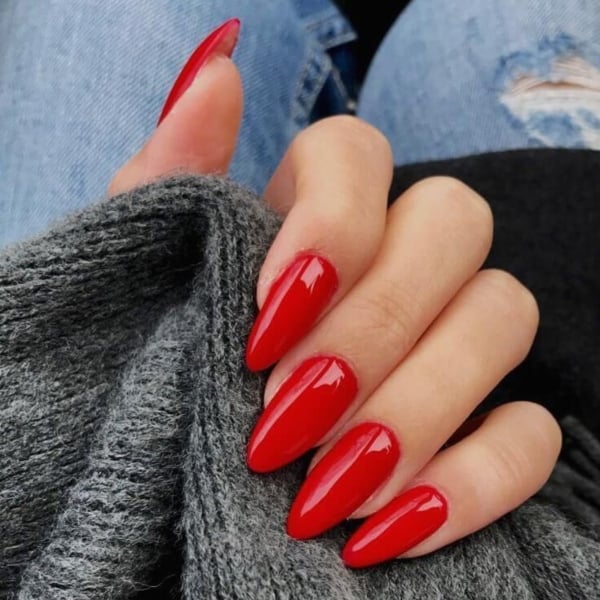 15. Natural Short Almond Nails
Nails that look natural and are shaped into almond nails are a versatile and incredibly feminine option. This is the ideal option for someone who prefers a more minimalistic approach to nail art and is great if you work in a conservative environment. Almond nails offer something different from the standard oval, square, and round shapes, making them an exciting choice.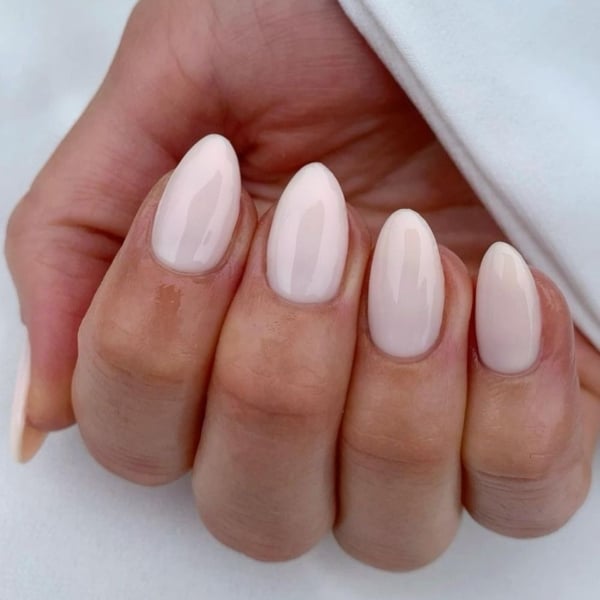 16. Ombre Almond Nails
Ombre nails are a great way to experiment with color, and your nails can be as bright or as muted as you wish. The technique expertly blends two shades, one light and the other darker, creating a gorgeous gradient effect that is interesting to look at but relatively simple to achieve.
17. Summer Almond Nails
Summer is the season for bright colors and fun designs, giving you plenty of opportunities to experiment with your nail art. From neon hues that demand attention and will highlight your nail shape to cute fruits and bold patterns, summer nails are a time to express yourself. The almond shape is incredibly flattering and will elongate the finger.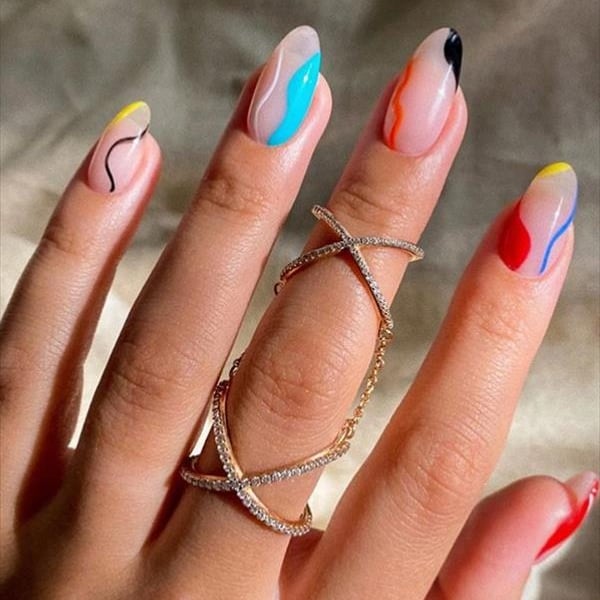 18. Almond Press On Nails
Press on nails are applied using glue and appealing because they are affordable and easy to use. They are a great way to temporarily change your nails, including trying out different shapes and lengths. There is a wide range of press on almond nails to choose from, so you can pick your favorite colors and designs.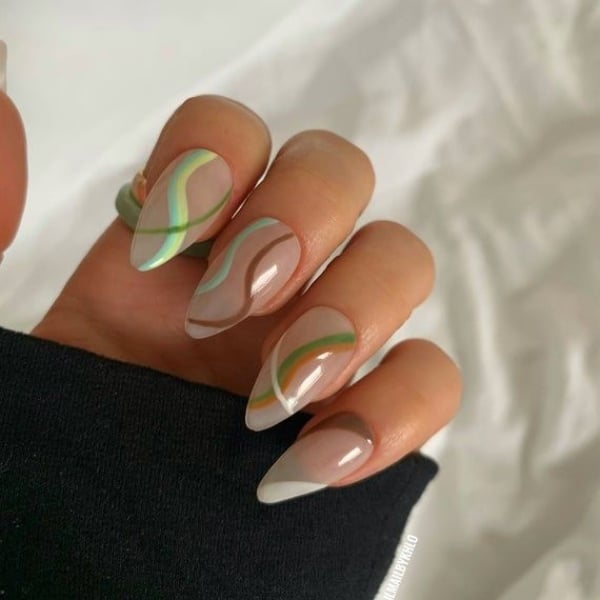 19. Brown Almond Nails
Brown nails come in various shades, from dark chocolate colors to warm caramels; this means there is an option to suit every preference and complement your skin tone. You can pick one brown hue and paint all of your nails the same, or try out a different shade on each finger; the choice is yours. Almond nails are versatile and long-lasting and less prone to breakage than other shapes.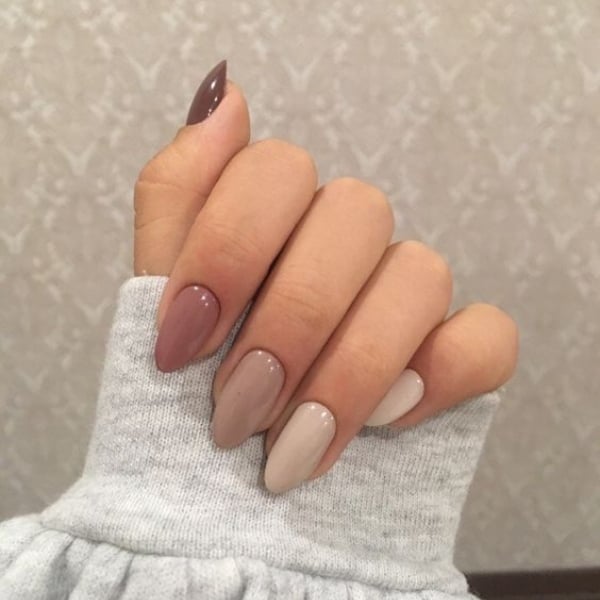 20 Elegant Almond Nails
If you want elegant nails that ooze sophistication and can be worn to formal events making you look and feel fabulous, then keep your nail design to a minimum. Opting for a classic, muted color, and subtle nail art will give you a feminine and versatile manicure and can be worn anywhere, including on special occasions.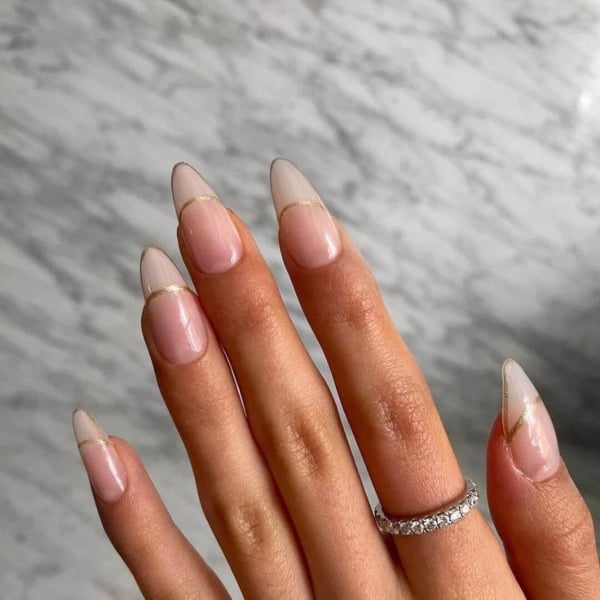 21. Medium Almond Nails
Almond nails can be worn short or long, but why not opt for something in between for the best of both worlds? Medium-length nails give you enough length that you still have versatility with the nail art you choose but are short enough that they are more practical and easier to manage; they will be less prone to breakage than longer nails.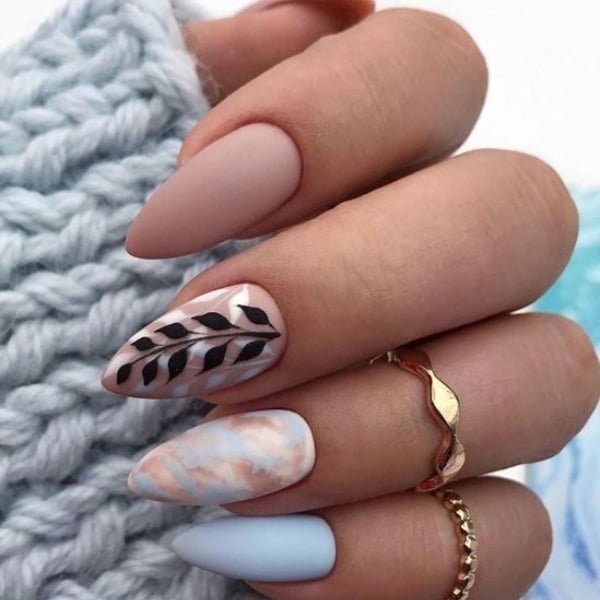 22. Natural Almond Nails
Natural almond nails are created using your natural nail instead of an artificial alternative. When designing almond nails, there may be some restrictions because natural nails do not often grow as long as acrylics and are not as strong. However, this is a wonderful option for someone who wants to take a break from artificials, which is important to do.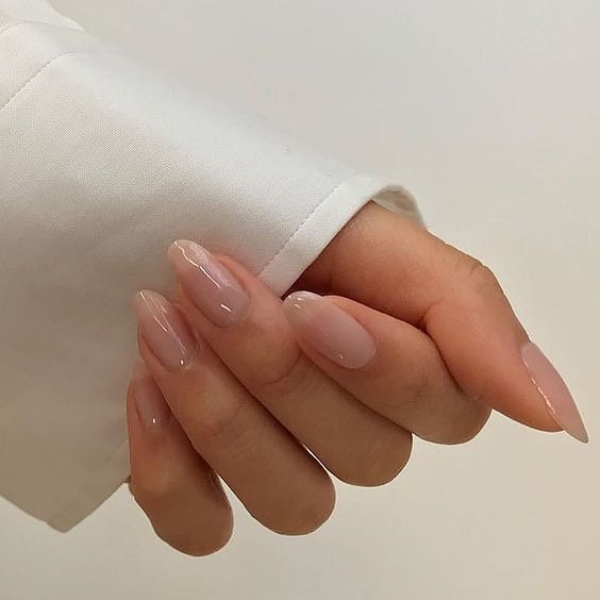 23. Classy Almond Nails
If you have a special event coming up or a corporate function and you want to portray the image of a classy and sophisticated woman, then you need classy nails to reflect this. The idea with this nail art is that less is more, focusing on simple designs and a limited and muted color palette. You also do not want almond nails that are too long; stick to a medium length instead.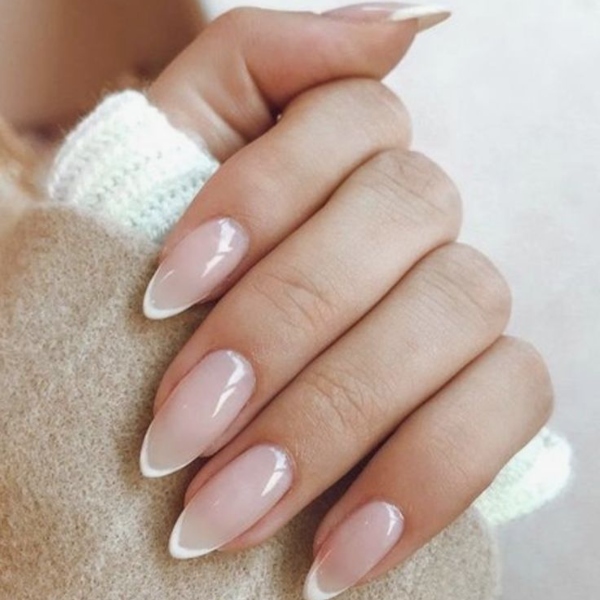 24. Fall Almond Nails
Fall is the season associated with the changing colors of leaves, letting you pick from various hues, including dark greens, oranges, and browns. Incorporating one or multiple of these colors into your Fall nail art makes for a fun and expressive manicure that will complement all nail shapes and lengths.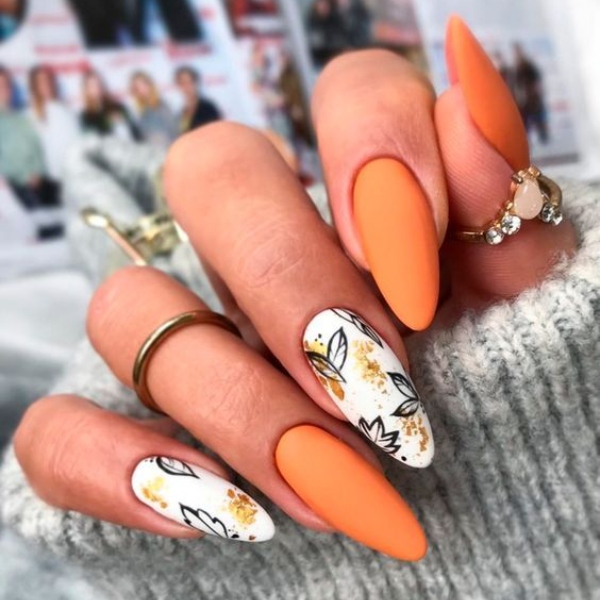 25. Blue Almond Nails
Blue nails have been a trending color in recent years because they are gorgeous and symbolic. The color represents calmness and tranquility and may help you feel at ease whenever you gaze at your hands. It is also a versatile color, with varying shades, letting you find the one that suits you best and compliments your complexion. Blue almond nails can be simple or detailed and focus on one color or various shades.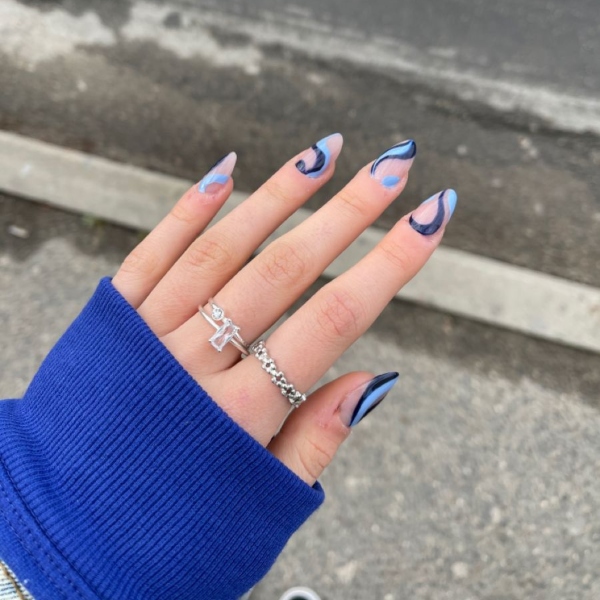 26. Cute Almond Nails
If you are looking for a cute manicure to express your girly side, let your nail art reflect this. There are many ways to do this, including trying out bright colors, fun patterns and prints, and even little stickers of your favorite animal or flower. The almond shape is versatile and flattering and lends itself well to nail art, especially when created on longer nails.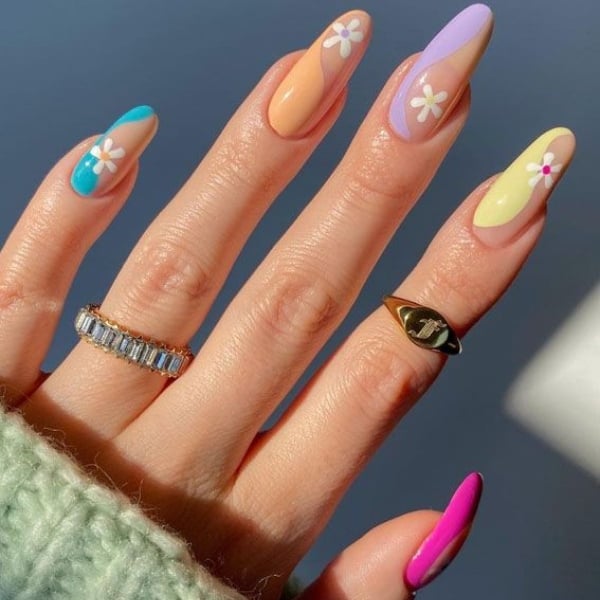 27. Almond Christmas Nails
Christmas is one of the most joyous times of the year, and your manicure can reflect this. Christmas nails can be everything from a brilliant mix of green, red, and white shades to candy cane stripes or images of Rudolph the Reindeer or Santa Claus; this is a great option to get creative with your nail art.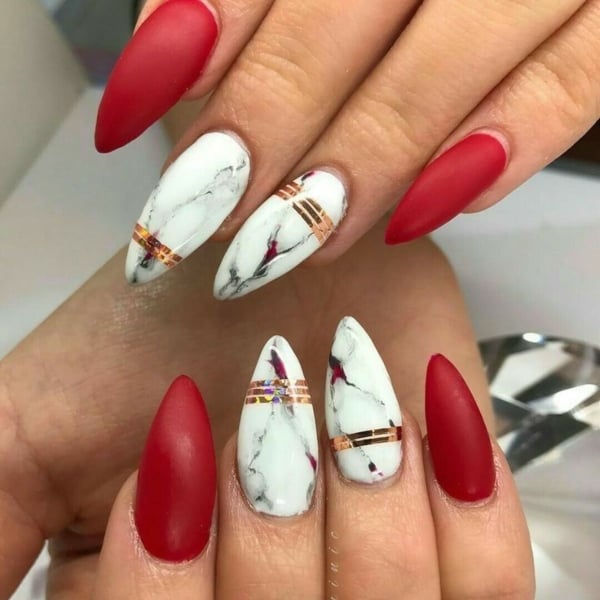 28. Green Almond Nails
Green nails are associated with nature and represent beauty and growth. There are many shades to choose from, including pastel green or darker hues like emerald. Green nails are versatile and will look fantastic in the almond nail shape. You can keep your nails long and make a statement or short for a perfect look for every day.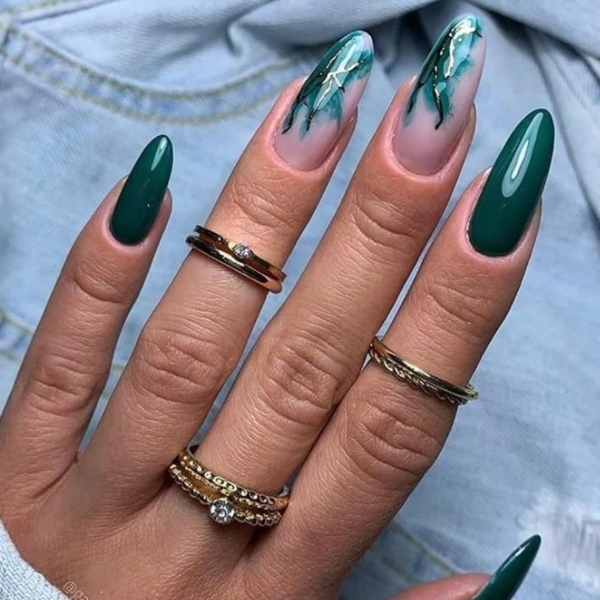 29. Simple Almond Nails
Nail art can make a statement or be simple and understated. Sometimes the beauty is in the simplicity and opting for neutral colors, and little detail will complement the almond shape, making it the focus of your manicure. Almond nails can look incredibly flattering and feminine.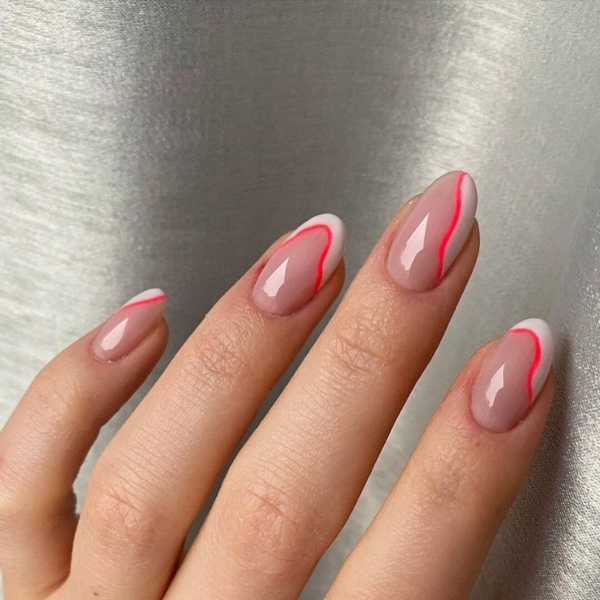 30. Almond Gel Nails
Gel nails are achieved by painting a gel coating on your natural nails. They are great for achieving stronger nails that are more flexible than acrylics and have a more natural appearance. You can experiment with different nail art and colors, creating a simple and chic manicure or a bright and bold one.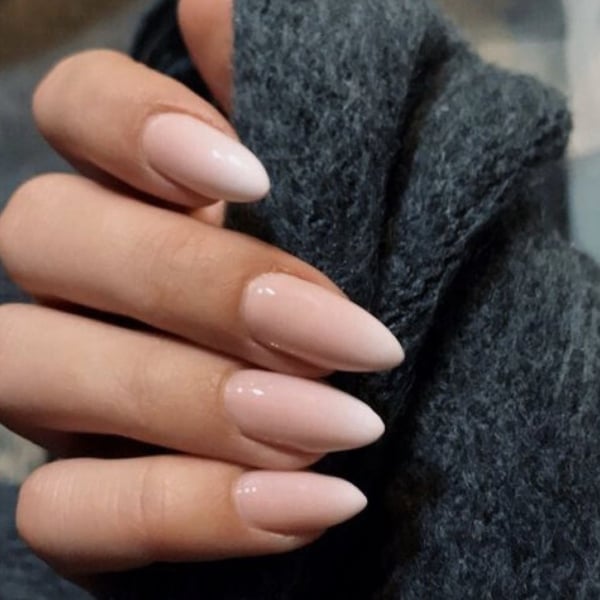 31. Light Pink Almond Nails
Light pink is one of the prettiest colors for your next manicure. The soft, muted color is girly and romantic, associated with femininity and playfulness. It is easy to wear and can be added to fingernails of all shapes and lengths, including almond nails. Light pink is also incredibly flattering and perfect for all occasions.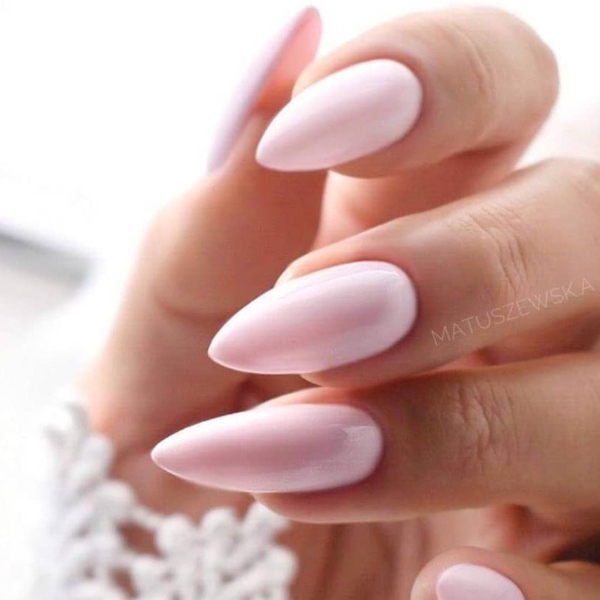 32. Pointy Almond Nails
The almond nail shape is tapered on the sides, forming a rounded point on the top. You can experiment with this shape slightly to achieve a more personalized look, including making the point sharper. You can opt for nail art that focuses on the tip, like a modern approach to the French tip manicure to highlight the shape.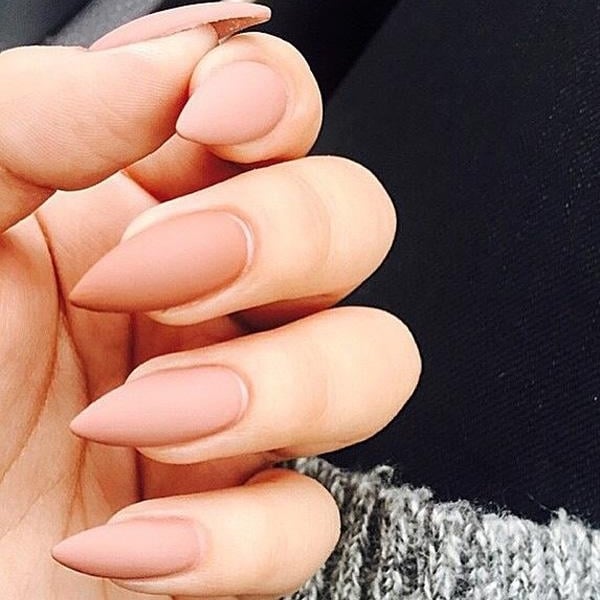 33. Purple Almond Nails
Purple nails can be dark or light shades, offering you great versatility. There is a color to suit every preference and complement your skin tone, and purple can be added to the nails in various ways, including mixing light and dark shades or opting for a playful manicure with squiggles or checkered print.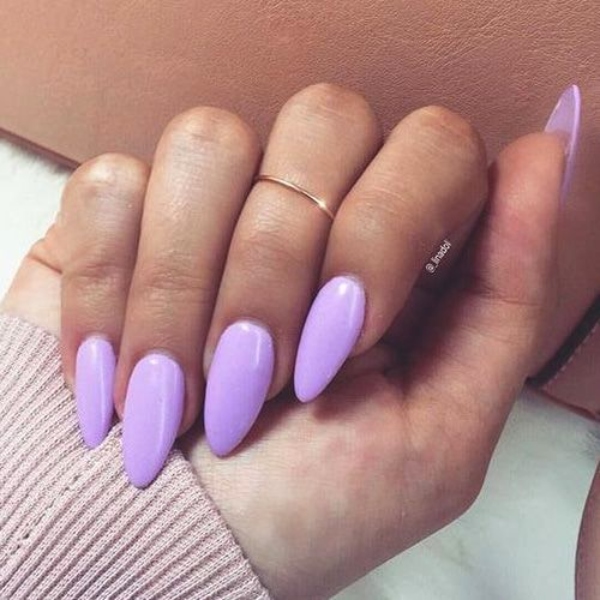 34. 3D Almond Shaped Nails
3D nails may not be the most practical option, but they are a lot of fun. Adding 3D details to the nails makes them stand out and works best with longer almond nails because there is more space. You have to take extra care to ensure your nails do not snag on things, but the finished result is a manicure you will want to show off.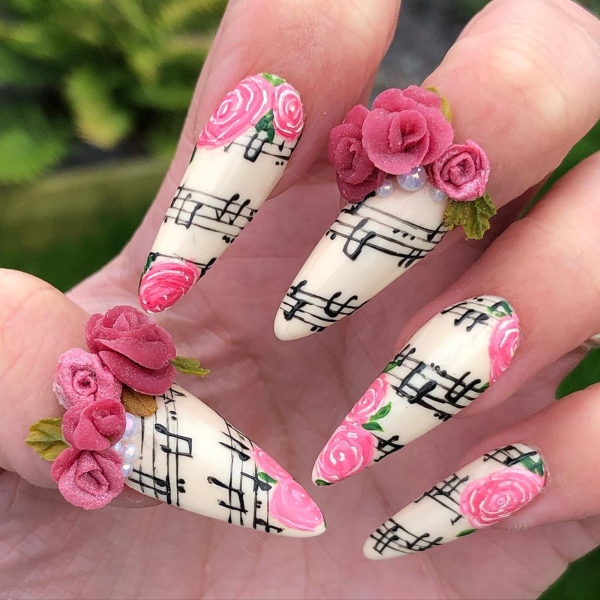 35. Almond Wedding Nails
Wedding nails should be simple and elegant. You can opt for a classic approach like the French tip manicure or nude or light pink lacquers, which are extremely flattering and versatile. If you want to add a little sparkle on your big day, you can do this with a subtle rhinestone applied to the base of the nail.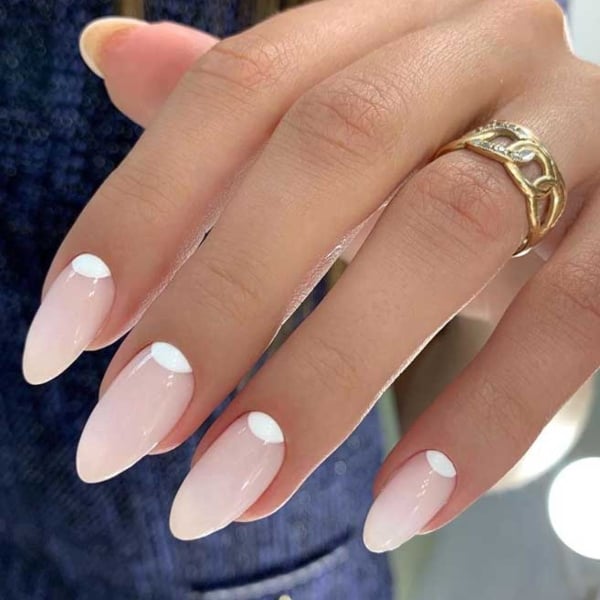 36. Almond Angel Nails
Almond nails are defined by their tapered sides, forming a point. It is an incredibly flattering shape that lends itself well to many nail art designs; however, one of the prettiest and most symbolic is angel nails. Angels are associated with goodness, purity, guidance, and hope and can remind you of all the beauty in your life.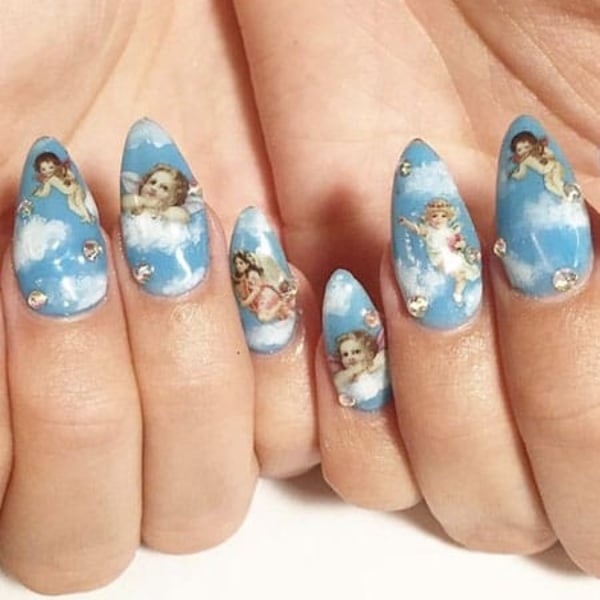 37. Gold Almond Nails
It does not get more luxurious than gold nails. Gold is a color that is associated with wealth and prestige and makes even the most simple nail shape look great. Almond nails are incredibly versatile and flattering, and painting them with your favorite metallic shade is a great way to highlight the shape.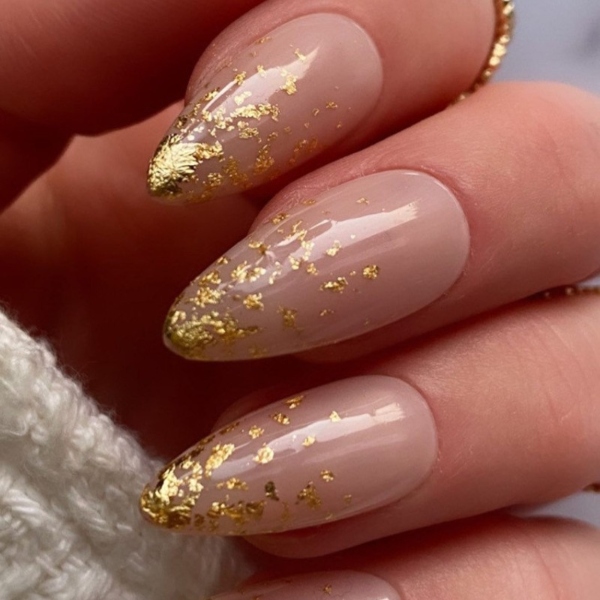 38. Grey Almond Nails
Grey is one of the best colors for nail art because it feels modern. It is also flattering on all skin tones and can be added to your almond nails in various ways, including combining light and dark greys or focusing on just one hue. Grey nails complement silver jewelry, and this is an excellent color for showing off your favorite rings.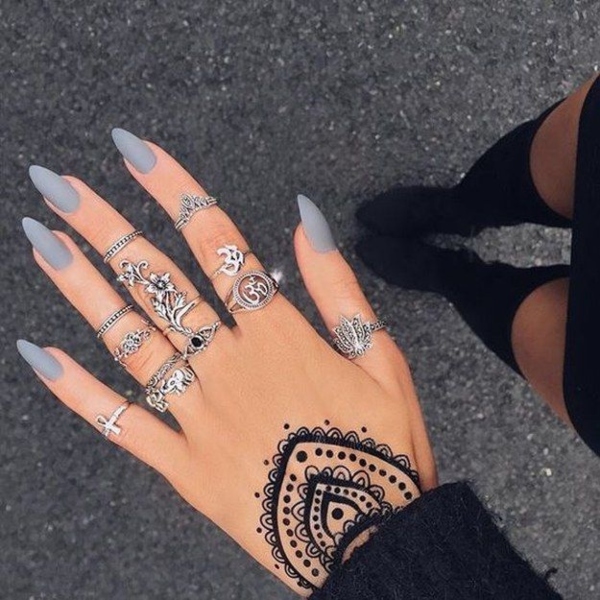 39. Almond Diamond Nails
For nails that have a little extra glam factor and are sure to sparkle in the sunshine, you need diamond nails. Adding gems or diamantes to the nail can make your manicure feel luxurious. You can add white sparkles to every fingernail or focus on the feature nail for a more subtle approach; the choice is yours!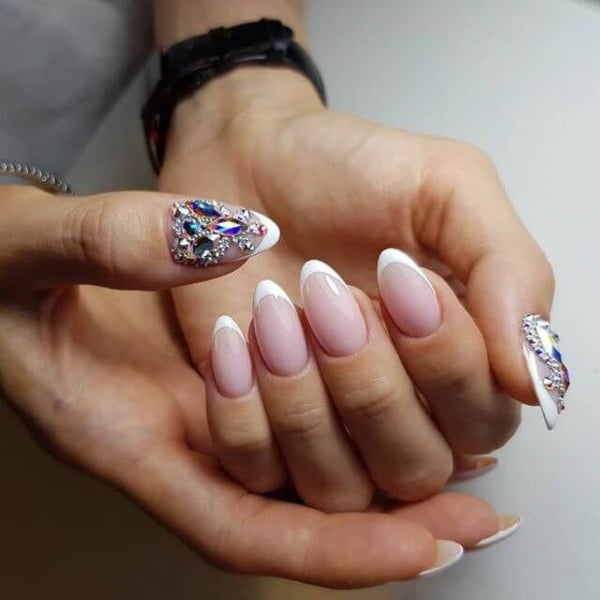 40. Almond Rainbow Nails
Rainbow nails are an excellent choice if you want to experiment with color and create nails that are bright and cheerful. Rainbows are associated with good fortune and positivity, so your manicure will be beautiful and symbolic. The rainbow's arc also lends itself well to the almond nail shape.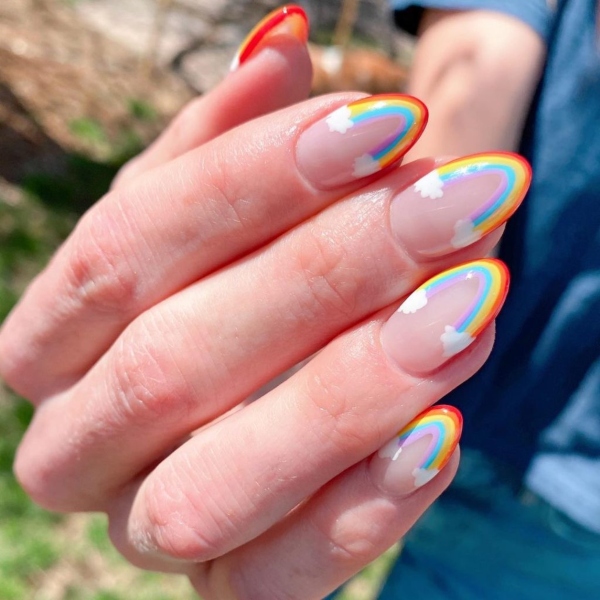 41. Almond Butterfly Nails
Butterflies represent growth, transformation, and beauty, and having one of these winged insects fluttering across your nail makes for a symbolic and eye-catching design. Butterflies come in many different colors and forms, letting you get creative with your butterfly nail art; you can choose the colors that appeal to you most.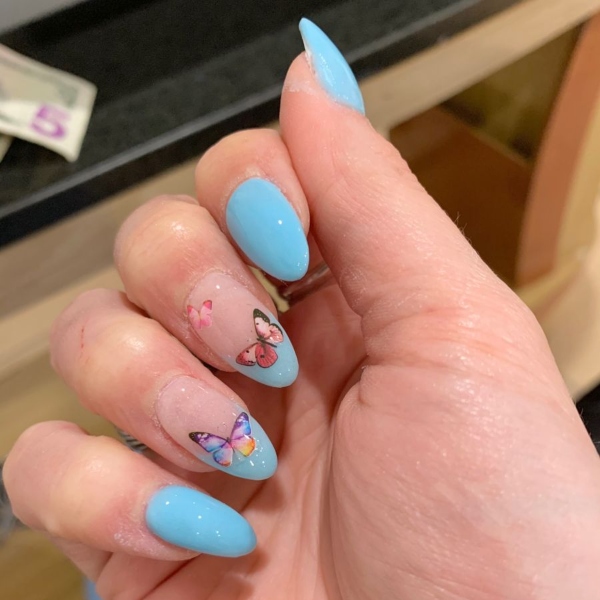 42. Almond Valentine's Day Nails
Valentine's Day nails are a celebration of love! Mixing and matching with pink, red, and whites or adding small heart designs to your nail is a great way to honor Feb. 14, but you do not have to wait until Valentine's Day to try out this super cute and ultra-feminine nail art; and it is wonderful for all year round.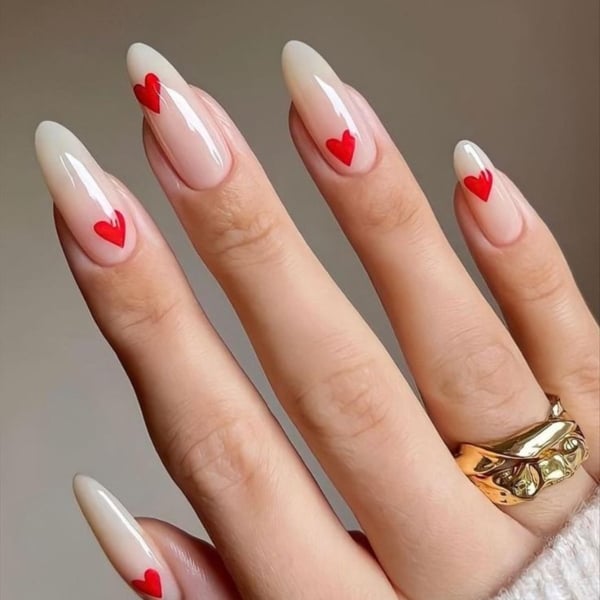 43. Almond Star Nails
For a beautiful, dreamy manicure, star nails are ideal. Stars are easy to create and can be added to the nails in various ways, including a night sky-inspired look. Stars are also symbolic of guidance and hope, adding a positive element to your manicure and inspiring you every time you look down at your hands.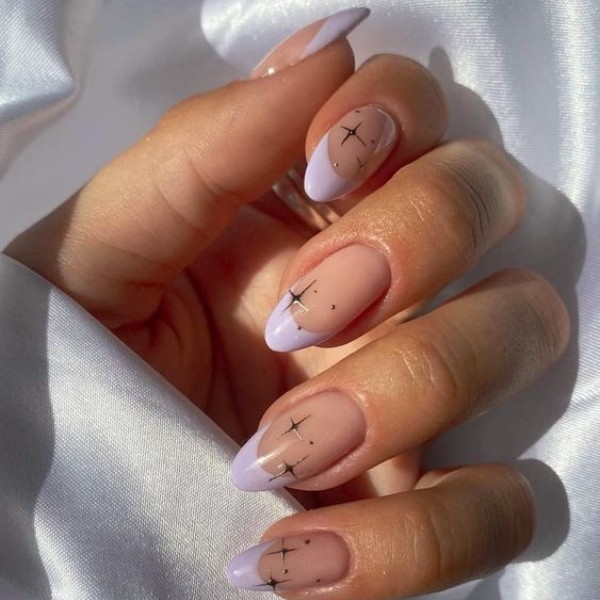 44. Matte Almond Nails
Most nail polish has a glossy finish, but you can try matte nails if you want something different. Matte polish has a flat, smooth look, and it is an excellent option for creating texturally interesting almond nails. You can experiment with several colors for a fun look or keep it simple by painting each fingernail with only one color for a sophisticated finish.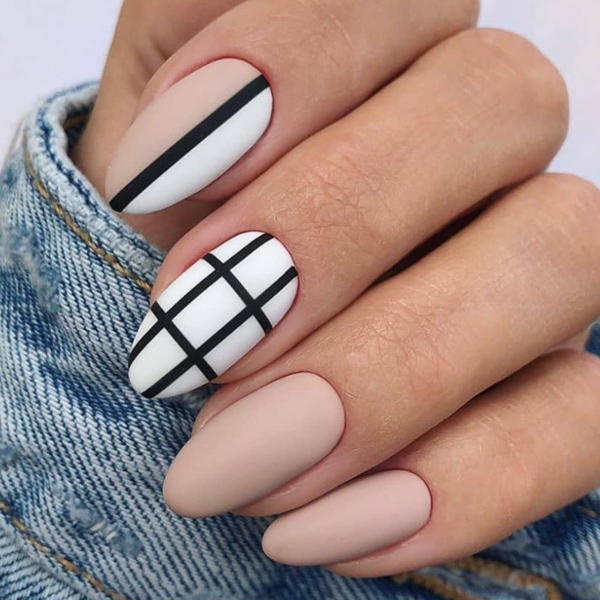 45. Brown Flame Almond Nails
Almond nails are versatile and lend themselves well to nail art ideas. Longer nails are best for more detailed nail art because they give you more space to get creative. Almond nails are the perfect option to draw attention to your hands and make a statement, and the design you choose can enhance this.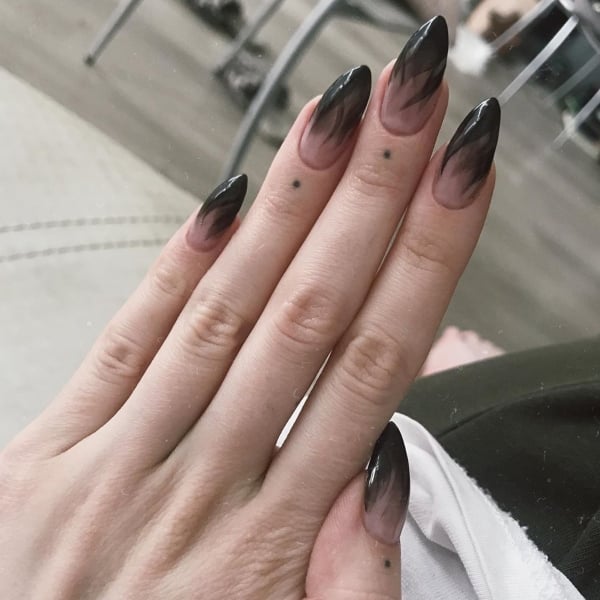 46. Nature Inspired Almond Nails
Get your inspiration from the world around you with a nature-themed manicure. If your house is full of leafy plants, why not paint your nails to match? Almond-shaped nails give you plenty of space to work with, so you can be more detailed and creative. A stylish take on this trend is a white manicure with leafy feature nails. Even better for spring and summer, the pale tones in this design look amazing when you have a tan.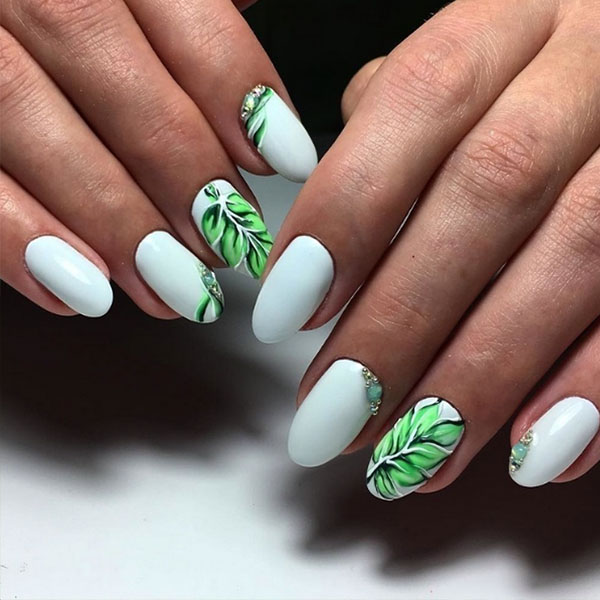 47. Press on Transparent Almond Nails
Press-on nails have come a long way from the flaky stickers of our childhood! Those who want to try out the almond nail shape without committing to acrylics should try the press-on version. It's also a great way to test different trends – like a transparent design – before you have your talons filled. Finally, press-on nails are a quick and easy fix if you break one of your acrylics and can't get an appointment at the salon!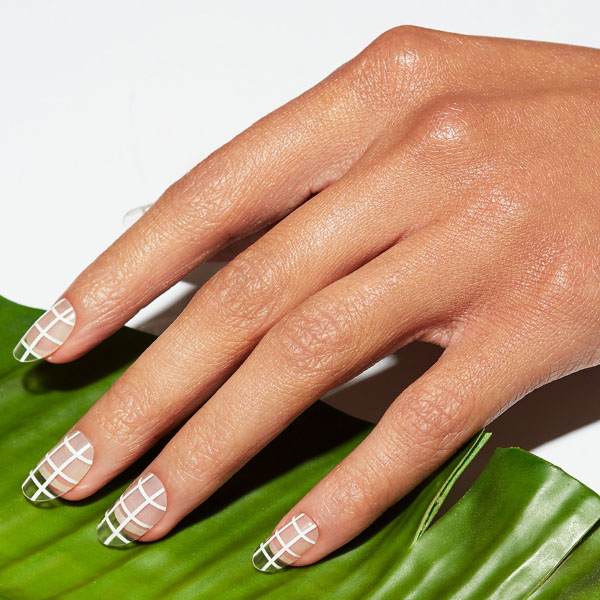 48. Marble Almond Nails
Marble has been one of the leading nail trends, and it's easy to see why. It gives your fingers a chic, understated, and artistic look – and it pops in photos. You can try out a marble design as a feature nail on one or two fingers as the pattern works well with many different colors. If you're feeling brave, go for a full marble manicure!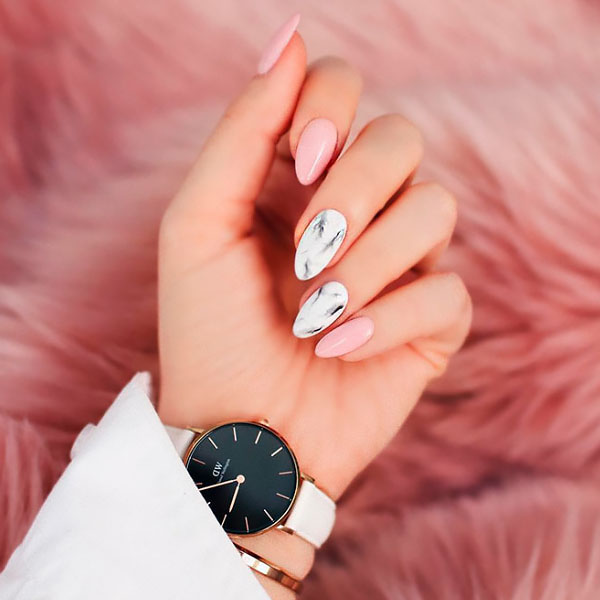 49. Almond Nails with Writing
Because the almond nail shape is quite long, you can fit words and messages on them – not just letters or initials. Best of all, you can customize this trend to suit your style; different fonts and colors will change the finish entirely. Some people opt for a street-style writing manicure that's full of attitude. Meanwhile, others go for a soft and pretty message for a special occasion – like their wedding day or engagement party. The choice is up to you.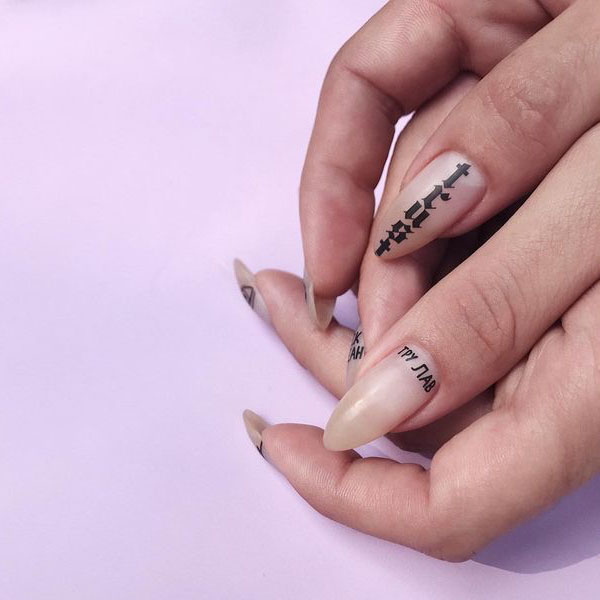 50. Feature Almond Nails
Feature nails are a versatile manicure style. For a simple take on the look, paint one nail with a contrasting color to the rest of your fingertips. However, those who want a more modern and sophisticated finish could use their feature nail as a mini art canvas. Have your manicurist create intricate and eye-catching designs on your feature nails, while leaving the rest of them in a neutral shade.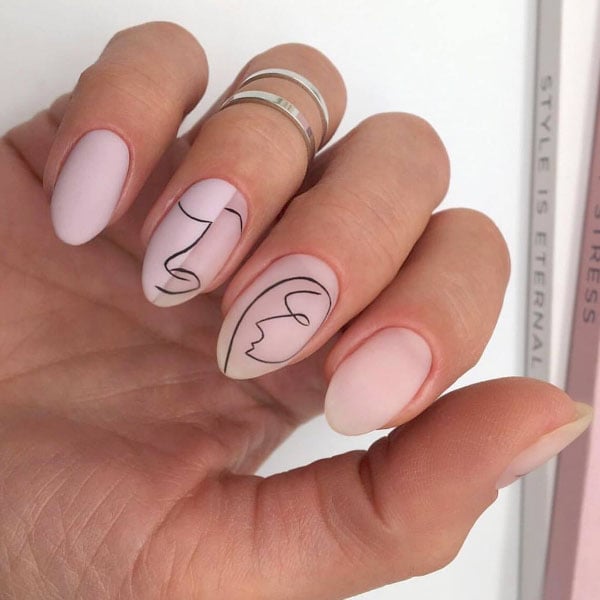 51. Holographic Almond Nails
Who doesn't love holographic nail polish? The paint shifts and shimmers, continually changing as you move your hands. And with a holographic top coat, you can turn almost any regular polish into a standout manicure. Almond nails are a great way to show off a 'holo' finish because they offer a larger canvas to catch the light.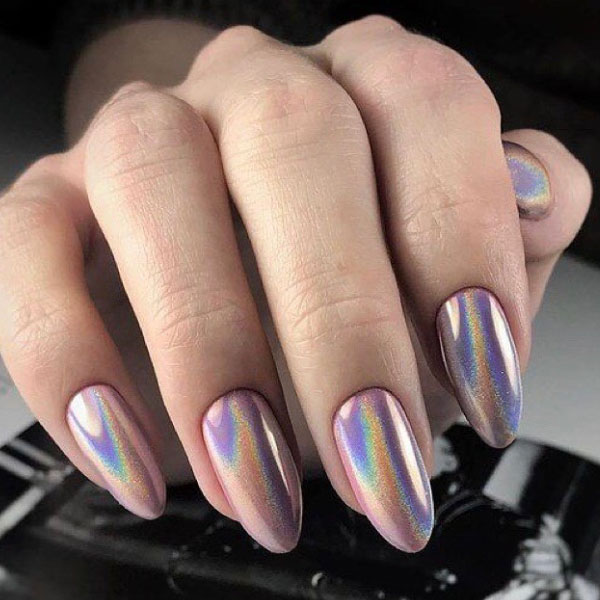 52. Cute Almond Nails
While almond nails are usually thought of as a more glamorous nail shape, they also look fantastic with cute summer nail designs. From Pop Art patterns to animals and plants, you can find sweet manicure inspiration everywhere. One on-trend option is a succulent-inspired look. It incorporates the cute green hue of the plant as well as the spikes of a cactus.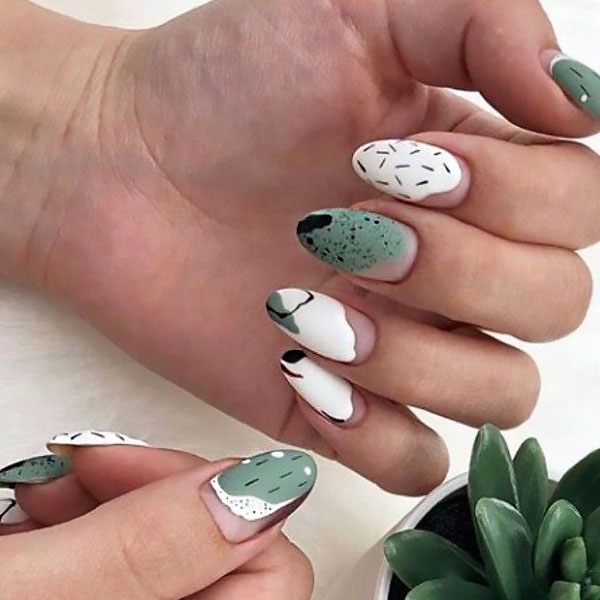 53. Nude and Red Almond Nails
The nude and red nails design combines three current trends: French tips, color blocking, and inverted half-moons. You will need almond nails to get the look right, as it requires a softly pointed, round shape. Use a half-moon stencil to keep the lower third of your nail bare, and paint the rest with a pale nude shade. Then create a red French tip. The result is an unusual and sophisticated manicure that will get you lots of compliments.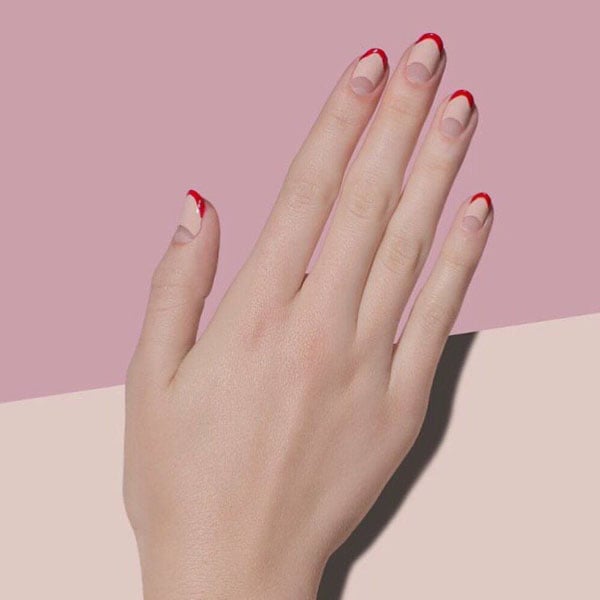 54. Glitter Almond Nails
Glitter never goes out of style, especially when you want a fun manicure that's perfect for party season. Whether you prefer a subtle shimmer gradient or a chunkier look, almond nails are a great way to showcase your glitter. Bear in mind that most manicurists will encapsulate the glitter when they apply your acrylics, so you'll need to commit to the look until you get your nails done again.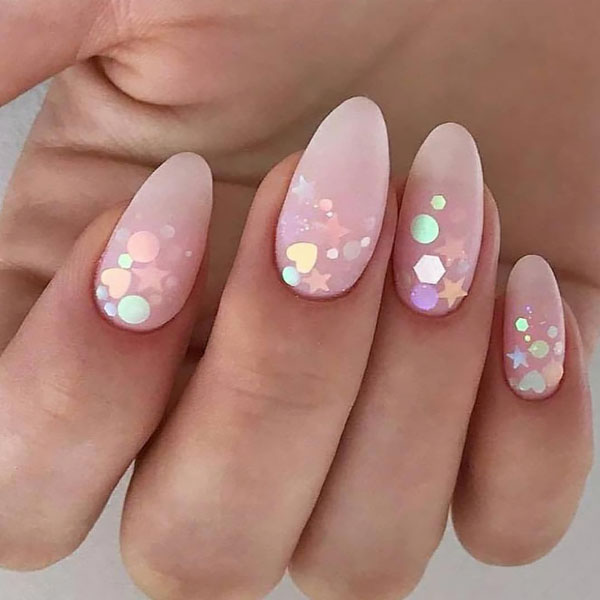 55. Multi-Colour Almond Nails
Can't decide on a nail polish shade? Then a multi-color manicure is for you. Keep the color palette cohesive by opting for hues in the same family – such as pastels. You could also try a gradient or spectrum effect. One popular version of that design is pastel shades or mimicking the colors in a sunset.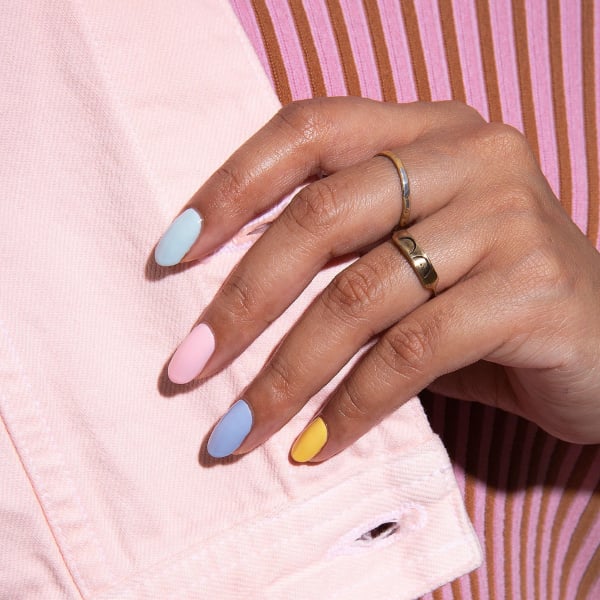 56. Halloween Design Nails
Halloween is just around the corner, so it's time to celebrate with spooky nail art! Decorate your almond nails with fun motifs like cats, witches, skeletons, and jack o' lanterns. Another option is the 'dripping blood' effect. The creepy look can be created easily with deep red polish, and it will have your friends screaming with envy.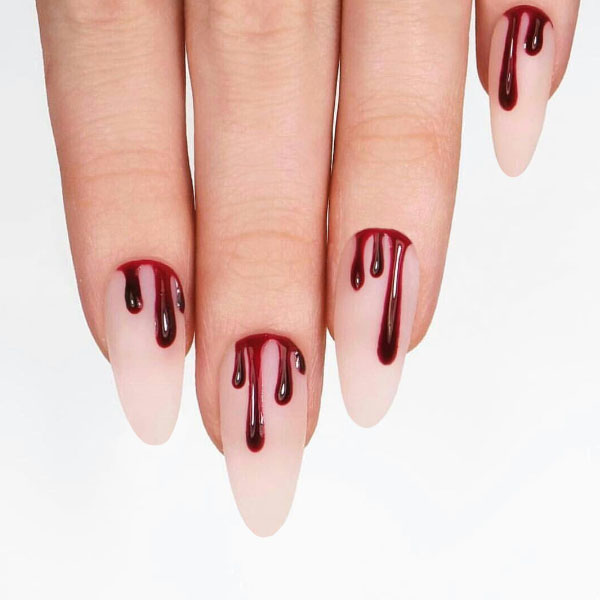 57. Geometric Almond Nails
A geometric design is one of the best ways to show off extra-long almond nails. You'll have enough space to use contrasting shapes, colors, and angles, drawing attention to your manicure. Be sure to use two highly contrasting colors – such as black and nude – to make the sharp patterns pop.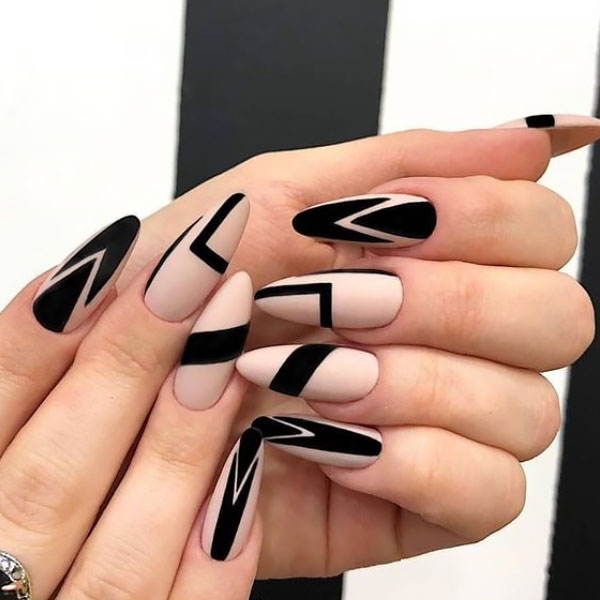 58. Black Almond Nails
The Little Black Dress is a wardrobe staple, and the little black manicure is equally classic when it comes to almond nails. That's because black polish draws the eye along the fingers and emphasizes the pointed shape. It's also a versatile option. When combined with dainty jewelry, the effect is chic and glamorous. However, it can also be edgy and cool when combined with streetwear or a more rock'n'roll fashion look.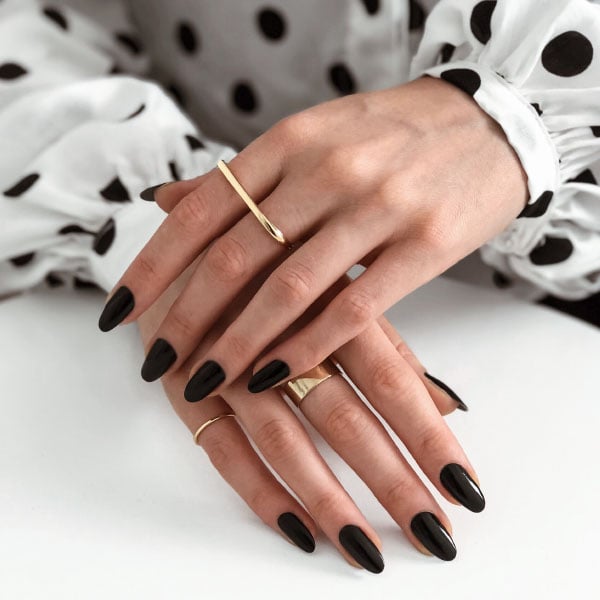 59. Modern French Manicure Almond Nails
A classic French tip manicure involves a nude base with a white edge. To give it a modern twist, try the same combination on almond nails with a more subtle shift from nude to white. The lighter tips will draw attention to the sexy and sophisticated shape of your nails, while the light beige base makes them look even longer.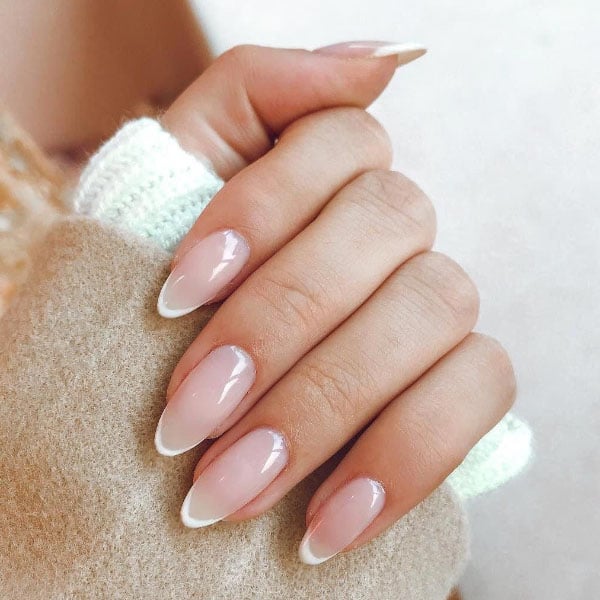 60. Pastel Almond Nails
If you love a sweet manicure or are just dreaming of summer, pastel almond nails are a perfect choice. A subtle demi-matte finish will make your fingertips look like candy, while an ultra-glossy sheen gives them a more elegant feel. You can also shake it up with pastel patterns, or go for a contrasting pastel feature nail. These soft and pretty shades look fantastic on all skin tones but are especially striking against deep complexions.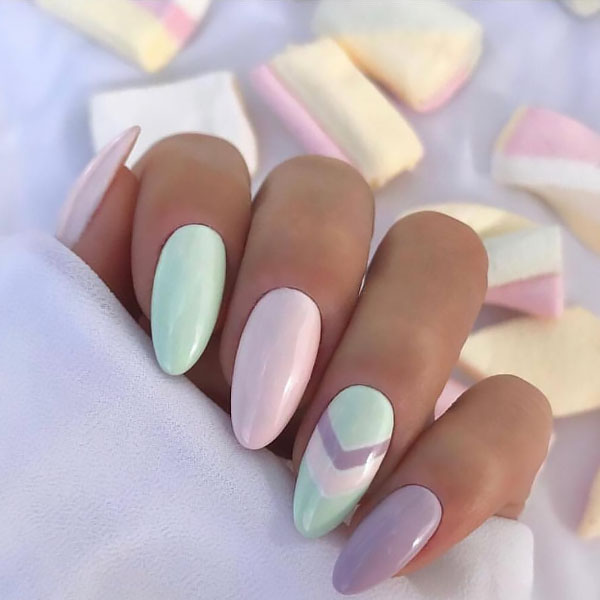 What are Almond Nails?
Almond nails are a shape that is defined by the slim, tapered sides that form a point. They get their name because they resemble the nut. These nails are gorgeous, feminine, and extremely flattering and will look good on women of all ages and all finger lengths. They are less maintenance than some of the more daring, pointy shapes but are still versatile and work well with nail art that is simple or detailed. Almond nails are best when long but can also be short if you want a more natural look.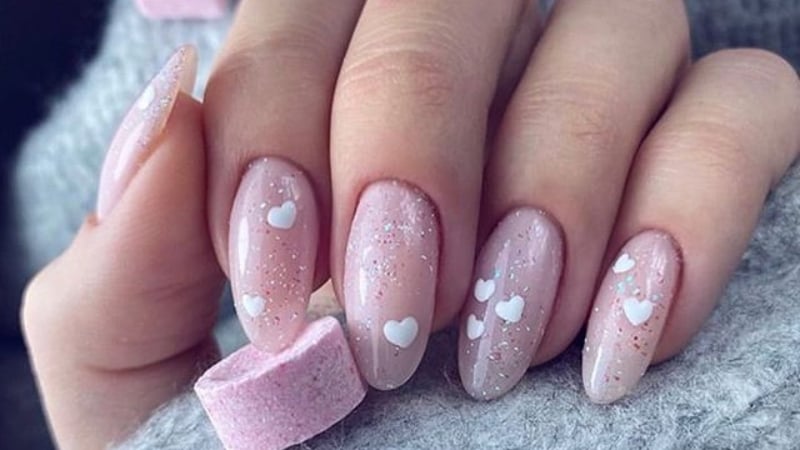 Almond vs. Oval Nails
Almond nails share many similarities with oval nails, but the difference is that oval nails have less tapered sides and a more blunt tip. Oval nails are more natural in appearance and are incredibly versatile. They are also one of the strongest nail shapes. In contrast, almond nails have slim, tapered sides that form a point and can create a more statement finish, giving you a manicure that demands attention. Almond nails are also flattering on all fingers and can elongate and slenderize shorter fingers.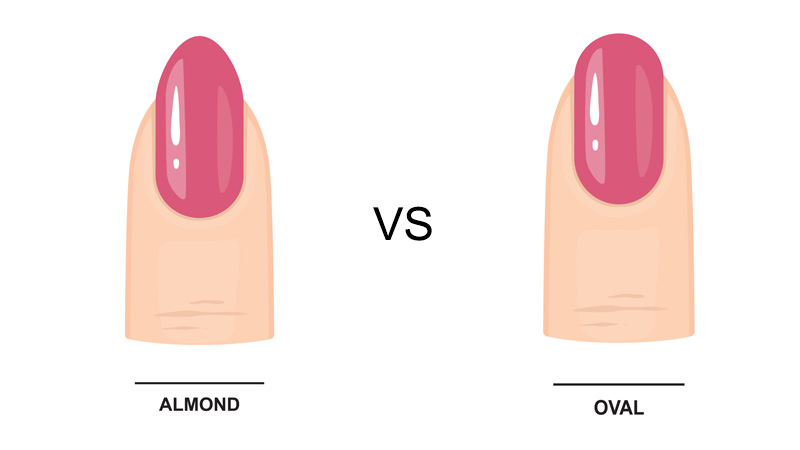 Almond Shape Nail Design Tips
Consider an almond nail shape if you want to elongate the appearance of your fingers.
Remember, the almond shape can work for a range of nail lengths, including those that are long and somewhat short.
Create almond-shaped nails at home by filling the sides of your nail towards the center and rounding off the tip.
Try acrylic nails if you need help achieving the perfect almond shape and length.
Choose feminine nail art designs to complement the ladylike appearance of almond nails.
Almond Shape Nail Designs FAQ'S
Are almond nail shapes good?
The almond nail shape is one of the most popular choices because it is versatile and looks great. It is a universally flattering shape that will suit women of all ages and lends itself well to different nail art.
Can I have long almond nails?
Almond nails look best when kept longer. This allows you to show off the shape and gives you more flexibility with your nail art. It has a very glamorous and feminine appearance and is favored by celebrities and style icons. In addition, long almond nails can elongate your fingers and create a slimming effect.
Can almond nails be short?
Almond nails are defined by their slim sides, which taper at the end and form a point at the top. They are given their name because of their resemblance to the nut. In general, almond nails look best on longer nails, but you can wear them short, albeit not super short. This option will restrict you more than long nails.
What nail design is best for almond nails?
The beauty of the almond nail shape is that it can be incredibly versatile, and there is a wide range of different nail designs to choose from. Opt for V-shaped French tips, nude nails, or white polish if you prefer something simple. If you love bright and bold nail art, get creative with your favorite colors, opt for cute nail art like polka dots or checks, and make a statement with 3D details.
Are almond nails still in style?
Yes, almond nails are still in style. They are among the most popular nail shapes and are flattering for women of all ages and on all finger lengths. The shape can make your nail beds look slimmer and slenderize your fingers. Almond nails are versatile, stronger, and more durable than nails with a more distinct point. They work well with nail art that is simple or detailed.
Should I get coffin nails or almond?
There are pros and cons to coffin nails and almond nails, and what you get is down to personal preference. Coffin nails, especially when long, demand attention and are favored by fashionistas because of the unusual shape, which creates an ultra-feminine finish. They are fantastic for nail art but can be high-maintenance and prone to breakage. Almond nails are more wearable and less dramatic, making them perfect for every day. They are also a universally flattering shape.
SUBSCRIBE TO OUR NEWSLETTER
Subscribe to our mailing list and get interesting stuff and updates to your email inbox.