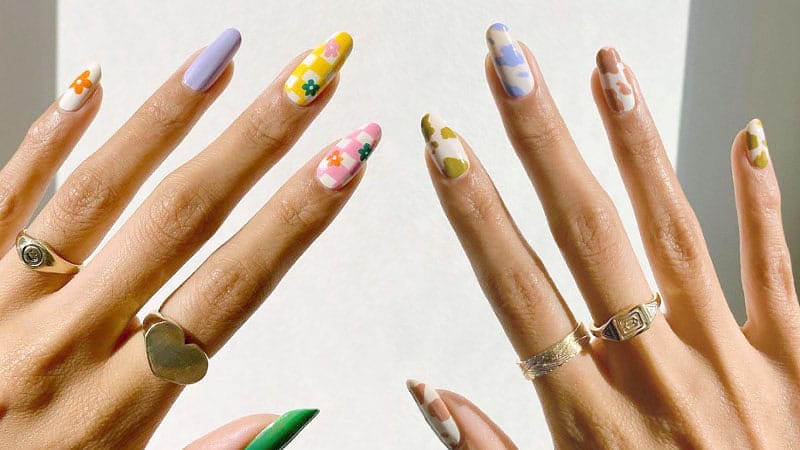 Nail art is a fantastic way to express yourself and show the world what you love. Whether it is a bright french manicure or fruity nails that add a pop of color to your appearance or Y2K and retro aesthetic like pink and green swirls or checkered prints, there are so many different looks when it comes to your manicure to try out. You can experiment with various colors and techniques to find something that reflects your style. For those who want art that is symbolic, you can celebrate the female form with femme drawings or use the evil eye to bring you good luck and ward off negativity. Head to the salon, or do them yourself at home; nothing is stopping you from getting the manicure of your dreams. These cute nail ideas are exactly what you need, so keep reading and get inspired.

1. Mismatched Designs
If you love bright colors and interesting patterns, why pick just one when you can have them all? That is really what the mismatched nail art designs are about. It is a way to have some fun and let your personality shine. Combine your favorite color combinations, pick out swirls or smiley faces, and get creative with your placement. Although they won't be appropriate for more formal settings, this artwork is bound to make a statement.
2. Bright French Manicure
Instead of a traditional French manicure, add some color to your nails by recreating the look with eye-catching shades. A bright French manicure is a modern take on a timeless classic, and you can use exciting spacing and multiple lines to create something super pretty and inspiring.
3. Polka Dot Art
Polka dots are a pattern that is timeless and classic, but if you're after an updated look, then you need bold and bright colors. There is something so chic about the pattern when created in dreamy pinks and soft creams, and it makes for a very feminine appearance. You can also experiment with different base coats and opt for dots of various sizes. There are no rules for what you can or cannot do, have fun with it!
4. Evil Eye Art
The evil eye is a popular symbol for jewelry, tattoos and now nail art. Not only does the eye look cool, but it is also a symbol of good luck. Wear it on your fingernails to protect yourself from misfortune and keep negativity from your life. As a bonus, the design is effortless to replicate and can look good at the base of your fingernails or in the center, so feel free to experiment with placements.
5. Black Swirls
Black is a color that demands attention, no matter what design you choose. It is associated with sophistication and strength, and one of the easiest ways to create nails that are simple yet cool is with a black swirls effect. To let the pattern become the focus of your nails, use a nude or clear base coat.
6. Rainbow Tips
If you're looking for a way to add color to your appearance, and have a lot of fun, then rainbow nail tips are the way to go. It is one of the top nail art trends, and for a good reason; they look great, it is a way to experiment with different colors, and they're so cheerful. There are various interpretations of this artwork, some more subtle and subdued, others girly and bold. You can opt for pastels for a sweet look or a more eye-catching option, fluorescents or a watercolor effect are stunning.
7. Fruity Art
Fruity nail art is a wonderful look for summer because it's so bright and fun. You can opt for a neutral base, add little fruit accents, or make your entire fingernail into a strawberry or orange. You can also mix and match various fruits for a bold and super cute look that is bound to get your hands noticed.
8. 3D Design
3D design nails are perfect for someone who wants to make a statement. They are a fantastic way to get creative, letting you combine all of your favorite elements. Use your bright polish and add details such as jewels, flowers, pearls, and squiggles to create an interesting texture. This design works best on long nails and should be reserved for special occasions.
9. Angel Nails
Angel nails are a beautiful way to get dreamy, whimsical designs that are also symbolic. Angels represent love, goodness, and hope, and wearing them on your fingernails can bring you joy or be seen as a sign of protection to ward off bad energies. Experiment with different designs, from cherubs to wings, and play around with soft colors or make a statement with jewels and 3D accessories.
10. Cute Strawberry Art
Whether strawberries are your favorite berries or not, we can agree that they make for some of the best nail designs. Cute strawberry art is the perfect combination of colors and has such a summery feel to it. Stick to a color scheme of all red bases or mix it up by adding a few bright pink base coats. The result is mouth-watering.
11. Natural Shades
Natural shades are fantastic for nail art because of several reasons; they are versatile and can be mixed and matched with everything you own and will suit every occasion and skin tone. Painting each nail with a different lacquer is a way to get creative with this look, but opting for base coats that are all the same is just as appealing. As a bonus, natural shades suit all nail shapes and lengths.
12. Purple Swirls
Do you think the 60s was one of the best decades? Well, then it's time to channel it with your nail art. Purple swirls have a very psychedelic appearance and are an excellent way to have fun with your nail art with minimal effort. Play around with the angles of your curved lines, for example, crossing through the middle or focusing on one side. To let the purple pop, choose a clear or natural base coat.
13. Daisy Art
One of the cutest and girliest looks to try out is daisy art. The little white flowers look so sweet on your nails, and you can make them all the same or opt for smaller daisies on one fingernail and bigger on another. Plus, the bloom is very symbolic, often associated with innocence and purity.
14. Pretty Pastel
Pretty pastels are a dreamy and gorgeous option for any woman. The great thing about these soft shades is that they pair so well with everything and have a very feminine appearance. Stick to your favorite shade or combine several depending on how bold you want your look. There are various ways to try out this lacquer, including French tips or negative spacing.
15. Trendy Checks
Trendy checks are a playful option for nail art. They are easy to create yourself, can be done with multiple color combinations, and will mix and match with most things you own. Channel the 70s with this groovy design, and pile on your favorite rings to really draw attention to your hands.
16. Blue Abstract Art
Blue abstract art is a very expressive design. The patterns themselves can be anything from unusual lines and swirls to abstract paintings, creating something visually interesting and alluring. You can mix and match with different types per fingernail or make them all the same. Blue is also an excellent color for nails because it is associated with calmness and serenity.
17. Fun in The Ocean
Do you love the sea and find the creatures that live within it fascinating? Perhaps the sound of the crashing waves makes you calm and happy? There are many different interpretations for fun in the ocean nails, but the focus is generally on a rich blue base coat and the design is completed with interesting details. These could be surf boards, fishes, seashells, or corals. It is all about how these nails make you feel and is a fantastic way to share what you love.
18. Soft Pastels
Soft pastel nail art is undoubtedly one of the most dreamy manicures around. These colors never go out of style, they are versatile and easy to mix and match, and they have such a feminine quality. If you're looking for a more modern and less predictable take on the classic shades, then try a swirl or watercolor effect. Be sure to pile on your favorite gems to really draw attention to your hands.
19. Bright French With Feature Nail Art
If you're a woman who loves experimenting with colors, then the modern approach to the classic is the bright French with feature nail art. Although the traditional French manicure is timeless and chic, this is a playful interpretation and one that is bound to bring a smile to your face. Experiment with combinations of your favorite shades, and pick a nail or two to add extra artwork. This can be anything from stars and moons to flowers and heart designs, and the colors can complement the tips of your fingernails or clash with them, depending on your desired outcome.
20. Fun French Manicure
Why not show the world you're someone who has a playful wide with a fun French manicure. The beauty of decorating your tips is there are so many ways to do it. Add your favorite colors and incorporate small designs of things you love. This could be something simple like fruits and smiley faces or symbolic, like evil eyes and yin yang. Nothing is stopping you from getting your creative juices flowing.
21. Melted Ice-cream art
If there is one nail trend that will make you think of summer, it is melted ice cream art. The gorgeous combination of colors blends into each other, creating an almost dripping effect, just like an ice cream cone on a hot day. It is super pretty and can be done with the colors of your choosing; be sure to pick two shades that are similar to allow for it to blend properly.
22. Logo Nail Art
Logo nail art is the perfect way to let the world know of your fashion knowledge. Some of the top choices and most recognizable brands include Chanel and Louis Vuitton, but if you have another company you love or even your own, nothing stops you from recreating this instead. The look can be bold and bright with a 3D logo or subtle and simple, with a small emblem on just one fingernail.
23. Mix and Match Designs
If you are the type of woman, who loves to experiment with various colors and patterns and feel that choosing just one is too restrictive, welcome to mix and match designs. The great thing about these nails is that they are artistic and an excellent way to express yourself. You can have fun with different shades and shapes; whether combining dark green and purple or opting for retro lines, the choice is yours. There are no rules with what you can and cannot do.
24. Pink and Green Swirls
Pink and green swirls have a gorgeous retro appearance. The combination of the colors and patterns is strangely complementary and lends itself well to various settings. Your manicure can be worn with bright clothing for a statement look or be the focal point of your appearance by opting for a muted outfit. For extra glam, wear all your brightest statement jewelry.
RELATED: 20 Green Nails Designs To Up Your Manicure Game
25. Smiley Face Art
Smiley face art is one of the most cheerful nail designs to choose from. Seeing these cute little faces on your fingernails will bring you so much joy and add positivity to each day. It is a great way to remind yourself to keep going and that there is something to be happy about. To let the design become the focus of your look and stand out, choose a natural base coat.
26. Line Art
Line art is not overly complicated to create, but it is interesting enough to draw attention to your fingers. The drawing style is created using a series of distinct lines to form an image; this can be abstract or of things, for example, people and flowers. It is best to opt for a nude base coat to really let your design become the focus of your manicure, and the brighter the artwork, the better!
27. Christian Louboutin Manicure
Women who love fashion will be well aware of Christian Louboutin's shoes. The designer is famed for his striking red soles, which demand attention and are easily recognizable. The footwear has also inspired nail art, with black nails and red tips or black nails with the insides painted a bold red shade. The color combination is incredibly sexy, and this is an easy and effortless way to make a statement.
28. Sunny Side Up Design
The beauty of nail art is that inspiration can come from anywhere, even eggs. Enter the sunny-side-up design, which creates super cute little fried egg details. They may make you hungry for breakfast, but the color combination is also incredibly cheerful. Plus, eggs represent rebirth, rejuvenation, fertility, and life. Who doesn't want a manicure that looks good but is also symbolic?!
29. Pastel Net Art
Pastel colors are gorgeous and feminine and never go out of style. Among the many reasons they are so popular for nail art is because they can be mixed and matched and worn with just about anything for a dreamy and feminine finish. There are so many ways to play around with the lacquers, including painting just your tips or creating a look with negative spacing. A good example is with patterns like this, which look much like a fishing net. This is interesting artwork yet extremely easy to do from the comfort of your own home.
30. Monochrome Flower Design
Monochrome flower designs are so simple yet striking. The classic combination of black and white makes a powerful statement and looks minimalist yet sophisticated. The blooms add a feminine touch to your nail art, representing beauty and life. This is a stunning option for anyone who wants a manicure that is easy to wear and appropriate for casual and more formal settings.&
31. Minimalist Nail Design
There is a definite appeal to opting for minimalist nail designs. Its simplicity defines this artwork. It could be small shapes and lines or unusual angles. Not only do these nails look great, but they also are super versatile and can be worn everywhere and on almost every occasion. That said, perhaps the best thing is that they are so easy to recreate yourself in the comfort of your own home.
32. Turquoise Tips
Turquoise tips are one of the most straightforward looks to recreate, and they have an effortlessly chic appearance. Pick a clear or nude base coat to pair with the color to let it pop. This is a wonderful look no matter what the occasion; a date night or cocktails with friends. In addition to the versatility that comes with this manicure, the shade is also filled with meaning, often associated with femininity, creativity, serenity, and tranquility. Plus, it can evoke feelings of calm.
33. Cow Print All Over
Cow print nails has long been a favorite in the fashion world but has also inspired the cutest manicures. There are many different options, with prints that vary slightly and different colors, but by far, the best is the classic black and white combination. It is simple yet striking. It is also very versatile and will match everything you own, whether bright colors or neutrals. Those who are really playful and want to experiment can even create a clashing look by wearing other animal prints.
34. Femme Line Drawing
If you want to celebrate femininity and honor the female form, a wonderful way to do this is with femme line drawing. This design is stunning, focusing on the outline of the female form and celebrating the power that comes with being a woman. Whether you decide to use nail stickers or recreate the artwork or do it yourself with line drawings, the choice is yours. There is also no limit in terms of colors that you can use, although neutral shades, which mimic skin tone, are a great option.
35. Fun Art
Fun art is a fantastic option for your next manicure because it will undoubtedly bring a smile to your face. There are also no rules for determining what fun is, and this can be a wide selection of things you love. Your favorite fruit or print, a smiley face to bring you joy, or symbols of good luck and fortune. The beauty of this trend is that it really lets you express yourself.
36. Soft and Muted Pastel Shapes
Nail art is a wonderful way to express yourself and have some fun. There are many different options to choose from depending on the look you wish to achieve and your nail length and shape. However, a universally flattering choice would be soft, muted pastels that can be paired with a nude or clear base color. Creating the nail art in shapes or at interesting angles gives the manicure an abstract element, making it more visually striking. Pastels complement all skin tones and can be worn any time of the year.
37. Trendy Speckled Egg Nails
For those who want nails that are pretty and colorful, you can try out a look that resembles a bird's egg. Birds' eggs come in various colors, from white to pale blue, and are often spotted in appearance. You can use this as the inspiration for your nail art, creating gorgeous, expressive artwork that can be mixed and matched. You do not have to stick to realistic colors and can include your favorite shades. This artwork looks great on all nail shapes and lengths but can have a feminine finish on long, pointy nails.
38. Purple Lavender Long Nails
Purple lacquer is ideal for those who want to draw attention to their fingernails. There are various shades to choose from, from vibrant, saturated hues, to soft, washed-out colors. This lets you find something to suit your preference and complement your skin tone and can be worn on nails of all lengths and shapes. With this look, the beauty is in the simplicity, and it can be achieved with little effort. The lack of detail also makes the manicure wearable, lending itself well to various occasions, including weddings or special events. Longer nails will have more impact, drawing attention to your fingers.
39. Symbolic Feather Nails for Free-Spirited Women
Nail art is not just pretty; it can also be symbolic, which is true for designs that include feathers. Feathers make a gorgeous addition to any manicure, but they are also meaningful, representing freedom and travel. It can be a way to remind yourself to take a risk or go on that adventure you have been postponing. You can also choose from a wide range of feathers, from a peacock to an eagle, or opt for a more general outline of what a feather looks like. If you want the artwork to be the focus of your manicure, then keep the rest of the look simple.
40. Juicy Watermelon Nail Art
Fruit nail art is a popular choice for the summer months, and it is a great way to experiment with different colors. There are many fruits to choose from, and mixing and matching your favorite can produce a striking manicure. Or, you can stick to just one fruit, like a watermelon. The appeal of the watermelon is the color combination of pink and green makes for gorgeous nail art. It is also a fruit associated with summer, relaxation, and happiness, and you can reflect this with your nails. For the best results, create the look on long nails which are ultra-feminine and can elongate the fingers.
41. Groovy Baby 70s Nail Designs
The 70s was a playful decade known for its interesting color combinations and fun patterns and prints. It was also when the hippie movement, and the rejection of all things mainstream, gained popularity. The idea of free love and happiness can be reflected in your nail art, and this gives you a fantastic opportunity to try out color pairings that you may usually shy away from. Try out multi-colored swirls or opt for a rainbow color scheme, creating cute and groovy nails that you will want to show off.
42. Baby Blue and Cow Spots
Baby blue is a popular color because it is so pretty and wearable. It is a hue that complements all skin tones and can be paired with many other colors. It can also be added to your favorite prints, for example, cow spots, making the classic animal print feel modern. How you combine these two things on your nail art is entirely up to you, but the simplest approach is often the best. Pick one or two nails to be the focus of your look, and paint the rest of the nails, adding the cow spots to the tips; or you can experiment with the placement, adding it anywhere on the nail for a more abstract feel.
43. Summer Lovin' Flower Feature Nails
Florals are a favorite for nail art, but there are many different ways to add them to your manicure to make it feel fresh and modern. For those who love bright colors, choosing three or four of your favorites is a great way to brighten your appearance and have fun with your nails. You can combine multiple flowers on each nail, or stick to a different color for each fingernail, creating a mix and match effect. You can also keep it simple, opting for a more subtle approach by painting flowers on only a feature nail. These nails have a summertime feel and are perfect for summer vacations and beach parties.
44. Black and White Mix and Match Designs
Black and white is a great combination and creates a simple but effective manicure. There are multiple ways to combine these hues, allowing you to mix and match with your favorite prints, patterns, and images, producing monochromatic nail art that is expressive and fun. It can also be worn on nails of all lengths and shapes. This is an excellent option if you plan on wearing something bright and bold and will complement it but looks just as great with nude or beige clothing.
45. Cute Teddy Bear Nails
It doesn't get cuter than teddy bears when it comes to cute nail art. Teddy bears are associated with childhood, love, and innocence, and adding an image of them to your nails will give you a youthful manicure that will bring a smile to your face. You can also combine the teddy with other images, such as flowers and hearts, or stick to a theme, painting each nail with a different pair. There are multiple combinations to try out, letting you find a look that appeals to you. For the best results, try this artwork on square or round nail shapes so that the detailing will fit better.
46. Negative Spacing Purple and Yellow Designs
Nail art can be created on nails of all lengths and shapes, but there are several reasons to choose longer nails. This includes that they look ultra-feminine and stylish and that there is more space to get creative, especially when experimenting with negative spacing or abstract designs. Purple and yellow are fantastic colors to wear together, creating a bold but complementary manicure that will draw attention to your fingers. There are many ways to include the colors, but different shapes and angles will give you a manicure that feels modern and effortlessly cool.
47. Modern French Manicure
The french manicure is a classic look that can be worn on all nail shapes and lengths. It is a great way for elongating the fingers, which is done by drawing attention to the tips. While the classic approach is versatile, it can also feel dated, so a modern approach to the French manicure is so welcome. With this look, you can experiment with different colors, or stick to the traditional color scheme, still painting the tips white. Experiment with negative spacing, shapes, lines, and angles to create a visually striking finish that is still simple and easy to wear.
48. Pink Lifeline-Inspired Manicure
The lifeline is associated with life, death, change, and emotion. Adding this to your nails can make a powerful statement about how you feel or remind yourself to live each day to the fullest. There are several ways to include a lifeline design into your manicure, including a simple approach focusing on a feature nail. Some people may wish to pair it with red or white nails, but pink lacquer gives your manicure a softness and femininity. Pink is a universally flattering color, and there are various shades, making it easy to find one to complement your skin tone.
49. Bejeweled Feature Nail
For those who love nails with a bit of sparkle, nail art with jewels is the look for you. Adding different fake gems to the nails can create a texturally interesting manicure that demands attention; however, jewels on every nail can feel overwhelming and is not the most practical look. This is why focusing on a feature nail is so appealing, making the nail art more wearable as you do not have to worry about snagging each fingernail. It can also create a striking contrast when paired with standard nail polishes' flat and smooth finish. A feature nail approach is a wonderful way to highlight a special piece of jewelry, for example, a wedding or engagement ring.
50. Summery Orange and Pink Abstract Designs
There are many color combinations that look great and can make for striking nail art. However, there is something special about combining pink and orange shades, especially when done artistically. These summery nail designs are simple and easy to create, but they are also effective, drawing the eye to the nail and highlighting the shape. You can achieve this on nails of all lengths, whether you prefer long nails that demand attention or short nails that are practical and low-maintenance.
Fun Nail Ideas FAQs
What are the popular nail colors for 2022
Some of the top nail colors for 2022 include rich burgundies and deep reds. These shades are gorgeous, versatile, and incredibly feminine. Other options include all-white nails, which are timeless and chic, pastels that are pretty and easy to wear, and bright and bold blues. Blue is a great color for evoking feelings of calm and can bring you joy by looking at them. You cannot go wrong with black nail lacquer, which oozes sophistication and strength for those who are really daring.
What are basic nails?
When referring to basic nails, it could be anything from the simplicity of the shape to the color used to paint them. These are nails that are effortless yet chic. Think neutral and natural shades and nails that are well taken care of but without striking nail art such as 3D designs or bold patterns.
What nails are in style right now?
Many fantastic nail art options are in style now because they are fun and make a statement. Popular options include cow print, monochromatic nails, fruity designs, trendy checks, and 60s-inspired swirls. Pastels never go out of style and are also a timeless and classic option. Remember when choosing your manicure that it will act as an extension of your personality and a way to show off what you love, so let this reflect in your choices.
What is fancy nail design?
Fancy nail design refers to nail art that is detailed. This can be anything from beautiful drawings to 3D artwork. It is not your basic manicure and is created to show off your hands and grab attention. Experiment with bright colors, patterns, and do not be afraid to include texture and detailing like gems. This is a wonderful way to express yourself and the things that you love.
SUBSCRIBE TO OUR NEWSLETTER
Subscribe to our mailing list and get interesting stuff and updates to your email inbox.