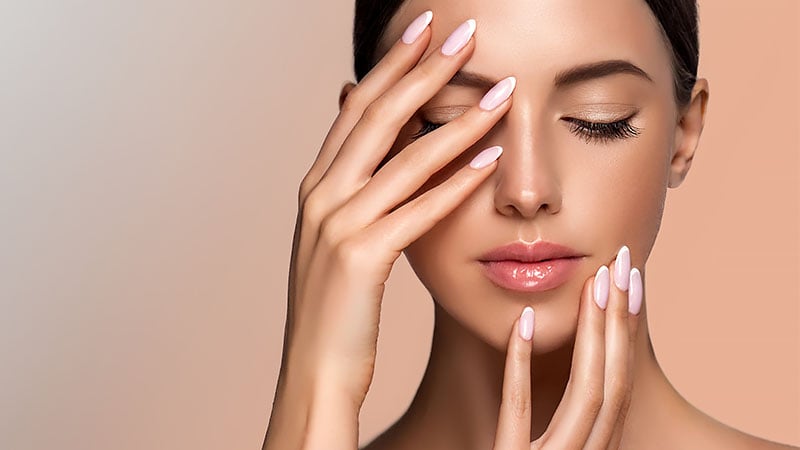 It's no surprise that French tip nails are one of the most popular nail trends of our time. Whether you're looking for something classic and timeless or an edgy modern twist on the French tip, this look offers versatility to fit any style. From solid colors and intricate designs to adding glitter and 3D art, there are so many ways to personalize your French tips nails. If you're new to the world of nail art or just want some fresh ideas for your next manicure, then read on! We'll be discussing everything from traditional techniques to unique ideas – all designed to help you craft stunning French tip nail designs anytime and anywhere.
What Are French Tip Nails?
French tip nails refer to a classic nail look where the tips of the nails are painted white against a pinkish nude base color. The idea behind it is to enhance the natural look of the nails, but the style has evolved quite a bit over time. Nowadays, you can find French manicures in a variety of bold and unexpected color combinations. To get the perfect French tip look, most manicurists use guides to ensure a clean separation between the base and tip of the nail. The process involves applying a base coat, adding the guide, and then painting the tips white.
RELATED: 30 White Acrylic Nail Designs for Every Occasion
French Tip Nail Designs
1. Classic French Manicure
There are many fun and creative nail art designs, but the traditional French manicure is a look that is sophisticated and timeless. Created using white tips applied to a light pink or clear base coat, it is a design that has been around for decades and recently enjoyed a big comeback. The simplicity makes it easy to create in the comfort of your own home with little effort, but it is also the perfect look for various occasions, from casual to formal.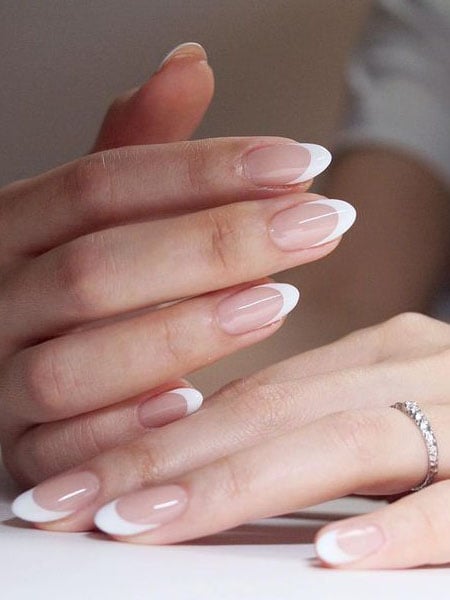 2. Arty French Manicure
Arty French tip nails offer a creative way to express yourself. There are various approaches to achieving an artistic French manicure, but a great option is to explore colors and shapes. If you have a fondness for mint green or baby pink, consider using them for the tips. Additionally, you can experiment with different designs, such as a black S-shaped line and a white circle resembling a yin yang symbol or a series of small polka dots. The possibilities are endless, allowing you to personalize this nail art according to your preferences.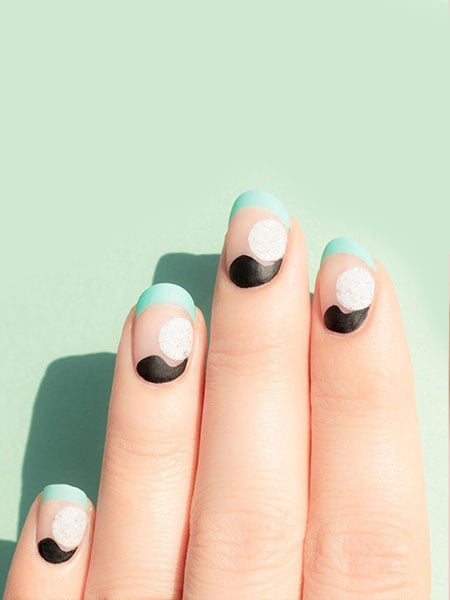 3. French Manicure With Logo
Logo nail art has gained significant popularity on social media in recent years. People are drawn to it because it offers a unique opportunity to express their personality and interests. By featuring their favorite brands on their nails, individuals can showcase their love for sportswear labels like Nike or high-end fashion houses like Louis Vuitton and Chanel. Moreover, logo nail art allows people to enjoy designer aesthetics without breaking the bank. The color of the nail tips can also be customized, with options ranging from soft pastels to matching hues with the logo itself.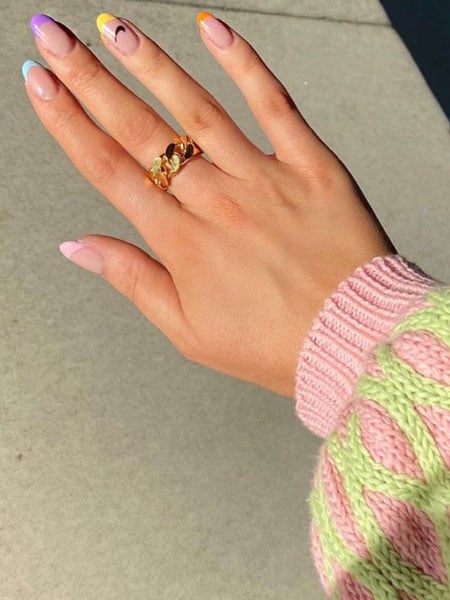 4. Red French Tips Nails with Black
French manicures can go beyond the classic clear and white combination. You can have fun with the look by opting for black nails with red tips. This color combination is striking and reminiscent of Christian Louboutins, the stylish shoes with the red sole. It's an easy and effortless way to make a statement and exude sexiness. This look has a feminine quality to it, with black symbolizing power and sophistication and red representing passion, love, and danger. If you want to stand out and embrace your femininity, try out this black and red nail designs. To add more drama, consider pairing it with a winged makeup look and deep red lipstick.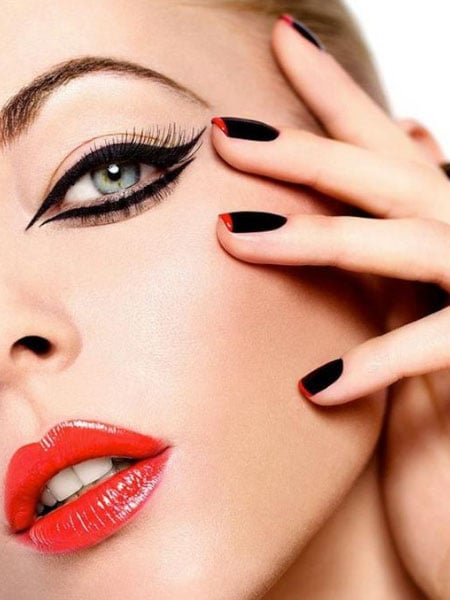 5. Classic French Manicure with Pearls
If you are a fan of tradition but also want something a little more fun, the classic French tip nails with pearl details is the look for you. The only difference between this look and the original is the addition of the little pearls at the base of your nail. Pearls are a gemstone associated with elegance and femininity. They also represent purity, wisdom, and peace; it is not hard to see why this would be a welcome addition to nail art. There is no denying that it is classic and beautiful. Wear them with pretty oversized earrings or even a pearl hair clip for a matchy-matchy look that is dreamy without being too flashy.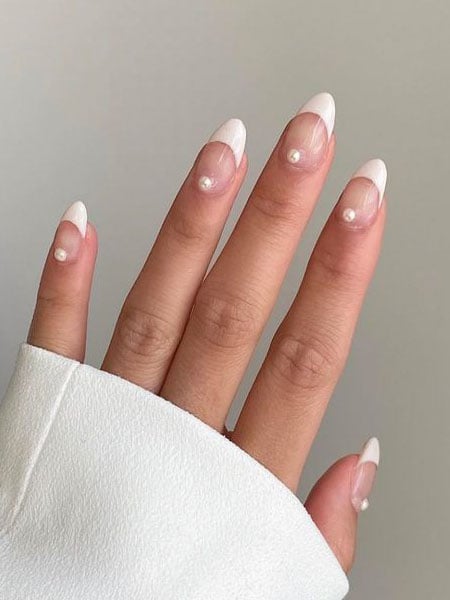 6. Fluro Matte French Tip Nails
Embrace your favorite bold colors and update your French tip nails with Fluro polish. Vibrant yellows, hot pinks, and lime greens are great choices to add some color to your nails. Pairing them with a nude matte base coat really makes the bright shades stand out. This option is perfect for those who want to have some fun with their nail art and draw attention to their hands. Make sure your nails are well-groomed to enhance the beauty of your manicure. To make your talons the focus, tone down the rest of your look by wearing solid, neutral shades. But if you want to make a statement, go ahead and embrace garments in your favorite patterns and colors.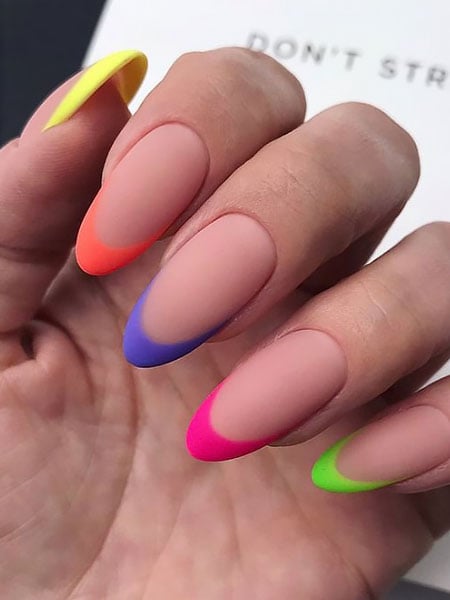 7. Color Block French Manicure on Two Sides
Color blocking is a nail art technique where solid blocks of contrasting colors are created. It involves applying two contrasting shades to the tips and base of the nails. The result is a striking and visually appealing design that is easy to create. By experimenting with different colors, you can personalize the French tip nails and create a meaningful design. It is recommended to limit the number of shades used to four or five to avoid overwhelming the artwork. Additionally, selecting shades that complement each other enhances the true essence of color blocking.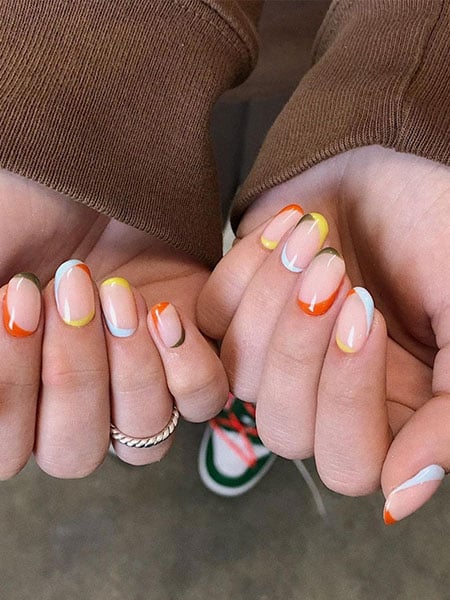 8. Short Black French Tip Nails
Sometimes the most simple looks are the best, and short black French tip nails are a subtle yet fun approach to nail art. Not only are they relatively easy to create at home, but they also require minimal tools and polish. Black is a powerful color associated with sophistication and strength. If you want to remind yourself that you have these qualities, this is a great way to do that. This artwork's beauty is also its versatility, and it should lend itself well to casual and semi-formal occasions and events. Wear it with confidence and a winged liner or smoky eye to complement it.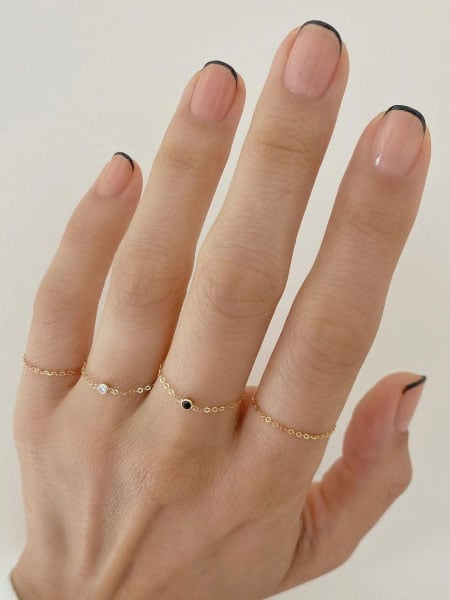 9. French Manicure With Stripes
Stripes are an attractive option for nail art. The classic French manicure styles are all about the white stripe across the tip of your talons, but why stop at one stripe when you can have three? A black base option and a baby pink line in the middle. This look is super girly and effortlessly chic. Black and white are always a great combination, but pink adds softness and cuteness to the artwork. It is a modernized approach to a classic and will work exceptionally well on longer nails as the added length ensures that there is enough spacing between each line.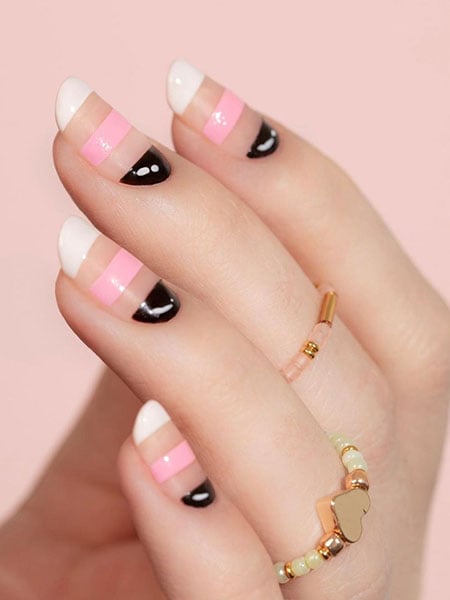 10. Cobalt Blue French Tip Nails
If you are a woman who loves simplicity but also wants a bold look, then the cobalt blue French tip nail designs are the perfect combination of these two things. It is effortless to recreate at home and ideal for various occasions and events. Plus, blue is a color that evokes calmness and peace. The shade is often associated with nature, reminding us of the ocean or the sky, but it is also linked with wealth, friendship, and even trust. For a more statement appearance, put on your favorite cobalt eyeliner or blouse and head out the door with confidence. Alternatively, you can tone down the rest of your look and instead opt for oversized earrings in a similar shade.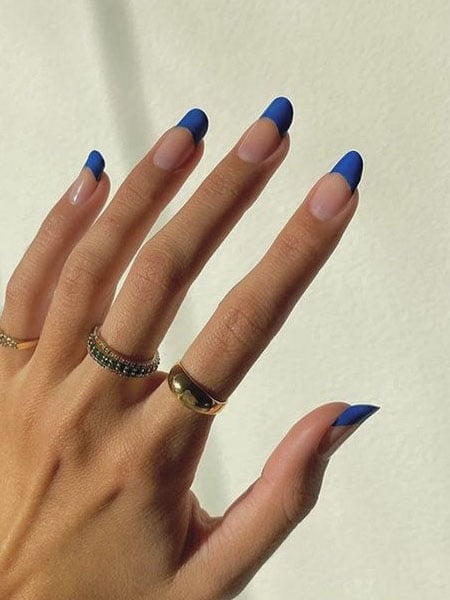 11. Colorful French Tip Nails
Experimenting with different colors can help you create a statement look. If you want to wear your favorite shades, consider trying out these French manicure colors. To make the tips stand out and draw attention, apply bold and bright shades like red on top of a base coat of varying pastel hues. Playing around with different color combinations that suit your style can be a fun way to express yourself. Enjoy the attention and compliments you'll likely receive because of your manicure.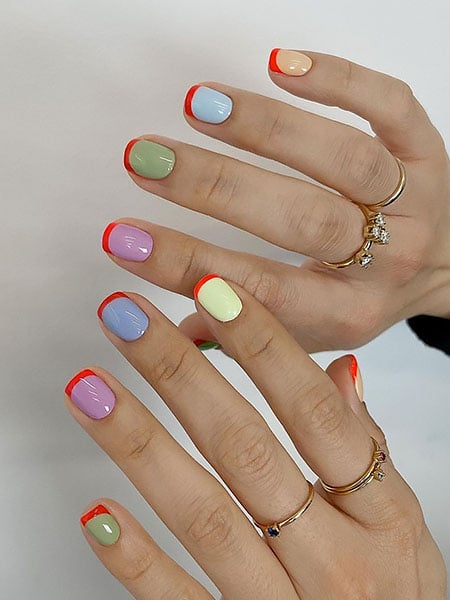 12. French Tip Nails in Winter Shades
Darker, cooler tones have their appeal, and if you're a fan of the cold months, then this is the artwork for you. The best thing about this nail art is that it is interesting without being too flashy. The winter shades are not so bold, making it more of a wearable and versatile look. Although these nails may not be suitable for the office, you can wear them just about anywhere else. Plus, they will mix and match nicely with most things you already own. If you want to draw even more attention to your hands, then wear your favorite chunky rings.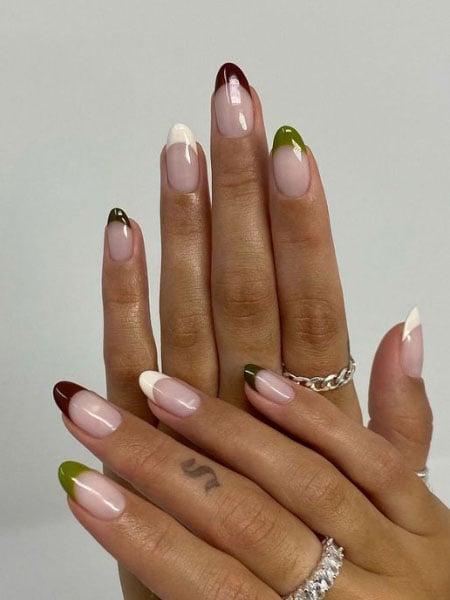 13. Gold French Tip Nails
The easiest way to add sparkle to your life is with gold French tip nails. Gold is such a luxurious hue, and it is also perfect for all seasons and events. Gold nails are all about sophistication but also have a modern twist, making it look like you've just walked off the runway. To create this artwork, start how you would with the classic French manicure and opt for a clear or light pink base coat. Then apply a thin layer of gold lacquer at the tips. If you find it hard to get the line perfect, you can purchase strips that are designed for this exact thing. Alternatively, you can also look for nail stickers.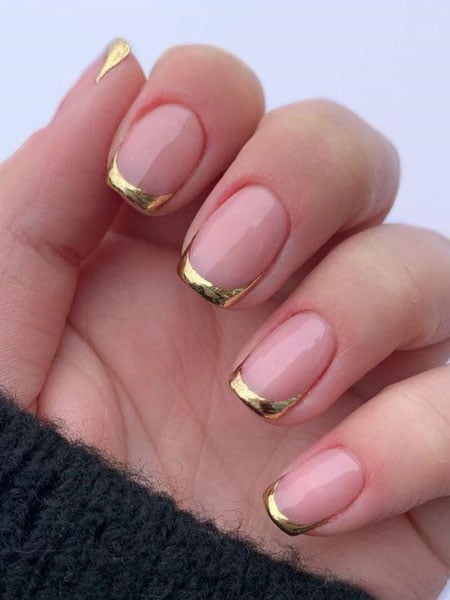 14. Holographic French Tip Nails
Holographic nails have such a cool, futuristic appearance. If you want a look that sparkles in the sunlight, then this is the one for you. The highly reflective polish, which contains a special pigment, is a look that celebrities and fashion icons have favored, and for a good reason, it makes an effortless statement. That said, even the holographic polish can do with a modern update; adding a different color to the tips will do just that. Two-toned nails are a great way to try out this iridescent lacquer. Pile on your best bling, and leave the house with confidence!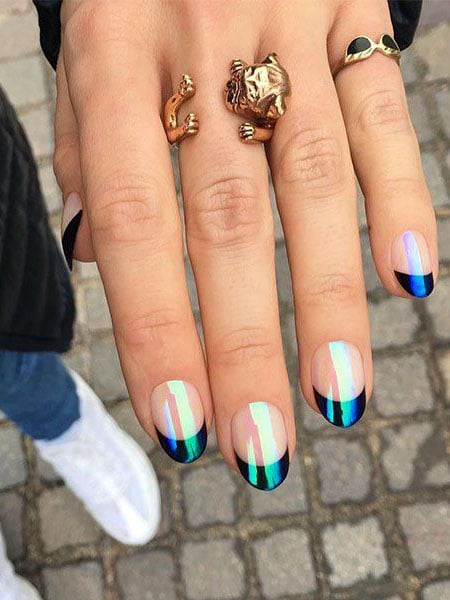 15. Pastel French Tip Nails with Feature
Choosing to swap out the white from the traditional French manicure with a pastel shade is a wonderful option. It is pretty and feminine and will look good on almost every nail shape and length. That said, designs that highlight your tips tend to work best with longer talons. In addition to dreamy lacquer on your tips, you can make your artwork even more interesting by adding a different design to just one of your nails, making it the focal point of your look. The feature nail can be anything you wish for it to be, whether cow print nails, a butterfly, or a tiny heart.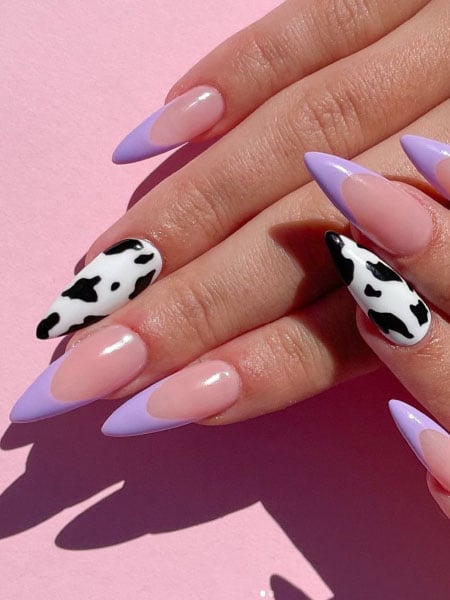 16. Pastel Pink French Tip Nails
Pink nails remain a timeless classic for many women. Pastel pink is one of the best-selling hues of all time, and you can wear it everywhere. The shade is soft and pretty and is perfect for a date or a fancy event. That said, if you want to update your usual pink look, you can do so by using the color on your nail tips and then adding a lovely purple hue to the base. These two shades pair so well together, and this exciting take on the traditional French manicure makes pastels feel fresh and modern.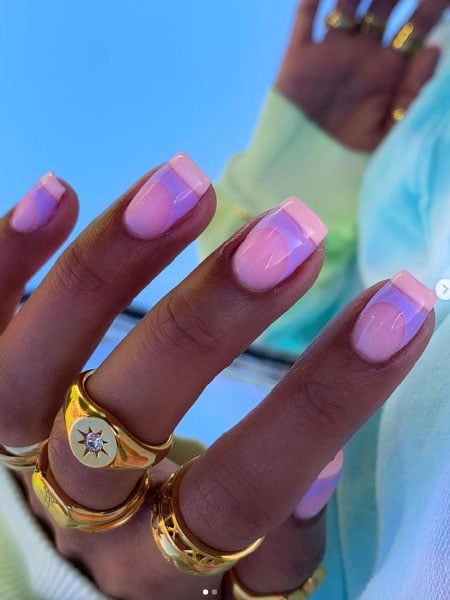 17. Pastel Shades French Tip Nails
Pastels are a timeless option for nail lacquer because they are so dreamy and girly. The soft shades suit most nail shapes and lengths, and instead of painting your whole fingernail in one or multiple of your favorite shades, you should try out the pastel French tip look. It is a little more subtle than painting each nail with a different lacquer, and this makes it even more versatile and wearable. That said, pastels tend to complement neutral colors, so let them become the focus of your look. It is a great way to add a little pop of color to your appearance, and you will likely enjoy looking at your hands thanks to your cute manicure.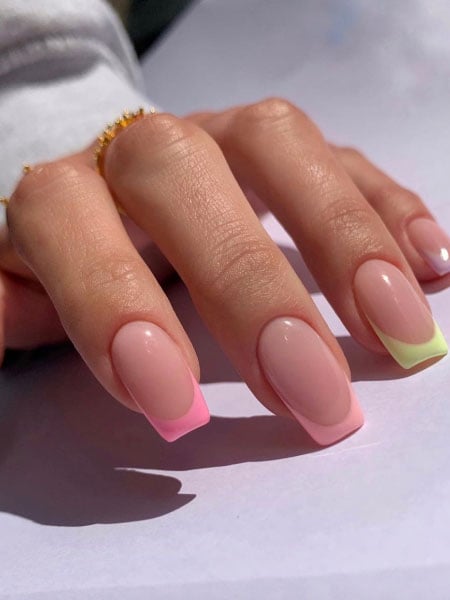 18. Tie-dye French Tip Nails
Few nail art designs demand attention in the way that tie-dye French tip nail designs do. The brightness of the colors and the combination of them all on each talon is interesting and striking. There are multiple looks to choose from, with different slants and angles and various shades being used. You can also create a rainbow effect in honor of Pride. It creates an especially summery effect and will look great for all your adventures in the sun. That's not to say you can't embrace the design in the cooler months, too, letting it bring some warmth and brightness into your life.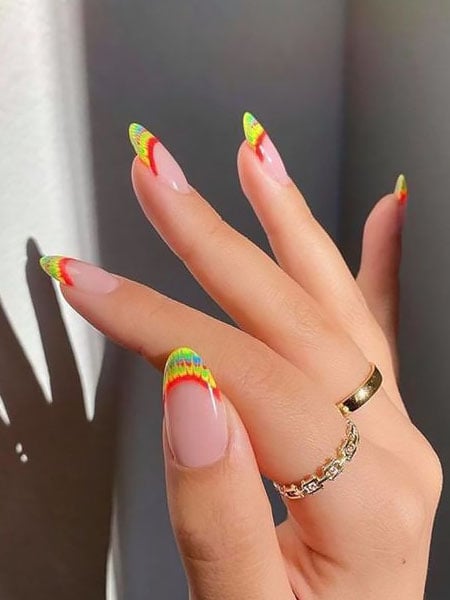 19. Black French Tip Almond Nails
Black is a color associated with strength and sophistication. It is a strong hue that is a favorite for nail art and has inspired some very creative designs. You can paint your French tip almond nails black and then play around with various shapes and spacing, opting for detailed artwork or something simple like a curved line. Black nails lend themselves well to multiple settings and pair well with every color garment. If you want a toned-down look, stick to solid neutral shades, or you can opt for a super bright outfit.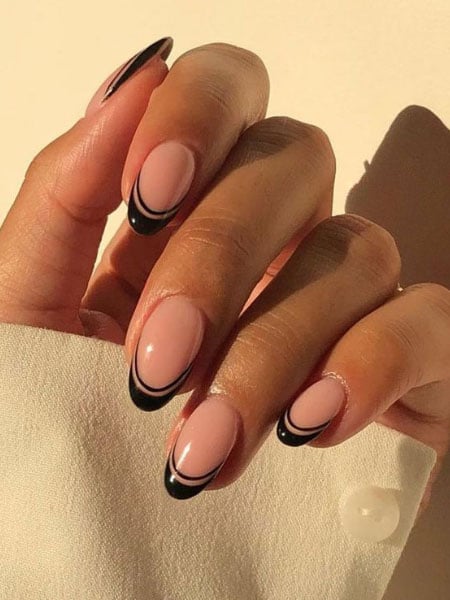 20. Black and White French Tip Nails
Black and white nails are a color combination that is classic and elegant but also fun and bold. It is hugely popular for nail art because it demands attention, and there are many different options to try out. You can opt for stripes, exciting shapes, checks, a yin yang symbol, or all of these combined for a truly daring appearance. It makes for a very cool and modern approach to the classic French manicure. It is also easy to wear and will mix and match with almost everything you own. The color combination is classic but also makes a statement. For added effect, pile on your favorite bling to draw attention to your hands.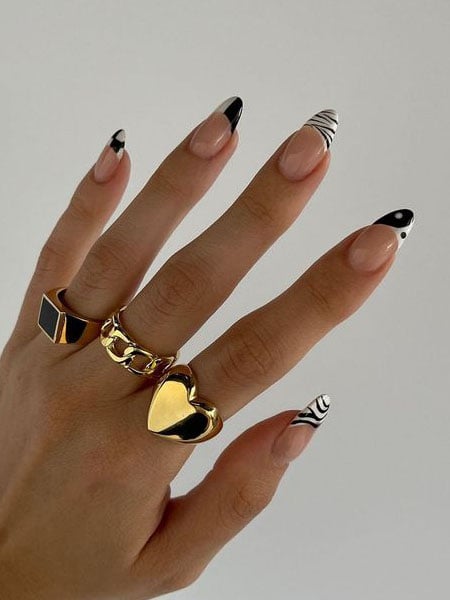 21. French Tip Coffin Nails
The French tip manicure is often appreciated for its sophistication and timelessness. However, there are several ways to modernize and add excitement to this classic style. One option is to experiment with different colors, nail lengths, and shapes. Longer nails work particularly well with the French tip look, as they provide ample space for nail art and accentuate the tips. If you prefer long nail designs, you might consider the coffin shape, which is both feminine and trendy. Coffin nails have gained popularity among celebrities and style icons due to their versatility. They can elongate your fingers and effortlessly enhance even the simplest outfits.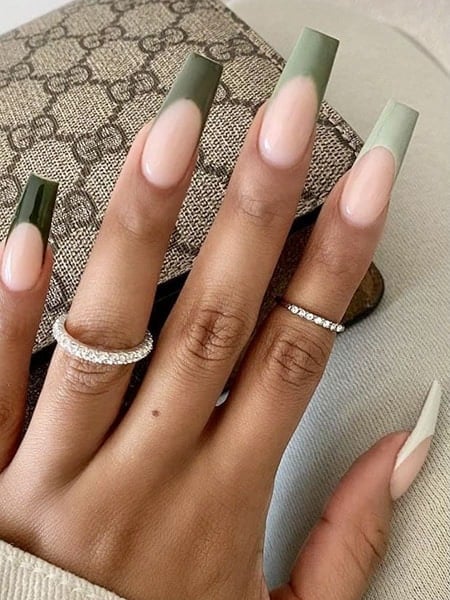 22. V French Tip Stiletto Nails
If you are looking for a modern approach to the French manicure, consider the V-shaped tip. This creates a more interesting finish than the standard straight line and looks great. It can be done in the color of your choosing, keeping it simple with white polish or going for a bold and bright option like purple or red. This look also works best on longer nail shapes like stiletto nails, which have a pointy tip and resemble a stiletto heel, hence the name.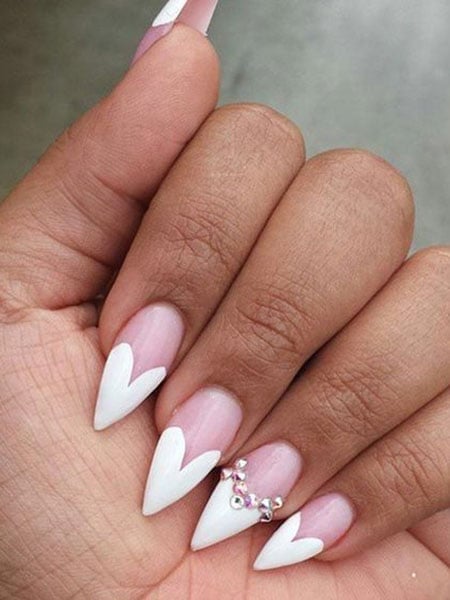 23. Blue French Tip Almond Nails
Almond nails are a versatile and glamorous shape that can enhance your overall look. This nail style features long and tapered nails that resemble the shape of an almond. It is suitable for women of all ages and works well with different finger shapes. One of the benefits of almond nails is that they can make your nail beds appear slimmer and elongate your fingers. Additionally, the French manicure complements this nail shape beautifully by drawing attention to the tips. For a feminine and lovely touch, you can paint each nail with a different pastel blue shade.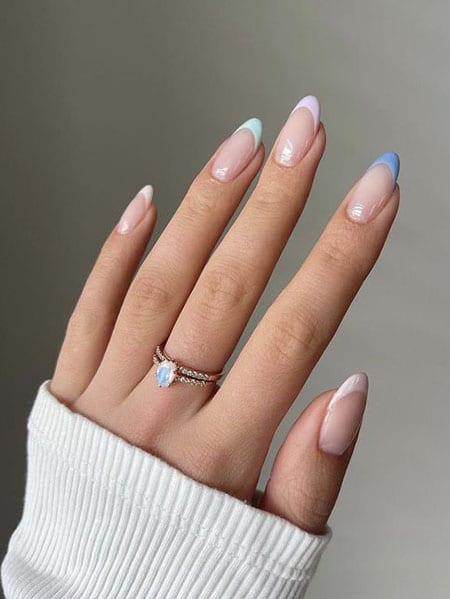 24. Square French Tip Nails
Square nails are one of the healthiest nail shapes and are strong and durable. You do not need to worry about nail breaking or snagging on clothing with these nails. Plus, the square ends are visually interesting. If you have naturally narrow and flat nail beds, this is the perfect choice for you. Painting square nails with French tips will have a much more subtle appearance than creating it on coffin or stiletto shapes, but this can be part of the appeal. If you find the classic white tips are not your liking, play around with your favorite colors. To draw even more attention to your hands, you can pile on your favorite jewels.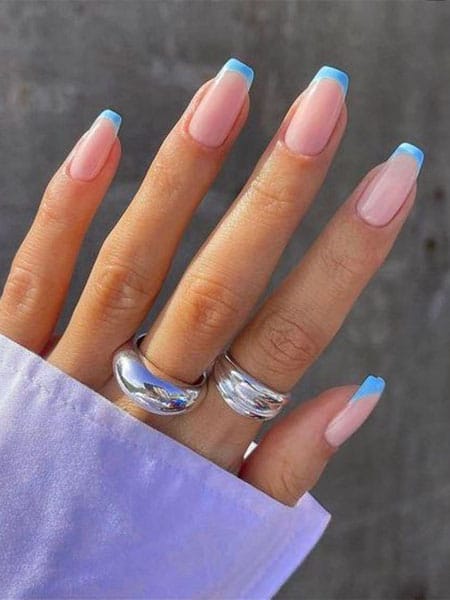 25. Oval French Tip Nails with Flowers
French tip nail designs are a simple and chic option for a manicure. If you want to add more detail, consider trying flower nail art. Florals can have a lovely effect and offer a fantastic way to experiment with different colors. You can get creative with the placement of the flowers, either over the tip of the nail or lower down. Additionally, you can mix and match colors to create a contrasting or complementary look, depending on how eye-catching you want your nails to be. Lastly, there are various shapes to choose from, including oval nails, which have a rounded tip and can flatter your fingers by making them appear slimmer.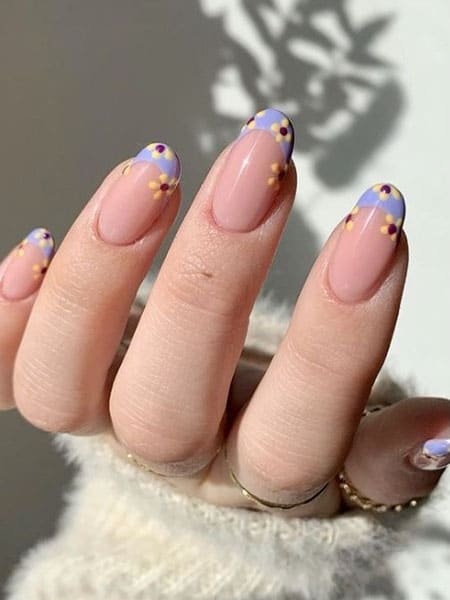 26. Round French Tip Nails
Round nails are simple and gorgeous. As the name suggests, the nails have a rounded shape, which is incredibly versatile. You can have long nails or short nails, both are flattering with this shape, and it can lend itself well to different settings, including corporate and formal ones. Although stiletto nails and coffin nails look great and can make a statement, they are not always practical and can easily snag and break. Round nails provide you with a great alternative and are sophisticated. When it comes to your French tip manicure, you can paint it white for a timeless look. Or, if you want something subtle but modern, try painting your nails with nude shades.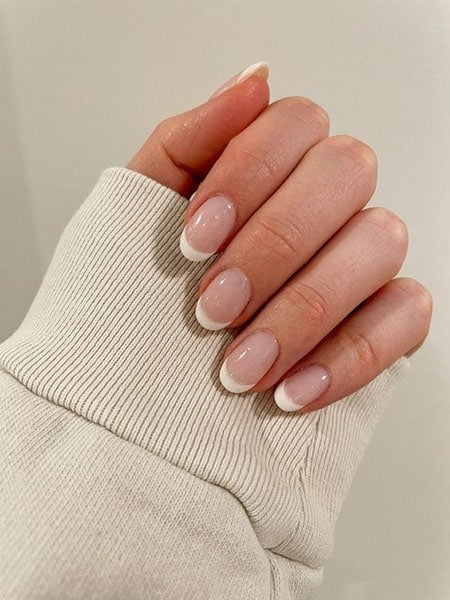 27. Long French Tip Nails
Long nails make a statement, and they can also be incredibly flattering, helping to slim and elongate your fingers. In addition to looking great, longer nails are also versatile, and you can choose from a wide range of shapes and nail art. The only downside to long nails is that they are often prone to breakage. French tips look great on longer nails and will highlight your chosen shape. They are also appealing because you can include other artwork or patterns, and there is more space for your French tip-inspired style. If you want a fun and expressive style, you can try leopard print nail art which will appeal to those who want to get their hands noticed.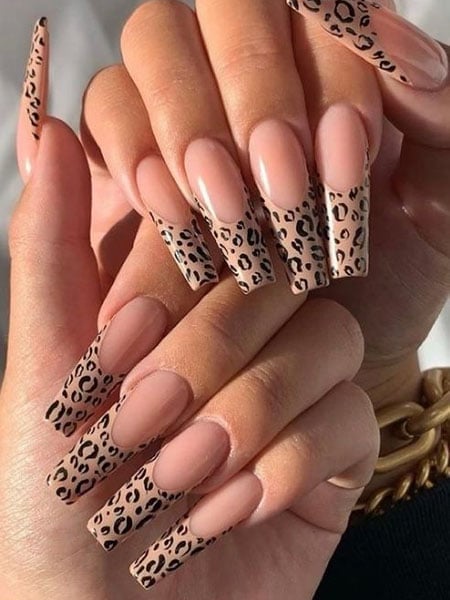 28. Medium French Tip Nails
Medium-length nails offer a practical compromise between long and short nails. They are versatile, feminine, and require less maintenance. Additionally, medium nails are less prone to breakage. When choosing the shape of your medium-length nails, consider options that can elongate your fingers and make them appear slimmer. Common choices include oval, almond, and coffin shapes. Don't feel limited to classic white French tips; you have the freedom to experiment with different colors. Have fun and get creative by mixing and matching with pastel hues or incorporating nail art designs like stars or flowers.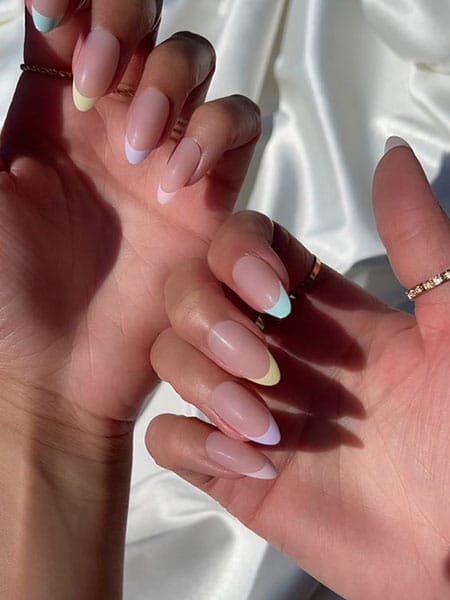 29. Short French Tip Nails
Short nails are an excellent option for trying out the French tip manicure but keeping it simple and subtle. Your nails will not leave you with as much space to experiment with nail art as longer nails would, but the pro is that this length is easy to maintain and very durable. You will not have to worry about breakage, and your nails will not restrict you from your activities. In addition, short nails are often favored for corporate environments, and this can be the perfect look for every day. The classic French manicure is sophisticated and timeless.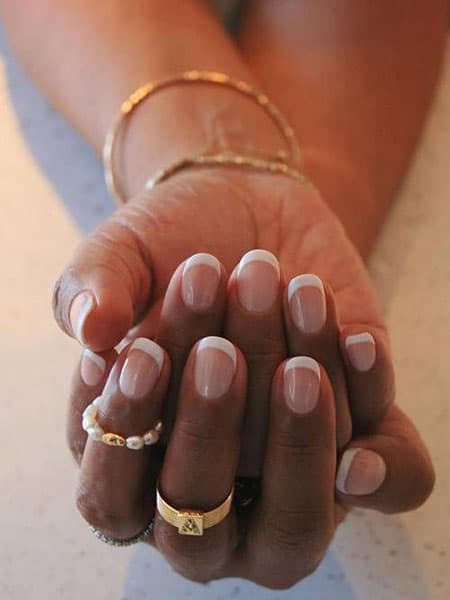 30. Hot Pink French Tip Nails
While the French tip nail designs provide a simple and subtle look, you can experiment with various colors and details to find the perfect manicure that aligns with your personality. Hot pink, for example, grabs attention and is often associated with femininity and love. This shade is ideal for those who wish to embrace their female energy while enjoying a playful manicure. You can add a pink stripe to the tip and use a clear or light pink base coat, or incorporate some sparkle into your manicure using glitter polish. Personalize your nail art further with cute lightning bolts or florals.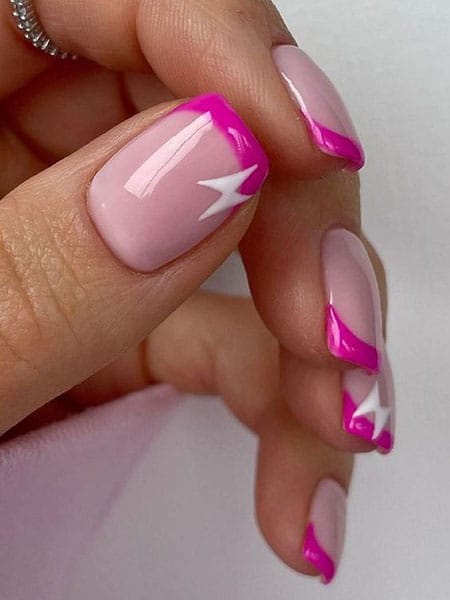 31. Red French Tip Square Nails
Red is a color associated with love, passion, and seduction, and it is the perfect addition to your nail art. This is a guaranteed way to draw attention to your fingers with red French tip square nails. To make your nails pop even more, you also wear matching red lipstick for a complementary look.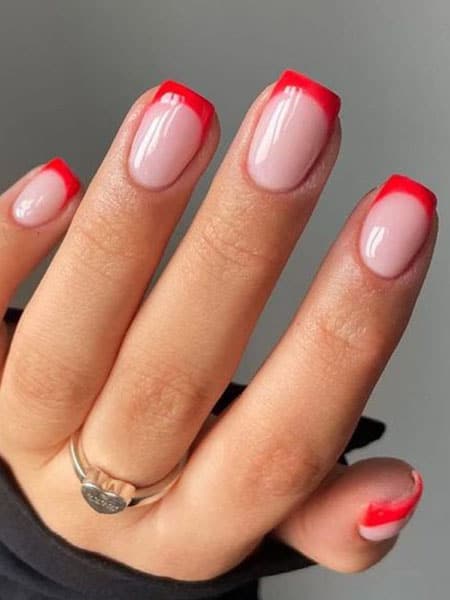 32. Lavender French Tip Nails
Lavender French tip nail designs are versatile and exude a pretty and feminine vibe. The muted color makes it effortlessly wearable in various settings, such as date nights, weddings, and formal functions. Additionally, you can enhance your lavender tips with other nail art ideas to express your creativity. Consider adding little heart details or floral artwork, including images of lavender sprigs. Experimenting with different polishes is encouraged; try matte for a textured appearance or glossy lacquers for a shiny finish.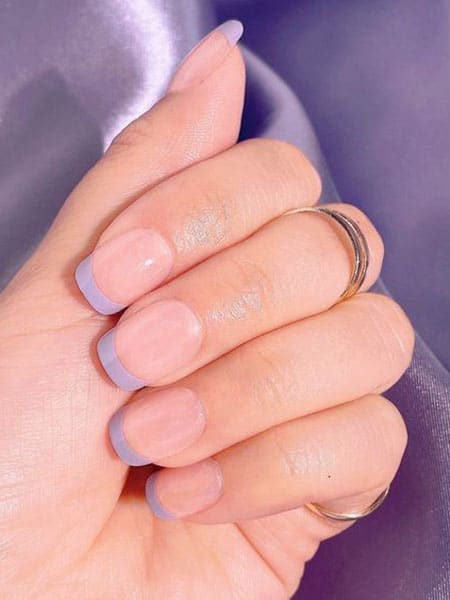 33. Sky Blue French Tip Nails
Sky blue is a color that is both pretty and muted, making it easy to wear and creating a gorgeous French tip-inspired look. The hue is flattering for all skin tones and gives a dreamy and feminine appearance. You have the option to choose a clear or nude base coat and decide whether to have just sky-blue tips or mix and match with other blue tones. To add some sparkle, you can finish your look with glitter polish or rhinestones. Additionally, the color blue represents calmness, so looking down at your manicure may bring a sense of ease.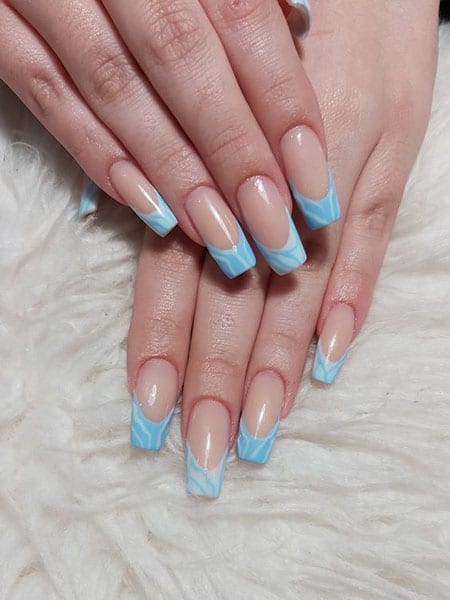 34. Royal Blue French Tip Nails
Royal blue is a vibrant and eye-catching hue that can make your fingernails stand out. Instead of painting your entire nail with this color, you can opt for a more subtle approach by trying out French tips. Experiment with different textures and finishes, like matte or glossy, to add variety to your royal blue nail designs. Additionally, pairing royal blue with silver jewelry can create a stunning look worth showcasing.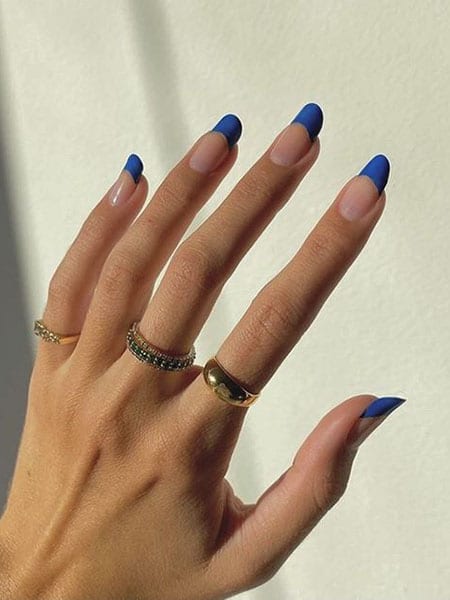 35. Burgundy French Tip Nails
Burgundy is a popular choice for winter nail designs due to its dark hue and association with seduction and power. One great option is Burgundy French tips, which offer a subtle way to experiment with this reddish-brown shade. Additionally, gold or silver accents complement burgundy beautifully. Alternatively, you can paint your entire nail in burgundy and add golden or silver tips for a fun and eye-catching look.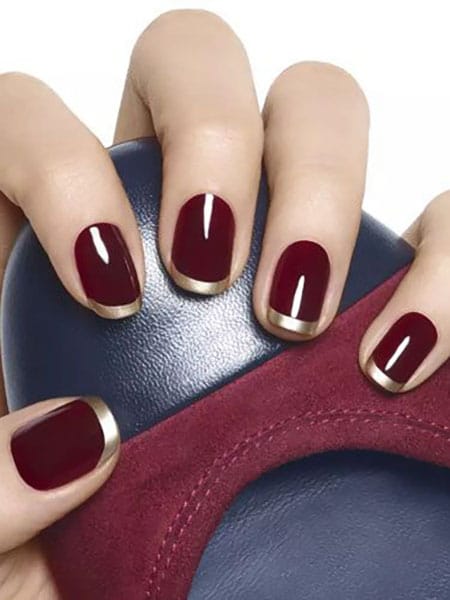 36. Cute French Tip Nails
Nail art is a great way to add some color to your appearance, and it is also an opportunity to have fun and express yourself. The great thing about the French tip manicure is that there are many ways to interpret it. If you want something bound to bring a smile to your face, add cute nail designs such as smiley faces, fruits and flowers, and little hearts. You can also mix your favorite colors, including red and pink, for a feminine look.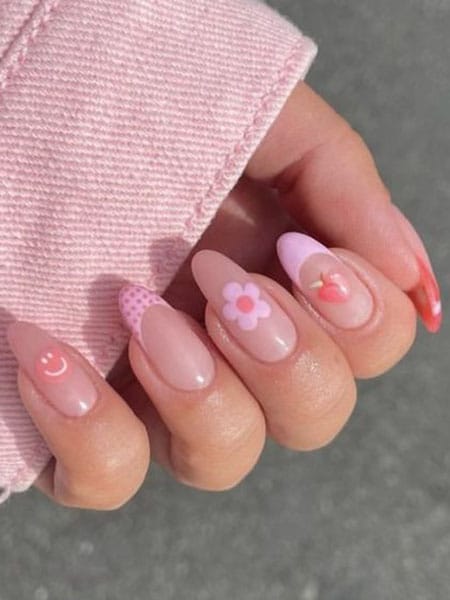 37. Ombre French Tip Nails
Ombre nails involve blending two colors together, typically using a light and a dark shade, which creates a gradient effect. The choice of colors is quite versatile, ranging from vibrant and striking contrasting hues to traditional options like white and pink. If you prefer a more understated look, opting for muted shades will achieve a subtle style suitable for various occasions, including weddings and work functions. To further enhance the overall effect and highlight the shape of your nails, consider painting the tips white for a timeless and sophisticated touch of elegance.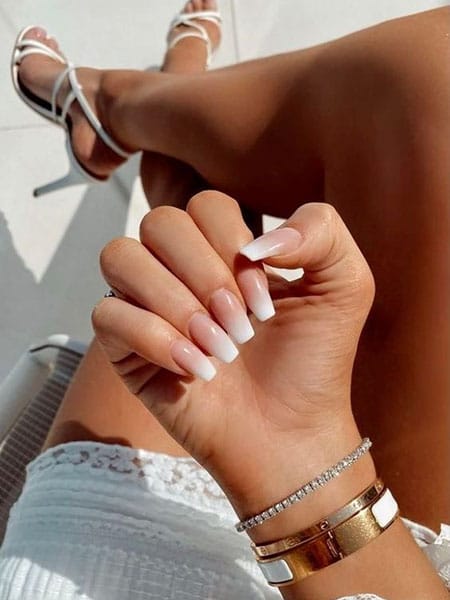 38. Purple French Tip Nails
Purple nail designs are an excellent choice if you love rich hues. They have a luxurious appearance and are often associated with power, strength, and royalty. There are various shades of purple to choose from, ranging from dark to more muted tones. You can make purple the focus of your manicure by opting for a clear, white, or nude base coat. Alternatively, you can make a statement by pairing it with clashing colors as your base coat.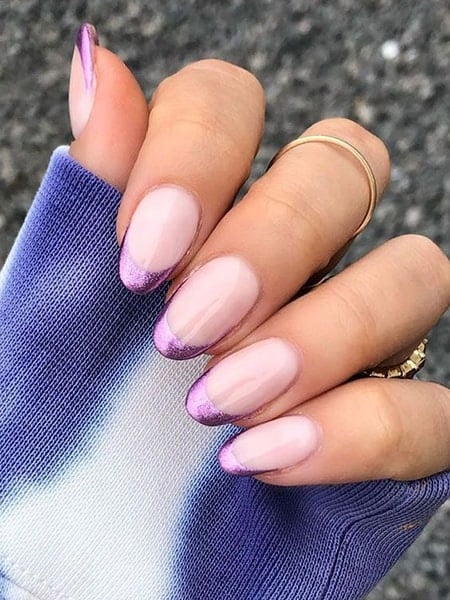 39. Orange French Tip Nails
Orange French tip nails are a wonderful way to play with negative spacing and create a subtle look without having to paint the entire fingernail with a vibrant color. It will also highlight the end of your nail and is a great way to show off interesting nail shapes. Orange is also associated with positivity and happiness and will bring a smile to your face.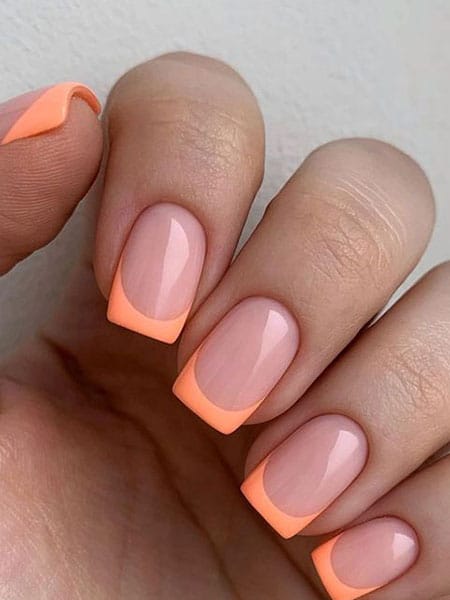 40. Rainbow French Tip Nails
Rainbow nails offer a fun and colorful look that everyone should try at least once. There are multiple ways to achieve this style. For a subtle approach, create a V-shaped line at the tip of your nails using different shades on each side. This subtle but pretty effect is a great way to embrace the rainbow manicure trend. Beyond their visual appeal, rainbows also hold symbolic meaning, often associated with happiness and personal growth. They can serve as a reminder of your strength and beauty, especially after overcoming a challenging period in life.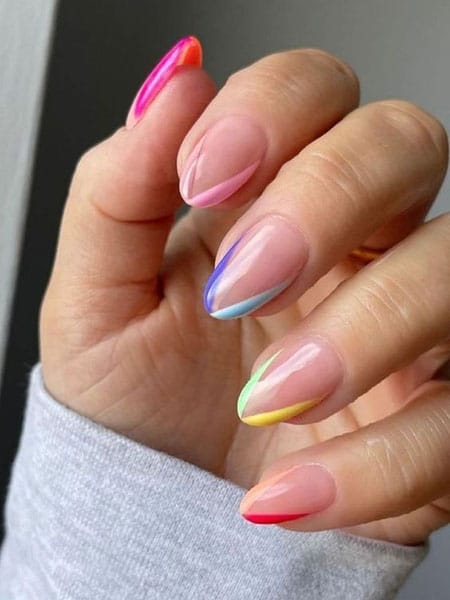 41. Thin French Tip Nails
If you are a woman who prefers simple manicures, then opting for thin French tip nails is a wonderful choice. The great thing about this option is that it is very subtle, especially when done in the classic approach with white polish over a clear base coat. It will work best on short nails and is very low-maintenance. This is the perfect look for all occasions and can be worn anywhere.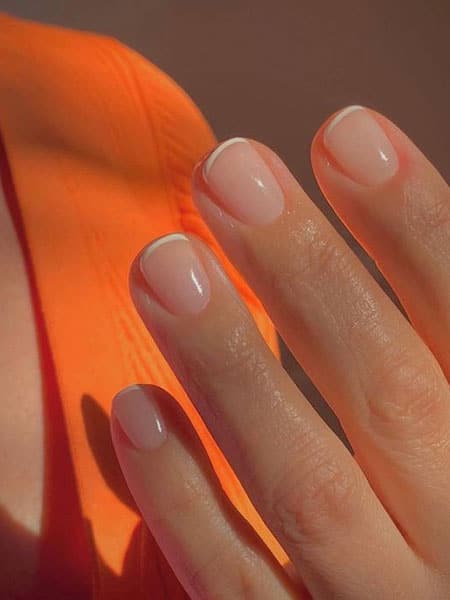 42. French Tip Nails with Glitter
Glitter is a wonderful way to add some sparkle to your fingernails. That said, many women are reluctant to try glitter because it can come across as tacky if not done right. So, how do you do it right? French tips are a great choice. Paint the base of the nail with your favorite nude shade, and then add either a classic line on the tip or use an interesting pattern such as a wiggle to incorporate the glitter. This will work well on all nail shapes and lengths, but the longer, the better.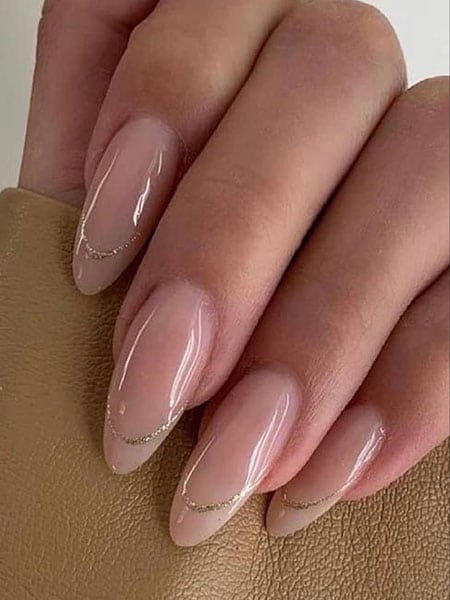 43. French Tip Dip Nails
Have some fun with your nails by trying out a tip dip effect. This can be created in a color or colors of your choosing, allowing you to pick your favorites and get creative. Perhaps you want to opt for a single shade and use this on each fingernail, or maybe you prefer a mix and match effect. The great thing about this manicure is that your creativity is your only limit. You can also experiment with different size tips. Or create them on various nail shapes and lengths, including almond and round or coffin and stiletto shapes for a more standout appearance.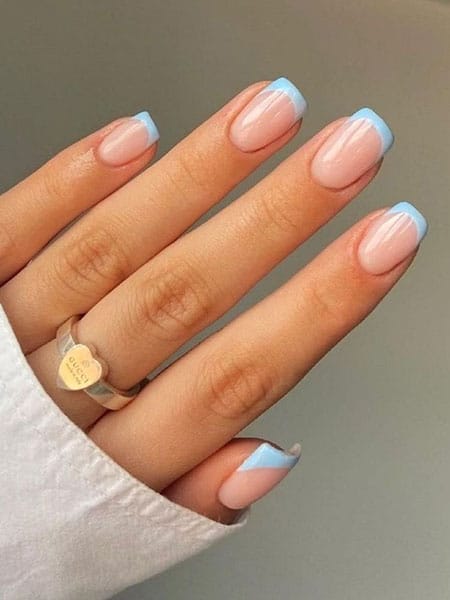 44. Winter French Tip Nails
Winter nail colors usually consist of browns, reds, and greens, and they mimic the leaves during the autumn season. Incorporating these hues into your nail art is a wonderful way to try out multiple colors at once and makes for a pretty and interesting manicure. Although there are many ways to get creative with these colors, a great option would be to try a modern approach to the classic French manicure. Instead of painting your nail tips white, you can opt for a different lacquer for each fingernail, creating a brilliant mix-and-match effect. Pick shades that are complimentary for a more streamlined finish.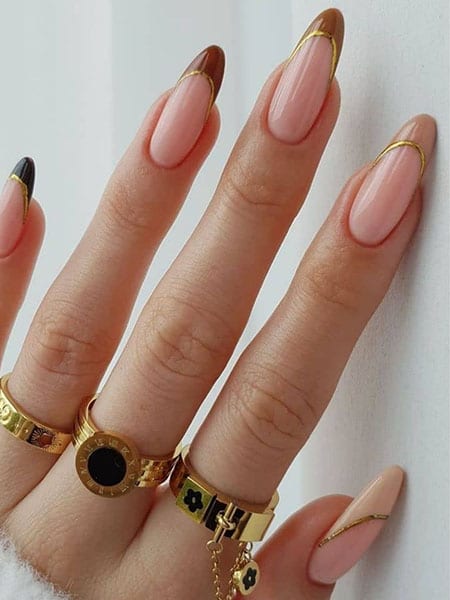 45. Modern French Tip Nails
A modern approach to French tip nails offers a fresh alternative to the traditional classics. In this context, "modern" refers to nails that deviate from the original and classic style. This can be achieved through the use of bold colors, incorporating interesting details into your manicure, or experimenting with different interpretations of French tips. From varying the thickness of the lines to trying out negative spacing, there are numerous ways to create a visually unique look. Whether you prefer a subtle or statement manicure, the key is to enjoy the process and choose what resonates with your personal style.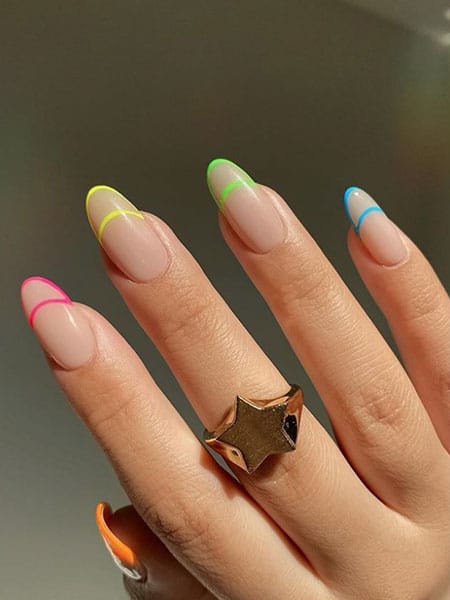 46. Neon French Tip Nails
Neon colors are vibrant and eye-catching, with high saturation that demands attention. They offer a lot of manicure fun, as they are bold and come in a wide range of options. You can choose your favorite color or mix and match, painting each nail with a different shade. Popular choices include yellows and oranges, which are associated with creativity, positivity, and warmth. French tip nail designs provide a more subtle option for those who find neon colors overwhelming. They allow you to try out the trend without fully coating your fingernail.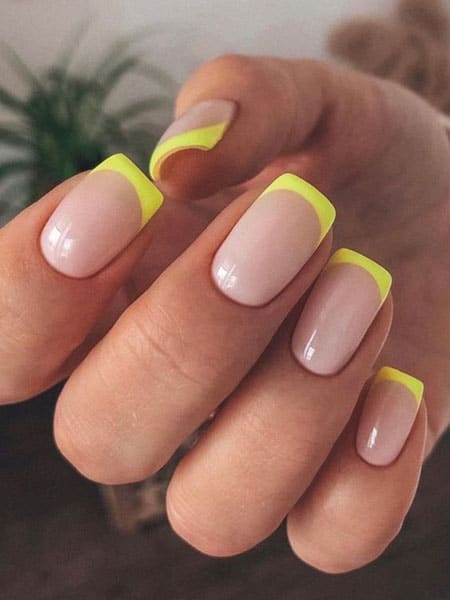 47. Clear French Tip Nails
Clear French tips offer a modern alternative to the classic style and feature nails that are, as the name suggests, clear. You are not limited in your designs, though, and you can opt for different colors, sticking to just one or combining several. This manicure is fun and different and will draw attention to your hands. You can also create them in varying shapes and lengths, but longer nails are often more flattering and can elongate your fingers and make them look slimmer.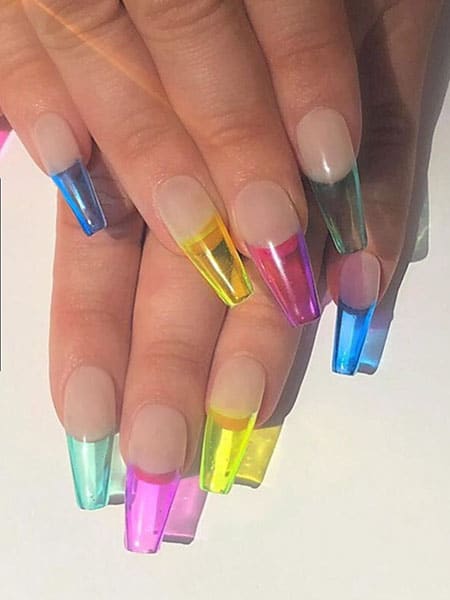 48. French Tip Christmas Nails
During the Christmas season, if you enjoy embracing the holiday spirit, incorporating Christmas nail designs is a wonderful way to celebrate. There are numerous options for creative and eye-catching designs, such as adding cute mistletoe artwork just below the tip of French tip nails. Another option is incorporating snowflake designs in the center of the nail or even including candy canes and baubles. This theme provides a fantastic opportunity to unleash your creativity, allowing you to mix and match your favorite colors and symbols that hold special meaning to you.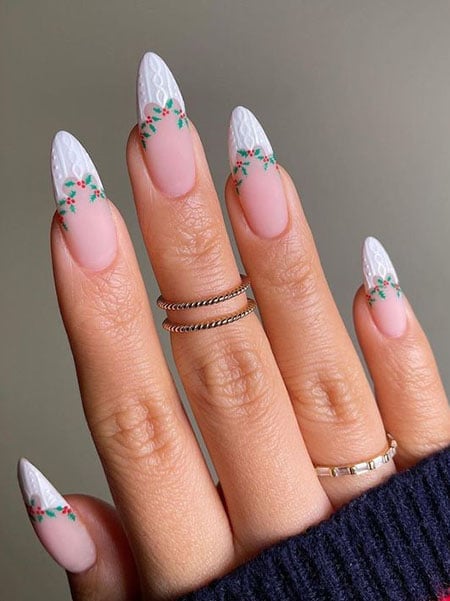 49. French Tip Toenails
French tips do not have to be reserved for your fingernails and look fantastic as a pedicure. It is an excellent decision to take care of your toenails, especially during the summer months when you are wearing sandals and your feet are on display. This is a great way to keep you looking sophisticated, and this manicure is timeless, classic, and super classy. Opt for the traditional approach with white tips for a pedicure that will lend itself well to all occasions. This can be done over a pretty light pink or clear base coat. Simple and gorgeous, there is no better option for your toes.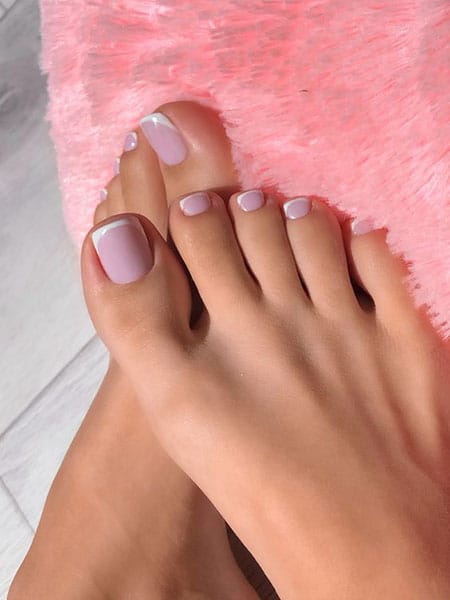 French Tip Nails FAQs
What do French tip nails mean?
French tip nails are a look that is defined by a stripe across the top of your nail. Traditionally, this stripe is white and created on a clear or light pink base. It is a design that is timeless and chic and lends itself well to a variety of different occasions.
Are French tip nails out of style in 2023?
The French manicure has been in existence for decades, withstanding the test of time because it is simple and classic, and can be worn anywhere; whether that is a formal occasion or a casual one. The look enjoyed a resurgence in popularity in recent years, but in 2023 there is also a focus on a more modern interpretation of the traditional design. These updated manicures involve bold color, pretty accents, and interesting use of shapes and details to create tips that are fun and stylish.
What is the difference between French tip and American tip nails?
The difference between French tips and American tips is quite subtle and has to do with the colors that are used to create the look. The French manicure is usually a white stripe on the tip, with a clear or light pink base coat, while the American has a cream or nude base and a cream-colored tip. The latter is less noticeable, making it the perfect option for someone who wants a manicure that is elegant and feminine but is more natural and therefore won't draw too much attention to their hands.
How to do French tips?
French tips can make your nails appear longer and are a timeless and chic option for women of all ages. To create the look, you will usually start with a simple manicure, applying a base coat that is clear or light pink. You then want to add a white polish to each tip of the nail. This design does require some precision to complete, and it can be hard to get the line perfect. If you need a little more practice, then make use of guide strips.
How much are French tip nails?
Your manicure price will differ slightly depending on the salon you choose and the area you live in. That said, the French tip design is usually pretty easy to create and will take around 45 minutes to complete. You can expect to pay anywhere between $25 for a basic manicure to $60, although this price can vary. If you are getting gel nails, acrylics, or more complicated nail art in addition to your tips, this will drive up the price.
SUBSCRIBE TO OUR NEWSLETTER
Subscribe to our mailing list and get interesting stuff and updates to your email inbox.