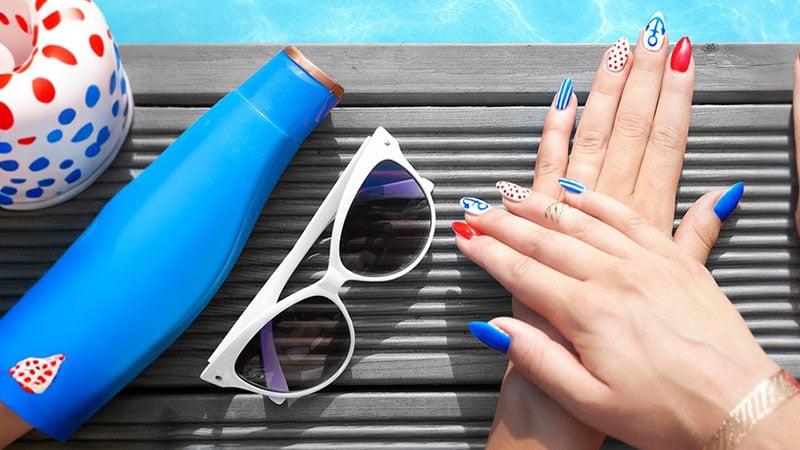 While having an eye-catching manicure is a great idea all year round, there's something about summer that makes you feel more adventurous. Whether it's embracing ultra-bright colors, fresh new textures, stylish shapes, or daring designs, now's the time to shake it up. Keep reading to discover fun ways to update your signature summer nails, as well as this season's most on-trend cute summer nail designs and ideas to take your manicure to the next level.
RELATED: 30 Bright Summer Nails to Try
RELATED: 50 Hottest Summer Nail Colors You Will Love
Cute Summer Nail Designs for 2023
1. Summer Rainbow Nails
This is the season to go as bright, warm, and tropical as the weather! Create a fruity cocktail of pastel shades – think pink, mint, lilac, yellow, and baby blue. When summer arrives, the rules go out the window, and it's time to show off your creativity in manicure form. Plus, there are no gloves to hide behind – so your summer nails can get all the attention they deserve!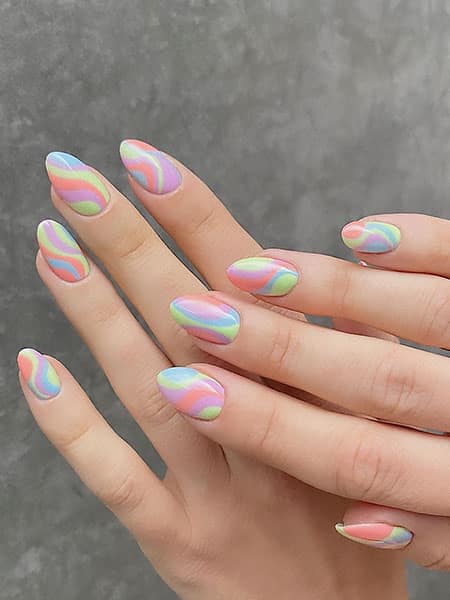 2. Peachy Apricot Summer Nails
While summer offers plenty of opportunities to experiment with your nails, one of the biggest summer nail ideas is a simple look. Peachy apricot tones are a summer staple every year, and it's easy to see why. This hue is universally flattering on every skin tone. It also goes well with a full spectrum of other colors, from navy to pink and white. It's feminine and understated while still being playful, and it looks gorgeous paired with gold and rose-gold jewelry – another summer nail idea!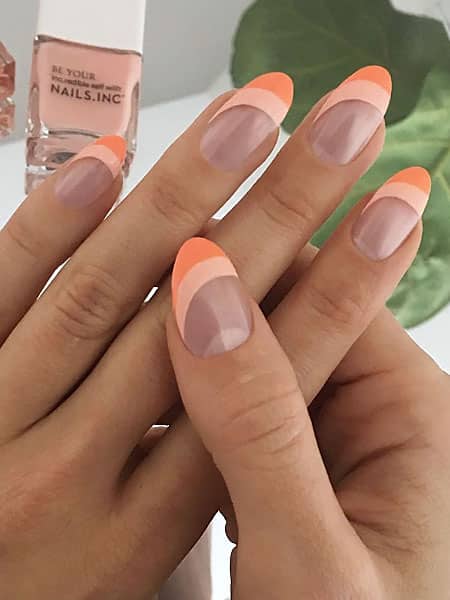 3. Coffin Summer Nails
The coffin nail shape, also known as ballerina nails, is a perfect way to express your summer nail art ideas. With its lengthy acrylics and tapered, squared-off edge, this nail shape provides you with ample space to experiment with colors, designs, and decorations. Whether you want to add some holographic foiling, ombré coloring, beads, jewels, or other forms of nail art, you can take your coffin nails to the next level. These unique nails are perfect for those who want to be noticed, which is why they're a popular trend among Instagram stars and influencers.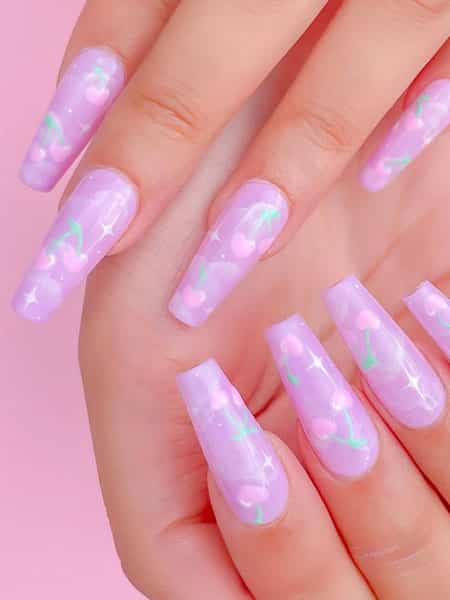 4. Summer Round Nail Designs
Summer is the perfect time to switch up your nail shape for a fresh new look. While square and almond shapes have been popular for a while, the classic round nail shape is making a comeback this season. This effortless nail style has been seen on high-fashion runways and is very versatile. Whether you prefer bold or subtle colors, round nails are a subtle way to add interest to your look. Keep it low-maintenance with a chic nude polish, or make a statement with bright, fun summer shades. If you're going for a classic, elegant vibe or want a more androgynous feel, the round nail is a great choice for your summer nail ideas.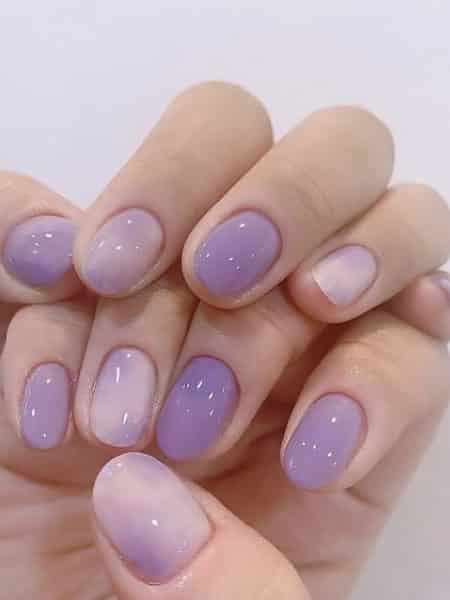 5. Summer Square Nails
If you're looking for a stylish and healthy nail shape for summer, square nails could be the perfect choice. They're great for people with naturally narrow and flat nail beds as they can help to make your fingertips appear wider. Square nails are also considered the healthiest nail shape for most people as they're less likely to flake, catch, or break. Whether your nails are short or long, square tips are a popular style, especially for long acrylics, as they help to balance the length of the nails. And for a trendy summer look, you can experiment with bright natural tones and pastel colors.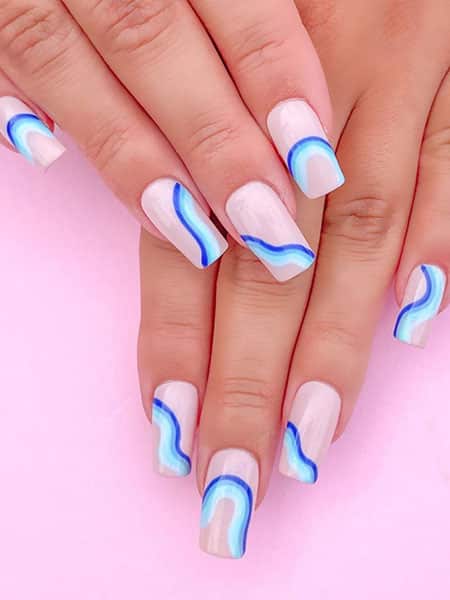 6. Almond Summer Nails
Long and tapered to an elegant point, almond nails are a sexy and glamorous shape that's perfect for summer nails. This universally flattering style makes your fingers and nail beds look slimmer while keeping your talons quite strong. Some opt for acrylics to achieve the almond look because, as the name suggests, it takes some length to create. For a playful and fun touch, mix pastel ombre with block color nails to create the perfect cute summer nail design ideas. Whether you're heading to the beach or a rooftop party, almond nails will add a touch of elegance to any look.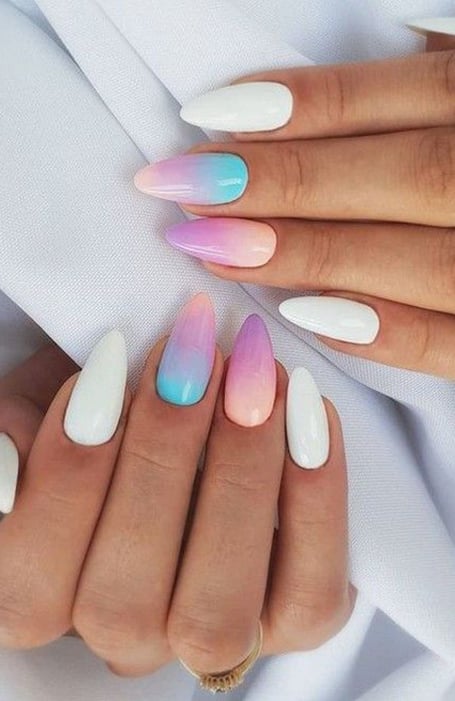 7. Mountain Peak Summer Nails
One of the lesser-known nail shapes, mountain peaks, has become one of the top cute summer nail designs in the past few years. Nails are kept to medium length and tapered to a small, fine point. The mountain peak shape follows a similar pattern to stiletto nails, but it doesn't require the fingernails to be as long. As a result, it's possible to get this shape with natural nails if yours are healthy and not prone to breakage.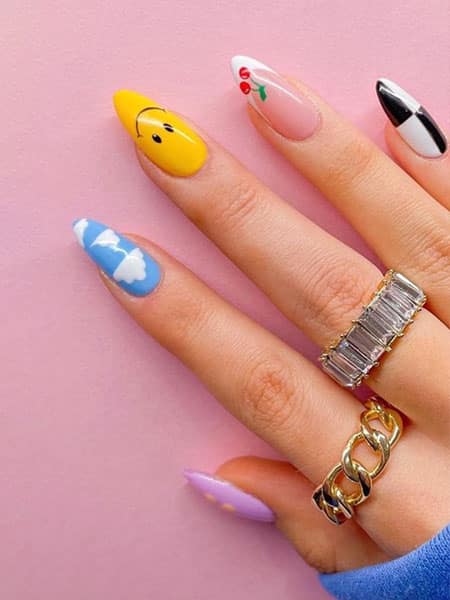 8. Summer Acrylic Nails
Acrylic nails are the fastest way to get the long nails you've always dreamed about. They're also a simple way to change the shape of your nails, and they don't require lamp curing like gel nails. The extra length and on-trend shapes you can get from acrylics are perfect for cute summer nail designs. You'll need to go to the salon regularly for fills and replacements. This may be more common in summer, as being outdoors and swimming can increase your risk of lifting or breaking the acrylics.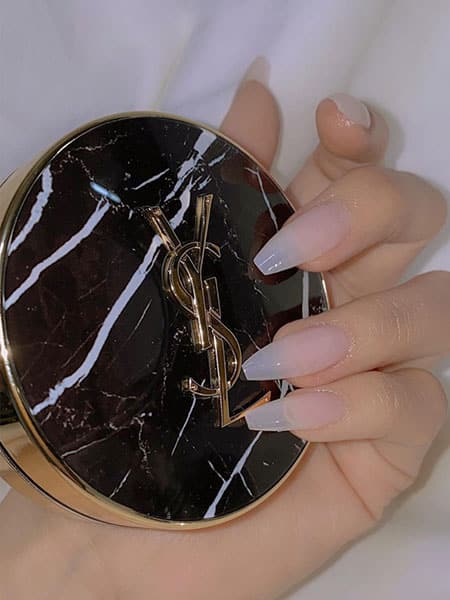 9. Summer Gel Manicure
A gel manicure is an easy way to make your summer nail color last. Gel nails are also softer and more flexible than acrylics, so they have a more natural look. If you want to extend the length of your nails but don't want the upkeep of acrylics, the gel is a choice for you. Sticking with the natural theme or bright color palette, gel summer nails look beautiful paired with all your favorite outfits. Shake it up with different finishes like matte and gloss, and add cute details like a smiley face or stripes. If you get sick of your gel color, you can easily remove gel nails at home.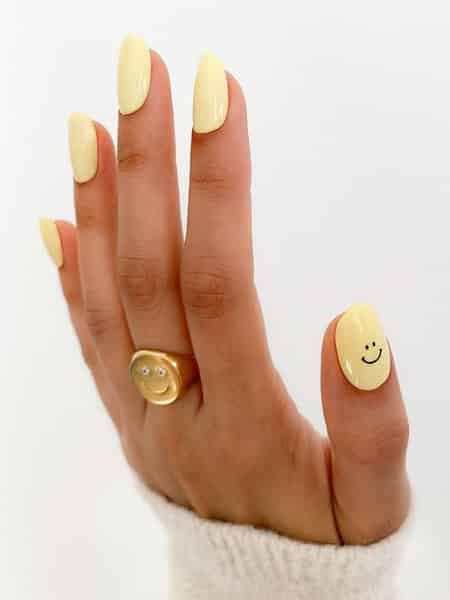 10. Graphic Nails
For standout cute summer nail designs, go for graphic nails. To properly show off this artistic look, either grow out your nails or choose acrylics in round, almond, stiletto, or square shapes. Then, let your creativity shine with contrasting colors, finishes, text, and textures. Quotes, logos, messages, and organic shapes are a big trend at the moment, so why not try them out this summer?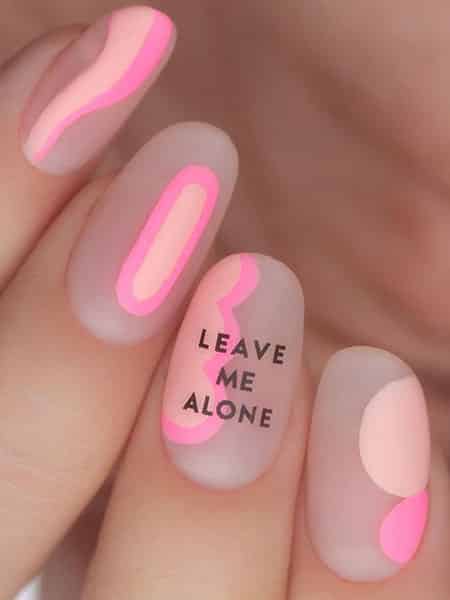 11. Neon Summer Nails
For trendy and bright summer nail ideas, neon shades are a must! Ultra-bright lime green, electric blue, and yellow hues look stunning on deeper skin tones. On the other hand, if you have a fair complexion, hot pink and purple manicures will help you embrace this vibrant trend.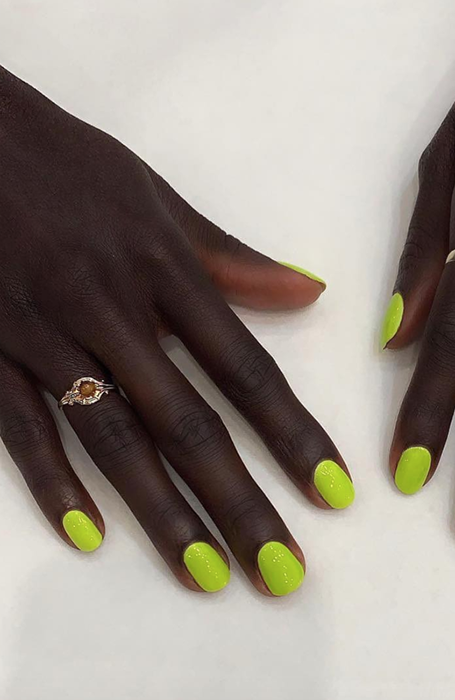 12. Multicolored Floral Manicure
Cute summer nail designs are all about having fun and being playful, and what better way to do that than with floral manicures? Not only are they pretty to look at, but they also have a retro vibe that's perfect for the season. And if you're looking for a new way to rock this timeless trend, try combining different pastel shades with florals on feature nails.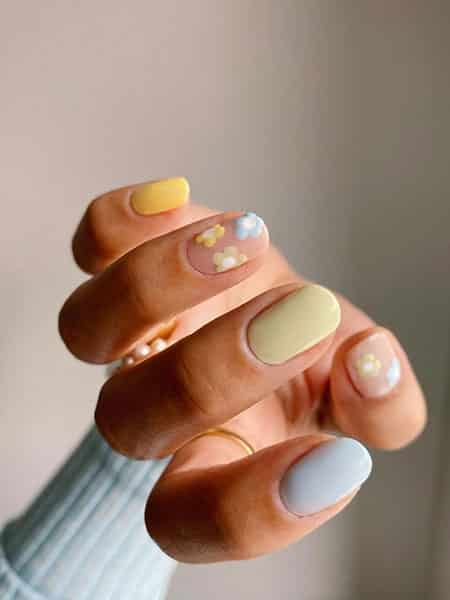 13. Summer Glitter Nails
For effortless cute summer nail designs, the glitter element is the go-to design. Opt for a low-maintenance and time-saving option by applying a glitter topcoat over nude nail polish. Additionally, you can create unique artwork using glitter polish. Embrace the trend by incorporating gold or multi-colored glitter into your nail design this summer. It's like a disco for your hands! If you're reducing plastic usage, choose a polish with biodegradable glitter particles.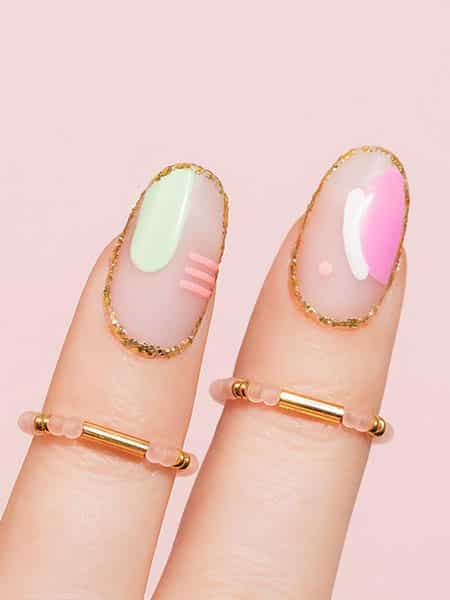 14. Fun Summer Nail Designs
Brighten up your summer nails with playful touches of vibrant colors and unique designs. Instantly boost your mood with pop hues like orange, blue, and pink. The key is to complement the tones while creating eye-catching contrasts. Take this opportunity to experiment with different summer nail designs, whether it's all over or just on one feature nail. Have fun and embrace a fresh summer look by playing around with colors and shapes.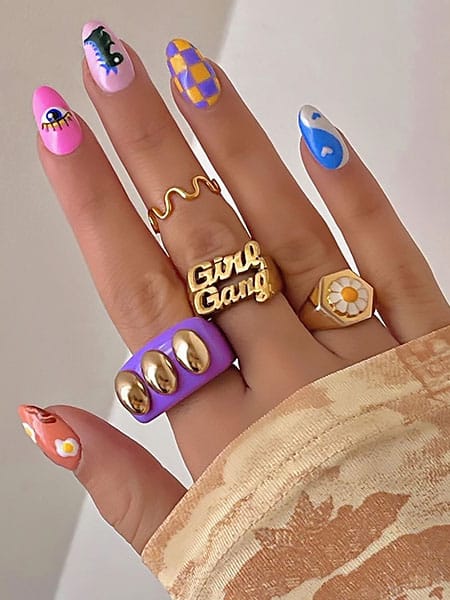 15. Pastel Summer Nails
When summer is in the air, it's time to bring out the pastel polish! From mint green to butter yellow, pink, and periwinkle blue, there's an adorable shade to suit everyone. These bright yet muted hues will remind you of fresh flowers and ice cream. You can paint a different pastel shade on each finger or choose your favorite and go all out. Another popular cute summer nail design is creating a French tip design using a range of pastels on a neutral base like nude or white.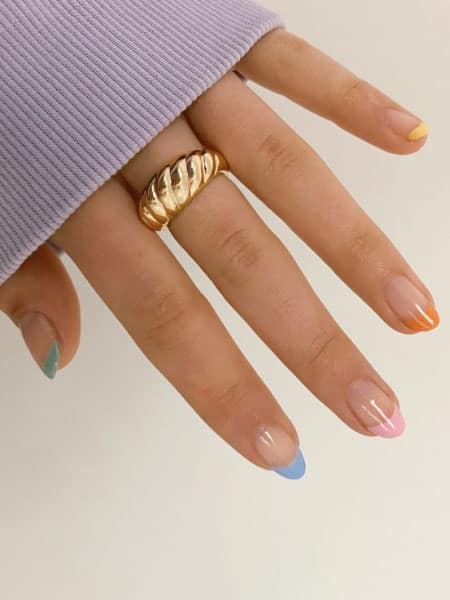 16. Summer Color Blocking Nails
For all those glamorous summer nights out, consider trying summer nails with color blocking. They add a playful touch while opting for natural tones to take it in an elegant direction. Chevron tips create an arrow effect, drawing the eye down and making both your nail beds and fingers appear longer. These versatile summer nail ideas can also be combined with other color combinations.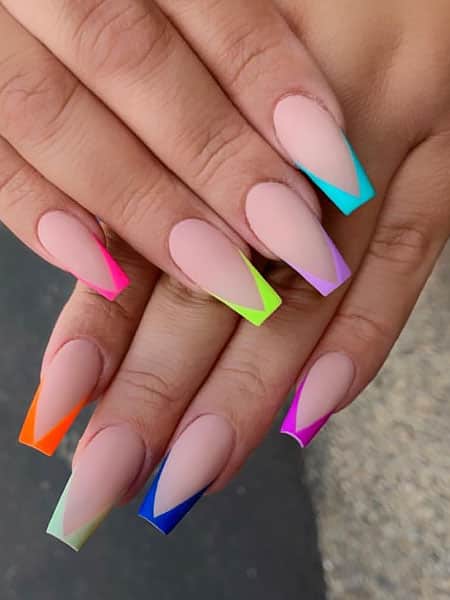 17. French Tip Summer Nails
If you're looking to switch up your summer nails but still want that classic, retro-inspired look, the classic French tip is always a good choice. These elegant and cute summer nail designs, with their nude base and white tip, have been popular since the '70s and have had a few comebacks over the years. But why not give it a fresh twist for the season? Swap out the white for a bright pop of color, like a bold blue. It'll pair perfectly with the understated nude basecoat and add some summery fun to your fingertips.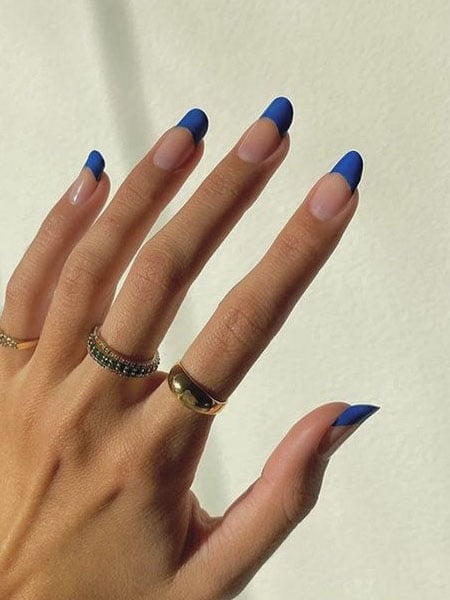 18. Summer Floral Nails
Summer nail ideas are all about bright colors, playful patterns, and ultra-feminine details. And what embodies these characteristics better than a floral nail design? Whether you opt for hand-painted flowers or easy-to-use decals, the key to nailing this look is starting with a neutral basecoat in a light hue that mimics the look of canvas. And with daisies in full bloom during the summer months, now is the perfect time to give this trend a try.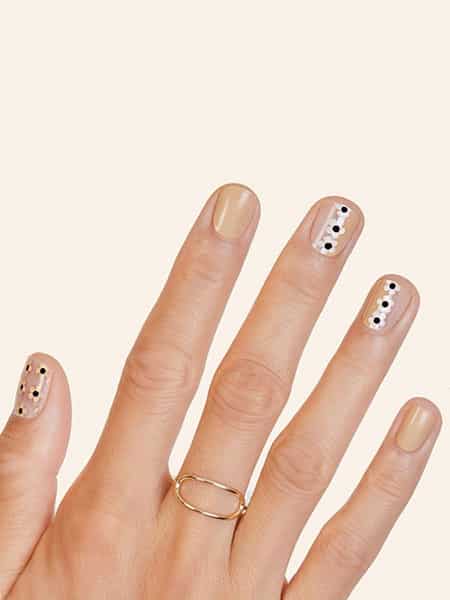 19. Summer Toe Nails
Summer is the season to show off your perfect pedicure, and neglecting your toenails is no longer an option. When the temperature starts to rise, it's time to give your feet some much-needed attention and indulge in the summer toe nail designs. From bright, colorful polka dots to themed designs, there's a wide range of eye-catching summer toe nail designs to choose from. But make sure you coordinate your pedicure with your manicure, whether it's matching in terms of color, design, or finish. With a little bit of effort, your toes will be ready to make a summer statement in sandals, heels, and at the beach.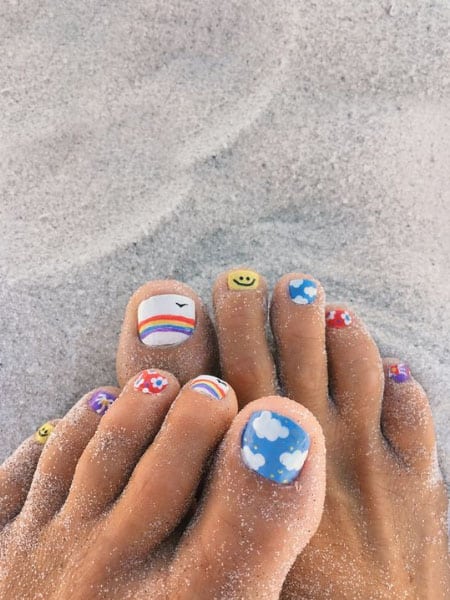 20. Summer Mixed Nail Designs
Not only should your color choice get more creative in summer, but the season is the perfect opportunity to show off different summer nail ideas too. You can mix it up by wearing multiple different types on the same hand. For a flattering look, choose the same basic color palette, like sunset hues, and go for different finishes, like ombré mixed with glitter. Geometric shapes also look great when contrasted with polka dots on a feature nail. The only limit is your imagination!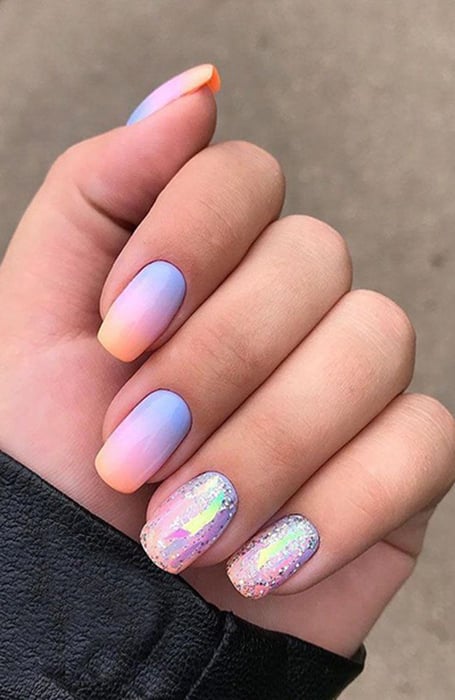 21. 3D Seashell Nails
Bring the sea with you everywhere you go! This nautical manicure is an excellent way to express your creative side and showcase your love for the beach. Find a nail artist specializing in 3D art; this requires a particular technique using gel to help create the rippled effect. Add a small pearl or crystal close to your cuticle for the appearance of a precious find within a clamshell. It's a great way to channel your inner mermaid for a hot day on the sand or in the water.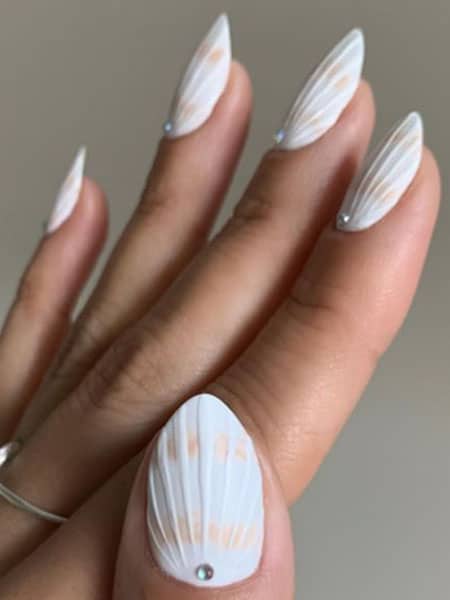 22. Pastel Floral Summer Nails
Soft colors are all the rage this season, so why not add them to your nails for a summer twist? This adorable art is perfect for a party, a picnic, or just a cute Instagram photo session. Mix it up by adding different colors on each petal and flipping them around on each finger. Have fun with it by including a small stripe of baby blue, pink, orange, or green along the cuticle – interchange the shades so they match the petal facing closest to the top.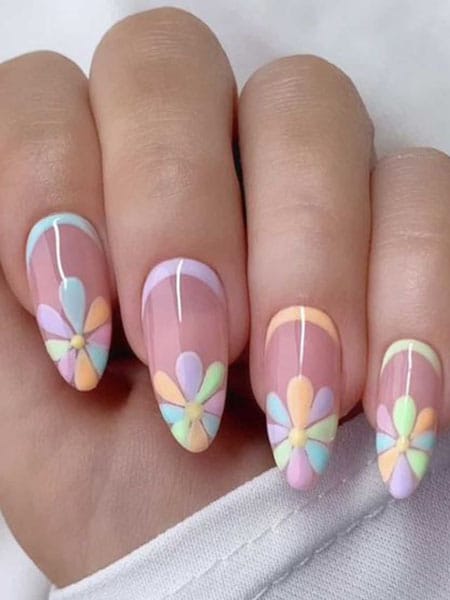 23. Blue Sky with Clouds Nails
This blue sky summer nail art is a great way to case the sunshine every day. The vibrant shade is an instant pick-me-up for your casual attire, and the fluffy little clouds create depth and a bit of fun to an already gorgeous manicure. Using a small brush and white paint, dot a series of circles sporadically across each fingertip, then add another one directly next to it – make sure it touches the first. Add another two or three until you have something that looks like a cloud. Make them as small or large as you prefer, and space them out across each nail to look as much like the sky as possible.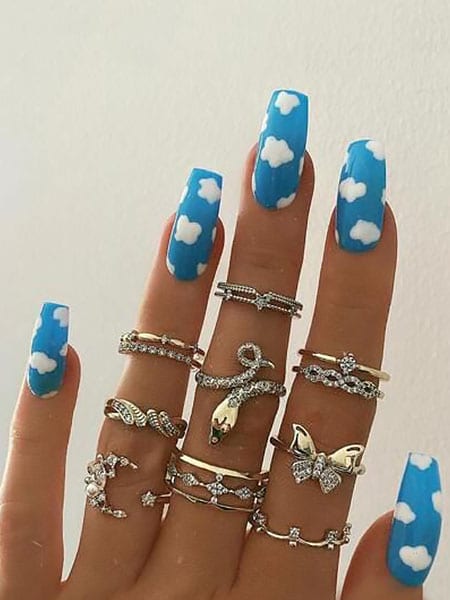 24. Bright Playful Nails
Summer is all about embracing color and having fun experimenting with your style, so this manicure is the best way to begin. This retro style has been a trend for some time now, and infusing them into your nail art is a great way to mix things up. Make each nail a different color, such as bright pink, blue, purple, or orange – mixing more than one shade in the same swirling pattern will add depth and extra oomph to an already amazing set. Add little daisies or flowers on top in contrasting shades to enhance the playfulness of the summer nail design.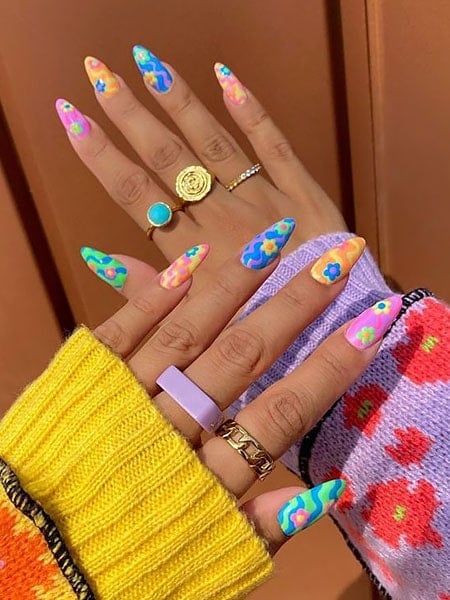 25. Classy Summer Nails
For a summer event, such as an outdoor cinema event, boat party, or trip to the Bahamas, there's nothing quite like a simple and classy manicure. This style is modern and classic all at once, combining the latest trends with something a bit traditional. The universally flattering almond shape elongates the fingers, and the white base color makes your skin look golden and glowing. Using a pearl-finish polish, apply small waves over each nail – this will catch the light and create a multi-dimensional effect that is sure to impress.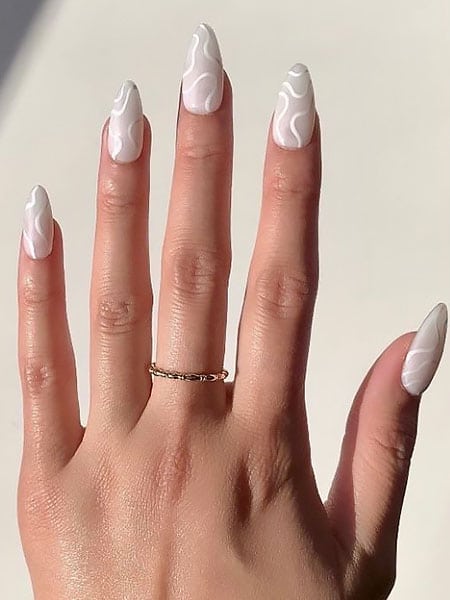 26. Colourful Daisie Nails
Take a trip through a field of daisies just by looking at your hands. This fresh manicure is full of life and is the perfect choice for summer nail ideas. Start with a neutral base, such as nude or soft pink. Using a thin brush, paint flowers of varying colors on each nail, spreading them out evenly across the base of each finger. Choose your colors however you wish – popular choices include yellow, purple, pink, and baby blue. When you have finished each petal, complete the look by adding a small yellow dot in the middle, instantly bringing each flower to life!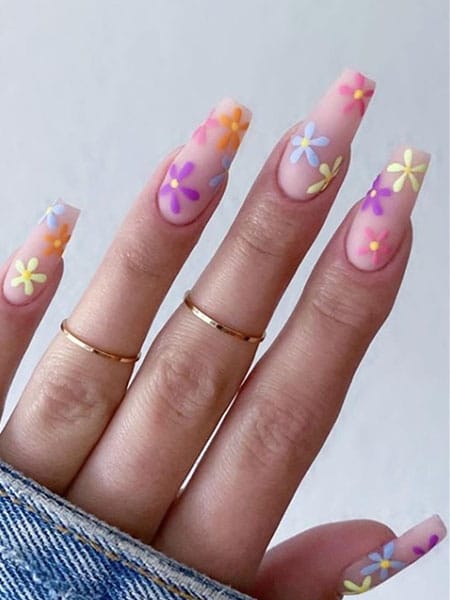 27. Cute Retro Nails
The last few years have been all about bringing back the patterns that were huge in the '60s and '70s. Designs such as checks, stars, swirls, and flames have made a huge comeback but have been infused with a modern twist. On each finger, choose a summer nail design that you love – this is a funky way to keep things interesting without deviating from the theme. Instead of sticking to the retro colors – brown, orange, bottle green – mix in modern shades such as fern green, cherry blossom pink, and magenta.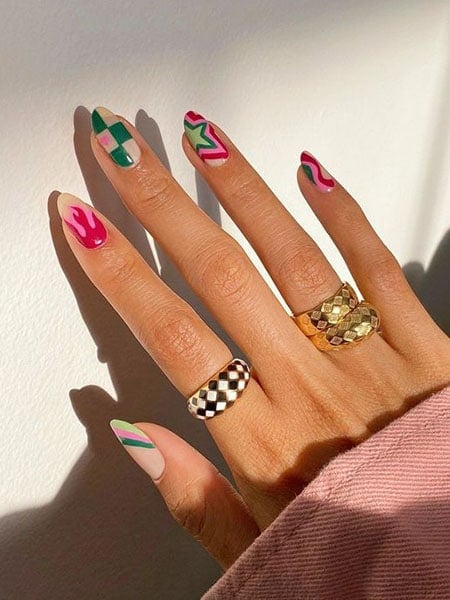 28. Green Summer Nails
Green is a shade that never really goes out of style, making for an excellent choice for summer nail art. We've seen a lot of swirly patterns dominate the last few seasons, and this manicure is no exception. Start with a lighter shade as your base – sage is a great choice as it is universally flattering and matches various outfits and occasions. Once dry, use a small brush to paint a few organic lines down the length of your fingers in a darker shade. Ge creative with the way you design the patterns – have them go in different directions for a more fluid and fun feel.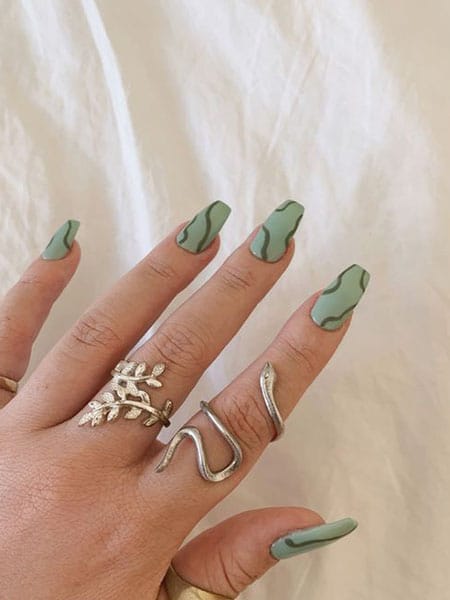 29. Hot Pink Summer Nails
Channel your Hot Girl Summer with some matching hot pink nails. This season is all about embracing the warmth and feeling energetic, so this manicure is sure to spark the feeling inside. Begin with a neutral base, something clear or nude, to create the appearance of longer nails. Then, choose three colors, two pink, and one white. Create shapes along each finger in varying directions for a playful touch, and don't be afraid to make some lines thicker than others. It looks great with other colors, too, so you can play around with multiple palettes this summer.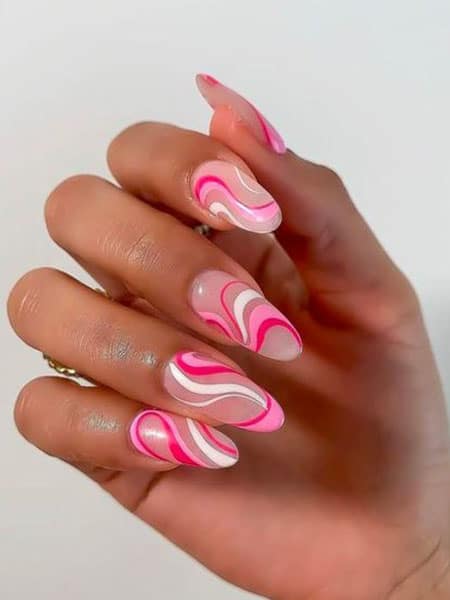 30. Lightning Nails
The retro trend is certainly back with a vengeance, and if you want to channel your inner Ziggy Stardust, this is the best way to do it. This lightning bolt summer nail art is edgy and stylish while packing a punch. Add other patterns on the remaining nails, such as small flowers, polka dots, stripes, clouds, or even a French tip. Play around with colors on each finger for a multi-dimensional feel. This looks best with longer nails, so you can paint a larger design on it – try an oval, almond coffin shape for maximum results.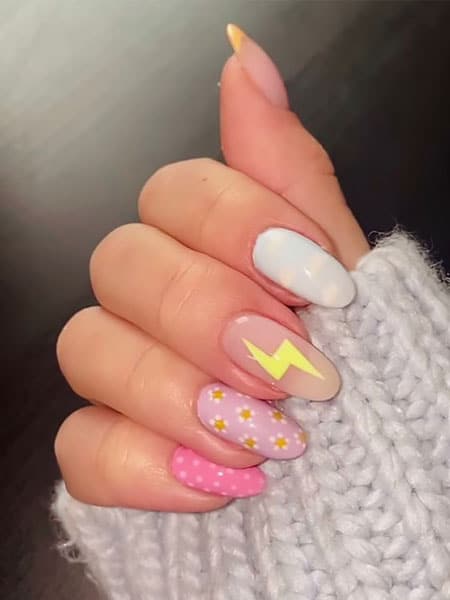 31. Playful Nails
Summer is here, and it's time to switch up your regular manicure routine. Get ready to turn heads with this fun and engaging eye design that is all the rage this season. To make the design pop, consider using neutrals or baby pink as the base color, and then go crazy with your favorite shades of blue, orange, purple, green, pink, or yellow. The playful twist of painting eyes of all shapes and sizes on each nail is a unique touch that will make your summer nails stand out from the crowd. Don't forget to incorporate other shades to create intricate eyelashes and irises, which can add depth and character to the design.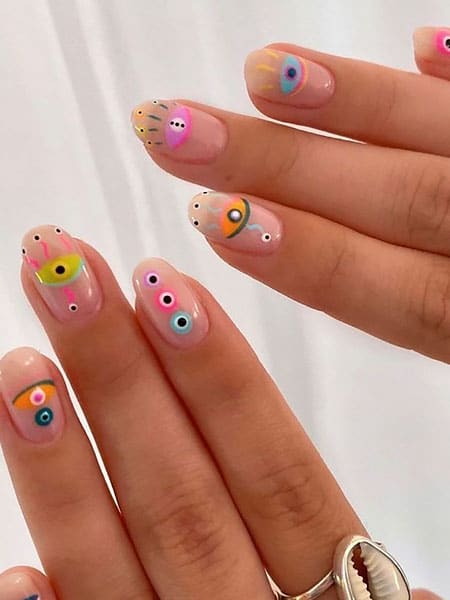 32. Purple Summer Nails
This cute nail manicure feels like ice cream, which is the perfect option for your next summer session in the salon. Purple is a great color for the season, as it's bright enough for the warm weather and matches a wide range of outfits and occasions. This is similar to the traditional French manicure but uses more than one shade to create the pattern – add a small white line as a melting effect towards one side of each finger to look perfect for the hot day ahead.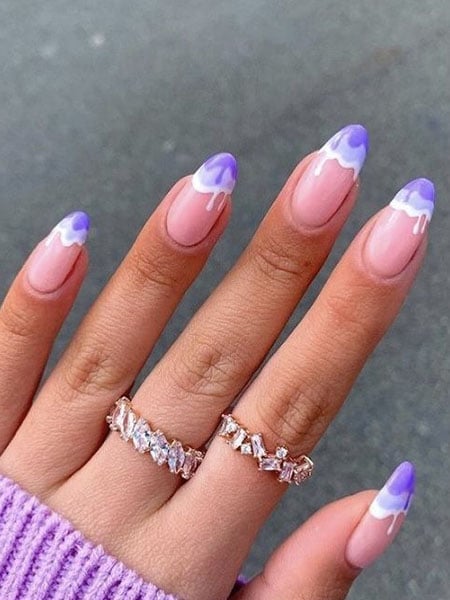 33. Short Summer Nails
Who said cute nails only come with long nails? You can create beautiful designs on short nails too! This summer, switch up the traditional French manicure by opting for pastel shades of pink, blue, purple, and yellow. Take it a step further by making each finger unique with a different tip color. Capture the essence of summer by adding a touch of playful daisies on each finger, or just stick to a single feature nail for a more delicate look. Not only are short summer nails practical, but they can be just as cute and stylish as long ones.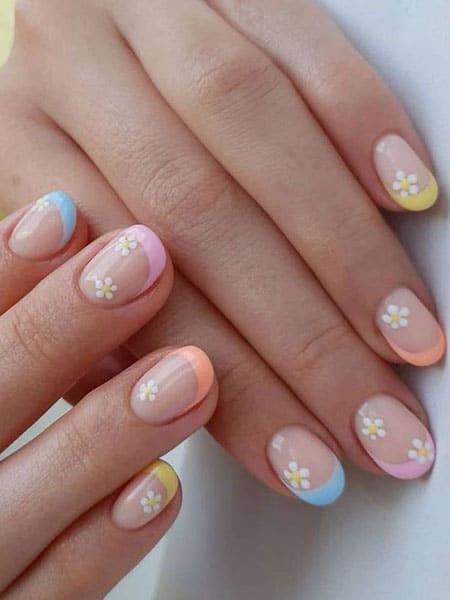 34. Simple Summer Nails
Sometimes the most simple summer nails have the biggest impact, and this manicure is no exception. With only five colors, you can make a serious statement. Choose five colors from the rainbow, opting for their pastel alternative for a softer feel, and paint one color on each finger. You don't have to stick to the traditional outlay of the rainbow – swap them out how you feel and express yourself! These summer nail ideas are for a multitude of different lengths and shapes, but the most universally flattering style is squoval or almond – it lengthens your fingers and shows off more of those gorgeous nails.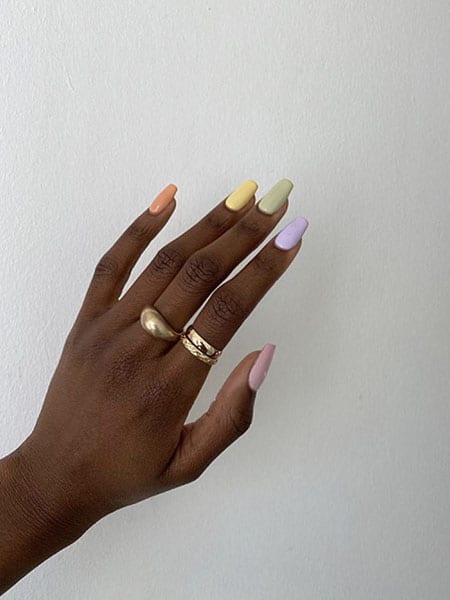 35. Strawberry Art with French Manicure
Strawberries are a summer favorite, and for a good reason. From Harry Styles' summer jams to that famous dress that took the internet by storm, this is a great pattern to emulate when seeking summer nail art inspiration. Start with a classic French manicure, and use a tiny brush and red paint to outline the shape of the fruit. Fill it in with the color, and add the green leaves to the top. Finally, place a few tiny white dots on the strawberries for the finishing touch.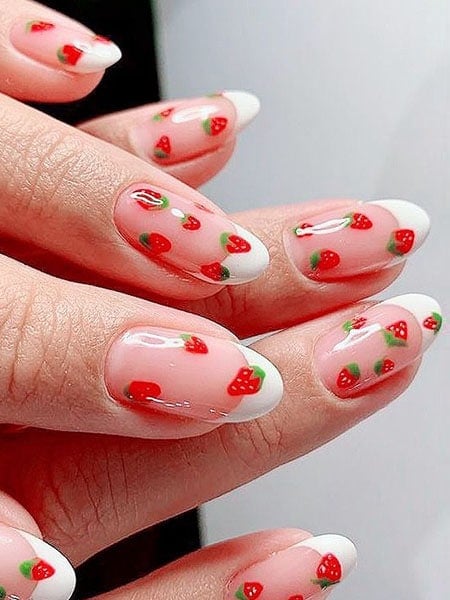 36. Summer Blue Nails
No matter the season, blue nails are always a great idea. This summer, mix it up by combining two shades – one darker and one lighter – into an organic blend of swirls. What appears as water flowing through your fingers is a great choice for hot weather, instantly transporting you to the serene feeling of the sea. You can even make this pattern a feature summer nail if you're short on time – sticking to one of the primary shades for maximum impact.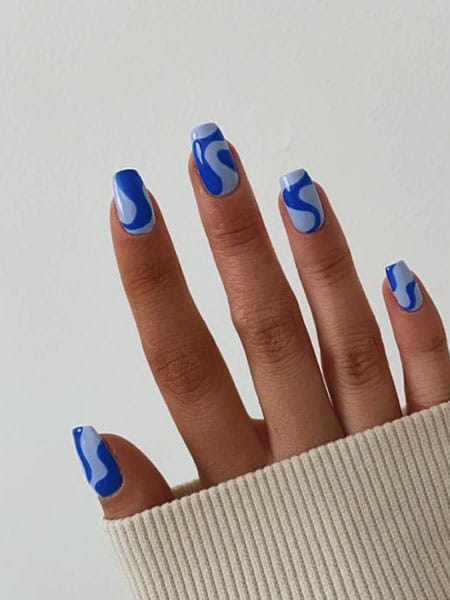 37. Summer Butterfly Nails
What says summer better than a series of delicate butterflies dusted across your nails? This summer nail design is delicate and dainty and looks incredible for any occasion. Choose a soft shade of blue or periwinkle for your base, and leave two nails as French manicures using that same color. Rather than painting the winged beauties individually, which would take hours, find stickers that contain similar colors and place them across the fingertips. To give the effect of them flying, switch up the direction each one is facing. Add some glitter or crystals to the cuticles for a touch of sparkle.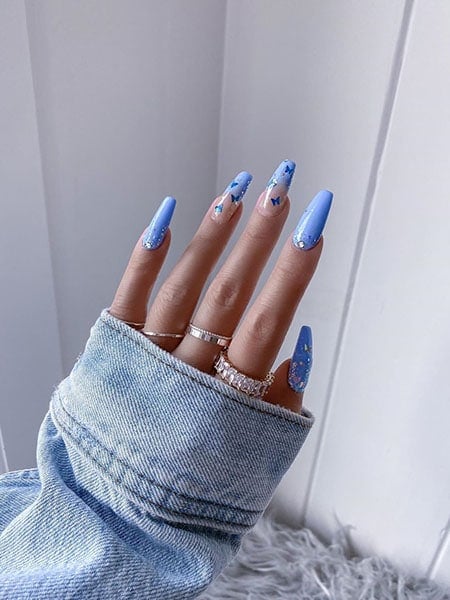 38. Coral Nails
Coral is a summer staple and is a great color for a manicure. If you prefer simple summer nail ideas, this is the best option for you. The beauty behind this simple manicure is its effectiveness in elongating the fingers and enhancing your summer glow. No matter how long or short you wish to wear this style, it matches everyone's skin tone and looks great with myriad outfits. It's also a great base hue for a more elaborate summer nail design if you wish to add something later.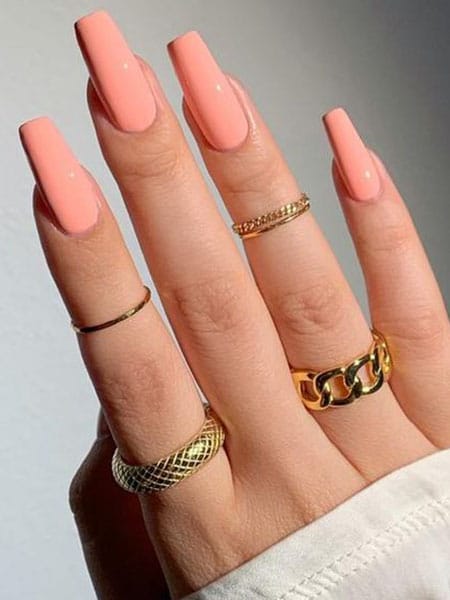 39. Summer Dip Powder Nails
Pastels are a summer favorite, and dip powder nails are a safer and healthier alternative for your manicure. Instead of gels with harsh lights or acrylics, dip powders give the same secure effect as other methods without damaging your nail bed as much. You can do a lot with these powders, too, such as ombre summer mani, glitter, or just plain. Choose your favorite shade – this season, it's all about different purple tones such as lilac, lavender, heather, and periwinkle.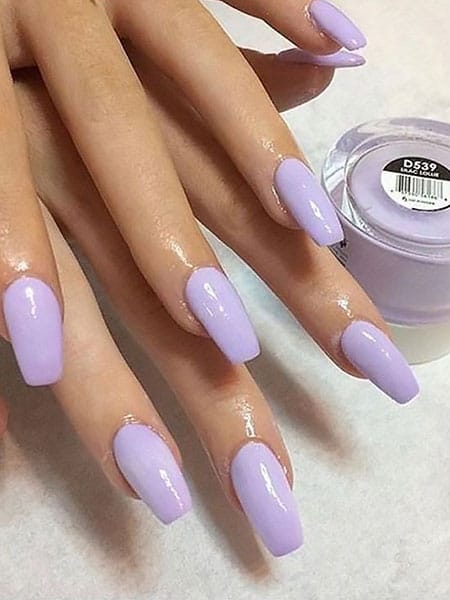 40. Summer Neon Green Nails
Every summer, neon comes back differently. This season, we're putting it on our nails. It's an excellent option if you love highlighting a certain color in your outfits – nothing says summer like bright green nails! Get this look with a neutral base, and add the vibrant shade with a fine brush in organic swirls across the lengths of the nails. Try different summer nail art designs for each finger to give the manicure a more abstract and complex feel.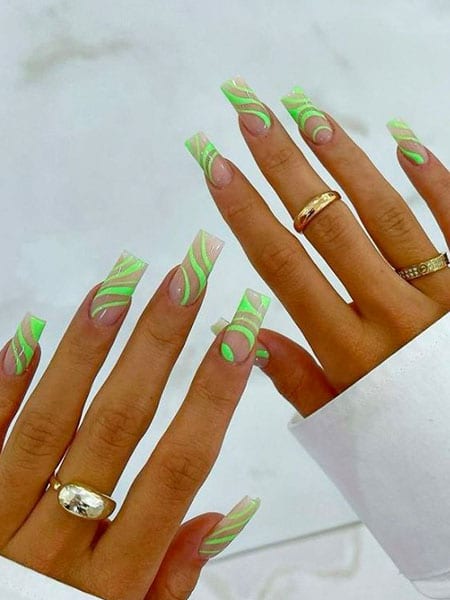 41. Ombre Summer Nails
The French manicure has been tried and tested, but the ombre nails alternative is a crowd favorite for so many reasons. This upgraded version of the classic is a go-to for those who love minimal and timeless summer nail designs but still want to elevate their outfits. This summer nail art works best for those with longer nails, as you can fit more of the gradual color, but it also works well for those with shorter lengths. The most common way to achieve this look is with dip powder – use a brush to softly dust the white from the middle of your finger down to the end, applying more to the tips for maximum impact.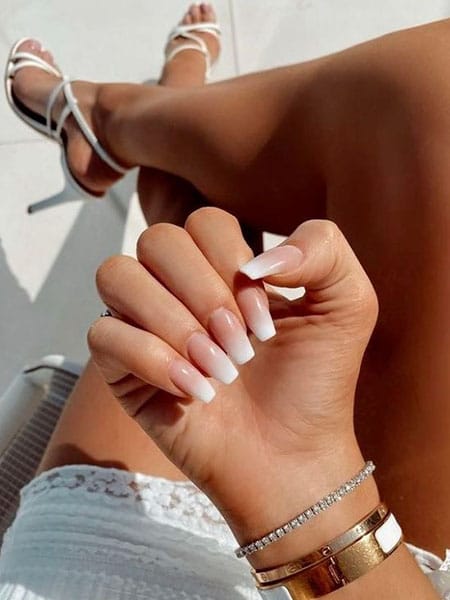 42. Orange Summer Nails
Quench your thirst for summer by adding some juicy oranges to your summer manicure. There's much more to this summer manicure than first appears – it may look like polka dots, but it's actually a fruit bowl of oranges across your nails. Most manicures like this require a neutral or nude base to help the pattern pop. Using a dotting tool, apply small orange circles all over your nail beds, and then paint tiny leaves on top of them with a tiny nail brush. This demands gentle application, so attention to detail and a steady hand are required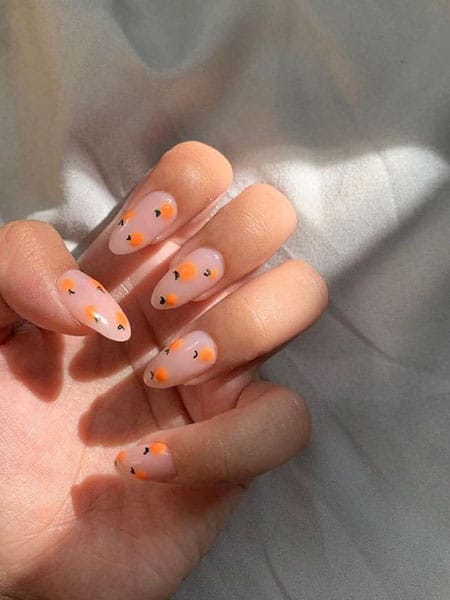 43. Peachy Summer Nails
Make a statement with peachy summer nails. Whether you love the color or the fruit (or both), this manicure is a great option for those long, hot days. Start with a minimal application of the peachy color on four of your five fingers, leaving one in a neutral or nude shade. Paint the fruit all over the ring finger, using the same shade as the rest of your hand. This is sure to garner a compliment or two – trust us!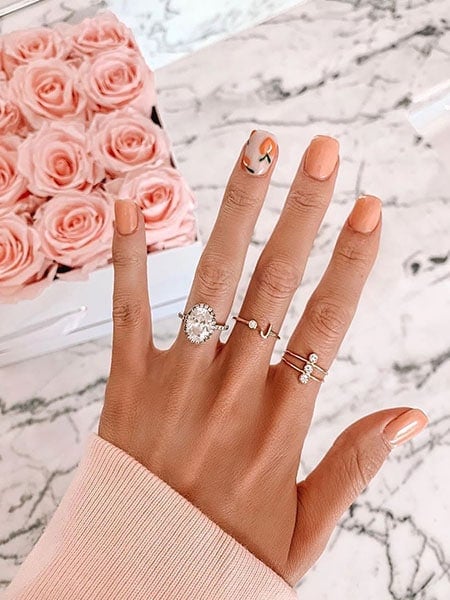 44. Summer Press On Nails
For the time-sensitive or those who can't make it to a salon, press-on nails are the perfect alternative! These summer nails are super easy to apply and look so fabulous for an event or Instagram photoshoot. You can find a wide range of patterns and colors available, such as these floral beauties. Make sure you begin with clean and dry fingers for the best application technique. Select the sizes that best suit your natural shape, and apply them using the provided tack or glue. Shape them to your preferred style and length, and watch as your fingers become the main attraction to your outfit. They usually last for one or two weeks, depending on your activities while wearing them.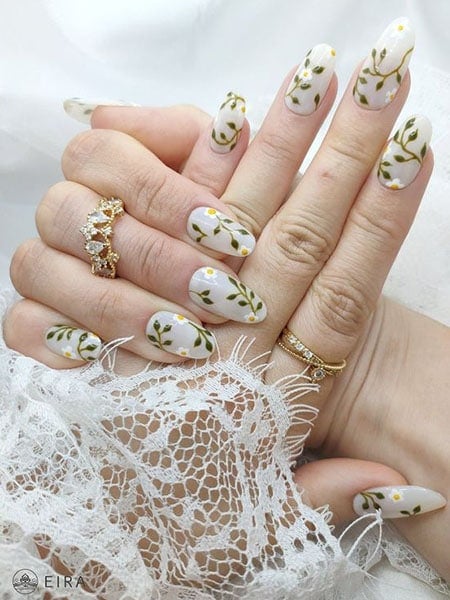 45. Summer Shellac Nails
Make your nails the focal point of your summer outfit. Shellac summer nails are super cute and look great with a wide variety of ensembles. Plus, it's created using shellac polish, which is considered one of the safer options for your nails. In fact, it can actually prevent a lot of damage to your natural nail when it's time to remove them, and they also last longer than your traditional manicure – bonus! Opt for a natural base color when recreating this look, then choose a different shade on each finger. Applying a little bit of color in sections looks like a cracked Easter egg and provides an artistic feel to an already interesting design.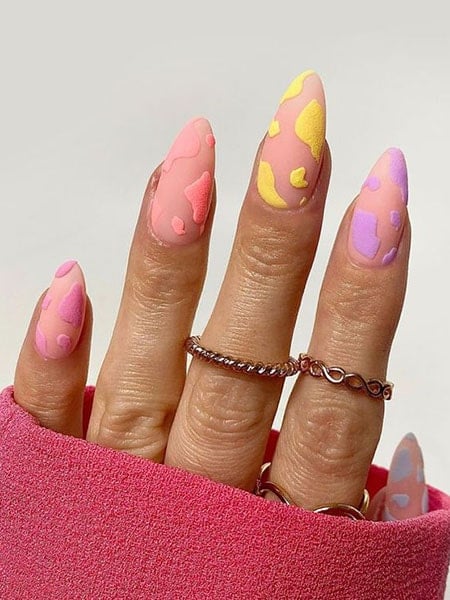 46. Smiley Face Nails
This season is all about having fun and being with your loved ones, so why not show off your joy on your nails? This summer nail design appears simple, with only a few colors that make a real statement. Choose the shades you prefer – popular choices include pink, blue, and green – then add small circles all over your nails, spreading them out evenly. Once dry, use a small brush to paint two dots and a smiley line to form a friendly face. If you're a novice at nail art, this is a great place to start.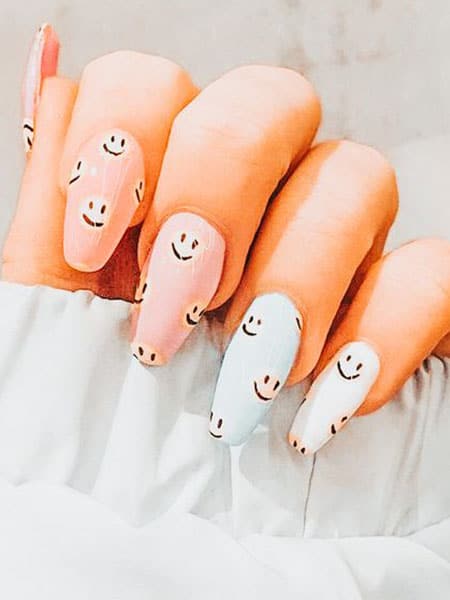 47. SNS Summer Nails
SNS nails are one of the most popular summer nails as they're considered far safer than acrylics, with similar results. With nutrients in its ingredients to strengthen the nail bed, they can actually make them feel stronger and more resilient. If that's not enough, they also last longer than your typical acrylic and don't need to be refilled for at least three weeks. When choosing summer nail designs, opt for something bright and fun, such as yellow, green, or blue. You can wear any length or shape with this dip powder, too, but the most popular choices are almond or squoval.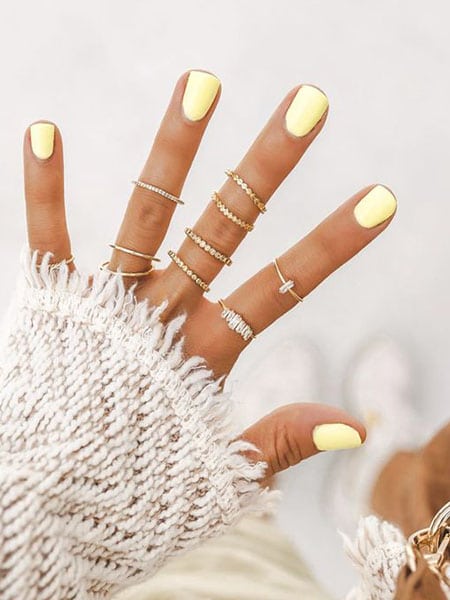 48. Sunflower Nails
Sunflowers always face themselves towards the light, and you can do the same with this beautiful manicure. This feminine summer nail design is sure to garner several compliments and is easy to replicate. Start with two of your favorite colors – yellow and pink are common choices. Paint two or three of your fingers one shade, and leave two the other. On the pink or neutral nail, paint the flower emerging from one side and finishing in the middle.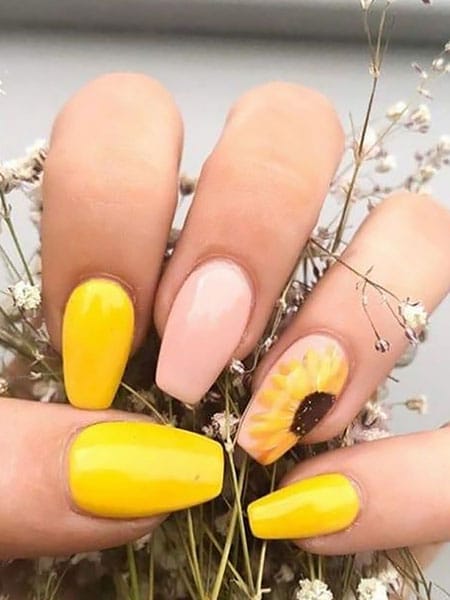 49. Summer Yellow Nails
This trendy and fresh take on summer nails is the perfect option for your next salon session and looks great for any occasion. Interchanging the traditional French tip manicure with a delicate floral design perfectly blends the modern and classic designs. Choose the shades of yellow you prefer, such as lemon, pineapple, and canary – mix them with white for maximum impact and a multi-dimensional look.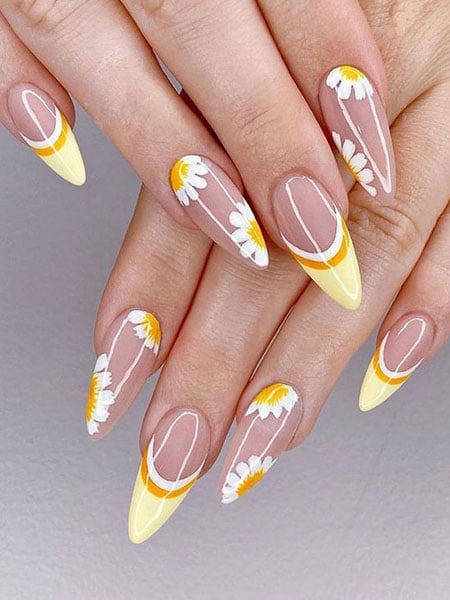 50. White Hearts and Flames
Edgy and sophisticated rolled into one, these white flame nails are an excellent option for your summer nails trend get-up. Unlike traditional fire-inspired manicures, this one also resembles a heart, giving it a softer edge than what you see initially. As an alternative to a French manicure, you can use the same base color of neutral and the crisp white paint to formulate the look. Begin by painting upwards from the bottom half of your nail towards your cuticle. This process requires a steady hand, so it's best if you turn to a professional to get the best results here. Change the colors around if you wish, or leave it as it is for a seriously cool interpretation.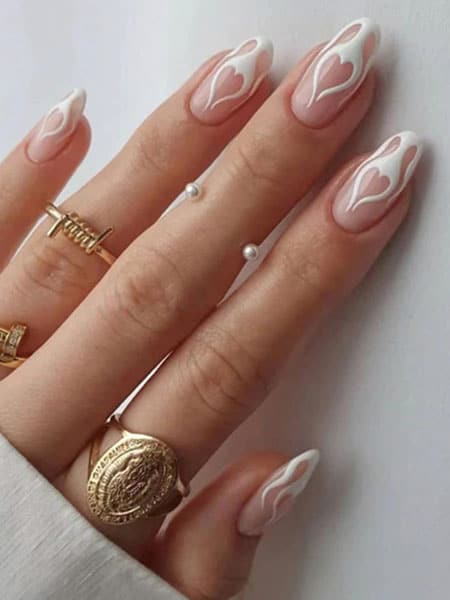 Summer Nail Ideas FAQs
What nails are trending for summer 2023?
There are many trendning summer nails in 2023 such as neon and color blocking to more classic styles like French tip manicures in diffrent hues.
What is the most popular summer nail style?
The most popular summer nail shaoes are coffin/ballerina nails, round, square, oval, almond, squoval, and stiletto.
SUBSCRIBE TO OUR NEWSLETTER
Subscribe to our mailing list and get interesting stuff and updates to your email inbox.