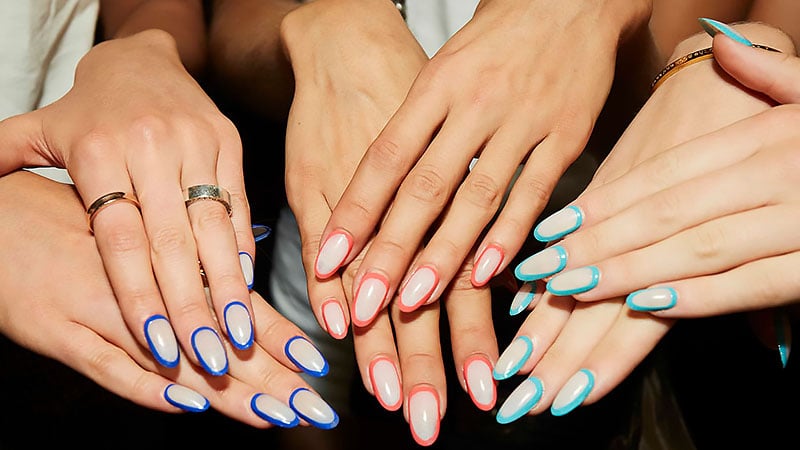 While having an eye-catching manicure is a great idea all year round, there's something about summer that makes you feel more adventurous. Whether it's embracing ultra-bright colors, fresh new textures, stylish shapes, or daring designs, now's the time to shake it up. Keep reading to discover fun ways to update your signature style, as well as this season's most on-trend summer nail design ideas to take your manicure to the next level.
RELATED: 15 Hottest Summer Nail Colors to Try in 2021

1. Rainbow Nails
This is the season to go as bright, warm, and tropical as the weather! Create a fruity cocktail of pastel shades – think pink, mint, lilac, yellow, and baby blue. When summer arrives, the rules go out the window, and it's time to show off your creativity in manicure form. Plus, there are no gloves to hide behind – so your nails can get all the attention they deserve!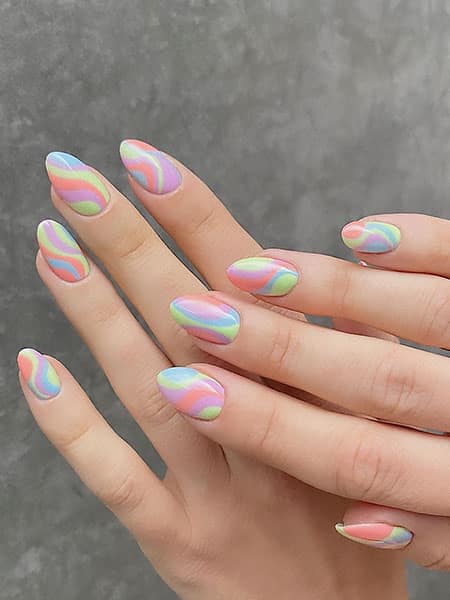 2. Peachy Apricot Nails
While summer offers plenty of opportunities to experiment with your nails, one of the biggest trends is a simple look. Peachy apricot tones are a summer staple every year, and it's easy to see why. This hue is universally flattering on every skin tone. It also goes well with a full spectrum of other colors, from navy to pink and white. It's feminine and understated while still being playful, and it looks gorgeous paired with gold and rose-gold jewelry – another massive trend for summer.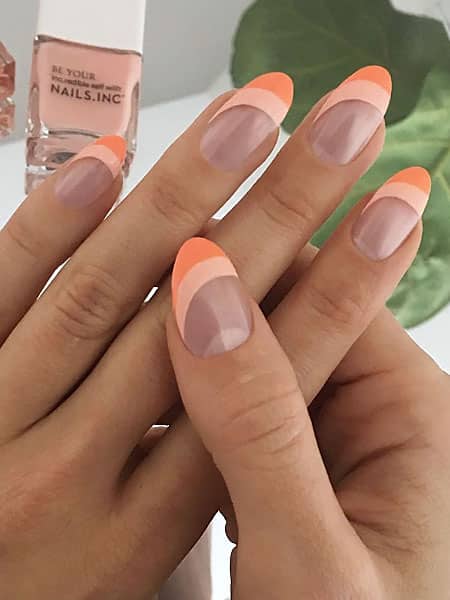 3. Coffin Nails
The coffin nail shape, also known as ballerina style, is what it sounds like: lengthy acrylics with a tapered, squared-off edge that looks like a coffin or ballet shoe. This nail shape has a lot of attitude and also gives you plenty of space to play with color, design, and decoration. You can take them to the next level with holographic foiling, ombré coloring, beads, and jewels or nail art. These are the nails you get if you want to make a statement – so it's not a shock that coffin nails are a favorite of Instagram stars and influencers.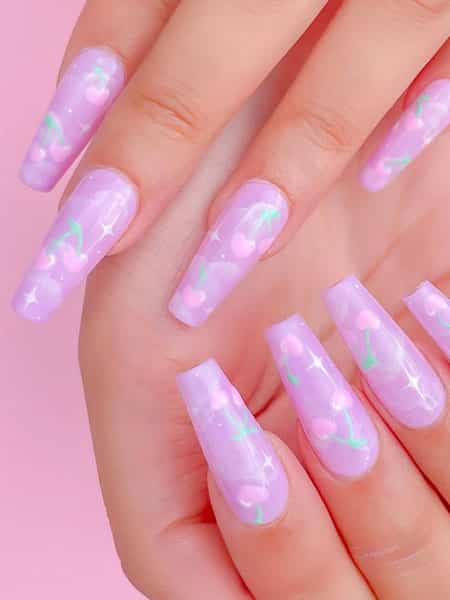 4. Round Nails
For a more understated vibe, the classic round shape is also on-trend for summer. A catwalk favorite, this chic and straightforward nail shape is very versatile. Round nails can attract attention when painted with bold or pastel color; alternatively, they can be the height of sophistication when paired with a nude polish. Natural and low-maintenance, round nails are a great choice if your style is classically elegant or a little androgynous.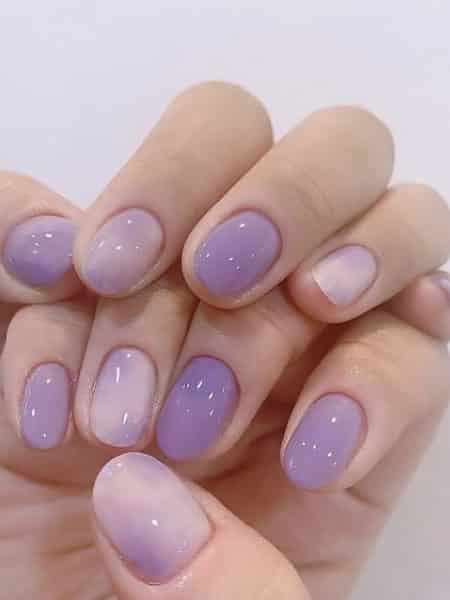 5. Square Nails
Square nails are a great choice if you have naturally narrow and flat nail beds; they will make your fingertips look wider. They're also considered the healthiest nail shape for most people as there's less risk of nails flaking, catching, or breaking. If you're opting for long acrylics, squared ends are also a popular style. This is because the squared tip makes the nail look wider, balancing the length of the nails. Experiment with bright natural tones and pastel colors, they are a trendy choice this summer.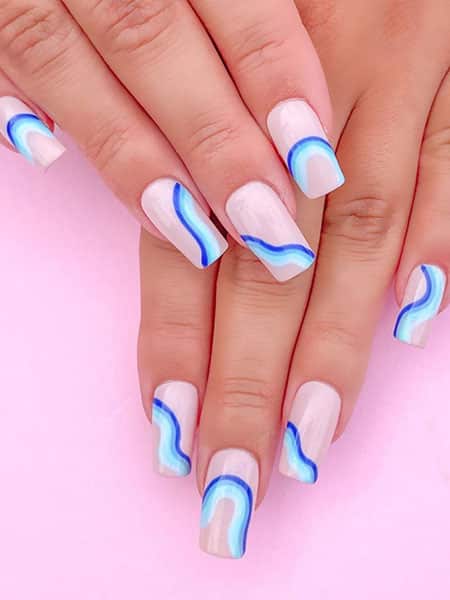 6. Almond Nails
Long and tapered to an elegant point, almond nails are a sexy and glamorous shape. They get their name from the shape of the almond nut. A universally flattering style, almond nails make fingers, and nail beds look slimmer and keep your talons quite strong. Because this nail shape requires some length to create, some opt for acrylics to get the almond look. Mix pastel ombre with the block color nails, for the playful and fun summer style.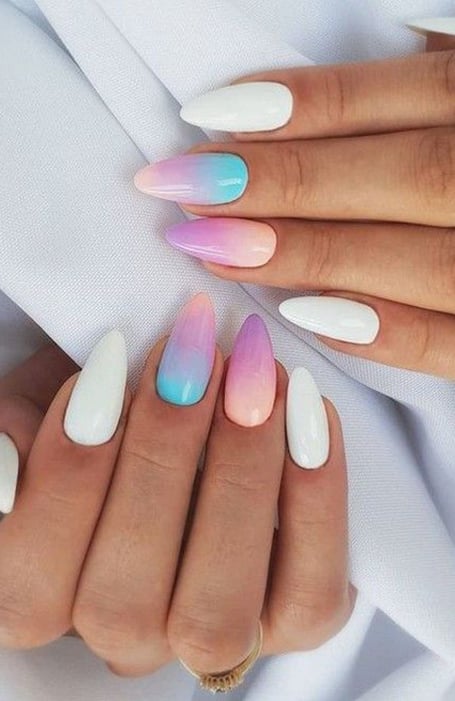 7. Mountain Peak Nails
One of the lesser-known nail shapes, mountain peaks, has become a big trend in the past few years. Nails are kept to medium length and tapered to a small, fine point. The mountain peak shape follows a similar pattern to stiletto nails, but it doesn't require the fingernails to be as long. As a result, it's possible to get this shape with natural nails if yours are healthy and not prone to breakage.
8. Acrylic Nails
Acrylics are the fastest way to get the long nails you've always dreamed about. They're also a simple way to change the shape of your nails, and they don't require lamp curing like gels. The extra length and on-trend shapes you can get from acrylics are perfect for summer. You'll need to go to the salon regularly for fills and replacements. This may be more common in summer, as being outdoors and swimming can increase your risk of lifting or breaking the acrylics.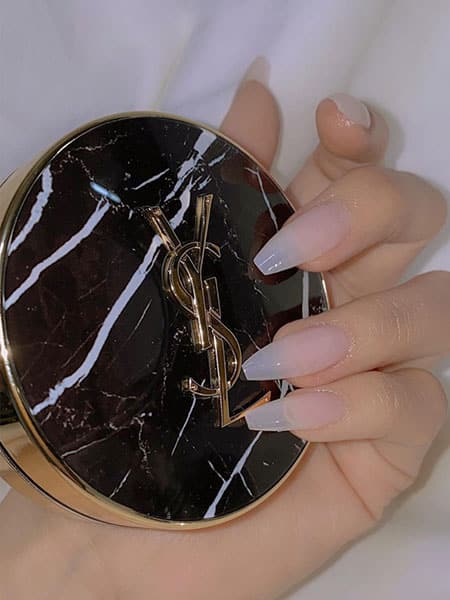 9. Gel Nails
A gel manicure is an easy way to make your nail color and design last. Gel nails are also softer and more flexible than acrylics, so they have a more natural look. If you want to extend the length of your nails but don't want the upkeep of acrylics, gel is a choice for you. Sticking with the natural theme or bright color palette, gel nails for summer look beautiful paired with all your favorite warm-season outfits. Shake it up with different finishes like matte and gloss, and add cute details like smiley face or stripes. If you get sick of your gel color, you can easily remove it at home. But for the best result, go to a professional for a fresh manicure.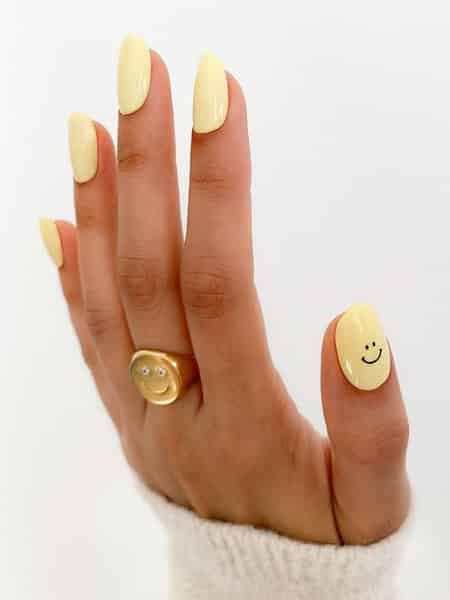 10. Graphic Art Nails
For a standout look this summer, go for graphic nails. To properly show off this artistic look, either grow out your nails or choose acrylics in round, almond, stiletto or square shape. Then, let your creativity shine with contrasting colors, finishes, text and textures. Quotes, logos, messages, and organic shapes are a big trend at the moment, why not try them out this summer?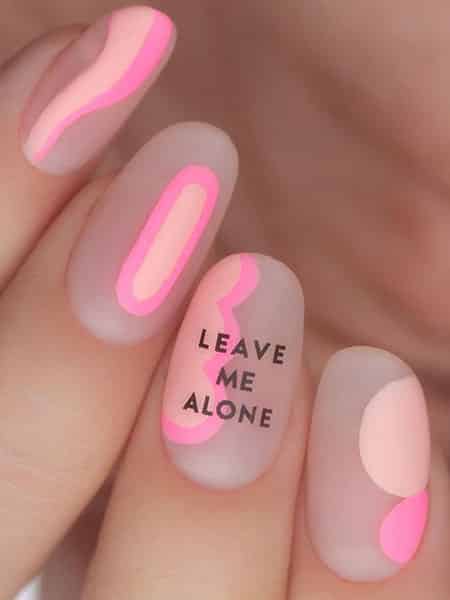 11. Neon Nails
When it comes to the neon trend, it's all about choosing the color that's right for your skin tone. Ultra-bright, acid hues like lime green, electric blue, and yellow pop against deeper skin – in fact, all neons will suit you if you have a very dark complexion. Meanwhile, if you're on the fairer side, stick to hot pink and purple manicures to make the most of this vibrant trend.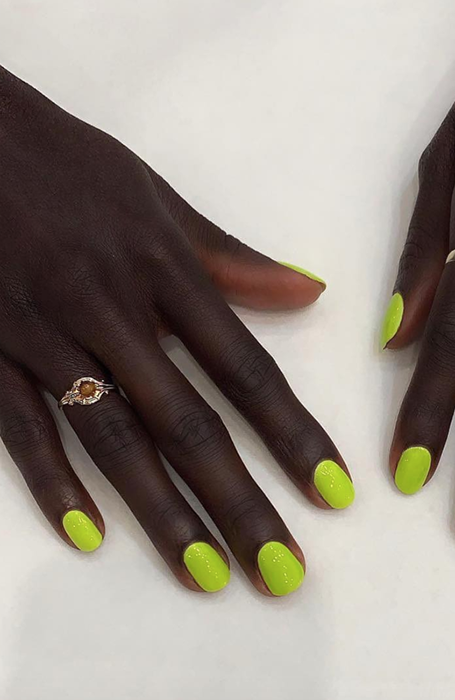 12. Cute Summer Nails
What's more attractive than floral manicures? This super sweet nail trend is a summertime classic. It's pretty, playful, and a little bit retro. For a new take on the trend, combine pastel shades with florals on feature nails. This look is very Instagram-worthy, you will be spotting it everywhere this season.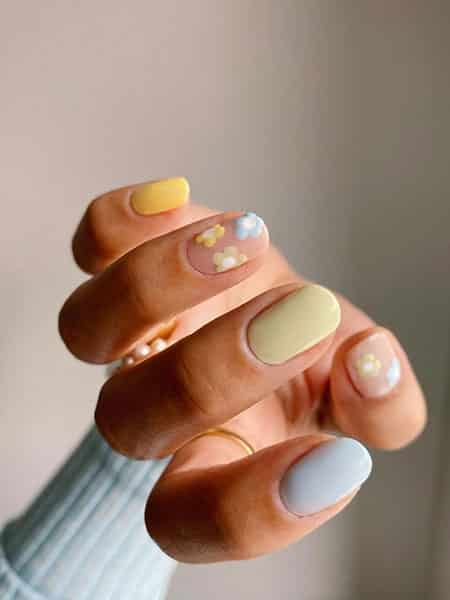 13. Glitter Nails
The most straightforward design to shake up your look for summer is the glitter element. For the most low-maintenance – and time-saving – option, apply glitter topcoat all over nude color nail polish. You can also create unique artwork with glitter polish. This summer, incorporate gold or multi-colored glitter into your nail design for a fun take on this trend. It's a disco for your hands. If you're cutting back on plastic, choose a polish with biodegradable glitter particles.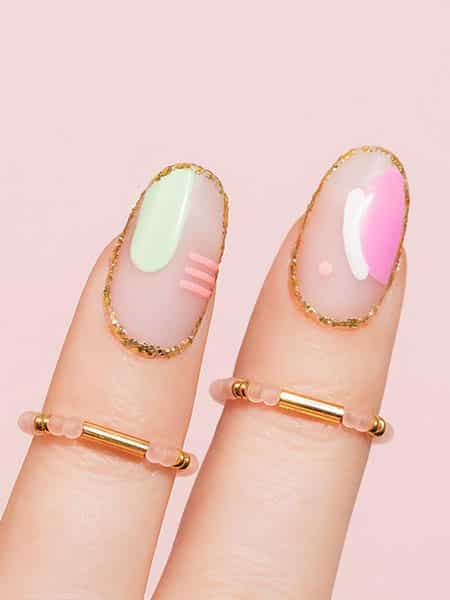 14. Fun Nail Design
Add a playful touch to your manicure with bright colors and unusual designs. Pop hues like orange, blue and pink are an instant mood booster. The key is to complement the tones while creating an eye-catching contrast. It's also an opportunity to try out different designs all over or just on one feature nail. Experiment with colors and shapes for a fun and fresh summer look.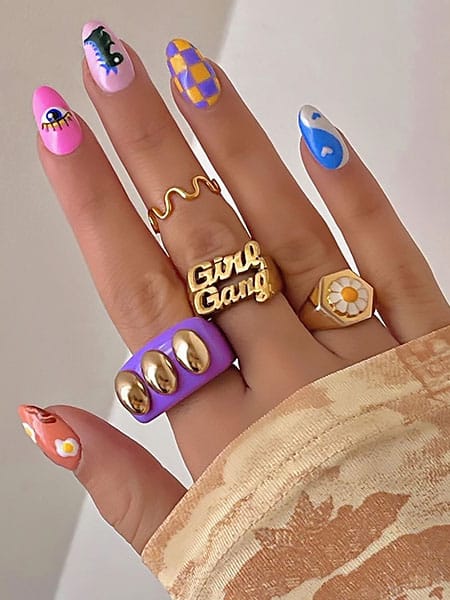 15. Pastel Nails
When summer's in the air, the pastel polish comes out! From mint green to butter yellow, pink, and periwinkle blue, there's an adorable shade to suit everyone. These bright yet muted hues remind you of fresh flowers and ice cream. Paint a different pastel shade on each finger, or choose your favorite and go all out. Another big trend is to create a French tip design with a range of pastels, on a neutral base like nude or white.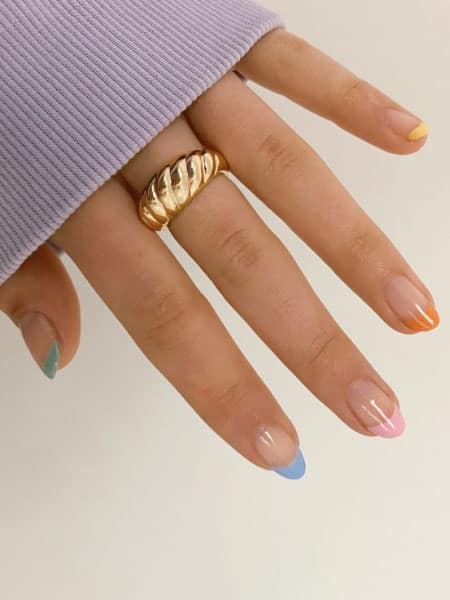 16. Color Blocking Nails
For all those glamorous summer nights out, why not try this chic take on the color block trend? Pop colors add a playful touch, while natural tones take this design in an elegant direction. Chevron tips create an arrow effect, drawing the eye down, so both your nail beds and fingers look longer. This type of design also works with other color combinations.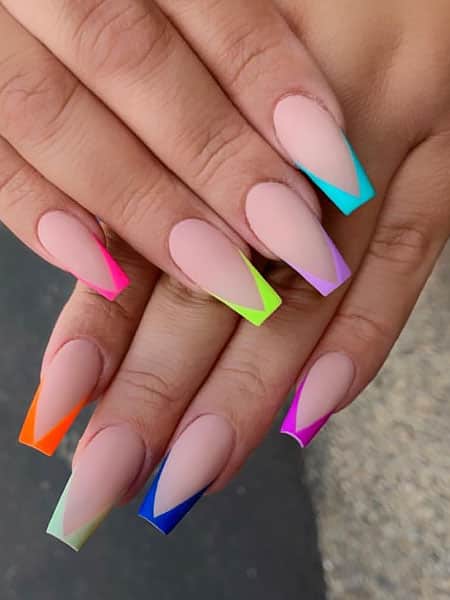 17. French Tip Nails
The classic French tip design combines a nude base with a white edge, usually on square or squared-off oval-shaped nails. This look first became popular in the "70s and had a big revival in the '90s and early 2000s. It has a retro appeal. For an on-trend summer twist, replace the white tip with the color of your choice. Blue pairs well with the original nude basecoat.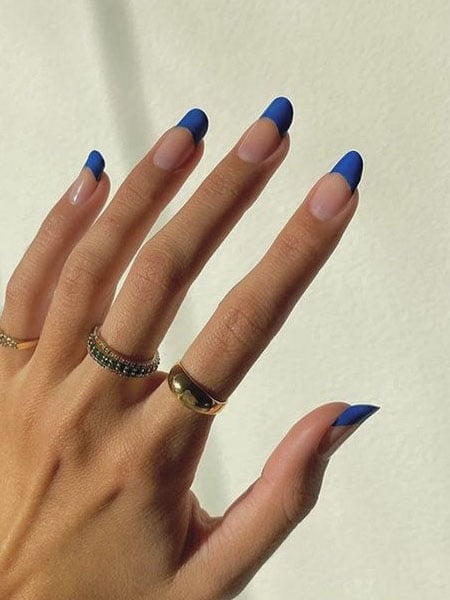 18. Floral Nails
Who doesn't love floral nail design? This ultra-feminine look is perfect for summer when daisies are in full bloom. To make the flowers stand out, use a neutral basecoat in a light hue as if you were painting on canvas. If you don't have the time – or expertise – to hand-paint floral designs on each nail, you can use decals or stencils. Alternatively, create a floral feature nail on your ring finger.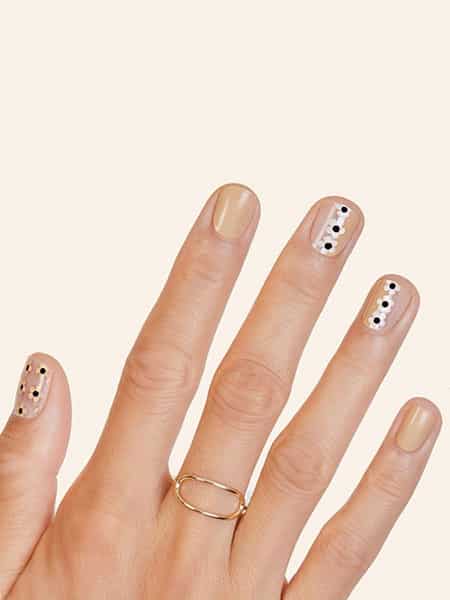 19. Summer Toe Nails
You can get away with neglecting your toenails in winter, but when the warm weather hits, it's time to give your feet a treat! Summer is the essential time to have a picture-perfect pedicure because your toes will be on show in sandals, heels, and at the beach. Match your pedicure to your manicure, either in terms of the color, design, or finish.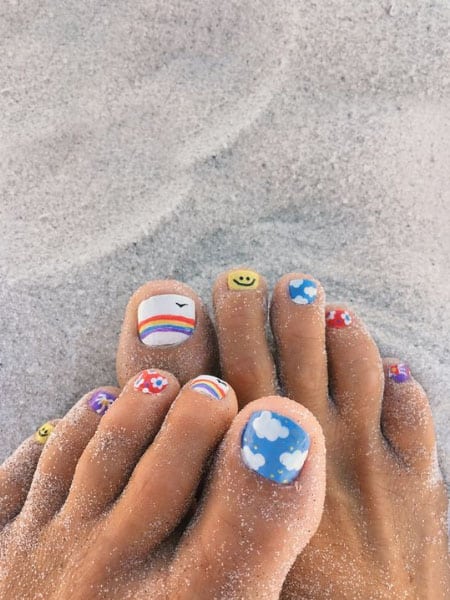 20. Mixed Nail Designs
Not only should your color choice get more creative in summer, but the season is the perfect opportunity to show off different designs too. You can mix it up by wearing multiple different types on the same hand. For a flattering look, choose the same basic color palette like sunset hues and go for different finishes like ombré mixed with glitter. Geometric shapes also look great when contrasted with polka dots on a feature nail. The only limit is your imagination.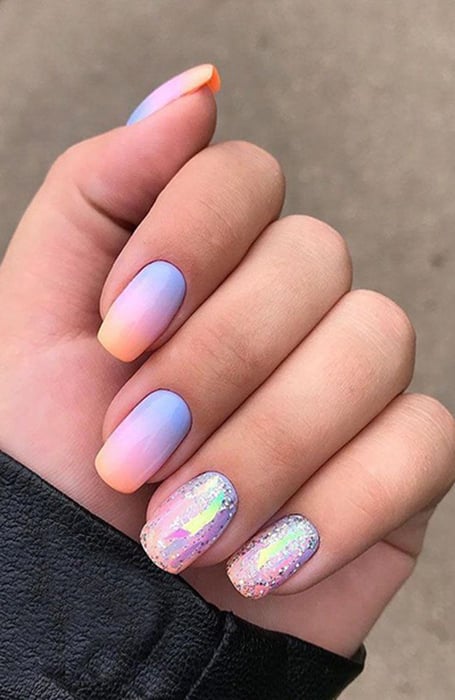 FAQs
What is the most popular nail style?
The most popular nail styles are coffin/ballerina nails, round, square, oval, almond, squoval, and stiletto.
What nail shape is in for 2021?
The top nail shapes which are trending in 2021 are almond and coffin/ballerina. These nail shapes are popular amongst celebrities like Kylie Jenner and Khloe Kardashian.
How do I choose my nail shape?
Take into consideration your finger shape, nail bed width, and nail length to find your ideal nail shape. If you keep your nails short, choose between square and round shapes. If you have medium or long nails, oval, almond, and coffin shapes will suit you best.
SUBSCRIBE TO OUR NEWSLETTER
Subscribe to our mailing list and get interesting stuff and updates to your email inbox.