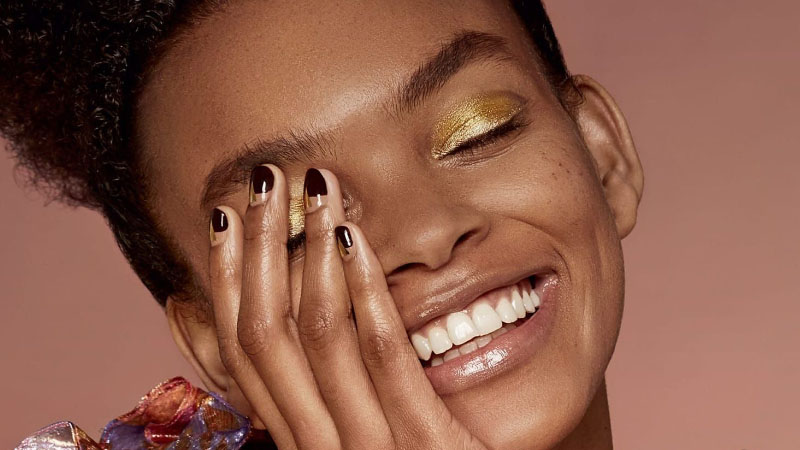 Welcome to the dark side! Few colors can make a statement in the way that black can. It is a hue often associated with power, strength, and sophistication, so it is not surprising that it has inspired manicures. It is also the color that goes with everything you own. Plus, it lends itself well to various designs, whether it is serving as the base coat for bold and bright decals or combined with white for a striking, monochromatic appearance. There are so many ways to embrace this color that there is something for everyone and every aesthetic. Wear it on a date or turn heads at a nightclub; this is a polish that is bound to get noticed. Keep reading for more information on the chicest nail art to try.
1. Yin-Yang Black + White Nails
Some people may feel that black nail polish is too dark and vampy, so why not ease into the look with black and white nail art? A fantastic and meaningful design is the yin-yang. The symbol represents dualism, the cause, and effect and how one force directly affects another. It represents balance and unity, and it is a great way to show off your nails and make a thoughtful statement about life.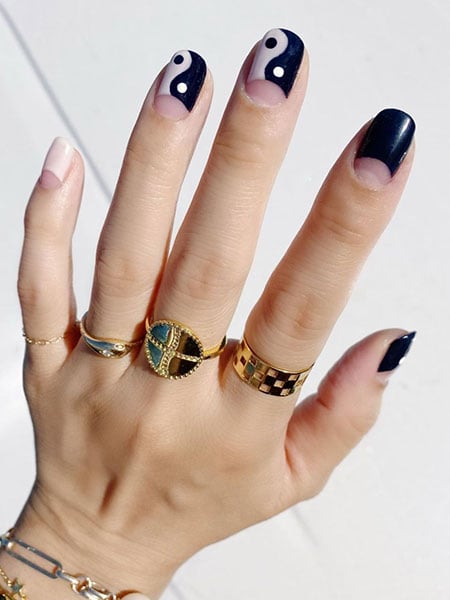 2. Matte Black Nails + Face Line Art
Black nail lacquer is one of the easiest ways to make a statement. It is such a bold color choice that it is bound to draw attention to your hands, and while glossy polishes are great, you can also opt for matte, which has a particularly fashion-forward appearance. To make your look even more interesting, try line art. Incorporating it into your look requires precision and a steady hand, but the result is beautiful. Alternatively, you can opt for decals or press-on nails. The artwork is a must for anyone who wants a manicure with just a little bit of edginess.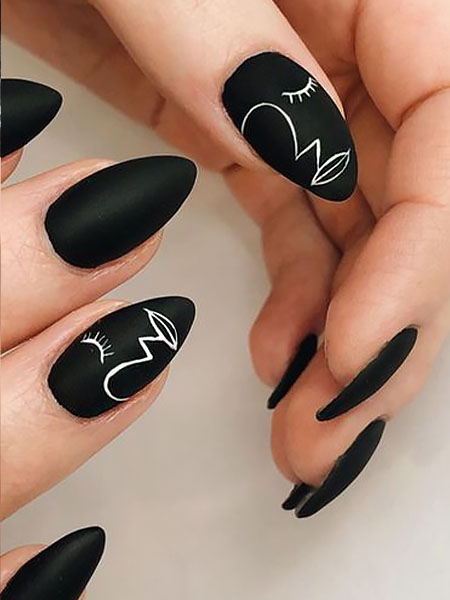 3. Black Nails + Snake Design
If you're daring, you can try painting one hand with white nails and the other with black. This alone is a visually interesting option, but deciding to create snake artwork in a contrasting shade (for example, a white design on a black nail) makes for an incredibly cool look. It is also deeply symbolic. Not only do snakes have an interesting shape and can be draped across the nail, but they're also filled with meaning. The serpent is often associated with rebirth and transformation. This can be an excellent way to either make a note of a change in your life. Or to acknowledge that you hold power and determine which direction you want your future to go in.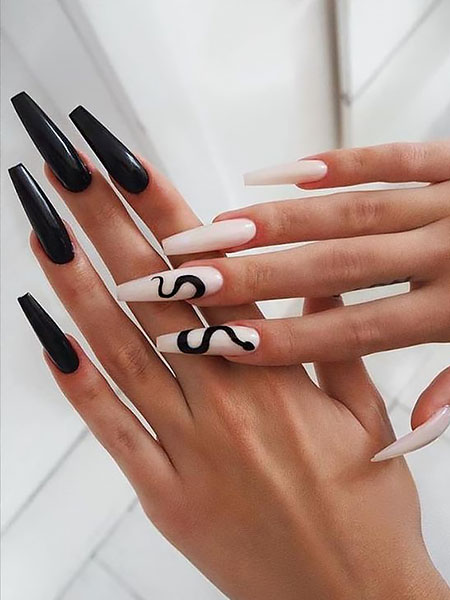 4. Black Nails + Star Constellation
Star constellation nail art is a big trend at the moment, and for a good reason. It is detailed, beautiful, and symbolic. Our galaxy represents hopes and dreams for some people, while it can mean luck or protection for others. When choosing this look, you can get creative, even using a decal of your zodiac sign to make it more personal. Consider making one nail the focus for a more wearable appearance and complementing it with less busy designs for the ultimate astrology-loving artwork.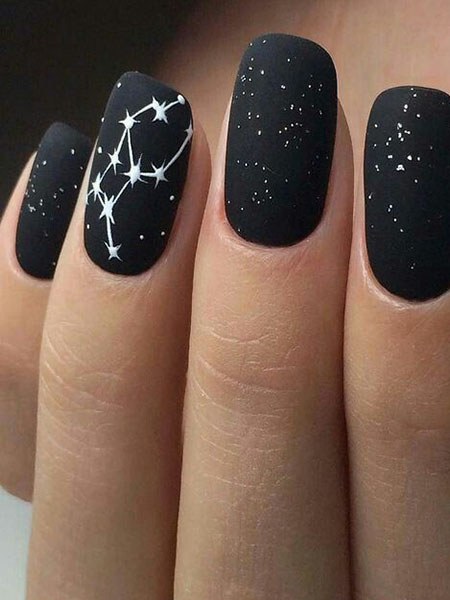 5. Black Nails + White Design
Pink nail polish has its appeal, but if you want something different and fun, then the black nails with a white design are precisely what you've been looking for. Against the dark background, the white detailing really pops, creating an impressive simple appearance. The abstract feel of the design draws the eye to your nails, so be sure to have them buffed and neat. Did we mention that this color combination is also super versatile? You can wear it with just about any color garment. That said, if you want a more streamlined appearance, opt for an outfit in a solid, neutral tone.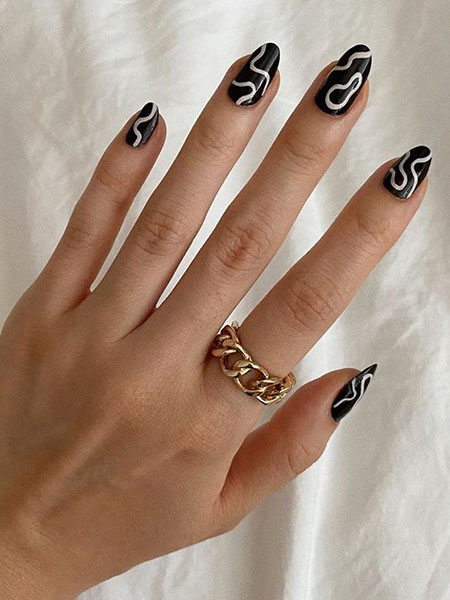 6. Black Nails + Different Line Art on Each Nail
Nail line art is a fun way to let your personality shine. You can get creative with your designs, choosing everything from faces to interesting shapes. Black is a very dramatic color, so it demands attention, and together with the artwork, it creates a modern appearance. The best part of this nail art is that it works on every shape and length, so you don't have to have talons to pull it off. It is also super wearable.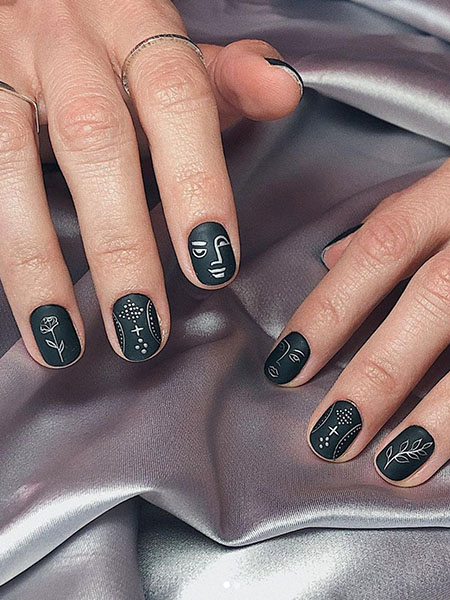 7. Black Nails + Gold Flames
Flame nail art is a beauty trend that has proven extremely popular over the last few years, and it's still one of the hottest looks to try out. For this design to look its best, you would benefit from long, pointy nails. Start by applying your black base coat; whether that is a matte or a glossy effect is up to you. Then add your flame decal. Stickers work best unless you are super talented with nail tools, then, by all means, try your hand at it. The combination of gold and black is eye-catching despite the manicure being relatively simple; this makes it extremely wearable.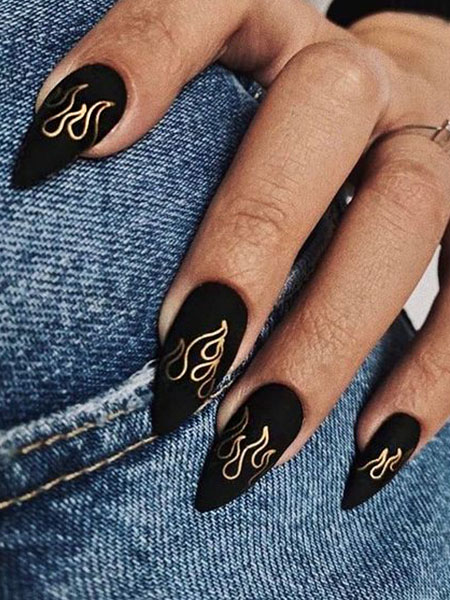 8. Cute Black Nail Art
When it comes to nail art, it is often your creativity that is the only limit. It is a chance to show off your personality and really have some fun. Draw inspiration from the things you love, whether it is a cute cat design or the sun and moon. It may also help to stick to a theme for a more streamlined look. That said, there are no hard and fast rules on what you should or should not do when it comes to cute nails.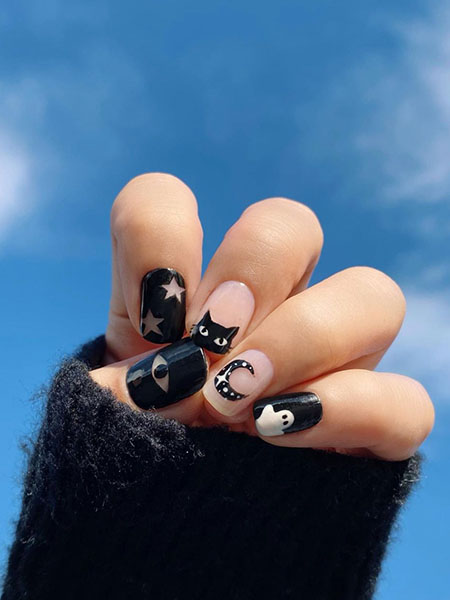 9. Christian Louboutin Inspired Nails
Fashionable women understand the appeal of Christian Louboutin shoes. The striking red soles of the heels make them instantly noticeable, which creates an effortless statement. They are the sort of shoes that give you confidence, so it is not surprising that this look has inspired nail art. Can you think of a color combination more dramatic than red and black? The beauty of just the underside of your nail being painted red makes it more subtle, and it's almost as if you have a secret. This look works best on long nails, though, and the pointer, the better, so you can feel as though you're recreating the sole of a killer heel.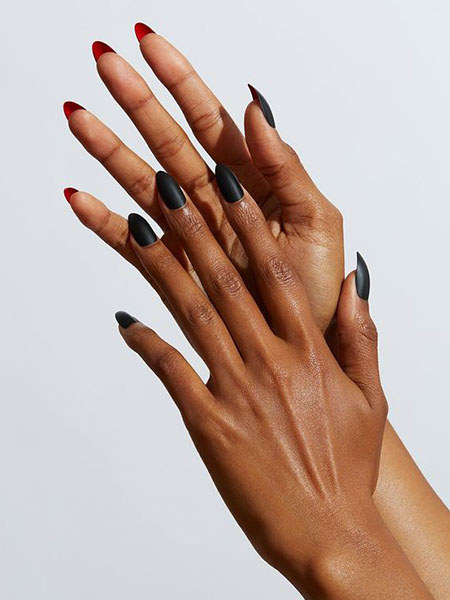 10. Black White + Nude Artistic Nails
Bold manicures are a great way to show off your personality, and you can get as creative as you want. Black and white nude nails with artistic designs will draw people to your hands. The artwork is a little more challenging to achieve because it requires negative spacing at various angles, but once you can master this, the result is breathtaking. Choose stickers that reflect your personality or follow a theme for a truly standout appearance. Alternatively, if you have a steady hand and a lot of time, you can try to recreate your own designs.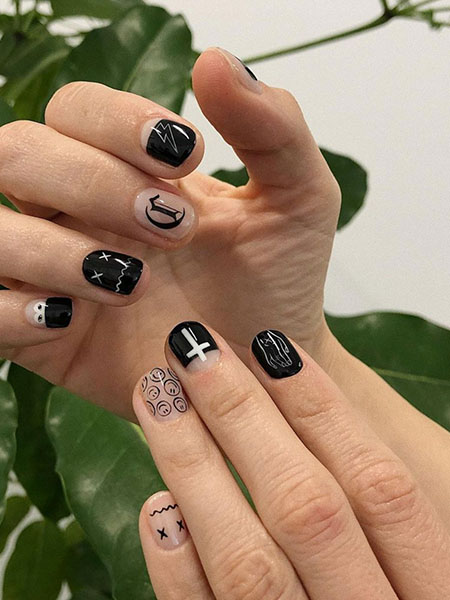 11. Black Nails + White Stripe
Those who prefer a more fuss-free approach to nail art will be drawn to the black nails with a white stripe design. It is effortless to recreate from home and will work on nails of all lengths and shapes. All you have to do is paint your base coat and then add a thin white line across the nail. You may need a relatively steady hand because precision is important, but the effect is super pretty and elegant if you get it right.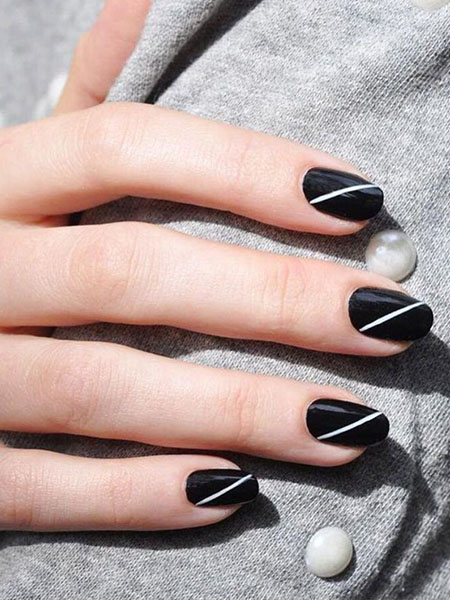 12. Nude Nails + Black Tips
Forget the classic French manicure and embrace this more modern approach; nude nails with black tips. You can create ultra-thin lines or choose to thicken them a bit for a more dramatic appearance. To achieve this look, you will need long, pointy nails because the focus is really on the tips, and shorter shapes won't have the same effect. Another pro to this look is that it can be worn in various settings, whether on a date or to have brunch with the girls. It is one of the more subtle takes on black nails, which means you can wear them with everything you own and not worry about your nail art clashing with your outfit.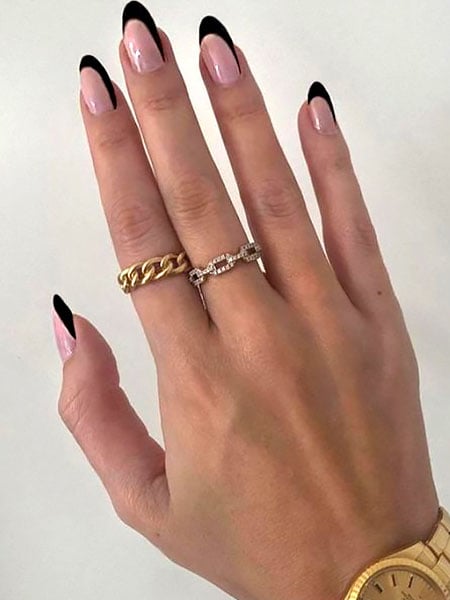 13. Nude Nails + Black Heart Tips
Valentine's Day is the time of year when we see love-inspired nail art in all shapes and sizes. That said, if you want a look that is edgier, and can be worn anytime, not just on Feb. 14, then nude nails with black heart tips are the way to go. To achieve this look, you need long nails because the tips are the focus. It is the perfect update on the French manicure and a look that is feminine and cute.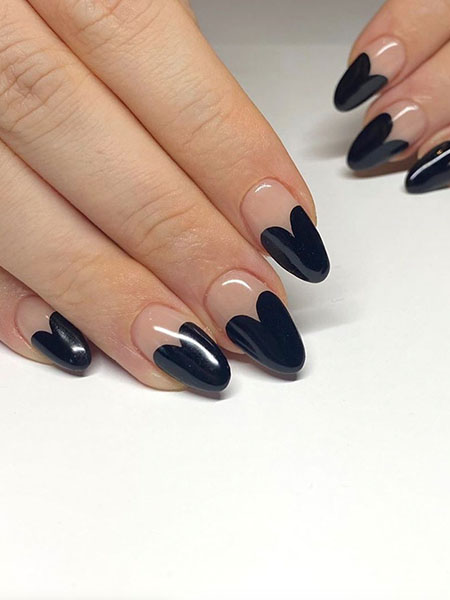 14. Black Nails + Gold Detail
Black and gold have such a luxe, sophisticated appearance. The combination of black lacquer with simple gold detailing around the cuticle is minimalist and chic. Plus, it's easy to replicate at home. This opulent look is not dictated by seasons and can be worn all year round. Another pro is that you are not limited in nail length or shape, although a square shape creates a fascinating appearance.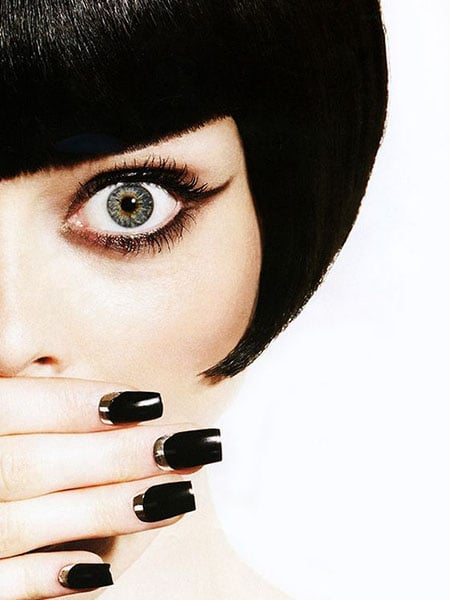 15. Black Nails + Feature Glitter Nail
Sometimes the best nail art is the most wearable, and choosing a feature nail is a subtle yet chic way to make a statement. Glitter always gives a wow-factor, but this is a minimalist design with a twist, letting you wear it all year round and not just during the festive seasons. It is easy to recreate at home and exceptionally versatile. You also don't need loads of confidence to pull this artwork off but can still feel good about your hands and how beautiful they look.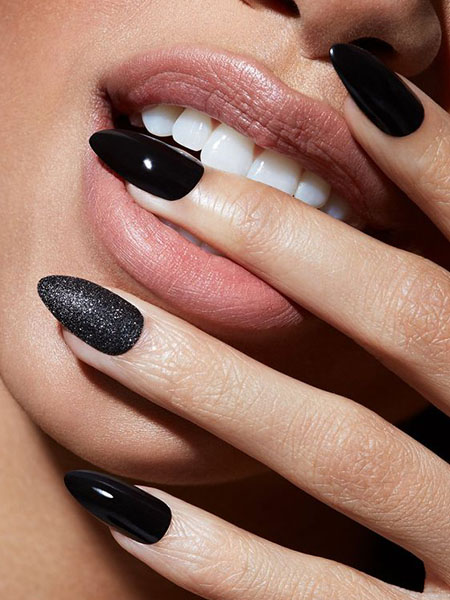 16. Black Nails + Eyes
Next time you're due for a manicure, consider this bold, fun design. The attention to detail is fantastic, and you can really let your creativity take over as you work on creating various bright eyes. Alternatively, you can purchase nail stickers to recreate this look with a lot more ease, but perhaps not with the same dramatic effect. The colors really pop when combined with a black basecoat, adding to their vibrancy and creating an impressive statement. This is the type of artwork that gets you noticed, and to let it stand out, consider pairing it with a muted ensemble in a solid, neutral shade.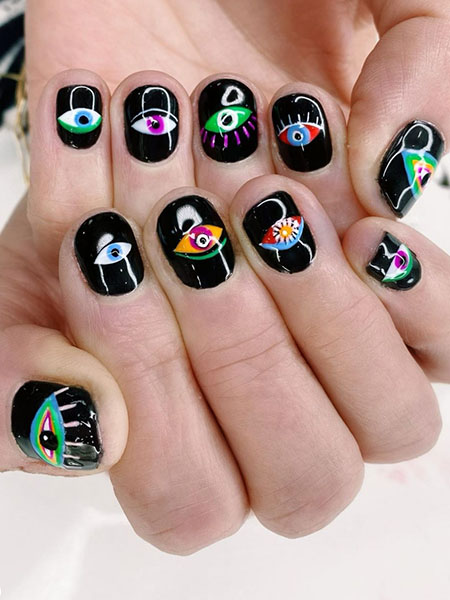 17. Black Nails + Colorful Art
If you are a fan of bright shades and doodles, then the colorful art look is for you. The black base coat allows your chosen shapes and splodges to come to life, but it also creates a balance so that the look is not too busy or messy. This nail art has a relaxed and fun feel and is perfect for showing off your personality's more playful side. Although it may not be appropriate for more formal settings, it's fantastic for when you're on holiday or if you work in a creative field. Don't be afraid to have fun, and enjoy the compliments your hands are likely to receive.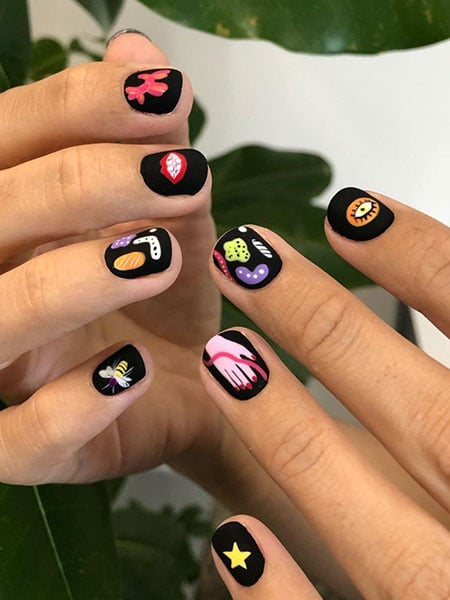 18. Black Marble Nails
The marble nail effect is truly eye-catching and beautiful. To achieve this look, you can use press-on nails, or you would need several lacquers, a bowl of water, and a toothpick. You would begin by painting a base coat, then dropping the colors you wish to add into the water, using the toothpick to create the marbled effect, then place it on your fingernail. As a beginner, this may be a trial and error process initially, but the result will be well worth the hassle. This is a great update to your regular manicure and one that won't go unnoticed.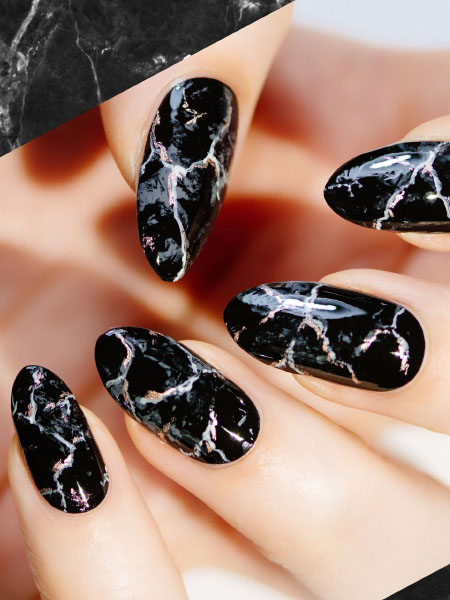 19. Black Gucci Nails
Black nail polish pairs well with everything, but it is also a fantastic base coat for bold artwork. If you're a fan of fashion, then embrace the bling and recreate these Gucci nails at home. For example, choosing just two colors, gold and black, creates a more sophisticated and luxe appearance, while the different textures make it more striking. This look could work with most stylish brands with simple logos and short names, for example, Gucci, Chanel, and Dior. So, you're not limited in terms of design and can alter your nails to pay tribute to your favorite fashion house.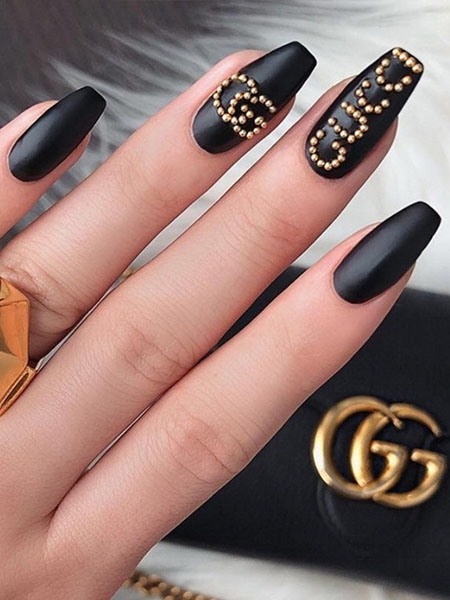 20. Black and White Stripe Nails
Black is often associated with assertiveness, power, and sophistication; it is also the perfect choice for a manicure because it pairs well with everything. You don't have to opt for bold nail art or intricate designs to make a statement either, and something as simple as black and white striped nail art is a great look for every day. The color combination is classic and versatile, and creating the lines, whether straight or zig zags, is not that hard to do. You can also leave a fingernail or two in a solid shade to balance the look, so it is not too busy. Wear your nail art with bright accessories and a deep shade of lipstick, or keep your overall look muted with a simple white outfit.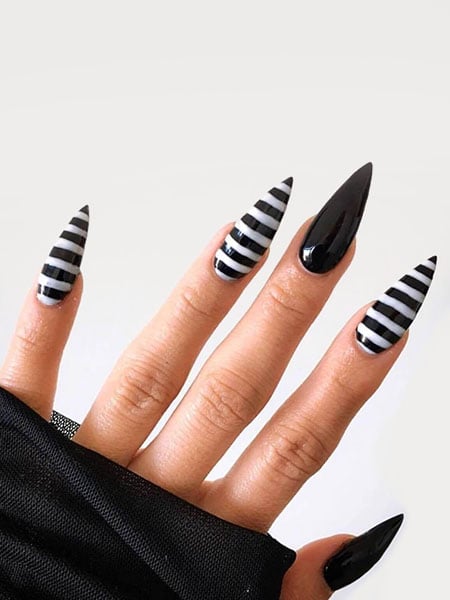 21. Black and White Nails + Flowers
The next time you feel like gifting yourself flowers, why not do it with your nail art? Floral manicures are nothing new, and their longevity is a testament to their popularity and chicness. For a modern approach, you can ditch the bright colors usually associated with this look and try out a classic black and white combination, which is even more wearable and versatile. Show off your hands when you're at a picnic, or lighten your spirit at home while watching Netflix. You can paint the flowers yourself or opt for stickers or press-on nails; the choice is yours.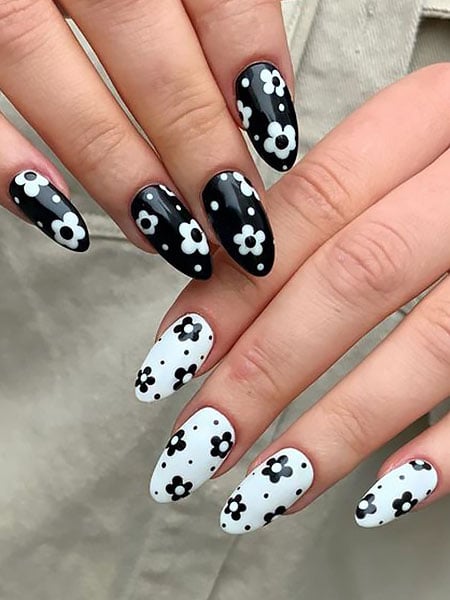 22. Black and White Cow Print Nails
Animal prints have long been favored in fashion and beauty, so it was only a matter of time before they inspired our manicures, too. Cow prints create a simple yet interesting look, and in recent years have proven popular with celebrities, including Kendall Jenner and Ariana Grande. There are many variations of colors to be played around with, but white and black's realistic option is one of the most striking.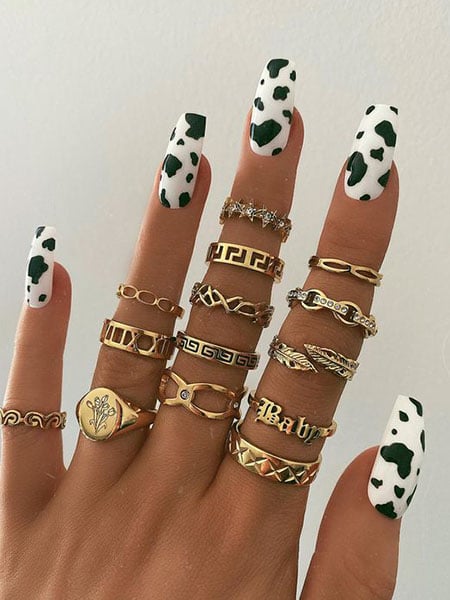 23. Black and Red Nails
Black and red is such a striking color combination. It is one of the easiest ways to make a statement with your manicure without having to try very hard at all. The bold hues combine well and have a feeling of seduction and passion, making them ultra-feminine and perfect for any time of the year. When it comes to nail art with these two colors, there are many different interpretations; for example, you can opt for a red base and black tips or an ombre approach. To complete your look, wear your polish with red lipstick and accessories.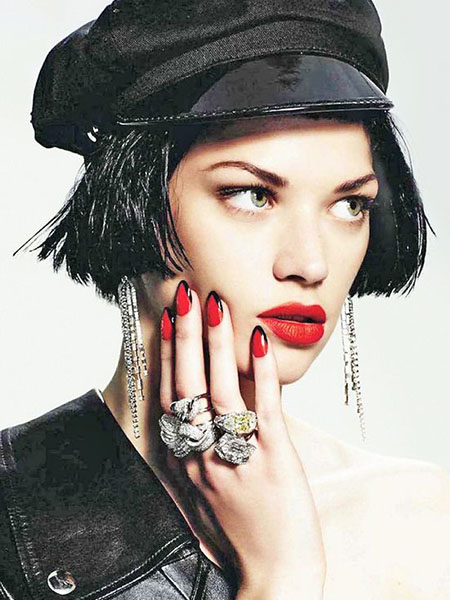 FAQs
What do black nails symbolize?
If you wear black nail polish, there are many different meanings associated with it. These can include an assertive or daring personality. It is a color that demands attention. It is also versatile and can be worn with everything.
What is the most popular nail shape for 2022
The most popular nail shapes in 2022, and now, include the tapered almond nail. The shape, which is slimmer on the sides and has a wider base, works well on longer nails and can be incredibly versatile, lending itself to several different lacquers and designs. It also has the ability to elongate the fingers, making them look slimmer.
What are the 5 basic nail designs?
There are many different nail designs to choose from. If you want a fuss-free look that is perfect for the workplace, then the square shape is great, and a more daring appearance can be made with the ultra-feminine pointed nails. In general, the top five basic shapes to know include the square, pointy, oval, round, and squoval.
Are black nails elegant?
Black nails may not be a traditional choice, but they definitely are an elegant one. It is considered one of the chicest colors and will go with just about everything you own. The color also lends itself well to various designs, allowing you to get creative and show off your personality.
SUBSCRIBE TO OUR NEWSLETTER
Subscribe to our mailing list and get interesting stuff and updates to your email inbox.