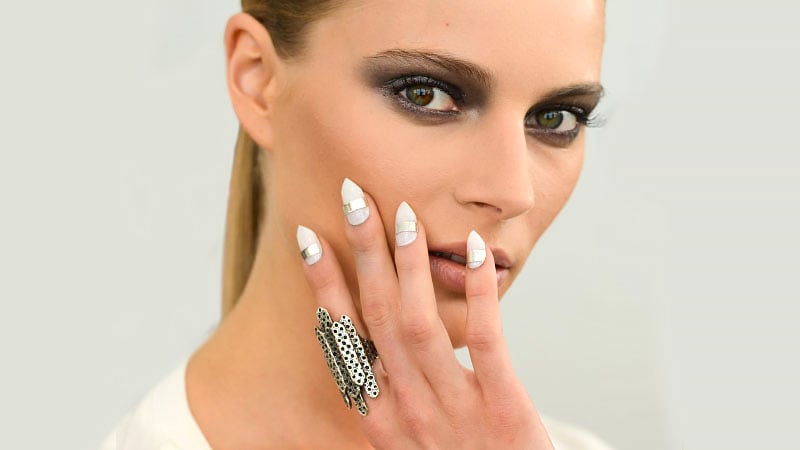 Take motivation for your next manicure from the world of neutrals. While nudes may be the first thing that comes to mind when you want something universal, why not think outside the box and opt for grey instead? It's an excellent base color that complements a whole rainbow of other hues, yet it's unique and appealing enough to hold its own. From simple stripes and glitter to confetti and not-quite-50 shades of grey, there's plenty of styles and designs to excite and inspire you before your next salon visit.
1. Grey Abstract Nails
Abstract nails are a wonderful way to show some personality and let your imagination run wild. This particular design combines different shades of grey with other tonal colors, including black, white, and beige. Use nail tape to create color blocks with sharp edges. The fresh colors in this look are fantastic when paired with a simple, clean outfit, such as white jeans, a blue button-down, and a pair of pastel sneakers.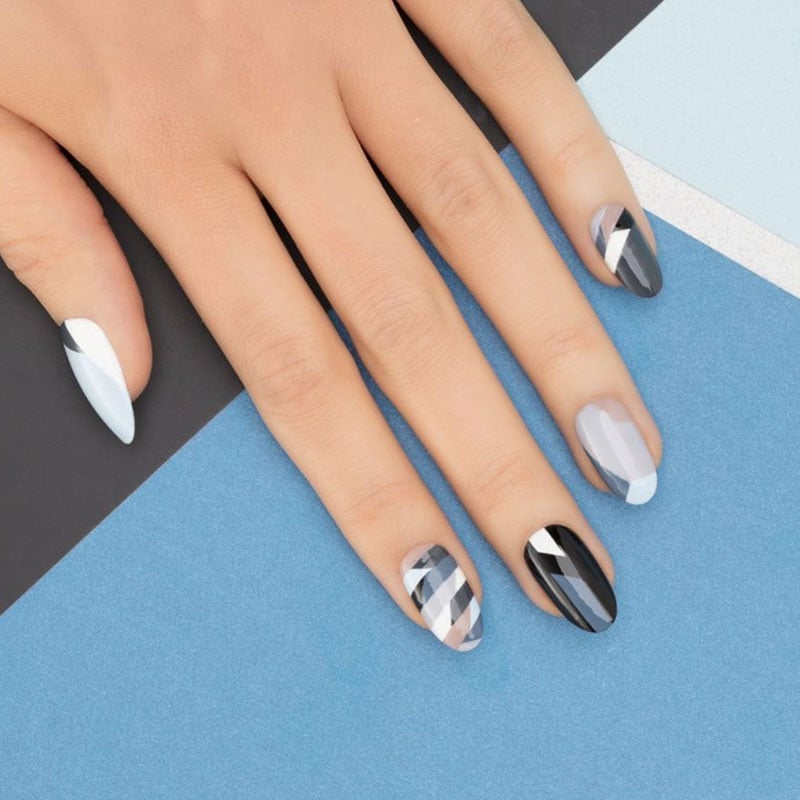 2. Grey and White Artistic Nails
These grey and white artistic nails have a lovely celestial element that fits right in with the spooky season. The design is essentially a French manicure with silver-grey tips and added white along the smile lines of some nails. Extra detail has been added with stars, dots, and a cat sitting on each white moon. Of course, you could easily adapt this style for any season, adding Christmas colors or brights for a birthday celebration.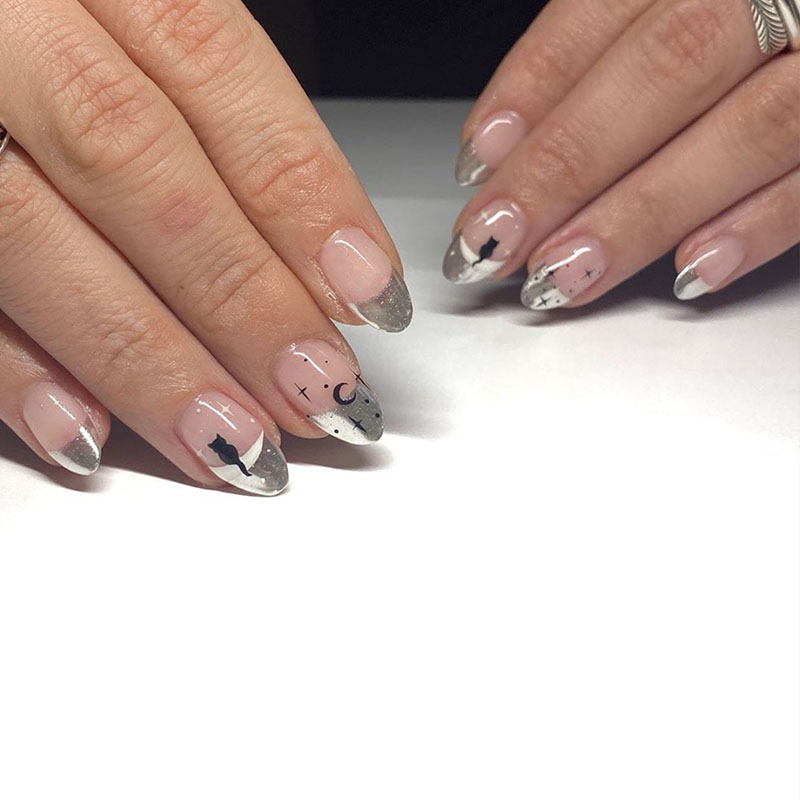 3. Grey Stripe Detail
If you love a French manicure but want to mix it up a bit, why not opt for this fun striped grey nail design. The different shades of grey look lovely with the nude base, and it's not too over the top. As such, it's great for everyday wear, including looking ultra-chic at the office. This look works best with shorter, more squared-off nails, so you can take advantage of straighter lines to keep it neat and tidy.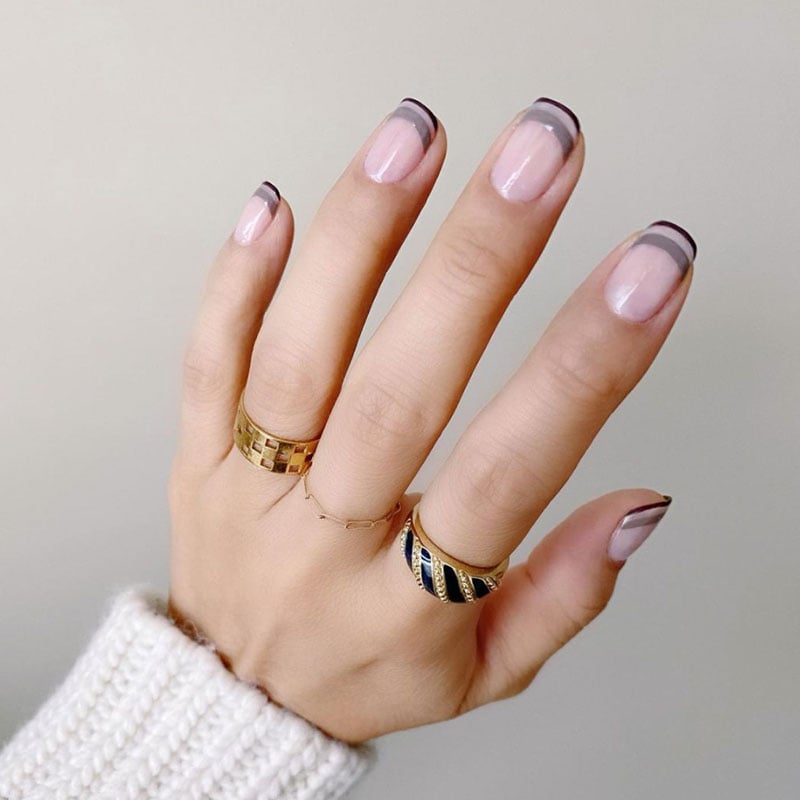 4. Light Grey Nails with Silver Line Art
Silver really is just the metallic version of grey, so it makes sense that the two work incredibly well together. Make use of nail stickers to create this grey nail design, as it will be much easier and save you time and effort. The light grey looks lovely, but you could also use mid and deep greys for the base, as the silver will still elegantly stand out on both.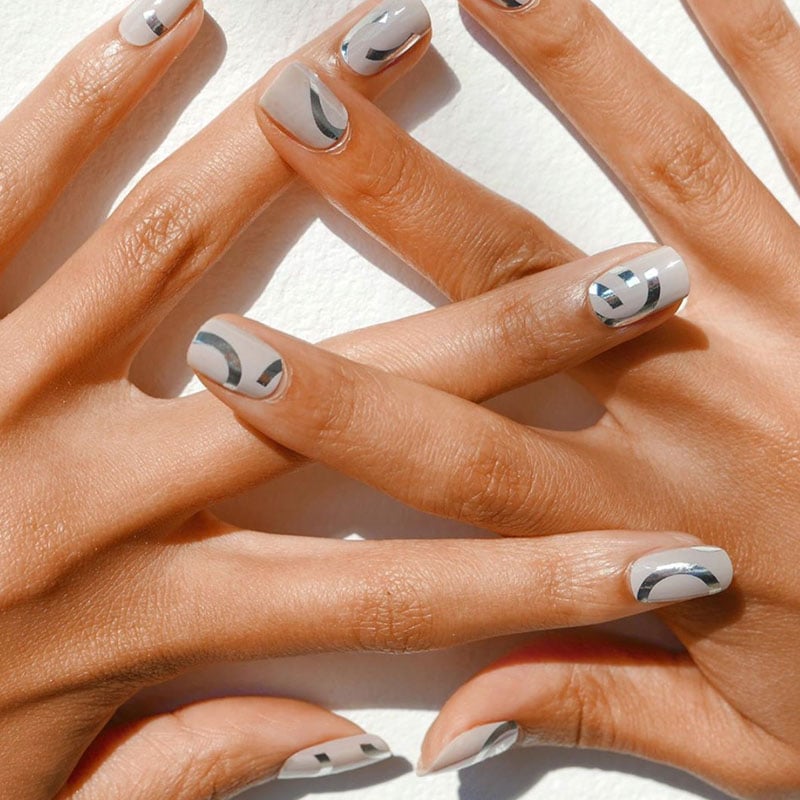 5. Matte Grey Ombre Nails
Ombre is one of the hottest trends in nail design at the moment and is easy to achieve. It looks best when you transition from light to dark color, so the spectrum of greys is an ideal color palette to work with. The matte finish is also very sophisticated and is a nice alternative to high gloss shine. All you need is two shades of matte grey polish, some nail tape, and a sponge. Protect the skin around the nail with the tape, then paint the light grey base on. Next, apply the dark grey to the sponge and dab it onto the tips of your nails until you've achieved the desired look. Let it dry, and you're good to go!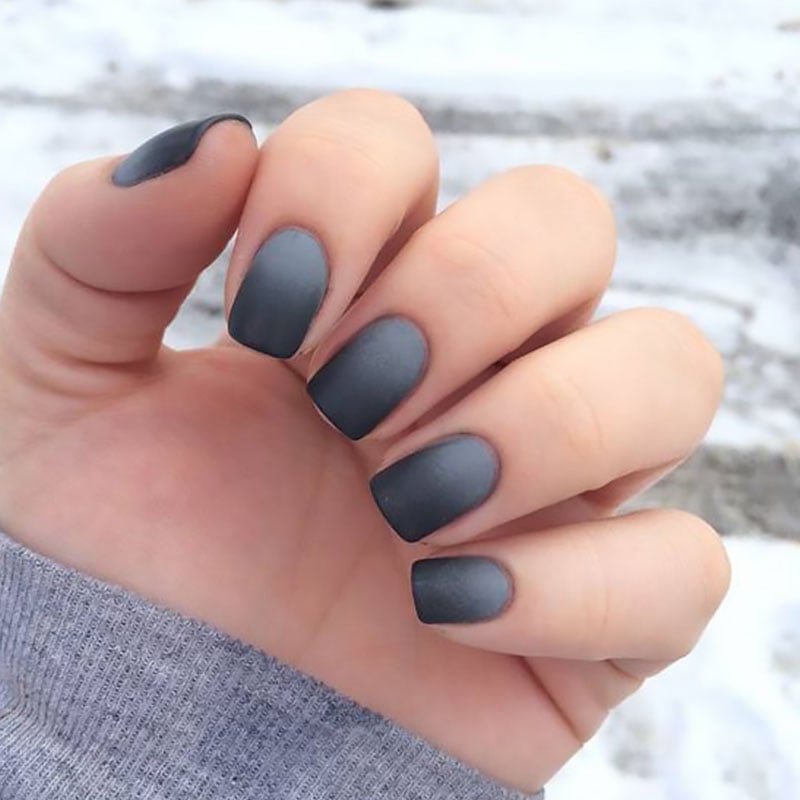 6. Nude and Grey Nails
Nude and grey are two wonderful neutrals that work well together for a paired back nail design. This subdued look is perfect for work but also fits well when you're breaking out a pretty pastel outfit, such as a bridal or baby shower. Use the grey to follow the tip of the nail, as well as the shape of your lunula, or the pale root arch of the nail that sits near the cuticle. The design works better on shorter nails, where the shape of both lines will match for an even and balanced style.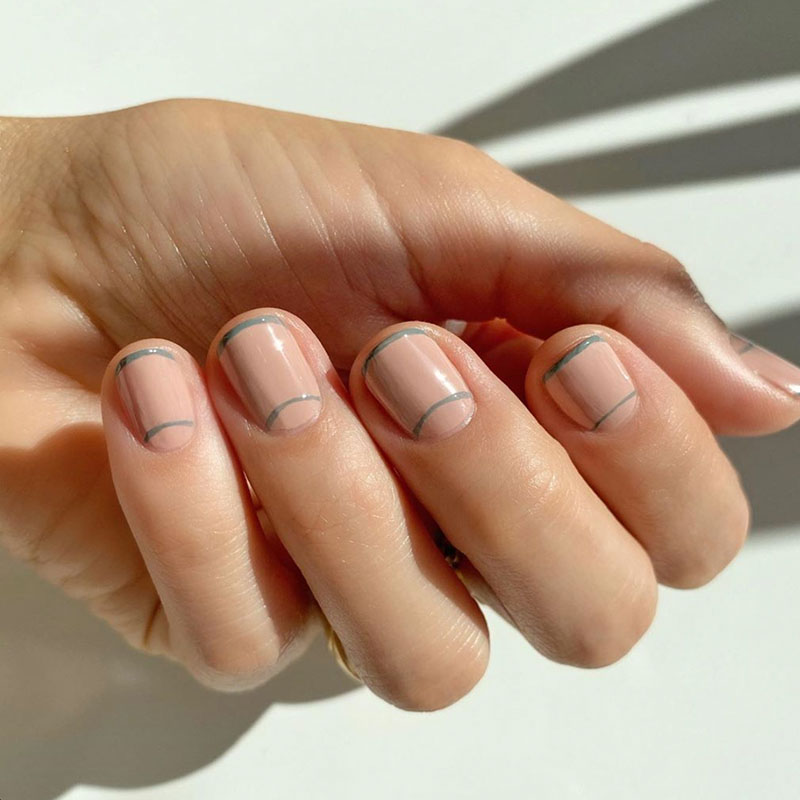 7. Shades of Grey Nails
Keep your manicure simple by using shades of grey. You can graduate from dark to light across your fingers or mix the order up. Throw in some glitter for a little bit of shimmer because it's never a wrong occasion to add extra sparkle. The beauty of this look is that it works on all shapes and lengths of the nails. No matter if you have long ballerinas or short squares, it will look amazing.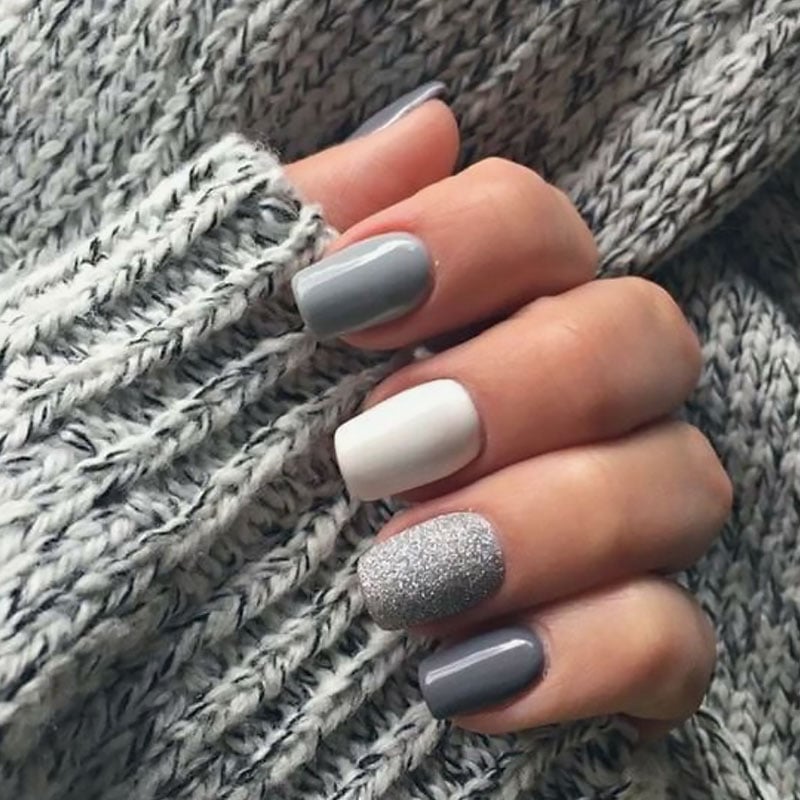 8. Pastel Copper and Grey Nails
Copper and grey may not be the first combination you think of, but it looks incredible when the intensity and tones match. You can keep it simple by alternating colors on different nails, or you can create a more in-depth design if you're feeling enthusiastic. Pastel copper, in particular, works well with pale greys, as it's more of a neutral tone creating a harmonious feel.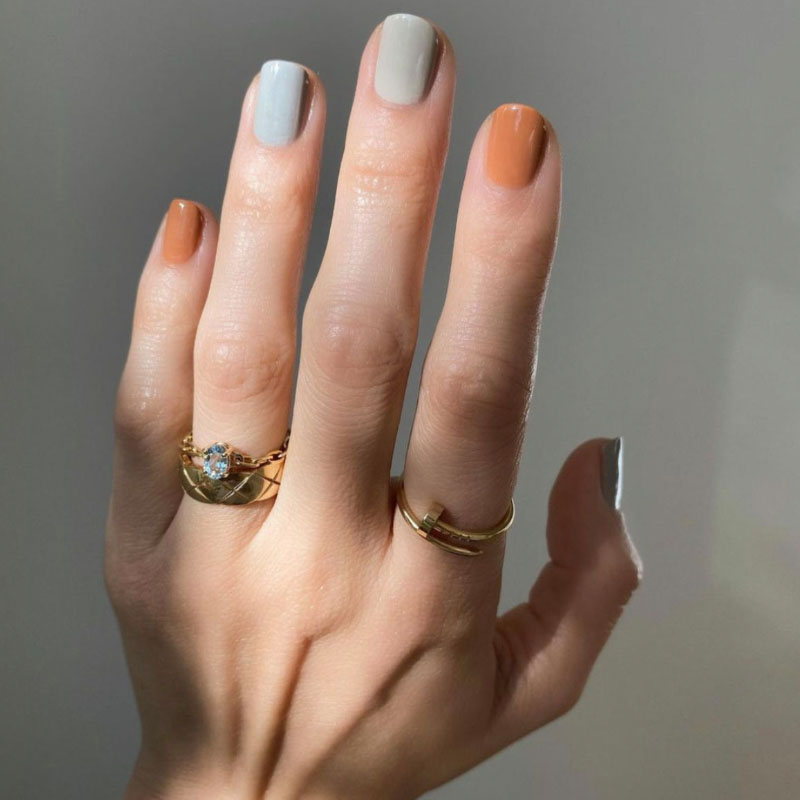 8. Confetti Nail Art on Grey Base
Get the party started with these brightly decorated grey nails. Start with a silvery grey base, then choose four or five different colors to paint on your confetti. The great thing about this design is that you have total creative freedom. Create a mix of squares, circles, triangles, abstract shapes — whatever tickles your fancy. It's the perfect design for celebrations such as birthdays, new year's eve, and bridal showers. Plus, it showcases how wonderful grey is as a neutral that helps brights stand out.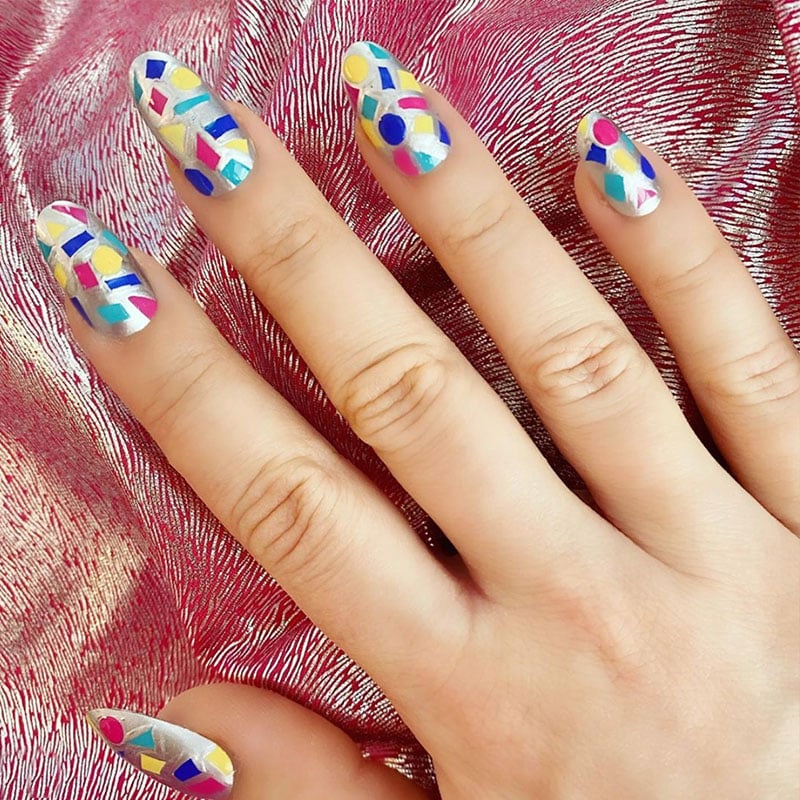 10. Dark Grey Nails With Line Art
Opt for a moody look with dark grey nails. A matte finish is particularly stunning, especially when accompanied by the delicate white elements. The abstract line art is just enough to add some detail without detracting from the overall look. This is an excellent design for the evening but also looks great as a winter look. Just imagine yourself tucked up by a fireplace with these nails nursing a nice glass of red wine while snow falls silently in the deep black of the night.

11. Grey and White Clouds Nail Art
Dark grey acts as a lovely background to cloud nail art. This artwork, with its diamante accents, is reminiscent of Peter Pan's directions to Neverland — "second star to the right, and straight on till morning." As such, it's the perfect look if you're keen on never growing up. Of course, a little bit of glitter adds to the ethereal, fairy-dust feel of the entire design.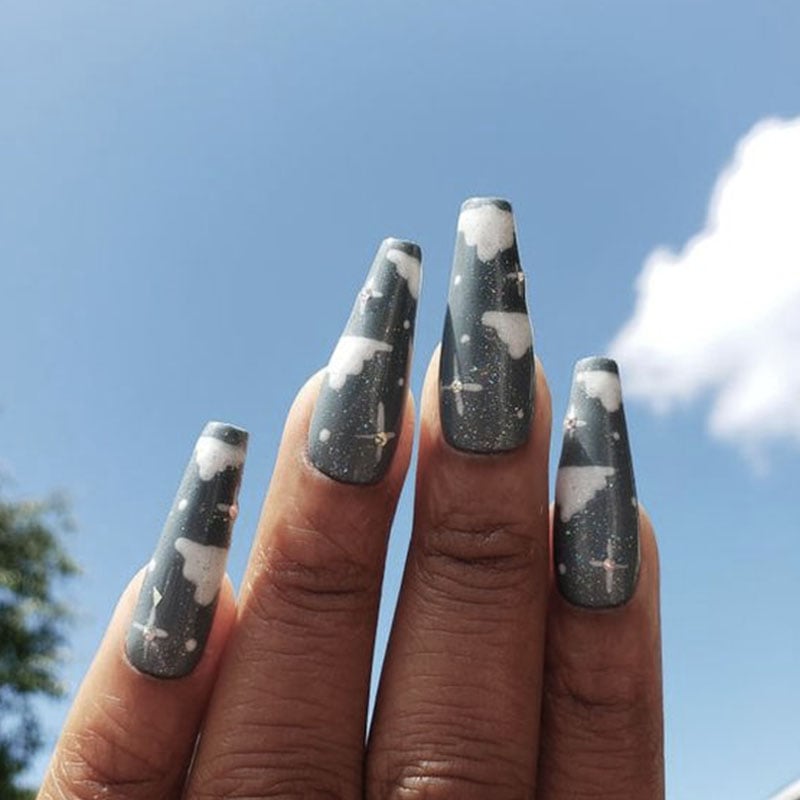 12. Red and Grey Bandana Inspired Nails
Throwback to the heydays of the 90s with these red and grey bandana inspired nails. You'll need patience, a steady hand, and a very fine nail brush to paint the pretty paisley design. If that sounds like a bit much, go with nail stickers instead. However, it will be worth the effort for such a unique and bold design adorning your nails. Loverboy era Mariah Carey would be proud.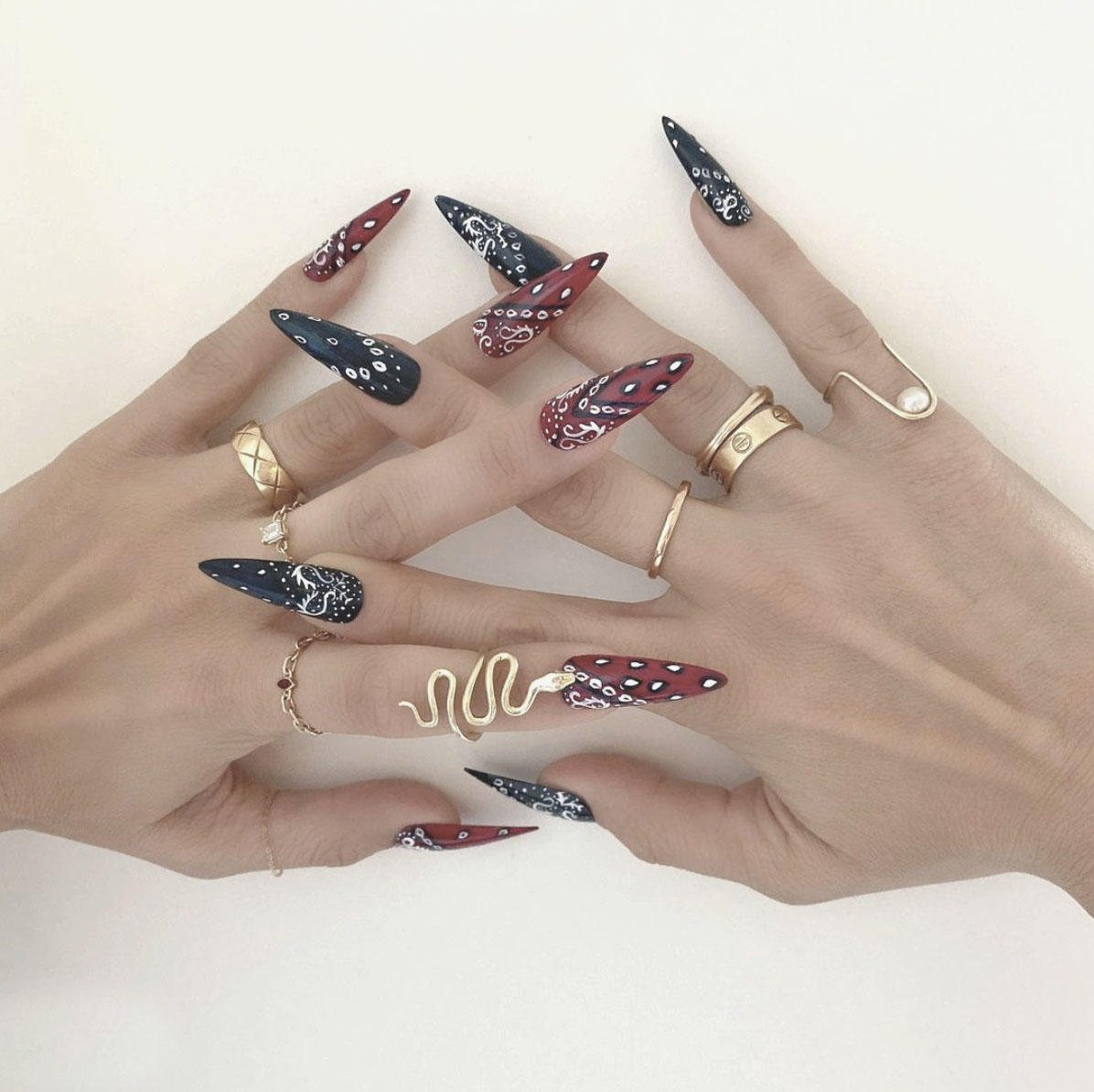 13. Grey Glitter Nails
Keep it simple with grey glitter nails. For the best results, apply a base coat in grey, then use a fine holographic glitter top coat of polish to finish. Alternatively, dip powder nails lend themselves incredibly well to glitter designs, coming in hyperpigmented and glitter dense colors that last longer than regular nail polish. Such a simple manicure is great for everyday wear, as it's easy to achieve and looks great with all outfits and nail shapes.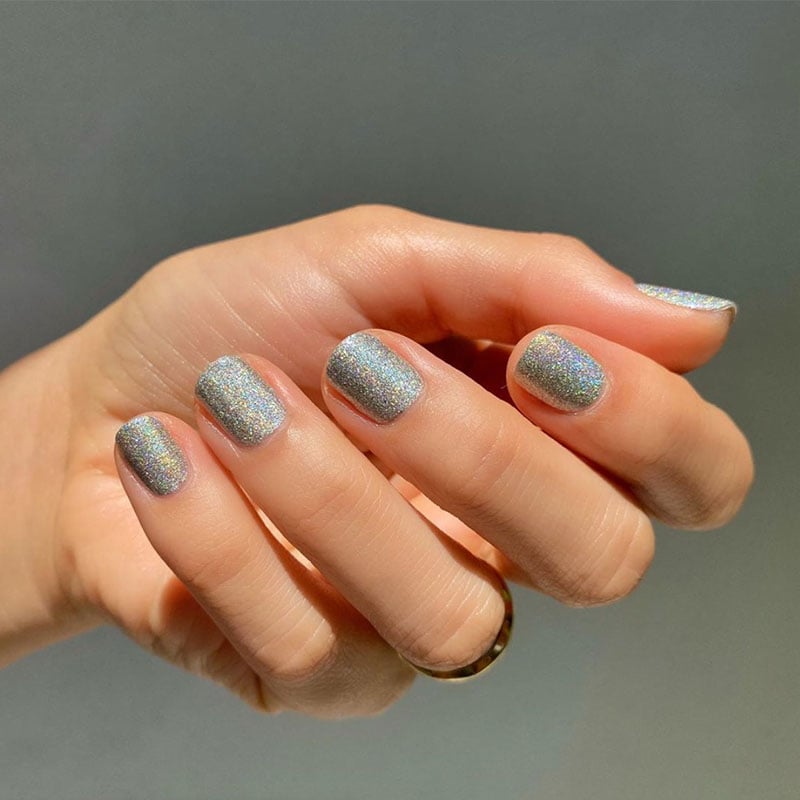 14. Grey Logomania Nail Art
Show your love and appreciation for your favorite brands with a logo nail design using grey and black. You can choose whatever you like, from word-based logos to image ones. Alternatively, theme it to fashion, jewelry, music, or sports. Opt to have the designs painted on with a steady hand, or instead invest in some nail stickers that will make it much easier for you.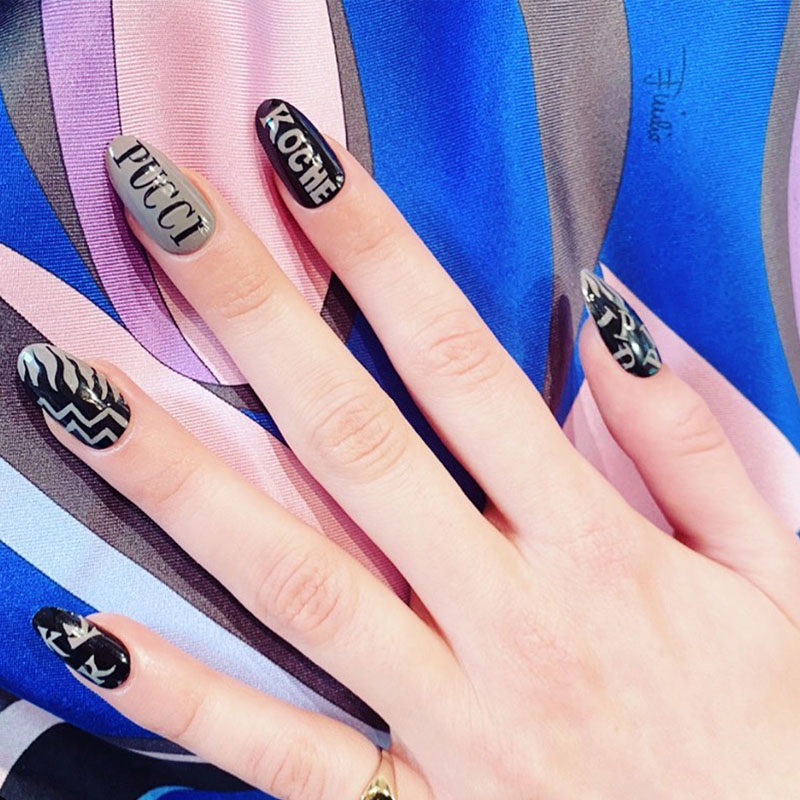 15. Grey Nails with Stickers
Stickers are a great way to add some decoration and interest to your grey nails, especially if you're somewhat artistically challenged. There are thousands of designs you can buy online or from beauty retailers. Select colorful emoji nails and tie the look together with matching multi-colored French-style tips. Other possibilities include flowers, letters, jewels, animals, lace, or fruit — the options are truly endless. Once you've painted your base color and any optional tips, apply the stickers with a pair of tweezers, then finish with a couple of layers of top coat to seal everything in and prevent peeling.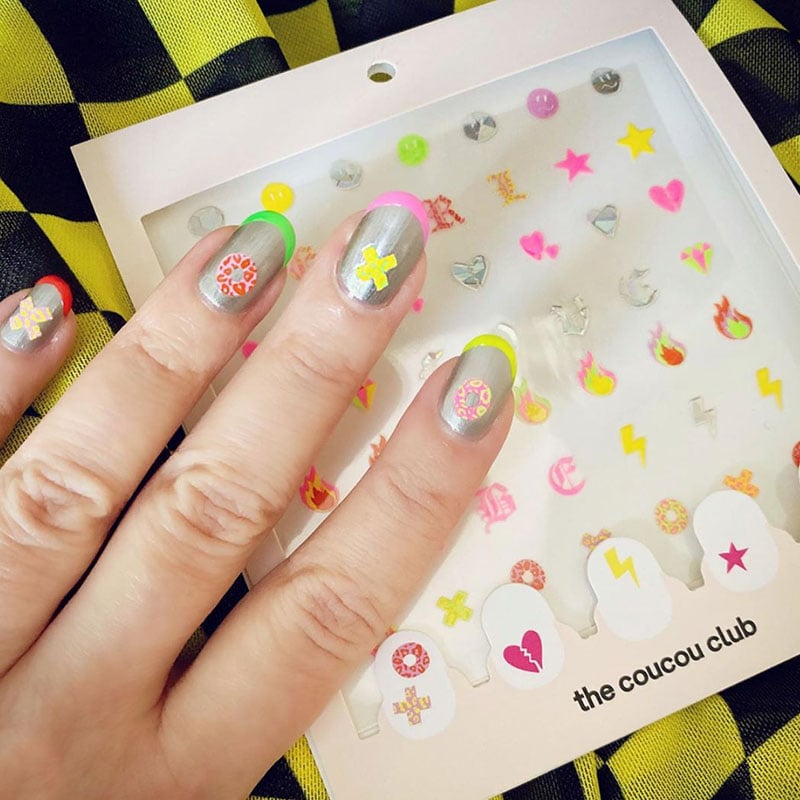 FAQs
What colors match with grey nails?
Grey nails are a stylish and modern choice for your next manicure. The cool hue is easy to mix and match with various shades but works best with neutral colors like cream and beige. This will give your manicure a sophisticated finish. You can also opt for a wintery feel by including icy colors like blues and whites. There are various shades of grey, so if you cannot pick one, try combining them. The result is a fashion-forward manicure that will get your hands noticed.
How do I wear grey nail designs?
There are several shades of grey to choose from and different designs, depending on your preference. Grey looks good on nails of all lengths and shapes and can be easily incorporated into your nail art. You can keep it simple and subtle by opting for grey details on a muted base color, like French tips, or get creative with abstract grey nail designs, grey stripes, or grey nails with silver line art.
Does grey nail polish look good?
Grey nail polish looks good, and there are various ways to wear it. If you prefer simple designs, paint your nails with your favorite shade of grey. Or you can get creative with your nail art, complementing your chosen grey with silver artwork, abstract designs, or patterns. You can also opt for a manicure that is all about contrast by using grey as a base coat and adding bright and bold colors and nail stickers on top of it.
Is it bad to wear nail polish all the time?
Experts recommend you take a break from nail polish because wearing it all the time can be damaging to your nails. It can result in your nail beds weakening over time and becoming dry and brittle. Nail polish can also cause discoloration. Taking a break from nail polish can let your nails repair and regenerate.
SUBSCRIBE TO OUR NEWSLETTER
Subscribe to our mailing list and get interesting stuff and updates to your email inbox.