.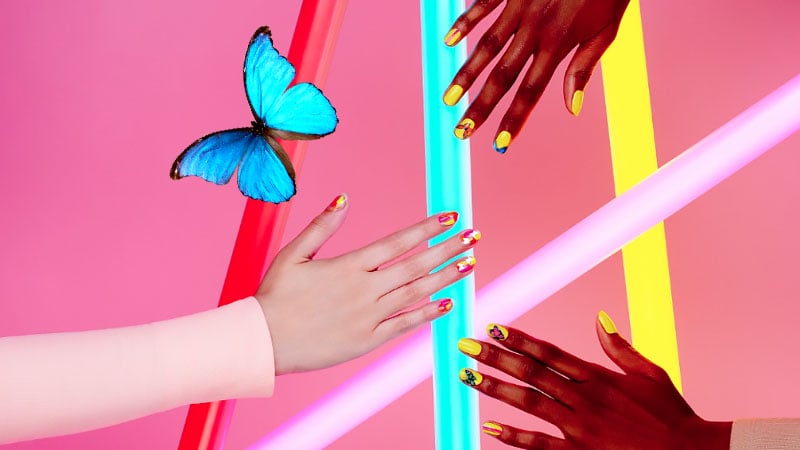 Butterflies were a big trend in the 90s, from hair clips to nail decals, and they have returned! You may have seen celebrities like Kylie Jenner sporting cute butterflies on her acrylics. Or perhaps you've browsed social media and fallen in love with the bold and bright designs. The beauty of this trend is its versatility, from the subtle clear nails with a white sticker option that makes people do a double-take to 3D artwork that makes it look as though these pretty insects are fluttering across your nail. There is a wide variety of colors to choose from and something for nails of all shapes and lengths. This trend looks great, but it is also symbolic because butterflies are associated with beauty, transformation, and change. To find out more about this feminine and sweet look and how to recreate them in the comfort of your own home, keep reading!
1. Blue Butterfly Nails
Blue polish with butterfly nail stickers will be one of the prettiest trends you will ever try. This color is associated with calm and serenity and tends to be a flattering shade on fingernails of various shapes and lengths and all skin tones. It also looks fantastic when paired with glitter nail lacquer and silver or blue butterflies. To achieve this look, you can either head into the salon and make use of your very skilled manicurist; or opt for nail art stickers and create the nails of your dreams from the comfort of your own home.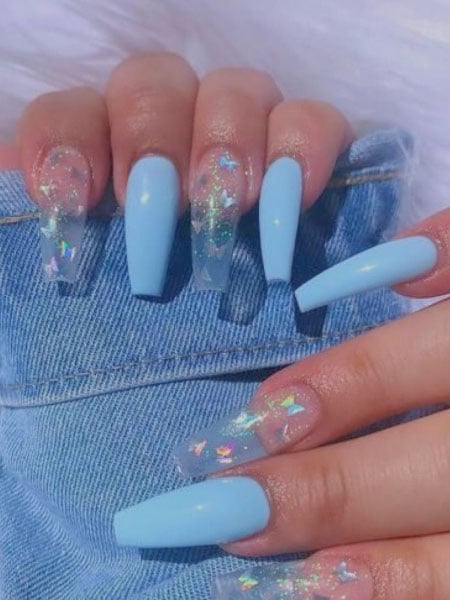 2. Blue Clouds and Butterflies Nails
One of the best things about the butterfly nail trend is that there are so many different ways to try it out. You can get creative with various colors and effects, including multicolored butterflies with a dreamy blue base. You can opt for a nail wrap and add the fluttering insect stickers after, or paint a blue base with nail lacquer and dab on little white dots to create a wispy, cloud effect.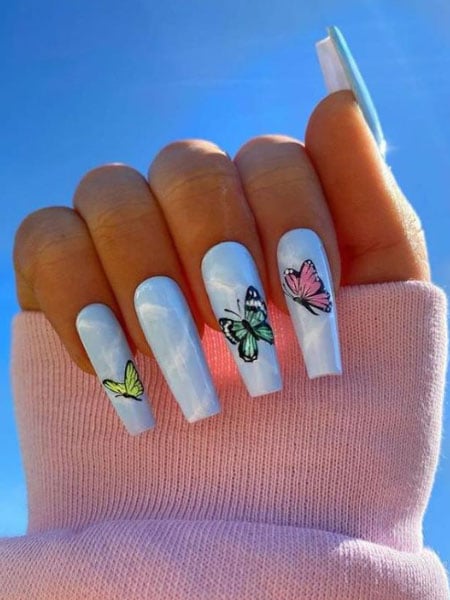 3. Clear Butterfly Nails
If you want to try out this retro nail trend, but want it to be more subtle, then an excellent way to do this is with clear nail designs and white butterfly designs. The lack of color makes it more laidback, as people would have to look much closer at your hands to see your nail art. This makes it an excellent option for those who don't want to show off their fingers but still want to have a bit of fun embracing trends. It is also very wearable and versatile; the look won't clash with your garments and tends to have a more sophisticated appearance.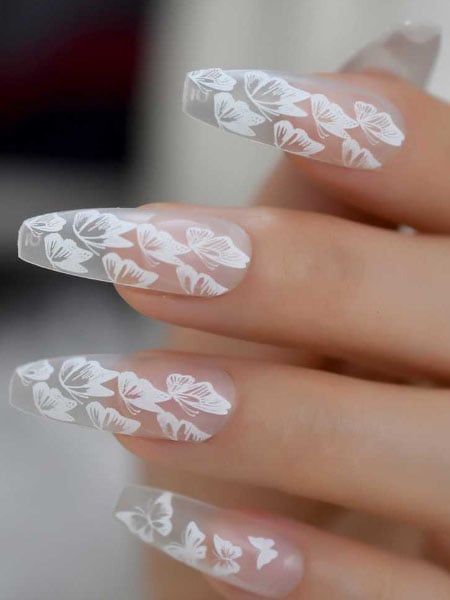 4. Pink Butterfly Nails
The beauty of the pink butterfly nail is that you can get creative, and the butterfly doesn't have to be across just one nail but all of them or a select few. You can decide which fingers you would like to draw attention to and how dramatic you would like it. To achieve this look, you want to pick out your favorite shade of pink polish. Then leave one or two fingers free so that you can paint them with a clear or nude polish. Complete the design by opting for multiple nail stickers of varying pink shades for an ultra-feminine and stylish appearance.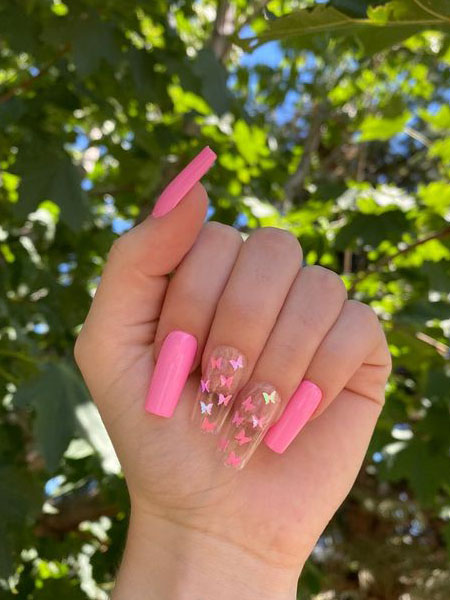 5. Light Pink Butterfly Nails
If you want to try out the trend without making it too obvious, you will love the light pink butterfly nail look. The great thing about this design is that it is very wearable and perfect for every day. The pink hue is such a soft, feminine color and is very close to our natural nail shade, making it pretty without being too in-your-face. Compliment the color with pink or white butterfly stickers. This is also a look that can be recreated on long or short nails because it is not too detailed and therefore does not demand an extra-long length. It may be simple, but it is also beautiful and great for almost every occasion.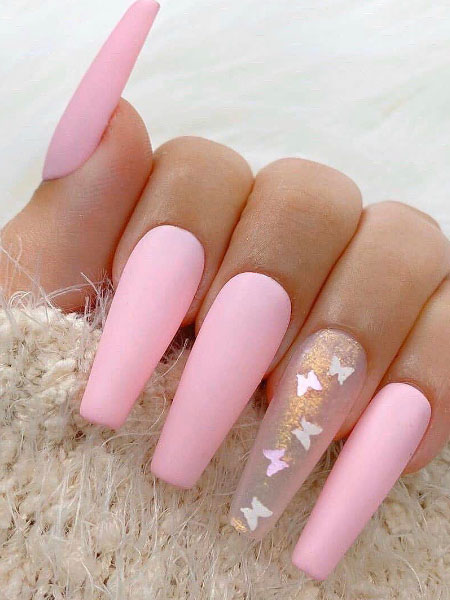 6. Purple Butterfly Nails
If you want nails that are bound to get noticed, then embrace the purple butterfly nail trend. This look is so pretty and feminine, and purple is a fantastic shade for 2021. The color is great on women with fair skin who want a little pop of color but are bored of the classic pink nail lacquers. To make your design more unique, you can play around with different techniques. For example, a marbled purple nail or simple french nail tips. In addition to the butterfly stickers, choosing your favorite fashion brand's logos, such as Louis Vuitton or Chanel, can also give the manicure a very fashionable twist.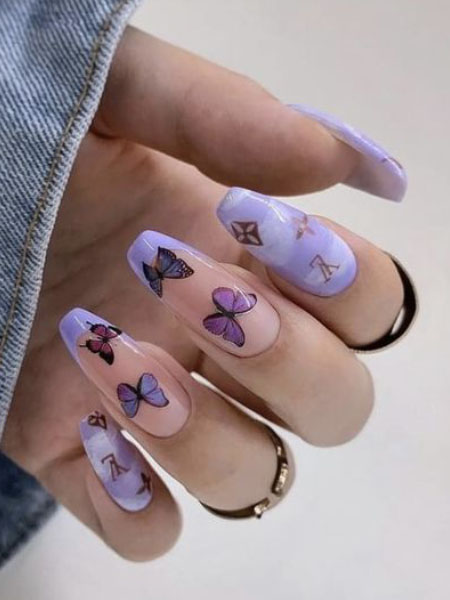 7. Red Butterfly Nails
Some colors demand attention, and red is one of them. The bright shade is a classic for nail art and works well as the base color for butterfly stickers and decals. The intense hu is often associated with romance and love and will instantly draw attention to your hands. For this reason, it is best to ensure that your nails are always well buffed and your polish is not chipped, as this can detract from the beauty of this look. Wear this color with confidence! Plus, feel free to get creative with your makeup, opting for a similar lipstick shade, although not an exact match.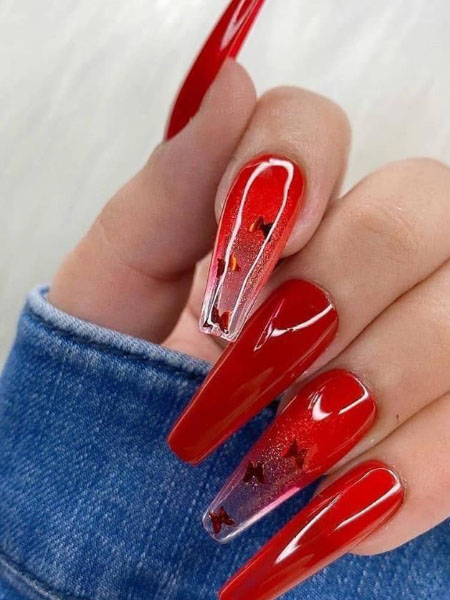 8. White Butterfly Nails
White is one of the hottest colors for nail lacquer in 2021, and for a good reason. It's timeless and classic and does not go out of style. The neutral shade is easy to mix and match with accessories, jewelry, and bright or patterned clothing making it one of the most versatile nail polish choices. It is also universally flattering for all skin tones and nail lengths, and shapes. The inclusion of simple silver or white butterfly stickers makes for a subtle but pretty look, perfect for every day. It is also a little more wearable than some of the other brighter options. Plus, it lends itself well to various settings, from a beach picnic to a cocktail party.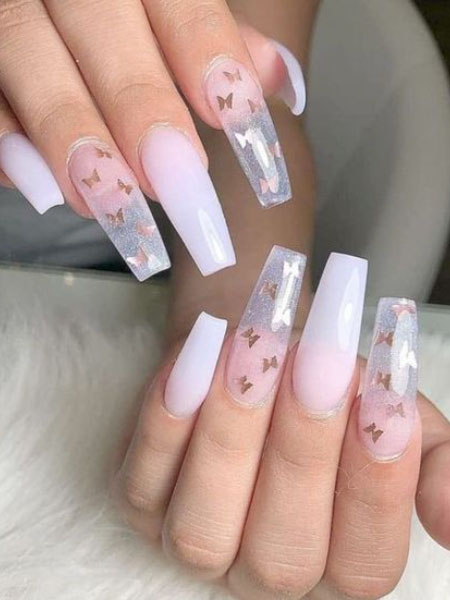 9. Ombre Nails with Butterflies
Ombre nails are a big trend on their own, but adding butterfly nail art on top of this makes for an even more eye-catching and fun look. To create ombre nails, you need two distinct colors, one light and the other dark. The idea is that they will perfectly blend into each other. When it comes to which colors you should choose, that is entirely up to you. Maybe you want a bold vampy look, in which case red and black is a fantastic combination, or if you prefer something easier to wear, then blue is an attractive choice. The idea is to match your nail art to your polish but not create a look that clashes. For example, if you have blue ombre nails, pick out butterflies of similar shades to compliment your lacquer.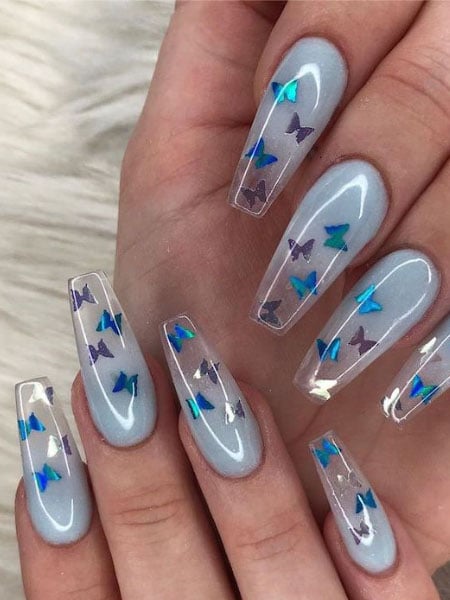 10. Different Colour Butterfly Nails
Why opt for one type of butterfly and one color when you can have them all? You can paint your fingers with multiple polishes or choose from a wide range of butterfly designs. This can include pink, purple, and blue. You can also play around with the sizes, opting for some smaller stickers and other larger ones, adding interesting proportions, and making the overall look more fun. The colorful butterfly nail option is a little bit of everything; it is bright and bold, demanding attention and instantly drawing the eye to your hands. It is for this reason that you should make sure your fingers are always perfectly manicured.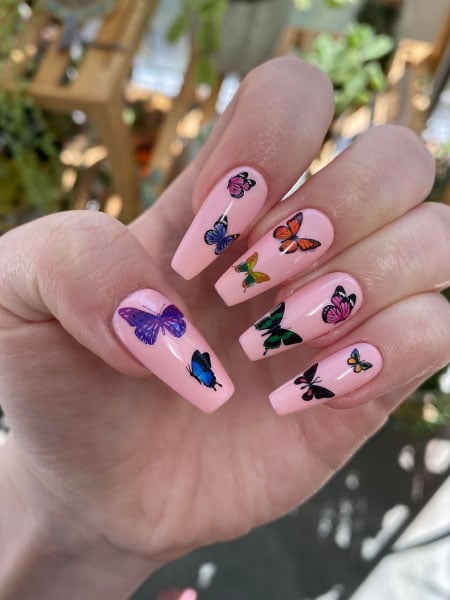 11. Yellow Butterfly Nails
No color can fill you with a sense of happiness in the same way that yellow can. It is a shade associated with cheerfulness, warmth, and joy. Plus, it is a welcome hue as it brings a smile to our faces. Combining this luminous color with matching butterfly nail stickers is a trend you need to try! It is particularly appealing for the summer months as it reminds us of sunshine. Wear this look to the beach, a festival, or just around the house!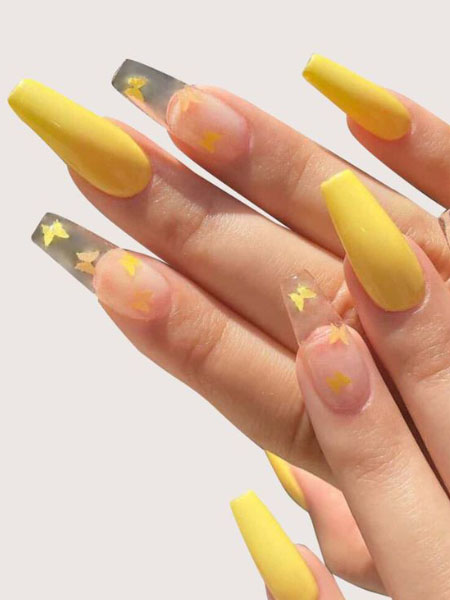 12. Butterfly Nail Tips
You do not have to cover your entire nail with butterfly stickers or be an expert and paint beautiful wings. Instead, you can try an updated French manicure approach by focusing on just painting or wrapping your nails' tips. Forget the classic white on the tips, and try out this bold option. It is a great choice if you want something super wearable and will lend itself well to various settings.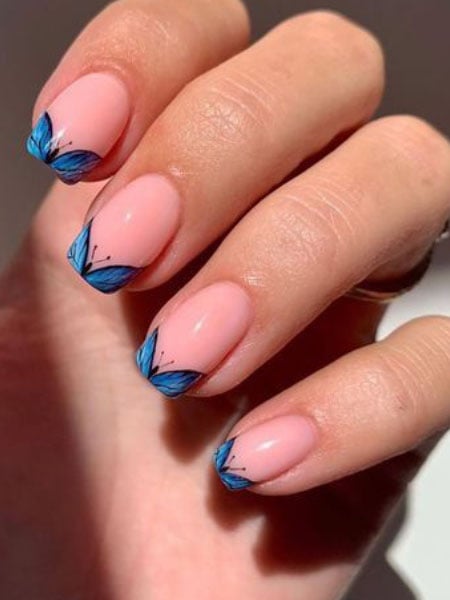 13. Black Butterfly Nails
Some people find wearing all-black nail polish too harsh and a little vampy. Thus the inclusion of black butterfly stickers gives it a more feminine and playful finish. Black is a color associated with strength and sophistication, and it pairs well with every other color, so your nail art won't limit your wardrobe choices. It is hard to miss a manicure featuring this dark hue; thus, it is one of the easiest ways to make a statement!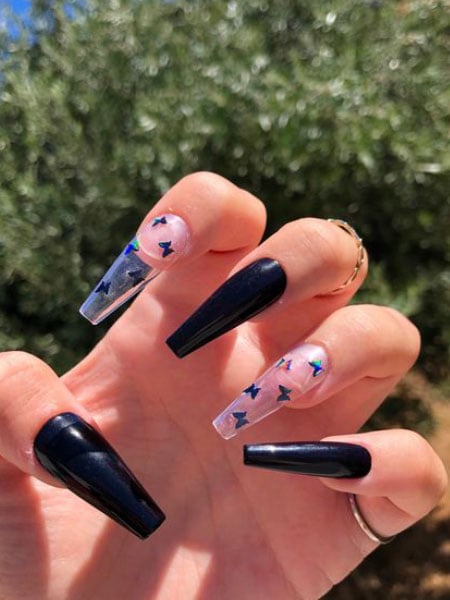 14. Butterfly Wing Nail Art
There are so many different butterfly species to choose from when recreating a wing of one of these beautiful insects. You can pick from a wide number of patterns and colors. If you love the monarch butterfly, opt for an orange, black, and white color scheme. Or if you feel that is too complicated and wish to create a more simple appearance than the Blue Morpho butterfly or the Sulfur Butterfly, which is a lovely pale yellow shade, are great alternatives. The wings you choose will depend on your preference and skill level. That said, the overall effect is incredibly striking regardless of your choice.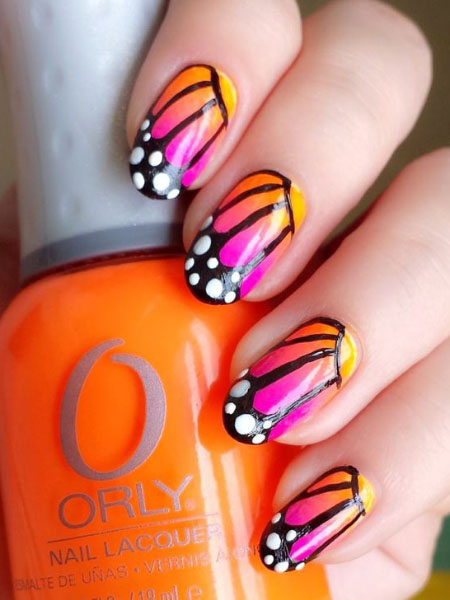 15. Holographic Butterfly Nails
Who doesn't want a manicure with a bit of shine? One of the best ways to make your fingers dazzle in the sunlight is to opt for holographic butterfly nail art. Holographic nails have a great reflective appearance and can make a standard butterfly wing look even prettier. It is also a way to really have fun with your nail art. If recreating one of these beautiful insect wings is too complicated, and let's be honest, it takes some skill and precision to achieve, then don't be afraid to opt for holographic nail lacquer; add stickers over it for your take on the trend.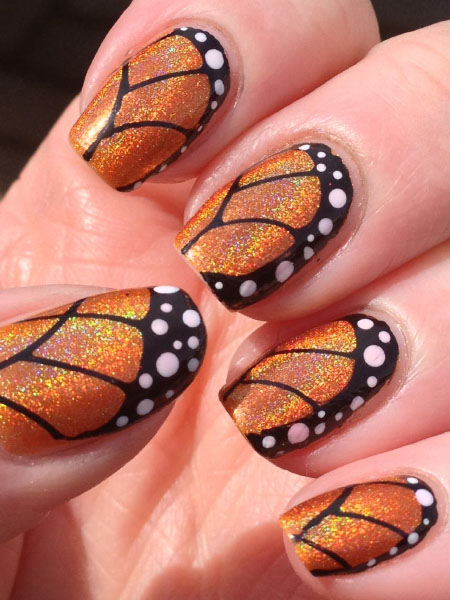 16. Glitter Butterfly Nails
When deciding on the perfect art for your hands, glitter butterfly nails are a fantastic choice. They are super pretty and feminine and will add sparkle to your appearance. Not only do these insects look beautiful and come in a wide range of different colors, but they are also rich in symbolism. The butterfly is symbolic of transformation and change and could help you express your feelings through your manicure. Glitter is also enjoying its moment; it doesn't have to be reserved for special occasions or holidays, as this artwork shows. You can either use glitter nail polish for a very fuss-free and simple approach or apply glitter pieces. In addition to your chosen butterfly stickers, you can also get creative with tiny studs or diamantes on the nails that are left plain to give them a little sparkle and balance out your overall look.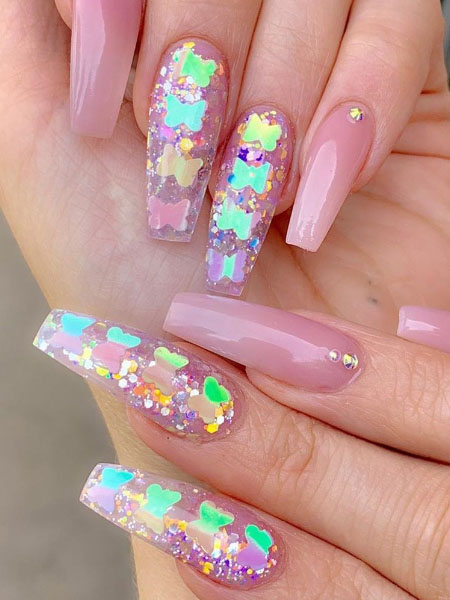 17. 3D Butterfly Nails
When it comes to butterfly nail art, there are many different ways to recreate it, but undoubtedly one of the most eye-catching interpretations is with 3D nail art. If you want it to look like you have butterflies fluttering across your hands, this is the best way to achieve this. It is not a look for every day, but for special occasions or summer parties. Feel free to wear your favorite rings to draw even more attention to your hands, but with this detailed artwork, less is more.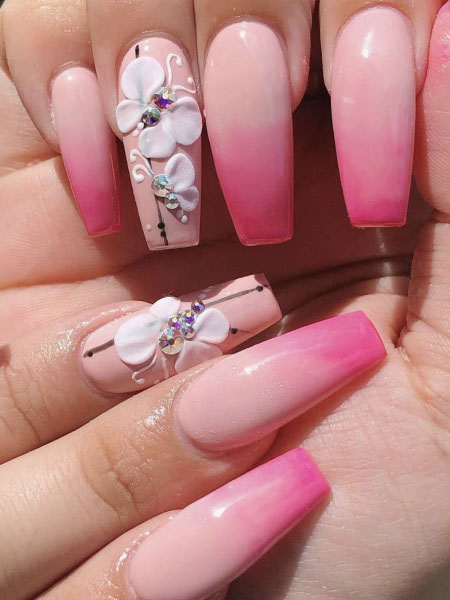 18. Butterfly Nail Flakes
If you want to add a little sparkle to your appearance, why not do so with glitter nail flakes and cute butterfly stickers? This is undeniably one of the girliest interpretations of the nail trend, and it also has the most retro 90s feel about it. Remember when everything was all about glitter makeup and beauty products? If you want to relive your childhood or if you had a particular fondness for this decade, this is a fun and pretty way to do it. Although you can recreate this on all nail shapes, longer, pointy talons tend to work best!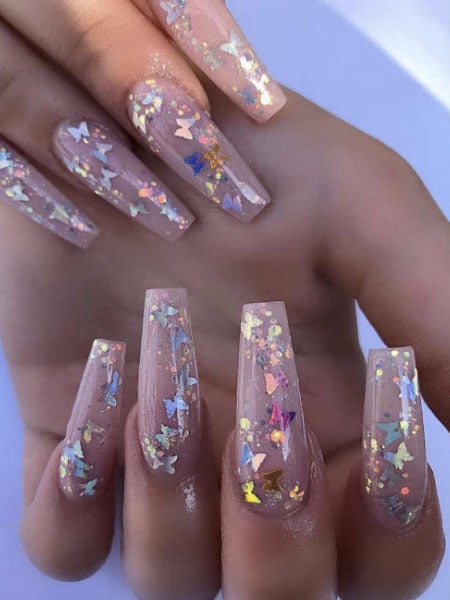 19. Easy Butterfly Nail Art
Nail art is a fantastic way to have fun with your manicures and show off your playful side. It's a chance to express your creativity and can say a lot about your personality. That said, some of the more complicated looks take a lot of time and effort to complete, and some people prefer a more effortless approach. If this sounds like you, then easy butterfly nail art is the answer. Pick a simple base color, like one of the favorites you wear regularly, and then choose a nail or two to become your look's focal point. You can either wrap it with nail wraps or use stickers. Alternatively, you can try to recreate a straightforward image of a butterfly yourself using nail tools. Regardless of how you intend to do this look, it is simple yet chic and perfect for women of all ages.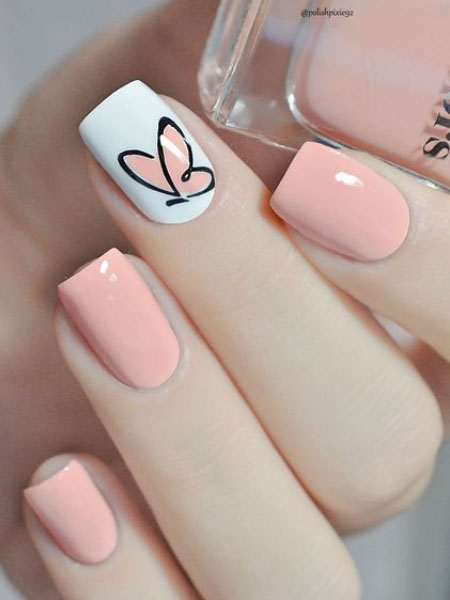 20. Butterfly Art on Feature Nail
If you feel it is better to ease into a trend or want a more understated yet cute look, then opting for butterfly art on a feature nail is a great choice. It is a way to try out the artwork without it being too in-your-face, thus making it very easy to wear. The design lends itself well to various settings and depending on the colors you choose, and how formal your workplace is, it may even be office-appropriate. You can choose to create the pretty insect yourself or opt for a pre-made sticker if you want to save time.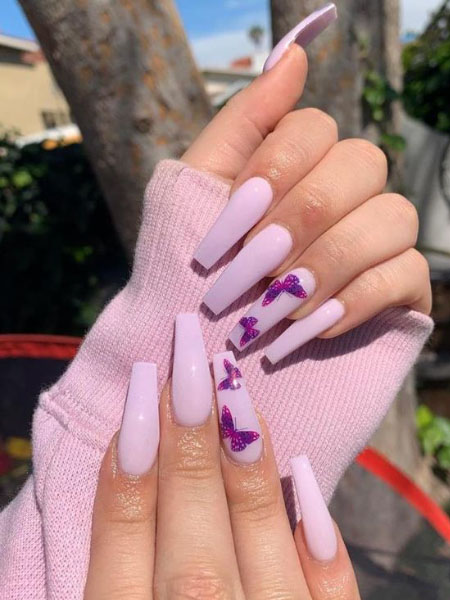 21. Short Butterfly Nails
Some nail art trends only suit long nails, but if you love butterflies and want to show off your hands, you can do so with long or short nails. Although you may be limited in terms of how much detail you can add to your fingernails, for example, an intricate 3D design may seem a little overwhelming. You can opt for pretty nail polishes and stickers of your favorite insect. If you are very creative and have a steady hand, you could also try painting your own butterflies.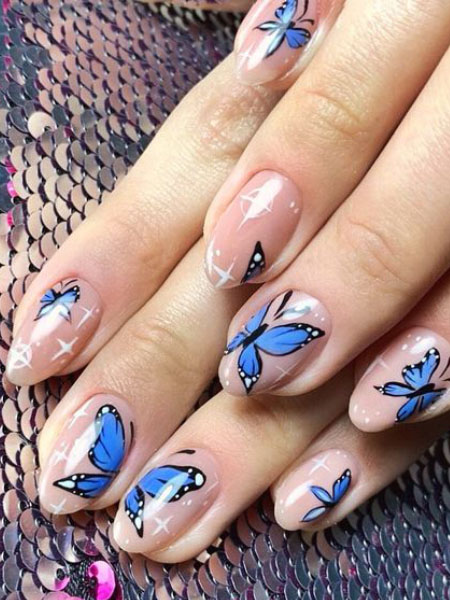 22. Long Butterfly Nails
Long nails can elongate your fingers, making them look slimmer, but they also have a very feminine quality about them. There is no denying that longer talons require more maintenance, but there are pros when it comes to nail art. For starters, the length allows you to get more creative because there is more room for intricate designs. You are also not limited in terms of trends, so if you want simple butterfly stickers or full-on 3D nails, it's all possible. Longer nails demand attention, and if you want to show off your hands, you can also pile on your favorite rings.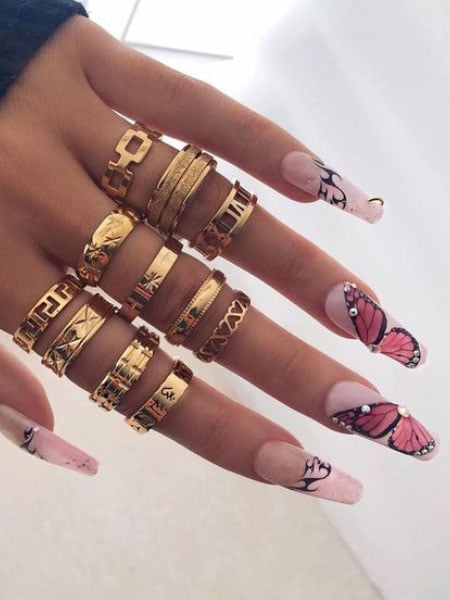 23. Butterfly Toe Nails
Who says butterfly nails have to be reserved for your fingers? This trend looks just as cute on the toes! You can choose from a wide selection of colors and get creative with butterfly nail stickers, but the key here is simplicity. You do not want anything too embellished or 3D designs because that is not practical. If you do want to give your feet an interesting manicure, then it is probably best to try it out in summer, so you're able to wear open shoes and show off your skills!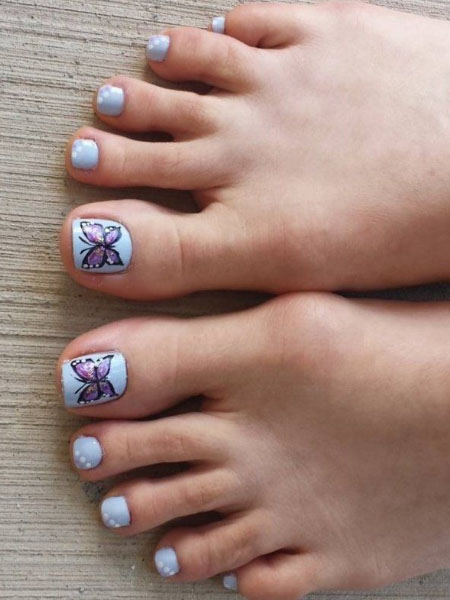 24. Butterfly Hand Tattoo
Hand tattoos are an excellent placement for someone who wants to show off their body art. A butterfly design here can be small and simple or cover the entire hand. The visibility of hand tattoos is both the appeal and the drawback. They will also fade faster than many other locations because of the exposure to sunlight and chemicals.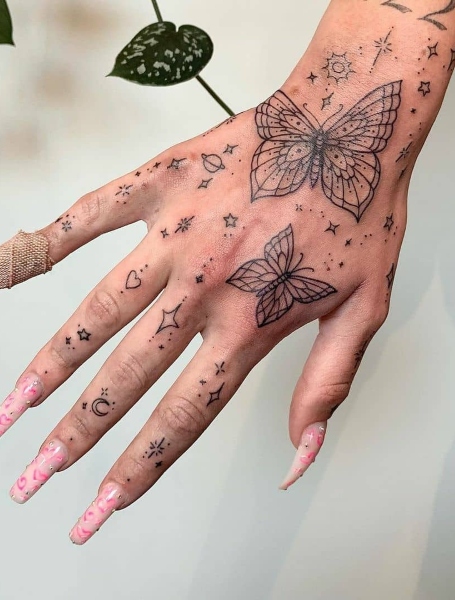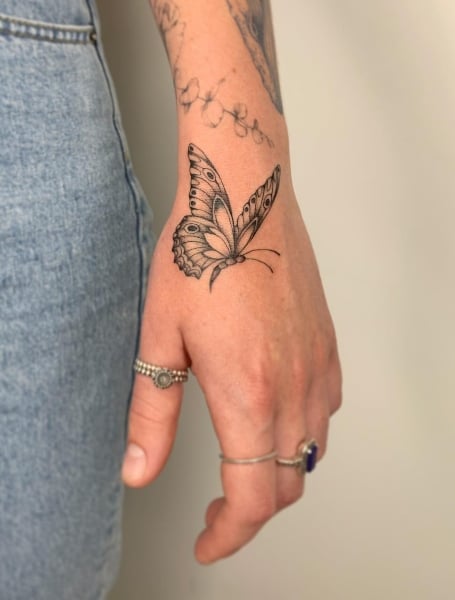 25. 3D Butterfly Tattoo
The 3D tattoo effect is incredibly detailed and will bring your chosen artwork to life. It will look like your butterfly design is hovering over your skin. The appeal of 3D tattoos is that they are realistic, and this style lends itself well to color and results in an incredibly beautiful tattoo. There is a lot of work and skill that goes into the creation of 3D tattoos so expect them to take a long time to complete and often cost more.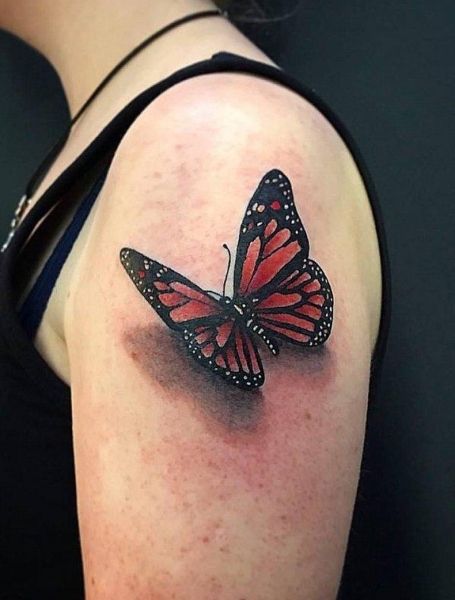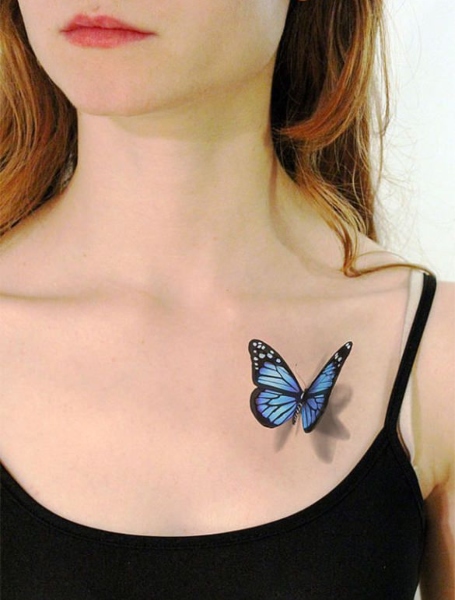 26. Blue Butterfly Tattoo
Blue is a stunning color, associated with calmness and tranquility. Deciding to incorporate blue ink into your tattoo will make for an eye-catching design, and blue butterflies are associated with good luck and happiness. The positive associations with this design make it a powerful option and a reminder to look on the bright side of life. Or to be optimistic, despite the challenges you are facing.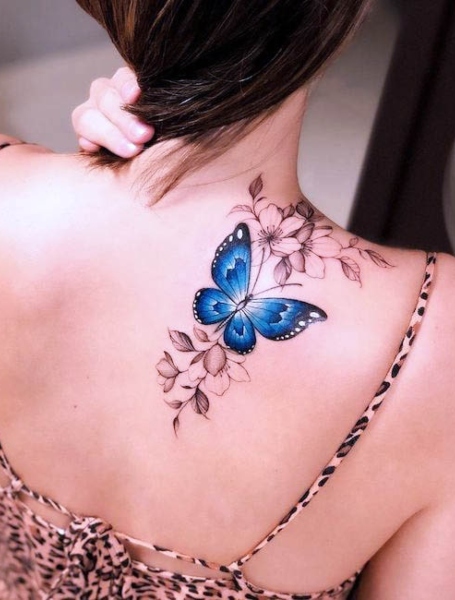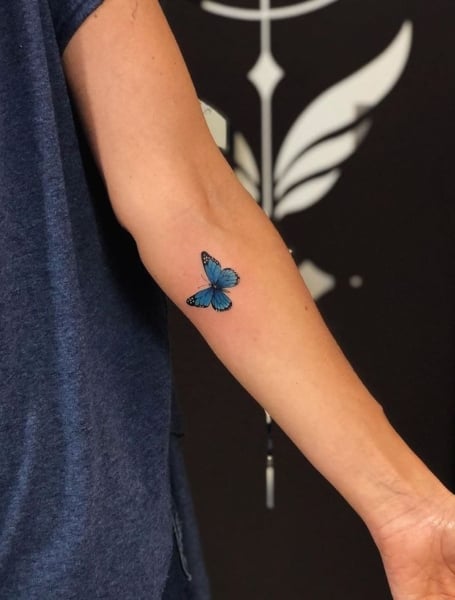 27. Butterfly Flower Tattoo
Butterflies are one of the world's most beautiful and colorful creations and a butterfly tattoo is symbolic of beauty and grace. The symbolism associated with your design can change, depending on the images you choose to include, for example, flowers. Flower tattoos are associated with growth and change, and the combination of your favorite bloom and a butterfly can make a powerful statement.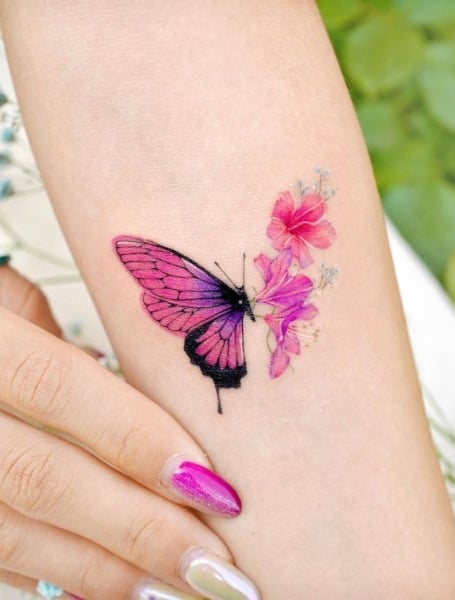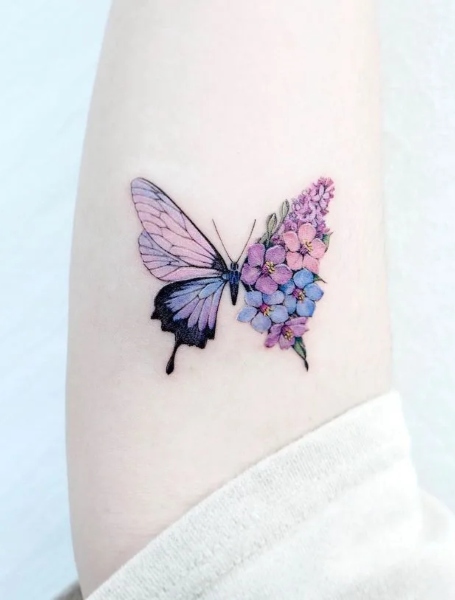 28. Red Butterfly Tattoo
There are many different types of butterflies and the species you choose can have varying symbolism. Color tattoos can also make an impact and will make for beautiful, eye-catching tattoos. In general, red butterflies are associated with love and passion. For some, a red butterfly can also represent good luck.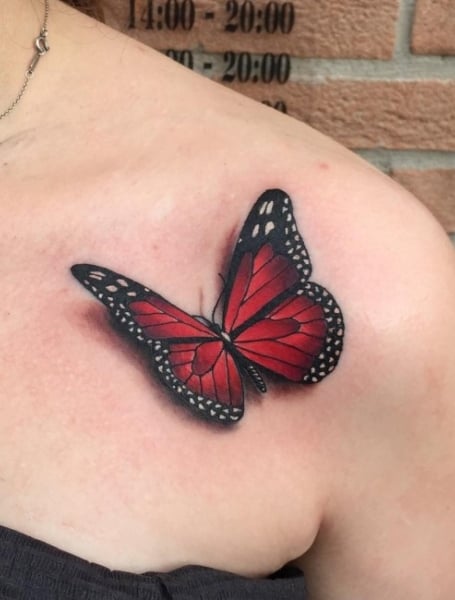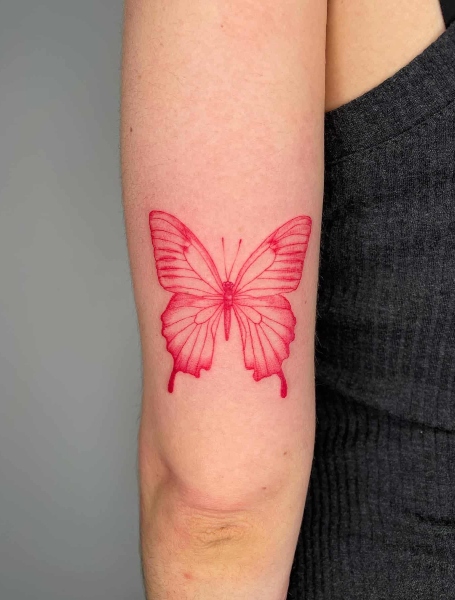 29. Butterfly Skull Tattoo
For many, a butterfly is a symbol of beauty, growth, and transformation. There are many positive associations with this winged insect, whereas a human skull tattoo represents death, destruction, and evil. The combination of something beautiful and dark makes for a beautiful tattoo with powerful symbolism about the connection between life and death. It can also be a reminder to live each day to its fullest.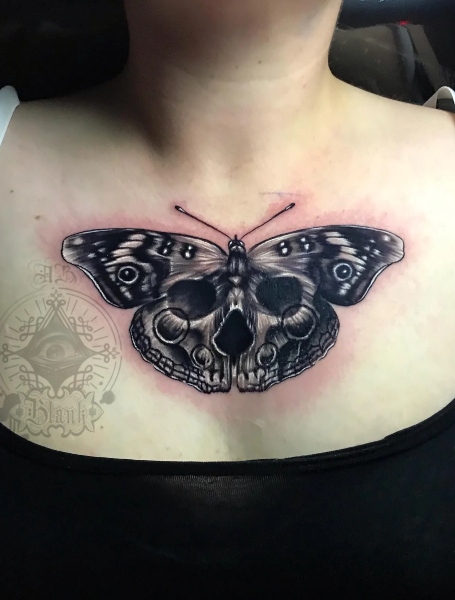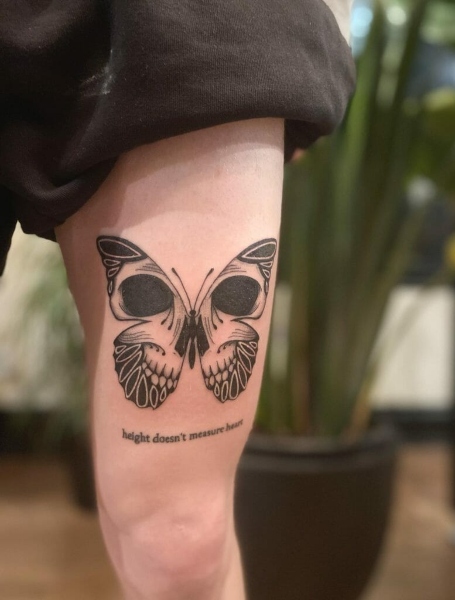 30. Butterfly Outline Tattoo
Butterflies are an excellent choice for your next tattoo because they are rich in symbolism. The winged insect can also be created in various styles, depending on your preference. This can include photorealism and bright colors, or you can focus on the basic elements of the design with an outline tattoo. The simplicity of outline tattoos makes them appealing.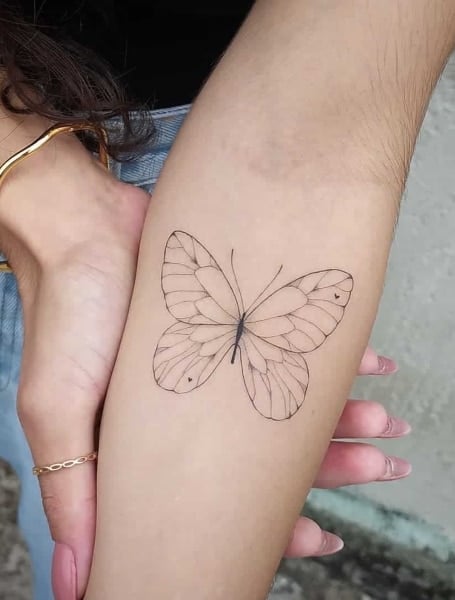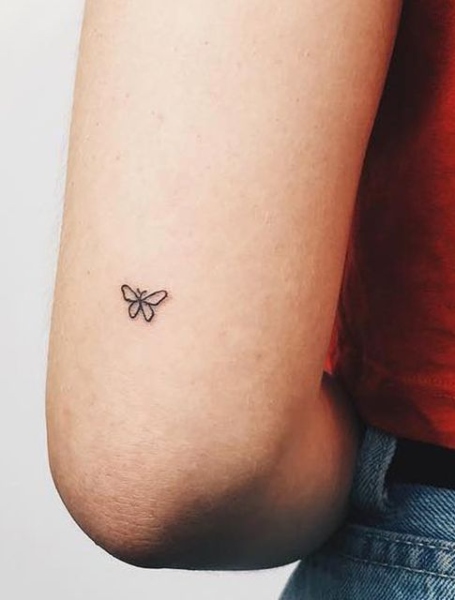 31. Best Friend Butterfly Tattoos
What better way to honor the close relationship you have with your bestie than with a best friend tattoo? These designs can be of anything but should be meaningful to you and your friend. It could be a matching design, or it could be of two complementary things; for example, a butterfly on one person and a flower on another. Deciding on the style, colors, and placement of your tattoo will make getting inked together a memorable experience.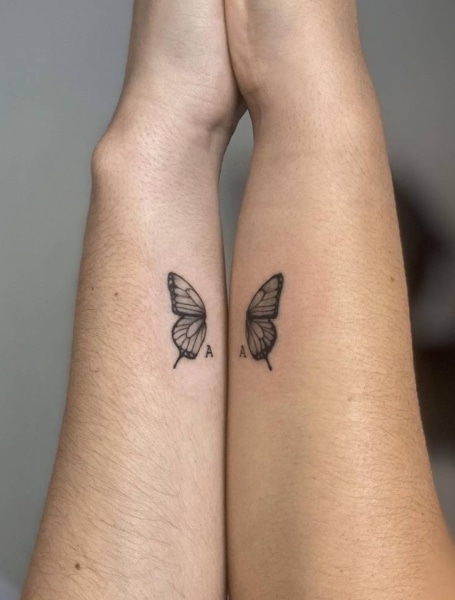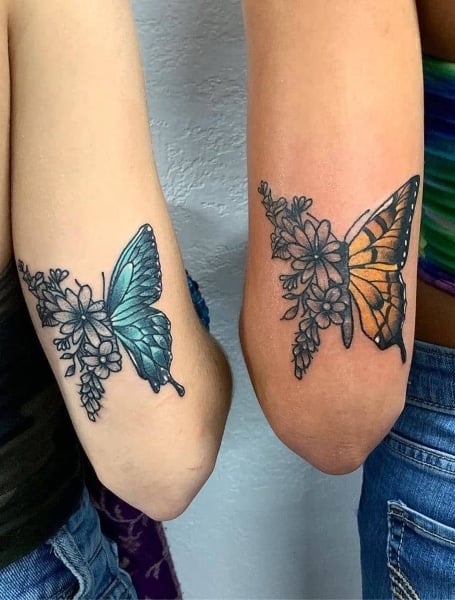 32. Butterfly Foot Tattoo
Foot tattoos are appealing because they can be easily covered up and shown off when you want. The foot is large enough to allow for some detailing and you can create a decent-sized butterfly. However, foot tattoos are painful because of the general sensitivity of the area and the thin skin and proximity to bone.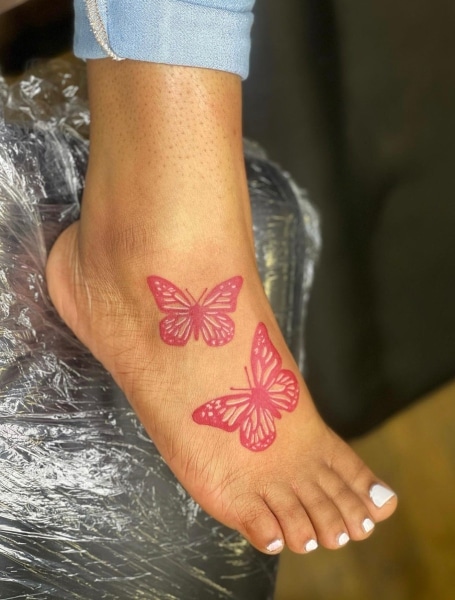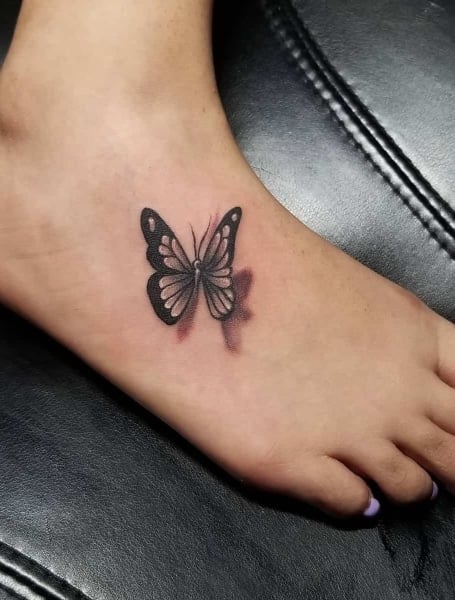 33. Butterfly Sleeve Tattoo
Sleeve tattoos are a creative way to blend together several images and let your body art make a statement or tell a story. For a seamless finish, it is best to stick to a theme when creating a sleeve, and there are many ways to incorporate butterflies into your theme. Sleeve tattoos can be created in various styles and look good in black ink or color.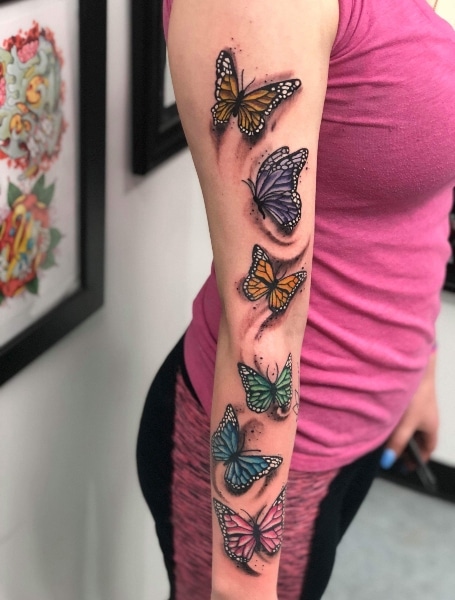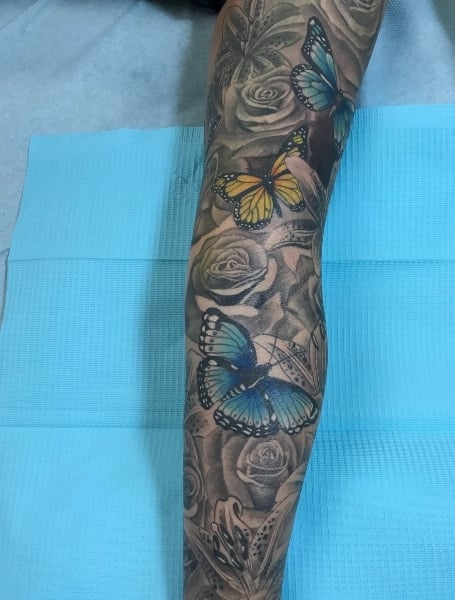 34. Butterfly Finger Tattoo
Finger tattoos are edgy and cool and the perfect location for a design that you want to show off. Butterflies can be created on a smaller scale and you can opt for a small, simple design that will look gorgeous on your finger. There is no denying the appeal of finger tattoos but they will hurt and fade faster than many other placements because of the exposure to sunlight and chemicals.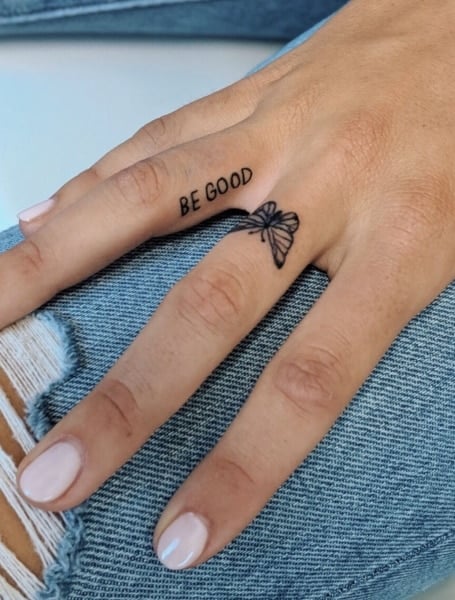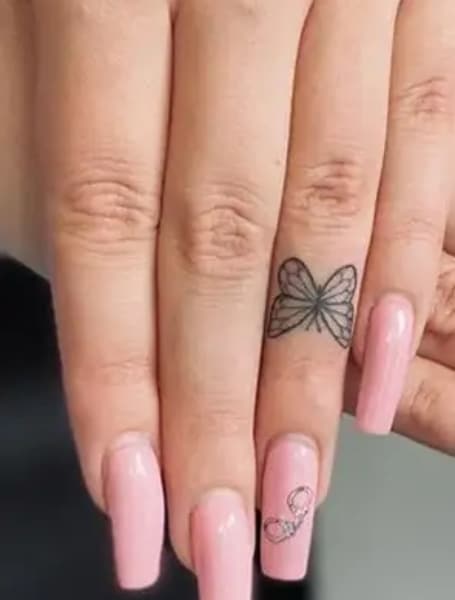 35. Butterfly Forearm Tattoo
The forearm is one of the most appealing placements for your butterfly design. This is because it is considered low to moderate on the pain scale chart because of the thick skin, muscle, and fat in the area which provides cushioning. It is easy to cover up a forearm tattoo, and it will provide you with enough space to let you get creative with your inking.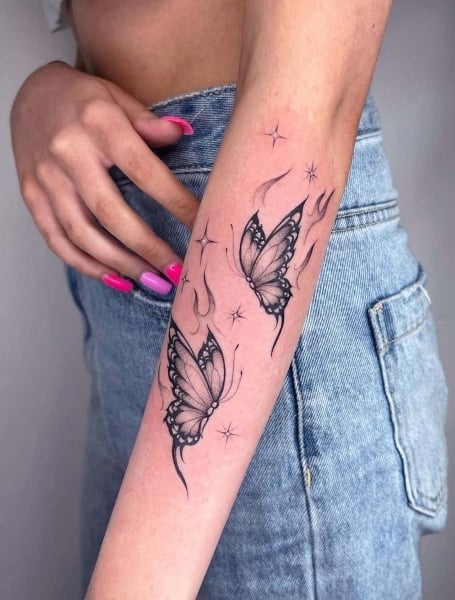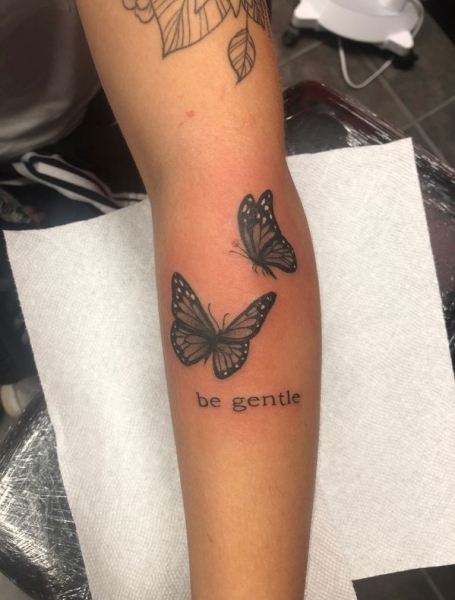 36. Colorful Butterfly Tattoo
Some designs look better in color. The butterfly is a beautiful, and colorful insect coming in a range of different colors from blues to reds. If you want to portray a specific butterfly or are drawn to the symbolism associated with the color, then this is an excellent choice. Colorful tattoos are also bold and will make a statement.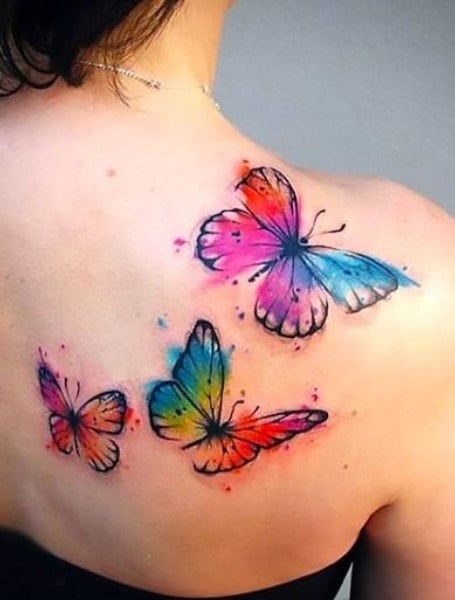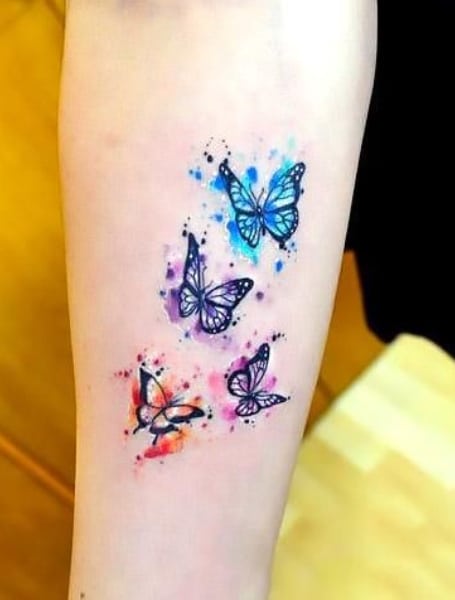 37. Purple Butterfly Tattoo
Purple butterflies represent grace and sophistication. This can be an excellent way to show how you value these things and can make for a pretty, delicate design. There are various shades of purple to choose from, depending on your desired vibrancy. Butterflies represent growth, beauty, and transformation, and can be a way to remind yourself of what is important in life.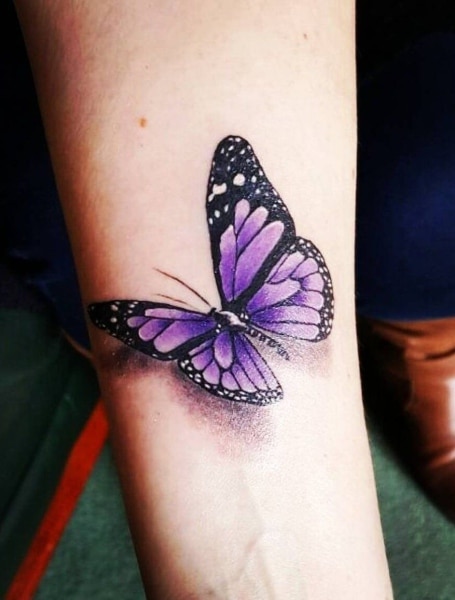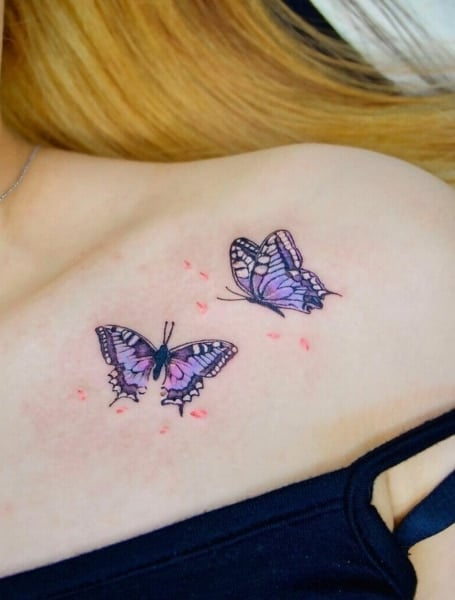 38. Black Butterfly Tattoo
There is often a positive association with butterflies, but if you want to remind yourself to be wary or to embrace every opportunity in life, then you may be drawn to a darker design, like a black butterfly tattoo. Black butterflies can represent misfortune and could be a warning or an omen of what is to come. They can also be associated with the fragility of life.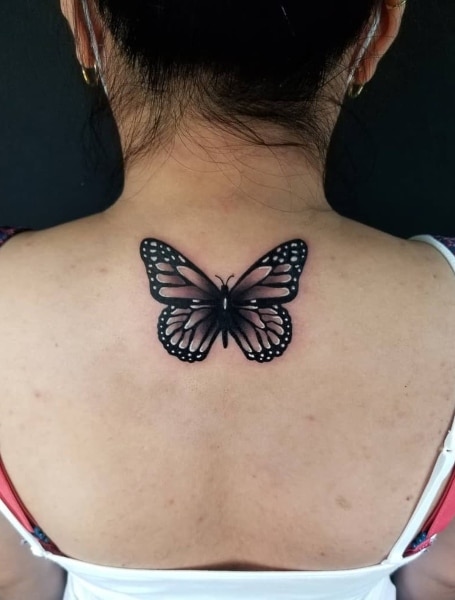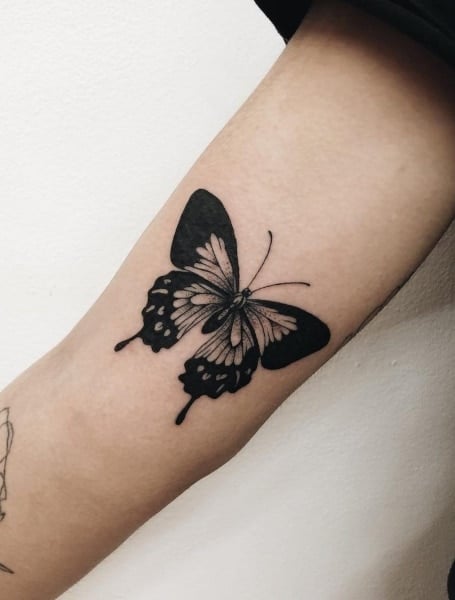 39. Sunflower And Butterfly Tattoo
Butterflies are often viewed as a symbol of beauty and life. They can represent good luck and all that is good, and when combining a butterfly with a sunflower, your tattoo can be a symbol of life and connectedness. It could show the important relationships that exist in nature, or could be an abstract interpretation of how you need someone, like a romantic partner, to succeed. Sunflower tattoos are also symbolic of hope and optimism.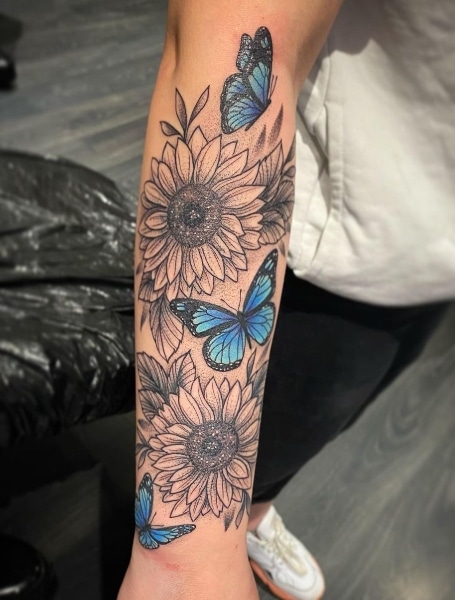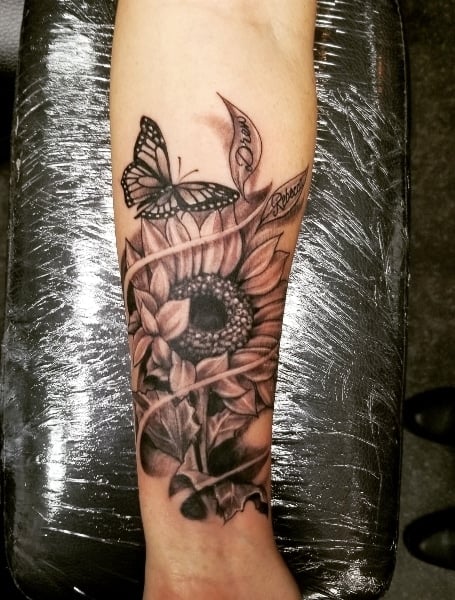 40. Matching Butterfly Tattoos
Matching tattoos are a cute way to celebrate the bond you share with a loved one. This could be a family member, best friend, or romantic partner. It is a way to ensure a part of you will always be with them, and vice versa. Butterflies are an excellent choice because they can be created big or small, as an outline or a photorealistic piece, and look great with or without color.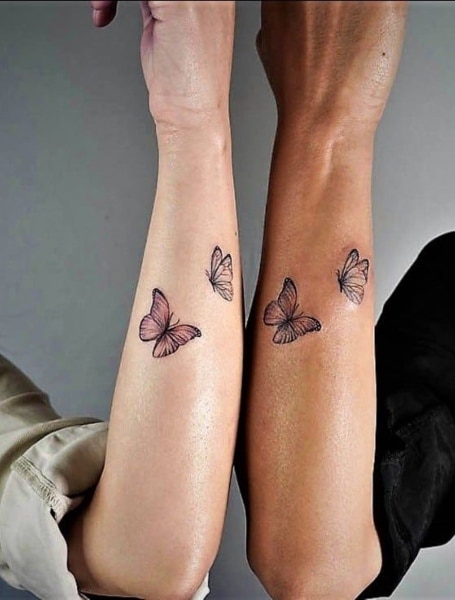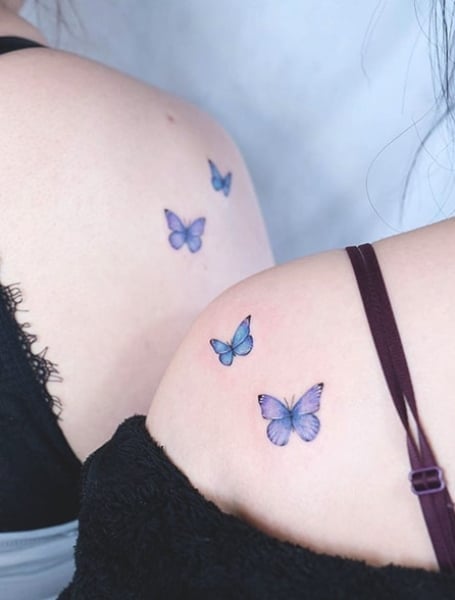 41. Butterfly Cross Tattoo
There are many ways to incorporate other images into your butterfly design, and for those who are devoted to their faith, you can also include a cross. The cross tattoo is symbolic of faithfulness, and including a butterfly could be a way to show you are a born-again Christian. Or it could be inked as a memorial piece, dedicated to someone who has passed and honoring their memory.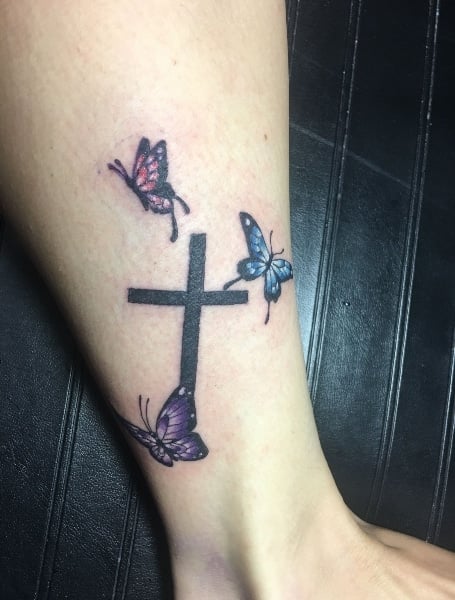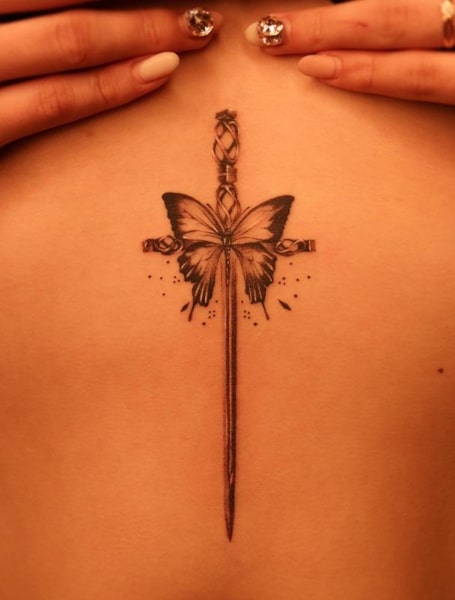 42. Watercolor Butterfly Tattoo
The watercolor tattoo effect is one of the most vibrant and energetic styles you can choose. It is defined by its brilliant blend of colors, which resemble the appearance of paint drying on a canvas; hence the name. There is a lack of shading and thick, bold outlines, which look great but could result in your piece fading faster.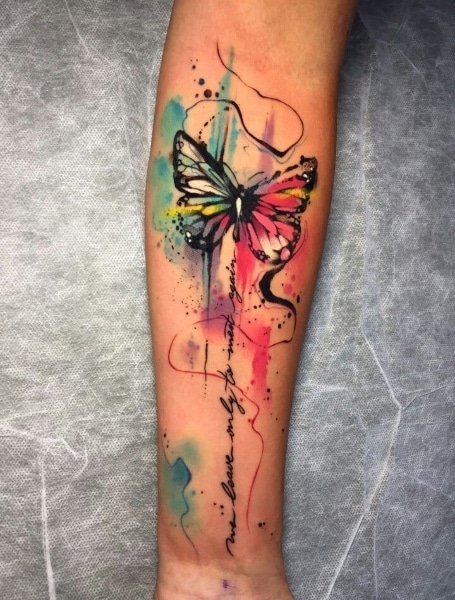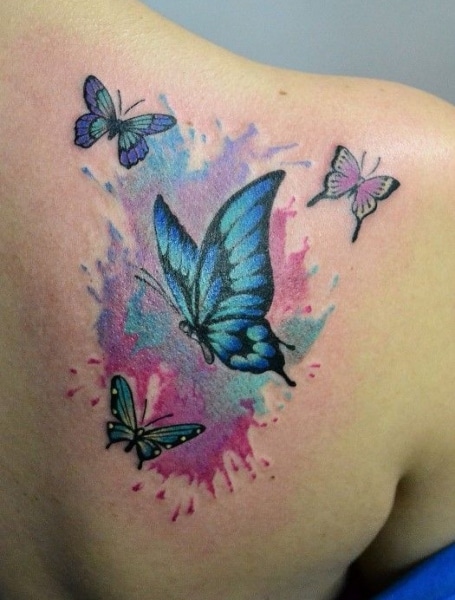 43. Butterfly Stomach Tattoo
The stomach is one of the most painful locations to get inked, but the appeal of stomach tattoos is their versatility. This is an area on the body that is large enough to allow for a detailed design, but the right placement can also accommodate a small and simple butterfly tattoo. It can be easily covered and shown off when you want.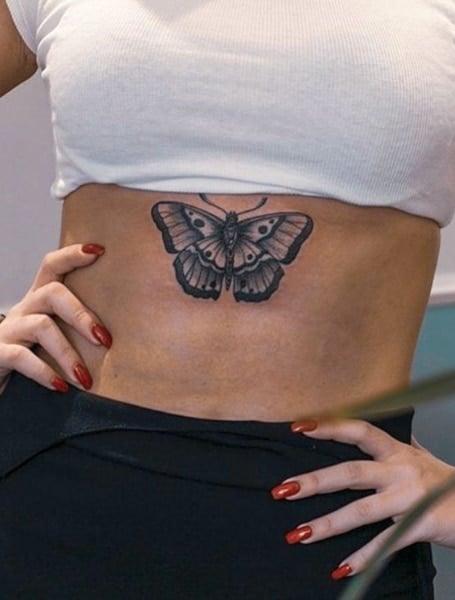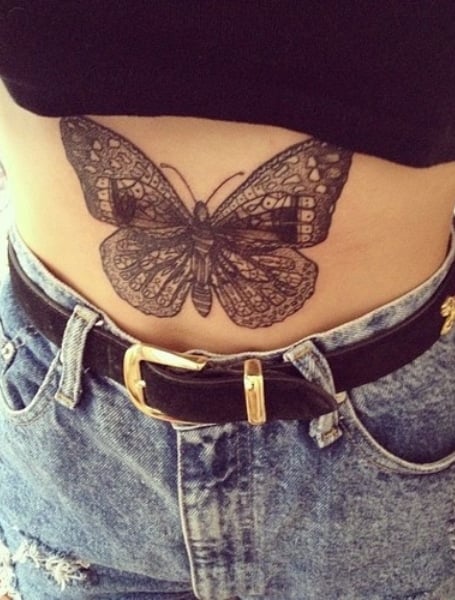 44. Meaningful Small Butterfly Tattoos
A small butterfly tattoo can be incredibly meaningful because of the rich symbolism associated with it. Butterflies represent beauty, growth, and change. They are a popular choice for someone who is going through a transitional period in their life, and a meaningful tattoo can bring them comfort or inspiration. You may also wish to personalize your design by including dates, names, or initials.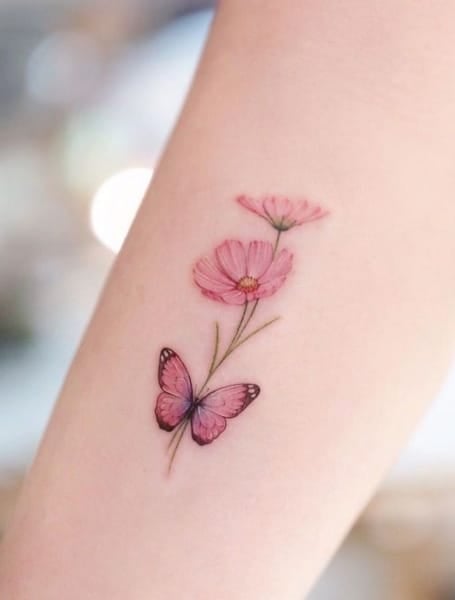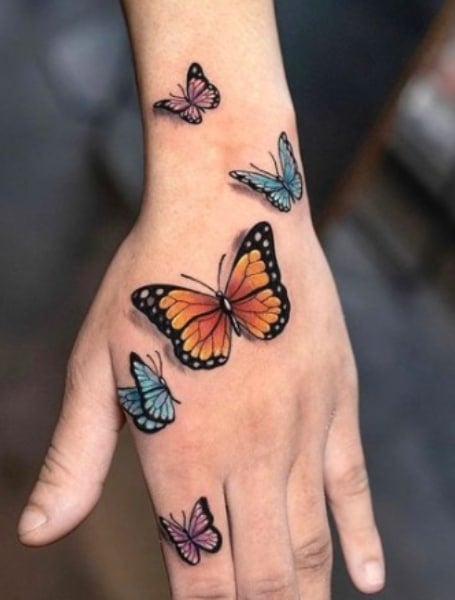 45. Butterfly Mandala Tattoo
Mandala translates to "circle" in the ancient Sanskrit language. The mandala symbol can have different patterns and is detailed and beautiful. A mandala tattoo often represents balance and harmony, and it has inspired body art designs, letting you find something unique and special. This includes creating a butterfly outline with the pattern inside it, or you can find a way to incorporate a butterfly into a larger, abstract mandala design.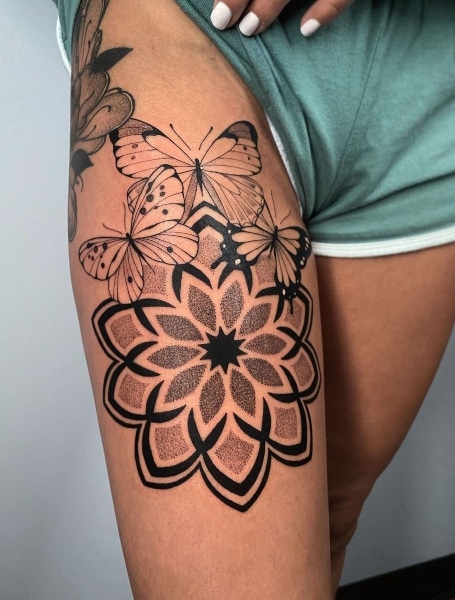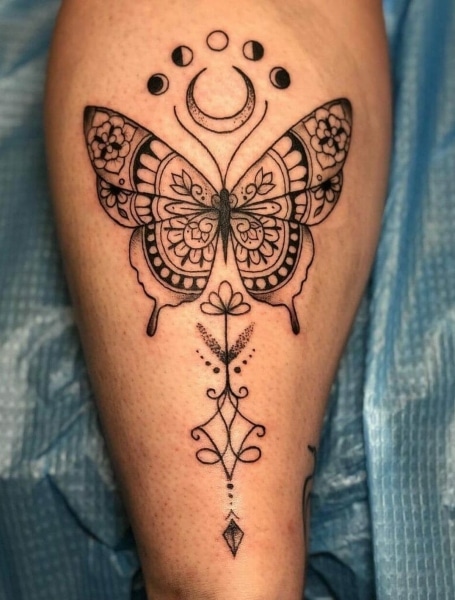 46. Butterfly Rib Tattoo
Rib tattoos are a great option for those who want to keep their design close to their heart. This is one of the most painful locations to get inked because of the thin skin and proximity to bone, which is why it should be reserved for truly meaningful designs. Your butterfly tattoo can be small and simple, or large and detailed, depending on your preference, because the rib cage provides you with enough space to get creative.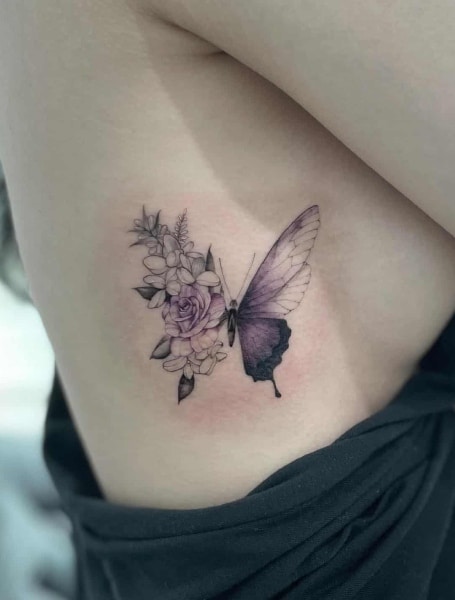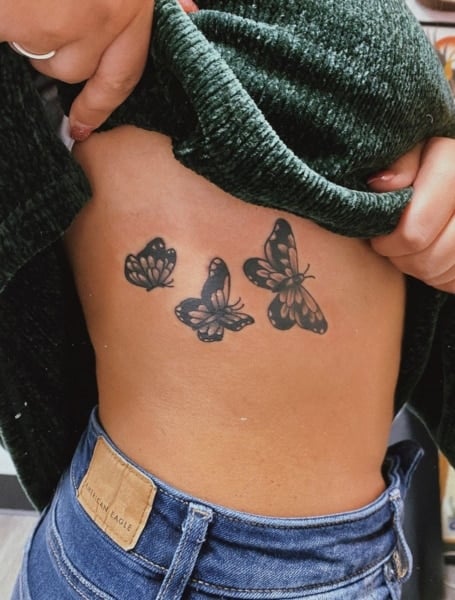 47. Butterfly Spine Tattoo
Spine tattoos look great and will draw attention to your back in a sensual way. The best designs for the spine are often long and narrow, but you do not have to cover the full surface and can opt for a small butterfly design in the center instead. Despite how cool they look, spine tattoos are incredibly painful.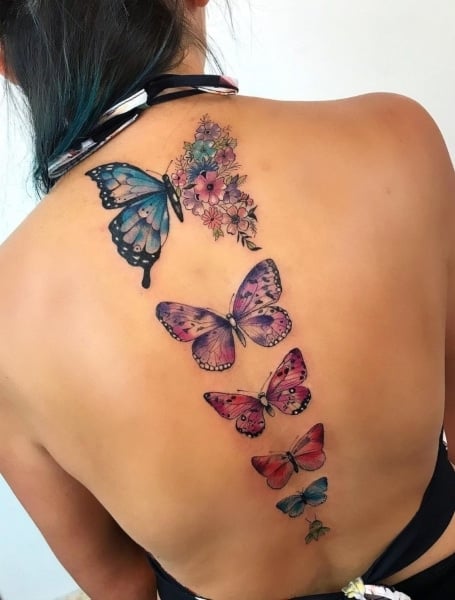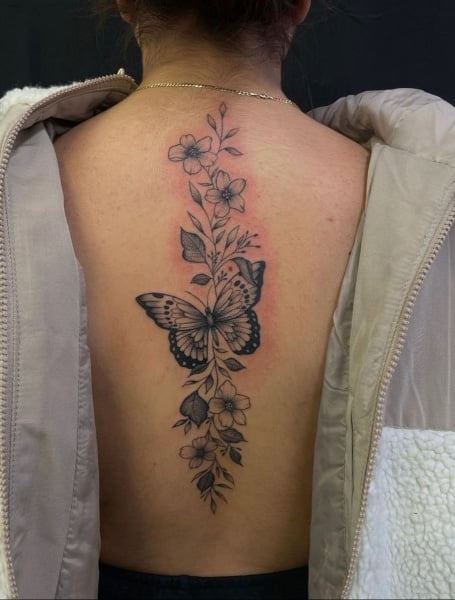 48. Butterfly Heart Tattoo
The heart represents love and passion. There are many ways to design a heart tattoo, including a simple symbol or opting for an anatomical representation. You can also include a butterfly in your design to add to the overall meaning of the design, representing the importance of love or how you, and your heart, have changed.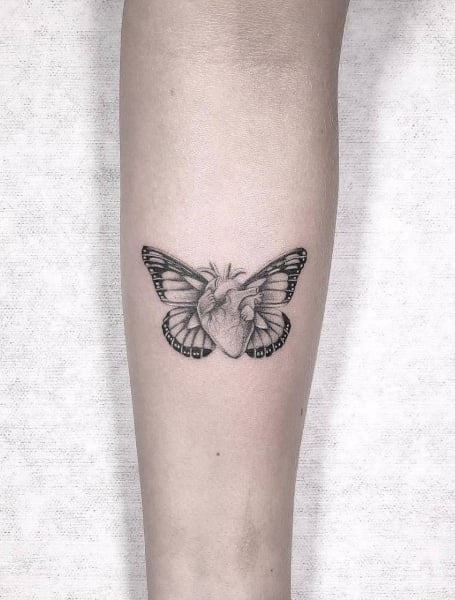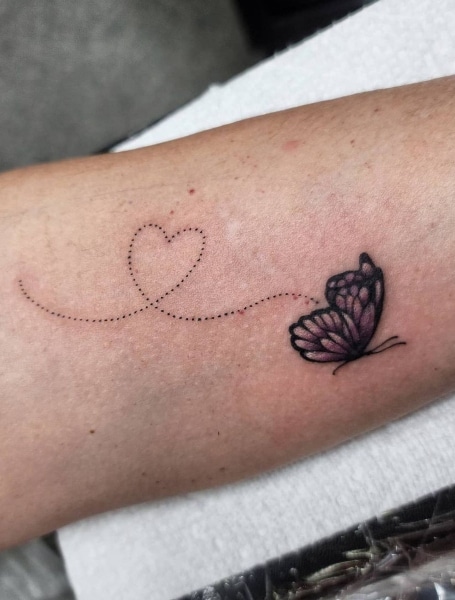 49. Yellow Butterfly Tattoo
Yellow is a color associated with positivity and warmth, and a yellow butterfly has similar symbolism. This is an excellent choice for someone who wants to honor someone who has passed because a yellow butterfly can be a sign of peace and bring the wearer comfort. Incorporating yellow into your tattoo will make for a bold and eye-catching piece.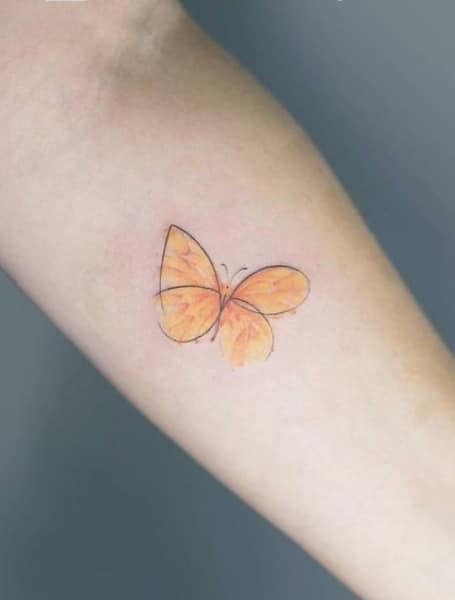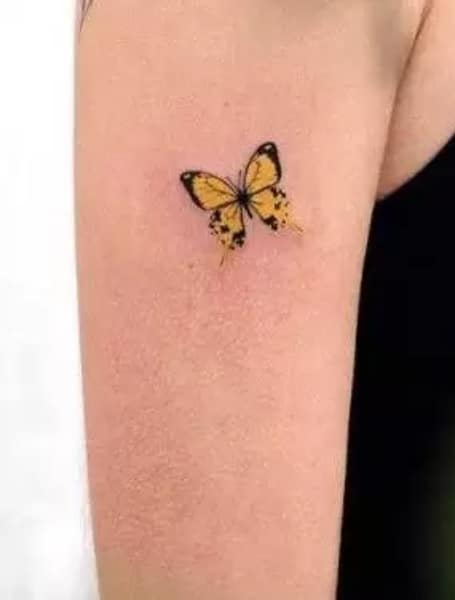 50. Butterfly Sternum Tattoo
Sternum tattoos are sexy and cool. They draw attention to one of the most beautiful parts of a woman's body and can be a way to celebrate your body and embrace your female power. It is a versatile placement because it can be easily covered, and is ideal for designs, like a butterfly, that is meaningful because you can keep them close to your heart at all times.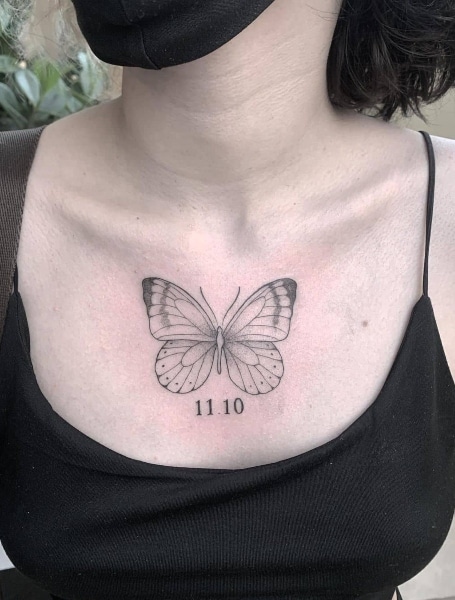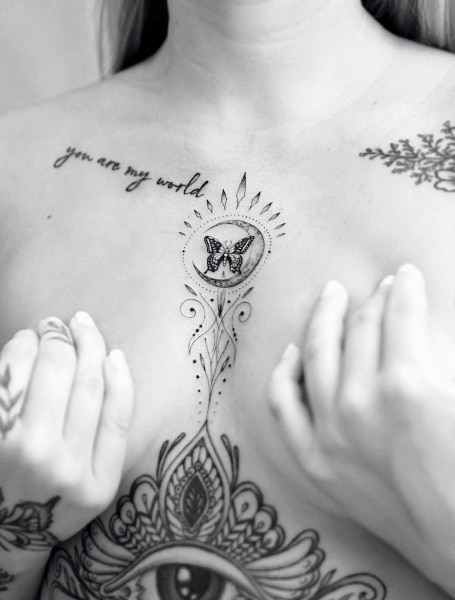 51. Butterfly Infinity Tattoo
The infinity symbol represents the concept of forever or endlessness. This can be a way to show that you feel there are opportunities for the taking or could represent how you feel about your relationships and how you will always be together. Adding a butterfly to the infinity tattoo design can make it more beautiful and delicate. It will also add to the overall meaning, representing change and transformation.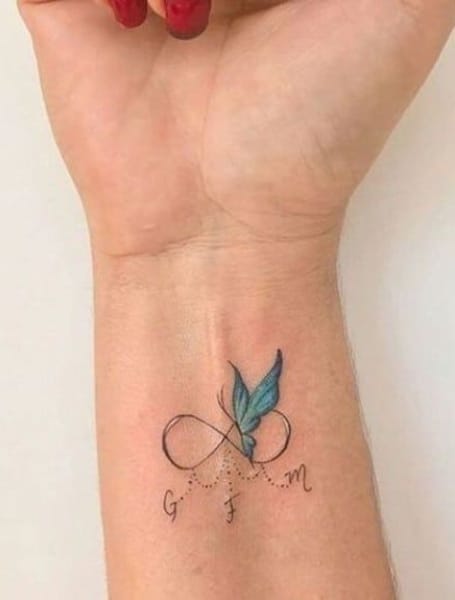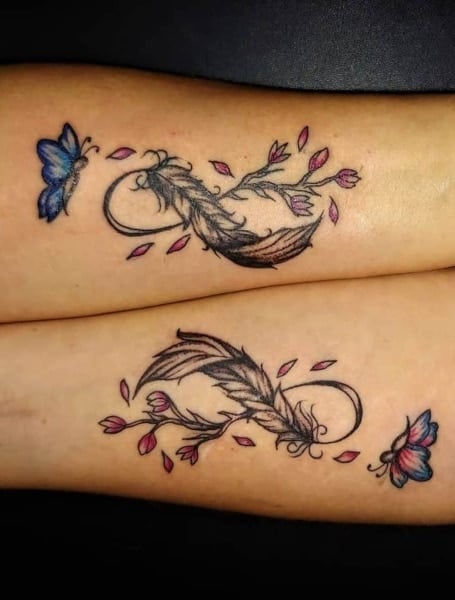 52. Henna Butterfly Tattoo
For those who are drawn to body art but are not ready to take the plunge and commit to something permanent, a henna tattoo can be a great way to experiment. It will give you the opportunity to try out a tattoo, but without the pain. They are made from a plant-based ink or paste and will fade naturally over time.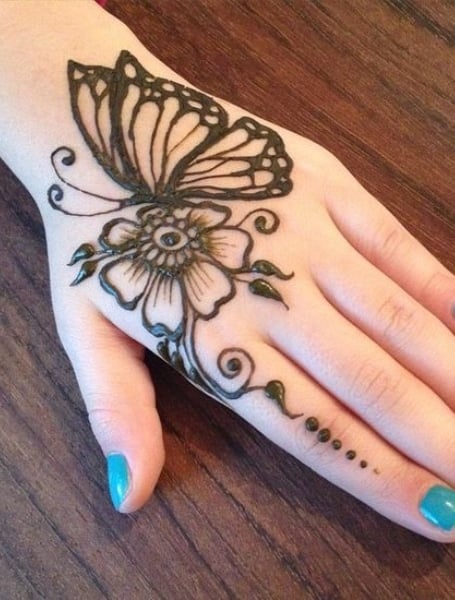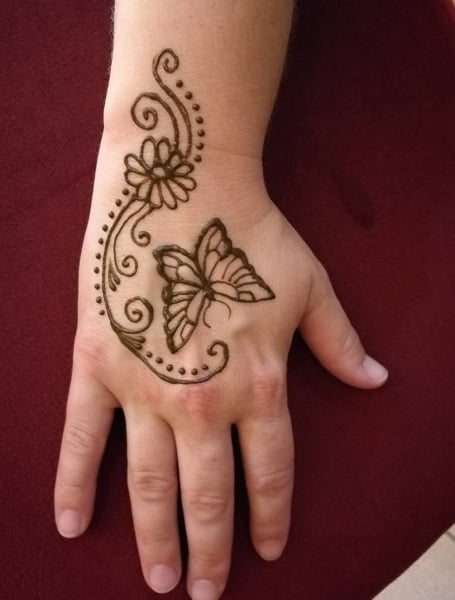 53. Pink Butterfly Tattoo
Pink is a color associated with love and femininity. Incorporating it into your tattoo is a wonderful way to highlight your chosen design. There are several shades of pink, depending on how bold you want your design to be; pale colors will be more subtle while hot pink is vibrant and unmissable. A pink butterfly can be tattooed to celebrate femininity or show a softer side to your personality. It is also symbolic of compassion and love.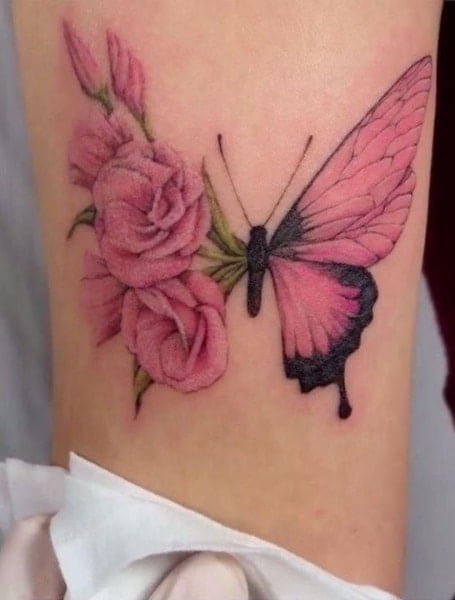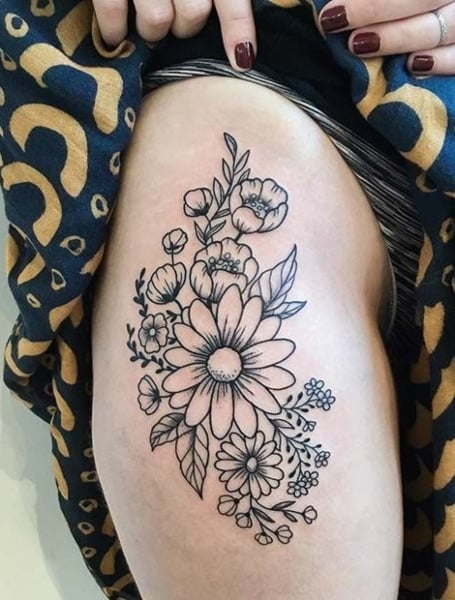 Butterfly Nails FAQs
How much do butterfly nails cost?
The cost of getting butterfly nails done is dependent on several factors, including whether you decide to do them at home or plan on heading to a salon. There are also many designs to choose from, each varying in complexity. If, for example, you opt for simple stickers and a fuss-free manicure, it will likely cost less than intricate 3D nail art. Other things to consider include the length of your nails and the type of polish you wish to use, such as regular or gel.
What are the best fake fingernails?
Several fantastic brands specialize in artificial nails. Some of the top picks include Kiss Everlasting French Artificial Nail Kit, DaMagic Press Go-Go Glitter Press-On Gel Nails, and Full of Roses imPRESS Press-On Manicure. Other companies to know include Crowned and Polished, Clutch Nails, and Chillhouse Chill Tips.
How do you stick butterflies on nails?
There are several ways to create butterfly nails, including painting the designs yourself with nail tools and polish or using jewels and stickers. Many YouTube videos are available to teach you how to design your own butterflies or learn how to stick them on, often with nail glue.
Is glue on nails bad for you?
If you purchase good quality nail glue from a reputable brand and take care when applying and removing it from your nails, there is no reason for it to cause damage. You should always follow the correct process of removing nail glue and artificial nails correctly. It is advisable to have a break between using them, which can help prevent future damage and yellowing.
SUBSCRIBE TO OUR NEWSLETTER
Subscribe to our mailing list and get interesting stuff and updates to your email inbox.