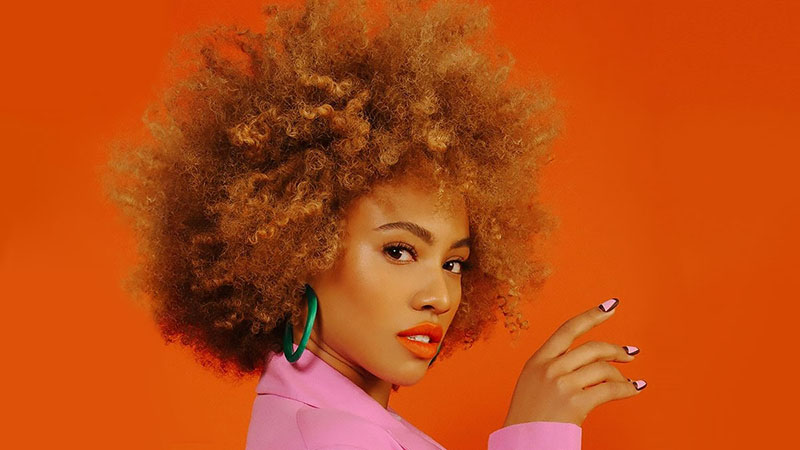 Pink is such a wonderfully versatile color for nails that there's sure to be a hue that everyone likes. Use it to create adorable designs from happy smiling faces and love hearts to abstract art and elegant ombre. Whether you choose a sweet pastel or a fierce and vibrant neon shade, you'll be getting inspired by these pink nail art designs.
1. Smiley Face Nail Art
Wear your feelings on your nails with this happy pink nail art. Depending on how steady your hand is, you can hand paint these smiley faces. Alternatively, decals or press-on nails are also a great option. The neutral pink glitter background looks pretty while letting the faces stand out. Plus, the great thing about this design is that if pink isn't your favorite color, you can change it to any color combination.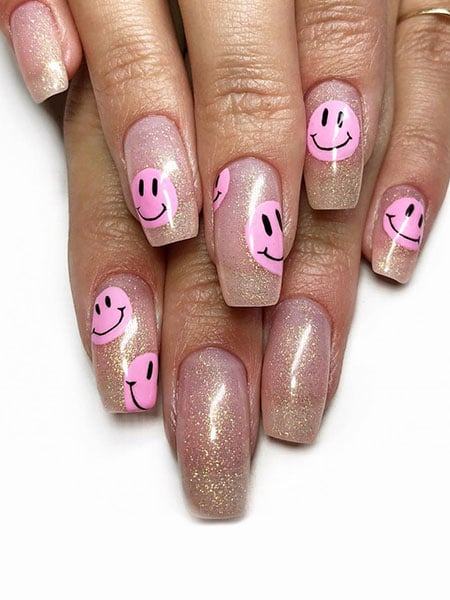 2. Shades of Pink Nails
Why choose one shade of pink when you can have several. This stunning look works best when you have different depths of pink from one color family. Use the same warm or cool undertones and get progressively lighter with each color. Paint the darkest shade on your thumbs, and work from there. You can choose a matte finish, or a high gloss, depending on your personal preference. It's simple yet elegant with a playful, fun twist.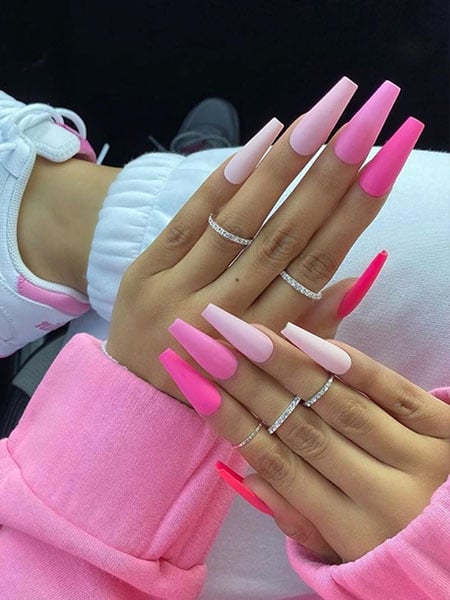 3. Pink Ombre Nails
Ombre nails are on-trend at the moment, and pink is the perfect shade for this design. The smooth transition from dark to light looks stunning and is a great way to incorporate multiple colors. Plus, you can achieve this look regardless if you're using nail polish, dip powders, acrylic, or gels. It can be a bit tricky with some colors, such as black; however, pink is a great place to start because it's easier to get that perfect fade.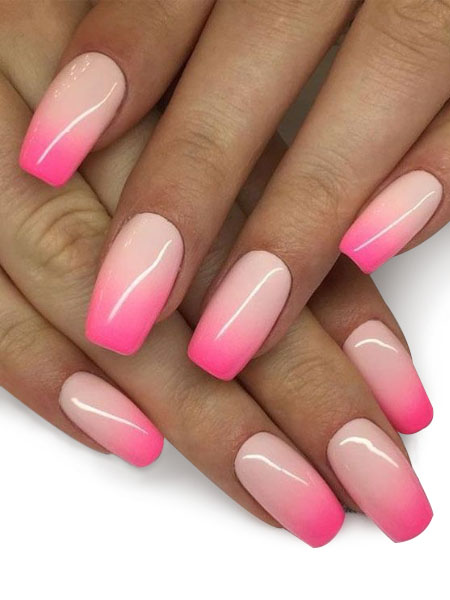 4. Pink Watercolour Effect Nails
Channel your inner artist and let your creative juices flow with pretty pink watercolor nails. This design is a unique take on rainbow nails that looks incredible yet is oh-so-easy to achieve. Apply a base, then a coat of white polish, and a topcoat. Next, put a drop of your first color on a non-porous surface, and add a couple of drops of acetone before mixing. Then, use a fine brush to apply the paint to your nail in a splodgy motion. Repeat with the rest of your colors until you have the desired effect. Finally, finish it off with a shiny topcoat to prevent chipping and wearing. You'll feel like an artist in no time with this artwork on your fingertips.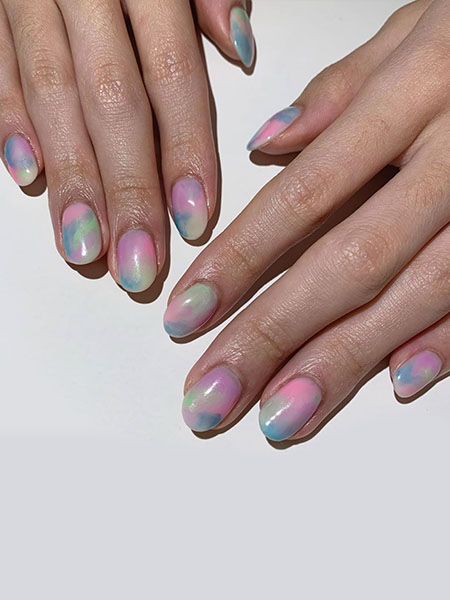 5. Pink Pop Art Nails
Throw it back to Saturday morning cartoons and cheap candy from the corner store with these fun pink pop-art nails. Sailor Moon and some strawberry Hubba Bubba was basically every tween girl's dream. However, just because those years have passed doesn't mean you can relive them. Just make sure to visit a good nail technician with a steady hand to bring your vision alive. Why not try other cheerful TV and candy combos like Laffy Taffy and Eliza Thornberry, or Chupa Chups and The Powerpuff Girls.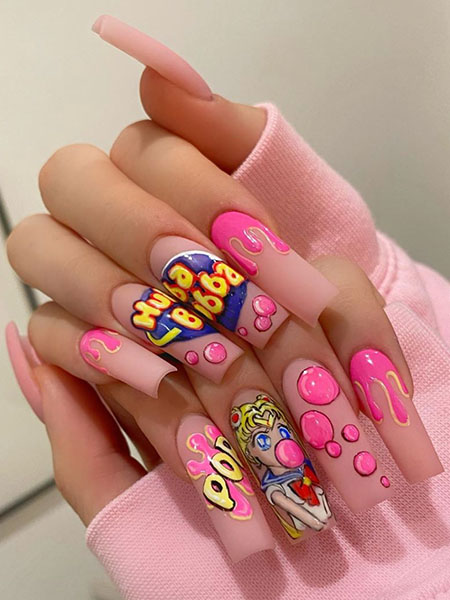 6. Pink Nails with Minnie Mouse Detail
Disney fans will love this adorable design, which features the original princess — the one and only Minnie Mouse. This pattern is best suited to round or square nails, that adds to the innocence of the art. The soft pink contrasts the white feature nail beautifully, drawing attention to the Minnie motif. Meanwhile, the white polka dots tie the whole look together. It's a lovely homage to the famous character without being too flashy.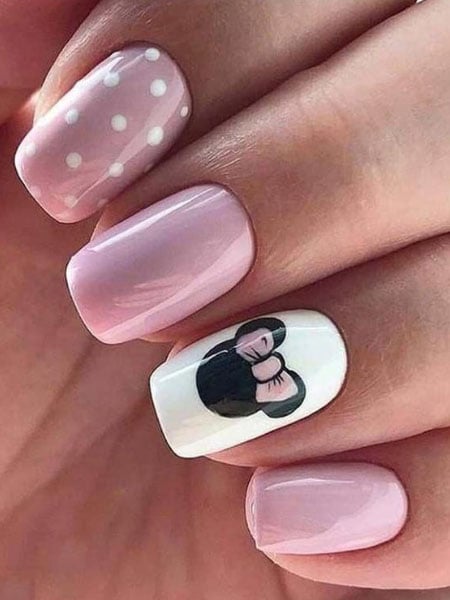 7. Pink Holographic Nail Art
Add some sparkle and shine to your manicure with holographic nail art. It's a spirited take on pink nails, diffracting the light to create a rainbow of colors. This look would be right at home at both a summer festival or Las Vegs poolside. You can use a holographic dip powder or foil sheets to create this look. The best part is, holographic designs look great on every nail length and shape.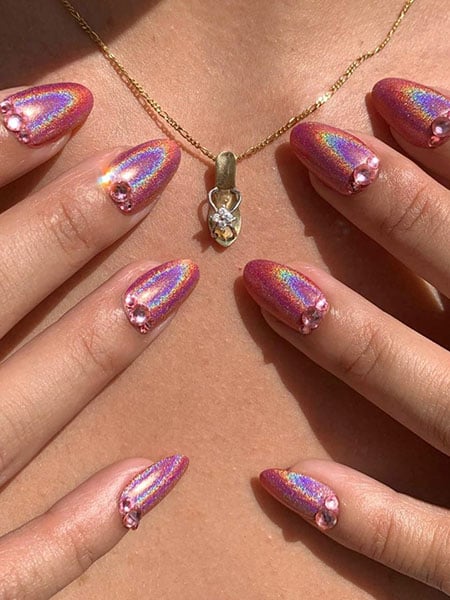 8. Pink Hearts Nail Art
Why wear your heart on your sleeve when you can wear it on your nails? This loved-up look is sweet, innocent, and perfect for date night. Simply choose a light pink for the background, then use a fine brush to paint hearts in a darker hue across the nail. If you want to change it up, you can try painting a mix of small and large hearts. Your partner will feel the love you have for them the minute they hold your manicured hand.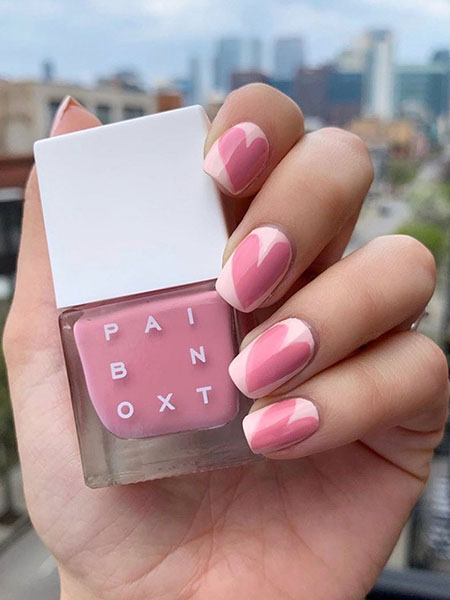 9. Pink Dalmatian Nails
This dalmatian design is one for the dog parents out there. Show your appreciation for the adorably speckled hound with a pink and nude spotty coat design. All you need is a fine brush to paint hot pink splotches on a nude or pastel background. The fun colors ensure you've got more of a Roger and Anita vibe, rather than wicked Cruella De Vil.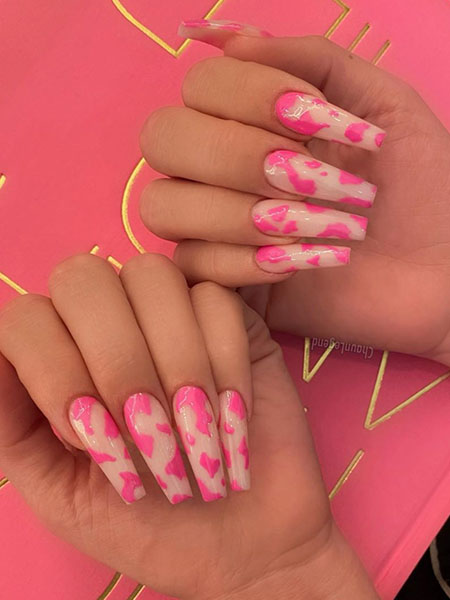 10. Pink and Purple Nails
Pink and purple make a pretty pair. This simple design uses empty space and clean lines creating a fun, easy to achieve look that's perfect for the weekend. All you need to do this yourself is your pink and purple shades, a topcoat, and some nail tape to keep your lines sharp. Start with the lighter color, taping out your section, and filling it in. Wait for it to dry completely before attempting the second color, then finish with a topcoat. This design works best on mid-length oval or almond nails.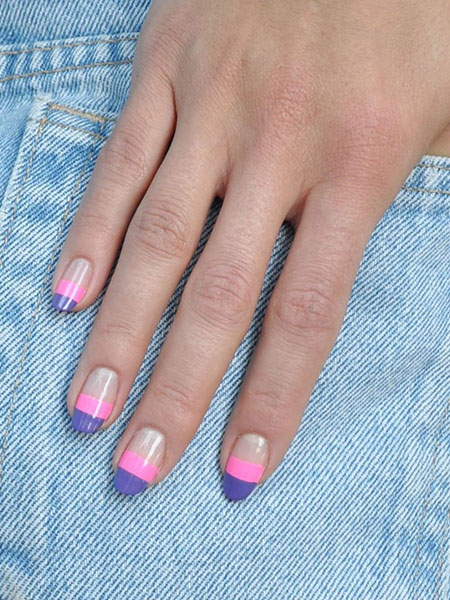 11. Nude Pink Nails
Opt for something unique with pink and nude nail art. While nude can feel a bit drab at times, this manicure makes use of gold and black decals to create interest and vibrancy. Meanwhile, the hot coral pink on the remaining nails anchors the look and adds a pop of color. This style is both sophisticated and cheerful at the same time.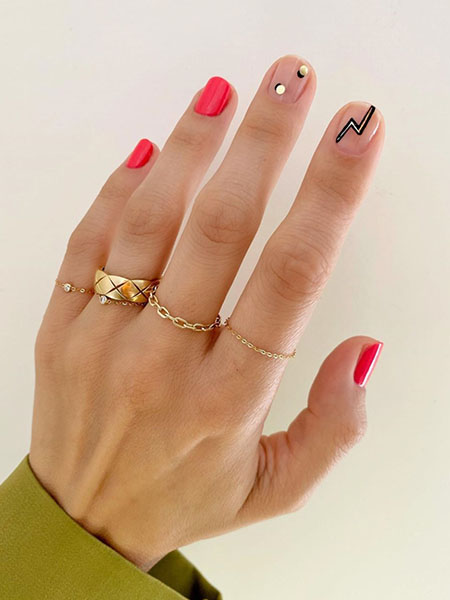 12. Pink and Green Nails
If you can't get Harry Styles' tune, Watermelon Sugar, out of your head, then this sweet design is perfect for you. The green and pink are reminiscent of the tasty fruit, which is also the perfect treat on a hot summer's day. Plus, it's easy to achieve. All you need to do is apply green tips using nail tape for a neat edge. Then, once it's dry, do a double coat of pink over one vertical half of your nail. Feel free to add some black dots if you really want to embrace the watermelon vibe.
RELATED: 20 Green Nails Designs To Up Your Manicure Game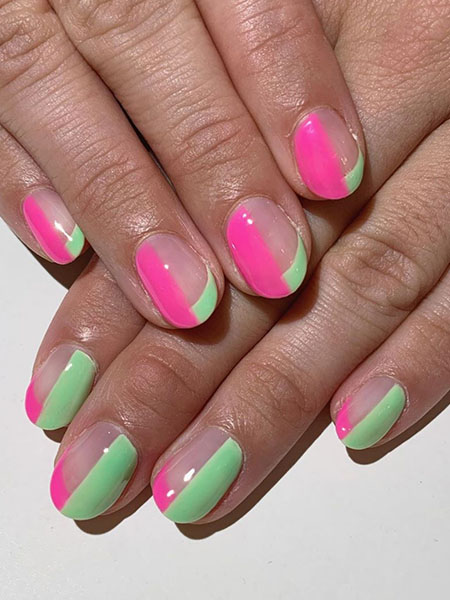 13. Pink and Gold Glitter Nails
Add some fairy dust to your look with pink and gold glitter nails. This effervescent design is great for girls' nights out, New Year's Eve, or any party. It's fun, youthful, and dramatic. Use nail tape to section out a circle at the bottom of your nail, next to the cuticle. Then, use a gold base coat and glitter polish to fill it in. Painting the glitter polish onto a sponge and dabbing it on the nail can give you better coverage if your sparkles are looking sparse. Then, finish the look with a hyper-bright pink for the tips. If you don't have a gold glitter polish, you can also try nail decals or stickers for the same result.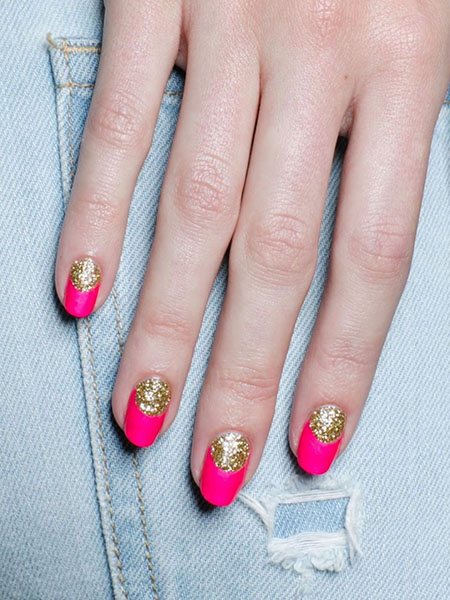 14. Pink Abstract Art Nails
Abstract art doesn't just belong in the gallery; it should be seen in everyday life. This pink art design uses the stark contrast between black and pale pink and white to create a masterpiece. The nude section of the nail brings in the concept of void space, adding additional interest and appeal. It's the perfect design for edgy and artsy people looking for something more than just a regular manicure.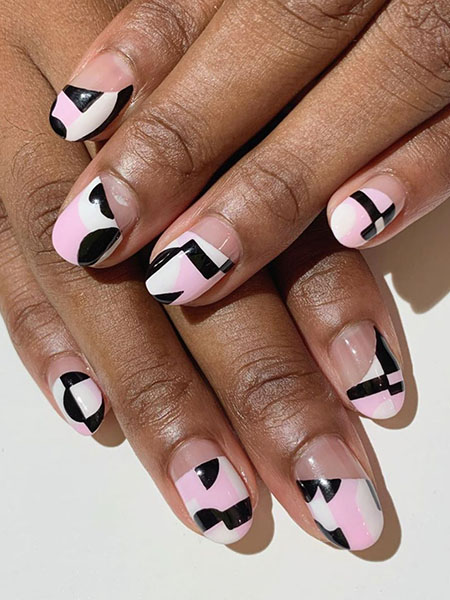 15. Neon Pink and Baby Blue Nail Art
While neon pink and baby blue might not seem the most harmonious match, it works in the opposites attract kind of way. Like some of the other designs on this list, this look also uses blank space to create additional interest and detail. Rock this color combo for a fun event such as brunch or a hen's night. Pair it with some faded jeans and a classic white top, and let your manicure do all the talking.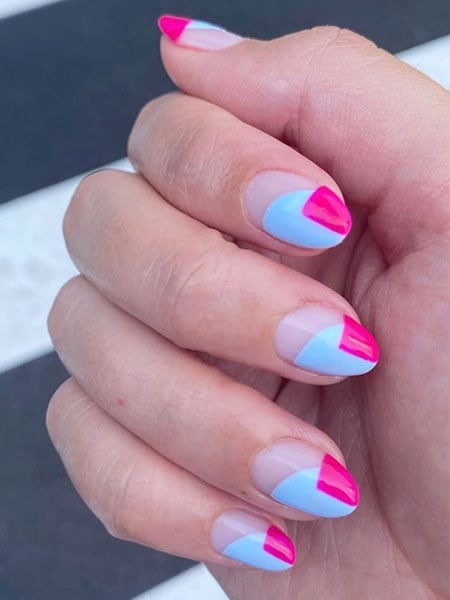 16. Mosaic Neon Pink Nails
Patience is required to create these fantastic mosaic neon pink nails, but it's worth the time it takes. The combination of brilliant color and texture looks incredible. To make this yourself, you'll need a base color, an orange stick or fine tweezers, and mini nail sequins in neon pink. Working quickly while the polish is still wet, use your orange stick or tweezers to place the sequins in your desired pattern. Finally, seal it all up with a top coat to ensure the style lasts, and you can show it off proudly to everyone you meet.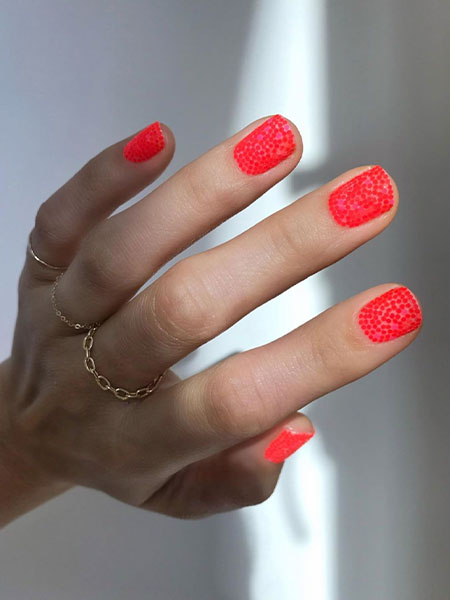 17. Pink French Tip Nails
A french manicure is elegant and classic. However, sometimes you might be seeking something a little more interesting. A modern pink French manicure makes the best of both worlds. Use either a steady hand or nail tape to paint a hot pink outline around the edges of a nude nail. It's interesting without being over the top and adds a subtle hint of color. It's an excellent option for situations where a full pink nail might be a bit much, such as the workplace.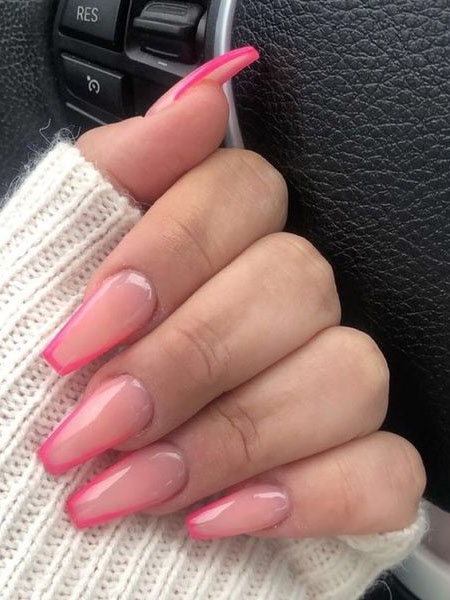 18. Gift Wrap Pink Nail Design
Wrap yourself up like the gift you are! This adorable pink design takes the best gift wrap patterns and puts them on your nails. From cute polka dots to candy stripes and even love hearts, it's a smorgasbord of present aesthetics. The pastel palette works exceptionally well; however, if you wanted to pump up the hues, a bright pink would look equally as good.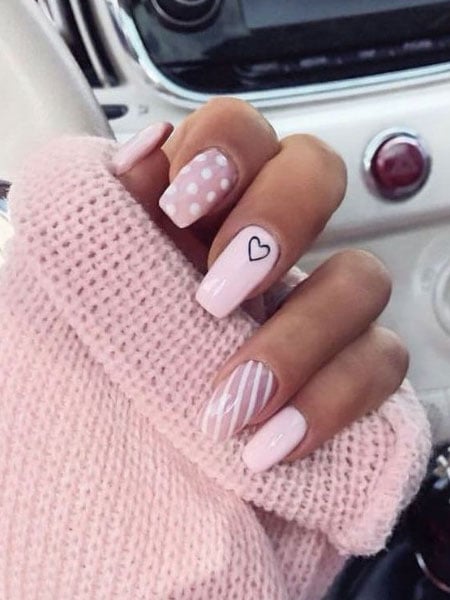 19. Contemporary Nail Art
This unique pink nail art combines a verticle ombre with details similar to the uber-popular resin art that's making the rounds on social media. Use a sponge to create the pink and red ombre as a base, then choose a couple of feature colors for the wave effect. Add a couple of drops of each shade onto a non-porous surface, along with a couple of drops of acetone. Give them a mix to water the texture down. You can then create the waves with a fine brush, marbling as you go. Alternatively, use a straw to gently blow the paint while it's still wet to create the wave look. It can be a bit tricky to perfect the technique, but once you do, your creativity is the only limit.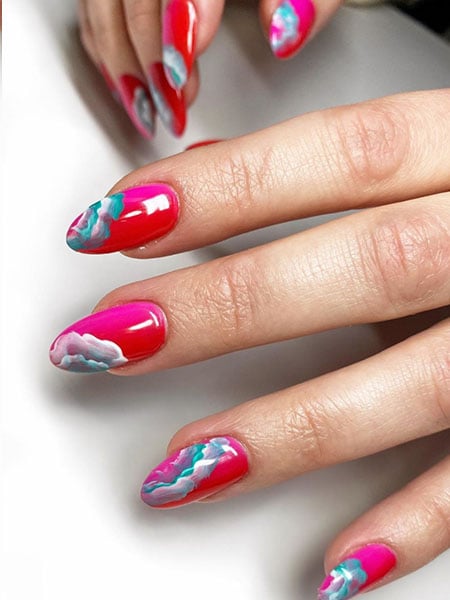 20. Beverly Hills Hotel Inspired Art
The Beverly Hills Hotel is a glamorous and historic Los Angeles property, which has welcomed guests through its lavish doors for over a century. Pay homage to this institution with nails inspired by its distinctive pink walls and lush, palm-filled gardens. Choose a warm, pastel pink base coat. Then, using a fine brush, paint on palm and tropical plant leaves. You'll achieve the best results by using a mix of green shades and white for extra detail. With nails like these, you'll be feeling just as glamorous as the Hollywood starlets who've graced the hotel's halls.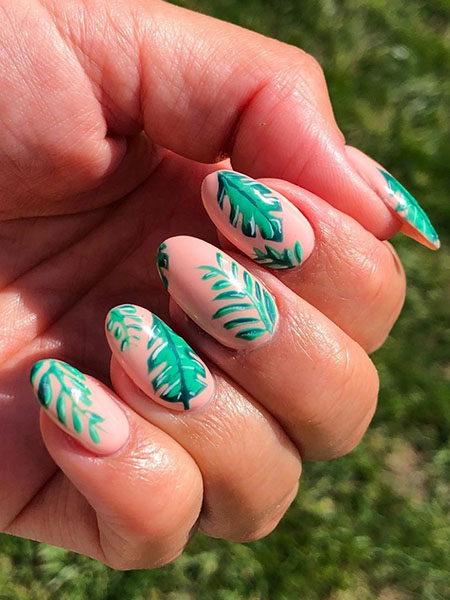 Pink Nails FAQs
What are pink and white nails? 
Pink and white nails generally refer to a French manicure. Most of the nail is painted in pale pink or nude, while the tip of the nail is painted crisp white. It can have a straight smile line, or a rounded one, depending on your preference. A new trend in French manicures is an ombre style, where the white and pink blend together.
How to do pink and ombre nails?
There are a few techniques for pink ombre nails, depending on what you're using. The easiest option is to choose nail polish. Start by applying a base coat. Then you'll need at least two shades of pink and a disposable makeup sponge. Paint both colors onto the sponge, next to each other and overlapping a bit in the middle. Next, bounce the sponge onto your nail to create the ombre effect. Repeat this process until you have enough color built up, and finish with a topcoat.
How to make neon pink nail polish pop?
The best way to make neon pink nail polish pop is to apply it over a white base coat. It's also recommended to do at least two coats of the neon shade to build the color up for a more vibrant finish.
How to get pink nail polish out of carpet?
If the stain is wet, use a paper towel to blot (not rub) as much excess out as you can. Then, use some non-acetone nail polish to continue gently blotting until the stain is gone. Alternatively, for dried nail polish, use tweezers or a scraper to get rid of as many crusty bits as you can. Next, wet the stain with cold water, spray it with hairspray and add a couple of splashes of rubbing alcohol. Use an old toothbrush to gently scrub the stain, adding extra cold water as you go, repeating until the stain is gone.
SUBSCRIBE TO OUR NEWSLETTER
Subscribe to our mailing list and get interesting stuff and updates to your email inbox.