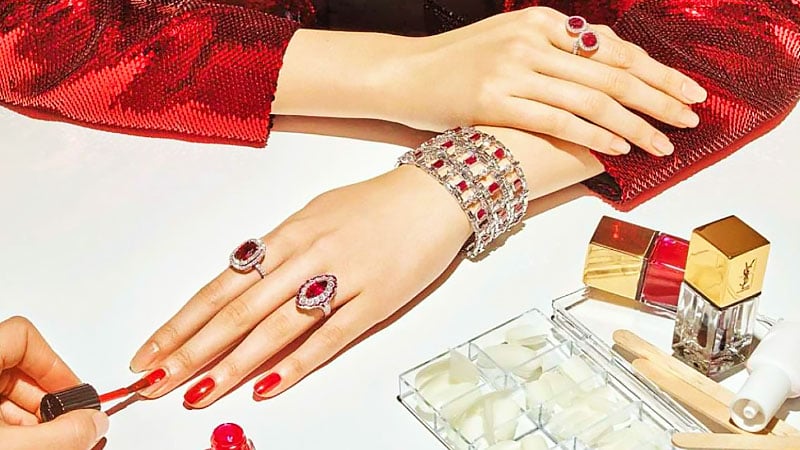 So, you're about to get a manicure, but you're unsure what you want? Depending on the season, occasion, and your style, there's a myriad of nail art to choose from. If you're on the lookout for delicate, timeless, and stunning fingernail inspiration, look no further than these elegant nail designs for all occasions.
RELATED: How to Do Manicure at Home Like an Expert
1. Alice + Olivia Nails
For fans of minimalistic nail art, this subtle and stylish design will be a beautiful addition to anyone's hands. Featuring a dusty pink and white color combination style wraps around the fingers and will make every outfit look sleek and polished. The different shades make your nailbed look elongated and dainty. It's the perfect option for a night out or during spring.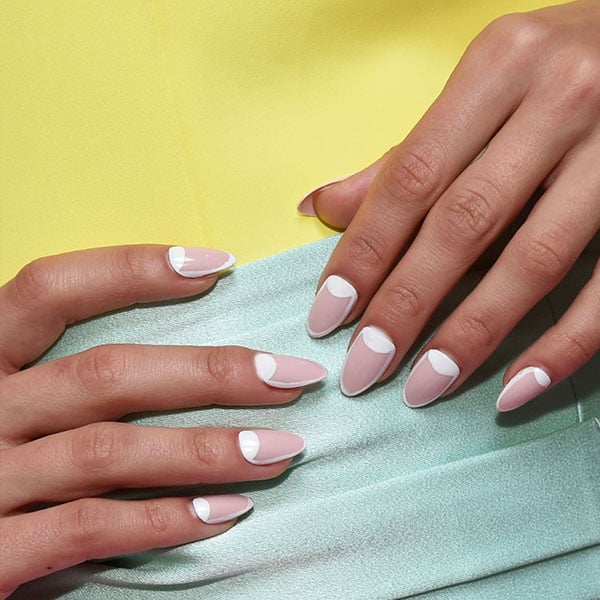 2. Almond Nails
An almond shape is an excellent choice if you'd like to create the illusion of longer fingers. For those who prefer a natural style, you can't look past a nude color. Add a sharp white tip for a sophisticated and modern update to the French manicure. These suit a myriad of events, from the office to a fancy night out with your friends. Switch up the shades at the end of your nails for a fresh twist – try red, baby pink, or even something sparkly!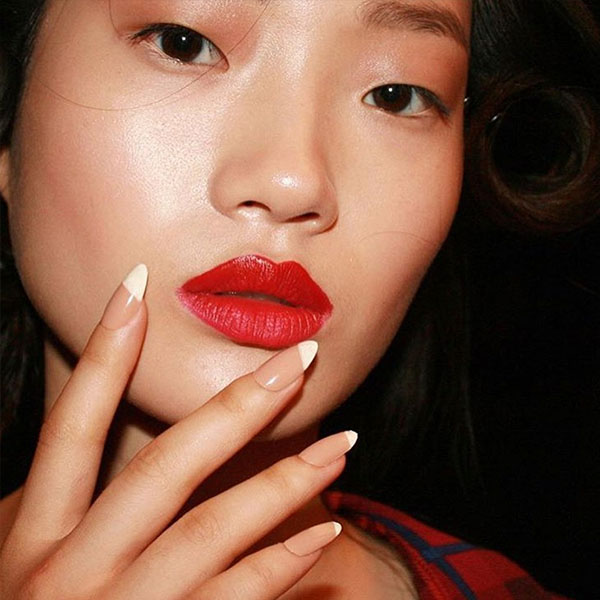 3. Aqua Nails
For those who love soft colors, this aqua manicure is a stylish option for every occasion. With a somewhat retro feel and a modern twist, you can add a series of diamantes to the center of the nail. To make the sparkles stand out more, opt for shades like yellow, gold or orange. It is an excellent choice if you love keeping it minimal with a feminine touch.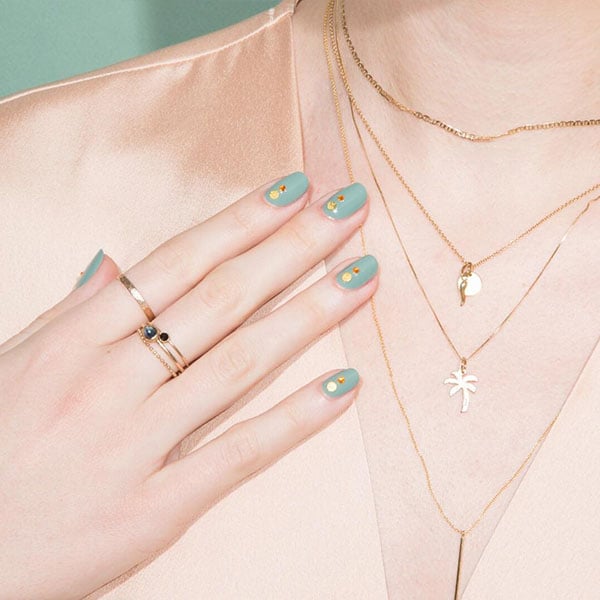 4. Astrology Nails
Are you a proud Libra or Leo? Show off your sign and incite amazing conversations with these astrology nails. The delicate design looks funky from afar and elegant in detail – the celestial patterns are simple enough to wear to any event. Choose shades such as pink, nude, or grey – it will look amazing on every skin tone and suits a myriad of occasions. No matter what your star sign is, this beautiful manicure will reflect your personality perfectly!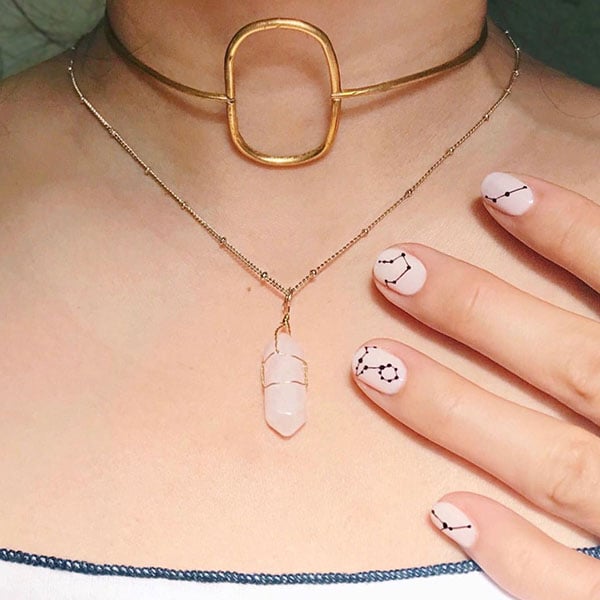 5. Floral Nail Design
Take the garden with you everywhere you go with this delicate floral design. The small and delicate flowers on the edge of the manicure are a fantastic option for a day at the park, picnic, or a spring date. Paint the background of your nails a soft pink hue, or even a light blue or gold – let the flora stand out from the rest of the space on your manicure.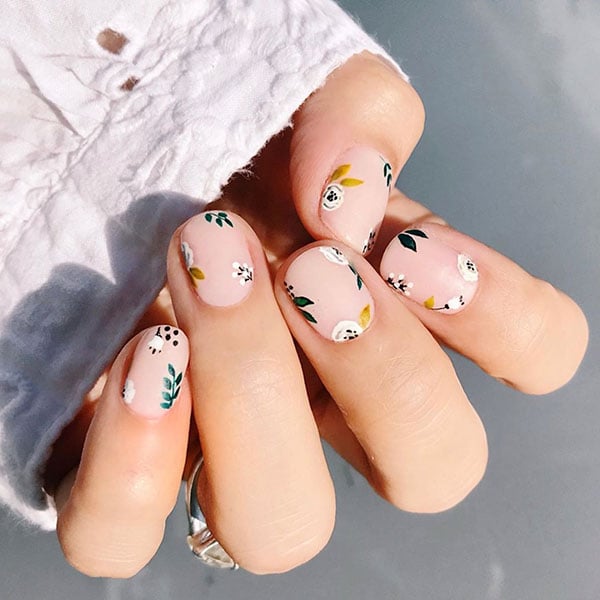 6. Geometric Nails
Who said simple nails have to be boring? These geometric designs are an elegant alternative to the one shade manicure, and they're a modern update for those who love nail art. The trending colors for this season include pink and red – add a single square at the top of the fingernail and leave the rest of the space clean. It's a timeless choice for those who prefer simple and delicate styles.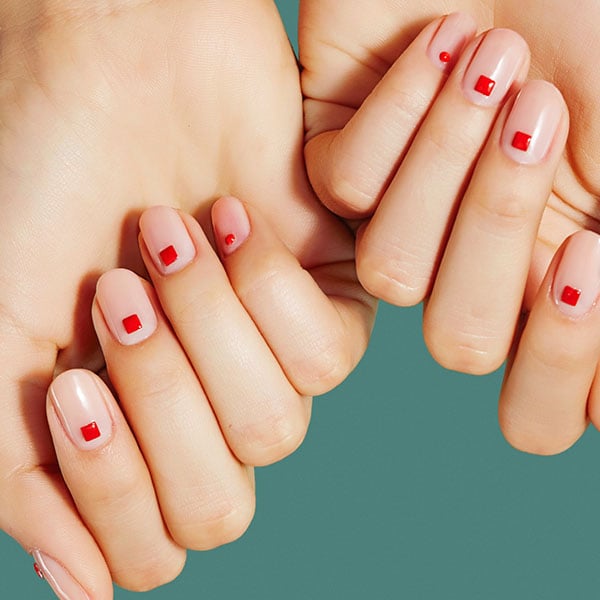 7. Glitter Nails
Get ready for a night of partying with these polished twinkling nails. Sparkling as it catches the light, this is a classic manicure that looks traditional with a subtle twist. Just like the French style, paint the tip of the fingernail in an alternative shade, in this case, with glitter. Choose from gold, silver or even white – show off your true shine with this gorgeous design!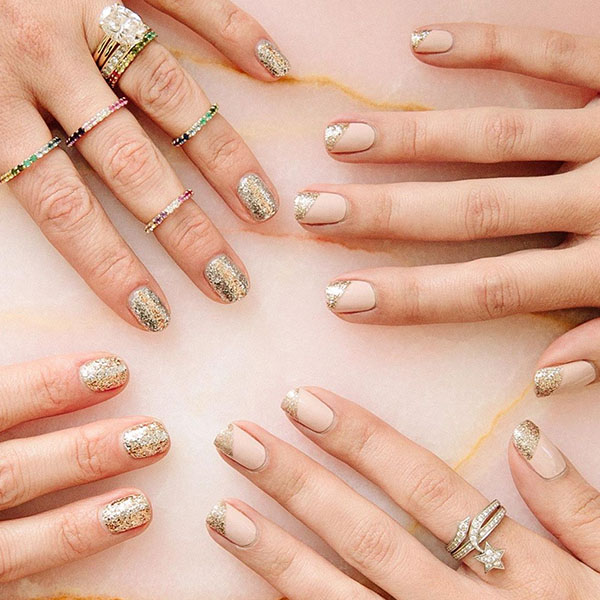 8. Gold Nails
Feel elegant and sophisticated in every outfit with this gold manicure. Create a modern pattern with tiny golden stick-on dots. Choose from a design that covers the whole finger, or keep it simple with a sporadic sprinkle along the cuticle. For those who love designer labels, why not form a series of spots into the Chanel logo? There are so many options to choose from, so you can mix and match to find your perfect fit.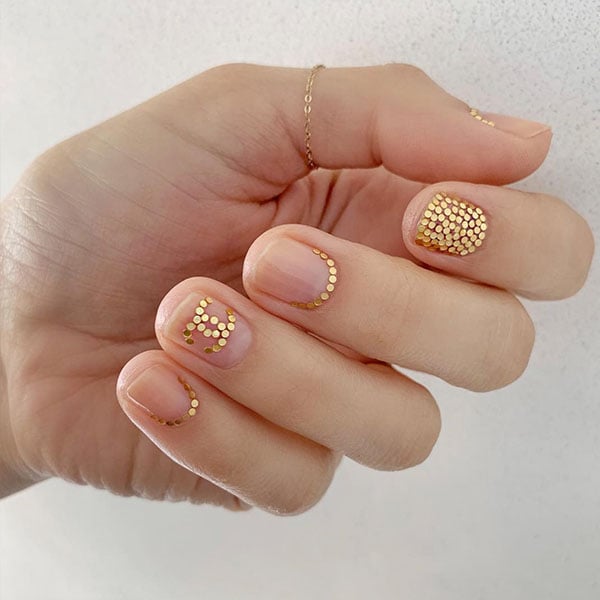 9. Green and Gold Nails
Take it back to the '20s with this Art Deco-inspired manicure. Featuring clean and sharp lines in a crescent shape, the green and gold add an extra touch of sophistication. Swap the shades around to suit you – you could even alternate in patterns on each finger for an updated look. Perfect for date night or even a lunch with the girls, it's a timeless option for modern nails.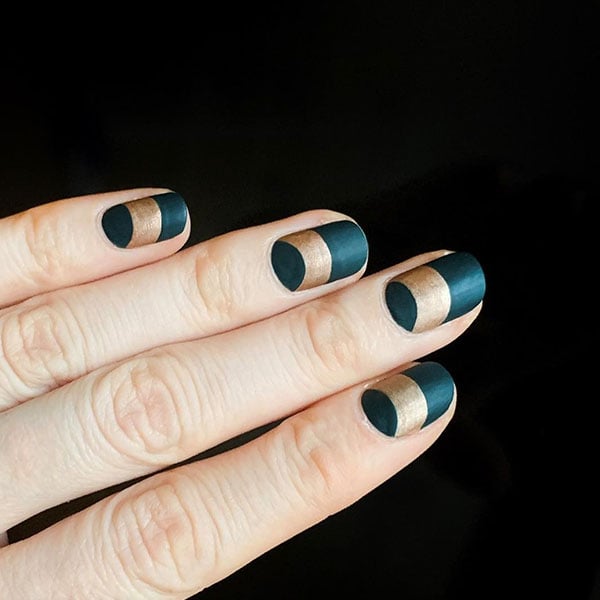 10. Hearts Nails
Whether you're going for a romantic Valentine's Day date or you love this beautiful design, this is an elegant update to the classic French manicure. Swap out the white shade at the tip for cherry red, and let the color hit the middle of the nailbed. It works best with an almond nail shape, as it gives the appearance of a heart on your fingers. Watch as you add a bit of extra love to everything you touch with these beautiful designs!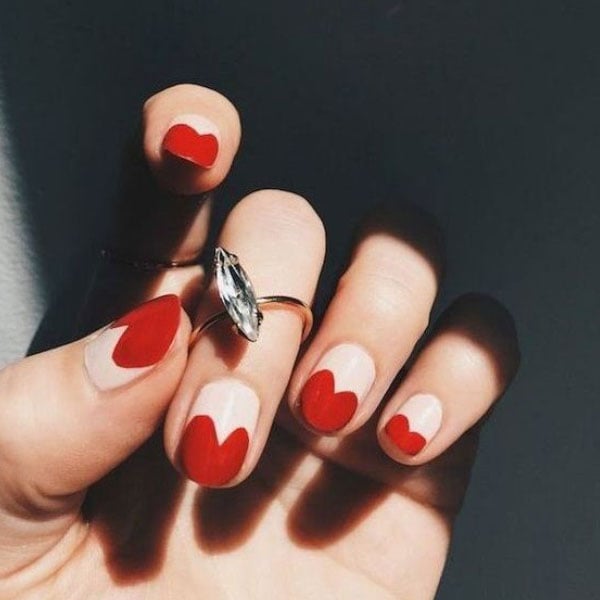 11. Matte Nails
While glossy manicures are a great choice, sometimes it's best to go matte. Subtle and refined, it still provides a cutting edge effect without going over the top. Choose pastel colors like peach, rose, or lavender for a soft and elegant look. If you're interested in achieving a modern style, take the classic French manicure and replace the white for a pretty hue.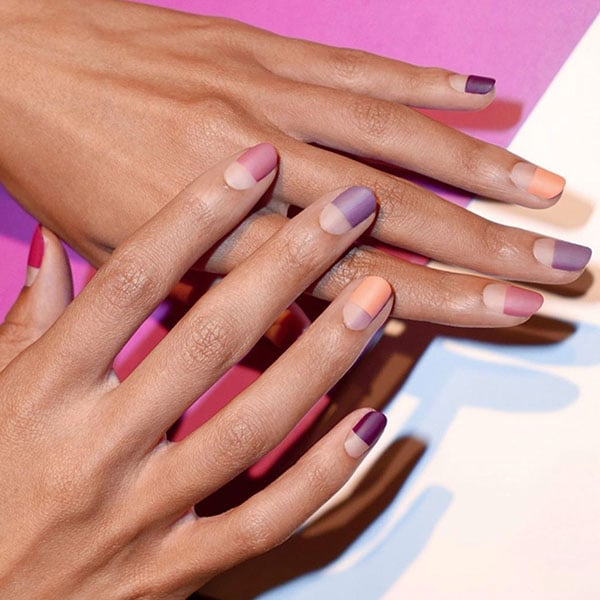 12. Oscar de la Renta Nails
Why have regular nails when you could have something inspired by Oscar de la Renta? This subtle and intriguing design is an elegant choice for any occasion, on and off the runway. The shades of peach and baby pink look best in spring or summer – and just like many of the other designs, it's an updated version of the Fench manicure. Make use of the negative space on your nailbed by adding a few dots in the same shade as the tip, and you'll have the best fingers of them all!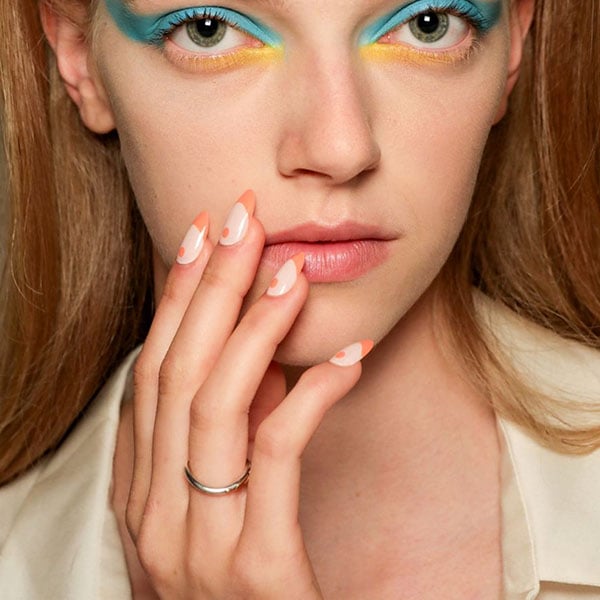 13. Pearl Nails
Pearls aren't just for jewelry; they also make for beautiful manicures. Align the small jewels in two lines down your nail, which instantly makes them appear longer. You can add them to a single finger or place them across your entire hand – there are no rules with this one. It's an elegant addition to a clean and simple manicure, and it elevates your look, no matter where you're going.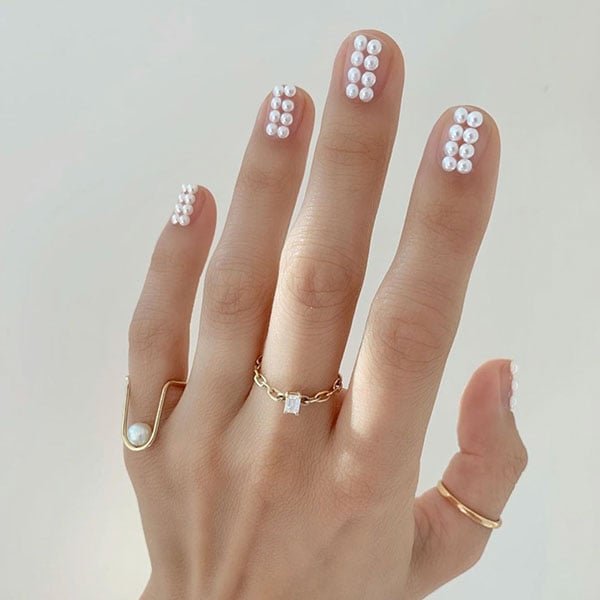 14. Stripes Nails
Take your manicure to the next level with this striped design. Although it's simplistic, it offers a stylish alternative to classic polish. With a thick and thin line placed under each other, it gives the appearance of longer nails with a designer flair. If Gucci inspires you, choose shades like cherry red, bottle green, or navy blue. Opt for a nude shade for the base coat, which makes the opposite hues stand out more.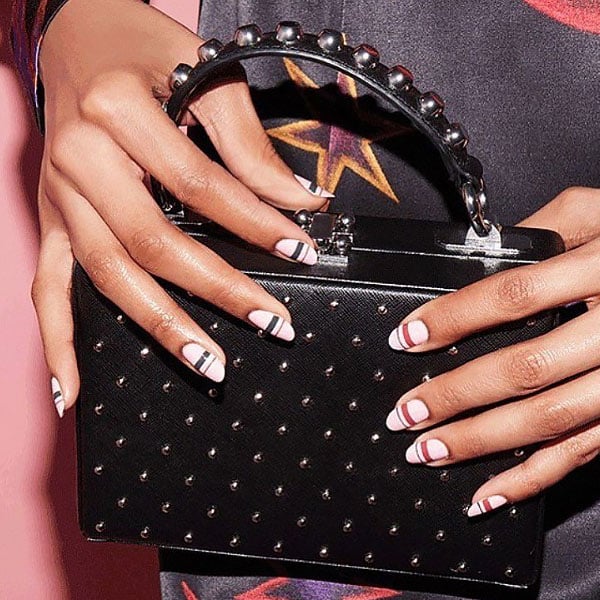 15. Simple Nails
Simple and elegant, these manicures do all the work for you. Sticking to a pearlescent shade as the base coat, you can create artwork in the center with a single holographic stripe. It may seem plain to some, but it elevates your outfit without going over the top. If you're not a fan of the multi-faceted colors, you can swap it out for a bold hue like black, blue, or even red. The key to this nail art is keeping it uncomplicated – less is more!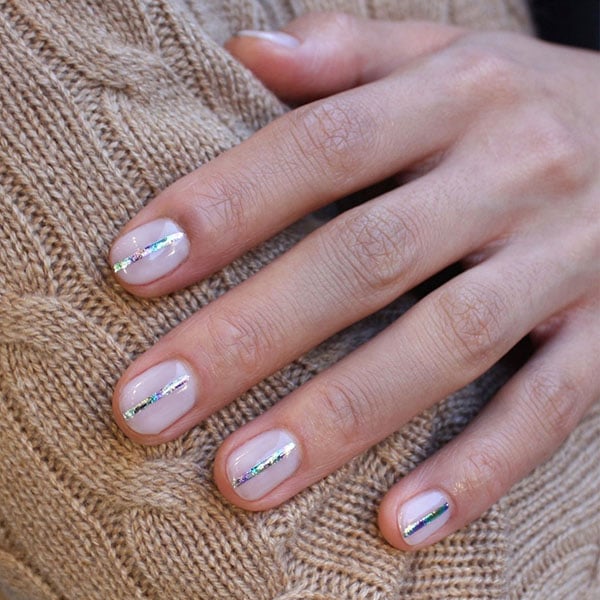 FAQs
What is the most elegant nail color?
The most elegant nail color for your manicure depends on a few things; the season, the setting, and your style. If you keep this in mind, it is tough to pick just one shade, but many people consider the classic French manicure or pastel hues to be among the most tasteful and versatile choices.
What are the different nail art designs?
The beauty of nail art is that the limit is your or your nail technician's creativity, and there is a wide range of options to choose from. You can pick soft, elegant colors or make a bold statement by flaunting bejeweled nails or beautifully painted talons. A few popular options include floral nail design, geometric, glitter, and striped nails.
What color nails are trending?
The nail color trends you can expect to see everywhere in 2022 include spearmint, mulberry, minty green, candy shades, and natural hues. There are also more bold options like coral red or vibrant yellow, one of the most luminous shades and is often associated with happiness, hope, and enlightenment.
What is the nail color for 2022?
Several fantastic colors are trending for 2022 that are eye-catching and fun. These include vibrant yellow, white, grey, shades of blue, jacaranda, and orange. Or, if you cannot decide on one color, you can embrace the all-at-once trend, which will have you painting each fingernail a different hue.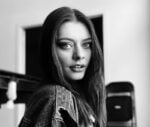 Alexandra Feiam is an experienced fashion writer who holds a degree in journalism. She has an impressive portfolio and expertise working as the Editor at Power Retail and Commercial Content Editor at Newscorp. Ally has been writing for The TrendSpotter since 2018, and her work has been featured in notable publications such as The Herald Sun, Arirang TV South Korea, Kidspot, The House of Wellness, and The Daily Telegraph.
SUBSCRIBE TO OUR NEWSLETTER
Subscribe to our mailing list and get interesting stuff and updates to your email inbox.