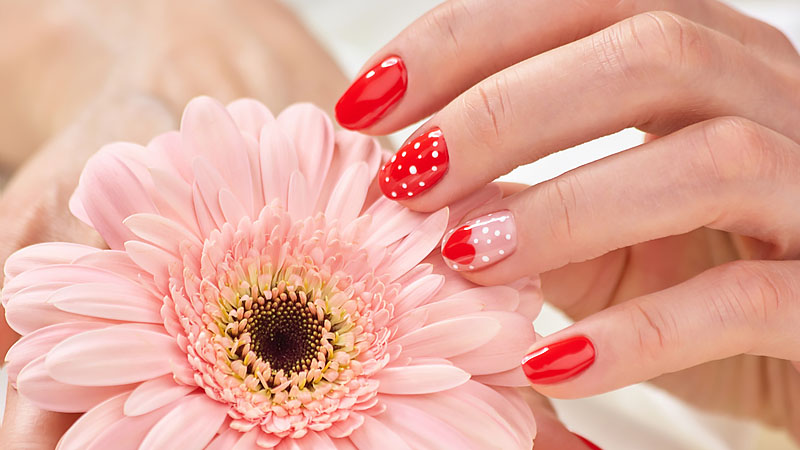 Valentine's Day is an opportunity to celebrate the love in your life, but it is also a chance to embrace super cute nail art. From teeny-tiny heart stickers to love heart tips, there is something to appeal to every personality and style. The classic pink, red, and white palette always has a timeless and feminine feel to it, but don't be afraid to try out bolder shades or make a playful or creative statement. If you prefer a more fuss-free approach to your nails, finding a fun lacquer in a bright color, like Fuschia, is great. Plus, it can be worn in a variety of different settings. Those who are more daring will be drawn to the pink and red take on the classic French manicure or can spell out their affections with Scrabble-inspired talons. Keep reading to find the perfect look for your love-inspired look.
1. Love Heart Tips with Pink Base Color
Love heart tips with a pink base color is a look that is bound to show off your hands. To achieve this design, you need long nails with pointy tips. Start by applying your base coat, then paint one end of the nail in an oval shape first. Complete the heart by doing the other side. The combination of deep red and pink may seem predictable for Valentine's Day, but it is striking. This is a manicure that, although relatively simple to create, will definitely get people's attention.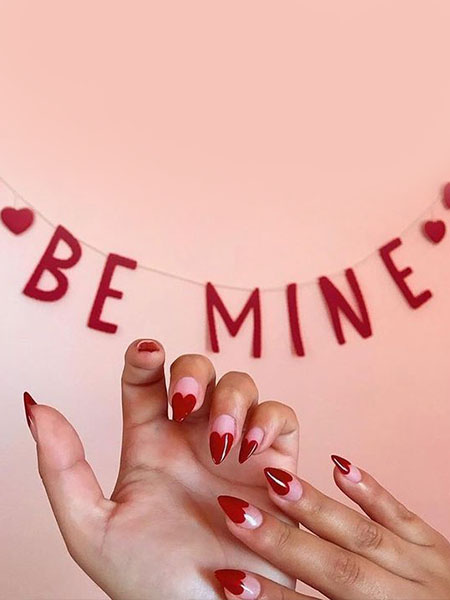 2. Mini Hearts on Feature Nail
If you want a cute yet understated look for Valentine's Day, then this is the option for you. This design's beauty is its simplicity. It is very easy to wear, and it lends itself well to a variety of different settings. Even those who don't typically paint their nails on the day of love can get into the romantic spirit with this mini hearts on a feature nail option. You can choose to create little hearts yourself, or if you don't have time, then opt for stickers. Don't be afraid to experiment with various pink shades to find what works best for you. You can even match the shade of your polish to your favorite outfit.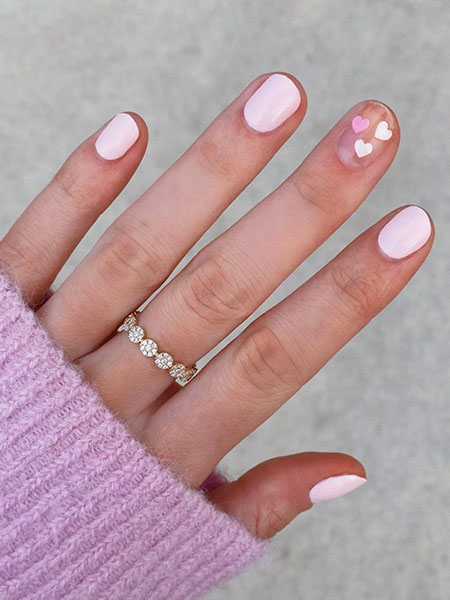 3. Red Nails with Heart Tips
Forget the classic French manicure and embrace red nails with heart tips! Sometimes the best nail art is the most subtle. The detailing on these nails is very simple yet effective, especially when combined with such a striking hue. Red is a color that demands attention and takes a lot of confidence to pull off, but it is a feminine shade and represents love and seduction. It would be best to create this look if you had a steady hand because precision is important. It may take you a few tries, but mastering this look is well worth the time and effort. Alternatively, you can head down to your local salon and have the talented technicians complete it for you.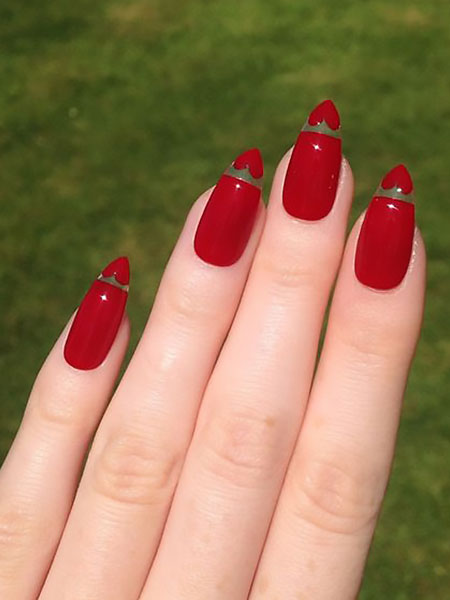 4. Romantic Florals
Bold manicures are a great way to show off the fun side of your personality. Heart nail designs will be popular for Valentine's Day, but you can also opt for something a bit different, like romantic florals. To achieve this look, opt for a neutral base coat and then paint tiny flowers onto each finger. You can get creative with the colors you choose, tailoring your nails to match your look or use your favorite shades. The result is feminine and cute, and if you're single this year, this is also a nice way to give yourself flowers.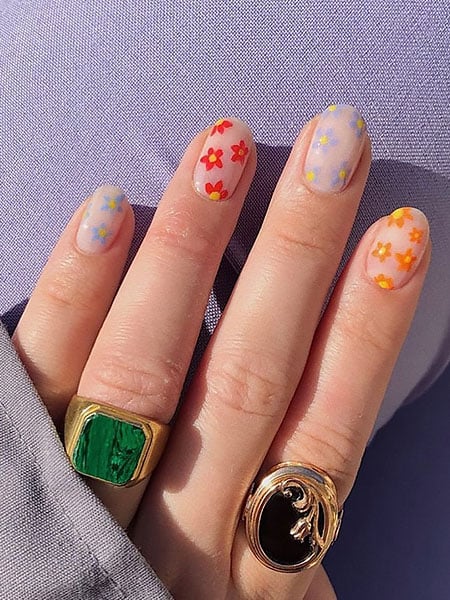 5. Pastel Hearts Nails
Pastel nails are pale and soft, and they have a particularly dreamy feel to them. They have the ability to transform your mood and brighten your day, and they are always in style. The most common shades are candy pink, creamy mint, baby blues, and light yellow, and you can paint each nail with a different hue to create an interesting manicure. If you really want to make a statement, try matching your nail colors with your accessories or favorite outfit. Alternatively, you can pile on your rings to really draw attention to your hands.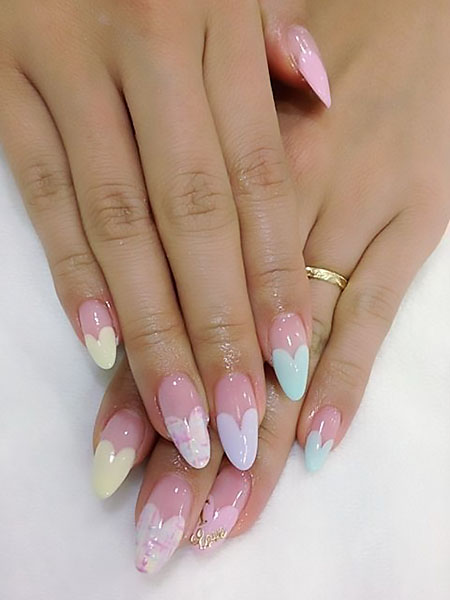 6. Pink and Nude Love Heart Nails
Do you want fingers that have a wow factor? Well, then look no further than pink and nude heart nails. The shades really complement each other, with the nude base coat allowing the pink to really pop. Use a fine brush to paint the heart-shapes, and if you have a particularly steady hand, you can also paint a smiley face or various other details, which adds to the look's cuteness. When your partner takes your hand on Valentine's Day, they're bound to feel the love.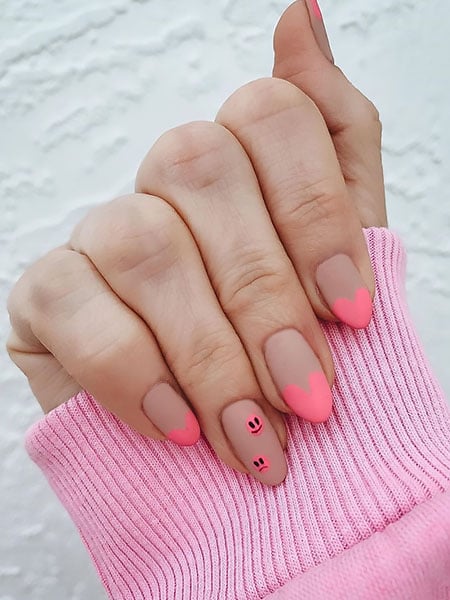 7. Red Hearts All Over Nails
Nothing says love like having tiny red hearts painted all over your fingernails, right? Get creative by adding small hearts to your talons. You can play around with the look, opting for multiple hearts in various sizes: some little and others bigger. It is also particularly eye-catching when each finger has something different. The overall effect is girly and cute. Plus, it's easy to look at, and it evokes feelings of happiness and joy. If you want your nails to be the focus of your appearance, then try wearing them with a solid neutral color like nude, white, or black to really let them pop. You can also try matching your talons to a stunning shade of red lipstick.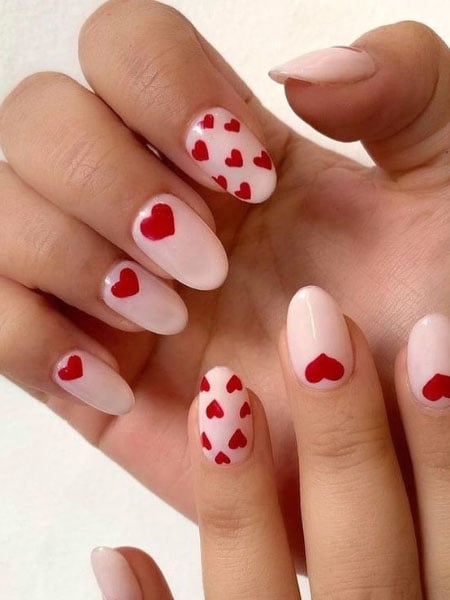 8. Scrabble Love Nails
Show off your creativity and your spelling skills with the Scrabble Love nail option. It is a wonderful way to get all romantic and celebrate the important relationships in your life, whether that's a partner, family, friends, or even self-appreciation. The black and white option is also particularly striking. The monochromatic look lends itself well to a variety of different settings. Plus, it is easy to mix and match with just about everything in your closet. It is the perfect manicure for almost all occasions, whether you plan to attend a cocktail party or enjoy a picnic on the beach.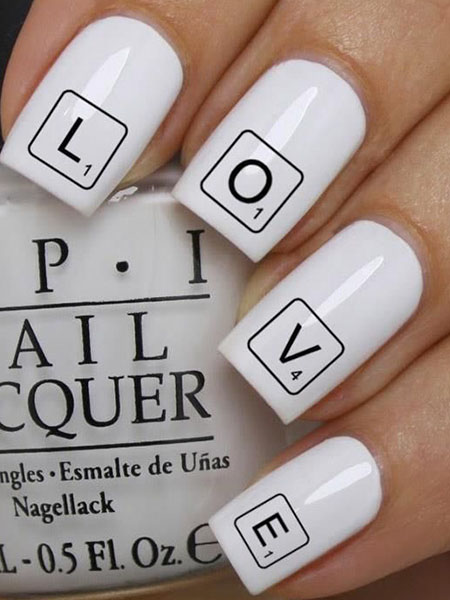 9. Baby Pink Love Heart Nails
You've heard the saying wear your heart on your sleeve; well, why not on your nails, too? The candy shades of pink are so romantic, but they are also trending in 2021. The color is effortless to wear and is perfect for nails of all lengths and shapes, whether you have stiletto talons or short rounded nails. That said, you may feel like you've seen pink a hundred times before, which is why using the hue to create little hearts is a nice way to update it and make it more playful.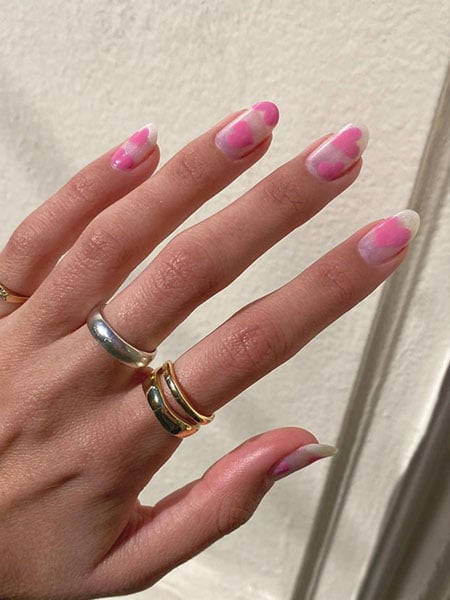 10. Comme Des Garçons Inspired Nails
If you love bold fashion brands, then you will really be drawn to the Comme Des Garçons-inspired nail art. It is playful, daring, and definitely a look to try out for Valentine's Day. It is also a way to show off your fashion prowess. The tiny eyes' inclusion makes the manicure exciting and different and will have people doing a double-take when passing you by. Try it out at home, or head to your favorite salon to complete the look.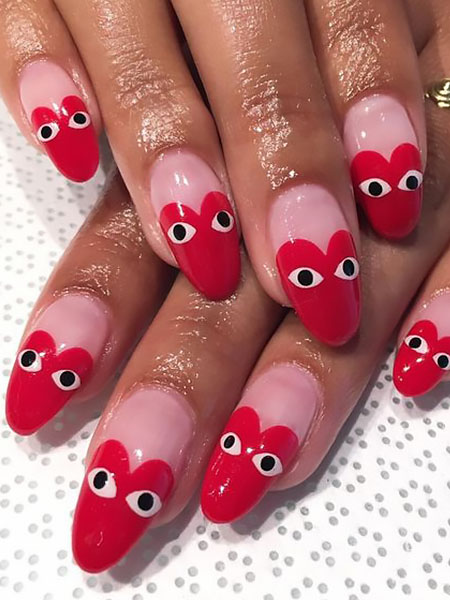 11. Pastel Pink Love Heart Nails
Nails with an accent-shaped heart is another beautiful option for the holiday of love. Pastel pink is a delicate color often associated with sweetness and romance. There are many ways to wear this polish, but it makes for the perfect Valentine's Day look when designed in a heart shape. A nude or white base coat works well with the soft pink and will leave you with super pretty talons. It is festive, it is simple, and it is so feminine. It is also one of the least complicated designs, making it relatively easy to recreate in the comfort of your own home.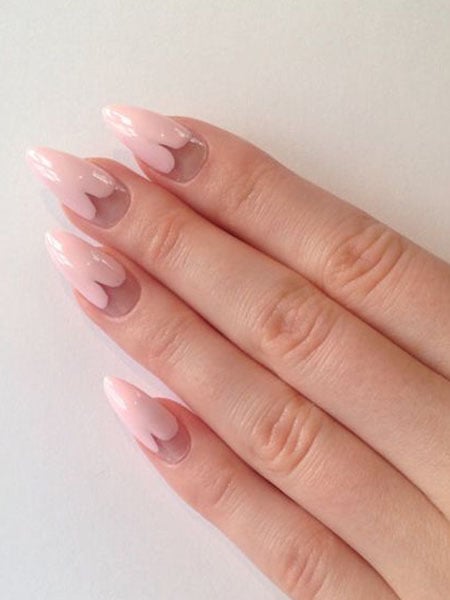 12. Pink and Red French Manicure with Mini Hearts
What better way to celebrate the holiday of love than with mini red and pink hearts? If the classic French manicure isn't romantic enough for you, then you can give it an updated appearance by ditching the white and opting for red and pink lines, complete with tiny hearts. The small accents are subtle and cute, and the two-tones are bold, so together, this look is the perfect combination; and one that is bound to turn heads.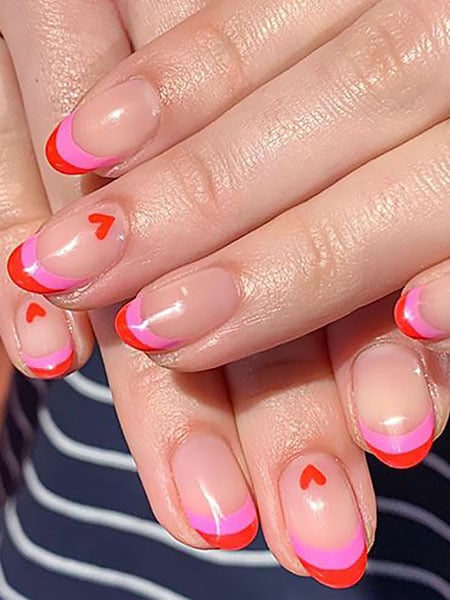 13. Romantic Pinks and Reds
Valentine's Day is a celebration of love, and this is often shown with heart shapes, but you can create a visually interesting and fun look without them. Instead, why not try out these tiny dashes of color, painted along with the tips of your nails. The look is abstract and simple but is also visually interesting. Pinks and reds are a classic combination, but you can experiment with various shades, such as light and dark, to find a design that appeals to you.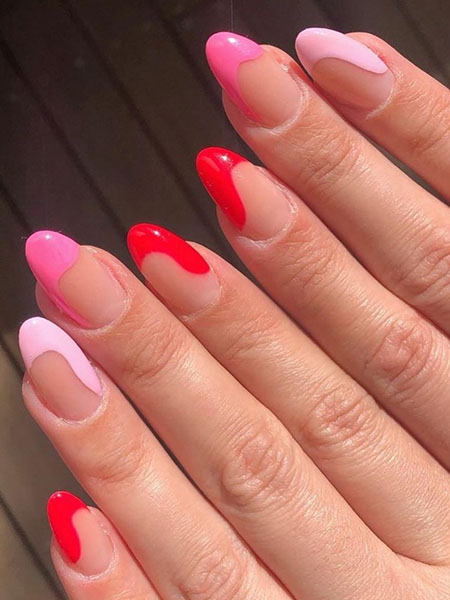 14. Mini Hearts All Over
Feb. 14 is the day we dedicate to love of all kinds, and it is also the perfect opportunity to get creative with your manicure. Mini hearts all over is a fun nail design to try out, and although you will need a super steady hand to complete them, there is also the option of stickers. The classic white and red combination, with white as the base coat, makes the teeny hearts really stand out, but you could also play around with the colors and use various shades. Wear it with a romantic updo, a pretty shade of red lipstick, and your favorite white dress for a monochromatic and super sweet look.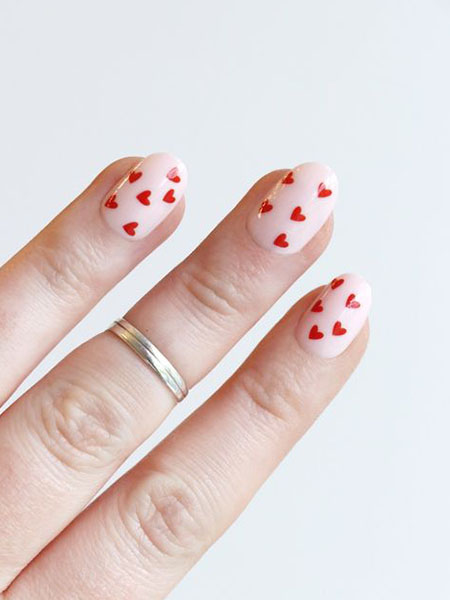 15. Creative Valentine's Day Nails
There is no denying the red and pink make us think of romance and passion, but who says Valentine's Day nails can't be different? Your creativity is really your limit for nail art, and you can opt for a bold, abstract design instead. Add your favorite words that celebrate the holiday, like love or cupid, or if you want to be different, you can even include the name of your crush. There are no rules for what can and cannot work with this manicure, so have fun, be daring, and make a statement!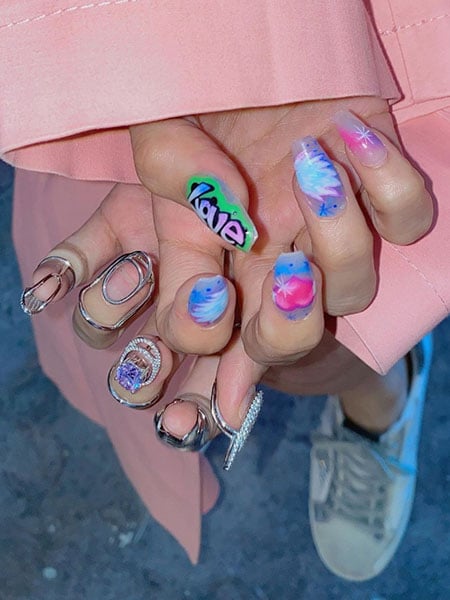 16. Cute Valentine's Day Nails
If you want to create super cute Valentine's Day nails, then gather your pink and red hues and start painting each nail a different color. The classic red, pink, and white combination will really get you in the mood for love! As if this isn't already a lovely look, you can add to it by painting a tiny white heart on each of your talons. This manicure's appeal is that, unlike some other designs, you don't need long nails to recreate it.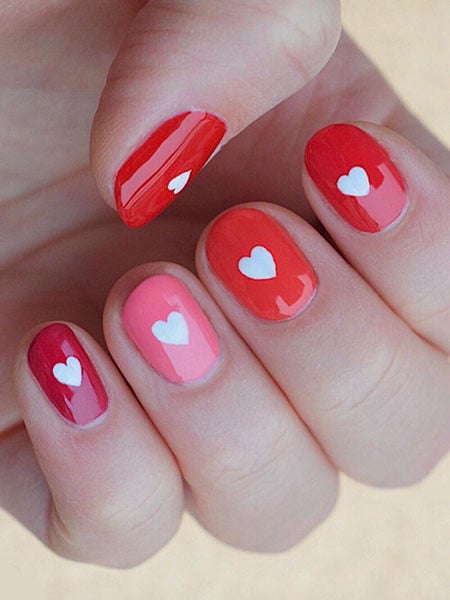 17. Playful Valentine's Day Nails
Your manicure can say a lot about your personality, and although classic designs or bold lacquers are great, it's also important to have some fun with your nail art. These playful Valentine's Day nail designs are cheerful and bright, and just looking at them will likely bring a smile to your face. Feel free to include symbols, such as a smiley face or flower, to make the overall look detailed and exciting. As for the color scheme, it's no secret that red, pink, and white always work well together, but the addition of black creates an even more dramatic effect.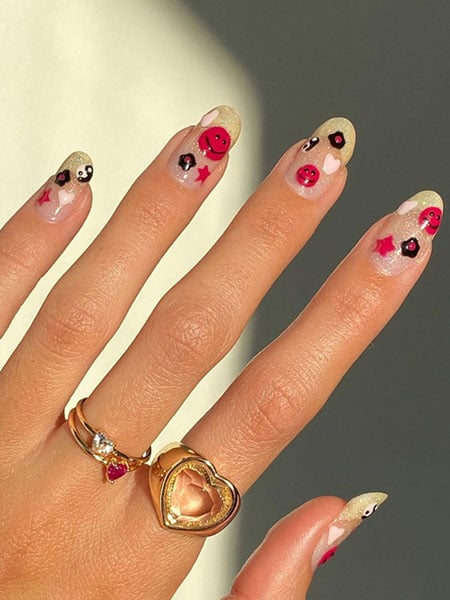 18. Fuchsia Color Nails
A great way to add some color to your hands by picking out a stunning shade, and one of our favorites is Fuschia. If you have a corporate job, want fuss-free nails, or don't have time to create an extremely detailed look, then opting for fuchsia nails is a great way to get into the Valentine's Day spirit. The vivid hue is a mix of red and purple and can give the wearer confidence. It is also effortless to recreate this look at home, it won't cost much, and it looks great on every nail shape and length. There is no reason not to try out this lacquer.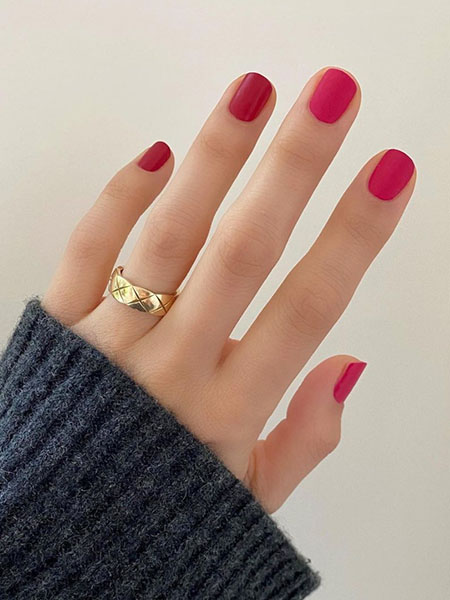 19. Pink Accents Valentine's Day Nails
Valentine's Day nails don't always have to include heart shapes, and opting for more abstract accents can give your manicure a modern feel. Pick out multiple pink shades and add them over a neutral base coat for maximum effect. If you like creating your own nail art, this may also be something to try out at home. It is also a look that is not limited to the holiday of love; wear it the whole of February if you want. These nails are pretty and simple, but that is the beauty of it.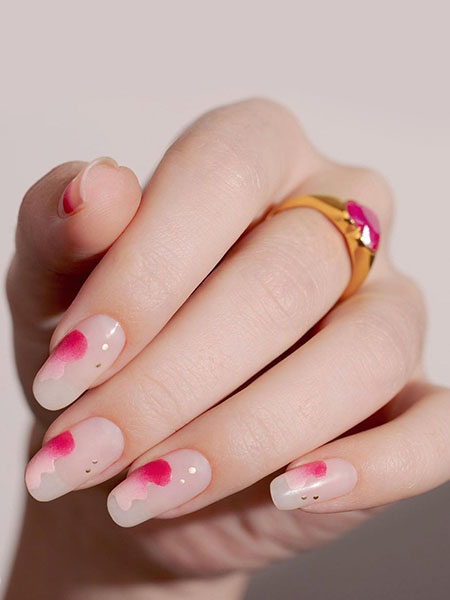 20. Mini Pastel Love Hearts
Are you not a big fan of pink, red, and white? That is no problem! There is no reason you have to embrace these colors for Valentine's Day, and actually, choosing another shade can be refreshing and fun. The mini pastel love hearts look is so dreamy and really gives you the option to mix it up. Pick colors like spearmint, baby blues, and even soft yellows to recreate these sweet and fun nails. This is yet another look that doesn't demand coffin or almond-shaped nails and can work well on almost any shape and length.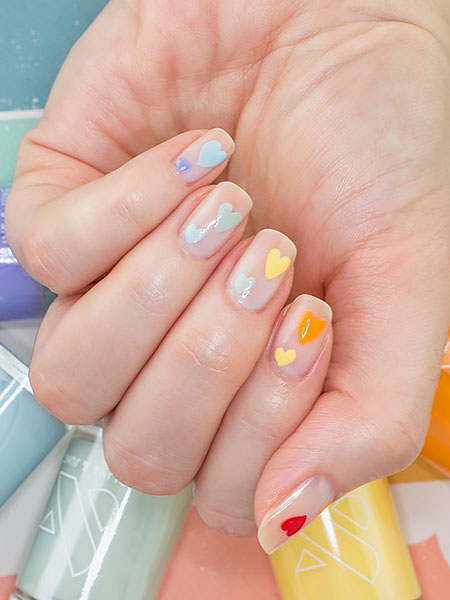 FAQs
Do Valentines Day nails only have to be red and pink?
The classic color combination for Valentine's Day is usually pink and red, and while this makes for a gorgeous manicure, it is not your only choice. Valentine's nails are an opportunity to express the things you love; this could be with different color heart details, Scrabble-inspired nail art, or romantic florals. You can also experiment with color, from muted pastels to bright and bold neons. Your creativity is your limit for nail art, and you can think out of the box to create something unique and meaningful.
Can I wear Valentine's Day nails at other times of the year?
Although Valentine's Day is on Feb. 14, you can be inspired by the holiday of love all year round. The great thing about Valentine's Day nails is they do not have to focus on this specific day but can be more about love in general. It is a way to express how you feel, and it could also offer an opportunity to make a playful or creative statement, for example, spelling out words with Scrabble-inspired nail art.
Are pastels good for Valentine's Day nails?
Pastels are one of the best options for Valentine's Day nails because they are pretty and easy to wear. They are often associated with sweetness and romance. These soft, muted tones can be worn by women of all ages and complement most skin tones. There is also a range of colors to choose from, letting you pick your favorite or mix and match them. Have fun adding little heart details to your manicure with candy pink, creamy mint, baby blues, and light yellow hues, or choose a simple approach with fun French tips-inspired artwork.
What Valentines Day nails are for 2022?
There are several Valentine's Day nails to choose from, including the classic color combinations of pink and red. You can paint your nails with pastel heart details, romantic florals, or experiment with fun French tips. Show your playful side by opting for bright nails and letting your personality shine. You do not have to stick to heart shapes to express yourself, though, and can also spell out words with graffiti or Scrabble-inspired nail art.
SUBSCRIBE TO OUR NEWSLETTER
Subscribe to our mailing list and get interesting stuff and updates to your email inbox.