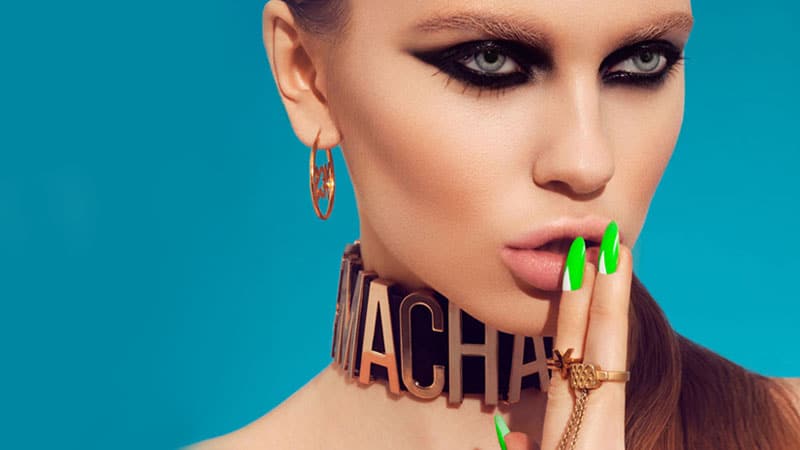 There is a time and place for the classic nail shades but look no further than green lacquer if you are searching for a modern update. The great thing about green nail polish is there are so many different shades to choose from, from rich and luxurious colors like an emerald to bold and bright neons and limes. There is a hue to suit every nail length, shape, and skin tone, and this is a wonderful way to have some fun with your artwork and get creative with different finishes and patterns. Plus, green is symbolic of growth, nature, and freshness, so your hands won't just look great; they can also make a subtle statement about how you feel. Keep reading to become inspired for your next trip to the salon.
1. Neon Green Nail Design
Neon green is a great way to make a statement with your nail art. The color is bright and bold, making your nails unmissable. Although you may be somewhat restricted in where you can wear this hue, it is a fantastic option for someone who likes to have fun with their manicure. You can create a look as simple or detailed as you wish; for example, you could paint each fingernail entirely with neon lacquer or experiment with various patterns and prints. Play around with negative spacing or balance the color with neutral shades to tone down the look. Another pro to neon green nail designs is that it is a shade that is often associated with determination and strength.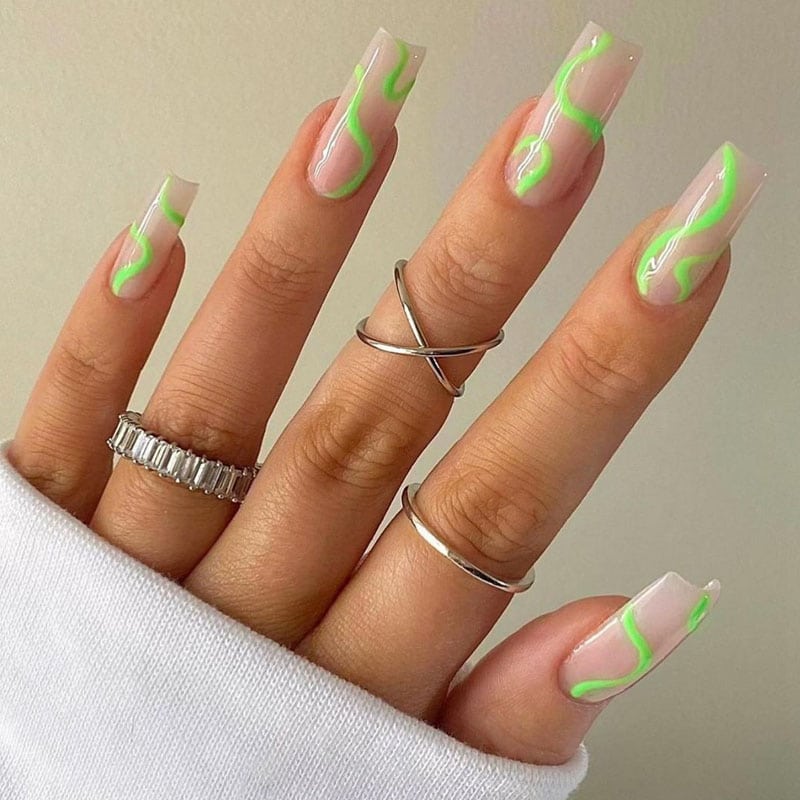 2. Olive Green Nails
Oliver green nails are great for women of all ages and are surprisingly versatile. It is a dark yellowish-green shade and is much easier to wear than bolder options like neon. It can represent peace and harmony. You can mix and match it with other neutral colors, choose only to paint a feature nail in this hue, or play around with different finishes. Glitter polish is a great way to add a feminine touch to your manicure, while matte nails create an interesting, textured appearance. Find the look that best suits your personality and have fun with it because that is what having green nails is all about.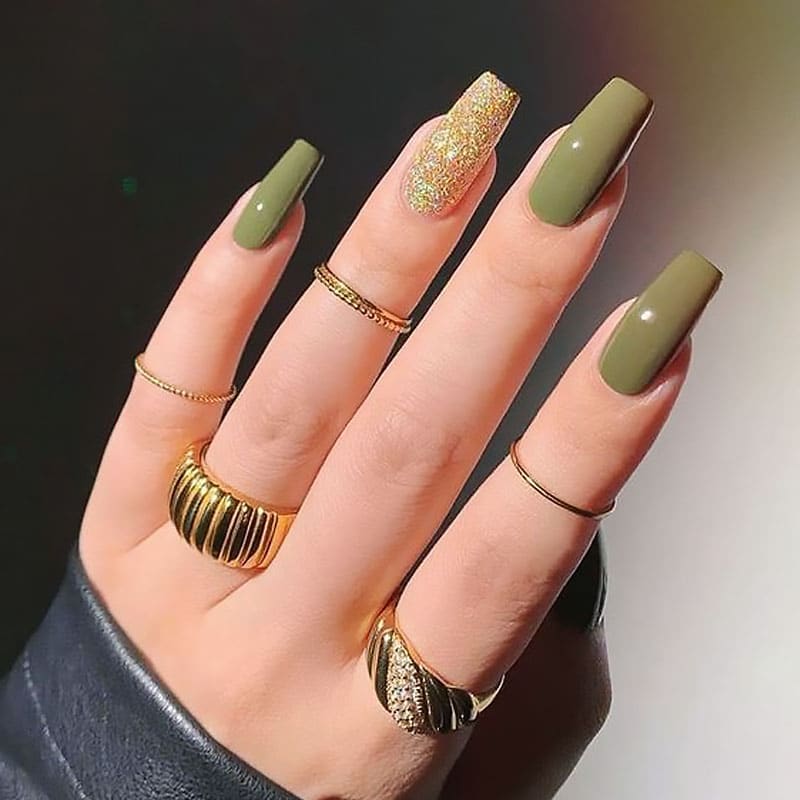 3. Lime Green Nails
Lime green nails are a shade that is bold and fun, falling somewhere between a green and bright yellow. This is the perfect option for a woman who wants to add some color to her appearance and has a freshness and liveliness associated with it. To break up the color, you can pair it with other neutral shades like white or beige lacquer; this makes your manicure easier to wear and not quite as dramatic. You can also use negative spacing or patterns to create an interesting contrast. If you want your nails to be the focus of your look, it is also advisable to opt for muted hues for your clothing. Wear lime green nails to the beach, hang out with friends, or attend fashion events.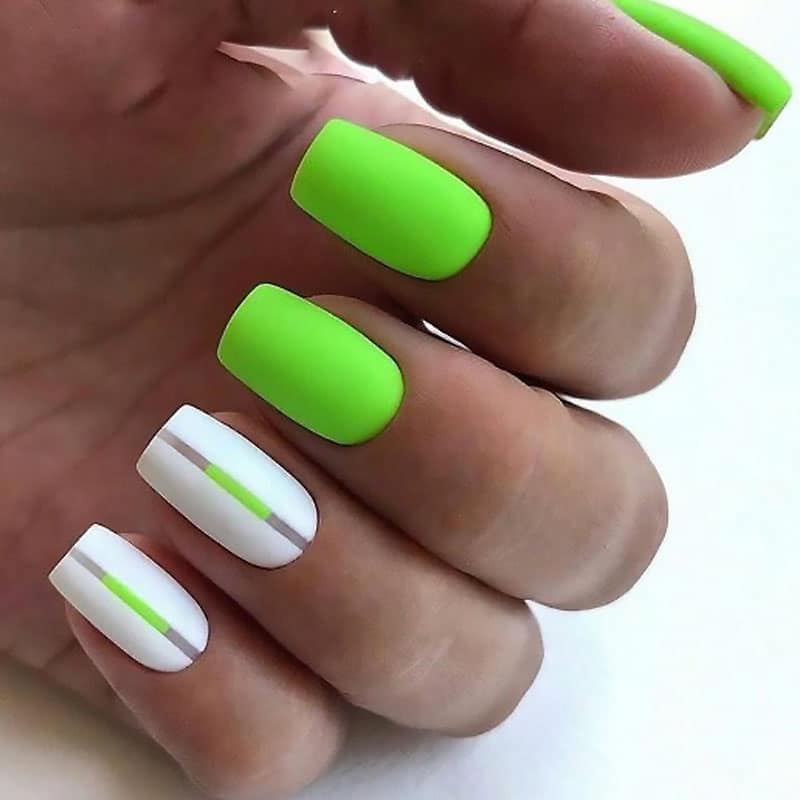 4. Sage Green Nails
Sage green is a wonderful earthy hue that has a gray tinge. It is a more muted tone, making it versatile, lending itself well to a variety of looks and different settings. Colors that pair well with sage are white and gray. For a more dramatic and statement appearance, you can even try red and pink detailing, like squiggles or floral prints. This allows you to experiment with different nail art options, and you can make your manicure unique and interesting by picking patterns and prints of your choosing. Sage is also a hue often associated with wisdom, so your nail art can be pretty and symbolic.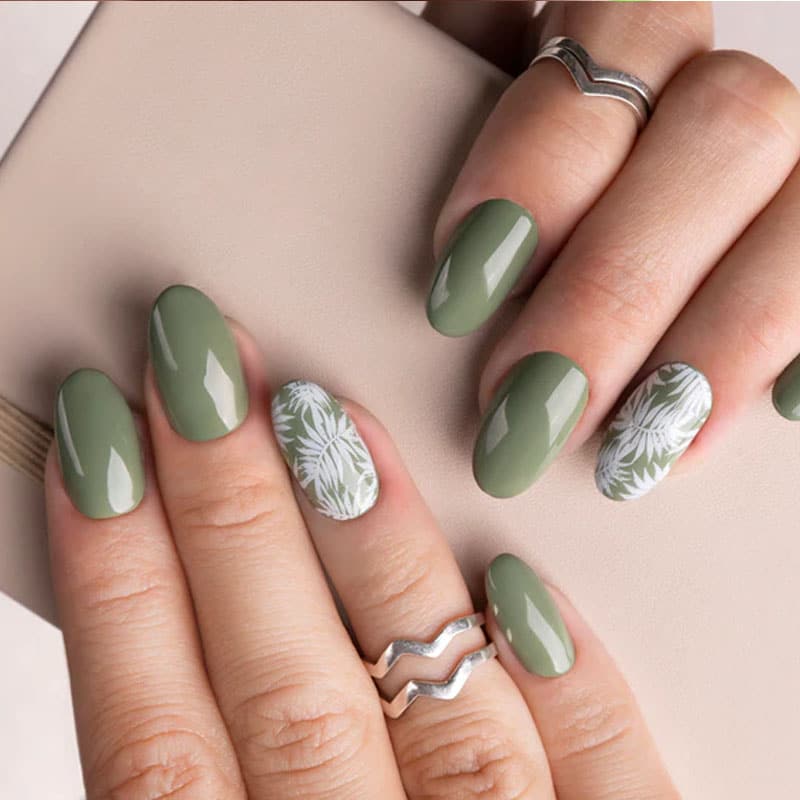 5. Dark Green Nails
Dark green nails are a rich hue that will draw attention to your hands. The color is often linked with jealousy and wealth, but also peace and serenity. Regardless of your association with the color, there is no denying that it makes for great nail art. It has a more luxurious appearance than lighter and brighter shades, making it easier to wear. It will also lend itself well to a variety of occasions, from casual to semi-formal. You can wear dark green lacquer on both long and short nails and try out different finishes. To let your nails be the focus of your appearance, tone down your look by wearing solid, neutral hues like black or white. Alternatively, you can opt for contrasting colors, like purple, which make a statement and are bound to turn heads.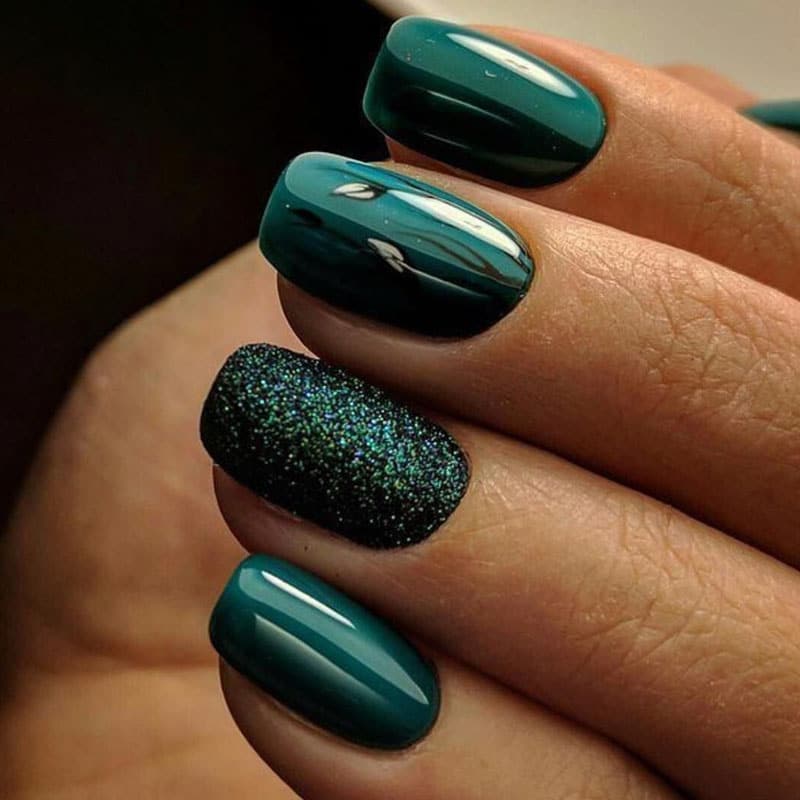 6. Mint Green Nails
If you are looking for a color that makes you think of nature and has a very calming appearance, look no further than mint green nails. It is easier to wear as it is a more muted shade of green and pairs well with other soft colors and white. Mint suits all skin tones and is surprisingly flattering. It is also exceptionally versatile, lending itself well to nails of all lengths and shapes. Plus, you can get creative with your artwork; perhaps you want to opt for mint green tips, or you can add gold detailing for a more luxurious feel. The use of negative spacing or pairing it with nude or white colors makes it look more subtle, whereas you can also opt for contrasting shades like black or royal blue. Pile on your favorite rings to draw attention to your hands, and have fun with this dreamy shade.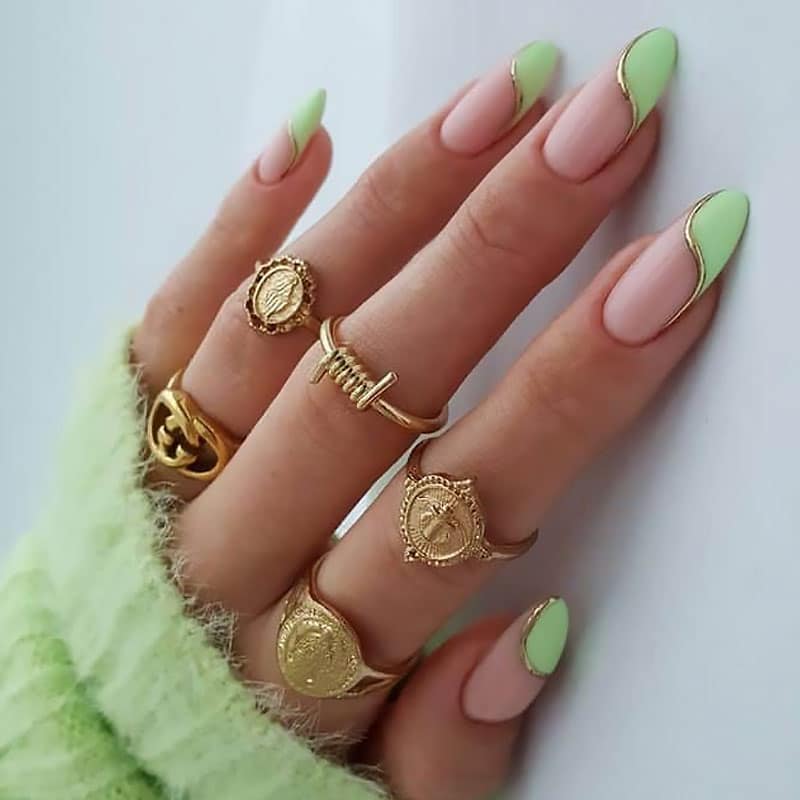 7. Emerald Green Nails
Out of all the shades of green you can choose, it is emerald green nails that are rich and luxurious. The bluish-green hue has a very distinctive color and is connected to luck and prosperity, and can also make you think of royalty and power. It looks great with long nails and can be combined with several other colors to create exciting nail art. Neutrals like beige will tone down the green, whereas purple and red create a more intense and contrasting appearance. That said, by far, the most popular pairing is emerald green and gold. This has an incredibly sophisticated appearance, and choosing to add gold nail art really complements the green.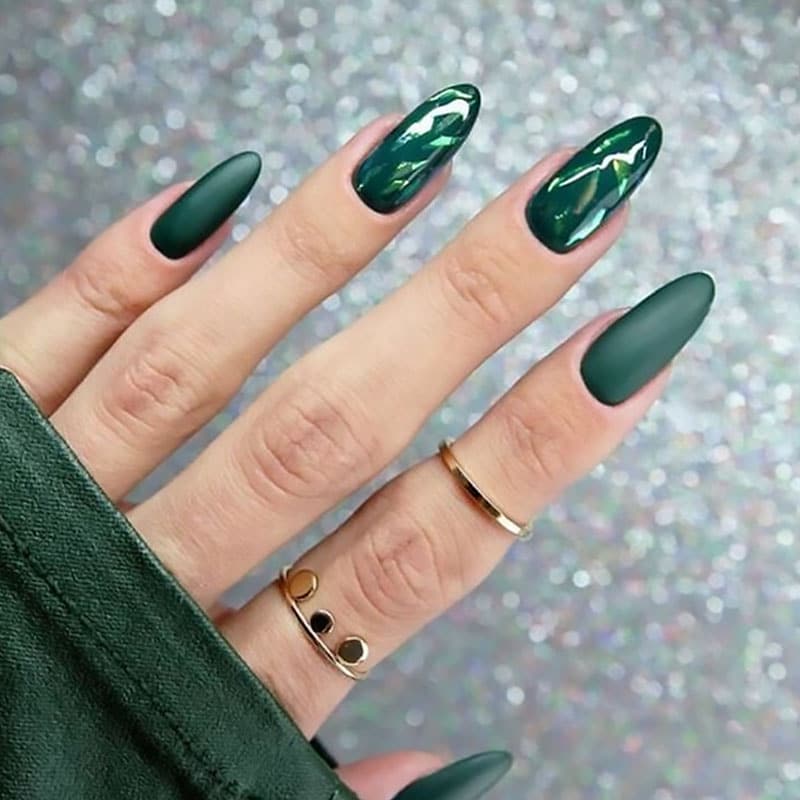 8. Light Green Nails
Rich, dark colors make for fantastic nail art, but if you want something more subtle, then you may be drawn to light green nails. The great thing about any green manicure is that there are so many different shades to choose from, making this a versatile and fun choice. Lighter hues are better for everyday wear as they do not demand as much attention. Light green can look fresh and modern when paired with white. You can do this in a very feminine way by adding little white daisies to your nails or channel the 70s with checkered nail art or squiggles.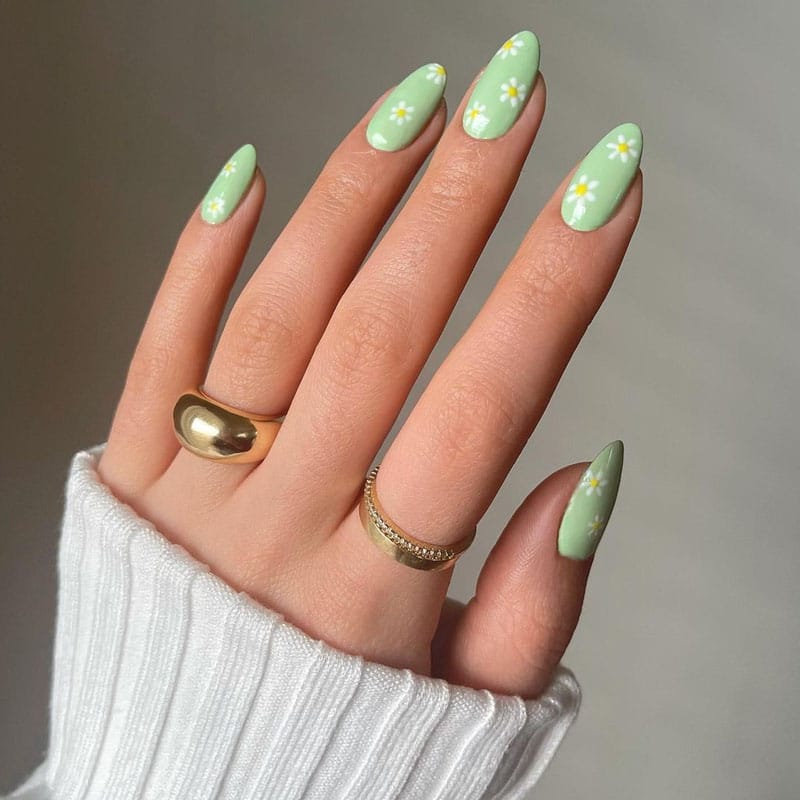 9. Green Ombre Nails
Green ombre nails are fresh and modern, making them a fantastic choice for any woman. The blending of two colors, often one light and the other dark, creates an attractive appearance and is a fantastic opportunity to wear more than one shade. There are so many different pairings to consider, allowing you to tailor your manicure to suit your preference. A few examples would be combining your favorite shade of green with white, or you could pair two greenish hues, for example, mint and olive. If you want an interesting and colorful finish, there is no better option than ombre nail art; however, you can expect to pay a bit more for this manicure because it takes skill and patience to get right. Alternatively, for a fuss-free approach, you could purchase press-on nails that already have the effect on them.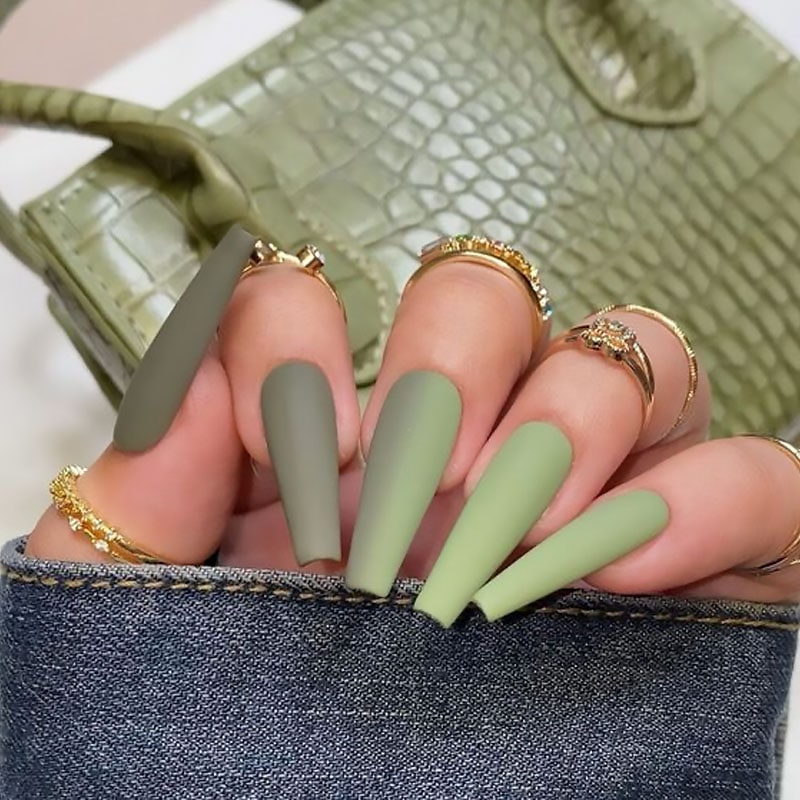 10. Matte Green Nails
Matte polish has no shine, creating an interesting finish. It can also be more toned down and easier to wear and looks especially great with shorter nails. Matte nail designs tend to chip faster than glossy lacquer, and your manicure won't last as long; however, most women find that this is a great way to change your standard look and opting for matte colors can create a smooth and cool appearance. As for how you choose to incorporate it, that decision is entirely up to you. You could opt for a feature nail, leaving the rest with a glossy or glittery finish, pick your favorite prints, or keep it simple by painting your entire nail with one solid color.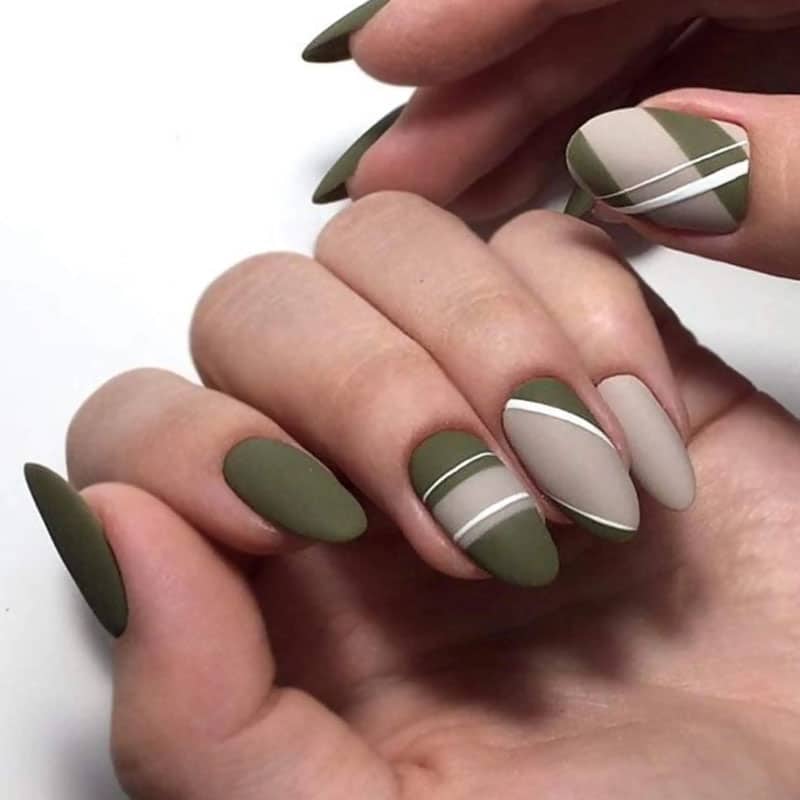 11. Army Green Nails
Another excellent idea for your next manicure is army green nails. It is a dark yellow and green mix that creates a fresh appearance. It is also associated with the military and nature. You may want to keep either of these themes, for example, adding camouflage print to a feature nail. This color is a fantastic choice for long and short nails and will flatter most skin tones. Wearing this hue on your nails is a great way to try out the green trend without it being too in your face. If you are wondering what colors to wear with it, then the good news is it is surprisingly versatile and works well with black, white, tan, and grays.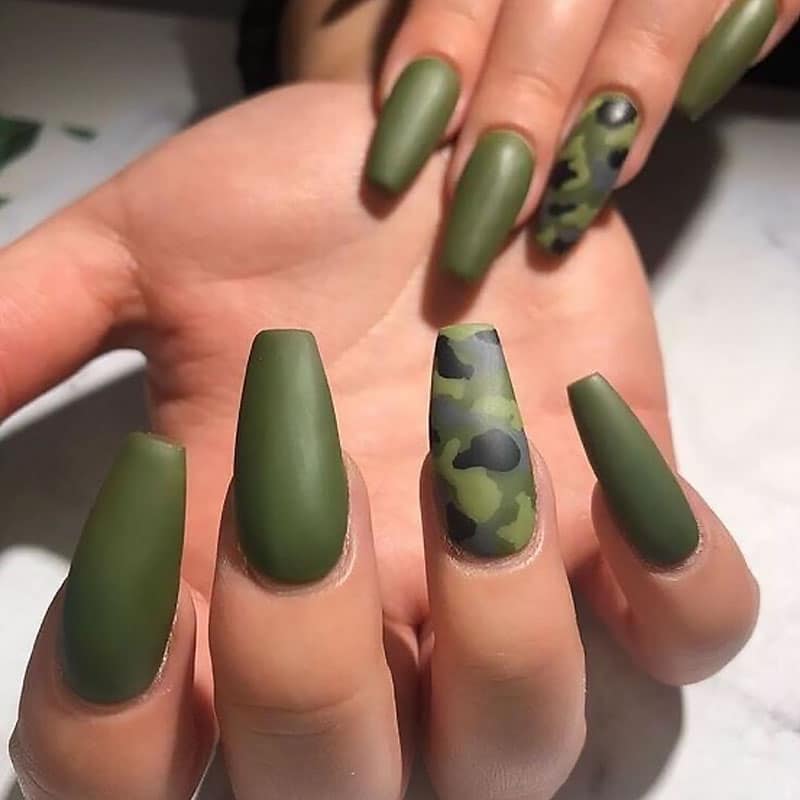 12. Pastel Green Nails
Pastels are a firm favorite when it comes to nail art because they are timeless and classic. They never go out of style; they can be mixed and matched with other colors and look incredibly girly. Pastel green nails are a light color and a fantastic choice for someone who wants lacquer that is easy to wear and perfect for every day. The shade is associated with freshness and newness, and it looks great on nails of all lengths and shapes. There are many ways to try out this hue, regardless of your skill level; you can opt to paint just the tips, pick your favorite patterns, or try out a marbled effect. Alternatively, you can keep it simple by painting the entire nail with a soft pastel shade; there is really nothing you can't do with pastel green!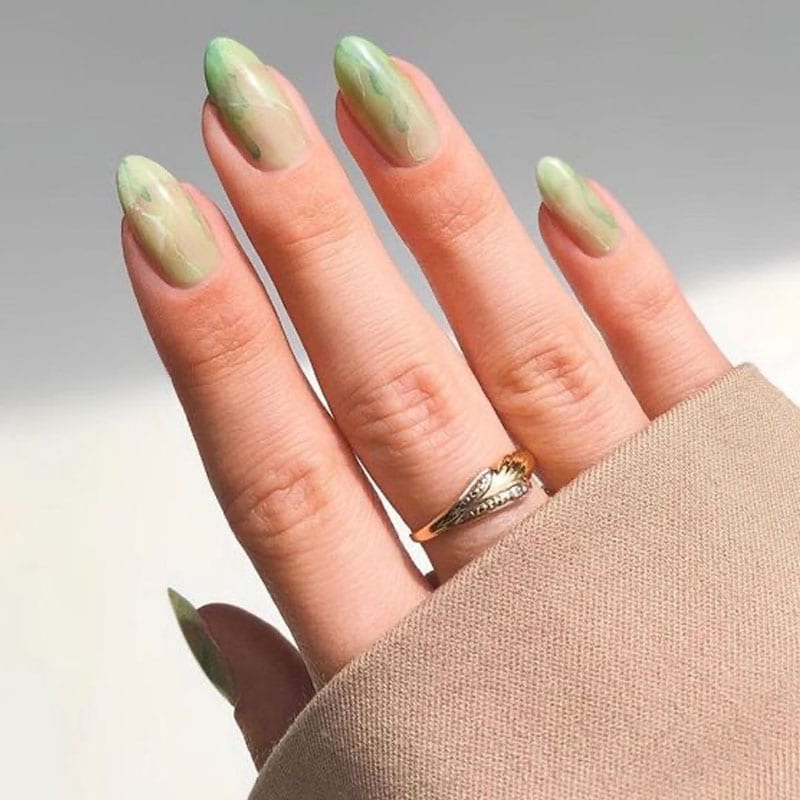 13. Forest Green Nails
Forest green nails are a must if you love a polish that reminds you of nature and earthiness. Your manicure can celebrate the natural world, remind you to be kind to the environment and yourself, or be a way to have some fun. The color is vibrant and can be worn on its own, or you can mix it with white, beige, and gold. This is a great way to add patterns to your nails or to break up the green. Add images of leaves, butterflies, or line art for a more creative approach. If you want your nails to be the focus of your look, you can tone down your appearance by wearing solid, neutral shades. Or keep it bright and relaxed with pink or yellow.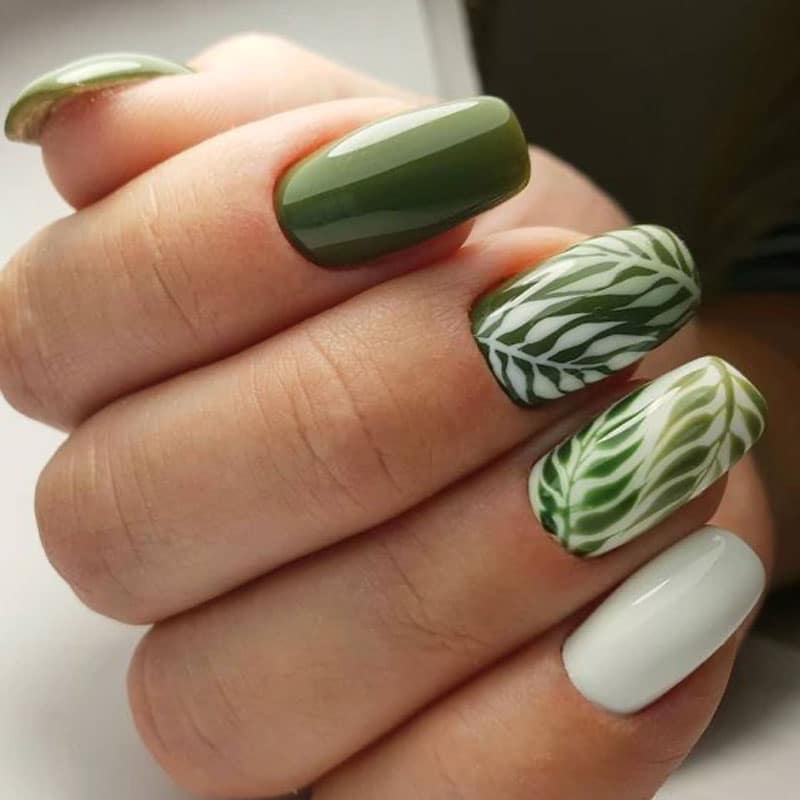 14. Green Christmas Nails
The festive season is not upon us yet, but that doesn't mean we cannot be inspired with green Christmas nails. One of the classic color combinations for Christmas is green, representing evergreen plants like Holly or Mistletoe. It is often paired with red and white, and you can include these colors in your manicure to create a super cute look. It is also the time to add a little sparkle to your appearance, so definitely opt for glitter. As for what you can choose? This can be anything from snowflakes to stockings and reindeers. That said if you want to wear this look in the middle of summer, try to make it as simple as possible, taking inspiration from candy canes and embracing stripes. This makes them look more versatile and allows you to rock them all year round.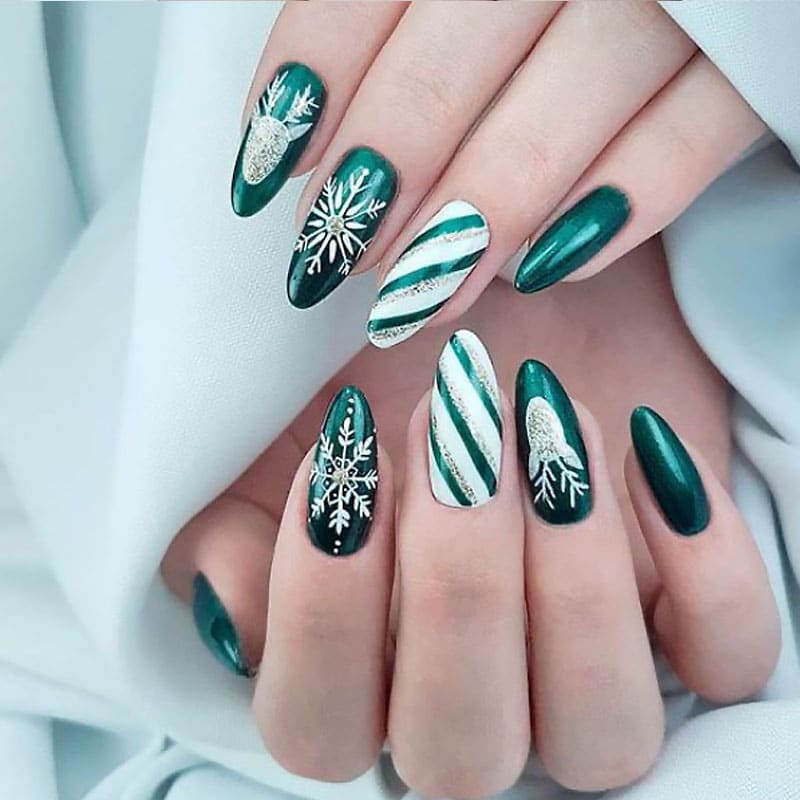 15. Green French Tip Nails
French tip nails are a classic choice that oozes sophistication and is perfect to wear in relaxed and more formal settings. The look is created by painting a line of white along the top of the nail, but if you want a trendy update, you can opt for green french tip nails. This is a fantastic way to try out green lacquer without committing to painting your entire nail with your chosen shade. It is easy to achieve and can help create the impression of longer nails. Plus, green is symbolic of growth and good luck, so you can remind yourself of what is important to you with your nail art and send some positive vibes into the world.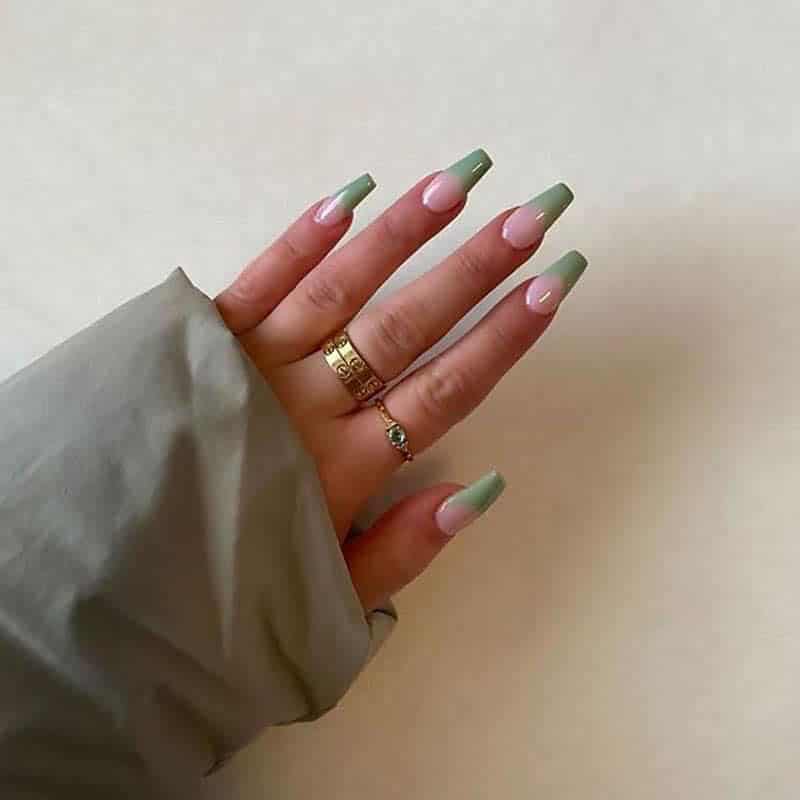 16. Hunter Green Nails
Hunter green can be best described as a dark yellow-green color, and it gets its name because it was and is still worn by hunters to help create camouflage. It is a relatively muted shade and works well when paired with other natural colors like browns and yellows. White and nude will also work well if you are creating nail art. It is highly versatile and easy to wear, and there are many ways to try out this hue, whether you want only to paint one fingernail with this lacquer and keep the rest white or play around with negative spacing. There is an option for everyone.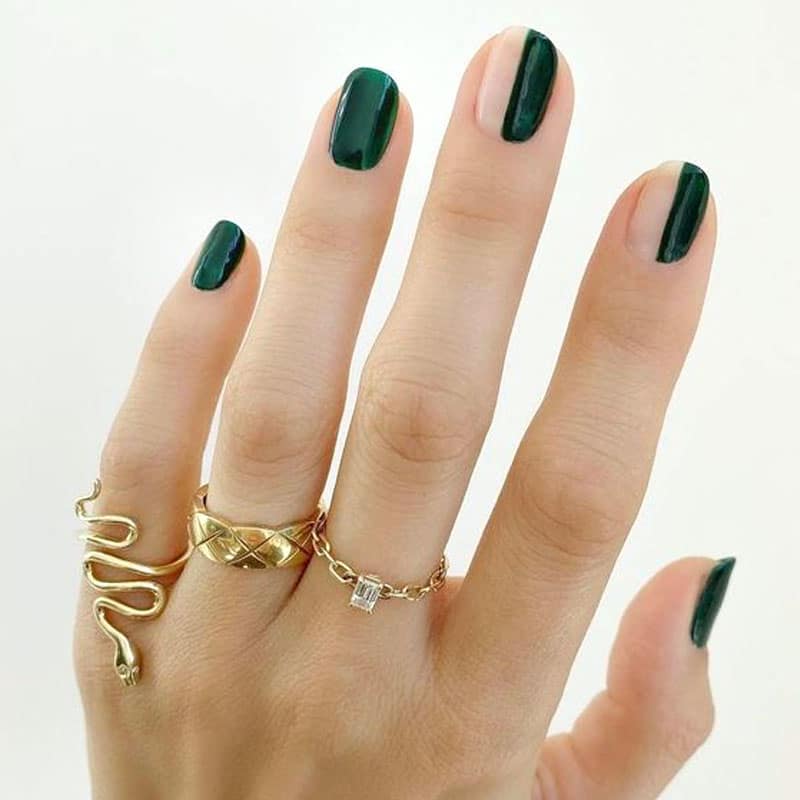 17. Black and Neon Green Nails
Black and green nails are a fantastic combination and one that will get your hands noticed. If you love bright colors, try out a neon shade, which will create even more contrast when paired with black. The combination certainly takes some confidence to pull off, and you will be restricted with where you can wear it; unless you have very relaxed office rules, it is probably not the right place for this bold look. That said, it can bring a smile to your face, and there are also no rules for combining these hues. This allows you to get creative. Checkered prints, alien logos, and exciting patterns are all fun ways to express yourself.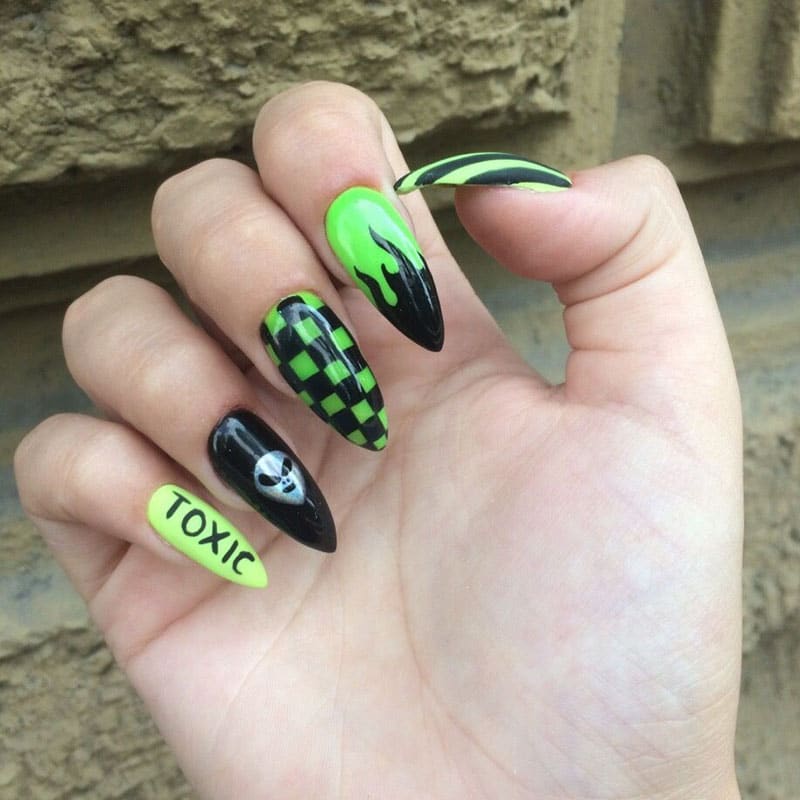 18. Blue and Green Nails
Greens can be paired with different colors for a contrasting look, but one of the easiest combinations to try out is blue and green nails. The two shades are so similar that they are a subtle pairing that suits most skin tones and nail shapes and lengths. It is a fantastic way to wear the green nail trend and make your artwork a little more interesting. You can pick light and dark shades, play around with different patterns and jewels, and decide on the finish you want; matte, glittery and glossy are all great options, depending on the look you want to achieve. Both colors are also symbolic, with green representing nature and growth, while blue is associated with calmness and confidence.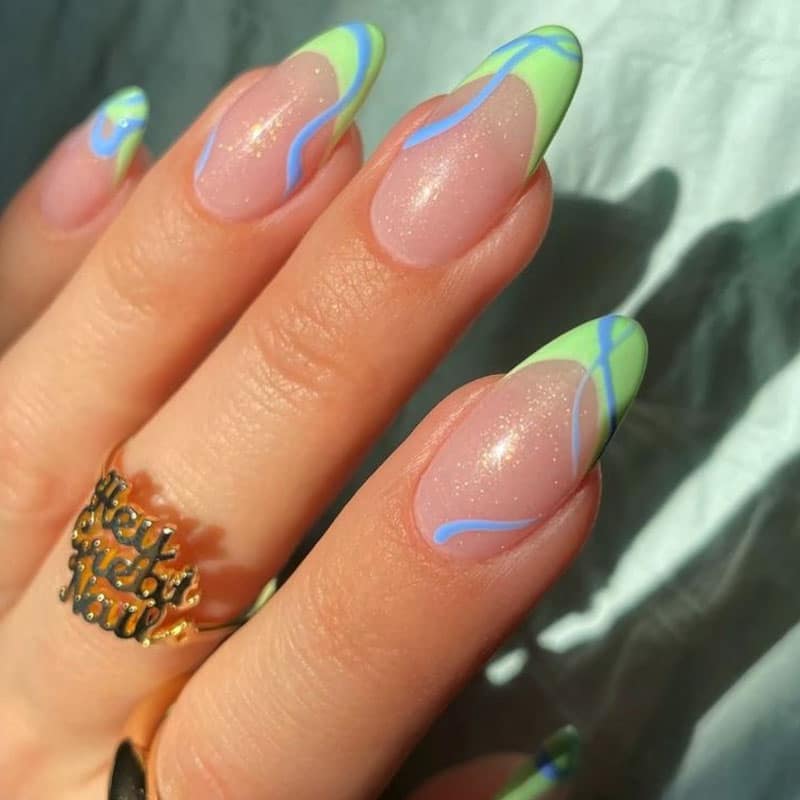 19. Green and White Nails
Green and white nails are an effortless pairing. White is a neutral color and can be combined with anything, adding a freshness to it. It also has a timeless and classic appearance. Unlike opting for darker or brighter colors, like black and purple, white is very easy to wear and looks fantastic with the green of any shade. Another thing to love about including both of these colors is how you can play around with different patterns and get creative with angles and sizes. Use emerald lacquers for a luxurious and sophisticated look or a more muted color like olive if you want your manicure to be more subtle.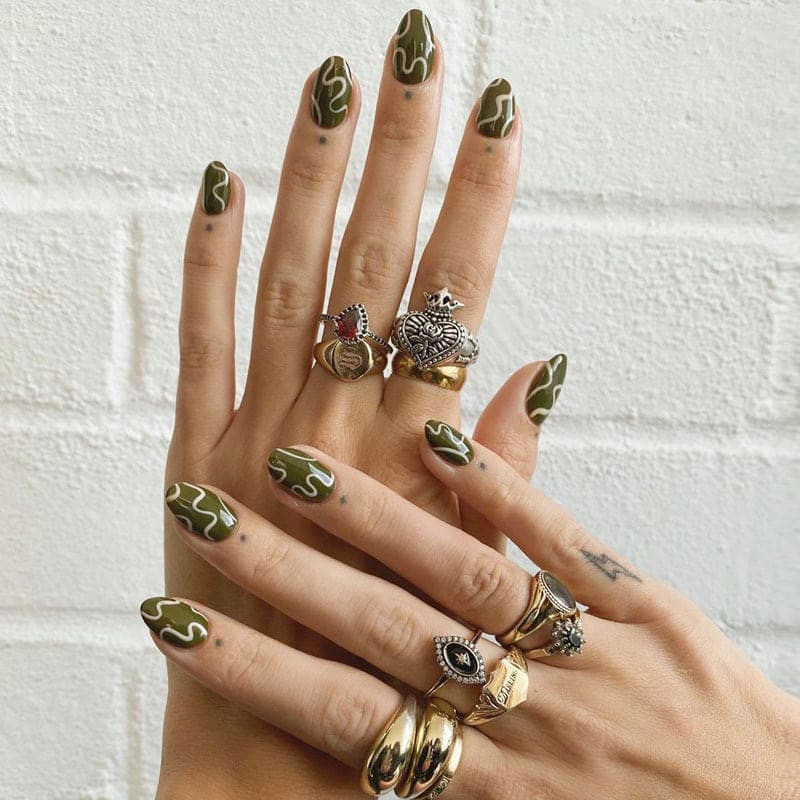 20. Holographic Green Nails
What is not to love about holographic green nails? Their highly reflective appearance makes them unmissable, especially when the light catches it, and it looks great on nails of all shapes and lengths, although the longer, the better. This high-shine polish is special because it is created with an extra pigment that gives it holographic properties. Holographic nails can be done using various colors, but green is one of the best because it looks so fresh. The hue is also a strong color, making this perfect for a woman who likes to stand out from the crowd. To add to the overall effect, pile on your favorite shiny rings and enjoy the attention your hands are sure to get.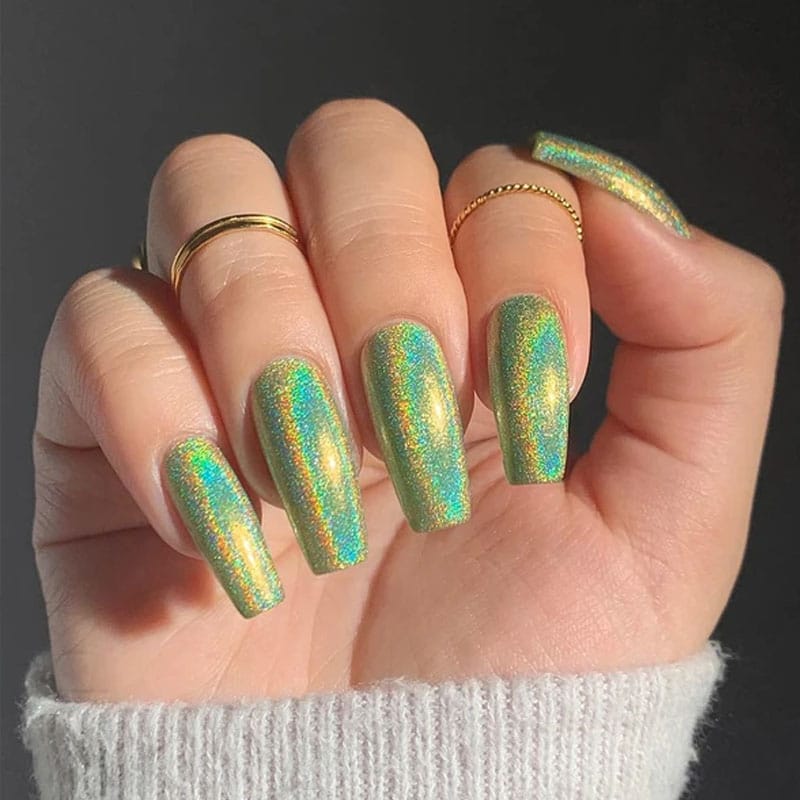 FAQs
What nail colors are trending in 2022?
Several shades are trending in 2022; these include spearmint, bright yellow, mint green, coral red, and mulberry. As well as easy to wear colors like candy pink, white, and natural shades which are perfect for every day and look great for both casual and formal settings. There are also many ways to try out these nail colors, whether you want to keep it simple with french tips or plan to go all-out with exciting patterns and jeweled detailing. 
Is green a good nail color?
Green is a great nail color because it is versatile and fun. There are so many different shades to choose from, from bold and bright colors that make a statement, like neon and lime, to more toned-down hues that are easy to wear, like sage or olive. Green also pairs well with a variety of colors. You can complement it with gold, white, and beige, or you can create an interesting contrast with black or purple. Green can also make you think of freshness and nature, creating a modern and fun manicure. 
What colors make green?
If you don't own any green nail lacquer but feel inspired to paint your nails with this shade, or if you want a color that you cannot find in the store, why not make your own combination? Blue and yellow mixed together make green. The varying shades of these two colors that you use will impact the result. 
SUBSCRIBE TO OUR NEWSLETTER
Subscribe to our mailing list and get interesting stuff and updates to your email inbox.