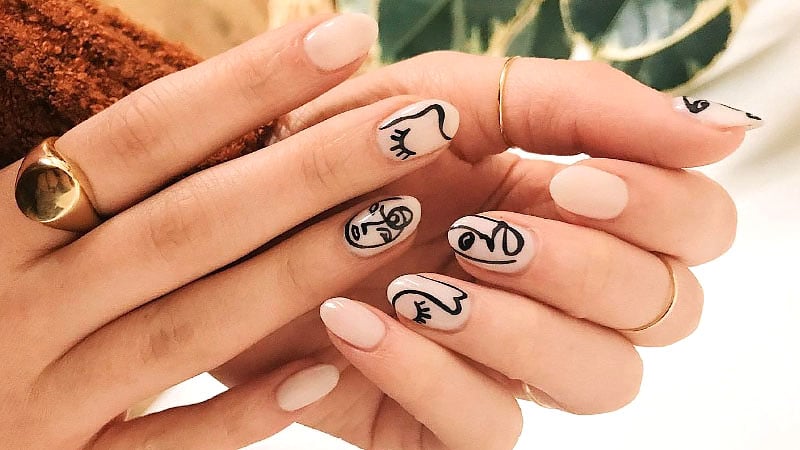 It's time to let your creative juices flow while you are spending a lot more time at home. You can experiment with different artwork and shapes and be your own nail artist. Oval nails are a classic manicure choice; the shape looks similar to almond nails but with a slightly rounded tip rather than a point. Simple, chic, and flattering, oval nails make your fingers look longer and slimmer while also providing enough space for nail art and decoration. You can update your oval manicure with a variety of different textures, finishes, and designs. Keep scrolling and get inspired by these unique oval shape nail designs.
RELATED: 60 Best Almond Shape Nail Designs
1. Artistic Oval Nails
If you're an art lover, why not paint your nails to match? You could take inspiration from any number of movements, from Cubism to Impressionism or Pop Art. For the best results, choose designs with patterns, block colors, or geometric elements. These will ensure your manicure stands out. When your masterpiece is ready, share it with us online!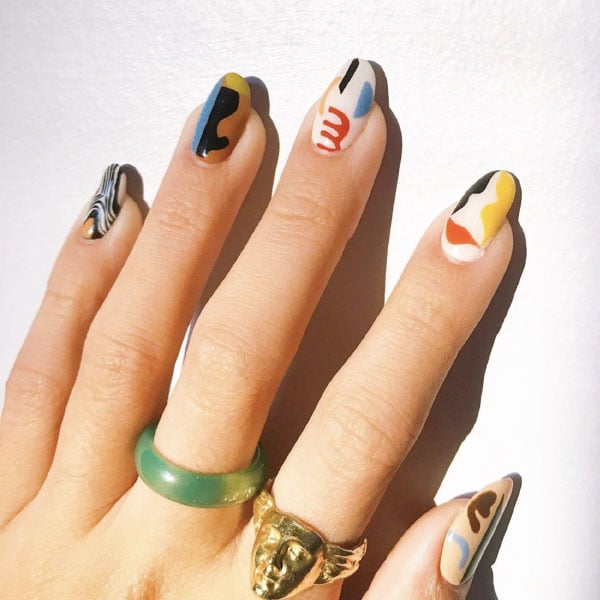 2. Cute Polka Dot Oval Nails
Polka dot nails have been popular for years, but the latest trend for nail art is cute dots. Larger than polka dots, they almost look like adorable cartoon eyes. For the full cute effect, apply a pastel base coat like baby pink or light blue. Cute dots suit oval nails because they complement the rounded tip of the nail shape.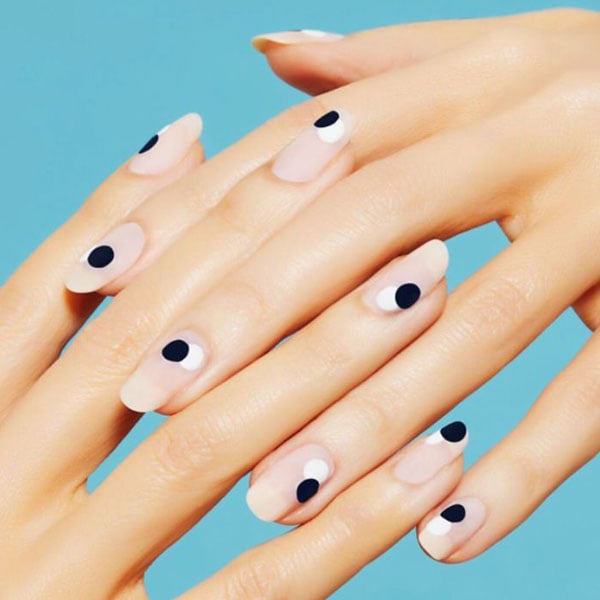 3. Flamingo Oval Nails
Pretty in pink, flamingo nails give your manicure some fun personality. Quirky and cute flamingoes will make you smile every time you look at your nails. While the classic design is the one-legged standing flamingo, you can take a more subtle approach with sitting birds.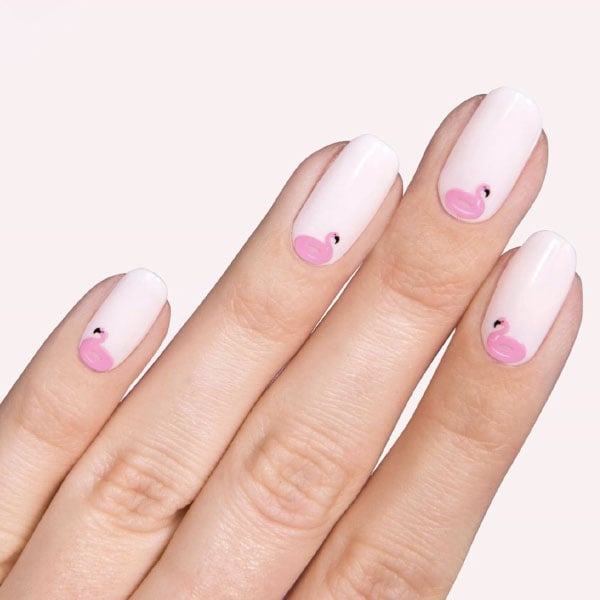 4. Fruity Oval Nails
Looking to give your oval nails a sweet treat? Try a fruity manicure! Leave cartoon-style fruit in 2019 and swap it for life-like fruit. It has a more sophisticated, painterly look – but still retains a cute, sweet feeling of a classic fruit manicure. Rich-toned fruits like apples, grapes, figs, and plums suit the life-like fruit manicure. Your fingertips will make you feel like you are on a summer vacation, having a fruity cocktail.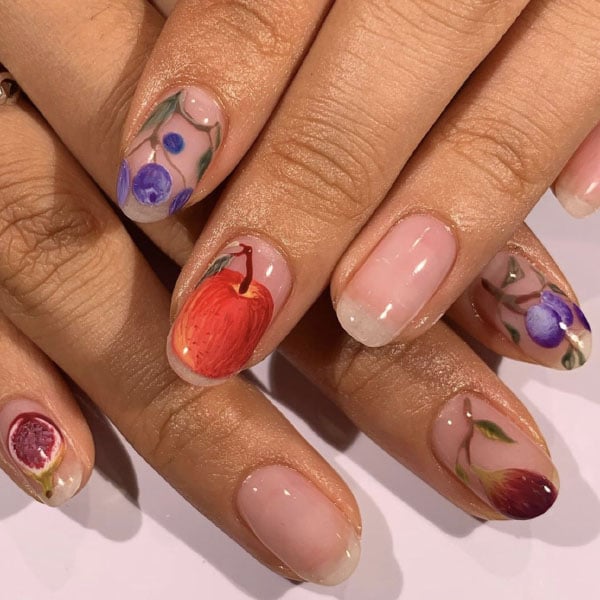 5. Fun Oval Nails
Let your nails do the talking with fun and quirky designs. Try adding a different symbol to each nail for the ultimate expression of your personality. From abstract shapes to crowns, hearts, clovers, and bees, the only limit is your imagination. The benefit of oval nails is that they suit many different shapes and designs, so you can be assured whatever you decide on will look amazing.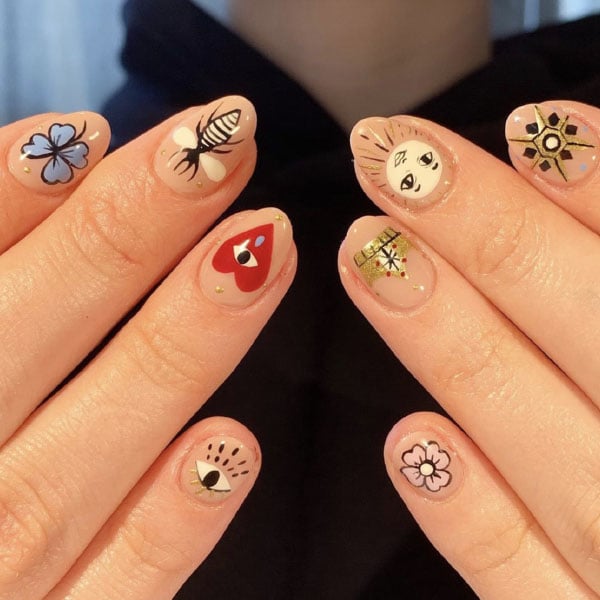 6. Happy Oval Nails
Are you someone who always looks on the bright side? Then a happy nail design is an excellent choice for you. Show off your optimism and light-hearted personality with pastel shades and the happiest symbol of all, a smiling face. Your manicure will not only put a smile on your face but on other people that you are chatting with online.
7. Holographic Accent Oval Nails
Holographic nails are on-trend this year. The new take on the shimmering, color-shifting look is all about super fine glitter that accents the tip of your nail while leaving the base nude. While the look suits many different nail shapes, it also looks great on oval nails.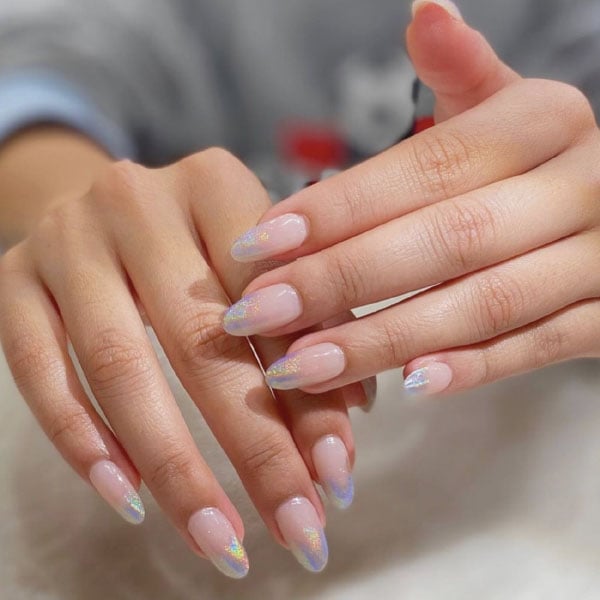 8. Love Birds Oval Nails
It's not only flamingo nails that are trending right now – bird-themed nail art of all kinds are very popular. It's not hard to see why women are embracing these feathery friends. They look cute and fun and give your nails a personality. Choose your favorite type of bird and base your design around its colors and markings.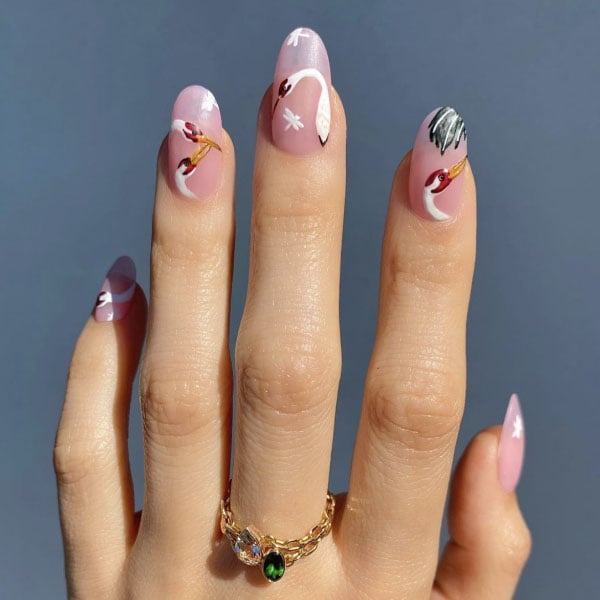 9. Pastel Oval Nails With Black Outline
Take a simple pastel manicure to the next level by adding a black outline. The dark accent gives your nails a cool, almost 3D effect, while still looking sophisticated. Try a one-color pastel manicure or paint different nails in different pastel hues like mint green or pale yellow, the black outline ensures the final result still looks polished and complementary.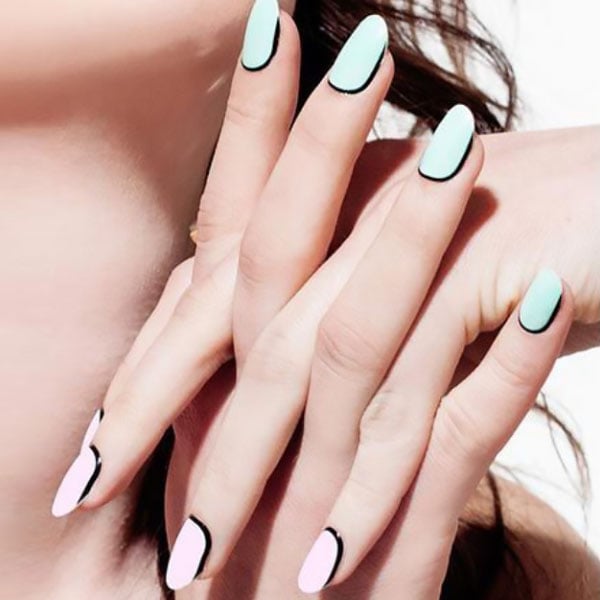 10. Pink and Red Oval Palette Nails
Pink and red are a beautiful color combination, and you can use your entire nail polish collection in one go. The coolest way to combine them right now is with a palette manicure. Each nail is painted with a pink or red hue in a different texture, from matte to satin and glitter. The final result looks beautiful and eye-catching while remaining perfectly pretty.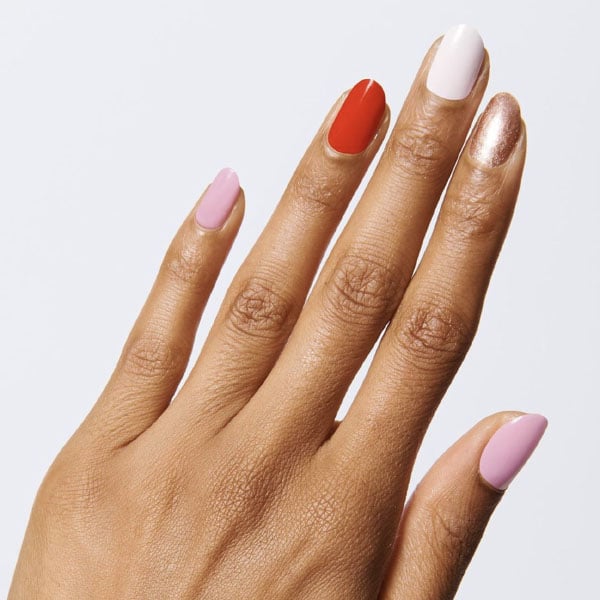 11. Pink Tip Oval French Manicure
The French tip manicure is a classic that gets reinvented all the time. The latest version is the pink tip French manicure. It combines the traditional nude base with a super fine hot pink tip, giving a subtle yet super cool result. Because hot pink is such a bold color, you only need to use a small amount to make an impact. Oval nails are especially suited to the pink tip French manicure because the contrast detail flatters the rounded edge.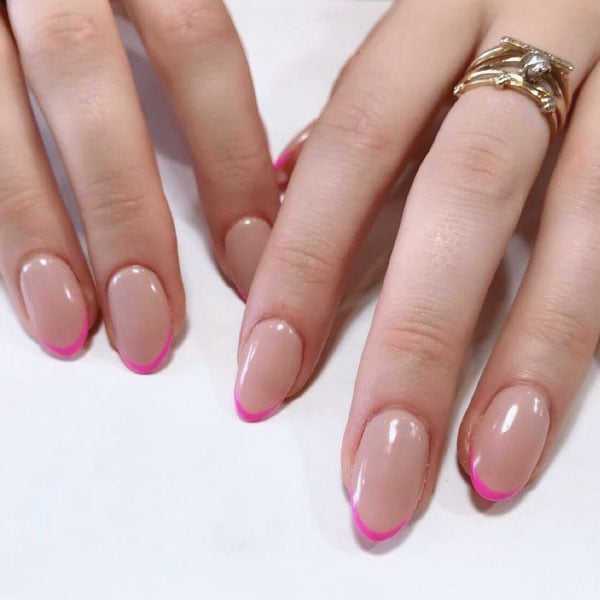 12. Pop Oval Color Nails
Give your nails an '80s twist with a pop color manicure. Inspired by color block designs, pop color nails also use geometric sections to incorporate different shades of polish on the same nail. A cool pop color combination is bright green with pale pink and black. The different tones create a cool contrast without clashing. Create this design by taping different sections of the nails and letting the polish dry before moving to the next section.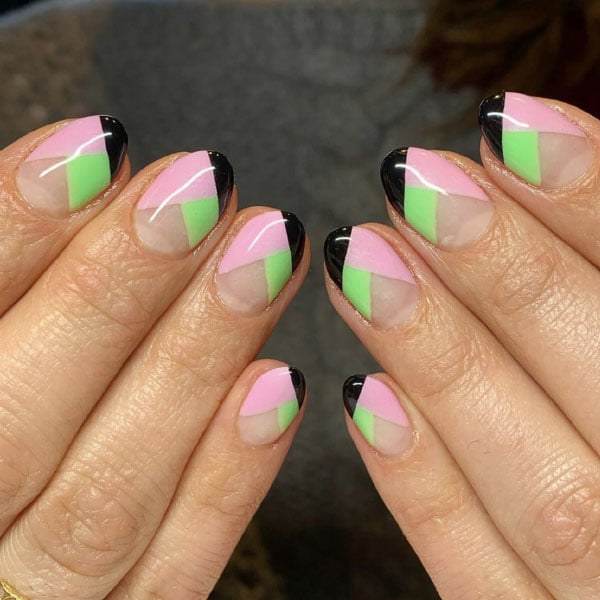 13. Red and White Oval Nails
Red and white are a striking combination, so any manicure incorporating these colors is sure to stand out. For a unique red-and-white look on your oval nails, try a curved color block effect. Instead of being applied in straight-edged 'blocks,' you can create organic sections that follow the curve of your nail shape. The result is a sexy manicure you'll be checking out in every mirror in your home.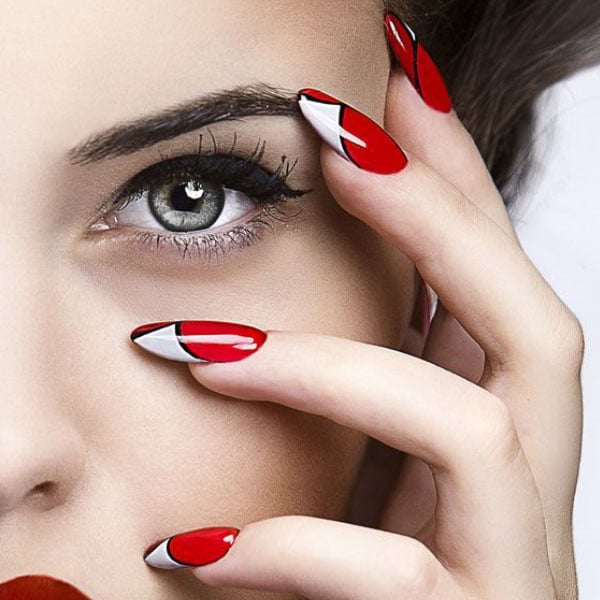 14. Slogan Oval Nails
Why wear a printed T-shirt when you can have a slogan on your nails? From funny messages to meaningful mottos, a wordy manicure can say it all. For best results, opt for a classic white base with black lettering. Block capital letters are easier to read than cursive or lower-case letters – and if you need to fill an extra nail, add punctuation.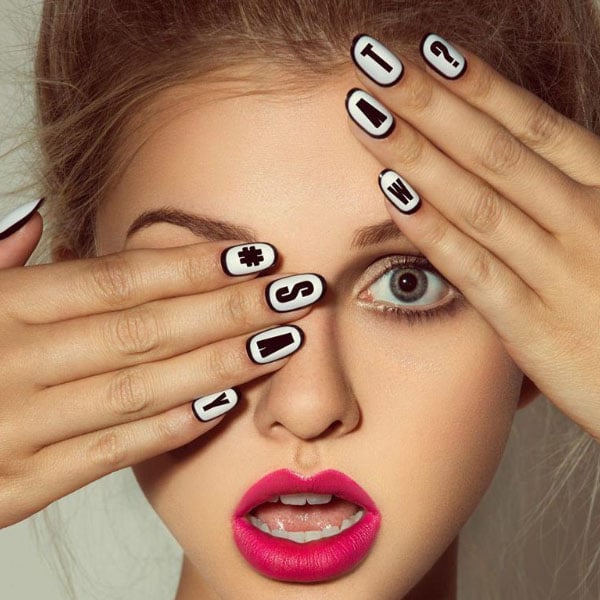 15. Star Oval Nails
Give your oval nails a subtle touch of stardust with a cute star nail manicure. It's a sweet and youthful look that suits those who prefer a more minimalist style. Choose a base shade that matches your usual clothing palette or complements your skin tone, then add a couple of dainty stars in a contrasting hue like black or white, following the curve of your nail bed. Reward yourself for your hard work as a nail artist with a few pretty stars that you can carry with you on your nails.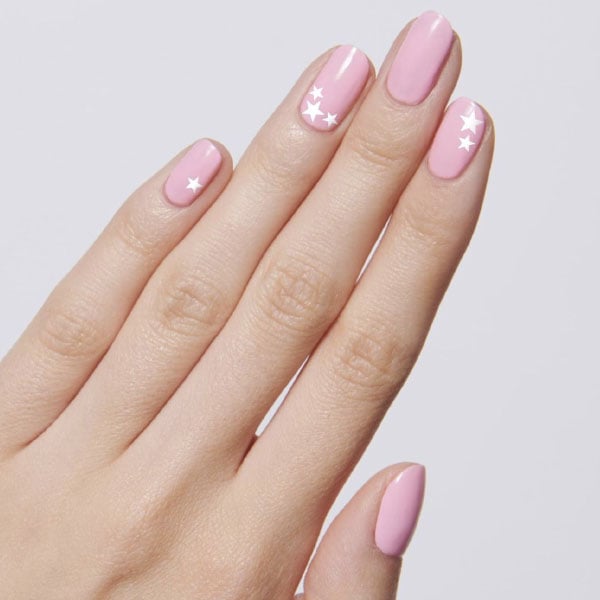 16. Short Oval Nails
Oval nails have a soft point and are one of the most natural-looking nail shapes. Their appeal is their simplicity, which also gives you versatility and they can be worn long or short. Short nails are ideal for those who want a low-maintenance manicure and the shorter length can also create stronger, more durable nails.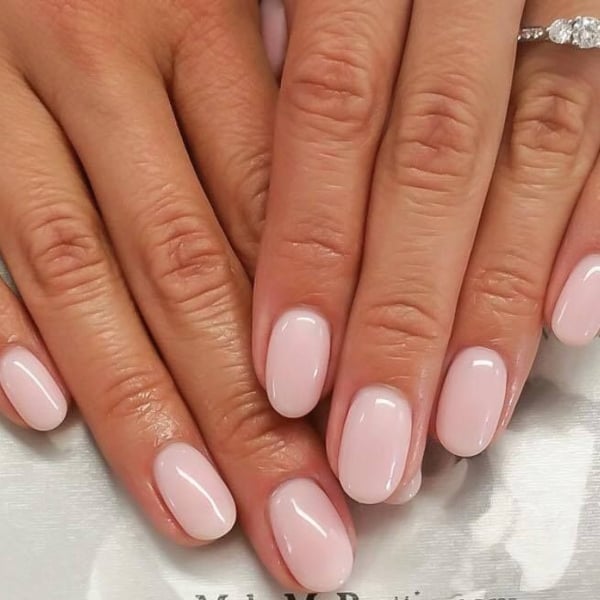 17. Oval Acrylic Nails
If you want to try out the oval nail shape but have weak natural nails or struggle to get your desired length, an alternative is acrylic nails. Acrylic nails are created with a mix of powder and liquid monomer and are fantastic for creating strong, durable nails. They can be shaped how you want and are great for nail art.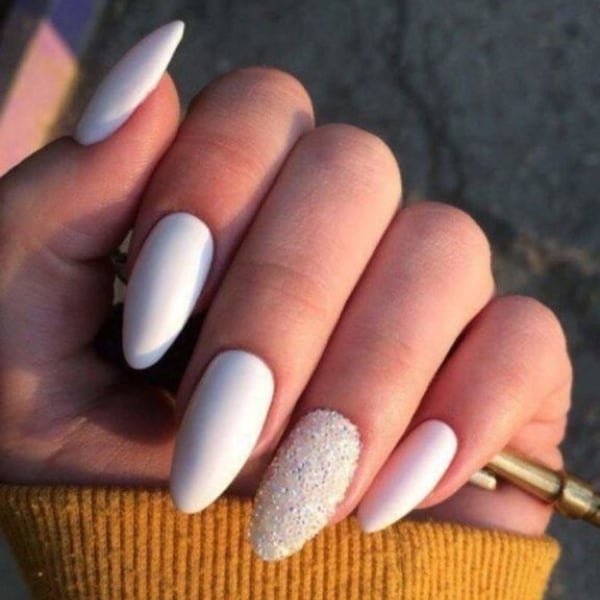 18. Oval French Tip Nails
The French tips manicure is a timeless and classic option for your nail art. The traditional approach has white polish on the tips which are painted in a straight line. It is an excellent way to draw attention to your nail shape and will lend itself to all occasions. However, you can also opt for a modern finish by choosing a different color and adding it to the tips in an interesting way.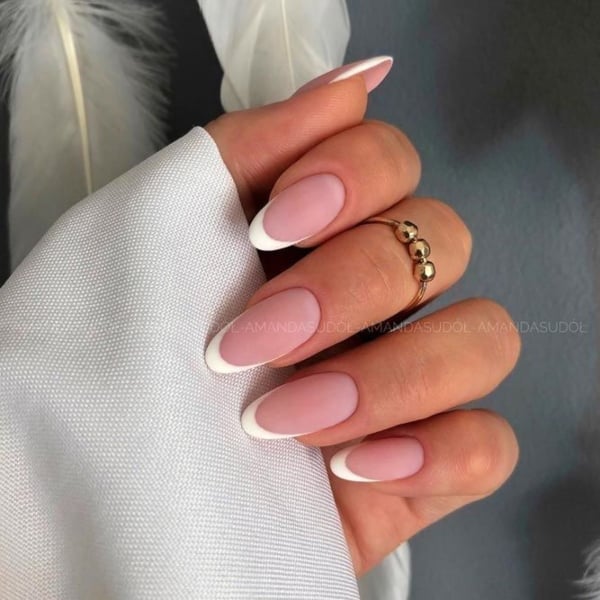 19. Square Oval Nails
Square oval nails, or squoval, is a combination of these two nail shapes and are exceptionally flattering and easy to wear. The nail looks square but has rounded edges, giving it a softness. This is a fantastic shape for every day and is low-maintenance and versatile. They also look good short or long.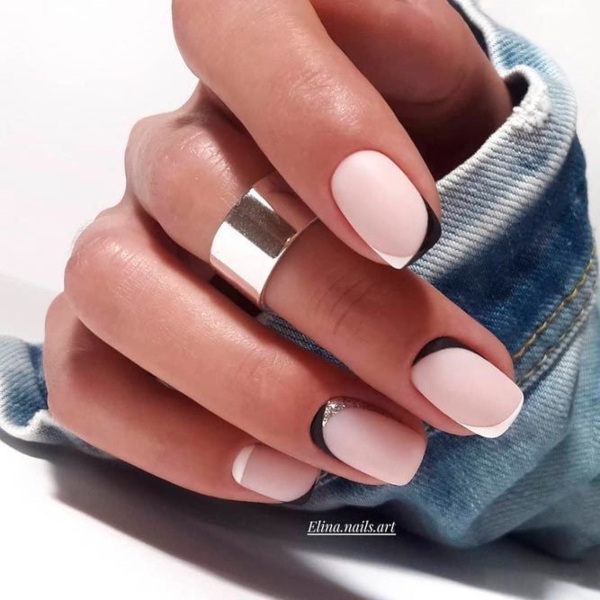 20. Long Oval Nails
Long nails are feminine and will make a statement. Keeping your nails longer can be more maintenance but it is a great way to draw attention to your nail shape and is ideal for nail art; the extra length gives you more space to get creative with your designs. Oval nails are excellent for making the fingers look longer and slimmer and this will be enhanced by a longer length.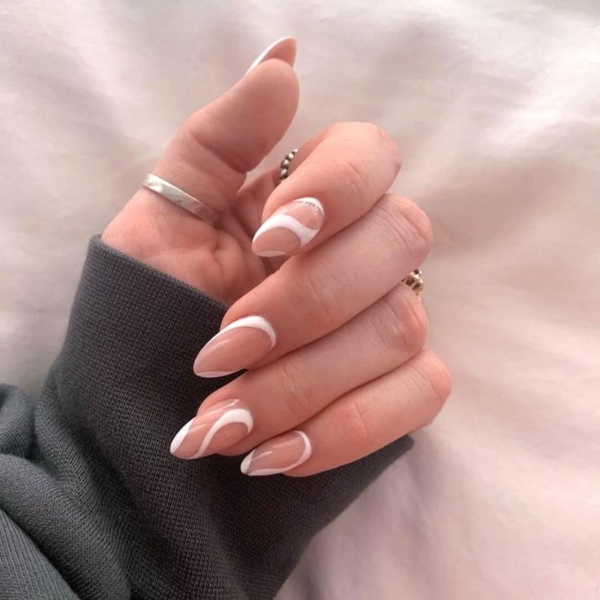 21. Oval French Nails
French tip nails draw attention to the tips by painting them a different color than the rest of the nails. This can be the classic approach, with white polish, or could be a combination of two bright colors for a modern finish. This is an excellent way to highlight the oval shape and elongate the finger, making it look slimmer.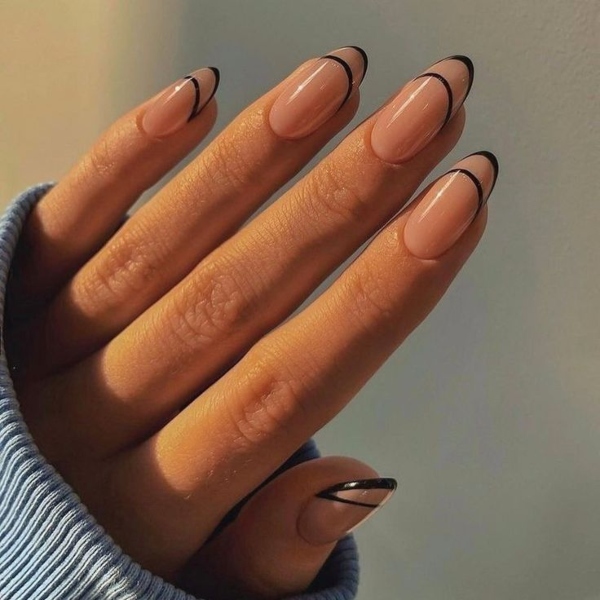 22. White Oval Nails
White nails are a popular choice because the crisp hue demands attention and will highlight your nail shape. The color is ideal for all occasions and can look modern and effortlessly stylish. White is also a symbolic color, representing new beginnings, making this a great way to make a subtle statement with your nail art.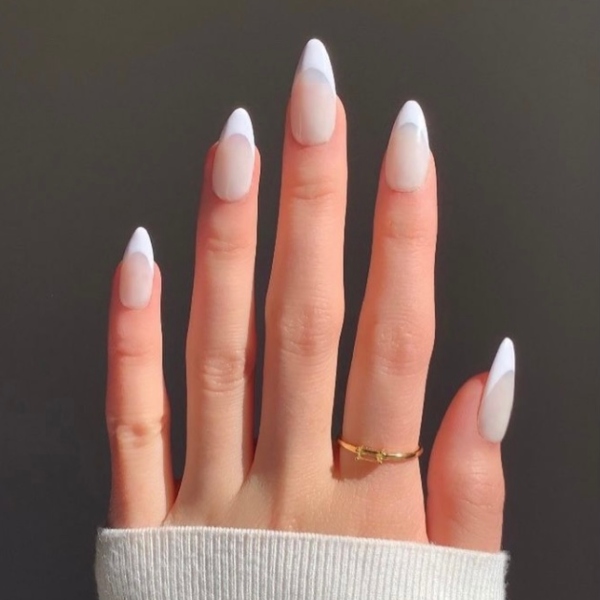 23. Black Oval Nails
Black nails are modern and stylish. They can feel rebellious or effortlessly cool and you can incorporate the color into your nail art in several ways, including keeping it simple by opting for a solid block of black nail polish or combining it with gold or white. Oval nails are a simple shape and will look fantastic when painted black.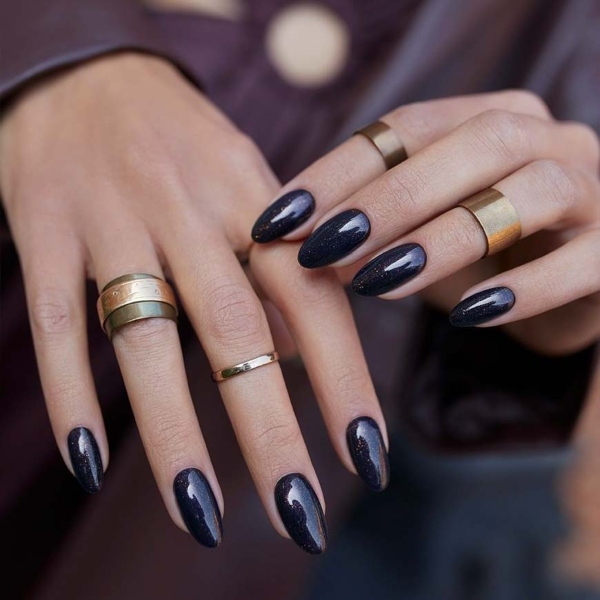 24. Nude Oval Nails
There is a shade of nude to suit every complexion, making this a manicure that complements all nail shapes and lengths. It can also be painted as a single shade for a delicate finish, or you can combine it with other colors for a more daring result. Nude nails are the perfect option for your oval nails, creating a simple but stylish finish that will complement the simplicity of the shape.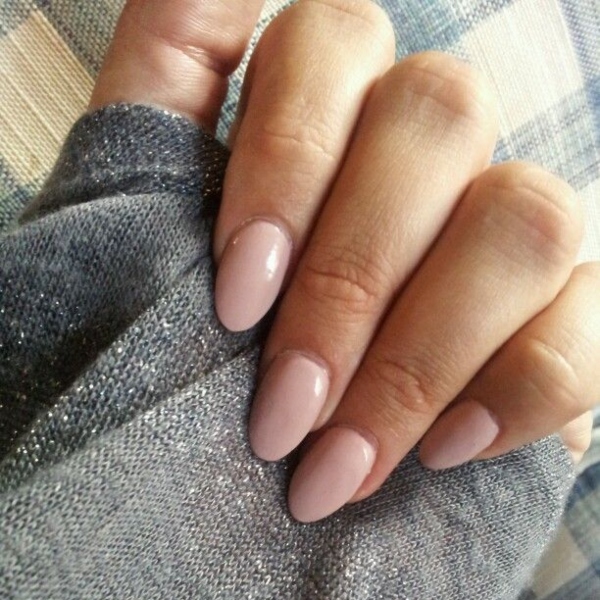 25. Natural Oval Nails
The appeal of natural oval nails is their wearability. The shape is one of the strongest and most durable and will not catch on to things. It can also be worn long or short, and opting for shorter nails with a clear polish is a great way to create a chic look for every day.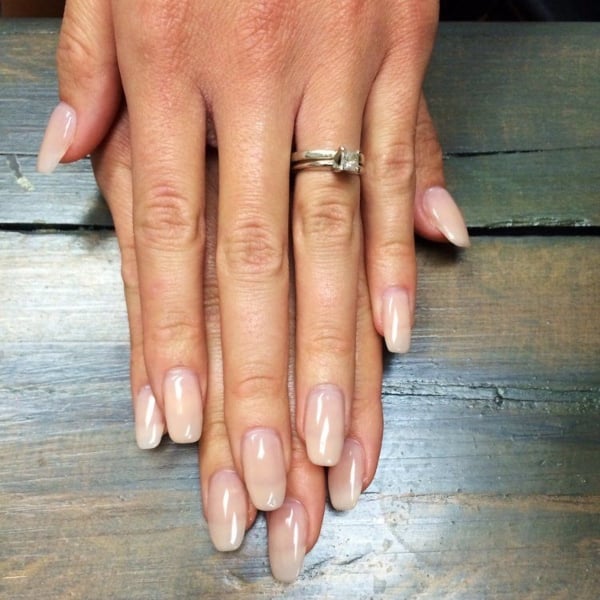 26. Pink Oval Nails
Pink nails are feminine and cute. There is a shade to suit every preference, from bold, vibrant hues like hot pink that demand attention, to pastel shades that have a soft and romantic finish. There are multiple ways to try to incorporate pink into your nail art, including painting the nails a solid block of color or blending different shades to create contrast.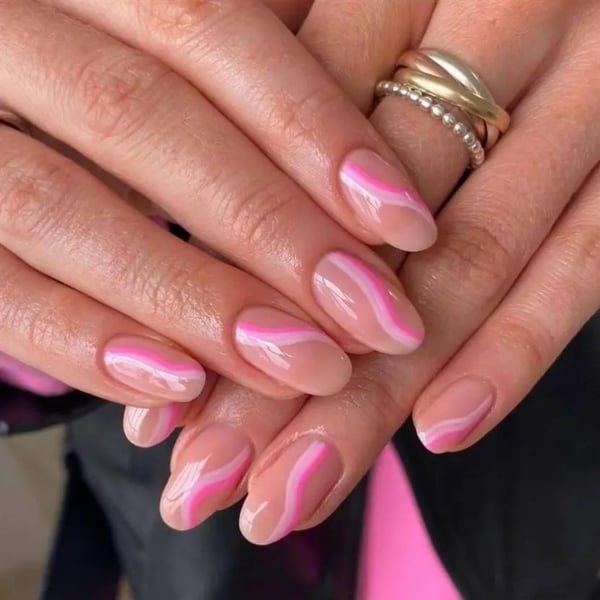 27. Pink and White Oval Nails
Pink and white is a classic pairing and will complement the timelessness of the oval shape. Oval nails are natural-looking and can be worn long or short. They are also strong and less prone to breakage. There are many ways to combine the colors, including opting for a pink base coat and a white tip or adding swirls, floral designs, or squiggles for a more creative finish.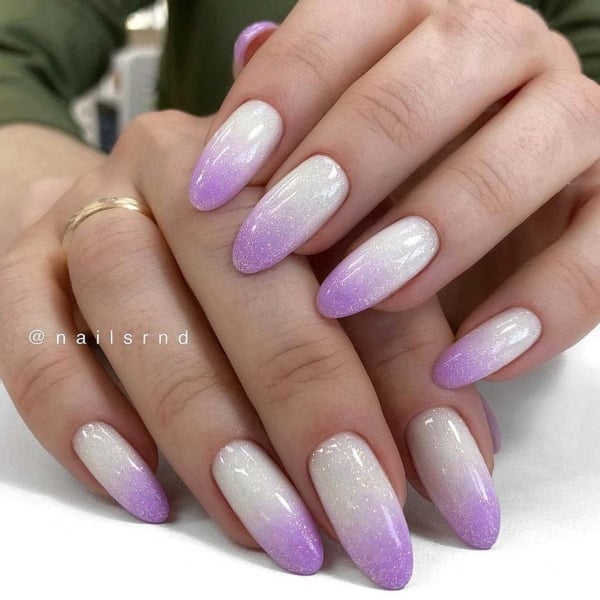 28. Red Oval Nails
Red nails are ideal for those who want to make a statement with their nail art. It is a color associated with passion and love and because of its vibrancy, it will instantly draw attention to your hands. Oval nails have a soft point and are easy to shape. It is an excellent choice for your next manicure because they are simple and natural and will make the finger look slimmer.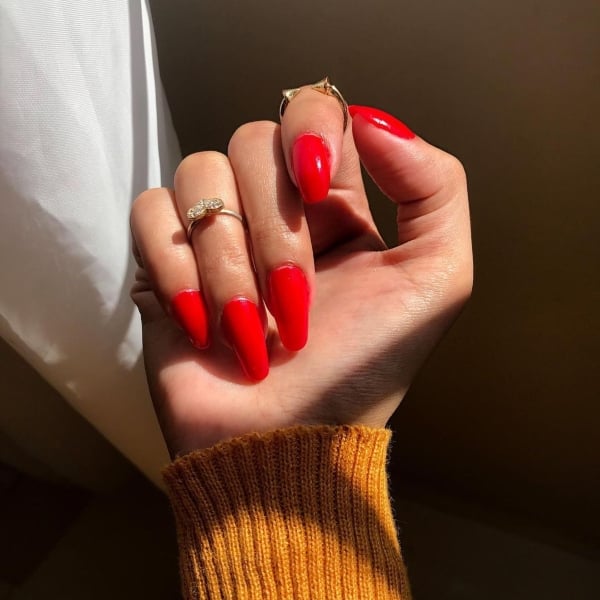 29. Kiss Oval Nails
For a fun approach to your nail art, you can opt for little kiss logos. This is an excellent way to get creative with different color combinations but is also a sweet way to celebrate a romantic relationship or just have some fun with your manicure. Oval nails are a great base for nail art and will complement your kiss design.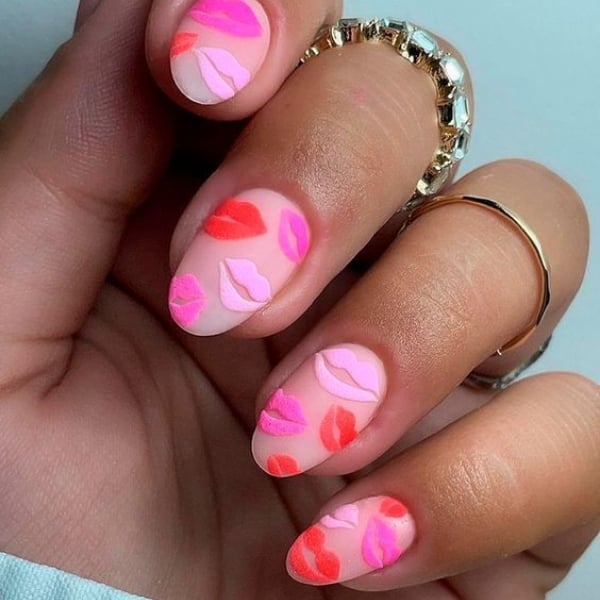 30. Gel Oval Nails
Gel nails are created with gel polish and cured with a UV or LED light. The gel will last longer than standard polish, allowing you to enjoy your manicure without worrying about it chipping for up to two weeks and it will also create a more natural finish than acrylic nails. Oval nails are a gorgeous, simple shape and the perfect option for your nail art.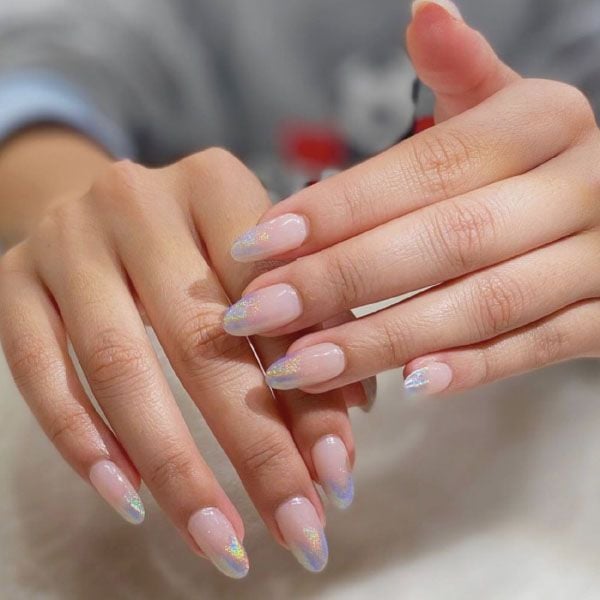 31. Oval Ombre Nails
For a stylish way to wear more than one color, try ombre nails. Ombre is a brilliant technique that combines two or more colors to create a graduated effect, from darker to lighter. The colors can be your choice, from bright and bold shades to soft, muted colors for a more natural finish. Experiment with your favorites and have fun because oval nails look good with everything.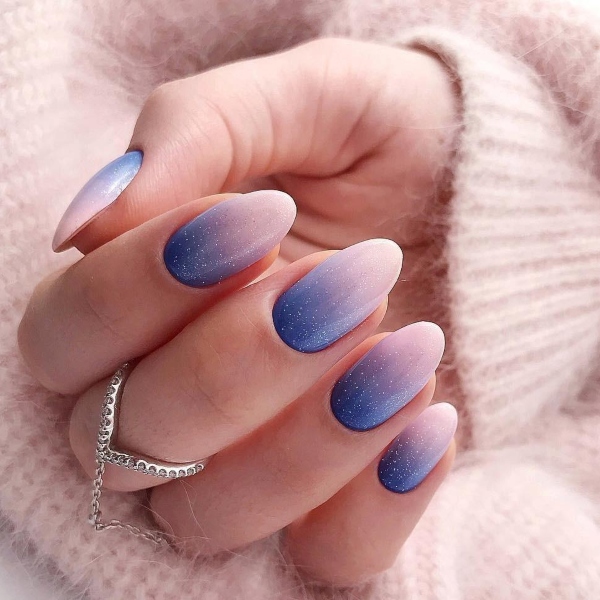 32. Blue Oval Nails
Blue nails are stylish and modern and there is a wide range of shades to choose from, making it easy to find the perfect hue. The color is associated with calmness and stability, qualities you can channel with your nail art. Whether you like light blues for a soft and romantic finish or darker colors to create a high-contrast look, there is something to suit every preference.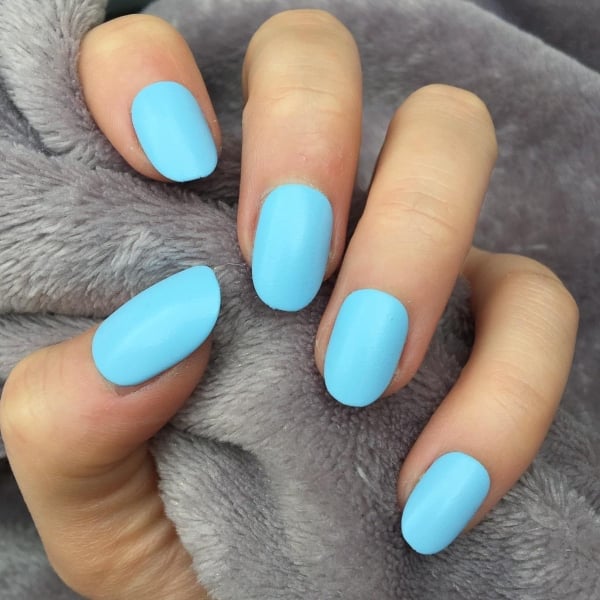 33. Matte Oval Nails
Matte nails are an excellent alternative to the classic glossy finish. They appear flat and smooth and are great for achieving a more texturally interesting finish. Matte polish can also feel modern and can be applied to nails in various colors. Oval nails are appealing because they are a versatile shape that is strong and durable.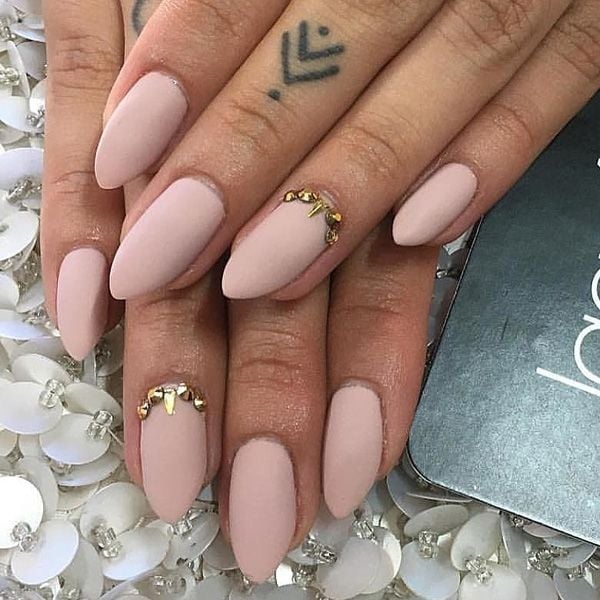 34. Coffin Oval Nails
Coffin nails have a very distinct shape, with tapered sides and a flat top, resembling the shape of a coffin. For an interesting approach to the shape, you can also combine them with the oval shape, creating a soft point at the sides. This can make the shape easier to wear and less daring. Try out your favorite nail art and experiment with length to find a look that best suits your preference.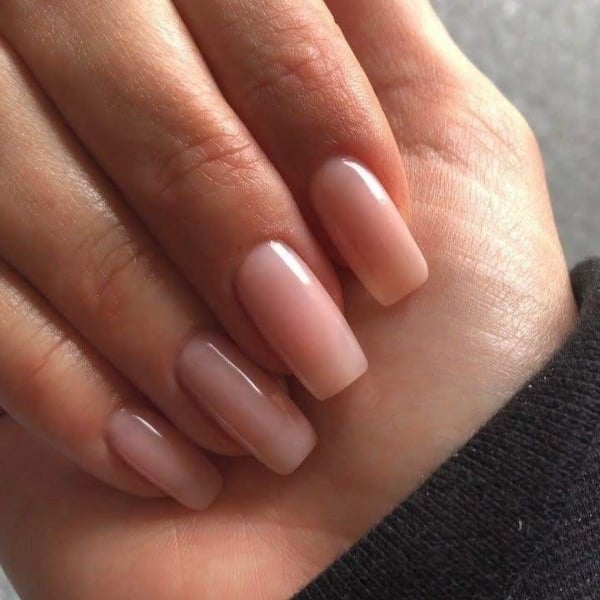 35. Summer Oval Nails
Summer is a time for experimentation and fun. This is the season to try out interesting nail shapes and colors. Oval nails will be the perfect canvas for bright colors or detailed nail art, and the simplicity of the shape, which is natural and timeless, will complement your nail art rather than overwhelm it. Summer nails will give your appearance a pop of color and draw attention to your hands.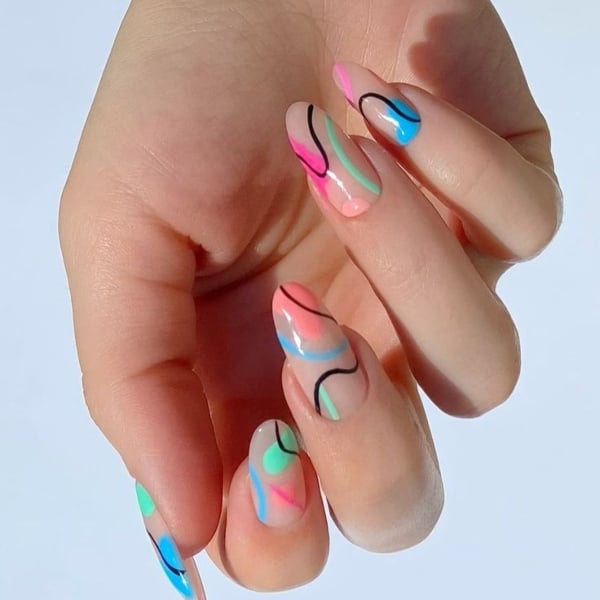 Oval Nail Shape FAQs
How do you shape an oval nail?
Oval nails are a classic choice when it comes to manicures, and they are easy to achieve. They are a natural shape and are therefore timeless and perfect for every season. You will want to file your nails by softening the edges at the tip, which can be done with a rounded motion. Do not make the edges too sharp, but the length does not matter much as the oval shape works well on both long and short talons.
What is the difference between round and oval nails?
Round nails tend to have straight edges but curve at the edges, while oval nails are filed on both the sides and the tips; the oval has corners that face inwards. It is also a fantastic shape to elongate fingers and can create a slimming effect.
What is the most popular nail shape for 2022?
The most popular nail shape for 2022 will likely be a tie between almond, tapered square, and coffin nails. Each of these has an individual appeal, whether you want something feminine and fun or require talons that are a little more understated and functional.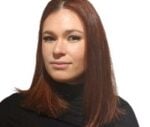 Arabella Roden is a skilled writer and sub-editor with over ten years of experience across print, digital, and B2B. She holds a Bachelor's Degree in Journalism and specializes in beauty, hairstyles, fashion, tattoos, and lifestyle topics. Arabella is currently the Chief Sub Editor at Mecca Brands and has been writing for The Trend Spotter since 2019.
SUBSCRIBE TO OUR NEWSLETTER
Subscribe to our mailing list and get interesting stuff and updates to your email inbox.