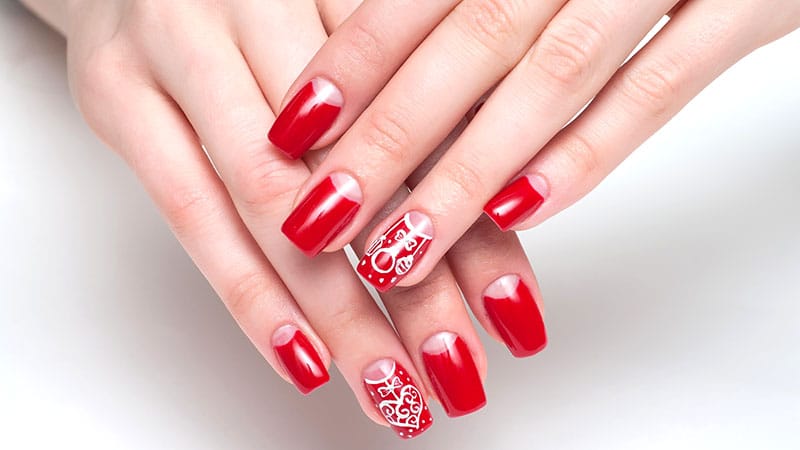 The Christmas season is one of the most fun and joyous times of the year, so why not reflect that with your choice of nail art? There are red, white, and green looks, snowmen designs, Rudolph, and Santa Claus, for those who love the classics. Or, if you prefer a more muted approach to your festive nails, then forget the reds and greens and try out brown tones, sophisticated nude and white pairings, and shimmery silvers. We only get to celebrate once a year, so now is the time to add sparkle to your manicure and express yourself. There is an option to suit every preference, and they can be adapted to your nail length and shape. If you have been searching for inspiration for Christmas nail designs to wear this holiday, keep reading to find your perfect style.
1. Brown Tones Christmas Nails
Not all festive nail art is approved for the office, but if you want an easy-to-wear and subtle look, forget the reds and greens and try out brown tones. The appeal of Christmas-inspired manicures is they can be created in various colors, allowing you to choose the combination that best reflects your personality. A pretty alternative to the classics can be made with a light brown base and white nail art. Adding browns and white is a gorgeous pairing that will complement each other. It is easy to wear because the colors are muted, and therefore lends itself well to a variety of settings, including more formal ones. This look is super versatile, and you can wear it with anything!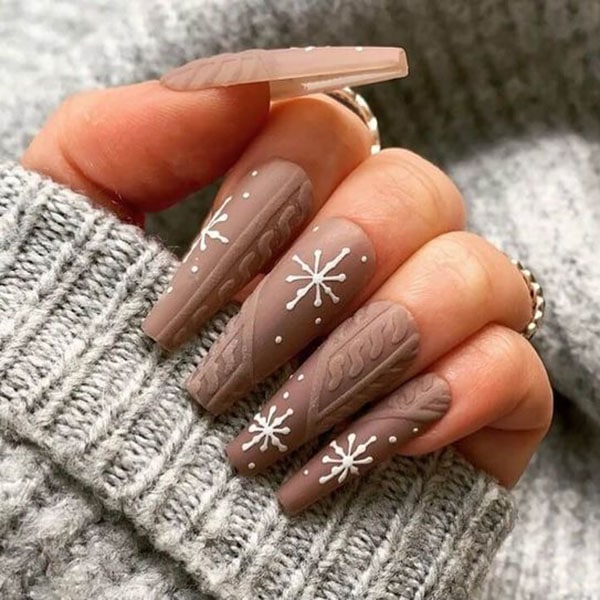 2. Nude and White Christmas Nails
Nude and white is a pairing that is easy to wear and gorgeous. The two colors are complementary and will help achieve a Christmassy manicure without being too in-your-face. This is perfect for the woman who has a more laid-back approach to nail art or who wants to try out Christmas looks that are chic and sophisticated. Designs that are muted are more wearable and can be worn in various settings, including the workplace. You can, of course, experiment with different finishes, making your artwork as bold and striking as you wish. You can also add glitter polish to a feature nail or give them a smooth, dry look with matte lacquer. There is an option to suit every preference.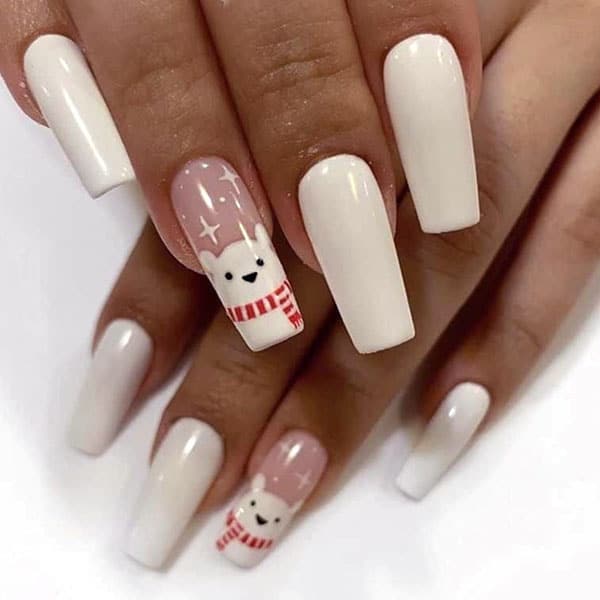 3. Pink Festive Nails
Pink is not a traditional color for the holidays, but it is a gorgeous one. This hue is timeless and classic and can complement all nail lengths and shapes. It can also be worn by women of all ages and lends itself well to multiple designs. For a softer, easier-to-wear look, lighter pinks are a fantastic option, but you can also choose nail art that features varying shades of pink nails for a subtle and pretty contrast. When deciding on your designs, this can be anything Christmas-related, from polar bears and snowflakes to candy cane stripes and hearts. This is ultimately one of the dreamiest and most feminine manicures around!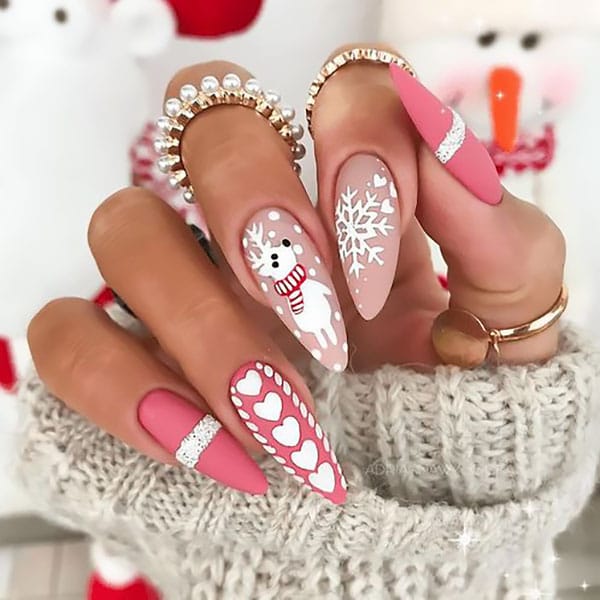 4. Gingerbread Man Art
Are gingerbread men your favorite Christmas snack? If so, a cute gingerbread man nail design will make your mouth water every time you look down at your hands. The brown of the gingerbread man will pair well with nude and gold colors. Paint the nude lacquer on the base coat and add gold patterns, spots, or French tips for a bit of shimmer. Your artwork can be kept on a feature nail, letting it become the focus of your look. This is a great way to draw attention to a special piece of jewelry like a wedding ring. Alternatively, you can add a gingerbread man to every fingernail for a striking finish.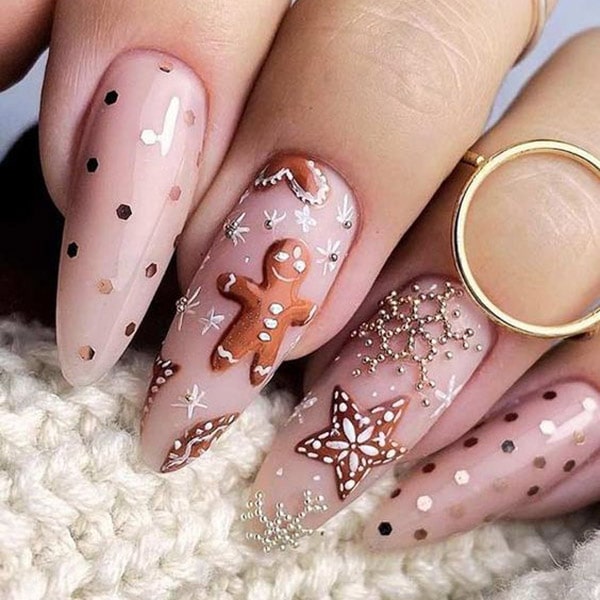 5. Rudolph Nails
Rudolph, the red-nosed reindeer, saved Christmas and is a welcome addition to any festive manicure. What better way to get into the festive spirit than by adding an image of Santa's trustworthy companion? Opt for a muted base coat to make your reindeer design the focus of your look. You can also add subtle details like red and white polka dots or a French tip. Keeping the rest of your manicure simple will make it easier to mix and match wh everything you own. Your nails will be cute, but they can also be symbolic. Rudolph can represent determination, good luck, and travel, making a subtle statement about your thoughts during the season.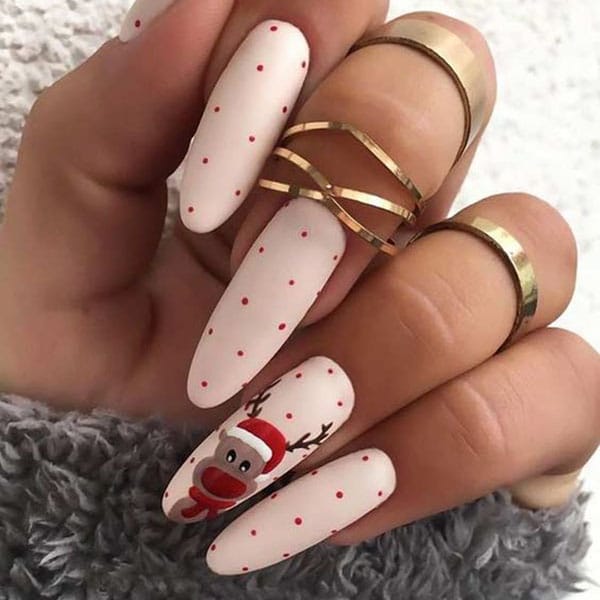 6. Red, Pink, and White Nails
There are few better color combinations than red, pink, and white. It is a girly and dreamy look that is often associated with love and femininity. These hues are complementary, blending into each other well and making for a more subtle appearance. You can get creative with how you choose to design your nail art, including opting for different color base coats for each fingernail and varying patterns. Or you can keep it more uniform by opting for the same base coat and design on every nail. For a simple approach, you may want to focus on a feature nail, painting your other fingernails with a pink base and white tips. The choice is yours, and this option lets you find something to best suit your nail length, shape, and personality.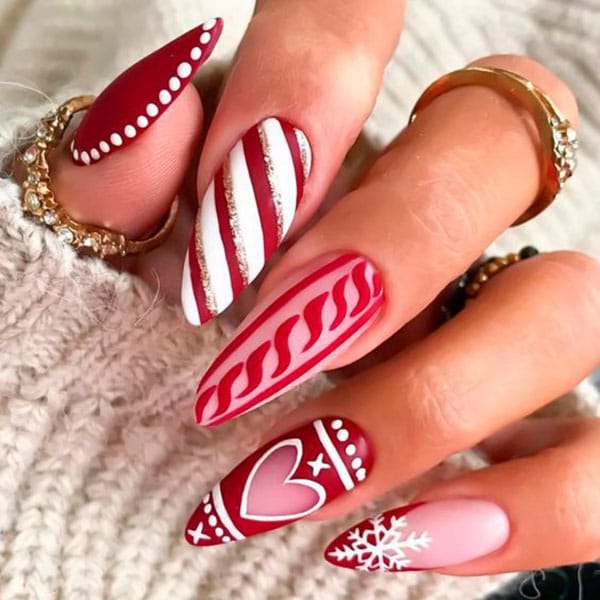 7. Gingham Nails
Gingham is one of the most simple yet striking prints. It is a two-color pattern, and you can get creative with what these colors are, choosing the hues that appeal to you the most. A stunning and versatile choice includes red and very dark green. These colors are a favorite for the holidays and pair well together, helping to achieve a contrasting look that will get your hands noticed. They can be created on nails of all lengths and shapes because of their simplicity, so you will not be restricted if you don't want to have ultra-long nails. To highlight the red in your designs, you can pair it with a red garment such as a cute dress or blouse.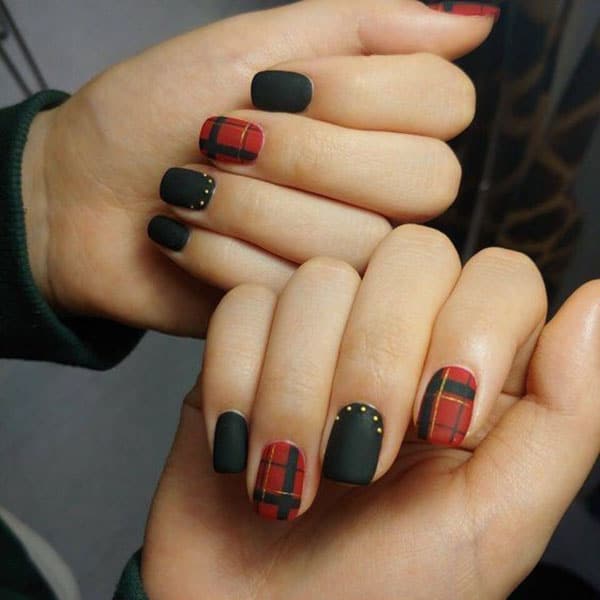 8. Arty Christmas Nails
If you love the idea of Christmas nails but prefer less obvious prints and patterns, then get creative with your nail art. You do not need to stick to the classic red, green, and white palette to produce gorgeous artwork, and arty Christmas nails can be of anything. They are more of an expression of how you are feeling. It is a way to allow your creativity to shine, and you can get your creative juices flowing by trying out different color combinations and designs. This could be subtle, with warm, muted tones like browns and nudes, or could be shades of grey and silver. Finish it with different patterns or simple illustrations for an eye-catching and interesting look.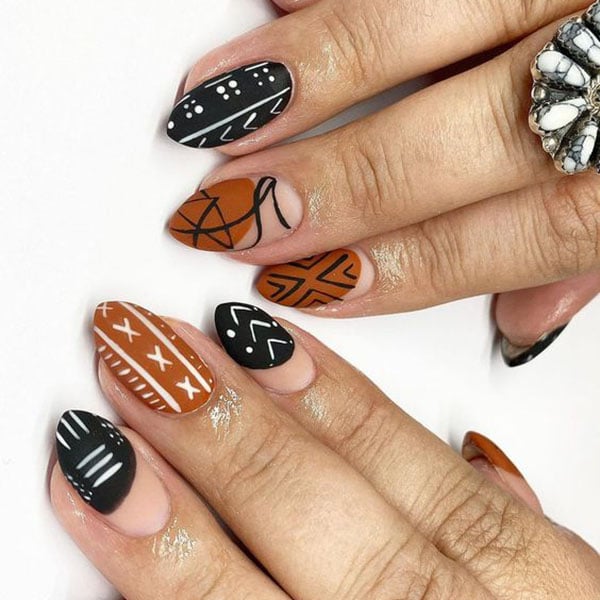 9. Lilac and White Christmas Nails
Lilac and white are a soft, dreamy combination. It makes for a subtle, easy-to-wear manicure that is very girly. White is a hue that can be worn with everything and is associated with freshness, purity, and new beginnings. Wearing it with lilac, a pale shade of violet-purple, adds just a slight hint of color to your manicure and makes for the perfect backdrop for wintery nail designs. This can include cartoon drawings of reindeers, Santa, snowflakes, or a snowman. To draw even more attention to your hands, pile on chunky rings and bold accessories.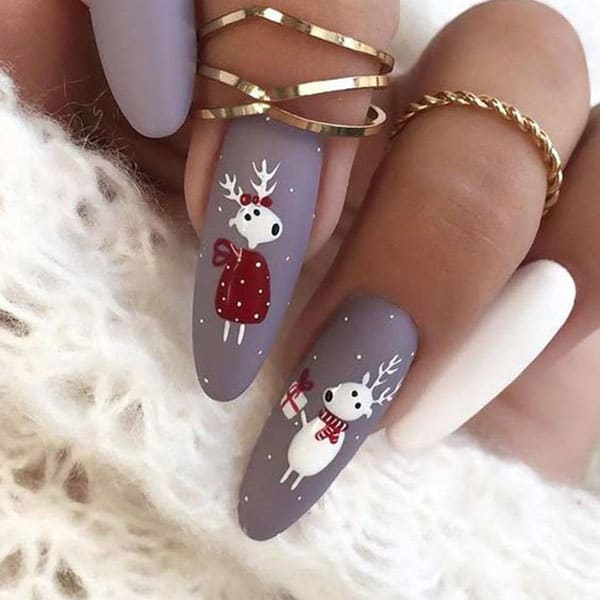 10. Festive Sparkle Nails
There is no better time to sparkle than the festive season. This is the one time of the year when you can wear as much shimmer as you want, whether that means dressing in sequin dresses or adding glitter finishes to your manicure. It can also be as subtle or as bold as you wish, depending on your preference. For a chic and wearable option, stick to neutral color polishes and complement them with glitter snowflake detailing. If you want a look that makes more of a statement, you can also experiment by adding gold tips to your nails or painting a few nails in metallics. This is a pretty and feminine choice and can be worn on nails of all lengths and shapes.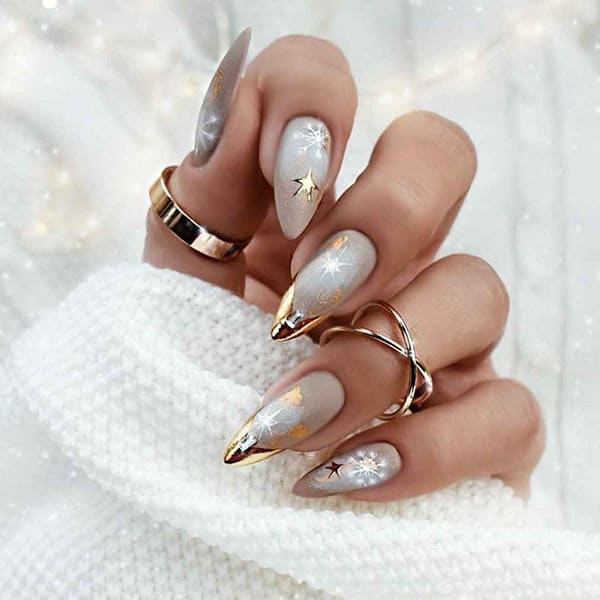 11. Black and White Christmas Nails
Black and white may not seem like a traditional option for Christmas nails, but it is one of the most classic pairings. It makes for a striking and chic look and can be worn with everything and everywhere. This combination can suit all skin tones and can be created on all nail lengths and shapes, and there are multiple ways to try it out. You can choose to paint all your nails with a black base coat, adding white nail art over it. Or you could paint all of them white and feature black nail art. You can also mix and match the base coats for a more striking finish. The designs you add can be anything from snowflakes to candy cane stripes, so have fun and get creative.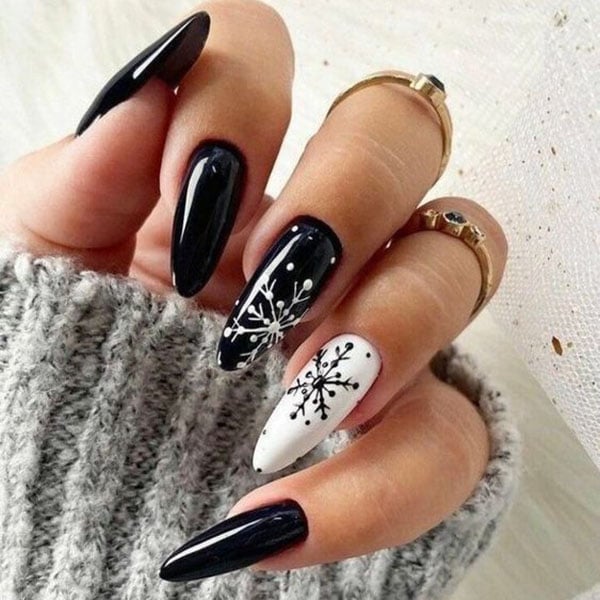 12. Red Blue Natural Nails
What better way to draw attention to your hands than with a striking combination of blue and red nail art? The appeal of this color combination is that it works well together, but it is also contrasting. This can highlight the shape and length of your nails and make a statement. The blue has a coolness to it, whereas the red has a warmness. For a Christmas-inspired manicure, you can add festive images over your blue and red base coats. A super cute option includes gingerbread men or snowflakes. You can also choose a third neutral color to create more balance, such as beige or nude.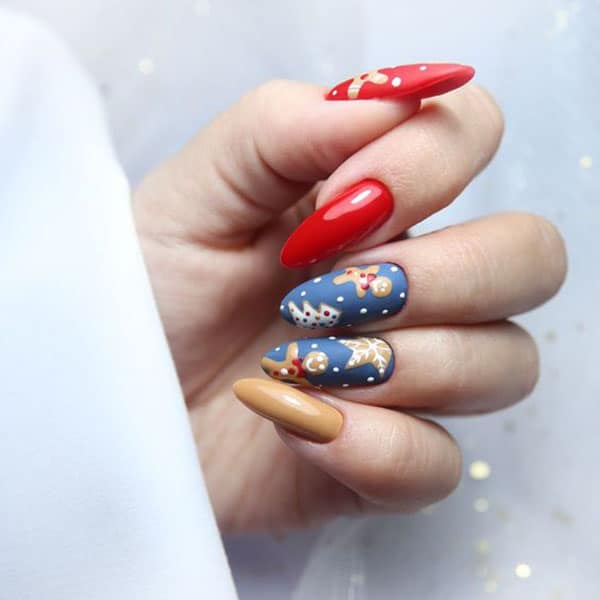 13. Green Check Nails
Green is an excellent color for Christmas, especially the darker shades, as they can remind you of pine trees. This hue is also easy to wear and looks great on most skin tones, and will flatter women of all ages. If you want a simple and chic manicure, then opt for green check nails. Checks can make a statement and have a very retro vibe, but when created in two similar shades of green, they look subtle and sophisticated. You can paint all your nails the same or choose to just have one fingernail with checks and the rest with plain green nail polish. Alternatively, you can create a contrasting appearance by painting a feature nail with green checks and the other nails with a bold shade of red.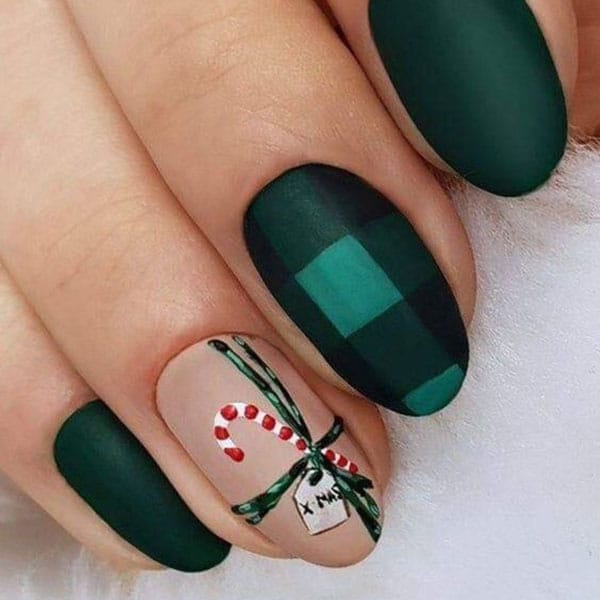 14. Matte Christmas Nails
Matte nail polish can create an interesting finish, different from the normal glossy options. It has no shimmer and has a sleek and sophisticated appearance by making your nails look smooth and flat. The appeal of matte is that there are various colors to choose from, and it can be worn on nails of all lengths and shapes. For a stunning Christmas look, dark green is a perfect choice. It is a versatile color that suits most skin tones and lends itself well to various settings. It is also a shade that can show off the matte effect well.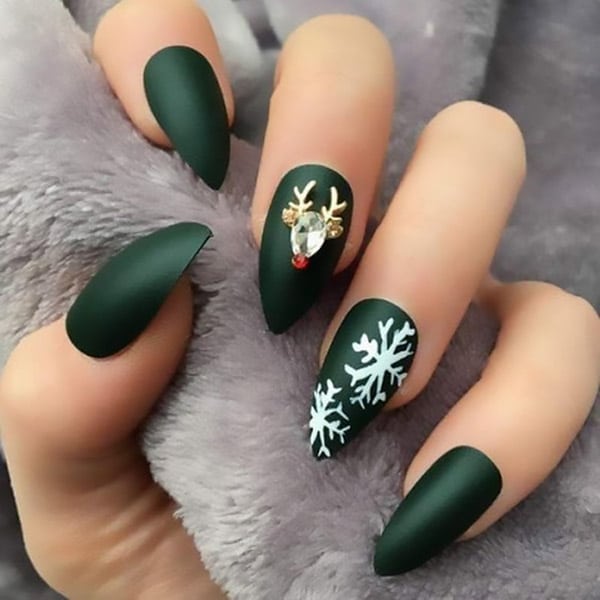 15. Nutcracker Nails
The nutcracker is a commonly used image during Christmas and can symbolize good luck and protection. They can also represent power and goodness, so it is not hard to see why someone would be drawn to this image for their festive nail art. There are multiple ways to design your nutcracker nail art, including opting for one on each finger or focusing on a feature nail instead. Choose your favorite color for the base coat, including white, gold, green, or red.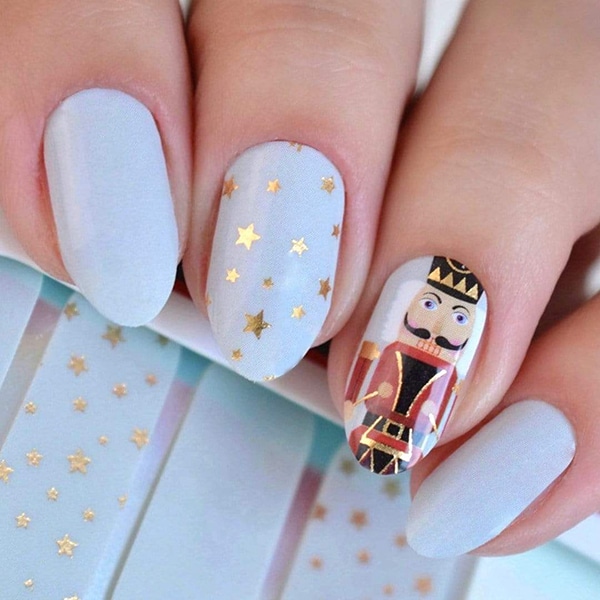 16. Red Metallic Nails
Red is a favorite color for Christmas, and opting for metallics makes it even more eye-catching. Metallic polish can be created in any color and is defined by its shimmery, mirror-like appearance. Red is a color associated with passion, seduction, and love, and although many women are hesitant to wear it because it is so bold, there is no better time to give it a try than during the festive season. For a more subtle look, it is best to opt for darker reds which are less noticeable and easier to wear. Alternatively, you can also add designs on top of it. This could include snowflakes, stars, and even Christmas baubles.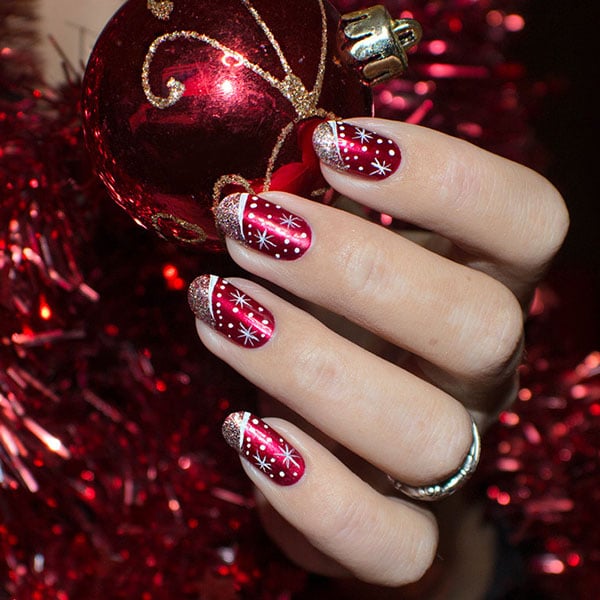 17. Green and Red Christmas Nails
Your nail art is a wonderful opportunity to express yourself and have fun. There is no better time than the festive season to have fun with your designs, and there are plenty of options for what you can choose. Swirls, candy canes, mistletoe, and Christmas lights can all be achieved with a green and red color combination. These colors are a favorite for the season and work well together to make for striking and pretty nail art. To make your look even more remarkable, you can experiment with different finishes, including matte or glitter polish. If you are going all out with your designs, you may want to tone down your outfit to focus on your manicure. Or not, and wear your favorite sequin dress and let your inner diva shine!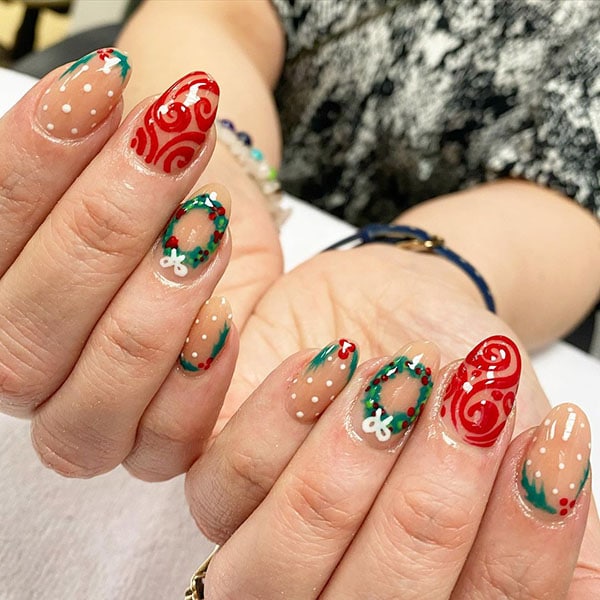 18. Gold Tips Nails
If you love the idea of the classic French tips manicure but want something different, try out gold tips. The appeal of this option is that it is striking yet simple to achieve, with the tips of your nails featuring a stripe of gold polish. You can experiment with different combinations depending on how dramatic and noticeable you want your nail art to be. For a subtle look that can be worn everywhere, stick to muted colors like nudes, beiges, and whites for the base coats. For a brighter option, emerald green or a rich shade of red is fantastic. To highlight the gold of your manicure, you can pair it with your favorite gold jewelry.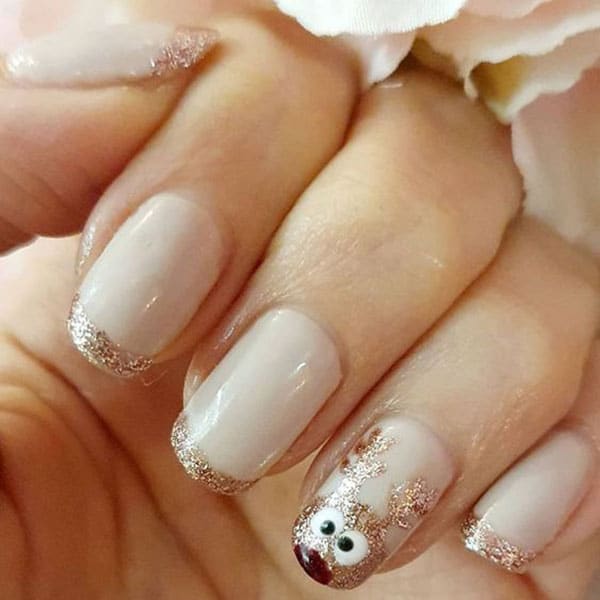 19. Christmas Nails in Neutral Tones
Deciding on a manicure with a Christmas theme is a wonderful way to get into the festive spirit. For most people, this is achieved with the classic red, white and green color combination, but neutral tones are an excellent alternative for those who want something different. These colors are easy to wear, more subtle, and can be worn on nails of all lengths and shapes. You may wish to stick to very similar shades for a more blended appearance, such as beige, whites, and sands. This pairing is simple and cute, lending itself well to many settings, including more formal ones. Finish your artwork with gold designs or Christmas trees, snowflakes, and reindeers.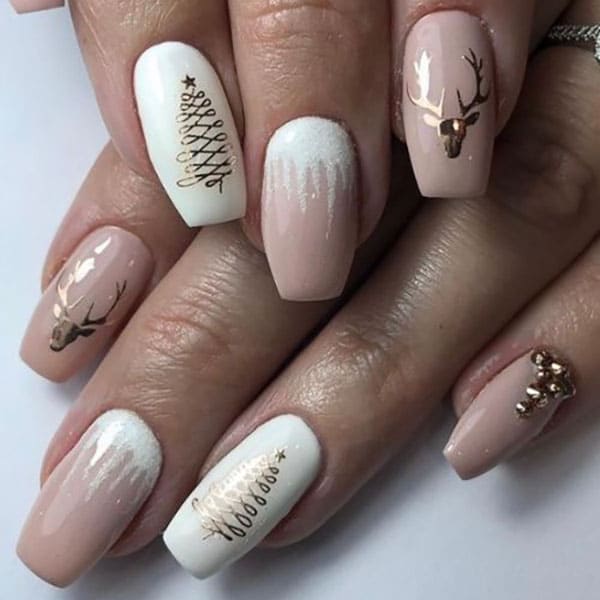 20. Mistletoe Leaves Christmas Nails
If you want a manicure associated with good luck, good health, and love, then why not try out mistletoe leaves? Mistletoe Christmas nails make for a stylish and interesting manicure, as these sprigs are hung up for decoration during the holiday season. There is also a tradition where you must share a kiss if you find yourself underneath a sprig when with your loved one. Perhaps this is a way to tell the people in your life just how much they mean to you. Or it is an excellent alternative to the more common Christmas imagery, for example, snowmen and snowflakes. For a subtle take on this artwork, choose to paint it on a feature nail, keeping the rest of your manicure simple and neutral.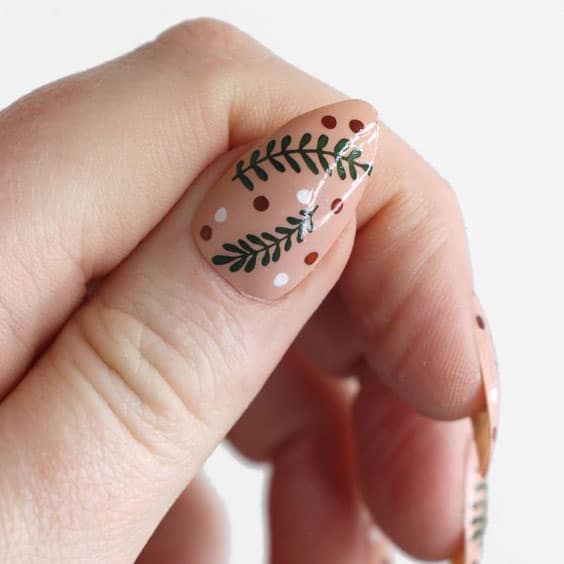 21. Christmas Baubles Nail Art
One of the most fun traditions during Christmas is decorating the Christmas tree with lights and baubles. These little ornaments can be of anything but are a great way to add color to your tree and can also have sentimental importance. It should go without saying that Christmas bauble nail art is a wonderful way to get into the festive spirit and add some color to your appearance. You can pick the colors that appeal to you most, but it is a good idea to stick to a neutral base coat so that the hues you choose pop against them. For a shimmery finish, you may wish to use glitter lacquer. You can make your manicure as subtle or as bold as you want to, so have fun!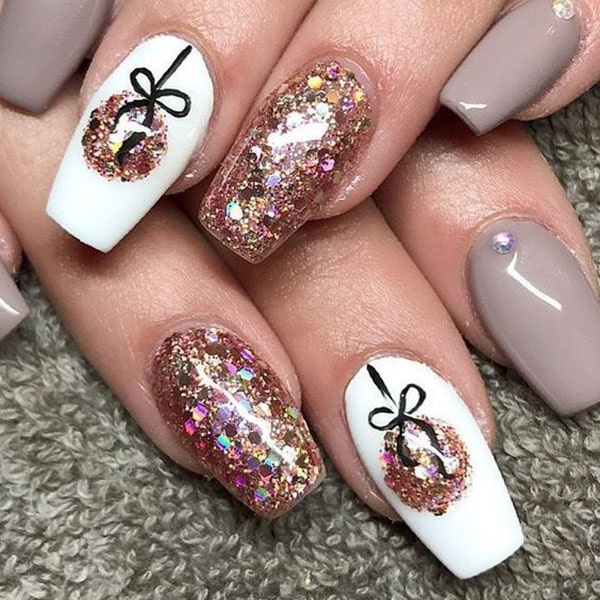 22. Silver Christmas Nails
Silver is one of the gorgeous colors for a manicure, and it works great for Christmas nails. The cool tone is often connected to the winter months and will look pretty when paired with snowflakes, stars, or tiny trees. Getting nail art is an excellent way to get into the festive spirit, but this option is a way to try out cute designs without going too crazy. Silver is connected with luxury, elegance, and sophistication and looks great on nails of all lengths and shapes. It can also be paired with different colors for a bold finish.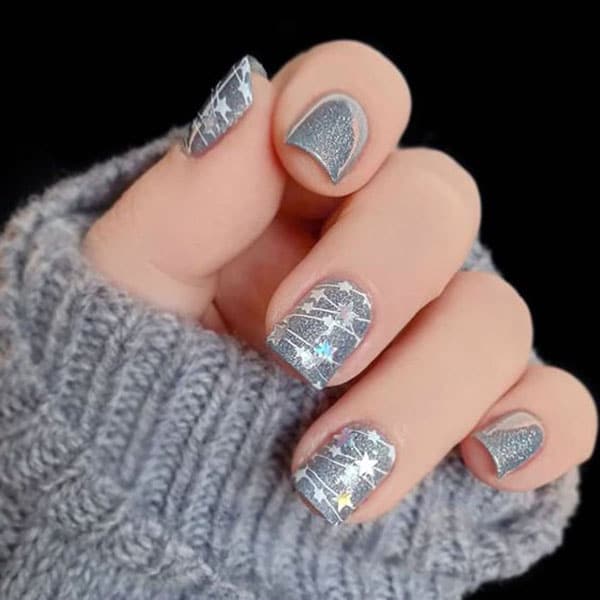 23. Grinch Christmas Nails
The Grinch has often been associated with anti-Christmas but is a fun and bright option for your next manicure. Based on the character by Dr. Seuss, opting for Grinch nails could mean that you are not caught up in the Christmas hype, and your nail art could set you apart from all of those who prefer Santa and Rudolph nail designs. You can keep it simple by opting for a green or red base coat on all of your fingernails except one, making this your Grinch-inspired nail and the focus of your look. Or, for an eye-catching finish that makes a statement, you can paint a different image on each fingernail.
24. Christmas Lights Nails
Another bright option for your next manicure is Christmas lights. The festive season is one of the most colorful and joyous times, and Christmas lights often represent this. It is a great way to experiment with varying shades and makes for striking nail art. You can decide on a different bulb for each nail for a more simplistic approach or add a string of Christmas lights across your nails. To complement the colors, it is best to stick to a nude or white base coat. You can also experiment with different finishes by adding glitter or rhinestones.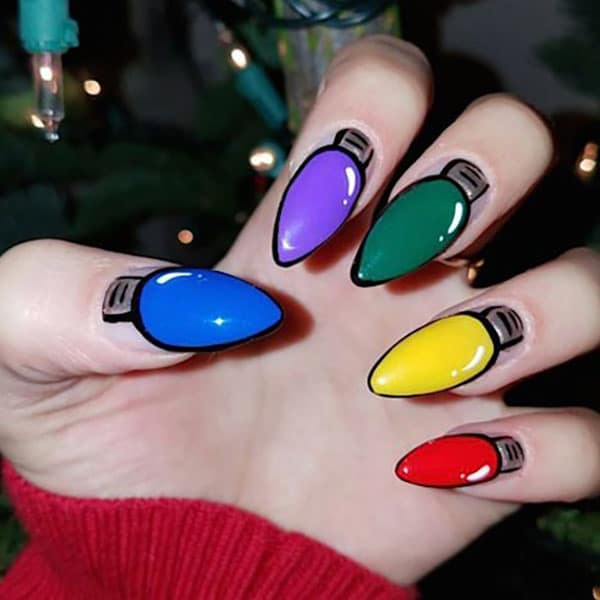 25. Textured Christmas Nails
Textured nails refer to how the polish feels, and there are many different finishes, including raised patterns and images. This gives your look an almost 3D effect but is much more wearable than a manicure dripping with jewels as it will not get snagged on anything. This artwork is excellent in various designs and images, so work with your nail technician to find the options that appeal to you most. Green or red are wonderful hues to try to get into the Christmas spirit, but you can pair one of these bright, bold colors with nude or white for a more subtle and toned-down approach.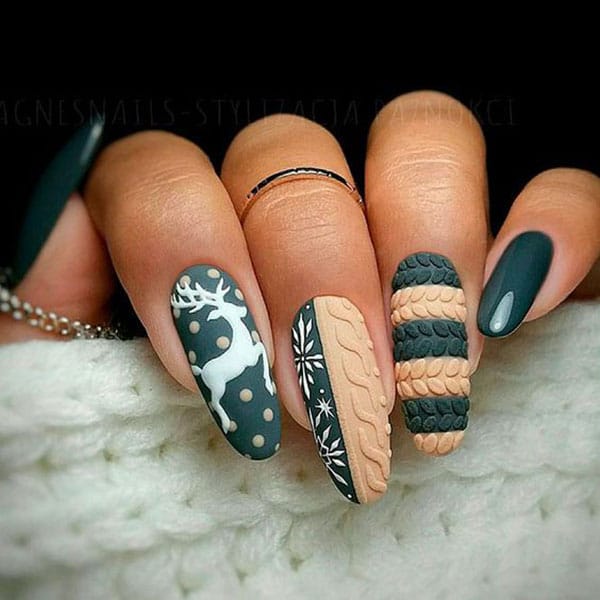 26. Olaf Christmas Nails
Fans of Frozen will love the idea of getting a cute little Olaf design this Christmas. The friendly snowman is associated with happiness, innocence, and goodness, and seeing his smiling little face on your nails can brighten your day. For the rest of your manicure, you can stick to a wintery look, adding snowflakes and snowballs. You can also paint each nail a different base coat, including light blues, greys, and whites, for a frosty finish.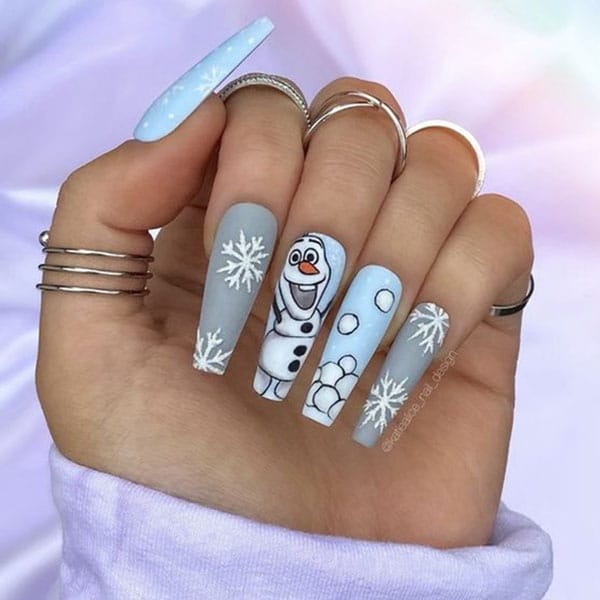 27. Silver and Blue Nails
There are few better winter combinations than silver and blue nails. Silver can give your nails a very modern finish and has a futuristic feel to it. It is also a color associated with luxury and sophistication and, depending on how you choose to incorporate it into your nail art; it could have a shimmery finish. Blue is a hue that complements silver, and you can choose from light blue to dark, depending on your preference. This will help you to achieve a cool, wintery look. You can also add details, including a metallic feature nail, snowflakes, glitter, or silver foil over a blue base coat.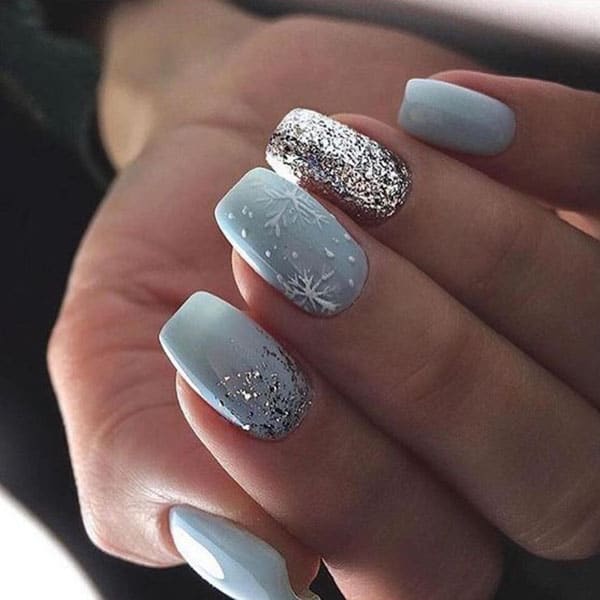 28. Simple Christmas Nails Design
Your manicure does not have to be overly detailed and complicated to get into the festive spirit. Simple Christmas nail designs appeal to those with a more laid-back approach to nail art that wants something easy to wear and stylish. The idea is that less is more, and you can choose from a wide variety of colors but combine no more than two. For example, green and white. Add glitter polish to give your nails a slight shimmer. A simple Christmas manicure can be worn on nails of all lengths and shapes; the lack of detailing means you do not need super long nails to rock this look.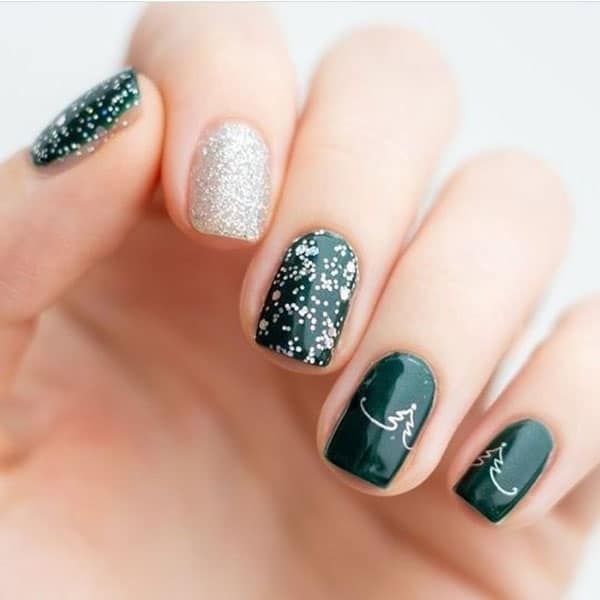 29. Candy Cane Swirl Nails
Candy cane nails are bright, colorful, and cheerful. This is a great way to get into the festive season without it being obviously Christmassy. Instead of opting for images of Santa, Rudolph, and Christmas trees, this nail art is much more abstract and can be worn all year round. Traditionally, candy canes feature white and red stripes, but if you want to add more color, you can include green or pink. For a sparkly finish, including glitter or rhinestones, and have fun choosing the option that best suits you. You can also keep it simple, with just a few swirls on one or two feature nails, or make it more detailed for a bold choice.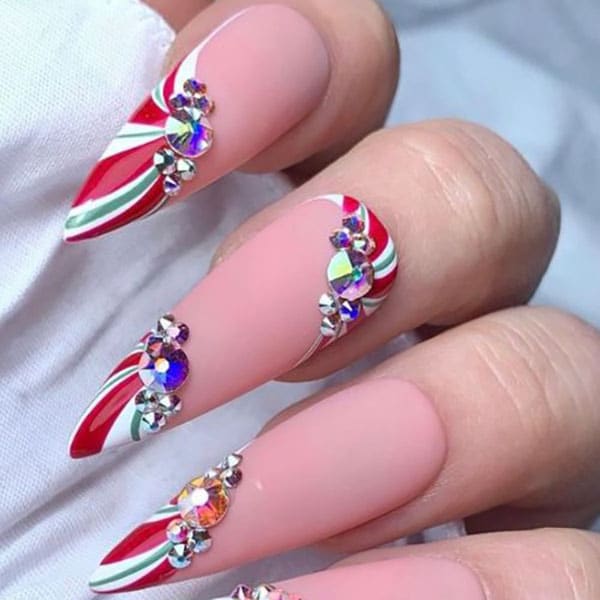 30. Dark Blue Christmas Nails
For a winter manicure that is stylish and sleek, try out dark blue Christmas nails. Dark blue is a color that is easy to wear and is often associated with elegance. It is also a hue that pairs well with other neutral colors, such as beige, white, silver, and even black, and you can find a combination that best suits you. For a wintery Christmas approach, add little snowflakes, snowballs, and glitter. Silver or metallics will give your manicure a gorgeous sparkle and make it more interesting. You may also want to paint one nail with an image of Santa Claus. Wear neutral, light-colored clothing to let your artwork be the focus of your appearance.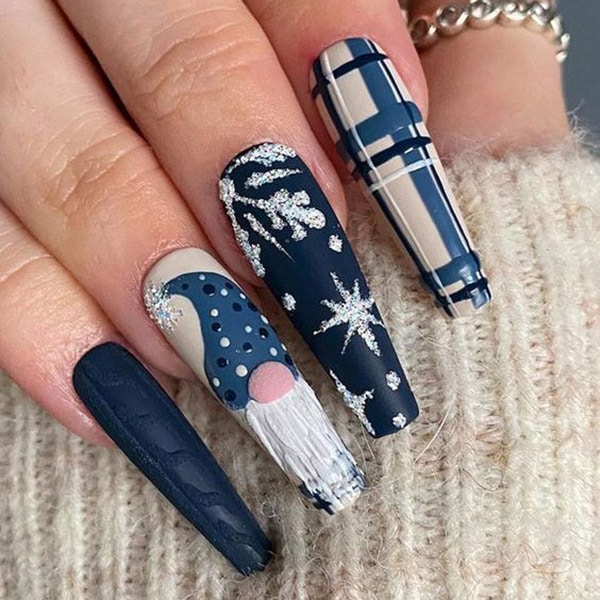 31. Santa and Rudolph Nails
Santa and Rudolph nails are a guaranteed way to spread joy and love over Christmas. This cute, festive nail art will bring a smile to your face and draw attention to your nails. Although there are many ways to try it out, keeping it simple with the classic red and white combination makes for an effective and striking manicure. You can also add candy canes, snowflakes, or stars for a more detailed finish. Christmas only comes around once a year, so why not enjoy it and make the most of the jolly season. For a matchy-matchy look, you can wear red and white clothing. Or, for a more subtle approach, wear your favorite chunky knits and a bright shade of your favorite red lipstick.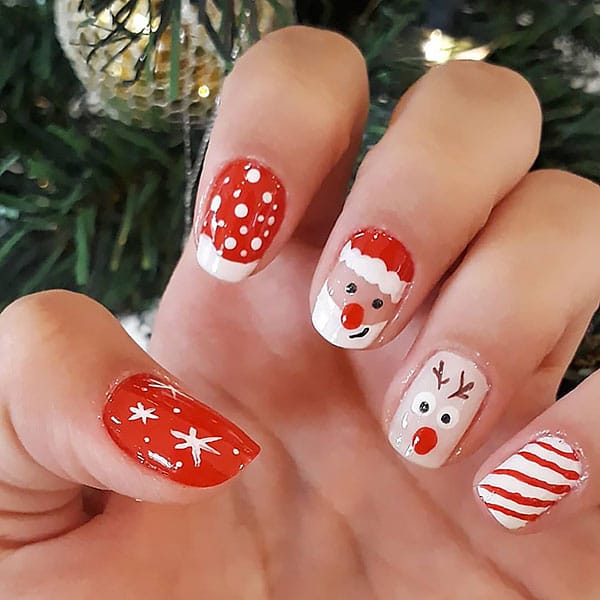 32. Mickey Mouse Christmas Nails
Mickey Mouse Christmas-inspired nail art is a wonderful way to celebrate a sweet memory from your childhood. For many, Disney movies were a favorite to watch with family or friends, including during the festive season. Deciding to decorate your nails with logos of your favorite Disney characters wearing reindeer antlers or Christmas hats makes for a fun and super cute manicure. To create this nail art, it is best to keep it simple to let the logos become the focus of your look. For this reason, it is a good idea to stick to a white or nude base coat, which will also let the black logos pop against this backdrop.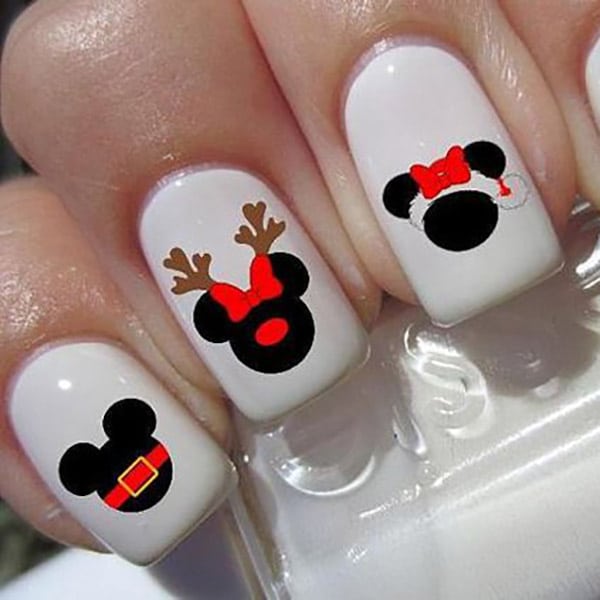 33. Snowman Christmas Nails
For those who live in colder climates, Christmas is often associated with snow and all the fun things you can do with it. This includes making snowmen. Snowman Christmas nails are a look that is linked to the happiness of childhood and can represent magic, transformation, and joy. Your manicure can also make a statement about the importance of living each day to the fullest; snowmen do not last, melting when the weather warms. It is important to embrace every moment. Not just this, but snowmen also make for the cutest artwork, which can be adapted to nails of various lengths and shapes. That said, the longer, the better because this gives you space to get creative and include more details.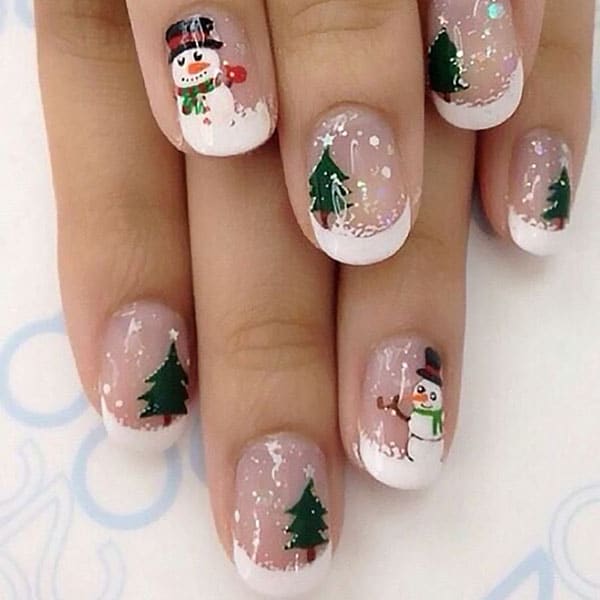 34. Christmas Tree Nails
Christmas is the time of year to choose nail art that is festive and fun; what could be more so than a Christmas tree design?! Christmas trees can brighten your home and fill you with joy, and the same concept can apply to your nail art. You can opt for a detailed and bright manicure with bold colored base coats and glitter polishes. Or keep it muted with a nude base coat and a cute Christmas tree design. This artwork works well with nails of all lengths and shapes; you do not need to rock stiletto nails to try it out. You may also wish to opt for a small tree on every nail or pick a feature nail to focus on. Work with your nail artist to achieve a Christmas-themed manicure of your dreams.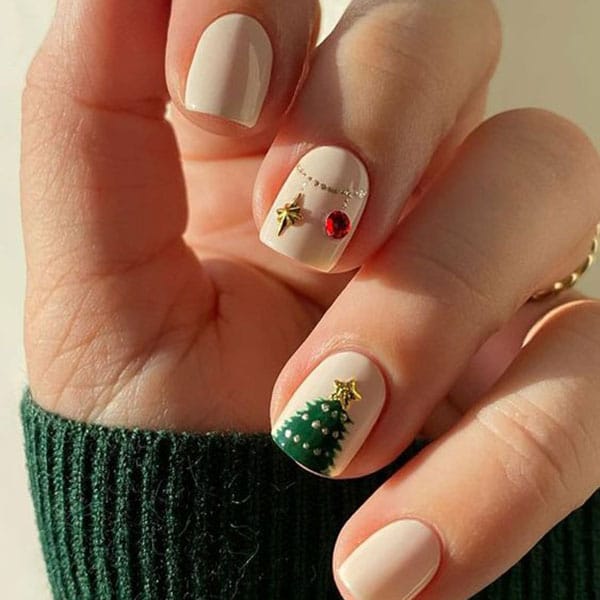 35. Dark Green Simple Nails
Green is one of the most popular colors during Christmas and reminds us of Christmas trees. It makes for a stunning, festive manicure that is fuss-free and simple. Opting for dark green is a hue that is easy to wear and will lend itself well to various occasions. It can be worn on nails of all lengths and shapes and will suit most skin tones and women of all ages. It is also a color that is associated with growth. Pair your chosen green color with white, red, gold, or silver for a more detailed finish.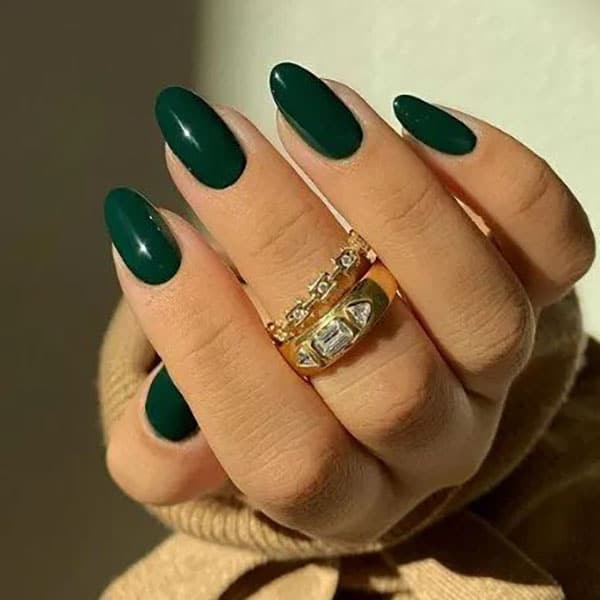 36. Christmas Nail Tips Design
Concentrating the artwork just on the tips is an excellent option for those who want to try out Christmas nail designs but prefer a more subtle approach. This is a fun and modern alternative to the classic French tips manicure and is achieved by painting your nails with a line of glitter polish on the top. You can then add a mistletoe or Christmas tree branch below this for a more detailed, wintery feel. This nail art works best with longer nails and more rounded tips, giving you space to experiment with your design. Wear your festive nails everywhere this season and enjoy the attention they are bound to bring you.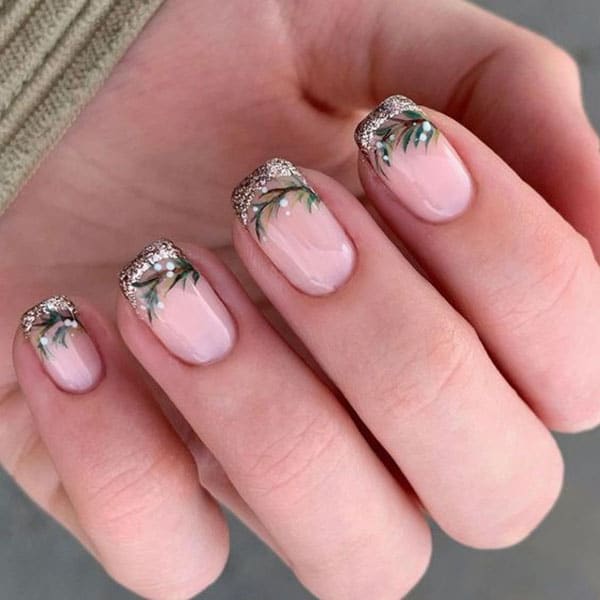 37. Ho Ho Ho Nails
The catchphrase "Ho Ho Ho" is associated with Santa Claus and is a way to represent his laughter and happiness. If you want a simple, cheery manicure that can bring a smile to your face, this could be it. There are several colors to choose from, allowing you to find the combination that works best for you; that said, the hues associated with Santa are red and white, and this pairing will make for a fantastic manicure. To add some bling to your nails, try glitter polish as a base coat or include rhinestones at the base of your nail.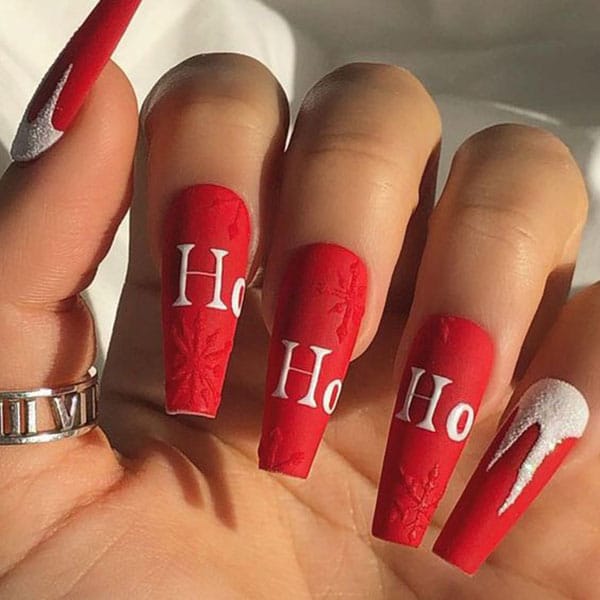 38. Dipped in Glitter Nails
Glitter is an excellent way to add some sparkle to your appearance for the festive season. Instead of painting your entire nail with glitter lacquer, an interesting alternative would be to try out the dipped effect. It looks as though you have soaked your hands in fairy dust, aka glitter polish, and covers only a portion of the top half of your nail. This makes for nail art that is incredibly simple to achieve but also stylish. It is fun, feminine, and will draw attention to your nail shape, although they can be created on various shapes and lengths. To keep with the Christmas theme, opt for red or green colors.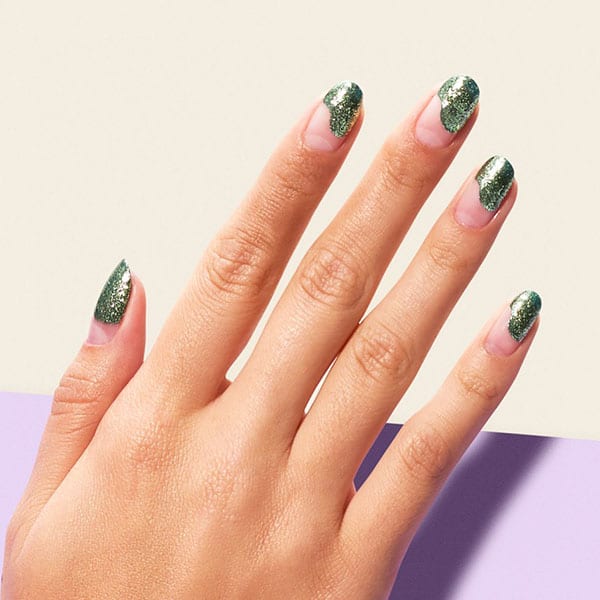 39. Baby Blue Christmas Nails
One of the biggest nail color trends during the fall was blue, and the trend continues for the Christmas season. Baby blue brings to mind icy mornings and winter skies, and it suits any nail shape. Give your manicure a festive twist by adding extra details in complementary shades – think white, silvery glitter, and black.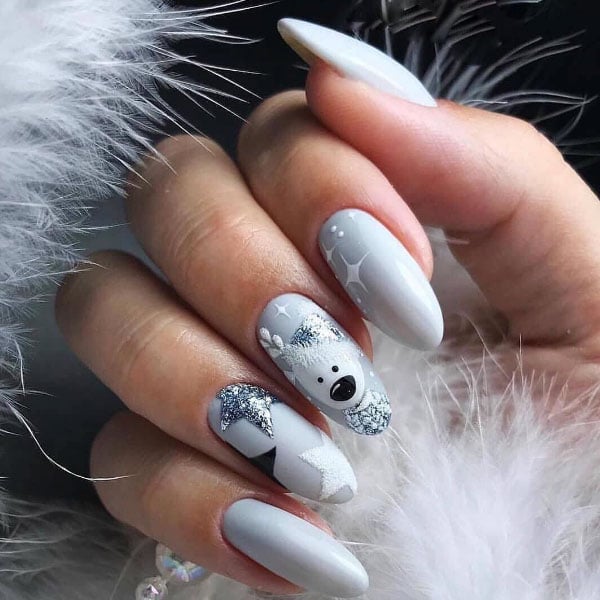 40. Christmas Decorations Nails
If your favorite part of Christmas is decorating the tree, why not give your fingertips some festive decorations? Starting with a neutral base coat, add tiny colorful baubles to your nails. Dainty and cute, the look is one of the more subtle holiday manicures – but it will put you in the Christmas spirit in seconds!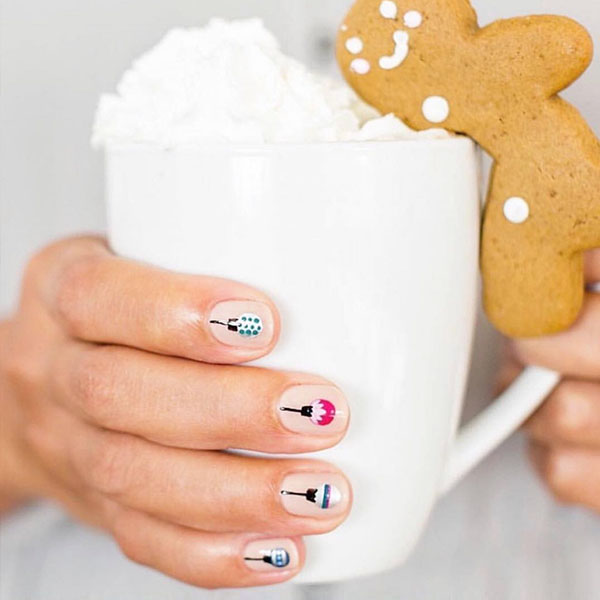 41. Christmas Red And Gold Nails
An elegant and classic option for your Christmas manicure is red and gold nails. The combination is instantly festive, bringing to mind Santa, Rudolph, holly berries, and a roaring fire. Colour block red and gold nails will give your fingertips a 'wrapped present' look, while a red manicure with a gold feature nail and star accents looks sophisticated yet celebratory.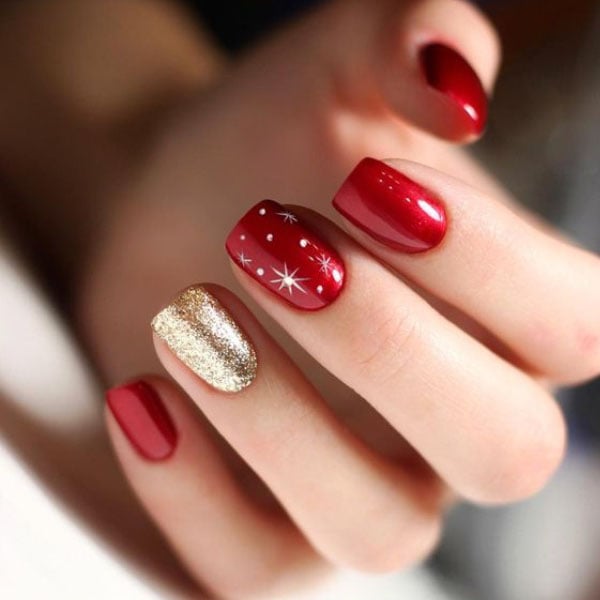 42. Christmas Reindeer Nails
A quick and easy way to give your standard manicure a Christmas makeover is with a character feature nail. And what's cuter – or more festive – than a reindeer? Make sure you add antlers and a sprig of holly, so everyone knows your adorable animal is one of Santa's helpers. You could also add sleigh bells and a red nose to turn your reindeer into Rudolph himself.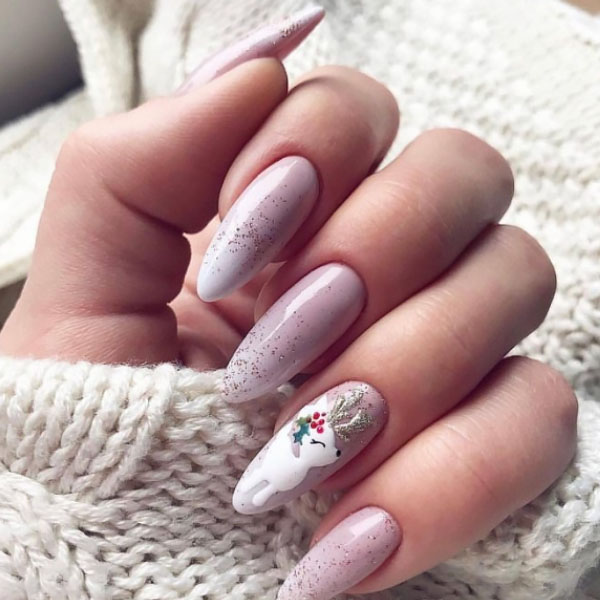 43. Christmas Wrapping Paper Nails
Inspiration for your Christmas nail art can be found anywhere – even under the tree! Use the patterns on the wrapping paper as a guide to creating a unique and multi-dimensional manicure. Think stripes, glitter, holly sprigs, and ribbons. Your nails will look good enough to unwrap.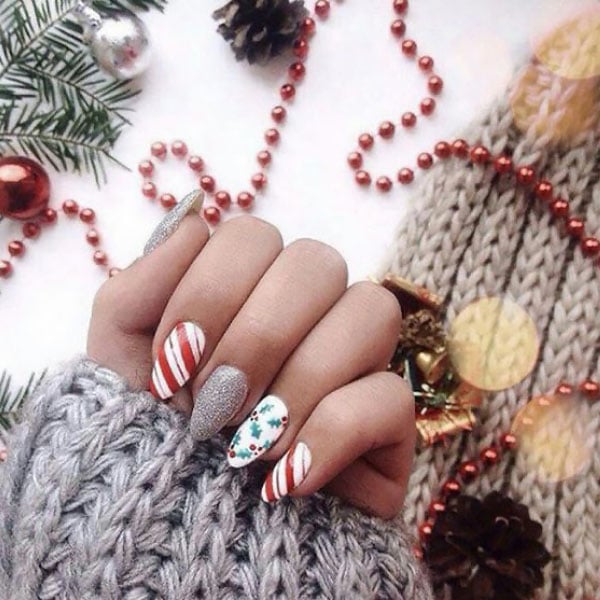 44. Pastel Christmas Nails
While classic Christmas colors like deep red and vibrant green are always in style during the festive season, some prefer a more understated and chic effect. For lovers of white and neutral shades, pastel Christmas nails are ideal. Because the colors themselves are muted and simple, ensure you add one or two feature nails with wrapping paper-inspired patterns, and perhaps a tiny touch of glitter.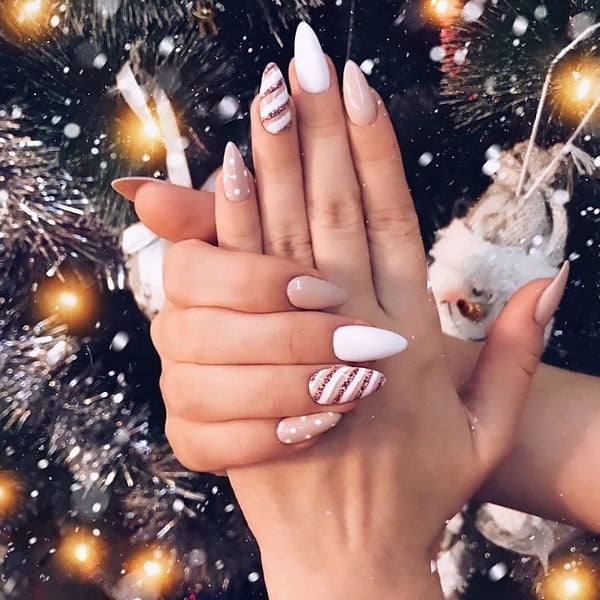 45. Santa Christmas Nails
Christmas only comes once a year, so if you love the season, make the most of it and try Santa Christmas nails. Make Mr. Claus the focus of your feature nail, and add other Santa-inspired accessories like a sleigh, present, mitten, or boot to your other nails. Alternatively, keep the jolly character as the center of attention by contrasting with a classic cherry red manicure.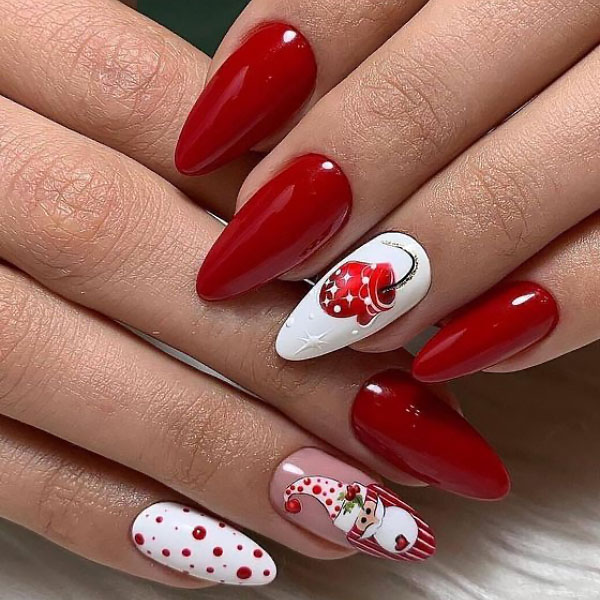 46. Stars Christmas Nails
Stars don't just belong on top of your Christmas tree – they look great on your nails too! Modern and understated, yet sparkly and playful, a stars manicure has a youthful appeal without overdoing it. The look adds a touch of glittery fun and works on any nail length, from natural to stiletto.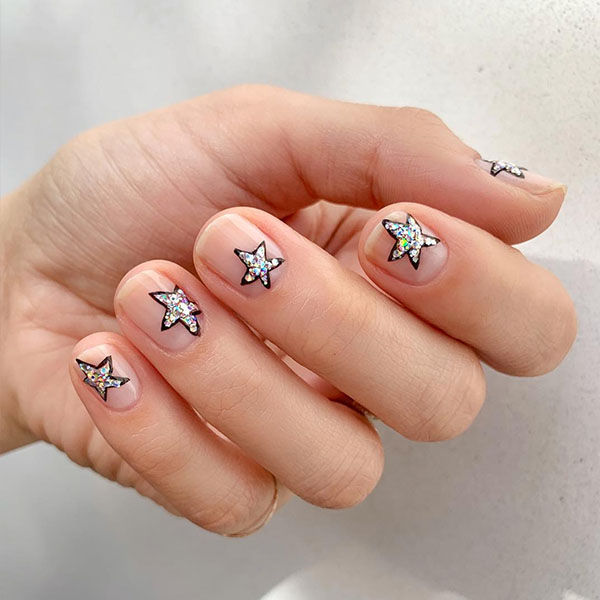 47. Grey Christmas Nails
Another gorgeous and stylish option for neutral lovers is grey Christmas nails. Frosty and elegant, this hue has a Snow Queen vibe that pairs perfectly with a sexy feminine shape like a mountain peak or coffin nails. Fresh white accents like snowflakes look great against a grey base, but there are no limits. Use the pale hue to offset a character feature nail, or add a wash of silver glitter for an extra festive touch.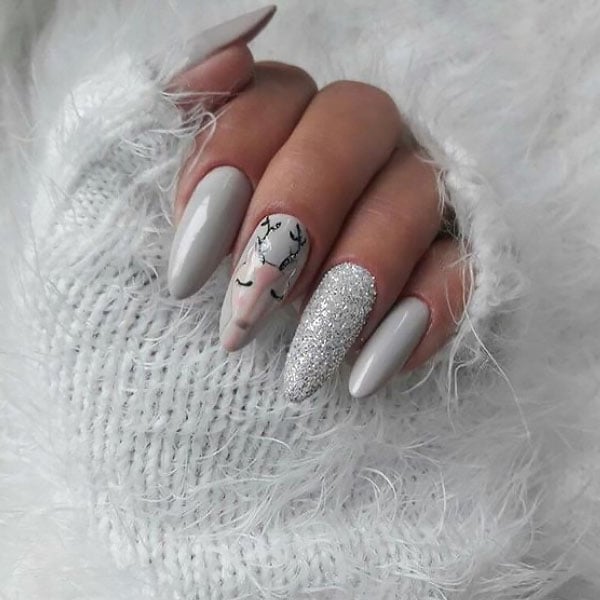 48. Colorful Glitter Christmas Nails
It is the season to shimmer and shine, and that means glitter nails! Christmas glitter combines all the classic hues of the season – emerald, ruby, gold, and silver – and looks fantastic against a neutral base coat. The final effect makes it look as if your fingers have been dipped in magic dust. Plus, it's one of the easiest Christmas-themed manicures to achieve.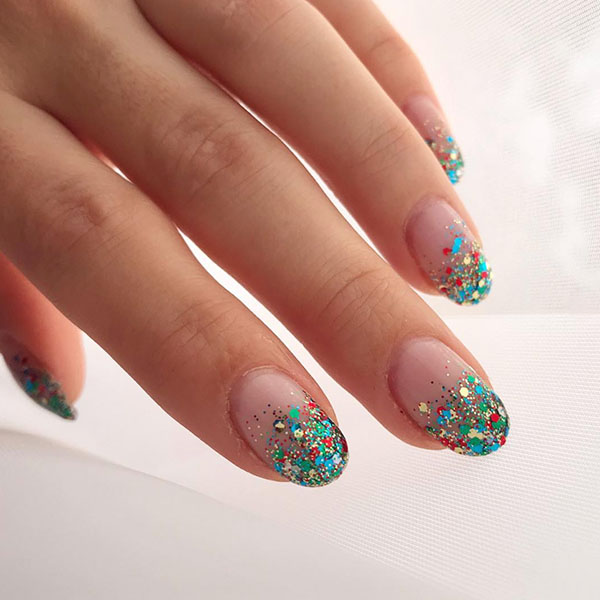 49. Cute Christmas Nails
There's no shortage of cute inspiration at Christmas time. Bring out your inner child with adorable cartoon versions of Christmas characters like Rudolph and Santa. These designs look best on short, square, natural nails rather than a long stiletto or coffin shapes, as those tend to have a more glamorous and sexy feel.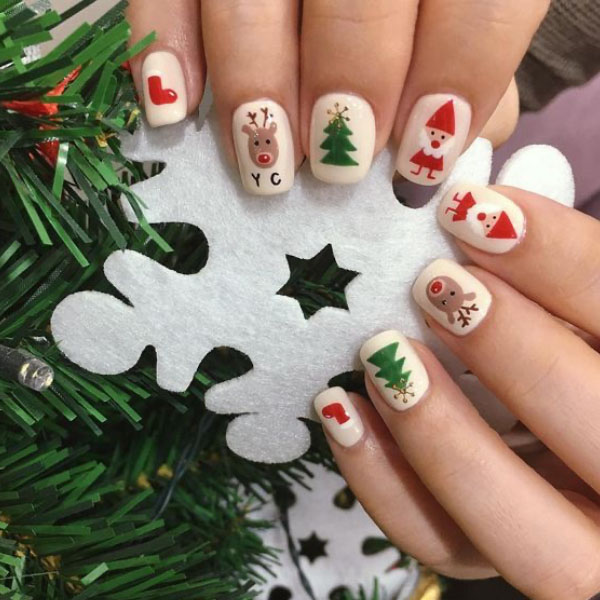 50. Green Christmas Nails
Emerald green is a classic Christmas color because it reminds us of pine trees. That makes it an excellent base color for your festive manicure. Give your green Christmas nails a sophisticated twist with white and silver glitter accents. You could add simple stripes or dots, or go all out and create stunning snowflakes and reindeer.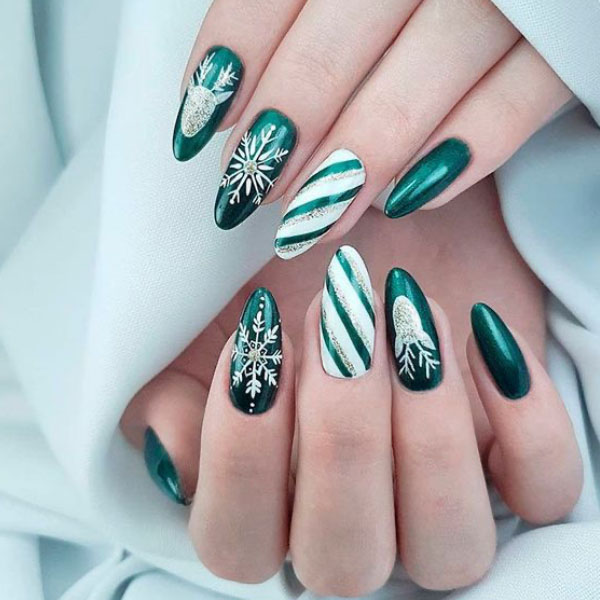 FAQs
How do you do Christmas nails?
There are many ways to make your manicure more festive in time for the holiday season. Express your Christmas spirit by choosing seasonal colors – like red, green, gold and silver – or adding a touch of sparkle with glitter. For an extra special look, you could also get creative with Christmas-themed designs. 
How do you paint your nails for Christmas?
Because Christmas is such a special occasion, it's important to take extra care when painting your nails. Make sure you go through the full process of nail care and buffing before starting to paint, and add a chip-proof top coat to avoid ruining your manicure while tearing open your presents! 
What are some fun Christmas nail art designs?
The best Christmas nail art designs are both fun and cute. Try a Santa or reindeer feature nail, or – if you have a very steady hand – Christmas decorations and baubles on every nail.
SUBSCRIBE TO OUR NEWSLETTER
Subscribe to our mailing list and get interesting stuff and updates to your email inbox.