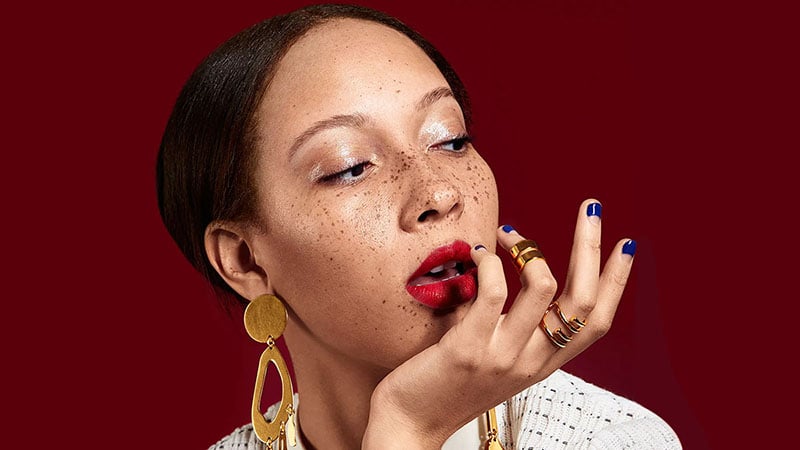 From the falling leaves to the cooler temperatures and stunning shades, this season is one of the most inspirational for fashion. Whether you love the brown and neutral trends, you always add a pop of color to your attire, or you keep it minimal all-year-round, we've found the perfect fall nail designs that all fashionistas will love.
1. Column Chart Design Nails
Take fall colors, and put a fun twist on them. This funky and geometric design takes its inspiration from column charts and uses shades that are perfect for the season. To create this monochrome manicure, take small bits of tape and place them in the style you prefer – add some spice to the overall look by changing the position of the bars on each finger. No matter what nail length or shape you have, it's a universally flattering way to elevate your ensemble.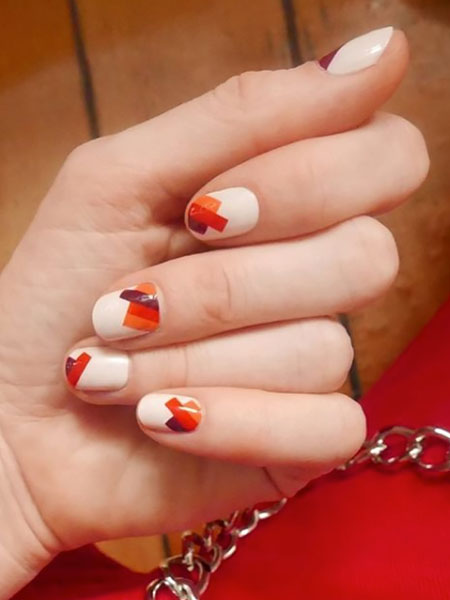 2. Fall Leaves Nails
Certain things truly represent fall, and one of those things is falling leaves. This blend of nude and black polish and delicate artwork resembles a masterpiece that is autumn, across each fingertip. Using a fine brush and nature-inspired colors, paint delicate flowers on the tips and ends of your nails, but be sure they take up one-third of the space – this will elongate the fingers and keep it looking elegant. For a high fashion twist, add s feature nail in black. It's a great way to get excited about the cooler season and stay stylish.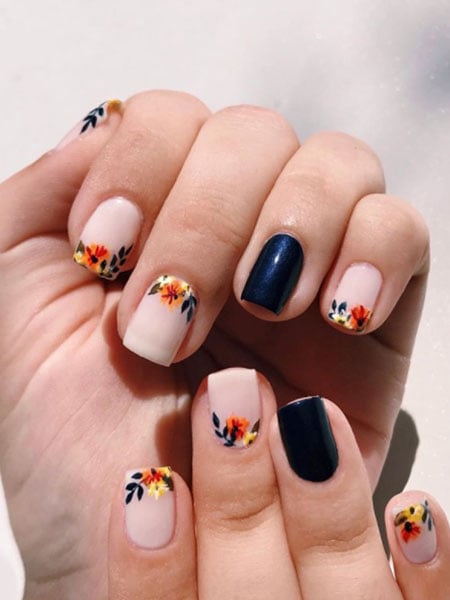 3. Mustard Nails
It's one of the most significant colors of the season, so why not wear it everywhere? These mustard nails are simple in design but so effective in action. A yellow-toned green hue is a perfect option for all skin tones – it pops perfectly on everyone. You can rock this shade with greys, blues, and browns – it is the best companion for a stunning fall wardrobe.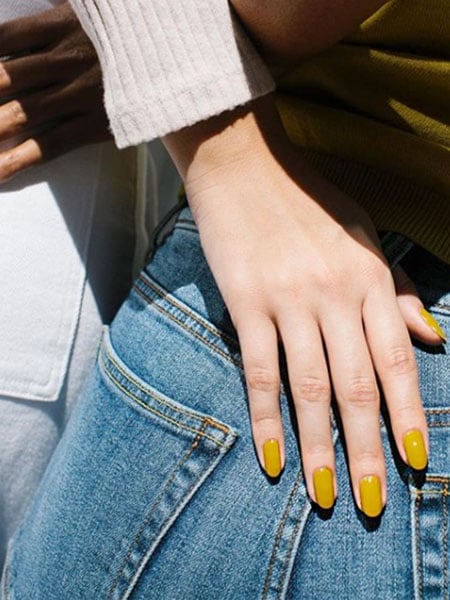 4. Autumn Marble Effect Manicure
It's one of the trendiest designs of the season, and for a good reason. This marble-effect manicure features stunning Fall colors – from rich purples to warm orange hues, this is the perfect autumn accessory. Let the organic swirls of the brush follow you across each finger, leaving some bare nail underneath for maximum impact. Add small fragments of white and baby pink within the deeper shades for further dimension on this fantastic art.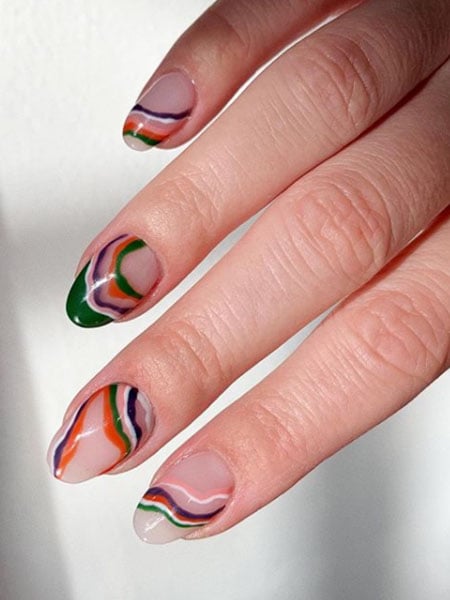 5. Organic Shape Manicure
Let your fingers do the talking with this funky shaped nail art. For those who love to experiment with colors, styles, and patterns, this is the ideal manicure for you. Fill the crescent near your cuticle with a block shade or two, and elongate the tips of the others with an updated French manicure style. Use shades like brown, red and blue, alternating between shades with geometric lines. It's a style that perfectly flatters every skin tone, and now is the season to try it.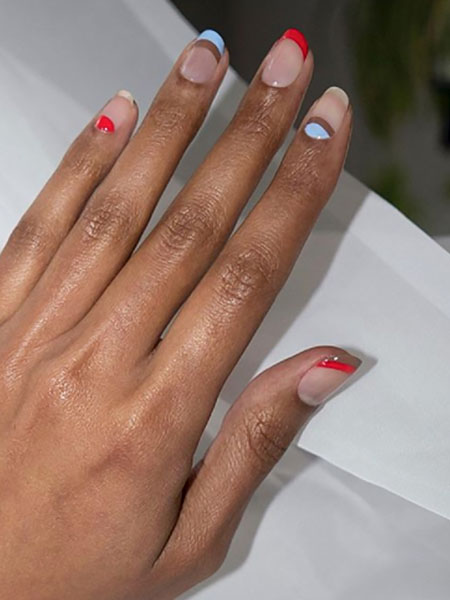 6. Muted Fall Stripe Nails
Channel your inner Gucci Gal and dive into this stunning manicure. Featuring muted pinks and greens, this Autumn-inspired nail art is sure to elevate any outfit. Using bottle green, cranberry red, and soft neutral pink, you can easily recreate this look. To consistently create straight lines, use small bits of tape in the center of the finger, and invert the colors on each hand. It's a perfect fall design for a fashion lover.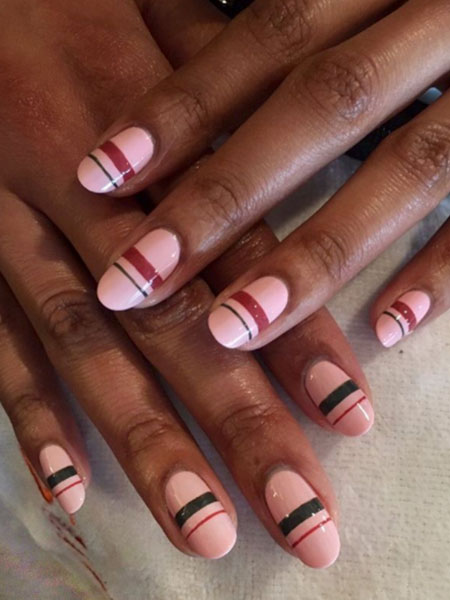 7. Halloween-Inspired Manicure
Are you a huge Halloween fan? Bring the dress-up event closer than ever with this ooky-spooky manicure. The classic pumpkin design gets a quirky upgrade as it sits on the cuticle of each finger – the remaining negative space will elongate your fingertips and look extra fashionable. You can choose to create a scary face inside the orange winter squash, leave it bare or add some extra creepy detail. Get ready to celebrate one of the most-loved yearly events in style!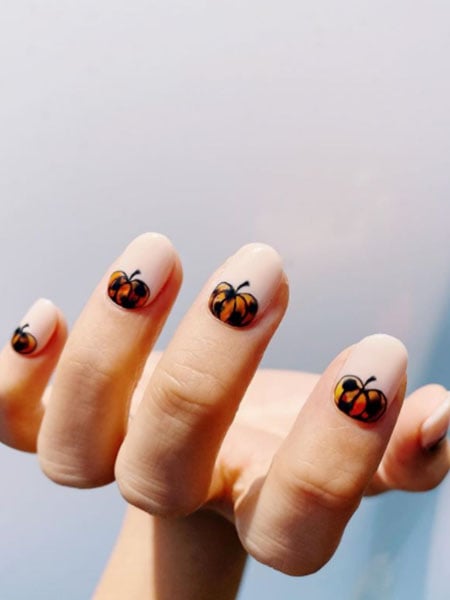 8. Autumn Cloud Nails
During this time of year, the atmosphere begins to change, and the cold weather sets in. Celebrate the start of a new season by recreating those stunning clouds on your fingertips. Whether you prefer the traditional shades of blue and gray, or you want to incorporate neutral colors, this is a great way to add some spice to your ensemble. Leave the space beneath plain to help the hue stand out even more. With a design this stunning, you'll feel as if you're touching the sky.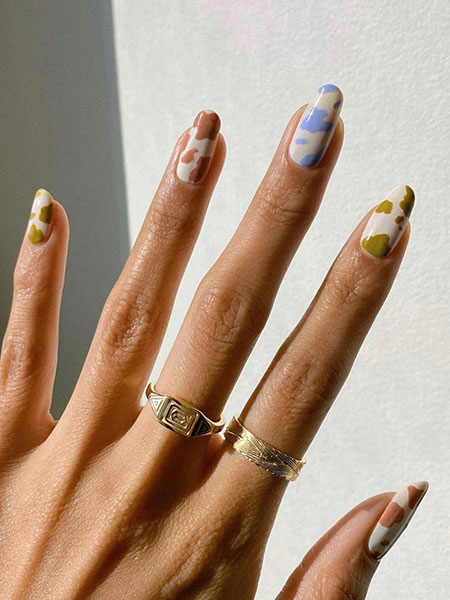 9. Amber Leopard Nails
As one of the trends that have stuck around for years, animal print is here to stay. This amber-colored rendition of leopard is totally on-trend, and it's easy to see why – it's incredible to wear. From every angle, your nails will catch the light and appear like tortoiseshell – delicate and mesmerizing. Feel free to be liberal with the pattern on top – there are no two coats the same, so why should your manicure be?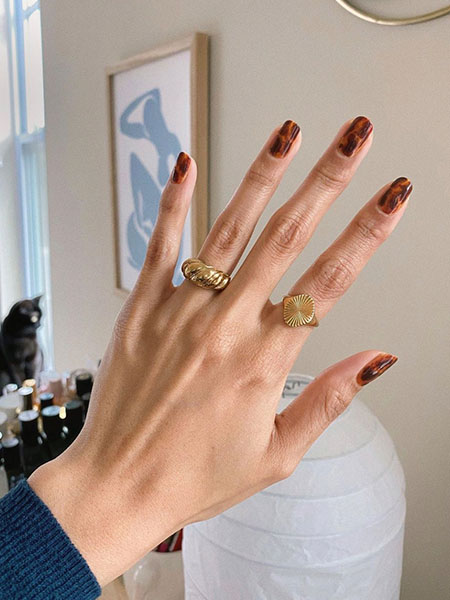 10. Geometric Plum Nails
Sometimes it's the simplest designs that stay with you forever. This understated design is easy to recreate, and it looks great on all skin tones. Tape up one side of your nailbed, and paint a few layers of a hearty plum shade. Once the nail polish dries and you take away the sticky side, you will be left with a sleek and elegant manicure that is sure to garner a few compliments!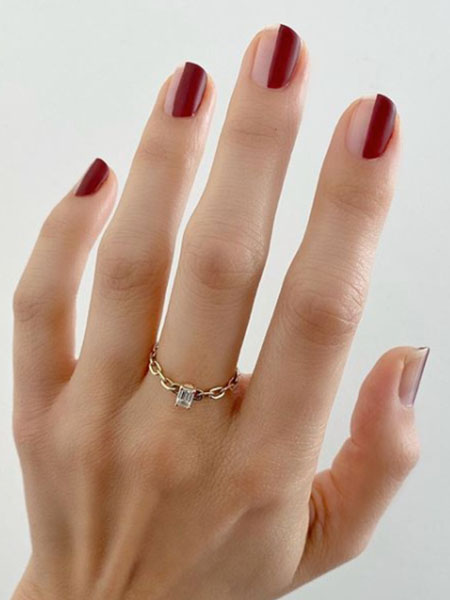 11. Monochrome Green Manicure
One of the hottest shades seen this year is green, and it would look brilliant as your next manicure. This geometric design is easy to replicate a home and has a timeless feel. Using bits of tape, cover one half of the fingertip in a diagonal line. Take two hues of the cool shade, one light and dark – for longer-looking fingers, paint the bottom half of the nail in the deeper polish. Unify both the top and bottom by topping it off with a clear topcoat.
RELATED: 20 Green Nails Designs To Up Your Manicure Game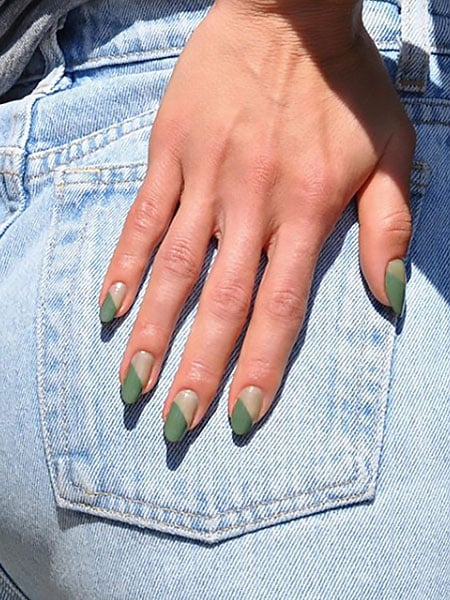 12. Shades of Grey Gradient Nails
This gradient trend has taken over the entire world, and it's easy to replicate it with fall-inspired shades. Take white, a light dusty rose, gray and black, and apply a single color on each finger. For a unified effect, begin a transition from light to dark, and leaving the thumb the same as the pinky. It's a minimalist design, but it still provides a serious punch.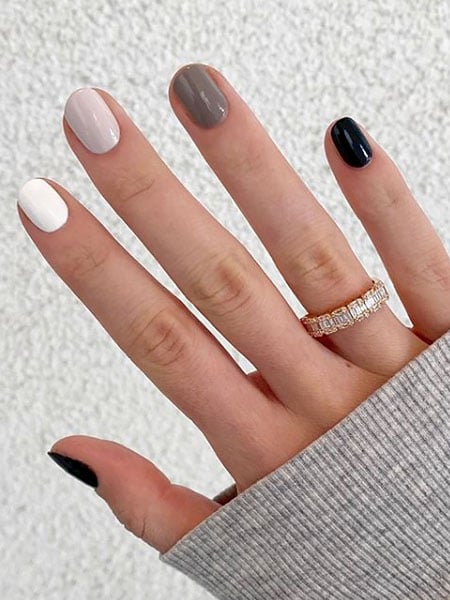 13. Gold Flake Nail Art
Rug up as the weather changes with this cozy and elegant manicure. What starts as a classic nude manicure quietly transforms into fingertips dipped in gold flakes. This is a tricky skill to master, so it's a great idea to test the style with a professional nail artist. To create this look, you'll need some loose gold leaf, clear polish, and tweezers. After you've painted the base shade, delicately place the pieces to the desired areas, and finish with a final top coat to seal it. For maximum effect, leave the thumb and pinky without any trimmings.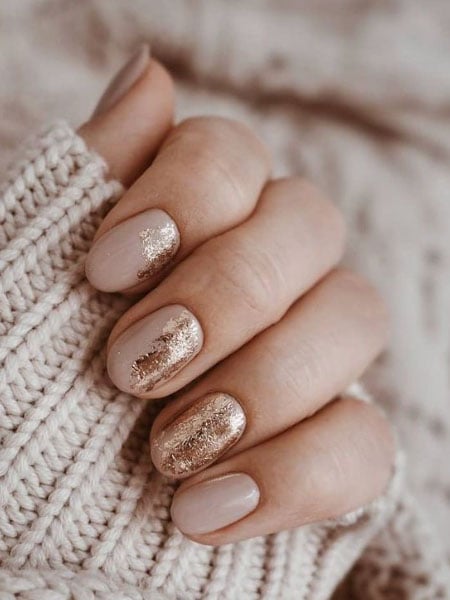 14. Negative Space Manicure
Elevate the classic manicure with this funky negative space spin. What makes this design so fascinating is the bare nail underneath, paired with modernism-inspired shapes in bold colors. Using tape, carve out rectangles down the finger – add black and white, leaving space for a small red dot in between each figure. Without any base coat, your hands will appear elongated and like a piece of art.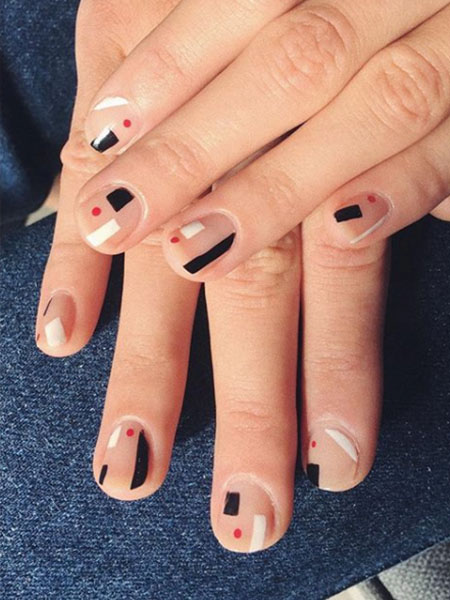 15. Cafe Latte Manicure
Wake up with energy thanks to this cafe latte manicure. Finding its inspiration from a humble cup of coffee, the art features two shades of brown and is complete with cream on top. To replicate the look, paint the entire nail a soft stone or nude color, and delicately paint one half in a chocolate hue. Using a lighter tone, finely cut out an identical, yet smaller, shape. Finish by painting a thin border between the pattern and base. You'll be sure to feel a buzz with fingers this snazzy.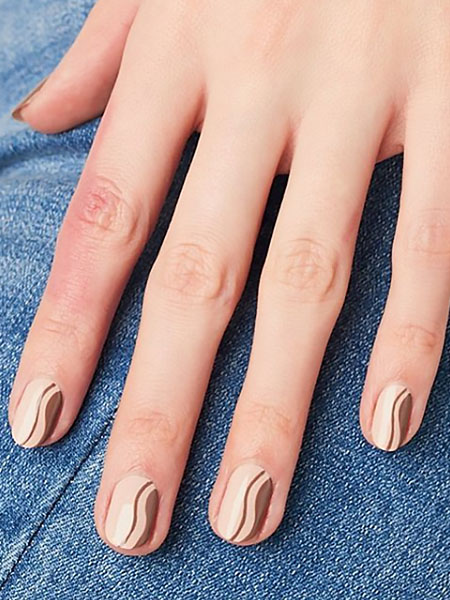 16. Classic Nude Nails
We all have a favorite manicure that we can always rely on, and this is definitely one of them. The classic nude manicure just received a refresh, and it's so easy to recreate. Find two neutral shades that flatter your skin tone, and paint the entire base of the finger with the lighter color. Once it has dried, paint a second layer over the top, this time using the darker tone. Leave a small space from the cuticle, and carve it the natural shape of your cuticles. Finish it with a clear topcoat, and you'll be dressed for any occasion.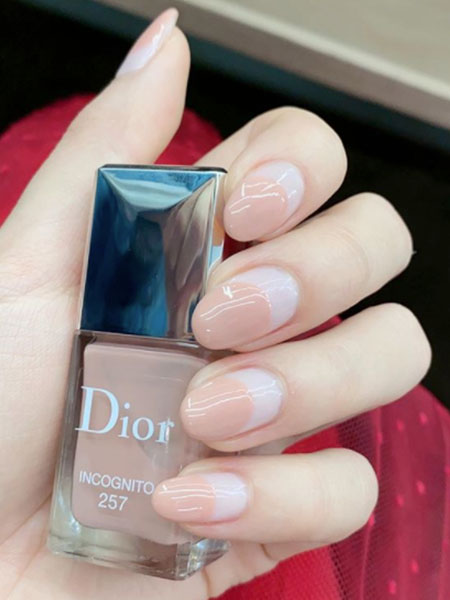 17. Autumn Blooms
While Spring is a typical time for florals, you should be able to enjoy them in every season. This updated manicure features Fall-inspired browns and neutrals, which offers dimension to the design. Start by painting three fingers a light stone shade, and the other two in a soft peanut hue. Once dry, use a thin brush to apply dainty flowers on each nail. Use the opposite colors to draw the blooms on the tips. Finish the design with small black dots as the center of the pattern.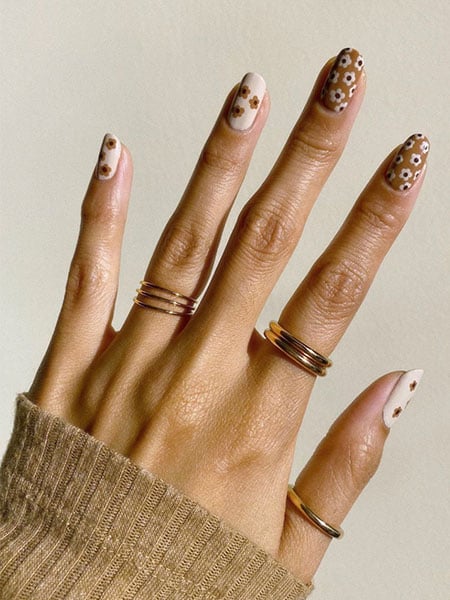 18. Fall Mood Board
This season calls for color inspiration from nature and the runways- falling golden brown leaves, blue skies, orange pumpkins, and a rich touch of emerald. Express this entire mood board on your nails to showcase your favorite season, and do it in style. Paint each fingertip a single shade – there is no strict gradient you need to follow here, so choose the progression of hues however you wish. If you love wearing monochrome ensembles, this will act as the perfect finishing touch to whatever you wear.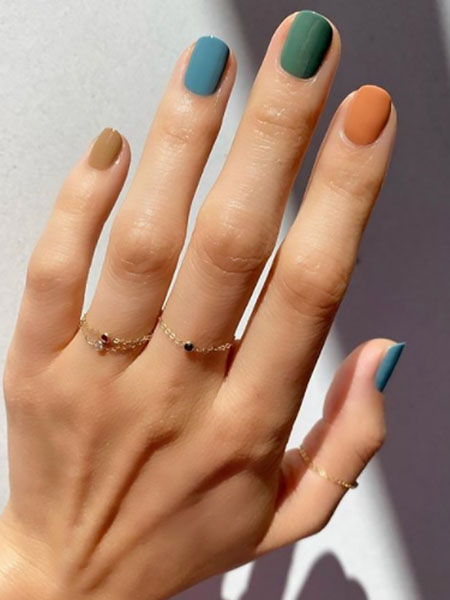 19. Arty Neutral Tones
Express your individuality on your fingertips, and celebrate the beauty of fall with this artsy neutral manicure. Using only two shades, it offers a lot of dimension and complexity, thanks to its fluid and organic style. Paint all fingers a single color, leaving one in the opposite as a feature. Then, using the alternative tone, let your creativity shine by finely painting flowers or creating a marble effect. If you're a nail novice, find a talented artist to replicate the breathtaking design. This is a fashion-forward way of wearing the hottest hue of the season.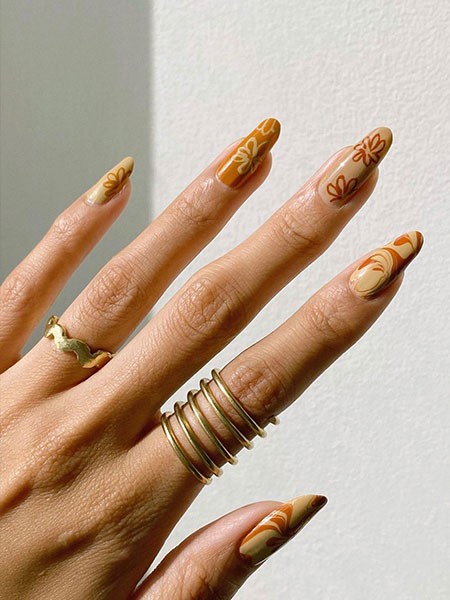 20. Subtle Star Manicure
One of the most popular trends we've seen on and off the runway this season is the subtle star manicure. A perfect option for autumn, this minimalist nail art looks amazing on anyone and is delicate enough to wear anywhere. Keep the base of your fingertip in a nude or neutral shade, and sprinkle small gold stars on top. To prevent them from falling off, finish with a layer or two of topcoat – it will leave them looking shiny and fresh. From the office to a Halloween party, it's the ideal way to dress for the time of year.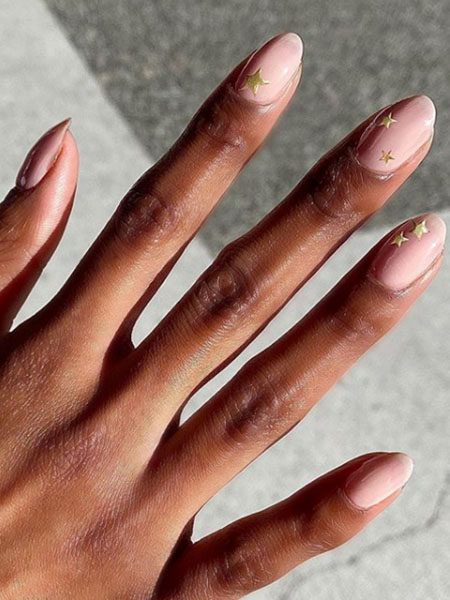 21. Shades of Brown Nails
Brown is a wonderful color for the fall season, and combining several shades will give you a pretty and interesting manicure. The appeal of brown is that it is easy to wear, flattering on all skin tones, and not as harsh as black nail polish but can still get your nails noticed. Play around with the placement of different brown shades, for example, one shade on the base and another on the tip for a modern approach to the French tip manicure. Or you can add images of flowers or leaves to give it an autumn feel.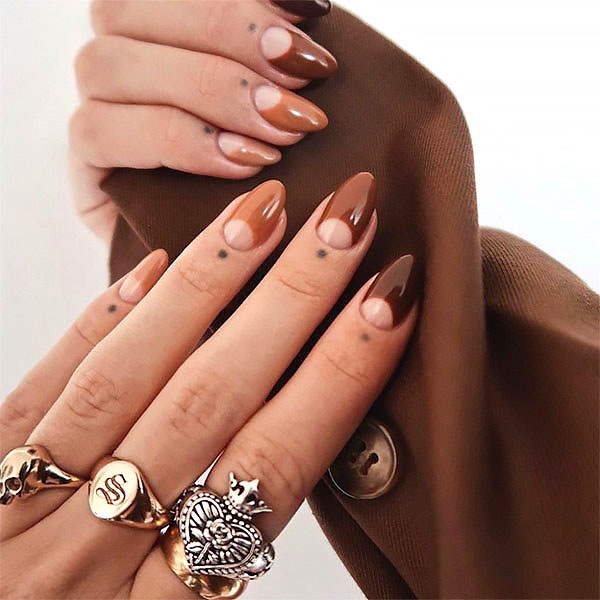 22. Feminine Form Line Nail Art
Line art is a great way to give your manicure an artistic flair. These drawings are simple, forming an image using distinct lines. The images can be of anything, but choosing to create the female form can make a powerful statement about femininity and strength. It will also make for nail art that is interesting and will draw the eye to your hands, highlighting your nail shape. There are various color combinations to choose from, but a monochromatic color scheme like black and white or nude and black is best because brighter colors can detract from the artwork.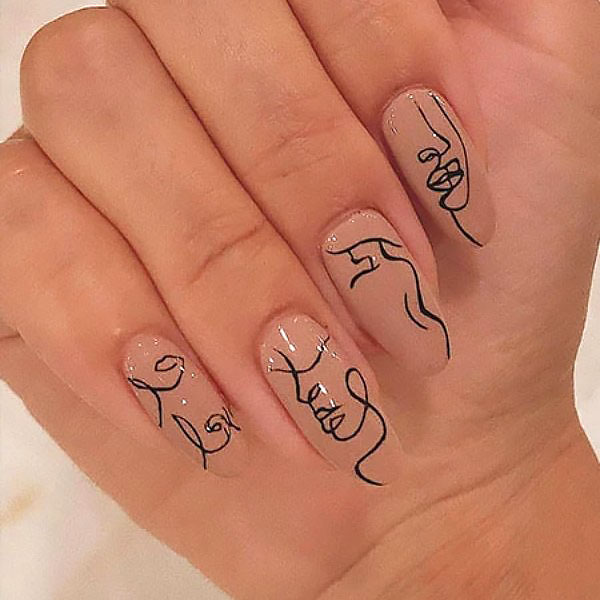 23. Multi-Colored Branch Nails
Autumn is a time of change and transition, which can be reflected in your nail art. To do this, you can choose to add images of branches, leaves, and flowers. How you decide to incorporate these images is entirely up to you, including opting for a different design on each fingernail and experimenting with interesting color combinations. Mixing and matching multiple colors makes your manicure more interesting and expressive.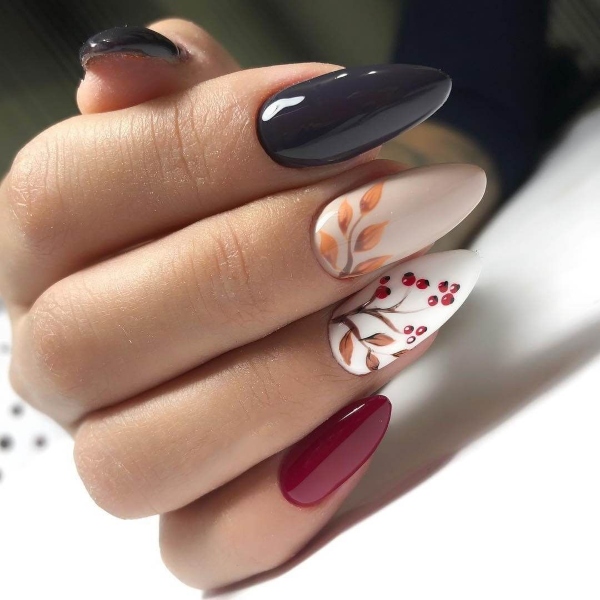 24. Burnt Orange Nails
Orange is a color associated with positivity, creativity, and optimism. There are many different shades to choose from, but one of the most wearable is burnt orange. This medium to dark hue is flattering on most skin tones and can be added to your nail art to give it a very Fall-inspired feel. It can represent the changing leaves, and you can add designs of leaves to your fingernails. You can also mix burnt orange with complementary colors like blue or gray, creating a bright and bold manicure, or consider these colors for your clothing to avoid clashing.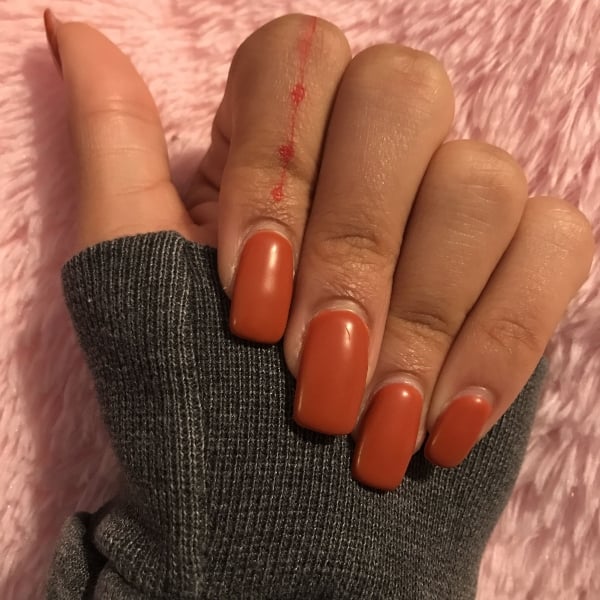 25. Red Nail Art
Red is one of the most striking colors you can choose for your nails. It is a hue that instantly makes a statement, and it demands attention. There are varying shades of red to choose from, including darker colors or rich, warm tones. Red is also the color of passion and seduction and can be a way to celebrate your sexuality. The downside to red is that it can be challenging to wear because it is so bold. For this reason, it is a good idea to introduce it to your nails in a more subtle way, for example, a modern approach to the French tip manicure.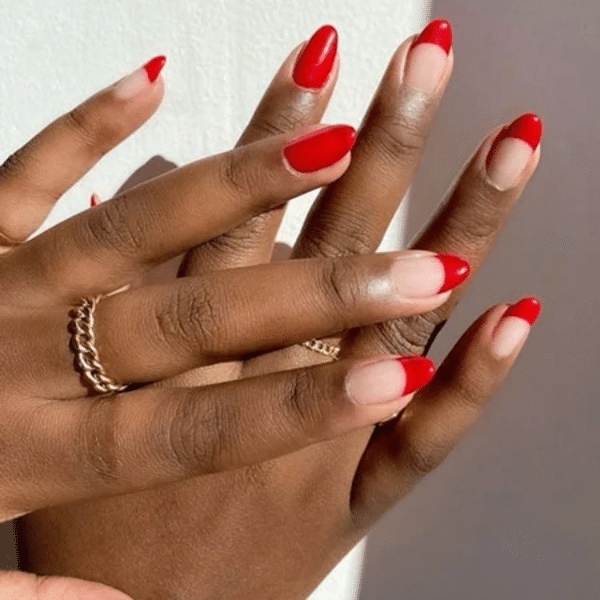 26. Gold Metallic Nails
There are few colors as luxurious as gold, and adding metallic gold to your nail art feels sophisticated. You can incorporate the color into your manicure in various ways, including opting for a few fingernails with a metallic shine and others to be glittery. Gold is also a hue that mixes and matches with all colors, letting you combine it with your favorite nail polishes. Popular pairings include white, nude, and black, and these colors can make your gold polish feel more wearable. You also do not have to worry about your clothing as it will complement it, although neutral colors are always best.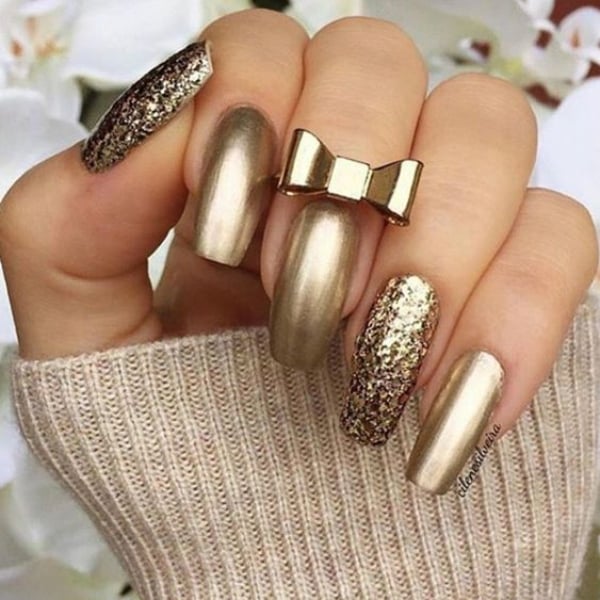 27. Fun and Artistic Nails
Nail art is a way to express yourself and show off the things you love. This could be a combination of colors or interesting nail art, and fun and artistic nails offer a bit of both. This manicure is all about creativity, and there is no right or wrong way to create yours. Try out multiple colors, interesting patterns, and bold prints to pair your favorite images together. Bold designs will draw attention to your hands and can highlight your nail shape. It is also best to choose long nails if you opt for very detailed artwork as this gives you more space.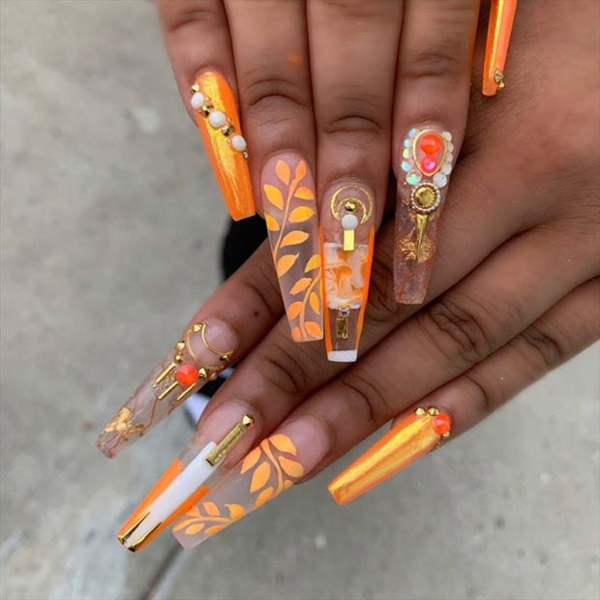 28. Classic French Tip
Some manicures are designed to make a statement and add a pop of color to your appearance. And then there are others where the appeal is in simplicity. The classic French tip manicure is a stylish and versatile look that lends itself well to all settings. It is defined by a white tip and a light pink or nude base color. It can be worn by women of all ages and is incredibly easy to create yet still chic. This manicure can also highlight the shape of your nail and can elongate it.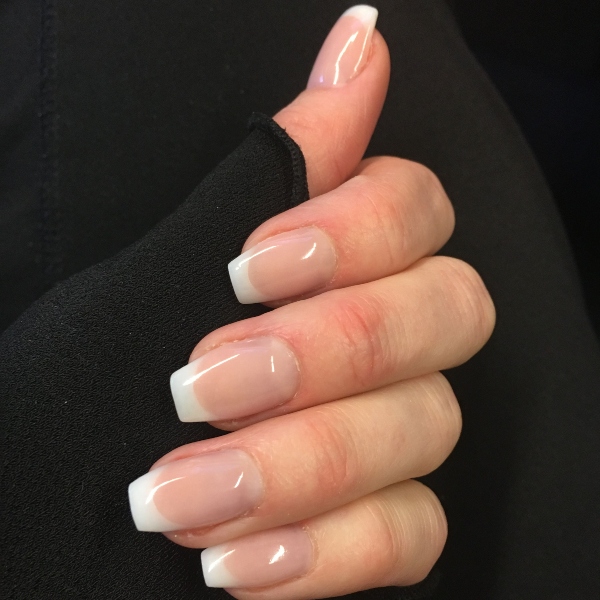 29. White and Gold Fall Nails
White and gold is a pretty and versatile pairing. The color combination can be worn with everything you own and feels luxurious. How you choose to incorporate these two hues is entirely up to you. It could be with a white base coat and gold floral details, or you could opt for gold tips. You can make your manicure as simple or as detailed as you wish, letting you get creative and choosing something that best reflects your personality and style.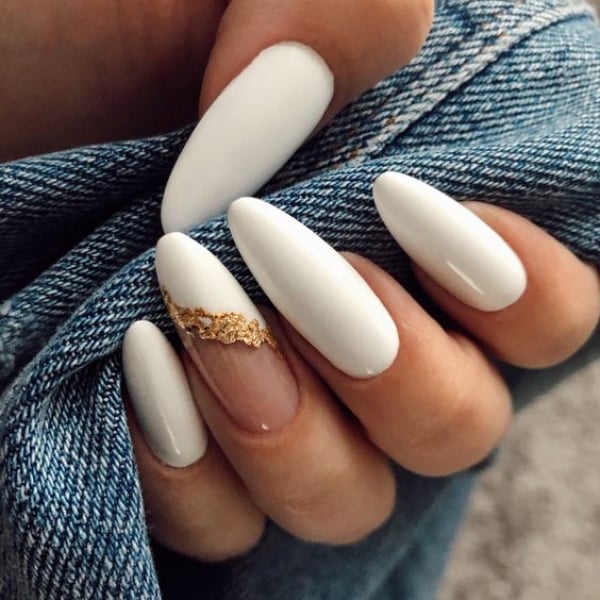 30. Fluorescent Yellow and Orange Designs
Orange and yellow are colors that pair well together, and mixing them will give you a fun and modern manicure. It will represent happiness and optimism. There are various shades of these colors to choose from, but if you want your nails to stand out, then opt for fluorescents. These vivid hues are much harder to wear because they are highly pigmented, but they are fantastic for making a statement. For the best results, combine them using an ombre effect.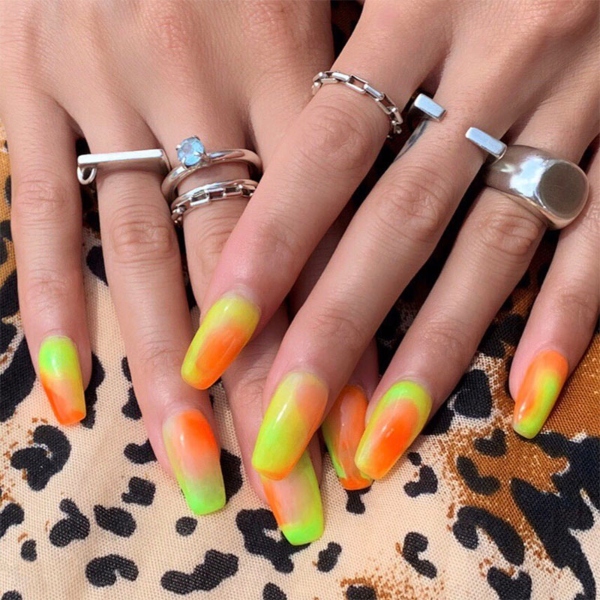 31. Red Ombre Nails
The ombre effect is a gorgeous way to wear your nails. It is achieved by blending two or more colors. The result is a gradient effect and is a stylish way to try multiple shades at once. Red is a color that makes a statement because it is bold and bright, but it is a fantastic choice for the Autumn season. The ombre effect will also make the color easier to wear as it tones down the vibrancy of the red with a darker or lighter color. To complement the color in your manicure and match it, consider wearing your favorite shade of red lipstick.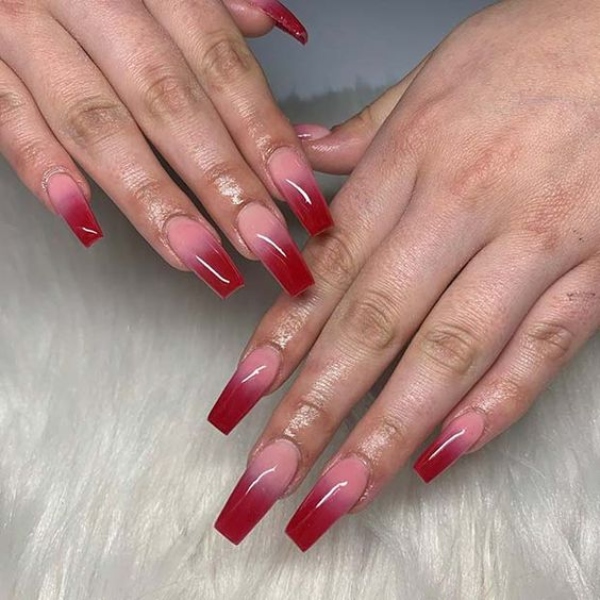 32. Burgundy Nail Art
Burgundy is a dark shade of reddish-brown. It is often favored in the winter months, but there should be nothing stopping you from trying it out during Fall too. The appeal of burgundy is that it is a rich hue and is less harsh to wear than black but almost versatile, mixing and matching well with a range of colors, from grey to yellow. To make the color feel more adventurous, you can mix it with other patterns like animal print or gingham, creating an interesting finish.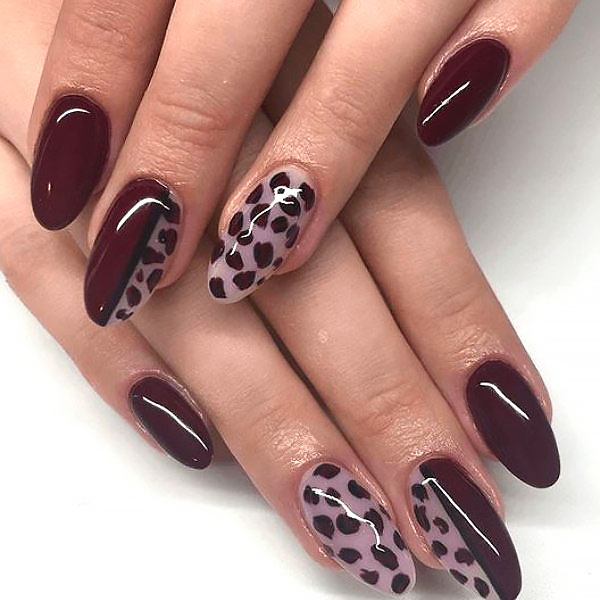 33. Groovy 70s Nail Designs
The 70s was a time of interesting color combinations and fun prints, and you can channel this with your nail art. A groovy manicure can involve multiple colors, but you want to stick to hues like orange, yellow, red, brown, and green to give it a more seasonal feel. There can be some variation of the fall colors, though, making your nail art feel fresh and modern. The appeal of this artwork is that it is simple and can be created on nails of all lengths and shapes.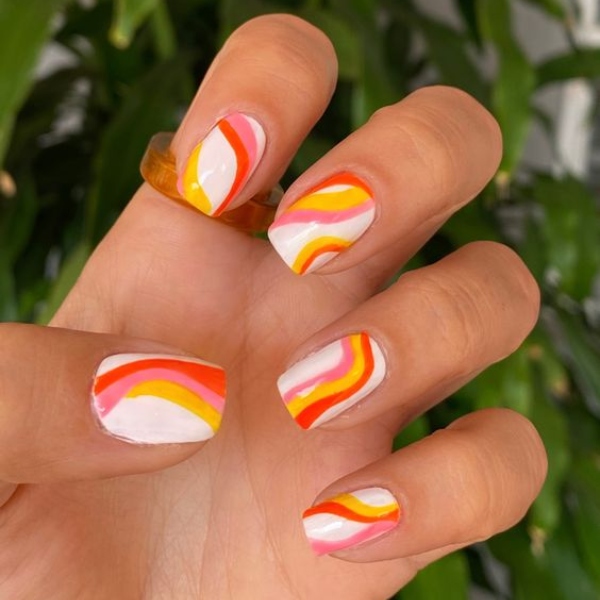 34. Colorful French Tips Manicure
The French tip manicure is a classic and versatile look that women of all ages can wear. There is something to be said for the timelessness of this nail art, but you may wish to try out something more daring and colorful. Instead of the classic approach of the French manicure, you want to paint the tips different colors, for example, orange or green. This option lets you experiment with different color combinations and feels fresh and modern. This is a fantastic way to highlight your nail shape and looks best with long nails.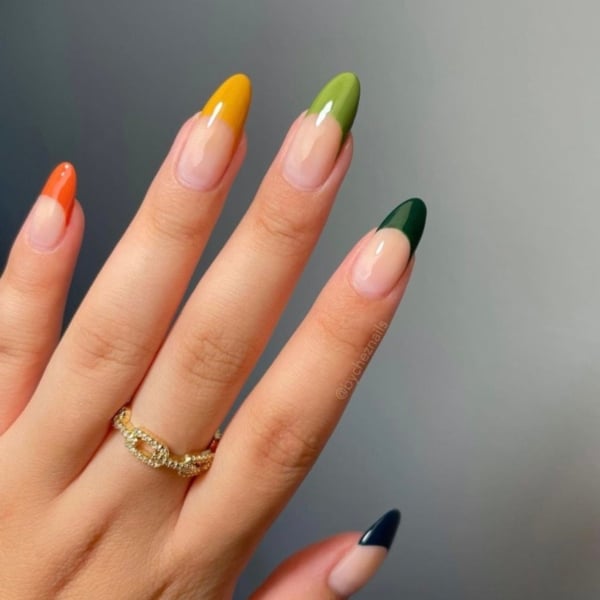 35. Gingham Print with Yellow and Orange
Gingham print has become a popular option for nail art because it is versatile and gorgeous. It is a two-color pattern that is striped and can be created in colors of your choosing. To give the nails a more autumn feel, it is best to make them with colors associated with the season. This includes yellow and orange, a bright and fun combination that can be toned down with a gingham print. The appeal of this pattern is that it looks good on nails of all lengths and shapes, including shorter nails.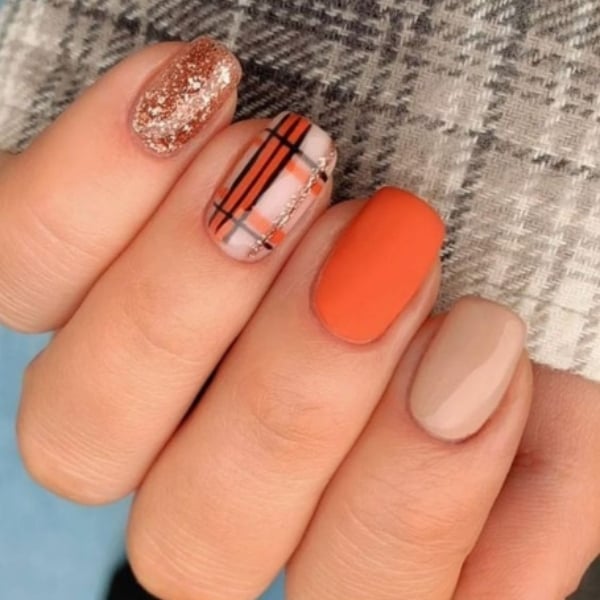 36. Checkered Nail Art
Checks are a classic print that can be created in a color combination of your choosing. This could be bold, clashing colors for a manicure that makes a statement, or neutral and complementary colors for nail art that can be worn anyway. Pick your favorite colors and get creative; this can be by opting for a checkered pattern on each fingernail or combining it with other prints or abstract shapes; this is an excellent option for making a timeless design feel new and unique.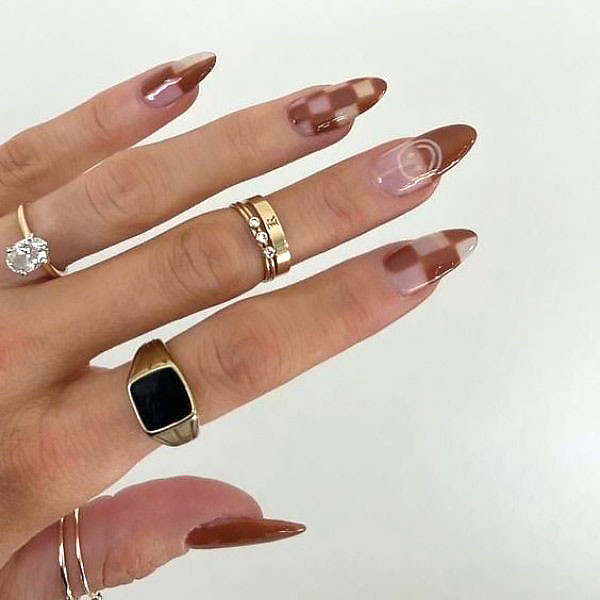 37. Squiggle Nail Art
The appeal of squiggle designs is that there is no right or wrong way to create them. This gives you versatility, and they can be made in various colors and sizes. Nail art, like squiggles, gives you room to experiment and is expressive and creative. For a seasonal approach, stick to colors commonly associated with Fall. However, if you prefer something more minimalistic, nude colors and other neutral tones are great for all occasions.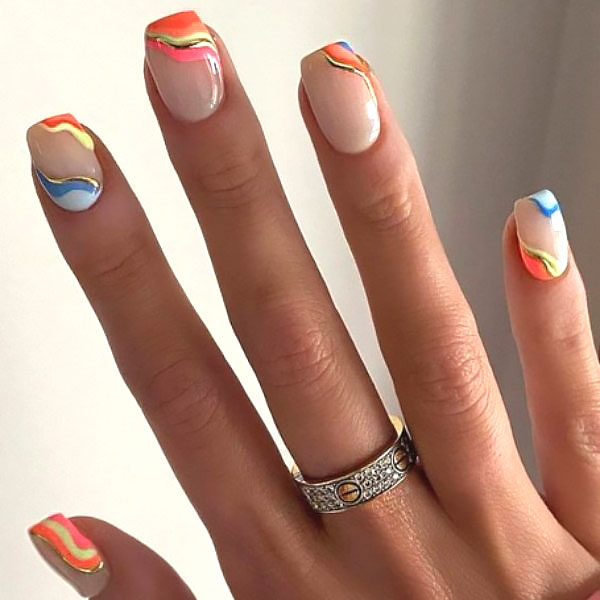 38. Leopard Print Artwork
Leopard print has been a favorite in the fashion world for decades. This is because it is a fun and bold option, and it is a guaranteed way to get your nails noticed. It complements all nail shapes and sizes and can be created in various color combinations, from classic browns and blacks to more daring options like red and pink. The goal is to add leopard print to your nails without them appearing tacky, and this can be achieved by limiting how much you add; for example, focusing the print on the tips of the nail only for a modern approach to French tip nails. Or opting to add them to a feature nail, painting the other fingernails your favorite shade of nude or black polish.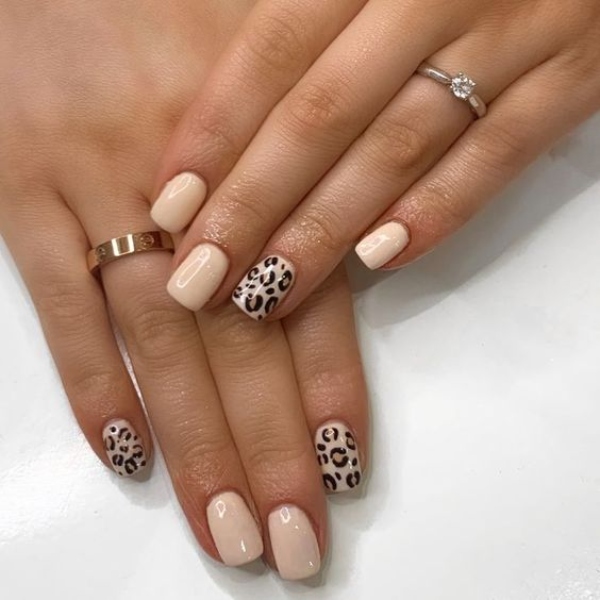 39. Autumn-Colored Paint Splashes
Abstract nail art is fun, and opting for little paint splashes in your favorite autumnal hues will make a statement. You can experiment with the shapes and sizes of the paint splashes and how you wish to position them. Also, opt for multiple colors on one fingernail or choose to keep it only one hue. You can add a different color to each nail for a mix and match effect. You could combine other images and patterns with these splotches for a fashion-forward approach. Have fun and enjoy the attention your manicure brings you.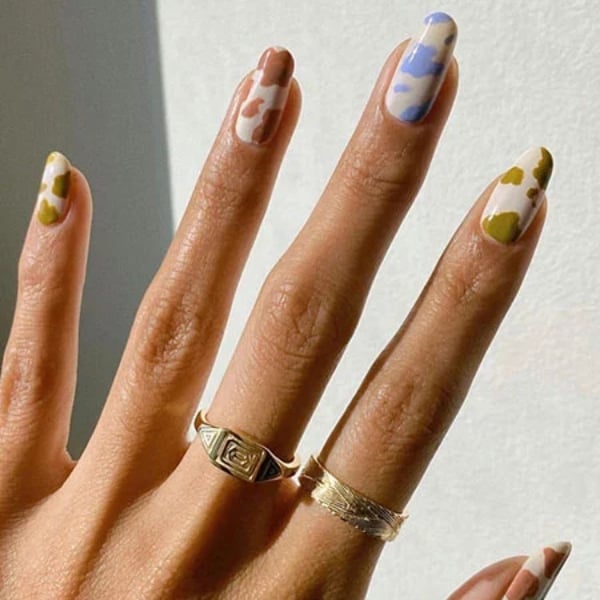 40. Black Nails
Black nails are timeless and classic. The color matches everything, and it is a wonderful way to draw attention to your nail shape. Black is associated with sophistication, strength, and power, but it can also feel edgy and cool. You can paint each fingernail with this lacquer or add a different pattern to a feature nail to create a slight contrast. There are so many different colors you can pair it with, including nude or white for a monochromatic look. Or a bold color like red for nails that make a statement. Black nails will lend themselves well to most occasions but may not be suitable for conservative environments or the workplace.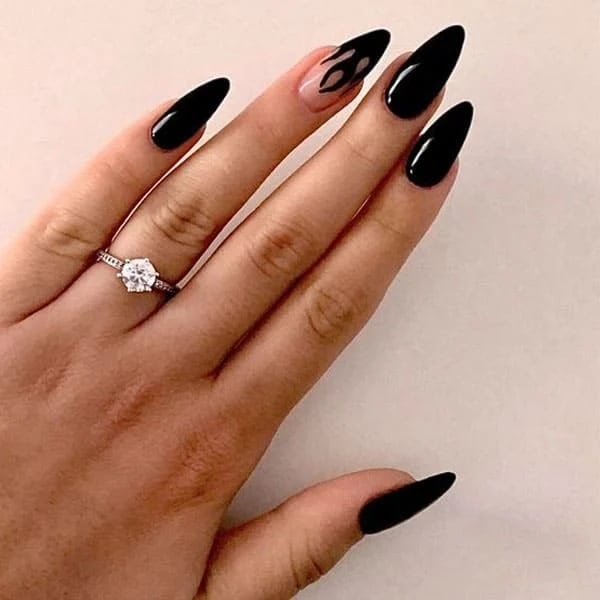 41. Nude and Blue Nails
If you are looking for a pretty and versatile way to wear your nails, nude and blue are the ideal combination. Nude colors can be worn with everything and match well with bright colors like blue. The mixture is stylish and easy to wear without being too bold or in your face. This artwork can also be worn on nails of all shapes and lengths, and positioning your nail art on the tips can highlight your shape. Another way to wear these two colors is with the ombre effect, which looks romantic and feminine.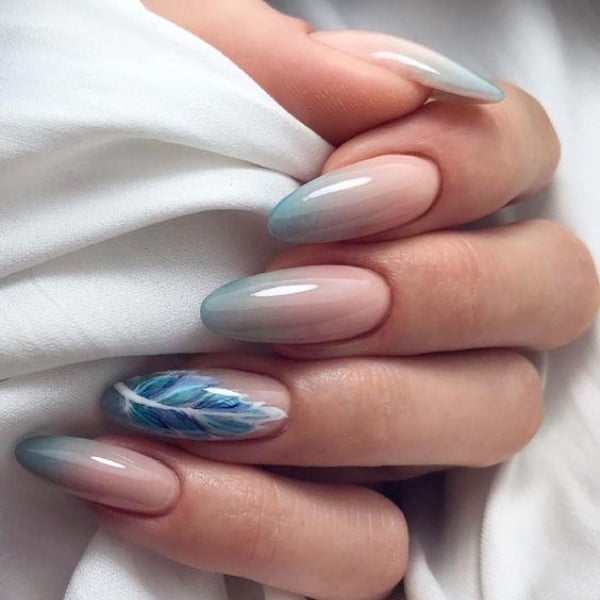 42. Red and Blue Arty Nails
Red and blue are exciting color combinations. The colors are complementary, making them easy to wear together but still producing a standout look. How you choose to wear them is entirely up to you, including painting your nails with one shade and the tip with the other. The appeal of this look is that red can be challenging to wear because it is so bold. For this reason, it is a good idea to introduce it to your nails in a more subtle way, mixing and matching with other colors or trying out cool and symbolic patterns.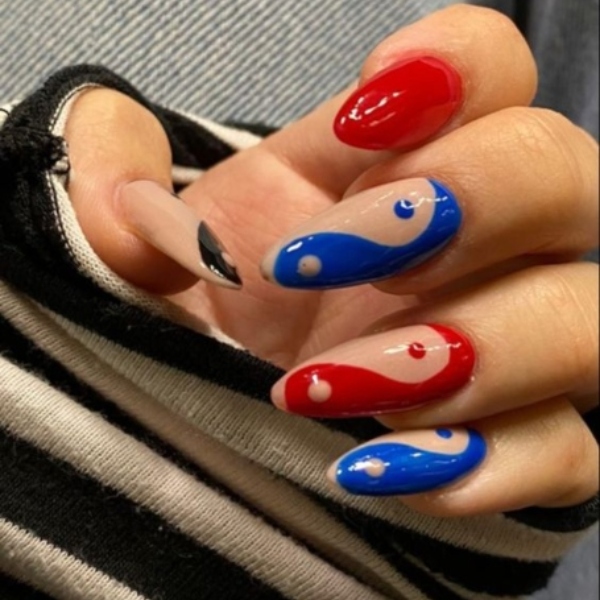 43. Polka Dot Nails
Polka dots are a simple but chic print that can be created in the colors of your choosing. They will produce a great manicure in little time, but you can make them feel fresh and modern with how you choose to incorporate them into your nail art. When adding polka dots to your nail art, you can keep them all the same size and limit your colors to two or three, or you can opt for a variety of sizes and a different color for each fingernail. The look is effortless to create and can be achieved by beginners.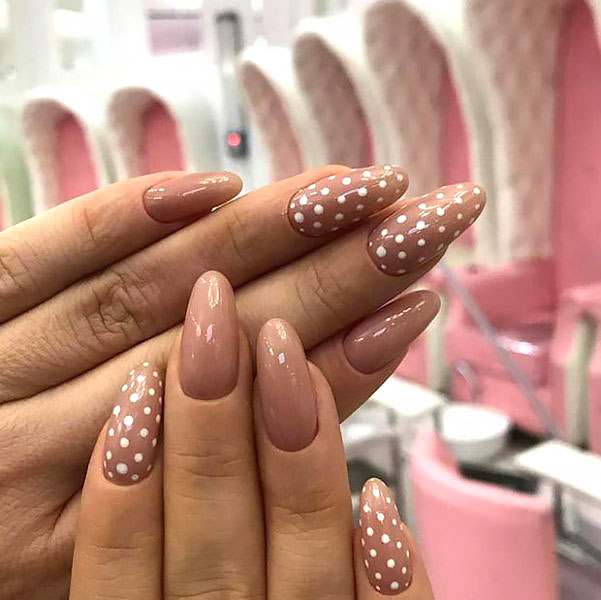 44. Leaf-inspired Artwork on Feature Nail
Autumn is a season associated with leaves and changing colors. It is a transitional and bright time, and your nails can reflect this. Plus, leaves are symbolic of the cycle of life and new beginnings. Opting for nail art on a feature nail will make it an option that is easy to wear, letting you get creative but also toning down the rest of the look. It is a fantastic way to highlight your jewelry; for example, choosing the ring finger for the featured art can draw attention to your wedding ring.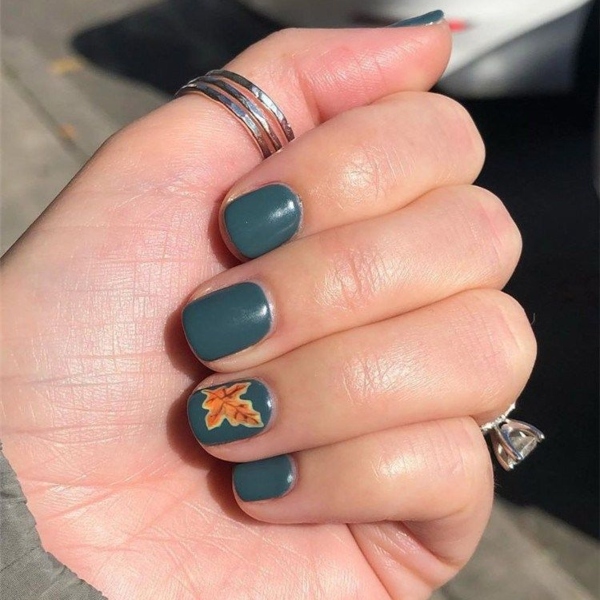 45. Dark Teal Nails
Teal is a combination of cyan and green, and it is a fantastic color for nail art. You can opt for varying shades, but darker teal is more wearable because it is not as vibrant. This is a universally flattering hue, complementing all skin tones. It also works well with nails of all lengths and shapes and can be paired with other neutral colors like nude, white, or tan. Or you can try it out with an interesting effect like ombre or the marbled effect.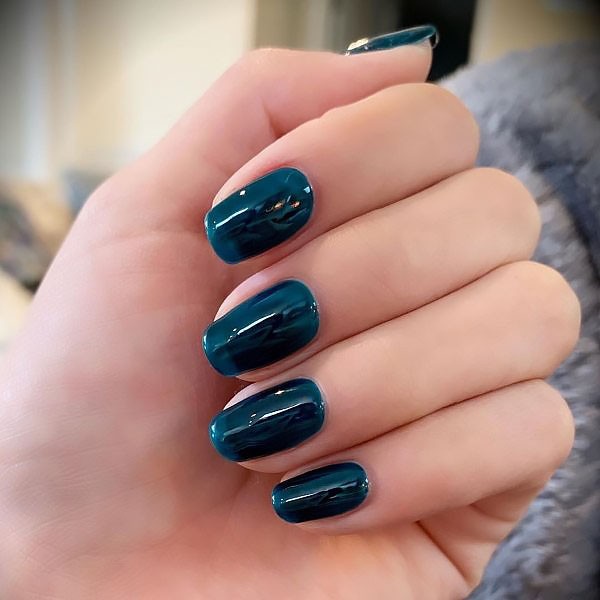 46. Shades of Orange Nails
Orange is a fantastic color for Autumn, and there are various shades to choose from, from darker hues like burnt orange to more vibrant shades. Instead of picking just one, you can combine them by painting each nail with a different color. It is best to start with the darkest and then paint the next fingernail with a slightly lighter shade, creating a gradual transition between the nails. That said, there is no right or wrong way for how you can try out these colors, so your creativity is the limit.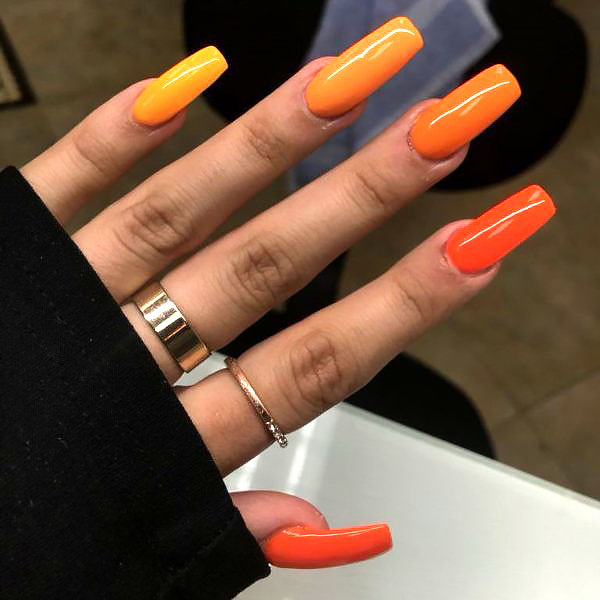 47. Black and Brown Nail Art
Black and brown nails are fashion-forward and cool. The two hues complement each other, and because they are not vibrant, it is a great look for every day or for those who prefer nails with a bit of a grunge feel. You can pair the colors in various ways, including solid blocks of colors, wiggles, or recognizable prints. You can add leaves or flowers to give the nails a distinctly Fall appearance. Lastly, this color combination is ideal for nails of all lengths and shapes, depending on the intricacy of the detail. For a manicure that has a lot of detail, consider long nails.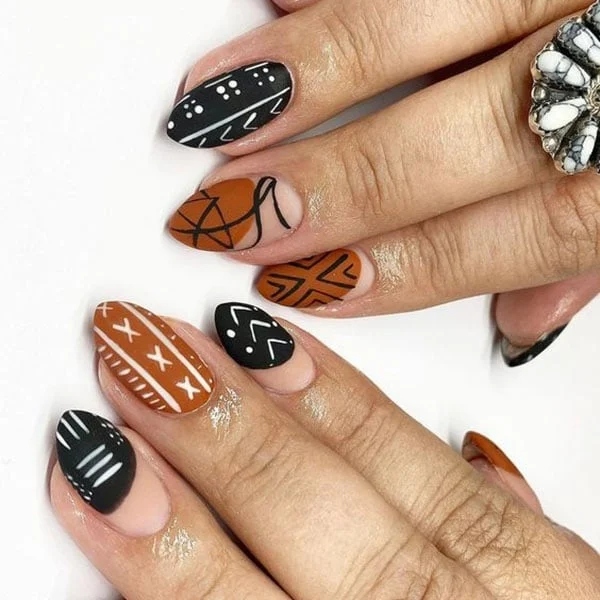 48. Gold, Orange, and White Nails
If you are looking for a pretty combination for your nails, consider gold, orange, and white. These colors look great together and will create a luxurious manicure ideal for Fall. Let your creativity guide you, choosing patterns and prints of your choosing. You can also experiment with different placement, or focus the detail on a feature nail, painting the rest your favorite hue of the three. Add little diamantes or sparkles for a shimmery finish.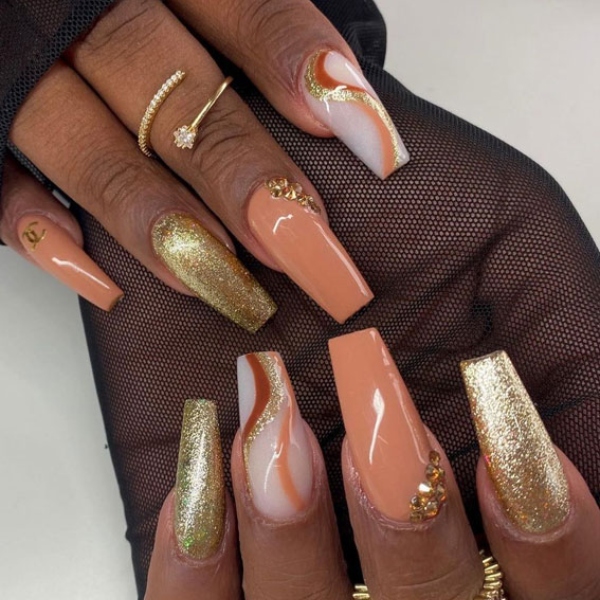 49. Abstract Painting-Inspired Nail Designs
If you are looking for a creative way to wear your nails, which is guaranteed to get them noticed, then try out abstract painting designs. This is an expressive and fun option, and there are unlimited color combinations to try. You can experiment with spacing and positioning and combine multiple shapes and angles. The goal is to achieve an abstract-inspired painting, and this is a fantastic way to let your creative side show. For detailed nails, a longer length and a rounded shape are ideal, but this is another thing that you have versatility with.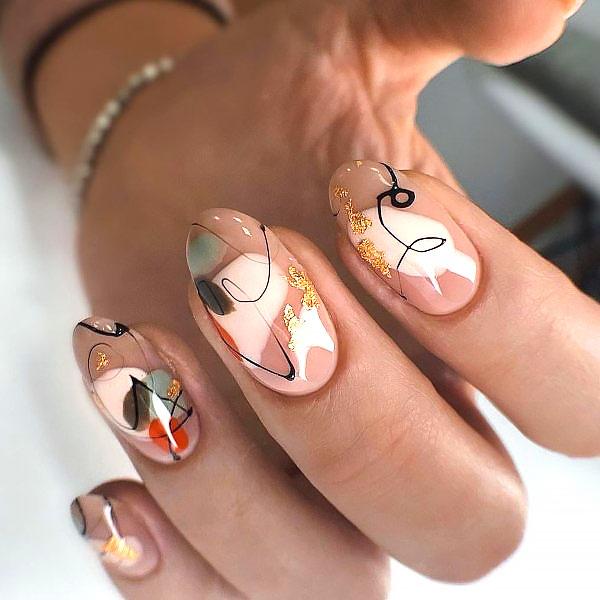 50. Mix and Match Autumn Nails
Mixing and matching your favorite autumnal colors is a wonderful idea. Instead of sticking to just one hue, a multi-colored manicure feels fresh and modern but is effortless to create and versatile. Picking colors that complement each other will make the nail art more wearable, lending itself to multiple occasions. In contrast, clashing colors can make a more statement manicure. You can also wear this nail art with all shapes and lengths.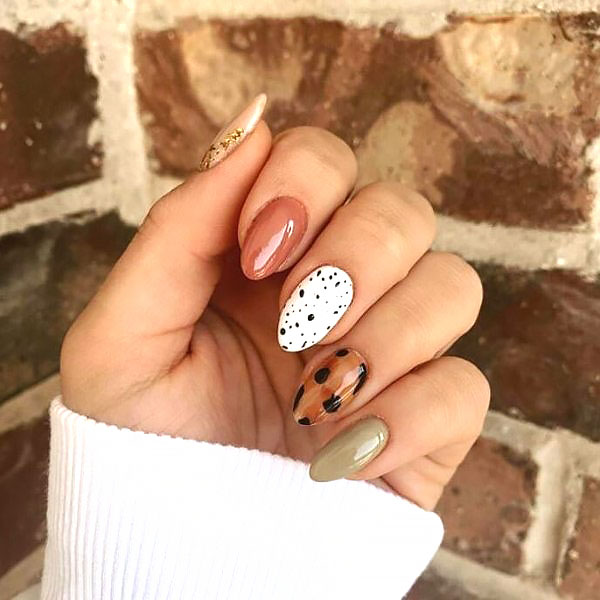 Fall Nails FAQs
What are the fall nail colors for 2022?
Fall is a beautiful season because of the colors that occur in nature, and it is also a fantastic time to give your manicures an interesting twist. Some of the colors you can expect to see in 2021 include mustard, shades of grey gradients, nude nails, and gold flakes. You can also get super creative by opting for a fall leaves nail design, an autumn marble effect, muted fall stripes, or geometric plum nails.
What is the popular nail color for 2022?
Some of the most popular nail colors to look out for in 2021 include blues, minty greens, and candy pinks. All of these are fantastic choices because they are easy to wear and flattering on most skin tones. Nude hues are also trending, which is great for women who work in a corporate environment or want something understated yet chic.
What are the 5 basic nail designs?
The most common basic nail shapes include the oval, round, square, squoval, and pointed, like the almond nail. In terms of designs, many classic polishes are easy-to-wear and timeless. These include nude shades, french manicures, and soft pastel colors like pinks. You can update your manicure each season by trying out the patterns and hues that are trending.
SUBSCRIBE TO OUR NEWSLETTER
Subscribe to our mailing list and get interesting stuff and updates to your email inbox.