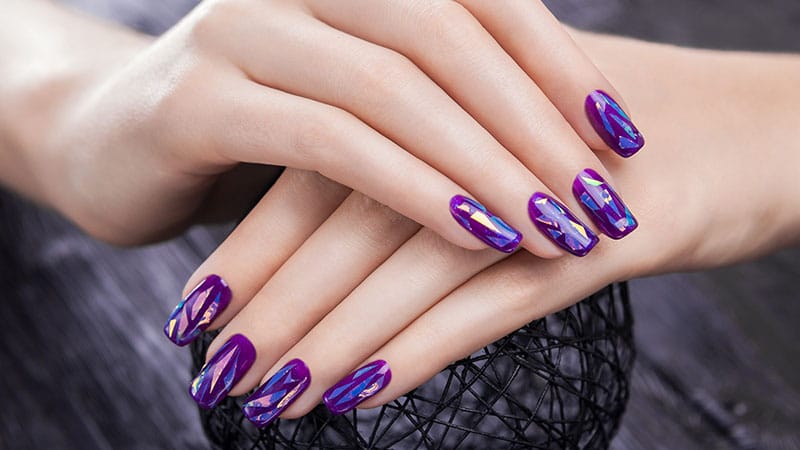 Purple is a rich hue that would give your nails a luxurious appearance, it is often associated with royalty, sophistication, and power. It pairs well with many different colors, from contrasting mixes like green and orange, to more subtle combinations. You can opt for light or dark shades, depending on how dramatic you want your look to be. Choose from the pretty and easy-to-wear pastels to bold and bright neons. It is also a color that lends itself well to various looks, such as glittery and ombre, or with added nail art, such as butterflies. It is an excellent choice for individuals that want something beautiful and symbolic.
1. Light Purple Nails
Purple is such a strong color that it demands attention. It makes us think of royalty and power and can make your nails feel luxurious. That said, wearing darker lacquers is not for everyone and is often not suitable for everyday wear. If you prefer something more subtle, opt instead for light purple nails. This washed-down hue is less intense and easier to wear, making it a pretty and feminine choice. You can keep it simple by picking one shade of polish or have fun and experiment with various colors, one for each finger.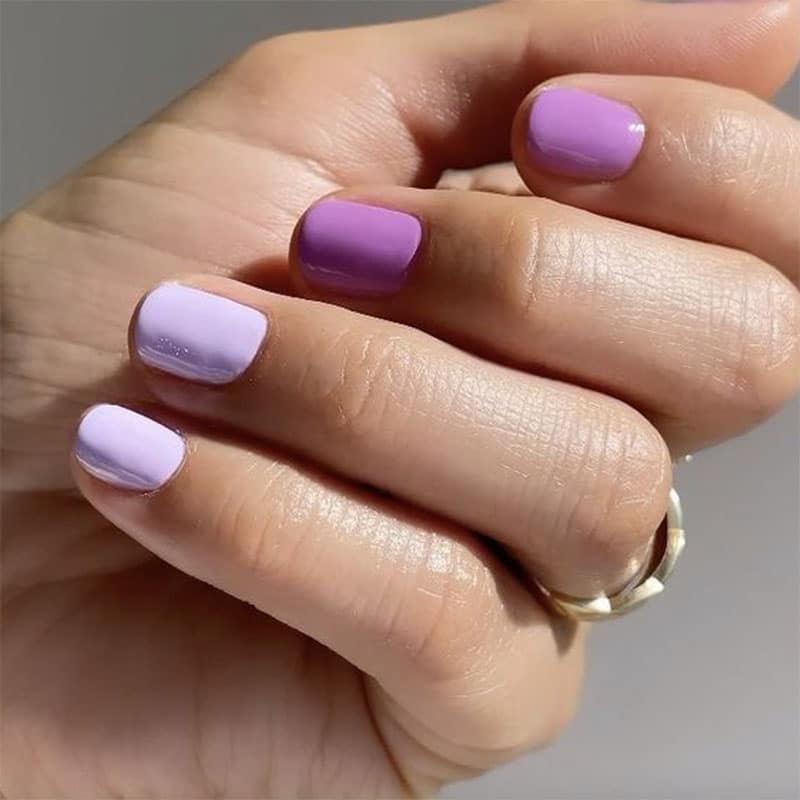 2. Dark Purple Nails
Dark purple nails are for an individual who is not afraid to stand out from the crowd. They are easier to wear and less intense than black polish but are still rich and will draw attention to your hands. The color works with nails of shapes and lengths, and you can have fun by adding your own personal touches, whether that is painting a feature nail a different shade of purple or adding tiny diamantés. For a dramatic and vampy effect, you could opt for a matching lipstick shade or eyeliner. Wear this lacquer with confidence and enjoy the attention it will bring.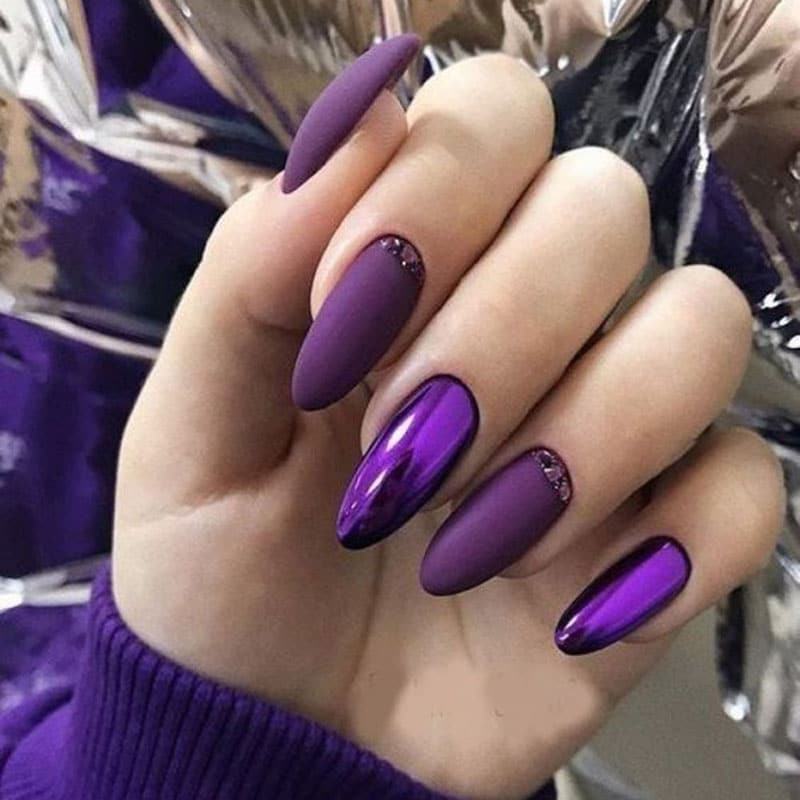 3. Black and Purple Nails
Black and purple nails are a color pairing that is gorgeous and luxurious. The rich hues work well together and are both associated with authority and power. This is an easy way to make a statement and let the world know that you're a girl boss. The combination is also reminiscent of the night sky and can be a reminder of nature's beauty. It takes a confident person to rock this manicure, but you won't be sorry you did. One of the most appealing aspects of combining these colors is their versatility. Get creative with nail stickers, artwork, as well as glitter or shimmer polishes, or a matte finish. The choice is yours!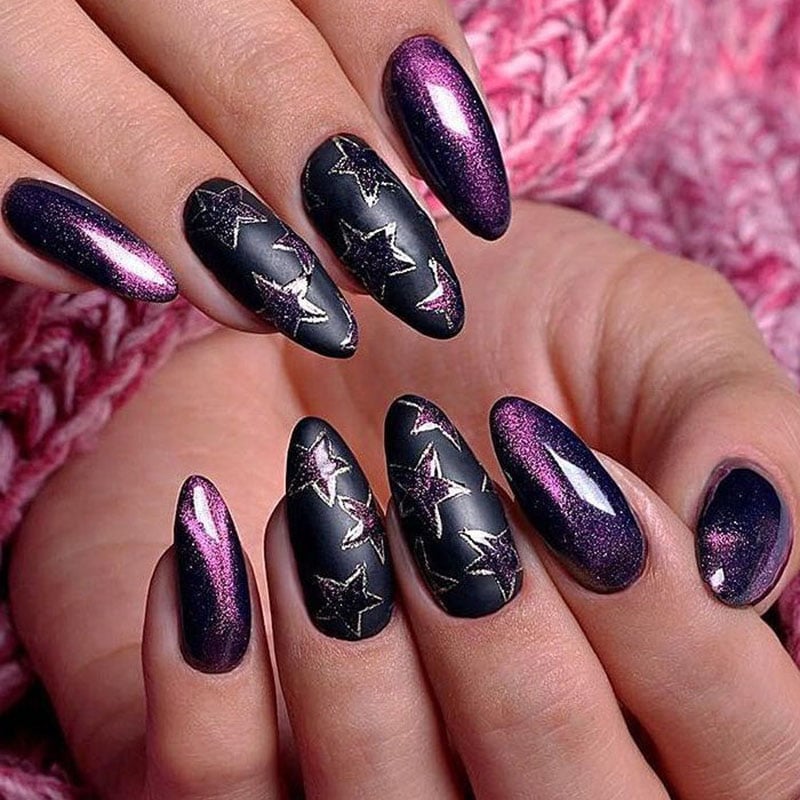 4. White and Purple Nails
The great thing about the purple polish is that it is extremely versatile and can be mixed with various colors. White and purple nails are fresh and modern and will create a manicure that you won't want to stop looking at. White is a hue associated with purity and cleanliness but is also a timeless and classic choice. The neutral shade is easy to mix and match, and you can get creative with how you choose to combine these two colors. Maybe you want to opt for stripes, a feature nail, or create a more dainty appearance by painting white flowers. Florals are a popular and feminine choice for nail art and can be worn in various settings, from casual to slightly more formal.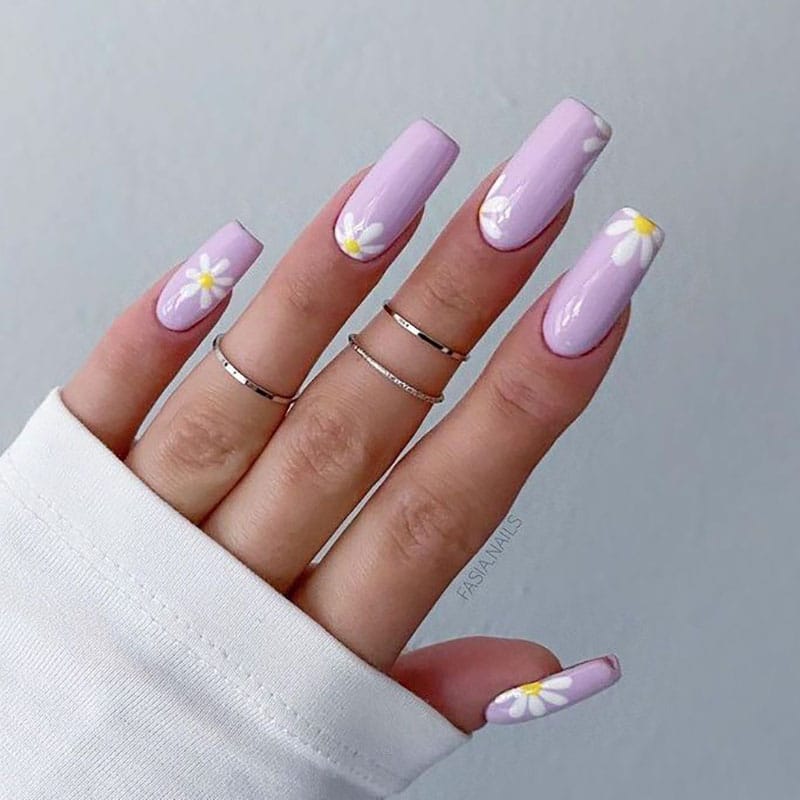 5. Purple Ombre Nails
Purple ombre nails are dreamy and gorgeous, making them a fantastic choice for any woman. The blending of two colors, one light and the other darker creates a trendy look and is a fun way to wear multiple colors. For a very subtle approach, you can opt for light purple and nude-colored lacquers, and for something a little more daring, solid, neutral shades like white, or even black, are a great way to transform your manicure. There are so many color combinations you can do, so choose something that best reflects your style.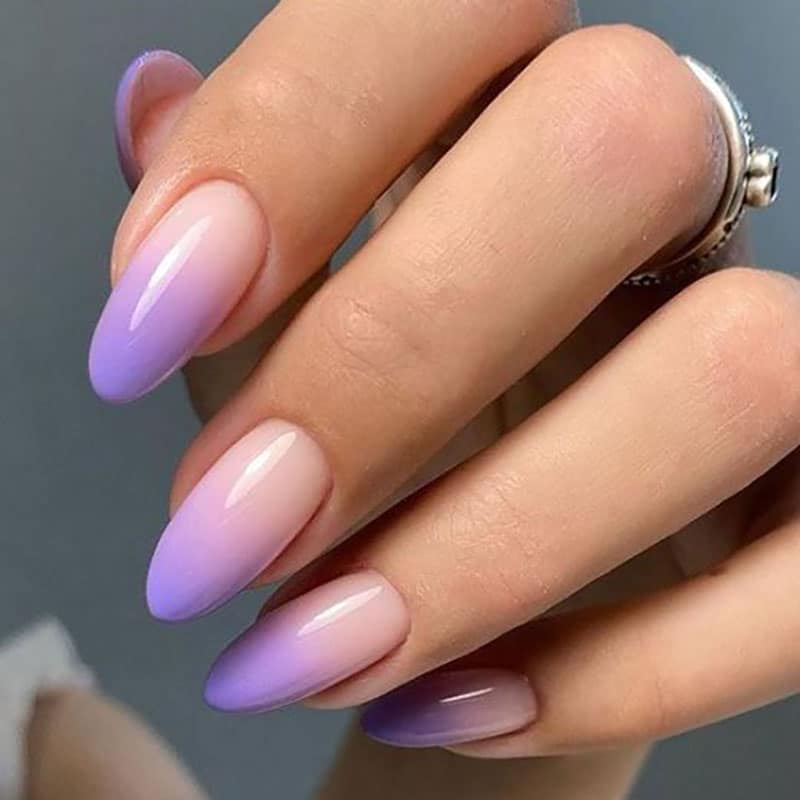 6. Matte Purple Nails
Matte purple nails are an excellent choice for your next trip to the salon. The polish has no shine, making the finish interesting and more subtle. Purple is a color that immediately stands out, but the matte effect creates a more toned-down appearance. This makes it easier to wear and looks gorgeous on all nail shapes and lengths. As for how you should paint your nails, well, that is entirely up to you. You can opt for various shades or just one, focus on the tips, paint the entire nail, or play around with negative spacing.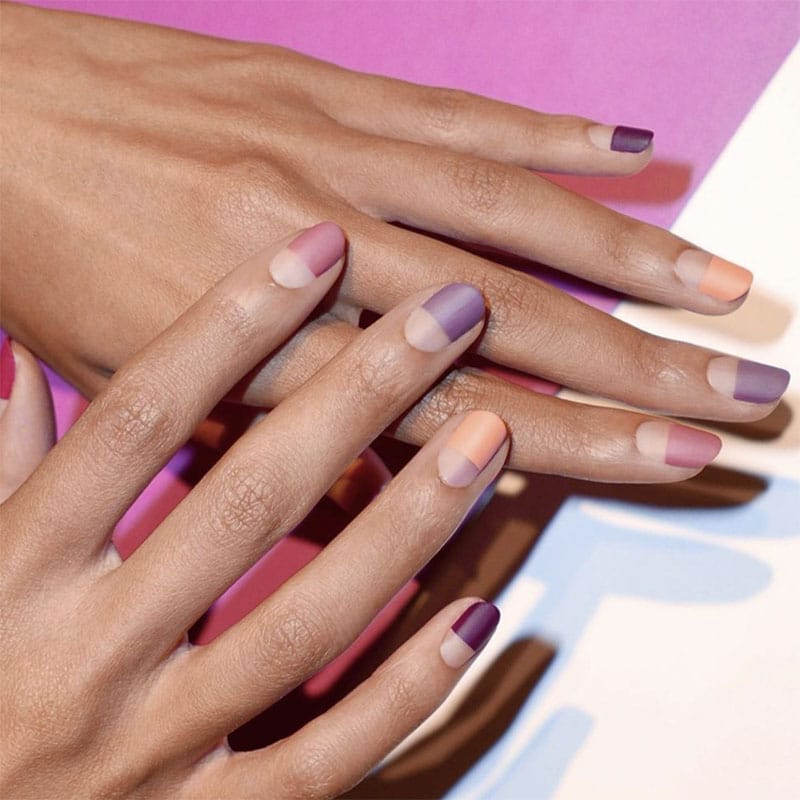 7. Purple Glitter Nails
If you are looking to add a little sparkle into your life, look no further than purple glitter nails. The great thing about pairing purple hues with glitter nail lacquer is that it has a stunning appearance. The shimmer makes even the most basic manicure interesting. That said, some people are hesitant to try out glitter or think it should be reserved only for the festive season. A way to ensure that it is neither of those things is to get creative with your placement, and often, you will find less is more. This can be done by opting only to paint your tips or use negative spacing.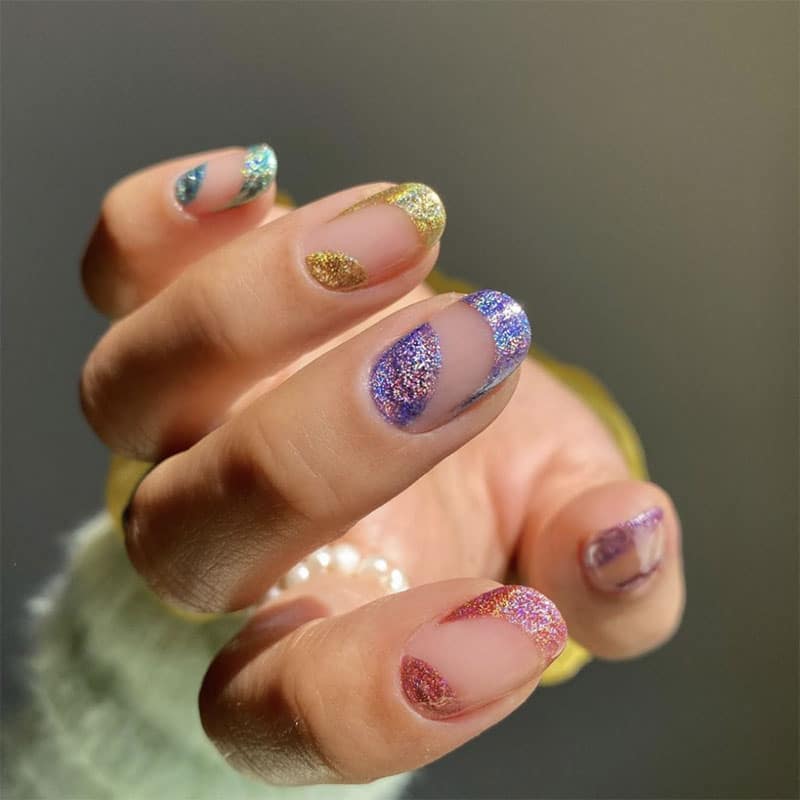 8. Blue and Purple Nails
Blue and purple nails are a great combination. The colors are very similar, making this one of the more subtle pairings and flattering on every fingernail shape and length, as well as most skin tones. You can pick light or dark shades and experiment with shimmery or matte finishes. When creating your look, you can opt for an ombre approach, paint one shade over the other, or blend the two colors with interesting nail art.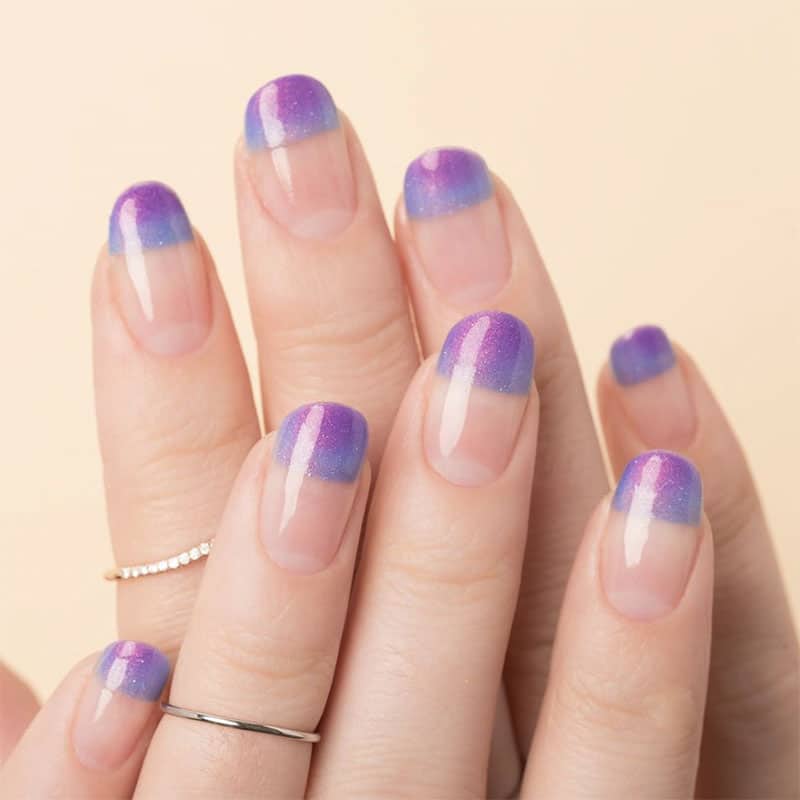 9. Pastel Purple Nails
Pastel colors are a classic when it comes to nail art. They never go out of style because they are so soft and easy to wear. There are also various colors to choose from, from baby blues and candy pinks to pretty pastel purple nails. What you will love about this option is how dreamy and easy to wear it is. It will lend itself well to a variety of different settings and will suit most nail shapes and lengths. For a girly appearance, wear pastel clothing. Or, for a more toned-down look, which will make your manicure the focus of your appearance, stick to wearing solid, neutral shades. Pastels compliment neutral shades, especially white.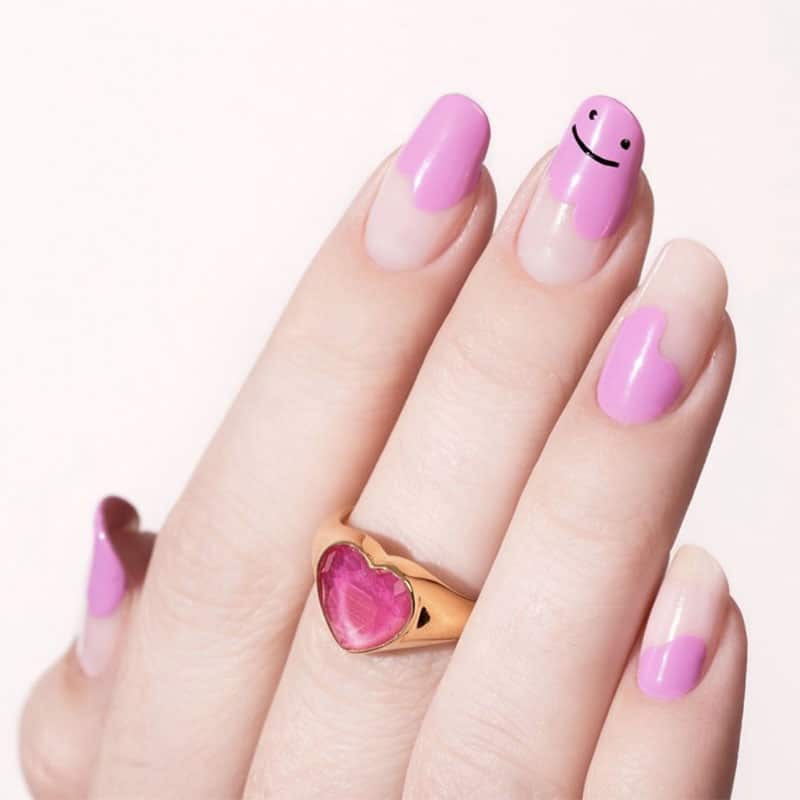 10. Purple Butterfly Nails
Butterflies were a big trend in the 90s, and in 2021 you'll find them everywhere again. These beautiful winged creatures have inspired hair clips, makeup, tattoos, and nail art and can be created in a wide range of colors and shapes. Purple butterfly nails are a pretty choice for any woman who wants a beautiful and symbolic manicure. The insects are associated with transformation and change, a perfect choice for someone going through a period of transition or growth. You can make your artwork look as though it is fluttering across each fingernail or focus instead on a feature nail; the ring finger is a popular choice and an opportunity to draw attention to special jewelry like a wedding or engagement ring.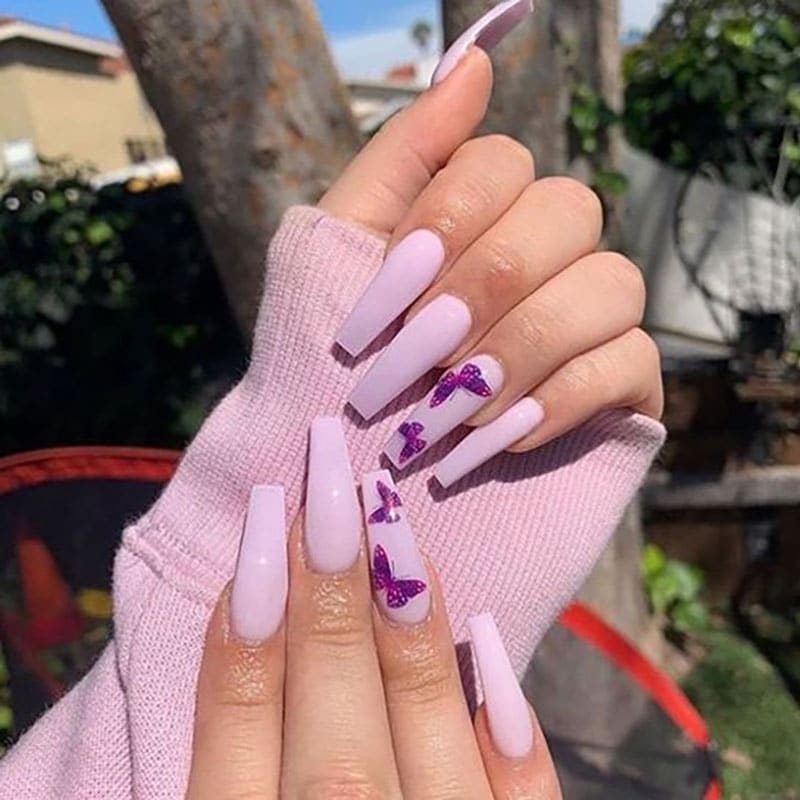 11. Neon Purple Nails
If you love bright colors, then neon purple nails are the manicure for you. Neons are very bold and noticeable and will likely bring a smile to your face. Although you can experiment with different nail art options, depending on your personal preference and how dramatic you want your look to be, a good choice would be to paint your fingernails with a single shade of polish. This is easier to wear, and you can make a style statement with minimal effort.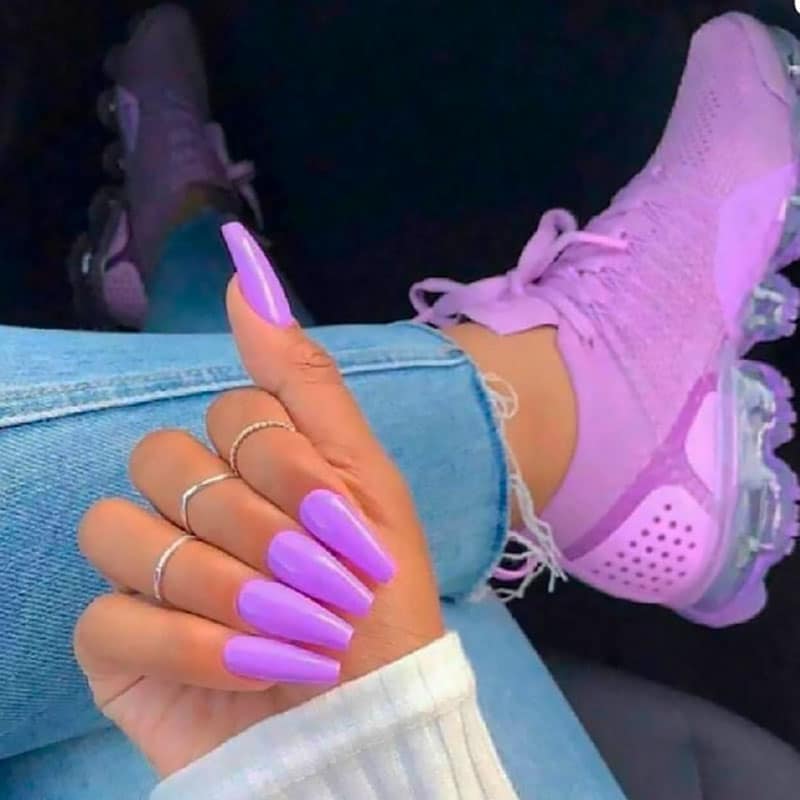 12. Purple Tip Nails
If you love a French manicure but want a brighter and more modern approach to this look, opt for purple tip nails. Traditionally, this manicure is defined by the white polish along the tip, but using purple will give your nails a trendy update. The interesting use of color and negative spacing allows you to get super creative. You can make the polish look like it has a dripping effect or be inspired by ice cream cones or candy for a sweet and fun appearance.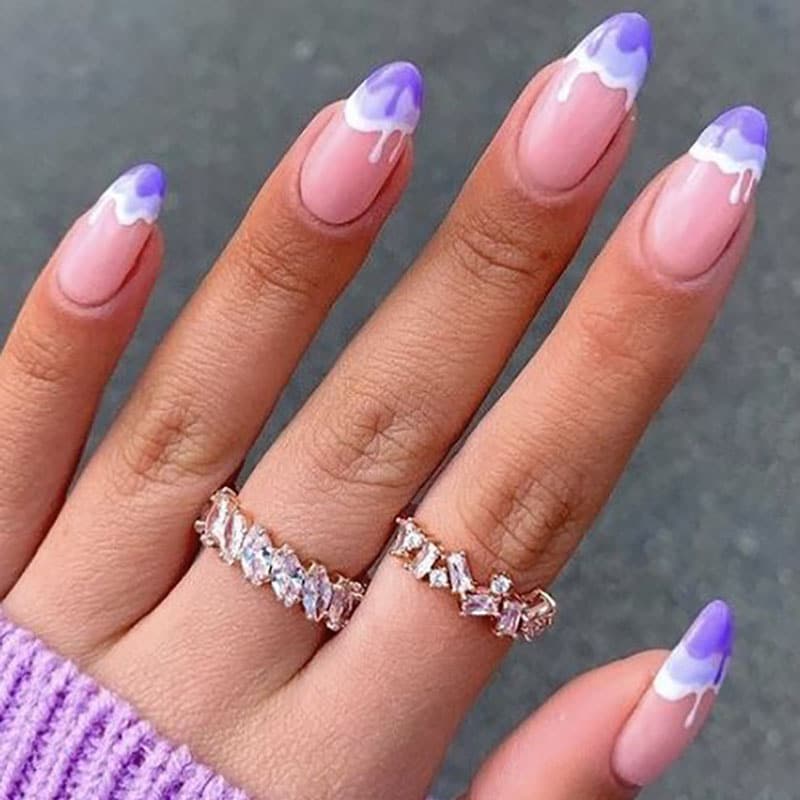 13. Purple and Yellow Nails
Purple and yellow nails are an unusual but striking combination. The two colors look surprisingly great together and make for a vibrant and expressive manicure. Purple is a hue associated with luxury, sophistication, and power, while yellow is one of the most luminous shades and is often connected to happiness and hope. The pairing of these two colors is likely to bring a smile to your face and make even the most basic manicure interesting. Play around with different patterns and options to wear these colors. It could be something as simple as French tips or more complicated like checks and line art.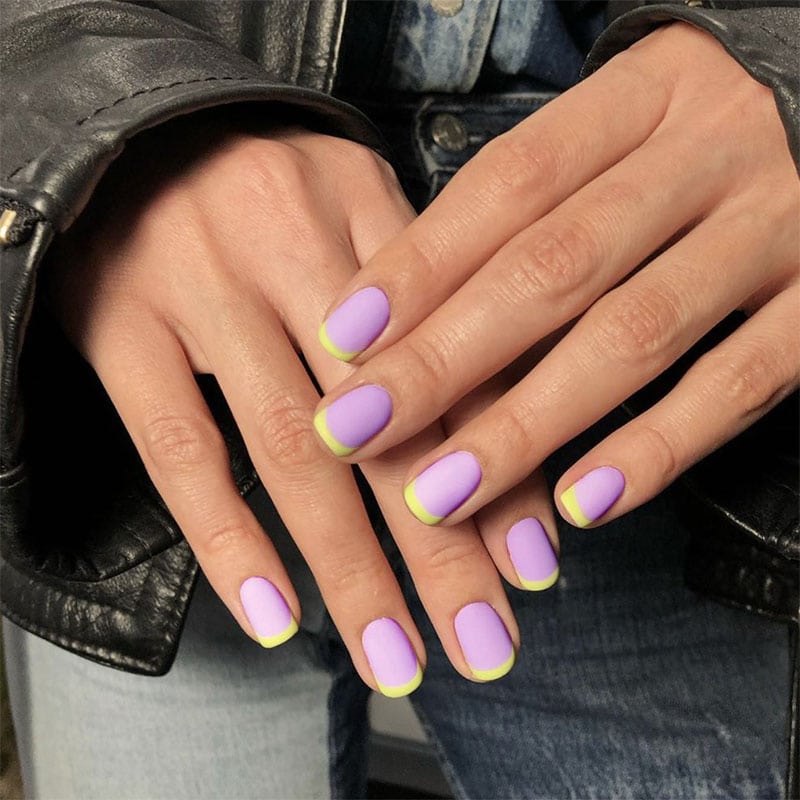 14. Pink and Purple Nails
Although some color combinations are striking and unusual, pink and purple nails are a pairing that is easy to wear and pretty. It is great for nails of all lengths and shapes, whether you love long talons or prefer shorter nails. Pink is a timeless and classic option for nail lacquer, but you may feel like you have seen it before; this is a way to update your standard pinky manicure and make it more modern. The two shades go together well and create a soft and feminine appearance. That said, if you want something bolder and brighter, you can opt for richer or more brilliant hues, like hot pink and dark purple.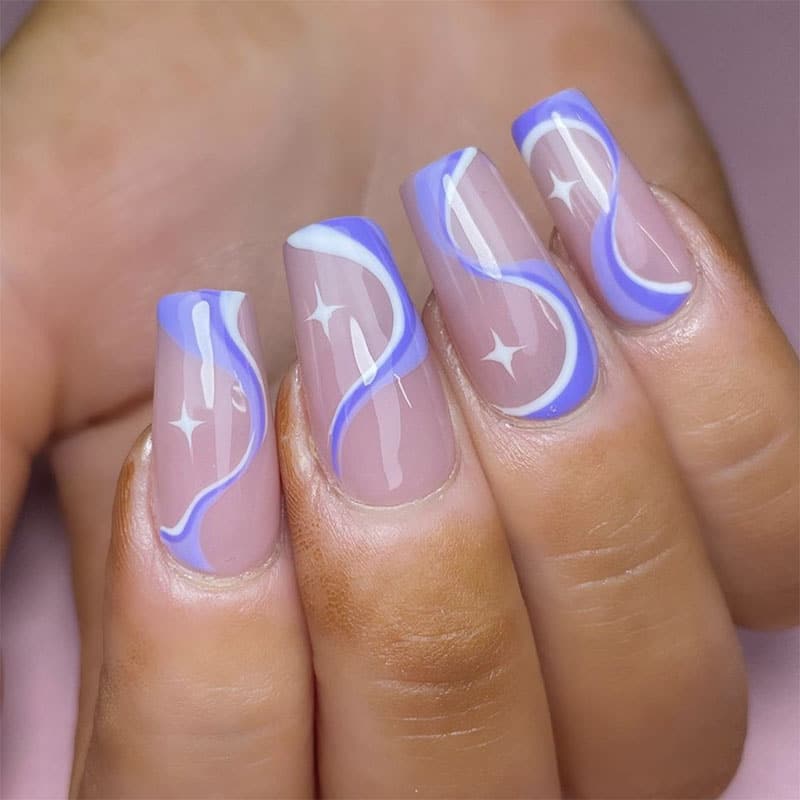 15. Purple and Green Nails
Purple and green nails make for a bright finish, but the two contrasting shades look surprisingly great together. They complement each other, and this is a great way to have some fun with your manicure. Green is associated with nature, while purple often represents luxury and royalty. You do not need to stick to one shade either and experiment with various light and dark purple and green hues. Paint just your tips, or get creative with patterns; nothing is stopping you from making your nail art unique and suited to your preference. This manicure will lend itself well to a variety of different settings, so wear it to a summer barbecue, a date night, or even while you're relaxing on the sofa with a good book.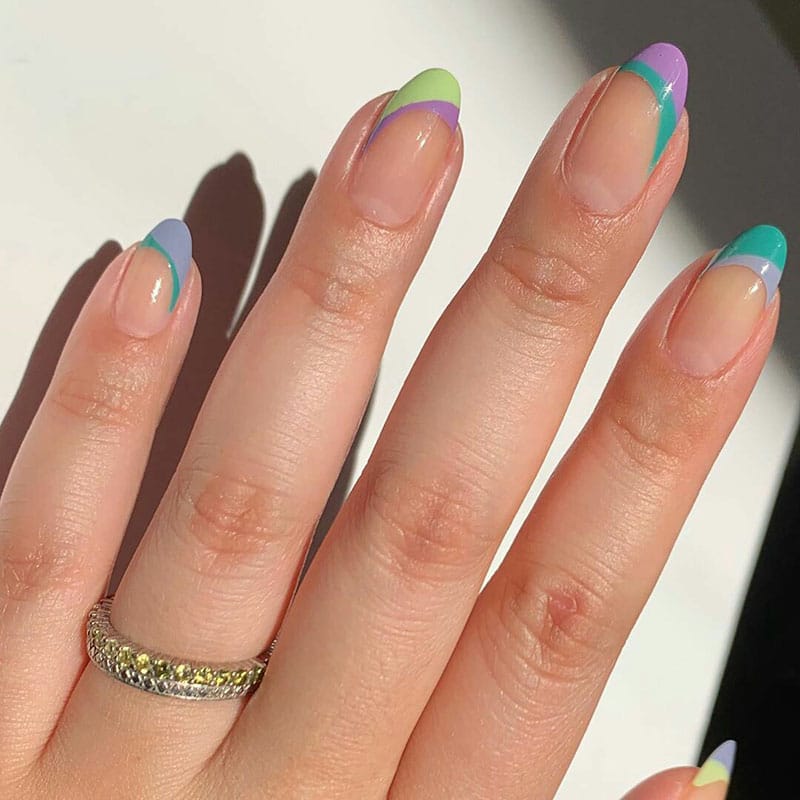 16. Purple and Orange Nails
There is a decidedly retro appearance about purple and orange nails, and, depending on the hues and the patterns you opt for, it can channel the 70s in a big way with your next manicure. The two colors match together well, and the appeal with this pairing is its versatility; you can opt for thick blocks of color for each nail or lean into the 70s vibe with groovy lines, checks, and squiggles. For a stylish and unique appearance, rock your favorite chunky jewelry and bring out your aesthetic outfits.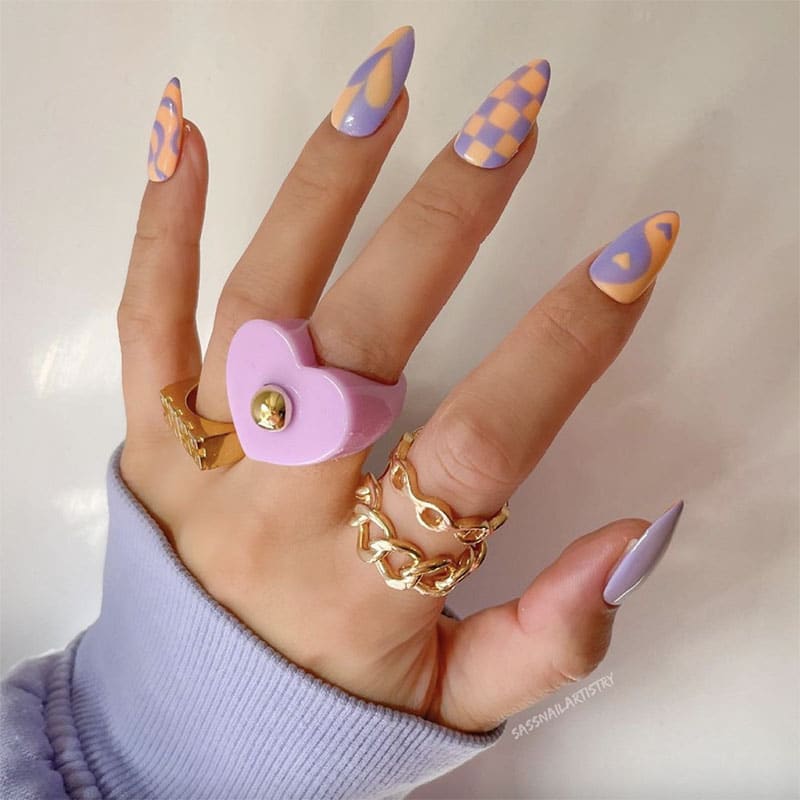 17. Red and Purple Nails
Red is a popular nail color because it demands attention. It makes you think of love, passion, and sensuality. It is an intense color, which many may be reluctant to try out, but pairing it with purple can make it easier to wear and more versatile. This is a bold and bright choice for any manicure, but it is a way to express yourself and get creative with nail art. Squiggles, checkered shapes, or colored tips are good ways to try this pairing. This is a brilliant way to show off your hands, so ensure they are well taken care of.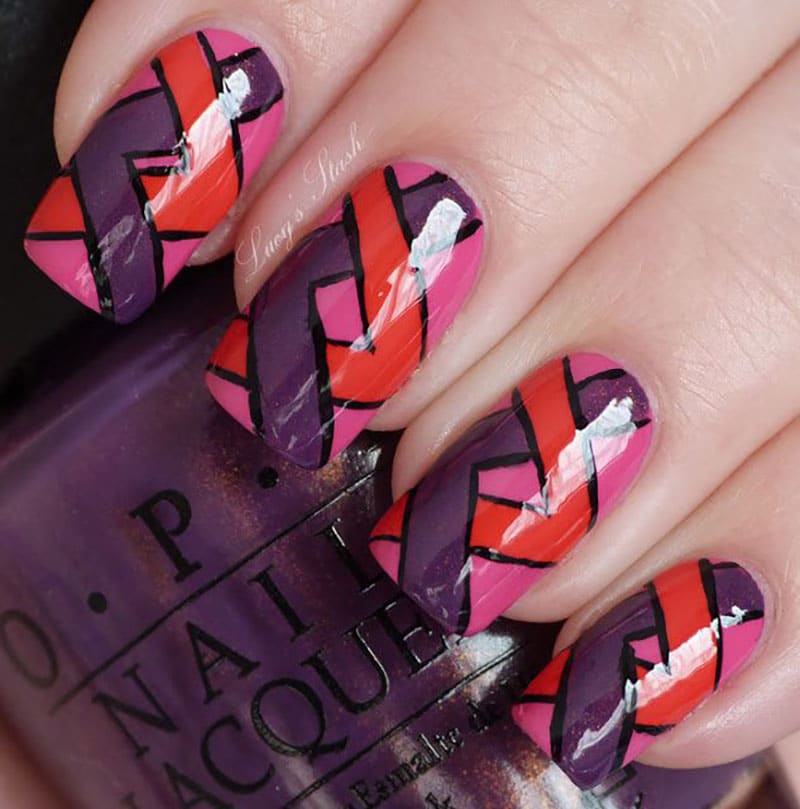 18. Purple and Silver Nails
If you want a manicure that has a futuristic vibe to it, then combining purple and silver nail polish is a great way to achieve it. The pairing has a very cool and space-inspired appearance, but the metallic color also adds a slight shimmer and sparkle to your nail art. It is easy to wear, subtle, and symbolic of wealth and prestige. This look is great for a casual day out with friends or worn to a fancy dinner with your partner. Choose a soft purple hue for a more subdued look or a brighter one for a statement approach.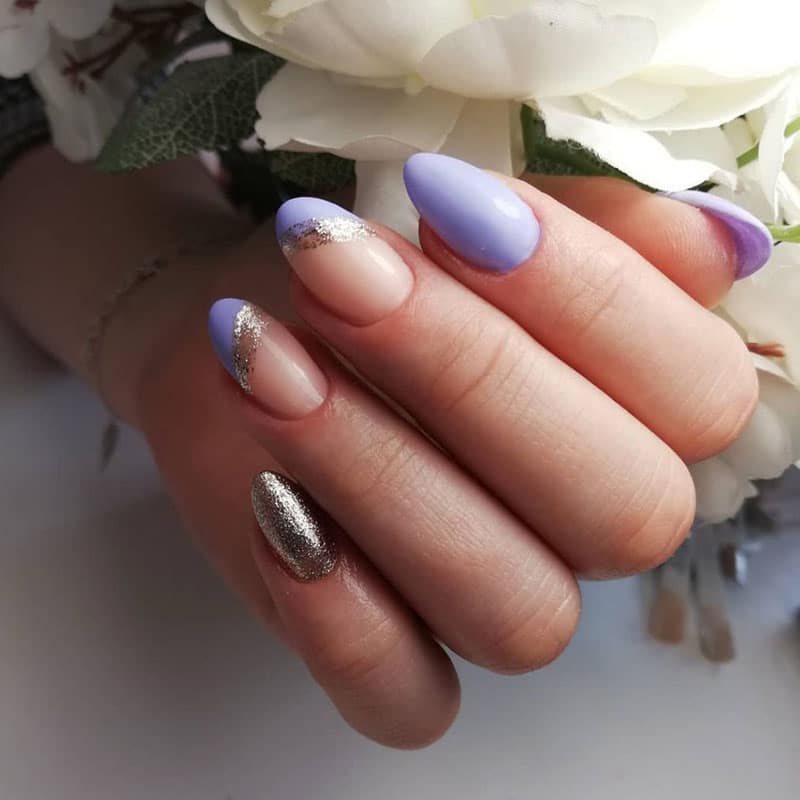 19. Purple and Mint Flame Nails
Purple is a versatile color, and when it comes to nail art, there are so many different combinations to choose from. If you are a woman who wants a manicure that is bound to get you noticed and express your fun and creative side, then pair purple with mint flames. The minty hue has a freshness about it and is a popular choice for nail art at the moment. It suits all skin tones and is a great way to add a pop of color to your appearance. It is made even brighter and bolder by combining it with your favorite shade of purple. Flames make for more than hot nail art; they're also symbolic, often representing passion and rebirth.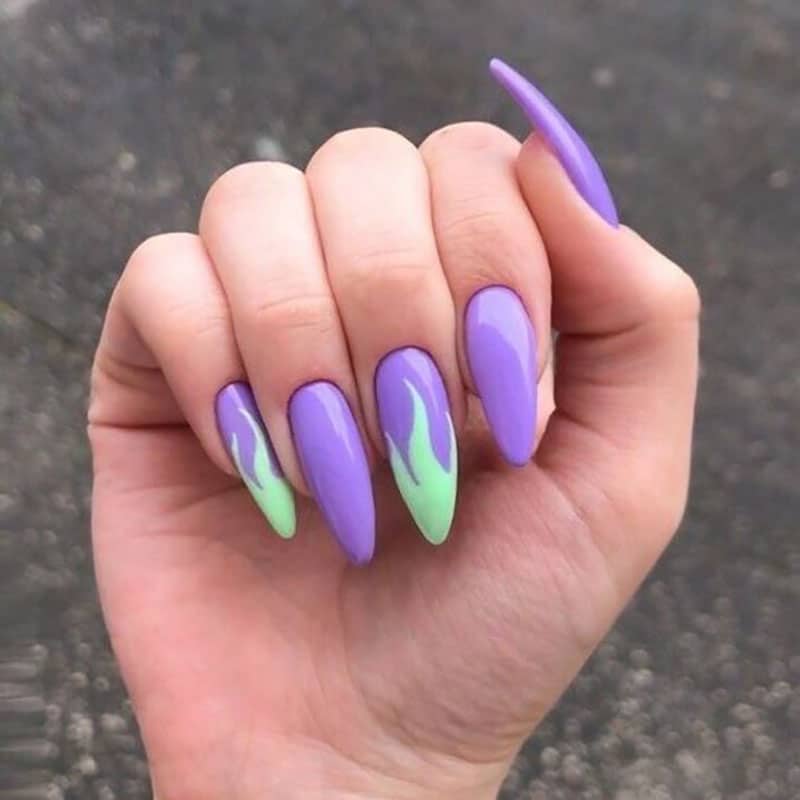 20. Holographic Purple Toenails
It is not just your fingernails that can benefit from purple polish, but also your toenails. If you want to get your feet out during the warmer months, then what better way to ensure they're looking their best than with a holographic purple pedicure? Holographic nails have been a firm favorite for several years now because of their reflective appearance. The high shine lacquer, which is created with the addition of a special pigment, is easy to notice. It looks excellent on nails of all lengths and shapes, including toenails, and will have a stunning effect when they catch the sun.
FAQs
What goes with purple nails?
Purple is a bright and versatile color that can actually go well with a surprising amount of different shades. For something contrasting and bold, green and purple is a great choice. For more complimentary colors, pairings such as blue and purple or pink and purple look fantastic. It can also be matched with black, silver, and red, so the choice is yours and down to your personal preference and how dramatic you want your look to be.
What are the nail trends for 2022?
Many cool nail trends are emerging in 2022 and the return of some favorites like checks and the classic French tip manicure. Colors that should be on your forecast include purple, red, mint, and metallics. Other options include swirl and squiggle nail art, butterfly decals, rainbow nails, and whimsical clouds. Pastels remain popular and timeless, and opting for bold and bright colors, as well as unusual and contrasting pairings, is a must.
What is the most elegant nail color?
If you want an elegant manicure that can be worn on various occasions, including corporate, then less is more. Consider the timeless and classic French manicure, soft pink lacquers, and nude colors. Dreamy pastels are another favorite, especially the pink, peach, and light purple hues. All of these are easy to wear and gorgeous. They can be worn with nails of all lengths and shapes.
What does the color purple symbolize?
Purple is a color that is associated with power, royalty, luxury, and creativity. It is a rich hue that makes a statement when incorporated into your nail art.
What does purple say about your personality?
Purple can say a lot about your personality and is often associated with creativity. It is a great way to express yourself and could also be linked to spiritual growth and intuition. When deciding to incorporate purple nail designs, you will find many variations with light and dark shades and different finishes. It can make a statement or have a calming effect, depending on your chosen hue. This makes it the perfect choice for an individual looking for something different from the standard pink and nude colors.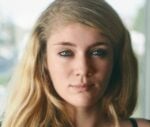 Cailyn Cox holds a degree in journalism and has been working with The Trend Spotter as a writer for over ten years. She has worked with some of the most prestigious women's and men's lifestyle publications. For her, writing is not just a job; it's a passion, which is why each article she writes is approached with such enthusiasm and dedication. She has extensive knowledge of hairstyles, tattoos, and beauty and has made a career out of creating informative articles that appeal to women and men of all ages.
SUBSCRIBE TO OUR NEWSLETTER
Subscribe to our mailing list and get interesting stuff and updates to your email inbox.